This studio is above our detached garage, about 30ft. in front of our house. It has a private entrance with stairs up to the loft. Perfect for one or two people. We share this property with some stray cats, a couple of deer friends, and pesky racoons. As we are about 40 yds off the road, there is private parking with motion detecting nightlights and a sidewalk leading to the entrance. The room has a small refrigerator, micro-wave oven, student desk and old, wooden office chair. Two folding chairs and a table are provided for sitting on the balcony. There is a twin bed and a scissor futon couch that makes into a full-sized bed. Towels, soap, shampoo and bedding for the couch-bed are provded. Private parking is 20 ft. from the entrance with motion detecting nightlights for your safety. Guest will have access to the studio and our yard, which borders on a dedicated wetlands. There are no trails. We are providing a clean, quiet and private space for guest to enjoy their time here in Arcata and Humboldt County. We are availabe for directions and recommendations, otherwise, we ask that our privacy be respected. Our neighborhood is quiet and rural, surrounded by trees. We have deer that roam our yard, sometimes on a daily basis. There is a good coffee/ sandwhich shop about 50yds from the house - they do not give "to go" cups, so we provide them. There is a small shopping center 1 mile towards Arcata that has a friendly neighborhood market, laundromat, hardware store and restaurant. This is a bike friendly area, with wide bike lanes. We are 2.5 miles from Humboldt State University - a 5 minute drive or a 10 minute bike ride. We are 3 miles southeast of Arcata and 4 miles northeast of Eureka. We are 1 mile from the nearest public transit. It is at Sunny Brae shopping center. This is the southernmost point for the Mad River transit and connects in Arcata to Redwood Transit that connects Fortuna, Eureka and Trinidad.
Что говорят гости:
"Мы с сыном провели несколько прекрасных дней в «Кошачьей мяу»! Мне очень понравились маршруты, по которым можно доехать до двух деревьев красного дерева, и Джерри был там, чтобы встретить нас и показать нам. Он дал нам отличные указания, куда нам нужно идти, а также некоторые отличные рекомендации по местной еде. Не пропустите Кафе Beachcomber - потрясающее, потрясающее место для вкусных и уникальных завтраков и отличного кофе ... в нескольких минутах ходьбы! Студия небольшая, но фэн-шуй потрясающий, с действительно крутой коллекцией эклектичного искусства и потолочным освещением. Вы не можете превзойти стоимость или местоположение - короткая поездка до Аркаты в одном направлении, Эврика в другом. Спасибо, Джерри - это был маленький уютный домик в лесу, где мы могли исследовать регион!"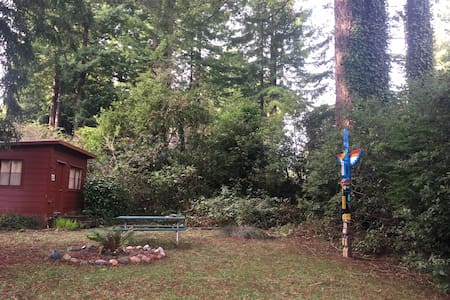 SUPERHOST
Коттедж целиком · 5 гостей · 2 кровати · 1 ванная
Redwood River Cottage: Self Check-In, Aromatherapy
The Redwood River Cottage is tucked in the heart of the redwood forest with direct access to the scenic Van Duzen River, nature, aromatherapy, swimming, kayaking, peace and quiet, hiking amongst epic redwoods, campfires, and basketball court! The picturesque cottage was built as part of a healing nature retreat. The cottage sits on a 3-acre property with breathtaking views of the river, and is a perfect vacation getaway for family, friends, couples, or personal solitude.