Cozy brick ranch in quiet neighborhood, 2 blks from Jewel, Dunkin Donuts, Walgreens, Etc. Gas fireplace, wifi, tree house deck, attached garage. 1 mile from Cancer Treatment Centers; midway between Chicago and Milwaukee; 10 miles from Great America.
Тип размещения
Дом/квартира целиком
---
Тип жилья
Дом
---
Вмещает гостей
6
---
Спален
Zion, Иллинойс, США
Close to North Point Marina, your large room with a private bath awaits. Relax on the deck by the pond or shoot some pool in the basement. Close to the North Shore Bike Path and Cancer Treatment Center of Zion. Convenient to Six Flags, Gurnee Mills, Great Lakes Navel Station, Illinois Beach State Park.
Enjoy the spaceship style underlit bed. Serene modern design. Large closet and lots of dresser space. 2 USB charging ports on either side of the bed.
Quiet neighborhood. Most neighbors are retired or have grown children. Quiet cul de sac.
Pamm was an amazing host, and made the stay very comfortable. The room and house were very clean, quiet and welcoming. I highly recommend Pamm's place to anyone looking to have a comfortable stay in this area!
LI
2017-01-15T00:00:00Z
The room was very clean and cozy. We had our own private full bathroom. Pamela was very accommodating and seemed very sweet, although we didn't really have the chance to talk much. The breakfast in the morning was delicious, and she stayed very flexible on our check in and check out times. The dog was a sweetheart, even though he was very skittish at first (give her? a treat and a buttscratch and she'll love you). Thank you Pamela for a very nice visit
Karly
2016-12-24T00:00:00Z
The large private room and private bath in Pam's home is exactly as advertised. The neighborhood is extremely quiet. Her home is 7 minutes from Cancer Treatment Centers of America. I commuted easily several times a day from her home to CTCA. Pam provides breakfast bars and coffee, just enough to get you going. Our stay was extremely comfortable. Great value.
Rian
2017-03-17T00:00:00Z
Great host. Friendly dog. Room exactly as pictures show but room is actually bigger than it looks. Private connected bathroom makes it a suite and a plus. Pamela is a great host and it shows in the details of the room such as providing a bottle of water, available lightning and micro usb chargers already. And the remote control lighting makes it fun.
Richard
2016-12-08T00:00:00Z
Тип размещения
Отдельная комната
---
Тип жилья
Дом
---
Вмещает гостей
2
---
Спален
Winthrop Harbor, Иллинойс, США
Calm and serene is the only way to describe winter on the prairie! Situated nearby to Lake Michigan and stunning views of Chiwaukee Prairie Chiwaukee is a Nature Preserve. Great for cycling, kayaking, swimming, taking long strolls, and boating. The hot tub and large patio and wifi onsite.
One block from Lake Michigan! 3 bedrooms one bath small ranch, with French doors leading to a large stone patio. Can you see yourself grilling or having a fire? There are Beautiful views of Chiwaukee Prairie and just steps from public access to Lake Michigan. How about a drink in the hot tub while admiring the changing foliage?
I love how quiet it is. I only have a neighbor on one side of the house.
I don't think the pictures do this house justice. It is spacious, comfortable, clean and functional. If you are looking for a place to get away and relax, this is the place. Kenosha is a few minutes away. Beautiful beaches are close. The house is also fairly isolated on a quiet street. Which makes it nice to sit on the patio or deck and have conversations at night. Michelle is very diligent about making sure everything is going well and is easy to reach and a very nice person in general. I have to admit, the low price made me think "what am I missing", but the place was perfect. If I could give it 6 stars I would!
Chuck
2016-08-22T00:00:00Z
Definitely a great experience. And Michelle was a very good host and very understandable. I will definitely be back!!
Zachary
2016-06-06T00:00:00Z
Great place, Michelle was quick to answer questions. Had everything as stated on the website and a little bit more. Prairie and short walk to Lake Michigan is spectacular.
Steve
2016-11-13T00:00:00Z
POSITIVE: beautiful quiet area, peaceful, walking distance from beach, hot tub worked fine, comfortable beds, Michelle went to buy a TV right away when our TV broke, easy to communicate with Michelle, nice heat. NOT SO POSITIVE: water kept turning off (was off when we arrived). We had to keep restarting it, even in middle of a shower. So much is half done, badly done, half painted, holes in corners all over and in middle of remodeling. It didn't bother us, but good to know. Piano out of tune, so couldn't play it. Kitchen missing some basic cooking stuff, no spatula, no non stick pan to fry eggs, and nothing to serve with (had to eat popcorn out of its microwave bag).
Rebecca
2016-10-31T00:00:00Z
Michelle was great. She answered all my questions quickly and made sure through our 2 night stay that everything was good. The house is adorable, and you can tell that they are updating, decorating and making it a vacation home. Having the hot tub to relax in at night and be able to see the stars was wonderful.
Rachael
2016-06-15T00:00:00Z
The place was very lovely and welcoming, and very easy to find. It was very clean, instructions were out telling us about the things we needed to know. I completely enjoyed my stay here.
Aime
2016-11-09T00:00:00Z
We used it for an anniversary get-a-way. It's a quiet, non-descript house, in an off-beat location that enhances the place a lot and the house takes it in through great natural light and open space in the main part of the house. Inside, I could about feel the energy and effort the owner puts into the house to make this place very enjoyable, homey and comfortable. Her efforts succeed. It filled the bill and then some as a quiet get-a-way spot.
William
2017-03-17T00:00:00Z
Location of the home is convenient and beautiful however pictures and description aren't completely accurate and Michelle was unreachable after confirming with us on day of check-in how to access the key upon arrival. The house is spacious enough for multiple people and the neighbors are quiet. There is a neighbor next door and behind. The interior of the home is currently under remodel which is fine but we would have preferred to know that upfront as there was a bit less seating in the living room with only the couch besides the kitchen table or a wooden chair or two. There were also parts of the ceiling border falling off, hole in the ceiling where a light was going in or being taken out, a ceiling fan that was unusable in second bedroom due to one of the blades not being attached fully, burnt out lightbulbs in many places, and lots of light switches that it was absolutely impossible to figure out what they turned off or on. The kitchen wasn't as functional as anticipated due to only very small cooking pans to make one person's food at a time, no trash bags, we had to clean out someone else's old coffee grounds from the coffee pot, and there was stuck on food and such on clean dishes that had to be re-washed to be able to be used. The hot tub was unusable due to a way too low chlorine level, even after I put in chlorine tablets. It was also apparent it hadn't been cleaned in some time due to a fair amount of sand and dirt sitting on the bottom of it. Overall, we liked the location. Had the description been more accurate to the current remodel status we would have definitely preferred knowing that. We felt that there were a lot of things that were just overlooked that should have been replenished, checked, or cleaned....especially when the host charges an additional cleaning fee. We also felt that the host chose to ignore responding to us as a way to avoid answering a question we had about having some family over Saturday evening for dinner, cards, and possibly staying the night and if it was possible if she would prefer us to pay any additional guest fees. We contacted the host on Thursday morning at her contact phone number and never received a response. We wouldn't rent this home again, but would look for another place in the same area as it is a beautiful area.
Meggan
2016-10-23T00:00:00Z
Тип размещения
Дом/квартира целиком
---
Тип жилья
Дом
---
Вмещает гостей
6
---
Спален
Pleasant Prairie, Висконсин, США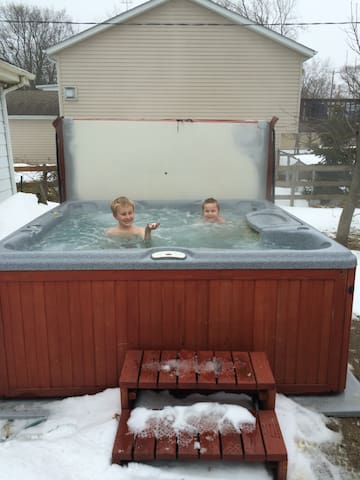 It is hard to find a hotel room that will take a larger group. We have a private bedroom and a large finished lower level. There will be a private bedroom and bathroom plus several air mattresses and a couch for children or other adults.
The lower level is professionally finished and very comfortable for sleeping and relaxing. The outdoor space has a playground for children and a patio to enjoy the outdoors.
We live in a nice neighborhood that offers peace and quite. We are 10 minutes from the outlet malls, 45 minutes from Milwaukee, and 1 hour from downtown Chicago or 10 minutes from the train that goes into downtown Chicago.
Awesome stay at Steve's place. Steve is a great communicator and his basement space is clean and comfortable. Very accommodating. Steve gave us a great dinner rec and set us up with his netflix account, so we could watch a couple movies before crashing.
Jared
2015-11-28T00:00:00Z
Great experience all around and a super convenient location to base out of for my race! Steve was extremely flexible on check in / check out which made our travelling super easy as well.
Maria
2016-07-19T00:00:00Z
Beautiful house, a little challenging to find but quite lovely.Steve was very accommodating even when our arrival time had to keep getting postponed later and later. Felt a little overpriced for what the sleeping arrangements were. In the basement there is a great guest room that is set up very nicely for one or two people, but the other area is a kids play area with a couch and a blowup mattress (although the blowup bed was quite comfortable!).
Azuraye
2015-10-02T00:00:00Z
Steve and his family were very welcoming and the accommodations were exactly as described. I had enjoyable conversations with every member of the family and only wish I would have had more time to relax and get to know them better, but alas my stay was work related, and I had very little free time. The bed was very comfortable and the adjacent room provide a convenient work area. I truly felt at home at Steve's Airbnb. Steve's house is on a quiet street in a subdivision with large lots and nice homes. It's not too far from Lake Michigan, which often provides cooling breezes on hot summer days. It's also near one of Wisconsin's best prairie preserves, the Kenosha Farmers' Market, and the Jelly Belly jellybean factory. The farmers' market is on Saturday mornings, and the jellybean factory has a gift shop and offers free tours…fun for the kids.
Tre
2016-06-24T00:00:00Z
We sincerely enjoyed staying here. It is a great quiet neighborhood, and Steve and his family were warm and welcoming. He provided wifi, which was very helpful. Cell phone service in this location is problematic. Steve explained that coverage is limited because they are close to both the lake and the Illinois border, and the cell companies try to limit their coverage to not include the lake, etc. It wasn't too much of a problem, but should be noted.
Michele
2016-08-07T00:00:00Z
Тип размещения
Отдельная комната
---
Тип жилья
Дом
---
Вмещает гостей
6
---
Спален
Pleasant Prairie, Висконсин, США