Введите даты, чтобы увидеть полную цену без учета дополнительных сборов и налогов.
The Sanctuary is a newly renovated apartment in a quaint, repurposed church, where guests will find a restful and unusual getaway. Antique furniture, stained-glass windows and artful chandeliers abide with brimming bookcases throughout. Enjoy the solitude and calming atmosphere of the steeple library upstairs or make coffee or have a drink in the cozy bar while watching TV or working on your laptop. We are pet friendly, close to Route 66, historic La Posada and "Standin' On The Corner".
When I first saw this building, I knew it would be an interesting next chapter in my life, plus a welcoming addition to the hospitality sector in Winslow. Hope you agree! The Sanctuary is entered by passing through the wrought-iron gate and then through the peaceful patio where the door to the space awaits. In the bedroom, the full size bed has a new memory-foam mattress with a luxury mattress topper. The locally made headboard was created from church pew-ends discovered during renovation. (Love to recycle and repurpose!) Oriental rug, Aubusson-inspired bedspread and stained-glass windows complete the picture... along with the signature antler chandelier, guest closet and, of course, just a few books to whet your whistle. Speaking of that whistle, just across the stairway hall from the bedroom is The Altar Bar where there is a fridge, microwave, coffee pot, locally roasted coffee and specialty teas. There's also a small tv, on cable, in case you just HAVE to see your favorite team play. Of course! The well-appointed bathroom has an Asian motif after a wonderful red-lacquered cupboard was found in Camp Verde which accented the theme of a vintage mirror. You will find care taken in each room to make them comfortable and interesting. The last room to describe is the uncommon Steeple Library. Just up one flight of stairs, the library is reached through a narrow stairway with a true vintage feel. This is a fine spot to enjoy your morning coffee or afternoon tea; it has comfortable cushions and pillows plus an antique library table to make it easy to peruse those oversized coffee-table books about the Southwest, architecture, fashion, landscape and maybe even Shakespeare. The entire Sanctuary space has the latest heating and air conditioning units, along with access to a charming patio area, used mainly from May to October. There is always parking within 50ft of The Sanctuary and off-street parking may be available upon request. Use of the patio is seasonal from May to mid-October. Access to the apartment will be forthcoming to guests upon a confirmed reservation. Your on-site host purchased, repurposed and fully decorated this unique property in order to live in Northern Arizona in retirement. When this unusual property became available, the idea of carving out separate spaces and sharing the building with adventurous travelers was a natural. Your host is also a Airbnb traveler, last in Washington D.C. with her grandson. Your host has a long history with Arizona beginning in 1964 when her parents retired to Prescott and later moved to Sun City. She has long been a visitor and a tourist here and is pleased to be making her home now in Winslow. She now has the opportunity to seek out even more sights to visit and adventures to share with guests, whether hiking, kayaking, cycling, visiting museums or the many natural wonders in Northeastern Arizona. Your host is a former business owner, teacher, entrepreneur and non-profit board member. Her interests include theater, opera and literature which is one reason why a main feature of The Sanctuary is the plethora of books in each room for guests to enjoy. Sondra has travelled to many foreign lands including Cuba and China. She and her family lived in The Netherlands and Germany for 11 years and did extensive camping throughout the continent. Guests from countries around the world are encouraged to spend time with Sondra and are encouraged to stay at The Sanctuary.
Winslow is really a small town and great for biking, walking or hiking. There is no public transportation but we are situated close to the library, churches, gift shops, restaurants and the Old Trails Museum. La Posada is an historic, refurbished gem, nationally recognized and not to be missed! Its architecture, art, gardens and history make it a tourist delight. You'll also find excellent food at its restaurant, The Turquoise Room. Unsurpassed! It's just down Second Street, past The Standin' On The Corner Eagles' Commemorative Park. Thousands of fans come each year to pay homage to iconic band. See what it's all about, right on Route 66. Also be advised that the speed limit in Winslow is 25 mph and enforced. Downtown and near schools, the speed limit is 15mph, which is posted and enforced. Fair warning; it's important that everyone is kept safe. School in Winslow is year round, so it's a good thing to know that there are often kids and school buses which need your attention. There is a pet on this property: Maude, an 11 year old Wheaten terrier. You may never see her, or she may become your best friend; it's up to you. She has been an office dog most of her life, so she is quite used to folks coming and going. She may welcome you with a shout, but soon feels her job is accomplished.
Cozy, charming, eclectic...the space is a collection of three small rooms plus bath. Bed, kitchenette and bath are on the ground floor and a delightful sitting room is in the steeple above. Perfect for two. The owner's love of old treasures and her quirky, delightful aesthetic are apparent in every inch. The space is super clean and very comfortable - every need has been anticipated. The owner, Sondra, is on the premises and available but guests enjoy complete privacy.
Pat
February 2017
Sondra's place truly was what it was named, a sanctuary away from the valley. We really enjoyed the unique space, were ECSTATIC to be able to have our dogs, and enjoyed the hospitality. Sondra left bagels for breakfast, along with orange and apple juice. She even left us wine cheese and crackers for the evenings! On our way out she invited us in for coffee and we chatted before heading out. I highly recommend the sanctuary for anyone looking to escape the city.
Bob
January 2017
Mike
January 2017
We are traveling from TN to AZ and have stayed at some unique places. I have tried to use AirBnb but it has never work out with our schedule. I thought this would be a unique place since it was a church made into a quaint place to stay. The only problem we encountered was parking. We had been told to park behind the building at the 1st door & she would drive to us. Then she clarified with saying "behind means north". It was hard to figure out where to park so we drove around the block a few times to figure it out. We pulled in & waited for a few minutes until she arrived. Sondra was very pleasant & gave us a tour of the place. She gave us hints to where everything was to make our stay comfortable. The décor was perfect for the space. There were books EVERYWHERE. I suggest that when you stay here you check out some of the books. She also had little snacks before bed & some breakfast foods. We settled in for the night. I went up to the library to snuggle up with a blanket that was provided. It was so peaceful. I was able to get my things done while my husband was downstairs watching TV. We had internet that worked good. The next morning we met up with Sondra, she wanted to give us a tour of the entire church. It was so fun learning of the past things and the things that will be in the future. She also provided us with information of where to visit in town and where to eat. If we pass this way again we would definitely stay here.
Shelley
January 2017
Sondra was a wonderful hostess. She provided advice for things to do in the area. If she was unfamiliar with a location she reached out to friends to find information. Her Sanctuary is very lovely and eclectically decorated with thoughtfulness. She provided delicious breakfast of muffins/bagels, fruit, cheese, and crackers which helped keep our costs down further. We will stay again if we find ourselves in Winslow, AZ!
Isabel
January 2017
Тип размещения
Дом/квартира целиком
---
Тип жилья
Другое
---
Вмещает гостей
2
---
Спален
1
Winslow
Happy Trails is a newly restored NON-SMOKING 2 bedroom (SLEEPS 4). home in a quiet, residential neighborhood, 3 blocks from "Standing on the Corner Park" & Route 66, historic La Posada Hotel, 5-star dining & gardens. Vintage Arizona furnishings. Locally fresh roasted coffee, full kitchen & bath, laundry room, Mature pet-friendly. Perfect for day trips to all the scenic sites in Northern Arizona. Easy access from I 40 freeway. NON-SMOKING HOUSE.
Complimentary local Fresh Roasted coffee and teas are offered. Each bedroom features ceiling fans, full sized antique brass beds with new mattress sets, area rugs over hardwood floors and a private entrance to the full tiled bath. Bedrooms have individually controlled electric baseboard heat. Large dressers and closets for your personal, clothing, and luggage needs. A large combined living/dining area with comfortable space to relax while you peruse the well selected library and guide books to all the outdoor, natural, and cultural sites, which offer a wide selection of destinations of the area in and around Northern Arizona. A large backyard offers landscaped sitting and eating areas, This unique home makes the perfect base camp to plan from many of the available convenient day trips. Large utility closet for all your hiking, camp chairs and biking excursions. Hang out your sleeping bags while you hang out and plan your excursions from all the guides, topo maps, maps, and menus from local eateries. Comfort and convenience is what Happy Trails and Winslow hopes to offer our guests. Curb-side parking in front of house. Guests have access to whole house and large landscaped yard which includes a propane grill for outdoor cooking. Use of backyard and gardens is seasonal from May to October. Prior arrangements can be made for additional use of space and it's amenities. Secure off street parking is available upon request. Location of key to house will be made available to verified guests at time of confirmed reservation and ETA. Your on-site host is a third-generation Arizona native. Guests can arrange for your stay to be a solitary retreat, or a guided experience to all the usual sites of interest as well as an introduction to some of the area's best kept secrets. Your host has a background in the arts, humanities, historic preservation, agriculture and ranching. She is also a nationally recognized quilter. A large, separate well lit professional studio is available for private quilting retreats. She lives in her unique, self designed casita on site at the rear of the fully landscaped property.
A quiet residential neighborhood, we are a short walk to the historic Hubbell Trading Post, the world famous La Posada Hotel and Gardens, 5-star dining at the Turquoise Room, a local theater, gift shops and galleries all along downtown Winslow's Historic Route 66 and the Standing on the Corner Park. Authentic fresh daily Mexican food can be found at E & O Restaurant at the Historic Lindbergh Airport. Mojo's, an independently owned coffee shop offers up their own fresh roasted coffee that has earned state recognition. The City's McHood Park offers up picnic armadas, swimming, fishing, canoeing, hiking and world class rock climbing at Jack's Canyon. A hop, skip, and a jump off of I-40 provides you with immediate proximity to the Navajo and Hopi Nations as well as the Petrified Forest, Painted Desert, Meteor Crater, Rock Art Ranch, and numerous other destinations of beautiful Northern Arizona and the 4 Corners. Winslow is 3 miles wide and 3 miles long and is perfect for walking and biking. There is no public transportation. The SPEED LIMIT IS 25 MPH, AND 15 MPH DOWNTOWN. Several churches are within walking distance as well as the Post Office, 2 banks, gift shops, antique stores and several locally owned eateries. If you require special dietary rules or needs you will need to bring your own provisions. There is a Safeway and a Walmart, as well as the usual fast food fare. The nearest specialty shopping is due West in Flagstaff, Arizona which is also home to the Museum of Northern Arizona, The Hubbell Telescope, Northern Arizona University, winter skiing, and a variety of eateries and night spots.
Eloise is surely a special woman! And the owner of quite a special place. From the moment we arrived at her home, she made us feel like her home was our home. After trekking through the Grand Canyon for three days, we were certainly ready to rest... and Eloise's home was the perfect place to relax! The home is decorated in a southwestern theme and has many unique touches throughout. Some of our favorites were the cast iron fire place (perfect to sit and read by) and the hand sewn quilts that Eloise makes herself. Additional perks were the variety of reading materials on Arizona and the fridge stocked with breakfast foods including fresh eggs! The home is only a 5 minute drive from The Turquise Room which has fantastic food and is about 50 minutes from Painted Dessert/Petrified Forrest National Park. We truly enjoyed our stay in Winslow!
Lisa
December 2016
Our host was great to talk to, well informed about the area around Winslow, the history of the area and etc... A cozy, charming place that one feels right at home in.
John
January 2016
Great stay! Winslow is a charming little town to staying whether you're visiting Arizona or just passing through. Eloise's home is so lovely and cozy, and there's so much character there!! The pictures don't do it justice, it's rich with history, culture and personality. Eloise was wonderful. She's not just a great hostess, she's one of the most interesting people I've ever met! It was by far one of my favorite Air BnB experiences yet!
Jillian
March 2016
We stayed at Happy Trails near the end of our 12-day road trip. We considered staying at the historic hotel in Winslow, but since we're not hotel people, we turned to Airbnb and Happy Trails was available! Yeehaw! This refurbished bungalow could not have been more perfect for our stay. From the fresh eggs in the fridge to the comfy sheets, our stay exceeded our expectations. (Oh, and the value compared to that hotel can't be beat!) Eloise is a one-of-a-kind lady. While our arrival was set up for self checkin, she knocked on our door shortly after we arrived. She ensured we knew the layout of the home and gave us a chance to get to know one another. If life brings you to Winslow, AZ, Happy Trails is the best place in town to hang yur hat.
Darcy
November 2016
Eloise was the most delightful hostess! She showed us around the whole house and yard, and shared her knowledge about the town with us as well. Such a joy to chat with - and so full of (URL HIDDEN) We would recommend this spot to anyone who enjoys good conversation and a cozy home!
Kathryn
July 2016
If you are driving the I-40 corridor in northern Arizona, or anywhere near Winslow, staying at the Happy Trails is well worth every effort to get there. This is a full sized house, two bedrooms (we suggest the Zane Grey bedroom) a full kitchen, living room, the works! But the true gem of the Happy Trails is Eloise. Full of charm, wit, and genuine western hospitality, Eloise is one of those treasures that makes you want to come back for more. She had fresh cut flowers on the dinning table, fresh roasted and ground coffee from the local java hot spot, and even great beer waiting for us in the fridge. Eloise knows all about the history of the local area, where to go for the best dinner, best cup of coffee, and just about anything that could make a stay more interesting. She loves dogs, and suggested that when we return, we should bring ours! But one night is not a long enough stay, we are already planning a longer visit again after the January weather has moved on and Eloise's roses have started to bloom. Peggy and I highly recommend Eloise's Happy Trails.
Clay
February 2016
Our stay at Happy Trails was our best and most charming experience with AirBNB. Eloise greeted us at the gate and showed us around; the front and back yards are fenced in so our little dog Moxie was free to explore. The inside of her home is very cozy and filled with warmth and charm ; she even had fresh flowers on the table to greet us. We especially enjoyed the gas fired wood burning stove where we sat and read in the evenings. Eloise had stocked the refrigerator with everything for us to enjoy breakfast in the mornings and of course that wonderful coffee. She is well informed with the area and we enjoyed our conversations so much as she had many amazing stories to share with us. Thank you Eloise and we agree that Happy Trails has a sweet soul. Don't ever loose your "spark" !!!!! Joan, Alan and Moxie Tucson, Arizona
Joan
March 2016
We found Happy Trails to be a cozy retreat. The kitchen was really well stocked and the home was beautiful. Eloise is a wonderful person to have as a host. She's caring and really knowledgable. Highly recommended!
Moiz
November 2016
Тип размещения
Дом/квартира целиком
---
Тип жилья
Дом
---
Вмещает гостей
4
---
Спален
2
Winslow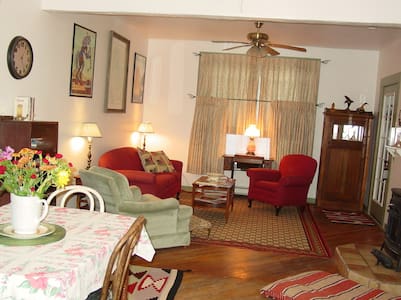 2 king size bed. One is. Liquid memory foam other is a pillow top mattress
Тип размещения
Дом/квартира целиком
---
Тип жилья
Дом
---
Вмещает гостей
1
---
Спален
3
Joseph City