We rent our apartment as an apartment with double room, single, kitchen and bathroom We want to hereby appeal particularly mechanics, business, hikers, cyclists, seminar participants, visitors of members, individual travelers and short stays. Our rooms are modern and comfortably furnished. We live central and quiet!
Level access to the terrace!
The apartment is located in a quiet neighborhood. The area is dominated by single-family houses. In the immediate vicinity you find all shops (Aldi, Edeka, bakers, butchers, restaurants.)
Outstanding deal! Very spacious and comfortable. Hosts were very friendly and easy to work with. The amenities were great quality. Highly recommended.
Nathan
2016-11-27T00:00:00Z
Super Platz und super nette Leute
Kenneth
2017-03-30T00:00:00Z
Тип размещения
Дом/квартира целиком
---
Тип жилья
Квартира
---
Вмещает гостей
3
---
Спален
Erbendorf, Bayern, Германия
Die hochwertig ausgestattete Ferienwohnung mit bulthaup Küchenzeile und geseiften Naturholzdielen bietet mit einem Doppelbett auf der Schlafgalerie und einem Ausziehsofa im Wohn/Esszimmer bequem Platz für 4 Gäste. 2 Bodenmatratzen optional.
Das Gästeapartment ist integriert in einen einen denkmalgepflegten Vierseithof, in ruhiger Lage.
Falls wir mal nicht zuhause sein sollten, helfen die Nachbarn gerne bei Fragen weiter ...
Alexandra war sehr fürsorglich. Die Wohnung war sehr sauber und mit Liebe zum Detail eingerichteten. Die Wohnung ist unglaublich gemütlich und modern eingerichtet. Die Umgebung lädt zu Spaziergängen in der Natur ein.
Christian
2016-10-23T00:00:00Z
Alexandra ist einfach ein Traum - eine wundervolle Gastgeberin! Es hat einfach alles gepasst und sie hat aus dem kurzen Aufenthalt ein Erlebnis gemacht. Eine wunderbare Location - einfach zum Geniessen und Verweilen. Komme immer gerne wieder....
Andre
2016-08-04T00:00:00Z
Wir haben drei wunderschön ruhige Tage in dieser in jeder Hinsicht großzügigen Unterkunft verbracht. Sowohl die Wohnung wie auch die Lage sind traumhaft. Auf einer weitläufigen Rasenfläche mit einer Feuerstelle kann man einen Urlaubstag perfekt ausklingen lassen. Vielen Dank!
Michael
2016-07-23T00:00:00Z
Wir waren an einem Wochenende in dieser wunderschönen Ferienwohnung in der Nähe von Weiden in der Oberpfalz. Sie befindet sich auf einem liebevoll restaurierten alten Bauernhof. Zur Einrichtung: Schlafmöglichkeiten für 4 Personen (2 im Giebel, 2 im Wohnzimmer). Küche voll eingerichtet mit Geschirrspüler, Herd, Ofen, Kaffeemaschine, Wasserkocher, Geschirr, Töpfe.... Großer Küchentisch mit Platz für 6 Personen. Kleines aber nettes neues Bad mit Dusche und einem Waschbecken. Heller echter Holzfußboden mit weißen Wänden und Holzbalken im gesamten Decken wie auch Wandbereich. Hoher Giebel mit vielen kleinen Fenstern und sehr schöner Aussicht auf die Wiese und den Feldern. Versteckte Wandheizung (wir dachten erst es gibt keine Heizung!) im Bad und im Wohnzimmer. Kleiner Flur und kleine Abstellkammer. Alles ist sehr hochwertig restauriert und als Zustand neuwertig. Was gibt es sonst noch: Ausreichend Parkplätze Riesige Wiesen zum Spielen für Kinder mit Sandkasten, Trampolin und Bauhaus. Einem wirklich großen Innenhof mit Sitz- und Essensmöglichkeit. Sehr nette und hilfsbereite Eigentümern die mit auf dem Grundstück leben. Gibt es eigentlich etwas zu kritisieren? Wenn man ehrlich ist, nein. Nur kleine Anmerkungen: Es gibt keinen Fernseher, was für uns aber kein Problem war und wir ihn auch nicht vermisst haben. Vielen Dank für das schöne Wochenende.
Michael
2016-05-23T00:00:00Z
Top Unterkunft zum Entspannen!
Alexander
2017-01-02T00:00:00Z
Alexandras Wohnung ist sehr schön und hochwertig eingerichtet. Man hat einen tollen Ausblick über die umliegenden Felder und kann auf der Wiese hinter dem Hof eine Baumschaukel und das Trampolin nutzen. Wir waren als Doppel-Pärchen mit je einem Kleinkind <2 Jahre da. Falls man in einer ähnlichen Gruppe plant anzureisen, sollte man im Hinterkopf haben, dass die Wohnung nur ein großer offener Wohnraum ist - ausgenommen Bad+Flur keine abgeschlossenen Zimmer. Für uns war das absolut in Ordnung und wir haben unsere 2 Tage sehr, sehr genossen.
Adrian
2017-03-05T00:00:00Z
Sehr schöne Unterkunft und wirklich tolle Gastgeber.
Marcel
2016-09-19T00:00:00Z
Wunderschöne Unterkunft in fantastischer Lage. Alexandra ist eine sehr herzliche Gastgeberin. Die Kommunikation im Vorfeld verlief reibungslos, ebenso die Ankunft. Alexandra hieß uns persönlich Willkommen und führte uns durch die sehr stilvoll eingerichtete und makellos saubere Wohnung. Zu zweit war sie von der Größe her absolut perfekt. Bettwäsche und Handtücher konnten wir bei Alexandra für einen kleinen Aufpreis noch dazubestellen, ebenso waren wir herzlich eingeladen bei ihr nachzufragen, sollte uns etwas fehlen. Die Küche mag (vor allem was Verbrauchsmaterial angeht) etwas spartanischer eingerichtet sein, als man das von manchen Airbnbs gewohnt ist, das Angebot von Alexandra allerdings macht diesen Umstand bedeutungslos. Nicht zu vernachlässigen ist die Lage des Apartments. Es ist wirklich sehr ruhig, die Wiesen und Wälder, v.a. der nahegelegenen Steinwald, laden zum Spazierengehen, Wandern und Laufen ein. Ein sehr schönes Naturerlebnis, das wir sicherlich abseits des Schneesturms noch einmal besuchen wollen. Vielen Dank, liebe Alexandra!
Sonja
2017-01-05T00:00:00Z
Тип размещения
Дом/квартира целиком
---
Тип жилья
Квартира
---
Вмещает гостей
6
---
Спален
Püchersreuth, Бавария, Германия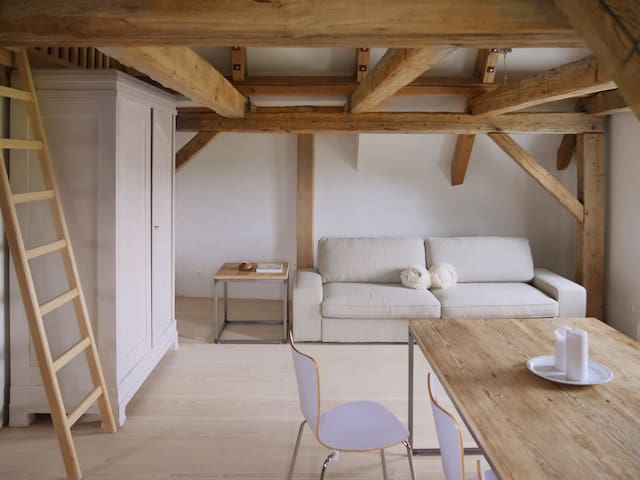 We offer a place to stay in our private home. Separate shower and WC.
Тип размещения
Отдельная комната
---
Тип жилья
Кондоминиум
---
Вмещает гостей
2
---
Спален
Weiden in der Oberpfalz, Bayern, Германия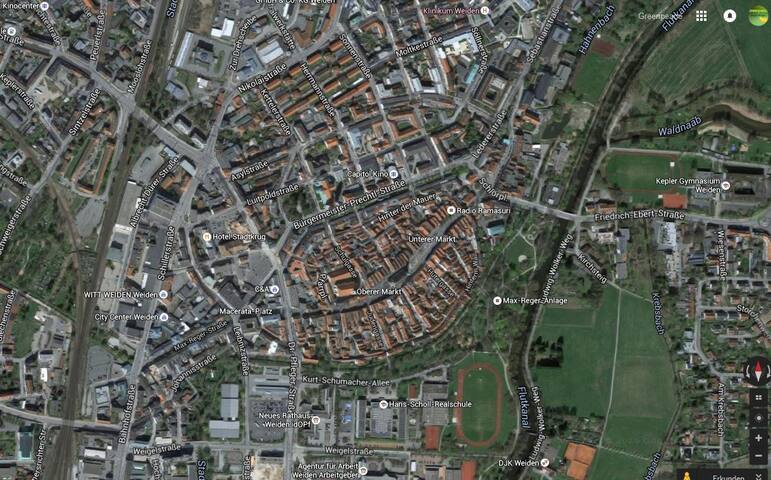 Wildenreuth in the Upper Palatinate is only 30 minutes from Bayreuth (Wagner Festival) and 15 minutes from wicker away! The eventful Steinwald Nature Park is ideal for extensive walks. Among the four magnificent 18 hole golf courses, is one of the most beautiful golf courses of Germany "Schwanhof golf course". Removal of these places between 20 to 40 minutes. The known Zoigl Bierstadt Windischeschenbach is 5 Km addition Wildenreuth. Trips to the Czech Republic are recommended
This fairytale castle in the most beautiful natural features wellness "pure"! Fantastic hiking trails in the adjacent woods, sledding and skiing in winter, excursions with the horses.
The friendliness and openness of the neighborhood is especially to be highlighted!
Das waren wunderschöne Tage auf dem Schloss! Inmitten der schönsten Golfplätze Deutschlands und noch in gut erreichbarer Nähe nach Bayreuth und seinen Festspielen haben wir unseren Urlaub restlos genossen. Eva ist eine sehr nette Gastgeberin, die uns nicht nur freundlich empfangen hat, sondern auch immer mit guten Tips versorgt hat. Die wunderschönen Zimmer und die Abende auf ihrer Terrasse waren unbeschreiblich! Ich würde mich freuen wenn sich dieser Urlaub wiederholen ließe!
Marianne
2016-08-01T00:00:00Z
Тип размещения
Дом/квартира целиком
---
Тип жилья
Замок
---
Вмещает гостей
4
---
Спален
Erbendorf, Bayern, Германия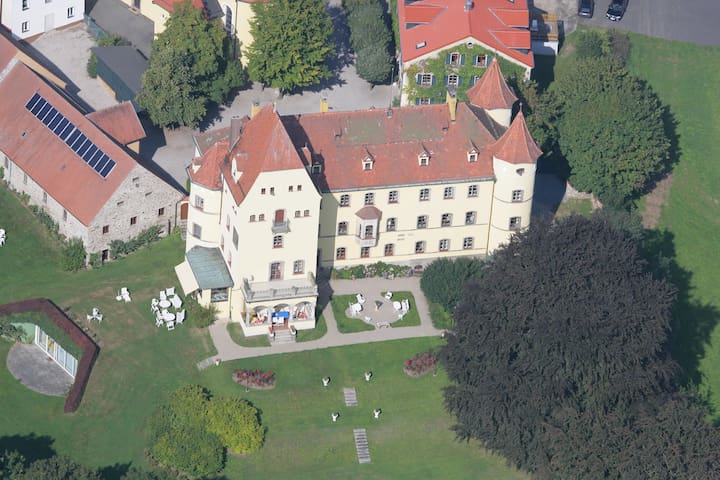 Modern and cozy apartment in the heart of the Upper Palatinate. The 65m2 apartment with sunny balcony is located in a quiet location with easy access to the main city points grazing. Parking is free.
The quiet, bright 2-bedroom apartment is on the 2nd floor of an apartment building. It consists of a living room with TV-connection and wood stove, bedroom, a fully equipped kitchen, bathroom with window, and a balcony. Internet can be used free of charge
Всё понравилось, особенно гостеприимство хозяина. Расположение удобное, учитывая небольшие расстояния города. Не в центре, но прогуляться недолго до центра можно. Городок очень уютный.
Ирина
2016-05-02T00:00:00Z
Nice, basic apartment in Weiden. It was nicely decorated and well supplied with everything you might need. It is the first apartment I have stayed in that seems like it is actually being used as a living space by the owner. The only issue I have is that I don't know if the apartment has heat other than the wood burning stove. The stove was super nice and I enjoyed using it, but sometimes it is nice to get up to a warm apartment without starting a fire. Overall, all was good. I would definitely stay again if I were in Weiden.
David
2016-04-03T00:00:00Z
look location for me. host is nice people.
Judy
2016-11-14T00:00:00Z
The host canceled this reservation the day before arrival. This is an automated posting.
Eric
2016-06-08T00:00:00Z
Excellent host. No complaints. Even had the fireplace on for my arrival. Definitely would stay again. All amenities walking distance. Thank you Kevin!!
Emery
2016-01-16T00:00:00Z
Very enjoyable experience! Great host - very hospitable, flexible, friendly and polite. Kevin helped us with convenient times for check-in/check-out, was very generous with everything in the apartment. Apartment is well maintained, and clean. A real fireplace in the living room was a huge surprise when we walked in and created very cozy atmosphere during the cold weather in Germany. Highly recommend!
Alexander
2016-01-23T00:00:00Z
Guter und freundlicher Gastgeber. Gerne wieder. :)
Christian
2016-11-19T00:00:00Z
Jerome is a great host ,he will do his best to satisfy you!
Barbato
2017-04-10T00:00:00Z
Тип размещения
Дом/квартира целиком
---
Тип жилья
Квартира
---
Вмещает гостей
4
---
Спален
Weiden in der Oberpfalz, Bayern, Германия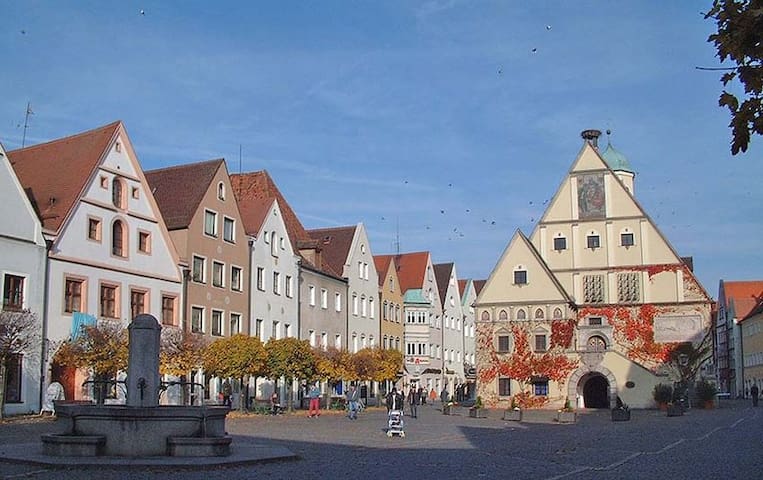 Ten pojedynczy pokój znajduje się na 1. piętrze. Jest druga sypialnia dla dwóch osób, które mają być zapisane oddzielnie.
这种单一的卧室在一楼。我们还提供了另一间卧室有两个,你可以单独预订。 我们生活在我们的大约1000名居民在附近的村庄,你也可以预订晚餐唯一的餐厅一个安静的位置计数的地方Schwarzenbach酒店。 因为我们只是住在一楼,一楼是出租服务。 有两间卧室:一个具有单个床(宽度:120厘米),另一个具有一个双人床(宽度:200厘米)。 请注意:您所预订的单间,配有双人床,第二间卧室可分别通过的Airbnb预订! 为了用于所有客人有:带淋浴,浴缸和浴盆和休息室的浴室。休息室配备了一台跑步机,kickboxes和一个小电视。 配有冰箱,电水壶,咖啡机和一些菜自给小茶角落可用。 在2017年春季预计,新一村店将在这里开幕。到那时,你将提供丰富的早餐,当地的食物。 每人每天的早餐5€。请预先注册在预订的时间!
Absolutely the perfect place to stay for a friendly, clean and spacious stay. The room is exactly how it is described and a very short 10 minute drive to Grafenwöhr. I stayed in this room for 2 weeks and felt as comfortable as if I were in my own home. Most mornings I left too early to enjoy breakfast but the last day I enjoyed a superbly prepared breakfast by Elisabeth. I will stay with Elisabeth again and would highly recommend her AirBnB room to anyone.
Cameron
2017-02-18T00:00:00Z
My 2nd time staying there. Host is very nice. Room and bed is comfortable. A very good value. I will definitely stay again.
David
2016-10-20T00:00:00Z
Sympatische Gastgeber, offen für alles. Gerne wieder. Frühstück sehr, sehr gut.
Ulrich
2016-09-11T00:00:00Z
Sehr gastfreundliches Ehepaar, das meinen zweitaegigen Aufenthalt sehr angenehm und stressfrei gemacht hat. Das Zimmer ist genau wie beschrieben, alles ist sehr sauber und gemuetlich. Alles war bestens! Sehr empfehlenswert!
Dieter
2016-09-12T00:00:00Z
Hat alles super locker funktioniert - gerne wieder!
Carsten
2016-12-13T00:00:00Z
Frau Elisabeth und Herr Elisabeth sind sehr nett und freundlich! Das Haus ist groß,liegt nur 500m von der Haltestelle. Alles waren gut, sauber, ruhig. Das Frühstück von Frau Elisabeth war geschmackvoll! Vielen Dank! Gerne wieder!
旭东
2016-07-20T00:00:00Z
Nette Gastgeber, alles hat problemlos geklappt. Immer wieder gerne!!
Iris
2016-08-08T00:00:00Z
Тип размещения
Отдельная комната
---
Тип жилья
Квартира
---
Вмещает гостей
1
---
Спален
Schwarzenbach, Bayern, Германия
My quiet location, bright 2-bedroom apartment is on the first floor of an apartment building. It consists of a living room, bedroom, a fully equipped kitchen, bathroom with window, and a balcony. The sofa in the living room can also be used as a bed. A bus stop is only 50 meters away.
Тип размещения
Дом/квартира целиком
---
Тип жилья
Квартира
---
Вмещает гостей
3
---
Спален
Weiden in der Oberpfalz, Bayern, Германия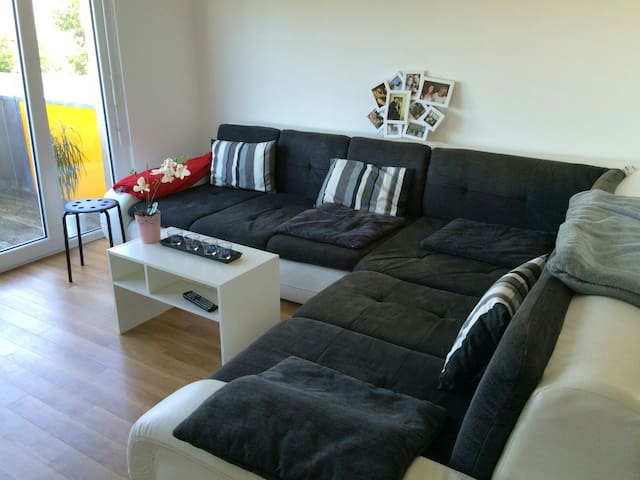 очень тихая, приятная обстановка в красивом особняке воспаленные красивые природные окрестности с большим количеством возможностей для ходьбы для детей сад Трансфер от железнодорожного вокзала Визау и возможны Марктредвицы
Тип размещения
Отдельная комната
---
Тип жилья
Дом
---
Вмещает гостей
2
---
Спален
Fuchsmühl, Bayern, Германия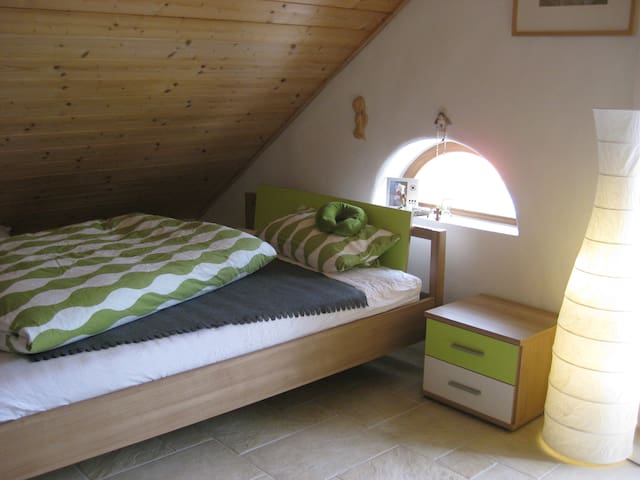 Тип размещения
Дом/квартира целиком
---
Тип жилья
Гостевой дом
---
Вмещает гостей
2
---
Спален
Erbendorf, Bayern, Германия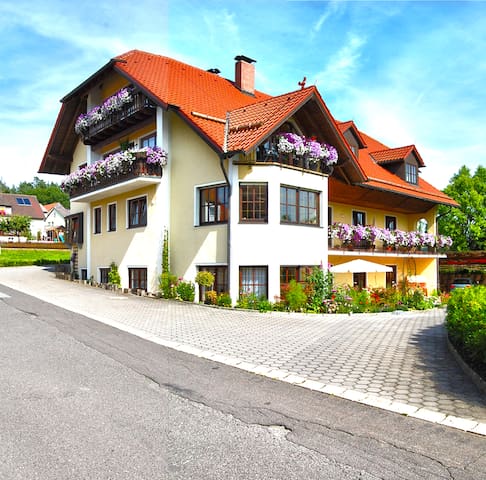 Bardzo mili ludzie. Pobyt udany. Polecamy
Pks
2017-04-01T00:00:00Z
Elizabeth war eine sehr nette Gastgeberin mit vielen Tips was man tun kann in der Gegend. Sehr ruhige Umgebung mit guter Luft. Perfekt um abzuschalten aber auch gut genug gelegen um aktv etwas zu unternehmen wie z.B. Wandern oder Radfahren etc. Das Zimmer ist groß genug für zwei Personen. Die Matratze ist härter als man sie eigentlich kennt, wobei ich sagen kann das es meinem Rücken wirklich gut getan hat. Tolles Badezimmer. Absolut empfehlenswerte unterkunft!
Rebecca
2016-07-17T00:00:00Z
Nice room. Clean, comfortable, with good internet. The apartment space was very nice with a great balcony. Host was very friendly and was very open to help with anything. It is a very easy drive to Graff. I would definitely stay again--in fact I have already booked again for October. I very good value for the the price paid.
David
2016-07-23T00:00:00Z
Das Zimmer ist groß, sauber und komfortabel. Freundliche Gastgeber. Frühstück sehr lecker Ich empfehle mit Zuversicht für einen kurzen Besuch in der Gegend.
Valentin
2016-05-12T00:00:00Z
A wonderful place and great experience staying at Elisabeth's room in Schwarzenbach. The room was big and clean, and Elisabeth was helpful, communicative and an enthusiastic. A perfect Airbnb experience!
Jeff
2016-07-04T00:00:00Z
Super Unterkunft. Ordentliches Zimmer und großes nutzbares Wohnzimmer. Sehr gutes, sauberes und schönes Bad. Gastgeber auch supernett und sympathisch. Frühstück war auch mehr als zufriedenstellend. Alles in allem sehr gerne wieder. Allerdings ist man von der Lage her ohne Auto eher aufgeschmissen.
Sebastian
2016-05-23T00:00:00Z
eine sehr herzliche begrüßung. am naechsten morgen ein leckeres fruehstück und es hat an nichts gefehlt.
Wolfram
2016-10-01T00:00:00Z
A nice place and Elisabeth it's also very nice!!!. Thank you Elisabeth!!!
Roberto
2016-08-14T00:00:00Z
Тип размещения
Отдельная комната
---
Тип жилья
Квартира
---
Вмещает гостей
2
---
Спален
Schwarzenbach, Bayern, Германия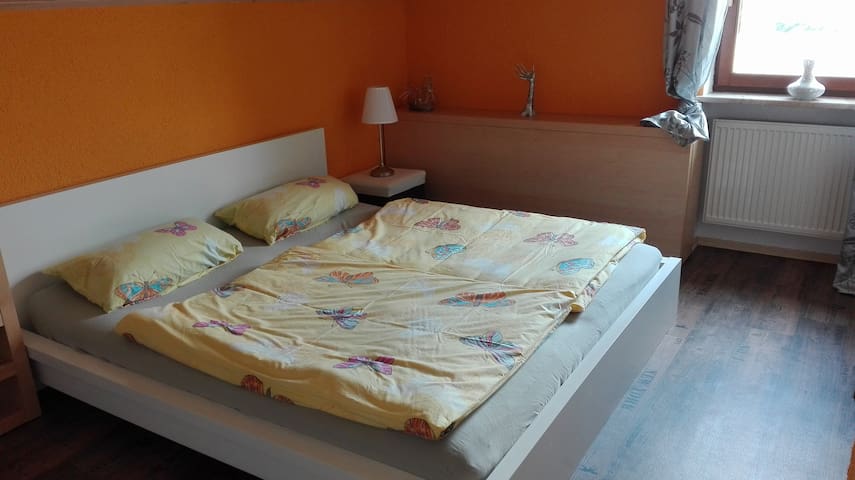 Тип размещения
Дом/квартира целиком
---
Тип жилья
Гостевой дом
---
Вмещает гостей
2
---
Спален
Erbendorf, Bayern, Германия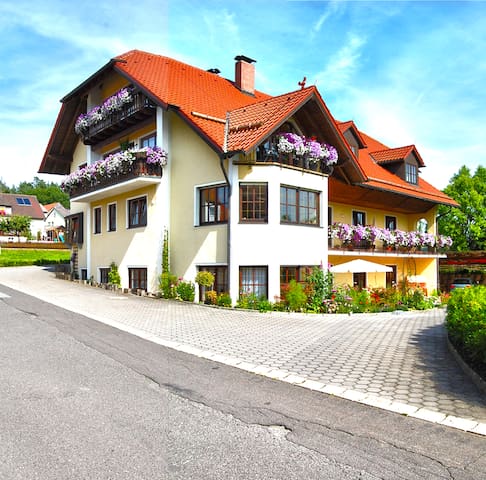 Beautiful apartment with three bedrooms, kitchen, bathroom. Completely renovated and refurbished. Rooms can be rented individually on request. Very good connections (motorway, bus stop). In the vicinity is a recommendable bakery and butcher shop. Beautiful flat with 3 bedrooms, kitchen, bathroom. Completely new renovated.
Very nice newly renovated apartment. Especially the bathroom is a real eye-catcher. There, individual natural stones were laid in part. A furnished kitchen. 2 doubles, 1 single room but since the bed is 1.40m wide, it can also be optionally available for 2 people rented.
Peaceful area. Nice neighborhood gardens. Family bakery and butcher shop, gas station and supermarkets, bars, etc. near
Тип размещения
Дом/квартира целиком
---
Тип жилья
Квартира
---
Вмещает гостей
6
---
Спален
Weiden in der Oberpfalz, BY, Германия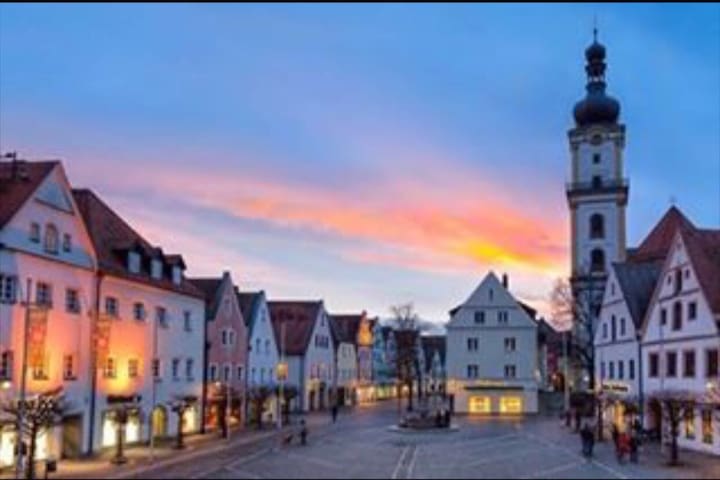 Beautiful, newly renovated, bright, spacious old apartment (almost 100 square meters) with stunning views in the heart of the old town. There are several restaurants and cafes close to the stylish apartment. After two minutes walk takes you to the beautiful Max Reger Park. Outside the door of the famous weekly market (Wednesday and Saturday morning). Numerous shops are within walking distance. WiFi and smart TV.
The entrance and the staircase are currently still in renovation state.
Тип размещения
Дом/квартира целиком
---
Тип жилья
Квартира
---
Вмещает гостей
2
---
Спален
Weiden in der Oberpfalz, Bayern, Германия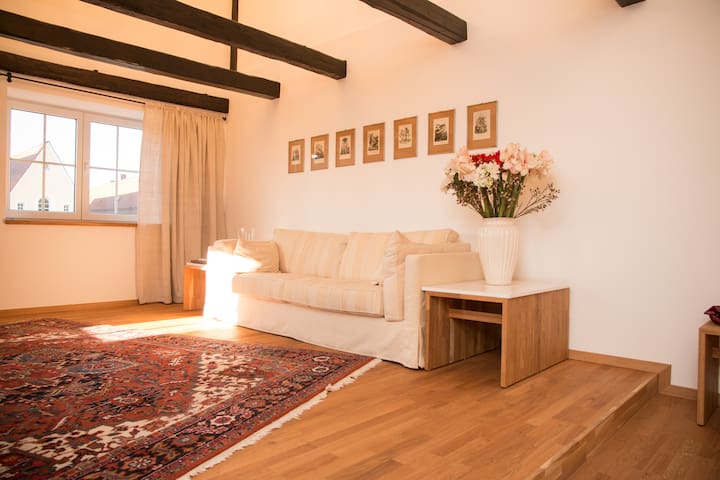 Freistehendes Ferienhaus (110 m² Wfl) mit Kaminofen großer idyllischer Garten, Terasse, ruhige Lage am Ortsrand von Schwarzenbach im Oberfälzer Wald in Bayern. Idealer Ausgangspunkt für Radtouren und Wanderungen im Oberpfälzer Wald.
Sie verbringen Ihren Urlaub bei uns in einem neuen, frei stehenden Ferienhaus inmitten eines idyllischen Gartens in ruhiger Lage am Ortsrand von Schwarzenbach. Die 110 m² große Ferienwohnung besteht aus einem Wohnraum mit gemütlicher Sitzecke und wärmendem Kaminofen, einer modernen Küche mit Essplatz, einer Diele, zwei Schlafräumen mit je zwei Betten, einem geräumigen Bad, sowie einer Terrasse. Für Radler steht eine abschließbare Garage zur Unterbringung der Fahrräder zur Verfügung. Es ist uns wichtig, Ihnen, als unsere Gäste, eine gemütliche und wohnliche Atmosphäre zu bieten. So können Sie nach einem erlebnisreichen Tag in der Oberpfalz den Tag vor dem mit Holz beheizten Kamin ausklingen lassen. Es liegt uns sehr am Herzen, dass sich auch unsere kleinen Gäste bei uns wohl fühlen. In unmittelbarer Nähe zum Ferienhaus befindet sich ein gepflegter Spielplatz. Unser Ferienhaus bietet ausreichend Platz für 4 Personen und ein Kleinkind. Wir haben viel Wert darauf gelegt, dass sich unser Ferienhaus selbst mit Energie versorgt. Aus diesem Grund haben wir eine Photovoltaikanlage installiert. Weiterhin war es uns wichtig, dass zur Beheizung des Hauses nachwachsende Rohstoffe aus der Region verwendet werden. Bei der Auswahl der Baustoffe haben wir uns für natürliche Werkstoffe wie Holz, Stein, Stahl oder Glas entschieden.
Тип размещения
Дом/квартира целиком
---
Тип жилья
Дом
---
Вмещает гостей
4
---
Спален
Bärnau, Bayern, Германия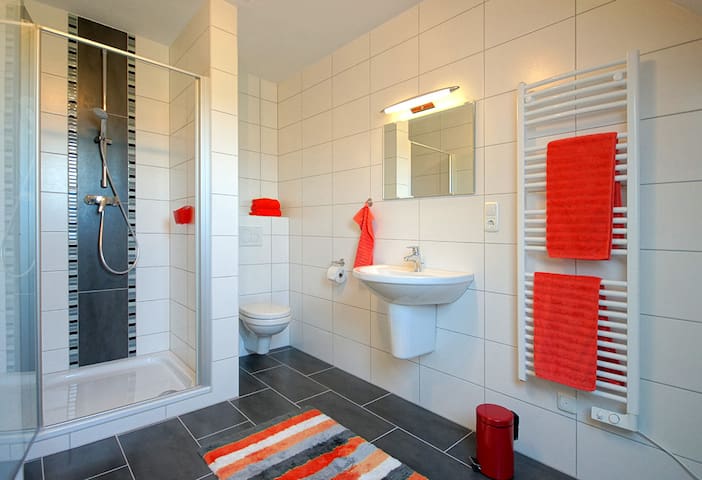 It is a completed 2-room apartment in an apartment house, 4 km south of Weiden. The room has a comfortable bed. The kitchen and the bathroom is shared. In a quiet residential area. The room is oriented to the north.
Тип размещения
Отдельная комната
---
Тип жилья
Квартира
---
Вмещает гостей
1
---
Спален
Pirk, Bayern, Германия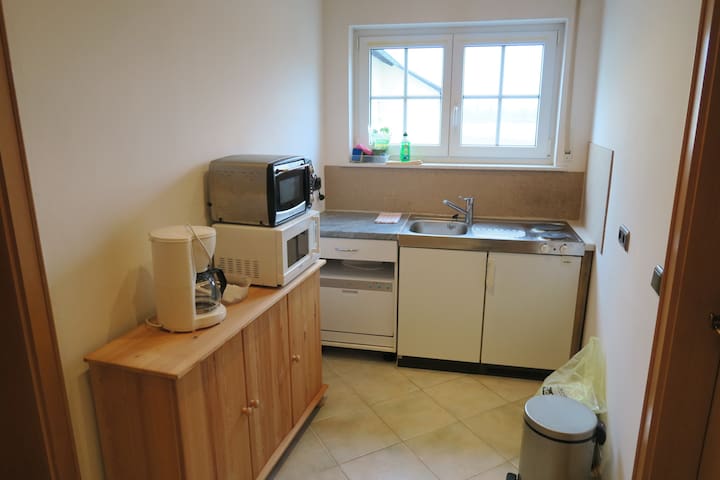 Very nice bright room in a 3 Zi- apartment, all newly renovated. 1.40 m wide bed for 1-2 persons. Nice bathroom with natural stone and kitchen as Shared. Good location to all transport links. Bus stop, gas station, supermarkets, etc. near
Throughout the apartment everything was renovated by us and rehabilitated. There's a lot of passion in it. In the bathroom, the natural stones were individually placed by hand. We wanted to have a little holiday feeling-oasis created and hope that it so pleases them exactly like us.
Nice neighborhood gardens, good bakery and butcher in the neighborhood
Тип размещения
Отдельная комната
---
Тип жилья
Дом
---
Вмещает гостей
2
---
Спален
Weiden in der Oberpfalz, BY, Германия
Meine Unterkunft ist in der Nähe von Gate 3 of Army installation .
Der Preis bezieht sich auf ein Einzelzimmer.
Andrea welcomed us as soon as we arrived. She came out and greeted us. Assisted with the luggage and showed us around. It was like we had known her for a long time. I can not express the feeling and the warmth that she bestowed upon us. She is indeed a very warm hearted person that gives far more than expected. If she was not heading to the US to visit her grandchildren I would still be there. Thank you Andrea.
Marija
2016-10-11T00:00:00Z
This is the second time I stayed here. Perfect place for working at or visiting Graff. It is certainly better than the local hotels and is super convenient for working on Tower Barracks. I think the place is great and so is Andrea. I will definitely stay again if it is available.
David
2017-02-18T00:00:00Z
Andrea is absolutely the most sincere clean and the friendliest host I had. I have been traveling in Europe last three years, I have seen quite a few hosts. She is definitely the top notch host. She is helpful, organized, thoughtful and the most generous. I am grateful about the things she has done to make me feel at home. Thank you very much, Andrea!!!! Graf is not a town for touristic activities. However, if you are going to visit Graf for military related reasons her place is walking distance from one of the gates.
Emine
2017-03-16T00:00:00Z
Miss Andrea was a great host I feel like in family she make everything so much easy and confortable i love here place it was super clean and easy for military family to stay thanks miss Andrea your the best!!!!
Daniel E
2017-01-07T00:00:00Z
I have stayed in many rooms on airbnb and Andrea's is my favorite so far. The private bedroom Comfortable, clean, and well designed. The furniture is new and the room is recently refurbished with a very nice private bathroom with a good-sized shower, good heat on a very cold winter day, and a very comfortable full sized bed (not two singles pushed together that you find in many European rooms). Andrea was friendly and helpful but also very respectful of my privacy. The overall apartment is very nice and Andrea is happy to share the living space.
David
2017-01-13T00:00:00Z
Тип размещения
Отдельная комната
---
Тип жилья
Таунхаус
---
Вмещает гостей
1
---
Спален
Grafenwöhr, Bayern, Германия
Введите даты, чтобы увидеть полную цену без учета дополнительных сборов и налогов.