Введите дату прибытия в формате дд.мм.гггг
Введите дату отъезда в формате дд.мм.гггг
Объявления, которые вы можете забронировать, не дожидаясь одобрения от хозяина.
3 объявления
· Ohio Township
3 объявления
· Ohio Township
Введите даты, чтобы увидеть полную цену без учета дополнительных сборов и налогов.
В июле и августе этого года вы сможете открыть для себя один из сотни самых лучших домов, с самыми разными ценами, и увидеть долину Сонома, какой ее видят местные жители. Круглосуточное прибытие, мгновенное бронирование, местное вино и закуски помогут вам расслабиться и насладиться поездкой.
Restored 1938 home with original oak floors. You will have this sunny and homey house all to yourself. It is in a very quiet neighborhood and only 3 blocks from the Ohio River and the River Walk. There are a couple of restaurants that overlook the river and within walking distance. We have plenty of grocery stores, pharmacies, gas, and a theatre in the Newburgh area. We're only 10 minutes from east Evansville. Newburgh is a great walking town with historical houses and civil war history.
The house was built in 1938, by the Herr's, and they raised eight daughters and one son in the home. We are the second owners. The house has been updated and the original oak floors have been brought back to life. The house has never been smoked in. For safety issues the gas stove was disconnected, but there is a microwave, refrigerator, coffee pot, tea maker, toaster, iron and ironing board. You will be given a key when you arrive from the hosts. We will show you around and answer any questions. There are flyers or websites for nearby restaurants in a basket on the counter in the kitchen. A couple of the restaurants are overlooking the river. Most will be in walking distance and so is the River Walk so remember to bring your walking shoes. We also have some brochures in the magazine rack in the living room that will give you some history of Newburgh and if you are game, a walking tour of historical buildings and homes in the area.
Newburgh is a very historical town with plenty of green plaques denoting the history of the house and its owner. Three blocks from the house is Newburgh's River Walk. Meander down and join the families walking with their children or dogs and enjoy the view of the town and the mighty Ohio River. If you like to jog or bike the River Walk is made for you. We also have a couple of restaurants along the River Walk to enjoy the Ohio while dining. Bring your camera, you might get that perfect sunset shot over the mighty Ohio at dusk. We have plenty of parking near the front porch for ease of packing in luggage. There are grocery stores, Walmart, pharmacies, a theater, and a library, within a five to ten minute drive right here in Newburgh. We are ten minutes from Green River Road in Evansville. There you will find all kinds of fast food, restaurants, Eastland Mall, and plenty of shops. We are also only 47 miles from Holiday World. In less than an hour, it's a fun place to take the day off with the kids. We do not allow pets in the house, however there are two dogs in an enclosure outside that will let you know they are there if you come home after dark. They are sweet old dogs, but great watchdogs.
Our stay at Herr House was very enjoyable. The house was clean and comfortable and tastefully decorated. Darleen and her husband were great hosts and were attentive to our needs. It's a nice, quiet location that's only a few minutes from Evansville's busy East Side offerings. We will definitely reserve again for another visit!! Thanks, Darleen! :)
Quinn
April 2016
Great place! I arrived a few minutes early & Darleen was already there. I enjoyed learning about the history of the house from her. Really nice place. Very clean & comfortable. No complaints.
Meredith
November 2016
Our stay at Herr House was our inaugural Airbnb experience. Scott and Darleen were warm and gracious hosts. They greeted us upon our arrival, provided us some history of the home, and then left us to enjoy our weekend stay. Herr House had everything we could ever need to be comfortable and was in a beautiful location just steps to the Ohio River and the town of Newburgh. We'll definitely be back!
Erin
December 2016
We found Newburgh adorable, friendly, welcoming: Largely because of Darlene & Scott. They are an inspiring team. We truly enjoyed our daily strolls, working & writing on the porch, saying "hi" to neighbors over the picket fence, & Tin Fish. What a nice way to learn about Newburgh!
Sharon L
September 2016
One of the best places I have stayed at in a long time. Felt like home. The owners are super nice and had a lot on info and suggestions about the area. A must is the edge water grill at sunset. I will be coming back.
Michael
October 2016
Great play to stay. A short walk to the river walk, restaurants and shopping. The house is very comfy and clean and has everything you could need. Darlene and Scott even had different coffees and bottles of water in the fridge for us! Would definitely stay again.
Sharon
May 2016
The house looked better than the pictures on AirBnb inside and out! When we drove into the quaint town of Newburgh, IN and passed all of the cute shops, we were so happy to look down at my phone's GPS and see that this house was only 1 minute away from the downtown area and the Ohio River. Darleen and Scott were truly accommodating. They met us at the door and showed us around the house and gave us clear instructions. They even gave us good suggestions for restaurants. If there is something missing in the house they quickly brought it by.
Matt
June 2016
What a fabulous experience. Everything was perfect!!! Darleen and Scott are The perfect host and hostess and you can tell from the moment you step into the house that they have thought of everything to make your stay a pleasant and memorable experience.
Eleanor
November 2016
Тип размещения
Дом/квартира целиком
---
Тип жилья
---
Вмещает гостей
4
---
Спален
2
Ньюбург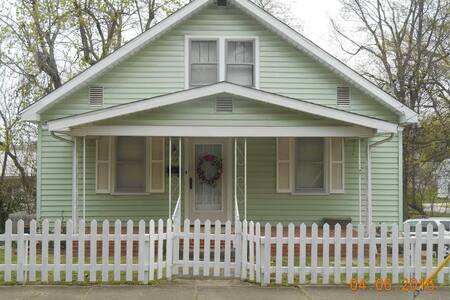 My cozy 3 bedroom ranch is located in a quiet neighborhood. It is close to restaurants, grocery stores and main highway.
Chad has a great location near highways to get around the area, and an excellent place to stay. He was an excellent host.
Steve
November 2016
Chad was a fantastic host and his home is very comfortable and modern. The room is well furnished and the bathroom are very clean. He was nice and social and knew the local area very well and I went out using his recommendations and had fun. I strongly recommend staying with him and I will most definitely stay here again when I am back in town.
Michael
October 2016
Тип размещения
Отдельная комната
---
Тип жилья
---
Вмещает гостей
2
---
Спален
1
Ньюбург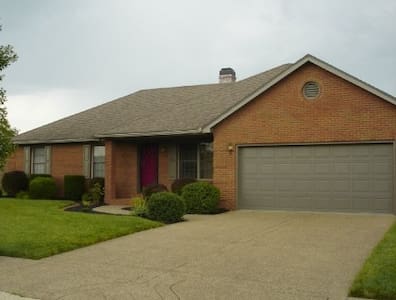 I've been hosting since July, and I've been booked over 80% of this time! Most are long-term guests (30+ days), and it's been a phenomenal experience. Short-term guests are always welcome, if you can find an opening! I fell in love with my duplex nearly four years ago with its open floor plan, and large rooms. The bedrooms (and walk-in closets) are massive, and are located on the second floor. It's in a quiet neighborhood minutes from shopping and the riverfront.
The living areas are pretty big. It's a 1400SF house with both a living room and family room. I also have a large kitchen with an island/bar and a dining area. There's a patio, hammock, and fire pit out back. Make yourself at home. The entire home is open to you, with the exception of my bedroom (which is across the hall from yours). All the living areas and bathrooms are shared. You don't stay cooped up in your bedroom all day when you're at home, do you? Of course not! If you wanted a single room to sit in all day, you'd book a cheap hotel. I have both a family room and a living room that are barely used. Please come out of your room and use them. Who know's... maybe we enjoy the same TV shows or Netflix movies? Or maybe you need to unwind with a long walk with me and Duke (my dog) while you vent about your difficult day at work? I typically work during weekdays, but I love to socialize if you want to just chill in the evenings. I cook dinner for myself most evenings, and if you're around, I'm happy to share on occasion.
Newburgh is a residential region about 10 minutes from the Evansville's East Side. Let's face it. You're not coming to Newburgh for sight-seeing. You're coming here to visit friends and family, or maybe for business reasons. You don't want to pay $99 for a hotel. I get that, and I'm happy to help. This is by far my favorite neighborhood yet. I live off the major roads in a subdivision, so it's quiet, safe, and clean. If you're looking to kill some time, I recommend driving 5 minutes to Downtown Newburgh's riverfront. It has an extensive walking/biking trail that goes along the riverfront, right through the heart of downtown. If you've never visited Newburgh or Evansville, you'll soon learn that public transportation is not a priority around here. You'll want to hop in your car for wherever you are going. Luckily, traffic is generally light and parking is free - unlike some larger cities in the US. 1) I have a large (but friendly) dog. He's very well behaved, and won't disrupt your stay. He loves new people and sits around hoping you'll toss him a treat. If you don't like him 'hovering', just tell him it's "bedtime" and he'll go straight to bed. 2) With the Airbnb as active as it's been, I've chosen to add an August Smart Door Lock to my front door. That way, there's no physical key to lend or return. You'll automatically receive a code to unlock the door with the keypad, and if you use the August App, you can unlock the door with your phone when you're within bluetooth range. If you ever forget your code, I can unlock the door remotely for you. 3) I'm a tech-davy guy, so I've set up a Mac Pro in the guest room with dual monitors, in case guests have a need for a more powerful computer while they're here, without the need to pack it. It has Microsoft Office 2010 (Word, Excel, Powerpoint), and since it runs OS X, it pairs quite well if you use an iPhone - allowing you to make and receive phone calls and SMS messages. There is a guest account that automatically deletes its data when you log out. Long-term guests will get a password-protected user account that they can securely erase upon departure.
Ken was great. He walked out to the car and welcomed me when I drove up. He is extremely pleasant, helpful and laid back. The bed was comfortable and the room was spacious. The house is near plenty of places to eat and shop. For those who are working in Owensboro - the drive to Ken's house is an easy relaxing drive. Ken's place was a far better choice than the $90 a night hotels in Owensboro.
Rick
July 2016
The place is as described, and the host and his dog are very friendly. If you enjoy cooking or sharing meals, every night is a chance to dine in. The neighborhood is quiet and safe, my car had moving items in it for a week, and no one broke in.
Deven
August 2016
Ken and his dog, Duke, were kind and welcoming. The check in and check out experience was very streamlined and effortless. The place was very clean, quiet, and photos were accurate.
Raphael
July 2016
Friendly, easy, comfortable, and clean! Short but very nice stay with Ken. Don't hesitate to book, great stay.
John
November 2016
Friendly host, nice house, cute dog
KILWON
December 2016
My 3-night stay with Ken was fantastic. He is a very friendly person and I enjoyed the time I spent with him. Ken is very knowledgeable about the area and was helpful in suggesting things to do and places to eat. He does have a big dog (Duke) who is very friendly and easy to get along with. Everything was clean and the bed was very comfortable. He lives in a quiet neighborhood and it was easy to get out to the places I wanted to visit. He was quick to respond to questions. I highly recommend Ken as a host.
John
July 2016
Ken is a gracious, attentive host. Adding cinnamon to the French toast that he made fresh for us at 6am might be all you need to hear. Thanks, Ken.
Greg
November 2016
Ken was an excellent host throughout my three month stay. Duke, his friendly and sociable dog, wasn't too bad of a host either. It was very easy to talk to Ken. He would even offer to cook meals, which I must add, were some pretty good meals. The duplex is large just as described, and it is located in a quiet neighborhood. I commuted to downtown Evansville for work easily in 15-20 minutes depending on the morning traffic. I really enjoyed my stay and would recommend anyone a rental with Ken as a host.
Grant
November 2016
Тип размещения
Отдельная комната
---
Тип жилья
---
Вмещает гостей
2
---
Спален
1
Ньюбург