Restored 1938 home with original oak floors. You will have this sunny and homey house all to yourself. It is in a very quiet neighborhood and only 3 blocks from the Ohio River and the River Walk. There are a couple of restaurants that overlook the river and within walking distance. We have plenty of grocery stores, pharmacies, gas, and a theatre in the Newburgh area. We're only 10 minutes from east Evansville. Newburgh is a great walking town with historical houses and civil war history.
The house was built in 1938, by the Herr's, and they raised eight daughters and one son in the home. We are the second owners. The house has been updated and the original oak floors have been brought back to life. The house has never been smoked in. For safety issues the gas stove was disconnected, but there is a microwave, refrigerator, coffee pot, tea maker, toaster, iron and ironing board.
Newburgh is a very historical town with plenty of green plaques denoting the history of the house and its owner. Three blocks from the house is Newburgh's River Walk. Meander down and join the families walking with their children or dogs and enjoy the view of the town and the mighty Ohio River. If you like to jog or bike the River Walk is made for you. We also have a couple of restaurants along the River Walk to enjoy the Ohio while dining. Bring your camera, you might get that perfect sunset shot over the mighty Ohio at dusk.
Clean, efficient, and nice hosts. Very quiet neighborhood. Easy to drive to. Some walkable restaurants. Clean towels and sheets. Very homey.
Jen
2017-03-27T00:00:00Z
Wonderful quite home
robert
2017-01-11T00:00:00Z
This home was perfect for my stay. It was very clean and Darleen was so accommodating. She communicated very well with me. The house is in walking distance of the very charming town center with several good restaurants. It was furnished very comfortably. I hope to return and bring my spouse!
Ruth
2016-04-29T00:00:00Z
We had a great stay. Darleen and her husband were great hosts! They met us at the beginning of our stay and gave us a short summary of the house and the city. The place was very clean and comfortable.
Winston
2016-05-04T00:00:00Z
We were greeted on time by Darleen and Scott and given a tour of the home along with its interesting history. The house was clean and the beds were comfy. They were more than helpful in answering any questions regarding restaurants and activities. We would definitely stay again if in the area.
Tara
2017-02-01T00:00:00Z
Very nice place, wish it had a stove. But comfortable
Roland
2017-01-28T00:00:00Z
Charming home! Charming town! Charming hosts! The home is very clean, wonderfully decorated and cared for.. two full sized bedrooms. The kitchen, well equipt. Darlene and Scott - thank you for being so accommodating... I ate breakfast at Rose Hill Cafe - Great recommendation.. Such a joy to meet you both!
Pats
2016-09-27T00:00:00Z
Quiet quint little place close to the river.
Carly
2017-02-25T00:00:00Z
Тип размещения
Дом/квартира целиком
---
Тип жилья
Дом
---
Вмещает гостей
4
---
Спален
Ньюбург, Индиана, США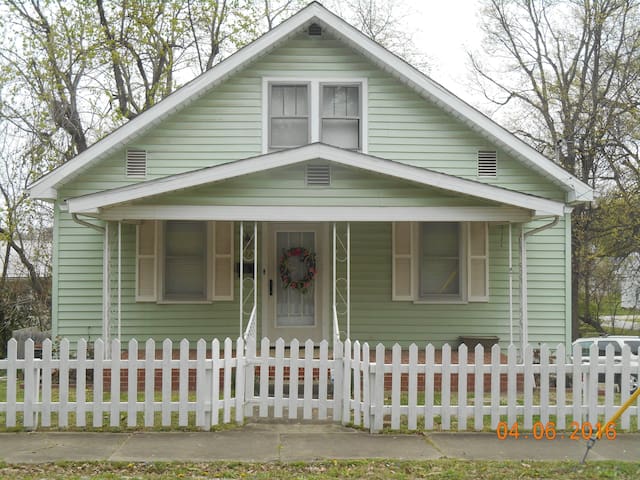 My cozy 3 bedroom ranch is located in a quiet neighborhood. It is close to restaurants, grocery stores and near the main highway. Feel free to store your cool items in the kitchen fridge or help yourself to a cup of coffee using the Keurig. I have k-cups available or feel free to bring your own.
Chads place is super convenient to anywhere in Evansville. Very clean and comfortable. I'll stay again when in town.
Ken
2017-03-05T00:00:00Z
Chad has a great location near highways to get around the area, and an excellent place to stay. He was an excellent host.
Steve
2016-11-19T00:00:00Z
Chad was a fantastic host and his home is very comfortable and modern. The room is well furnished and the bathroom are very clean. He was nice and social and knew the local area very well and I went out using his recommendations and had fun. I strongly recommend staying with him and I will most definitely stay here again when I am back in town.
Michael
2016-10-26T00:00:00Z
Chad was a great host. Quick to respond via text and was very flexible on our check in . The Home was in a quiet neighborhood and very close to the high school. His place was very clean and the room was private. Hope to stay there again.
Christopher
2017-01-15T00:00:00Z
Chad was a kind hostess, available for us, answered our questions promptly, and his home was accessible for our needs. Chad's prices were very affordable and we enjoyed our stay.
Dan
2017-04-02T00:00:00Z
Chad is a great host.
Fred
2017-04-04T00:00:00Z
Clad is a respectful host, and his house is very quiet, beautiful and comfortable. I like the room as well as the host.
Peter
2017-03-15T00:00:00Z
Chad is a great host. He was very helpful and tried to make my stay . The house is well maintained and quite.
Alex
2017-03-27T00:00:00Z
Тип размещения
Отдельная комната
---
Тип жилья
Дом
---
Вмещает гостей
2
---
Спален
Ньюбург, Индиана, США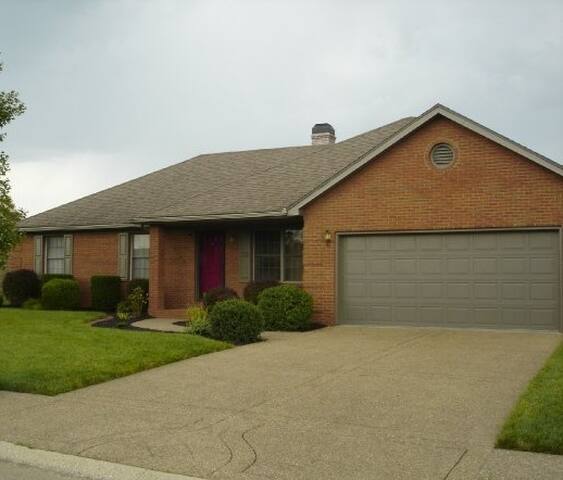 Ohio Township - Airbnb
:
В среднем,

5

из

5

звезд на основании

72

отзывов гостей
Введите даты, чтобы увидеть полную цену без учета дополнительных сборов и налогов.