Bedste placering af West Hollywood! Gå til restauranter, caféer, barer, klubber, parker, indkøbscentre eller nyde de varme sommerdage ved swimmingpoolen på tagterrassen! Sen check-out 14:00 !!! meget for pengene. Ingen byskat opkræves du kan lide vores nabo Los Angeles gør. Vi tager os af det!
Это уютная студия в центре West Hollywood. Вы будете на небольшой тихой улице, в нескольких шагах от Мелроуз и бульваре Санта Моника, со всеми развлечениями. Обновление: Мы в настоящее время предоставляют основные продукты для завтрака для вашего удобства. Молоко, крупы, вафли, овсяные хлопья, апельсиновый сок, тосты, масло и так далее. В номере: Мы стараемся предоставить все, что вам может понадобиться во время Вашего визита и держать его очень чистый и аккуратный. Единственное, что мы не могли сделать, это переделывать кухню и ванную комнату, они немного устарели, но очень чистый. Бассейн на крыше (маленький и не нагревается, к сожалению, но с удивительным видом на Hollywood Hills и Downtown. Вы сможете получить ощущение Голливуда оттуда. Балкон с шезлонгами. Она идеально подходит для утреннего кофе или бокалом вина в ночное время. Большое дерево дает хорошую частную жизнь, но вы все еще можете увидеть Pacific Design Center. В нескольких шагах от развлекательных / торговых районов: Санта-Моника-стрит, Сансет Плаза, торгового комплекса Beverly Center, Мелроуз Газа. Подключение к шине находится в одном квартале от отеля, и это занимает 30-40 минут в Санта-Моника Бич. Чайник, тостер, Микроволновая печь, бумажные полотенца, чай, кофе, и бойлер Полный размер холодильника (одна дверь) Кастрюли и формы для выпечки Постельное белье / полотенца (стиральная машина и сушилка в здании) Бассейн / Пляжные полотенца TV (Direct TV) Беспроводной доступ в Интернет (15 Мбит) Фен Утюг и гладильная доска Очень большой шкаф в спальне, и небольшой шкаф у входа California King кровать Парковка: Парковка разрешение предусмотрена парковка на улице. Здание стоит на улице, что позволяет парковать только специальными разрешениями, таким образом, вы не будете иметь проблему парковки близко к зданию. Строгие правила: Не курить внутри или снаружи на балконе или у бассейна. никаких наркотиков, никаких партий, и никаких домашних животных.
Мне нравится, что вы можете ходить везде здесь, в Западном Голливуде. Есть рестораны, кафе, бары, танцевальные клубы, магазины, парки, библиотеки, и продуктовые магазины в 10 минутах ходьбы. Студия находится на тихой улице, несмотря на центральное расположение. Я жил в этом блоке в течение примерно трех лет, и это очень безопасной и дружественной окрестности. Если вы хотите отправиться на пробежку, спуститесь бульваре Санта Моника, пока вы не получите в Беверли-Хиллз и запустить путь туда. В библиотеке есть бесплатный теннисный корт на крыше (дайте свой идентификатор для входа), баскетбольные площадки и травой поле для футбола или других игр. Если вы хотели бы выходить есть места жгутов 5-10 минут и лучшие ночи в пятницу и субботу, или выйти на воскресный бранч Mimosa в одном из многих замечательных мест вокруг. Если вы любите делать покупки, ходить или взять машину в Беверли-центр (около 15-20 мин пешком или 5 минут на машине). Они имеют широкий спектр магазинов, таких как Prada, Nordstrom, Macy 's, Sephora, Fendi, секреты Виктория, Armani, Diesel, SUPERDRY и многое другое. Крест на улице вы можете найти Marshalls, Росс и Nordstorm стойки, которая продает одежду, сумки, солнцезащитные очки, головные уборы, часы и многое другое по более дешевой цене, чем Beverly Center. Возьмите автомобиль или Uber (телефон приложение ячейки) для Runyon Каньон (Фуллер Ave / Franklin вход) утром и поход в гору прекрасный вид на Downtown LA, знак Голливуда, Гриффит обсерватории, а если ясный день, вы можете увидеть весь путь к океану. Доведите воду или $ 1 счет (они продают воду у входа). Хорошие пляжи вокруг: Малибу, Манхэттен, Редондо, Хантингтон, Венеция и Санта-Моника.
I stayed here for 13 nights in September 2014. This was my second stay in this apartment building and it was another great vacation. The location is perfect for exploring L.A, it has great public transport to Downtown and Santa Monica and is within easy walking distance of all the nightlife on Sunset Boulevard. The apartment has everything you need for an independent stay and is really nicely decorated. It's on the third floor and has great views of West Hollywood and is flooded with sunlight in the late afternoon. Eleana was really nice and easy to deal with and was always available to answer any questions. In summary, I highly recommend a stay in Eleana's apartment and hopefully I will be back soon.
Jeff
2014-09-13T00:00:00Z
Overall we had a great stay here. The location is fantastic and is in walking distance of all West Hollywood has to offer and free street parking was another bonus, the neighbourhood felt safe to walk around both during the day (EMAIL HIDDEN)munication with Eleana was easy and we were made to feel very welcome on our arrival. The apartment itself was very spacious and had everything we needed for our stay, the bed was clean and comfortable however the apartment would benefit from a few updates and the bathroom and kitchen area could have been cleaner however as we only used the apartment as a base for sleeping this did not cause major problems. Overall excellent value for money for the area and a great base for exploring LA, we would definitely stay here again.
Robert
2015-10-21T00:00:00Z
Apartment is situated in a fantastic spot near to everything but on a quiet side street. The apartment is fully equipped with cooking facilities and has a comfortable big bed with extra sheets if needed. Fresh towels/hairdryer/shampoo provided. Elena left the key for us in a coded box for us. We stayed 3 weeks and Elena text to ask if we needed anything and was everything ok . It was perfect Elena. Thank You.
Barbara
2015-07-16T00:00:00Z
Very convenient , quiet apartment . Clean , and comfortable Would love to stay again . Very safe location . .
Shipra
2014-09-17T00:00:00Z
We love this building!! I would've in if I could. Close to all amenities (including AOC wine bar and Nobu ;) ) This was our second stay at Elena and Linnea's place and we will definitely be back. You couldn't find a better listing in one of the best streets in WeHo.
Mo & Daniel
2015-08-24T00:00:00Z
location location location as expected
Jamil
2016-12-06T00:00:00Z
Great apartement, excellent location in quiet street. Several nice areas within 2 mile radius. Eleana is very helpful and friendly. Quick response, parking permit....All I needed for a short stay!
Hans
2015-06-19T00:00:00Z
The apartment was exactly as was described. Pool and rooftop deck had amazing views of LA and the neighborhood was great, tons of restaurants within walking distance. Very safe and super friendly people in the building and neighborhood. Would do it again in a heartbeat!
kim
2016-06-27T00:00:00Z
Тип размещения
Дом/квартира целиком
---
Тип жилья
Квартира
---
Вмещает гостей
2
---
Спален
Западный Голливуд, Калифорния, США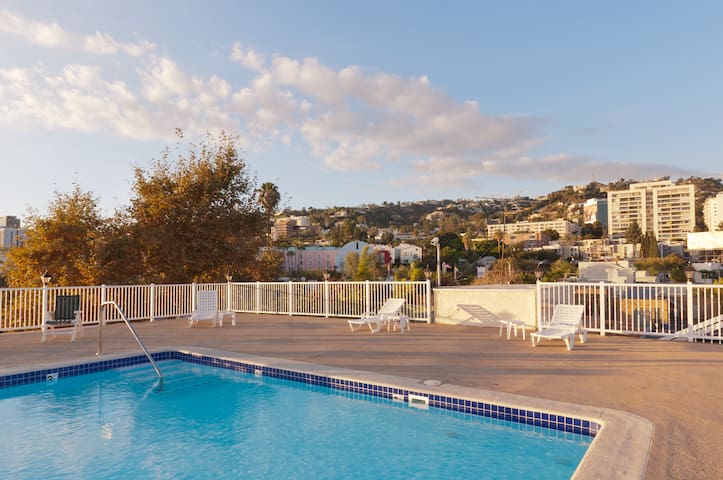 Private room in a two bedroom loft apartment. The apartment has very high ceilings, it has a feel more of a house more than an apartment. Your room has a 42 inch plasma TV, with direct TV that has all movie channels, your room also has its own mac desktop computer as well as free WiFi. The apartment has its own washer and driver, full kitchen with a dish washer a grill on the balcony, plus your own private bathroom as well. You also will have access to the living room which has a 60inch smart TV. I am walking distance from Hollywood Blvd, very close to Beverly Hills. There are many great restaurant and bars within the area, there is also a 24 hour super market across the street. There are buses in the area and the red line train is on Hollywood Blvd which you can walk to.
Very welcoming and accommodating! Great location.
Timothy
2016-07-21T00:00:00Z
From the supermarket with near to Hollywood Boulevard is very convenient.
Yi
2016-11-28T00:00:00Z
We had a blast staying at Michael's place. He is such an amazing host and has a wealth of knowledge about LA. The location of the apartment is perfect, within walking distance to all the Hollywood attractions and a short UBER ride to others outside Hollywood. The apartment and room as so great and spacious, exactly like in the pics. Michael was extra fast to respond to any questions we had. He gave us some very cool recommendations for bars we would not have otherwise come across ourselves. The bed is comfortable, his dog Kingston is adorable and Michael really makes you feel like his home is your home. Hopefully we will be back to LA at the end of April and we would definitely stay here again!!
Rodna
2016-01-19T00:00:00Z
Mike was an excellent host. He was very flexible with our check in and check out.. We were able to park in his space right outside the house which was convenient. It's very centrally located in west Hollywood which made it easier for transportation.. I would definitely stay there again for my next visit.
Omar
2013-09-06T00:00:00Z
Michael was wonderful host! Very flexible and accommodating to our arrival and departure times. Beautiful loft, comfortable bed, private bathroom, couldn't ask for more! Great place to stay, I would DEFINITELY recommend it :)
Mina
2013-12-17T00:00:00Z
Michael was such a delightful host the entire time we stayed with him. Our flight arrived past midnight, yet Mike still accommodated us and had everything set up for us when we got there. He knows LA and its neighborhoods very well, so his restaurant and nightlife suggestions were always on point. The apartment itself was great and clean, with a spacious home feel to it out in the living room. His sweet dog was a great bonus to the stay, since we both love dogs. 11/10 would recommend Mike and his great WeHo crib for a short stay or long vacation in LA.
Rupal
2016-12-05T00:00:00Z
Enjoyed our stay with Michael and his lovely dogs. He's very helpful, the room was clean and cosy in a nice neighborhood. Would love to stay again on our next trip :)
Tiffany
2015-07-23T00:00:00Z
Michael is very friendly. It's pleasure staying there.
ปริย
2015-04-09T00:00:00Z
Тип размещения
Отдельная комната
---
Тип жилья
Квартира
---
Вмещает гостей
2
---
Спален
Лос-Анджелес, Калифорния, США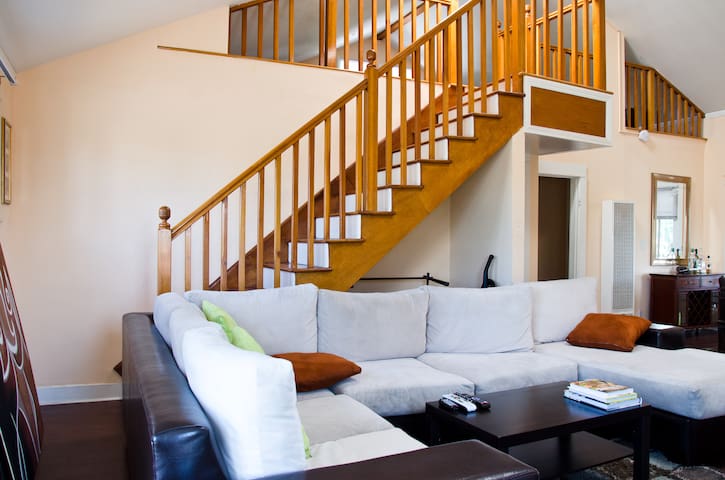 Andre siger det, men tjek kortet, er dette den mest centrale placering i LA Gåafstand til berygtede Sunset Strip Levende musik barer, verdensberømte Melrose Shopping & Gallerier, Pacific Design Center (gigant blå, rød og grøn glas bygninger), WeHo Natklubber La Cienega s "Restaurant Row!" Huset ligger på en stille blind vej i byens centrum! Når du ønsker at spille, det er alle i nærheden. Men når du er klar til stille, vil du blive overrasket over, hvor fantastisk nabolaget er.
Velkommen! Nedenfor er en omfattende beskrivelse af kvarteret, duplex & en byguide af walkable Kulturelle begivenheder (alle optræder skridt fra huset!) Den Duplex Overblik i byens kulturelle centrum; sammensmeltningen af kunst underholdning, opskalere shopping, verdensberømte rock klubber, verdensberømte "drenge 'by, LA" restaurant række. "Central beliggenhed udbydes for halvdelen af omkostningerne af områdets hoteller og mindre end andre airbnb" hele hjem programoversigter ". du behøver ikke en bil på grund af min" 97 Gåture score ", som er en kæmpe sjældenhed ikke kendt for at være" walkable ", men hvis du har en, der er nem parkering med min fortrinsret bosiddende pass (som jeg giver gratis. den nærmeste hoteller Le Parc afgifter $ 40 per nat til park & the WeHo Ramada $ 25!) Alligevel Bungalow er på en blind vej, så det er så stille du har den bedste søvn af dit liv. Du har din egen separate, private rum som du ville gøre i et hotel. Faktisk et hyggeligt hotel suite m / eget bad & en stor, rolig bambus gårdhave er den bedste måde at forestille dette rum. Der er blot en delt mur mellem den forreste hus (hvor jeg bor) og tilbage hus (din suite). Dette er en meget privat oplevelse for gæsten. Mine anmeldelser vidner om privatlivets fred for din enhed! 97 WALKING SCORE! Ja, vi får en 98% rating på walking score stedet (det satser din adresse og hvor tæt du er til historiske / seværdigheder, restauranter, shopping) Du kan gå til: 1. Sunset Strip (Live Music, rock klubber, opskalere Sunset Plaza butikker og spisning) 2. Santa Monica Blvd (LA store "Boystown;" state-of-the-art nye by bibliotek / pool / park, større busstoppesteder, fantastiske Trader Joes markedet gigant CVS; fuld skala Pavilions Supermarked & tonsvis af fastfood & hurtigt friske. FroYo, Shakes, Burgere, 24 Hr Diner, 5 Guys, Pizza, Starbucks-- det hele her gåafstand!) 3. La Cienega Blvd (LA populære "restaurant row" med berømte "Top Chef" restauranter som STK Steakhouse, Fig & Olive, Le Petite Bistro. Enorm Beverly Center Mall-fancy stuff og Beverly Connection Mall-rabatten ting lige ned vejen.) 4. Melrose Place & Melrose Blvd (Melrose Place er reel. Det er en kort gade skridt væk med de stiveste butikker i byen. Og en fantastisk landbrugerens marked om søndagen 10-2!) Melrose Blvd. er lige syd, og er LA kunst & mode center herunder verdensberømte Pacific Design Center (gigant Red Glass, Blå Glas & grønt glas Towers), state of the art nye bibliotek og byens pool). Den bungalow er unikt positioneret som gåafstand til alt dette. Andre airbnb enheder kan ikke sammenligne. Og hoteller er dobbelt min pris. Det er så simpelt og et faktum nævnt gentagne gange i anmeldelser. Bungalow i detaljer: Hvælvede lofter af naturtræ, en yderst comfy dronning seng (med en dyr, premium hukommelse-skum Topper), rene-bleget sengetøj & dyne (både udskiftet flere gange om året), highspeed WIFI, 40 "fladskærms tv med DirecTV, og effektiv central varme / ac. Din moderne, opskalere, badeværelse har den bedste vandtryk du nogensinde føler i et brusebad. Hvis tegnet af et godt hotel er en stærk bruser og fantastisk nats søvn-dette er toppen! Din suite har en helt ny køle / fryseskab, el-te-kedel, Keurig K-Cup brygger og store mikroovn, sammen med kopper, tallerkener, bestik, altid gratis te, ofte nogle K-kopper & altid et væld af diverse snacks til at få dig startede. Der er en helt ny Brita kande med kulfilter i din private køleskabet du kan holde genopfyldning fra vasken. Jeg lagerfører også nogle krydderier og is også. Kombineret med den ekstra store propan grill (velkommen til at bruge, beder mig om at hjælpe lys første gang) på din terrasse og du har en stor, privat "køkken!" Men med Trader Joe supermarked på tværs af gaden, kan du købe alle de friske frugt, fantastiske oste, hummus, og sund-friske færdigretter og overkommelige vine du nogensinde ønsker bILLIGE! Brune ris Cali ruller, kogte kalkun frikadeller og kogte kylling burgere, pre-made sandwich --- springe fastfood, hvis du ønsker at være sund? Der er ingen grund til at lave mad, når du har en Trader Joes du kan gå til. (LA Bemærk: nye "taske" lov, skal du medbringe dine egne poser til købmand eller købe tasker fra dem Så jeg altid holde lærred poser for dig at bruge i dit værelse ved siden af køleskabet.). Der er også tonsvis af fastfood valg skridt væk, Fresh Corn Grill, Subway, 5 Guys Burgers, Kitchen24, Tender Greens, flere pizza steder, gourmet ryster og frossen yoghurt ... og masser af menuer samt guidebøger i flettede kurve på hylderne til at kigge igennem.) Der er et strygejern og strygebræt med vaskemaskine-tørretumbler ved hovedindgangen. FAQ: Skal jeg tillade rygning? KUN på denne udenfor terrassen. Der er en metal askebæger. Venligst holde franske døre lukket mens rygning at holde rummet duftende frisk og ren. Ingen rygning, røgelse eller stearinlys i rum, venligst (et sikkerhedsproblem, batteri stearinlys forudsat.) FAQ: Er det roligt? JA!!!! Du vil blive overrasket. Jeg er på en stille gade så søvnig det modsiger det nærhed til Santa Monica Blvd. Du vil vække til kvidrende fugle efter den bedste søvn af dit liv! FAQ: Parkering? Der er GRATIS & EASY parkering lige foran huset med brug af min by parkering pass (som er gratis for dig. Bare returnere det at undgå udskiftning gebyr. Og bemærk der er gade fejer en gang om ugen. Tor 10 dog kun fra ene side, derefter fre den anden). Alle hoteller i området opkræve for parking-- $ 25-40 per night-- så min safe-fri parkering er ganske handlen! FAQ: Kan jeg være vært for en begivenhed her? Dette spørgsmål kommer op oftere nu, da det er blevet populært at leje airbnb programoversigter for parterne. Dette er ikke stedet for. NUL PARTER! FAQ: Kan jeg få besøgende? Nej Kun antallet af personer på din kvittering nogensinde skulle være på denne ejendom. Hvis du har en ven, der ønsker at tilbringe natten, ville den anden person gebyr sparke i. (Du kan afgøre dette med mig direkte, men bedes du meddele mig på forhånd. Jeg kan nogle gange få en ekstra parkering pass til din ven, hvis jeg vide, før du ankommer. jeg vil gøre dette gratis, men du betaler ekstra person gebyr ved checkin.) FAQ: Kan jeg medbringe en hund? Jeg er begyndt at godkende dette for meget korte ophold kun. Ofte er det mere om mine hunde versus jeres (de er så venlige, de ønsker at spille spille spille.) Der er en $ 15 per nat gebyr (skal betales ved ankomsten), og du skal drøfte dette på tidspunktet for booking, hvor du beskriver din hund og disposition. Det ville være nemmere for mig at benægte dette, men da jeg har to redninger mig selv, jeg ved, hvor udfordrende det kan være at finde overkommelige steder, der tillader hunde. Just, skal du ikke lade dem i bur i værelset hele dagen lang. Denne byen, især West Hollywood, er overraskende i, hvor mange steder, du kan bringe din hund. Det chokerede mig. Min bank, søm sted, barber, hardware butik-og selvfølgelig enhver restaurant med en terrasse. Sammenfattende er jeg meget venlig og tilbagelænet, hvis jeg har det, du er velkommen til at låne den og, i modsætning til nogle lister, det er GRATIS !!! (Cykel? Ekstra tæpper? Big plader og ekstra håndklæder og køligere med isposer til stranden?) Bare returnere produktet i god stand venligst. Jeg har aldrig holdt tilbage sikkerhed efter næsten 200 gæster. Mit mål er for dig at have en fantastisk tur og brug hvad jeg har at sikre, at. Bare respektere mit hjem og ejendele, og vi er esser. FORSENDELSE: Jeg er 20 min fra 405, 10 og 101 motorveje. Og LA byen busser har stopper et par værfter op på Santa Monica Blvd (øst-vest: 2 min gåtur) eller La Cienega (Nord-Syd: 3 min gåtur). Lokale WeHo busrute på min gade, der vil tage dig rundt i hele byen GRATIS (se pic), det går op og ned ad Sunset Strip, Santa Monica Blvd & Melrose. Jeg kan varmt anbefale at køre det den første dag til at tjekke de mest lokale websteder. Du vil være i stand til at gå til de fleste, men det giver en stor, gratis "tour" overblik! Du behøver ikke en bil! DE STEDER: Allerede nævnt gåafstand ting på Sunset, Santa Monica og Melrose! Nå, Hollywood Blvd er blot et par minutters kørsel (eller let bus): Manns Chinese Theatre, Hollywood Walk (fortovet stjerner), Hollywood-skilt, Kodak teater (hvor Oscar-uddelingen afholdes). Mit forslag, vandre Runyon Canyon (hund venlige) for at få en stor visning af tegnet, og også for hele byen. Du kan se havet på en klar dag (og du vil sandsynligvis også se flere shirtless eller letpåklædte stjerner holder sig i form ... ekstremt populære vandreture plet Featured på showet Entourage hver anden uge -. Som var Urth Cafe, som er på min gade! Park på Fuller off af Hollywood Blvd eller Franklin. Gratis parkering og derefter vandre op.) jeg elsker også drev ned Sunset til stranden. Fantastisk udsigt med udsigt over havet! California Dreamin ' Universal Studios (forlystelsespark, tour og "Universal CityWalk" udendørs indkøbscenter er kun få minutter væk i bil. Jeg er smack dab i midten køre klogt at MGM, Sony, Disney, Universal, Raleigh, Paramount, The Lot. CBS er 5 minutter, NBC og ABC omkring 20 min. HANDLE IND: Beverly Hills grænser West Hollywood. Kun 5 minutters kørsel væk. (World berømte Rodeo Drive, Museum of TV, tonsvis af shopping.) Du kan gå til fancy Melrose Place (virkelig opskalere butikker) og, længere nede, The Beverly Center (selvom måske nødt til at førerrum det tilbage, hvis du køber en masse. ) Den lige så sjov / fancy Sunset Plaza shopping er højre op på Sunset Blvd. Gå der, førerrum det tilbage.) Melrose btwn Fairfax & La Brea: Billigere trendy tøj og butikker. (Drev) Melrose btwn Doheny & La Cienega: Gallerier & dyre, designer tøj og butikker. (Gå eller køre) The Beverly Center & Beverly Connection (La Cienega / Beverly). Let gå, men også let cab eller 2 min kørsel, hvis planer om at købe en masse. Hver butik, som du kan forestille dig,
Bedste, mest centrale kvarter med en utrolig "98% gå score". Tjek kortene, alt, hvad du ønsker at gøre på dette område er vest for La Cienega, som er mit sted. Gang til Sunset Strip, Boys Town, Melrose Shopping og Restaurant Row. Også Pacific Design Center, WeHo park og pool, og Cedars Sinai.
Tony is the best host! I traveled as a single female and felt perfectly safe- both around him and in the location of the bungalow. (Which was a BIG deal for me!) The space was so cute and the outdoor area was great-- perfect for in the morning while sorting out the day or at night after dinner. Great location, clean- a great experience!
Tiffany
2014-05-18T00:00:00Z
The place was great! I travel to LA for work and it was nice to stay in a homey spot for the few days I was there; the apartment had most anything I needed, and was well kept, with a comfy bed. Tony was super easy going with check in and out, and met me to show me around. The dogs were no big deal for me as I don't mind them and they mostly kept to themselves/were in the main house, but if you're not a dog person this might not be the best place for you as they do come in and out of the outdoor area. Id definitely stay here again -- looking forward to it!
Emily
2015-05-13T00:00:00Z
Staying at Tony's place is like having your own charming bungalow in the middle of West Hollywood. Tony is super nice and helpful. But don't expect someone to share your travel expriences or plans with. He lives in the other part of the house and I barely saw him. You will have your own place: lovely room with TV, fridge and microwave, bathroom and a little outdoors space. Both the room and the bathroom are charming and pretty clean. Tony gave me a parking guest permit and a lot of directions of the zone (the place is perfectly located). If you are looking for a place in West Hollywood I strongly recomend this place. I had a great stay there!
Eduardo
2012-10-05T00:00:00Z
Tony's place was great -- perfectly set up and very well located. Tony himself was friendly, efficient, and generous -- and he even set me up with some taxi coupons. Would definitely stay here again!
Tom
2014-04-15T00:00:00Z
The listing description is accurate—just as nice and pleasant as it looks in the pictures. This is such a nice area, and very convenient for exploring. Parking spots were plentiful and not a hassle at all. There was a nice large TV with normal cable channels that we enjoyed having one saturday morning when we were lazy and got breakfast delivered. Nice space to leave the door open and enjoy the great LA weather. Everything feels very cozy and private. Also, the bed was amazingly comfortable. Tony is very welcoming and helpful. He has definitely thought out all of the details for a great stay. He anticipated a lot of my questions, which was very helpful. Thanks for your hospitality!
Samantha
2015-04-19T00:00:00Z
It's impossible to have a better location. And as for Tony and the actual place....if you stay here there is nothing to worry about. Parking, location, the space, the host all is great.
Juan Carlos
2016-09-30T00:00:00Z
This charming guest apartment was clean, private, and quiet, and located just blocks from SM in West Hollywood. Tony was very helpful, and immediately made us feel welcome.
Jim
2014-11-08T00:00:00Z
Tony was a great host. He was always quick to respond to messages via the AirBnb app. The location was quiet with easy walking distance to the restaurants and bars in WeHo and shopping at the Beverly Centre, plus easy access to the bus network to go further if you are so inclined to use public transport like we did !! The courtyard in the bamboo garden was a great place to chill in the downtime with a cheese platter and a glass of wine, and also with the added bonus of visits from Tony's two lovely dogs.
Darren
2015-09-03T00:00:00Z
Тип размещения
Дом/квартира целиком
---
Тип жилья
Дом
---
Вмещает гостей
2
---
Спален
Западный Голливуд, Калифорния, США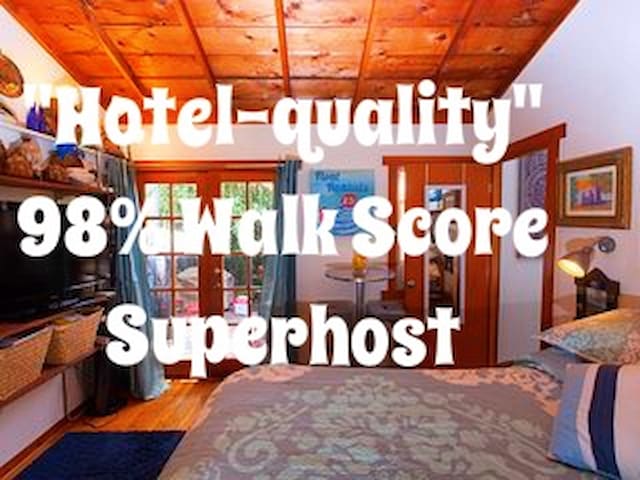 Velká sluneční ložnice s vlastní koupelnou v srdci West Hollywood..walking vzdálenosti od většiny nočních klubů, restaurací, zábavy a autobusových linek. Sunset Strip a Santa Monica bulváry, jsou jen pět minut chůze.
RESIDENT povolení k parkování (zahrnuto v ceně). Chůze na celou noc klubů a restaurací na Sunset Boulevard nebo bulváru Santa Monica! Kousek pěšky na veřejnou dopravu ve všech směrech! Velmi soukromé, dobré velikosti ložnice s vlastní koupelnou. Místnost, že v rohu bytu má pouze jednu společnou stěnu, je velmi světlý s jedno okno směrem na východ a další orientované na jih s výhledem na Los Angeles pánve. Host ložnice je oddělena od ložnice od obývacího pokoje, jídelny, kuchyně a prádelny. Plavecký bazén a sauna k dispozici. Chůze na západní straně nočních klubů, restaurací a obchodů na bulváru Sunset Strip a Santa Monica Boulevard. The Beverly Center, Century City a nákupních center Grove jsou jen 10 minut jízdy autobusem. Tichý listové cul-de-Sac s upscale byty. Na hlavní severojižní autobusových linek jen pár kroků na La Cienega; Východ-západ autobusových linek na bulváru Santa Monica. To je upscale kondominium komplex pouhých 13 jednotek v jedné z nejlepších oblastí West Hollywood, ale v pěší vzdálenosti od mnoha populárních atrakcí na Sunset Strip minut autem nebo autobusem do Beverly Hills, Starý Hollywood, čínské divadlo, Universal Studios, Griffith Park a planetárium a mnoho dalšího. Potraviny je možné získat během pěti minut vzdálenosti CVS Pharmacy nebo upscale Trader Joe pěší
To je jeden z pěších šetrných čtvrtí LA, spousta stromů, v blízkosti je veškerá občanská vybavenost, přitom však klidné s předměstské atmosféru. Místní obyvatelé jsou obecně velmi přátelský a my výměnou "pozdravy" s úplně cizí. Stravovacích podniků a nočních klubů se liší od velmi levná typu gastronomického umění. Tato oblast je velmi bezpečné 24 hodin denně. Trader Joe, CVS Pharmacy & samoobsluze, tělocvična, Starbucks, kavárny a bary jsou v docházkové vzdálenosti.
My partner Brit and I had a fantastic stay with Joseph and Charles. The room has an en-suite bathroom, big windows and a very comfortable bed. There was an iron, nice mini-fridge with assorted teas, coffee, dishes, and cutlery. It was also nice having a TV in the room with cable. Joseph and Charles are both wonderful hosts--very friendly and helpful. They also have the most adorable cat named Hillary. The location is fantastic and we had no difficulty parking with the guest permit that Joseph and Charles provided. I would highly recommend a stay with Joseph and Charles if you'd like to be within a fifteen minute walk of the best of West Hollywood and have a clean, comfortable place to come back to.
Liz
2012-07-16T00:00:00Z
A+ host.
Oscar
2015-05-21T00:00:00Z
Excelente anfitrión!! El departamento tiene una excelente ubicación y se puede estacionar en la cuadra. La habitación es grande y muy cómoda. Todo super limpio. 100% recomendable.
sebastian
2016-09-10T00:00:00Z
I was in Joe and Charlie's house for five days and It was perfect, they were super friendly and helpful. The room is great, fully equipped to make our stay very pleasant. The location is just perfect, in a nice street with plenty of parking, super close to the major attractions area of the city. I will definitely comeback and stay with them again and I totally recommend the place.
Kamila
2015-05-07T00:00:00Z
Great location, comfortable bed and ensuite room, and Joe and Charles great hosts.
Anthony
2016-10-08T00:00:00Z
Joseph and Charles couldn't have been more friendly and accommodating hosts making me feel instantly at ease when I arrived. They truly do have a beautiful home and the Guest Bedroom is large, very well equipped and very private. The en-suite has everything needed including plenty of hot water. The Apartment itself is located 1 minute's walk from Sunset Boulevard and about 3 minutes from Santa Monica Boulevard with all of the attractions of WeHo has to offer. Travel further afield is extremely cheap by Uber and I took a long, relaxed walk through the leafy back-streets from La Brea Tar Pits and The Farmers Market. LA truly is one of my favourite cities in the 103 countries I have travelled to and without doubt I would be delighted to stay with Jo and Charles again in the future!
Chris
2016-07-17T00:00:00Z
Joseph and Charles were great hosts! I booked my reservation last minute and Joseph accommodated me very quickly. The location is great!! Walking distance to everything. Overall great place and excellent experience, would highly recommend staying here.
Danny
2013-12-15T00:00:00Z
Great week-long stay with Joseph and Charles in West Hollywood. The room was as advertised; clean, comfortable, spacious, with two windows letting in a nice breeze. The location was wonderful, just a short walk from Sunset Boulevard and the heart of Hollywood. And Joseph and Charles were very nice and helpful while giving me total privacy. I definitely recommend staying here—a great value!
Shane
2014-02-18T00:00:00Z
Тип размещения
Отдельная комната
---
Тип жилья
Кондоминиум
---
Вмещает гостей
3
---
Спален
Западный Голливуд, Калифорния, США
Your own home away from home in West Hollywood, nestled just below the Hollywood Hills and within EASY WALKING DISTANCE to all the major Hollywood attractions!! This is NOT a shared space, it will be ALL for you :) This GORGEOUS unit is nestled in the HOLLYWOOD HILLS right below Runyan Canyon-- a free, celebrity-studded hiking park with spectacular views of Los Angeles and free yoga! STEPS FROM SUNSET BOULEVARD!! QUIET!! NEIGHBORHOOD IS SAFE AND UPSCALE! The location just can't be beat! You can practically walk anywhere. COMES WITH: --FREE HIGH SPEED WIFI (for our unit ONLY!!) --2 PRIVATE BALCONIES --OUTDOOR PATIO AREA FOR PICNIC OR LAYING OUT --42 inch LCD HD TV with Time Warner Cable TV! (See all 200 Channels below!) --Controlled access entry -2 full, private bedrooms and 2 full baths!! - 2 Queen Beds, orthopedic, with Pillowtop Mattress, sheets and soft comforter -Separate LIVING ROOM and DINING AREA -Full Kitchen with BRAND NEW Stainless Steel Appliances -MICROWAVE -4 Burner Stove -Oven Comes fully equipped with silverware and cooking ware, plates, bowls, dishes, etc. -Free towels and linens with your stay -Bathroom has soap and shampoo for you :) -WASHER AND DRYER INSIDE THE BUILDING JUST DOWN THE HALL (Coin op) SMOKE FREE ENVIRONMENT -Counter top bar PARKING in GATED, SECURED GARAGE for up to two vehicles. Only $8 USD per night per vehicle. WALK TO (in literally a FEW MINUTES)>>> RUNYAN CANYON - (where celebrities hike and walk their dogs and get SPECTACULAR LA city views!) BOSSA NOVA BRAZILIAN RESTAURANT - (open until 4:00 am almost every night! Every body LOVES it!) Ralph's MEGA SUPERMARKET (24 hours) HOLLYWOOD WALK OF FAME KODAK THEATER MANN'S CHINESE MOVIE THEATER LA FITNESS BANK OF AMERICA (including ATM/Cashpoint) PANTAGES THEATER HOLLYWOOD AND HIGHLAND MALL HOLLYWOOD WAX MUSEUM HOLLYWOOD AND BEVERLY HILLS HOMES TOURS SUBWAY SANDWICHES Tiago Cafe STARBUCKS ROCKPAPER COFFEE and MORE!! >>>>>>> METRO REDLINE SUBWAY AND BUSES AROMA Middle Eastern Cafe TOI - Rockin' Thai Food open VERY later) T-MOBILE (for mobile/cellular phones) PINKBERRY (frozen yogurt) BUFFALO WILD WINGS La MANDARETTE SOLTANI RESTAURANT BURGER KING THAI NOODLES GREEN TEA HOUSE GATE OF INDIA BIG MAMA's PIZZERIA MOUN-OF-TUNIS RESTAURANT CHEEBO RESTAURANT EL COMPADRE RESTAURANT NEARBY: -Universal Studios and Universal City (just over the hill) -West Hollywood (we are right on the border) -Beverly Hills and Rodeo Drive (very short drive or 15 min bus ride, you can even walk if you want to take a city hike) -Downtown LA (just hop on the Redline to get there in 20 minutes from the Hollywood stop) -Paramount Studios -The Grove Shopping Mall (less than 10 minute drive) -Beverly Center Shopping Mall (15 minute or less drive) -Griffith Park and LA Zoo (short drive or a bus trip) TV CHANNELS INCLUDE (High Definition--HD!)>>> On DEMAND CENTRAL CBS CW NBC QVC ABC HSN KCAL UNIVISON FOX TELEMUNDO MY NETWORK TV PBS TBN Azteca, Unimas, MundoFox WGN America Fox News Channel CNBC (SENSITIVE CONTENTS HIDDEN)BC CNN HLN The Weather Channel USA TBS TNT FX TV Land Spike TV AMC Lifetime TLC A&E VH-1 E! BET Food Network Disney ABC Family Nickelodeon Cartoon Network MTV TWC SportsNet Fox Sports West Fox Sports Prime Ticket TWC Deportes ESPN ESPN 2 Syfy Comedy Central Tru Tv C-SPAN History Channel Discovery Channel HGTV Bravo Oxygen Galavision Golf Channel HSN Hallmark Channel BBC America Send a message if you have any questions, always happy to help even if you don't stay here. Book soon as desirable dates sometimes go fast and it's first come first serve. This listing is priced low because it's our slower season! READ THE REVIEWS ON MY OTHER LISTINGS AS WELL!! :) Welcome to HOLLYWOOD!! Your home away from home :)
Квартира была чистая, с приятными памятками по ней. Хозяин организовал все на хорошем уровне, за что ему спасибо. Расположение хорошее, рядом замечательный супермаркет, аллея звёзд, 25км до Санта Моники.
Mykyta
2015-10-12T00:00:00Z
This is really a lovely apartment, with a lot of nice touches and thought put into it. The communication was also particularly good. I wish I had had more time to stay here. Thanks for the nice stay.
Cris
2014-01-19T00:00:00Z
It was a great stay! The apartment has everything you need and it's very clean. Great location. T.D left for us some snacks, treats and fruits which was such a great surprise!
Olga
2015-05-01T00:00:00Z
We absolutely loved the place and the location. It's a nice apartment and everything was perfectly clean. They even left some snacks for us in the fridge :) What I think TD should improve though is the communication with guests. In advance to our arrival I have been contacted by at least 4 different "assistants" of TD who asked lots of questions about our arrival, some of them twice or three times. They also provided a super long instruction that we needed to confirm like 3 times. Sorry, but that was a bit bothering and I havent seen that anywhere else before... The whole instruction of how to arrive was actually easy and doesnt need that complicated communication. It was pretty much summed up in one video (the link is also in the instruction). I think in the future it would be helpful if you would just send out the video link and shorten your text and communication :)
Carina
2016-10-26T00:00:00Z
很好的地段,和照片完全一致的房间,虽然拿钥匙的过程曲折了些,但最后还是解决了。房东还提供了很多烹饪的工具,我们自己煎了牛排,味道不比外面的差哦,以后会更多的考虑民宿。very good!
shunyi(kelo)
2015-05-04T00:00:00Z
Great location, very central to lots of what LA has to offer. Also a very clean, comfortable apartment. However, the check in/check out process is very complex. Clear instructions were provided but if you're in a rush to leave you can easily miss a step in this complicated process and be locked in the garage like we were. We ended up missing a yoga class we were in a rush to get to because we had to wait for someone to come down to the garage to open the door. It's a nice place in a good location but you're very much on your own when you're there.
Stephanie
2016-08-01T00:00:00Z
The apartment was very nice and comfortable ! The instructions provided to enter and exit were precise and detailed allowing the process to be smooth. Location was also great!
Alethia
2015-12-07T00:00:00Z
Great place and great location!
Massimo
2017-02-07T00:00:00Z
Тип размещения
Дом/квартира целиком
---
Тип жилья
Квартира
---
Вмещает гостей
6
---
Спален
Лос-Анджелес, Калифорния, США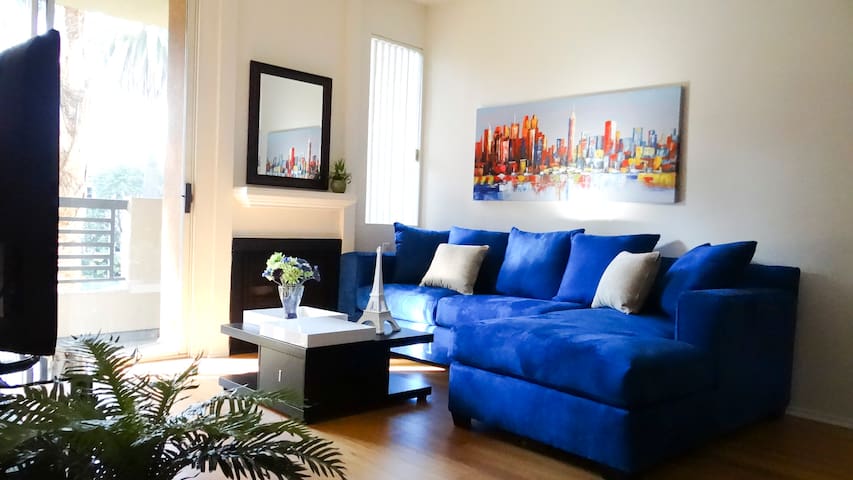 This huge 5 bd, 2.5 bath home is walking distance to Melrose, the Grove, Sunset Blvd and minutes from Beverly Hills, Hollywood and DTLA. Enjoy backyard movie nights, a private hot tub, relaxing LA-inspired bedrooms, luxurious amenities and more!
This charming home will provide everything you need for the ultimate Los Angeles vacation. High-end handmade Custom Comfort beds (4 queens and a full) and two organic, triple layer twin memory foam mattresses are all fitted with the softest 400 thread count sheets. Each room has it's own luxurious spa robe and amenities, and 100% Egyptian cotton towels will make you feel like you're at a retreat. Once you're out of bed, enjoy all that Villa Beverly Grove has to offer in the way of entertainment. Cook for the family in a fabulously equipped kitchen, or head outside and grill while watching the game on the 60" TV. At night, as the the smell of freshly popped popcorn mingles with the sent of jasmine from the backyard oasis, you can relax in the hot tub and enjoy a movie on the outdoor projector. If you want to explore the area - you are steps away from world-famous Fred Segal, where A-list celebrities dine and shop. Continue your shopping spree on hip, haute Melrose or head to the Beverly Center, the Grove or a 5 minute Uber to Rodeo drive. If dining and nightlife is your preference, we've got you covered. You are in close proximity to Ink (Top Chef winner Michael Voltaggio's place) SUR (featured in Vanderpump Rules), Luques, the Hudson (only a block and a half away) and Urth Cafe. And in the day, relax at the beach or marvel at the architecture of downtown LA or scream with delight on the Minion Ride at Universal Studios - all are about a 20 minute drive away! The house is located on a boulevard that stretches from deep in the San Fernando valley all the way to Venice Blvd, so it's easy to find your way to and from almost anywhere. When you're home, wander through Villa Beverly Grove and notice how each bedroom pays homage to a different aspect of LA. Sweep into the Hollywood room, where vintage glamour surrounds you. Down the hall is the Hacienda room, a nod to the rich cultural heritage of La Cuidad de los Angeles. Right next door is the Rock n Roll room, featuring a twin over full bunk bed with an additional twin trundle bed. Upstairs, the JPL room celebrates the science and engineering epicenter that is LA... and finally, the serene nature room will envelope you in the tranquility you can find from our beaches to our canyons. The home was built in 1924, and features a handcrafted Batchelder fireplace, crown moldings and original hardwood floors. But it has been updated with the latest Smart Home features like keyless access and personalized temperature control via the dual-zone HVACs.
There is perfect place for us! We we're spend great time in this beautiful house. Meg is very thoughtful, and nice hospitality ! we apprisiate it! We realy want to come back again! 大人8人、5歳児1人で5日間泊まりましたが、すごく快適に過ごせました。滞在中もほとんどメールと携帯で連絡していたので、英語あまり話せなくても意思疎通できました。 シャワーが移動式だったので感動しました! 庭も広くて寛げてよかったです。ユニバーサルスタジオやチャイナシアター、ファーマーズマーケットまで車ですぐに行けます。
Tomoe
2015-07-27T00:00:00Z
My family really enjoyed our two nights' stay at this place! The neighborhood is quite and peaceful, and the house is clean and lovely. I'll recommend this place to any family who wants to visit Los Angeles.
leon
2015-07-08T00:00:00Z
This is my first Airbnb experience. The house is exactly the same as described. It is very spacious and clean and it has pretty much everything we need. Meg is so kind and provides instruction we need for check in. Highly recommend for this place if you have a group of people, especially family.
Xuhui
2016-06-18T00:00:00Z
Meg has a wonderfully fabulous house! It's a expansive and very well appointed. The beds are comfortable, there are enough towels and robes. The garden is a delight and it's very centrally located, you can walk to a few different neighborhoods and it's a short drive to others. Meg was also SO responsive, despite being in New York and was extremely attentive to anything that came up. Thanks Meg - we will be back for sure!!
Tamara
2015-10-26T00:00:00Z
Great house, actually better than the lovely pictures! Great LA experience.
Brian
2015-08-23T00:00:00Z
We had two families of four staying at this house for a week in early March. It is spacious, well-appointed, and ideally located for seeing the sights in West LA. Meg communicated with us well ahead of time and was responsive to a couple of questions while we were in the house. We would definitely visit again.
Langhorne
2016-03-12T00:00:00Z
Meg is such a wonderful and friendly host! She reply your message and question really fast. The actual house is the same as what she describe, It was spacious, clean, organize and has everything you need during your stay. The location has a quite and nice neighbourhood. I will definaly come to stay agin if we visit US. Thank you Meg!
Linda
2016-07-05T00:00:00Z
This place was even better than described! Very beautiful and comfortable home. Meg was very helpful as well. Very flexible and responsive. Very happy with this stay. Thank you, Meg!
Melissa
2016-05-23T00:00:00Z
Тип размещения
Дом/квартира целиком
---
Тип жилья
Дом
---
Вмещает гостей
12
---
Спален
Лос-Анджелес, Калифорния, США
Beautiful big 1 Br apartment in the heart of Hollywood just off Sunset Blvd. Hosts up to 4 people. Furnished with very nice furniture and completely equipped with everything you might need to feel home away from home. Parking is available upon request for extra fee of 15$ a day. Laundry on site. Walking distance to Hollywood bowl, Avenue of the stars, Madame Tussaud wax museum, Hard Rock cafe and a lot of bars, clubs and restaurants.
Тип размещения
Дом/квартира целиком
---
Тип жилья
Квартира
---
Вмещает гостей
4
---
Спален
Лос-Анджелес, Калифорния, США
Este lugar es la base perfecta para cualquiera que quiera explorar LA o simplemente relajarse. Esta es una pequeña habitación privada en un apartamento de 3 dormitorio con una cama individual y 32 pulgadas TV LED. Hay un baño compartido. El lugar está cerca de Laurel hardware, Whole Foods, The Grove, Avenida Melrose, y Starbucks sólo para nombrar unos pocos. Te encantará el lugar debido a la vecindad, la limpieza, la cama cómoda, la habitación acogedora de estar, la cocina totalmente equipada, y el acogedor sentir el lugar tiene.
El espacio tiene una cama doble tamaño, amable de la recepción portátil y TV LED 32 pulgadas. Usted tiene acceso a la sala de estar, cocina y baño compartido.
La zona es muy segura para caminar. Tiene tiendas cercanas de comestibles, restaurantes y bares / pubs. Los alimentos integrales, 24 horas de comida mexicana, Moe Café, el Hudson, Laurel Hardware, 7-11, y Starbucks están muy cerca sólo para nombrar unos pocos.
Good location. Nice host.
R A
2017-04-05T00:00:00Z
Small but very comfy. Sweet hosts too. I will definitely book here again. Thank you.
Brianda
2017-04-09T00:00:00Z
Excellent host, provided clean room with access to essential amenities like kitchen and Wifi. Would choose this accommodation if I had to select again.
Brian
2017-04-01T00:00:00Z
Friendly host and great location!
Kylie
2017-04-08T00:00:00Z
Host is fantastic, acc
Matthew
2017-03-31T00:00:00Z
The space is very small. Its pretty much a bed in a closet; but that's all I needed and the pricing was very reasonable.
Crystal
2017-04-02T00:00:00Z
Тип размещения
Отдельная комната
---
Тип жилья
Квартира
---
Вмещает гостей
1
---
Спален
Западный Голливуд, Калифорния, США
Este hermoso, todo blanco apartamento de 1 dormitorio tiene todo lo que está buscando en la planificación estás escapada! Lavadora y secadora en la unidad. Aparcamiento, piscina y gimnasio para disfrutar !!
Тип размещения
Дом/квартира целиком
---
Тип жилья
Квартира
---
Вмещает гостей
2
---
Спален
Западный Голливуд, Калифорния, США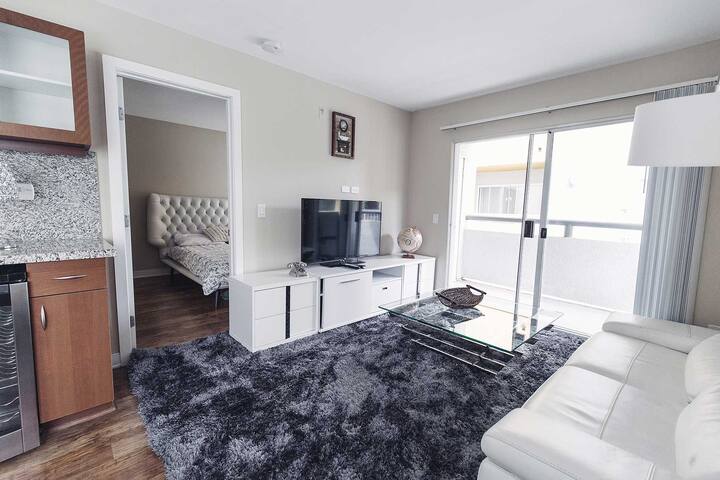 Your own private guest house with a pool located in the back yard of a nice home near West Hollywood. Quiet neighborhood with free street parking, yet only 1 block walk to Melrose Ave shopping district. You can also walk to Farmers Market/The Grove outdoor shopping mall, CBS Studios or quick drive to the Hollywood Bowl, Griffith Observatory, Universal Studio and LACMA.
Set in the heart of West Hollywood, this cozy guesthouse is just off of Melrose. Close to restaurants, shops and coffee spots, it puts wonderful favorites right within walking distance. It is a fully detached guest house behind the main house on the property, in which I live. I respect everyone's privacy, though should you need something or have a question, I'm in the main house. Features: - queen sized bed, night stand, closet, iron and ironing board - queen sleeper sofa - 58" flatscreen TV with cable & wifi, recessed lights on dimmer - rain fall shower head with steam shower feature - nice pool to relax - air conditioning/heating unit - great outdoor seating to enjoy - nespresso coffee machine, refrigerator, toaster, portable gas stove, countertop convection oven - Street parking is free and easy. In case if you can't find street parking, we have driveway that guest can park Please note: - quite neighborhood so not a party house - washer/dryer is in the main house not in the guest house. If you would like to get your laundry done during your stay, please inquire when you book the guest house. - Pool is used by owner and guests. - extra cleaning can be arranged for $60 per visit from our housekeeper. - There is a $40 a day optional pool heating fee available (when needed). Typically pool temperature is warm during summer months(Jul-Sep).Please inquire pool heating with your booking
West Hollywood is in the heart of Los Angeles and is one of the most sought after locations to stay in LA. It's centrally located, safe and well maintained. There are so many great places that are walkable. Lots of restaurants, bars, coffee shops and lots of places for shopping!
David and Yong were the most fabulous hosts! Everything was smooth from day one, including communication before I arrived, right up until I left. They are so kind and friendly! And their home is BEAUTIFUL. The pool area and guest house are immaculate. And there's a STEAM SHOWER. Literally they've thought of everything. If I could give my experience a million stars, I would. Don't wait, book immediately.
Robin
2016-10-12T00:00:00Z
We had an amazing stay at David and Yongs place. Their house is beautiful and is in a great location! We would definitely stay here again!
Leah
2017-03-26T00:00:00Z
One of my favorite places to stay in all of LA
Shad
2016-10-14T00:00:00Z
My wife and I stayed here for 3 days and loved it! Out of all the places we have stayed, this was by far our favorite. David and Yong are very quick to respond with questions and very helpful. They also recommend great restaurants that are within walking distance.
Bryan
2016-11-19T00:00:00Z
David and Yong were amazing! Very attentive and accommodating. Would definitely recommend this beautiful, cozy guest house
Sammy
2016-11-21T00:00:00Z
Incredible immaculate inviting place. Great location and perfect local to explore urban and natural beauty.
(EMAIL HIDDEN)
2017-01-12T00:00:00Z
This is the best experience stay I have had so far on air bnb ... the place is so amazing and the host are too..: they made sure we had everything we could need for a stay including a letter letting us know where to go for necessities and for fun.. I would rate this one higher if I could ... everyone should check it out
Cameron & John
2017-01-20T00:00:00Z
david and yong were fantastic hosts. my wife and i will definately stay with them the next time we visit L.A.
eric
2017-02-12T00:00:00Z
Тип размещения
Дом/квартира целиком
---
Тип жилья
Гостевой дом
---
Вмещает гостей
4
---
Спален
Лос-Анджелес, Калифорния, США
Vítejte v našem domě v západním Hollywoodu v blízkosti mnoha barů, restaurací a nákupních center!
Thanks to Vito and Catherine; they could not be nicer.
Philip
2017-03-30T00:00:00Z
Тип размещения
Общая комната
---
Тип жилья
Дом
---
Вмещает гостей
1
---
Спален
Западный Голливуд, Калифорния, США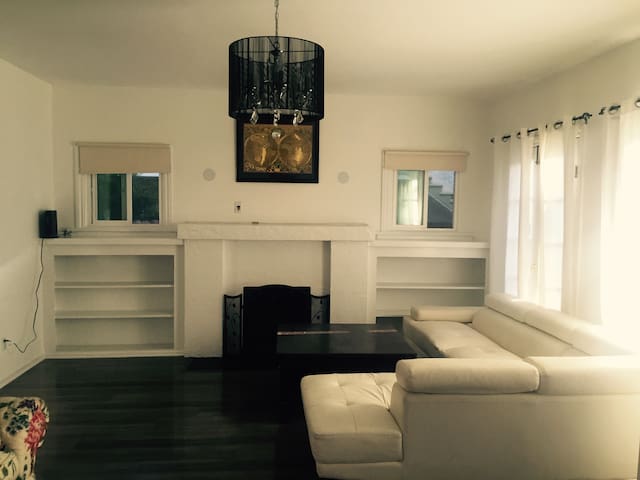 Дом с деревянными полами, красивая каждая комната открыта с кроватью. кухня с гранитной плитой, частная прачечная, частный внутренний дворик с живой ландшафтный дизайн.
Район довольно много собак. Рядом с Санта-Моника и Сансет легкий доступ ко всем основным экскурсионный районов в Лос-Анджелесе.
I loved the room and it was very convenient
David
2017-04-10T00:00:00Z
This place was a peace of mind. It is located in the lively West Hollywood neighborhood. Beautiful neighborhood, parking was not an issue just be careful to watch the signs, the patio was a breath of fresh air. The bed was very comfortable, I actually rescheduled my meeting so I could enjoy the comfort of the home. I really enjoyed my stay! Thank you so much Farah!
Adrena
2017-03-10T00:00:00Z
Great value and location. Clean and comfortable.
Robert
2017-03-23T00:00:00Z
Our stay was Perfect. Home is comfortable, nice, and clean. Quiet neighborhood.
Norma
2017-03-20T00:00:00Z
No frills, but great location. Be sure to scout overnight parking options. We used a lot off of Sunset Blvd. and used Uber to get there. Very cute, very private. Just what we needed!
Eric
2017-03-16T00:00:00Z
Beautiful secluded home in West Hollywood with front yard, spacious living quarters & great quality linens :)
Marco
2017-03-27T00:00:00Z
Farah is super accomodating. The beds are really comfy and the location is wonderful.
Christie
2017-03-17T00:00:00Z
I love staying at Farah's spot. I love the neighborhood and how everything is convenient there EXCEPT parking. My first time, I found parking but the second time, I had to return my rental because I was afraid my car will be towed. You cannot park on the streets or car will be towed. Please be aware of that. However, they are in the process of working out parking arrangements and despite the parking, the stay was absolutely comforting and I really appreciate that and would stay again! Thank you Farah!
Adrena
2017-03-13T00:00:00Z
Тип размещения
Отдельная комната
---
Тип жилья
Дом
---
Вмещает гостей
2
---
Спален
Западный Голливуд, Калифорния, США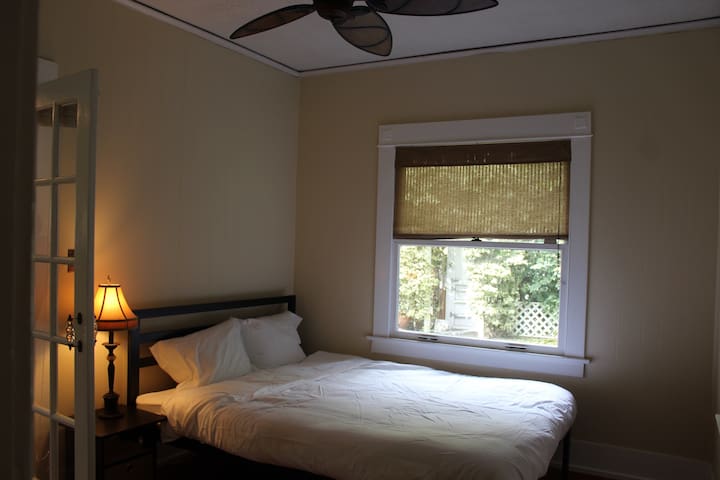 My place is close to Melrose Avenue shopping and dining. You'll love my place because of the location, ambiance, and outdoors space. My place is good for couples, solo adventurers, and business travelers.
The space was designed with your comfort in mind. You will feel right at home and likely yearn to stay longer.
Located one block from Melrose Avenue, you couldn't ask for a better location. Within minutes you can dine at great restaurants and shop in sought after boutiques. There is also a Target, nail salon, barbershop and hair salon in walking distance.
Brandon and Timothy were very accommodating and helpful during our short stay in this quite and comfortable home in West Hollywood. Great location, highly recommended.
Fatin
2016-08-26T00:00:00Z
Brandon communicated with me frequently. He was very accommodating. The shared bathroom was clean. Parking was challenging, again if there was not construction it might have been easier.
Erin
2016-08-19T00:00:00Z
If you want to be in walking distance of some of the most foodie friendly, cool dive, hip hole in the wall, actual hole in the walls, thrift, fancy thrift, this is the place to stay.
Laura
2016-12-10T00:00:00Z
Pleasant people, clean place, friendly Think of other plus words and they will most likely fit.
Henrik
2017-02-11T00:00:00Z
Brandon was super friendly and we felt very welcome in his home. His home is gorgeous. I'd recommend it for anyone who's looking for a small getaway :)
Angelique
2016-07-25T00:00:00Z
I didn't have the occasion to meet Brandon and Timothy but they were really accommodating ! The location of the bedroom is ideal because close of the restaurants and the Walk of Fame.
Maxime
2016-08-29T00:00:00Z
ABSOLUTELY AMAZING host, room and stay! Brandon (and Timothy) made me feel welcome, and we had just enough interaction to make it nice! There place is in the heart of WeHO...2 blks from Melrose Ave and 2 blocks from Santa Monica Blvd. I'd definitely ask to stay again! Thank you both!!!
Cliff
2016-07-22T00:00:00Z
My overall experience here was great. It's on a really lovely street just a short distance from Melrose Avenue. I certainly felt very safe in the area. Timothy and Brandon were friendly hosts. I was always glad I'd eaten when I got home because some of their cooking smelt fantastic! The slight downside I can comment on (which others have mentioned too) is the slightly 'thin walls'. This was easily solved with some ear plugs though.
Graeme
2016-12-01T00:00:00Z
Тип размещения
Отдельная комната
---
Тип жилья
Дом
---
Вмещает гостей
2
---
Спален
Лос-Анджелес, Калифорния, США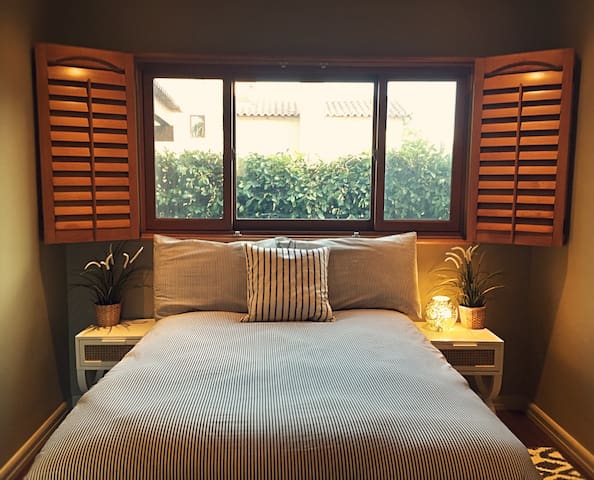 A FULLY-FURNISHED MODERN, BRAND NEW LUXURY 2BR+2.5BA UNIT OFFERING THE BEST IN WEST HOLLYWOOD LIVING.PERFECTLY LOCATED JUST NORTH OF COVETED WEST THIRD BETWEEN LA CIENEGA AND FAIRFAX WALKING DISTANCE FROM BEVERLY CONNECTION, THE GROVE, CEDAR SINAI HOSPITAL AND TO WORLD-CLASS DINING, ENTERTAINMENT. FREE WIFI WITH 1 PARKING SPACE. MY PLACE IS GOOD FOR COUPLES, SOLO ADVENTURERS, BUSINESS TRAVELERS, FAMILIES (WITH KIDS), AND BIG GROUPS.
A bright, duplex apartment with an open floor plan that is to die for, this unit features two masters with en suite bathrooms and includes designer fixtures, hardwood floors, in suite washer and dryer hookups, luxury appliances and a balcony. The interior was designed by one of the designers behind the W Hotel, and features contemporary furniture and accents. The living room features a 55-inch flat screen TV with Roku so you can access Netflix, Amazon, Hulu and your other favorite streaming platforms. The unit includes pots, pans, coffee machine, iron, ironing board, toiletries, hair dryer, cleaning supplies, and everything you might need to feel right at home.
Located just north of coveted west third street between La Cienega and Fairfax. this beautiful unit is moments away from world-class dining and shopping at The Grove, Beverly Center, and beyond, and is the perfect lifestyle choice for those searching for a supremely walkable neighborhood.
This is a great place for family to stay in LA. Safe community, dedicated parking lot, very ease check-in and check- out process, walking distance to Target supermarket, etc. Definitely I shall come back to this place next time.
Rob
2017-02-05T00:00:00Z
Great place. Very clean, very well maintained. Easy check-in with no problems. I highly recommend this place!
Philip
2017-03-03T00:00:00Z
Dee had good communication and offered solutions to any issues with amenities.
Toni
2016-12-22T00:00:00Z
Great Location! Great Host!
Ben
2017-02-25T00:00:00Z
Very nice apartment, located in a very convenient location. Great restaurants nearby. Dee was really great and accommodating. We had a really great experience.
Kristin
2016-09-19T00:00:00Z
Dee was a great host. From the easy checking to the amenities provided we always felt taken care of. Would definitely stay again.
Justin
2016-12-01T00:00:00Z
I would really love to stay again in Dee's place as soon as I go back to LA! Great location and excellent service
Yousuf
2016-09-17T00:00:00Z
I didn't meet Dee personally but she is very polite and help full with all of my needs
DEEPA
2016-11-07T00:00:00Z
Тип размещения
Дом/квартира целиком
---
Тип жилья
Таунхаус
---
Вмещает гостей
4
---
Спален
Лос-Анджелес, Калифорния, США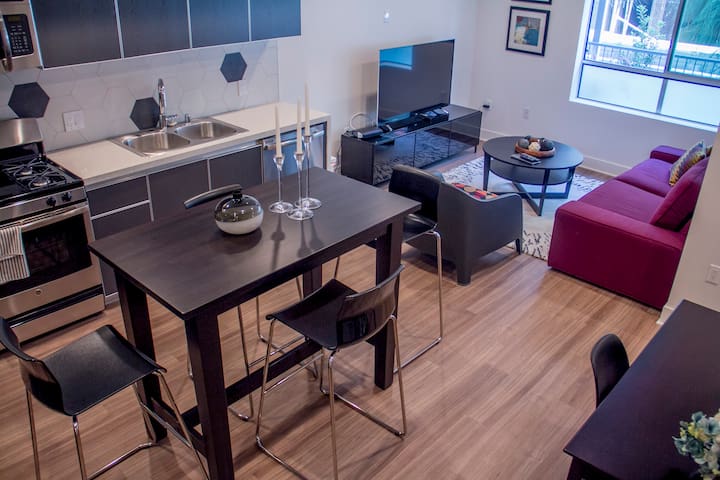 Лучший район в Лос-Анджелесе, в центре Лос-Анджелеса, лучший способ вы можете почувствовать себя звездой !!! Частная парковка в закрытом гараже.
Это пространство расположено в хорошо известном, дружественной районе в центре города Уэст-Голливуд, Голливуд области. Найденный на бульваре Санта Моника, это один из немногих современных элитных квартир в этом районе. В комплекте с бассейном с подогревом, 2 крыши домов, тренажерный зал, частный просмотр театра, и места для парковки. Удобно через дорогу от Target, ставки Купить, Rite Aid, Bevmo и торгового центра полно мест, где можно поесть.
Place was great. Clean very modern and friendly hostess. Not Far from what Hollywood has to offer.
Isaias
2017-03-17T00:00:00Z
Beea's place was in a great location. Her communication was awesome throughout our trip. Her place was very clean as well. Looks just like it does in the pictures.
Nayelli
2017-03-18T00:00:00Z
Lovely place to stay, in a great location
Henry
2017-03-06T00:00:00Z
The host canceled this reservation 55 days before arrival. This is an automated posting.
Richard
2017-01-03T00:00:00Z
Hospitality was above and beyond expectations. I definitely recommend this airbnb listing for any West Hollywood adventures or LA. The host were very accommodating and super friendly.
Juliana
2017-03-26T00:00:00Z
Beea makes you feel so welcome and its like a home from home,,super comfy bed, and nice clean apartment, location is right in the center of everything, we booked for two nights but enjoyed it so much we stayed for another night. Would definitely stay here again, can't praise our stay enough
Mark & donna
2017-02-05T00:00:00Z
This is a really great option if you are visiting Hollywood and just need a place to store your things and sleep! Great location and very friendly hosts.
Samantha
2017-02-12T00:00:00Z
Beea was a great host! The place was very clean and I loved the location.
Hubert
2017-01-23T00:00:00Z
Тип размещения
Отдельная комната
---
Тип жилья
Квартира
---
Вмещает гостей
2
---
Спален
Западный Голливуд, Калифорния, США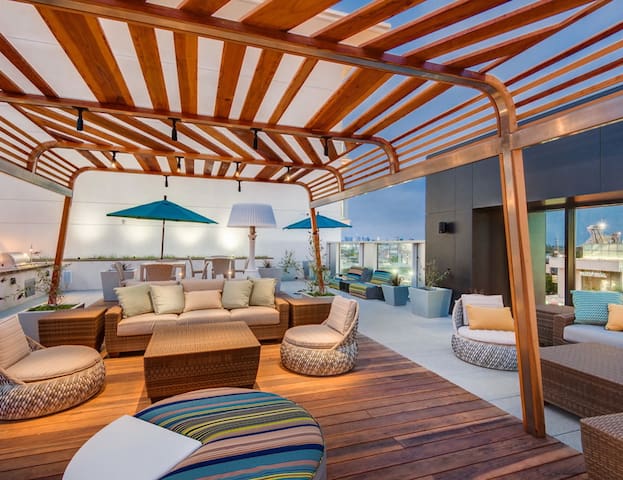 Este lugar es el lugar perfecto para cualquiera que quiera explorar la ciudad o simplemente relajarse. Se trata de una habitación privada en un apartamento de 3 dormitorios con una gran cantidad de luz natural, cama king size, escritorio, armario grande con espejo y TV LED de 50 pulgadas. Un cuarto de baño compartido. El lugar está cerca de Laurel hardware, Whole Foods, The Grove, Avenida Melrose, Los Tacos 24 horas comida mexicana, 7-Eleven, Starbucks. Te encantará el lugar debido a la vecindad, la limpieza, la cama cómoda, la cocina, y la comodidad.
El espacio cuenta con una cómoda cama de matrimonio, escritorio amigable ordenador portátil, TV de pantalla LED de 50 pulgadas, ventilador de techo, una cómoda, un armario grande con espejo, ventana grande, mesitas de noche, y las luces. No permito dando vueltas fuera de la casa.
La zona es segura y transitable. Tiene tiendas cercanas de comestibles, restaurantes y bares / pubs. Los alimentos integrales, 24 horas de comida mexicana, Moe Café, el Hudson, Laurel Hardware, 7-11, y están muy cerca de Starbucks sólo para nombrar unos pocos.
Great value pick. The hosts are great and easy to communicate with. Only negative was there was quite a bit of noise coming from other apartments the night I was there
Tim
2017-03-13T00:00:00Z
Great beautiful apartment! The bed was so comfortable and big!!! It was just me so it was nice sleeping on a king sized bed :) Brian accommodate my last minute request and made sure to leave clear instructions to self check in. I go to WeHo a lot so will definitely stay here again. The place is very close to the bars, restaurants and walking distance to some of the gay bars :)
Alessandro Dario
2016-10-22T00:00:00Z
We had an awesome time in LA and our stay in Brian's room was very comfortable & clean in a quiet email. His friend who was helping him out was very accomodating & sweet.
Jen
2016-12-11T00:00:00Z
Apartamento de ótima localização, muito limpo e cheiroso, quarto espaçoso com cama aconchegante, banheiro extremamente limpo, vaga na garagem para os hospedes. Brian foi ótimo do check in ao check out(URL HIDDEN)Estadia perfeita.
Imyra do Carmo
2016-10-16T00:00:00Z
Great spot, high value and perfect location... Brian was all over it, very helpful...
Dexter
2017-03-02T00:00:00Z
Brian's place is great, very clean and modern. The bed is comfy as hell and you can tell he tries his best to make your stay confortable.
Antoine
2017-01-06T00:00:00Z
It was a great place and great host. But please know it ws listed as entire place and its just a private room. I don't know if it was on purpose but it was listed as entire place, other then that awesome.
Juan Carlos
2016-10-02T00:00:00Z
Awesome place! Brian is so lovely and helpful too.
Samantha
2017-02-20T00:00:00Z
Тип размещения
Отдельная комната
---
Тип жилья
Квартира
---
Вмещает гостей
2
---
Спален
Западный Голливуд, Калифорния, США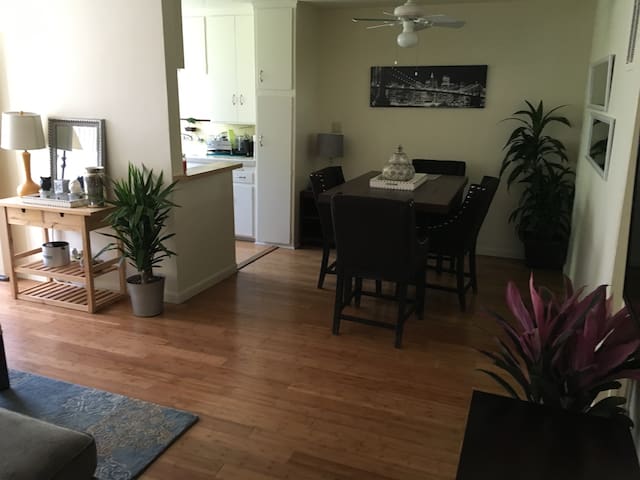 Отдельная 1-комнатная в очень популярном месте. Реальный кровать с полноразмерным матраса. Полностью оборудованная кухня. Wi-Fi, Netflix, Hulu. Гостиная / ванна. Не курить или домашних животных, пожалуйста. Один блок в Санта-Монике автобус и LA Шинные> Красной линии метро.
Мое пространство расположено позади свойств на улице, что делает его более тихим и безопасным.
Моя улица в Западном Голливуде является чистым и открытым. Это ходок дружелюбный (улыбка и сказать привет), и размещение с домашними животными (смотреть ваш шаг). Вы можете легко дойти пешком до Whole Foods, Gelsons, Rite Памятной, Трейдер Джо, и Starbucks, но я настоятельно рекомендую вам проверить многие семьи в собственности этнических заведений поблизости, а также таких, как Одесский рынок и Столичной Bakery. Если вы здесь для ночной жизни Уэст-Голливуд, все это прямо здесь, как хорошо. Вы достаточно далеко от него, что вы не будете слышать его, и вы достаточно близко, чтобы идти.
I had a great time with Oscar. He was prompt, genuine and helpful. He showed us around the property and was always on call. Overall a really cool guy and a really cool pad in West Hollywood right off Santa Monica.
Vidit
2016-04-11T00:00:00Z
Great host! Gave me everything I needed. Highly recommended.
Casey
2016-11-02T00:00:00Z
Our stay at Oscar's was excellent! Spectacular location, amazing and attentive host, and really clean, comfortable place with everything you'd need and some extra offers. Oscar was wonderful to deal with and helpful and the parking was a breeze. Couldn't have been a better home base to explore LA. We'd stay again. Thanks, Oscar.
Kiara
2016-07-12T00:00:00Z
The location is great, easy to everywhere. And Oscar is a hospitable host, help us find parking space at night, and help with our luggage. Very good chat together. The house is clean and cozy, TV is very big and HD. Highly recommend this place!
Daisy
2016-05-03T00:00:00Z
Was a great place in a good location. Oscar is really helpful and friendly!
Brent
2016-10-25T00:00:00Z
Oscar was a great host. A plus plus.
Josh
2016-07-20T00:00:00Z
Oscar was very nice, attentive, and accommodating. I would stay there again!
Amani
2016-10-31T00:00:00Z
The apartment was comfy, cozy, and clean. Oscar was very accommodating with check-in and check-out and giving us a little tour of the place. The bed was wonderful and the fan kept us nice and cool. I would definitely recommend the apartment and may stay here again if I come back through town.
Lauren
2016-10-30T00:00:00Z
Тип размещения
Дом/квартира целиком
---
Тип жилья
Квартира
---
Вмещает гостей
3
---
Спален
Западный Голливуд, Калифорния, США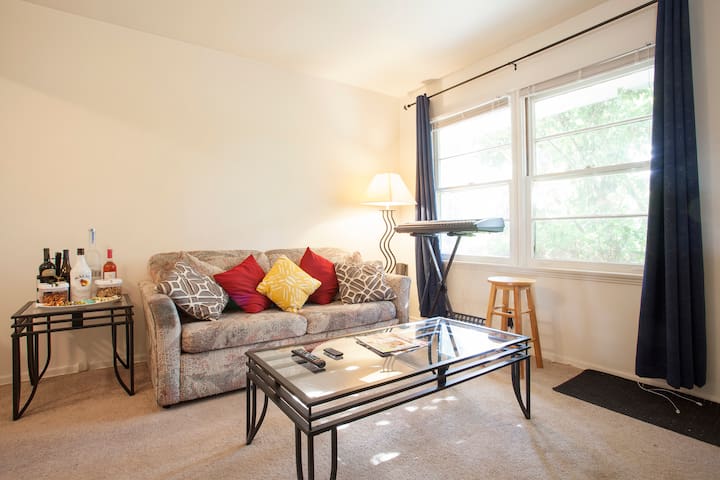 Включает в себя свою собственную спальню, с вашей собственной ванной комнатой подключены к вашей комнате. В самом центре города Уэст-Голливуд! В нескольких минутах ходьбы от Санта-Моника полосы и удивительные ресторанов / местах, как Skybar, The Hudson и многое другое. Вы будете любить свое место из-за места, бассейн, тренажерный зал, люди и на открытом воздухе общественного пространства, включая ямы огня и барбекю! Мое место хорошо для пар, сольных авантюристов, бизнес-путешественников, & домашних животных. Бесплатный Wi-Fi и парковка, стиральная машина / сушилка, камин и многое другое!
Королева кровать и 32 'TV в вашей спальне. Домашние животные не живут на этом свойстве, но допускается. (AirBnB имеет глюк и не позволит мне обновить это)
Gunther was very helpful. On arrival he talked me through over the phone how to access the apartment and also sent a detailed message with instructions. Apartment was very clean and the room was great with a comfy bed. The pool was great and also the secure parking. Loved west Hollywood and apartment was within walking distance of great bars, restaurants and cafe's. Only met Gunther briefly one evening and again he was friendly & helpful. Would definately recommend this place to stay.
Nuala
2016-09-13T00:00:00Z
Gunther was very communicative from the start. I can shamelessly admit the complex hallways leading to his apartment got confusing but we figured out the maze after a few trips to-and-fro. We are super grateful he let us stay for 1 night on a last minute request. The room was minimalistic and had a comfortable bed. I dipped in the pool when it got hot, so that was nice. I also was able to park in the designated parking spot in the parking garage instead of moving the car to another spot every two hours in the neighborhood. We scored on this one!
Kara
2016-09-06T00:00:00Z
Gunther was very welcoming & easy to get in touch with. Great place. Great location. Will definitely stay here again and recommend it to friends & family!
Jen
2016-11-13T00:00:00Z
Clean, comfortable and great location! Host was responsive and accomodating, will be back!
Amy
2016-09-18T00:00:00Z
The checkin process was a bit complicated but Gunther's instruction was very easy and clear. The room was as it was shown in the photos. Most of all, what I really appreciated were the location and parking space provided(very safe).
young-ah
2016-09-10T00:00:00Z
I never met Gunther but he was very helpful in every way. His place is in a great location, immaculate and cozy. Perfect place to stay! Thank you!
Ben
2016-08-28T00:00:00Z
Had a good stay, place is very clean, Good communication with host.
Pearlie
2016-09-16T00:00:00Z
Place is very clean and organized. The stay was enjoyable and very easy check in. The place is also well equipped as the description says! While the stay was lovely, you do hear sounds from outside quite easily. The place would be best for exploring the city and experiencing local life in my humble opinions!
Angela
2017-01-28T00:00:00Z
Тип размещения
Отдельная комната
---
Тип жилья
Квартира
---
Вмещает гостей
2
---
Спален
Западный Голливуд, Калифорния, США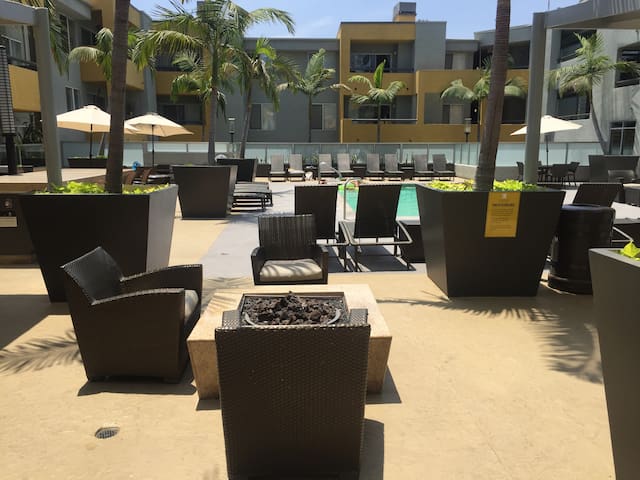 1

–

18

из

300+ вариантов аренды
Введите даты, чтобы увидеть полную цену без учета дополнительных сборов и налогов.