Введите дату прибытия в формате дд.мм.гггг
Введите дату отъезда в формате дд.мм.гггг
Объявления, которые вы можете забронировать, не дожидаясь одобрения от хозяина.
Введите даты, чтобы увидеть полную цену без учета дополнительных сборов и налогов.
В июле и августе этого года вы сможете открыть для себя один из сотни самых лучших домов, с самыми разными ценами, и увидеть долину Сонома, какой ее видят местные жители. Круглосуточное прибытие, мгновенное бронирование, местное вино и закуски помогут вам расслабиться и насладиться поездкой.
Nice and cozy space with desert views all around. Propane range, full bath, electric heat, fully-equipped kitchen. Great for guests who appreciate quiet and open spaces.
Тип размещения
Дом/квартира целиком
---
Тип жилья
---
Вмещает гостей
3
---
Спален
0
Bouse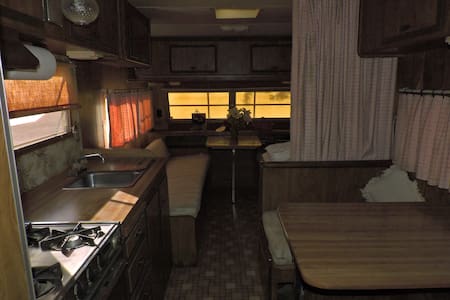 This quaint accommodation is situated half way between Wickenburg and Lake Havasu City in the outback of Arizona. This location is great for painters, rock hounds, star gazers, explorers, horseback riders, or anyone just wanting some peace and quiet. The cost of lodging used to include breakfast, but on Sunday, January 8th, I injured my hands and face in a fire so cooking breakfast will be on hold while I recover. I will however, have a fully stocked pantry to accommodate your breakfast needs.
My space is also my art studio, so you will be surrounded by art during your stay. The overall space is relatively small, but well organized, and the space you will be staying is private, near the back of the house, and the room has an east-facing window. The back door is right next to your room, so you can come and go as you like. The gardens are well-tended with beautiful places to hang out, and the night sky is generally clear and great for star-gazing. PAINTERS/ARTISTS/PHOTOGRAPHERS: There are some fabulous places to find inspiration for your creations, which I am happy to direct you to. I may even be able to join you. Your choice. BICYCLISTS: The Southern Tier route is close to where you would be staying. If my schedule allows at the time of your stay, I can pick you up and return you to a specific point along the route. You may use the kitchen to prepare food for yourself or to share. There is always coffee and tea available. I don't use a microwave and we recycle our trash. Tap water comes from a well and is quite good for cooking but a little salty for drinking. You may roam the gardens and visit the cows and horses, but if you have pets, please keep them from harming the other animals on the property. Your room comes with a small refrigerator, air conditioner, heater, movies, cable TV and WiFi. Your bathroom is the main bathroom in the house and is right next to your room. The laundry and only shower are in this bathroom, so there may be others using the facilities from time to time, but they will work around your personal needs. If you want to socialize, that is great. If you want to be left alone, I won't be offended. I am home most of the time painting and during the winter months I work part-time so checking in with your estimated arrival time is very helpful.
You should be prepared to travel about one mile on a county-maintained dirt road to get to the location. There are a few neighbors, but the property where you will be staying is remote on 160 acres of land, surrounded by hills and desert. There are areas to walk or ride horses, but be aware of rattlesnakes in the summer. Make sure you have plenty of gas in your tank when you arrive. The nearest gas station is about 8 miles away and pricey. The nearest "convenience" store is 14 miles away. I am happy to provide maps and suggest interesting areas to visit while you are here. Since some of your meals will be provided for you, please let me know a week ahead of time if you have any special diet restrictions. If you are a light sleeper, you may hear the water heater go on and off during the night. I have two dogs who are friendly with people but a bit protective of me around other dogs in tight spaces. There will be some occasional barking, but I do my best to keep it at a minimum. Some GPS systems may not accurately direct you here, so to be sure you don't get lost, you might want to call when you get near. If you have problems with cell reception, you can key in these GPS coordinates: N33 49.083; W113 49.869.
I really want to express my appreciation to Cheryl for opening her place for travelers on Interstate 10. This is the only airbnb place at this time on the long stretch of the highway from Phoenix to Palm Springs. The place is rustic, as anything else you can find in this part of the world, but the bed is very good and it's airconditioned, what else you need in a desert for a night! Cheryl is very lovely host, she made me a coffee and eggs for breakfast, offered a banana for the road. Her paintings are everywhere, makes this desert hideaway unique - you are in a studio of a real artist. We spoke in the morning about being a painter, and it left a big impression on me. Thank you, Cheryl.
Elena
June 2016
Our stay at Cheryl's was terrific. We had planned to be there a bit earlier but were running a little late and she was kind enough to offer to cook for us! It was good too! The space is very simple clean and nice with a small refrigerator in the room. Cheryl is a very kind and generous host. Would recommend for anyone wanting to stay in the area.
L. Michael
December 2016
Cheryl is best host ever ! I felt like at home. If you are looking for outdoor activity like hiking, off-road driving, stargazing, rock collecting, water sports (available in Parker Strip nearby) - this place is for you ! Or if you just traveling across country and wanna stay for a night - will work too.
Alex
December 2016
Another airbnb gem!! Highly recommend. A great stopover on the way to/from LA -- but very unique and interesting in its own right, too. It was very easy to find using (SENSITIVE CONTENTS HIDDEN) maps. Just 15 easy miles from I-10 (exit 45) -- you only have to make a few turns, and they're well-marked. The last few miles are dirt road, but my ancient Honda Civic handled it with no problem. Cheryl is the very best kind of host -- warm and welcoming, and very open to exploring the local terrain. She generously used her 4WD vehicle to take us to a local rock art site that is 1000s of years old, and took me on a tour of the local towns. She also shared a movie -- and an extremely delicious breakfast she made! The house is older, but comfortable. It's situated in a kind of peaceful oasis, with tall trees and lots of green. Her two dogs are very loving and well behaved. The bed is firm. Parking is right outside. AC works great. The house is full of really excellent portraits, painted by Cheryl. The night sky is just amazing -- you may see more stars here then you've ever seen before. I was at Cheryl's for only about 18 hours, stopping on the way from Tucson to LA. But it felt like an entire mini-vacation!
Rae
September 2016
Cheryl was just an excellent host. We spent a great evening with her and Jassie. She picked us up from the main road and rode us and our bikes to her home and took us back the next morning. I highly recommend staying at her place.
Macià
March 2016
Тип размещения
Отдельная комната
---
Тип жилья
---
Вмещает гостей
2
---
Спален
1
Bouse
If you are looking for a quiet, private space to pull up and be away from it all, this is the spot for you. While you will be staying on private property, you have the luxury of hanging out in well-tended, park-like surroundings, complete with grass!
Тип размещения
Общая комната
---
Тип жилья
---
Вмещает гостей
1
---
Спален
1
Bouse