Gig Harbor, Вашингтон Полностью меблированные номера ежедневно, еженедельно, ежемесячно. Расположенный на 4 акрах Красивая Идеальное место для: деловых путешественников, посещения семьи, Отдыхать, приглашенный академический, медицинский Удобно - приглашающий - comfortable- отдыха - чистый Устали от отелей? В поисках безопасного, комфортного доступного жилья? Если вы посетить очаровательный район Gig Harbor и нуждаются в жилье, попробуйте один из наших наших частных комфортабельных квартир верхних студии уровня на четырех мирных акров. Со вкусом оформленный в ожидании вашего визита. Полностью меблирована, включая роскошное постельное белье & полотенца просто принести зубную щетку. Отдельный вход снаружи Королевская кровать Частная уборная кухонька Кабельное ТВ Доступ в Интернет Wi-Fi для вашего ноутбука Прекрасный личный Частная палуба Стиральная машина и сушилка доступны Гриль & Огонь Яма Рядом с магазинами, некоторые из самых красивых парков Вашингтона! Легкий доступ к автострадам. Поля для гольфа, Gig Harbor имеет множество прекрасных Dinning учреждений. Близко к больнице Святого Антония
Once again, a wonderful, peaceful stay. The private deck was perfect for the warm evenings. When we arrived late, everything was ready including an extra fan for the unusually warm weather. Kelly invited us to pick fresh blueberries and tomatoes from her abundant garden. She is a thoughtful and generous host. We hope to come back next year.
louise
2015-07-26T00:00:00Z
Kelly was very accomadating! She welcomed me the night I got there and showed me around. The place is very quaint and a lovely getaway. The area is very relaxing but not too far away from where things are going on.
Nichole
2016-08-28T00:00:00Z
My husband and I stayed at Kelly's place for about four days and it was the perfect amount of cozy. You get a great feel for life in the Northwest surrounded by beautiful scenery and fresh air. Kelly's place is tucked away in Gig Harbor and it is really beautiful. Before our arrival Kelly called me to let me know that her son-in-law (?) would be there to give us the keys to the place and the tour. He was very friendly and helpful. The place is very small since it is above the garage, however very cozy, comfortable and warm. It also does not have a kitchen sink, but it does have a small kitchenette with a hot plate, small fridge, dishes, and cutlery. During our stay we took a quick drive up to Bremerton and took the ferry over to Seattle. It was easy and convenient and it was better than driving one hour or more. If you want to get around anywhere in Gig Harbor, I recommend driving since you will be a ways from the downtown area of Gig and there aren't sidewalks. During the evening it gets very dark and you're going to need your vehicle headlights to illuminate the way. Also, keep in mind that if you drive off Gig Harbor, you have to pay $5 to leave (cross the Tacoma Narrows bridge) but you don't pay to get on to Gig. This was a great place to stay and I would recommend this place to anyone who wants to get away from it all for a few days.
Maureen
2012-12-14T00:00:00Z
Wonderful place to stay. Will definitely be back!
Jentry
2011-09-06T00:00:00Z
Fantastic place! The apartment was quiet, clean, and private. Kelly was very helpful and accommodating. I'd definitely stay here again.
Charlie
2011-11-27T00:00:00Z
We had a great time at Gig harbor, the property was big and beautifuul.
Daniela
2012-07-30T00:00:00Z
Great first AirBnB experience! I really enjoyed my stay and would recommend this room to any traveler.
Matt
2013-09-01T00:00:00Z
The location of the place is fantastic. It fit our needs perfectly. Kelly, the host, was very attentive and friendly. Definitely recommend this place for the price.
Victor
2016-09-05T00:00:00Z
Тип размещения
Дом/квартира целиком
---
Тип жилья
Квартира
---
Вмещает гостей
2
---
Спален
Гиг-Харбор, Вашингтон, США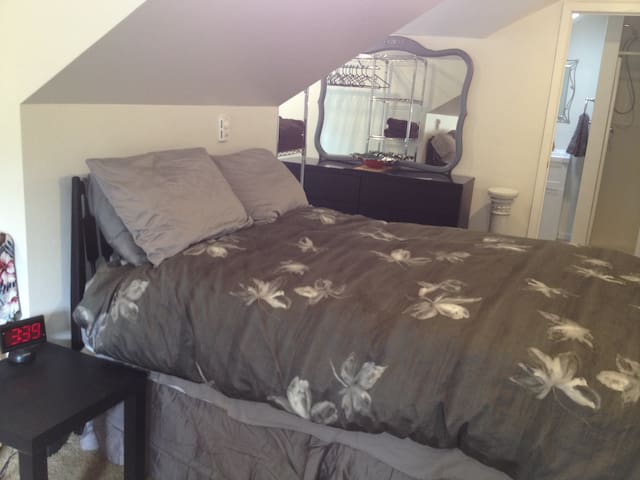 Nestled on 5 wooded acres minutes from the Gig Harbor waterfront, parks and lakes. Gateway to the Olympic Peninsula and day trips to Seattle and Mt Rainier. Perfect for couples, solo adventurers, business travelers.
Very peaceful. Nearby neighbors are all on acreage. Lovely people but they mostly keep to themselves. 10 minutes to Costco, Target etc..
My husband and I are traveling nurses and we stayed here for 3 months. It was very close to the hospital in Gig Harbor, and the hosts were great. They were really friendly, but let us have privacy too. The Internet was spotty at times due to being in a forrested area. It is very quiet, but still a close drive to downtown. We would stay here again if in the area.
Miranda
2017-01-02T00:00:00Z
Joe and Linda were the best hosts! Everything was wonderful. For our first Airbnb experience, we could not have asked for anything better. The apartment was the perfect size for us and we didn't have any problems. It's a very peaceful and lovely property. Joe and Linda are fixing the whole place up to be a gorgeous wooded paradise. We hope to come back again. We can't say enough about our positive and fun trip.
Carla
2016-09-16T00:00:00Z
Тип размещения
Дом/квартира целиком
---
Тип жилья
Квартира
---
Вмещает гостей
4
---
Спален
Гиг-Харбор, Вашингтон, США
Newly fully furnished 1 bedroom up-dated apartment for your enjoyment… You will be able to wake up to a view of the water and Mount Rainer when not clouded in. Parking available with easy access to shopping and the freeways when you're ready for explore. There is a ton of things to do in this area from the big city of Seattle to the cost line of our beautiful Peninsula, and in between. Enjoy a comfortable sleep, with the convenience of cooking, large refrigerator to keep things cold, washer and dryer, cable TV, and Wi-Fi We will be there for ideas, things to do and how to get there, we are committed to make your stay as pleasant as possible not just in the apartment, but in this area of the world. YOU-WILL-LOVE-IT
The neighborhood was quiet and nice. We did not meet the host, because we had a very full schedule, but he made several attempts to meet.
Anita
2015-02-20T00:00:00Z
Hugh and I were in contact as our date for arrival drew near. His directions from SEATAC Airport were simple, direct and spot on! The keys were on the table, and a short form to be completed was on the counter. We talked on the phone and met face-to-face shortly after my arrival. Hugh is friendly, personable and we found we had some common backgrounds. The area is quiet and serene with beautiful scenery. We enjoyed our morning coffee almost as we enjoyed the waterview and snow capped mountains in the background. Hugh wanted to make sure we had everything we needed for our week in the Pacific Northwest! The pictures of the apartment are right on and the bed was PERFECT for a great night's sleep. Kudos to you, Hugh.
Meta
2016-02-19T00:00:00Z
Hugh's communication was great through the entire experience. From what to expect upon check in, to details at the bnb and during the stay checking in without being intrusive whatsoever. In fact we didn't meet. I was super busy and really just slept there. The place is in a great location. Quiet, serene and has a beautiful view of Mt Rainier and the sound. The place was warm and cozy and had everything you need to be very comfortable. If they'll have me I will absolutely be back.
greg
2014-12-03T00:00:00Z
The place was great. Hugh took my reservation on short notice and gave us instructions right away so getting settled in was pretty straight forward. The place was private with its own entrance (they live upstairs). The view was awesome and the place was just really cozy and homey. It was an overall great stay. Thank you.
Oak
2014-11-02T00:00:00Z
Hugh's place was more than awesome! It far exceeded my expectations. First, it was right on the water with a fab birds' eye view of Mount Rainier! Wowza! The apartment was spacious, with a full kitchen, living room area, and a spacious deck overlooking the beautiful water, woods and Mount Rainier! Picturesque indeed! The bonus of having a washer and dryer was quite nice, especially for a longer stay. The location is super convenient, yet, quiet and tranquil. Hugh was a great host, super nice; and, the topper, there were a dozen fresh red roses in a vase awaiting me, making this one if my fav places ever to visit on AirBNB! I highly recommend Hugh's fab place in Gig Harbor! I will totally be a repeat client! Thanks, Hugh, for a wonderful stay and scenic experience!
Terri
2015-07-20T00:00:00Z
Hugh made us feel at home. The apartment was well suited for our needs. We would stay there again :)
Gail
2016-10-16T00:00:00Z
Never had a chance to meet Hugh but never felt it was needed as everything we needed was right there in the airbnb. The couple of times we communicated Hugh responded promptly. The place was terrific for our 4-day stay. While there is a family above, the unit we stayed in below seemed totally private and provided more than enough comfortable space for the 2 of us. Having a large livingroom area on top of the kitchen and bedroom/bathroom gives plenty of room to stretch out and relax. The large patio with views of the bay and Mt. Rainier was just a very nice added space. Enjoyed walking around the immediate area and having the short drive into Gig Harbor. Also, this is a nice halfway spot to Olympic NP, Mt. Rainier NP and Seattle. Would definitely stay again if we are back in the area.
Eric
2015-10-12T00:00:00Z
We spent Christmas week in this adorable cottage-type private apartment. We enjoyed panoramic views of Puget Sound, Mt Rainier, and beautiful woods. We even had a visit from a deer on our patio. Even though the location looks like a secluded getaway, we were 5-10 minute drive from restaurants, grocery stores, and the historic harbor. We also had a full kitchen and a washer and drier. What a great value compared to a hotel. Hugh is an excellent host who is there if you need him but gives you privacy the rest of the time.
kim
2015-12-31T00:00:00Z
Тип размещения
Дом/квартира целиком
---
Тип жилья
Квартира
---
Вмещает гостей
2
---
Спален
Гиг-Харбор, Вашингтон, США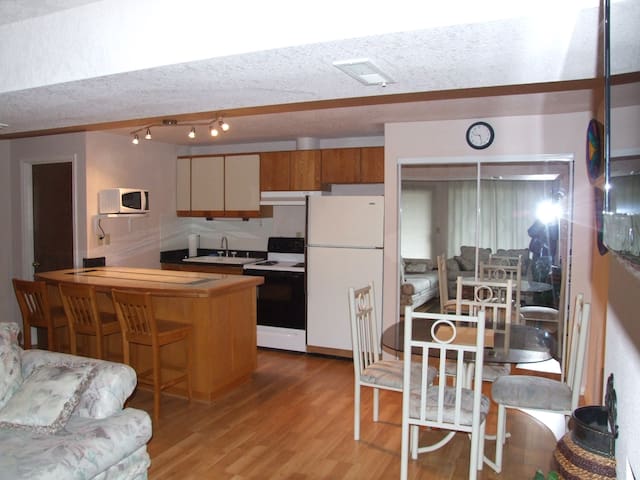 This cozy apartment is right in the town of Gig Harbor, WA. Walk to the Harbor or just enjoy spending time inside. The apartment is well stocked with everything you will need to stay a day, week or month, from silverware to linens. Quiet and romantic
Located in the quite town of Gig Harbor, this cozy and private home apartment is in the center of many activities. Right outside your garden entrance are trails that lead to the Harbor, deep woods or to the new YMCA and the old district of Gig Harbor. This apartment is close in to town yet quiet in the lush green woods. It is well stocked with everything you will need to stay a day, week or month, from silverware to linens. Cook up a batch of cookies on one of our rainy days or explore our mountain ranges on a sunny day hike. All the lights dim for that romantic ambiance. Perfect for a single or couple at rates half of the local hotels with pure comfort and privacy. Bring your dog, we are also close to public transportation, just down the street. The Harbor offers a full day of antiquing, picnicking or just watch the fishing boats come in.
The neighborhood is quiet with older growth trees situated in a growing urban area. A short walk through the woods you find the YMCA, Starbucks, costco and all shopping amenities. 1 mile walk you see the Harbor.
We were very welcomed by Barbara and she did everything she could to make our stay enjoyable. The neighborhood is quiet, safe and a pleasant place to be. This was the perfect place for me to gather with my daughters for Thanksgiving. The apartment is cozy and nicely kept up. Our sweet dog was welcomed too which was great!!! I felt that Barbara trusted us to take care of everything and I appreciated that. It felt like a shared "home space", not a money making "hotel" kind of place. Would certainly recommend!!
Nancy
2014-11-30T00:00:00Z
Barbara seemed very nice. She met us shortly after we arrived. Then she was off for the weekend, leaving us her contact info. The weather pattern was unusually hot for Seattle, and this bnb is not air-conditioned. However, a majority of the homes we viewed in the area were not air-conditioned. Barbara thoughtfully had purchased a stand-alone air-conditioner/dehumidifier which kept the space comfortable.
J J
2015-07-02T00:00:00Z
Тип размещения
Дом/квартира целиком
---
Тип жилья
Квартира
---
Вмещает гостей
4
---
Спален
Гиг-Харбор, Вашингтон, США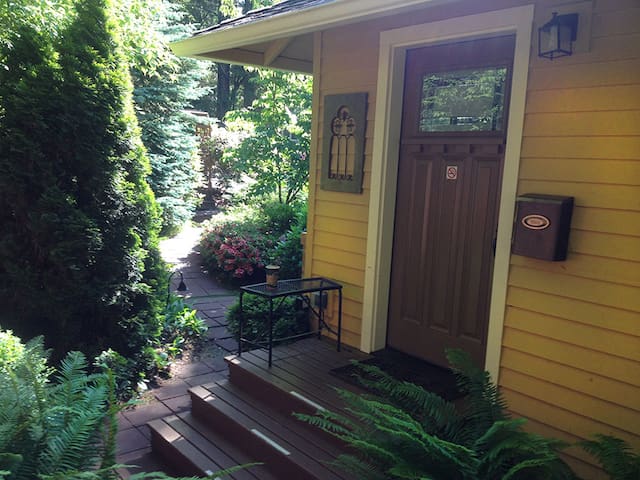 Gig Harbor, Washington quaint fishing Village and close to Tacoma or Port Orchard Luxury fully furnished upstairs Accommodations Daily, weekly, monthly. Ideal for: Business Traveler, Visiting Family, Vacationing, Visiting Academic, 3 Miles from St. Anthony's hospital & YMCA Close freeway access Convenient - inviting - comfortable- relaxing - clean Tired of hotels? Looking for safe, comfortable affordable lodging? If you're visiting the charming Gig Harbor area and are in need of accommodations, try our private comfortable upper level studio apartment nestled on four peaceful acres. Tastefully decorated awaiting your visit. Fully Furnished including luxurious linens & towels just bring your toothbrush. Heavenly bed with Pillow top Mattress with a cushy down comforter Private Bathroom, stall shower Fully equipped Kitchen Cable T.V. WiFi Internet service available for your laptop Washer and Dryer available Barbecue 2 Night Minimum Please
Kelly's place was perfect for my 10-week stay in WA. Being from New England and never having ventured to the Evergreen State, I didn't know what to expect. The location is a little off the beaten path (you have to travel over the Tacoma Narrows bridge to get to Tacoma/Seattle from the apartment), but Gig Harbor is such a pretty little place only about an hour to Seattle and less to Tacoma (I worked in Tacoma while I was there). Downtown historical Gig Harbor is beautiful in the nice weather and has several little boutiques/shops. There are also grocery stores, office supply stores, Starbucks, Target, etc. nearby. The apartment is set back a little bit from the road and very private and safe. Kelly was also very accommodating. While going out for a late-night errand around 10 p.m. one night, I locked myself out of the apartment. I walked across the way to Kelly's home (thankfully, she and her family were awake!), and she gave me a spare key - no problem at all. I felt badly to disturb them that late, but they were very pleasant and helpful. Check-in was easy and she even gave me some farm-fresh eggs when I got there! The place was clean and had everything in the kitchen/bathroom I needed - I personally don't cook too often, but there is a kitchenette with pots and pans, a microwave, a small oven/stove, and a coffee maker. There is easy access to the laundry room downstairs, and it is clean. There is also a small private deck right outside. The pictures of the apartment are accurate. Thanks so much for everything, Kelly! I really enjoyed my stay in Gig Harbor!
Lindsay
2016-09-25T00:00:00Z
My wife and I wanted to spend a long weekend in Gig Harbor with an eye to relocating from CA to WA. Kelly's place was available for the time we wanted to visit, so we booked our weekend visit at her place. Wow, what a great relaxing time we had. The room was perfect for us and the fact that we had a kitchen was a bonus! It felt just like home for us and was exactly what we were looking for. Thanks Kelly, we'll be back!
Victor "Vic"
2013-11-12T00:00:00Z
Beautiful property in a convenient location! The condo has everything in a well thought out space- an updated kitchen, lovely bathroom that feels brand new, spacious seating/dining area, flat screen tv, big sleigh bed and a nice balcony. The place is very well decorated in a muted color scheme, pretty accents, and not to mention gorgeous handmade Native American wall pieces. Kelly was fantastic in making sure we felt at home and was more than welcoming! She even gave us farm fresh eggs, and offered us local blueberries and tomatoes. There were also extras inside the cupboards- teas, hot chocolate, coffee, spices and sorts. The location was perfect and not far from anything. When we return, we will certainly be staying here again. Thanks Kelly!
Anuar
2015-07-28T00:00:00Z
Wonderful hosts, and a beautiful and bright apartment! Much bigger than it appears in the pictures. The property was located in a quiet neighborhood with lots of private space. Best that visitors ensure access to a car while traveling. The unit was lovely and the hosts were gracious and friendly. Highly recommended to anyone visiting the area!
Virginia
2014-07-15T00:00:00Z
I stayed at Kelly's apartment for a little over 2 months and had such a lovely time. It was extremely spacious, clean and had everything I needed. Kelly was very quick to respond to any questions I had and truly made me feel at home. There is a washer and dryer free to use just downstairs. The apartment was very comfortable, safe and quiet; I'm just sorry I couldn't stay longer! I would highly recommend this apartment for anyone looking for a quiet and cozy retreat. Would love to come back again!
Alexandra
2014-12-06T00:00:00Z
Kelly was a lovely host and the apartment was fantastic. We had a great time and would definitely come back!
Bethan
2014-07-07T00:00:00Z
Very private, clean and comfortable. Nice walk-in shower. Will definitely stay again.
John and Sharon
2012-03-02T00:00:00Z
My husband and I were in Gig Harbor for business meetings for four days. We were thrilled with Kelly's accomodations: a complete kitchen that allowed us some cooking from "home", a cozy living room setting, comfortable bed, a beautiful deck, and quiet grounds. And we could even do some laundry and come home with clean clothes! Only thing I would note for others is that there is lingering pet hair, so those with allergies could be uncomfortable. Otherwise, it is so much more than an impersonal hotel and we would definitely be back. Thanks, Kelly!
Anna
2010-05-12T00:00:00Z
Тип размещения
Дом/квартира целиком
---
Тип жилья
Квартира
---
Вмещает гостей
2
---
Спален
Гиг-Харбор, Вашингтон, США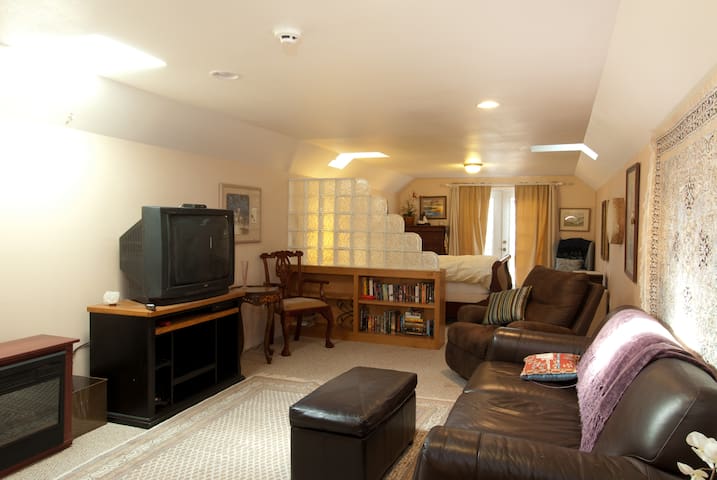 Luxury 1700 sq. ft. Guest House in the heart of Gig Harbors historical downtown waterfront district. Walking distance to local breweries, wineries, restaurants, grocery, shops, and various water sport rentals.
The host canceled this reservation 23 days before arrival. This is an automated posting.
Taylor
2016-06-23T00:00:00Z
The host canceled this reservation 45 days before arrival. This is an automated posting.
Anita
2016-05-18T00:00:00Z
The host canceled this reservation 56 days before arrival. This is an automated posting.
Babe
2016-10-28T00:00:00Z
Danielle is the the perfect hostess, always available and so dedicated to her clients. she's gracious and kind, loved working with her!
Leslie
2016-06-14T00:00:00Z
Тип размещения
Дом/квартира целиком
---
Тип жилья
Квартира
---
Вмещает гостей
6
---
Спален
Гиг-Харбор, Вашингтон, США