Studio with 2 rooms, in the countryside in Piumazzo- CastelFranco Emilia, in a farm 800 meters from the town center On the 2nd floor, open to living room with kitchenette, equipped with hot-plates, microwave, refrigerator and sink; in a separate area, it expands the bedroom (bed or two single beds), equipped with flat screen TV, desk, air conditioning. ceramic bath, shower. Tiled floors, beams, precious walnut furniture, wi-fi
I felt very welcome by Laura, everything was perfect. I only suggest to improve the exacly local of the farm. I felt at home! Thanks a lot Laura!
Tulio
2016-09-10T00:00:00Z
Ci siamo trovati molto bene. La tranquilita del posto era ideale. La colazione era meglio di quello che ci aspettavamo e il servizio era "top".
Siro
2016-09-26T00:00:00Z
Ottima location, pulita, immersa nel verde tra i conigli! Colazione abbondante e padrona gentilissima e cortese.. Vi consiglio di non usare la posizione presente qui sul sito perché vi porta da tutt'altra parte, chiedete alla padrona di casa l'indirizzo corretto
Pasquale
2016-11-13T00:00:00Z
Posto incantevole e proprietaria gentilissima. I prati intorno al casale sono pieni di coniglietti e la camera e la struttura sono molto accoglienti. Posizione strategica non lontana dalle maggiori città limitrofe. Laura è stata molto disponibile e ci ha anche offerto una super ricca colazione. Consigliatissimo.
Federica
2016-10-30T00:00:00Z
Alloggio molto bello, ottima accoglienza e abbondante colazione. Il posto è molto raffinato.
Federica
2016-09-04T00:00:00Z
Тип размещения
Дом/квартира целиком
---
Тип жилья
Квартира
---
Вмещает гостей
2
---
Спален
Piumazzo, Эмилия-Романья, Италия
Квартира расположена в 400 м от центра, в тихом районе. Вы можете дойти пешком до основных услуг (рестораны, магазины, автобусы, спортивный центр ...). В передней части квартиры THER безопасный общественная парковка и большой парк с детской игровой площадкой и собак области. Мы имеем кулинарную школу, если вы хотите, мы можем организовать традиционный итальянский курс кулинарии (Hande пасту, печенье, пицца ...) в кухне квартиры. Курсы являются практичными и включают в себя обед и напитки. Запросить цену и детали.
Квартира очень большой с большой кухней
Io ed il mio compagno ci siamo trovati benissimo a casa di Laura! Siamo stati da lei solo due notti e fuori per tutto il giorno dunque non siamo quasi riusciti ad (URL HIDDEN) l'attenzione e l'ospitalita' non sono assolutamente venute a mancare!la casa e' molto accogliente e la stanza ed il bagno a noi riservati assolutamente confortevoli e puliti. La posizione e' strategica per visitare Bologna, d'intorni ed i colli bolognesi. La consigliamo assolutamente!
Roberta
2017-01-02T00:00:00Z
My husband and I had a fantastic time at Laura's. If you want to explore outside of Bologna this is the place to stay. The personal cooking class was great and we can't wait to try it when we return home. The room was clean and perfect for what we needed. Sitting down for coffee and chatting was enjoyable. They are very welcoming people. Would stay here again.
Natasha
2016-12-15T00:00:00Z
ho soggiornato da Laura per due giorni. lei ed il suo compagno sono stati molto carini e disponibili. stanza grande, comoda pulitissima, così come il bagno.
nicolò
2017-03-26T00:00:00Z
Laura è una host disponibile e discreta attenta alle esigenze del guest mi sono trovato bene inoltre per colazione mi hanno offerto delle torte molto buone
Gabriele
2016-11-04T00:00:00Z
Location: near the cities of Bologna and Modena. The apartment was clean, spacious and bright. Privacy is guaranteed. The cooking course was beautiful and very interesting.
Rebecca
2017-01-11T00:00:00Z
Wonderful place, would definitely stay here again!
Emily
2017-03-19T00:00:00Z
Тип размещения
Отдельная комната
---
Тип жилья
Квартира
---
Вмещает гостей
2
---
Спален
Monteveglio, Эмилия-Романья, Италия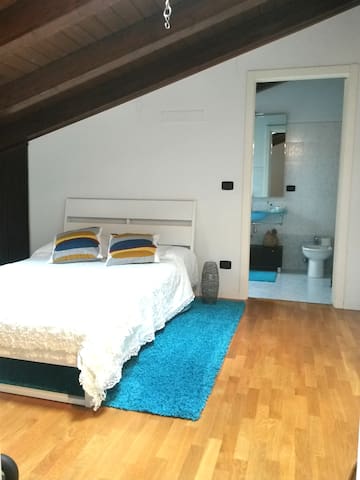 Enjoy typical small town living!! Walk to restaurants, coffee shops, bakeries, pharmacy, banks and more from this spacious 2 bedroom 1 bathroom air conditioned apartment. Free parking, 5 minutes drive to the highway and 25 minutes to Bologna airport.
Apartment Obici This two-bedroom apartment is located on the top floor of a building in the historic center of Spilamberto, a small town between Modena and Bologna in the Emilia Romagna Region of Italy. Spilamberto is located about 5 kilometers from the Modena Sud exit of the A1 Autostrada and is about a 30-minute drive from the Bologna International Airport (BLQ), so it is an ideal location for staying in Emilia Romagna for business or pleasure. The closest train station is Castelfranco Emilia or Bazzano, Bologna and Modena stations are the better served. Spilamberto has a lively, well preserved historic center with stone streets, covered walkways, an ancient clock tower and fortress. Shops, restaurants, cafes, banks, bakeries, markets and a pharmacy are all conveniently located in town, within easy walking distance of the apartment. There is free parking in the surroundings streets with no permit required. Although a car is recommended for getting around the region, there are buses to Modena and other cities and towns from Spilamberto. The apartment, which measures about 80 square meters, is bright, fully furnished and has everything necessary for a comfortable stay. It has an open living room with a kitchen, a balcony, two bedrooms and a spacious bathroom. The living room has two sets of French doors that open to the balcony, which overlooks the square and La Rocca Rangoni, an ancient fortress. One of the bedrooms has a queen bed, while the other has two twin beds. The spacious bathroom has a large shower. A hair dryer is available as well. Recently renovated (2012), the apartment offers modern comfort and amenities. The modern, fully equipped kitchen has a dishwasher and there is a washing machine in the bathroom. The apartment is on the third floor with no elevator, but the bright rooms and view from the balcony are worth the climb. There is air-conditioning in the living/kitchen and the larger bedroom (with queen bed). English (and Italian) speaking owners are available to assist guests if/as needed during their stay.
The Via Obici area of town where the apartment is located is one of the oldest in the city. It has always been known for artists of different kinds living there. I recommend Osteria del 32 restaurant/pub with occasional live music for a nice meal and a good selection of wines. A second restaurant, more formal, called Osteria degli Obici is across Piazza Rangoni and it serves very good meat dishes. Along Via Obici there is also a laboratory to restore antique furniture.
Sandro was warm and welcoming to Spilamberto. We arrived in the middle of the San Giovanni festival so navigation with a car was difficult. This is a great time to see Spilamberto. The flat is renovated and roomy, although if you are there in the summer be prepared its hot. There is AC in two rooms but it was still hot. Spilamberto cools down very nicely at night so sleeping was not an issue. Its Italy after all. Spilamberto has some great restaurants. We ate and drank well. Sandro and Terry once again many thanks!!!!
Robin
2014-06-27T00:00:00Z
This Appartment was perfect in every way! Sandro was so helpful meeting is and taking us for a brief tour of Spilamberto. The Appartment has everything you need and is wonderfully situated. Spilamberto is wonderfully situated for easy access to a lot of the other towns and city's in the Modena area. My family and I had a great time here and look forward to staying in Sandro's appartments again.
Paula
2013-10-28T00:00:00Z
Sandro met us punctually as arranged and showed us his spacious and very neat apartment. Everything in our lodging was extremely neatly organised and very modern. This was one of the most well decorated and appointed places we stayed in our 4 weeks around Italy. There was an abundance of local information available and Sandro was very attentive towards ensuring we made the most of our stay and spent time with us getting oriented. Spilamberto has a beautiful ,quiet village atmosphere which suited our family stay and we felt very comfortable and safe in our apartment. It was well situated for easy access to Modena and Bologna but provided a more peaceful stay than the bustling cities at the end of our day. We would highly recommend this place for those wishing to explore Emilia-Romagna from a beautiful village with all the major services within walking distance. The family run grocery store just around the corner provided all the ingredients for some of the most memorable meals we were able to prepare. Great Bread!! Sandro also provided some quality local food for our first day and the Balsamic was worth the drive there alone... Thank you for your hospitality we had a great few days in a fantastic home in a postcard (URL HIDDEN) much better for us than a noisy city hotel...
Glenn
2016-01-22T00:00:00Z
We were welcomed by Sandro's friend, Silvia. She greeted us with cold beverages in the fridge and showed us around. The apartment was exactly as the pictures showed. It was perfect for our family of four. There were enough cooking utensils, linens, etc. The town was quant and pleasant. We found a local water park, took a Balsamic tour and explorerd an old castle all within town. Silvia went above and beyond for us and we are greatful. We highly recommend this apartment.
Robyn
2016-07-17T00:00:00Z
We had arrived in the middle of the nite at 3:00 am Sandro was waiting for us, smiled and very gentile, helped us to bring baggage to appartment. Inside the house a litle gift was waiting for us - local sparkling red wine at the table in the living room. It was very, very nice! Sandro doubled check do we have everything what we need, also stayed in touch with us during our stay. I was very impressed about Sandro's care. Appartament is very nice - perfect clean, with 2 bedrooms, bathroom and kitchen with living room. Very spacious! Internet works fast. Spilamberto is small and charming village Bologna is very close to Spilamberto I recommend that place in 100% Next year I am also planning stay in Sandro's place Magda
Magda
2013-03-12T00:00:00Z
we had a great stay in Sandro's appartement in Spilamberto. We were warmly welcomed with a basket full of goodies, including a bottle of the local wine Lambrusco. The appartement was spacious and very comfortable with everything you could ask for. The beds were already made up and there were al kind of basics available (tablets for the dishwasher, toilet paper, coffee, oil, vinaiger and more). The appartement is on the 2nd Floor and with no elevator it was quite a climb. We found the location a great central place to visit the area. We have been to Bologna, Modena and Maranello. But the town itself also has lots to offer such as the Aceto Balsamico museum, a park and a verry nice supermarkt which is an experience on itself. On top of that Sandro has a lot of additional ideas on what to do. We were only for four days in Spilamberto but could stay more and recommend it to anyone who would like to visit the region of Emilia-Romagna.
Annelies
2014-10-18T00:00:00Z
Toll, Fantastisch, Wunderschön, Sympathisch, Ruhig, Schöne Aussicht, leider zu kurz!!! Jedesmal wenn man ein Reise antritt ist man mit Zweifel und gewissen Ängsten und Unsicherheiten! Wir auch wir hatten uns gefragt wie ist die Unterkunft! Aber wirklich ein großen Respekt an Sandro, das Appartment ist sehr schön und man hat des Gefühl zuhause zu sein! Sauber und sehr kommunikativ gleich nach der Ankunft kam Sandro und zeigte uns die Wohnung! Wir haben alle drei gut geschlafen! Der Supermarkt ist nur 3-5 min vom appartment entfernt! Alles super toll Bravo Sandro!
Isaak
2017-03-21T00:00:00Z
FANTASTIC! FANTASTIC! FANTASTIC! I cannot fault anything. From the communications when booking the apartment, to directions, to the warm welcome from Silvia - to the recommendations of places to visit and eat. The apartment had everything we needed - and more. Even a lovely bottle of wine and some staple food supplies to welcome us. The apartment is in the centre of the beautiful town of Spilamberto. The town hosts many places of interest and lots of quaint restaurants and bars. We particularly liked Osteria del 32 - where we enjoyed cocktails before a great meal. The apartment location is also perfect if you want a day trip to Modena or Bologna. Spilamberto is a definite hidden gem - we loved every moment and were sad to leave. I cannot wait to go back and would highly recommend Sandro's apartment.
Steph
2016-07-03T00:00:00Z
Тип размещения
Дом/квартира целиком
---
Тип жилья
Квартира
---
Вмещает гостей
4
---
Спален
Spilamberto, Эмилия-Романья, Италия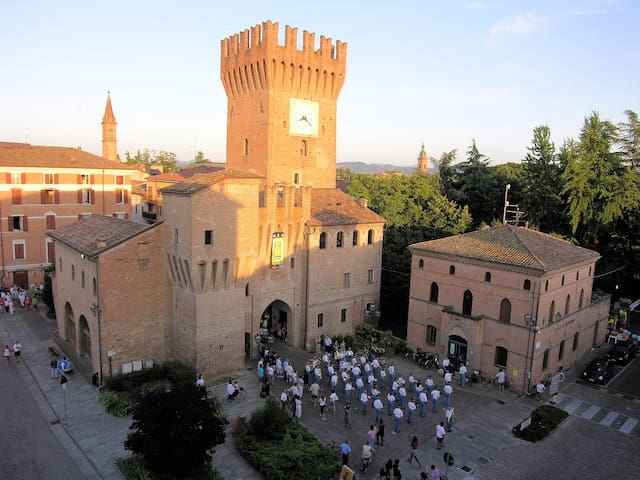 Il mio alloggio è ben arredato e accogliente, pulito, adatto a coppie, avventurieri solitari, chi viaggia per lavoro. L'appartamento è circondato dal verde, molto luminoso, situato in una zona molto tranquilla e a pochi passi dal centro del paese (Bazzano). Dotato di un piccolo terrazzo con vista parco. Da dove si trova, è possibile visitare L'abazia di Monteveglio ( a 10 minuti in macchina) e altri deliziosi posticini, la Valsamoggia offre molto. (Per il momento non dispongo di wi-fi )
Zona collinare,residenziale, immersa nel verde e silenziosa
Tutto perfetto la signora Manuela è davvero gentilissima
Luca
2017-03-05T00:00:00Z
Тип размещения
Дом/квартира целиком
---
Тип жилья
Квартира
---
Вмещает гостей
3
---
Спален
Valsamoggia, Эмилия-Романья, Италия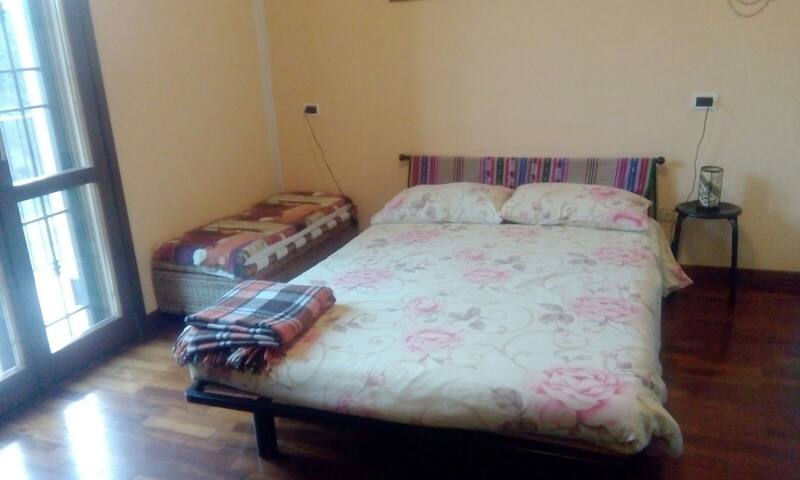 Nel centro storico di Bazzano, a due passi dalla fermata del bus x Bologna, al supermarket e lavanderia e zona shopping. Nello stesso edificio gestisco con mio marito un piccolo ristorante ed enoteca in cui proponiamo specialità locali. Poco distante il Parco Regionale dell'Abbazia di Monteveglio. Distante 25 km da Bologna e 20 da Modena. A meno di 10 km dal casello autostradale di Valsamoggia sulla A1 .
Ai margini del centro storico ma raggiungibile comodamente in auto, anche in giorno di mercato, la zona vanta un discreto numero di parcheggi. Nelle immediate vicinanze, negozi, un supermercato, pasticceria, bar e fornaio e farmacia. A meno di 100 metri la fermata dell'autobus per Bologna e 8 minuti a piedi dalla stazione del treno. Dista dalla piazza del paese non più di 5 minuti
Il Borghetto fu in tempi remoti una zona popolare. L'edificio in cui si trova Casa Zaira è dei primi del '900 e fungeva probabilmente da alloggio per stallieri e personale di servizio di altre abitazioni. In tempi moderni le case della zona sono state quasi tutte ristrutturate ed ora è diventata zona residenziale per famiglie. Resta una delle poche zone in cui i bambini si trovano il pomeriggi d'estate in strada a giocare
Тип размещения
Дом/квартира целиком
---
Тип жилья
Квартира
---
Вмещает гостей
4
---
Спален
Valsamoggia, Эмилия-Романья, Италия
Immerso nel verde di un silenzioso giardino assaporando con le nostre torte l'accoglienza e la genuinita' della tradizionale emiliana .
Bilocale a piano terra con angolo cottura, lavatrice, parcheggio privato,collegamento wi-fi
immerso nel verde, con campi attrezzati per varie discipline sportive, campo giochi per animali media taglia, servizi completamente autonomi dal centro, vicinanza a colture di splendidi ciliegi , circondata da piste ciclabili e pedonabili
Ottima ospitalità Maurizia è una persona come poche altre, cordiale, affettuosa e sempre disponibile. Appena arrivati ci ha messo subito a proprio agio, offrendoci non solo gentilezza e cordialità, ma anche tanti gustosissimi manicaretti! La sua ospitalità è paragonabile a quella di un familiare nei confronti di un proprio caro. Il posto poi è incantevole, sia l'appartamento che Vignola. Consigliatissimo per chi vuole godere di un pò di relax.
Gianfranco
2016-02-05T00:00:00Z
Nous avons passé 3 jours à Vignola, et nous avons été très bien accueilli par Maurizia. Elle met en valeur, et à disposition des produits régionaux (gâteaux, fruits, charcuterie, etc.) et c'est une très belle surprise, un vrai cadeau de bienvenue. Merci à ellle. L'endroit est parfait pour rayonner dans la région (Modène, Bologne, Ferrare, Verone). Il se situe à l'entrée de Vignola en arrivant depuis Modène. Il vaut mieux la contacter pour vous diriger dans les derniers 500 mètres. Le logement est très propre, dispose d'une grande chambre, et est très calme avec un parking privé à l'intérieur de la propriété, fermé par un portail. Une adresse à découvrir.
Christophe
2016-05-09T00:00:00Z
We felt very welcome - cakes and biscuits, bread, milk and coffee all ready for us in the apartment. The apartment was as expected. The neighborhood calm and nice.
Elisabeth
2016-03-23T00:00:00Z
The host canceled this reservation 8 days before arrival. This is an automated posting.
Ongles
2017-03-09T00:00:00Z
Тип размещения
Дом/квартира целиком
---
Тип жилья
Квартира
---
Вмещает гостей
4
---
Спален
Vignola, Эмилия-Романья, Италия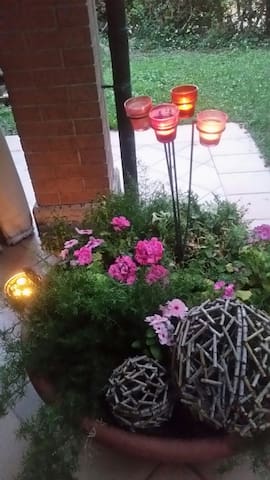 Il mio alloggio è vicino a un rifornito bar panetteria, grande e attrezzato giardino pubblico, comodo parcheggio. L'alloggio è adatto a coppie, avventurieri solitari, chi viaggia per lavoro e amici pelosi (animali domestici).
Grazioso bilocale al piano terra con giardino privato recintato ombreggiato. Le stanze sono molto luminose con vetrate che danno sul giardino e robuste inferriate apribili per una totale sicurezza. L' esterno ha una comoda loggia coperta dove è possibile pranzare o rilassarsi. Comodo parcheggio e garage privato
Quartiere residenziale ben servito e a due passi dalla strada statale , lungo la quale si possono trovare le fermate dei bus e tanti centri commerciali.
Esperienza fantastica! Barbara è stata davvero gentilissima! Mi ha accolto all'orario da me indicato, con un gran sorriso e tantissima disponibilità! Casa fantastica, ben arredata e dotata di ogni comfort. Frigorifero pieno e ciliegie locali! Consigliatissimo a chi dovesse spendere del tempo piacevole a Vignola o dintorni!
Damiano
2016-06-20T00:00:00Z
Тип размещения
Дом/квартира целиком
---
Тип жилья
Квартира
---
Вмещает гостей
4
---
Спален
Vignola, Эмилия-Романья, Италия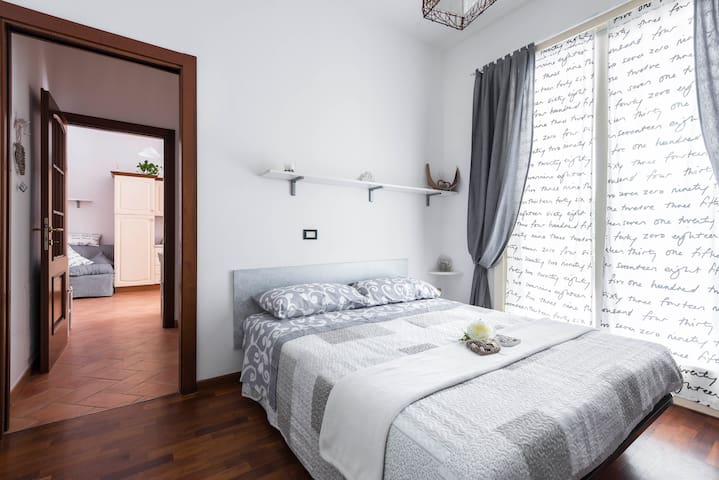 4 bedroom apartment sleeps 5-6 in middle of beautiful golf course near Bologna, overlooking the 8th hole. Peaceful location with big garden and car park, 15 minutes' from airport. Ideally situated for visiting Bologna, Ferrara, Modena and Florence.
The apartment is on the first floor of a renovated country house overlooking the 8th hole of the most picturesque golf course in Emilia Romagna, with lovely views of the historic centre of Bologna and the surrounding hills. The situation is so peaceful that a huge variety of birds live in the large garden in the springtime, but the airport and city centre are only 15 minutes' drive away. The perfect solution for combining a golf break with a cultural holiday, as Venice, Florence, Ferrara and Verona are within easy reach, as are the long, sandy beaches of the Adriatic coast. The apartment is air-conditioned, and has one double bedroom, a twin-bedroom and two single bedrooms, a spacious living room with kitchen area, and two small bathrooms, both with shower, but no bath. There is a washing machine, ironing board and iron. There is an internet connection in the apartment. Just one km down the road is a small train station, where you can leave your car in a large car park and hop on a little train which takes you on a relaxing, slow ride to the central station in Bologna in half an hour. Bologna is famous for its fantastic food, and the owners will be very happy to help you choose from the many reasonably priced 'trattorie' and farmhouse restaurants nearby. The Bologna Golf Club was founded in 1959, and the course was designed by Cotton & Harris. It is par 72 for a total of 6,484 yards. The first nine holes were inaugurated in 1961, and the final nine holes in 1964. Since then improvements have been made by the architect Peter Alliss. The course is beautifully manicured, and varied, with wonderful views of the hills and the centre of Bologna. On a clear day you can see the snow-capped Alps to the north. The course is closed on Mondays, and at the weekends there are often competitions, but otherwise visitors are always welcome, and the course is extremely quiet during the week. In the summer months visitors playing the course can also use the outdoor swimming pool at the clubhouse.
It was a great time in the Judith's house! Judith is very friendly and benevolent host. The house is very cozy and comfortable, well equipped. We felt like at home. Around the house is very nice, green and quiet. We recommend this house for 100%. Judith, thank you so much!!
Margarita
2016-06-10T00:00:00Z
Judith was amazing, she provided us with milk and juice for our first morning. She had two binders full of local information with shops, restaurants and attractions. She was very helpful, and the apartment was awesome.We would definitely stay again.
ryan
2016-07-14T00:00:00Z
Nous recommandons vivement cet appartement, qui est tt à fait conforme à la description. Le lieu (appt situé dans un golf) est incroyable! Les enfants ont adoré aller à la chasse aux balles de golf le soir... L'appt est également très bien situé par rapport à Bologne, à son aéroport (Ryanair). Judith nous a très, très bien accueillis. Elle a plein de petites attentions qui nous ont facilités le séjour et qui ont été très agréables. Nous avons passé un super séjour!
Lucie
2016-04-15T00:00:00Z
Hemos estado del 22 al 27 de julio. Judith como anfitriona es perfecta, fantástica, muy amable y un trato inmejorable. La casa muy limpia y tranquila. Un pequeño inconveniente hay muchísimos mosquitos, nosotras pusimos en cada habitación un aparato eléctrico antimosquitos. Aparte de este problema, el resto todo muy bien.
MARGALIDA
2016-07-28T00:00:00Z
Très bel appartement, joliment décoré et bien équipé. On s'y sent réellement chez-soi. L'endroit est très calme, sur le golf, sans aucun bruit dérangeant. Judith est une propriétaire fort sympathique qui nous a chaleureusement accueillis et nous a donné plein de bons conseils. Elle a été facilement rejoignable pendant notre séjour. Elle a préparé des cahiers très complets d'informations sur la région, les restaurants et les lieux à visiter. Nous réserverons certainement cet appartement à nouveau si nous revenons près de Bologne! Beautiful apartment, with a lovely decoration and all the commodities. You feel at home, really. Very quiet place on the golf course, no disturbing noise. Judith is a great host who warmly welcomed us. She gave us good advices and prepared big books of informations about the region, restaurants and things to do. She was easy to reach while our stay. We will certainly stay there again if back near Bologna!
Famille Turcotte
2012-07-01T00:00:00Z
Judith was waiting for us on arrival, and was very helpful, showing us all the heating systems, cooking facilities etc. She had very kindly left us some milk, fruit juice, wine and biscuits. There was lots of things in the kitchen cupboards left from previous guests (olive oil, salt etc) which meant when we cooked we saved a lot of money. Judith was available on her telephone (we used (SENSITIVE CONTENTS HIDDEN)) all the time if we had any questions, and was even kind enough to make a dinner reservation for us at a fabulous family run restaurant 15 mins from the house. The house is right in the golf course, so it really felt like a countryside retreat. The train station is very close to get to the major cities close by. Big Carrefour is close too if you want to do food shopping. The house was great for us. We met for a family holiday (father, his two daughters and their husbands and a 1 year old baby). There was more than enough space for us all and it felt like home straight away. Judith is a wonderful host.
Deborah
2016-10-31T00:00:00Z
The description of this place is spot on. Close to high way and Bologna and between 1-1,5h drive to exciting cities in Italy, in the Middle of a quiet place; an ideal place for visiting Italy. The clean home has several room and two showers , in combination with 3 airco units, make it very good for a family. The hosts made us very welcome, providing driving instructions, welcome on arrival and remained in close contact to be sure all was ok. They even foresee fresh fruit and some drinks in the refrigerator on arrival. There are some small works ongoing in the house however nothing impacting the positive experience. If you like to cook yourself warm meals for 4 or more people, that will be somewhat challenging, the kitchen cooking place is sufficient but rather small. However we did go to Italy to eat local cuisine so also for us no issue. Global conclusion: positive experience both hosts as house and environment.
Peter
2016-07-21T00:00:00Z
La casa de Judith es maravillosa. Está situada en un paisaje idílico. Judith es una anfitriona estupenda que lo tiene todo pensado ya que tiene preparada una guía de todo lo que puedes hacer en Bolonia y alrededores. Por otro lado, nos facilitó inmediatamente todo lo que necesitamos, tanto ella como su hijo Giacomo, que nos atendió estupendamente. Recomendado 100%. Muchas gracias por todo!!
Ana
2015-10-03T00:00:00Z
Тип размещения
Дом/квартира целиком
---
Тип жилья
Квартира
---
Вмещает гостей
6
---
Спален
Monte San Pietro, Эмилия-Романья, Италия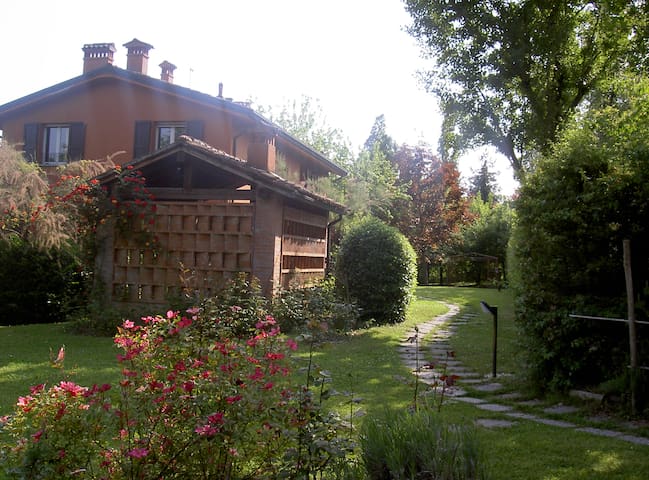 Je to nádherná vlastní ložnici s rychlou Wi-Fi, ideální pro nezávislé cestovatele, kteří chtějí pohodlí a luxus. Díky dostatku, že se nachází v blízkosti turistické oblasti v rámci centra (cca 20 min chůze od Akropole / Syntagma). Transport z letiště a na
Тип размещения
Дом/квартира целиком
---
Тип жилья
Квартира
---
Вмещает гостей
7
---
Спален
Piumazzo, Эмилия-Романья, Италия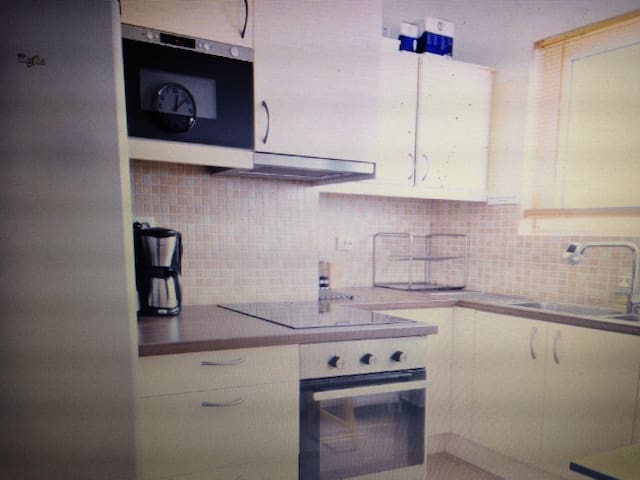 Suite Villa Ida, located in the charming historic mansion known as Villa Rangoni Ida is surrounded by a park. You will be welcomed in an elegant open-plan apartment with large living room with plasma cinema, dining table, snack corner, 2 seater sofa bed and bedroom. The bathroom is separate and private. Wi-fi and air conditioning.
Soggiornare nella Suite Villa Ida è stato molto piacevole. La struttura esterna è veramente di grande impatto. L'interno è lussuoso, e mette subito a proprio agio. La camera è dotata di ogni servizio e accessori. Estremamente pulita. Inoltre la proprietaria ci ha messo subito a proprio agio
Giuseppe
2016-05-12T00:00:00Z
Thanks to Paula we received a very warm welcome and a very interesting and helpful orientation for the region which made our stay really very pleasant (including Pavarotti Museum, Maranello and good restaurants). The interior of Villa Ida was well above expectation. Though the reviews possibly could be misleading because there are several apartments under the same user. We are really looking forward visiting the nice Villa again that is surrounded by a nice garden and parking lots inside.
Xingxie
2016-08-10T00:00:00Z
Тип размещения
Дом/квартира целиком
---
Тип жилья
Квартира
---
Вмещает гостей
4
---
Спален
Spilamberto, Эмилия-Романья, Италия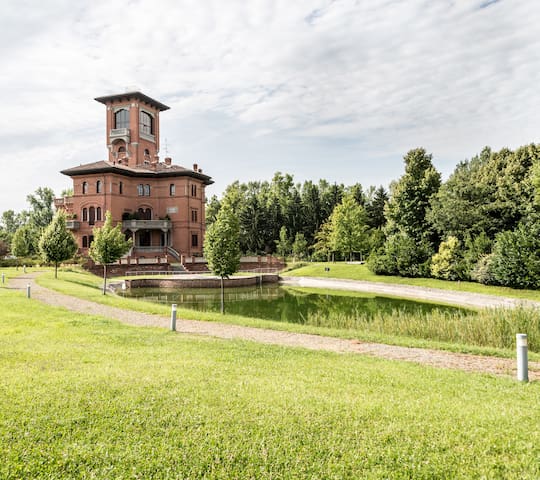 Easy to reach from Bologna, Bazzano is a little and pretty town. The house has one single bedroom for guests. Free wifi available. Breakfast only on request. We are a young couple with two cats and a puppy dog.
una stanza singola a disposizione dell' ospiti.
sei ai piedi della rocca di Bazzano a pochi passi dalla piazza principale, zona ben servita da mezzi. Supermercato, farmacia, cinema e ristoranti tutti raggiungibili a piedi in pochi minuti. Parcheggi limitati sulla via, ma ampio parcheggio a 200 mt
Chiara and Simone were very friendly and helpful, the house was clean and the room was very pretty, me and my friend are very happy that we stayed in their home
Asya
2016-09-11T00:00:00Z
Simone, su gata Andrea i sus pequeños gatitos nos acogieron maravillosamente en su agradable casa en Bazzano, debajo de la grande roca que preside el pueblo. La amabilidad i la hospitalidad de Simone va más allá de lo que está estipulado en la normativa y las condiciones básicas de hospedaje. Estamos muy agradecidos de haber podido compartir unas buenas charlas nocturnas y de haber podido gozar de la habitación con ventanales al techo mientras se escuchaba la lluvia.
Marta
2016-09-17T00:00:00Z
We spent a lovely time, beautiful place and beautiful people, Chiara and Simone are very nice and helpful, we felt like home. Peaceful, excellent wifi connection. We really recommend this place. VERY GOOD PRICE as well. :)
susana
2016-10-05T00:00:00Z
These guys are the best! Chiara and Simone are lovely people, very helpful and that was our great pleasure to meet them. We had very nice time talking together that I could forget about writing sth about the room ;) Which was also very nice, spacious and perfect you need also some privacy.
Paweł
2016-10-20T00:00:00Z
Zona abbastanza tranquilla anche se con difficoltà di parcheggio, ma casa confortevole ed accogliente. Simone e la sua compagna sono stati gentili e cortesi. I gatti graziosi. Ho pernottato una sola notte. Lo consiglio.
Antonio
2016-09-29T00:00:00Z
Simone und chiara haben uns vom Bahnhof Bologna abgeholt, was für uns sehr angenehm war. Das Zimmer war für vier Tage völlig ausreichend, wobei wir eine Woche wahrscheinlich nicht dort verbringen könnten. Wir haben alles bekommen, was man benötigt (kühlschrank, Handtücher, WLAN), teilweise waren die beide auch sehr zuvorkommend. Der Ort Bazzano ist sehr beschaulich und schön und man erreicht Bologna in 40 Minuten mit dem Zug.
Fanny
2016-09-10T00:00:00Z
Тип размещения
Отдельная комната
---
Тип жилья
Квартира
---
Вмещает гостей
1
---
Спален
Valsamoggia, Эмилия-Романья, Италия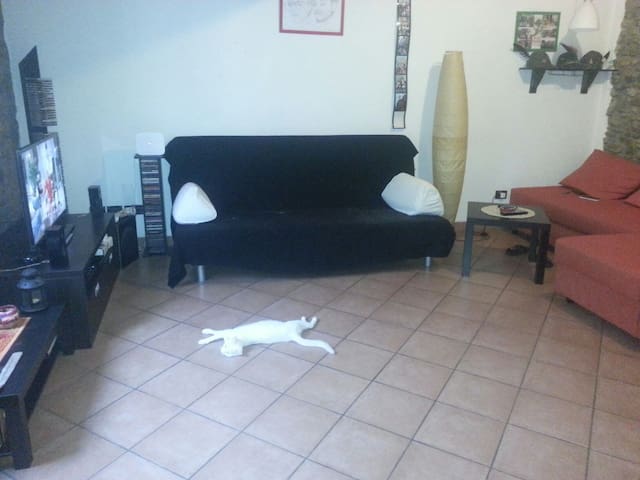 Monolocale immerso in silenzioso parco privato.Ubicato a meta' strada tra Modena e Bologna, crocevia di borghi storici,eccellenze culinarie e culla di prestigiose scuderie di auto e moto sportive.
bilocale a piano terra , con ingresso indipendente , angolo cottura ,serizi privati , parcheggio auto privato, lavatrice, wi-fi
Quartiere residenziale estremamente tranquillo e circondato dai frutteti di ciliegie ; zona servita da ciclabili , pedonali e da parchi pubblici anche per i cani di piccola/media taglia.
La Sig.ra Maurizia è stata veramente molto gentile e disponibile, sempre reperibile per qualsiasi necessità! L'appartamento è fornito di tutto ed è situato in una zona molto tranquilla, non centrale ma vicino a bar, ristoranti e supermercati.
Valentina
2016-12-11T00:00:00Z
Soggiorno molto piacevole. La signora che mi ha accolto è stata molto gentile. Tutto assolutamente positivo
Francesco
2016-09-30T00:00:00Z
Complimenti alla signora Maurizia per il suo delizioso appartamento, pulito grande e silenzioso.Comodo il parcheggio interno! Grazie anche per le indicazioni e le brochure lasciate nell'appartamento! Abbiamo visitato il castello con i nostri bimbi,merita davvero,e cenato nella trattoria da lei indicata(buona qualità\prezzo).Ottimo punto di partenza per visitare la zona...torneremo!!Deliziosa anche la colazione che ci ha fatto trovare con dolci preparati da lei e leccornie modenesi!!
Sara
2016-08-28T00:00:00Z
Appartamento molto carino,pulito,comodo e tranquillo che rispecchia quello che si vede e si legge nel sito. La zone e' molto tranquilla e verde con parchi per bambini e negozi vicini raggiungibili anche a piedi. La sig.ra Maurizia e' veramente una persona molto gentile e disponibile, ci siamo sentiti come a casa!!Consigliatissimo!
Sara
2017-03-17T00:00:00Z
The host canceled this reservation 8 days before arrival. This is an automated posting.
Paolo
2017-03-09T00:00:00Z
Best host ever!!! Made us feel very welcome and pampered us no end. Can't wait to come back soon.
Paul
2016-11-01T00:00:00Z
La signora Maurizia è stata molto cordiale e gentile. All'arrivo ci ha fatto trovare dolci fatti in casa, alcune specialità modenesi, frutta e tutto l'occorrente per la colazione. L'appartamento è autonomo ed è dotato di parcheggio interno alla proprietà. Torneremo appena possibile.
Giuseppe
2016-09-04T00:00:00Z
Ottima accoglienza, Maurizia è veramnete molto gentile e disponibile. Ottima posizione, posto tranquillo. Consigliato al 100%
Jarda
2016-09-28T00:00:00Z
Тип размещения
Дом/квартира целиком
---
Тип жилья
Квартира
---
Вмещает гостей
2
---
Спален
Vignola, Эмилия-Романья, Италия
Moderno bilocale, tv, internet con possibilità di parcheggio. 15 km da Bologna e Modena, in zona tranquilla e ben collegata. 30 minuti dalla fiera di entrambe le città. Fino ad un massimo di due persone. Costo pulizie 20€.
The flat is really nice and the neighborhood is very quiet. Sara is a great host.
Rémi
2016-12-15T00:00:00Z
Тип размещения
Дом/квартира целиком
---
Тип жилья
Квартира
---
Вмещает гостей
2
---
Спален
Cavazzona, Эмилия-Романья, Италия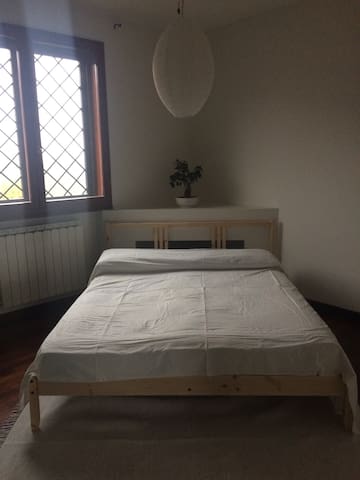 Το σπίτι μου είναι χτισμένο γύρω από την κεντρικότητα του χώρου, για να εξασφαλιστεί ότι όλες οι ενέργειες μπορεί να πετάξει ελεύθερα και χωρίς δύναμη στο εσωτερικό. Για εκείνους που θα είναι ένας επισκέπτης ή θα επιλέξουν να περάσουν μερικές μέρες εδώ, θα είναι ένας πολύ καλός τρόπος για να χαλαρώσετε
Θα έχετε ένα ιδιωτικό δωμάτιο ή όλο το σπίτι (αυτό εξαρτάται από την περίοδο που θα επιλέξετε), με king size διπλό κρεβάτι και μπάνιο με ντους. Δωρεάν σύνδεση Wi-Fi. Το πρωινό είναι διαθέσιμο στην τραπεζαρία, χρήση της κουζίνας είναι μόνο για το πρωινό, αν επιλέξετε να μείνετε σε μια κοινή περίοδο υποδοχής, ή για μεσημεριανό γεύμα και δείπνο, αν επιλέξετε να πάρετε όλο το σπίτι. Κατά τη διάρκεια της ημέρες την εβδομάδα είμαι στο σπίτι μερικές ημέρες την εβδομάδα και μερικές φορές το βράδυ. Στα Σαββατοκύριακα θα περάσετε κάποιο χρονικό διάστημα στο σπίτι, ώστε, αν είστε πρόθυμοι να, εμείς θα είμαι στην ευχάριστη θέση να σας δείξω ένα κομμάτι της Μόντενα αγαπώ! Spilamberto είναι ένα αρκετά πόλη 15 λεπτά κοντά στη Μόντενα και 3 λεπτά από την εθνική οδό Α1 / Α14 Τουαλέτα Κουζίνα Τραπεζαρία Ιδιωτικός χώρος στάθμευσης Κήπος Έχουμε την στάση του λεωφορείου 50 mt. κάτω από το δρόμο που θα μπορούσε να σας φέρει σε Μόντενα και αντίστροφα. 15 λεπτά από το κέντρο της Μόντενα και 30 λεπτά από το κέντρο της Μπολόνια. Δεν είναι επιτρέπεται να φέρει στο σπίτι αγνώστους ή άλλα άτομα διαφορετικά από που μένουν στο σπίτι μου. Είμαι ένας τύπος open-νου, αλλά ζητώ μόνο για σοβαρούς ανθρώπους.
Η περιοχή είναι πολύ ήσυχη και ιδιωτική.
una mansarda davvero carina , comoda al casello dell autostrada e Christian una persona davvero disponibile.nell'alloggio si respira aria di musica e di arte perche' gli arredi sono davvero particolari ,colorati e (URL HIDDEN) torneremo sicuramente.
Ilaria
2016-03-23T00:00:00Z
The host canceled this reservation 73 days before arrival. This is an automated posting.
salome
2017-02-07T00:00:00Z
Accoglienza garbata e disponibilità in tutto. Molto bene!
Olimpia
2015-06-29T00:00:00Z
L'appartamento era esattamente come descritto e dotato di tutti i confort. Caldo, pulito e ben ordinato.
Elena
2016-02-22T00:00:00Z
Тип размещения
Отдельная комната
---
Тип жилья
Квартира
---
Вмещает гостей
2
---
Спален
Spilamberto, Эмилия-Романья, Италия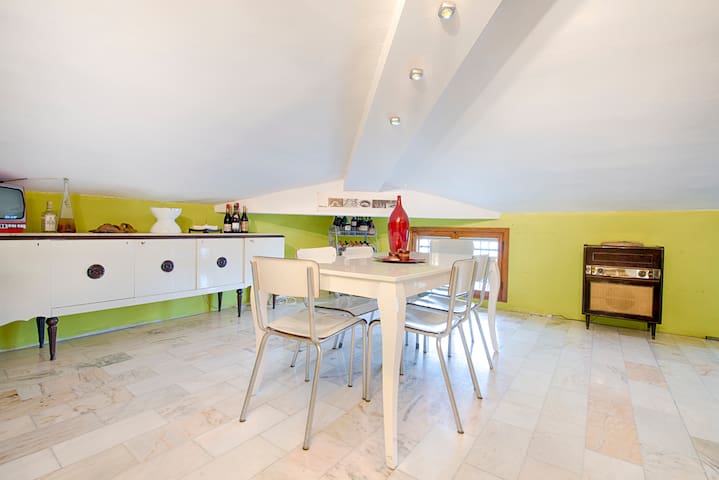 Помещение находится в болонской сельской местности, в нескольких километрах от Болоньи Casalecchio (IKEA место нахождения) Он расположен в частном bell'alloggio 2 этажа и 2 спальни. На первом этаже состоит из уютной гостиной с телевизором и камином и полностью функциональная кухня с холодильником, плитой и микроволновой печью. На первом этаже спальня и ванная комната (общий для размещения обоих номеров)
The place is very seclude and is perfect for a getaway from the city life. It's very quiet there and with the closed wooden shutters on the windows, a comfortable double bed, antique pieces of furniture and well equipped shower a perfect time off is guaranteered. Downstairs, there is a spacious kitchen with everything you need to prepare a meal. You don't have to do that in the morning, because the hosts provide you with breakfast. The hosts are very helpful and ready to help you out, whenever you need a lift. They also pick you up with a car when you arrive. The only minus is the complete absence of the Internet connection. In case this is important for you, better go for smth else.
Olgita
2017-04-04T00:00:00Z
We spent a weekend in the area of Bologna and we enjoyed a lot staying in Giorgio's place which is a very nice house in the countryside with lots of animals in the garden. Very easy to reach and very nice and well decorated room. Very good breakfast too!
Andrea
2017-03-19T00:00:00Z
Sono stato ospite per tre notti di questo grazioso B&B, il posto è veramente carino e curato ed evidentemente sistemato da poco tempo ed in modo ricercato conservando le originali caratteristiche della casa di campagna nella quale è situato e che di fatto insieme agli animali che vivono lì fanno del posto una specie di agriturismo cosa che mi ha piacevolmente stupito. La colazione è buona, la cucina è veramente molo fornita, ci sono tutti gli utensili che possono servire e, cosa più importante di tutte, è veramente pulito! I padroni sono disponibilissimi e gentilissimi! Bravi!
Federico
2016-09-14T00:00:00Z
Second time, again very good. We'll come again!
Andrea
2017-04-08T00:00:00Z
L'appartamento coincide con quanto descritto. La location è ottimale per la vicinanza all'autostrada ed al mio luogo di lavoro. Si trova in aperta campagna, circondata dalla natura e da tanti animali (Cavallo, Galline, Cani, Gatti) e si sta veramente tranquilli. Giorgio ed Ale sono due persone squisite, molto disponibili, educate e davvero di buon cuore.
Paolo
2017-02-28T00:00:00Z
Тип размещения
Отдельная комната
---
Тип жилья
Квартира
---
Вмещает гостей
2
---
Спален
Crespellano, Эмилия-Романья, Италия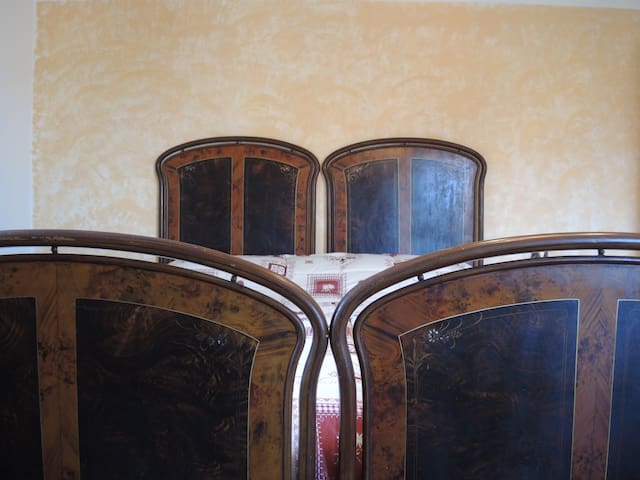 Мой дом находится великолепный предгорья, где Апеннины уступает большой долине Po. Из окон дома "Клавдия" предлагает великолепный вид на холмы и, если повезет, в сотне метров вы можете увидеть зайцев, фазанов, оленей и так далее. И в течение дня и в течение ночи расположение очень тихо. Номера двух и может вместить в общей сложности четырех человек: два в две спальни и еще два в постели.
Мое жилье предлагает спокойствие, уединение и уникальный панорамный вид. Я живу одна в квартире, наряду с Artù, моей неразрывной лабрадор. Квартира состоит из большой гостиной, две спальни (адресованные к вам) моей студии, кухня и две ванные комнаты, одна из которых зарезервированы для моих гостей.
Отдельное обсуждение заслуживают сотни таверн, ресторанов, ферм, которые появились в этом районе. Здесь, как и в Болонье, приготовление и прием пищи являются культ. Если вы хотите насладиться всеми великими специальностей области вы не будете избалованы выбором; я или мои дети (более опытных) будет консультировать Вас по вопросам местного района.
Il soggiorno presso la struttura del signor Alessandro non ha avuto nessun tipo di difetto. Già dalla prima telefonata avevo capito che il padrone di casa era preciso ed accogliente, infatti si è mostrato disponibile in ogni situazione, dandomi anche passaggi in macchina. La camera è spaziosa e confortevole.
Davide
2016-11-21T00:00:00Z
Very nice place room is great very comfortable and extremely clean room and bathroom. Great stay. Only thing i would recommend is that you must speak Italian. Alexandro is a great man just not the best in English but with hand movements you might get by
Maja
2016-11-01T00:00:00Z
Muy cerca de Bolonia. Estación de tren dirección Bolonia a tan sólo cinco minutos de la casa. Anfitrión muy atento que nos explicó amablemente como llegar a Bolonia y nos facilitó toda la información para visitar la ciudad. Convive con Artu, un labrador muy bien educado y tranquilo.
María
2016-11-02T00:00:00Z
Sono stato bene accolto da Alessandro e alloggiare da lui per una notte mi ha consentito di raggiungere il centro di Bologna in modo semplice e veloce sia la sera, sia la mattina dopo. Lo ringrazio anche per la colazione che mi ha cortesemente preparato alla partenza. Un rapporto qualità prezzo impareggiabile
Alberto
2017-03-31T00:00:00Z
Alessandro is a great host and it was a pleasure to meet him. He made us feel welcome and offered us a good breakfast. He has a cute dog. The room is nice and clean, however the place is not close to city center (if you are traveling by car it is ok even because in bologna is hard to find parking space).
Caio
2016-10-30T00:00:00Z
Alessandro is a real sweetheart! He shares his apartment with his beautiful labrador called Artur. Alessandro was very warm and welcoming and we shared a lovely dinner together on our second night - fish pasta! The guest room is the spare room in his apartment and is set out very thoughtfully. You also have your own bathroom with is great.
Donald
2016-10-26T00:00:00Z
Accoglienza, disponibilità e cortesia ottima
Cristina
2016-12-31T00:00:00Z
The host canceled this reservation 20 days before arrival. This is an automated posting.
Giulia
2017-03-11T00:00:00Z
Тип размещения
Отдельная комната
---
Тип жилья
Квартира
---
Вмещает гостей
2
---
Спален
Zola Predosa, Эмилия-Романья, Италия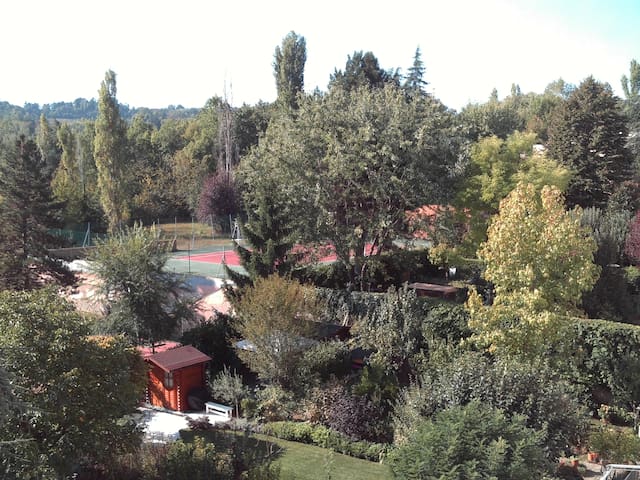 Stanza singola e matrimoniale, in appartamento di pregio a Castelfranco Emilia a 8 minuti di treno da Modena e 20 da Bologna, contesto tranquillo e silenzioso, friendly house.
Quartiere tranquillo, a due passi dalla stazione ferroviaria, a 500 mt dal supermercato del paese.
Alessandro é molto gentile ed attento ad i minimi particolari. Soggiorno perfetto
Roberto
2017-03-18T00:00:00Z
Тип размещения
Отдельная комната
---
Тип жилья
Квартира
---
Вмещает гостей
3
---
Спален
Castelfranco Emilia, Эмилия-Романья, Италия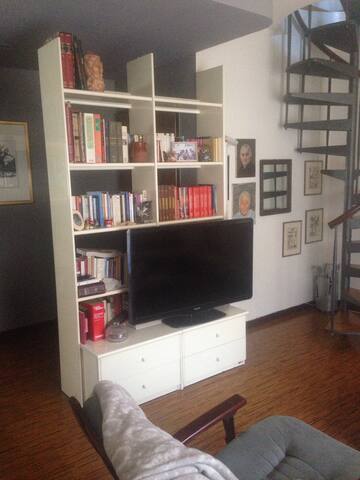 Apartment at the 6th and 7th floor with a big terrace. 4 people can stay comfortably in two different rooms, bathroom and kitchen . The train station is very close (10 minutes by foot).
Beds a show in photos. The solution standard is composed by a suite loft bed and 2 single beds. It's possible to have a suite bed as shown in the last photo paying 50 euro as a forfait at your arrival.
È tranquillo
Appartamento situato in una zona di nuove costruzioni molto tranquilla. Grande disponibilità del proprietario che ci ha messo a disposizione anche il box per l'auto. Casa grande e molto accogliente. Unica pecca la mancanza di climatizzatore al piano di sopra che nella settimana più calda di luglio sarebbe stato molto utile infatti i ragazzi non riuscendo a resistere al caldo notturno hanno preferito dormire in salotto. Nel quartiere a pochi minuti la Coop dove abbiamo trovato di tutto dai cornetti e latte fresco per la colazione alle pizze. Ottimo punto d'appoggio per Bologna-Modena-Maranello
Vincenzo
2015-07-10T00:00:00Z
La casa si trova all'ultimo piano di un palazzo in un quartiere tranquillo ed è pulita e confortevole. Alessandro è stato sempre gentile e disponibile. Consigliatissimo!
Federico
2016-09-03T00:00:00Z
Alessandro es un excelente anfitrion, siempre predispuesto a ayudar!! muchas gracias Alessandro. espero volver pronto! Alessandro is an excellent host , always predisposed to help !! Alessandro thank you very much . I hope to come back soon!
Diego
2016-08-14T00:00:00Z
Had a great time at Alessandro's apartment! Nice place with big balconies and views over the Italian countryside. Alessandro met me when I arrived and showed me around, a very nice host. There's good wifi, fully equipped kitchen and lots of space and Bologna and Modena are really close. A great place to stay!
Michael
2015-05-25T00:00:00Z
Innanzi tutto persona squisita e disponibilissima,ottima e tempestiva comunicazione . Per quanto riguarda l'alloggio , trattasi di un'unità abitativa su 2 livelli con balcone sul primo livello e veranda sul secondo. Casa pulitissima e con servizi perfettamente funzionali. Il silenzio e la tranquillità della zona regnan sovrani . Posizione strategica , ipermercato vicinissimo ed altrettanto vicino in direzione opposta l'accesso alle principali arterie stradali. CONSIGLIATISSIMO.
MICHELE
2015-05-28T00:00:00Z
I had a lovely stay. The home is spacious, huge balcony with a nice view of the surrounding neighborhood, and everything was perfect! Alessandro and his family are welcoming, easy going,and so responsive. Easy, walkable access to parks, supermarkets, and bus lines. Thank you!!
Elynne
2016-09-24T00:00:00Z
Thanks Alessandro for being such a good host. He showed us the apartment, which is fairly new and has a modern style. Everything was clean and the beds were very comfortable. The apartment has air condition and wifi, everything to cook, lots of space and is fairly large. It looks smaller on the pictures than it really is. Being on the upper floor it is quiet. A big COOP store is close for grocery shopping. I can only recommend Alessandro's apartment.
Carlo
2015-08-30T00:00:00Z
L'alloggio è molto carino,moderno e con una bella vista al 6° piano
Raffaele
2016-12-09T00:00:00Z
Тип размещения
Дом/квартира целиком
---
Тип жилья
Квартира
---
Вмещает гостей
4
---
Спален
Castelfranco Emilia, Эмилия-Романья, Италия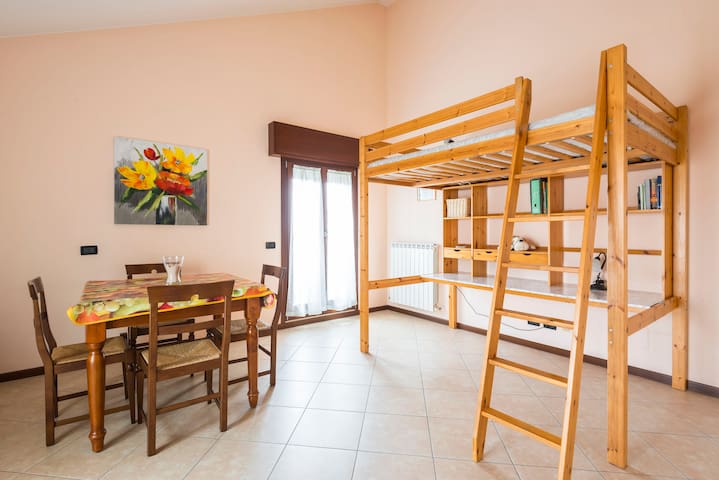 1

–

18

из

87 квартиры в аренду
Введите даты, чтобы увидеть полную цену без учета дополнительных сборов и налогов.