Введите даты, чтобы увидеть полную цену без учета дополнительных сборов и налогов.
Our relaxing and cozy one bedroom loft with private balcony has everything you need to make your stay a true "home away from home" experience! The Loft is close to many parks, the city center, the airport, the west river community center, pools, Medora and Theodore National Park. The cozy feeling of home is in every detail so you will be relaxed and well rested to continue your adventures. The Loft is great for couples, solo adventurers, and business travelers.
Тип размещения
Дом/квартира целиком
---
Тип жилья
Лофт
---
Вмещает гостей
2
---
Спален
1
Dickinson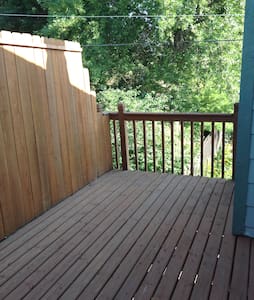 Medora & TR National Park, Assumption Abbey, and the Enchanted Highway are all within 20-40 minute drive. In less than ten minutes you can reach shopping, medical facilities, numerous parks, and Dickinson State University. Day passes at The West River Community Center include water park, climbing wall, classes, and equipment. The municipal golf course and airport are each about 20 minutes away. The River is great for couples, solo adventurers, business travelers, and furry friends (pets).
Sunlight through large wall-to-wall windows overlooking the Heart River make this an exceptionally pleasant place to stay and relax. Private and large kitchen, dining room, bedroom with TV, and bathroom. Separate fenced yard for one house-trained dog. Semi-private living room has an electric fireplace, and access to the semi-private yard and deck. Laundry facilities and gas grill may be used after receiving instructions. We have two kayaks and a canoe which may be rented by special arrangement. I am generally available by text until from 7am to 9pm. In an emergency, please phone.
The neighborhood is residential, within walking distance of tennis court, outdoor pavilion, and dog park. Dickinson has at least one or two cab companies and car rental outlets. Two gentle labs live on premises, but can be kept from private space, and even shared spaces if needed. No smoking is allowed in or outside of the premises; if you are a smoker, please find other accommodations, as host has a severe smoke allergy.
Тип размещения
Дом/квартира целиком
---
Тип жилья
Квартира
---
Вмещает гостей
2
---
Спален
1
Dickinson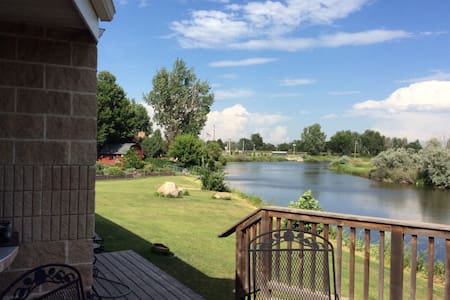 This is a lovingly refinished 1910-era folk victorian rescued from demolition and relocated to the banks of the Cannonball River near Mott, N.D., near the Badlands, Black Hills and in grassland prairie country. The west view to sunsets is so restful and wildlife abounds on the river.
This is a "saved" property, circa 1920, that was scheduled for demolition and moved to the present location. Every attempt was made to renovate this wonderful property and maintain the existing character of the dwelling _ there are some signs of its age _ chips in the old enamel sink, for example _ but those are part of the charm. The entire property is available for guest use. I'm very available by cell phone, but do not live in the community where the property is located. Please feel free to reach out with any questions, or if you need localized information.
You'll find that you have plenty of privacy, but feel to walk around and stop in a say hello to whoever you meet. The downtown is small, but friendly. Be sure to plan an extra day to take in Theodore Roosevelt National Park, or get local directions to Lake Tschida, a lovely fishing and recreation lake not far away. The Cannonball River is fun for fishing and guests have access, upon requests, to a pair of kayaks. Mott is a sweet little North Dakota town and the cottage overlooks the Cannonball River that runs through it. Lovely and very pastoral. The local grocery closes at 5:30 p.m. and is not open on Sundays. The local Pheasant Cafe serves wonderful breakfasts and is open through supper. Nearby Regent (15 miles west) has a Cannonball Saloon with a good steak and burger.
I didn't get to spend a lot of time at the the cottage, but I thoroughly enjoyed my overnight stay. First, Lauren was very communicative and provided great directions to the cottage that made it easy to find in the dark ND night. It was really easy to roll up, find the key, and get comfy without any hassle. The cottage is adorable. It's authenticity and unique decor make it a very welcoming space. The time and care Lauren has/does put into the cottage really shows. It's clean and cozy. The porch is the perfect place to relax and drink in your surroundings. The stargazing was phenomenal. The neighborhood is very quiet and peaceful, making the experience that much more relaxing. In the morning, I was up and leaving while the sun was rising. The river, the land, everything was stunning in the light. Being right on the river is amazing. The early morning drive East on Highway 21 was something I will never forget: no other cars, mist covering the land, rosy light. It's a weird thing to recommend, but I do. In short, if you are looking to take in the beauty of North Dakota, this is a perfect place to do it.
Tyler
October 2016
The Cannonball Cottage was so cute! This place was a great place to crash on our way home during our roadtrip. We loved sitting on the porch watching the sunset and playing Scrabble. Later we cooked some grilled cheeses in the vintage kitchen and enjoyed hanging out in the living room. This place is a little off the interstate, but way worth the trip for a memorable night's stay. If you stay during the summer, open the windows to smell the sweet country air!
Emily
July 2016
Lauren was very nice and easy to communicate with, and her lovely cottage is very clean and filled with art. Thanks for her hospitality. The wine was delicious. We love the sorrounding area. Every morning and evening, we have pheasants, rabies, deers and many other kinds of birds visiting us. My favor thing to do was sitting at the back porch and watching sunset. Laura suggested us some interesting places. We had a wonderful stay.
Julie
July 2014
We loved the cottage and the small town rural surroundings. We used this space as a stop on our way west and to visit the Badlands. We enjoyed every minute. Great scenery and dog-friendly.
Roger
September 2016
We had a great time. Walked to town for breakfast.
Gayle
July 2015
The host canceled this reservation 3 days before arrival. This is an automated posting.
Julie
Cute place with plenty of room. Would love ton return in the summer to enjoy the river (mere steps from the front door!) and some of the natural surroundings.
Jessica
May 2015
We had such a great stay! We made supper in the kitchen and then went into town and caught a movie. The wind throughout the night was awesome - felt like we were back in the 1920's era along with cottage! Thanks again.
Sue
September 2016
Тип размещения
Дом/квартира целиком
---
Тип жилья
Дом
---
Вмещает гостей
4
---
Спален
2
Mott