My place is close to family-friendly activities, a pool, the beach, public transport, and nightlife. It is located in the North of Israel in a quiet, green and pastoral environment. You will enjoy the view, the ambiance, and the people. My place is good for couples, solo adventurers, business travelers, and families (with kids).
My place is close to shopping areas that are opened all week long including Saturdays. It is close to the three cites: Acer, Nahariya and Carmiel. During the summer (July) you can enjoy the Dancing Festival in Karmiel. If you have kids there is a variety of activites indoor and outdoor you can do nearby. If you like cycling or sightseeing you have plenty of it all around you.
We had a wonderful. The apartment is cozy, exactly as advertised and Yael and her family were very welcoming and happy to help with any question or need we had. The area is beautiful and the location amazing. We highly recommend this apartment and plan to stay there again.
Micki
2016-10-04T00:00:00Z
Тип размещения
Дом/квартира целиком
---
Тип жилья
Квартира
---
Вмещает гостей
4
---
Спален
Tal-El, North District, Израиль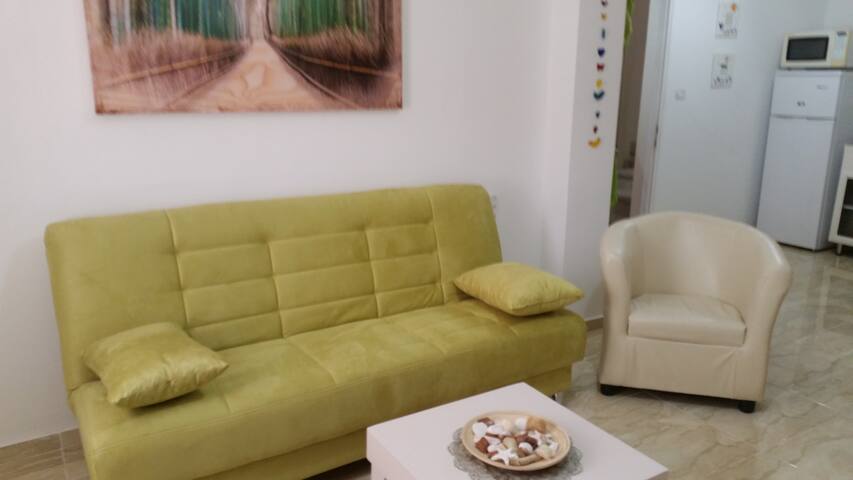 A quiet and beautiful view point flat with private garden located on Gilon mountain, in the Western Galilee,10 minutes from Carmiel, 20 minutes from Acre old town and the beach, 35 minutes from Haifa and 40 minutes from the Kineret Sea of Galilee.
A unique quiet calm and very private flat and space with private garden
לראשונה בחיינו השתמשנו באופציית ה airbnb ולמזלינו הגענו למקום של רן! המקום מקסים, נקי, עם גינה נעימה וכל מה שצריך בשביל להרגיש בבית.
Hila
2015-08-10T00:00:00Z
It was truly wonderful! Quiet, cozy and with all the amenities one can ask for: even a washer/dryer machine! We had breakfast picnic outside on a picnic table, were able to cook and enjoy the cleanliness! We met Ran and he was very nice and forthcoming.
Robert
2016-06-15T00:00:00Z
We had a wonderful 9 days vacation at Ran's apartment in Gilon. The apartment is very well organized and equipped, clean, tidy and welcoming. Its great location enables a variety of daily travels (from hiking in the Galilee to enjoying a walk on the beach in Haifa). In addition, the apartment has a nice yard which our dog highly enjoyed. Ran is a great host. From the first correspondence till checkout Ran was very helpful, friendly and organized. Before our arrival he made sure we had all the relevant information and made sure everything was ready when we arrived and going smoothly during our stay. Highly recommended!
Zohar
2015-09-25T00:00:00Z
We ordered a few days before during holidays time. We were a couple with a baby. The host was very responsive and gave us all the information we need. We asked if we can come with our little dog and he agreed. The place was clean and neat. We found the fridge full of goodies (free of charge). There is a very nice garden outside to have BBQ. We recommend this place and hope to get back again.
David
2015-10-05T00:00:00Z
The house is beautiful, comfortable, clean and very private. I was looking for a quiet place for a quiet break from everything. Ther is an amazing wiew and a lot of places to go from there according to personal taste. Ran and Eli are very nice and helpful. I'll be back and highly recommend to visit in Gilon at Ran's house.
miri
2016-08-28T00:00:00Z
Ran's place is beautifully located in a calm and peaceful village with an amazing view. The communication with Ran was efficient, quick and helpful. The place itself is very cute and cozy. Recommended :)
Eric
2016-04-16T00:00:00Z
We had a great stay at Ran's apartment. He was very helpful. The place is nice and cozy and very quiet and peaceful.
Elad
2016-10-21T00:00:00Z
We had a great time at Ran's apt. The place is very nice and well equipped, located in a beautiful area. Ran was available the whole time through the phone, and took care of everything we needed. Highly recommended!
itai
2015-10-04T00:00:00Z
Тип размещения
Дом/квартира целиком
---
Тип жилья
Квартира
---
Вмещает гостей
4
---
Спален
Gilon, Центральный округ, Израиль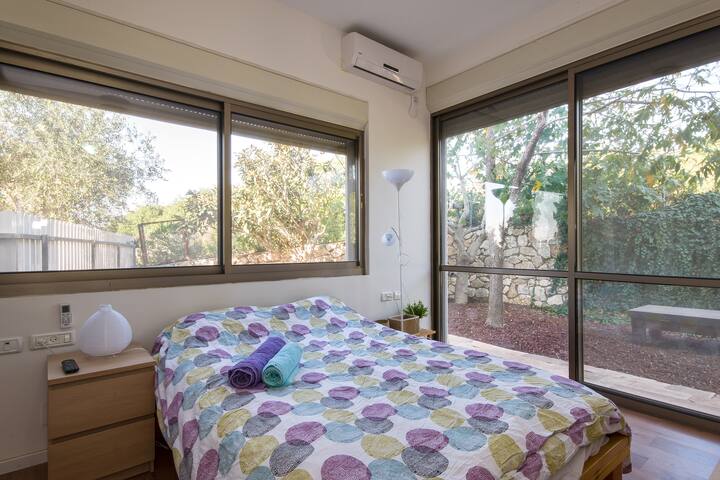 Отдельный 2-й этаж, 2 отдельные частные комнаты, отдельная кухня, семейный номер, частный доступ, просторные и хорошо оборудованы всем необходимым для работы пребывания. Подходит для семьи с детьми или на пару, или даже если вы одиноки и ищете место, чтобы остаться в центре Израиля Западной Галилее. Великая природа все вокруг. Чистый, аккуратный, со всеми удобствами и дает любопытное ощущение дома. Натереть уютный аппарат и прекрасный вид. Сообщество деревня Oshrat 10 км к востоку от Нагарии.
Частного начала, комфортабельности, радушие, уют наполняют, homeyness, friendlines и вместительности уникальность нашего гостеприимства
Called after 5pm looking for accommodation the same evening. Moshe responded within half an hour to confirm availability. Apartment was spacious and met our needs perfectly.
David
2016-08-09T00:00:00Z
I was welcomed by Moshe's wife which was kind and gave me all the needed information for my short stay. The place was spacious and well equipped, and my stay was very comfortable.
Shimshon
2016-04-07T00:00:00Z
The space seemed newly renovated and was very clean. The apartment is suitable for 3-4 people, and the host was nice and very helpful with finding the place. However, the shower was rather short (or I am too tall at 6'3) and required me to be stooped over. I also had to cancel 2/3 of my stay because adding a second person doubled the cost, which felt like a huge increase.
BILLY
2016-08-12T00:00:00Z
השהות הייתה נעימה . הדירה כפי שמוצגת בתמונות. יש גרם מדרגות שמהווה בעיית בטיחות למשפחות עם תינוקות.
liran
2016-08-26T00:00:00Z
We had a very good stay, very pleasant and nice hosts. Very well equipped apartment. Some steps to climb but no biggie. Great value!
Tal
2016-08-13T00:00:00Z
The host canceled this reservation 3 days before arrival. This is an automated posting.
דורית
2016-08-16T00:00:00Z
Nice and well equipped flat
Carol
2016-08-01T00:00:00Z
Extremely welcoming and accommodating couple. They even made us food a few times. Super sweet and helpful with locations. The apartment is gorgeous as is the rest of their home. Extremely comfortable stay. Couldn't ask for a better host
Gary
2016-06-06T00:00:00Z
Тип размещения
Дом/квартира целиком
---
Тип жилья
Квартира
---
Вмещает гостей
6
---
Спален
Oshrat, North District, Израиль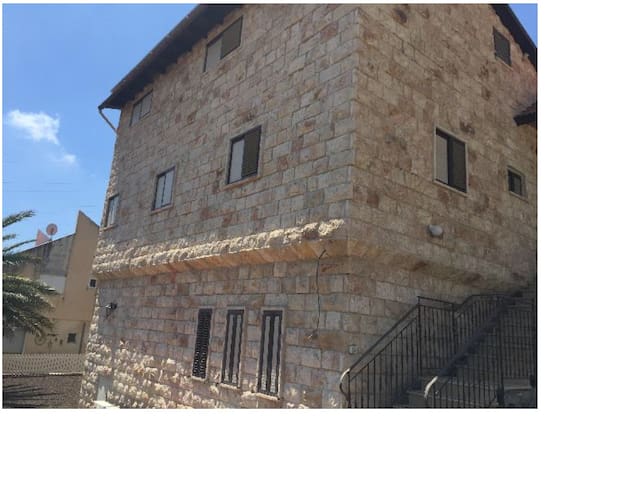 Наш частный и со вкусом меблированный дом с прекрасным видом находится на тихой улице на склоне холма в прекрасной деревне друзской Ярка. Мы находимся в 10 минутах езды от знаменитого торгового района и в нескольких минутах ходьбы Ярка к рынкам и на вершине холма парка. С 4 спальни, каждая из которых спальные 2-х человек (больше кровати) большие группы, пары, сольные авантюристы, бизнес-путешественников и семей (с детьми) будет иметь восхитительный отдых!
он размер нашего дома составляет 240 метров (90 метров на первом этаже, в 120 метрах на втором этаже и 30 метров на крыше.) У вас есть две частные двери, чтобы войти в дом. Один вход ведет вверх по каменной лестнице на второй этаж "Spa" с это весело, большой открытый план этажа с зоной отдыха, кухня (с холодильником, микроволновой печью, раковиной) и зону массажной ванной 6 человек с входом в сауну и душ , две спальни, каждая имеют встроенный в раковину. Еще два душа, ванной раковина и туалет кабина вниз по коридору. Другой отдельный вход входит в уютном первом этаже гостиная / столовая / кухня. На кухне есть холодильник, кулер для воды, микроволновая печь, газовая горелка, и раковина и хорошо снабжены имеет посуды, столовых приборов, кастрюли и сковородки. Есть три спальни на первом этаже, одна с большой кроватью и две другие имеют две односпальные кровати в каждой комнате. Off кухне есть гардеробная, 2 душевые кабины, раковина и туалет с дверью. Внутри дверь вход дает внутренний доступ к первом этаже и второй и из двери доступ к третьим этажами на крыше сад.
Наш район наполнен теплом и щедростью, где взрослые дети с нетерпением ждем, чтобы двигаться назад близко к своим семьям после отбытия Израиль и завершения образования. Оливковые сады, святынях, 50 галлона медные чайники можно увидеть, как вы ходите по окрестностям. Большинство соседей знают своих владельцев магазинов с детства.
Mufid is the dream host! I enjoyed asking him about his Airbnb before we booked and knew I had picked the perfect stay for our family shopping trip to "My Baby" (largest childrens store in Israel) slash baby shower trip to Yarka. With Mofid's help we arrived with ease to his lovely Spa like Airbnb even though there are no street signs or house addresses.The view is even more spectacular than the website photos. He graciously welcomed all of our added family that came up for the day to celebrate. He even set up extra beds for the added 8 day guests who were having so much fun and asked to spend the night. The next day Mofid offered to take us on a tour of a 200 year old oilive press, still in operation, in the ground floor of his familiy's house. Of course we excepted and now plan a return to his Airbnb for our family reuion next year in October to see the olive press in action. My family and I are sending out a big THANK YOU! to Mofeed and his warm family! FYI, their home made organic olive oil, oilives, olive oil soap and herbs called Zaatar make great gifts. We bought a bunch!
Ceil
2016-08-24T00:00:00Z
Тип размещения
Отдельная комната
---
Тип жилья
Квартира
---
Вмещает гостей
4
---
Спален
Yarka, North District, Израиль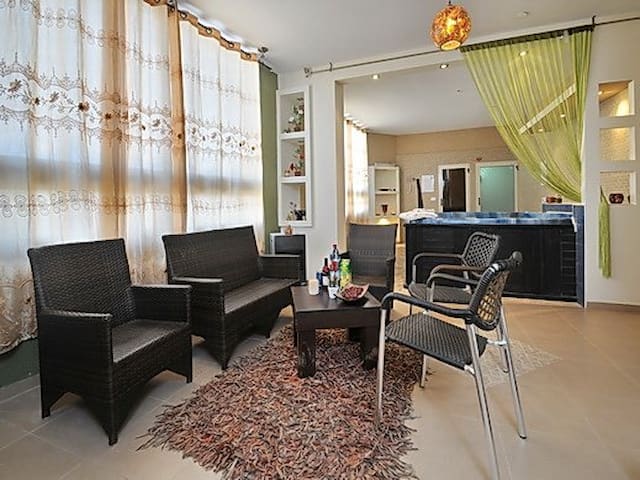 Я приглашаю вас насладиться красотой Галилее и особой художественной атмосферой в моей студии, которая имеет отдельный вход и прекрасный garden.You предлагается выполнить свои художественные мечты, наслаждаясь вдохновение и материалы в моей студии.
Уютная студия полна красочных вдохновения, двуспальная кровать (по желанию отделить) маленький и основной оборудованная кухня, отдельный туалет и душевая кабина, прекрасный сад, тихий район, бесплатная парковка .located в небольшой деревне, всего в 15 минутах от Акко, Кармиэле и от 40 до Назарет .Вы предлагается выполнить свои художественные мечты, наслаждаясь вдохновение и материалы в моей студии. Моя семья и я люблю людей, у себя и будет рад поделиться с вами секретами нашей прекрасной области!
Lovely friendly couple. Probably ideal for younger travellers.
Shirley
2017-03-19T00:00:00Z
We really enjoy our stay in this artistic room, full of puppets made by the owner and all kind of materials. The view is beautiful, even from the parking place, and there are possibilities to walk right into nature from the house. The owners are very friendly and hospitable. We would definitely advise this studio to nature and quietness loving travelers.
Shimriet
2017-01-19T00:00:00Z
Great place, cozy, good value for money. Amit & Irit are very warm and helpful. We enjoyed the stay very much.
Shiri
2017-01-01T00:00:00Z
This is what airbnb's about. We had a unique and wonderful stay at Amit and Irit's studio, and had a special workshop with Irit that made our stay so very lovely. We met a lovely family with very warm and open people that were happy to share their home with us and made us feel right at home. Thank you so much, Iris and Amit!
Assaf
2016-09-17T00:00:00Z
Тип размещения
Дом/квартира целиком
---
Тип жилья
Квартира
---
Вмещает гостей
2
---
Спален
Tzurit, North District, Израиль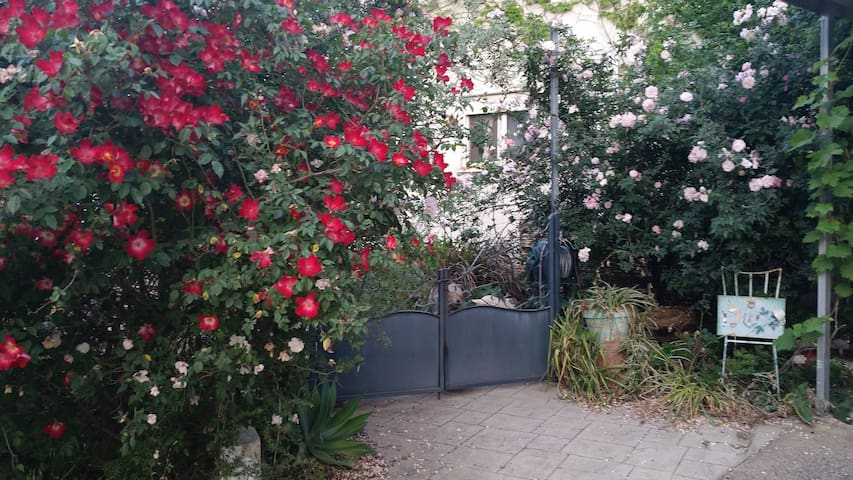 Warm and welcoming, our apartment provides an excellent space for visitors in the North of Israel. Each apartment is equipped with a kitchenette, television, and WiFi. We also have a garden, deck, and lawn in the back where guests can relax.
Quiet and clean place. Zippi was like my israeli aunt supplying me with biscuits :-)
Vladimir
2017-04-03T00:00:00Z
Zipi and her husband our lovely. It is a very pleasant place - away from the hubbub of the old city, but within comfortable walking distance of the old city.
Stephen
2017-02-05T00:00:00Z
Had a wonderful, if short, stay at Tzipi's place! Communication was very easy, and the room was very comfortable with its own bathroom. The place is quiet with a garden in a nice residential area, with lemons on a tree 20 steps from the room. Tzipi went out of her way to make sure I was comfy, helping me get taxis when I needed them and even sent me to the train with a lunch for the trip. Wish I could have stayed longer!
David
2017-03-19T00:00:00Z
Highly recommended--excellent location within walking distance of town, a very comfortable setup with a private bathroom and kitchen, and a warm and generous host. I would definitely stay there again.
Aaron
2017-01-19T00:00:00Z
Тип размещения
Отдельная комната
---
Тип жилья
Квартира
---
Вмещает гостей
2
---
Спален
Acre, North District, Израиль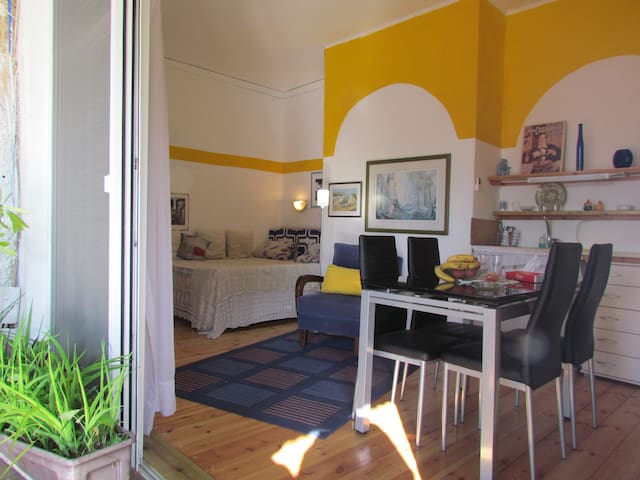 Недавно меблированная однокомнатная квартира имеет частный сад с крытым и открытым столовой. Двуспальная кровать с ортопедическим матрацем предоставляется вместе с оборудованной мини-кухней, кондиционером, беспроводным доступом в Интернет и полностью оборудованной ванной комнатой с новой ванной. Чистое белье и свежие полотенца предоставляются. Все запросы будут выполнены, если это возможно. Йехиам находится в нескольких минутах 20 минутах езды от великолепных пляжей Средиземного моря и легкий в 1 часе езды от Галилейского моря. Мы также легко добраться до древних исторических памятников и городов Цфат, Акко (Акра), Хайфа и Назарет, а также непереполненные Национальные парки. Местные достопримечательности включают в себя специализированные рынки, декоративно-прикладного искусства и множество разнообразных и вкусных кошерные и не кошерные рестораны во всех ценовых диапазонах в пределах 20 минут езды. Синагоги, церкви и мечети, также легко доступны Йехиам также является домом 12-го века замок крестоносцев открыт круглый год. Также доступны круглый год на открытом воздухе теннис и баскетбол. Бассейн открыт с середины мая до конца сентября. Однако крытый бассейн и тренажерный зал находятся всего в 10 минутах езды. Большой однокомнатная квартира в Йехиам, расположенный в Западной Галилее, рядом с крепостью Йехиам. Студия имеет отдельный вход через сад. Он содержит центральное пространство, крытый и открытый столовая, оборудованная кухня с мебелью с двуспальной кроватью (ортопедический матрас), ванная комната, кондиционер, беспроводное подключение к Интернету. Мы обеспечиваем профессиональную чистку, чистое белье и свежие полотенца. Если у вас есть особые пожелания, дайте нам знать, и мы сделаем все возможное. 350 метров над уровнем моря, в 20 минутах езды от великолепных пляжей Средиземного моря, в пределах легкого доступа к Галилейского моря, Древний и исторических мест, близких к Цфатом, Хайфа, Акко, Назарет и многих национальных парков Израиля и туристических достопримечательностей. В близлежащих городах вы найдете специализированные магазины, в выходные дни рынки, местные искусства и Carfts, уникальные деликатесы, кафе & рестораны, круглый год бассейн, медицинские центры, церкви, синагоги и мечети и многое другое ... Расслабьтесь и наслаждайтесь захватывающим видом на горы, чистый воздух, спокойная атмосфера и наша страна отличная погода.
Noga was very king and accepting. We felt really welcomed there. The place itself is beautiful and quiet, just what we hoped it would be. Noga was kind enough to let us stay the whole next day as there was no one else who booked the place for that night.
Itamar
2016-12-10T00:00:00Z
שהינו בדירת הסטודיו ביחיעם במשך סוף שבוע. הכנסת האורחים הייתה מעל ומעבר. החדר עצמו מעוצב בצורה מקסימה! ומרגישים שחשבו על כל פינה ופינה, מסט הצלחות במטבח ועד .לתמונות שתלויות על הקיר מעבר לטיולים בסביבה, היה כיף אמיתי לשוטט בשבילי הקיבוץ. ממליצים בחום רב!!
Tami
2017-02-25T00:00:00Z
בית קטן, חמוד ומעוצב. מרפסת נהדרת עם גינת פרחים. כל הקיבוץ עטוף בפרחים כמו להיות בתוך חלום. המארחים נוגה ומנחם עשו ככל שביכולתם כדי להנעים שהותנו ומנחם הוביל אותנו ברכבו לתחילת טיול בוואדי. מומלץ בחום.
אסף
2017-03-05T00:00:00Z
Me and my girlfriend felt very welcome. The hosts were very friendly and made us feel at home.
Leonid
2015-08-09T00:00:00Z
Noga is a vibrant woman with an artist's touch to make her studio apt. a splendid place to stay. A lot of time went into making it feel cozy and alive with antiques, artwork and knick knacks. The bed was by far the best in all of our 10 nights in Israel. I wish we could have spent more time.
Holly
2016-03-17T00:00:00Z
Noga was a great hostess. The only glitch I experienced was on arrival, but it wasn't Noga's fault at all. The text messages I received from her through Airbnb seemed to have a certain character or word limit, so her directions on what to do when I arrived at the kibbutz were cut off mid-sentence, and I had to ask for help at the dining hall, where very kind people helped me to connect with Noga, who directed me to her home. The studio apt is beautiful; if it were a hotel it would be considered "boutique." The paintings and drawings that adorn the walls; the small touches from the way the bed is made up, the bathroom decorated, and one of the walls with hot plate and microwave made up to allow for cooking simple meals: everything is very comfortably and tastefully arranged. There's also a lovely garden area outside where it's possible to sit, either around a table or on a comfortable swing seat. The studio was really fantastic; Noga was available to answer whatever questions came up, whether about the kibbutz or about local attractions. And the kibbutz is home to a national park featuring a crusader fortress that was destroyed but rebuilt by a local Bedouin ruler in the 18th century. It's a very special place, and I hope to be back there soon.
Russ
2016-08-26T00:00:00Z
Noga and Menachem's place was a real gem. It was comfortable and luxurious without being pretentious and the garden outside was a real pleasure. Noga has collected wonderful glasses and teapots which are arranged beautifully in the room. The bed was comfortable, and we had everything we needed. Noga and her husband were extremely friendly hosts who gave us lots of ideas of where to hike, eat, tour. We enjoyed our stay tremendously and hope to be back.
Yael
2016-03-27T00:00:00Z
We stayed at Noga's house two nights and enjoyed it very much. The apartment is beautiful and the yard is peaceful and lovely. We even got a crib for our daughter! בילינו שני לילות בצימר של נוגה והיה מצויין! החדר נעים ונקי, והחצר מסביב מקסימה. היחס חם ואישי וקיבלנו גם לול לבת שלנו. נהנינו מאוד ונשמח לבוא שוב :)
AMI
2013-08-25T00:00:00Z
Тип размещения
Дом/квартира целиком
---
Тип жилья
Квартира
---
Вмещает гостей
2
---
Спален
Yehiam, Израиль
Отдельная комната в моем кв. в сельской местности, кибуца обстановке, в 5 минутах от Нагарии. В 10 минутах от большого пляжа, множество достопримечательностей и прогулок поблизости. Столько, сколько личной жизни, как вам нравится. Для спокойного отдыха или остановки на пути к Голанских высот.
Недавно отремонтированные апартаменты с невероятным видом на Средиземное море. Много парковка, тихом районе, рядом с рестораном высокой кухни (закрыт по воскресеньям). Это частная комната в квартире, что я тоже живу в.
Удобно расположен, если вы путешествуете на автомобиле. Свободная парковка в кибуце в 50 метрах от дома. Естъ все необходимое. Можно готовить. Очень любезные хозяева.
Olga
2017-03-18T00:00:00Z
Please pack your suitcase and come to meet Sigal and her lovely home!! Sigal in a very special person by all means. She made us feel like home from the first moment. She is very welcoming, kind, interesting and helpful. Her home is located in the "kibbutz" just few minutes driving from the best beaches of Israel and from the western Galilee mountains. The view balcony is great and you can relax while hearing the birds singing. You can also enjoy restaurant Adelina next door which is really romantic and recommended. It was our first time at Sigal's home and we will surely come again very soon. It was a wonderful romantic weekend for us. In one word recommended. In two words warmly recommended
Aviram
2016-05-01T00:00:00Z
Room in Sigal's place was exactly as described. I felt at home and she was very easy to contact and communicate with. The location is quiet and easily accessible. The kitchen, bathroom, veranda and living room were very welcoming and a pleasure to be in. Thanks Sigal!!!
Aytana
2016-08-09T00:00:00Z
Sigal was very welcoming and helpful. Great place to get out of town. Big balcony with view to the sea.
Evan
2015-09-06T00:00:00Z
Sigal made us feel welcome in her lovely home; she was kind, very generous, easy going, provided any information needed, was flexible about times of arrival. There is a very nice balcony with great view.
nir
2016-09-11T00:00:00Z
Sigal was very welcoming. I had exactly what I needed for good night sleep between 2 tiring days.
rachel
2016-01-31T00:00:00Z
Sigal has a beautiful welcoming home with a gorgeous view. She was very pleasant and even helped us with transportation to her home. We only spent one night so we didn't get much time to talk but Sigal was lovely all the same. Would definitely recommend staying by her and would definitely love to stay at her home again!
Dev
2016-07-16T00:00:00Z
Very welcome, the house is lovely and so is Sigal.
שוש
2016-09-16T00:00:00Z
Тип размещения
Отдельная комната
---
Тип жилья
Квартира
---
Вмещает гостей
2
---
Спален
כברי, מחוז הצפון, Израиль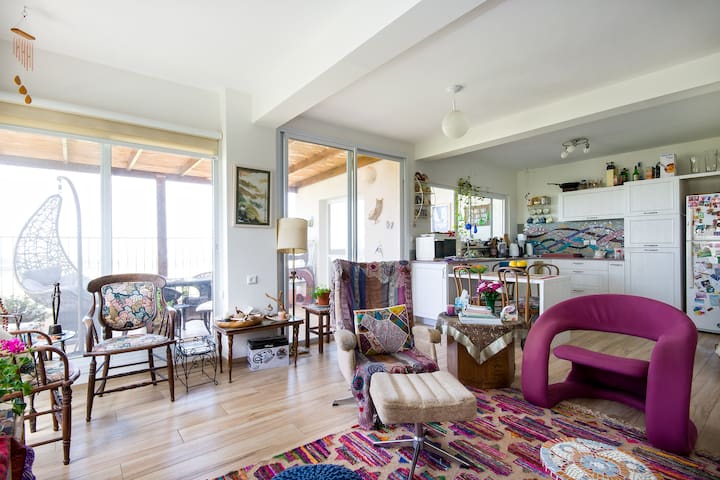 Our beautiful and warm one bedroom country cottage has everything you need to make your stay pleasurable. It comfortably fits two or three person, has a great garden with a spectacular view, and is only 25 minutes from Tiberias, Galilee sea and Acre and 5 minutes driving from Karmiel city.
The host canceled this reservation 125 days before arrival. This is an automated posting.
Sharon
2015-08-07T00:00:00Z
Тип размещения
Дом/квартира целиком
---
Тип жилья
Квартира
---
Вмещает гостей
2
---
Спален
Shorashim, Tzafon, Израиль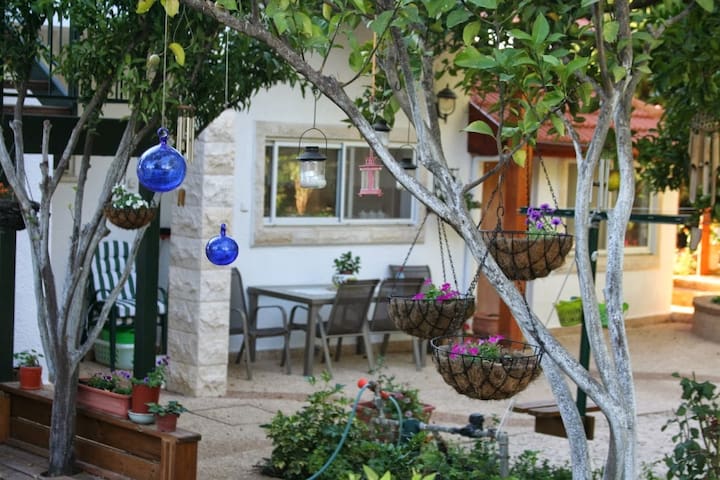 Lohamei Hagetaot is a rural place located in north of the country. 5 minutes to the beach, 5 minutes to Acre and Nahariyya and perfect place for relaxing. i have a lovely residential unit with veranda and roof with wonderful view.
Тип размещения
Дом/квартира целиком
---
Тип жилья
Квартира
---
Вмещает гостей
2
---
Спален
Nahariyya, North District, Израиль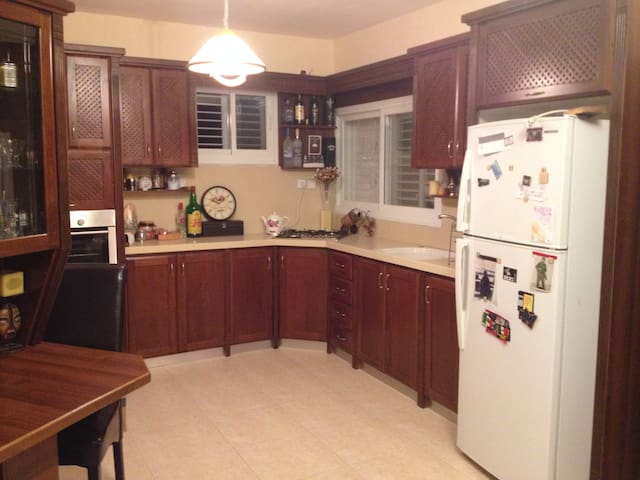 My place is close to great views, restaurants and dining, family-friendly activities, the beach, and nightlife. My place is good for couples, solo adventurers, and business travelers.
Suite beautiful stone walls of her arched and stairs leading to the gallery which is floor bedroom Open with: a spacious double bed with white linens, two sets of pillows, dressers and lamps Kriah.bmfls entrance - a fully equipped kitchenette with a stove, a Nespresso machine, coffee maker and fridge, and favor guests also traditionalists urn, plate and watch Saturday. Another level - shaped seating area, satellite TV (Yes), a gas fireplace, books, dining table and two chairs. A beautiful bathroom with a double shower with two rain heads, toiletries, bath robes, fluffy towels. Mediterranean roof that serves all guests staying in suites, is located two floors above the Ottoman suite. Soft drinks and beer complimentary and fee for guests.
Heartwarming boost tourism last year characterized the alleys of Old Acre, stunning guest rooms invite vacationers to visit the ancient alleyways and offer different hospitality experience, unique and luxurious. These are set up by entrepreneur accommodation Meyer Davidson. Guest rooms are scattered in the streets and give them a feeling he hosted part of the scene, which is a temporary resident of the same ancient alleys, next door to the local residents. This is a very conventional style accommodation in towns and villages on the coast Italy - You are invited to feel at home even though you're just visiting.
What an amazing place to stay! An unbelievable restoration of a historic residence that balances modern amenities with traditional decor. The roof deck is so relaxing for gazing out on the sea. The bed is so comfortable and plenty of hot water in the shower. Meir is a wonderful host and we hope to get the opportunity to visit again. If you're in Acre this is the place to stay!
Dylan & Amber
2017-01-23T00:00:00Z
Тип размещения
Дом/квартира целиком
---
Тип жилья
Квартира
---
Вмещает гостей
2
---
Спален
Acer , north, Израиль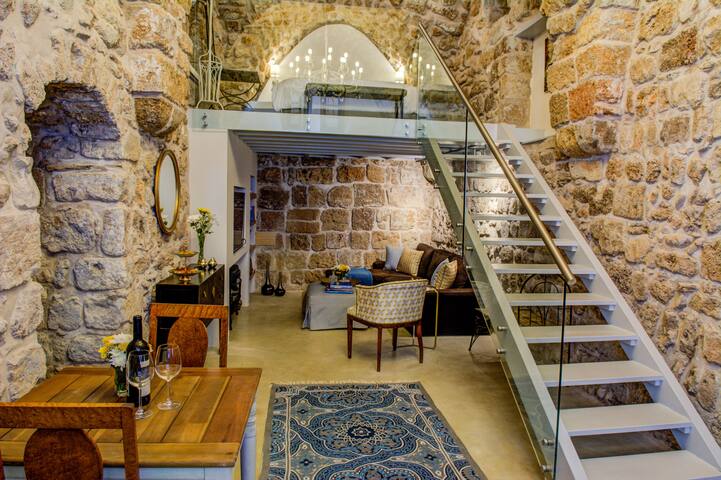 Karmiel("God's vineyards") is a city in northern Israel. Karmiel is located in the Beit HaKerem Valley . The city is located 26 Km. from Acre, 23 Km. from Safed, 26 Km. from Nahariya, 38 Km. from Tiberias, 37 Km. from Haifa, 29 Km. from Nazareth .
I live in a lovely and inviting apartment. It is located in a very quiet neighborhood in the middle of Israel's Galilee, and you will have all you need to enjoy your visit. Karmiel is a small city (50000 people) full of parks and trees and an easy jumping-off spot to see the Sea of Galilee and northern Israel. Due to the requests of many tourists, I can recommend that as you are staying with me without a car, perhaps I can use my vehicle to take you around northern Israel. If you are insterested, please let me know where you would like to go as well as the date, and I will let you know if I am available ( and at what price). In addition, if you are touring in Jerusalem, I can recommend an experienced local tour guide for Old City as well as off - the - beaten track touring.
I LIVE IN A VERY QUIET NEIGHBORHOOD, WITH PLENTY OF FLOWERS AND TREES. AT NIGHTS IT IS VERY BRIGHT, AND THERE IS A MINI MARKET JUST 5 MINUTES WALK. THERE IS ALSO AN INTERNAL BUS STATION CLOSE BY WHICH GOES TO THE CENTER BUS STATION OF KARMIEL.ׂ THE HOUSE IS ON THE TOP OF A MOUNTAIN AND THERE IS A BEAUTIFUL AND UNOBSTRUCTED VIEW ALL OVER THE STREET.
Alicia is a 5 Star host! This is my second vist with her. Her apartment has a commanding view of the Karmiel Valley, tucked into a quiet neighborhood. Her home is neaqr everything, quiet, clean, comfortable, with great English TV channels! I recommend her highly. She speaks Spanish, English, and Hebrew ...all well. She is a native from Argentina. Easy to work with, always pleasant. Great Israel experience...
Elliott
2015-07-22T00:00:00Z
Alicia Schwartz is a wonderful host! The best! From Argentina, she has been in Israel "forever" and offers a wealth of local information. I stayed 3 weeks. She speaks Spanish, Hebrew, and English very well and is the most welcoming host ever! I recommend for karmiel stays. Her home is lovely with a spectacular view out across the Karmiel Valley, located on the bus line (50 m), and there is a great store down the road wihtin a 5 minute walk. Alicia decorates her home wiht her lovely art work. Her kitchenis adequate for any stay and her balcony is wonderful for breakfats, lunch, or dinner. Stay with Alicia and you will be very pleased!
Elliott
2015-03-22T00:00:00Z
Alicia is a great host. She made me feel very welcomed, and all was perfect. Thank you!
Yossi
2015-12-21T00:00:00Z
My wife and I thoroughly enjoyed our stay at this most pleasant accommodation which had a wonderful view of Carmiel from the balcony. The hostess was comparably pleasant and helpful and we enjoyed meeting her and her company. We are able to positively recommend this venue.
Melvyn
2015-06-11T00:00:00Z
This woman will make your day!!!!! She is awesome, friendly, welcoming, she picked me up from the bus station and showed me around after she came from work, awesome view of Karmiel. I don't have enough words to thank Alicia!
Belinda
2015-06-24T00:00:00Z
Тип размещения
Отдельная комната
---
Тип жилья
Квартира
---
Вмещает гостей
1
---
Спален
Karmiel, Israel, Израиль
My place is close to shops and restaurants; art and culture; family-friendly activities and the beach.You'll love my place because of the amazing views and great location to The Old City, Azrieli mall, restaurants and main swimming beach. My place is good for couples, families with kids and big groups. Perfect base to travel the North of Israel (Tiberias; Rosh Hanikra; Ramat HaGolan). Close to the train station (2km's) and bus stop (200meters). The Old Acre Market and The Acre Turkish Bazaar.
The entire apartment is fully air-conditioned. Open plan kitchen and living room area. Kitchen has a large island that seats up to 7 people. There is a fridge, gas stove, oven, microwave, toaster, kettle and filtered cold water machine. The living room is spacious, has a TV and opens up onto a balcony that seats 6 people comfortably. The views are out of this world!
Acre or Akko, is a multifaceted city situated on the Northern seashore of Israel. Brimming with history, it is a meeting place for East and West, new and old. The Old City of Acre was declared a World Heritage Site by UNESCO in 2001. There are plenty things to see and do here. Lose yourself in the narrow side streets and alleys of The Old City or see the local market with spices, vegetables, fruits, fish, oriental pastries, perfumes and antiques; visit attractions such as The Knights Kingdom, or The Templars Tunnel; if Museums are your thing you may choose from The Okashi Art Museum, The Underground Prisoners Museum or the Treasure in the Walls Museum; for the more adventurous there is the option of a boat ride around the city walls. Dining options abound in Acre. For the best Hummus in town you must try Hummus Said in the Old City; for good fish in the Old City try Abu Christo, and Uri Buri for gourmet dining. For the absolute best salads, fish and lamb you should pay a visit to El Babor. The restaurant is right on the sea, has spectacular sunsets and excellent food.
Merci Trevor pour votre acceuil. L'appartement était parfait: une belle vue, une belle déco, confortable et très bien situé pour visiter Akko. Nous y avons passer 2 superbes jours.
Isabelle
2016-12-30T00:00:00Z
Loved the apt! Clean and easy. Location is amazing and touring Akko was fun and great food!! Look forward to returning!
ellen
2017-03-16T00:00:00Z
It was a great stay, everything looked exactly as shown on the photos. Localisation is very good, close to the old town and what is very important the place was well equipped.
Łukasz
2017-02-16T00:00:00Z
Beautiful apartmet, perfectly equipped, amazing view.. We had a wonderful family vacation and we can't wait to visit again
Aylon
2017-01-26T00:00:00Z
This is an amazing apartment. The rooms are great and there is every amenity and appliance you would want (even. Panini maker) and parking. The views are stupendous. Trevor went out of his way to come and welcome us even providing wine and pastries. I would love to come again and make it my base for a week.
Doris
2017-01-13T00:00:00Z
Super-good apartment, amazing view, very nice host, totally worth its price.
Rinat
2017-01-07T00:00:00Z
We were family of 5 stayed for two nights. It was great experience. The apartment is well equipped. Prime location. Brethtaking view.
Tal
2017-02-11T00:00:00Z
We loved this place! The apartment is beautiful, clean, and well equipped. The view of the sea is breathtaking, and the location is great. Right on the sea promenade, with amazing views, and a short walk to the Old City of Acre, it's a wonderful vacation get away.
Heather
2016-10-22T00:00:00Z
Тип размещения
Дом/квартира целиком
---
Тип жилья
Квартира
---
Вмещает гостей
6
---
Спален
Acre, North District, Израиль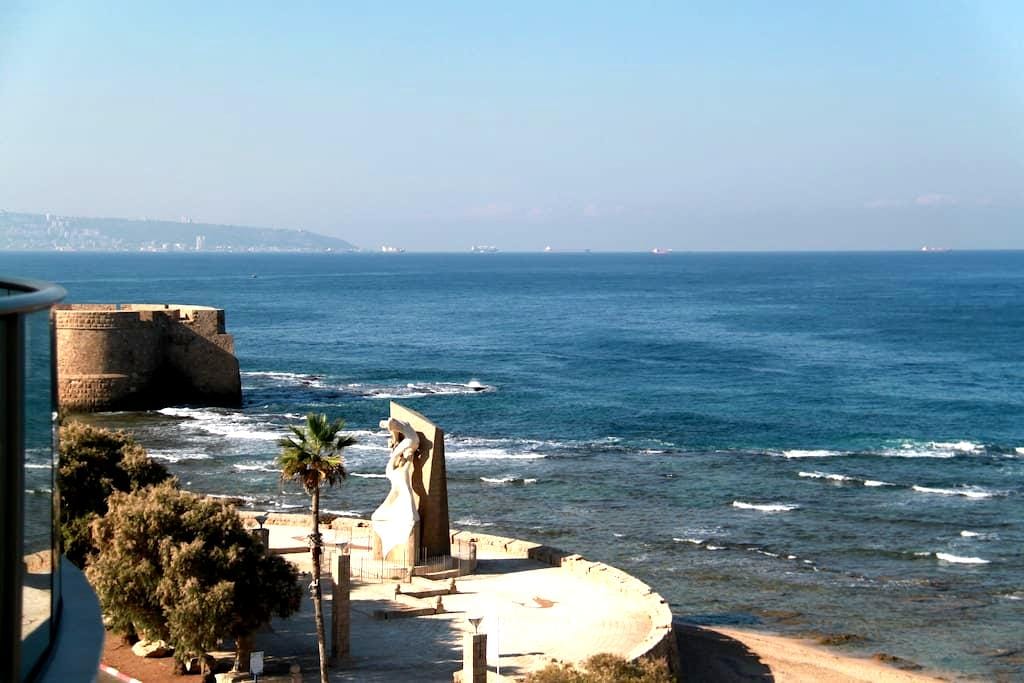 Warm and welcoming, our apartment provides an excellent space for visitors in the North of Israel. Each apartment is equipped with a kitchenette, television, and WiFi. We also have a garden, deck, and lawn in the back where guests can relax.
Тип размещения
Отдельная комната
---
Тип жилья
Квартира
---
Вмещает гостей
3
---
Спален
Acre, North District, Израиль
Shavei Tzion is a beautiful small village located right on the Mediterranean coast. Our comfortable 60-square meter apartment and its adjacent, private patio and flower and herb garden will delight you. We're only 150meters/500feet from a quiet stretch of untouched shore and a 10-minute walk from the well-maintained designated bathing beach. In the village, you'll find: -a congenial pub -a restaurant -a dive center -fitness and yoga center -Mini market The first drink's on us!
Eli was abroad when we arrived, but he made sure we had another person to contact upon our arrival. The place was homey, pleasant, perfectly located only few steps from the beach. The beautiful swimming beach was a bit further but still a few minutes away. We'd definitely recommend our friends to stay at Eli's place :)
Keshet
2016-08-28T00:00:00Z
Great place and great owner!! Best place in Israel we have been
Ferran
2016-09-23T00:00:00Z
We stayed for two nights. The location is amazing and The apartment has everything you need for a comfortable stay. We highly recommend it. We would not hesitate to stay there again.
Edit
2016-08-29T00:00:00Z
Eli's beach house is a fantastic place, which located in a beautiful and quite neighborhood and interesting surrounding area. We enjoyed the magical beach which really located only few steps from the house, and also visited ancient Acre, Klil, the 'PARA' pub, and some good restaurants around. Eli was very communicative, responsive and generous from the begging and also Ariel, which gave us the key to the house. We and our dog, Fender, enjoyed the house and it's facilities very much and looking forward to come back! The value for money is worth it and we also found a great KAVA in the fridge, which Eli gave us as a present! Don't hesitate! if you are looking for a quite place to stay at, with beautiful and close beach, this is the place for you!
Einat
2016-09-11T00:00:00Z
We loved Eli's house! Came for a week and I wish we could stay longer. The apartment was clean, well organised and fully equiped. Staying there was purely fun! We enjoyed from the closest beach (3 minuts walk), and traveled a bit in the area (akko, Achziv). We will definitely try to come back!
Dalia
2016-08-25T00:00:00Z
אחלה מקום. נקי, מסודר. סביבה שקטה ויפה.
Alon
2016-09-03T00:00:00Z
Eli's apartment is perfect for anyone wanting to be by the Sea! It is literally across the street from the Mediterranean. The apartment was clean, fully equipped with all cooking appliances, towels for the beach, and anything you could possibly want! I would definitely recommend this place to people looking to stay in the area.
Jackie
2016-07-07T00:00:00Z
We had one of our best Airbnb experiences at Eli's place. The communication was excellent, and his home is a treasure on the sea! He has anything you could ever hope to use in an Airbnb- the kitchen is fully stocked, the linens were comfortable, and there is everything you would want for a relaxing weekend away. We were especially impressed with the cleanliness of the place, something that adds greatly to having a relaxing vacation in an Airbnb. The location is incredible- minutes from the beach, and from a yummy coffee shop/cafe and a bar. We really hope to return to Eli's place sometime soon!
Jill & Stephen
2016-09-04T00:00:00Z
Тип размещения
Дом/квартира целиком
---
Тип жилья
Квартира
---
Вмещает гостей
2
---
Спален
Shavei Tzion, North District, Израиль
- The perfect place for a family or a couple. - Great host for a decent price - Quiet and peacfull - Sleep in the country side and be near main places - In the center of the north: 30 km to Nazereth 23 km to Acre 46 km to Tiberias 27 km to Haifa 53 km to Sefad 91 km to Ramat hagolan 159 km to Tel aviv
Quiet place. Peacefull and unique. Wake up and breath fresh air. Collect lemons or oranges from the trees. See the green fields spread aheed of you. Feel the real galilee.
The neighborhoid is very quite, clean and beauty. Full of trees.
Shosh et son mari nous ont réservés un accueil chaleureux. L'appartement est petit, mais bien équipé et avec une cuisine pratique. Cet appartement est surtout situé dans une région calme. C'est un endroit idéal pour découvrir la Haute Galilée, une magnifique région, montagneuse et un peu sauvage. La voiture est indispensable! Nous recommandons vivement ce logement à d'autres voyageurs qui aiment la nature.
Edmond
2017-04-03T00:00:00Z
Тип размещения
Дом/квартира целиком
---
Тип жилья
Квартира
---
Вмещает гостей
4
---
Спален
Mizpe aviv, North District, Израиль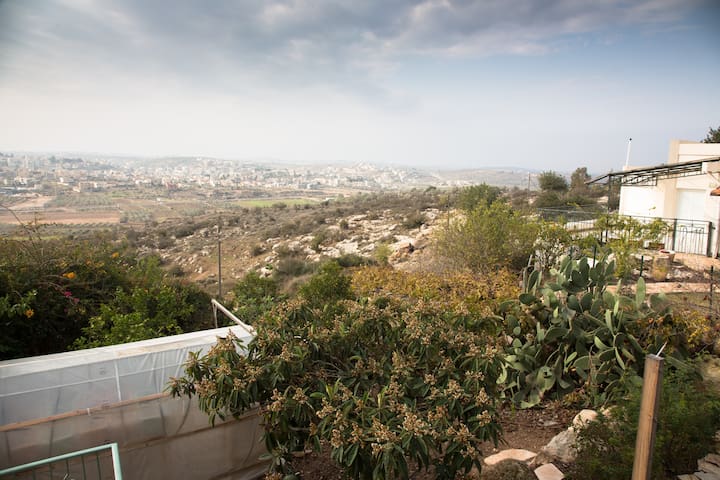 Мое место рядом с остановками общественного транспорта. Вы будете любить свое место из-за кухни, удобные кровати, уютом и высокими потолками. Мое место хорошо для пар, сольных авантюристов, деловых путешественников и семей (с детьми).
I was delighted to be Liat's first airbnb guest. Her home is exactly as she describes it and as seen in the pictures. The guest room I occupied was spotlessly clean and comfortable and the aircon was invaluable. It was also very quiet. I had my own bathroom - also spotless - towels and toiletries. It felt just like a home from home. That also was down to Liat, who made me feel very welcome from the moment I arrived. She has a bright and breezy personality. She showed me where everything was in the kitchen; Liat observes Jewish dietary rules. We shared some meals and some good conversations. She is very good company and a very good host: there and available when needed, but unintrusive and happy to leave me to my own devices. We got on very well. I was pleased to try to help her put some more pictures on her listing. She pointed me in the direction of the local supermarket and other places of interest, including the museum where she worked. Her home would be an excellent base for anyone visiting northern Israel. I would certainly stay with her again if I revisit the area.
Leon
2016-09-08T00:00:00Z
Тип размещения
Отдельная комната
---
Тип жилья
Квартира
---
Вмещает гостей
6
---
Спален
Regba, North District, Израиль
Brand new comfortable daybed can be twin beds or one queen size bed. In the Rabin area. Parking space, near public transportation, dining, shopping. GLBT friedly. May permit small female dog. Not Kosher. As much interaction as you want, or not.
Karmiel is "The Gateway to the North." We can accommodate two people in our home. Private room, private bath. Brand new comfortable American style day bed can be made up as twin beds or as one queen size bed. Our apartment is bright and cheerful, and, of course, air conditioned.
Rabin is one of the newest communities in Karmiel. Both residential and commercial buildings are very up to date and the city is very clean. You can walk to eating establishments, specialty shops, and even a supermarket. Many synagogues in the area.
Тип размещения
Отдельная комната
---
Тип жилья
Квартира
---
Вмещает гостей
2
---
Спален
Karmiel, North District, Израиль
1

–

18

из

164 квартиры в аренду
Введите даты, чтобы увидеть полную цену без учета дополнительных сборов и налогов.