Введите дату прибытия в формате дд.мм.гггг
Введите дату отъезда в формате дд.мм.гггг
Объявления, которые вы можете забронировать, не дожидаясь одобрения от хозяина.
2 объявления
· Starkweather
2 объявления
· Starkweather
Введите даты, чтобы увидеть полную цену без учета дополнительных сборов и налогов.
В июле и августе этого года вы сможете открыть для себя один из сотни самых лучших домов, с самыми разными ценами, и увидеть долину Сонома, какой ее видят местные жители. Круглосуточное прибытие, мгновенное бронирование, местное вино и закуски помогут вам расслабиться и насладиться поездкой.
Fully furnished apartment with private entrance inside family home. Private parking with beautiful yard, just minutes from Devils Lake and boat ramps. Washer/dryer included, full kitchen, queen pillow top mattress in bedroom, + queen sofa sleeper & updated bathroom. Amenities include all linens & kitchen utensils + guests have gas grill, deck and picnic table for use.
The space feels like home and includes everything needed for a comfortable stay. Dishes, linens, towels etc. There is a gas grill available for the guests. We also have a place for guests to clean fish or ducks and dog kennels. Guests can enjoy and relax in the yard and gardens. There is a fire pit available to use with permission and a large deck that guests can enjoy.
The hosts were very friendly and responsive. The apartment was clean and very very well equipped. Its quite big too. There was everything imaginable in the apartment. They also left us with a big basket of fruits! Excellent choice to stay if you are visiting Devils Lake. We were not disappointed and enjoyed staying in this apartment.
Mayur
September 2015
The BNB was perfect and clean and there was a trampoline on location! Amazing location with super friendly cats! The garden is something out of a fairy tale :)
George
August 2015
This stay was by far my favorite Airbnb experience and I have stayed at many other places! Roxanne and her husband were wonderful people!! Their apartment was spacious and their yard was a beautiful landscaping galore! What we loved most was their personal touch to make our stay comfortable. When Roxanne found out that our two little toddlers would be traveling with us, she left in the apartment kids books, stuff animals, and bubbles gadgets. Our kids loved the experience and we felt it was our home away from home. I would definitely stay here again! Thanks Roxanne and Ray!!
Yang
July 2015
This apartment is beautiful, bright and spacious. Roxanne is a great host and goes the extra mile to make your stay the best. Their garden is really a show piece. It is always fun to benefit from the hard work of others who really know what they are doing in the garden! We definitely recommend this property to anyone visiting the Devils Lake area.
Jim
August 2016
From check in to check out over the course of 5 weeks, Ray and Roxanne were excellent hosts. The apartment was clean and comfortable with all of the kitchen tools and comforts of home available. If you love luscious gardens and lots of greenery with yard decorations this is the place you must visit. Often times the hosts are willing to share the vegetables of their garden with you and even a possible s'more on the summer nights. A very convenient location about 5 minutes from town and a view of the lake on the way. Deer are often seen in the backyard in the evenings as well. Would highly recommend this BNB for a short term or long term stay while in Devil's lake!
April
August 2016
Roxanne and her husband were so very kind and provided a lovely apartment for us to stay in. It was clean, spacious, and provided enough room for 4 adults and a toddler. The yard was absolutely beautiful and had lots for our toddler to do! We boated and fished at Devils Lake while enjoying our stay. There are two boat ramps and the casino marina within 3-5 minutes away! Perfect little place for our fishing weekend.
Ashley
July 2016
My sister and I had a wonderful experience at Roxanne and her husbands adorable house. They were both extremely welcoming and friendly from the moment we stepped out of the car until the moment we said goodbye. The apartment listed is a very accurate description of what we experienced and we have no complaints. We are already looking forward to going back someday!
Stephanie
May 2016
Very good stay. Comfortable and clean. Quiet and peaceful surroundings.
Jean
September 2016
Тип размещения
Дом/квартира целиком
---
Тип жилья
---
Вмещает гостей
4
---
Спален
1
Devils Lake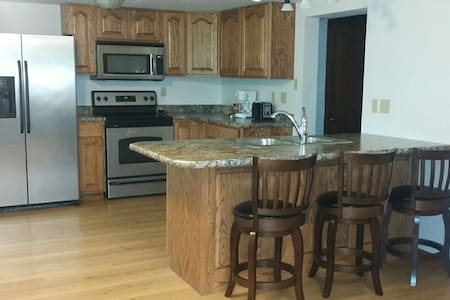 Fully Furnished. Open floor layout. My place is good for anyone from families with kids to the solo adventurist.
The Cabin is close to what most would consider to be absolutely nothing, but that is what makes it a special place to stay. You will definitely get the "rustic" feel. Wildlife is plentiful, the location is rural, and from the front deck you will see a smattering of trees over rolling hills and farmland for several miles to the horizon. Fire pit with wood provided. Residence on premises. You will be able to access the whole building as well as most of the surrounding grounds. Plenty of territory for pets to roam around. Available to help and even chat.
Located 12 miles from the nearest grocery store and gas station and 13 miles from the eastern shores of Devils Lake. You will need a set of wheels.
Very nice cabin in a very peaceful setting.
Tompat
July 2016
Nice quiet place.
Lynsay
August 2016
Very nice little get away spot with nature all around you. Clean, private and quiet-exactly what we were after. Much better accommodations than what is available elsewhere in the area. The fresh baked caramel rolls we found in our cabin were a real treat!
Pat
September 2016
John was a great host and the place was perfect for me and my wife. We were driving through and looking for a place to see and take pictures of the stars and Northern Lights and Johns place worked perfectly as it was away from lights and in an open location. We also enjoyed the recommendations about places to eat in the lovely town of Maddox, about 12 miles away. While the property may at first look geared to hunters or fishermen (and it appears great for that) it should not be over looked by families or others who need some extra room in a quiet, beautiful location. We'd be happy to stay again!
Jay
October 2016
Тип размещения
Дом/квартира целиком
---
Тип жилья
---
Вмещает гостей
10
---
Спален
3
Maddock