Centrally located in Los Angeles just 15-20 min from Downtown LA, Hollywood, Glendale, Burbank, Pasadena, & other neighboring cities. Private compound with breathtaking views and access to pool and spa. Free gated parking. 20 mins from Burbank Airport 40 mins from Los Angeles International Airport 45 mins from Disneyland
We own a private residential compound with four (4) separate private units on the ground floor (a main house, a 2-bedroom unit, a 1-bedroom pool house and 1-studio unit), all with their own separate and private entrances from the gated parking area. The main house is on the second and third floors where we, Dennis and Alex live with our dog, Apollo. The pool house has all the comforts of home. It is private and cozy and you have the entire unit all to yourself. It has a full kitchen, 1 bedroom with a queen size bed, a living room with a futon-bed, bathroom, and a private back yard patio with a BBQ grill. It is equipped with AC/Heat, coffee maker, Wifi, office desk, DVD player and Cable TV. Enjoy the tranquility of your own private retreat, with the convenience of the city life at your footsteps! This pool-house is equipped with all your needs.
Beautiful Mt. Washington, next to LA's trendiest neighborhood Eagle Rock and centrally located in the heart of Los Angeles. Just minutes from Downtown LA, Convention Center, Hollywood, Pasadena, Burbank and Glendale. Since we are on the hillside, there are no amenities or shops at a short walking distance, but there are several restaurants, stores and many local spots just a short drive from the house. Many of our guests enjoy hiking our beautiful neighborhood!
We had a great time in L.A.! The apartment is beautiful, clean and you really have your own privacy. The view from Uhr pool is amazing, especially at night. We really have to thank Daniel and Alex for their great hospitality!!!
Jasmin
2015-07-17T00:00:00Z
Beautiful place with an amazing view. Great location to visit different places in LA when you have a car. Lovely hosts, when we needed something they instantly helped us out. Thanks guys!
Eline
2015-10-11T00:00:00Z
We loved our stay and can't wait to go back. Everything from the greeting to the exit was welcoming, friendly and accommodating, and the property and views were exactly as pictured: beautiful! The hosts are upbeat and and very knowledgeable of the surrounding area, and we would highly recommend this location to anyone wanting to experience "living in L.A." for few days. A+
Billy
2016-03-02T00:00:00Z
Such a gorgeous way to spend our time in LA - great hosts and great place! We arrived in the evening and were greeted immediately (we were slightly insane after no sleep and 13 hr flight). The apartment was great and Dennis and Alex were on hand when we needed them. Fab pool which we had to ourselves throughout, well equip kitchen and nice bathroom. Comfy bed and cute private patio. We can't fault this place and would definitely stay again! Ps, very sweet dogs.
Claudia
2016-06-05T00:00:00Z
Alex et Dennis ont été des hôtes exceptionnels ! Ils se sont toujours montrés disponibles et à la fois respectueux de notre intimité. Toujours souriants, plaisants et serviables, ceci ajouté à un cadre idyllique... Nous avons particulièrement apprécié la piscine offrant une vue magistrale sur les collines. Ce logement saura vous offrir confort, quiétude et détente. Nous ne pouvons que recommander ce petit coin de paradis à proximité du centre ville et de tout ce que Los Angeles a à offrir.
Karine
2015-05-21T00:00:00Z
Place was great! View was beautiful and the hosts were great. Not to far from anything you will want to do. Great to be able to do laundry and felt very safe. If I ever need a place to stay in Cali, this will be the spot. You will not regret purchasing this place.
shianne
2015-12-22T00:00:00Z
DnA's hus og værtskab er fantastisk virkelig en god oplevelse. De var meget flinke og man følte sig velinformeret hele tiden og man var ikke i tvivl om at DnA gerne ville hjælpe hvis man havde et spørgsmål. Stedet i sig selv og DnA som værter er hvad Airbnb handler om - intet mindre end et fantastisk ophold!
Mathias K.Ø.
2016-08-06T00:00:00Z
DnA's place has scenic views, it is very clean and well-equipped. The stay was wonderful. Highly recommended!!!! Excellent space, awesome hosts.
Soni
2017-03-02T00:00:00Z
Тип размещения
Дом/квартира целиком
---
Тип жилья
Квартира
---
Вмещает гостей
3
---
Спален
Лос-Анджелес, Калифорния, США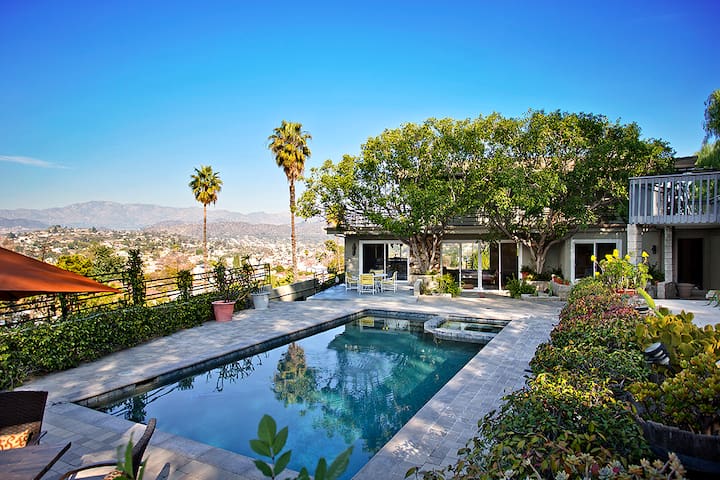 This quirky Highland Park guest house with private entrance is just 2 blocks from the heart of the street that Conde Nast calls "The Coolest Street in Los Angeles", yet it's nestled in a quiet and secluded backyard designed by a TV show, featuring an outdoor bar and chickens!
The most charming part about the space is the backyard, a quiet oasis with lots of little nooks for eating, drinking, reading, and relaxing. The guest house itself is a modest 400SF with a full bathroom and a galley kitchenette. The "bedroom" (it doesn't have a door) is small and cozy with a double bed. The main room has a pull out sofa (firm foam queen size). There are space heaters for the winter and a couple of fans and a portable AC unit for the summer.
THE NEIGHBORHOOD: Our little pocket of Highland Park is a very safe, residential area within walking distance to many attractions: Within a 5 minute walk, you can get to some of LA's best restaurants, bars, coffee shops, ice cream parlors, a playground, art galleries, record shops, vintage clothing stores, book stores, and even a "make-your-own donut" shop. Occidental College is also within walking distance (1.5 blocks to the edge of campus). And in 10 minutes, you can walk up the hill behind the house and see 360 degree views of the area, including sometimes as far as the ocean and Catalina Island!
It was a great place to stay at, very whimsical :)
Rico
2017-03-26T00:00:00Z
Amazing
Lina
2017-02-05T00:00:00Z
Sara's place is wonderful!! She gots the funniest yard I've ever seen, I invited 4 friends to come to the yard and we all had fun !! Love it a lot
Wenbin
2016-09-17T00:00:00Z
Sara was such a great host- super quick to respond and I didn't meet her or Kevin but they have a great place. The backyard is so cool, great for lounging day or night. The guest house is simple- but has everything you need. Clean! It got a little warm on the hot day, but they warned about that, and there's a great big fan. There's a lot of street parking and Highland Park is a very cool new hood, and this airbnb is walkable to a lot of great spots.
beth
2015-03-14T00:00:00Z
This spot was very cozy and private! Sara was friendly and easy to reach. The neighborhood has a surprising amount of good local spots (of which they have made a nice list for visitors), considering how suburban and quiet it feels at night. The chickens are marvelous!
Cimara
2016-05-15T00:00:00Z
This is an awesome place to stay, outside of the craziness of the city but an easy drive to anywhere! Sara and Kevin provided a binder full of recommendations and places to eat, it was so helpful to get to know the area. The backyard is unbeatable, we loved it!
Sonya
2014-03-22T00:00:00Z
Simply delightful! Cozy spot in a great area with lots to do. Sara is warm and attentive. Chickens a plus! Recommend highly.
Ariadne
2016-04-01T00:00:00Z
Great place, great neighborhood!! The guest house was perfect for a night away, and had everything we needed.
Alyssa
2016-01-11T00:00:00Z
Тип размещения
Дом/квартира целиком
---
Тип жилья
Дом
---
Вмещает гостей
2
---
Спален
Лос-Анджелес, Калифорния, США
Studio apartment in hillside Eagle Rock home. So close to all that Southern California has to offer, yet we feel like we're a million miles away... Minutes to Old Town Pasadena, Glendale, Hollywood, and downtown Los Angeles, with all the sites these areas have to offer. Fantastic views of the mountains and foothills; we even have a view of the "Rock" (Eagle Rock)! We're surrounded by huge pine trees and lush growth everywhere you look. This is an extremely quiet place... we're into meditation, and we jokingly call our home "The monastery". But those that want to live it up a little are absolutely welcome as well! We have a 3 story Mid-Century modern home, with the first level serving as our guest unit. Your entry is very private and separate from the house. You'll have your own private deck, a living room with flat screen TV, a studio style sleeping/kitchen area, and a private bathroom with a walk-in shower. Lots of street parking right in front of our home... no permits required! Easy access to freeways and public transportation make getting around a breeze. The kitchen has a refrigerator, microwave (no stove), toaster-oven, coffee maker, water-cooker and counter with a sink. We also have guest-suite with a private bedroom and bath - "Beautiful Eagle Rock Views" listed here in Airbnb.
Прекрасная квартира в тихом районе,с прекрасным видом.
Pavel
2017-01-26T00:00:00Z
It was my second time staying at Jerry's place and you feel right at home. This time, I rented the studio with a friend of mine (last year I rented the room) and it was so convenient and nice! I will definitely come back next time I'm in LA!
Alexandra
2016-08-12T00:00:00Z
Excellent studio, excellent hosts! Both Jerry and Chiu were at home to greet us when we arrived. They showed us around, and gave us a great recommendation for a nearby pizza place. Everything was really modern and clean. The design of the studio space was arty yet simple, which I loved! There were thoughtful little extras every where. They had water and juice in the fridge for us, dishes of little snacks all over, and a fresh loaf of bread. There was plenty of little seating areas around for when I wanted some extra space from my husband and kiddo, and vise versa:) There were plenty of extra blankets and towels. The bed was super comfortable. Our five year old slept perfectly on the couch that was in the studio. They even had it all set up with sheets and blankets for her. Our plan for visiting LA was to have the studio space be a central location to all of the things that we had planned out to do. After the first few days we realized that the studio was a bit far from all the places we traveled to. BUT we also quickly realized that everything in LA takes a long time to get to. So even though it was a bit kind of far from the places we went, it was totally worth all the driving to come back to a nice peaceful cozy and quiet place.
Sarah
2014-01-09T00:00:00Z
The place was great! Jerry and Chiu were really welcoming. Check-in was quick and easy. They had good in the fridge and snacks for us--really nice touch! The studio's decor was tasteful.
Richard
2014-07-07T00:00:00Z
The stay at Jerrys studio was really great. The studio is perfect for a short stay. You have everything you need and there are a lot of little details that make your stay more comfortable. The pool is great and you have a quiet stay on the top of a hill. Thanks, Sandra & Fabian
Fabian
2015-06-13T00:00:00Z
Our stay at Jerry Hannan's was incredible! The house was immaculate and we felt right at home. Jerry left us a nice welcome letter along with some refreshments that were welcomed after our long trip. The area was nice and the view amazing. Even though we were were staying in a part of his home he was very respectful of our privacy. The area is very convenient to highways and I would recommend staying there to anyone looking for a great spot in LA!
robert
2015-03-14T00:00:00Z
Great host, had everything we needed for our whole stay! We arrived late at night and Jerry welcomed us in and took time to show us the ropes! Also Jerry had got coffee, milk, bread for us to have something for the morning! The place is clean and really really nice! Everything you could want, and the view is amazing such a great place and when we are back in the US we will stay here :) thank you so much Jerry
Kyle
2014-11-22T00:00:00Z
This was our second stay with Jerry. It felt a bit like coming home. Would stay there anytime we are back in the area. Thanks Jerry.
Beni
2016-05-03T00:00:00Z
Тип размещения
Дом/квартира целиком
---
Тип жилья
Квартира
---
Вмещает гостей
2
---
Спален
Лос-Анджелес, Калифорния, США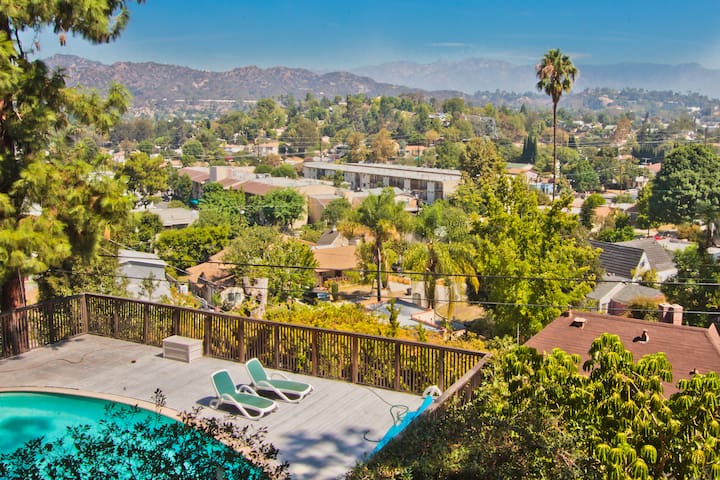 3 blocks from Highland Park's most popular shops, eateries and bars, The Crow's Nest is a studio cabin situated in a private backyard with a large deck, offering a 240º view of rolling hills and the San Gabriel mountains - a cozy and bright getaway.
This cute little urban cabin has everything you need to make your stay in HLP memorable! - kitchenette with mini-fridge, microwave, toaster oven, 2 burner hot plate - bathroom with compact sized shower (30" wide x 27" depth) - comfortable bed with quality linens - futon couch - wifi -space heater and portable AC unit - vintage record player - french doors leading to large deck, perfect for your morning coffee or evening cocktail - 3 minute walk (3 blocks) to the cafes, bars, and shops on York Blvd - close access to freeways and metro station (1.3 miles) makes it easy to access the greater Los Angeles area
Local places on York Blvd that we love (all super short walks) Coffee: Cafe de Leche, Highland Cafe Drinks: The York, Johnny's, Block Party, The Hermosillo, Sonny's Hideaway Breakfast / Lunch: Highland Cafe, The York, Belle's Bagels (takeout only), Kitchen Mouse Dinner: Town Pizza, Sonny's Hideaway, Ramen of York, El Arco Iris, Dessert: Donut Friend, Scoops (ice cream) Cheap Eats: U-Pick Cafe, El Huarache Azteca, Charlie's Taco Truck
Amazing place! Highland park is such a cool area! We loved out stay here, everything was perfect, and super considered!!! Highly recommended! Gorgeous spot!
Katie
2016-04-30T00:00:00Z
One of the best airbnb experiences we've had so far. Quick response, extremely helpful, and the crow's nest was even better in person. Everything had a personal touch and seemed to have been newly built/renovated. Bed was super comfy and the AC (aka R2D2) kept us cool during the 100 degree weather that day. The neighborhood is a gem and location is close to a handful of cafes & shops to stumble into. Thank you, Lisa & Aaron for your amazing hospitality. We would definitely stay here again.
Jamie
2015-10-12T00:00:00Z
Séjour extraordinaire dans un logement extraordinaire. Rien a redire, hâte d'y retourner.
Steven
2016-09-07T00:00:00Z
Wonderful, cozy little room thoughtfully filled everything you need as a traveller -- pots, pans, kitchen stove, record player with records, counter space, a tiny ironing board, etc. Great hosts. Fantastic view of the mountains right outside of the window. We loved this little space. Great food options right around the corner.
Wheeler
2016-04-06T00:00:00Z
Lisa & Aaron we're great hosts & very welcoming. The Crow's Nest was a great place to stay. Well equipped, very clean & the outdoor deck provided commanding views over the surrounding area, a really nice place to relax after a busy day. We would 100% recommend to anyone, and would love to stay at the Crow's Nest next time we're in LA.
Matt
2016-02-13T00:00:00Z
We loved everything about staying in this beautiful oasis. The views, the coziness, the people. Everything was wonderful.
Katherine
2017-02-18T00:00:00Z
It is the most beautiful place in LA :) seriously, you shouldn't go anyway more, if you have a big bed, a beautiful backyard and some set of food :) It was a clean, comfortable and lovely place. Thank you!
Dmitry
2016-06-11T00:00:00Z
Aaron and Lisa were very nice and accommodating. My wife and I had a wonderful time and would definitely stay there again in the future.
Peter
2016-08-15T00:00:00Z
Тип размещения
Дом/квартира целиком
---
Тип жилья
Бунгало
---
Вмещает гостей
2
---
Спален
Лос-Анджелес, Калифорния, США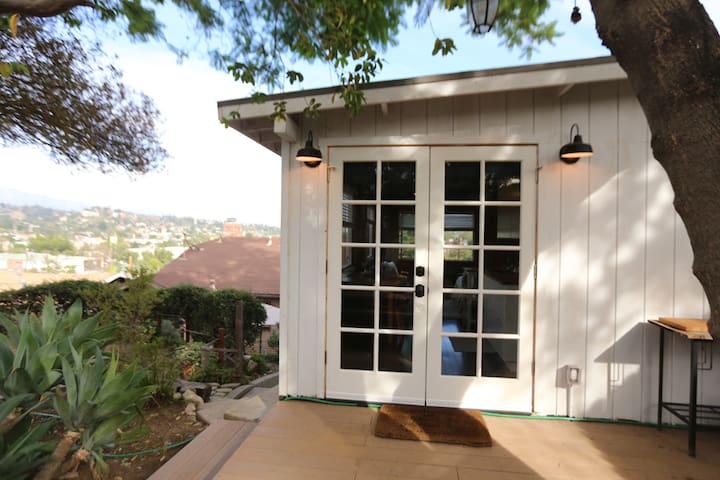 Private room with a queen-size bed, as well as a private bath with a walk-in steam room shower! Views galore from the bedroom, the balcony and pool deck... and in the warmer months, the pool! Watch both the sunrise and the sunset! Share the media room/library and kitchen with the owners. This is a very quiet and peaceful hillside home in the conveniently located area of Eagle Rock... minutes to Pasadena, Glendale, Silverlake and downtown LA. We also have a separate guest-studio... "Beautiful views in Los Angeles" on the bottom level of our home... listed here in Airbnb.
Terrific experience! Cool house. Cool room. Col neighborhood. But the coolest of all were Jerry and Chue. If travel brings me back to LA, I hope they have an opening for me!
Michael
2017-04-02T00:00:00Z
We enjoyed our time at Jerry and Chiu's place. View is magnificent, easy parking, super comfortable bed and fantastic steam shower. Would recommend this place for peace and quiet!
Suzanne
2017-01-24T00:00:00Z
The room was wonderful- great decor and private enough. A marvel of a steam shower! Loved chatting and connecting with Jerry and Chiu. They were very welcoming. The view is really great as well- lots of light. And thanks for the use of the super blender with all the fixings! Not every day I get to try out a Vita-Mix. I will come back to the Eagles nest in Eagle Rock!
Holly
2013-04-22T00:00:00Z
It was such a great time to stay in Jerry's house. We stayed there for three days in the end of our Route 66 travel from Chicago to L.A. Jerry's house is full of Joy and peace. He shared his music, books, kitchen with us, a big plus is he shared his story with us which gave us big insight for our new year resolution for 2014. I would definitely stay with Jerry in the future if I could go to L.A.
Yan
2013-12-30T00:00:00Z
Nice place!The view is great. Jerry and Chui are very helpful. When we check in they are not in home,but Jerry gave us very clear self check in directions. And the other day we met them Jerry gave us some advises to explore LA. Chui nicely gave us a reminder about our car parking in order not to get a fine. It was nice to stay with them,thanks for your flexibility. Wish next time we can stay at your home again.
Susie
2016-02-16T00:00:00Z
Exactly as expected. Great hosts, they had everything we needed, and were accessible and welcoming. A beautiful home, peaceful location, and if we are in town again would definitely love to return. Thanks!
Irene
2014-05-29T00:00:00Z
Jerry is so nice. When I arrived at his home very late, he still told me everything carefully. The swimming pool, the view of veranda and the room is so so so beautiful. I love all the paintings in his house.
Yu
2016-09-06T00:00:00Z
Everything is great, I strongly recommend you to feel it. Trust me, you will not be regret. The house is very clean and comfortable, and locate on a small hill, so it is quiet in the night, and you will have a great view in the morning. Jerry and Chill are very nice too, the information they gave is very useful and specific. Hope to see you again.
Andy
2016-10-04T00:00:00Z
Тип размещения
Отдельная комната
---
Тип жилья
Дом
---
Вмещает гостей
2
---
Спален
Лос-Анджелес, Калифорния, США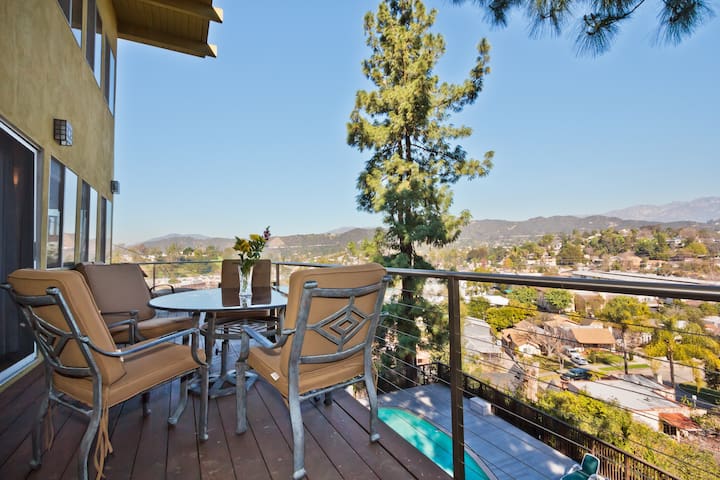 Gorgeous studio guest house with kitchen and full bath right on top of Mt Washington. Near super cool Highland Park + Eagle Rock, the guest house comes with exceptional views, light and an amazing sunrise all to yourself!
Gorgeous studio guest house with kitchen and bath right on top of Mt Washington. Near super cool Highland Park + Eagle Rock, the guest house comes with exceptional views, light and an amazing sunrise all to yourself! Right atop of Mt Washington (close to downtown Los Angeles) sits this comfortable and secluded guest house. With views of the Angeles National Forest, Pasadena, and Alhambra, the house is front row to great sunrises and lots late day light. The guest house has a full kitchen, bathroom, eating area, and both an indoor and outdoor living space. It is also behind a privacy fence. The house has a very cozy full bed, which accommodates two people comfortably, and a large walk in closet/dressing room. Keep the curtains open to enjoy the view, or close them for a little more privacy. The guest house is very close to Highland Park, with cafes, architecture & design shops, book stores & restaurants. It's also close to Silver Lake, Glendale, Hollywood, Pasadena, & downtown LA. The train at the bottom of this hill can take you in minutes to MOCA, Disney Hall, China Town, & Little Tokyo. Along with the guest house, you have access to the yard, which is shared with the main house, as well as the main house's deck, with a picnic table for evening dinners or conversation. Street parking is available right in front of the property, meaning you only have to walk a few steps from your car to the guest house. We are very happy to have visitors at our guest house, and will treat you like a friend. We will welcome you when you arrive, and show you around, then we are always available to answer questions, or respond to problems, concerns. We have been known to become friendly with long term visitors, and may now and again extend an invitation to dinner on the deck, or a movie viewing in the main (website hidden) Washington is a gem of a neighborhood right in the city of Los Angeles, in fact, many consider it a retreat from the city below. Historically, it has been a haven for artists and creative types. The architecture of the houses in the neighborhood is unique (no house looks like any other!), with many mid-century and contemporary gems tucked into the hillside. Multiple recreation areas - great for walks and hikes - are within walking distance. They include Moon Canyon, Elyria Canyon Park, and the Carlin G. Smith Recreation (website hidden) Washington is also within a 10-15 minute drive to other exciting Los Angeles neighborhoods, including - Eagle Rock, Highland Park, Silver Lake and Los Feliz. If you don't have a car, there is easy access to Los Angeles and Pasadena at the bottom of Mt Washington, which is about a ten minute walk. The Gold Line stops on Marmion Way and Museum Dr. and can take you downtown, to Union Station, from which you can travel anywhere in the city (or the state, as Amtrak also departs from there) or, take it in the other direction to Pasadena. Grocery stores are easy to access as well, from Superior on Figueroa to Fresh and Easy on the other side of the mountain, on Eagle Rock Blvd. California is in a serious drought, we ask that guests are extremely conscious of their water usage during their visit. Street parking is available for guests with cars. As with many hillside communities in Southern California, the roads on Mt Washington as narrow and winding. We mention this as guests from out of town are often not accustomed to hillside driving. Once reservations are made, you will be given a suggestion on how to get to the guest house on a wider, more accommodating roads.
Mt Washington is a gem of a neighborhood right in the city of Los Angeles, in fact, many consider it a retreat from the city below. Historically, it has been a haven for artists and creative types. The architecture of the houses in the neighborhood is unique (no house looks like any other!), with many mid-century and contemporary gems tucked into the hillside. Multiple recreation areas - great for walks and hikes - are within walking distance. They include Moon Canyon, Elyria Canyon Park, and the Carlin G. Smith Recreation (website hidden) Washington is also within a 10-15 minute drive to other exciting Los Angeles neighborhoods, including - Eagle Rock, Highland Park, Silver Lake and Los Feliz.
What wasn't great about Lorena's Mountain getaway? The place was a simple, clean and comfy space for my wife and I to enjoy while we explored LA. It was the perfect getaway from the city, yet still close enough to get to almost everything within minutes. We HIGHLY recommend this place, you'll definitely love it.
Gregory
2015-05-19T00:00:00Z
Our second time at Lorena and Peter's guest house -- easily our favourite place to stay in the L.A. area. Wonderful quiet spot to relax with all amenities and lovely views, but also with quick and easy access from the bottom of the hill to many neighbourhoods and the wider L.A. basin. Highly recommended!
Matthew
2016-09-03T00:00:00Z
We had a lovely stay at Lorena's guest house atop Mt. Washington. Such a tranquil spot with beautiful views and sunrise, yet amazingly only 10 mins to DTLA and Pasadena via the Gold Line Metro stop at the bottom of the hill! Some great places also locally down in Highland Park. The guest house had everything we needed, including a very comfortable bed, and Lorena is an excellent host.
Matthew
2014-08-31T00:00:00Z
Very nice and clean guesthouse - exactly as described.
Maria
2015-07-26T00:00:00Z
Have very good experience in there and I like the cute cat !
Zhiying
2015-11-27T00:00:00Z
Lorena has made us feel very welcome both times we have stayed here. This time she even allowed us to drop our bags early, since the apartment was already prepared. We appreciated this so much. She always responds to communication quickly. Both groups we met from the main house were friendly. This is a pretty little spot to enjoy the view and the hummingbirds from the balcony.
Sheryl
2016-08-14T00:00:00Z
The guest house is a perfect place to visit Los Angeles, if you have a car It's very clean, confortable and lovely for a couple We didn't meet Lorena, but we exchange emails and she was very helpful
Audrey
2014-07-09T00:00:00Z
Lorena is a great host - quick to respond & welcoming upon check-in. The space is AMAZING: clean, wonderfully decorated & a sliding door that opens onto a deck overlooking the mountain. I would highly recommend this place. It's definitely somewhere I will be booking anytime I come back to LA!
Ivy
2015-02-04T00:00:00Z
Тип размещения
Дом/квартира целиком
---
Тип жилья
Дом
---
Вмещает гостей
2
---
Спален
Лос-Анджелес, Калифорния, США
Ad under construction... location 2 miles south of Old Town Pasadena...
Тип размещения
Дом/квартира целиком
---
Тип жилья
Квартира
---
Вмещает гостей
6
---
Спален
Южная Пасадена, Калифорния, США
Very light and open! Near everything! Comfortable one-level living. 7 day minimum stay. Best for 2-3 adults plus 1-2 kids. (The bunk bed is a kid size although mattresses are twins. The head clearance is lower than a standard size bunk bed so not suitable for adults). For adults there is one king size bed in own bedroom and a couch in the living room. Stay 10 days or more and get 10% discount.
Тип размещения
Дом/квартира целиком
---
Тип жилья
Дом
---
Вмещает гостей
5
---
Спален
Южная Пасадена, Калифорния, США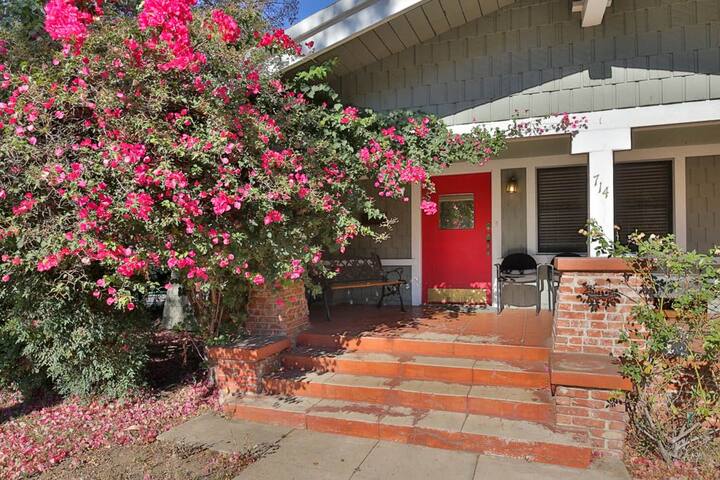 940 square foot home located at the end of a quiet cul-de-sac. There are 2 bedrooms; the master suite with a queen sized bed, the second bedroom hosts 2 twin beds.
******* Please note: I charge a $100 cleaning fee due upon arrival. Cash only please. ******* 1925 quaint 940 square foot cottage located at the end of a quiet cul-de-sac in the quiet town of South Pasadena, CA. This 940 square foot home is located at the end of a quiet cul-de-sac. There are 2 bedrooms; the master suite with a queen sized bed, offers a patio door that opens into the back yard. The second bedroom hosts 2 twin beds. The house has 1 full bath with a shower/bathtub combination and a 1/2 bath (toilet and sink) laundry room. The back yard gets full day sun, has a covered patio (attached to the garage) - perfect for afternoon lunches or evening dinners outside. Available on weekends and during holiday periods. The property comes with one parking spot and has street parking available. Cleaning lady available if desired. The house is located in very CLOSE proximity to several neighbors. Noise level MUST be kept low after 8:00 pm. Absolutely NO parties or smoking are permitted on the premises. There is a shared driveway on the property that leads to the parking spot and back of the house. Absolutely NO parking or stopping is permitted in the shared driveway. Please be respectful of the neighbors. ******* Please note: I charge a $100 cleaning fee due upon arrival. Cash only please. ******* Amenities include: * Kitchen, * small outdoor barbecue, * free wifi, * two adult bicycles (mountain bicycles) * Down comforters for all beds A light breakfast and coffee will be provided upon arrival as well as a few "basics" for dinner if you are arriving close to the dinner hour. I am available to help in any way. If you would like information about how to get around on the metro, ideas for places to see, where to get some "retail therapy", etc. I have a twin who lives 5 minutes away and she is also very friendly and helpful! :) South Pasadena is a small town with fun boutique-style restaurants. Many are located on Mission Street and Fair Oaks Boulevard. Some of my favorites include; Mike and Ann's Restaurant – ((URL HIDDEN) Crossings Restaurant (cross(URL HIDDEN) and The Raymond Restaurant ((URL HIDDEN) If you are wanting to explore the area, downtown Los Angeles is a 15 minute drive on the 110 freeway while Old Town Pasadena is an 8 minute drive north on Fair Oaks Boulevard. Check out "Where to Eat in downtown LA" at: (URL HIDDEN) and "Where to Eat in Pasadena" at (URL HIDDEN) My favorite coffee spots in the area include; Intelligensia Coffee, Jones Coffee, Amara Chocolate and Coffee, Copa Vida (all in Old Town Pasadena), Lincoln (excellent breakfast/coffee spot in North Pasadena) and the Little Flower Candy Co. in West Pasadena. South Pasadena offers boutique style shopping on Mission Street. Some of the shops include MARZ (gifts and unusual, original offerings), Camille DePedrini and Rue de Mimo (woman's clothing stores), The Dinosaur Farm (kids toy store), The Jewelry Heist (where children can design their own jewelry). Old Town Pasadena provides fun shopping with chain stores including J Crew, Anthropology, Therapy, The GAP, Zara, Banana Republic and more. For an outdoor mall experience, check out the Americana at Brand ((URL HIDDEN) in Glendale, CA (about a 15 minute drive heading west of Old Town Pasadena). The Norton Simon collections include: European paintings, sculptures, and tapestries; Asian sculptures, paintings, and woodblock prints; and sculpture gardens displaying many sculptors' work in a landscape setting around a large pond. The museum contains the Norton Simon Theater which shows film programs daily, and hosts lectures, symposia, and dance and musical performances year-round. The museum is located along the route of the Tournament of Roses's Rose Parade, where its distinctive, brown tile-exterior can be seen in the background on TV. As well, check out the Gamble House located in West Pasadena. The Gamble House in Pasadena, California, is an outstanding example of American Arts and Crafts style architecture. The house and furnishings were designed by architects Charles and Henry Greene in 1908 for David and Mary Gamble of the Procter & Gamble Company. The house, designated a National Historic Landmark in 1978, is owned by the City of Pasadena and operated by the University of Southern California. (URL HIDDEN) Garfield Park is a 2 minute walk from the house and is a perfect park for a stroll or to let the kids play. This park has a large playground, a not so crowded tennis court, plenty of large trees with good shade, and a few paved sidewalks for a nice stroll on bikes or on foot. For day trips, check out: (URL HIDDEN) This cute English style house is centrally located in the town of South Pasadena - known for its Oak trees. Near the 110 freeway, this house is located just a 15 minute drive to downtown Los Angeles, 5 minutes to Old Town Pasadena and 10 minutes to the Rosebowl. Disneyland is a 45 minute drive to the south and Hollywood a 20 minute drive northwest. The house is located about a 15 minute walk to the Mission Station of the metro "Gold Line". There is also a City bus on Fair Oaks Blvd. (approx. 10 minute walk) that will take you into the heart of Old Town Pasadena (10 minute ride).
The house is absolutely perfect for our little family! It is definitely prettier than in the pictures. It has everything we need! The whole house has been remodeled and beautifully decorated! The back yard and patio is gorgeous! We enjoyed our stay very much. Karen even prepared milk, eggs, and waffles in the fridge for us. She was there to greet us and show us around when we first arrived. She's very friendly and gave us a lot of great restaurant recommendations. We tried one of the restaurants and fell in love with it. The house is in a very safe and quiet neighborhood but not far from the freeway. It was really easy to get around Los Angeles. We visited downtown, hollywood, venice beach, santa monica, and old pasadena. The house is in a good location. We are definitely coming back to Karen's house next time we visit LA again.
Ka Man
2016-07-05T00:00:00Z
This is a great place- convenient to town, clean, spacious and comfortable for anyone! I would highly recommend staying here
Lolita
2016-08-03T00:00:00Z
We loved staying at this cottage! Karen's home has lots of charm and character. This cottage is the perfect place to call "home" away from home. It is very clean and is exactly, if not better, than pictured. The kitchen is well equipped and the rest of the house has all the amenities you would need throughout your stay. The beds are super comfortable and cozy. Karen was a wonderful host to me and my family. She was always very responsive and literally thought of everything to make our stay comfortable. We loved all the features of this home and especially loved the spacious backyard. It has a very serene feel and we loved hanging out there to enjoy the warm California weather. The surrounding neighborhood has a quaint feel to it. The property is at the end of a non through way street and is very quiet. It is also conveniently located from freeway 110. There are lots of restaurants and shops nearby. We would definitely love to stay here again and would recommend this cottage to couples or families with children.
GEMMA
2016-02-23T00:00:00Z
We've stayed at this quaint cottage several times and absolutely love it. Can't wait to come again. Karen goes above and beyond the norm as a host and is always so responsive and courteous. The cul de sac provides a very quiet and peaceful environment in which to relax and the home has everything, and I mean everything!!!!! Thanks Karen!! We can't wait to visit again soon.
Douglas
2016-08-07T00:00:00Z
All we can say is WOW!!! Karen was amazing to work with and her home was more than we could have ever expected. When we arrived and began to unlock all the hidden treasures, we kept saying WOW, this is so awesome. The home is fully equipped with everything we needed. We were even pleasantly surprised to find so many things in the kitchen, incluing a nice waffle maker, a Ninja Blender and a Keurig coffee maker and so much more. Karen has thought about all the little details that make your stay extra special. The rooms are decorated simply and tastefuly, with dark wood flooring. Newly renovated bathrooms were wonderful. We really enjoyed the outide covered patio, eating dinner under the light strands in this very quiet neighborhood. It was delightful. The "barn room" is like a little honeymoon suite; it's even equipped with bathrobes for you. You will definitely feel like you are staying at a hign end village cottage. We have already booked to stay again in a few months.
Douglas
2016-04-05T00:00:00Z
Karen was a wonderful, warm, and welcoming host and her cottage was a great place for our family and friends to stay -- four adults total, plus two toddlers. She answered every question promptly, made lots of useful suggestions, helped get us a parking pass for our second car, and even stocked up the fridge with breakfast items. The house is cute, well-maintained with modern updates, and very clean. The kitchen is nicely stocked with pots, pans, dishes, flatware, etc for cooking meals (we cooked breakfast each day, and one simple dinner), and there was cozy, high-quality bedding and towels to match the simple, clean decor. The cottage is on a residential "cul-de-sac," lots of families/kids, but quiet at night. It's convenient to the highway, but positioned in such a way that we never once heard highway noise from the street or house. There is a nice playground in Garfield Park, a 10 minute walk away. The restaurants and shops are walkable, but a bit farther... we found it easier to drive over with the kiddos. Overall, we had a wonderful stay and appreciated everything Karen did to make us feel welcome. We would definitely love to stay here again!
Whitney
2016-05-03T00:00:00Z
We really enjoyed our stay at Karen's quaint cottage! Karen was a great host and made our stay very comfortable. Her place was clean and updated nicely (especially the bathroom/shower). There was a little electronic "charging station" that was a nice touch. She made sure we had everything we needed and responded quickly to any questions we had. There was one parking spot, but we had 2 cars, so she went and got us an extra parking pass for our 2nd car. We would definitely recommend staying at her place!
Chris
2016-02-27T00:00:00Z
I used Karen's place to house my family for graduation. Karen was the perfect host and checked in with us before and during our stay to make sure we had everything we needed. Her home was clean and comfortable and fully equipped. She even left us bottles of wine to celebrate. My family loved their stay!
Amy
2016-05-16T00:00:00Z
Тип размещения
Дом/квартира целиком
---
Тип жилья
Дом
---
Вмещает гостей
5
---
Спален
Южная Пасадена, Калифорния, США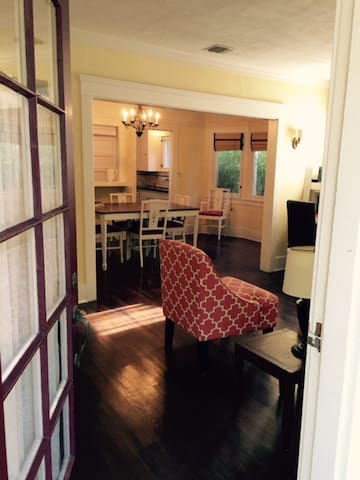 В комнате аккуратный и уютный, и есть также кухня. Вы можете иметь простой приготовления пищи во время вашего пребывания здесь. Кстати, нет кондиционера или обогревателя в нем, только вентилятор.
Наша вилла расположена в области выбора, красивой и безопасной. Отель находится всего в 24 минутах езды от центра Лос-Анджелеса и в 40 минутах езды от аэропорта LAX. Прогулка всего 5 минут, то вы можете получить центр досуга. очень удобно и комфортно. Хотя это общая комната, это комната отделена от нашей гостиной. У вас есть собственное пространство, потому что у него есть дверь. Просто нет блокировки. Я использую в качестве разделителя комнаты дверь. Очень аккуратный и уютный. Это достойно. :)
Comfortable stay.
Deja
2016-09-07T00:00:00Z
房東很親切,人很溫暖,房間很乾淨(跟照片一模一樣),生活基本所需齊全,房子地點位置良好,交通方便,下次仍選擇住這裡。
Yi-Cheng
2016-12-24T00:00:00Z
I loved it here! Close to everything! She accommodated me when I got here earlier than expected! And let me wait for my airport shuttle even tho it came later than expected! Clean room and spacious home! If I can I want to always stay here!
Kaye
2016-10-25T00:00:00Z
Grace was very friendly and nice! Thank you very much for your understanding! And We are really sorry for coming late
Nathalie
2016-09-05T00:00:00Z
Grace was very accommodating and friendly! She went out of her way to make sure we were wake come. Very clean home! We hope to stay again when we visit LA next time!
katy
2016-08-22T00:00:00Z
It was very nice and clean ther. I really enjoyed the nice and frendly atmosphere. For parking you share the entrance with other guests over night. The Wifi is very good and also the coffee ist great. Thank you very much!
david
2016-07-15T00:00:00Z
非常感谢GRACE姐的热情招待,独自出游旅途上出现很多预料不到的状况,姐姐给了我很多建议和帮助,分享了很多有用经验,感恩命运的安排让我俩相遇。姐姐的房子位于华人区temple city 洛城数一数二的高品质居住城市,环境舒适,空气清新,房间干净整洁,入住的房客也是高素质人士,(URL HIDDEN) the way给往后入住的亲们提示,附近有78和378巴士站到downtown都非常方便,吃饭购买也相当便捷,中餐洋快餐,超市一应俱全,血拼的话不用到downtown,在3公里外的亚凯迪亚shopping mall 够逛一天,PS:如没有驱车出行,建议大家可以到bus上买1day pass 全天票 7刀/天,可以全天无限次坐bus和metro。
Siming
2016-10-04T00:00:00Z
Grace was absolutely the best host! She really went out of her way for me at every turn. She was kind enough to accommodate my (very) late check in and early check out, and greeted me with a smile and a "welcome home!" Whenever I walked back in. Her place was comfy, clean, and beautiful. I would love to stay with Grace again! Thanks, Grace!!!
Johnny
2016-08-15T00:00:00Z
Тип размещения
Общая комната
---
Тип жилья
Вилла
---
Вмещает гостей
2
---
Спален
Темпл-Сити, Калифорния, США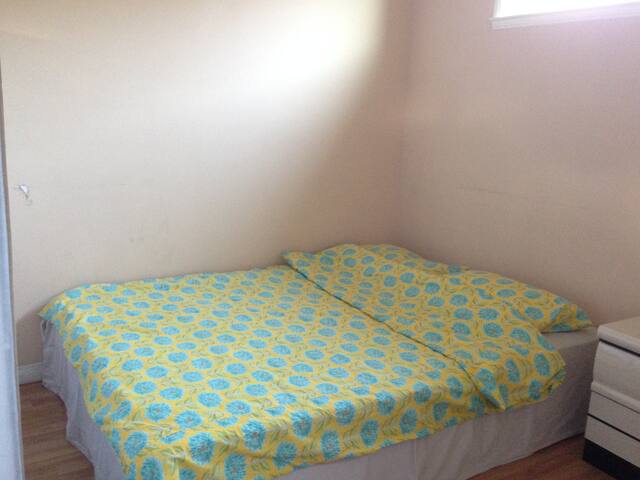 Best location in South Pasadena - across from the public library and a few blocks walk from the Metro Gold Line S. Pasadena Station that runs between Old Town Pasadena and Downtown LA. Great for families, business travelers and couples. A short walk away from amazing coffee shops like Kaldi's & Buster's, restaurants like Fiore Market Cafe & Nicole's Gourmet Foods, and supermarkets. Next to Fair Oaks Ave, it's a short drive to Old Town Pasadena and the 110 Freeway that leads to downtown LA.
This is a perfect condo! Beautiful decoration and very comfortable to stsy in. This condo has a convinient location, one minute to the city library,several minute to park. The hostness Win is a very nice girl, easy to conmunicate and caring about us very much! We definitly would like to stay here if we get a chance!
Miu
2017-03-25T00:00:00Z
Great condo with great location, very clean, Win is a very nice, kindly host. I will chose here again if I'm returning to LA.
Yiyang
2016-11-29T00:00:00Z
This was a great experience from beginning to end. Su is out of town so brother was available at any time for questions or help. As the condo had recently been remodeled, we ran into one or two minor issues that were fixed immediately. Everyone is friendly and responsive. The location is perfect. We are only a block away from Mission St. with restaurants and the train station but in a very quiet spot. Fantastic experience and highly recommended.
John
2016-08-31T00:00:00Z
My family and I stayed at this house for 1 month. We had a wonderful stay and highly recommend it. The home comes fully furnished with everything that you need, including a garage for parking cars. It's on a peaceful and quiet street, but is still very centrally located, close to coffee shops, cafes, library, etc... Justin met us personally to check us in and welcome us, and together with Su, was there to make sure any issues during our stay were taken care of. Thank you
shan
2016-08-04T00:00:00Z
Тип размещения
Дом/квартира целиком
---
Тип жилья
Кондоминиум
---
Вмещает гостей
6
---
Спален
Южная Пасадена, Калифорния, США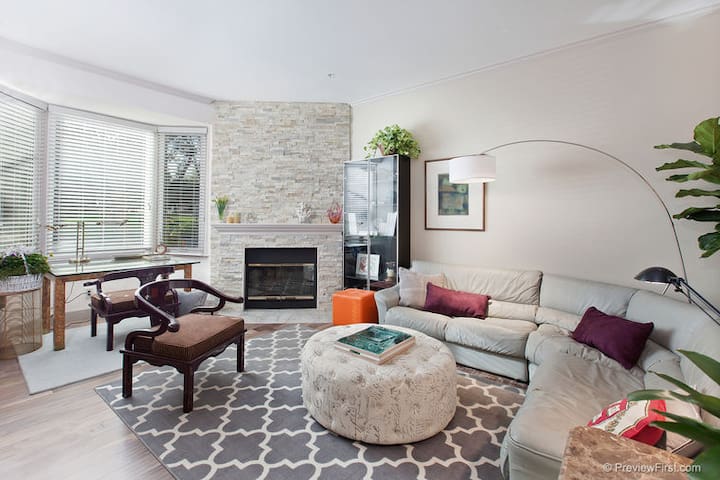 My place is close to Arlington Garden. My place is good for couples, solo adventurers, and business travelers.
Тип размещения
Отдельная комната
---
Тип жилья
Квартира
---
Вмещает гостей
4
---
Спален
Пасадена, Калифорния, США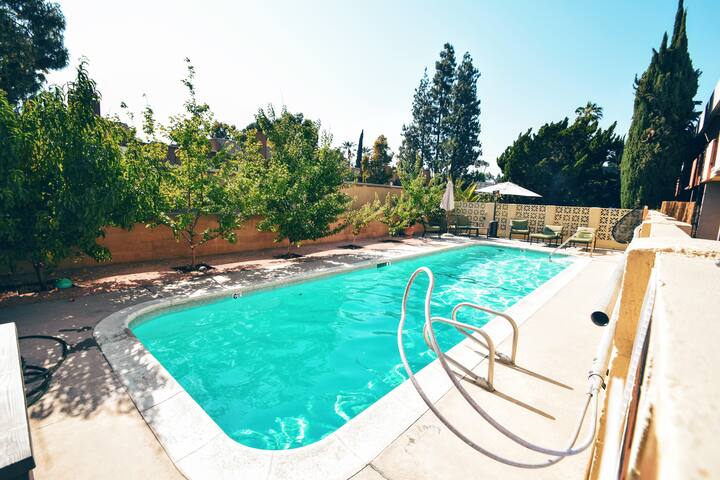 Comfortable and bright Spanish home with a large front patio with view! Amenities include wireless and a gorgeous full kitchen. LOCATION! LOCATION!LOCATION! Very close to Huntington Dr,3 mins walk to the metro line stop, only 2 mile to Costco Wholesale,Target,Walgreen Pharmacy,7-Eleven, supermarket. Minutes driving to South Pasadena, San Marino and Alhambra.12 mins drive to DTLA. 25 mins to Hollywood.35 mins to LAX. 27 mins to Universal Studio. 40mins to the beach. 40 mins to Disneyland.
1. Just few steps to Huntington dr. 2. walking distance to Costco, Target, food mart, Walgreen, etc. 3. Large front patio with mountain and city view! 4. we have 1 queen size bed(80"W x 60"D x 7"H) in master bedroom,)1queen size bed(80"W x 60"D x 7"H) in living room.
Peaceful, safety, and friendly neighborhood. Very close to everything you need.
Very spacious and well decorated place. Lots of stairs in case that's an issue. Excellent light.
Sera
2017-02-22T00:00:00Z
The apt locates in a quiet area have a nice (URL HIDDEN) sunny days,the apt will be full of sunshine which makes the apt warm and comfortable.
TING
2017-01-30T00:00:00Z
This is a beautiful airbnb I never had, really nice and comfortable. Hope I can visit and stay again Good house for a family and group. Happy new year:)
Vicki
2016-12-30T00:00:00Z
comfortable, modern and unique home :)
Chua
2016-12-19T00:00:00Z
Xibei is a very nice host with very rapid response, the house is perfect and exactly like pictures, everything you will need during your stay is there and the location is excellent
Abdallah
2017-02-10T00:00:00Z
The decoration is lovely and modern. You get to have the entire house to yourself. There are kitchen supplies so you can cook. However, the shower place can be bit dirty as we found short hairs on the floor. There's also hair on my pillow which made me worry. But overall, it's a good stay.
Qing
2017-01-07T00:00:00Z
We had an excellent stay in Xibei's place. The studio is extremely clean, nicely decorated and full of art senses. It has everything we needed. It is so close to the bus station which can take us directly to DTLA in just 20mins. Good for travelers without a car! Xibei is very nice and helpful, quick to respond to any question. If I come back I would definitely stay here again! Thank you Xibei!
fangting
2017-01-21T00:00:00Z
Hermoso lugar, muy confortable y equipado! Xibei es muy atenta y responde muy rápido.
Loraine
2017-01-14T00:00:00Z
Тип размещения
Дом/квартира целиком
---
Тип жилья
Дом
---
Вмещает гостей
4
---
Спален
Лос-Анджелес, Калифорния, США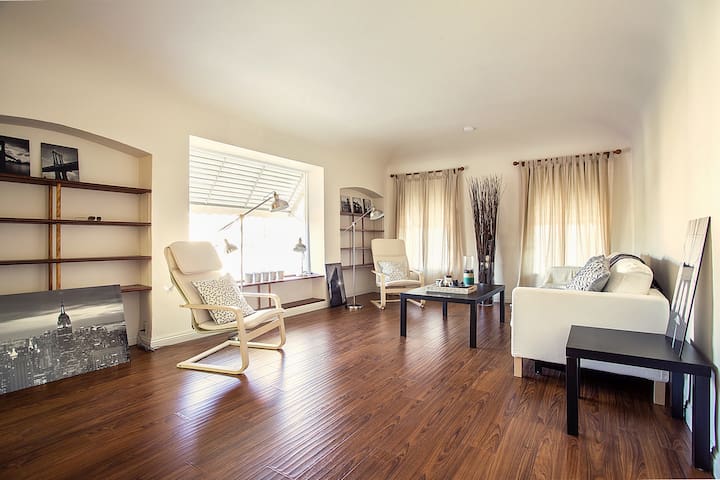 Our luxury apartment is very close the exciting Old Town (the heart of Pasadena that has all the restaurants, bars, shops, etc). There are several grocery-stores just a walk away. My roommate (Political Science student) and I (Software Engineer) both speak English, hablamos Español, & falamos portugues. We love to do things after work -- guests are more than welcome to come along (think open mic nights, comedy shows & other LA events). The beds are comfy air mattresses in our common room.
It has: * Air Mattress that fits two people * Fully stocked kitchen with oven, stove, microwave, etc. * Washer & Dryer * TV & WiFi * Marker boards galore! * A balcony with an amazing view! * Close walk to grocery stores, restaurants, train, the park, and everything else Pasadena has to offer! We are right in the heart of it.
The apartment is (literally) a stone's throw away from restaurants and bars. You are also super close to: * Coffee shops * Grocery Stores * Train (& other public transit) * Movie theaters * The Parks
Allen's place is perfect! Just what we needed for a night! His roommate was phenomenal. He recommended a great restaurant called La Grande Orange, good food. I'd definitely recommend Allen's place and stay their again.
Syreeta
2017-02-25T00:00:00Z
Allan was very friendly and nice host. He walked me through all details. Great place. Clean and nice location. We went for dinner together. he is patient, courteous, respectful, and fun loving host. Thank you Allan.
Bobby
2016-12-02T00:00:00Z
We had an absolutely amazing time in LA and this was the perfect place to stay! Great hosts, great hospitality, really friendly, funny and chill. Took us out and showed us a great time!! The place is right beside the railroad so take the train into LA, hollywood or wherever you're going. We learned it the hard way, stuck in traffic on our way into LA and also back to Pasadena. But the train is a cheap and much better option. We would really recommend staying at Allens place!
John
2017-03-23T00:00:00Z
Very nice hosts, good location!
Christina
2016-12-30T00:00:00Z
Nice host and house, good location, beautiful street.
Ryan
2017-01-09T00:00:00Z
Thank you Allen for these days!! We've had a great stay at your place. We will recommend your place for sure
Maria Belen
2017-02-05T00:00:00Z
The owner and his roommate are very friendly. They took care of us very nicely. We had fun conversation with them. Room is very clean. If you like to talk and have fun with Americans, this place is good for you!!!
Hitomi
2016-12-28T00:00:00Z
Allen was very friendly and a great host, and the space is very cozy and comfortable. The location of the place is also ideal for business travelers or if you just want to explore the town (Metro is right there). Would definitely stay here again next time I'm in town!
Niranjan
2017-01-21T00:00:00Z
Тип размещения
Общая комната
---
Тип жилья
Квартира
---
Вмещает гостей
4
---
Спален
Пасадена, Калифорния, США
This is a throwback to pre WWII American development, back when you could have an apartment above a pub, next to a trolley stop, in a walkable, Mayberry type small town, yet just a few train stops away from Downtown Los Angeles and Old Pasadena. There are three excellent coffee shops within 100 yards of the building, an Irish Pub, a Spanish Tapas Restaurant, Indian Food, Sushi and a Thursday night farmer's market. The building itself is charming, with 12 foot ceilings and hardwood floors. In the bedroom, I've installed a Murphy bed that folds up over a sofa.
The space is set up for comfortable living in the middle of an urban yet charming downtown neighborhood. The real charm is in the neighborhood and the proximity to the train.
This neighborhood is one of the best kept secrets in LA. In a city dominated by traffic, it is possible to walk or bike for all your needs in South Pas. There is a Trader Joe's down the street, countless restaurants and the farmers market on the same block, with Downtown LA and Old Pasadena just a few metro stops away.
Тип размещения
Дом/квартира целиком
---
Тип жилья
Квартира
---
Вмещает гостей
2
---
Спален
Южная Пасадена, Калифорния, США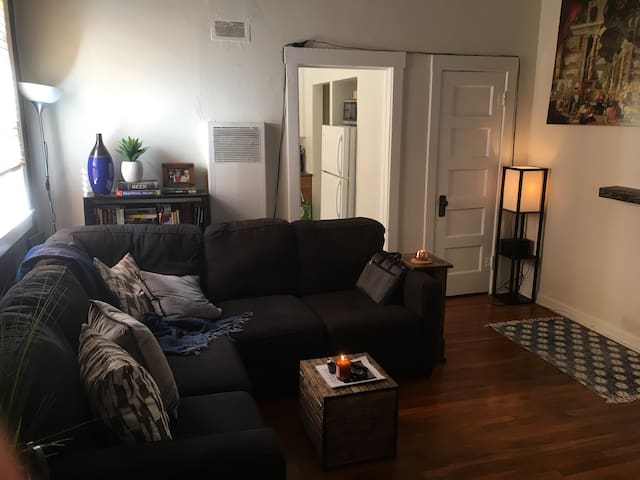 Furnished apartment with 1 queen-size bed and one single bed, free wifi. You can use the kitchen, stove and fridge, snacks included. Covered parking and laundry facility. Amazing, peaceful , neighborhood. Very cozy apartment. Walking distant to markets, Metro and restaurants. 15 min to Downtown L.A, and 5 min to the Rose Bowl. 10 blocks to the Famous Rose Parade in Pasadena.
Relaxing,clean, cozy apartment.
Restaurants, shops, and close to Metro station.
She made me feel welcome and showed me where everything was located and left me to total privacy. She even provided a safe place for my sports car that was covered.
Shawn
2016-12-05T00:00:00Z
Violet's place is such a cozy place in a really great location! Just minutes from town where you can find many great restaurants and shops. Her place is spacious and clean and she brings much more than hospitality! We loved her and her place.
Chelsea
2017-02-20T00:00:00Z
This is a great location. Peace and quiet, yet Trader Joe's and some cute shops and a farmer's market are within walking distance. The apartment is very clean and comfortable.
Arlene
2017-01-20T00:00:00Z
非常好的住宿体验,干净整洁的房间,设施齐全。社区很好,邻居很友善。房主也非常好,沟通及时细致。
FEILONG
2017-02-08T00:00:00Z
Violet's place was very nice! She was very accommodating and with flexible check-in and check-out. Location is close to the city and in a very nice, convenient area. Great value also, would definitely recommend!
Nick
2016-11-27T00:00:00Z
Violet is a really friendly host and her place is probably the cleanest my wife and I have stayed in so far. We really enjoyed our stay and would recommend her place to anyone.
Takuma
2016-12-30T00:00:00Z
This was a great and comforatable stay! The location is only a few minutes walk from some great restaurants! Pasedina is a neat area close the LA city!
Francisco
2016-11-20T00:00:00Z
It is wonderful to feel welcome in a home even before getting there and that is how Violet let me feel. She was attentive to my schedule and arrival, she drove with me to the parking space to find it and she had a sign up on the door welcoming me. The room is as cozy as she described, she offers snacks too. Very happy and surely will return.
Iliana
2017-02-01T00:00:00Z
Тип размещения
Дом/квартира целиком
---
Тип жилья
Квартира
---
Вмещает гостей
2
---
Спален
Южная Пасадена, Калифорния, США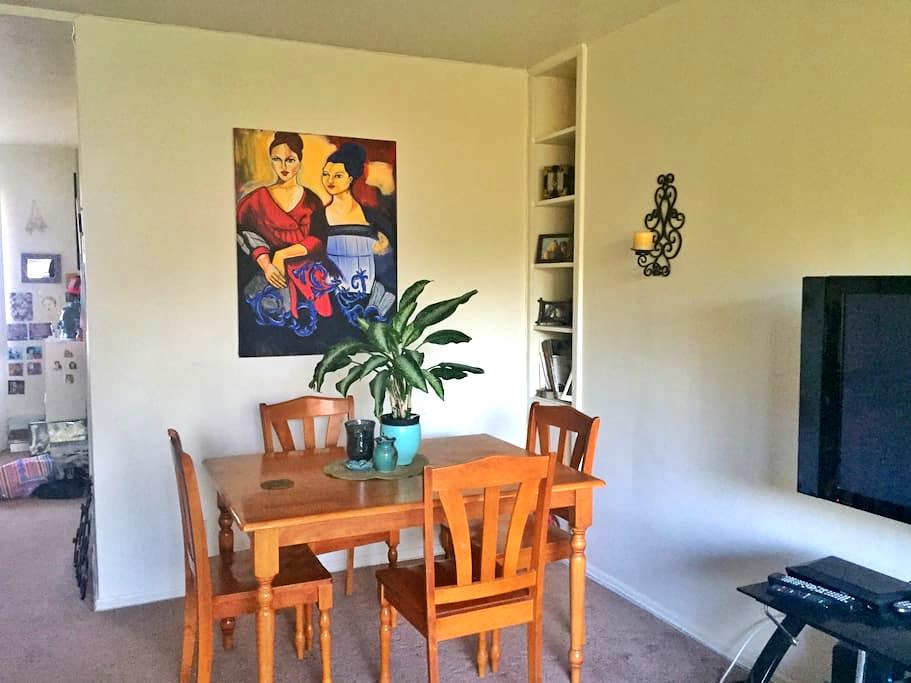 Полная конфиденциальность! Это независимая студия в задней части дом для одной семьи - прилагается к дому. У Вас есть свой собственный вход - мы не передаем общей площади. В центре South Pasadena - нескольких минутах ходьбы от всего!
Ваш собственный отдельный вход, ванная комната с душем. Нет ванна. - Двуспальная кровать. Кровать является твердой и удобные, отлично подходит для вашей спины! - В соответствии с предложениями от некоторых гостей, мы просто добавили новый 3 "пены памяти наматрасник - добавить мягкость к кровати! - Телевизор с плоским экраном с основными каналами. только Wi-Fi - - Интернет - С видом на юг и восток - Тонны Солнца - Размер номера 19 'X 8,5' - Есть несколько шагов по лестнице к двери - NO кухня в этой комнате. Тем не менее, у вас есть небольшой холодильник, микроволновая печь, тостер, кофеварка и в вашем распоряжении. - НЕТ Кондиционер в этом номере. Мы предоставляем совершенно новый вентилятор башни и подогреватель космоса башни. - Парковка включена в стоимость. Я обеспечу на ночь разрешение на парковку улицы. Это ежегодное разрешение на. Пожалуйста, не забудьте оставить разрешение в комнате, когда вы извлекаете. Забудьте, чтобы вернуть разрешение на парковку приведет к $ 200 штрафа. - НЕТ OVERNIGHT STREET ПАРКИНГ БЕЗ РАЗРЕШЕНИЯ НА ЮЖНОМ Пасадене. ГОСТИ ПОЖАЛУЙСТА, ОБЯЗАТЕЛЬНО УСТАНОВИТЕ СТОЯНКА РАЗРЕШЕНИЯ на приборной доске! Вы получите билет, если парк на УЛИЦЕ НОЧЬ БЕЗ РАЗРЕШЕНИЯ.
South Pasadena гордится он отлично отличается школьный округ. Он находится недалеко от многих достопримечательностей мирового класса, таких как Старый город Пасадена, Rose Bowl Cal Tech, Парад Роз, Центр искусств, Джеки Робинсон отрочестве House, Музей Нортона Саймона Jackie Robinson Memorial Field, и т.д. Большинство домов в Южной Пасадене имеют свой первоначальный характер и мы в самом центре, где есть множество ресторанов, баров и паб, студия йоги, кафе, почта, библиотека, старший центр, общественный центр, Южный Pasadena фермерском Рынок, станция метро Миссия станция Goldline, продуктовые магазины и многое другое. Во время праздников это идеальное место для семьи, чтобы остаться во время посещения своих близких. Соседство переломе века и была использована для съемки многих телевизионных шоу, фильмов и рекламных роликов. Наш город был назван "Мейберри и в любом месте США или Голливуда другой назад много" многие из-за старых домах и чувство города и промышленности постоянно съемки.
This place looks just like the pictures, very comfy. You won't regret it. It's in the heart of everything lost of restaurants within a 2 mil radius.
Jonathan
2017-02-12T00:00:00Z
It was a last minute booking and glad I found Sydney's place. It was self checkin so it was really convenient for me as I had no set schedule for this trip. The room is small but cozy like what others said. There was no kitchen but it had oven, microwave, and a fridge which was more than enough for me. The only thing for other travellers is that the room can get really bright the in morning so if you are sensitive to lights and wake up easily due to brightness, you might want to consider bringing an eye mask. I wish there was a water kettle so I could make some hot water (coffee makers always have this funny coffee taste ..). There was no tissue box so I could only use toilet paper. Other than that it was a great place and would come back. Good for 1-2 people if you don't mind a small studio to share.
Ru
2017-03-09T00:00:00Z
Our experience was very good. Great location, close to old town and to local shops, and a very clean space. Sydney was a very responsive and caring host. We had a bit of an issue with the toilet but it was worked out with no problem.
Ryan
2017-03-21T00:00:00Z
Close to public transport and food places. Convenient, efficient, nothing luxurious, but adequate.
Nelleke
2017-02-21T00:00:00Z
This Airbnb is in a convenient location to walk to many of South Pasadena's restaurants and shops. The neighborhood is cute and quiet. I booked it for my parents when they came to visit and they enjoyed it far more than the hotel they stayed in last time.
Jessica
2017-04-02T00:00:00Z
Sydney was a good host and communicator. She made sure the place was clean and offered clean sheets and towels after the first week. I felt safe situated between two families.
Cathleen
2017-02-02T00:00:00Z
Small, but close to shops, restaurants.
Gerald
2017-01-20T00:00:00Z
Sydney's place is exactly as described. good for anyone that needs a room for a night or two.
david
2017-03-26T00:00:00Z
Тип размещения
Дом/квартира целиком
---
Тип жилья
Дом
---
Вмещает гостей
2
---
Спален
Южная Пасадена, Калифорния, США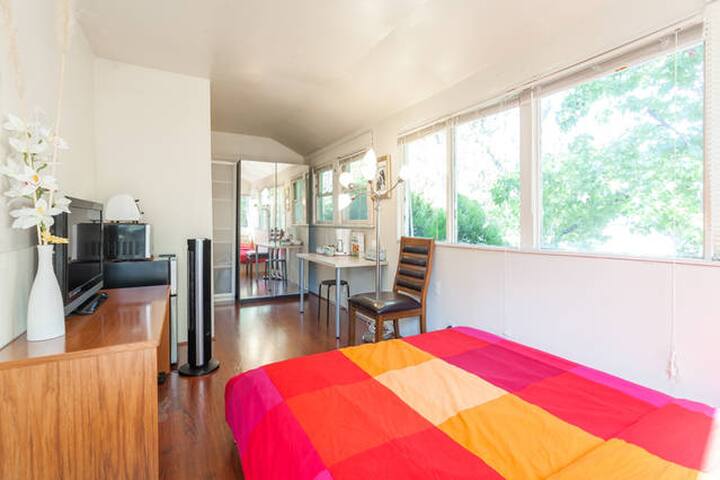 Частный дом на дереве в стиле дома Середина века. Расположенный на склоне холма Южной Пасадене с прекрасным видом. В нескольких минутах ходьбы от станции метро местных магазинов & ресторанов. Недалеко от центра города Лос-Анджелес и очень доступным для окружающих районов. Примечание: ночной минимум 2.
Включает в себя: Гостиная с диван-кроватью, спальни и ванной. небольшой холодильник, микроволновая печь и кофеварка. интернет, кабельное телевидение, Расположение: небольшой уютный комплекс с хорошими магазинами и ресторанами. 3 минуты до станции метро. удобный доступ к автострадам.
South Pasadena является очень мила сообщество с хорошими магазинами & ресторанами. Она имеет очень близко вяжут небольшого города Вибе в отличие от любого другого города Лос-Анджелеса.
Debra made my first Airbnb.com experience flawless! We kept in touch as to check-in and details. A beautiful view in the hills and plenty of room for two. Was perfect for my reunion trip. Small fridge, microwave and amenities were exactly what we needed. Though it had a shared entrance it was private so we didn't disturb her nor did we hear them in the house on the other side. Fantastic sums it up!
Patricia
2016-08-01T00:00:00Z
Everything was absolutely perfect! Debra was an incredible host. Cannot wait to stay here again!
Lyndon
2016-09-18T00:00:00Z
Debra's tree house is way way better than any hotel I've been in. She is super helpful and kind. Best place in South Pasadena hands down.
Ricardo
2016-09-04T00:00:00Z
I will chose this house again
zhu
2017-01-14T00:00:00Z
Es un lugar tranquilo y agradable. Un poco chico. Tiene un sofa cama y una cama. Cuando se desplega ocupa todo el espacio. Llevar un jabón solido si es que no te conformas con el líquido que te deja Debra.
Francisco
2017-01-27T00:00:00Z
Hello all, I REALLY enjoyed my short stay at Debra's tree house. My only regret....I WISH I COULD'VE STAYED LONGER!! :) I once lived in South Pasadena, so I'm very familiar with the greater LA landscape. Debra's place was just that for me...a return home. The neighborhood is quite, peaceful, and very charming. It sits up on a huge hill overlooking a great view and it was exactly like her listing described. Debra's a down to earth gal, who's very easy to communicate with, and made my visit extremely employable. I look forward to my next stay-cation!!
Tiger
2017-02-19T00:00:00Z
Wir haben das erste Mal Airbnb genutzt und sind direkt begeistert. Das Baumhaus war der perfekte Zufluchtsort nach dem LA Verkehr und all den Eindrücken, die wir jeden Tag hatten. South Pasadena ist nah an Downtown und ein sehr schöner Stadtteil, eine komplett andere Welt. Die Unterkunft war sehr sauber, gemütlich und hatte eine atemberaubende Aussicht. Debra ist eine großartige Gastgeberin gewesen und wir haben uns sofort willkommen und wohl gefühlt. Der Check-In/-Out war entspannt und einfach. Wir werden auf jeden Fall zurückkommen und empfehlen es weiter!
Kristina
2016-07-04T00:00:00Z
This was my first Airbnb experience so I didn't know quite what to expect. But Debra's "treehouse" (three rooms above her garage including a bathroom, bedroom and living room, all entered via a private staircase in her foyer) were neat and homey. I had a long, tiring week working in SoCal so it was great to kick back on the sofa with a cup of hot tea (which she provides) and watch some TV (I've never seen so many movie channels). I only met her briefly but she was friendly and laid back. The neighborhood is secluded up in the hills of South Pasadena along a winding, narrow road so attention must be paid. A word of caution: her parking pad has a cement hump at the front and when backing out you will scrape the underside of your car on it.
Christie
2014-11-22T00:00:00Z
Тип размещения
Отдельная комната
---
Тип жилья
Домик на дереве
---
Вмещает гостей
2
---
Спален
Южная Пасадена, Калифорния, США
1

–

18

из

300+ вариантов аренды
Введите даты, чтобы увидеть полную цену без учета дополнительных сборов и налогов.