My place is steps from Sea Cliff Beach and Village. You'll love it because it's close to parks, restaurants & shops and has a spacious terrace for relaxing outside. SUPs, Kayaks & Bikes are available for rent at the marina. It's great for couples, solo adventurers, business travelers, and families (with kids).
Cozy Studio Suite in lower level of home with Living Room Area, Bedroom Area, Efficiency Kitchenette and Bathroom. Living Room Area with sectional sofa, cable TV, blue ray. Wi-Fi (NETGEAR34-5G) Password classyhippo134 Bedroom Area with Queen bed and dresser. Twin bed, Twin fold out mattress ottoman and/or a Pack n Play for little ones can be set up. Efficiency Kitchenette with fridge, coffee maker and microwave. Bistro seating. Upon request, a Slow Cooker, waffle maker and toaster can be made available...high chair too...just ask :) Full Bathroom with jacuzzi deep soaking tub and shower. Toiletries, towels and hair dryer provided. Terrace for lounging and dining...or smoking. Ash trays are provided and must be used, thanks! You may light the tiki torches, use the fire pit and barbecue but please let me know first and I'll offer instructions or assistance if necessary. Front porch with hammock for two. Off street parking in the driveway at the residence. Beach chairs, umbrella, tote, blanket and towels provided. Laundry...please follow instructions carefully.
Destination location with art, culture, history and scenic beauty where one may seek peaceful serenity and/or heart racing activity!
Kathleen was very lovely and sweet! She kindly welcomed us and showed us around. She even left us filtered water, snacks, and anything else we may have needed during our stay! Thank you Kathleen!
Melissa
2016-10-16T00:00:00Z
Kathleen was a very gracious host. She was very communicative and checked up on use. Thank you so much for your hospitality!!
Sabrina
2017-04-02T00:00:00Z
Kathleen is exceptional host and excellent communication, she arranged very thing what we want. I will recommend this place to stay.
Chakravardhan
2017-02-13T00:00:00Z
Kathleen's place is simply awesome! There are so many personal touches, such as candles, wonderful snacks, interesting books and art, etc. I could go on and on. It's very comfortable and inviting. We definitely wish we could have stayed longer to enjoy her wonderful backyard with a fire pit and wonderful gathering area. Sea Cliff is also a darling beach town with everything you need within walking distance from Kathleen's .
Lisa
2017-02-28T00:00:00Z
Cozy, easy location. Local eateries were great with very friendly waitstaff.
Stacey
2017-03-12T00:00:00Z
Kathlen was an unbelievably great host. I arrived and she greeted showed me the place was gracious enough to make me dinner, and then take me to my interview. She is a great host and if i ever come back to new york i'd stay at her place again!
Alex
2016-12-06T00:00:00Z
We were in town for a wedding at the Swan Club nearby. Kathleen was a very kind, welcoming, and helpful host. She even let us do an early check-in. The place is adorable and very comfortable, and Sea Cliff is a really cute town. We had everything we needed, and slept like babies. Kathleen even left out lots of snacks, tea and coffee.
Deirdre
2016-12-18T00:00:00Z
Kathleen was friendly and welcoming. The room was nice and included food and other items you might see at a hotel. Would stay again.
Mike
2016-11-11T00:00:00Z
Тип размещения
Отдельная комната
---
Тип жилья
Дом
---
Вмещает гостей
4
---
Спален
Sea Cliff, Нью-Йорк, США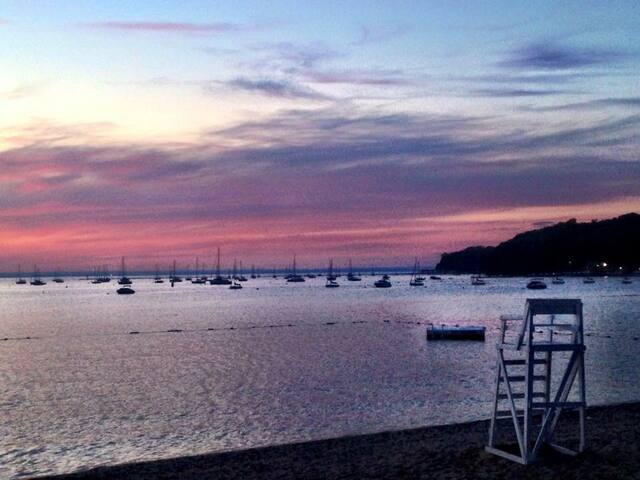 Studio space with ample room to relax or work at a full-size dining table or desk, yet private & cozy. Bright, cheerful, clean, with new appliances little luxuries, linens, flat screen TV, wifi, and everything at your fingertips. Walk to village.
Studio space with separate entrance in private home. Just renovated, brand-new kitchen, new bath, bed with memory foam & gel topper and new designer linens too. Studio is perfectly suited for two. Just installed flat screen TV, programmed with Netflix, Amazon Prime, wi-fi, & DVD player. Lots of movies on hand both old and new. Park your car off street in a well-light driveway in front of your door. Enjoy your morning coffee on a park bench outside your front door or relax on the patio at sunset. Enjoy a vista that includes the Long Island Sound. Located in a historic district on the Gold Coast of Long Island's North, Shore Sea Cliff is One Square Mile. This Victorian gem is one of the best preserved villages on the East Coast and boasts of being one of the most popular seaside resorts at the turn of the twenteth-century. The real stars of the neighborhood are the many architectural beauties that have survived to delight another generation. Plan to take lots of photographs as you walk to narrow street and lanes. Sea Cliff is a safe & quiet residential neighborhood and you won't need your car if you want something to eat or drink. Within walking distance to the village, there's l pub that's very popular with the locals, a sushi restaurant and many more good places to dine at or take out from the deli or pizza parlor. My favorite market is North Shore Farms, the store with everything gourmet from fresh produce, to a sushi bar, homemade spinach pie right out of their in-store bakery and an array of cheeses fro around the world. The exact location id listed in your guide book. If you need a hairdresser or an old fashioned barber shop, they are all in the village along with a vintage clothing store and a new wine shop. You can take a short walk down to the beach or a short walk up the hill to see a spectacular vista from Memorial Park otherwise known as "Hippie Park."There are several other park throughout the One-Square-Mile village of Sea Cliff. The scenery is just as beautiful in cooler months as in the summer. The Sea Cliff library, a former church, has printed walking tour guides and a helpful staff if you "need to know" anything. The library is one of my personal favorites. The third Thursday of each month the library hosts a jam where local musicians play mostly guitars & banjos with a few surprises. Just a short drive from here, you can visit the Nassau County Museum of Art, the former Frick Mansion and estate. Often called the Rodeo Drive of Long Island, The Americana Shopping Center tenants include Prada, Brooks Brothers, Donna Karan, Dior, Escada, Ralph Lauren, Tiffany and Gucci to name a few. Apple has a beautiful store there too. On your way back to Sea Cliff, you might go through the historic Village of Roslyn. Sea Cliff was one of the favorite destinations of Manhattan's cafe society as they ferried from the city to Rum Pointe. The old village is still here to be enjoyed today. Come explore! Bring your camera along. You won't be disappointed.
Old fashioned Victorian village within walking distance of the studio, has restaurants, a library, pubs and several parks. A true gem for those who enjoy art, architecture and history. During the summer season, Sea Cliff Village charges a fee to use the beach facilities. After 5pm the beach is free.
Roseanne was a very welcoming host.. . especially after my first trying day on the road. My cozy quarters were just as presented and the location was perfect for my visit. Would love to visit there again.
Mary
2016-07-17T00:00:00Z
Good host ever!
Jenus
2014-05-30T00:00:00Z
I had a lovely stay at Whimsey By The Sea! I got a warm welcome from Rosanne and there were chocolates waiting for me in the apartment upon arrival. The apartment was as expected, with appealing design touches that made it feel like home. A new mattress on the sofa bed made sleeping there a wonderful experience. Morning coffee on the patio overlooking the bay got me more relaxed than I've been in months. I didn't want to leave!
Michele
2014-08-19T00:00:00Z
Recently stayed for 2 nights at this property and really enjoyed it. The apartment is very comfortable has everything you would need for a short stay. The studio is small so ideal for a couple. Rosanne the owner was very helpful and accommodating. Sea Cliff is a lovely little town right on the coast and the house has lovely views of the harbor.
Catriona
2015-06-22T00:00:00Z
It was a wonderful writing weekend. I worked very hard on my writing and at night I slept like a baby in the comfortable, clean apartment. Roseanne was a great host (and she seems like such an interesting person). I'm actually booked for another writing weekend soon!
Erin
2014-03-17T00:00:00Z
Rosanne was an excellent host for our quick stay in Sea Cliff. The studio was very well appointed and we really got good use of the beautiful patio view. Great trip, great place and great host!
Marlene
2014-07-08T00:00:00Z
Warm greeting in a wonderful setting, and a fine place to stay. Well recommended. Roseanne has just the right touch, and the studio is well appointed. No complaints, only approval.
J.
2015-11-28T00:00:00Z
Whimsey by the Sea was the perfect place for our stay in Sea Cliff. Rosanne was a gracious host and we had everything we needed. The studio was clean and well equipped. We watched the 4th of July fireworks from the beautifully situated patio and had a great time with my family ,Rosanne and her friend.
Ann
2016-07-11T00:00:00Z
Тип размещения
Отдельная комната
---
Тип жилья
Дом
---
Вмещает гостей
2
---
Спален
Sea Cliff, Нью-Йорк, США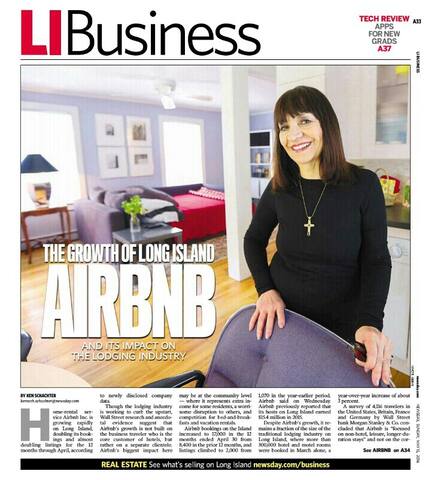 Top Quality Restored Compact 1922 Arts&Crafts Cottage Nearby Sunset/Memorial/Hippie Park! Custom Kitchen! Beautiful Bathrooms! Lofty Master Suite! Overlooks Prospect Park, Just A Stroll To Central Park! Near Beaches, Schools, Libraries! There is also a small shopping center near here.
The little house is located in a small town by the sea. It is near to the bay. This is a shared house,but you'll have a private (URL HIDDEN) we offer some necessary bath staff. The bedroom is very quite.
The neighborhood is very nice. This area is pretty safe. It's closed to the sea and there is a small park near here where you can watch the beautiful sunset.
Walking distance to restaurNts in the funky village of Sea Cliff. Nice comfortable room with private bath.
Bruce
2016-05-16T00:00:00Z
Nice cosy place. Serena came to pick me up at the train station, so was a huge favor. Definitely recommend!
Madan
2016-12-20T00:00:00Z
主人非常热情,准备水果招待我们。居住空间比较私密,独立卫生间,温暖干净。帮助解答客人在纽约旅游、生活需要的疑问。可以使用厨房、冰箱,长住很方便。
Ella
2016-02-10T00:00:00Z
The host is very accommodating and was great.
George&Brandon
2015-04-22T00:00:00Z
This was my second time here and was great. There was a miscommunication as to where in the house I was staying since it was different than last time, but once I go to the right place it was clean, perfect, and private.
Drew
2015-11-08T00:00:00Z
Serena was very responsive to my questions. Absolutely no problems getting to house...shared house and other occupants were very quiet and cordial. Great little neighborhood!
Jennifer
2015-09-26T00:00:00Z
Serena and her place were great. Getting in and out was very easy.
Mike
2015-07-10T00:00:00Z
I was attending a conference 20 minutes away, and Serena and her boyfriend were so kind and lovely to hang out with. Sea Cliff is also a beautiful town. Thank you for the delicious dinner and the company, and if you're ever in Baltimore please let me know!
Cary
2015-05-23T00:00:00Z
Тип размещения
Отдельная комната
---
Тип жилья
Бунгало
---
Вмещает гостей
2
---
Спален
Sea Cliff, Нью-Йорк, США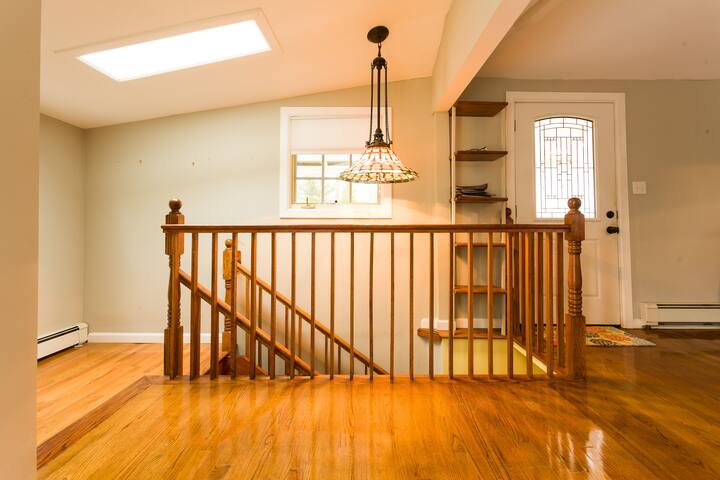 This adorable home is centrally nestled in a quaint Victorian village on Long Island Sound, close to restaurants, parks, beaches and the train to Manhattan. Every room has been artistically renovated while retaining its Arts and Crafts character.
Artistic and eclectic. Warm and inspiring. Our space has been recently renovated with attention to colorful and harmonious flair. Our three influences in design are nature, the antique, and the international. Highlights include a cathedral ceiling main room, redwood ceiling and trim and interesting architectural curves and angles.
Sea Cliff is a unique Victorian village on the Long Island Sound. As its name describes, its terrain is cliff-like and hilly. There are many things to do in our community. One can stroll down the narrow side streets taking in the architecture, hang out at the beach listening to live music in the summer, philosophize over a cappuccino at the Sea Cliff Bistro, or lay on the earth at one of Sea Cliff's sixteen small parks. Our home is just a couple of blocks from the main street. Other attractions within a 15 minute drive include The Planting Fields Arboretum State Historic Park, Welwyn Preserve (which has old growth trees), Garvies Point, The Japanese Stroll Garden, Nassau County Museum of Art, The Americana (Miracle Mile), Long Island University (CW Post), NY Institute of Technology, Sands Point Preserve, Sagamore Hill National Historic Site (Home of Teddy Roosevelt), and the Cold Spring Harbor Laboratory. Nearby towns include Glen Cove, Bayville, Oyster Bay, Roslyn, and Port Washington, where there are additional great restaurants, attractions, beaches and culture.
Cool house in a nice neighborhood. We were visiting family so the location was perfect for us.
M
2016-11-28T00:00:00Z
The five of us (my parents, my husband, my toddler, and I) loved our stay at this lovely Sea Cliff home. Alethea went out of her way to make our stay with a toddler easy and patiently waited for our super tardy arrival - traffic was terrible and we ran 2 hours late! Josh even came to help pick us up from the train station when we arrived. s market down the block. Thank you for a lovely stay and a wonderful introduction to Long Island!
Jen
2016-06-29T00:00:00Z
We were very satisfied with Alethea's home. Very nice home and very generous hosts. I would highly recommend it to any of my friends.
Renée
2016-08-12T00:00:00Z
Alethea went above and beyond to make sure we were comfortable in her beautiful home in Sea Cliff. She has been the most responsive and generous host of any air bnb establishment we have ever stayed in and I can't praise and thank her enough for her hospitality. The home is everything it is described as and more with a cute sustainable garden and is located on a nice quiet street. 5+ stars.
Rachel
2016-06-20T00:00:00Z
Alethea and Joshua were very welcoming. We loved, loved their place. We felt very welcome and if you are ever on Long Island and need a place to stay - stay here! Thank you!
Diane
2016-09-06T00:00:00Z
Great location, really cute place, very clean, Alethea was very helpful prior to our stay. We had no issues while we were there so we didn't need to contact her during our stay. Would stay here again!!!
lynne
2016-10-09T00:00:00Z
Amazing place. One of my favorite airbnbs I've ever stayed in.
Tyler
2017-03-03T00:00:00Z
Host was very welcoming and space was accurately described. Neighborhood is nice and comfortable and the garden/yard is sweet. A beautiful space to stay in!
Rachael
2016-08-29T00:00:00Z
Тип размещения
Дом/квартира целиком
---
Тип жилья
Дом
---
Вмещает гостей
6
---
Спален
Sea Cliff, Нью-Йорк, США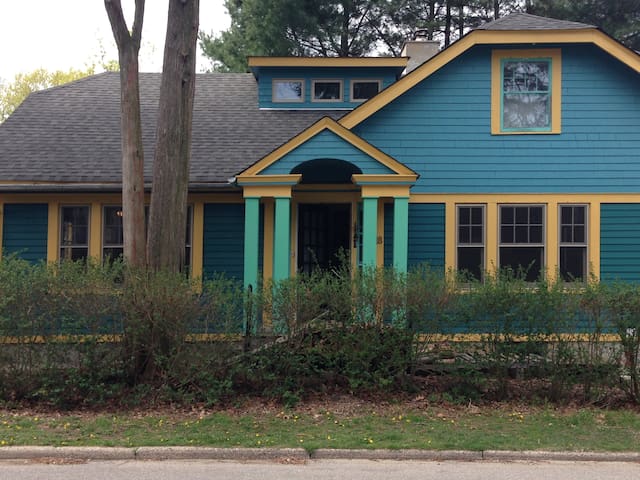 Why go all the way to the Hamptons? Private guest suite in a charming village near NYC! Summer kitchen, microwave, fridge & priv. bath. Queen bed, use of yard, seasonal BBQ. Overlooks LI Sound w/Beautiful Sunsets. Walk to village and beaches. 16 parks in this one square mile village!
We are sure you will love it. Unique waterfront suite with easy beach access under an hour from New York City. Enjoy the gorgeous sunsets. Shared use of patio and yard, Seasonal kayak and barbecue available weather/conditions permitting.
Charming artsy victorian village is a walker's delight. Hilly terrain, and lovely water views. Lots of live music around this small village. To learn about Sea Cliff visit: (URL HIDDEN)
Ten days at the terrific location is not enough. The place was meticulously clean and the views were fantastic. Typical for this early springtime in NY, we had snow one day, but 80 degree weather another. These are the perfect hosts with a very well maintained apartment on Hempstead Bay. Sunsets were wonderful. The hosts supplied granola, delicious coffee, and milk in the fridge, for our first morning. A Whole Foods market is only ten minutes away. We needed binoculars to look at the many birds; just mentioned it, and there they were. I have stayed at many airbnb vacation rentals and these hosts were perfect; not intrusive and let us do our own thing. We drove into Manhattan nearly every day of our 10-day stay for shows and touring -- as it was an easy 45 minute drive when avoiding the commute hours. Nice off-street parking, made it so easy to keep a car there. We took Uber from the airport and then rented at a Hertz office, which picked us up at the apartment. This is a great convenient location; in a beautiful idyllic setting
Richard
2016-03-27T00:00:00Z
Fantastic experience! Perfect little space with all the necessities plus a gorgeous view of the L.I. Sound. The hosts thought of everything we could possibly need and it was all lovingly labeled and easy to find. Very comfortable bed. Convenient kitchenette. Plenty of room in empty dressers and closet to unpack and feel right at home. The hosts were the perfect balance of friendly and helpful yet we never intrusive. Best of all, it's in Sea Cliff!! Perfect for taking long walks along the shore or wandering through the hilly streets admiring one beautiful gingerbread home after the next. We will definitely be back at this Airbnb. We couldn't be happier. A+
Tommaso
2016-02-02T00:00:00Z
Rob was a great host; at your beckon call while giving us total privacy. Sea Cliff is the BEST village ever...beaches, shops, restaurants, taverns and parks!! The suite was fantastic...from the extremely comfortable bed and pillows to the sweet LR space and kitchen area. It was CLEAN and modern and it's shower/whirlpool bathtub were excellent. We can not say enough about the location of this sweet spot....right on the water!!!!! Despite the cold rainy foggy weather it was such a beautiful site!!! Hoping to return in the summer!!!
Katie
2015-12-30T00:00:00Z
We were very pleased with our accommodations with a lovely view and a clean studio apartment which we enjoyed.Kay and Rob were very helpful and met our needs at all times.We attended a family wedding and reception but also took in some historical sites,an art museum and an enjoyable walk and beach right out of our room. We would go back again.
patricia
2015-09-14T00:00:00Z
Our experience was great. The host is very helpful and friendly. The surroundings are beautiful. We loved it! The place was very clean and comfortable.
Ireen
2015-09-07T00:00:00Z
Kristie & Rob were incredibly gracious hosts and welcomed us to their beautiful home. Rob helped us with the kayaks and both of them went out of their way to make us feel at home.
J. Solomon
2015-08-16T00:00:00Z
The perfect quiet-getaway! I don't think the photos do it justice. The suite extends onto the backyard which sits on Long Island Sound. Room and amenities were perfectly kept, from towels to the items they left in the kitchenette: hot chocolate, tea, coffee and instant oatmeal. It is quaint and relatively isolated, which is what I was looking for. The home is a 10 minute walk away from town, a charming stretch of stores and pubs. Rob and his family went above and beyond to make me feel at home, picking me up from the Sea Cliff LIRR station, dropping off some fruit for me to eat, allowing me to hitch rides into town and Port Washington and giving me tips on how to get around town. They even offered for me to join them for dinner and wine the last night. In hindsight, I regret not joining them because they truly are such a lovely couple. If I ever make it back out to Sea Cliff, I would definitely love to stay here again.
Stephanie
2015-12-20T00:00:00Z
Excellent location for our needs, with a bonus of a fabulous waterfront view! We really enjoyed sitting out on the patio and watching the sun set over the cove and Long Island Sound. The room was nicely decorated, clean and spacious. Board games and books to read made us want to stay longer. That we were allowed to have our dog stay with us was so wonderful. Thank you.
Dan
2015-09-21T00:00:00Z
Тип размещения
Отдельная комната
---
Тип жилья
Дом
---
Вмещает гостей
2
---
Спален
Sea Cliff, Нью-Йорк, США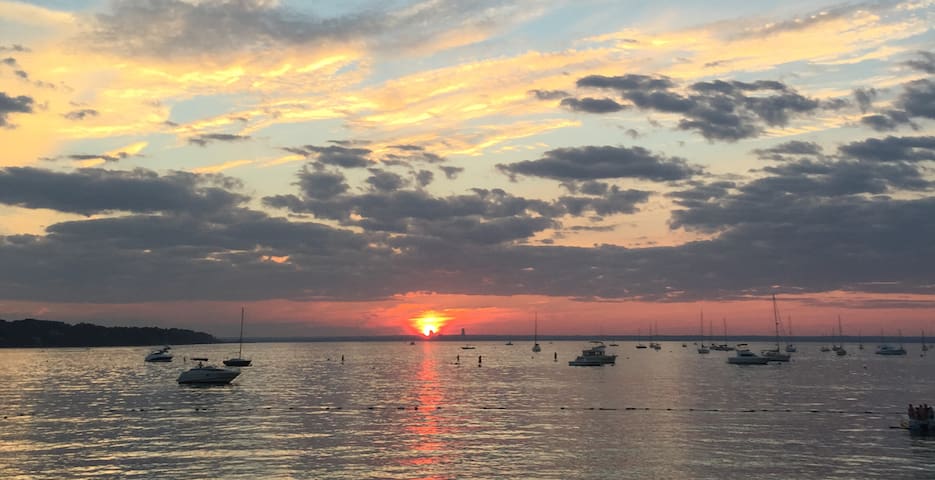 In picturesque Sea Cliff. On very quiet dead end street. Sunny and very well decorated apartment with deck and off-street parking. Wonderfully picturesque town with park overlooking Long Island Sound just a few blocks from your front door.
Very nicely decorated and well kept up. Window views from hillside location look over neighbors and large trees.
Very pleasant neighborhood with nice walks and parks nearby with one high up overlooking Long Island Sound that is just blocks away
Allyn has a nice little second-floor apartment in Sea Cliff, which is a charming town. If you don't have a car, his apartment can be accessed from NYC via LIRR (train) followed by a quick cab ride. It's a short walk to pubs and stores and to a park, a brief walk down a steep hill (with some stairs) to the beach, and a long walk to a supermarket and CVS. When we visited during the winter, it was sunny and warm inside. I expect it could get a little cramped with more than 2 people. We had a lovely stay.
John
2017-01-02T00:00:00Z
Allyn and his place were Airbnb gold. Allyn is easy going and his place is just cute as can be. Clean and well laid out and everything works ...and the location is perfection for someone visiting the area. Nice quite neighborhood with NO traffic (dead end). A walk to the park and heaven awaits. Recommended.
Robert
2016-05-19T00:00:00Z
Allyn's lovely Sea Cliff apartment made for an exceptional first Airbnb experience for me! I had a two-week training nearby in Locust Valley, and the trip back and forth from Sea Cliff was a breeze. The location was also easy to get to from LaGuardia. The apartment was clean and I felt very safe throughout my stay. With a living room, full kitchen and dining area, bathroom, bedroom, and deck, I had more than enough space. There were several dining options and a nice grocery store nearby, along with scenic views at the park overlooking the water just up the street. Allyn communicated well with me leading up to and during the trip. I highly recommend this charming and affordable option!
Mary
2016-08-20T00:00:00Z
Тип размещения
Дом/квартира целиком
---
Тип жилья
Квартира
---
Вмещает гостей
2
---
Спален
Sea Cliff, Нью-Йорк, США
Welcome to "The Tiki Hut"! A bungalow by the beach on the Gold Coast of Long Island, a quick train to Manhattan and surrounded by lovely parks, charming restaurants, bars and shops. Perfect for summer getaways.
*Please send me a message about your stay with as much information as possible before making a reservation request. Any requests made with out any initial correspondence will be denied. Thanks for your understanding!* OUR HOME: Fully stocked kitchen with breakfast nook that seats 6, living room with a large "L"-shaped couch. Newly renovated and stylish bathroom with a large shower. Cute yard with outdoor table sets, a pair of Adirondack chairs, fire pit and small BBQ. Set of horseshoes to play in the yard! Wifi, parking 2 blocks away and next to a beautiful park. Dog friendly! ACCOMMODATIONS: The Boho Room: Queen size bed The Siesta Room: Full size bed The Living Room: two twin beds makeup the sofa, please use provided sheets. One queen air mattress available. Upon your arrival you will find a "Welcome Package" with pertinent information about The Tiki Hut and our lovely town of Sea Cliff. You will also be provided with clean sheets, pillows and blankets, and fresh bath towels. Please bring your own beach towels in the summer season. A variety of Keurig coffee, tea and hot chocolate will be available for all guests. NOTE: This is a laid back, comfortable home with lots of personality and charm. It is a "working home", meaning that I live in the house when we are not renting it. When renting The Tiki Hut expect a fun, cute and comfortable atmosphere, beach bungalow style. We have neighbors living on all sides, please be respectful of them.
Sea Cliff is a very walk-able and artistic town. In the village you will find several restaurants (look up Metropolitan Bistro, Oak Room, and The Crispy Pig opening May 2016) and bars for your entertainment as well as galleries, shops with handmade gifts, and a coffee shop. Also available nearby are convenient stores for any amenities you might desire (such as an ATM, Starbucks, CVS, and 24-hour 7-11). North Shore Farms is perfect for your grocery shopping!
We really enjoyed staying at Steph's house and in the sleepy town of Sea Cliff. Steph was very welcoming, inviting us to even eat food she had in her pantry and in the fridge. No need to worry about lugging your whole house with you to this rental home. It is stocked with all the essentials. Just be aware that a dog lives here when the house is not rented, if you have any allergies/sensitivities. It was a nice (though steep) walk to the beach, which we quickly became obsessed with. So clean and peaceful with a playground for kids. Such a friendly place to visit and unwind for a few days. Thank you, Steph!
Jessica
2016-07-13T00:00:00Z
Location was perfect! Kitchen well equipped and plenty of towels. Our host responded very quickly to our questions. Couldn't ask for more.
christine
2016-09-13T00:00:00Z
Тип размещения
Дом/квартира целиком
---
Тип жилья
Бунгало
---
Вмещает гостей
8
---
Спален
Sea Cliff, Нью-Йорк, США
Very quiet private room in Cul De Sac with private bathroom and private entrance in a very nice suburban neighborhood. Looking out to a very serene back yard. Great place to unwind!
The uniqueness of this room is that it offers lots of privacy, it is located in a private house on the first floor, with private entrance in the rear of the house so you can come and go as you please, it has a privacy lock on room door with key. You have your own heating and AC control so you can set to your preferences. It is very quiet so you will be able to relax in a very peaceful setting! Flat screen TV with cable. WI-FI available. You have a nice comfortable queen size bed. For your convenience there is a Keurig coffee maker with coffee and tea available in the room so you can enjoy a cup before starting your day. We also have water and snacks included. There is a small refrigerator in the room available. There is also an iron and ironing board.
Very quiet, safe and peaceful!! In a short distance downtown Glen Cove offers, movie theater, varieties of restaurants, Italian, Chinese, Japanese,Thai, Mexican, Pizzerias and best known Italian Deli of the North Shore (Razzano's). We are 10 minutes ride to public beach, tennis court and golf course with driving range and restaurant bar. We are located about 3 miles from Railroad. 45 minutes drive to Manhattan. 40 minutes from JFK and LGA.
Mike and Lucy offer the perfect combination of attentiveness and privacy to their guests.
Lori
2016-04-08T00:00:00Z
Lovely host and hostess. Lovely place and neighborhood. Just perfect
David
2016-06-19T00:00:00Z
Mike and Lucy have a perfect place. We felt very comfortable as our hosts made sure all was perfect. Would have liked to have spent a little more time with our delightful hosts however, we were on a very tight schedule. Do not think you could find a better experience.
Lily
2016-05-16T00:00:00Z
Mike and Lucy greeted me when I arrived and immediately made me feel comfortable. This was my first AirBnB experience. Mike showed me the lovely Master Suite room. Walk-in Closet, full bath, Coffee maker, refrigerator with water!
Peter
2016-10-16T00:00:00Z
Mike and Lucy were wonderful hosts. The apartment is private and quiet, clean and convenient. It was perfect for my stay. 3 miles from my son's college and in a quiet neighborhood. The room includes a large closet with plenty of room to unpack clothes and store luggage. It also has a small fridge and a coffee maker stocked with coffee, tea and bottled water. Mike even gave me a ride to campus on the day it rained and I was without my son's car. Thank you both! I will stay again, I am sure.
Heather
2016-04-18T00:00:00Z
everything was perfect--just like my previous stay!
Lori
2016-03-17T00:00:00Z
Mike and Lucy are wonderful hosts and I loved staying at their place. It is a very quiet neighborhood and I'd certainly come back if I get a chance again.
Rakesh
2016-07-18T00:00:00Z
very good experience. highly recommended.
boming
2017-01-05T00:00:00Z
Тип размещения
Отдельная комната
---
Тип жилья
Дом
---
Вмещает гостей
2
---
Спален
Glen Cove, Нью-Йорк, США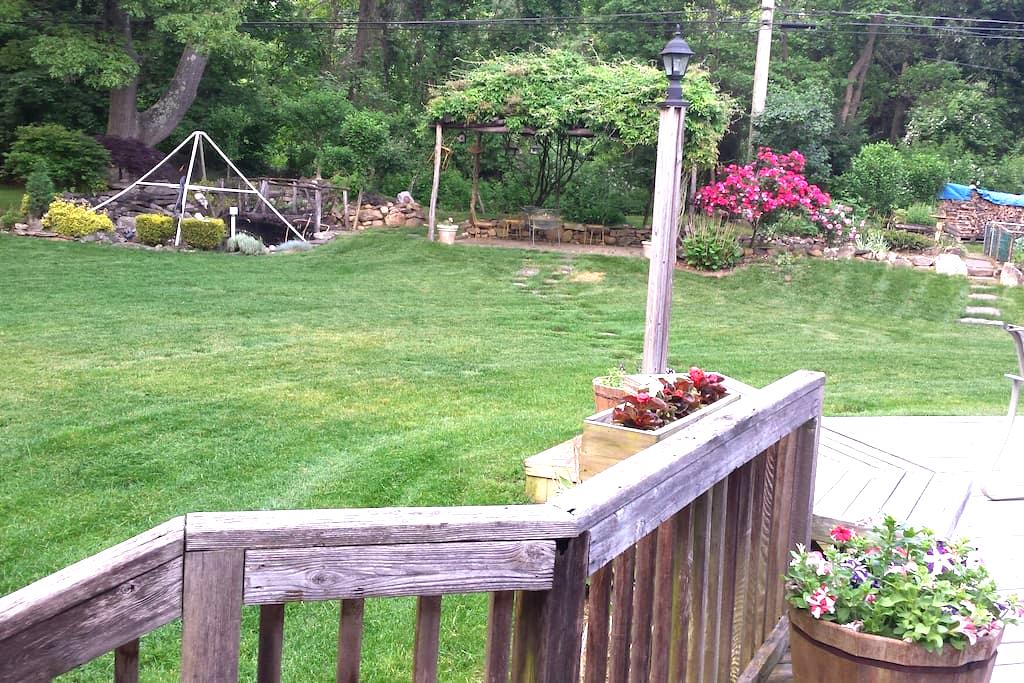 This is a two-family house in a new community. It's a 3 bed room and i can offer two actual beds and one airbed. It's convenient and there are some nice supermarkets and restraints nearby. So if you want to visit Glen Cove my house will be a very nice choice for you and your family. Hope to host you soon.
This is actually 3-b room house and it's well equipped. It's also close to the beach.
The host canceled this reservation 7 days before arrival. This is an automated posting.
Harrison
2017-03-20T00:00:00Z
This is a place to consider home. Cozy, Warm and Clean
Michael
2017-03-12T00:00:00Z
Nice flat with almost all you need. The host is very easy to communicate with and helps when it is necessary. He was also very generous to give as a discount because he had not prepared the house for five people but for four and asked us to take one blanket with us. Anyways there was just two sets of towels and there are just four cups etc available. Maybe you ask the host for it before your stay, I'm sure he will prepare the house for five people as well. Very friendly host. I can highly recommend this place.
Lorenz
2016-12-26T00:00:00Z
Highly recommend house. Gary was nice and responsible. We had a wonderful time here. Thank you!
Xuerong
2017-01-03T00:00:00Z
Gary was very responsive to all inquiries about the house itself and what there was to do in the area. The house was very clean and it was warm when we arrived (which was really nice considering how cold it was!).
Shane
2017-01-02T00:00:00Z
Gary is very kind and easy to work with and communicate with. I am grateful to have been able to stay there and spend time with my family.
Allison
2017-02-22T00:00:00Z
Perfect in every way.
Michael
2017-01-13T00:00:00Z
This place felt like home. Clean. Nice and comfy. Will definitely stay again
Michael
2017-01-20T00:00:00Z
Тип размещения
Дом/квартира целиком
---
Тип жилья
Дом
---
Вмещает гостей
5
---
Спален
Glen Cove, Нью-Йорк, США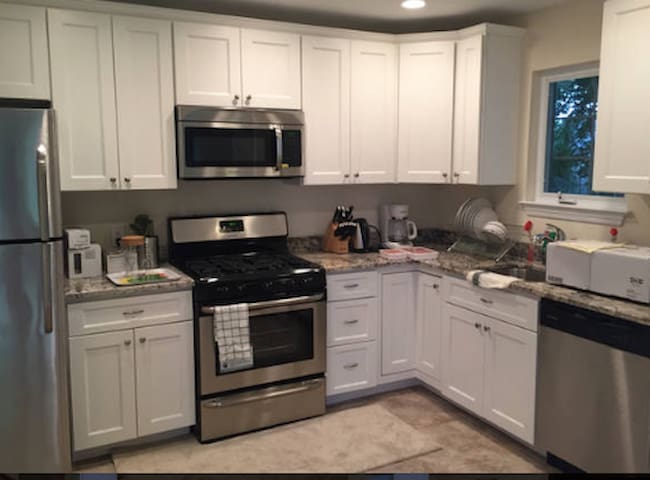 Private room and bath in home in a very pretty, quiet section of Glen Cove. $75/night. Walk to private beach. Child's room with Crib and toddler bed available if traveling with children for extra $25/night. Park in private driveway. 2 indoor cats reside in premises with owner.
My home is located in Shorecrest, a community built on property once known as Elsinore, a Gold Coast Estate on the Long Island Sound. In addition to a private community beach, Morgan Park and Garvies Point are within walking distance. Downtown Glen Cove and surrounding areas have wonderful restaurants and movie theaters.
Тип размещения
Отдельная комната
---
Тип жилья
Дом
---
Вмещает гостей
2
---
Спален
Glen Cove, Нью-Йорк, США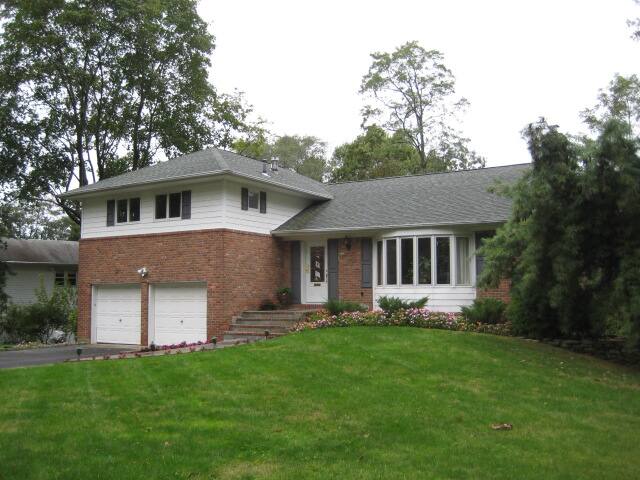 is five mints from the sea five mints from L I R rerouted we can pic and drop from the train is very come and very relaxed
Тип размещения
Отдельная комната
---
Тип жилья
Дом
---
Вмещает гостей
2
---
Спален
Glen Cove, Нью-Йорк, США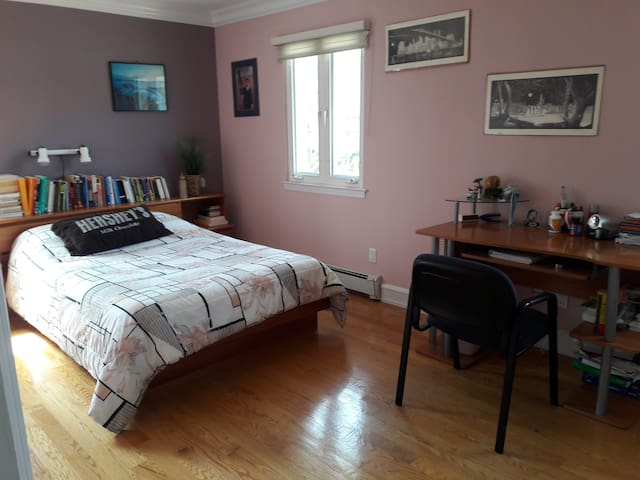 My place is close to the train, the airport, parks, beach ,and many fine restaurants. You'll love my place because of the views, the ambiance and it has everything you need , from fine mattresses to a massive 4k TV , to the world finest coffee Nespresso. Want to work out? You have access to the 24/7 Gym. Oh, and their is even a vending machine just in case you get the late night munchies and don't feel like driving. . My place is good for couples, solo adventurers, and business travelers.
The host canceled this reservation the day before arrival. This is an automated posting.
Michael
2017-01-20T00:00:00Z
Great host, great location, Two Thumbs up!
Buddha
2016-11-07T00:00:00Z
Amazing stay! Beautiful, Clean, Luxurious and safe. Host was very welcoming and offered us a bottle of wine upon arrival. He also gave us good tips of things to do in the area. I would definitely recommend couples, and anyone traveling for business to stop by at Andres place.
Lance
2016-11-13T00:00:00Z
Тип размещения
Дом/квартира целиком
---
Тип жилья
Кондоминиум
---
Вмещает гостей
3
---
Спален
Glen Cove, Нью-Йорк, США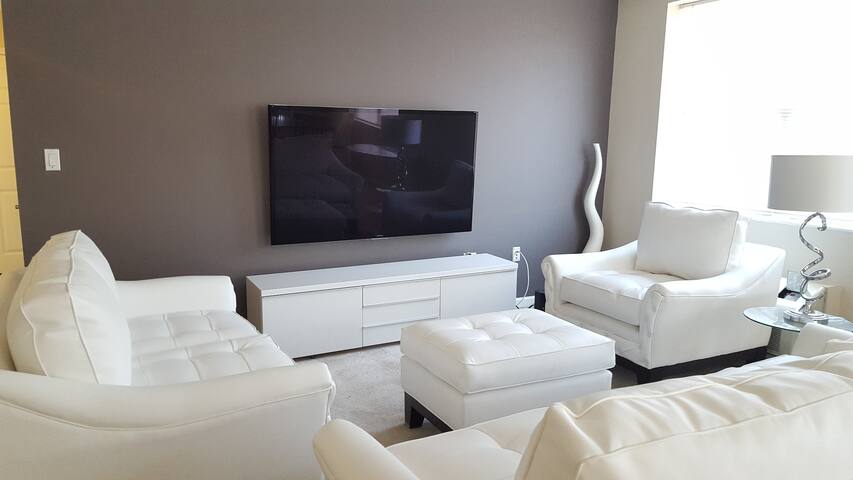 My place is close to great views, the beach, rail road, restaurants and dining. You'll love my place because of the outdoors space, the neighborhood, and the comfy bed. My place is good for couples and business travelers.
Тип размещения
Отдельная комната
---
Тип жилья
Дом
---
Вмещает гостей
4
---
Спален
Glen Cove, Нью-Йорк, США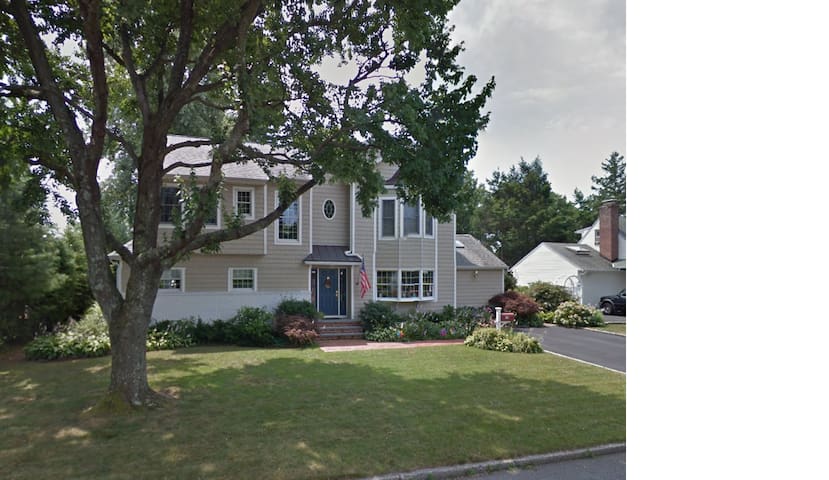 A family friendly home with plenty of room to stretch out and enjoy! Lovely Sparkling pool in summer. Conveniently located just under an hour by train or car to NYC. The immediate area boasts a large array of upscale, gourmet and family dining establishments. Shopping malls, and Americana Designer brands are close by. Super children's playroom, with toys and games to keep the little ones happy, if they join you. Playgrounds, beaches, and endless fun for the whole family!
A wonderful upscale, spacious home, with sparkling swimming pool in summer months. Beautiful expansive patio with built in bbq, surrounded Many family friendly features such as a full size crib, high chair and plenty of toys and books for all the children. For the adults, a chefs gourmet kitchen and gathering room. Perfect for wine tasting, indoor or outdoor gourmet dining. Enjoying all that life has to offer! We just love it here, and know you will too.......
A quiet cul de sac. With a wooded back yard. Please be mindful not to disturb neighbors or park anywhere other than driveway or directly in front of our home. Relax, you are home......
Тип размещения
Дом/квартира целиком
---
Тип жилья
Дом
---
Вмещает гостей
8
---
Спален
Glen Cove, Нью-Йорк, США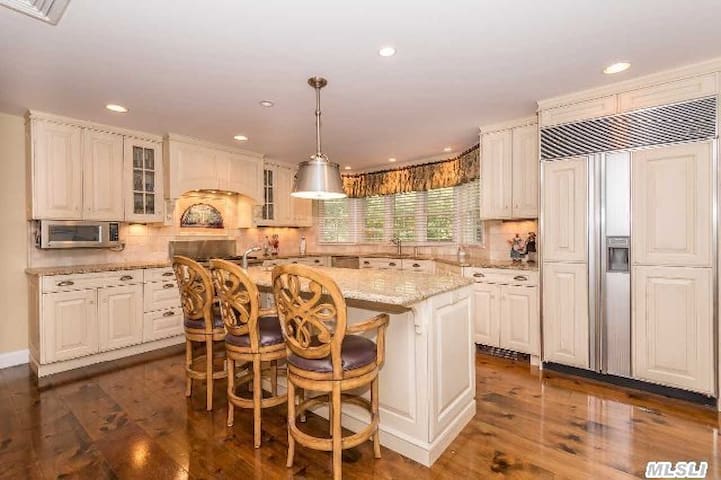 Groß, geräumig, gemütlich und ruhig, Nichtraucher-Studio in Privathaus, mit eigenem Bad. Vordere Terrasse wird Ihnen Ihren Aufenthalt geöffnet. 15 Minuten zu Fuß zu Hempstead Harbor (Tappen Strand) und LIRR (Oyster Bay Line) Zug nach NY Stadt, die etwa eine 1-stündige Zugfahrt ist. Close To The Swan Club, Sea Cliff Manor das Metropolitan und The Glen Cove Mansion. 15 Minuten bis NYIT und CW Beitrag Colleges, Webb Institute, Sagamore Hill und Old Westbury Gardens. Parken an der Straße. In ruhigen, charmanten, Nachbarschaft.
Zu Fuß zu Hempstead Harbor, Park, Strand und Stadt Pool. Groß für Laufen und Sonnenuntergänge. Saisonale Fischrestaurant in Tappen Beach. Weitere Restaurants in der Nähe zu besuchen oder für take-out.
The space was sweet and quiet and full of homey art, located near the water but definitely off the beaten path. Annette was super-accommodating to our unpredictable schedule. The studio was spacious and has a mini-fridge. There is no A/C and I was worried because the weather was beastly hot, but there were multiple fans, so we didn't feel the heat once we were in bed with the fans blowing on us. For us, it was great for the night - a good location at a good price. My daughter is going to college near there, and I look would be happy to stay here again when come back to visit her.
Elena
2016-08-15T00:00:00Z
Annette was a wonderful host! Communicative, attentive, friendly, etc. The property was just like the description. Coffee in the morning was a nice touch, and we look forward to booking here again. One of our top experiences in many years of using airbnb.
John
2015-09-21T00:00:00Z
We really enjoyed our stay at Annette's. It was super convenient to where we needed to be and the room was clean and the bed was extremely comfortable. She was easy to get a hold of and very responsive to anything we needed!
Renu
2016-11-26T00:00:00Z
The room was spacious, the bed was comfy. Everything worked just fine! Thank you!
Thomas
2016-10-02T00:00:00Z
Annette was super friendly and helpful when needed. Would definitely stay here again.
Drew
2016-10-22T00:00:00Z
Annette ist eine sehr sympathische und hilfsbereite Gastgeberin, die ihren Gästen ein sehr geräumiges und gemütliches Studio mit Bad zur Verfügung stellt. Das Studio hat einen separaten Eingang, sodass man niemanden stört und nicht gestört wird. Wir haben uns dort sehr wohlgefühlt. Den 20-minutigen Fußweg zur Railroad-Station nach Manhattan muss man als Morgengymnastik sehen oder ein Taxi nehmen. Wir kommen wieder!
Gerlind Hanna
2016-07-17T00:00:00Z
Great!
Drew
2016-10-23T00:00:00Z
Another great stay with Annette. We always enjoy her warm hospitality.
Dan
2016-02-01T00:00:00Z
Тип размещения
Отдельная комната
---
Тип жилья
Дом
---
Вмещает гостей
3
---
Спален
Glenwood Landing, Нью-Йорк, США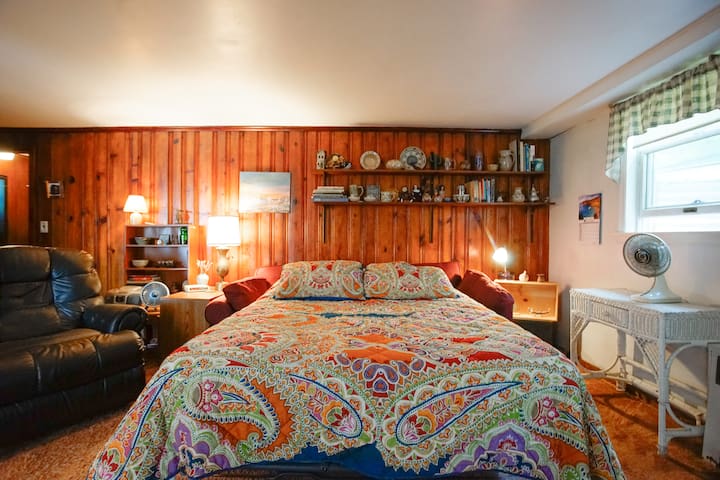 2nd fl bedroom, very safe upscale neighborhood, historic Roslyn Village, free parking, wifi, snacks , breakfast items and shared area. Pet and smoke free. Vey clean, extraordinary value. Please check my other listing. Please read all the details and house rules before you book.
I love putting my focus on my home, to make it a clean, beautiful, comfortable, and cozy home. I have used airbnb during my travels, and I'm excited to share my home on airbnb now.
It is a upscale , quite and friendly neighborhood.
Amazing hosts in a great location! I've had the best experience with Meichih and Angelo. You are free to come and go as you please, and there are always fresh fruit, snacks, coffee (etc.) available. No complaints here!
Adriana
2016-06-17T00:00:00Z
The listing was as accurate as can be. It was my first time using airbnb and I let Mei know that. She and her husband made an extra effort to help me feel comfortable and relaxed. The place is in a wonderful safe location and very close to everything in the area. They made me feel like it was my home and I felt comfortable really quickly. They are wonderful hosts, and gave me my space as I needed to do some work, but were always available to chit chat or to provide advice about the neighborhood and the area. They were extremely generous as well. They made my first experience with airbnb a really great one.
Atif
2016-04-07T00:00:00Z
Meichih and her husband, Angelo, were perfect hosts. They made sure that everything was clean and tidy and that we felt comfortable in their home. I could not have asked for a better first Air BNB experience!
Tyler
2016-06-14T00:00:00Z
Another perfect stay with these fantastic hosts!
Adriana
2016-06-24T00:00:00Z
MeiChih is a wonderful host. Very kind, caring, most welcoming and very hospitable. Our room was comfortable and very clean. And the location was perfect for us. Close to the core of Roslyn with nice shops and restaurants. MeiChih has a very nice house in a nice area. Really quiet, 'green' and peaceful. We loved our stay here and will book again when we visit Roslyn again.
ernst
2017-04-03T00:00:00Z
This was a fantastic Airbnb experience! The home is extremely clean and in a lovely neighborhood. Meichih and Angelo are wonderful hosts! They were so accommodating and caring, offering me food and constantly making sure I was comfortable. I felt very welcomed and was touched by their desire to make me feel at home. If you are looking for a cozy experience with warm hosts, I highly recommend you book here!
Adriana
2016-06-10T00:00:00Z
Very hospitable
Eric
2016-07-30T00:00:00Z
The hosts were excellent, and we couldn't have gotten any better experience if we had stayed at the Waldorf....
ron
2016-07-15T00:00:00Z
Тип размещения
Отдельная комната
---
Тип жилья
Дом
---
Вмещает гостей
2
---
Спален
Roslyn, Нью-Йорк, США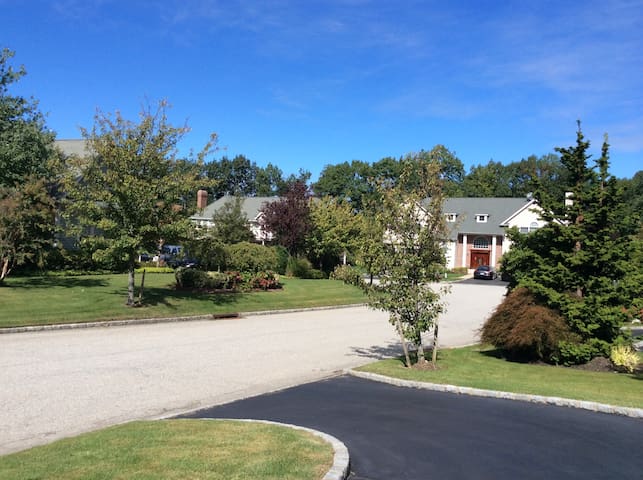 Il mio posto è proprio fuori di Port Washington Blvd. Vicino al Americana Manhasset centro commerciale, Northern Blvd. (ristoranti, negozi e concessionarie auto). San Francesco Hospital è proprio in fondo alla strada e North Shore LIJ nelle immediate vicinanze. Il mio posto è buono per le coppie, avventurieri solista, e viaggiatori d'affari. Siamo a 5 minuti di auto dal LIRR a New York ea 25 minuti a piedi dalla LIRR.
Avrete la al piano di sopra a te stesso e un ingresso separato. Entrate nella casa e salire caso di scale come nella foto e che è dove la vostra stanza privata e bagno saranno.
Port Washington è un grande bordi del paese vicino a tutti.
as described. private bath included
LAWRENCE
2017-02-03T00:00:00Z
The host canceled this reservation 29 days before arrival. This is an automated posting.
Joanne
2017-03-03T00:00:00Z
The host canceled this reservation 3 days before arrival. This is an automated posting.
Jeff
2017-03-03T00:00:00Z
Тип размещения
Отдельная комната
---
Тип жилья
Дом
---
Вмещает гостей
2
---
Спален
Port Washington, Нью-Йорк, США