ROOMS C / BATH FURNISHED, PERSONAL INCOME AS IF A HOTEL IN A FAMILY ROOM, VERY CLEAN AND QUIET .THE DECORATION MAKES THIS TO BE AMENO AND COMFORTABLE, IDEAL FOR TOURISM PLACED NEXT TO TERMINAL FOR AND AIRPORT.
NOT A habierto A SPACE AND MEETINGS VISITS ONLY FOR BUSINESS TRAVEL AND STAY FOR WHAT .That safe and very quiet AGO.
It is a closed block, where only ENTERS WITH PERSONAL KEYS, very quiet and family.
Тип размещения
Отдельная комната
---
Тип жилья
Квартира
---
Вмещает гостей
1
---
Спален
San Juan de Lurigancho, Перу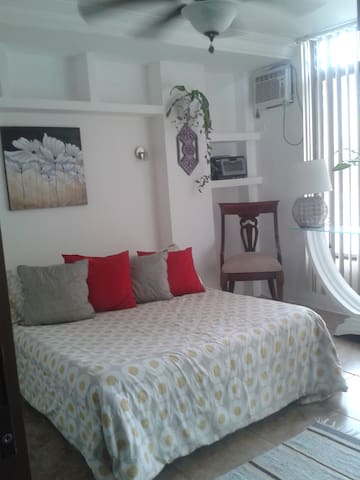 Attractions: film star, Metro supermarket, cheap and tasty restaurants, central shopping area of low cost, nearby market, laundries, restaurants and food, nightlife. My accommodation is good for adventurers.
Тип размещения
Отдельная комната
---
Тип жилья
Квартира
---
Вмещает гостей
2
---
Спален
San Juan de Lurigancho, Перу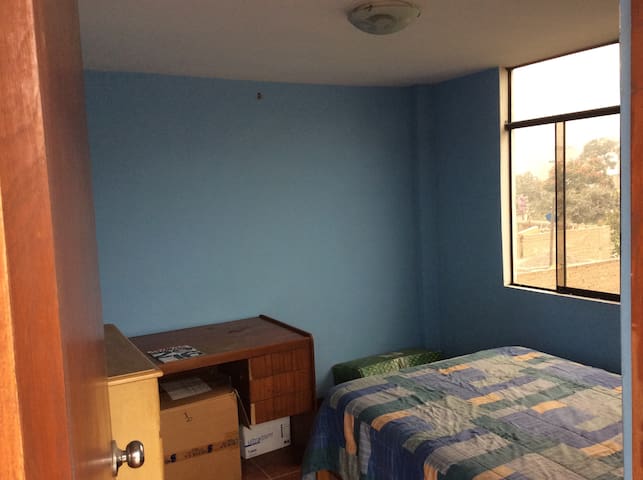 Тип размещения
Отдельная комната
---
Тип жилья
Квартира
---
Вмещает гостей
4
---
Спален
San Juan de Lurigancho, Лима, Перу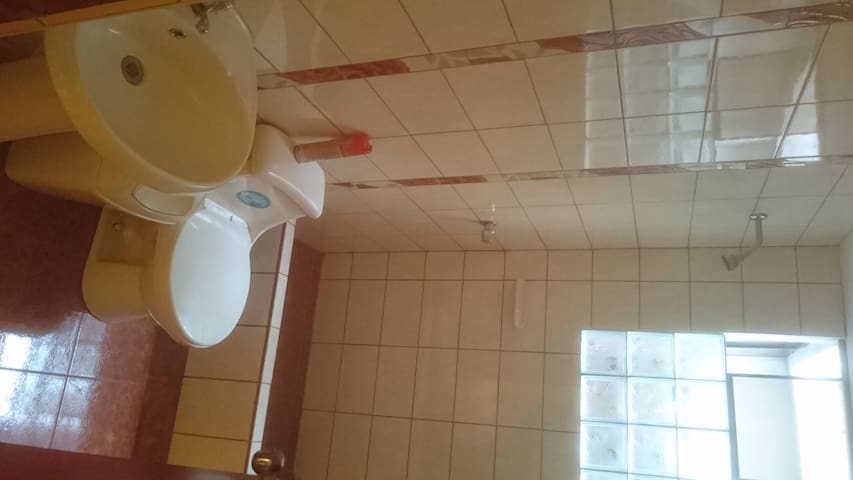 Dpto de 70m2, ubicado cerca al malecón de miraflores. Esta ubicado en una zona tranquila, residencial y cercana a avenida Pardo y el Ejercito. El departamento es compartido. Cuenta con un router pocket que puede ser usado en las calles de Lima.
Department of 70m2, located near the boardwalk of Miraflores. It is located in a quiet, residential area near Pardo and Ejercito Ave. The department has 78 m2 and it is fully equipped. It is close to gourmet Peruvian restaurants, pharmacy, market and bus station. It includes internet and laundry machine The department have a good location, nearby many gourmet restaurants and is close to the boardwalk where you can find parks and sea views. Bus stations are 2 blocks away from the apartment
La zona es centrica, hay muchos restaurantes de comida gourmet y esta cerca al malecon donde se pueden encontrar parques y vistas al mar.
Great stay at Miguel's, very kind, helpful, communicative and courteous host! The flat and room were as advertised, with access to kitchen and laundry. It's in a great location with all the best restaurants in Lima just a stone's throw away and other key attractions within easy reach, either on foot or bus, taxi. The famous Malecón is just across the road, great for evening strolls. The only other observation I have is: the room faces the inner courtyard, and due to the unusually high temperatures this year, thanks to El niño, doesn't get the benefit of cool breeze, unless the door is left ajar, which may not be to many people's liking. At the same time due to not being street facing also kept the noise out. Highly recommend.
Sapna
2016-02-16T00:00:00Z
We enjoyed our stay with Miguel. His place was close to some good eateries... and was only a short bus ride away from the main Miraflores shopping centre. Miguel was very helpful with advice and suggestions and helped us arrange our taxi back to the airport. The portable wifi that he lent to us during our stay was just awesome. The apartment building is in a safe area, and for additional piece of mind, they have a doorman/guard in control of the electronic gate on the ground level.
Jeremy
2015-06-05T00:00:00Z
Miguel respondió inmediatamente todas mis consultas y fue sumamente atento. El cuarto y la casa eran bastante limpios y la cama muy cómoda. Desafortunadamente no lo pude conocer por que estuve solo una noche, Miguel se aseguró que pueda entrar y salir sin problemas. Excelente
MaryCarmen
2015-08-08T00:00:00Z
The house looks exactly as listed. Miguel's home is clean, comfortable and feels like staying in a hotel. The area is very safe and has some really phenomenal restaurants. I would highly recommend anyone looking for great accommodation, a lovely host and insider tips to stay with Miguel.
Heather
2015-05-31T00:00:00Z
Miguel's place is clean and comfortable, with hot showers and great wifi - that little gadget that allows you to have internet anywhere made getting all over the city a breeze! Definitely a great choice if you need a place to stay in Lima.
Evy
2016-05-02T00:00:00Z
Unfortunately we only stayed one night at Miguel's place and was unable to meet each other, however Miguel organised perfectly for me to be able to get the key late at night. The apartment was very clean and the bed comfy. The portable Wifi device for internet was probably the best 'extra' - thanks for this Miguel!
Rouen
2015-08-05T00:00:00Z
Miguel was a great host. The apartment was clean, had everything we needed and in central location. Miguel suggested places for us to eat, visit, advised of any closures in the city and allowed us to store our luggage while we explored the city. He was wonderful! Thank you for everything.
Matt & Anya
2014-11-01T00:00:00Z
Miguel took us on very short notice. Leaving work to come and welcome us and make us settled. He provided information on Lima. His apartment was exactly was we required and close to all amenities/restaurants in Miraflores. Highly recommend.
Jessica
2016-09-21T00:00:00Z
Тип размещения
Отдельная комната
---
Тип жилья
Квартира
---
Вмещает гостей
2
---
Спален
Район Мирафлорес, Регион Лима, Перу
Ubicada en la zona turística más céntrica de Miraflores, a solo 50 metros del Centro Comercial Larco Mar , con restaurantes, cinemas, tiendas, compañas de turismo, y todo lo que pueda necesitar y sólo caminando, zona super segura.
Three-bedroom apartment in two levels located just half block from Larcomar Commercial Center, one block from Larco Avenue and 10 minutes walking from Kennedy Park-main park Miraflores-. Near commercial centers, two supermarkets with 24 hours attention, handicraft markets, different restaurants with food from oriental taste to international taste, tourism agencies and movie theathers, everything that you need only walking with total safety Three bedrooms, main bedroom with bathroom with shower inside bedroom and walk in closet included and King size bed, TV LCD and DVD and Iphone socket for TV, other two bedrooms with bed for two persons, closet included, one additional bathroom for guest and one additional bathroom with shower included for the last two bedroom, one per floor. Included services: phone-control calls, additional calls with cards prepayment-, TV cable and internet (WI FI). Capacity for 3 couples Kitchen with all equipments and tools. Service area with laundry and dryer. We will give towels and everything that you need Hired by days, weeks or months. Living and dinner room with panoramic view to sea on left side, TV LCD with DVD and home theater . You can enjoy running near to the sea or flying over Miraflores (parapente) Parking is available, additional cost US$5.00 per day with access control.
Miraflores is the most exciting district in Lima. It's absolutely amazing to have restaurants, bars, shopping centers, a beautiful mall with sea view with everything you need just a few minutes away and you can do everything walking or riding a bike. At the same time, the apartment area is really safe & quite, and you have supermarkets openned 24-hours a day. Amazing!
Excelente lugar y ubicación, gracias Miriam
Fer
2017-02-05T00:00:00Z
The apartment is spacious and well located. The building is new compared to its neighbors. Decoration is just like in the pictures. I recommend this apartment for couples since the beds in the secondary rooms are more full than queen. We had a great experience because of its wonderful location.
Adriana
2016-05-10T00:00:00Z
Miriam's condo was perfect and in an amazing location. The condo was really big and had all the amenities we needed. I would highly recommend that anyone wanting to stay in Miraflores stays at Miriam's condo!
Danielle
2014-01-06T00:00:00Z
Great apartment, centrally located, two blocks from Larco Mall, easy walk to everything. We had a great stay. The apartment had everything we needed, was very clean and well cared for. The bed was very comfortable. I would definitely recommend staying at this apartment.
Cheri
2016-10-27T00:00:00Z
Miriam was more than accommodating with our early arrival. When we got to Lima there was no waiting to check in, she had the keys waiting for us. We wanted to cook dinner one night and for the life of us couldn't figure out how to operate the stove top and we called her and they were there in less than 10 minutes to help us. She had a cleaning lady come and clean the entire apartment during our stay, fresh sheets, clean bathrooms, kitchen, etc. Also a perk is that it is ONE street away from the mall Larco Mar. I have been to Lima several times and rented in several apartments and I will be reserving her place again, if available for my trip next year. Its very hard to find a place in Lima with big beds and if comparing to bed sizes to the US standards, this place had two fulls and one king, which was perfect for us and our guests. Thanks a million Miriam, your place was wonderful.
Katie
2016-07-05T00:00:00Z
Fantastic apartment exactly as described. Directions were spot on and collecting the keys couldn't be simpler-just provided ID to the Concierge and in we go (so much quicker than checking into a hotel). The apartment was spotless and had obviously had a thorough clean before our stay. The beds are very comfortable, the apartment spacious. It is right next to the ocean, you can hear the waves and see the kite flyers from the windows. The Lacomour shopping centre is right around the corner with heaps of shopping and restaurants. I have no negative comments about my stay and would recommend the apartment to anyone wanting a comfortable, secure stay in a great area for exploring Lima!!
Chris
2016-09-23T00:00:00Z
Excelente ubicación, a pasos del malecón y de Larco mar. Puede ser un poco ruidoso en la noche por estar en segundo piso, el resto impecable!
Lorena
2016-12-12T00:00:00Z
Very nice apartment. Secure, clean, good location, nice amenities (laundry, kitchen, living area). I highly recommend this apartment to others. Loved all the books about different locations in Peru. The photos of the apartment were very accurate. Minor issue: we were not given an opener for the garage door to park the car. Had to bug the doorman each time.
Patrick
2012-01-07T00:00:00Z
Тип размещения
Дом/квартира целиком
---
Тип жилья
Квартира
---
Вмещает гостей
6
---
Спален
Район Мирафлорес, Регион Лима, Перу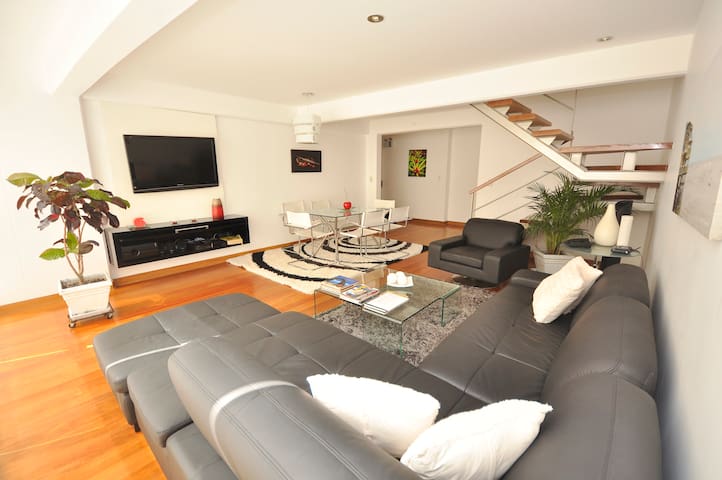 Nice location, beautiful apartment. 3 bedrooms, 2 and a half bathrooms, 24 hours security, laundry area, full equiped kitchen, in 4 floor with elevator. First room:Quing size bed suite with bathroom shower, walking closet and TV.Second bedroom:Double bed with spaciouscloset.Third bedroom: two single bed with closet.
The apartmet is located near 3 street from the breakwater, and 6 street to the hart of Miraflores. Close to restaurants, coffes, banks, movie, theaters, etc.
Silence and security place where to stay
Marvellous as a whole.
Allan
2016-09-12T00:00:00Z
Amazing place and location! Cecilia was such a pleasure to deal with. I would recommend her place to family and friends. Thank you so much Cecilia!
Xavier
2013-10-24T00:00:00Z
Comfortable apartment that served us well for our short stay in Lima. It was clean and is well located with a number of good restaurants within walking distance and a short taxi ride from all the best things to see in Lima. Only downsides were the internet was very slow and the blinds over the windows in the bedrooms were very thin meaning we woke every morning at sunrise (6am). The host (Cecilia) was very welcoming and did everything she could to make our stay a pleasant one, she was a pleasure to deal with.
John
2015-11-12T00:00:00Z
Cecilia's place worked well for our group of 5. There is a supermarket not too far away and some very good restaurants.
Kirsten
2016-12-31T00:00:00Z
Excelente ubicación, un sector tranquilo pero con fácil acceso a lugares de interés. El departamento es bonito y moderno. Cecilia estuvo siempre dispuesta a resolver nuestras dudas y fue flexible con nuestros horarios de llegada y salida.
Diego
2016-01-15T00:00:00Z
Cecilia muy amable y puntual, el departamento muy cómodo, y con buena ubicación...muy recomendable
Israel
2015-12-01T00:00:00Z
Apartamento amplo, bem localizado, fácil acesso ao bairro, sensação de segurança.
João
2016-09-22T00:00:00Z
Espacioso, comodo y excelente ubicación. Está en el corazon de Miraflores, cerca de restaurantes y supermercados.. Muchas gracias Cecilia!
Jessica
2017-02-16T00:00:00Z
Тип размещения
Дом/квартира целиком
---
Тип жилья
Квартира
---
Вмещает гостей
6
---
Спален
Район Мирафлорес, Регион Лима, Перу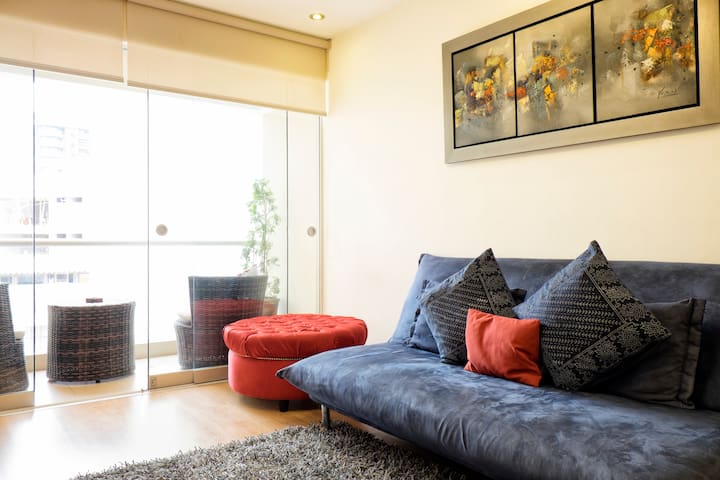 Enjoy the spectacular ocean view, walk Pardo Ave. and its surroundings or have breakfast on the balcony. Quiet area and lots of shopping areas near by. Walking distance to the beach and an amazing local bakery 2 minutes walking distance. The private room has one double bed and one single bed (trundle bed).
The apartment is located in the heart of Miraflores with a spectacular view of the ocean and 10 minutes walk through Malecón Cisneros to Larcomar Shopping Center. You can find a beautiful park across the street and a direct stairway to the surfing beach. The apartment is nicely furnished and with all the essential cooking equipment and a washer and dryer machine. The "Malecón" area in Miraflores has low noise levels and its perfect for the ones who loves discovering the city by foot. In case you rent a car, there is plenty of free of charge parking places around. If you arrive by plane take Uber or Cabify from the airport, it could take 40m.
Nice ocean view, low noise levels and walking distance from Miraflores Park, Óvalo Gutiérrez and Barranco. * There is a building construction in process in front but it does not affect the access to the apartment.
Freddy's place is in a great location, very close to parks amazing restraunts, and plazas. He was very happy to answer questions, and made us feel welcomed. Thanks Freddy!
Cassie
2016-02-04T00:00:00Z
Everything was great - the location, the room, the apartment. We took liberties with his balcony and had a feast from the supermarket. It was a perfect place to stay, close to the main tourist area and beach, but removed enough so that it was quiet.
Jenna
2015-07-30T00:00:00Z
Freddy was great! The accommodations were exactly what I was looking for. Safe neighborhood, close to the ocean, restaurants, and shopping. My flight didn't get in until late and he was there to greet me at 1:30am. Had plenty of recommendations for where to eat in Lima.
Tracey Lynne
2015-11-01T00:00:00Z
Freddy was super friendly and helpful. He provided a lot of information on things to do in surrounding areas as well as stayed in contact with us during our stay for check-up. Thank you Freddy!
Kristen
2016-08-28T00:00:00Z
Clean and perfect location
Milagros
2015-10-01T00:00:00Z
Freddy was a great host! Very nice and responsive. Great location in beautiful Miraflores! We left a jacket there, and he was very helpful in getting it back to us. Would definitely recommend.
Kristen
2016-05-08T00:00:00Z
Freddy was a great host! Somewhere between when the reservation was made and my arrival, Freddy found out that he had to leave town. Even then, he found someone else to do the key exchange and was available for questions/comments. The place was centrally located and had a great view.
Alfonso
2015-12-01T00:00:00Z
estaba ok, lo puedo recomendar¡ lo unico incomodo fueron las camaras en la entrada y el comedor.
gloria
2017-04-05T00:00:00Z
Тип размещения
Отдельная комната
---
Тип жилья
Квартира
---
Вмещает гостей
3
---
Спален
Район Мирафлорес, Регион Лима, Перу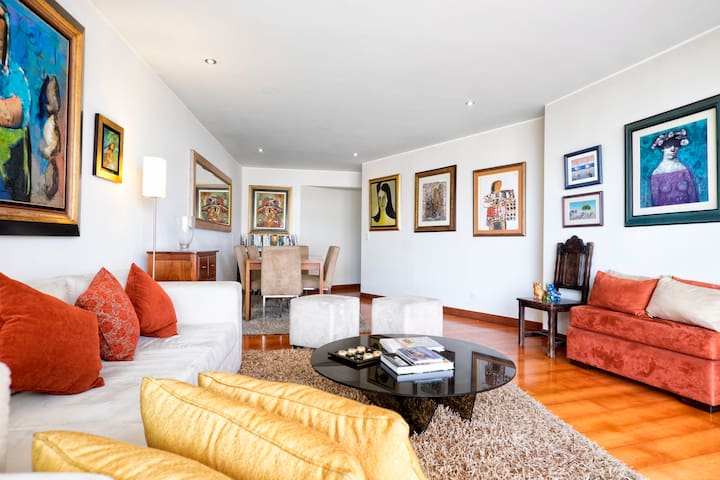 New and modern apartment with air conditioning totally furnished and equipped located in Miraflores.
New and modern apartments totally furnished and equipped, located in Miraflores & Barranco. You have see my other properties: "Modern apartment in Barranco", "Apartment with terrace in Barranco" and "Piso in Barranco" in this web. This apartment in Miraflores has a perfect localization, just two blocks away from boardwalk and four blocks from Larcomar shopping center. The neighborhood is composed of fashion boutiques, hotels, theaters, spanish schools, contemporary art gallerys, tasty restaurants, theaters, bars, casinos, stores and 24 hours supermarket. Most of the best restaurants in Lima are located in Miraflores. "Astrid & Gaston", 14th best restaurant in the world(S.Pellegrino Guide 2013), "Central", the best restaurant in Lima (Summum guide 2012) and 50th best restaurant in the world(S.Pellegrino Guide 2013); and "Rafael", 2nd best restaurant in Lima, (Summum guide 2012); are very close to the building. The apartment has a confortable living room with magazines, books, Bluetooth speaker, 40" lcd TV and Blu-ray with 40 Full HD movies; cosy dining room for 4 persons, writing desk, two bedrooms(the main with a 32" lcd TV), two bathrooms, fully equipped kitchen and service area with washer and dryer, safe-deposit box, hairdryer and iron. The apartment also has free internet Wi-Fi, TV with HD channels, telephone(free local calls) and intercom. The building has front desk and 24 hours consierge; beautiful gardens, gym, sauna and multiporpose room. Sheets & towels are provided. Check in 2pm., check out 11am. Optional: Private transportation service, daily cleaning, laundry service, ride along Lima by bicycle, gastronomic tours, Peruvian Paso Horse tour, garage and storehouse. If there's anything else you need to know, just get in touch with me and I'd be happy to answer your questions and help you to have an awesome time in Lima!
The apartment is just as amazing as in the pictures! The central location in Miraflores was convenient and secure. We used the in-unit washer and dryer and both worked like a charm. Juan Carlos was a very welcoming and responsive host, and he provided us with several restaurant and sightseeing recommendations. We'd definitely stay at this apartment again.
Nikki
2014-09-13T00:00:00Z
El apartamento lo conseguimos por una recomendación, la estadia fue buena y se cumplió con los horarios
BIBIANA
2015-08-28T00:00:00Z
Excelente ubicación y espacio. El apartamento es pequeño pero tiene todo lo que puedes necesitar. A nivel de espacio fue excelente para 4 personas. Lo único negativo es que tiene mucho polvo, las alfombras y cortinas al parecer no han sido lavadas por mucho tiempo. Se siente como que ha estado cerrado sin ventilación y necesita una limpieza intensiva. El polvillo no es visible a primera vista pues el apartamento está aparentemente limpio. Pero luego de unos minutos lo sientes al respirar, sobre todo en las habitaciones.
Laura V.
2016-10-31T00:00:00Z
Great location, excellent amenities, the stay was just fine.
marc
2015-08-03T00:00:00Z
We had a great time at this apartment. Location is amazing (1 block from the restaurant Maido) in the middle of the best district...and we enjoyed all of Miraflores nearby. Lima is a surprisingly interesting city and we really enjoyed coming back to this place at night. Clean, comfortable, recommended.
Nate
2015-09-02T00:00:00Z
Excelente estadía, cómodo apartamento en un muy buen sector como miraflores, Juan Carlos todo un caballero dispuesto a ayudarte en lo que necesites.
Cristian
2014-04-02T00:00:00Z
A++ This is my second time staying in an apartment hosted by Juan Carlos, and it was just as good as the first. Exactly as described, everything was modern, clean, and comfortable. Juan Carlos responded very quickly always and was willing to assist with anything I needed. Do not hesitate to book this apartment, it will allow you a great stay in Lima!
Phillip
2014-09-03T00:00:00Z
El departamento es excelente, muy bien ubicado, limpio y es conforme las fotos del site. Juan Carlos estuve siempre atento a nuestras necesidades.
Marcello
2016-04-07T00:00:00Z
Тип размещения
Дом/квартира целиком
---
Тип жилья
Квартира
---
Вмещает гостей
4
---
Спален
Район Мирафлорес, Регион Лима, Перу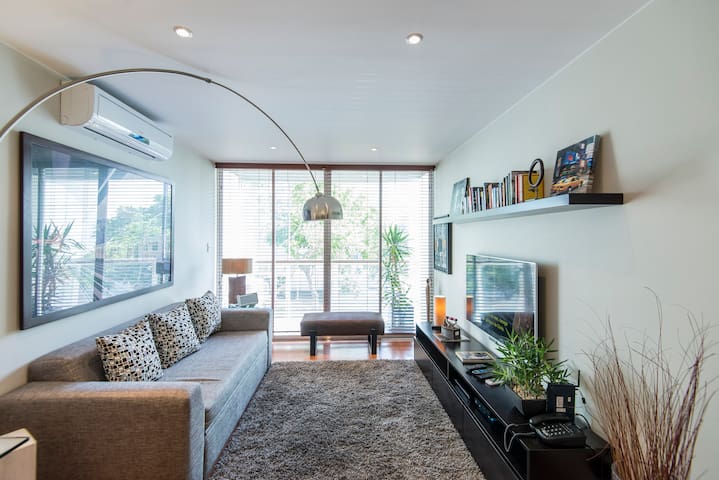 Luxury Apartemet located in the Heart of Miraflores District in a brand new building on the16th Floor. 2 Bedrooms, a Master and Guest Room, 3 baths, and a Private Terrace with Panoramic Ocean Views that also conects to the Master Bedroom. Another nice detail, is the fact that the Master also has a Walking Closet and an Ensuite Bathroom High end furniture, WiFi Internet, Cable TV (Flat Screens located at the living room and master bedroom), Phone, Oven, Stove and Washer & Dryer. Portable heater. 24/7 door man and security system. Maid service and parking available for an additional charge upon your request. The Location: This apartment its whithin 30 minutes driving to/from Lima's International Airport (Jorge Chavez - LIM) and it will also take you 30 mintues to get to Lima's Historic Downtown. Parks, Ocean Front Boulevard, Shops, Famous Restaurants, Grocery Store, Bakery, Dry Cleaner (with pick up and delivery service), and Burger Joint within walking distance.
Flat is very well located, looked after and with nice view on avenida pardo / the sea. Giovanna arranged everything for us via the doorman, which was very good as gave us 24h service. Also, Giovanna has been very responsive and flexible any time we had an enquiry. So- very good experience.
Matteo
2016-01-04T00:00:00Z
The apartment was exactly as advertised - clean, comfortable, attractive, fully equipped, everything worked perfectly. Very safe location one block from the water. I felt completely at home here and did not have any trouble. I would 100% recommend this apartment.
Lindsay
2014-10-10T00:00:00Z
The apartment is beautiful and all the people working at the front desk are very nice and helpful! The best coffee place is just a few blocks away, and great restaurants are all nearby.
Joanna
2012-05-31T00:00:00Z
We had such a great experience at Luis and Giovannas apartment. They were so quick to answer any questions we had about the place. The door personnel were so helpful with questions we had about the neighboring area. The apartment is in a great area of Miraflores. There is market about 1/2 mile away and several restaurants a short cab away. Morning jogs along the boardwalk were awesome and safe. The apartment was a perfect size and very modern. The only tricky thing was figuring out the locks to get in the apartment. With a little bit of time we figured it out. Overall, a great experience!
Michael
2013-09-24T00:00:00Z
The location is great: close to everything you want to visit (very nice to be one block from the sea and "El Malecón"). The pictures you see in AirBNB perfectly reflect how the apartment looks like. Lucrecia (the woman that receives you) is not only very nice and helpful but she's also a great cook and taught us peruvian cuisine!
Maximiliano
2013-11-23T00:00:00Z
Excelente apartamento, bem localizado e com uma linda vista do mar e da cidade. Limpeza impecavel.
claudio
2013-04-23T00:00:00Z
Todo funcionó perfecto. Incluso, en una ocasión se me quedaron las llaves en el departamento y fui rápidamente socorrida. Todo muy bien. El departamento es tal como se ve en las fotos y me sentí muy cómoda y respaldada por los anfitriones y por la señora encargada. Es tranquilo, muy bien ubicado y cerca de todo lo necesario (supermercados, cafés, restaurantes) volvería, sin duda alguna.
Gabriela
2013-06-23T00:00:00Z
Great view, solid amenities, and fantastic location near the ocean. I couldn't ask for more in my first visit to Peru. Highly recommended.
Christopher
2016-11-14T00:00:00Z
Тип размещения
Дом/квартира целиком
---
Тип жилья
Квартира
---
Вмещает гостей
4
---
Спален
Район Мирафлорес, Лима, Перу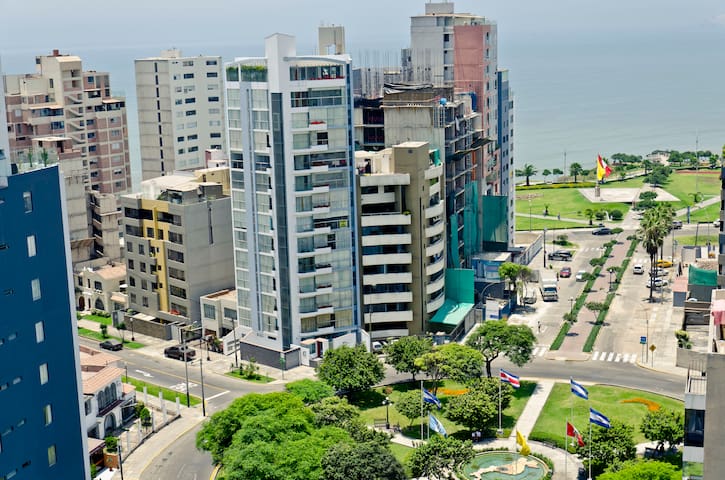 Espacioso Penthouse de tres plantas, ubicado en el piso 18 y con una hermosa vista a la ciudad de Lima y al océano pacífico.
Hermoso y espacioso Penthouse de 3 niveles con vista al mar a solo minutos de la playa. Ubicado en el piso 18, dos ascensores de acceso y dos cocheras en el sótano. 3 dormitorios, 3 baños (1 en el primer piso y 2 en el segundo), amplia cocina totalmente equipada y sala comedor, así como lavandería y terraza en el tercer piso desde donde se puede observar el mar. Incluye internet wi-fi, TV cable, teléfono con llamadas locales sin costo alguno. El edificio tiene seguridad las 24 horas del día. Este departamento tiene LA MEJOR VISTA DE LIMA!! que podrás conseguir. Todas las habitaciones tienen vista hacia el mar, así como el comedor, y desde la cocina obtendrás una vista inigualable del océano pacífico así como del club de tenis Las Terrazas. La habitación principal tiene una cama tamaño Queen y un baño con tina; el segundo y tercer dormitorio tienen cama 2 plazas. Ambos comparten un baño. Todos los baños son acondicionados con toallas, jabón y los artículos necesarios para su estancia. El apartmento está en una zona tranquila de Miraflores, a solo 5 minutos del centro de Miraflores (Parque Kennedy) y a 10 minutos a pie del Centro Comercial Larcomar y así como del océano pacífico. Cerca puedes encontrar restaurantes, los mejores de Lima, tiendas, parques, cafés y el supermercado Wong (a solo dos cuadras). Si necesitas de un recojo del aeropuerto tenemos personas de confianza que pueden hacerlo. Asímismo, nosotros los esperaremos en el apartamento a su llegada (cualquier hora) para recibirlos y entregarles las llaves. Estaremos a su disposición en todo momento para cualquier cosa que pudieran necesitar. Si están interesados y las fechas no se encuentran disponibles no dude en preguntarnos por nuestro otro departamento Penthouse en el mismo edifico.
Ubicado muy cerca del malecón de Miraflores con la hermosa vista al mar y cerca al parque central de Miraflores, rodeado de cafés, restaurantes y tiendas, el departamento tiene una ubicación muy buena.
Excellent location. Spectacular sea /city views. Very nice apartment. Great assistance from Mario & Ana Zuleta.
Ramiro
2013-08-03T00:00:00Z
WOW! I can't speak more highly of Mario and Ana! They were excellent professional hosts and their apartment was unparalleled. Perfect spot and perfectly designed. Wow! I hope to be able to stay with them again in the future on subsequent stays in Lima.
Austen
2014-06-08T00:00:00Z
Excelente apartamento y excelentes caseros, muy grata la visita a Lima.
Alvaro
2012-03-24T00:00:00Z
We had an amazing experience in Lima, the penthouse was amazing! can't beat the location and beauty of the condo. Mario was very helpful, one day the heater went out and Mario promptly called someone to fix it. We will rent this condo again on our subsequent visits to Lima.
Ernesto
2014-05-28T00:00:00Z
No había papel higiénico suficiente
German
2016-09-11T00:00:00Z
Mario & Ana's penthouse in Miraflores was awesome in every way - it was very spacious (3 floors of amazing views), well furnished & clean and at a convenient location. We were able to walk to Wong up the street to buy groceries ... and walk the beach across the street (among other cool places). I highly recommend staying here!
Meli
2016-09-07T00:00:00Z
Mario was great! Very helpful and friendly. I've truly enjoyed my stay here.
Sarah
2015-03-30T00:00:00Z
The place is really nice and the hosts were excellent. There was shopping close by, and you could walk to lots of restaurants. Great doormen, clean, overall nice.
Dolores
2016-07-29T00:00:00Z
Тип размещения
Дом/квартира целиком
---
Тип жилья
Квартира
---
Вмещает гостей
6
---
Спален
Район Мирафлорес, Лима, Перу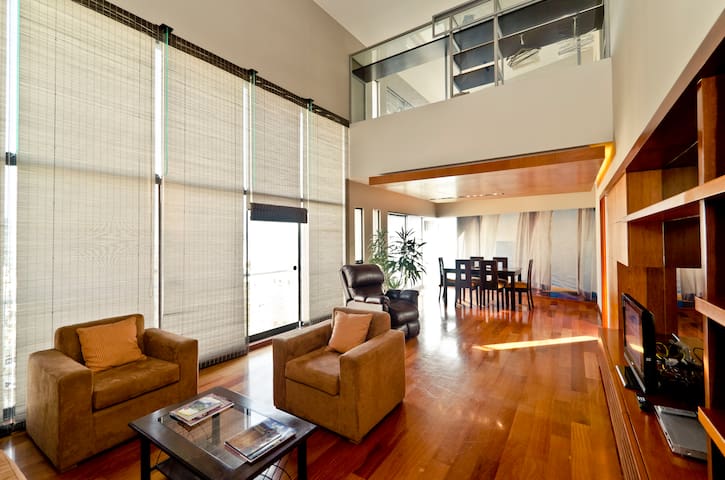 Beautiful and bright 130 sqm apartment with large windows on the 9th floor of a modern building in the safest area of Lima. The ideal space to enjoy Miraflores living at its BEST. TOP LOCATION to explore the best by foot. Best restaurants of Peru like Central (# 4 in the world), Maido (# 13 in the world), Waikiki & Makaha Beach, Supermarkets, Larcomar , Kennedy Park and Calle de las Pizzas just walking distance.
Large new apartment, Comfortable, 130 square meters (1399 square feet), 8 minutes walking distance to Waikiki and Makaha beach, Larcomar Shopping Center, doorman 24 hours. Wifi and fixed line for local calls included. Best location to explore the peruvian cuisine and confirm why Peru has been awarded as the as the Worlds Leading Culinary Destination since 2012 by the World Travel Awards.
The best and safest area of the city. Lots of cafes, bars, clubs and restaurants at walking distance from the apartment. The best restaurants of Peru just walking distance from the apartment.
Raul was very helpful and responsible. Nice, spacious apartment. Great location; walkable to many restaurants and entertainment. Secure building with 24/7 front desk watchman.
Robert
2017-01-02T00:00:00Z
Muy buena acogida, Raúl nos facilito todo y estuvo atento a todos los pedidos.
Claire
2017-01-05T00:00:00Z
Very nice apartment. Nicely furnished with tasteful, modern things. Lots of windows, lots of light. Pictures reflect reality. Kitchen is equipped so that you can cook a simple meal. Apartment has a facility room with a washing machine and a hanger which is a nice touch. Big living room with a big lounge and a TV (did not work when I was there). Has a small office room and a small balcony with a table outside. Two bedrooms and to restrooms (one with shower and one en-suite with a bathtub). It is located at the 9th floor. Apartment is very good located as it is some 10 minutes to all restaurants and some markets and 15 minutes to the sea promenade. Everything works and is nice. Apt is very safe as there is a 24 hours concierge downstairs. Negative: Internet works only in the small office room. That bothered me as you cannot do anything online except sitting in the office. Apartment has no a/c. It is clearly stated in the description (so no surprise), but I think it can be expected from such an apartment. As it has a lot of windows and is on the sunny side, it gets hot. I had to keep the windows open but as the bedroom is on the street side, and the street is very busy and everybody honks at all time, it was not restful. Bedroom has no dark curtains but only white fabric blinds that close halfway down, so you wake up with the sun.
Fab
2016-03-25T00:00:00Z
This apartment has great potential but needs some attention. The bed linens and towels were old and cheap. The noise from the busy street 9 floors below revealed a desperate need for sound proof windows. The TV in the master BR didn't work, the three prong electric cord had a two prong receptacle laughing at it. The Internet signal strength was dim at best. For all these reasons I wouldn't stay there ever again. I had to ask for soap and a blowdryer that arrived the day of the check out.
Luis
2015-10-08T00:00:00Z
Excellent location. Beautiful, clean and modern apartment with wifi. Raul was very nice and communicative. He also sent me an email with wonderful suggestions of nearby restaurants to check out. Great experience overall.
Sofia
2016-10-10T00:00:00Z
Excellent apartment! Great location and host. Raul was punctual, and very helpful. The apartment was clean and well kept - just like in the pictures. I highly recommend it.
Mauricio
2015-07-10T00:00:00Z
Great spot with an ideal location to the best parts of Lima.
Julian
2015-07-21T00:00:00Z
Really beautiful and large apartment with fantastic wardrobe, laundry, and bathroom! Perfectly located with 24 hour security who are very kind. My husband and I stayed here for two weeks during a work-cation and had guests for dinner, cooked, and relaxed in the space. Only small thing was the early morning noise, but I think that is part of staying in Lima :) Overall great experience and would definitely go back. Thanks for hosting us Raul!
Katrina
2015-03-31T00:00:00Z
Тип размещения
Дом/квартира целиком
---
Тип жилья
Квартира
---
Вмещает гостей
6
---
Спален
Район Мирафлорес, Регион Лима, Перу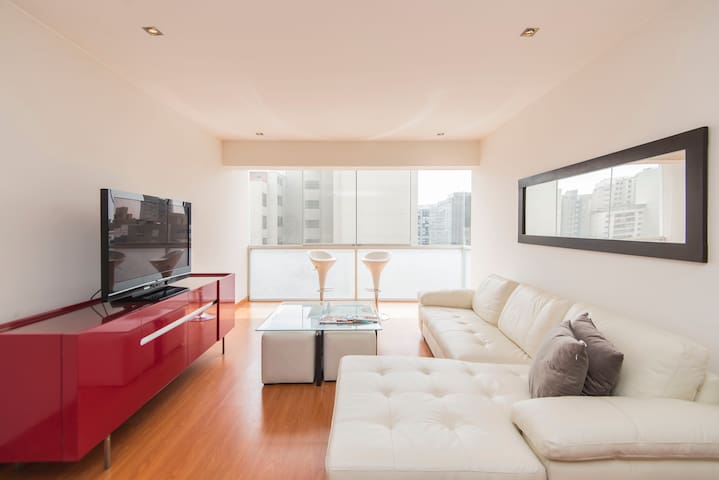 Fully equiped apartment in Miraflores, near to Larco street , in front of famous " Tanta" restaurant and San Antonio for a delicious breakfast. 3 bedroom ( 1 double, 1 single, 1 twin, 2 bathroom,
Es un departamento muy bien ubicado en el corazon de Miraflores. Su estancia en Lima sera bien placentera, debido a que nuestro servicio es personalizado a cual podra requerir hasta el mas minimo detalle o consulta de cualquier indole, las 24 horas del dia. Es el edificio mas completo que existe en Miraflores con un sin fin de areas comunes a su dispocicion. Si busca un departamento seguro, limpio, de confianza y centrico. Ese es el suyo! Nuestras verificaciones nos avalan !
Tanta Restaurant San Antonio restaurant Starbucks
El departamento tiene una excelente ubicación, en una zona muy segura de Miraflores, es tal y como se ve en las fotografías, Jaime es un magnifico anfitrión, siempre estuvo al pendiente para hacernos recomendaciones y facilitar nuestra estancia en Lima. Nuestra experiencia en Lima fue maravillosa, las personas muy cálidas, deliciosa comida en restaurantes a unos pasos del departamento , cien por ciento recomendable(URL HIDDEN)
Cecilia
2016-09-27T00:00:00Z
Jaime is a great host. Always responding to any enquires and helping us with our stay. The location is on the best and safest road of Miraflores. Close to many shops, restaurants, cafes, banks and close to downtown Lima. I would definitely recommend staying here.
suhail
2017-03-13T00:00:00Z
Todo nos salió perfecto! Jaime siempre muy disponible para resolver todo, muy rápido en las respuestas y soluciones. Incluso nos ayudó con otras informaciones a respecto de Lima. Encontramos el departamento super limpio, funcional y buena infraesctrutura. Esta ubicado en un buen lugar, con sitios para comer, metro, supermercado y fácil de caminar por todo. Nuestra única restricción és que por la buena ubicación tiene mucho ruido de autos todo el dia y noche, pero recomiendo.
Silvia
2015-06-08T00:00:00Z
Un excelente lugar, tal cual se aprecia en las fotos, y lo mejor de todo es que Jaime se esmera en que sus alojados disfruten la estadía, ya que está siempre presente y atento a cualquier necesidad que el visitante pueda presentar. Asimismo, dispone de mapas y guías que ayudan al visitante. En resumen, un excelente lugar.
Carlos
2017-02-02T00:00:00Z
The apartment is perfectly located, near restaurants and other attarctions in the Miraflores area. The neighborhood is safe, The host provided helpful information. During the winter there is a need for more hot water, especially if more than two people stay in the apartment.
Rafael
2016-09-16T00:00:00Z
Appartement propre, fidèle aux photos. Jaime a été très arrangeant afin de faciliter notre arrivée à Lima. Merci à lui !
Allan
2016-05-31T00:00:00Z
We stayed here for one night on our way back to the US. It was exactly what we needed: clean, comfortable and in a great area of Miraflores. We really enjoyed the balcony overlooking the area, and it was the first place we had consistent hot water in more than a week. The beds were very comfortable, and the host, Jaime, was friendly and very accommodating. I'd recommend this space, especially for 3 or 4 people.
Ben
2015-08-18T00:00:00Z
Good apartment easily located in Miraflores. It's a little smaller than the pictures show but it's comfortable nonetheless. Jaime was a little rude on checkout but not a big deal.
Aaron
2016-07-14T00:00:00Z
Тип размещения
Дом/квартира целиком
---
Тип жилья
Квартира
---
Вмещает гостей
5
---
Спален
Район Мирафлорес, Регион Лима, Перу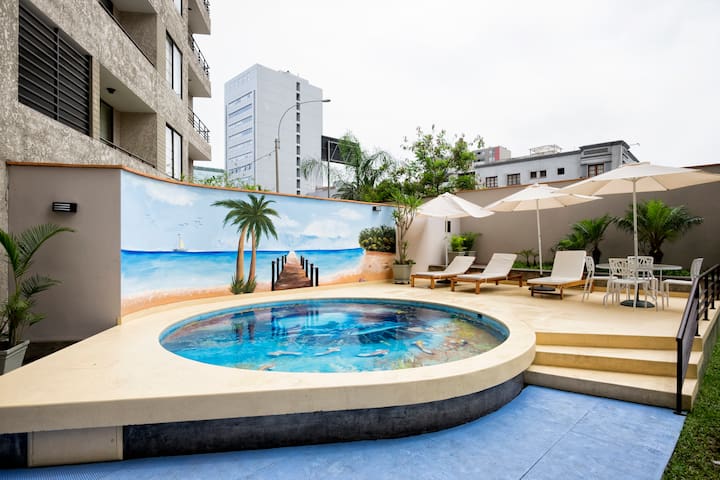 Newly renovated apartment with (PHONE NUMBER HIDDEN)) located in one of the best area of Miraflores, at the 15th floor. This amazing apartment has a Beautiful Panoramic Ocean Front View with a nice Park where you can even practice paragliding.
Newly renovated apartment with (PHONE NUMBER HIDDEN)) located in one of the best area of Miraflores, at the 15th floor. This amazing apartment has a Beautiful Panoramic Ocean Front View with a nice Park where you can even practice paragliding. It is ideally located with walking distance to Larcomar, the most famous mall in Miraflores, where you will find upscale shops, restaurants, cinemas, etc. PANORAMIC OCEAN VIEW, POOL & GYM: 4 Bedrooms, 3 Bathrooms, Sleeps 7. - Master bedroom: 1 King bed, Walk-in closet, TV, Full bathroom with "Panoramic Ocean view". - Second bedroom: 1 Queen bed, Closet, TV. - Third bedroom: 1 Full bed, Closet, TV, "Panoramic view of Miraflores". - Fourth bedroom: 1 Full bed, Closet, TV, Full bathroom. - Living Room: Plasma TV, DVD player, Panoramic Ocean View. - Beautiful Tea Area with Panoramic Ocean View. - Fully furnished and equipped kitchen. - Laundry Room: Washer and Clothes Dryer, Iron and board. - Pool - Beautiful hardwood floors throughout the Living Areas. - Indoor Parking. This luxury apartment has 24 hours doormen and 24 hours security with cameras around the building. All services like maintenance and utilities, electricity, all incoming phone calls (outgoing calls are made with a pre-paid card), cable TV and Wi-Fi Internet are included in the rental price.
Apartment is fantastic, views are amazing!
Maria
2017-01-21T00:00:00Z
The host canceled this reservation 147 days before arrival. This is an automated posting.
tina
2015-07-24T00:00:00Z
Great place to stay
Seth
2016-09-10T00:00:00Z
This place was gorgeous with a beautiful view
Brenden
2016-08-01T00:00:00Z
Estuvimos con mi familia 9 días del 18 al 27 de enero del 2016 todo excelente se acomodaron a nuestro horario de llegada y salida la vista espectacular la ubicación inmejorable, los porteros muy atentos, el departamento amplio todo muy bien, sin duda volvería a alquilarlo si vuelvo a Lima distrito de Miraflores …. Gracias Trecy te llevas todas las estrellas.
Ibar
2016-01-28T00:00:00Z
Excelente ubicación y la vista es maravillosa. Amplio y cómodo, cerca de restaurantes y supermercados.
Cristina
2016-10-11T00:00:00Z
The commuinication was very good and there is always someone you can contact in case you need something to be done.
Martin
2016-07-22T00:00:00Z
excelente vista muy lindo y comodo apartamento
Felipe
2016-12-12T00:00:00Z
Тип размещения
Дом/квартира целиком
---
Тип жилья
Квартира
---
Вмещает гостей
7
---
Спален
Район Мирафлорес, Лима, Перу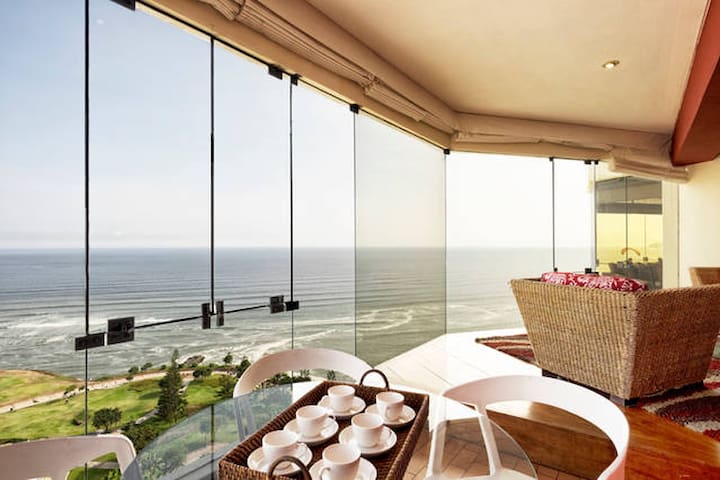 The apartment is ubicated in the best living, comercial, and touristic zone in Miraflores. Very close to Larcomar shooping and entretainment center, and to the Kennedy Park. Very secure área 24 hours a day.
Mi alojamiento esta situado en la mejor zona de Miraflores,cruzando la pista hay un super mercado que atiende todos los dias hasta las 12 p.m,estamos rodeados de bancos ,casas de cambio,restaurantes,tiendas por departamentos y tiendas de marca etc zona muy segura,tenemos portero las 24 horas.
El barrio tiene el parque Kennedy,la Iglesia catolica La Virgen Milagrosa,salas de cine,casinos,el centro comercial Larco Mar,cerca a la zona bohemia del barrio de Barranco con muchos teatros ,bares y espectaculos folkloricos.
Gerardo and his wife are very lovely people and treated my family well during their stay. The apartment is nicely located and centric enough to reach most of what Miraflores has to offer by foot. The accommodations were basic but comfortable and a grocery store is nearby for any provisions needed. Highly recommend this place to any traveler.
Paul
2015-10-29T00:00:00Z
El departamento tal cual como está en la foto, excelente ubicación!!! Tuvimos una estadía maravillosa, perfecta. Recomendadísimo este departamento, cómodo en todos los sentidos. Caminando uno llega sin problemas al mar, al centro comercial Larcomar, a parques, a varios centros comerciales, supermercados, restaurantes, casinos, paradas de bus en frente y el metropolitano a 2 cuadras. Se tiene todo a mano!! Todos los servicios excelente y por más que está ubicado frente a un casino, el departamento es tranquilo y silencioso. Los dueños nos recibieron según coordinamos y nos ofrecieron todas las informaciones e indicaciones pertinentes para disfrutar de la ciudad. Gracias!!
Francisca
2015-04-19T00:00:00Z
L'appartement était à la hauteur de nos espérance. Un appartement très fonctionnel, avec tout le matériel a disposition. De plus il est très bien situé dans la ville , à proximité de tout. Super expérience !
Wissal
2016-07-11T00:00:00Z
The host was helpful. I never saw him, but he coordinated with building managers to get me what I needed. The neighborhood was great. The building was bare bones, but excellent for what I needed. The apartment was bigger than I needed. It was a short walk to some coffee shops, which I went to in the mornings. Also a short walk to some nice casinos, which I went to in the evenings.
Kristopher
2015-10-05T00:00:00Z
Gerardo resultó ser una persona muy atenta. En cuanto llegamos se interesó por saber como nos encontrábamos y si estábamos a gusto. Se presentó un inconveniente con el sistema de cable de uno de los televisores y lo resolvió inmediatamente, a pesar de que no se trataba de un servicio prioritario. Procuró estar en contacto en todo momento para conocer nuestras necesidades y orientarnos. En cuanto al apartamento, es exactamente como se ve en las fotografías, muy cálido y acogedor además de impecable. Se disfruta la tranquilidad a pesar de encontrarse en una zona céntrica. Está cerca de todo y resulta sencillo desplazarse al resto de la ciudad. Es de destacar el trato del portero, Francisco, persona que siempre nos recibió con una sonrisa y nos aconsejaba en relación a como manejarnos en la ciudad. Ha sido una experiencia altamente recomendable. Gracias Gerardo
Ivonne
2016-04-29T00:00:00Z
Ótimo apartamento, limpeza, equipamentos de cozinha e mobiliário. Excelente localização, consegue visitar a maior parte dos pontos de interesse de Miraflores a pé, três opções de supermercados próximos e vários restaurantes. Fui muito bem atendido pelo proprietário incluindo a flexibilização do check-in e check-out por conta de um problema ocorrido. Obs. O porteiro Francisco é muito educado e atencioso.
Paolo
2016-01-23T00:00:00Z
Great location, close to everything, restaurants, shops, etc. host quickly responded to any request.
Walter
2017-03-07T00:00:00Z
Mi estadía fue fenomenal y muy acogedora. No tuve la oportunidad de conocer a Gerardo pero fue muy atento de llamar en diferentes ocasiones para asegurarse que todo estuviera en orden. Definitivamente recomendable.
Siu
2016-04-06T00:00:00Z
Тип размещения
Дом/квартира целиком
---
Тип жилья
Квартира
---
Вмещает гостей
4
---
Спален
Район Мирафлорес, Перу
Our comfortable three bedroom Duplex with it's unique rooftop terrace is centrally located on a beautiful street, just two blocks from Kennedy Park. Enjoy a taste of life in Lima
Located on one of Miraflores most desirable streets, The Penthouse has quickly become Lima's most popular vacation rental! This penthouse features 24 hour doorman, a 700 sq ft private rooftop terrace overlooking both the Pacific ocean and city lights. The building is located directly across the street from the beach access which is the most scenic and fastest way down to the beach. We are only two blocks from the cliffs overlooking the Pacific Ocean,3 short blocks to Park Kennedy and the center of Miraflores and only one block from the new Wong supermarket for all your shopping needs. The Penthouse features top of the line mattresses,imported linen and (URL HIDDEN) has a fully equipped kitchen,living room with new flat screen TV /Cable. Internet access is available using our secure Wi-FI. Secure airport pickup can be arranged for $30 for up to 3 passengers . We realize how stressful traveling can be and we would like you to consider us as your family in Peru!
IIt is in walking distance to all Miraflores has to offer, Ocean,parks,restaurants,cafes,shopping,hospitals.
The place was great - right in the heart of Miraflores and very clean. We loved the private deck. And Edward was a wonderful host - he was even willing to accommodate our ~300am arrival and meet us with the keys. Would definitely stay again!
Zak
2015-12-23T00:00:00Z
The description of the place was very accurate and it is clean, cozy and in a great location. I cannot stress enough how great the location is. Also, the terrace is comfortable and has a great view. Edward was great at meeting us (we were the ones a bit late) and he was a great host. Everything works in the place but we had to make sure we turned the water heater on when we got there because our first showers were cold! We did not have any problems after that.
Alfredo
2016-05-31T00:00:00Z
Great location in the heart of Miraflores. Wonderful terrace to relax
Frank
2016-12-03T00:00:00Z
Very nice and welcoming host. After we arrived Edward responded quickly to our request for additional keys. The place is in an ideal spot, close to lots of restaurants and a nice walk to Larcomar Mall. The rooftop terrace is fantastic. The furniture and condition of the apartment is not brand new, but everything is quite functional. Also the beds were very comfortable. We would definitely stay there again!
Ben
2015-10-25T00:00:00Z
Fantastic location, safe building, great host with excellent food recommendations!
Grace
2015-04-30T00:00:00Z
Edward was a wonderful host. We arrived very late (1am) from the Lima airport to his AirBnB and he waited for us at the building's lobby with our keys. He showed us around and even stayed for a while to have a nice chat. The apt was well kept and very clean with an incredible view of the city from the rooftop!!! The apt is centrally located in Miraflores, walking distance to bars and restaurants. Highly recommended!
Carlos
2015-04-07T00:00:00Z
Edward was a gracious host who had no problem meeting up with me to exchange the key after midnight. He spent time walking us through the place - showing us everything and answering questions before he took off. The place was clean and more than I had expected. The roof top area was sick and would love to stay there again for my next trip! Thanks again Edward.
Bill
2015-05-22T00:00:00Z
Ed was very friendly and helpful with good suggestions of where to go, eat, and see. Very cool top balcony as well.
Timothy
2016-03-01T00:00:00Z
Тип размещения
Дом/квартира целиком
---
Тип жилья
Квартира
---
Вмещает гостей
6
---
Спален
Район Мирафлорес, Регион Лима, Перу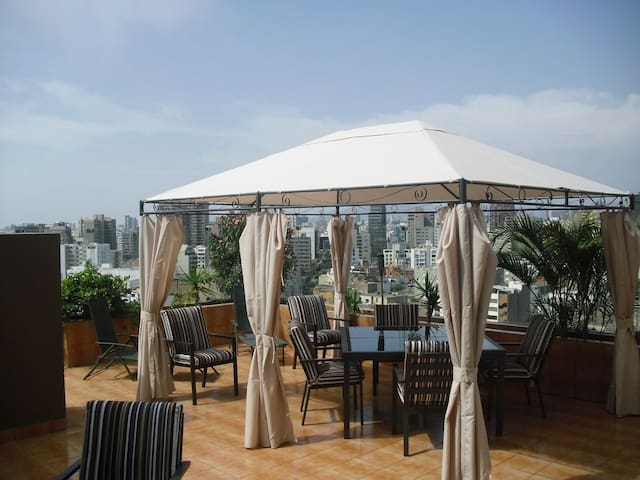 80mts2, fully furnished, sea view, elevator direct to the flat, 2 bedrooms with closets one of them with toilet, kitchen, washing and drying machine, living room, dinning room, parking garage in basement, 2 toilets, security/doorman 24hr
The 80mts2 of our lovely flat is very well distributed having a fully functional kitchen with a small dining room for the everyday breakfast with a lovely sea view. The dining and living room are the main space of the flat, both are illuminated by Scandinavian lamps and a vintage and an energy saver bulb. At the end of the living room there is a floor to roof glass wall that when opened gives access to the balcony. The master bedroom is equipped with a 160cm bed and has a toilet and a very spacious closet as a large window to the east side. The second bedroom has a large closet too and also window to the east side. The flat has two elevators, one takes you directly to the flat and as the doors of the lift open your are already inside your home. The other lift takes your visitors to the corridor of the 15th floor and they would just need to look for your flat number.
Miraflores is the best area of Lima, surrounded by cafes, restaurants, shopping malls, beaches, etc. And our place is in the trendy Av. Pardo, just four blocks from the 'malecon' (coast line). You can go for morning walks along the malecon or enjoy an afternoon sunset with a pisco sour at any of the great local bars by the sea. Three blocks from the building you will find the cafe 'Cafe Verde' maybe the best coffee you can find in Lima and if that is not enough then walk up Pardo for about 6 blocks and give it a try to Arabica Cafe, you won't be disappointed. The best supermarket chain, Vivanda, is just a couple of hundred mts away and if you prefer the old fashion 'bodegas' (corner groceries shops) on the other corner behind the house you will find Bodega Nakamoto, maybe one of the oldest ones in Lima and still run by the same family. There is basically everything you need within 300mts and to be honest you will find places which are ranked as the best in town within walking distance.
We had a great time staying in Lima. The apartment was just as pictured and Oscar was quick with responding to any requests we had. Would definitely recommend to other guests. The only complaint we had was that the WiFi was inconsistent.
Matt
2016-10-16T00:00:00Z
Muy buen apartamento y buena locación
Victor
2016-08-09T00:00:00Z
Pros: - Location - new and modern apartment - Responsive host - Affordable Cons: - Small ants or bugs everywhere - Strong humidity smell inside wardrobes and cabinets Conclusion: good deal for short stays.
Julieta
2016-11-04T00:00:00Z
Oscar's place was picture perfect, with easy access to great restaurants and cafes. He helped us book taxis from the airport and provided great restaurant recommendations. We felt welcome and taken care of the entire time and would gladly come back!
Charlie
2016-07-28T00:00:00Z
The apartment is lovely and the location was perfect. Close to wonderful cafes and grocery stores and walking distance to the coast. Oscar was very responsive and went above to make sure that we were happy with our visit.
Leah
2016-09-30T00:00:00Z
We stayed here for a month and would have happily moved in permanently. The apartment feels spacious and modern, and the location gives quick access to grocery stores, restaurants, and ocean. Large kitchen windows gave unhindered views to the ocean, from which frequently watched the afternoon hang gliders. Oscar was very helpful and available, with great recommendations for coffee, restaurants, and bars.
Courtney
2016-06-19T00:00:00Z
Lovely apartment not to far from the water and parks. We got in to Lima late and Oscar was flexible with our check in time. He was easy to reach and gave us lots of information about the area. Would stay again if in Lima.
Pamela
2016-07-02T00:00:00Z
Excelente zona ,segura limpia ,hermosa ciudad No conocimos a Oscar pero nos esperaban en el edificio Súper recomendable
Natalia
2016-08-24T00:00:00Z
Тип размещения
Дом/квартира целиком
---
Тип жилья
Квартира
---
Вмещает гостей
4
---
Спален
Район Мирафлорес, Регион Лима, Перу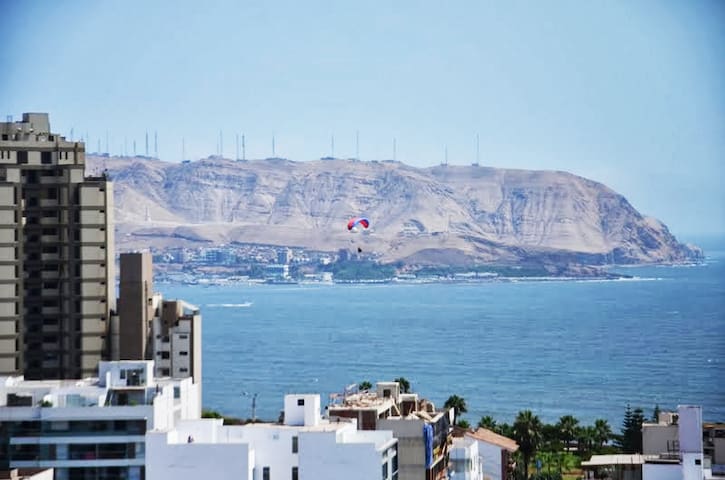 In the center of Miraflores, 4 block from Larcomar shopping Mall and Marriott Hotel Close to Cultural Centers, Art Galleries, Movie Theaters, Banks, Casinos, Grocery stores and Kennedy Park. From Kennedy Park you can enjoy cozy places to have a...
It is a small apartment on the 13th floor of this residential building with 24 hour security on reception in a great location without all the traffic noise so you get a great nights sleep All the bright lights of Lima are close by with all the major supermarkets just 2 of 3 blocks from the apartment
Well it is safe and clean and everything is close at hand and I could not think of a better place to live or stay if I was a tourist or long term visitor
Check-in was not a pleasant experience and very unprofessional just because I had to change the arrival time. He was very rude with my son when he called to apologize a reschedule the check in time like it was a bother to him and he lives in the same building. The apartment was not what we expected and the photos posted in the listing are not anything close to how it looks now. The corridors and full of kids bicycles, exercise equipments and are a hazard. The bathroom and kitchen are very dirty and faucets full of rust and mildew. They kitchen cabinets need it paint, pots and stove are worn out and deteriorated. The bathroom window full of bird feces. Overall the place is not well maintained or clean. I don't think this place should be listed for rent.
doris
2015-08-07T00:00:00Z
El departamento es exactamente lo que muestran las fotos. La ubicación es excelente, cerca de todo y sin el bullicio de las calles principales. Tiene todo lo necesario para una agradable estadía en Lima. Con Marc nunca pudimos coincidir, pero respondió rápidamente cuando lo contactamos por mensaje en el celular. La persona que nos hizo entrega del departamento fue muy amable y nos entregó información necesaria para ubicarnos bien en el sector. El barrio es muy tranquilo y seguro. Un lugar agradable para estar y como decía anteriormente cerca de todo lo que se necesita para hacer la vida diaria: supermercado, restaurantes, movilización hacia todos lados de la ciudad, etc... Muchas gracias Marc
Margarita
2015-10-30T00:00:00Z
The apartment was as described, it was nice and light and for two people it was spacious. Marc and a colleague of his welcomed us and showed us around. Everything was great.
Olivier
2014-08-16T00:00:00Z
Excellent location, close to everything. Restaurants, bars, nightlife, shopping. Simple access from anywhere. We stayed at Marc's apt for a couple of weeks and just loved it. Its good enough for one person, a bit small for two. But if you are on vacation u don't really need the apt for much but sleeping. We never met Marc directly but his team was very welcoming and showed us around the apt. Hot water, wi-fi, refrigerator, stove, etc in excellent conditions The only complaint I would have would be more for the building floor rather than the apt itself. It is located on the 14th floor, and neighbors have several things laying around the hallway, clothing drying up on stairs and it smells. Would definitely recommend this place, specially for the price.
Juan Carlos
2015-06-07T00:00:00Z
Spacious apartment in excellent location. Pictures are the same as the apartment, and you will find a large shopping mall just 5 minutes walking distance, as well as a supermarket. The only problem would be the fridge which is very weak - some of our food went bad due to the fridge not chilling it so well, so if you stay here just be careful with the fridge. The host replied very quickly to emails and questions, and even ordered us a taxi to the airport on the day we left.
Ricky
2014-12-22T00:00:00Z
The apartment was great. It's fantastically located, neat and very safe. Coordinating with Marc couldn't have beem easier and the people at the front desk were extremely nice and helpful. I strongly recommend this or the other apartments from Marc in the same building, where my friends have stayed and greatly enjoyed, too.
Carla
2015-01-04T00:00:00Z
Great location with plenty amenities closeby.
Angela
2014-04-25T00:00:00Z
Apartment was as advertised. Location is excellent. Apt was spacious and WIFI was good. Overall happy with the experience.
Alex
2016-01-06T00:00:00Z
Тип размещения
Дом/квартира целиком
---
Тип жилья
Квартира
---
Вмещает гостей
3
---
Спален
Район Мирафлорес, Регион Лима, Перу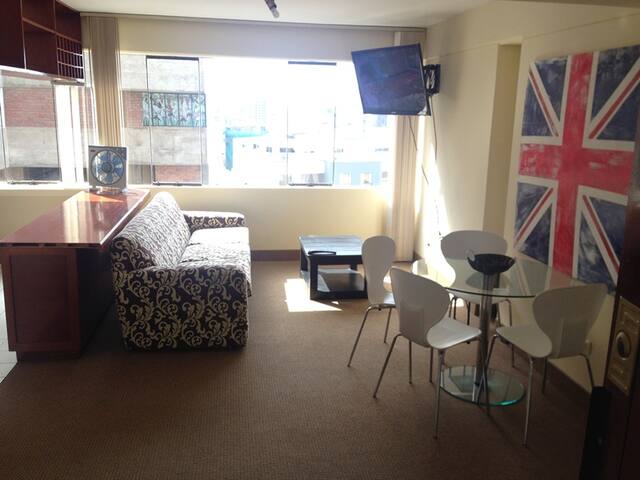 We have two nice apartments in Miraflores, in the heard of the nicest district of Lima. We are near many places, two blocks from us are the Huaca Pucllana (URL HIDDEN) cinemas, the most famous restaurants, discos and pubs. We are locating in a very safety and quite place.
the decoration is very special
I really love the park in front of our building
The checkin process was a bit strange in that you had to go to the Pullman lodge to pick up keys and then drive to actual apartment. Not sure if this was mentioned in the details? Also no one told me this before checking in maybe because not many people could speak English. The apartment was very nice, however, there was no heating and felt cold all the time. Other than this, the stay was very comfortable and people were helpful.
Su Ling
2014-08-02T00:00:00Z
Cecilia was a great host, the apartment was clean, spacious and in a great location.
Maria
2016-06-22T00:00:00Z
Realmente nos encanto, la casa la ubicación y el servicio que nos brindaron. Muy cómoda, limpia, con todo lo necesario para tener una estadía perfecta. El desayuno es perfecto. Además de que el edificio está muy bien ubicado es muy seguro y todos eran muy amables. A pesar de que no conocí personalmente a Cecilia, siempre nos atendió muy bien por teléfono. Nuestro vuelo salía tarde y como devíamos entregar el departamento por que entraban otras personas, nos solucionó para guardarnos equipaje y que pudieramos seguir disfrutando. Lo hicimos sin nigún riesgo. Lo único que no es el internet que es un poco lento y a veces se iba, pero esto se escapa de su control. Lo recomiendo y si algún día vuelvo a Lima, esta será mi primera opción.
marcela
2015-06-04T00:00:00Z
Nice, spacious apartment in a great neighborhood. A total of 3 big and 2 small beds sleep 8 people comfortably. Decoration and amenities were ok and functional, but nothing out of this world. A basic breakfast is provided in the adjacent apartment every morning, as well as daily cleanup & turnover service. Overall we enjoyed our experience and would stay there again.
Ozgur
2015-07-14T00:00:00Z
El departamento es tal cual se publica en el aviso. Grande, cómodo, con espacios comunes y en una muy buena ubicación. La atención y servicio de las personas de limpieza y desayuno excelente.
Andrea
2016-10-04T00:00:00Z
Miraflores is a fab little suburb and the apartment was very well located to amazing restaurants, and easy to get into the historic centre and Barranco by bus. The apartment was spacious and modern. The water pressure wasn't amazing, but that could just be a Lima thing. Overall the management company were very helpful in assisting us with our questions, providing maps and restaurant recommendations, and even letting us borrow their bus card (which we added funds to). We even had a yummy breakfast served in the apartment (included) which was a nice surprise.
Andrew
2016-09-09T00:00:00Z
Departamento amplio y cómodo en zona muy bien ubicada y tranquila. Recomiendo el lugar.
Ivan
2014-11-03T00:00:00Z
My family and I really enjoyed this apartment and its location. Cecilia and her team are wonderful and very professional. We will come back to Lima in Summer time and would love to stay with you again.
Marco
2016-10-04T00:00:00Z
Тип размещения
Дом/квартира целиком
---
Тип жилья
Квартира
---
Вмещает гостей
8
---
Спален
Район Мирафлорес, Регион Лима, Перу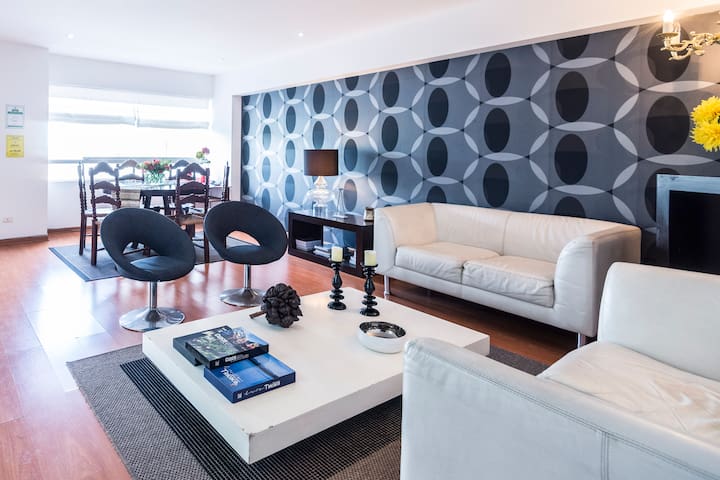 1

–

18

из

300+ квартир в аренду
Введите даты, чтобы увидеть полную цену без учета дополнительных сборов и налогов.