Large private lower level suite. Very comfortable for one or two people. No private entrance. Kitchenette with sink, coffee maker, toaster oven and mini-fridge stocked with breakfast items to 'do your own'. Wifi, cable, HD tv, parking. Minutes and walking distance to most places in town. Close to Shamrock Centre, the beach, Killarney golf course, 30 minutes to Lake Adam/Lake William, 10 minutes to USA border, 1 hour to Brandon and International Peace Garden.
Тип размещения
Дом/квартира целиком
---
Тип жилья
Гестхаус
---
Вмещает гостей
2
---
Спален
Killarney, Манитоба R0K 1G0, Канада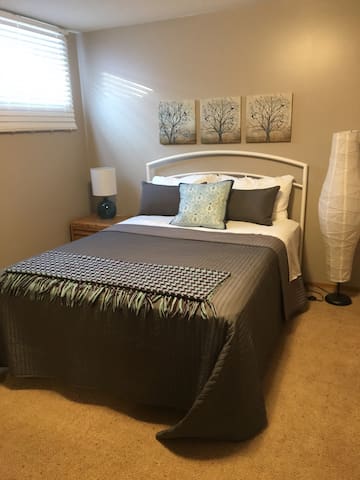 Country comfort, conveniently located on an 18 hole golf course and lake, and is a 5 minute drive to the community complex centre, shopping and dining.
Тип размещения
Отдельная комната
---
Тип жилья
Дом
---
Вмещает гостей
2
---
Спален
Killarney, Манитоба R0K, Канада
Condo on Lake Metigoshe, Solper Bay. Furnished, 4 Bedroom, 3 Bath, Full Kitchen and Dining Room (2100 SF) with all amenities, heated floors, cable TV. Main Floor includes: Master Bedroom with 3/4 Bath + Additional Bedroom with privacy access to 3/4 Bath + Great Room with Wood Burning Stove + Full Laundry Room. Loft includes: 2 Bedrooms, 1 Full Bath, Family Room. Lake Front View and private boat launch.
The Cloverleaf Condos face east for bright sunny morning on full sun days , complimented by large windows looking out into Solper Bay . These condos feature large , airy floor plans with ample spaces to accommodate large family and group gatherings
Solper Lane is both the beginning and the end of the trail . It's the path that leads to anywhere but ends at the US/ Canada border 1/4 mile away . Sorry, no legal access to visit our Canadian neighbors .
Kevin was very easy to deal with nice person. The condo was great very clean, well laid out, & very spacious. We came to celebrate my dads 65th birthday with my wife and 2 kids (2&6). My brother, his girlfreind, and my parents all meet here so thier was a total of 8 of us and it was very roomy for all of us. Kids loved it. We took a day and went tubing/sking at the ski resort which is about a 10 min drive away which was also a big hit. It was a great trip. We are planning on doing it again and will be talking to Kevin again.
Tanner
2017-02-27T00:00:00Z
The host canceled this reservation 157 days before arrival. This is an automated posting.
Wade
Our family cabin at Lake Metigoshe is not winter-friendly. Still, we try to go up at least once during the cold season to enjoy the beauty of the Turtle Mountains covered in snow. However, we have to "rough it" without running water and huddled around the fireplace. This year we wanted to schedule a weekend for the whole family and spouses, but the State Park housing--while lovely--doesn't allow pets. I decided to see if Air BnB had anything to offer. Kevin's place had 4 bedrooms, 3 bathrooms, and a pull-out couch: perfect for all of us with room to spare. The spacious unit allowed for all 9 humans and 3 dogs to enjoy our time without feeling claustrophobic.The kitchen was well-equipped for meal times and the big table was perfect for an evening of playing games. The boys walked right out onto the ice and spent the day ice-fishing. The girls stopped by Penelope's cafe at the Sawmill for a coffee (close by and so cute!) and spent the afternoon sledding. Everyone was thankful for the nice hot showers after our day outside. As long-time vacationers of Lake Metigoshe, we're purists when it comes to cabins. Kevin's is clean and open, but still cozy with perfect access to the lake and close to the main road--so you can enjoy the peace and quiet of the natural surroundings, but it's also convenient to reach the bars, restaurants, and shops on Lake Loop road. I can imagine summertime at this spot is just as great for groups, and Kevin's flexibility in meeting my dad to get the key was great. It was such a pleasant time we're already planning our winter weekend for next year. And I didn't miss brushing my teeth on the deck and having to use a porta-potty one bit.
Kayla
2017-01-23T00:00:00Z
Тип размещения
Отдельная комната
---
Тип жилья
Кондоминиум
---
Вмещает гостей
10
---
Спален
Боттино, Северная Дакота 58318, США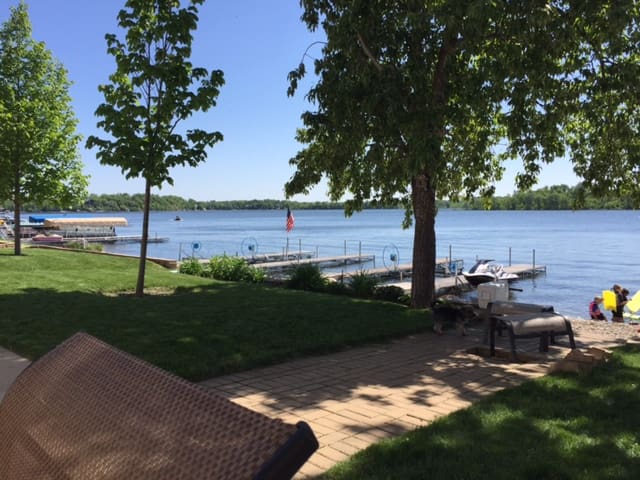 Our home is at Lake Metigoshe on the North Dakota and Manitoba border. You'll love our place because of its great lake views and nice waterfront. Huge windows and fireplace. Our home is good for couples, solo adventurers, and families (with kids).
Тип размещения
Дом/квартира целиком
---
Тип жилья
Дом
---
Вмещает гостей
10
---
Спален
Боттино, Северная Дакота 58318, США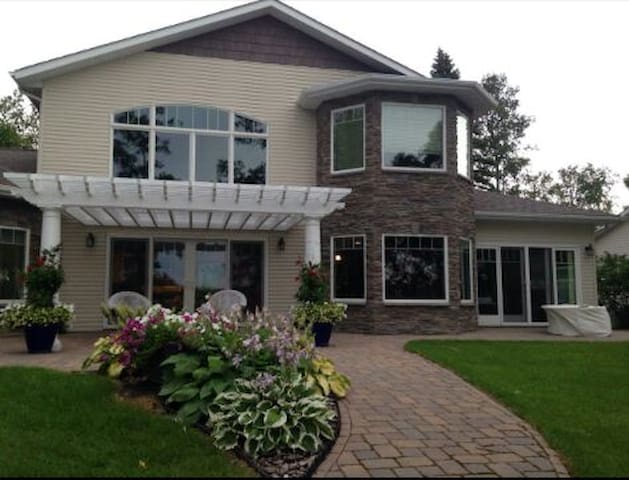 Condo on Lake Metigoshe, Solper Bay. Furnished, 3 Bedroom, 2 Bath, Full Kitchen and Dining Room (2100 SF) with all amenities, heated floors, cable TV. Main Floor includes: Master Bedroom 3/4 Bath + Great Room with Wood Burning Stove + Full Laundry Room. Loft includes: 2 Bedrooms, 1 Full Bath, Family/Game Room. Lake Front View and private boat launch.
The Cloverleaf Condo face east for bright early mornings on full sunny days complimented by large windows looking out on to Solper Bay . These Condos feature large airy floor plans with ample spaces to accommodate large families and groups
Solper Lane is both the beginning and the end of the trail . It is the the path that leads to anywhere , but ends at the US /Canadian border 1/4 mile away . * Sorry , no legal access to visit our Canadian neighbors
Тип размещения
Отдельная комната
---
Тип жилья
Кондоминиум
---
Вмещает гостей
8
---
Спален
Боттино, Северная Дакота 58318, США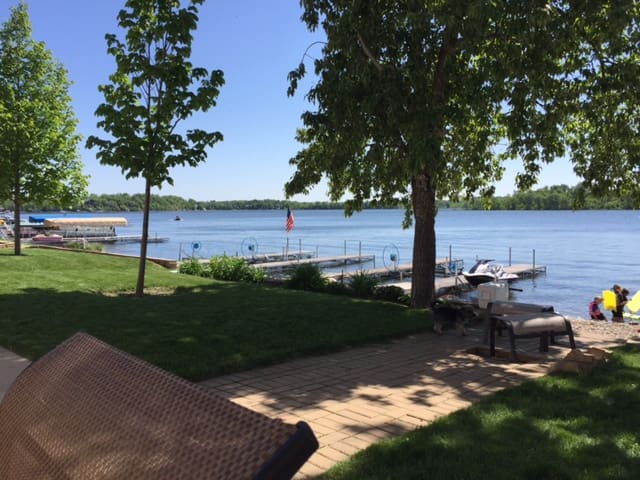 This 900 sq ft quaint and private cottage is nestled among rolling hills and large oak trees overlooking the quiet and picturesque -Pelican Lake. 3 bedrooms/2 queen/1 double, bathroom/shower, full kitchen, deck, BBQ, fire pit
900+ sq ft cottage which includes 3 bedrooms/queen beds, living space/full kitchen, 3 pce bathroom/shower, separate bunkie/queen bed, large private deck
Cottage is on a very private well treed lot with neighbors 100 yards away on either side. Situated on lake front, private steps are necessary to access the water and dock. Caution is essential for the young and the old. Fishing and boating is permitted with appropriate regional licenses. If you're looking for a quiet, simple retreat, away from the city lights and hustle & bustle, you've found the right place.
Тип размещения
Дом/квартира целиком
---
Тип жилья
Бунгало
---
Вмещает гостей
8
---
Спален
Ninette, Манитоба R0K, Канада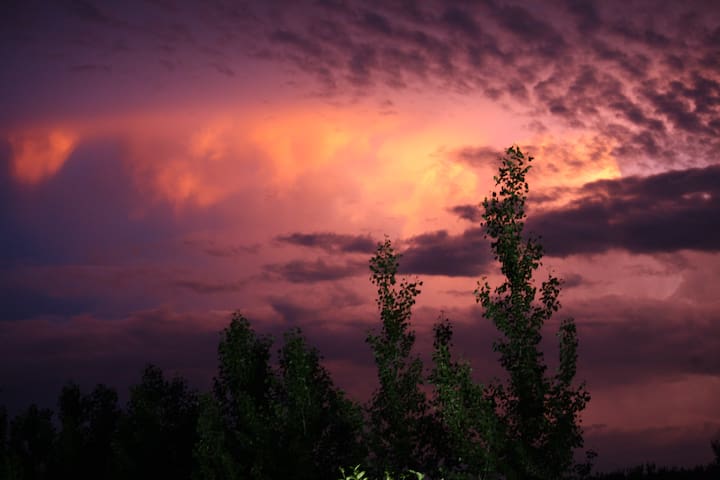 The Clearwater Cabin Project is an initiative of the University of Manitoba Architecture program, the Harvest Moon Society (har(URL HIDDEN) and residents of the tiny town of Clearwater, Manitoba. The three cabins are nestled in the stunning Pembina River Valley. They were each designed by architecture students and built largely from reclaimed lumber by droves of volunteers. Amenities include restful beauty, interpretive trails, canoeing, local diners and much more!
Okay, so our family has literally travelled the world. We have never experienced anything quite like the Clearwater cabins. (Note: the bunks have mattresses, which isn't shown in the picture, and made our stay much more comfortable than we anticipated). You can tell architects designed these cabins. So cool. The little hamlet of Clearwater a magical place where people still smile and wave at each other when they pass on the road. That quiet contentedness is like stepping into another world. In fact, it felt like being in the Hobbit's shire. Carissa, the lovely owner/caretaker, is an herbalist by trade and placed little vases of fresh flowers in each of our cabins. These cabins are like nothing you've ever seen. Our kids stayed in #1, three twin mattresses in a tidy little space adjacent to Carissa's workshop. A grand picture window looks out on a lovely meadow. In the far distance, you can see cows on a hillside. Windows on two sides both open to let in the breeze. Husband and I stayed in Cabin #2. The lofted bed has a wool futon (vs the regular mattresses the kids had) and again, windows on two sides that opened to let a breeze in. Both cabins were provided with kerosene lanterns and LED lights - we chose to use the lanterns and loved the soft light they threw. Our cabin had a generous porch with a sturdy picnic table on it. Cabin #3 also has an amazing view. Grass paths are mown between the cabins, the firepit and the outhouse. Solar lights dotted the path to make navigating at night easy. The outhouse looks like something a hobbit would have built, and somehow, magically, didn't smell. HOW she manages that, I'll never know. The organic hand sanitizer that she makes and provides (made with aloe, witch hazel, lavender and lemongrass essential oils) was so fantastic I tried to buy some from her, but she said she didn't have any for sale, she just makes it for the cabins. Now, the cabins: Spaced apart along a hill, they are far apart enough for privacy, but close enough that you can be with friends (or your teenage kids) and still feel together. Carissa provided plenty of dry wood, paper, kindling and matches for the firepit which we sat around for a little while. Nice. An easy walk up the hill and around the corner is the town's restaurant/post office. We were shocked and delighted to have GREAT food there. My salad, for example, had crisp-fresh chopped romaine, red & yellow bell peppers, red onion and tomato. It's the kind of place where the lady at the table next to you gets up to refill her own coffee and stops to ask you if you want some. Wonderful. The burgers were outstanding. The town has an interpretive trail that has signs about the town's history, very cool. Step into another world, a nicer, quieter world. Camp without putting up a tent. Come here.
Christin
2016-07-04T00:00:00Z
My boyfriend and I spent two nights in the Liu-Ming Studio during the middle of October. Every part of our trip to Carissa's eco-cabin in Clearwater was perfect! Carissa was a very accommodating host. She went out of her way to make sure that we had everything we needed for an enjoyable stay. She lent us a flashlight, refilled our water jug, and provided tons of good quality firewood. She urged us to call/text her with questions if we didn't feel like walking to her place. She also gave us advice on some beautiful spots to check out nearby. Each of the three cabins is literally a work of art. Liu-Ming, where we stayed, had a double loft bed, a large shelving unit for holding supplies (including two lanterns Carissa provided for us), and a picnic table on the deck directly outside. My favourite thing about the room was the view of the sunrise offered directly behind our heads from the loft bed in the morning. Visiting on a nice mid-October weekend, we brought lots of blankets and slept comfortably despite the cabin's lack of a heat source. We checked out the other two cabins and both are beautiful too, each with their own personality. The Artist Residence has a very modern feel and a unique right-angle double door unlike anything I've seen before. The Honey House Cabin had a more warm, rustic feel and really gave the impression that these places were built using materials reclaimed from an old schoolhouse...which they were! Each has a different number/size of beds, so keep that in mind when choosing a cabin. Personally, we liked ours best. The three cabins were positioned about a minute's walk from Carissa's house and they're fairly close to each other but far enough apart to provide some privacy. They share the coolest looking outhouse I've ever used and, like another commenter said, her homemade hand sanitizer is amazing. We used the firepit both nights and had a great time. Carissa's two dogs visited us a few times and they were both very friendly. (Carissa offered numerous times to call them back inside if they were bothering us, so if you're not a dog person or if you have allergies I'm sure she'd be very accommodating.) Just make sure you're aware of her pets as you drive in because they might come out to greet their new guests! Clearwater was a beautiful, tiny, super friendly town. A few things we recommend checking out: 1) Grab breakfast or coffee/hot chocolate at the local restaurant (~5 minute walk from cabin). 2) See Cypress Creek and the rolling hills of the Pembina Valley from atop the bridge near Broadway Street (follow the "Scenic Lookout" sign in town). 3) Hike the 1-hour nature trail to explore the creek, riparian forest, a farmer's field, and their extensive baseball diamonds. Follow along with the info booklet provided near the trail's entrance. Overall, I would totally recommend this place.
Jaclyn
2016-10-17T00:00:00Z
Our host made us feel welcomed and helped with supplies we didn't have but I paid twice, once on my credit card and once in cash and was not happy to discover my credit card had been charged after I paid cash
Mireille
2016-09-07T00:00:00Z
Carissa is the prefect host to a lovely little funky getaway. Although the cabins are simple, my girlfriend & I were comfortable and really enjoyed the small farm settling. We enjoyed being involved in some of the Fall's harvest, as well. Great little private cabins, great host. I certainly will recommend this place to others! Never underestimate the friendly hospitality & charm of a small Manitoba town! Cheers! Greg
Gregory John
2016-10-13T00:00:00Z
The host canceled this reservation 4 days before arrival. This is an automated posting.
Ellen
Тип размещения
Дом/квартира целиком
---
Тип жилья
Бунгало
---
Вмещает гостей
8
---
Спален
Клируотер, Манитоба R0K 0M0, Канада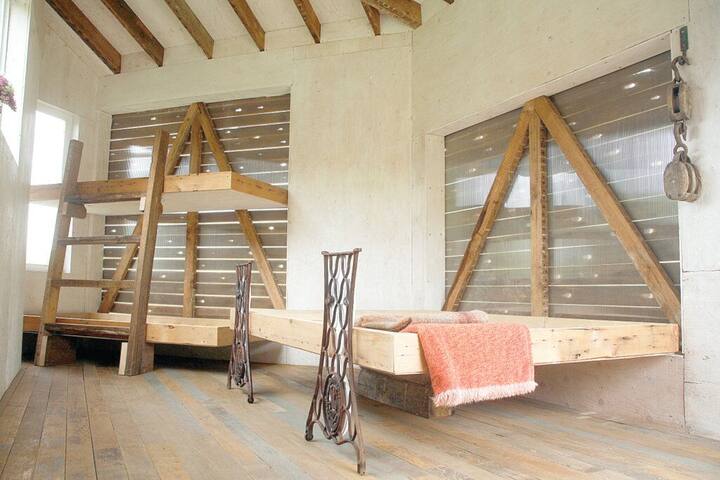 Введите даты, чтобы увидеть полную цену без учета дополнительных сборов и налогов.