Privacy, charm, and convenience year round! Pack the little red wagon and walk a few minutes to one of the areas best beaches, or hop in the car and enjoy some of Southern Maine's most fun attractions just a 5-10 minute car ride away! "Close Enough" to Portland, Kennebunk, and Ogunquit, it makes a perfect location for any type of getaway! And with a cozy stove and skiing/snow shoeing in the State Park, golf courses, or on the beach, it really does make a perfect year round escape!
This adorable cottage has absolutely new everything! We recently purchased this property, located in the backyard of the main house, and brought it back to life! It is the last remaining cottage of four that used to reside on the property when it was a thriving cottage business many years ago. Inside, it a lot bigger than it appears in the picture. The front bedroom has a queen sized bed, bureau, and chair, with plenty of space to move around. The back bedroom easily fits the two twin beds, one of which is a trundle, so plenty of storage underneath. The bathroom is all new as well, with an oversized shower stall with seat, and brand new washer/dryer. The kitchen/living area is absolutely adorable, with a surprising amount of storage and leg room! It is all nestled under the canopy of a gorgeous Beach tree, with a huge yard in front. Feel free to bring outside games and have a blast! Don't rule out Fall and Winter here! September and October near the beach are some of the best months, especially if you are looking for a quiet getaway! The winter months are great for cross country skiing or snow shoeing through The State Park or local golf courses. Don't forget about Christmas Prelude in Kennebunkport!
Quiet neighborhood, but certainly an area of constant activity! We are on the beach route, so there are plenty of people out and about all the time. Really fun!
Stacy & Mikes cottage was adorable, spotlessly clean, inviting, private and combined a beach flair with antiques and bright cheery colors. We enjoyed the fact that it was private & close to all local amenities & attractions like Old Orchard Beach, Kennebunkport, Portland and so much more. Bayview Beach is amazing and it's coastline was beautiful. A highly recommend the local Ice cream shop and stores in the little town square at Ocean Point. Follow up your ice cream with a walk on the beach and you'll never run out of sand that stretches for miles! Our stay was just what we needed and it felt like home away from home. The stress just melted away. Thanks Stacy & Mike for making our first Airbnb adventure a great one! We'll be back!
Colleen
2016-07-22T00:00:00Z
Cute, private, and convenient. Stacy and Mike are great hosts!
Dale
2016-09-22T00:00:00Z
I was charmed by this cottage and enjoyed a 5 minute walk to the ocean! We had quick and easy communication with our host. We were visiting our daughter at UNE and found this location as convenient as any area hotel but the access to the ocean makes this option a much more unique choice! The cottage made our 3 day visit feel like a real vacation! As it is a 2 bedroom cottage it allowed us to host our daughter as a guest as well.
Kristine
2016-10-08T00:00:00Z
Stacy was a fabulous host. Wonderful communication and a big smile and greeting upon our arrival. She was always available by message with tips and guidance about the area. The cottage has all the charm and comfort one could imagine. Beginning with a personalized chalkboard welcome on the fridge, down to the lavender laundry soap for the washer and everything in between. Stacy and Mike have taken great care to create a very special vacation spot with unique amenities. You won't be sorry if you choose this beautiful space for your next Maine getaway.
Heidi
2016-07-13T00:00:00Z
We had a great time at close enough cottage. When we arrived it was everything that we expected and more. Stacy and Mike were great hosts, recommending a dinner spot that was still open on the off season and letting us know about different events around the area for the days we were there. The cottage was very clean and had all of the amenities of home. We would definitely come back to close enough cottage!
Josh
2016-09-19T00:00:00Z
Loved this cottage soo much!!! Didn't want to leave! Everything we needed was available and easy to find. Absolutely loved the home decor of a small cottage feel. Stacy and Mike had great suggestions and made us feel right at home! We had amazing weather so walked to beach everyday!! And the kids loved playing in front yard with all the yard toys available! We Hope to come back soon!!
Katie
2016-08-13T00:00:00Z
Everything in the listing was true-to-life and most of the amenities that we needed during our stay were already there. Stacy was very accommodating and prepared the cottage early for our arrival. We traveled with our 2.5-year-old who absolutely loved the property and the chalkboard and children's books. We loved the location, the cottage interior and yard, and the overall area; we'll definitely come back during the high season when more local restaurants are open! Thanks very much for your hospitality.
Jennifer
2016-09-26T00:00:00Z
Everything is just as expected. It was cozy and clean and relaxing. Great yard and close to the beach. Stacy was available and prompt with her responses. We had a very nice weekend.
Delanie
2016-09-13T00:00:00Z
Тип размещения
Дом/квартира целиком
---
Тип жилья
Квартира
---
Вмещает гостей
4
---
Спален
Сако, Мэн, США
Our place is good for couples, solo adventurers, business travelers, and families (w/ kids). We are located downtown, walking distance to many shops, eateries, breweries, libraries, theartres, trails for walking, snow shoeing ,3 ml. to the beach, .3 ml.Saco river, and the Downeaster train which stops in Portsmouth NH or Boston. Only 20 min. drive to Portland. UNE and Thornton Academy are here. Great stay for families who want to visit their students amongst us! Come enjoy Maine for the Holidays!
The apartment has a big bedroom with a queen size bed. The double bed is in a walk through room before the bedroom. The futon is on the first floor in the livingroom. The stairwell is a narrow old farmhouse stairwell, completely safe and carpeted but tall people .... heads up!
It was so great to have a cozy, private place to stay over the Thanksgiving holiday! Keri-Ann and Blaine were very welcoming (even providing home-baked pumpkin bread and a fruit bowl!) and easy to communicate with, and the apartment was clean and well equipped--I would definitely stay at their place again.
Julia
2016-11-26T00:00:00Z
This was my first Airbnb experience and Keri-Ann and Blaine hit it out of the park and set the bar for future experiences. The place was great and we were welcomed with a a bowl of fruit, apple cider and a loaf of awesome pumpkin bread. The best way to describe the place was adorably chic. Beds were super comfy and this place would be great for a small family or a group of friends. Keri-Ann and Blaine were very helpful offering up suggestions for things to do or places to eat. They were very quick at responding before and during the stay. We never actually met them but they were great host. I assume that they live in the large house next to the rental. It was easy to get to Portland. About 20 mins with a couple tolls. We spend most of our time in Portland but Saco looked like a nice lil New England town. The house was a quick walk to what looked like a walking trail. We didn't venture too much. I can imagine that this place would be fun in the summer time b/c of the beach nearby. Overall, great place, awesome girls weekend getaway!
Stephanie
2016-10-10T00:00:00Z
Keri-Ann and Blaine were wonderful hosts. They contacted me ahead of time to let me know where to find the key, and kept in touch during our stay to be sure we had everything we needed, which we did. The accommodations were even better than expected. The whole place was decorated for the holidays, giving it a warm and cozy feeling. It's very convenient to Main St. and it's restaurants and shops, as well as nearby Maine attractions. I would definitely stay here again when in the area.
Joan
2016-12-04T00:00:00Z
My fiancé and I stayed here for a week and our stay was an absolute delight. Everything was exactly how it was described in the listing. Even when the temps dipped into the teens, the heat and hot water worked beautifully. Keri-Ann and Blaine were fabulous hosts and covered all the amenities one could think of like full size kitchen, washer and dryer, Wifi, coffee maker, etc. There was a Christmas tree and lovely decorations throughout. The house is centrally located and close to many restaurants and stores. Cozy, quaint, and comfortable describe this house perfectly. We look forward to staying here again.
Mike
2016-12-15T00:00:00Z
Keri-Ann and Blaine were both super available and answered all my questions throughout our stay. The airbnb is super, super, cute, very homey and comfortable. They even provided us with some fruits, chocolates and pumpkin bread! It was 5 of us and we fit perfectly into this little cute house. They have one of my favorite games, Catchphrase, which we played all night! They are a very lovely couple and super welcoming and provided us with a long list of places to go in Portland. The location was quite perfect as we wanted something quiet and in the outskirts of the city. I'm so glad I found this place and will definitely search for this house again if I find myself back in Maine! :)
Linda
2016-10-23T00:00:00Z
Wonderful experience at the Salty Coyne Inn. Don't let the limited reviews stop you. Keri-Ann was a wonderful host. She greeted us with little treats upon arrival, provided great recommendations and was incredibly friendly making the stay a great one. The apartment is well appointed, very clean and cozy. I cant stress how great the location is. You are smack in the center of downtown Saco, a small little town with a ton of character. For those folks looking for a great romantic or family friendly location this is a terrific place to stay. One thing of note is that the stairs going to the second story are steep so it is something to consider as a guess. It didn't impact us but it may to some. This is an historic farm house so be cognizant of that. Overall cant express enough how great the stay was. You wont be disappointed.
Alex
2016-10-08T00:00:00Z
pumpkin bread, kitchen amenities etc. all helped so much. It was a lovely place and they were very kind.
Susan
2016-10-13T00:00:00Z
Keri-Ann and Blaine were excellent hosts. My fiancé and I were greeted with homemade baked goods and the apartment was cozy and spotless. We had told Keri-Ann that we were visiting Maine for one last getaway before our baby arrives next month, and she left us a thoughtful card and gift. We highly recommend staying here and cannot wait to visit again!
Nate
2017-03-17T00:00:00Z
Тип размещения
Дом/квартира целиком
---
Тип жилья
Квартира
---
Вмещает гостей
4
---
Спален
Сако, Мэн, США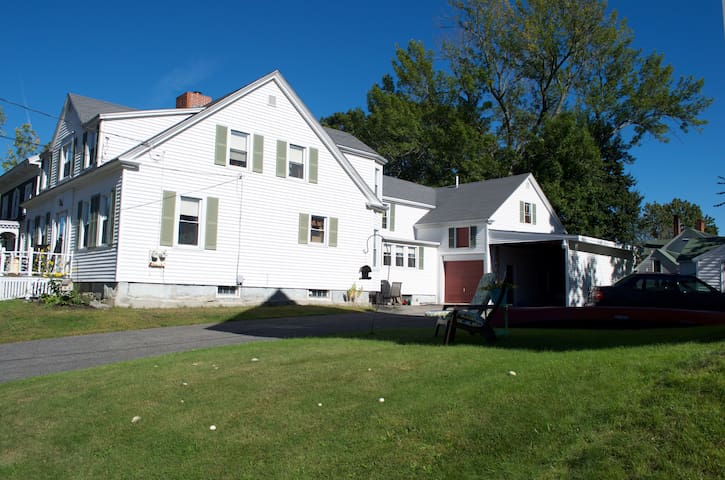 My first floor apartment is clean and bright. Stylish yet offbeat decorating creates a relaxed space. Located just 3 miles from the beach, with a great little backyard and firepit for chilling. Guests can bike to the sea or hop in the car and check out Portland's awesome food scene. Close to the University of New England and Thornton Academy my place is great for families visiting. It is also perfect for a get away close enough to the ocean for anyone wanting to experience Maine Vacationland.
Located close to downtown Saco and 3 miles from all the beaches this apartment is convenient and a hidden gem. Near by in Biddeford is a great little coffee shop, brewery and there are lots of places to get lobster to bring home and cook.
Тип размещения
Дом/квартира целиком
---
Тип жилья
Квартира
---
Вмещает гостей
6
---
Спален
Сако, Мэн, США
Charming apartment in a historical home in Saco, ME. Near several beaches, centrally located between Portland and Kennebunkport. Walk to cafes, bakeries, unique shops and more. Fully furnished for comfort and cooking your own lobsters and corn. Great for Thornton Academy parents visiting their kids.
This is a quiet and safe neighborhood. The apartment has one bedroom with a queen-size bed, living room, kitchen, dining room and full bath. Plus a sleeping area off the living room with a comfy futon. It is comfortably and tastefully furnished and spacious.
There are several great restaurants within walking distance, a bakery, a wonderful cafe that has amazing breakfast, etc. The downtown area offers unique shops and you are close to everything without being in a noisy place.
Linda's place is very comfortable. Lots of space, comfortable bed and a great shower. It is also quite and has lots of light. The parking is in front of the door and with the car you can be in 10 min on the old orchard beach and in 20 minutes in Portland. Highly recommended!
Tommaso
2015-07-05T00:00:00Z
We had a nice stay at Linda's. The apartment was spacious and conveniently located between Portland/Kennebunkport and very close to beautiful beaches like Biddleford Pool.
Robert
2016-08-24T00:00:00Z
Linda's apartment was warm, cozy, and comfortable. We felt right at home and also felt right in the heart of the action; it's a great location for all destinations: beach, shopping, city, grocery store, everything! Highly recommended!
Matthew
2014-09-15T00:00:00Z
My partner and I had a wonderful stay at Linda's adorable apartment. She is kind enough to provide a large range of cookware and coffee. The little movie collection available was especially perfect for us since we were a bit unlucky with heavy rain during our trip. The location is a short drive to Old Orchard and Portland, and the nearby grocery store came in handy! Thank you to Linda to opening her home to us airbnb'rs!
Brianna
2014-07-30T00:00:00Z
We had a good stay at this place (six nights in late August) which is a nice apartment in a small, old building with at least two other units, including one where the owner, Linda, lives. It's located in the back of the building, with a private entrance. It's basically a large one bedroom apartment with a second queen bed in an area enclosed with curtains in the living room. The apartment has some nice touches, such as a recycled door and counters, and a large TV set on the living room, a good size bedroom as well as a big kitchen and bathroom. As many people have noted, there is a wonderful French bakery a block and a half away, which was the highlight of our stay. There are a few areas that could be improved: there is only one window air conditioner for the whole place, which is not enough on hot days; the walls have marks and even nails from pictures and frames that were removed and there were spider webs on the ceilings. The backyard is not well kept and nobody cleans after a few cats that live there and do their thing in the backyard. You have to be careful when you approach the steps that lead to the entrance. Overall, we had a good experience, that would have been better had those details been taken care of.
Pablo
2016-09-03T00:00:00Z
Stayed at Linda's cozy and antique filled one bedroom apartment during our road trip to Maine. Super easy access to Portland, Ogunquit and Kennibunkport from here. Linda was around but we had complete privacy in this space. We had our tiny dog with us who is well behaved- but owner beware there are big beautiful rugs everywhere! We did not explore Saco much but the downtown strip is walkable from her place.
Dulce
2014-08-21T00:00:00Z
Great stay in a cute apartment! Thanks Linda!
Mary
2015-06-07T00:00:00Z
Excellent place to stay, close to the beach. Communication was easy! Highly recommend!
Cynthia
2016-08-27T00:00:00Z
Тип размещения
Дом/квартира целиком
---
Тип жилья
Квартира
---
Вмещает гостей
4
---
Спален
Сако, Мэн, США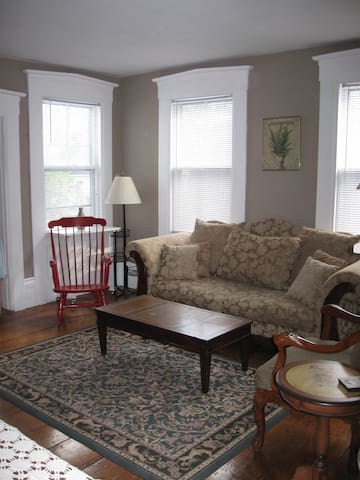 Our sunny, private, non smoking, 2nd fl apt is in historic downtown Saco. Walking distance to great local restaurants, bakery, breweries, charming shops, Farmers Market on Saturdays, 3.5 mls. to beach. Easy drive to Portland and Kennebunkport.
The apartment is located on the second floor of our home. Your privacy is important to us so your separate entrance is through our attached barn and up one flight of stairs. The tub/shower is an old claw foot, which you have to step up into and out of. The kitchen is fully equipped for cooking. We have a new queen sized bed for your comfort. A twin sized foam mattress, which will be set up on the floor, can be provided for an additional $25.00/night, if requested in advance. We do not have a crib and are not really suited to host children under 5.
We love our neighborhood because everything you need is within walking distance or a short drive away. We are one block from Main Street where there are restaurants, brew pubs, library and shops. The Saco River is also within walking distance. We are a 10 minute drive to a public beach on the ocean. Metered parking lot. Also 10 min drive to Old Orchard Beach. Downtown Saco is a lovely area and we hope you come experience it. We have two wonderful Farmers Markets, one is outdoors May-October on Wed and Sat mornings til noon. The other, year round and indoors during colder months, is on Saturdays from 9-12:30.
The apartment was great, we were very comfortable. We were also close to the beach. My kids and I had a great vacation. Doug and Carole were very nice hosts. We would love to come back next year.
Julie
2015-08-21T00:00:00Z
Diane et moi avons eu un accueil chaleureux. Notre vacance à Saco fût bien agréable. L'appartement était bien propre et tel que décrit. Le lit bien confortable. C'était un quartier bien tranquille à nos demandes. Toutes les petites attentions de l'hôtesse ont agrémentées notre séjour. Merci Carole et Doug d'avoir partager votre demeure.
Yves
2015-08-07T00:00:00Z
The description on the ad is very accurate. We loved this place. It's in a great area about 10 minutes from downtown Portland. We couldn't have felt more welcome!
Melissa
2015-10-12T00:00:00Z
Carole was so warm as she greeted us at her place. We were able to meet her dog Sally who was so very sweet. Carole gave us a tour of the place and was so very accommodating. She went out of her way to make us feel comfortable. Her place is adorable and very homey. I highly recommend staying with Carole and Doug!
Angela
2015-07-19T00:00:00Z
Carole and Doug were very accommodating and kind. Their space was lovely, and in a great location. I would definitely stay here again!
Sarah
2015-09-04T00:00:00Z
My teenage daughter and I had a great weekend stay at Carole & Doug's cozy apartment. Upon arrival we met Carole who was friendly and helpful. She made us feel welcome and comfortable in her home. The space was just how it was described. We particularly liked its location just a short walk from Main St. We wouldn't hesitate to stay there again.
Melanie
2015-02-22T00:00:00Z
Doug and Carole were fantastic hosts. They were very friendly and helpful. The apartment was just like it looks- clean and cozy :) They directed us to some cool points of interest including the Saco River Market, Banded Horn Brewery and the Pepperell Mill buildings. Saco and Biddeford are awesome towns with really historic downtowns that are definitely undergoing a renaissance. The neighborhood that their place is in is great- pretty quiet, yet right in down town Saco. The historical aspect of their neighborhood is also amazing! Considering the winter special pricing, this was a five star stay!
Keston
2015-01-04T00:00:00Z
We had a great time at Doug and Carol's. They are very attentive hosts, making everything posssible to make our stay comfortable. The location is ideal to explore all the beautiful towns in the area. Thanks again!
Caroline
2014-10-13T00:00:00Z
Тип размещения
Дом/квартира целиком
---
Тип жилья
Квартира
---
Вмещает гостей
2
---
Спален
Сако, Мэн, США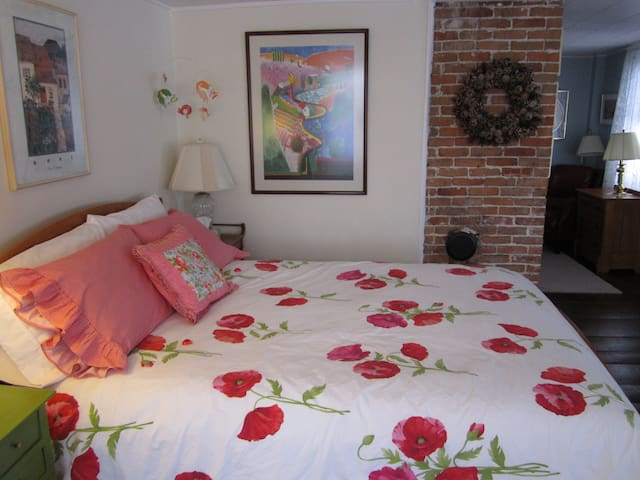 great for cats
Тип размещения
Дом/квартира целиком
---
Тип жилья
Квартира
---
Вмещает гостей
2
---
Спален
Сако, Мэн, США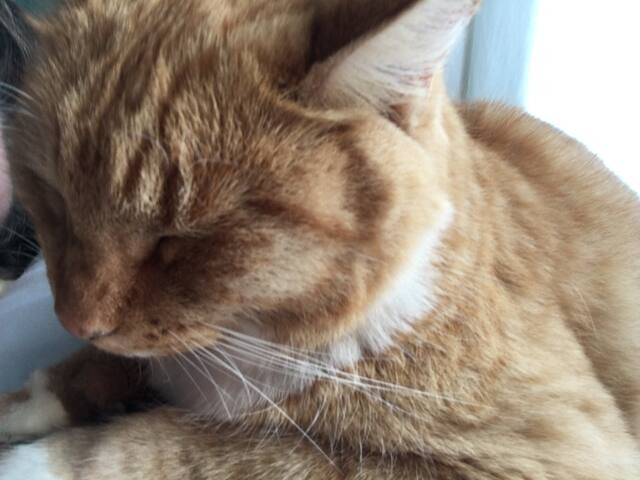 Enjoy my 2 bedroom second floor oasis in sunny Saco. Located 3 miles from most beaches, centrally located to downtown, Old Orchard, Portland and amusement parks. Perfect for the family or couple making a home for the week or just a few nights. Parking, yard, wifi, and plenty of space
Enjoy the outdoors by taking a bike ride (2bikes provided) along the bike path to Ferry Beach or take the day and explore the Eastern Trailway which starts a few streets over and is a many mile enjoyable ride through Southern Maine. Downtown Saco and the restored Mills complex is a close walk where you can take a brewery tour and then sit by the river to enjoy a frosty beer.
Close to downtown and many schools, including Thornton Academy. The neighborhood is mostly families and young people.
Really nice cozy place that beats all the motels around for sure. 7-10 min from the beaches and the attractions and near groceries and restaurant. The host was very kind and well attentioned.
Olivier
2015-08-13T00:00:00Z
Very nice apartment, well situated just 5 minutes by car from the beautiful Bayview/Ferry Beach and Old Orchard. In a quiet area, next to a park/playground, it was perfect for our 2 kids.
Laurence
2016-08-03T00:00:00Z
We had great communication with the host. She made sure that all of our questions were answered and provided us with lots of useful information (including great restaurant options) to make our trip more enjoyable. Although the unit is slightly dated (like the neighborhood) the rooms were clean and kitchen appliances were new. The beds were comfortable and the neighborhood is very quiet despite its proximity to a main street. There are many windows in the apartment which provide lots of natural light. We very much enjoyed our 2 night stay here and would recommend it for anyone wishing to visit the beaches and explore the area.
Michał
2015-07-27T00:00:00Z
Melinda was great with communicating. She left detailed instructions regarding the area and arrival procedures. The apartment was a great location for my time in Portland, Portsmouth, and Freeport. The beds were very comfortable and the water pressure in the shower was fantastic!
Katherine
2016-10-03T00:00:00Z
This cute little apartment was the perfect place for us to stay for a week at the beach without being on the beach. We walked in and felt at home, check in was very easy and Melinda was responsive and flexible the whole way through. Air conditioners were a very pleasant surprise and the quiet sitting area was a perfect place to wake up with coffee and a book.
Lauren
2016-08-14T00:00:00Z
The place was great! Even better than we thought it would be from the pictures. Checking in and out was super easy. We had a great time at the beaches and in portland. Definitely would stay again.
Peter
2016-09-05T00:00:00Z
We loved this cute little apartment! Melinda left us a great list of things to do and places to eat and made sure that the house was filled with items that would make it feel like home. The house was in a perfect location, making tourist attractions easily accessible. Thanks for an amazing stay!
Nicole
2015-09-08T00:00:00Z
Such a great place to stay in Saco! Very convenient to the Maine lighthouses, Portland, and beaches. Melinda was a wonderful hostess -- very detailed with notes, tips, and directions. The apartment was very clean and cozy :) Highly recommend Melinda!!
Elizabeth
2015-08-18T00:00:00Z
Тип размещения
Дом/квартира целиком
---
Тип жилья
Квартира
---
Вмещает гостей
4
---
Спален
Сако, Мэн, США
One bedroom apartment on horse/sheep farm in Hollis, Maine. View of farm from living room, bedroom on second floor up very steep farm stairs. One Queen comfy bed. A well behaved dog is welcome. 21 miles from Portland and Kennebunkport.
The apartment is attached between the barn and my house with it's own entrance through a shed in the barn. This section of the farm was built in 1795, you will enter a very old shed with a few stairs to the apartment. There are a few cracks in the corner of a wall and a small crack on the ceiling. Even when fixed the house shifts and this happens. It's an old farm house, but a charming apartment to put your feet up in. There are very steep stairs going to the bedroom on the second floor. If you have mobility problems it would be a challenge. There is a full kitchen and large bath and living room on the first floor.
Lily Brook Farm is in the small hamlet of Clarks Mills which is in Hollis Center. There is a diner about 1.5 miles down the road, and a small store where supplies can be had. There is a large grocery store 4 miles away. Hollis Center has a full service spa ( The New Leaf Salon & Spa) next to the Mom and Pop store (1.5 miles down the road)...you can get a massage or a mani-pedi if you are so inclined. This is very new and very exciting to have in Hollis Center!! Hollis is a half hour drive East to Portland and a half hour drive South to Kennebunkport, two very cool towns.
My fiancé and I had a nice time at the farm. Nina was a lovely host. We didn't spend too much time at the house, but we did sleep like rocks there. Our only wish is that the farm was a bit closer to Portland and all the fun stuff on the coast.
Julia
2015-09-04T00:00:00Z
Nina's place is a gem. It's a little private apartment attached to her home and right next to a barn full of sheep, well furnished and perfect for a couple looking for a quiet getaway. We loved the privacy, the quiet, and its proximity to Portland on the one hand (just a 30 minute drive) and farm animals on the other. Our arrival there had a little magic in it: two lambs had just been born a few hours before we arrived, and Nina took us in to meet them first thing. If you're looking for a quiet getaway that has love and character to it, this place is for you.
David
2017-03-05T00:00:00Z
Nina was an excellent host. We arrived super late at night but she was still kind enough to come out and welcome us. Great location and amazing to be on a farm. Nina gave us a tour of the farm animals in the morning- such a fun experience.
yassine
2016-07-02T00:00:00Z
As always, an awesome time. It's our third trip and it is the perfect place for us.
Katie and Liam
2014-10-24T00:00:00Z
Our stay at Lily Brook Farm was delightful. The apartment was nice and very functional, it was great to walk around the farm and we were thrilled to be greeted by (and get to hold and feed) newly born lambs. Thank you Nina!
Sarah
2015-04-20T00:00:00Z
My review is going to echo almost all the others here. Nina was very nice and welcoming. The apartment itself was clean, comfortable, and exactly as described. You will not hear the animals very much in the apartment, which was a surprise for us - so it was easy to sleep and be comfortable. You also will not hear any city, sirens, car alarms, thumping music, etc. It was great to "unplug" here, even though you have the creature comforts - internet, TV, cable, etc. The living area is so cozy, all three nights we spent there, the two people and two dogs fell asleep in the living room, contorted like sardines to the shape of the couch, a dozen legs jutting every which way. As you exit the apartment in the morning, you might catch a fleeting glimpse of a fuzzy chicken scurrying back to the safety of the coop. We enjoyed it, a lot. Note on the stairs: The stairs are indeed steep - I would liken them to an attic stairwell that is half-stairwell, half-ladder. It wasn't hard to ascend and there is a sturdy rail to help you, but it was a little precarious for our two dogs, one is a puppy. Also, as Nina states if you have a mobility issue, don't risk it here.
Issa
2014-10-13T00:00:00Z
Nina was a fantastic host, and took us all around her property to meet the animals. The unit was as described/pictured with tons of character. The horses and donkeys are often right outside your window! All in all a great place to stay.
Jim
2015-07-03T00:00:00Z
Stop looking - this is where you want to stay. Nina was so warm and welcoming and the farm is awesome. We had a wonderful couple days and can't wait to go back
Colm
2014-07-13T00:00:00Z
Тип размещения
Дом/квартира целиком
---
Тип жилья
Квартира
---
Вмещает гостей
2
---
Спален
Hollis Center, Мэн, США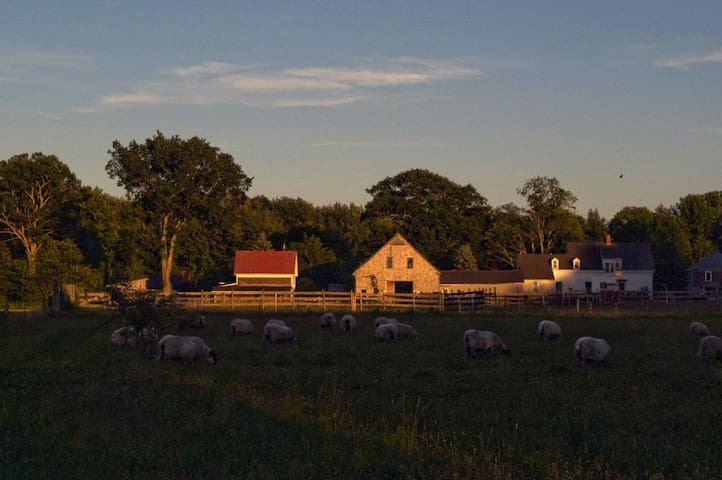 Nice, newly renovated one bedroom right by the beach. Queen in large master bedroom. Ikea pull out couch for two more. Back yard for picnic and grilling. First floor easy for shuffling back and forth from the beach. a lovely space for a getaway.
A great little getaway. Close enough to everything but out there enough to ignore it all if you'd rather. We loved it!
Adam
2015-06-16T00:00:00Z
Тип размещения
Дом/квартира целиком
---
Тип жилья
Квартира
---
Вмещает гостей
4
---
Спален
Сако, Мэн, США
Moment's Peace Farm is a hobby farm with a restored 19th Century barn and extensive fields and woods. We raise free-range eggs, vegetables, and rescue horses. At the Guest House, you are free to come and go as you please, to enjoy the outdoors, theater, museums, and fine dining.
The Guest House is detached from the main farm house and affords you complete privacy while still being in a farm setting. You have your own private deck and view as well as living room, kitchen, bedroom, and 1-1/2 baths. The area is an excellent jumping-off place for an unlimited number of activities, from walking and hiking to cycling and canoeing to beach sunning and bathing to visiting all of the shops, museums, antique dealers, restaurants and farm stands in Portland, the Kennebunks, and surrounding areas like Freeport and the White Mountains. We're even an easy train ride from Boston as well as Brunswick. Come and go as you please, or just stay home and relax in your own little getaway. There are relaxing activities in the Guest House, too, including puzzles, books, and games. Or just relax in one of the chaise lounges in the living room or on the back deck.
There are some nice local walks and hikes as well as cycling routes and paddling opportunities. You're also fifteen minutes from Gorham, 20 minutes from Scarborough, 30 minutes from Portland, 30 minutes from Kennebunk, 30 minutes from the Sebago Lakes region, 45 minutes from Freeport, an hour from the White Mountains, two hours to Boston, and three hours to Acadia.
Our stay was wonderful, the farm was beautiful. It was quiet, private, clean, and very comfortable. We had a great time.
Emily
2016-08-14T00:00:00Z
Great time at Peter and Joys! We loved the chickens,horses and welcoming dogs. The back porch was our favorite part watching the fireflies! Thanks so much.
Lindsay
2016-07-03T00:00:00Z
This is a lovely, clean place to stay. It was quiet and so pretty. We loved looking out and watching the horses graze, the chickens roam around and even spotted a deer one night. Honestly, I wouldn't hesitate to return to this spot! Another wonderful plus--laundry facilities! We loved the homemade granola too!
Jolene
2015-07-15T00:00:00Z
We enjoyed our journey at the farm. The house was exactly as described. We were welcome to use the pool, pick lettuce and herbs in the garden and, of course, eggs in the henhouse. My daughter enjoyed the contact with the horses and the dogs. The area is very quiet and we could hear the frogs croak at dawn. Peter and Joy were very helpful and quickly answered our questions. There is a book in the house that describes extensively all the activities, restaurants and other information one could want to know. It is very complete and practical. The only downside is that the farm is a little far from the beaches and Portland (30-40 minutes).
Elaine
2015-07-09T00:00:00Z
We had an excellent stay at Moment's Peace Farm. Peter and Joy were responsive and made sure we had a comfortable stay. The farm is an easy 30 minute drive from the Center of Portland, and they provided info on lot of interesting things to do closer to the farm. Our 2 year old especially enjoyed the chickens and horses. We'll be back
Ipsit
2016-04-05T00:00:00Z
This was much better than staying at a hotel. Upon our arrival, we were immediately welcomed, handed farm fresh eggs, and told we were free to help ourselves to anything in the garden. With access to a full kitchen, we were able to make fresh, healthy meals instead of eating junk all weekend. The guest house was very comfortable, equipped with many of the amenities you would find at home. It was quite an experience to step outside at night in the pitch darkness and gaze at the stars, then wake up in the morning to see horses and chickens outside your window. Although we had plans during the days, I would have been happy to just stay at the farm all day, feeding the horses, walking around the grounds, and lounging by the pool.
Kenny
2016-08-22T00:00:00Z
Very nice place, great for kids because of the animals and eggs that they got to check on. Everything on the farm is pretty much accessible except for the barn without supervision and the tree fort is off limits. Don't count on A/C but the window fans work pretty good. All in all, the place is beautiful and the horses are friendly.
Michael
2016-07-25T00:00:00Z
My wife and I have just returned from a wonderful weekend in Maine with our twin infants. The cottage was as described -> a very comfortable space in a beautiful location. We thoroughly enjoyed the opportunity to get away from it all in the country. Peter and Joy were extremely responsive to all of our communications and the fresh farm eggs were a nice touch!! Our ten-month old twins LOVED their dogs.
Mark
2015-05-26T00:00:00Z
Тип размещения
Дом/квартира целиком
---
Тип жилья
Квартира
---
Вмещает гостей
4
---
Спален
Hollis Center, Мэн, США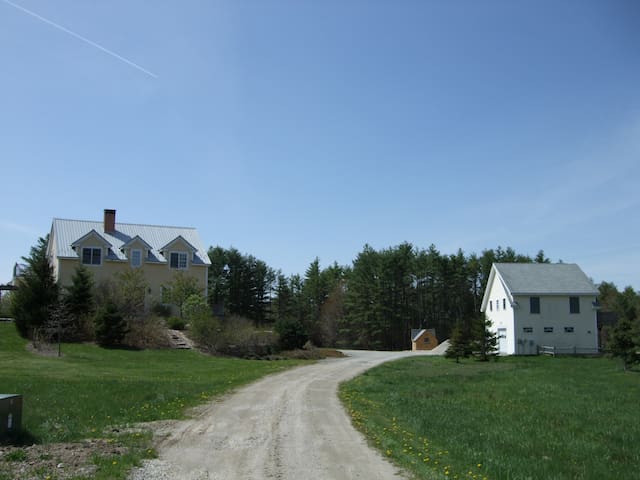 This quaint Home Stay property boasts the ideal location walking distance to the State Park, Kettle Cove and the renowned Lobster Shack just down the hill. A short scenic drive into Downtown Portland offers a great local flair of all sorts!
(Weekly Rentals and nightly) This charming cottage has a full bath with shower, comfortable sleeping loft and living area with queen size futon for additional guests. Space is ideal for two adults. You are a three minute walk to the Atlantic Ocean and the Famous Lobster Shack with unparalleled views! For a quiet getaway you also have access to a charming cove nestled within the neighborhood, a short walk or bike ride away. Take advantage of the hiking trails across the street at our beautiful State Park and get up close to Two Lights iconic lighthouses. Cottage is centrally located; 15 minute drive to downtown Portland and 25 minute drive to old Orchard Beach and Freeport. LOCATION IS EVERYTHING and at this rate you are getting a fantastic deal with awesome amenities. ENJOY! We are located 1.5 miles from the starting line of the Beach to Beacon road race We take pride in our clean, comfortable cottage, friendly service, pretty surroundings, and excellent value. Come enjoy an affordable relaxing vacation! An experience you won't forget! CONTACT (EMAIL HIDDEN) Winter Rentals Available Please contact me with your dates.
We are located across the road from Two Lights State park, with walking trails thru the park to the cliffs of the Atlantic ocean. You can also walk to the two light houses from the private back road. Even though these are not open to the public, you can access the light houses for a up close and personal experience. The Lobster Shack restaurant is located at the end of the Two Lights road, so the road can get busy during the season. We do love our little nook of the world, we hope you enjoy it as well.
Wonderful cozy cottage near the ocean. We spent two nights in Mary's cottage to attend a local wedding. All was as described in the photos. Loft bed was super comfy and so was the futon. Plenty of room for 2 and would have plenty of room for our family of 4. Extra special treats were left in the mini fridge too. Thank you Mary for a wonderful stay.
Wendy
2016-09-19T00:00:00Z
We had the best time in Cape Elizabeth and loved Mary's cottage. We brought our dog bruiser and he had a great time to, with a beautiful park right across the St and beautiful sun rises every morning. We highly recommend staying in this adorable town and this perfect location. Mary was an amazing host and went above and beyond to make sure we had everything we needed. This stay has been one of our favorite stays so far and we hope to come back someday soon. Thanks Mary!!!!
Crystal
2016-09-06T00:00:00Z
Mary was wonderful and communicative during the trip while also giving us space for a lovely romantic weekend. The cottage was perfect: cozy, chic, and thoughtfully stocked with wine, treats, and local suggestions. The location was perfect and allowed us to meaningfully explore both the Cape and Portland proper. Mary's efforts truly made for a fantastic trip to Maine. I couldn't have asked for better accommodations in Cape Elizabeth!
Mukethe
2015-06-07T00:00:00Z
We loved the cottage! It was my first time to Maine and enjoyed it immensely. After touring the local areas during the day, our highlight was coming back and feeling comfortable each night. We could hear the waves crashing from the beach during our morning coffee in the patio area. Mary was great! She even let us know of events happening throughout our stay.
Danny
2014-10-07T00:00:00Z
Everything was awesome at the cottage and Mary was available for us when we needed a new pot to cook the lobsters! The only thing that could be better but it's not a drama.. it was raining a lot and we were cooking the lobster on the bbq outside, under the rain... charmy but could be better if we had the possibility to cook inside the cottage. But for everything else, Mary is a good host and we felt quiet and welcome... Thank you very much Mary!
David
2016-08-19T00:00:00Z
It was lovely staying at Mary's cottage. The cottage has everything you need. The lobster shack is really closeby and a great lobster dinner there.
Mieke
2015-10-02T00:00:00Z
The wife and I had a great stay at this little cottage. Mary had the door unlocked and the lights on when we got there. It was a great location, just a short walk to the ocean and the area was beautiful. It was a very good stay, I highly recommend it to anyone looking for a little getaway.
Jason
2016-10-10T00:00:00Z
Mary's cottage was great! Right near Two Points State Park and Crescent Beach State Park, which has a lovely beach. Mary even organized everything so that we could prepare lobster on our last evening. Highly recommend for a couple who would like a nice weekend getaway!
Sophie
2013-06-25T00:00:00Z
Тип размещения
Дом/квартира целиком
---
Тип жилья
Квартира
---
Вмещает гостей
2
---
Спален
Кейп-Элизабет, Мэн, США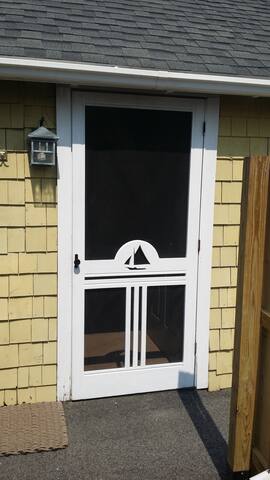 The perfect place for beach lovers. A nice two bedroom with queen beds. Open living and kitchen. Cute bath. All you need for a great vacation spot. Back yard with picnic table and gas grill.
This was my first AirBnB rental, so I wasn't sure what to expect. The listing was exactly as described, and was very comfortable. We had beach within a one-block walk in two different directions, and the harbor and pier on the other side. For the price, it was really unbeatable!! Our host was very accesible via AirBnB messaging and promptly replied to any questions. One day was particularly chilly and he brought down a space heater at my request, which was great. The off-street parking was just as described, and there was never any problem with parking spaces or access to parking. I really have no complaints. Maybe adding a microwave would be good to heat up leftovers, or muffins, but other than that, we had a great time!!!! I will definitely use Patrick again if I come back to the area.
Amy
2015-06-15T00:00:00Z
Тип размещения
Дом/квартира целиком
---
Тип жилья
Квартира
---
Вмещает гостей
4
---
Спален
Сако, Мэн, США
At The Shore - Cape Elizabeth, a small coastal community on Casco Bay at the entrance to Portland Harbor, is a suburb of Maine's largest city, Portland. Cape Elizabeth (pop 8500) is a historic town, famous for its lighthouses, parks, and scenic vistas of Maine's legendary rocky coast. The town sits on a peninsula that juts 12 miles into the open sea, rimmed by craggy shores and sandy beaches. It marks the entrance to picturesque Casco Bay and provides oceanfront beaches, saltwater coves, grassy sand dunes and wooded areas that provides outdoor recreation such as swimming, fishing and boating, shelling, windsurfing, hiking, picnicking, sea kayaking and much more. Across the road from the delightful two bedroom apartment is your own Private Casino Beach (a short 0.2 mile walk down Cottage Lane) with Portland Headlight (the Nations first commissioned lighthouse and reportedly the nations most photographed) just 5 minutes up the road. A 5 mile drive over the Casco Bay Bridge will take you directly to downtown Portland and The Old Port with the Portland International Jetport being 8 miles away. LLBean is an easy 30 minute drive and Boston is approx 1 1/2 hour drive. Cape Elizabeth is host to an annual Labor Day Art Show. The annual Beach to Beacon road race is run every August. The two bedroom apartment is fully furnished with 2 good sized bedrooms with built in closets, 1.5 bathrooms, full size fridge and electric stove/oven, washer, dryer, A/C in Master Bedroom, 37" flat screen TV, DVD, CD player, basic cable, Internet with wifi, books, games, outdoor grill, outdoor seating, off street parking. Crib, high chair, stroller/pram available on request. All linens, towels and pretty much everything you might need is provided...just bring your clothes! Arrival and departure times are very flexible April/May Special rates for the month of of April and May :) June (PHONE NUMBER HIDDEN)/week (7 nights) 4 Adults or family of 5 $1300/week (7 nights) 2 Adults or family of 3-4 July/August $1650/week (7 nights) 4 Adults or family of 5 $1400/week (7 nights) 2 Adults or family of 3-4 September $1575/week (7 nights) 4 Adults or family of 5 $1300/week (7 nights) 2 Adults or family of 3-4 October $1400/week (7 nights) 4 Adults or family of 5 $1200/week (7 nights) 2 Adults or family of 3-4 Reviews and references available on request
Had a lovely weekend on the Maine coast. The house was, as promised, a short walk from a lovely private beach. It was also very close to Portland Headlight and its beautiful park. Everything was clean and tidy, and we had a great time. Thanks, Leslie!
Megan
2011-09-06T00:00:00Z
great location, very tidy and Lesley made us feel very welcome. we had a great stay!
pam
2013-10-15T00:00:00Z
Lesley was a very nice and friendly host! We found her apartment to be clean and conveniently located for trips to Portland, the Portland Head Light and down south along the coast.
Anna-Lena
2012-09-04T00:00:00Z
Lesley was a great host! She was on vacation for our stay, but still responded to any questions we had very quickly. The apartment was in a very nice location right outside of the city, and was also close to a beach and some lighthouses - so it was very easy to see everything we wanted! We had a great time during our stay.
David
2016-10-23T00:00:00Z
We just had an amazing stay at Lesley's 2 bedroom apartment. It was great and literally had everything you could think of. It was also conveniently located near the famous Portland headlight and was only a 15min drive to downtown Portland. We brought two dogs and loved the fact it was a pet friendly place. There's a free library right outside the cottage so being a book to swap ;) thanks so much Lesley!
Charlene
2016-06-20T00:00:00Z
A quaint gem! What a cozy little cottage! It was very comfortable, nestled between beautiful homes in an area rich with history and right now the street from a private beach and the Portland Head lighthouse. The only downsides, we didn't get a chance to meet Lesley or planned to stay a day or two longer!!!
Rachelle
2016-06-09T00:00:00Z
The cottage was exactly as per the pictures: clean, confortable, luminous and charming! Lesley was a really good host who answered quickly all the time, and the location in Cape Elizabeth was perfect to enjoy the beauty of the Maine. Thanks a lot Lesley!
Mai
2014-04-22T00:00:00Z
had a weekend away with my sisters and my mom, and stayed at lesley's charming cottage. it was exactly as the photos showed, and we all loved the place instantly. lesley was such a gracious host, she even took out the grill so we can have a barbecue in the back! the entire place is well kept and spacious. we had a great time in portland, couldn't imagine staying anywhere else!
Clarice
2012-06-12T00:00:00Z
Тип размещения
Дом/квартира целиком
---
Тип жилья
Квартира
---
Вмещает гостей
6
---
Спален
Кейп-Элизабет, Мэн, США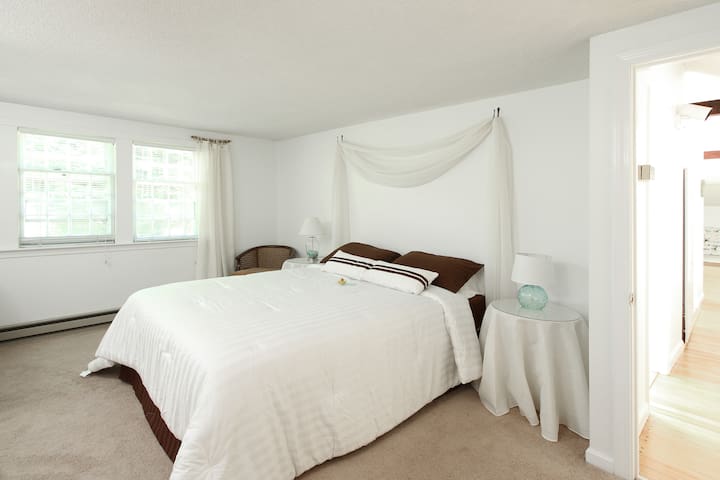 This is a daylight, basement apartment with a private entrance. It is is close to Crescent Beach State Park, the Beach to Beacon race, Two Lights State Park and Kettle Cove. You'll love my place because of the location. Crescent Beach State Park, Kettle Cove and Two Lights State Park are one mile away. We are just a stones throw from the one mile mark of the Beach to Beacon race. My place is good for couples, solo adventurers, and business travelers. We have bicycles upon request!
We are 3/4 of a mile from the entrance of Crescent Beach State Park. One mile from Kettle Cove beach One mile to downtown Cape, which has a grocery store, CVS pharmacy, post office, wine bar, pizza/sub shop and a gas/convenience store. The City of Portland's vibrant Old Port is about a 10 minute drive. Many excellent restaurants, pubs, bars and shops to explore and enjoy. Night life and dancing as well. The Casco Bay ferry makes its regular trips to the Casco Bay islands. They are fun to explore by foot or on a bicycle. Fort Williams, which is home to the Portland Lighthouse is a must see during anytime of year. Explore and forts, trails, rocky beach, lighthouse and lighthouse museum. In the summer months gourmet food trucks offer excellent eats, including lobster rolls. And of course, LLBean is located in Freeport, which is an approximate 30 min drive north on I95. Lots of shopping choices in Freeport and just a fun place to go during any season.
We live in a quiet residential neighborhood. There are two restaurants (Rudy's and The Good Table) just down the street.
Our hosts were extremely friendly and accommodating! The apartment was clean and roomy and the location is very safe, quiet, and peaceful. We had everything we needed and felt very comfortable!
Gabriella
2016-08-26T00:00:00Z
Great place. Very satisfied. Only 10 min to downtown Portland and to popular tourist attractions like lighthouses. Just a mile to the closest beach. They had bikes there for us to use. We rode bikes to the beach. Stores and restaurants close by. Room was great, it was a private apartment, had everything we needed, beds very very comfy. Very nice quiet and safe location.
Eric
2016-08-03T00:00:00Z
I had to communicate with Alex and Maryjane several times regarding my changing travel plans and they were extremely accomodating. I met both of them and they are very friendly people. I personally didn't need any information about the area because I have family nearby, but it is a plus that they are longtime residents of Cape Elizabeth. Those who want to explore Portland, Cape Elizabeth and surrounding towns and beaches would benefit from their knowledge of the area.
Renee
2016-08-05T00:00:00Z
Alex's place is in a beautiful location and is so comfortable and private despite being connected to their home! They were so welcoming and accommodating, offering me bikes and anything else we needed. It is very close to the beach and delicious restaurants and their neighborhood on its own is gorgeous and lovely to sit in the backyard. Would definitely recommend staying here for future visits.
rachael
2016-08-07T00:00:00Z
Fantastic weekend spent at Maryjane and Alex's house. They were super friendly and we're happy to get us acquainted with the area. Allowed us to use their bicycles to explore beautiful Cape Elizabeth and the surrounding area which was very appreciated. Their house is also perfectly located to see as much as possible in the Portland area. Thank you!
Paul
2016-08-22T00:00:00Z
Alex was an incredible host and provided a great experience. The house is in a quiet neighborhood about 1 mile from the beach. Thank you!!!
Christopher
2016-09-04T00:00:00Z
Тип размещения
Дом/квартира целиком
---
Тип жилья
Квартира
---
Вмещает гостей
2
---
Спален
Кейп-Элизабет, Мэн, США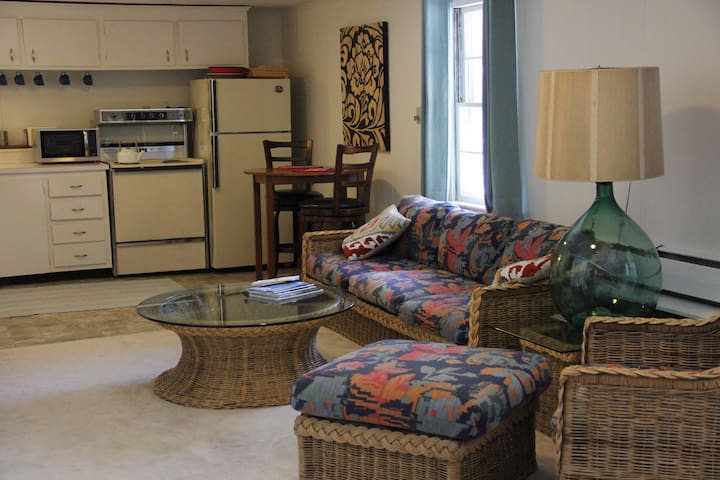 My place is close to Beaches, Walking and biking trails, Downtown Portland, Airport, and more. Great Location. You'll love my place because of proximity to everything in the area, privacy, the coziness, the views. My place is good for couples, solo adventurers, and business travelers.
Private, quiet, and beautifully furnished peaceful space. Apartment is on second floor with windows looking out onto 2 acres of green space.
My husband and I enjoyed our stay here very much. The in-law addition to the house was private, clean and comfortable. It was a quick and easy ride in to town. The owners are very nice and accommodating! We would stay here again, no questions!
Devin
2016-10-16T00:00:00Z
Quiet and beautiful location, but only 15ish minutes away from downtown Portland!
Ashley
2016-08-22T00:00:00Z
Wonderful place. In a quiet suburban area close to the beach and nature. Also a short 10 min drive to downtown Portland. Extremely clean and comfortable.
John
2016-11-13T00:00:00Z
We had dinner a fun dining spot around the corner so we didn't have to drive back into Portland afterwards. That was relaxing. We also did a load of laundry which was helpful for the rest of our trip in Boston. The only negative I can think of is it is on the second story which we knew ahead of time so I can't really complain.
David
2016-10-02T00:00:00Z
Host checked on our arrival time and allowed us a later check out time
Merrill
2016-07-31T00:00:00Z
Sam's apartment was perfect for our stay Maine. It's extremely close to Portland and in a beautiful spacious area. The apartment is all that you need, clean, simple and quiet. The bed was comfortable, nice TV, kitchen and washer/dryer. We really enjoyed our stay and highly recommend this space.
Sherilyn
2016-07-22T00:00:00Z
Sam was great at communicating with us and answered any questions I had about his place, promptly! When we arrived, the place was just as it looked online and was very clean and tidy! We enjoyed our stay! Everything went smoothly. Nice location--easy to get to downtown Portland and to the beach as well. Would highly recommend :)
Kate
2016-09-04T00:00:00Z
Very nice place to stay for the weekend. Super clean and cozy, hosts left suggestions for things to do in the area.
gina
2016-09-11T00:00:00Z
Тип размещения
Дом/квартира целиком
---
Тип жилья
Квартира
---
Вмещает гостей
2
---
Спален
Кейп-Элизабет, Мэн, США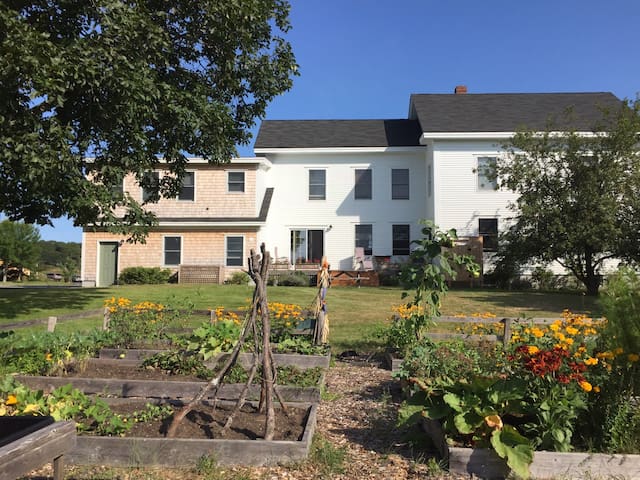 A contemporary, spacious, quiet, comfy place, located just walking distance to 2 sandy, gorgeous beaches: Crescent Beach and Kettle-Cove beach. We are just down the road from THE INN BY THE SEA (where a nightly stay in a standard room is $600) and near Two Lights Park and Fort-Williams. You could bike trails, walk to restaurants and coffee shops or just relax on our huge outdoor lawn.
Our Victorian Farmhouse has an historical significance in Cape Elizabeth, as it was "The Farmhouse of Kettle Cove. We love the old Victorian Home feel, and although we renovated the our apartments, it does look and feel like an old Victorian Farmhouse, with the original Hardwood floors from the Netherlands but with newly renovated kitchen and bath. We feature comfy beds, new beddings and towels, and nice bathroom amenities.
Kettle Cove neighborhood is children safe, family friendly, and a laid-back atmosphere. Walk across the street for the best HOMEMADE ICE CREAM, freshly brewed coffee, and tasty bagels and muffins. Please remember that SMOKING IS PROHIBITED ANYWHERE ON OR AROUND THE HOME! SMOKING ACROSS THE STREET OR AROUND OUR NEIGHBOR'S HOMES IS ALSO PROHIBITED. Our guests would be asked to leave if caught smoking ANYWHERE!
Beautiful place to stay!!!! Clean, comfortable and location was perfect for the beach/Portland vacation. Shawn was a great host. We hope to stay again.
F
2016-08-06T00:00:00Z
Shawn was a very welcoming host, and very responsive at every step--from the last minute booking request to the suggestions for great meals and to the review of the house after we left! What a great and relaxing weekend! We enjoyed the cheese, rolls and nice bottle of wine as a welcome offering--what a nice and unexpected treat. The posting was exactly as it was described in pictures, very comfortable and quiet, and well situated for easy access to restaurants and the cove. I traveled with my mother who is a bit older, and always has an eye for how things can be improved (for people like her), but she had very few suggestions this trip (because things were more than satisfactory!).
anne gatling
2016-05-31T00:00:00Z
Great location - easy ride to Portland and really enjoyed the nearby beach (Kettle Cove).
Janna
2016-07-25T00:00:00Z
The house was pretty nice. The location was the best part. We had trouble getting into the place but that was quickly rectified. Overall, we had a very nice time in Shawn's home and in the neighboring city of Portland.
Breighl
2016-06-27T00:00:00Z
The apartment was perfect for me and my two children. The kids each had their own spacious bedrooms and the entire space was beautiful and tastefully decorated. The furnishings were lovely and the the beds were comfortable. The space was unique in that it is in an old farmhouse. The interior has been completely updated but you still get the benefit of the old farmhouse charm with the beautiful woodwork. The host was accessible and helpful, which further enhanced the experience. The location was great, too, because we we're close to the beach, but also within 15-20 min to Portland and also to the many kid venues southern Maine has to offer. We will definitely come back here again.
Kelly
2017-01-05T00:00:00Z
My mother, sister and I were in the area to meet a family friend for the weekend. This apartment made for a great place to hang out with family. Comfortable for the 7 of us, We played board games in the kitchen, walked to the beach, played croquet and hung out on the deck. The space is very unique with (I think) 3 apartments in a very old but well kept farm house. Being an old house, you can hear people upstairs, but Shawn's 10pm curfew curtailed most of the noise. We could hear babies in another space but you can't really control that... And it was fairly faint. Originally we had looked at a traditional bed and breakfast but the space we got from Shawn compared with the price of 2 rooms elsewhere was a bargain. I didn't have a good feel from the ad about how the space was divided up so... Expectation management: there might be other kids in the yard playing croquet too. It really had no negative impact though. Shawn was very communicative before and during our trip. Very responsive to my questions. He was also very flexible as our arrival changed when our flights were cancelled. The wine and cheese were a nice welcome too. I think we might have annoyed him a few days prior to check in when my mom wandered up to the property unannounced because she wanted to see where she was going the following weekend. Shawn spared no expense, too, with the plush, soft sheets and towels. I was impressed that a place clearly designed for Airbnb had such quality linens. The only other thing I'll say... In the event you are in Maine during one of the handful of oppressively hot days, this space has no AC. Apparently nobody in Maine does! Being from the south, the inability to control our temp inside when it was a humid 90 outside was uncomfortable. But we went out and about and it cooled down by the evening to a bearable temp inside aided by fans. The second day was actually cold out and very comfortable inside. Id stay there again... Very close to Portland, the headlight lighthouse (go at sunrise!) and other points south like Saco or Kennebunkport
David
2016-08-15T00:00:00Z
Host attempted to make us feel welcome, however other issues prevented us from having a positive experience- heat didn't work (thermostat battery dead, should've been checked before our arrival) and no wash clothes and only one towel for the weekend. We will return to this area, but not to this air bnb. :(
Brenda
2016-10-09T00:00:00Z
Shawn was response and worked with us leading up to and during the weekend.
Joe
2016-07-18T00:00:00Z
Тип размещения
Дом/квартира целиком
---
Тип жилья
Квартира
---
Вмещает гостей
8
---
Спален
Кейп-Элизабет, Мэн, США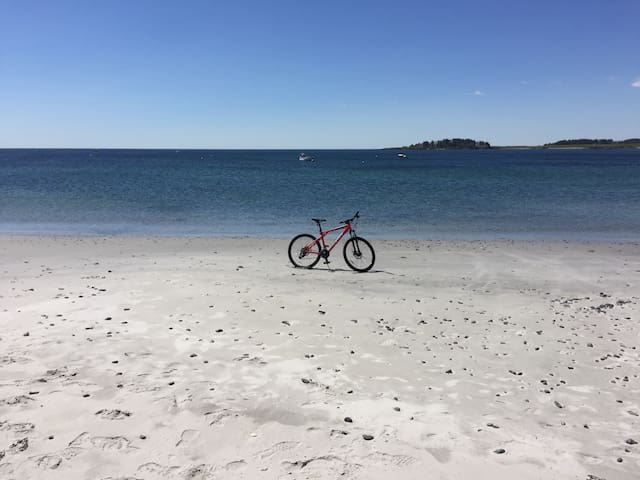 Located in charming Cape Elizabeth, Maine our bright and modern apartment is close to, beaches, the Beach to Beacon route, Great Pond, Green Belt walking trails, restaurants, and more. We are a short drive from the airport and Portland's Old Port. Our charming apartment has lots of character, plenty of sunlight, and modern decor, all in a tranquil and convenient location. Our place is well suited for couples, solo adventurers, business travelers, families (with kids), and furry friends (pets).
Enjoy the quiet and private setting of this airy and modern apartment on a private drive in Cape Elizabeth. The apartment entry is located on ground level with stairs ascending to the living space totaling approximately 900 sq ft. Vaulted ceilings, a kitchenette (no stove), comfortable furnishings all with a designer touch await. You'll love the convenience of being 15 minutes from downtown Portland while enjoying the quiet small town of Cape Elizabeth with all its coastal charm. 5 minutes to several beaches!
The apartment was beautiful! So comfortable and clean and plenty of space for 4 friends.
Carolyn
2016-09-10T00:00:00Z
Sydney and Rob have an absolute gem of a place! It's clean, bright, cozy and in a great location. We were able to bring along our dog and it was a fun trip for our whole little family. Sydney and Rob were excellent and attentive hosts. We hope to come back soon! Thank you!!
Sara
2016-10-03T00:00:00Z
This place was absolutely beautiful, and Sydney and Rob were fantastic hosts. Everything was new, clean, and comfortable, and I got a great dining recommendation from Sydney. The area is very pretty and quiet, I would go back in a heartbeat.
Ben
2016-08-08T00:00:00Z
The host canceled this reservation 17 days before arrival. This is an automated posting.
Julia
2016-09-05T00:00:00Z
Quiet getaway, easy to get around, beautiful fall time to visit Cape Elizabeth. Sydney helped make the space feel welcome.
Sabrina
2016-10-25T00:00:00Z
Super cute and cozy! Sydney and Rob couldn't have been nicer, more helpful or more responsive and they did a really beautiful job with the space. It's a short and surprisingly cheap Uber ride into Portland. Would definitely recommend.
Caitlin
2016-09-19T00:00:00Z
This place was great. Accommodations were exactly as pictured, super clean, newly renovated. Absolutely nothing negative to say at all. Sydney and Rob were exceptionally accommodating. This is a great location and very close to downtown Portland. Highly recommended.
Brian
2016-10-05T00:00:00Z
This is an awesome place to stay. So much nicer than a hotel! Sydney is great- she helped us find a nice neighborhood walk, great dinner suggestions, very friendly and helpful. Would definitely stay here again on future trips to Portland.
Jocelyn
2016-09-17T00:00:00Z
Тип размещения
Дом/квартира целиком
---
Тип жилья
Квартира
---
Вмещает гостей
5
---
Спален
Кейп-Элизабет, Мэн, США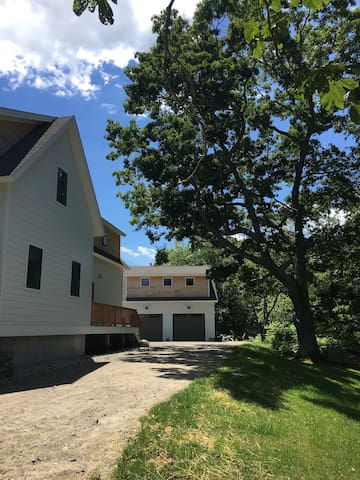 Private guest suite has it all. In a new custom luxury home-classic seaside neighborhood-top furnishings-lighthouse views-superb landscaping. Walk to gorgeous secluded beach-private deck-best basketball court in town-special long-term pricing.
Located in the classic seaside neighborhood of Shore Acres, there may be no better location in the Greater Portland area. This is a special place--it is brand new guest suite that is part of a new custom home built by Maine's most renown builder. The suite is private, yet located in a real neighborhood. Walk to beautiful Trundy Point in just 5 to 10 minutes, amble up the rocks and take in perhaps the best view in Southern Maine. Or in the warmer months--take a swim in the Atlantic! The guest suite is spacious with a private deck off of the living area. It is fully equipped and furnished with even a luxury Toto washlet toilet and a basketball for use on the beautiful sport court. And yes, great distant views of the ocean and Portland Headlight from both the bedroom windows and the bathroom windows. And . . . there is a beautiful sport court with the best basketball court in town (you will find a basketball in the guest suite)--taking a few free throws to end the day can be so relaxing and fun. The neighborhood is superb for jogging or just walking and the excitement of the Old Port in Portland is just 15 minutes away--and the airport is just 20 minutes away. There are numerous beaches just minutes away by car (Kettle Cove and Crescent Beach are both just five minutes away.
Shore Acres is a truly classic Maine seaside neighborhood, that is quiet and leafy and yet convenient to all things in the dynamic greater Portland area.
We had a great great trip staying at Tom's apartment. The apartment itself was stunning and new and really comfortable. It had everything you needed. And Tom and his care taker Deborah were so nice, friendly and helpful. The location is perfect. Calm and peaceful, near great light houses, beaches, lobster shacks and a quick drive to Portland. We hope to return for a second trip!
Christina
2016-07-06T00:00:00Z
From beginning to end, this was a wonderful experience that exceeded my expectations! Tom answered all of my questions with great detail as did his wonderful property manager, Coco. The apartment was BEAUTIFUL and everything was top of the line. Coco was very sweet to let us check in early and she met us there with wonderful pumpkin bread! The bed was SO comfortable and the showers were warm after long days of exploring nearby beaches. The location was absolutely perfect, about a 20-45 minute drive to everything we wanted to see in all directions. My son loved his private basketball court. I really couldn't find a single negative about this home if I tried. My only regret was that We couldn't stay longer.
Valerie
2015-10-12T00:00:00Z
We came for lobster, lobster, lobster and weren't disappointed, landing equidistant between "Bites of Maine" at Fort Williams (best lobster rolls in the state, hands down), and the extraordinarily scenic Lobster Shack near Two Lights Lighthouse, while still being proximate to Portland's lively food scene. BTW, the $109 5-course lobster tasting menu at Tempo Dulu is to die for. All that plus very considerate hosts (both the owner Tom and his property manager), and a spotlessly clean apartment that was comfortable, quiet, fully equipped and pleasing to look at. All in all, a great deal and a great time in Maine.
Catherine
2016-08-18T00:00:00Z
We had a wonderful stay at Tom's place! The apartment was exactly as described...clean, comfortable and modern. The location was perfect and in a quiet neighborhood. We hope to return soon!
Geri
2016-09-07T00:00:00Z
This trip will always be one that we remember – we got engaged! Tom's place is very close (walkable) to our special spot on Trundy Point, a pretty peninsula great for a beachside picnic and where you can see two of Cape Elizabeth's lighthouses. Tom himself was wonderful, checking in with us, offering to grab things from the store and give rides, and generally very helpful. We were fortunate enough to meet this international traveler and quite enjoyed chatting with him (he brought us some freshly picked apples!). As for the space, it is everything described and more. From the walls to the bedding, everything was pristine and top notch, and still felt very welcoming. You'll find a Celtics basketball waiting for you, shoot some hoops it's a great court with beautiful views of the ocean. The views are great from inside the house as well, the ocean can be seen in the living room and a lighthouse from the bathroom and bedroom! Getting around was breeze. Unless your plans call for extensive exploring, Uber (usually 10-15 minutes away) and walking should be sufficient for getting to/from Portland and surrounding areas. There are a couple restaurants within a 15 minute walk (Rudy's and The Good Table) that seem to be local favorites. We also used the website 2dine for delivery from Portland restaurants (none of which deliver to CE otherwise). We really enjoyed our stay and would recommend Tom's place and Cape Elizabeth!
Jesse
2016-04-23T00:00:00Z
This is an absolutely beautiful apartment-- so clean, newly renovated bright, and comfortable. Beautiful neighborhood and a close walk to a pretty beach and other gorgeous homes. The property manager is also extremely helpful and full of great vacation suggestions. Also such a beautiful part of Maine. This is a great value!
Alexandra
2016-08-23T00:00:00Z
Host was incredibly welcoming and hospitable, and he went above and beyond to give us suggestions as for what to do in Portland. The house itself was fantastic and well-stocked, far exceeding our expectation. The basketball court was phenomenal, and the location was perfect being close to Portland and only a few minute walk to Trundy point, which had some of the most amazing views. Absolutely recommend!
Jeremy
2016-08-02T00:00:00Z
We had a great experience at Tom's apartment. The apartment is brand new, beautifully decorated with high quality equipment and accessories. It is also very comfortable (the bed sheets were amazing, the shower was perfect). It is also very quiet and the bedroom has a beautiful view on the sea. The apartment is also perfectly located. It is very close to Portland and to many beautiful spots (Kettle Cove - my favorite, Crescent Beach State Park, Two Lights State Park) all easily accessible by bike. Finally, although we did not meet her in person, Deborah, Tom's property manager made us feel very welcome at our arrival and both her and Tom contacted us during our stay to make sure we had a good time.
Marie
2016-05-24T00:00:00Z
Тип размещения
Дом/квартира целиком
---
Тип жилья
Квартира
---
Вмещает гостей
2
---
Спален
Кейп-Элизабет, Мэн, США