Введите дату прибытия в формате дд.мм.гггг
Введите дату отъезда в формате дд.мм.гггг
Объявления, которые вы можете забронировать, не дожидаясь одобрения от хозяина.
Введите даты, чтобы увидеть полную цену без учета дополнительных сборов и налогов.
В июле и августе этого года вы сможете открыть для себя один из сотни самых лучших домов, с самыми разными ценами, и увидеть долину Сонома, какой ее видят местные жители. Круглосуточное прибытие, мгновенное бронирование, местное вино и закуски помогут вам расслабиться и насладиться поездкой.
Just off HWY 101 in South Bend, 20 minutes from ocean, 2 hours from rain forest. WiFi, Sep. entrance, parking, very comfy queen bed, living room with couch (extra person), 3/4 bath. Laundry room. Min fridge, coffee, toaster, microwave. View from patio. Overlooks Willapa River and town. Perfect for bike rest. 1.10 hours from historic Astoria, Oregon. Clam digging, fresh oysters in town, Pitchwood Pub in Raymond with good food, music and microbrews. 2.5 hours from Seattle and Portland.
The space is clean. The queen bed is to die for...full dresser for unloading that suitcase. We will provide you with a selection of good coffee/tea/cocoa, bagels with cream cheese, and fruit. Great place to relax. When desired, the patio is clean with a bench and table for good morning coffee experience. There is a commercial exercise elliptical trainer in the living space that you are welcomed to use. Downstairs only and patio, separate entrance through keyless entry. Of course we want your stay to be enjoyable and if we can offer any advice, we are happy to. For the most part, you are completely private from us. You have a separate entrance, your own bathroom, bedroom, and living room. We have lived in this area for a long time, so please ask us about sites and things to do.
It is very quiet and pristine with views of the slough and Willapa River. Historic courthouse is also in view. Beautiful country roads to drive on as well as access to Pacific beach beauty. We are the oyster capital of the world, as they call it, so here is where you can have your share. There is a recreational marijuana store, Mr. Doobies, just down the hill, that stocks lozenges, butter, brownies, e-cigs, cookies, etc. A paved trail is a short walk down the hill that goes for many miles in each direction along the Willapa River. You can walk to either South Bend or Raymond We have a city transit bus that goes all the way to the ocean beaches as well as many other destinations such as Ilwaco, Long Beach, and Astoria, OR. We do have a lovely pit bull who is very friendly. You are welcomed to pet him. Feel free to use elliptical trainer in living room.
Тип размещения
Отдельная комната
---
Тип жилья
---
Вмещает гостей
2
---
Спален
1
Raymond
The Cabin at Willapa Bay is a fully furnished (with complete kitchen), renovated private retreat in South Bend, WA, halfway between Seattle and Portland overlooking the Willapa River. It is a perfect romantic get-away. Quiet.
With the sound of rain on the roof, the warmth of a roaring fire in the wood stove, and the peace and quiet of the woods, The Cabin is an ideal Pacific Northwest mid-week or weekend get-away. Now is a great time to make spring and summer reservations. The Cabin at Willapa Bay has a new double bed with a complete kitchen (including microwave) and full bath. Perched on a gentle sloping hillside, The Cabin is walking distance from the downtown South Bend business district which has a museum, complete grocery store and deli, pharmacy, funky old tavern, and several restaurants. If you want privacy, peace and quiet, this is the place for you. We have robust wi-fi and good cell reception for most carriers. The Cabin at Willapa Bay is a stand-alone, very private 400 square foot cabin nestled in the woods with easy access from downtown South Bend, Washington (population 1600). We personally greet each guest upon arrival and live a stone's throw from the cabin and will provide maps, restaurant guides, suggestions for day trips, etc. We are available to assist our guests with their needs. We are native to the community and are proud to share our history and unique features of the Willapa Harbor area.
The Cabin is a block from the historic Pacific County courthouse and three blocks from downtown South Bend. It's a short walk to downtown South Bend which has many amenities, including a grocery, deli, tavern, restaurants, museum, library, and pharmacy. The Pacific County Transit service is available a block from The Cabin. The Cabin is mid-way between Seattle and Portland on Highway 101. We are less than an hour from the Long Beach Peninsula tourist area, Astoria, Oregon, and Westport, WA. Seaside and Cannon Beach, Oregon are about an hour and a half away. We recently installed a new shower and roof and continue to make physical and amenity improvements at the suggestion of our guests.
We booked this cabin within 24 hours of our stay and the host was very accommodating to our schedule. Steve was a very sweet and engaging host.
Tom
September 2015
We spent my birthday weekend at The Cabin and it was such a wonderful stay. Steve and Denise left no stone unturned when it comes to amenities. The cabin itself is quaint, cozy and very quiet. Even though there aren't many neighbors, we did get visits from the local wildlife in the evening which we loved. I would absolutely stay at The Cabin again.
Autumn
September 2016
This is a great place to stay. we loved it, particularly the shabbileer (that may be spelled incorrectly). Steve was very helpful making sure we had everything we needed for a pleasant stay.
Martin
September 2016
Eine liebevoll eingerichtete Cabin. Die schönste auf unserer Reise durch den Nordwesten. Wir wurden von Steve herzlich empfangen, sogar die Rehe begrüßten uns im Vorgarten der Cabin. Zum Frühstück gab es leckere Muffins, Kaffee und Orangensaft . Dieser Ort ist sehr zu empfehlen.
Gabi
September 2016
Wonderful night's stay as a couple in this gorgeous cabin just off route 101. The place is incredibly well stocked, the welcome friendly, and the cabin itself is beautifully designed and furnished. Ideal for a quiet retreat for individuals, couples or families.
Rebecca
September 2016
The cabin was absolutely adorable- the pictures don't do its charm justice. We slept so cozily as the rain came down and then walked to town for a hot cup of coffee. The gorgeous courthouse was closed on Christmas Eve, so we will have to come back to see it on another trip. We're excited to come back and stay in the cabin again! Steve was so gracious, explaining how the cottage works, recommending places to stop in town, and ultimately mailing us the Christmas gift that we left behind. We highly recommend staying here.
Shannon
December 2015
The Cabin at Willapa Bay is a must-stay! If you're looking at other listings in the area, don't make the mistake of missing this charming, cozy, clean cabin. Stocked with plenty of amenities if you want to stay in, the cabin even has a lovely deck and view, and out the back door is another lovely area with a hammock and outdoor chandelier at night. I cannot speak highly enough about the warmth and hospitality of Steve and Denise! Don't miss a chance to stay at the cabin- it's just as charming as it looks in the photos! If we're back in the area, we will certainly stay at the cabin again!
Anna
August 2015
The cabin is wonderful. We had a lovely time visiting South Bend. We enjoyed walking to the town center for coffee and dinner. The amenities were everything we could desire. A fireplace, Pandora, Netflix, a deck to look at the night sky, a hammock to relax in the lovely back yard, a comfy bed and couch. The quaintness and decor were a bonus. It was perfect for us. We hope to visit again and explore the Willapa Bay Area. Thanks Steve for renting to us over the Labor Day weekend.
Lisa
September 2015
Тип размещения
Дом/квартира целиком
---
Тип жилья
---
Вмещает гостей
2
---
Спален
1
Саут-Бенд
Fun 3bd/2ba 1,600 sq ft home across the street from the Willapa Bay in downtown South Bend. Walk to restaurants, funky old tavern, candy shop, cafe, library. Enjoy local clamming, boating, biking, hunting, and golfing. Relax & explore!
Please take the time to read through all of the information here and please ensure your Airbnb profile including the trust and verification is complete before sending us a reservation request. We are happy to answer any questions after you have read this. This 1960's home has an open floor plan. New carpet throughout the whole house. Family room with wood burning stove, kitchen and kitchen nook are all in one open space. Foosball table also in the familyroom/kitchen space. The bedrooms are down hallway towards the rear of the house. Home is heated by electric baseboard heaters. We like to call bedroom #3 "the bunkroom" as it has two sets of bunk beds. One bunk with full size mattress on bottom and twin on top. The other twin bunk with pullout trundle. A perfect room to sleep all the kids! Rooms #1 and #2 are neatly furnished with bed, dresser and/or end tables and lamps. Simple furnishings throughout the home. All new fluffy pillows, linens and bedding. Bathrooms have original fixtures and they all are very clean and work well. Majority of the home has original features and is well cared for. Kitchen and foosball area has been updated with, new sink, faucet, dishwasher, rustic wood wall, metal wainscoting and fresh kitchen paint. Open family room. Television plays local movies we have on hard drive or bring your own DVD to play on DVD player - no regular TV channels or cable. Oyster plant is right across the street. Watch from the kitchen windows the boats docking, cranes moving the huge metal oyster baskets and the oysters falling onto the convery belt. Pretty exciting stuff for this sleepy little town. Amenities: Washing machine and dryer located in hallway bathroom. Detergent, fabric softener and bleach provided. Fresh towels and washclothes provided. Shampoo and soap provided. Use your bedroom door hooks or bathroom wall hooks to hang wet towels. Fully equipped kitchen to bake and cook. Sorry, no pets. There is absolutely no smoking in or on the premises. Comfortably sleeps 8+, walk to grocery store, deli, library, funky old tavern, casual restaurants, river, trails, coffee shop, German candy store, boat docks, museum, pharmacy, public transit and more. Large garage with windows can park a car or kids can hang out. 4 car driveway. Backyard with lots of grass. Close to Long Beach, Astoria. Microwave, new dishwasher, electric range, washer/dryer, large double sink (no garbage disposal), new toaster, and new coffee machine, new pots and pans, bakeware, utensils, dinnerware and glassware. Large home over 1,600 square feet and garage. Electronic door lock - you will be issued a unique code, so you don't have to worry about losing keys! Check in time is 4pm and check out time is 11am. Usually we are out of town when we have guests and will not have the pleasure of meeting you. We are always accessible by cell and respond quickly to any questions or concerns. Thank you! We respect our guests privacy. We have very minimal interaction, unless you need us - simply call or text.
We love this location which is close to many amenities listed previously. In between Seattle and Portland. Public transportation. Westport, Long Beach, Astoria close by. Or drop your boat in public launch with docks in town. 4 car driveway. Garage parking. Do not lock door that leads into family room as doing such may lock yourself out of the house. Bring your mobile phone, landline unavailable. Maid service arrives on your departure day at 11am. Home is professionally cleaned prior to each reservation and we have dedicated guest linens. During each cleaning all items are removed from refrigerator, and cabinets. Bring food and spices although we do have the basics...salt, peper, garlic powder, season salt, foil, plastic wrap, ziplock baggies, trashbags. Shampoo and soap provided for you. If your stay falls on a Wednesday please bring trash can to street. Grocery store is three blocks from home. Please know that this home was built in 1960's and it has some quirks and this what makes the home fun! This home and its town is a very causal place to gather with friends and family. Get comfy, snug in, relax, play games and explore the area. Living area and bedrooms heated by electric wall heaters.
The place was immaculately clean and very welcoming. Lot's and lot's of pillows, towels, and kitchen ware to use. Great location for Fishing Salmon out of Ilwaco for my Dad and bother w/ family. Very good restaurants like the Elixir and the Barge close by. The kids loved the Foosball table and the games. They really liked the bunk beds as well. Thanks for making this a very good memory for me and my family.
Robert
July 2016
initial contact with homeowner, Cynthia, was somewhat pleasant. She had some concerns about our service animal, a small chihuahua, but after some explaining she agreed to waive extra deposit fee. Upon arrival, the lock code did not work, but Cynthia gave us a new one that did work. The home appeared organized and clean. There are no TVs, but we knew that going in. There were plenty of clean towels and dishes...even name brand detergents, shampoo, dishwashing soap. The toilet paper was very soft and thick, but the extra rolls underneath the bathroom sink appeared to have some water exposure, but then dried. However, the house provided pretty much everything you would need for a vacation house. I would recommend the owner to install ceiling fans in all the bedrooms and make the 2 car garage usable. The kids had fun with the fooseball table. The South Bend area is a quaint We had an issue with the owner claiming we scratched her leather couch, but there was no way our party could have damaged her couch. Due to Cynthia having initial concerns with our service dog, we always kept our service animal inside her kennel while inside the home. Anyways, we disputed the $100 fee that the owner wanted to charge us for the alleged scratches to her couch. We would have given the overall experience a 4 out of 5 stars and would have recommended the home if it were not for the owner alleging the couch damages.
Tiffany
July 2016
This was our first time using Airbandb. Didn't know what to expect, But the Oyster house blew away all of our expectations! South Bend is such a cute town, And all of the people were really friendly. It is just a short drive away from some of the places we wanted to go such as Fort Stevens State Park, Astoria, and Longbeach! The host was very friendly and we would love to return next year. Also the kids were super excited that there was a Pokestop in the front yard!
Christina
August 2016
Host very welcoming. Home described well with plenty of room for kids to roam. An hour from Westport or long beach. Needs a TV with DVDs to keep kids occupied. We used our portable DVD. Chemicals under sink need to have child lock as our son got into them. Bunk room is awesome and kids tried every bed. Mix of new with old with great decorations of the surrounding area. Washer and dryer were awesome and made our trip much easier with saved time.
Chad
July 2016
The Oyster House is a great family get a way! It is equipped with everything you need for a wonderful family adventure. My daughters loved the room with the bunk beds and we all enjoyed the game table with all Sorts of good family games and had fun with the foos ball table. We loved the small town of south bend. The house is walking distance from everything. I recommend checking out the local coffee shop! It's very hospitable. The house is furnished with all the things needed for the ability to cook meals and stay inside for the duration of the stay. When we stayed there wasn't a tv or Internet but that was a good time for us to unplug as a family :) I hope to return in the future.
Lisa
April 2016
My family had such an awesome time at the Oyster House! So much fun that when pulled up to our own home after our stay, my 2 year old kept yelling "no not this home". We found so many things to do locally. We drove an hour down to Astoria, Or. where we went to the museum and learned all about the Columbia River and the Bar. We climbed the Column, which is town of stairs that are spiral, but at the top you can see 360* around! Beautiful! The next day we drove to Long Beach which is about an hour also. We drove onto the beach, WITH our car! How cool is that!?! We walked all around the town. Had a blast there as well. The town north, called Raymond, has a movie theater. Call though because there was a live play when we were there. But they also show films. Over all a great place to relax and have some fun! We took our laptop and the Grocery Inn has rentals and Raymond has a redbox! So we rented movies for the kids in the evenings. I'm sure we will be staying here again! Loved it! Thank you so much Cynthia! You were a fantastic host to my family.
Shannen
April 2016
Everything was just perfect! We wouldn't have changed a thing! The pictures are accurate. It's really cute and comfortable inside. You have everything you need and a great view. The neighborhood is quiet, and there are restaurants and a grocery close by. I even had some of the best pizza in nearby Raymond at a little diner called Slater's. That was unexpected! My son and daughter-in-law loved it, too, and they're living in Chicago where they get great pizza all the time! Everyone is very friendly, everywhere we went. And Cynthia is a wonderful person to work with. Very kind and friendly. And since I'm a noob at this, I really appreciated that! It's so much better than staying at a hotel! A lot quieter and more relaxing! And a lot more comfortable! You have room to spread out and with 7 of us, we appreciated that! The whole family had a wonderful time! We couldn't have asked for anything more!
Bren
September 2016
The Oyster House is ideally located in the quaint little town of South Bend. Walking distance to food, groceries and antique shopping, this home is a perfect vacation spot for a low-key getaway. We enjoyed the well-stocked kitchen, the ample bed options and the washer/dryer.
Hope
May 2016
Тип размещения
Дом/квартира целиком
---
Тип жилья
---
Вмещает гостей
8
---
Спален
3
Саут-Бенд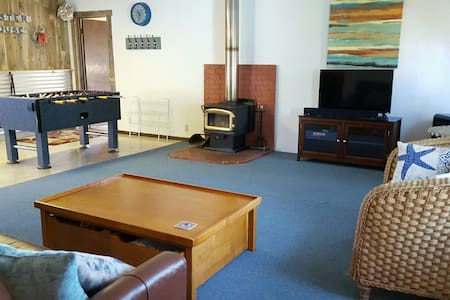 Great get away.... this two bedroom, 1.5 bath condominium is situated on the Willapa river in South Bend. For business or pleasure you will find the location very desirable. Close to shopping, restaurants, entertainment, and public transit.
Situated on the edge of the Willapa River. Access to boating, fishing, restaurants, and other activities just outside your door.
Great views of the Willapa River and Willapa Hills. Public Transit is Available Close to Restaurants, Bars, Grocery Store, Gift Shops, and the Beautiful Historic Pacific County Courthouse. Pacific County Transit has a route on Hwy 101
Heidi's place was a fantastic getaway. The perfect place to destress and take in nature. From the picturesque setting to the comfy house, Heidi's south bend retreat was just the right break the hectic pace of life. Thanks again,Heidi!
daniel
August 2016
What a great place and what a great little town! Heidi's place was exactly as described and a warm welcome after spending a couple of days in Seattle. This place is an easy drive from Sea-Tac Airport and is in a GREAT location. Even our best attempts at viewing the area via the internet could not do justice for how big this little area really is. We took quick day trips to the beach (Long Beach) and to Cape Disappointment which was no disappointment at all! Plenty to eat in South Bend...great coffee/breakfast place within walking distance and a wonderful vibe. Heidi's place offers all the comforts we could ever want but easily taking the number one spot on our list was sitting on the plush carpet "Indian Style" while drinking coffee and gazing out of the huge slider doors at the Willapa River. What a view! The scenery along the river never stayed the same which was an added bonus. Low fog banks rolled in and out in the distance...Oyster Boats quietly passed by...Cormorants were fishing...possibly a sea lion or two passed by and I am not sure we will ever forget the rainbows. All this right out of the back of Heidi's place. All items were well stocked, neat & clean & functioned properly. I really cannot think of any drawbacks or anything lacking as this place was a true score. Consider yourself very fortunate if you get the opportunity to book Heidi's place. An A+++++ Gem of a find!
mark
November 2015
Very nice. Great view. Power went out all over town on an exceptional warm, clear night which gave us a great view of the Milky Way from the deck.
Alan
August 2016
We were greeted with lights and music on. This unit is adorably rustic-shabby chic. It was decorated for the Christmas Holiday and very charming. We found locally produced canned seafood, sparkling cider and array of spices and cooking essentials. The kitchen was well stocked and surpassed our cooking needs. When we walked in we were stunned by the beautiful water and mountain view. Absolutely delightful!
Kathy
December 2016
Great place and great host! Heidi heard that we had small children, and let us choose between her two units at this location for the better one for us. We loved sitting out on the deck, watching the water after the kiddos went to bed. My daughter loved looking out the window at the birds, the boats, and the cows across the water. The place was clean, well decorated, and very comfortable.
Joanna
June 2016
The house is really cute and has everything you could need! We had a great time and mostly used the house as a base for day trips to Long Beach, etc. The weather was very rainy while we were there, but we were still able to go for a walk along the river and explore town a little bit. South Bend is a great little get away! The only thing to note is that the house is right on the highway and the bedrooms are in the front - this didn't bother us, but if you're a light sleeper or sensitive to street noise this might be something to be aware of.
Kristen
February 2016
We LOVED our stay at the Shabby Shuck Shack! We sat out on the deck every night and looked out at the bay and saw some amazing sunsets. Heidi even gave us a gift certificate for a local restaurant because she needed to have the internet guy visit while we were there, which was no trouble at all. Highly recommend this place and will definitely be back.
Sarah
July 2016
Тип размещения
Дом/квартира целиком
---
Тип жилья
---
Вмещает гостей
5
---
Спален
2
Саут-Бенд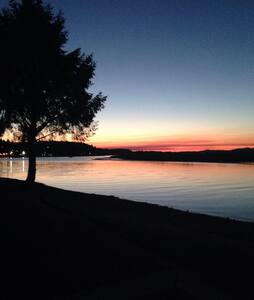 Quiet, simple and spacious. You'll make rest on the first floor. Provided is a comfortable twin bed with soft linens, small dresser and lamp. Additionally you'll have your own bath and washroom with soap and fresh towels. For additional guest or at your request there is a full size blowup mattress available. Drive way Living room Kitchen Your bedroom and bathroom (of course) Back deck Adjacent property (picnic/ yoga/ reading space/ basketball court) I'm pretty quiet. For the most part you'll have house and neighborhood amenities- basketball court / reading/ yoga/ picnic space to yourself. The house is a few block from the Court House and a short walk from downtown South Bend: Museum, German chocolate shop, complete grocery store and deli, pharmacy, library, funky old tavern, restaurants and internet cafe; great sandwiches and snacks plus a view. I recommend having a car, and walking / running shoes. We have some nice trails. Breakfast is self serve. Available will be gluten free bread and oats. Depending on the season I'll have fresh fruit. About the kitchen: The kitchen is a work in progress. As long as you don't plan on going Chef Boyardee in my house it should be good.
Тип размещения
Отдельная комната
---
Тип жилья
---
Вмещает гостей
1
---
Спален
1
Саут-Бенд
My house is located in a great spot in South Bend. It's just a few blocks away from the Grocery Store, Post Office, Gift Shop, Bar, Restaurants and the Pacific County Court House. It's about an hour drive to Long Beach and about a 45 minute drive to Westport. The bedroom includes the whole upstairs of the house. I've got a big kitchen and living room that is free to use at anytime. If you have any questions just let me know!
You'll basically have the whole house to use.
Very nice and friendly neighbors. Bus route a couple blocks away.
His place is good for the price. However, we would go more upscale given who we are.
Dale
September 2016
Тип размещения
Отдельная комната
---
Тип жилья
---
Вмещает гостей
2
---
Спален
1
Саут-Бенд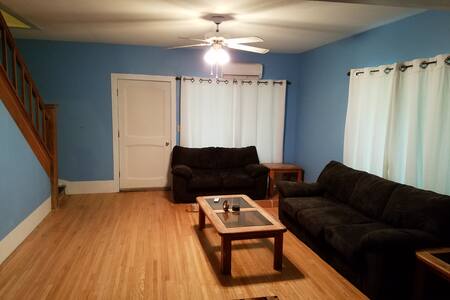 Great get away.... this two bedroom, 1.5 bath condominium is situated on the Willapa river in South Bend. For business or pleasure you will find the location very desirable. Close to shopping, restaurants, entertainment, and public transit.
Riverfront furnished home Includes a complimentary basket Clamming, Fishing, Casino, Hunting, Farmers Market, Shopping, Movie Theatre, Live Music, and a variety of Restaurants. Minimal interaction
Conveniently located Beautiful View Pacific County Transit goes by the front of the unit multiple times a day. Two Queen Beds, One Single Phone Internet Cable Television Washer/Dryer in Unit
Beautiful house, everthing was new .we like the view .the rooms were very nice and the kitchen was amazing
ria
August 2015
The condo was awesome, Heidi did an amazing job creating a welcoming atmosphere, great view with sunsets over the river, good places to eat nearby, area friendly, was an overall really nice time.
Sequoia
July 2015
Even better than advertised. The perfect spot for a weekend (or weeks) getaway. We sat on the deck and watched the barges and fishing boats float right down the river that comes right up to the back yard during high-tide. At sunrise, the birds hunt right in front of the unit — they fly in circles above the river and dive down for the fish. It was better than TV. Very very clean, (especially the kitchen and bathrooms), the closet was well stocked with plenty of linens and shampoos/soaps. Communication was excellent with text replies coming almost immediately. We look forward to booking again for another weekend on the "oyster capital of the world!"
Zach
March 2015
The place was very clean and well maintained. We really appreciate having a fully function and supplied kitchen. It is right on the water which made for peaceful scenery even though the front of the house was immediately off Hwy 101. The town is sleepy with very basic amenities although the location can be used to access to access the ocean for a day trip or other nearby activities such as boating or fishing.
Chester
July 2016
Heidi's place was fantastic. Everything you need is there for you. The comfy furniture and beds are great and the entire place is so clean. The view from the balcony is so peaceful and beautiful. Heidi set the bar high for when we rent future homes! You won't go wrong staying here! Great little town and ideal location to easily take day trips to Astoria, Long Beach and Lake Quinault to name a few! Thanks Heidi we will be back!
Andrew
August 2016
We truly appreciated all the small touches that Heidi provided. There were sparking apple juice, coffee, tea, and even doggy bags for our dogs. The place was very clean and well equipped with everything we needed. Heidi provided local newspapers, brochures, menus of nearby restaurants, and a folder of information regarding South Bend and its vicinity. The amenities were great and we enjoyed our coffee in the morning overlooking the calming Willapa river. We only stayed for two days, but wished that we could've stay longer. It was a refreshing escape from our hectic city life.
Dae
August 2015
Heidi's place was a pleasure to stay at after a long day of driving. Super clean, cozy and with everything you could ask for. Being right next to the water was a nice treat, great views in the morning.
Huong
May 2015
I want to tell everyone that this place is awful so that it will always be available when I want to go, but...alas, I will share this delightful gem with everyone. If you are looking for a BEAUTIFUL, cozy place to get away from it all, this is your place. It's walking distance (there's a sidewalk) to the small downtown area (Elixir has great coffee and a wonderful atmosphere). The place itself is quite comfortable and would be great for 4 people. The deck is adorable - though it's winter, so it was a little cold for us to spend much time out there. All in all, a great place and we look forward to returning!!
Jill
January 2017
Тип размещения
Дом/квартира целиком
---
Тип жилья
---
Вмещает гостей
5
---
Спален
2
Саут-Бенд