Введите даты, чтобы увидеть полную цену без учета дополнительных сборов и налогов.
A vacation rental, Mesa Valley GuestHouse is located at the base of the Black Mesa on the Walker Ranch, near Kenton, OK. The area is secluded and private. You are 40 miles from the nearest town, gas station and grocery store. Peaceful, Quiet, and Amazing! Come See Us!
Mesa Valley Guesthouse is a privately owned HOME and secluded in the Valley of the Cimarron River. We have 4 bedrooms, and a den that has a trundle bed and the living room sofa makes out to a queen bed. The nearest neighbor is 3 miles. We are 40 miles from the nearest grocery store and gas station. The nearest Walmart is about 100 miles. Therefore, you must have plenty of gas and food for your stay! Guest can go hiking, bird watching, rock hounding, fishing at the near by Lake Carl Etling, see various rock formations common to the area, bring horses to ride, travel to see an inactive volcano, Mt Capulin, which is about 60 miles west of the area. Guest will have their own privacy. We will be available if anything is needed. We would love to visit with you, come over and have a cup of tea or coffee. We are west across the river from the guesthouse.
Beautiful country....Peaceful, Quiet......God's Country! Make sure you fill your vehicle up at the nearest gas station in the town before coming to the guesthouse. We are 40 miles from the nearest town, which is Boise City, OK and Clayton, NM If you plan on hiking, the best thing to bring would be hiking boots. The area has rock and cactus. Bring your camera, there are lots of pictures to be taken of wildlife, birds, sunrises and sunsets. The night skies are breathtaking!
Cerita was amazing to work with! She was in contact with us immediately after we applied for our stay and was constantly available to be reached throughout the duration of our stay. The guesthouse was beautiful and the surrounding area was absolutely amazing. We also received the warmest of welcomes from "Needy" the cat that stays around the guesthouse. He was ridiculously affectionate and was always ready to hangout. If we get the chance to visit the area again we will be sure to stay here again.
Alex
October 2015
Truly one of the best things about AirBnB, from discovering the place to a successful booking took less than five minutes, it was a decision that I will never regret. From start to finish Cerita was easy to communicate with and very responsive. As for the place? where can I begin, the night sky was the main draw for me, and it did NOT dissapoint! But we also managed some morning hiking/exploring, wildlife everywhere! such a beautiful place and the house truly does feel like you're visiting family. I can't say enough nice things. I will definitely be back when I can spend more time here, I was just passing though on a longer road-trip, but the Mesa Valley GuestHouse will now be a straight up Destination for me in the future!
Jeffrey
November 2015
Mesa Valley GuestHouse is such a unique experience. No light pollution at night so you can stargaze and breathtaking surrounding area to explore in the day time. We had no problems with our cell coverage and the wifi and other amenities in the house were superb. Cerita was a wonderful host and always answered our emails promptly. We only wished we could have stayed longer, but we will definitely come back in the future.
Jing
August 2016
The listing doesn't do this place justice. The views from this area are amazing, and the best part of all is how quickly it changes! From here, you can spend the days exploring the area and the nights star gazing. I especially recommend taking the drive to Capulin Vocano. Lake Carl Etling is another must see, and just minutes away! Cerita is a gracious host and we really felt like we where at home in her guest house. It was clean, comfortable, and cozy! We will definitely be returning!
Jimmy
July 2016
I wanted to text Cerita to let her know that we arrived to the guesthouse, but it appears that Verizon doesn't have any cell coverage in Kenton. If you're looking for a place to stay in the Oklahoma panhandle, you're probably one who can manage without your cell phone for a few days anyway. The guesthouse is a perfect compliment to getting away for the weekend. Bring your own food and there is everything else you need here. Grill up some steaks for dinner, drink some beers on the front porch and watch the sun go down and make sure you stay up late enough to see the stars, very few places in America can you get a better night time picture of the sky. Cerita and Eddie are great hosts, if you're ever in the area and need a place to unplug from everything, this is your place. 100% recommendation!
Kevin
June 2016
The stay was great! Really cool place to have discovered. Everything was nice, in order, and felt very homey. I do intend on going back.
Matt
May 2016
Cerita & her husband were unable to be nearby due to a family celebration. Never the less, she emailed me about the trip and kept in touch by email and phone to make sure we had found the Guest House and that all was well. This was an isolated home, so Certia cautioned us to have enough food for the evening & following morning. The house had a very friendly outdoor cat that certainly made us feel welcome. All electronics [TV] use was clearly explained if we'd wanted to use them. We preferred sitting on the front porch & watching the cows in the field & listen to bird songs. We were so pleased to stay at this Guest House as it was close to our hike at Black Mesa Nature Preserve near Kenton, OK. We very much enjoyed the restful country evening. They had a brochure for Capulin Volcano, not far away. So we took off driving through a very beautiful country road alongside the Cimmeron River on NM 456 highway & about 17 miles of dirt road to the volcano.
Beverly
May 2015
This was a lovely place to stay, and it felt like we were staying at a relative's house who had left for the weekend. Everything was just as pictured, and the house was extremely comfortable and roomy. The view was amazing. We enjoyed the first night so much that we asked to stay another night, and Cerita was very nice to accommodate us. She was quick to respond to emails with us. She even gave us directions to a few places to visit that we didn't previously have details on or didn't even know about! So we had such a great time. This is a great location to stay while visiting Oklahoma and surrounding spots in other states. We didn't want to leave.
Cathleen
July 2015
Тип размещения
Дом/квартира целиком
---
Тип жилья
Дом
---
Вмещает гостей
12
---
Спален
4
Кентон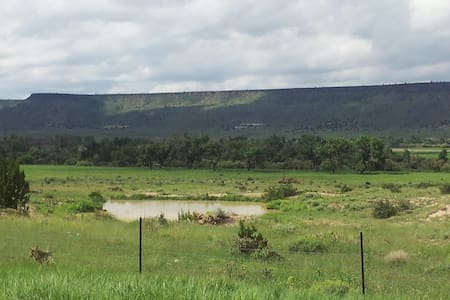 You get the entire house to yourself, sits on 2 acres with unobstructed sunset views. The kitchen is completely furnished, you prepare your breakfast when it is best for you, when you want to get up. If you or your family is ever in Southeast Colorado (Springfield area) keep us in mind for a place to stay. For Rent: By the night only, no longterm lease or permanent basis option. We have a 2 bedroom, 1 bath completely furnished house to rent if someone has family coming in to town for weddings, fair, reunions, hunting, rodeos, etc. House has completely furnished kitchen, washer/dryer, television with HBO, central a/c and heating. No pets allowed, non smoking only. Thank you. Please note that the price is for 1 person.
Тип размещения
Дом/квартира целиком
---
Тип жилья
Дом
---
Вмещает гостей
3
---
Спален
2
Спрингфилд