The Guest house/apartment looks out across Puget Sound-West Seattle which was just rated top ten with Air Bnb Internationally. Vashon Island is like a hidden pearl with special discoveries to be found. It is a forest with tall pine trees, bubbling creeks and ponds. So if your feeling adventurous, or just need a quiet relaxing break from the hustle and bustle of city life ... book a visit! **Maid service fee reiumbursed with starting laundry and dishwasher**
This guest apartment is a roomy 1200 sq feet. It is our lower level guest apartment with its own private entry door and another sliding door out to the bay side. Large windows look out to the bay and scenic forest greenery. There is a Welcome Flag to mark your entrance going downstairs to the guest house. Surrounding the guest house is a roomy wrap around patio with patio furniture and gas grill. There is a private hot tub on the upstairs deck, (bay side) which is kept clean and sanitized. Robes and beach towels are provided. There is extra seating on the large deck upstairs for guests to sit and view the bay from another vantage point. (This guest house is pretty sound proof but not perfect in that occasional noise may be heard upstairs). All porch, grass areas have views of the bay. Feel free to enjoy the large grass yard and garden area to have a picnic, pitch a tent or sit out in the sun. Outside areas are abundant with flowers in the Spring and Summer, but dormant in Winter. Waves can be heard (and seen) splashing morning, noon and night. A variety of international ships can be seen going by throughout the day and night with their lights on. This guest house is close to the north end ferry and close to the center of town. It is located on the scenic Glen Acres/Dillsworth Rd which borders the bay on the east side of the island. Current and local magazines, an assortment of books and board games, card, etc are provided along with toddler and preschool toys. *Smoking is allowed outside only. This guest home has wi-fi and cable t.v, washer, dryer, heating and air conditioning. There is a full sized kitchen with full refrigerator, dishwasher, oven, micro wave, coffee maker, blender, tea pot and plastic glassware for the hot tub. The kitchen is fully equipped for cooking and serving a meal. We keep basic spices for cooking or baking. We provide quality coffee, a variety of teas, creamer, variety of sugars and basic condiments, A continental breakfast is included in your stay. A full bathroom include a full sized shower & bathtub. Basic essentials are provided if a guest has forgot something. *GUESTS HAVE FULL ACCESS TO THE YARDS and LARGE GREEN GRASS YARD on the south side. The driveway to the left of our home is off limits, but there is access to the beach (please ask us first!) and a beach list is provided in our "INTRODUCTION BOOKLET."
Our street borders the bay and has bubbling creeks on either side. Surrounding our island is the beautiful Puget Sound Bay and Vantage Points can be found in a variety of places. We give our guests a list of our favorite beaches in "Our Introduction Booklet " found inside our guest house. There are eagles flying overhead, an array of different kinds of birds in the most beautiful of colors and songs (Blue Jays, Hummingbirds, Robin Red Breasts). There are deer, racoons, seals and we have seen orca whales swimming by once. There's also an array of international ships and national ships going by day and night. Seattle and Tacoma, Washington are just a short ferry ride away. Every activity can be found to do such as canoeing, boating, hiking, biking, camping, swimming, tubing to water skiing. There is casual dining to fine dining. There are an array of venues or shows to go to. The island is child friendly, all one has to do is to go to the local park or join a children's activity. Check the bullitan board out at Cafe Luna, "one" local coffee shop for happenings about town. The Red Bike and Snap Dragaon usually have some form of music playing throughout the week/month. The Red Rock Pizza has great ambiance. Or if you are in a rush, Saucy Sister's Pizza is quick. We also have Zombies (great for kids) and we have a local Subway. Our main store has a great hot food such as chicken, potato salad, fabulous soups, and a burrito that you can make your way. IGA grocery, open one hour later until 10 p.m. has a fast food pizza etc, right next store. So ..there are plenty of restuarants in town and those are in the literature inside the guest house. Or you can ask us. Then we have 2 local Mexican Restuarants: La Playa at the northend ferry and Casa Bonita (our family's favorite with great prices. The portions are also large and meals can split). Every visitor needs to stop in at our famous trademark Hardware Restaurant for breakfast, lunch or dinner. The food is great and fairly priced. The ambiance is unforgettable. We also have a Chinese food Restuarant and a Tai food Restuarant. Tell us what you are in the mood for and we will refer you. Do remember our Restuarants close up early during the week, except for Sportys. Also, on the first Friday of the month all the stores are open and there is cheese, wine and other snacks put out for patrons. It's a really great night of the month where Vashon steps out to socialize. We provide local magazines, pamphlets, newspapers and literature inside the guest house which advertises all of our restaurants in town. The Vashon Island Chamber of Commerce Website is also a great site to find local food, activities and vacation ideas. THE VIEW There is a beautiful view of Puget sound. You can see the ferry boat to the left, see the ships going by and sail boats, etc. Presently, the wild life are energized since Spring has arrived. We have eagles nearby, blue jays, red robins, woodpeckers, sea gulls, squirrels, and racoons, Morning and towards evening, the deer will come right into our yard.
We booked this place spontaneously the morning of, and checked in that afternoon to a lovely, clean place. Lisa has great response time. The combination of the view, the hot tub, and the amply stocked kitchen made for a lovely, relaxing stay.
Hannah Story
2017-01-12T00:00:00Z
Very comfortable bed, great view. Wonderful stay!
Alecia
2017-02-06T00:00:00Z
Cozy, Quiet and Clean apartment. We enjoyed our short trip here, easy get away from Seattle. If you want a nice place to stay on Vashon Island, this is the place.
Michael
2017-01-02T00:00:00Z
My husband and I celebrated our 34th wedding anniversary here. We wanted some R&R and this is the perfect place! It's a wonderful place for a "romantic get-away", "ladies get-away", family time ... you name it! I am already planning on taking our six year old grand daughter there. It is very clean and cozy. Nothing beats soaking in the hot tub and enjoying the view. No need to even leave as the kitchen has whatever you need to prepare your own meals. (It's probably best to bring your own groceries as I thought the local grocery store was pretty high priced). It's a nice little walk from there to go explore the beach. This was our first time on the island, but not the last. I look forward to making many more cherished memories at Blue Bay!
Darci
2017-02-14T00:00:00Z
Had a wonderful stay in Lisa's home. The views were beautiful, the kitchen was well stocked, the space was spacious and clean, and the hot tub and porch setting were a very special bonus. Lisa promptly greeted us upon arrival and gave us a a lay of the land. Perfect place for a relaxing get away. Highly recommended!
Christa
2017-01-16T00:00:00Z
I stayed at Lisa's place with a girlfriend for one night, but I wish we had stayed longer! The view from the living room and from the hot tub upstairs were both phenomenal. Lisa truly thought of every little detail and it made the stay that much more wonderful. She offers complimentary breakfast and even had a goody bag for my dog :) If you are planning on visiting Vashon I highly recommend staying here!
Alison
2017-01-14T00:00:00Z
This was the perfect get-a-way for our little family. It's just a short jump off the ferry from Seattle/Alki. Our host, Lisa, was very communicative before we arrived, and made our move in seamless. She was very gracious to us and provided toddler toys for our two year old. Issabella LOVED her stay here! The beach was close by and we had a great time traversing the steep slope to get there. It was challenging, but fun! Everything we needed for breakfast was available. We brought our own dinners, but all of the spices and extras were readily available. We highly recommend this lovely place, especially for a small family.
Kelly & Ken
2017-02-25T00:00:00Z
Your hospitality was much appreciate . Thank you for the use of your lovely place
Kimberly
2017-03-05T00:00:00Z
Тип размещения
Дом/квартира целиком
---
Тип жилья
Квартира
---
Вмещает гостей
6
---
Спален
Vashon, Вашингтон, США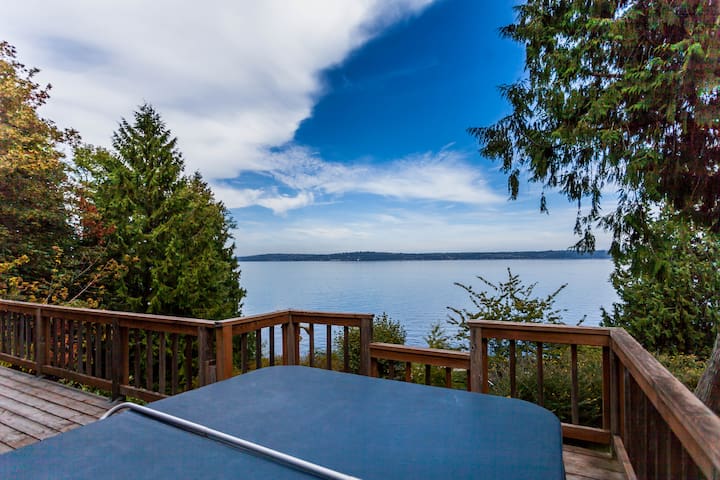 넓은 스튜디오는 편안 1-6 명 보호소. 빛으로 가득 스튜디오는 탐험을위한 아늑한 GET - 멀리 또는 쉬운베이스 캠프입니다. 롤링 베이 지역 상점, 해변이나 산책로에 산책을 즐길 수 있습니다. 우리는 킷샙 대중 교통 노선과 BI를 타고 있습니다!
The spacious studio comfortably shelters 1-5 persons, up to a cozy 6. Filled with light, the studio is a homey get-away or easy base camp for exploring. The Rolling Bay neighborhood is pleasant for walks on the streets or to the beach, or a stroll to the small Rollling Bay center of shops and cafes. We are on Kitsap Transit and BI Ride routes, and the Chilly Hilly bike route. The second-floor studio is a comfortable retreat for an individual, and yet roomy enough for a group. With a living room area around the gas-burning stove, a window seat with bookshelf, loft, and counter + stools, there is space for everyone to relax or play. Books, puzzles, coffee, tea, hot chocolate are stocked up for all ages. The open kitchen consists of a toaster oven, 2-burner cooktop, electric kettle, coffee maker, microwave, and under-counter refrigerator centered around the large concrete-counter island with stools. A full size freezer is available downstairs. Basic cooking supplies are provided for those wanting to prepare meals in while enjoying the forested view. Please see photo captions for complete descriptions of the beds available. Guests have room to store bicycles and gear in the downstairs studio entry. Yoga mats, reusable shopping bags, and umbrellas are also available. We live in the adjacent house and will be available if any questions or problems should arise. We are always happy to supply local maps and information, but do want to let guests have their peace and time to themselves. The neighborhood is wonderful for walking and exploring, with the Ted Olson Nature Preserve a half-mile away. Even closer, Bay Hay & Feed, the post office, a coffee shop, mini-mart, fresh pasta shop, auto repair, and the district court make up an active neighborhood center. Connections to island trails for more extensive hiking, mountain biking or running are 1-3 miles away. Fay Bainbridge Park is 3 miles north by beach walk or Sunrise Drive. We are about 3 miles from the Bainbridge ferry dock, from which taxi cabs and public transit depart. The Kitsap Transit bus stop, at Valley Road and Sunrise Drive, is a short walk from our studio. There is easy, on-site parking for one vehicle.
테드 올슨 자연 멀리 반 마일 보존과 함께 동네 산책과 탐험을위한 훌륭합니다. 더 가까이, 베이 건초 및 사료, 우체국, 커피 숍, 미니 마트, 신선한 파스타 가게, 자동차 수리 및 지방 법원은 활성 지역 센터를합니다. 더 광범위한 하이킹, 산악 자전거 나 러닝 섬 산책로로 연결 1-3 마일 떨어져 있습니다. 페이 베인 브리지 파크는 해변 산책 또는 일출 드라이브 3 내지 마일 북쪽이다.
My best friend and I had a wonderful stay in the studio. There was plenty of room for the two of us and had everything we needed for our stay on Bainbridge. I really enjoyed sleeping in the loft, it was comfortable and cozy. We also enjoyed going for walks around the area to see the ocean, beautiful homes and scenery. The studio might be a bit noisy for young children/sensitive sleepers as its right on the gravel driveway - but it didnt bother us. Would love to come stay again..... PS Mora's icecream in the town center is amazing!
Emma
2015-08-22T00:00:00Z
We loved staying on Bainbridge Island...the studio apt. was perfect for our family of 4 - we felt like we were sleeping in a treehouse. It was a nice contrast to the hustle and bustle of Seattle - the ferry rides were an exciting part of the trip. The drive to the ferry terminal was very easy and convenient. The studio was also clean and had all of the amentities advertised. I would definitely stay here again.
Cynthia
2014-08-05T00:00:00Z
We loved staying at Scott and Anne's place! It is so cute and we had everything we needed. It is a short walk to the beach and an even shorter walk to a great little Italian place and a fun general store and coffee shop. Anne was very nice and accommodating for our family of six and brought us extra coffee to make sure we didn't run out. It's a great place for families, the kids (and adults) loved the Marimba and little loft bedroom. Highly recommended!
Anson
2017-02-23T00:00:00Z
Anne, Scott & their family welcomed us so warmly to Bainbridge Island. Theirs is a beautiful, light filled and colorful space and we enjoyed every minute of our time here. The morning light over views of the Puget Sound, the lovely kitchen and sleeping loft---all of it was peaceful and welcoming. Anne and Scott were also very helpful in providing information about local resources and activities. We cannot recommend them and their space enough.
Becky
2014-10-02T00:00:00Z
Adorably cozy, this studio was perfect for our Thanksgiving getaway! Anne was incredibly helpful every step of the way and very responsive to messages. Would definitely stay here again!
Annie
2016-11-25T00:00:00Z
This place was so darling! Anne and Scott were both so sweet and welcoming. We will definitely be back again.
Taylor
2016-04-26T00:00:00Z
Loved the neighborhood location; everything was just as pictured in the listing. This was a short one-night stay. We cannot wait to come back for at least two nights! This is a wonderful place to stay.
Erika
2015-07-15T00:00:00Z
Everything was perfect and Anne and Scott made us feel right at home. The apartment has beautiful views of nature and the sunrise over Puget Sound is worth waking early for.
Kristian
2015-06-08T00:00:00Z
Тип размещения
Дом/квартира целиком
---
Тип жилья
Лофт
---
Вмещает гостей
6
---
Спален
Остров Бейнбридж, Вашингтон, США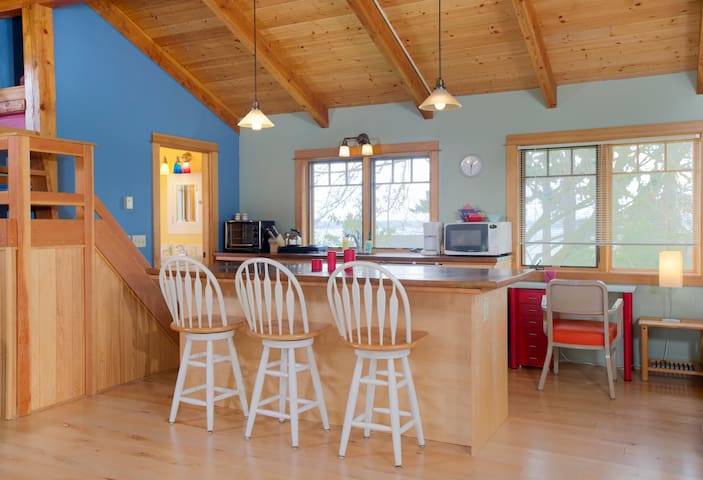 Paradise is found at the end of a country lane! Privacy, sunsets and memories to last a life time! The cottage is nestled in the woods over looking Puget Sound with a hot tub and BBQ for great summer fun. Fire wood provided for winter romance. It's all here!
The Last Resort Guest House is located at the end of a dead end road secluded in the forests of Vashon's West Side. The cottage is crafted with romance at her heart, just the thing for that special time with your loved one. It is also a great place for a gathering of friends, small wedding parties a honey moon or anniversary. Maybe you would just like to get away from it all. Come an experience the wonder of peace and quiet!
The neighborhood has the feature of not being seen from the cottage. This maximizes your privacy. Being at the end of the road you are afforded the quiet you came to the country to find. You are surrounded by tall stands of Douglas Fir and Red Seder which add to the aroma of the sea for a most unforgettable fragrance.
What an idyllic getaway! We enjoyed the excellent views from the cabin, the perfect coziness (heat for the lazy and a little fireplace for others), and the access to the beach, which we visited several times during our stay. Larry was welcoming on the first day and then we didn't see him again. We managed to cook an epic dinner and breakfast on the hot plate, and slept perfectly in the loft bed and hide-a-bed. Will definitely recommend this gem to friends and come back again—either with friends or my partner.
Andrea
2016-10-31T00:00:00Z
We had a wonderful and relaxing stay at the Last Resort! My husband and I ended our honeymoon with a few days of pure relaxation in this cozy little cabin. We loved lighting the wood stove every day (it gets so warm!), reading on the couch or in the hot tub, listening to the rain and taking in the beautiful view of the Sound. Larry is a great host, and everything about this space is welcoming and warm. We drove into town often, a short ride to cute shops, a movie theater, and food. Actually, the food in Vashon was surprisingly great, from the exquisite Thai food at May, the extensive selection at the main Grocery store, and the tasty burgers at Zombiez. We will be back!!
Sarah
2016-10-22T00:00:00Z
This was my second visit to The Last Resort, and it was just as amazing! The last time I was here, it was November, and it was cozy with the snow all around, the fireplace, and the hot tub. This time I went during 4th of July, and while it was a very hot weekend (90+ degrees), this guest house was nice and cool even without an AC. My partner and I enjoyed the hot tub in the late evening, beers on the deck as the sun was setting, and the quick hike to the beach. Thanks again Larry!
Michelle
2015-07-05T00:00:00Z
Our host was very accommodating and friendly. We were able to meet him shortly after we arrived and he answered all of our questions. The property itself is amazing and the cottage has a very rustic, cozy feel to it. It had everything we needed, plus some extras to make our stay more comfortable. We love Vashon Island and even did some biking before heading home. Loved our stay! Thank you, Larry, for sharing your home with us!
Jayne
2016-06-22T00:00:00Z
I rented Larry's place for our daughter and son in law to spend their wedding night. They loved it! Beautiful, clean and so quiet. The perfect getaway.
Sheereen
2015-08-09T00:00:00Z
We felt very welcome and loved our stay! The house was just as cute as the pictures and loved the incredible view of the ocean and trail to the beach. We enjoyed soaking in the hot tub at night and doing some morning yoga on the deck then visiting the farmers market and the cute shops in town. Definitely made our trip!
Jeannine
2015-05-16T00:00:00Z
We had a wonderful time. Larry was a gracious host and the view was amazing! We highly recommend a stay at this little piece of paradise.
Tiffany
2015-08-07T00:00:00Z
We had a great time at the guest house! Highly recommend to anybody looking to get away for a few days!
Benjamin
2016-11-01T00:00:00Z
Тип размещения
Дом/квартира целиком
---
Тип жилья
Бунгало
---
Вмещает гостей
4
---
Спален
Vashon, Вашингтон, США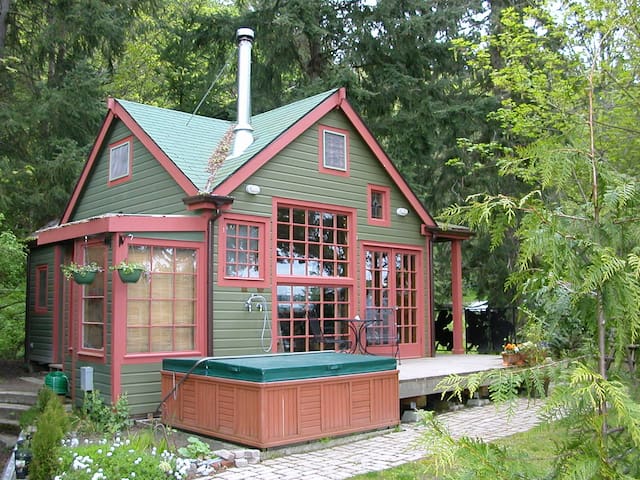 Private Guest Room tucked into one of Bainbridge Island's most beloved gardens, as featured in two Bainbridge Island Garden Tours. Enjoy the cozy loft space nestled away from the main house, with views and access to surrounding gardens!
Marj Masla along with her husband renovated an old Bainbridge farmhouse nearly 30 years ago when they settled in to raise their family. They are both farmers at heart and transformed two acres of scotch broom and blackberries into a magical garden experience and small working farm. Marj brings an eye for all things vintage and beautiful, from décor to flower arrangements using the garden's bounty. The Maslas have been featured in gardening books, magazines, and numerous garden tours. Now they've combined their talent to create this loft retreat on their property to cater to Island visitors. This private loft space features hardwood floors, internet, queen sized bed, cozy sitting area and kitchenette. Marj's attention to detail and love of vintage finds is evident in the charming and welcoming space. Relax and listen to the water trickling in the pond outside your room. The loft comfortably accommodates singles and couples. Amenities The loft comes equipped with a microwave, toaster oven, Keurig coffeemaker, hot water kettle, and mini-fridge and is stocked with coffee, tea, yogurt and granola. There is a comfy queen-size bed and also a twin blow up Serta mattress with an internal pump that maintains pressure at your desired comfort setting. You can also work or eat at an expandable table that has two comfy chairs. Internet tv is also provided. Luggage racks and an ironing board are stored in the closet. Wander this beautiful property and explore the unique and exotic garden offerings. You're welcome to schedule a private tour of the grounds, where they will be sure to answer all of your questions. Your privacy is respected. You can remain quietly nestled in your getaway, and come and go as you please. Fletcher Bay Flowers Garden Retreat is located in the center of Bainbridge Island, about 10 minutes drive from the ferry terminal. It is minutes from Pleasant Beach Village and the newly renovated Lynnwood Center including the Tree House Café and Historic Lynnwood Theatre. The Village includes fun shops, a wine bar and various restaurants including the lovely Beach House Restaurant. Near and dear to all Islanders hearts, is Walt's Grocery where you can pick up necessities and sample Walt's home beer brews and large selection of wines. If you care to venture further, you can visit the Grand Forest, acclaimed Bloedel Reserve, golf courses, quaint downtown Bainbridge Island and the new and highly acclaimed Bainbridge Island Museum of Art. Nearby towns include Poulsbo and Port Townsend where more shopping, touring and eating are plentiful. And of course, Seattle is only a 35 minute ferry ride away! Drive on the boat or arrive from the Kitsap Peninsula. If you don't want to hassle with a car, grab a taxi from the Bainbridge Island Ferry Terminal or ride your bike (storage is available). Flowers To-Go During much of the year your hosts run Fletcher Bay Flowers, a flower stand atop their drive. The stand is a favorite of locals and always boasts a plethora of whatever blooms are in season. Eats Your hosts will make sure your place has a few breakfast basics for your morning including coffee fixings, granola and yogurt. You can plan your day while sipping your morning coffee!
Fletcher Bay Flowers Garden Retreat is located on the north end of Bainbridge Island, about 10 minutes drive from the ferry terminal. It is minutes from Pleasant Beach Village and the newly renovated Lynnwood Center including the Tree House Café and Historic Lynnwood Theatre. The Village includes fun shops, a wine bar and various restaurants including the lovely Boat House Restaurant. Near and dear to all Islanders hearts, is Walt's Grocery where you can pick up necessities and sample Walt's home beer brews and large selection of wines. If you care to venture further, you can visit the Grand Forest, acclaimed Bloedel Reserve, golf courses, quaint downtown Bainbridge Island and the new and highly acclaimed Bainbridge Island Museum of Art. Nearby towns include Poulsbo andPort Townsend where more shopping, touring and eating are plentiful. And of course, Seattle is only a 30 minute ferry ride away!
The Fletcher Bay Garden Retreat was nothing short of blissful. We arrived late at night but Marjorie contacted me with very specific instructions which made entry a breeze. The space was elegant, clean, and even better than what the pictures advertised. In the morning we enjoyed the wonderful coffee, granola, and yogurt which was provided for us. After breakfast, Nick invited us to walk around their beautiful property and although our chat was brief he had some great insight about the area. Would definitely stay here again, had an amazing experience!
Peter
2016-05-12T00:00:00Z
Everything was great ! Surrounded by nature .. The place it self was wonder and great for a couple. Me and my boyfriend enjoyed the privacy as well. You will need a car to drive into town but very easy and accessible. Thanks for the stay !
Karen
2016-03-14T00:00:00Z
As I told our wonderful hosts, if I ever run away, my family will find me curled up with a good book in this lovely, peaceful, and very comfortable studio in the woods. The room was a perfect place to relax after spending four nights visiting with family in Seattle and Marj's attention to detail was unsurpassed! From the welcome jar of granola and yogurt in the refrigerator to the thick and delightful bed, we were very, very happy during our two nights on Bainbridge Island. Thank you, Marj and Nick for a lovely stay at your house. I feel like we found a corner of paradise in the Great Northwest and I am truly looking forward to returning!
Mary
2016-01-06T00:00:00Z
My parents stayed at Marjorie's accommodation and absolutely loved it. They found the design and atmosphere to be beautiful and enjoyed the private apartment that they stayed in which was above a garden. They met Marjorie's husband, Nick and really appreciated his warm hospitality and the time he took to speak with them and show them around the garden. My parents would highly recommended this as a place to stay!
Stanzi
2016-10-04T00:00:00Z
What a magical, lovely place! I felt instantly transported into a wonderful world encompassed by trees and a beautiful sense of calm in this Fletcher Bay Garden paradise. Marjorie has created indeed an amazing place to come back to each time I return to Bainbridge. And the bed is heavenly, the most comfortable bed I have ever slept in.
Heidi
2015-09-12T00:00:00Z
What a lovely place to stay! Super clean and comfortable in a beautiful garden setting. Even got a great tour of the gardens. Thank you for your hospitality, we had a great time.
Amy
2015-06-29T00:00:00Z
Lovely setting and space, welcoming hosts. Stairs & walkway to loft proved challenging but not impossible for one mobility-impaired guest. Railings would be good.
Wynne
2016-08-26T00:00:00Z
The place was really cute. It was neat being up high looking right into the trees. Everything was really clean and nicely maintained. The garden nearby was sooo pretty and amazing to stroll around in.
Heidi
2015-08-23T00:00:00Z
Тип размещения
Дом/квартира целиком
---
Тип жилья
Лофт
---
Вмещает гостей
3
---
Спален
Остров Бейнбридж, Вашингтон, США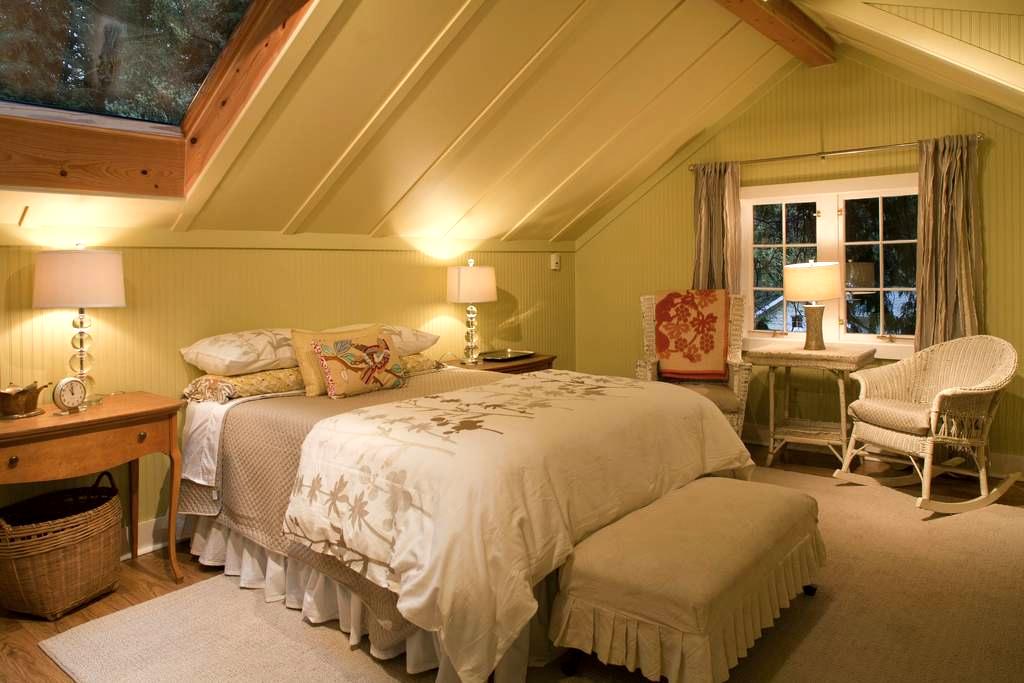 Conveniently located a stone's throw from the Island's village & Seattle ferry, this 200sq ft architecturally-designed, eco-friendly backyard guesthouse is the perfect getaway. Ride into town on the bikes, enjoy the hot tub, hammock, garden patio and chickens on the grounds. *Super hosts* 1% of hosts qualify for this prestigious recognition!
This is a 200 sq ft guesthouse sharing the property with our main house. It has it's own bathroom and shower, and mini kitchen - a french press with complementary local coffee and tea selection. You'll find a delightful patio garden with a fire pit and grill, hot tub, vegetable garden out front and chickens, too! It has it's own bathroom and shower. Like the unit the hot water heater is small so short showers (6 mins) are recommended (unless you like them cold). If you like long showers this is probably not the place for you. If the water begins to lose heat, it only takes about 30min to recharge. A mini-fridge, microwave and electric tea kettle complete the mini kitchen. The studio is flooded with natural light and a full suite of blinds on lower windows provides complete privacy. We also have a single camping cot available upon request for additional guests beyond 2. Linens provided. Just keep in mind that the space gets pretty tight when it is in there.
Our property is a 10-15 minute walk from the Seattle ferry, a 25 minute walk to the quaint village of Bainbridge Island (sometimes referred to as Winslow) and only a 5 minute walk to our up-town shopping area: Ace Hardware, McDonalds, Walgreens, Safeway, Starbucks etc. In a car or on the bikes, it's all moments away. The neighborhood is full of kind, working families and it's quiet. The place has a unique blend of being close in, while feeling a bit further out.
Deb and Ben were so nice and very helpful getting us setup. The tiny house was awesome! Definitely one of the best I've stayed in so far. The ferry isn't too far either which drops you off really close to downtown Seattle which made commuting there for a few days a breeze. Overall a wonderful experience!
Taylor
2016-09-04T00:00:00Z
Ben and Deb were great hosts!! They were quick to reply with any questions we had and gave great recommendations. They gave us our privacy when needed but were extremely friendly and happy to help with anything! The location was perfect, walking distance from a lot of things. We would definitely come back and stay again!
maurya
2016-07-21T00:00:00Z
Such an amazing place! We stayed there just for a night after spending time hiking and exploring the Olympic Peninsula and it was the perfect place to relax. We were traveling with our two year old and it she truly enjoyed having a back yard to run around and just be two. The space was very clean, welcoming, and had everything we needed. We wish we could have stayed longer!
Allyson
2016-04-08T00:00:00Z
This place is fabulous. We enjoyed the quiet yard and hot tub.
Evan
2017-02-25T00:00:00Z
Our stay was lovely, private and unique. We definitely recommend staying here if you're considering a space in the area!
Al
2017-01-02T00:00:00Z
Ben and Deb were wonderful! We had a lovely, relaxing weekend at this beautiful, cozy little hideaway.
Allison
2016-11-06T00:00:00Z
Our stay in Deb and Ben's backyard retreat was delightful! They were great hosts - super communicative, but not intrusive. They had great suggestions for us, left us stocked with plenty of firewood making us feel very much at home. The space itself is so delightful. It has everything you would need in a condensed space. The high ceilings make the space feel bigger and it is very nicely decorated. We loved our stay on Bainbridge Island. It was nice to have a combination of the island feel with a short ferry ride over to Seattle and more of a city vibe. The best of both worlds - and Ben and Deb's place it that much better. Highly recommended! We will be back!
Alicia
2016-04-20T00:00:00Z
Ben & Deb's cabin was wonderful, light-filled, clean, cozy and perfect for a weekend of exploring Bainbridge Island. Close to Winslow and lots of restaurants and cafes but still feels very private.
Kathryn
2016-11-14T00:00:00Z
Тип размещения
Дом/квартира целиком
---
Тип жилья
Бунгало
---
Вмещает гостей
3
---
Спален
Остров Бейнбридж, Вашингтон, США
Bainbridge Island and the Olympic Peninsula have so many wonderful things to do and see, we recommend a two-day stay. Book for the weekend of April 22-23, get 2 free tickets to Bainbridge Symphony Orchestra & Bainbridge Chorale performing Carmina Burana. Our airbnb features a large room, decorated in tropical style, on second floor of separate building from our home with private entrance. Private deck overlooks a lovely garden and view of bay. Cyclists welcome.
You're not in Hawaii, you're on beautiful Bainbridge Island a short ferry ride from downtown Seattle. Free tickets to Bainbridge Performing Arts on Saturday, April 15, features BlueStreet Voices, a vocal jazz ensemble based out of Seattle, performing everything from foot-tappin' jazz standards to classically-arranged contemporary pop hits, including Latin, blues, gospel, rich ballads, and songs by contemporary jazz artists such as Michael Bublé, The Beatles, Kurt Elling, Coldplay, Groove for Thought, Maroon Five, Manhattan Transfer, James Taylor, Jane Monheit, & Paul Simon. Our airbnb is a large room, decorated in tropical style, on second floor of separate building from our home with a private entrance. Three delightfully furnished areas: living, dining and sleeping. Pillow-top double bed, with down pillows and comforter (or non-down pillows and comforter, upon request.) Private deck overlooks a lovely garden and view of bay, (peek-a-boo of Mount Rainier, too). Part of room has cozy heated tile floor. Bathroom (sink, toilet and shower), with heated tile floor, is located downstairs on the first floor. Wi-Fi connection, hair dryer, iron & ironing board. Small refrigerator available. (No cooking facilities.) Quiet, safe neighborhood. Walk to beach with great view of Seattle skyline and Puget Sound. Walk (10 minutes) to excellent coffee shop, convenience store, and terrific Italian take-out/deli (fresh store-made pastas and sauces). Commuter bus stops right in front of our house; bus runs to ferry terminal during morning commute time, and to house during evening commute. During non-commuter times, B.I. Ride bus picks up at ferry terminal, and will take you anywhere on the island for $2.00. (for info. call: B.I.Ride or Kitsap Transit). Off-street parking provided. Secure storage for bicycles. Quaint town of Winslow with lots of restaurants, galleries, and shops is 3 miles away. Bainbridge Island has more than 30 miles of beautiful hiking trails, dozens of outstanding restaurants, a prize-winning distillery, a craft brewery, an excellent art museum, a world-renowned public garden, boutique shopping, and so much more to see and do. More hiking opportunities abound on the nearby Olympic Peninsula.
Very safe, friendly neighborhood, with handy services about 1/2 mile away. Beach with great view of Seattle skyline and Mount Rainier is a very short walk away.
It was a great pleasure to spend one night in Kate's house. She and her husband Mike gave us a warm welcome. The house is really beautiful and we liked is very much to stay there. The surrounding area of Bainbrige Island is worth visiting and we regret that we had to leave the next day.
Guenter
2014-07-13T00:00:00Z
Beautiful place in a quiet neighborhood. Kate is a friendly and gracious host. Thank you for a relaxing and delightful stay.
Stephanie
2015-12-19T00:00:00Z
Lovely time, beautiful home, and corkscrew! Comfortable, spacious, and warm.
Ken
2015-05-17T00:00:00Z
Bainbridge was beautiful. Kate and Mike's home - so beautiful. We had some trouble taking the ferry from Seattle to Bainbridge (overload Friday's) and didn't get into the island until close to 10pm. Kate and Mike were so understanding and helpful. The view from the room was so amazing. We would totally go back and stay with them again. The whole space is just somewhere you wish you could stay and never go back. Thank you so much!!!
Ashley
2015-06-28T00:00:00Z
Lovely, idyllic getaway. Kate and Mike are great hosts. Can't recommend the place highly enough!
Raphaela
2014-12-21T00:00:00Z
What a wonderful spot! The room is above the garden shed, so it's up high enough for some amazing views. Mike met us at our car and showed us the ropes. Everything was clean and they think of everything! Do be aware that there are quite a few stairs separating the bedroom from the bathroom, which is on the ground floor. Mini fridge available. We would absolutely come again.
Lauren
2015-07-14T00:00:00Z
Very comfortable and cozy place to stay on Bainbridge island. It is a short drive to the ferry to get to Seattle. Was not aware there was no kitchen.
Jerome
2016-12-31T00:00:00Z
The room was cute and cozy and Kate was on time and ready for check-in at our decided time.
Kara
2017-03-05T00:00:00Z
Тип размещения
Дом/квартира целиком
---
Тип жилья
Квартира
---
Вмещает гостей
2
---
Спален
Остров Бейнбридж, Вашингтон, США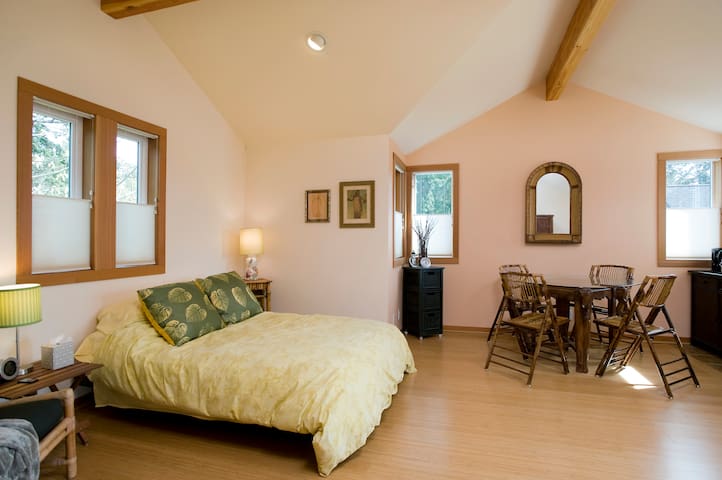 Our place is good for couples, solo adventurers, business travelers, and families (with kids). Very private quiet location close to ferries and highway. Fully surrounded by forest, you will often see wildlife such as deer. Very large bedroom with one permanent king sized bed. This room will easily accommodate additional beds. Access to a private large bathroom with dual headed shower and large corner tub and kitchenette. Front patio with chairs and fire pit to relax by. 700+ sq feet
Enjoy and relax in this quiet space just a ferry ride away from Seattle. Enjoy this northwest experience just a few minutes from beautiful Banner Forest. Our home is on five acres with much wild life to observe.
Safe quiet neighborhood with 8 families on a private lane.
Monty and Debbi were great hosts. There place was very comfortable and they were so accommodating. They showed us around and explained everything to us so we had no questions and felt very comfortable. After a stressful competition it was very nice for my wife to relax in the jetted tub. We will definitely be returning this warm, comfy apartment.
Joe
2017-01-08T00:00:00Z
Gary
2017-04-02T00:00:00Z
The place is great to relax and enjoy. Debbie takes care of every slight detail, when you arrive the place is super clean and has all the conveniences necessary to spend a great couple of days. It exceeded our expectation and was definitely worth it. If you will be around the zone I do suggest it either for just reflecting and enjoying some personal time or going on a romantic getaway.
Daniel
2017-03-05T00:00:00Z
We had a great stay. Very clean and spacious. Had an amazing bathroom and the bed was very comfortable. Beverages were included which was really nice of Debbie! We would definitely go again
Alan
2017-03-25T00:00:00Z
Great! The property is spacious and extremely well equipped, the hosts are gracious and welcoming, and the bathroom (with 2 person jetted tub and dual head shower) is just the best. I'd love to come back.
Joe
2017-01-16T00:00:00Z
I enjoyed the place a lot, it was close to my sons house, giant plush bedroom and everything I needed I hope to come again and stay there Eric
Eric
2016-12-05T00:00:00Z
Let me just say, the jacuzzi tub was amazing! Better than a hot tub!
Aaron
2017-02-18T00:00:00Z
After a fairly long trip (Toulouse, Paris France, Seattle) we were wonderfully welcomed by Mr. and Mrs Abott, who lent us beautiful lodging, which is also calm and relaxing. We will have excellent memories of our stay in Port Orchard, even if a small and mischievous rain came by to "improve" the end of our too short trip. We thank Mr. and Mrs Abbott for their excellent welcome and their thoughtfulness.
Doriane
2016-10-17T00:00:00Z
Тип размещения
Дом/квартира целиком
---
Тип жилья
Дом
---
Вмещает гостей
4
---
Спален
Порт Орчард, Вашингтон, США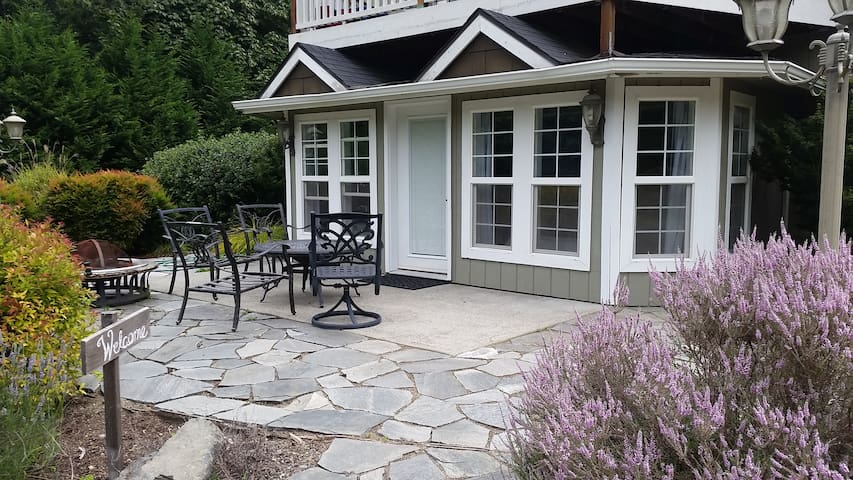 Comfortable cottage with stunning views of Olympic Mountains & Sinclair Inlet. Ferries, bald eagles, sea life. Explore the beach or bring kayaks, canoes, paddle boards bicycles.
Enter through vintage french doors to a cheerful dining area with seating for 6, lovely antique buffet and vintage china cabinet. Dining area opens to living room and to the kitchen. The spacious living area includes a sofa-bed (sleeps 2), wing back chair, 40" HD TV, Blu-ray and wireless internet. Living room opens to the deck and beachfront. The bedroom has a Queen bed and antique dresser and looks out to the water. A twin roll-a way bed completes the sleeping for 5. The refurbished bathroom includes vintage claw foot tub with shower and all amenities including towels, complimentary toiletries, and hair dryer. The kitchen includes stove, refrigerator, dishwasher, microwave, blender, cookware, dishes and breakfast nook looking out to the patio and grape arbor. Gas grill on the patio, April - October. Utility room includes washer, dryer, iron/board and utility sink.
Sinclair Beach Cottage is located in a quiet neighborhood known as Waterman on Beach Drive East, 3 miles from Port Orchard. The cottage and nearby homes are on the water side of Beach Drive.
This was our 3rd trip back to Linda's place and we can't wait to go back. Linda's place has all of the comforts of home -- just cuter and with a spectacular view. We had a great time, the house was in excellent condition, and we spent a lazy rainy weekend inside watching the ferries pass by and reading.
H..Y.
2016-03-23T00:00:00Z
First let me say 'Thank You' to Linda for sharing this Puget Sound Gem with us. She went above and beyond to make our stay problem free and comfortable while remaining on the sideline, available, yet unseen. Sinclair Cottage is convenient and accessible to all that is available in the southern sound, Kitsap Peninsula, and day trips to Bainbridge Island, Seattle, and the Olympics. We were steps from the water and could hear the waves lapping in rhythm throughout our stay. What a view! Deep clear water during all tides. Eagles eating fish just out of reach. Seals playing and diving without the barking of crowded platforms. Cormorants, ducks, and geese every day. Two ferries to Bremerton/Seattle give a reassuring regularity and urban connection with twice hourly arrivals and departures. Even with the November rains, the view out the ample windows was intoxicating, both day and night, for this Texas couple. The only disappointment- we were here to find a new home and couldn't duplicate the million dollar view and feel of the inlet, peninsula, city lights, and Bainbridge Island experienced during ten (EMAIL HIDDEN)e and leave your cares behind!
Stephen
2014-10-31T00:00:00Z
Linda was a fantastic host! She provided us with all the information we needed for our stay and responded to any questions in a very timely manner. Linda is extremely thoughtful, which helped in our wonderful stay. My wife loved the cute cottage and the beautiful views of the water were a great way to start the day. Our daughter loved playing by the water right off the back deck and gathering seashells. The stocked kitchen made it perfect for staying in and cooking fresh salmon and crab from the Pike Place Market. Thanks for your hospitality, Linda!
Nathaniel
2015-10-15T00:00:00Z
We absolutely loved our stay at the Sinclair Beach Cottage! Linda was a great host. While we never met her in person, we really appreciated her communication leading up to our stay, the sweet treats and note she had waiting for us when we arrived, and the notes scattered around the cottage explaining different things. The cottage is set far back from the road, with a lovely yard and two shed buildings lining the walkway to the door. There are neighbors on either side, but we never saw or heard them, nor did we hear any traffic noise from the cottage. The cottage itself is a lovely mixture of vintage/antique & modern updates--it's cozy and adorable! It's a small space that was perfect for the two of us. We seriously spent so much time just sitting on the couch, curled up, staring out at the amazing views of the Sinclair inlet and beyond (including a brief siting of a bald eagle that landed on a nearby post in the water). Everything was well stocked inside the cabin. The bed in the bedroom was very comfortable. Oh, and I can't forget to mention that the beach outside was great! We took a little walk one morning and there were plentiful amounts of beach glass and intact shells of all varieties! It was so quiet and peaceful out there. We thank Linda for such a wonderful experience and are looking forward to possibly coming back again! We would certainly recommend this cabin to those planning a trip to the area.
Sarah
2016-03-09T00:00:00Z
Thanks so much Linda for sharing your house and for your hospitality. We had a great stay. We will spread the word :)
Asim
2017-01-29T00:00:00Z
Such a charming cottage. Even though the weather was chilly, we enjoyed a walk along the beach. The view from the living room was lovely by day and sparkling by night. We even saw a bald eagle!
Tina
2017-01-09T00:00:00Z
Dreamy. Picture perfect. Sweet. These are the words that come to mind when describing Linda's place. Linda has everything laid out for you and just when you think you have a question, there will be a note to explain. The location is gorgeous and perfect for those who just want to get away but be a 5 min drive into town for necessities. We can't wait to visit again!
Desiree
2017-03-31T00:00:00Z
Linda was lovely. We lost power for a short time due to high wind in the area but she was helpful and had the place prepared in case that should occur. The place is well stocked and very thoughtfully prepared for guests.
Lauren
2016-11-14T00:00:00Z
Тип размещения
Дом/квартира целиком
---
Тип жилья
Дом
---
Вмещает гостей
5
---
Спален
Порт Орчард, Вашингтон, США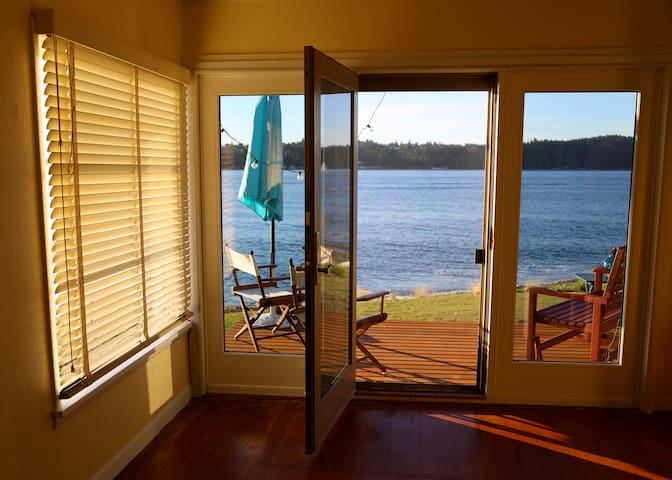 Wake up to views of Seattle, Mt. Rainier and the Puget sound in scenic Manchester, WA. In addition to your room, private bathroom and kitchenette, we also have two kayaks. Only 10 minute drive from West Seattle-bound ferries.
Kayaks, wifi, TV and washer/dryer all available to guests to use. Two story, traditional cottage, renovated with love and overlooking the beach. There are lots of windows to provide natural light. The bedroom is about 50 feet from the beach, allowing the gentle crash of waves to lull you to sleep. Aside from views of Seattle, Mt. Rainier and the islands of the Puget Sound, there are lots of wildlife (bald eagles, sea lions, seals, and more) that call this area home.
Manchester is a oceanside community almost directly west from downtown Seattle across the Puget Sound, in the thickly wooded Kitsap Peninsula. The area has some great biking, particularly the beautiful ride through the forest and waterfront to nearby downtown Port Orchard. There is local restaurant and bar just down the road, a pleasant 15 minute walk or 1 minute drive. Otherwise, the city of Port Orchard has loads of restaurants, grocery stores and more within a 15 minute drive.
My fiancé and I had a wonderful weekend there, and would definitely go back. Our hosts were very warm and welcoming, and everything was clean, and exactly as the listing described.
Augustine
2016-02-15T00:00:00Z
Sandy and her husband were so nice and welcoming! Very flexible with check-in/check-out and the communication was easy. The pictures don't even do this house justice... it is BEYOND gorgeous. Peaceful and had everything we needed for a weekend get-a-way. Sandy left us a card with suggested restaurants nearby and anytime we had questions about how to get around, she was quick to respond. I cannot wait to go back and wouldn't stay anywhere else! We actually cut our sightseeing in the city short so we could go back and enjoy the house and beach. Sandy and her home made our trip complete!
Cortney
2016-07-31T00:00:00Z
My husband and I had a wonderful stay at this postcard destination. What a amazing view ! Sandy was hospitable and left us to our business. A very cozy living room. Everything very clean and comfortable. Thanks for letting us stay with you ! Hope to come back some time Linda and Windried
Linda
2016-05-19T00:00:00Z
What a blessing it was to find this gem! I cant explain how amazing and peaceful the view was from their home. I just couldn't help but smile everytime I looked out the window and instantly felt the weight of the world lifted off my shoulders. Being able to cuddle near the fire, walk along the beach, golf at a nearby course and hop the ferry to a Mariners game were highlights for me and my hubby's trip. Sandy and her husband were extremely hospitable and quickly made us feel comfortable. So comfortable we did not want to leave :) Great and convieniant ammenities were a plus! We will absolutely visit again!
Breanna
2016-04-12T00:00:00Z
This was an amazing location and it was a little far off from Seattle but when you see that sunrise or sunset you won't care. Sandy was an amazing host and I will definitely do this trip again.
Erik
2016-08-29T00:00:00Z
We had a great time and we loved the house. Everything was clean and the hosts responded promptly when I had a question. We loved the views and especially the view across the water of Seattle. We liked taking the ferry over to Fauntleroy from Southward - quick 10 mins to the ferry. The house was very nice and updated and we would definitely stay again if we are back in the area. Thanks!!
Rob
2016-08-07T00:00:00Z
If you are looking for a quiet, scenic location with spectacular views - this is the place. You can see the skyline on one side, Mt. Rainier on the other (if the clouds don't obscure). The house is set up to offer views from the inside too. Beds/bath are comfortable and there is plenty of space and privacy. House location is not too far from town where there are several local eateries and shopping. I would book this house again without any hesitation.
Samuel
2017-04-01T00:00:00Z
Sandy met us shortly after we arrived and was very accommodating to our arrival time. The living accommodations were very clean with picturistic views of the Pugent Sound. Sandy and her husband were gracious enough to let us use their kayaks for a morning paddle. The neighborhood was quiet, clean and safe. We loved our visit. Jerald and Denise
Jerald
2016-09-24T00:00:00Z
Тип размещения
Дом/квартира целиком
---
Тип жилья
Дом
---
Вмещает гостей
2
---
Спален
Порт Орчард, Вашингтон, США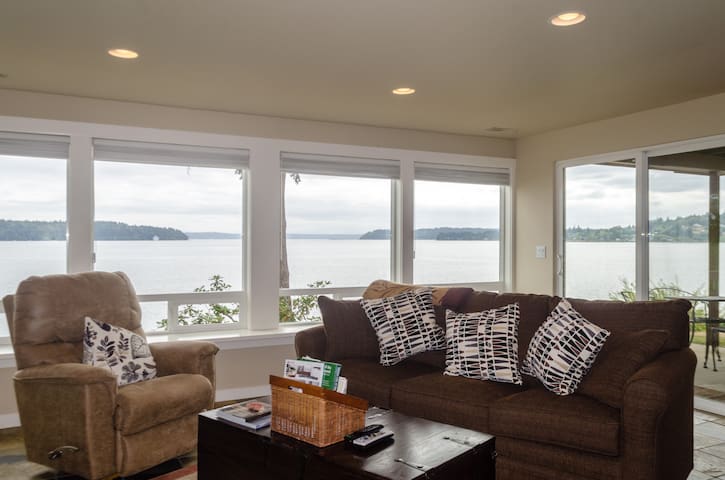 My place is close to nightlife, public transport, and the bay!. You'll love my place because of the coziness and the views. My place is good for couples, solo adventurers, and business travelers.
Fred's place was perfect for us. Even though it rained the entire time we were there the view was fantastic. The only thing we missed was a coffee maker. There are several coffee shops nearby however. We will stay here our next trip up to Kitsap.
Judy
2016-11-27T00:00:00Z
 Easy directions, great view, very clean and tidy interior...everything was just as described!
David
2016-12-03T00:00:00Z
This place was impeccable. So clean and comfortable!!! We arrived late and left early but it was a very nice stay. Great views. The cleanest air bnb ever! Would highly recommend this place! A++.
Jamie
2016-10-01T00:00:00Z
Beautiful view and very clean place.
Kathryn
2016-12-11T00:00:00Z
4 friends and I wanted to explore Seattle and Olympic National Park over a long weekend and we wanted a central location to stay. We were new to Airbnb, but found Fred's place and it seemed perfect. Fred was quick to respond, answering any questions we had and was very welcoming. Arriving at the location, it was even better than the pictures let on. It is a very well maintained home with a large balcony looking over the harbor. It slept 5 comfortably and was a perfect middle spot for our 2 destinations, even though you could probably spend a whole day exploring the Port Orchard region. This was our first Airbnb experience and it seems hard to surpass. It was very reasonably priced, well maintained, and Fred was very helpful with all of our questions.
Hugh
2016-09-05T00:00:00Z
Fred's place was great!!! It was located just a block off the water and the views were spectacular!! The place was well kept and spotless. Would highly recommend anybody to snagging this place if they are to visit Port Orchard. Will be back for sure!!
Elise
2016-10-18T00:00:00Z
Such a clean and great area! Had a wonderful time, Frank was a great host and everything met over our expectations! So looking forward to coming back to this house! Oh and I can't forget how great the view is and a wonderful walk to the port!
Philip
2017-03-05T00:00:00Z
The host canceled this reservation 3 days before arrival. This is an automated posting.
Daniel
2016-11-02T00:00:00Z
Тип размещения
Дом/квартира целиком
---
Тип жилья
Дом
---
Вмещает гостей
5
---
Спален
Порт Орчард, Вашингтон, США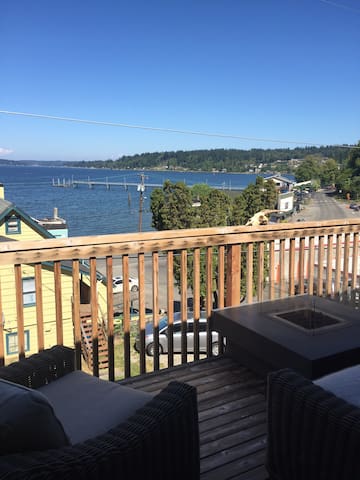 Twin Creeks Cottage, situated on 2 acres nestled in a peaceful forest surrounded by 2 creeks. Newly renovated in 2016, it features a private setting separate from the main house and high ceilings with skylights providing an abundance of natural light. Private guest house in Port Orchard. Just a short walk to the village where you'll find Manchester Grill and Manchester Pub near the park and beach overlooking Puget Sound towards Seattle.
Very private and peaceful guest house, separate from the main house.
Walking distance to Manchester village with restaurants, shops, library, park with picnic area and the beach!
Lovely cozy place with lots of goodies and an easy short walk into Manchester and the beach. Kim was very helpful and friendly!
Stephen
2017-01-26T00:00:00Z
Very clean, scenic part of town and close to the Southworth ferry. Mike and Kimberly went above and beyond for us!
Alyssa
2016-12-12T00:00:00Z
My husband and I have stayed at 3 Airbnbs in the last year. Mike and Kimberly's cozy little cabin was the best of them all! Kimberly makes it special with all the amenities that are there and the great baked goodies that she left for us. It is a hidden little gem. We visit family while we are in Port Orchard and it is wonderful to be able to have our little home away from.home. We highly recommend Mike and Beverly's and we be back ourselves
Jan
2016-12-07T00:00:00Z
Mike and Kimberly offer up a great value at a great value for travelers. We stayed there for 2 days as traveling disc golfers and it was exactly what we were looking for. A place to relax after rounds, and not be bothered by the normal hustle and bustle of motels or hotels. Everything about their place was great. You will be pleasantly surprised by the attention to detail and 'little' things that Twin Creeks offers you!
James
2017-04-02T00:00:00Z
Kimberly and Mike were great! Extremely hospitable, friendly and warm. Made sure me and my boyfriend were comfortable right away and even became buds with our pup! He loved the open space just as much we loved this little cozy home. It was a great getaway. Two thumbs up!
Michelle
2017-03-05T00:00:00Z
They were very accommodating, we had to cancel the stay early and they were able to meet that request.
Bernard
2016-12-20T00:00:00Z
Kimberly's breakfast is very tasty. The movie set up can be a little difficult, but I wouldn't let that prevent anyone from staying here. They're very friendly and accommodating hosts.
Conner
2017-03-14T00:00:00Z
The Twin Creek Cottage was adorable and clean. Kim even provided some treats! The property was beautiful and secluded.. Hopefully we will be back if in the area.
Danielle
2016-10-06T00:00:00Z
Тип размещения
Дом/квартира целиком
---
Тип жилья
Гостевой дом
---
Вмещает гостей
5
---
Спален
Порт Орчард, Вашингтон, США
Our place is on Rich Passage, Puget Sound across the water from Bainbridge Island, about an hour and half drive from Seattle. You'll love our cottage because of the quiet forested location, direct access to the beach and the amazing large deck over the water. We have stairs to the beach for activities such as kayaking, tide pooling and more. The back of the property is adjacent to Wynn Jones County Park with hiking trails in the forest.
Why Forest Lane Cottage? If you search on Bing for Forest Lane Port Orchard, you will find a "secret" lane that does not actually exist but is right where our cottage is. Besides, it perfectly describes the forested entrance to the property. Forest Lane Cottage features: - 2 bedrooms, sleeps 5 (one bedroom with a full double bed and one twin bed, one bedroom with a queen bed, one twin air mattress is also available if needed). - One bathroom with tub and shower - Kitchen with new electric stove, fridge, dishwasher, microwave, coffee maker and small appliances - Huge deck over the water with outside dining area, BBQ, propane firepit and propane heater - Utility room with HE front-loading washer, electric dryer, iron and ironing board - Propane furnace - Living room with view of the water and separate dining area - New, high-efficiency wood stove - Flat screen TV, DVD, radio, CD, cassette player, WiFi
The cottage is located between the towns of Port Orchard and Manchester on Rich Passage. Rich Passage is part of Puget Sound and is the main waterway from Seattle to the Bremerton area and we look across at the south end of Bainbridge Island. Wynn Jones County Park is adjacent to the back end of the property and includes walking trails in the forest.
This is a lovely home on the water and the view is all that it seemed to be from the pictures. Definitely use your smart phone to locate the property for the first time since it is a more remote location, which is also one of the things that made it so nice. Be aware that it is a 40 minute commute time to the Seattle Ferry location with time for parking. Doug and Karen are exceptional hosts and have considered every possible amenity and need you may have. It was an amazing location. We travel quite extensively and will be talking about this location for years to come and hope to return.
Janice
2016-07-20T00:00:00Z
This getaway is perfect for a quick retreat from Seattle. Located 20 minutes from the Southworth ferry station, and in a very quiet location surrounded by a state park. The home is ideal for a quiet getaway, with a huge porch over the water and plenty of seating to enjoy the sunshine. The beds were so comfortable, and the house is stocked with everything you need to make a great meal (BBQ, brand new oven, etc.) We were also able to use the kayaks for a quick paddle, although we were cautious due to the very strong current. Doug and Karin live next door and welcomed us when we arrived. They checked on us intermittently to make sure we had everything we needed. Even offered maps and hiking recommendations. I would definitely recommend.
Kristin
2016-06-06T00:00:00Z
Doug and Karin were gracious hosts and made sure we had everything we needed. The views are beautiful and there was so much to see from the huge waterfront deck - eagles, kingfishers, seals, boats, ferries, etc. The kitchen is well equipped and we used the gas grill every night. The kayaks were a bonus - we used them every day to explore the shoreline. What a great get-away - we'll be back for sure! Thank you Doug & Karin!
Susan
2016-08-09T00:00:00Z
This cozy cottage was the perfect destination for our Thanksgiving trip. The moment we walked through the door we knew we had chosen the perfect place. The views from the living room and deck were gorgeous and we enjoyed watching the ferry boats and sea lions go by. We also enjoyed the wood burning fireplace and the outdoor fire pit. The kitchen was well equipped for cooking all our meals, including a huge Thanksgiving feast. Doug was a phenomenal host and was very communicative from the beginning. He made sure we had everything we needed and even brought us fresh crab he caught from the water in front of the cottage. I highly recommend staying in Doug's cottage if you're looking for a peaceful and relaxing experience. We're already planning a return trip!
Emily
2016-11-27T00:00:00Z
The cottage is just wonderful. Great deck with fire pit for grilling marshmallows. Plenty of blankets to stay warm. Well equipped and stocked kitchen for foodies. Highly recommended.
Patric
2016-12-29T00:00:00Z
From beginning to end, it was a great experience. Doug and Karen were great, and so helpful. They send you a guide to local amenities and clear instructions on the house. They also made sure we got settled in and had everything we needed. The kitchen was really well stocked and we never wanted to leave the amazing porch with the spectacular views! We can't wait to return to visit again.
Crystal
2016-08-21T00:00:00Z
Very nice!
Susan
2016-09-08T00:00:00Z
We've stayed at Doug's lovely home before. We fell in love the first time thanks to the secluded nature and beautiful views and will continue to return.
Tera & Marty
2017-02-13T00:00:00Z
Тип размещения
Дом/квартира целиком
---
Тип жилья
Дом
---
Вмещает гостей
5
---
Спален
Порт Орчард, Вашингтон, США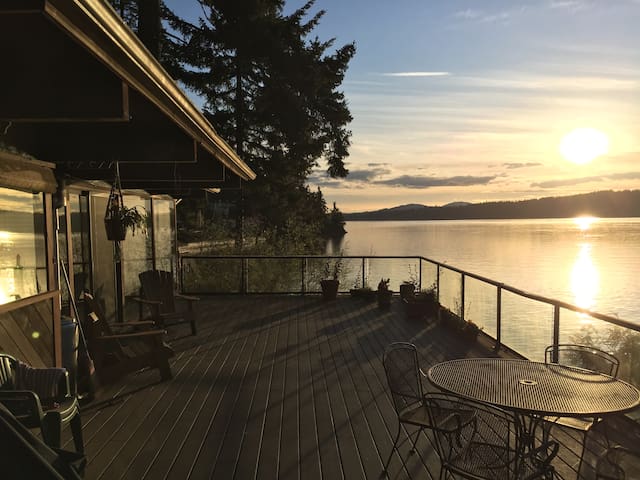 We are located in the historical home district of Port Orchard's downtown waterfront, steps away from shops, antique stores, cafes and restaurants, movie and community theatres, and the ferries to Bremerton and Seattle. We are 2 blocks from the courthouse, and 1 block from city hall. A walking, biking and jogging path meanders along the waterfront and we are a short driving distance from golf courses, lakes, hiking and biking trails. Come enjoy our small town charm and incredible water views.
A proper B&B! Easily one of the best experiences I've had via Airbnb. Lorraine was very friendly and accommodating of our slightly weird schedule. The room was clean, quiet, and comfortable. The common space was cozy. All of the details were great, including handmade soap in the bathroom and handwritten notes. The breakfast was delicious as well, especially the scones.
Meredith
2017-03-02T00:00:00Z
This space is very cozy! Beautiful view from the porch. Lorraine was very kind to bake us brownies upon arrival and taking into consideration dietary restrictions for breakfast planning.
Heldáy
2017-02-19T00:00:00Z
Lorraine's house and hospitality are top class. Everything from the panoramic views, the comfy beds in a historic home, the warm fire, the delicious breakfasts, the short walk to the waterfront and much more make Lorraine's place a must for anyone visiting Port Orchard who would like a memorable place to stay. Lorraine also has a wealth of knowledge about the area, which helped steer us in the right direction several times. Thanks to Lorraine, we will certainly be back.
Kelly
2017-03-26T00:00:00Z
Тип размещения
Отдельная комната
---
Тип жилья
Гестхаус
---
Вмещает гостей
4
---
Спален
Порт Орчард, Вашингтон, США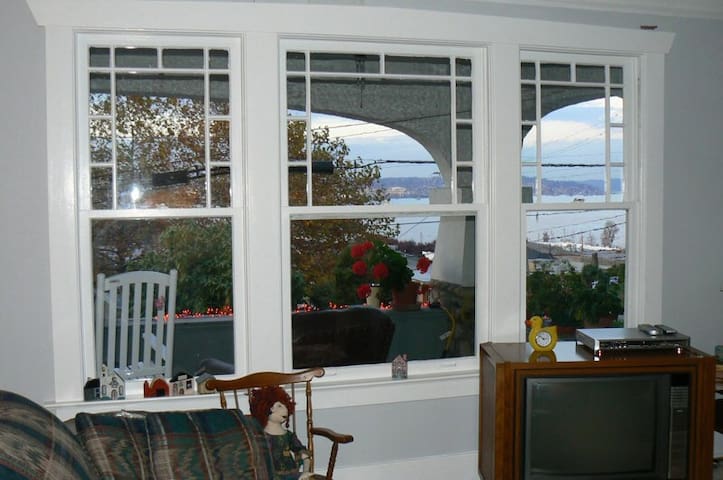 One of the three listings on our 10 acre property in the woods just a 5 minute walk up from the Puget Sound, this little cottage is the perfect weekend getaway or writer's retreat.
The "Little House," as we have always called it, is the perfect quaint romantic getaway or rustic writer's retreat. It's cozy and completely self-contained with one bedroom, a living room that includes the original brick fireplace, and a spacious newly refurbished kitchen with washer and drier. The bathroom features a small (and short!) clawfoot tub. It feels the most 'urban' of our properties because it is closest to the gravel road, closer to the water, and is within sight of a few neighbors, including our great, great grandfather's craftsman style (c. 1897) home. It still feels private since it is tucked into the woods. Through the trees you can also see the water and, if you look carefully, the shores of Lincoln Park in West Seattle. This 1905 cabin used to belong to our Aunty Suzy and cousins Vicky and Brad, our family antique collectors, and we have lovingly decorated it with a number of their curio's. We are just 1.5 miles from the Southworth ferry dock; you can walk here in 30 minutes or drive it in 5. Altogether there are three separate homes on the property that can together accommodate up to 15 - 17 during summer - plus a small studio for events & yoga tucked into a bamboo grove, which can accommodate up to 20 people (book separately). We also have an organic garden, fresh eggs daily from our chickens, and a few informal trails to explore. We also live on the property so you may see people wandering around from time to time but all units are completely private, separate and tucked away in the woods. This is a peaceful spot and the ultimate in "slow-life" where you truly step back in time. A cozy place for a couple or perfect for anyone seeking solitude and a slower pace, surrounded by nature. While quite comfortable, we still hand-wash our dishes, bbq using charcoal and chop wood for the wood stoves and fireplaces. Only 40 minutes from Seattle by ferry (25 minutes, if you happen to catch the direct ferry), this is a wonderful place to unhook from your fast-paced life and curl up with a book and a cup of tea in front of a roaring fire. It is a short walk downhill to the new Harper Pier which includes a water-level dock with swimming ladder; you can jump off into the brisk Puget Sound! Squid fishermen and local anglers also hang out on the pier or fly fish from the rocky beach. Next to it is a funky coffee shop that is open when it suits the friendly owners. We do consider pets on a case by case basis. A $35 fee may apply with a short list of house rules for pet owners.
There are plenty of walking and biking trails and parks nearby. Quiet country roads wind through a natural, unassuming and semi-rural woodsy neighborhood with chicken coops and horse pastures. Drivers still wave at one another and when they pass pedestrians. The historic Harper Community Park has a delightful trail that drops down to the waterfront and a small picnic area and baseball diamond. Within walking distance: a small convenience store located at the Southworth Ferry dock (30 minutes walk) and a small and eclectic cafe 5 minutes down the hill at the new Harper Dock.
Beautiful rustic house with all the modern amenities. Very quiet and peaceful.
Robert
2016-10-04T00:00:00Z
Fran's little cabin is wonderful and cozy, and the Harper Hill grounds are beautiful. She was extremely responsive with communications before and during our stay, and was thoughtful and generous with a snack basket and fresh eggs from the chickens. We loved exploring Kitsap and highly recommend Fran and the Little Red House!
Kimberly
2016-10-10T00:00:00Z
Quiet, dark, accessible, cozy. Near the water, a part of the woods, antique touches, a cabin, a hearth.
Ant
2017-02-19T00:00:00Z
Our stay was heaven on earth! The cabin was perfect, packed with creature comforts like fresh eggs and great toiletries, the grounds make for some spectacular hiking and thinking and one very happy dog!
Sarah
2016-07-28T00:00:00Z
The little red cabin was just what we needed to unwind and celebrate my wife's 30th birthday. It was cozy, quiet, and had everything we needed. The best part was the full-size kitchen, stocked full of any and all cooking equipment one may need to prepare a full meal. There were also some nice treats on the counter and the fridge, which was a nice bonus. Everything was clean and comfortable, especially the bed. Fran was very quick to help with any needs we had (even at 10pm, when we locked ourselves out), like extra firewood. She also respected our privacy, and was not intrusive at all during our stay. She really seems to know how to make someone feel at home. The property itself is absolutely beautiful and gave a strong feeling of solitude, even though it wasn't far from town at all. I would definitely stay here again.
Emmitt
2016-09-05T00:00:00Z
This lovely little cottage is a great place from which to explore the area. Quaint and cozy and nicely appointed. The welcome gift of local cheese and coffee was appreciated. Fran is lovely as well. We felt like it was our own place nestled in the trees but a quick drive to pick up anything we required. A nice place for those looking to get away from the city.
Alana
2016-06-17T00:00:00Z
Тип размещения
Дом/квартира целиком
---
Тип жилья
Бунгало
---
Вмещает гостей
2
---
Спален
Порт Орчард, Вашингтон, США
Port Orchard Waterfront: Small, adorable, furnished, beach cottage with dock, covered porch/hot tub/ barbecue /fire pit. Perfect getaway! Well appointed, luxurious, cozy. 2 bedrooms. Eagle watching, Kayaking, fishing, boating! 10 minutes to Bremerton ferry.
There are eagles everywhere, year round. In the summer, seals swim nearby. It's a great place to sit and read a book or take a nap. I love this little place. Cabin quirks: This is a remodeled, old, old, fishing cabin. There are a few oddities, for example, the stairs are steep. Better than a ladder, but not much. The water system is on a well. If showering and using the dishwasher, the water may run out. Conserve. The septic is a super expensive, eco friendly, Glendon mound system. PLEASE do not flush anything but TP. Bay Street is s busy road and road noise is present when Windows are open.
Cute antique stores, great restaurants. Feels like a small town in every way. Lots of festivals. Always something to do.
Cute, cozy place with wonderful view. Plenty of outdoor space and seating. Great for small family without small children. Stairs to bedroom a bit challenging. Bathroom downstairs. Bedrooms upstairs. Close to port orchard. Road noise but double paned windows throughout.
Diane
2015-07-06T00:00:00Z
We loved our stay at Shelly's place. It was super clean, and Shelly had amazing communication. A wonderful getaway from Seattle with a great view. I would definitely go again.
Alisa
2016-12-04T00:00:00Z
The cabin made for the perfect getaway for my partner and I. We loved the thoughtful attention to detail, the sweetness of the cabin, and the fully stocked kitchen. We also enjoyed kayaking and using the hot tub! Shelly was a wonderful host! We highly recommend staying here.
Kristen
2016-09-25T00:00:00Z
Shelly is hands down the most compassionate host I have ever met. She made one of the most important and memorable nights in my life come true....yes...a proposal. She worked with me incredibly on accommodations for the special evening and genuinely cared about my well being. It was odd how great she insured our comfort yet respected our privacy. As a host, my only regret is I cannot give her enough stars? Thumbs up? Whatever the conversion table might be; she is awesome. As the cabin goes, yes it is that adorable! I was in a frantic rush to find a cute cabin for my grand idea and after looking at so many places essentially in individual's back yards, I came across Shelly's cabin. The place is down right gorgeous and as a young man I have no shame is saying that. After the grand celebration we found ourselves in complete tranquility; woke up early and even took the kayaks out at sunrise. Found myself looking out the grand windows in the bedrooms at every chance I got. In addition, she even personalized accomidations for us, to include a nice treat in the fridge wrapped elegantly for our enjoyment and continuously offering her assistance. I cannot express my gratitude enough for this incredible woman and her lovely family. If you are ever curious about visiting the area, please do not pass up this place or a most delightful host like Shelly. I guarantee you, she will be the individual you are looking for when you are hopeful to get away and enjoy yourselves.
Corey
2016-03-08T00:00:00Z
Shelly's place was amazing! We had so much fun in town and I could have kayaked everyday! It was a beautiful and clean home. Perfect for my family and I. We will be back for sure!
Greg
2016-07-04T00:00:00Z
My husband and I were visiting family in late February. This cozy waterfront cottage was so quaint and peaceful; it immediately brought calmness and relaxation as we set foot in the house. Waking up with the waterfront view on the second floor was enchanting, and we enjoyed having coffee on the deck and watching ducks play. Shelly and Tom are wonderful gracious hosts. They left chocolates, brownies, OJ and bubbly for us in the house. Shelly also recommended great local restaurants; she was spot on about Bay Street Bistro. They are beyond five stars!
Emily
2016-03-01T00:00:00Z
We had comfortably enjoyable stay at a lovely place. Thank you for sharing it!
Daniel
2015-07-02T00:00:00Z
We had a nice stay at the waterfront cottage. We enjoyed breakfast and coffee on the back porch while watching the seals, egrets and bald eagles.
Justin
2015-07-13T00:00:00Z
Тип размещения
Дом/квартира целиком
---
Тип жилья
Дом
---
Вмещает гостей
4
---
Спален
Порт Орчард, Вашингтон, США
Escape the city to this gorgeous and relaxing weekend getaway. Stroll the gardens-all organically grown!, grill and have dinner in beautiful natural surroundings and then finish the evening with a walk down to the beach. This house has it all!
This place is uniquely positioned on a popular bike route through the peninsula from the great city Seattle just across the water. It is also nicely positioned within walking distance (1/2 mile) to the ferry that goes directly to West Seattle, which is a 40min. trip. There are also several beach access points nearby. The house itself is a great destination for a family or a couple or a bunch of friends to gather, relax and enjoy a fun and beautiful garden space as well as a joining play field with volleyball net and crochet.
This neighborhood is great because of the neighbors! Some of the nicest and friendliest people you will ever meet! The area is also very quiet as it is not apart of any direct route into the down town area of Port Orchard.
We had a great weekend, the home was beautiful and in a greaat quiet setting, Thank you for having us!
Victoria
2016-09-19T00:00:00Z
We had and awesome weekend away on the peninsula. The house is really easy to get to from the ferry and was just what we were looking for. It's like staying at a family friends house: - Toys/games for the kids - Beautiful yard with fire pit and hot tub (totally worth the extra $75 to use the hot tub) - Two separate living spaces (so you and your kids can spend time together and apart) - Lots of family pics/momentos around the house. Liz was very accommodating and responded to any requests/questions we had quickly. We will definitely be coming back to visit.
Anand
2014-09-01T00:00:00Z
This home exceeded every expectation! The garden was a delight as was the view of the water from the living room with the wood burning stove. Liz and Mimi even had logs brought into the house so it was easy and so very relaxing to start the fire and take in the view. The linens were also fabulous. All and all, it was one of my best AirBnB experiences. Thank you so much for making it so wonderful.
Mona
2017-03-24T00:00:00Z
We loved staying at your home. It was very comfortable, and the hot tub was a great plus. My husband and I had a couple friends that flew in from California and we had a great time visiting with them!
Ashley
2017-01-02T00:00:00Z
Very comfortable for 8 ladies. Hosts were great.
Raj
2017-03-26T00:00:00Z
Nice home,clean and comfortable.only complaint was mattress in-bedroom 2nd to right up stairs was sagging in middle.
Rita
2016-09-13T00:00:00Z
Beautiful house. Lovely space. Thank you.
Dianne
2015-04-27T00:00:00Z
Excellent house, high quality sheets and towels, lots of space. Would work just fine for groups of 3 or groups of 6 or 8. More possible with sleeper sofa(s?). The yard provides more living space with hot tub and more areas to gather. The kitchen is large and well stocked.
Jeff
2015-05-13T00:00:00Z
Тип размещения
Дом/квартира целиком
---
Тип жилья
Дом
---
Вмещает гостей
10
---
Спален
Порт Орчард, Вашингтон, США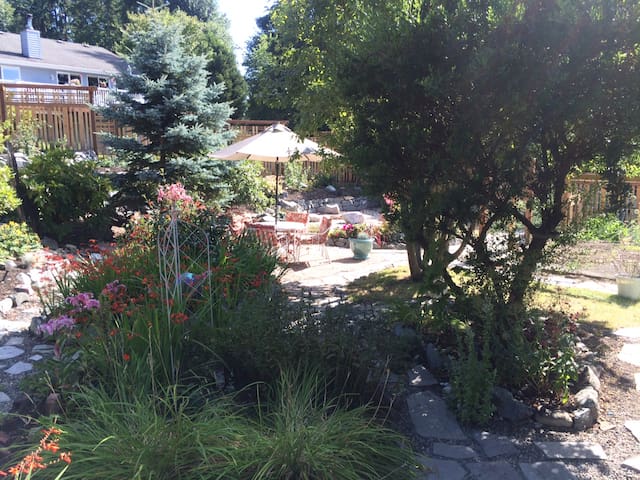 You'll love my very clean, relaxing and comfortable home. My place is great for couples, solo adventurers, business travelers, International students and families (with kids) while your looking for your next house. We have additional rooms to accommodate 2 more in the same party, such as traveling pairs, families, or colleagues (message for availability). Continental breakfast and coffee provided, as well as access to the refrigerator. Sorry cannot accommodate furry pets do to kid allergies.
(Please message me if you require longer than 28 days) The room is very relaxing and has fully available closet along with hallway storage if you have a longer stay. You'll love relaxing and taking a nap in the loft area or cozying up down by the gas fireplace to watch a movie. Downstairs gives you full access to the kitchen, fitness machines, pool table and ping pong table :-). You'll feel at home
In a great neighborhood with lots of green belt walking, running trails and 10 minute drive to downtown Bremerton. There is even a park for the kids a couple of blocks away.
Sal is a very gracious and kind host, he made sure all our needs were met. He has a very beautiful and comfortable home. The bed was very comfortable, my husband likes a soft bed and I like a firm bed, the bed suited us both. We enjoyed the relaxing sitting area next to our bedroom and bath on the second floor. The home is in a residential area which is surrounded by scenic woods and walking paths . It was snowing lightly while we were there and the snow on the tall pines was beautiful.
Annette
2017-03-13T00:00:00Z
What a wonderful clean and peaceful setting .. Thanks so much for accommodating Geoff on short notice. Everything was just perfect.. Many, Many Thanks!
Jeannamarie
2017-03-16T00:00:00Z
Тип размещения
Отдельная комната
---
Тип жилья
Дом
---
Вмещает гостей
2
---
Спален
Порт Орчард, Вашингтон, США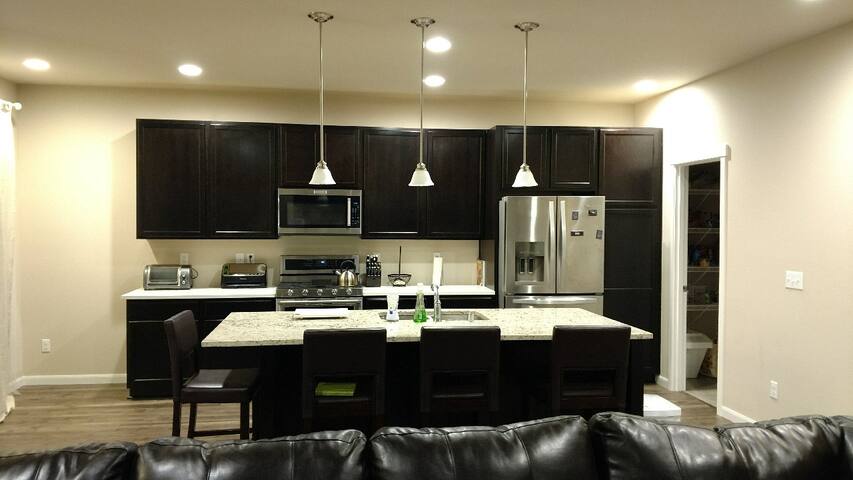 NOTE: If you would like a shorter mid-week reservation please contact me. The three day minimum during the summer is to keep the weekends from filling too quickly. West-facing remodelled house with expansive views of Puget Sound, the Olympic Mountains, and the lights of Puget Sound Naval Shipyard. Two bedrooms with quality queen beds, comfortable furniture, and parking for three cars. Near shopping and easy access to ferries with service to Seattle.
This home is warm and comfortable. Remodelled in 2013 the house is clean and set up for cooking, dining, and to be your hub for local activities.
This house sits on the edge of a marine environment and all the activities that take place in a harbor town. Looking out the front window you'll see Ferry traffic and seagulls, smell the salt water and listen to the sea lions. Bring your binoculars and view details of the naval shipyard across bay.
The home has a beautiful view of the water and we enjoyed it every day. Beds were comfortable and the kitchen is stocked well enough that we were able to fix a Thanksgiving dinner. We had a very comfortable stay. Location was practical to go in Ferry to Seattle or visit Gig Harbor. We were in touch via phone and text with Andy and received a prompt response every time. Thank you Andy.
Rosa
2014-11-30T00:00:00Z
The home was welcoming. Andy gave me accurate directions to access home. The listing and photos did not give it justice. Andy provided the perfect setting for my reunion with my son and his family. Would highly recommend this home for families visiting the area. Beautiful home. Amazing view. Could not ask for more.
Colleen
2015-04-19T00:00:00Z
We had a wonderful time staying at Andy's peaceful, quiet, cute, Bay Street home. We enjoyed waking up to the beautiful views! Communication with the host was perfect and timely. Definately highly recommended and look forward to hopefully staying there again in the future!
Paul
2015-08-23T00:00:00Z
The home was awesome. Spacious 2 bedrooms (complete with walk in closets), large living room with a view of the bay, and a fully equipped kitchen. Everything was clean and neat. Andy was easily accessible and was flexible with our schedule. We got to the house around midnight; Andy left the light on for us. We really enjoyed our stay at this cozy home. Highly recommended for anyone traveling through the Port Orchard area.
Ky-Won
2015-01-12T00:00:00Z
We enjoyed our stay at this very cozy home. The description of the house and its location were accurate. Communication with Andy was quick and easy. The house is clean, convenient to the ferries, and has great views! Highly recommended!
Jill
2016-08-08T00:00:00Z
Due to traffic issues, we arrived later than we had expected and Andy had stopped by and turned on the lights to welcome us as well as sending a message via Airbnb to welcome us. The home is lovely and has lots of character and is set right on the water so the view is spectacular. The washer and dryer were most appreciated. We were on the second leg of a family reunion and were quite busy. I wish I would have had more time to just enjoy the home. I would love to visit this property again in the future.
Trista
2015-07-29T00:00:00Z
Everything worked out great! Awesome views overall excellent experience
Steve
2016-09-04T00:00:00Z
The house was as described. It has a great view of the harbor and is an easy walk into the little downtown area. We had a very nice stay.
Travis
2015-07-27T00:00:00Z
Тип размещения
Дом/квартира целиком
---
Тип жилья
Дом
---
Вмещает гостей
5
---
Спален
Порт Орчард, Вашингтон, США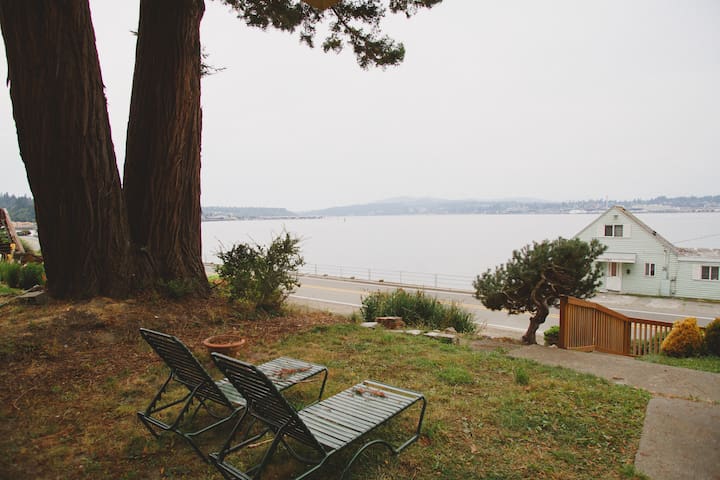 Порт Орчард - Airbnb
:
В среднем,

4.88

из

5

звезд на основании

1419

отзывов гостей
Введите даты, чтобы увидеть полную цену без учета дополнительных сборов и налогов.