Введите даты, чтобы увидеть полную цену без учета дополнительных сборов и налогов.
Located in northwest New Mexico, we are in the heart of Indian Country surrounded by the Navajo and Zuni Reservations and midway between Santa Fe and Flagstaff. Our area is ranked number fifty in the world by New York Travel. A hidden treasure!
Midway between Flagstaff and Santa Fe and along the Ancient Way Scenic Highway, our Apt/guest house is close to several National Monuments/Parks (El Morro, Chaco Canyon, El Malpais and the Ice Caves), the Zuni Pueblo and the Navajo Nation. The Ramah area incorporates a very diverse and vibrant community. There are multiple hiking opportunities and many Anazasi ruins (including one on the property). You're welcome to take our dogs on a hike too! The cottage is complete with full bathroom, fully equipped kitchenette (small fridge, electric frying pan, toaster oven, microwave and basic supplies, cooking utensils and silverware), queen size bed (with a memory foam mattress), wi fi, gas fireplace, DVD player and plenty of parking (including plenty of space for an RV or campervan, especially VW vans!). A rollaway single bed is also available. In summer there are two chairs and a table outside the cottage entrance, to enjoy morning or evening drinks. But you are also welcome to join us on the back porch during the summer months. There are two restaurants in the area, a small grocery store, and a Farmers Market on Saturdays in the summer. Guests have access to the entire guest house and surrounding 10 acres and beyond. You need to walk through the main house courtyard to the guest cottage which has it's own entrance. (The guest house is attached to the garage which also has a separate entrance). No public transportation. Stock up with supplies before you arrive. There is a convenience store close by and a small "alternative" store in the community. Bring all alcohol, the closest place to buy is 40 miles away! We do provide some breakfast supplies (coffee, tea, yogurt, granola, fruit and juice). Guests have access to the entire cottage and surrounding 10 acres and beyond. You need to walk through the courtyard to the guest cottage which has it's own entrance. (The cottage is attached to the garage which also has a separate entrance). In the summer the back porch of the main house is available for relaxation, and in the winter you are welcome to join us in front of our wood burning fireplace. As much as you would like! You can have complete privacy or we are happy to give you suggestions of places to visit in the area.
The beauty of the landscape and the community of people in the area is what makes this a unique area. Go to (website hidden) for a full picture of what the area offers. No public transportation Stock up with supplies before you arrive. There is a convenience store close by and a small "alternative" store in the community. Bring all alcohol, the closest place to buy is 40 miles away! Think camping and stock up.
This is the best place I could think of for a stay. Chris was out over the weekend but prepared my arrival perfectly. And the welcome of his 2 very friendly dogs could not have been better. A great atmosphere in and around the place. I would like to buy this house - including the dogs. What more could I say ....
Hans J.
November 2016
Chris & Mike were great hosts, providing information as needed, suggestions of local restaurants and events and generally sharing their extensive knowledge of the area. Their guest cottage is large, well furnished and comfortable, perfect for a night or a week. It is a great location from which to explore Gallup, El Morro and the Zuni and Acoma Reservations.
Jennifer
August 2015
This cottage near Ramah was a jewel! The location was perfect, and the cottage was clean, artistic and quiet. We enjoyed the night sky, walk along the mesa, and the sweet doggies who greeted us outside and walked with us on the trail of stones. It was great to have brochures of nearby monuments and archaeological sites as well as Wifi available, too. We were visiting respective sisters in phx and albu so this was a great respite in between. Definitely more like our lifestyle.
Holly G
October 2016
很美的地方,很舒适的房间,主人很用心地考虑到了每一个细节。狗狗很可爱。看到了麋鹿。
yu
July 2016
The hosts were very nice and the place is beautiful with very friendly dogs
Sameer
August 2016
Our stay was great! We had been traveling cross-country on I-40, and the route down towards Ramah was quick and very worthwhile. The guest house was perfect, with a very comfortable bed, lots of space, a very functional kitchenette, a gas fireplace, and great shower water pressure. The guest house was very clean, and the whole property was beautiful and well maintained. The best part of the experience was interacting with Chris, Mike, and their dogs. Chris and Mike were very friendly and hospitable. And if you're a dog person, then their friendly pups are sure to brighten your day. Chris and Mike even encouraged us to take one of their dogs as a companion as we took a hike around the beautiful land behind their property. Overall, this place was the definition of a good Airbnb experience, highly recommended.
Zachary
July 2015
We just spent two nights at the guest cottage along the Ancient Way. The hosts are charming and helpful. The cottage is the perfect size for two. The kitchenette had all the basic supplies to make supper and fixings for a continental breakfast was much appreciated. There was a ton of reading material about the area which we read in front of the electric fireplace. This is a perfect location to explore El Morro, El Malpais ,the Ice Caves , the Zuni Pueblo and the Navajo Nation.
Carolyn
October 2015
We absolutely loved staying with Chris and Mike in Ramah! Their home is like an oasis in a beautiful part of rural New Mexico. They were very welcoming but also provided us with lots of privacy. Their guest cottage is very comfortable and quiet with lots of local flair. The area surrounding their house is gorgeous and we even brought one of their dogs on a walk around the mesa. We couldn't have asked for a better stay!
Emily
July 2016
Тип размещения
Дом/квартира целиком
---
Тип жилья
Бунгало
---
Вмещает гостей
2
---
Спален
1
Ramah
Top noch Studio Apt, 300 breathtaking acres of red rock mesas, grass filled meadows and views of the Zuni Mountains. A special place for rest and relaxation where the Ancient Ones will permeate your soul and remind you of a simpler way of life.
Waking up to 360 acres with views beyond compare. Red rock mesas with Anasazi ruins, flocks of birds, deer and elk may grace your presence. Peace and tranquility. Quiet, relaxing space. Long walks or hikes seeing evidence of ancient ruins. NEWS FLASH FEBRUARY 2016 Unlimited Internet is now available. While this may sound trivial it is nothing short of miraculous. So while experiencing the beauty of this land will fill up the hours of your stay here there will be internet available for those who absolutely need it . We are there to welcome you, show you the ropes, and then there for any assistance or company as needed.
Our neighborhood is the sky, the mesas, the wildlife and domesticated animals. That is about it :) ! Leave the city lights. AWD recommended, Hwy 53 is only 3 miles away From Wild Sheep Place. Zuni is 30 minutes west on Hwy 53 and El Morro is 20 minutes going East, both are worth the trip . To get here, take Canyon Rd/TimberlakeSubdivision, located between Highway Marker 34 and 35 off of Hwy 53. Travel 1.5 miles up Canyon Rd then Right onto Togeye Canyon Rd. Continue another mile and a half. The first house you see on left is not ours, keep going. Come to a fork in road, bear left up hill though gate, house on left. Welcome to Wild Sheep Place! Come prepared with groceries and whatever you care to drink. There is a refrigerator, coffee maker, microwave and cusinart skillet for simple cooking. We do not have a stove . In the town of Ramah is the Stage Coach Cafe for breakfast, lunch or dinner. The Ancient Way Restaurant is 15 minutes East of Ramah featuring Exotic Cuisine.
We were greeting upon arival. The listing more than met our expectations
Loran
September 2015
Karen welcomed us to the "ranch", we shared a glass of wine, and then she proceeded to take my daughter and me on a tour of their property and more. It was spectacular. Much more beautiful than we had imagined. In the morning, Steve met with us and shared even more history and background about their home. He made us feel more welcome than we already did. We didn't want to leave. We had a wonderful night at "A Wild Sheep Place" and can't wait to get the opportunity to visit again. We would highly recommend this jewel to everyone. Maybe you will see the same beautiful bobcat we did, sitting in the middle of the road on our way out to the highway. What a farewell.
Garth
August 2015
Wild Sheep Place is a true gem. Peaceful, relaxing, uplifting...can't say enough about my brief stay in these beautiful surroundings. Karen was warm and welcoming upon my arrival, the casita was perfect for relaxing, cooking basic meals, with a very comfortable bed, to-boot! The acreage has all sort of historical treasures that I felt privileged to be able to experience. I look forward to returning, hopefully, in the not-too-distant future!
Annika
June 2015
I have never experienced quietude like I have at this remote ranch. At night it is completely still, silent and very tranquil. Karen and Steve welcomed us with open arms. Super friendly. The room has giant windows and we woke up to horses running by in the fields and a panoramic limitless sky view with jutting magical mesa's. In the morning we went running and hiking through the fields with their awesome, sweet dogs Guinness and Sierra! At night Billy Bob the cat sat on my shoulder while we star gazed together. I will definitely come back! And Karen and Steve are beyond awesome hosts!!! 10 star thumbs up!!! xo
Ryan
October 2016
Hands down, one of the most beautiful Airbnb locations I've stayed. Gorgeous views and serene atmosphere are perfectly matched by Karen's well-maintained cottage (with fast wifi!) and friendly welcome upon our arrival. Wish we could have stayed longer! Thank you for the wonderful stay. Hope to visit again soon!
Kaylena
September 2016
I would highly recommend staying at Wild Sheep Place. We thoroughly enjoyed the scenery there and the dogs were a treat. If you are seeking a quiet, peaceful setting this is it. Karen and Steve were kind and thoughtful hosts. The casita was comfortable and cozy. Coffee and tea are provided. We will always remember Wild Sheep Place!
Kathleen
October 2016
The host are lovely people! They showed us how everything worked & gave us the lay of the land. It is an amazing neighborhood as it could be a Dark Park! Very remote, no light or noise pollution, perfect for true relaxation & calm. We took long walks with the 2 friendly dogs that will greet you at the gate. The landscape photo you see is what you see string on the patio outside your adobe. It's an amazing place with all the amenities you will need! Do get groceries, coffee, wine etc. before you arrive. Ramah is a Mormon village. There are limited options for going out. El Morrow & El Malpais Bational Monuments are spectacular & staying at Wild Sheep Farm puts you in the heart of it! Stay at least 2 nights if not 3 like we did. The landscape & beauty is like nothing you will ever experience again! Thank you!!!
Lisa
October 2016
we had a great time at the the cabin the hosts were great and the views were beautiful. We will book again!
adrian
February 2016
Тип размещения
Дом/квартира целиком
---
Тип жилья
Квартира
---
Вмещает гостей
2
---
Спален
0
Ramah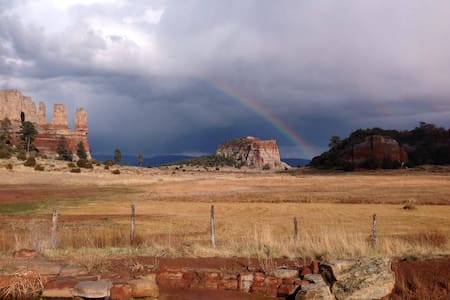 Wall tent with a futon, cot bunk beds, and wood stove within driving distance of El Morro and Zuni. Guests will have the use of the stores showers from 7-8am with a breakfast burrito and small drink. There is a Port-o-Potty available during off time.
This is Glamping, we offer a futon and cot bunk beds. Bedding is available but you are encouraged to bring your own. There is a wood stove for heat and a small refrigerator. We are situated across the street from the Wild Spirit Wolf Sanctuary. GPS Coordinates, 34.914201, -108.485832 You will be able to access the stores showers from 7-8am, so that it is your time. As well as, a breakfast burrito and small drink included with your stay. PLEASE NOTE, do not use your GPS to get here, call ahead for directions!!!! We will be around most days except Mondays and will always be here for your assistance.
We are located across the street from Wild Spirit Wolf Sanctuary. 12 miles from El Morro National Monument as well as El Malpais National Park. We are located near the Continental Divide, sometimes the weather is not cooperative. There is also 4 miles of dirt road to get here. GPS Coordinates, 34.914201, -108.485832
We had a great experience at Michael and Tammy's! We ended up having a friend come along with us and Michael and Tammy were very welcoming. Perfect platform tent with fold out bed, bunks, wood stove, cube fridge and bedding and campfire ring. Included great breakfast burritos. ( Thank you Henry) .. Since the location is opposite the Wild Spirit Wolf Ranch you do have an upfront seat to fascinating nighttime serenades.
John
November 2016
My kids and I had a great experience. The description is accurate. Everyone was very friendly and helpful. I suggest visitors call for specific driving instructions - (SENSITIVE CONTENTS HIDDEN)maps is not accurate.
Joanne
May 2016
We toured the Wild Spirit Wolf Refuge on Thursday and plan to be tent camping for the next two days, so a comfortable place to stay with showers and breakfast the next day sounded good. Indeed, we enjoyed our stay at the Candy Kitchen Glamping! It is not fancy, but comfortable. It is just a few feet away from the store with its deli, so we had a good supper at the store and slept well, showered and are looking forward to breakfast. There were two unexpected benefits of staying there: we heard wolves howling occasionally during the night and also saw the Perseid meteor shower!
Richard
August 2016
Staying here turned out to be the perfect three day and two night getaway with kids. Driving in there is El Calderon and Fire and Ice to stop at and then the Wolf Sanctuary and El Moro for the second day. There is plenty of space on the inside of the canvas tent for 3 or 4 people. The wood burning stove works great for heat at night as does the outside fire pit for roasting marshmallows. The walkway is well lit at night if you have to get to the bathroom. There is a spigot for water at the main building so you'll have to carry your water a bit. The shower is nice at the main building and breakfast burritos are tasty. If you are interested in learning about the lava fields and volcanoes in the area I totally recommend staying here. : - )
Leah
October 2016
Тип размещения
Дом/квартира целиком
---
Тип жилья
Палатка
---
Вмещает гостей
4
---
Спален
1
Pinehill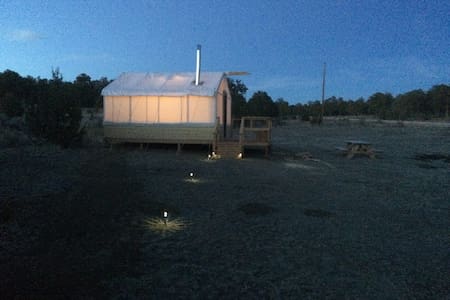 This APT/House is accommodated with full cleaning service daily if requested. It is located right off the I 40. Equipped with hotel standard furniture. This can easily accommodate a very large family comfortably.
Check in just as if you are checking into a normal motel right at our front desk. You will have full access to the entire building. Kitchen under construction We have a full staff of employees that can help accommodate your stay and make it a great one.
great site seeing near by
My stay at Akash's was wonderful. It is located right off the freeway with easy access to travel. The amenities are great and the space has plenty of room for multiple guests. Akash was very cordial and friendly when handling checking in/checking out as well as any questions I had. I would definitely stay here again if I had business or was traveling through NM.
Sailendra
December 2016
Тип размещения
Дом/квартира целиком
---
Тип жилья
Квартира
---
Вмещает гостей
8
---
Спален
4
Grants