Escape from the ordinary! Take the spectacular drive to the Petrolia Guest House on the remote 'Lost Coast' of Humboldt County, California. Formally known as 'The Lost Inn, we are located in the hamlet of Petrolia, just a short walk to the general store and three blocks to the one and only restaurant/bar in our remote valley. We offer a spacious three room suite in the front part of our home, with its own private entrance. It has its own garden with a lovely pastoral view. There is a large bedroom, sun room/bedroom and a glassed in kitchenette porch that overlooks the garden. The bedroom includes a large velvet couch as well as a miniature antique piano. We are one mile from the pristine Mattole River that wends its way through our valley. It affords visitors lovely swimming holes through the summer and fall, and canoeing, river rafting and catch and release fishing through the winter months. We are just 6 miles from the Lost Coast beach which offers tide pools and beach combing. Watching whales and sunsets are a popular pastime. The Lost Coast Beach happens to be the northern end of the Kings Range National Conservation Area and the trailhead of the popular 25 mile Lost Coast hiking trail. This trail is one of the few coastal wilderness hiking experiences in the United States. It is just a short walk to our Mattole Valley Community Center across the street from the elementary school. It offers several weekly classes in yoga and chi gong. Guests could also make an appointment with several very accomplished massage therapists, physical therapists and acupuncturists. There is also a Sunday farmers market there. We are pet-friendly, and will allow your pet to stay on the glassed-in porch next to the bedroom. However, we require a $10.00 fee per night for your pet to stay here. We also have two child-friendly cats and one small dog. We are also wheelchair accessible and have wi-fi available. Some of our guests visit us touring on bikes or motorcycles since we are located on a scenic road loop, about 75 miles long (Rte. 211), between the Victorian village of Ferndale and Humboldt Redwoods State Park just off Hwy 101. Please note that we now have an ATM machine in the Petrolia general store. There is an extra cleaning fee of $40.00 required for 5+ night stay.
Great, lovely space. Phil and Gail were so friendly and helpful. A bit off the beaten path, but a fun small town excursion. Would definitely stay here again.
Liz
2014-06-11T00:00:00Z
Very friendly hosts, a lovely place, a touch of rustic charm, and mind blowing scenery makes this the perfect retreat from hectic city life!
Kevin
2014-03-22T00:00:00Z
Our stay at the Petrolia Guest House on the List Coast was amazing. Gail and Phil are gracious host that have lived here for 35 years. They gave us some great insight that allowed us to make the most of our quick trip. The place is great! A beautiful outdoor garden with a barbecue. It is the closest place to stay near the north end of the Lost Coast trail. 5 miles and you are on Mattole Beach on off on the trail. The perfect place to get off the beaten path and explore the beautiful rugged coastline as well as all the beautiful redwoods on the way in. Shhhhh. Don't tell too many people about this hidden gem.
Dave
2014-04-28T00:00:00Z
Awesome location. We were there fishing and found the kitchen to be stocked with everything we needed to cook.
George
2015-01-26T00:00:00Z
We had a lovely time with Gail and Phil at their home in Petrolia. The guest house was very private and clean, with a beautiful and peaceful garden (complete with a grill, which we made sure to make good use of!). Gail was more than welcoming, and made sure that we were able to find our way to their house and into the guesthouse despite our late arrival. Petrolia is quite remote, with no cell reception, so we appreciated how communicative Gail was in making sure we were able to get there OK. The house is a quick drive to one end of the Lost Coast trailhead, with a beautiful secluded beach and great views and hiking. The windy mountain road up to Ferndale is not to be missed (though also not for the faint of heart, especially at night - make sure you trust your driver). Note the cash payment due to Gail for the bed tax in addition to the Airbnb payment (no surprises on our end since she makes this clear on the Airbnb site and reminded us in a call - thought we would point it out though since one or two of the past reviewers seemed surprised), and that the two bedrooms share a bathroom, and the entrance to one of the bedrooms is through a set of french doors in the main bedroom - also completely fine for us, but definitely an intimate situation for four people. We had an amazing time and would definitely come back - the Lost Coast is really something special, and the Petrolia Guest House is an amazing way to see the heart of this remote and beautiful region.
Daniel
2015-09-08T00:00:00Z
This was a wonderfully magical place with great hosts. They were very accommodating. We had an unexpected power outage while we were there and they were on it right away to start the generator & get the lights back on. We would definitely return if we get a chance. If you are vegetarian bring what you need. The one restaurant has limited choices. Phil & Gail provide your own little kitchen for you to prepare meals.
Jennifer And Ben
2015-04-09T00:00:00Z
Super sweet spot in a lovely little town. We had a great stay. Welcoming and private quarters with everything we needed. Our hosts were generous, friendly, and unobtrusive.
Talia
2014-07-24T00:00:00Z
We had a wonderful stay at Phil and Gail's guest house. They are sweet as can be and take pride in their guest home. Petrolia is near the famed Lost Coast and the scenery is absolutely stunning. We all hope to return just for a longer stay!
Dave
2014-01-18T00:00:00Z
Тип размещения
Дом/квартира целиком
---
Тип жилья
Квартира
---
Вмещает гостей
4
---
Спален
Petrolia, Калифорния, США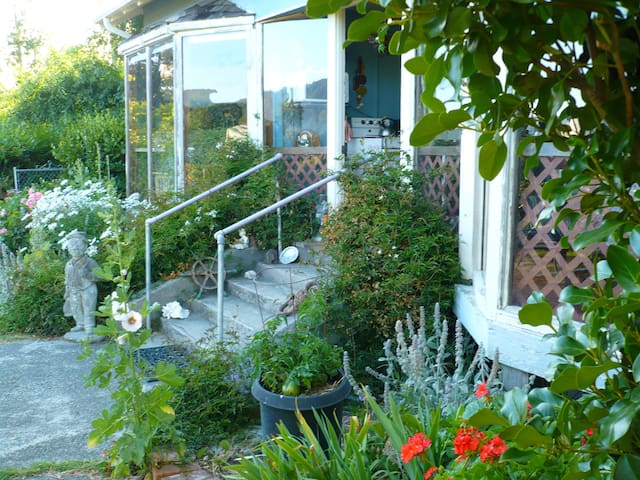 Large Studio Apartment The apartment features a fully equipped kitchen, WiFi, High Definition LCD T.V., with Suddenlink Cable, gas heater, off street private parking, and LOT's of privacy. Also, enjoy a large hot tub in a privately fenced-in yard. One Queen bed.
Private and quiet escape while within 2 block walk to shops and restaurants on Main Street. Ferndale Museum a block away. If you have one or two more guests traveling with you, I have a queen size Aerobed mattress that others have used for kids and extra adults. Four is maximum for the studio apartment.
Only 2 block walk to Ferndale's Victorian Main Street. Quiet residential neighborhood. Five mile drive to Centerville Beach.
Stuart was an excellent host. He greeted us when we arrived and offered us suggestions on what to see in Ferndale. Communication was easy, and I appreciated his flexibility with the check-in & check out times. The rental is charming and comfortable with a lot of privacy. The hot tub is in a secluded nook in the yard, and was hot and ready to use. The location is right off the main drag in town, and the neighbors have sheep and horses that you can see from the deck. I loved staying here and would definitely recommend to anyone looking to explore around Humbolt.
Alia
2015-12-27T00:00:00Z
Our daughter was graduating Humboldt State University over the weekend and from what we heard all of the hotels in town were booked. We searched for a closer Air BNB, but ended up in Ferndale. I am SO GLAD we did. This place was very comfortable, clean and quiet with very nice furnishings. Stuart was a great host. Unfortunately we didn't have time to enjoy the rental as it was a quick busy trip, but the home was a great quiet retreat to get some much needed sleep.
Jessica
2016-05-16T00:00:00Z
Stuart's place is private and very comfortable and Stuart is an exceptional host. We had a wonderful stay here and would highly recommend this airbnb listing to others.
Phil
2016-05-31T00:00:00Z
it was AMAZING !! so cute and comfortable . Stuart had EVERYTHING we needed. Very clean, warm and inviting
charles
2015-12-11T00:00:00Z
Stuart was an excellent host, maintains a very well-kept and pleasant place. Would definitely recommend this place for a getaway or simply a weekend trip to this wonderful part of Northern California.
Krishan
2015-09-07T00:00:00Z
Stuart was the most gracious host we've ever had. He gave us a tour of the home and allowed us to pick some apples and berries from his yard. The studio is clean and the bed is as comfortable as can be, Great WiFi for those who can't afford to log out.
Mercy
2016-09-12T00:00:00Z
Five-star host. The apartment exceeded our expectations! Very nice and cosy. In a quiet location, yet just two blocks away from beautiful Ferndale Main Street. Also enjoyed relaxing in the hot tub after touring the lost coast. Even provided guest bathrobes. We'd love to stay there again.
Ronald
2016-09-14T00:00:00Z
Stuart's place was perfect for a small getaway for my husband and me. It was very comfortable and feels very private. It has everything you could possibly need, including a well-stocked kitchen (minus the food, of course), towels (even robes!), and toiletries. Stuart really thought about every detail and amenity. He was also very communicative, and would get back to me almost immediately if I had any questions. We especially loved his hot tub and the deck. The location is also great — just two blocks from the main drag.
Stephanie
2016-08-24T00:00:00Z
Тип размещения
Дом/квартира целиком
---
Тип жилья
Квартира
---
Вмещает гостей
2
---
Спален
Фёрндейл, Калифорния, США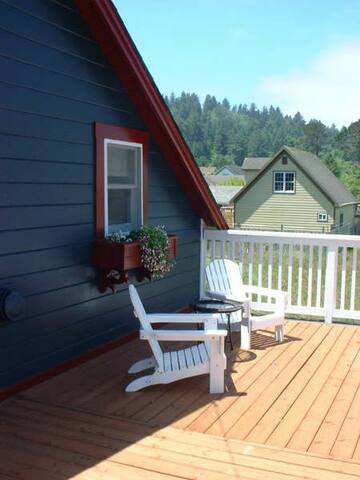 Cute, cozy and fresh. Rohner Suite is a brand new one bedroom apartment in Sunny Fortuna! Situated just minutes from shopping, the hospital, and Rohner Park. This one bedroom features all new appliances, furniture, floors and carpet and relaxing Aesthetic.
The location is a little awkward, but the inside was very comfortable and the little personalized touches were a nice surprise. I loved that they used local companies for many of the products in the unit.
Erin
2017-03-23T00:00:00Z
We stayed here because it is close to our niece's farm. It was walking distance to the one grocery store. There isn't a lot in Fortuna, but if you need this location, this is a convenient rental.
Lori
2017-02-20T00:00:00Z
My husband and I were in town for short trip and needed a place to stay that wasn't a hotel. Staying at Mike's apartment rental was a fine alternative. It was located between two grocery stores, had a clean updated bathroom, and a cute little kitchen. They may check in and super easy which was great because we had a baby with us and having the key in the box that much easier.
Melanie
2016-08-21T00:00:00Z
Rohner Suite is set up really well, with all comforts and conveniences. The location is central, and although there is some noise from the main road, it's really not bad at all. Overall a great stay.
Mori and Greg
2016-12-28T00:00:00Z
Тип размещения
Дом/квартира целиком
---
Тип жилья
Квартира
---
Вмещает гостей
2
---
Спален
Fortuna, Калифорния, США
This is a simple and very clean private in-law studio with private full bathroom and private kitchen. I'd like to accommodate mindful people looking for economical, basic, "down-to-earth" and peaceful place to call it home away from home. If you compare to stylish, "tasteful" hotels/resort, you'll be dissatisfied. I try keeping the place inexpensive by not adding extra furnishings. My place is for people who enjoy hiking in redwood forests, wandering on farmlands or pondering at Lost Coast.
部屋はLDK に 浴槽、シャワー と トイレの部屋の 2つです。 キッチンには 大きな 冷蔵庫もあり ご自分で 料理ができるよう 整っています。 ベッドはクイーンサイズで 1つですが お子様用のマットレスも貸し出し可能です。
Humboldt has many farm lands and small towns. Old-growth forest in Headwaters Redwood Forest is accessible from our town guided by a ranger. (need to call ahead/no fee) Horseback riding is offered in our town. Also, antique shows, rodeos, classic car and beer festivals are held during summer. Spectacular Beaches and Lost Coast Trails are 10 miles west. Avenue of the Giants is 20 miles south. Elk Meadows, Tide Pools, and Fern Canyon are 40~60 miles north. Historical Town of Ferndale is 6 miles west, and cannabis friendly Arcata is 30 miles north. (for many activities, see 101 Things to do Humboldt/North Coast Journal)
Die Unterkunft ist sehr angenehm. Sehr sauber und ruhig. Sehr hilfreiche Informationen sind überall verteilt, so dass keine Fragen offen bleiben. Die Gastgeberin ist sehr nett und unaufdringlich gewesen. Hat uns alles gezeigt und sich zurückgezogen. Man hat den nötigen Freiraum gehabt den man braucht. Eine sehr empfehlenswerte Unterkunft die wir sehr gerne auch wieder buchen würden.
Grazyna (Grace)
2016-06-09T00:00:00Z
My husband and I had a great experience at Akino's house. It was very clean and organize and the pictures show at the post match with the reality. The neighborhood was quite and safe. On our arrival Nona (Akino's daughter) was waiting for us and nicely explained us all needed to stay comfy there. I will definitely stay there again if I am in Fortuna in the future!
Alicia
2016-04-03T00:00:00Z
Akino's place is a great place to relax and have some peace, the backyard is an awesome spot to hangout. Also there is walking distance a supermarket in case you need to buy food, and the kitchen was very functional. Thank you Nona for all your help and hospitality, it was very nice talking and meeting you.
Ryan
2016-04-11T00:00:00Z
Akino was there to pleasantly greet us. The studio was super clean and bright, with a comfortable bed, a great selection of literature, and even a fresh bowl of fruit. I wish we had stayed longer than one night!
Linda
2016-07-20T00:00:00Z
I appreciated the constant contact to confirm the arrival, and deliver instructions on location of the studio apartment. Upon arrival, located on the table were instructions and contact numbers if I had any more questions. Location was convenient and close to a grocery store, and walking distance to the downtown main street. She had a number of tourist pamphlets and maps of the area to make the visit to the area easier to get around. The setting was very quiet with a beautiful garden view. It felt very safe. The drawbacks are no microwave, TV, a dresser, or a big comfortable chair to sit in and read. Other than the lack of microwave, the kitchenette was adequately stocked with the essentials. The Wi-Fi worked well. It was the best price for a good place to sleep close to the center of town.
Jim
2016-06-01T00:00:00Z
We enjoyed our stay at this cute studio. The kitchen had everything we needed and the large window offered a beautiful view if the green yard.
Mirka
2016-08-17T00:00:00Z
Great location and fantastic hospitality. Nona (Akino's daughter) made sure we had all the information we need before arriving and made us feel very taken care of during our brief trip to Humboldt County. The property is a spacious gem tucked in a conveniently located area for exploring the redowoods and the rest of Northern California. I would totally stay here again.
David
2016-04-16T00:00:00Z
Staying In Akino's house was a really pleasant experience. The room was clean and well organized, Akino was really Nice. When we arrived we found some snack bars, Banana, a great selection of teas + mores... I recommend this place !! R.
romain
2016-03-16T00:00:00Z
Тип размещения
Дом/квартира целиком
---
Тип жилья
Квартира
---
Вмещает гостей
2
---
Спален
Fortuna, Калифорния, США
Home Base for the Redwood Coast. One bedroom luxury apartment, just a block or two to all shops & dining. King bed, Claw Foot Tub plus shower, Full Kitchen, big screen TV. Explore the beach, the Redwoods, and more.
This suite features, among many other things, an elaborately carved king bed, a full modern kitchen, a large flat screen TV, your own computer work station (with printer), a roll-in shower, a claw foot tub and very elegant designer appointments. The Living Room hosts a sofa and a nap inducing rocker / recliner easy chair. You will also receive daily maid service. The highly rated VI Restaurant is right next door for your dining convenience, too. You will enjoy a full breakfast there daily, selected by you from the menu,
The location is ideal for exploring the Victorian Village of Ferndale and its environs. It's also a great base for visiting the Avenue of the Giants, Humboldt Redwoods State Park, and to the north, Redwood National Park. There's many great beaches nearby, and local festivals and events abound. THIS PLACE IS MAGICAL!
Lowell was an excellent host, and made sure to follow through with everything a guest could hope for. He checked in on our comfort level but was never obtrusive and truly made us feel welcome in this very charming old world Victorian village along California's famous 'Lost Coast'. We were lucky enough to catch the beginning of a hundreds year old tradition: the Portuguese festival's parade; a rendition of the legend of Queen Isabella's gift of food to her starving peoples. Lowell recounted how as a boy he carried the train of Fernwood's Queen in the parade, and how watching the parade affects him still...this is real California history... Be sure to experience it.
Christine
2015-05-24T00:00:00Z
Check-in was flexible and the service was seriously top-caliber. The location offered a peace of mind like no other-- stay here if you desire a true getaway.
Kyle
2016-11-06T00:00:00Z
We stayed for one night, but wish we could have been there longer! The suite was spacious and beautiful. I highly recommend it, and do plan to stay long enough to explore Ferndale.
Bob
2015-08-09T00:00:00Z
The host canceled this reservation 4 days before arrival. This is an automated posting.
Michael
2016-06-28T00:00:00Z
Lowell was the perfect host and made us feel so welcomed and at home at his Inn. Anna Suite was luxurious and every little detail had been thought of and accommodated for. We felt like a king and queen staying there and the bed was extremely comfortable, the room was quiet, away from the other rooms, and curbside. The food was excellent both for dinner and breakfast and we were pleased in every way. Overall it was a great experience and we will definitely be back and recommend this place to our friends.
Camy
2015-06-01T00:00:00Z
We stayed in the Anna Suite. The suite was three rooms with a full kitchen and large and gorgeous bathroom, complete with a claw foot tub. Super private. The entire place was stunning and beautifully appointed but it didn't quite have the victorian feel that the rest of the hotel has. It's right next to the hotel with its own private entrance on Main Street. The hotel itself is stunning, a jewel of Main Street. If you wander upstairs you can find photos of the hotel from the late 1800s. The restaurant and tavern are beautiful and period appropriate. We had dinner at the restaurant, VI, and the food was pretty good and the service excellent. Breakfast the next morning was just as good. We had excellent service from Zachery who checked us in and out and who brought stuff that we needed to our room. He made great suggestions as to things to check out around town. Lowell, the owner, was very welcoming and amiable and knowledgeable about events in the area. We will gladly come back but next time will take a room in the hotel proper. It was a wonderful suite and we'd highly recommend it.
David
2015-05-25T00:00:00Z
Lowell made us feel welcome and special. The town of Ferndale is absolutely charming and beautiful. The Victorian Inn is gorgeous.
Lottie
2015-10-15T00:00:00Z
Lowells place was awesome. We stayed in Anna's room and it was very large and comfortable.
Dave
2016-08-06T00:00:00Z
Тип размещения
Дом/квартира целиком
---
Тип жилья
Квартира
---
Вмещает гостей
2
---
Спален
Фёрндейл, Калифорния, США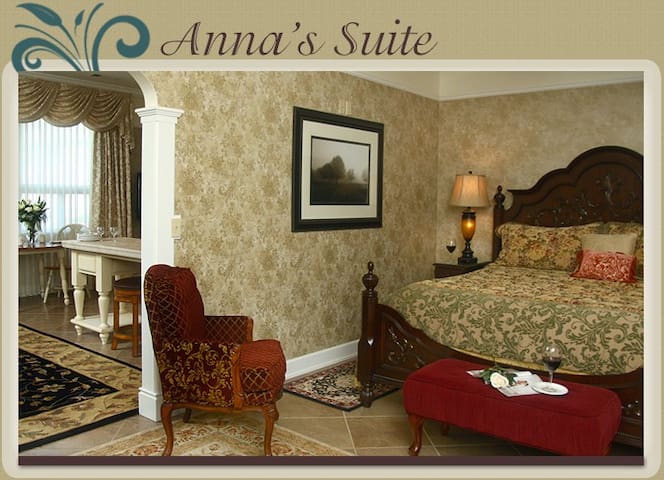 1

–

5

из

5 квартиры в аренду
Введите даты, чтобы увидеть полную цену без учета дополнительных сборов и налогов.