Введите даты, чтобы увидеть полную цену без учета дополнительных сборов и налогов.
2 объявления
· Russellville
2 объявления
· Russellville
Private space that is relaxing and comfy shared in our home.
The room is on other side of home and quiet for guest sharing living space with my husband and I. The kitchen will be available to our guests and private bathroom during your stay. Guests will have parking and we can accommodate smaller RV parking or motorcycles if traveling through. Guests will have a private comfy queen size bedroom with TV and use of a full bathroom. Guests may share kitchen space and deck with family. A small pet may be considered with pre-approval only and must sleep in crate or pet bed only. Family of two plus one Jack Russell. Husband & I enjoy our guests but will respect your privacy if you need to catch up on some zzzz's
Quiet area and close to lake Dardanelle and very near Interstate 40 Will need own transportation for travel or sight seeing We typically cook a nice breakfast for our overnight guests unless we have a early commitment the next day. Coffee & juice provided.
Nice, quiet neighborhood. Billie and Matt were great hosts and also provided brochures for local hikes. Accommodations comfortable and clean. Toiletries and water bottles were provided upon arrival. Highly recommended!
Shaun
October 2016
I felt right at home staying here. Very comfortable and welcoming. Received some good tips on places to see in the area. Short drive to Lake Dardanelle.
Ryan
November 2016
Room was in a very nice, clean home in a quiet neighborhood a few miles outside of town. I didn't get to spend time with Billie Ann because she was called away for family matters, but she was excellent at communicating through messages. My birdy boys stayed in their travel cages in the living room, and I got to enjoy the super-comfy bed in the tastefully decorated guest quarters. Electronic entertainment is available in the room for those who want it, but I elected to read a book. A note for the noise-sensitive: there is a large clock in the house that chimes every 15 minutes, but earplugs help with that. Overall, we were very happy with the stay and thank Billie Ann for hosting us.
Lisa
September 2016
Billie Ann was welcoming and helpful. I had a great night of rest. Thank you
Victor
December 2016
Matt was very welcoming and really made me feel at home. I did not get to meet Billie Ann as she was unexpectedly out of town although she was very communicative through text messages. The room was very clean and accommodating. I would have stayed and visited more with Matt had I not been in a hurry to get back home. Will definitely look to stay there again next time I'm passing through Arkansas.
Bruce
September 2016
A home away from home. Billy and her family made mee feel right at home. They went the extra mile in adding small touches to welcoming me into their home. The were incredibly generous and great company. I was hiking in the area and Billy's home is a great base location to visit many of the state parks.
Heike
December 2016
Тип размещения
Отдельная комната
---
Тип жилья
Дом
---
Вмещает гостей
2
---
Спален
1
Russellville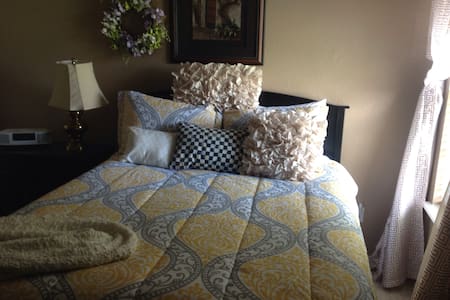 Our beautiful brick home is located in the heart of Russellville. Wifi is available with room, also access to kitchen and bathroom amenities, washer and dryer available.
We are open minded people, don't care what your race, religion, sexual orientation, ethnicity, you name it, we don't mind, as long as you're a good person. Also 420 friendly Bathroom, kitchen, Laundry, Wifi, parking, Once or twice per day depending on what they might need
Great neighborhood, very diverse, quiet, in a SAFE neighborhood, have a 4 year old that stays on weekends but doesn't live here full time, there is parking on the street There are taxis, wouldn't mind giving you a ride for additional fees, depends on where you would like to travel to Just please be respectful
The host canceled this reservation the day before arrival. This is an automated posting.
Stacy
Clean bed and much needed laundry room. Just off the highway and close by a few restaurants.
Damon
August 2016
Everything was tidy and as described!
Robert
November 2016
Overall my road trip buddy and I had a great experience at Cody and Ryan's home. They were welcoming, accommodating and we felt comfortable moving about the house. They do have a child and a couple of small dogs which was perfectly fine with us. The child was very well behaved and the dogs were very sweet and friendly. Their roommate was also very welcoming as well. If I ever pass through the area again I will be sure to go back here! Thanks :)
Hynda
July 2016
Тип размещения
Отдельная комната
---
Тип жилья
Дом
---
Вмещает гостей
2
---
Спален
1
Russellville