Введите дату прибытия в формате дд.мм.гггг
Введите дату отъезда в формате дд.мм.гггг
Объявления, которые вы можете забронировать, не дожидаясь одобрения от хозяина.
Введите даты, чтобы увидеть полную цену без учета дополнительных сборов и налогов.
В июле и августе этого года вы сможете открыть для себя один из сотни самых лучших домов, с самыми разными ценами, и увидеть долину Сонома, какой ее видят местные жители. Круглосуточное прибытие, мгновенное бронирование, местное вино и закуски помогут вам расслабиться и насладиться поездкой.
This is a private, single unit about 30 feet from the family home which accommodates 2 persons comfortably. Sleeping accommodations include a queen size bed and a twin sleeper couch. Additional accommodations include refrigerator, sink, table, microwave, wi-fi, satellite. Pets are not allowed.
The guest house porch has two adirondack chairs. There is a Pawley's Island hammock as well. Park along the west side of the guest house. Take the walking trail to Lake Meredith, approximately 100 yards from the guest house. We are available to offer assistance anytime.
There are three resident dogs. They are friendly and well behaved, but they are also very alert when they meet people or pets for the first time. Their names are Louie, Sunny, Simón, and an occasional visitor, Osita.
This was such a lovely stay in such a beautiful spot! The place was charming and well kept. My only regret is that we couldn't stay longer!
Caitlin
August 2016
Kiki was a great host! The views from the floating dock at sunrise and sunset were unforgettable. The birds on the lake were fantastic to watch.
Jeff
October 2016
Kiki was very warm and welcoming! We had a wonderful stay and will definitely be back!!!
David
November 2016
I had such a great stay! Kiki and her family were so welcoming to me and my little dogs. I couldn't be more grateful that they allowed me to share a little piece of their beautiful home. What a perfect getaway. Thank you. I hope to visit again.
Lesley
September 2016
Available, gracious, accommodating host. Peaceful, beautiful Sante Fe style casita. Definitely accurate listing.
Valerie
June 2016
Kiki and her husband and the dogs all greeted us warmly. It was nice to chat with them a bit and find out about the area and the history. They were happy to answer our questions. The 'beach house' was idyllic and peaceful, clean and comfortable. We couldn't have asked for a better place. Just wish we could have stayed a bit longer.
Elizabeth
May 2016
Great stay at Three Dog Night! Kiki was helpful, hospitable, and welcoming. We spent three days, two nights exploring SE Colorado. The Three Dog Night guesthouse was a great location for our travels - Bent's Old Fort, Comanche Grasslands, La Junta (visit the town's Otero Museum). The 3Dog facility was lovely and comfortable for the two of us. Lots of room, nicely appointed, spotless, with large kitchenette with microwave, toaster, and coffee maker. Lovely view of Lake Meredith from the porch. Nice touches such as the bedside tables that were old school room desks, but with power strips (why don't hotels do this??) Things to know: 5 miles to the nearest grocery, 15 miles to restaurants - but at 60+ MPH on country roads, not that much time. If you are looking for a comfortable, secluded location in SE Colorado with great views, 3Dog is the place to be!
Stephen
June 2016
Three Dog Night was a wonderful oasis for our family while visiting the Cheyenne National Grasslands and Bent's Fort near La Junta. After a night camping at Picket Wire and the long hike to and from the dinosaur tracks, it was wonderful to arrive at the lovely and well cared for inn in Sugar City. Kiki and Richard were so welcoming, even at the late hour we arrived (the hike out of Picket wire is looong). The in itself is an accessory dwelling to their lovely adobe home. I was impressed by the attention to small details (lavender and rose pedals in the bathroom, lovely peppermint body wash, fresh tulips, details about migratory birds on the lake and locations to visit) and thoughtful inclusions (bins in the closet to unpack into, an iron and board, dishes, coffee pot/coffee and cream, a hammock to relax in outside the cottage, ...everything we needed was there, and so thoughtfully placed. My 3 kids slept comfortably on the sleeper sofa and my husband and I took the very comfortable bed. Our dog Boddy slept in his dog bed on the floor. The kitchen (no stove..but had a microwave) allowed us to prep food at the inn which saved $ and allowed more time for exploring the area. While the inn/cottage was awesome, the best part for us was the owners and our hosts, Kiki and Richard. What wonderful, kind, interesting people! In the morning we were greeted with a treat for us, and our dog. Kiki and Richard are incredibly knowledgeable about the area's history, attractions, people, places, parks..and just in general. Could have easily spent the afternoon drinking coffee and chatting with the two of them. They also have 3 lovely dogs and took time to introduce our dog to theirs so he could run around the lake property. Three Dog Night was one of the highlights of our 3 day stay in the La Junta area. Call or text Kiki for directions, and..enjoy your stay!
Susan
April 2016
Тип размещения
Дом/квартира целиком
---
Тип жилья
---
Вмещает гостей
4
---
Спален
1
Sugar City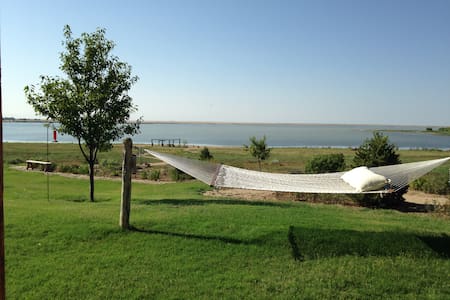 An unusual experience is waiting for you! Historic 1890 bunkhouse refurbished in western style on a 7,000 acre working cattle ranch on Horse Creek, ten miles north of Ordway in Southeastern Colorado. Relax and hear the sound of silence, see the vastness of the plains and the planetarium nights. Witness the golden sun rise or watch its crimson fall behind Pikes Peak. Sometimes you can hear the hoof beats of Cheyenne ponies or grinding of wagon wheels on a Kit Carson wagon train. The spirits of th
An unusual and peaceful experience is waiting for you! Historic bunkhouse refurbished in western style on a 7,000 acre working cattle ranch on Horse Creek ten miles north of Ordway, in Southeastern Colorado. Relax and hear the sound of silence, see the vastness of the plains and the planetarium nights. Witness the golden sun rise or watch its crimson fall behind Pikes Peak. Sometimes you can hear the sounds of Cheyenne ponies or grinding wagon wheels. The spirits of the west are all around you. An unusual and peaceful experience is waiting. Spend your time doing absolutely nothing or explore the ranch and the area. Hike, bike, star gaze, bird watch, arrow head hunt, photograph, paint a landscape or hunt in season. Bring your horse and we will board it. Swim, fish or boat on two large lakes just 10 miles away. Day trip ventures out include historical sites at Bents Fort, Sand Creek Massacre, Bogsville, Amanche and the petroglyphs at Vogal Canon. Visit fascinating local museums and a plethora of valley antique stores. Have a beer at the Columbine Saloon in Ordway and admire the antique bar. Just have an unusual experience and a peace filled stay at Trainor Ranch. Guests may roam Horse Creek or the entire ranch on foot or by horseback. Driving is ok with owners direction.
Everything!!!! Guests must have there own vehicle to get here and get around while they are here.
The host canceled this reservation 22 days before arrival. This is an automated posting.
Matthew
William was a great host! The place was easy to find with GPS and he was there to greet us as we pulled in, along with his adorable dogs! The "BUNKHOUSE" is a beautiful place to stay and very comfortable. There were two of us and our dog and we felt like there was so much space! I highly recommend this place to anyone who is looking for peaceful quiet, big open starry skies, and comforts like home!
Heather
October 2016
We loved the bunkhouse! It's great and unique and I'd highly recommend staying there. I stayed with my boyfriend who is a birder and for all other birders he says "Saw killdeer, Say's Phoebes, barn swallows, and a barn owl all from the yard". Highly recommend!
Amanda
September 2016
We had a wonderful week long vacation at The Bunkhouse; this place truly is a hidden gem in Colorado. Everyone was extremely welcoming and friendly upon arrival; including the dogs LOL. If you are looking for something out of the ordinary this is definitely the place. William is a great host and has some awesome workers on hand. We hope to stay again with him soon.
Danielle
September 2016
We had a fantastic time at the Bunkhouse. Bill was extremely friendly and courteous, and we enjoyed every minute of our time there.
Alex
August 2016
Great place to stay. Everything was as described or better. Perfect for those looking to be away from the city. I would stay again. Was also well stocked and William was a great host.
Cody
September 2016
Awesome place to stay to get away from it all!!
john
August 2016
William was a great host! We enjoyed the serenity of the ranch, and loved playing with the most friendliest dogs that roam around freely. I would stay here again soon!
Sasha
August 2016
Тип размещения
Дом/квартира целиком
---
Тип жилья
---
Вмещает гостей
8
---
Спален
2
Sugar City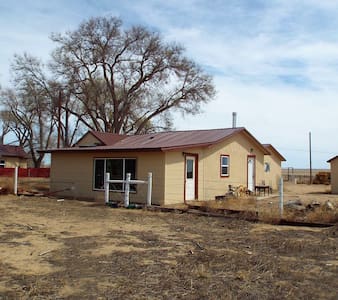 Experience big living in a tiny home featuring chemical-free interior, kitchenette, 3-piece bath, one queen-size green choice mattress, and a comfy full-size futon. Visit Dinosaur Tracks, Bent's Old Fort. Enjoy our pool & mini-golf or golf at the La Junta or Rocky Ford public courses and visit the NEW Dean Micro-Brewery. If you are a fan of Mexican food, it's here! Farmer's Markets abound with local produce in the summer months. Ride in on Amtrak - car rentals available here!
The Tiny Home was wonderful - we really enjoyed it!
Marc
September 2016
Our first "tiny house" experience and we loved it! Rod's place is brand new and very modern, with lots of IKEA touches! Clean and efficient. Perfect for two people though you sleep one to two people on the downstairs pullout couch! My husband and I slept in the loft with a very comfortable mattress. The perfect location for us to visit family!
Heidi
October 2016
It was exactly as advertised. Family of 4 stayed there and it was great. Will be recommending to friends.
James
September 2016
Rob graciously gave me a ride from the Amtrak station upon my arrival to the Little Home. I used one the rental cars to go to Bent's Fort. This worked out very well. Next morning a ride station. Very easy and very efficient.
Albert
November 2016
The tiny home is super cute and clean and new. Kids enjoyed putt-putt on the KOA grounds. Enjoyed having our own tiny "yard" outside of the tiny home. Perfect for those who don't enjoy being shut up in a hotel room!
Kate
November 2016
Enjoyed my first stay in a tiny home and first time on the prairie. Great chance to try it out before visiting the factory in La Junta.
Charles
August 2016
The tiny house is wonderful and brand new! Owner is very responsive and helpful. It is located in a KOA. Great value and beautiful place!
Jonathan
August 2016
Amy and I had a great stay in a clean, comfortable, and very cool tiny house built by Sprout in La Junta. The bed was excellent. The tiny house stayed cool without air conditioning even though the outside temps hit . We travel for business often so this was a fun departure. Adding to the accommodations was the welcoming staff of the KOA campground, where we were treated like family. The location was easy to find and quiet at night. We heard coyotes and owls during the full moon. And we can't say enough about the fantastic people of La Junta, in general. What a great town for a hiking and biking weekend. Rod was polite and helpful throughout the accommodation. The setup was easy and our first Airbnb outing was a complete success. Thank you, Rod!
Michael
September 2016
Тип размещения
Дом/квартира целиком
---
Тип жилья
---
Вмещает гостей
4
---
Спален
1
La Junta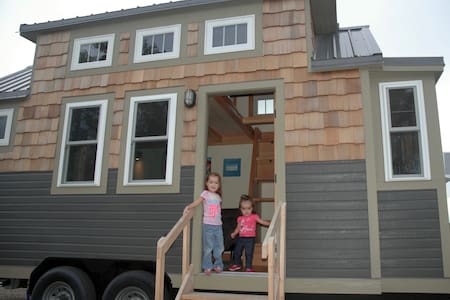 Affordable, Quiet & Private 1 queen bed in efficiency apt. Includes a kitchenette, 3/4 bath w/ shower. Basic accommodations. Pet friendly housebroken pets only. No vicious animals allowed. No illegal substances, smoking or marijuana on premises.
Small but comfortable with everything you'll need for a goods night rest! Access to everything within the apartment. Owner on-site in a separate unit and available for checkin and any questions.
Easy access to shopping, restaurants, and highway 50. Walk, bike or drive. Small rural, friendly, agricultural town. Arkansas Valley Fair. Watermelon capital of the world. Sweet cantaloupe , antique stores.
The host canceled this reservation 66 days before arrival. This is an automated posting.
Russell
Debbie went out of her way to make sure that we were well taken care of and comfortable in our stay. Cute little apartment in a charming little town. Comfortable living room and well stocked with food and toiletries.
Jeff
September 2016
Тип размещения
Отдельная комната
---
Тип жилья
---
Вмещает гостей
1
---
Спален
1
Rocky Ford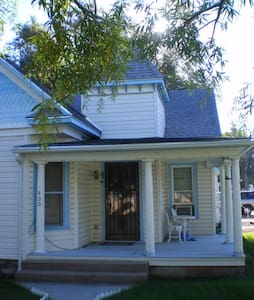 There lived a wireless network. The neighbors are very good live nearby.
Тип размещения
Дом/квартира целиком
---
Тип жилья
---
Вмещает гостей
4
---
Спален
1
Haswell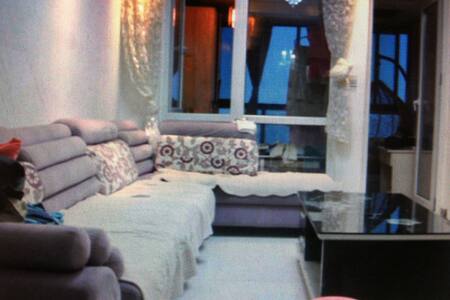 3 bed 2 bath home on east side close to airport
Тип размещения
Дом/квартира целиком
---
Тип жилья
---
Вмещает гостей
3
---
Спален
3
Пуэбло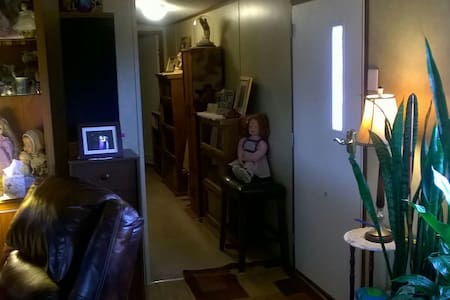 BLM access 1 Block away. Mountain Bike, Hike, Dirt Bike, etc. 20 Min to Beaver Creek. 30 Min to Vail.
Back Deck and Grill. Walk to town and restaurants. Approx 1 mi to excellent bus service. 1 off street parking spot. Use of kitchen and Deck. Variable
Safe, small, neighborhood with excellent I-70 access. 1 mile walk to Excellent bus service If you haven't been to Eagle it's worth checking out. Happy to help with conceirge type suggestions.
Тип размещения
Отдельная комната
---
Тип жилья
---
Вмещает гостей
2
---
Спален
1
Игл