Найдите жилье на Airbnb в г. Норвич
Находите целые дома и отдельные комнаты, которые подойдут для любой поездки.
Жилье для отпуска в Норвич
Любимое жилье для отпуска в г. Норвич
Больше жилье для отпуска в Норвич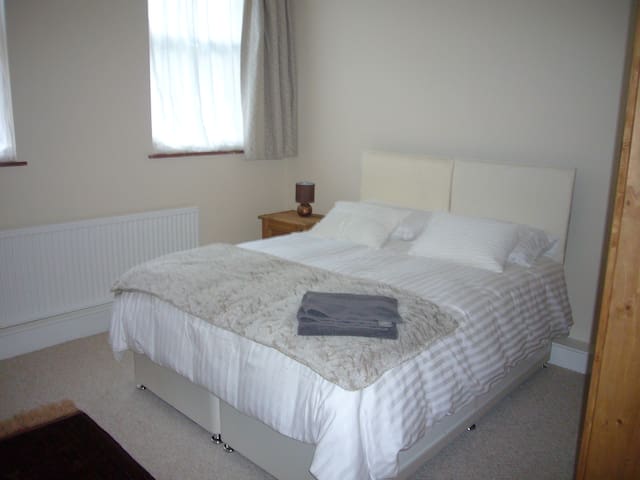 6366₽
Desirable city centre B&B
---
Spacious room on the ground floor of a period building. Set in a very central location in historic St Giles, 2 minutes walk to the market square and close to all amenities. Shared bathroom with separate toilet. The location is hard to beat, convenient for shopping, sightseeing and eating. Everything is in walking distance. Bedding is all natural fibres and 100% cotton sheets. A simple breakfast will be provided for those who would like it; coffee, tea, cereal, toast, fruit etc although it may be self service depending on breakfast time. Access to lounge and kitchen for preparing drinks but no access for preparing meals. Coffee and tea available. Wifi available. I'm always interested in meeting new people but respect their privacy and preference for solitude if that's what they want. I live on the premises but work and have a fairly busy schedule most of the time, however a chat over coffee is always welcome if the opportunity arises. You can walk all over the city centre easily from the flat. In my street is a lovely deli/doffee shop that does cooked breakfasts. The market square and the Forum are only a 5 minute walk. Chapplefield shopping mall has high street shops and House of Fraser and The Lanes have more independent stores as well as high street shops too. Pottergate and St Benedicts Street are good if you're looking for a coffee but you can find great places to eat and drink everywhere. You can walk to all areas of the city centre easily from the flat. There is a Tesco Metro about 5 minutes away. The station is the furthest being on the other side of the city centre and takes me 20 minutes to walk to. Depending on arrival time I may be able to pick guests up on arrival. One visitors permit is also available for on-street parking if needed, by prior arrangement please. The room is sold on a bed and breakfast basis. The kitchen isn't available for the use of guests at other times. Please confirm check-in time prior to arrival. This will normally need to be after 4pm.

подробнее
Alice
Clare was a very welcoming and accommodating host, taking time out of her day to meet us with the keys. The flat is in an excellent and beautiful location and, like others have mentioned, the bed was very comfortable. Clare was very respectful and we found it a very relaxing and pleasant experience using her home as our base during our visit to Norwich! Many thanks!
Fiona
A lovely place to stay. Clare was friendly, welcoming and interesting, and invited us to make free with the fridge. Breakfast of toast, cereals, fresh fruit and yoghurt was accompanied by great, fresh coffee and fruit juice. The room and bed were comfortable and clean, with lovely bedding, and the whole place is airy and bright. The bathroom, which we shared with Clare, had a great shower. The location is central; restaurants and the city centre are walkable. We'll happily use Clare's place again when we come to Norwich.
Jamie
Clare's apartment is located perfectly for a city centre visit - the market and all the big shops are less than a 10 min walk. Clare made me feel like a friend visiting rather than a paying guest - I felt at home immediately. The room is large, warm and the double bed has high quality bedding and pillows - a detail that lets so many other places down! There is a large desk in the room for guests to use for a laptop or maps etc and wifi is available. Clare gave me a residents car pass for my stay which was a huge help too, as parking in city centres is so often a pain. Breakfast included some of Clare's home baked spelt bread - delicious.....
Alan
Clare house was spotless, very central and incredibly tidy. Clare has been friendly, yet respectful of my spaces. So far, it has been one of my best experiences on AirBnB.
Constanze
Clare was supernice! Very very beautiful apartment. Bed is really good, too. I love the neighborhood - very old street and right in the city centre. And good internet connection. Room comes with a desk and chair, so I stayed home and worked sometimes. Clare gave me good advice, made me feel at home, we watched a series together in the evening. Didn't want to go!
Trevor
Located in a delightful part of the city which is within easy walking distance of the city centre and a quick bus ride to the University from right outside the door. Clare is a lovely, very welcoming host who gives you the freedom of the house and is very helpful but in an unobtrusive way. I'd highly recommend staying here if you're visiting Norwich for a short stay.
Mo
Lovely quiet and comfortable room in a beautiful historic building: very convenient location just a few minutes from the market and castle. Clare was very friendly and helpful and made our stay a relaxed and happy one.
Roger
Clare's flat is in an excellent location on the edge of the city centre. It's a lovely modern flat (in an old building) with heaps of character, lovely high ceilings and abundance of natural light. The shower is great and the bed is extremely comfortable. Clare is a very friendly host who strikes the right balance between giving her guests space and being there if needed (or just to chat to). Her coffee is pretty good too! Highly recommended.
Исследуйте другие направления