Введите дату прибытия в формате дд.мм.гггг
Введите дату отъезда в формате дд.мм.гггг
Объявления, которые вы можете забронировать, не дожидаясь одобрения от хозяина.
Введите даты, чтобы увидеть полную цену без учета дополнительных сборов и налогов.
В июле и августе этого года вы сможете открыть для себя один из сотни самых лучших домов, с самыми разными ценами, и увидеть долину Сонома, какой ее видят местные жители. Круглосуточное прибытие, мгновенное бронирование, местное вино и закуски помогут вам расслабиться и насладиться поездкой.
My place is close to the historic Promenade and 2 blocks from our beautiful downtown and restaurants. Clarinda has 3 fine museums- Nodaway Historic Museum, Glenn Miller Birthplace Mueum, and The Clarinda Carnegie Art Museum. You'll love my place because it is a beautiful historic house filled with period antiques. Enjoy our home while you are away from yours!. My place is good for couples, solo adventurers, and business travelers.
Beautiful home. Great room upstairs with a close bathroom. Breakfast was delicious. Hosts friendly and warm. A treasure in Clarinda for sure.
Aline
July 2016
Тип размещения
Отдельная комната
---
Тип жилья
---
Вмещает гостей
2
---
Спален
1
Clarinda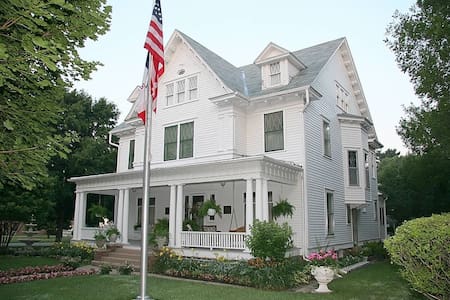 Great studio apartment in Atlantic - perfect as getaway retreat in the Iowa countryside, or as a stop-over on Interstate 80 between Chicago and Denver. This is your private set of rooms on dedicated floor. Located between Des Moines and Omaha.
The space is in lower level of my home. Its been renovated with full living room area, separate bedroom with double bed, dedicated full bath - and even an office room for the traveling businessperson! Xtra guests? - an extra twin bed is available in a second room. A made-up sofa is also available. Large closet, laundry facilities in full laundry room - all in a full studio/style apartment. Space fully furnished. Refrigerator, toaster oven, microwave, toaster and coffee maker all for your private use (there is no stove/oven in the space). You can come and go as you please ! BEST OF ALL - nice person lives upstairs! Dedicated access to studio apartment and parking for your car in the garage. Also please enjoy the beautiful back yard and garden in the Spring, Fall and Summer. I am retired woman that has been lucky to host some really lovely people over a few years. The apartment/studio is very large so I can give guests space - although I am available to chat should you wish. We use separate parts of the house. Your studio will be on the ground floor with separate, dedicated access. My aim is to provide separation giving more privacy than would otherwise be possible in a B&B home. My aim is to provide some comfortable and affordable accommodation for travellers, in a gorgeous location. I will be able to assist in local knowledge and tips for getting about. If I can help let me know. I hope you will choose to stay here and I am happy to answer any questions. Have a great stay in peaceful Atlantic, Iowa, I hope to have the pleasure to meet you and help you enjoy your stay.
With rolling hills and broad stretches of flat plain, Atlantic's natural setting provides ample opportunity for outdoor recreation and scenic home sites. It is busy and progressive with activities and events year round. We are also close to the popular antiquing town of Walnut and the Danish town of Elk Horn. Perfect for a peaceful getaway in a medium-sized Iowa countryside town. Also ideal as a stopover between Chicago and Denver - minutes from I-80. Avoid those boring (and expensive!) chain motels on the highway and enjoy a peaceful, affordable stay with me. Some guests walk down the block to the YMCA to use the large indoor swimming pool and fitness center (3 min. walk).
Karen's private basement apartment was everything (and more than) I needed for my quick trip to western Iowa. The unit was very clean and spacious just as described. Karen's hospitality was the icing on the cake as she was very friendly and accommodating with check in time and providing suggestions of restaurants/things to do in the area. Will definitely stay again!
Benjamin
September 2016
Karen has definitely spent a whole lot of thought and work to make her rental meet just about everything any renter might want and need. This is a rental that tourists using I 80 should certainly consider. There appears to be no competition from any nearby airbnb's, and the local hotels cost much more.
Robert
November 2016
This was my second stay in Karen's apartment; and, once again, I was very pleased with the accommodations and the hospitality. Karen makes every effort to see that guests have a positive experience. She provides a cozy, home-like place to call "home" for a few days.
Lois
August 2016
This spacious garden apt was uber comfy, very clean and tidy, and had more than was needed for an overnight stay. Karen is friendly and attentive to details. What a fantastic hostess. She was available to make our brief stay really pleasant while being respectful of our personal space. She was always only a phone call away though had already anticipated most of our needs in advance. We plan to make this a favorite stop over on our Chicago to Lincoln, NE trips. A true hidden gem a midst the rolling farmlands of Iowa.
Heidi
October 2016
Karen's apartment was exactly was we were hoping for and more! My son and I came down to visit my grandmother for a couple days to give her a little break from the nursing home. She walks with a walker and we couldn't get over how convenient it was that you can pull your car into the garage and enter the apartment from there, no steps at all. The apartment is much larger than it seems in the pictures. It is beautiful inside and very homey. Karen provided muffins, bagels and cream cheese, yogurt, coffee, and orange juice for breakfast. She also had tea, hot chocolate, and popcorn available. She literally thinks of every detail to make your stay there a wonderful one! Even chocolates on the nightstand! We definitely plan to return! :)
Tina
April 2016
Great amount of space! Cute little town, super quiet, and Karen's place is immaculate. The little breakfast she provides, coffee, popcorn, etc were so nice! She definitely goes above and beyond.
Nora
June 2016
What a great place to stay! I have stayed here several times on business trips. Looking forward to my next stay!
Susan
December 2016
Very nice and comfortable apartment in the basement of Karen's house. We were welcomed with homemade lemon cake. As we had mentioned to her that the purpose of our stay was to visit the nearby Danish villages Karen had very kindly checked opening hours of museums and restaurants and made little notes for us.
Annemette
July 2016
Тип размещения
Дом/квартира целиком
---
Тип жилья
---
Вмещает гостей
5
---
Спален
2
Atlantic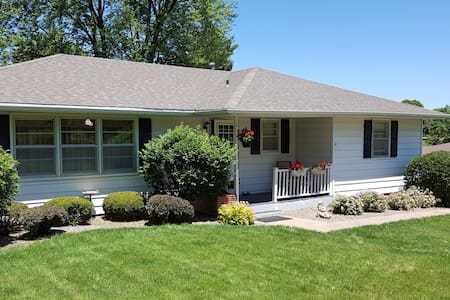 Project Art Church is a re-purposed 140 year old Presbyterian Church and now artist studio/loft. It was last used as a church in 1969. The historical society owned it until 2012 when sold to the current artist/owner.
The guest quarters is in the downstairs portion of the church. The kitchen is remodeled with concrete counter tops, kitchen island and has a industrial stove top. You will be surrounded by original oil paintings and eclectic art. The upstairs sanctuary is used as my personal studio. I am happy to show you the space when you arrive! I will meet you upon arrival and live within close proximity to the church. I also have Family in town that is available to help with any problems that may arise.
We are located in a small rural community of 1200 people and only a block from main street. Close proximity to the Wabash Nature Trail which is 63 miles of groomed path for biking and other activities. Walking distance to a bakery, 2 cafes, bar, and a grocery store. Main street services and the Wabash Trace Nature Trail are within walking distance. Malvern is located 10 miles from Glenwood Iowa and 35 minutes from Downtown Omaha's Old Market. There are two cats that reside in the upstairs sanctuary. This is an active studio space often used between the hours of 9-6pm. There is no washer and dryer available, but the laundromat is just a few blocks away.
A little gem in the small town of Malvern Iowa. Right near the Wabash Trace for cycling which is what we love to do. We were surprised by the size of the space and the great kitchen. I believe it had a commercial gas range. Taking a close look at Zack's art and funky additions is worth the price of admission. We could have spent all our time inside his place. With the Classic Café in walking distance, It's a great little getaway. Thanks Zack.
Steve
June 2016
Zack's space is unique, welcoming, and quite charming. It's very clean, and the kitchen is great for anyone who likes to cook. There are great surround sound speakers where I easily plugged in my iPhone, and it added a lot to our stay. The space is two blocks to the beautiful Wabash Trace Trail for walking and biking, and about one block to the center of town. The local restaurant owners are the kind of friendly you'd expect in a rural community, and the same goes for the shop owners. Amazing bakery/ pizza shop is a must try! Zack is a talented artist with a kind spirit who seems to be known very well for his art throughout the town. He has great communication, as well. Loved our quiet getaway in Malvern.
Allison
January 2017
Zack was quite accommodating to me as our arrival changed to an earlier time. I did not get to meet him, but his artwork that fills Project Art Church said more than a thousand words. We received a warm welcome note on the counter and felt completely relaxed. The living space was quite spacious and absolutely unique! The neighborhood was quiet and the perfect place for a peaceful getaway. The small business block was quaint and what one would expect. The Wabash Trace Nature Trail was a short walk and a definite highlight for us as we took full advantage of this beautiful trail. We had a country breakfast at C & M Cafe the morning we left. The service and quality of food was exceptional. I would definitely stay here again and recommend Project Art Church to the Air BnB community.
Nick
October 2015
Zack was there when we arrived and showed us the unit and his studio up stairs. He then made dinner and breakfast recommendations. In previous communication he had recommended the local Bodega Victoriana Winery as we were there for a girls wine weekend. Great recommendations all around! The winery was fantastic as was dinner at Classic Cafe. We were looking for a unique play to stay for a reasonable price and Project Art Church delivered! Would loved to have stayed another night and been able to explore the town of Malvern. Small towns vary and this appears to be one of the good ones with a lot going for it. Definitely met all our expectations! Thanks :)
Sarah
August 2016
Although I never saw Zack face-to-face, he was always readily accessible via text. I had to cancel my first reservation at the Project Art Church on very short notice due to a death in my family. Zack was completely understanding and refunded the majority of my payment immediately--something that he wasn't required to do. I was glad to be able to rebook with him a few weeks later when business took me back to Omaha. I arrived late on a Sunday evening and hadn't planned ahead for limited dining options in the small town of Malvern. But, no worries. Zack had left farm fresh eggs, zucchini, and cucumbers in the fridge. With the bottle of wine I had packed in my suitcase, I was all set. I left very early each morning and returned late in the evening because of my work schedule, but was able to enjoy a couple of the local restaurants later in the week. Classic Café is a must...especially the coconut cream pie if it's on the menu. I was regretting the fact that I had not gotten a chance to see Zack's gallery when I sent him a text on Tues. evening that I would be leaving early the next morning. He kindly told me to go on up early the next morning before I left and take a look around for myself. The studio and his paintings were incredible in the early morning light. I'll definitely be back the next time business takes me to Offutt Air Force Base. Zack's place was an easy 30 minute drive and so much more enjoyable than the chain hotels in downtown Omaha. Plus, I want to get another look at those paintings! Thanks so much, Zack! You now have a loyal customer.
Ann
July 2016
My husband and I stayed at Project Art Church for a quiet evening away. It was the perfect peaceful setting. Zack was a friendly and gracious host; we very much enjoyed meeting him and learning a little about the church and the community. The living space is beautiful and full of unique touches and artwork. Zack's art is gorgeous. I don't typically sleep well away from home, but this bed was really comfortable with the firmness adjustable on each side separately. I slept great here. We had the most delicious philly cheese steak sandwich at the Classic Cafe and enjoyed the laid back, friendly feeling there. Had breakfast and coffee at Moreau's Bakery. We liked the quaint atmosphere downtown and the brick streets, and it was only a block from the church. Lastly, I fell in love with Winston the cat - one of the friendliest cats I've ever met. We didn't see much of the other cat, Angel. If you're not a cat person, they have other places to stay. We had a lovely time and will definitely go back to Project Art Church again if Zack will have us!
Laurie
November 2015
What a wonderful weekend we had at Project Art Church! The space exceeded our expectations. Everything about it was fantastic. The art, the comfort level, the amenities, the town. I really can't say enough about how cool the space was - so many interesting things to look at. Plus, Zack went above and beyond to make us feel at home. We walked down to Main Street (1 block) and had breakfast both mornings (C&M and Classic Café), had dinner one night (Classic Café) and ventured over to the Bodega Victoriana Winery for a wine tasting one afternoon. We also took our bikes and rode the Wabash Trace on a lovely fall day - you can catch the trail about two blocks away. We had the trail completely to ourselves (with the exception of a few deer that we saw). It was the perfect small town getaway only 40 minutes away from Omaha! Thanks Zack - we'll be back.
Erinn
November 2016
I would absolutely recommend staying here! What a unique experownce to stay in this ongoing church art project. It was awesome to see all of Zach's paintings throughout the apartment, and also we had access to visit the art studio as well. The beds were extremely comfortable, the apartment had so much character, it was one of pur favorite places we have stayed to date.
Sherry
May 2016
Тип размещения
Дом/квартира целиком
---
Тип жилья
---
Вмещает гостей
4
---
Спален
1
Малверн
No smoking No pets. Two private bedrooms with double bed. Full bathroom. Fully equipped kitchen. We want you to feel at home in your own private space.
Тип размещения
Дом/квартира целиком
---
Тип жилья
---
Вмещает гостей
4
---
Спален
2
Atlantic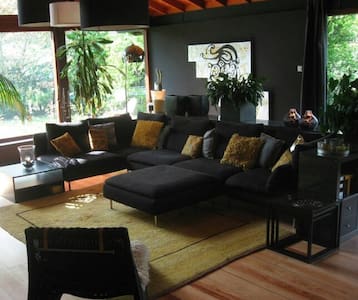 A two story farm home, built in 1917, nestled next to a working farm, thick timber, and rolling hills. This cozy home is a breath of fresh air with a spacious porch to enjoy your morning coffee. A great place to stay; life is good in the country!
Wifi, Laundry facilities, home- like atmosphere, 1 stall garage, fishing and hunting close by As needed
$65/night for up to 2 guests $10 additional for each guest thereafter Perfect set up for large family gatherings, construction crews, and hunters.
We had a wonderful stay at the Timberview. It was a perfect home away from home for our family of 6. We loved the rural, farm location. Definitely a "best kept secret" sort of place to stay!! We would totally move in here if we could!! The breakfast casserole was delicious and the hosts were accommodating and available without being overbearing. Cannot say enough good things about the Timberview!!! The accomodations were perfectly represented, and exactly what we were in need of. Thank you for opening this home to guests, you are doing a great job.
Liz
October 2016
This is a great big old house in the country, quiet with a great sunrise view and farm right out the windows. We love the large space and being able to cook and accommodate a family and grandparents all together.
Karri
November 2016
Our host made us feel very welcome. Our kids enjoyed the farmhouse, it was warm and cozy, and we felt right at home. She made a delicious breakfast casserole to heat up, and provided additional breakfast items to accommodate our large family. If our travels ever take us by the area again, we will most certainly look up Timberview.
Paige
December 2015
This place was awesome! Karen (the host) lives in another home on the same property, and she made a breakfast casserole for us every morning (and homemade cinnamon rolls twice)! We loved it. The home is a historic townhouse, set on a farm out in the country. Our kids loved playing with the cats and the dog. If we're ever in the area again, Timberview B&B will be our first choice.
Tom
October 2016
A unique place with most of the original features preserved lovingly by the wonderful host. Lots of charm all round.
elizabeth
September 2016
Such a cozy home surrounded by plush farmland. This is truly a diamond in the rough.
Alexander
December 2016
Jennifer was great about communicating the details of our stay. She made us feel really welcome at the farm by letting her grandma know we were coming, describing life on the farm, and telling us what to expect. Even though we arrived late, all of the lights to the farm were on and there was a kind note waiting for us. Jennifer's grandmother even prepared a breakfast casserole for us and had it waiting in the fridge for us to heat up the next day! What a treat. The farm is beautiful and the rooms were all spacious, clean, and comfortable. This was a great place to stay in southwestern Iowa.
Toby
October 2015
My family and I had an awesome stay at Timberview. We stayed there for our annual fishing trip and all 10 of us were very comfortable in the house. It was nice to be able to be together in one place to cook meals and just hang out. Everything was as advertised and overall it was a great experience.
Randy
May 2016
Тип размещения
Дом/квартира целиком
---
Тип жилья
---
Вмещает гостей
8
---
Спален
4
Shannon City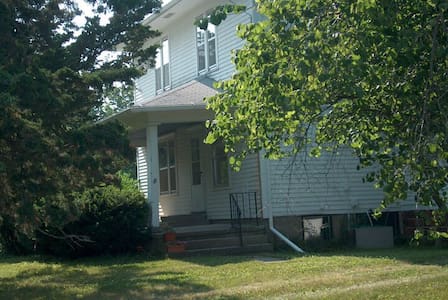 This retreat sits on the west edge of Creston, Iowa 1/2 mile west of McKinley lake. It is a beautiful setting of ponds and rolling hills. The Inn keeper Sandra Harris will be there to greet you and make you feel at home. Please call 641-344-5478.
The lodge and guesthouse are a place where you can feel at home. Comfortable leather furniture, fireplaces, and large screen TVs will encourage you to relax. Internet, dish network, grills, whirlpool, and sauna. The retreat sits on 80 acres, with 2 large fishing ponds, 2 decks, lounge chairs,and 3 kitchens. Any questions please ask.
I am outside city limits, so it is a country setting. Just 1/2 mile is McKinley Park and Lake. I am 2 miles west of the downtown of Creston. On weekends, there is a two night minimum stay.
Тип размещения
Отдельная комната
---
Тип жилья
---
Вмещает гостей
9
---
Спален
1
Крестон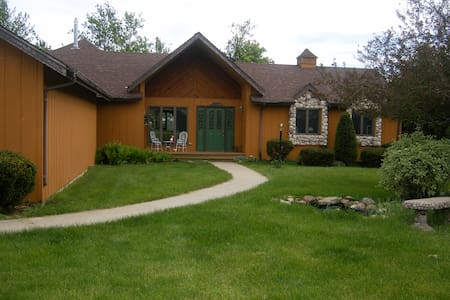 You'll love Antler Hill because of reunions with family and friends, the sound of the frogs in the evening and meadowlarks in the morning, the site of deer dancing across the fields, cooking together, kids fishing in the farm pond, and the gentle roll of the hills all around. This place is great for families (with kids) and big groups. Antler Hill is close to Lake Anita State Park, Crestwood Hills Golf Course, restaurants and dining, great views, and tons of family-friendly activities.
Please note that an additional 7% tax will be levied on all charges payable to the State of Iowa
Тип размещения
Дом/квартира целиком
---
Тип жилья
---
Вмещает гостей
16
---
Спален
5
Anita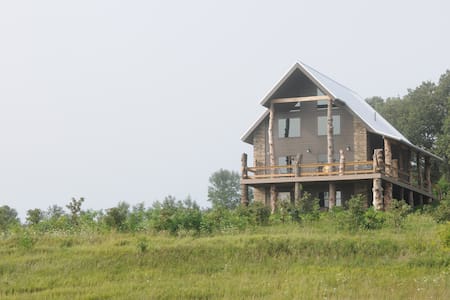 Enjoy a relaxing retreat in the country. Unwind on the deck or Zen porch. Explore the natural amenities offered in the area. Much of the house will be shared space, but I offer two private bedrooms. One with a queen bed and the other a twin.
Guests have access to shared spaces in the house including kitchen, dining room, living room with fireplace, laundry room and bathrooms. They can also access the man cave to play pool. Several outdoor seating areas are available including Adirondack chairs around the firepit. A kayak can be used to check out one of several nearby lakes. Little interaction, but will be available if needed. Since some areas are shared space, may be interaction certain times of day.
A friendly golden retriever also lives here.
Welcoming comfortable house. Perfectly equipped kitchen. Very spacious indoor & outdoor spaces. We had a peaceful , relaxing afternoon on the beautiful deck. Denise was a great host and we will be back.
Petra
October 2016
We had a fantastic weekend and having such a wonderful place to stay was a big part of it! Denise and her husband and mom welcomed us when we arrived later than we thought on Friday and we had a wonderful time visiting and were very comfortable all weekend. The house is beautiful as well as well as the setting amongst the rolling hills of south central Iowa. We would highly recommend this place to anyone who would love to experience the beauty of the mixture of small lakes, trees/forest and rural Iowa crop farming life.
Cheryl
September 2016
Тип размещения
Дом/квартира целиком
---
Тип жилья
---
Вмещает гостей
3
---
Спален
2
Афтон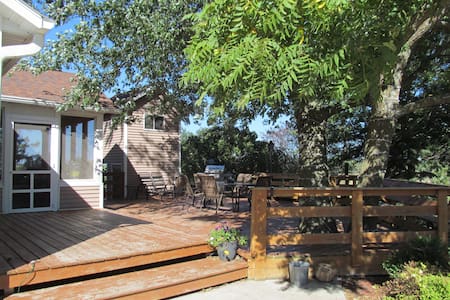 Buck Run Lodge has great views of big Iowa skies, a 10 acre farm pond filled with fish and frogs and dragonflies, and the rolling hills of southwest Iowa. It is the perfect place for families and friends reconnecting. It is next to The Event Center at Buck Run Iowa, a venue for reunions, celebrations, weddings, and other events, and across the pond is Antler Hill Lodge which can host an additional 16 guests.
Please note that an additional 7% tax will be levied on all charges payable to the State of Iowa
Тип размещения
Дом/квартира целиком
---
Тип жилья
---
Вмещает гостей
10
---
Спален
4
Anita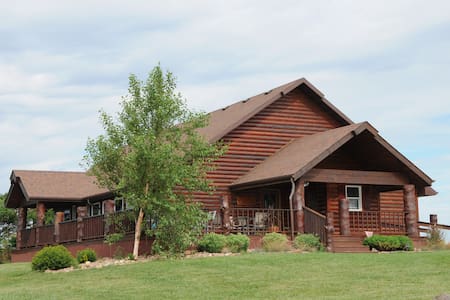 I've got this nice 4 room 2 bath house, but there's only one of me, so plenty of room to go around! It's centrally located in the city of Atlantic just up the street from the modern YMCA.
Nice fenced in backyard with built in grill Anything! The basement is closed off from the upstairs, which is also where the laundry room is. There is also outside access from the basement. As often as they want when I'm around
Everyone is way friendly here, both my neighbors and the town in general. It's available, but not needed in a smaller town like this
Kyle was very nice and very polite young man. The neighborhood was very quiet. The house was very nice inside and out. We really enjoyed staying there and would highly recommend it to our friends and relatives. Nick & Bobbi
Nick
August 2016
Тип размещения
Отдельная комната
---
Тип жилья
---
Вмещает гостей
4
---
Спален
1
Atlantic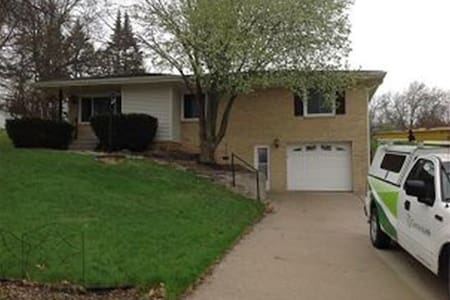 Beautiful, large, family friendly, private living space complete with full kitchen, bath, bedroom and living room .
This is a Beautiful, large living space able to host your entire family. Guests have access to private living space with full kitchen, full bath, living room and bedroom. I am in constant contact with my guests to ensure their stay is the best it can possible be.
The space is located on a beautiful, tree-lined street of historic homes in a family neighborhood. Everything you need during your visit is just two blocks away on Main Street. -Grocery -Restaurants and Lounges -Bakery -Doctor Attractions located in town. -Wabash Nature Trail -Malvern Public Pool -Fairview Country Club and Golf Course Malvern is small town America.:) Travel and transportation are very easy..
Тип размещения
Дом/квартира целиком
---
Тип жилья
---
Вмещает гостей
6
---
Спален
1
Малверн