Введите дату прибытия в формате дд.мм.гггг
Введите дату отъезда в формате дд.мм.гггг
Объявления, которые вы можете забронировать, не дожидаясь одобрения от хозяина.
Введите даты, чтобы увидеть полную цену без учета дополнительных сборов и налогов.
В июле и августе этого года вы сможете открыть для себя один из сотни самых лучших домов, с самыми разными ценами, и увидеть долину Сонома, какой ее видят местные жители. Круглосуточное прибытие, мгновенное бронирование, местное вино и закуски помогут вам расслабиться и насладиться поездкой.
We are on the edge of the middle of nowhere. Our back-to-the-basics "Shipping Container Bunkhouse" is designed for one, but two can stay if someone wants to sleep on the couch below the bed. Note: The twin size bed is standard length, NOT an extra long!! Taller folks might want to sleep on the longer couch below OR book our other listing, "The Garden Shed" which has a king size bed. Guests have bathroom/shower access in our (separate) house, about 120 steps from the cabin's front door.
We have a second cabin at our location but we try not to book both at the same time. Think of this cabin as more like a wooden tent---no modern amenities in the cabin itself, but access to bathroom, kitchen, grills, and WiFi in our separate home. The twin size bed is standard length, not extra long. Taller folks might want to sleep on the longer couch below or book our other listing, "The Garden Shed." The cabin is about 100-120 steps from our front door. Guests get one of our bathrooms in the (separate) house to themselves while they are here. There is always someone home and we will interact with guests as much or as little as they want.
Some of the words used by other guests who have stayed here are "Secluded, Unique, Rustic, Quiet, Cozy, Scenic, Unique, Hospitable" BIKERS: Please note that there are FIVE MILES OF GRAVEL ROAD from US Highway 16 to our place. There is a parking area at Dewey Rd and Hwy 16 where you could park your rig and toybox for the day, and unload your bikes there. You cannot "Hear Me Now!" There is NO cell service at our location. However, we do have satellite Internet, WiFi, and an old fashioned landline. If you book, PLEASE pay careful attention to our directions for getting here; don't rely on GPS or online map programs. As one guest aptly stated, "GPS is speculative at best in this area, and very misleading at worst." We have had people end up 40 miles away in a different county by relying on their GPS instead of our detailed directions!
Janeen and Loyd make you feel right at home. The say they're originally from the north, but I think they must have southern genes in there family tree somewhere because their hospitality would rival anything coming from the south. Upon arrival I washed of the summer heat with a quick shower then joined them for a delicious stew dinner which Janeen had prepared, along with some home-made bread. I was up fairly early the next morning so I could get a jump on all the biker traffic (Sturgis Rally was going on) Janeen had coffee and an egg/cheese/potato casserole already going (I ate more than I intended, but it was so good I couldn't help myself). I slept great in the SCC. Even though it was August, the temperature cooled off rather quickly with the window open on the one end and the door open on the other with a fan blowing out the door for circulation. At about 9:30-10 it had cooled off enough that I was able to turn off the fan and close the door. I left the window open since it was right by the bed and allowed for a cool breeze to come in. I initially slept with the blanket off but had it handy to pull on later if needed. It was, and I did. One thing to keep in mind though. The twin bed stretch across the entire room, which is 6ft wide (I'm 6ft) If you're over 6ft tall and sleep on your back or stomach, you may need to sleep on the couch below which is longer (but narrower). At 6ft I bumped my head a couple of times on the 2x4 frame. Not hard, but enough to remind me they were there. Great people, great place, I would highly recommend!
Steve
August 2016
We stayed in the shipping container this week and loved the glamping! Janeen and her husband went over and above in the hospitality department: snacks and drinks in our cabin, delicious hot dinner and breakfast served for us, not to mention the incredibly beautiful property and surrounding views. Definitely recommend, we'd love to go back for a longer stay someday.
Amy
August 2016
Janeen and her husband were wonderful hosts! We were given clear, precise directions and had no trouble finding the ranch. The storage container home fits two comfortably, and Janeen provided extra sheets, snacks, and drinks for our stay. Waking up feeling refreshed, we saw the sun rising above the beautiful South Dakota land. Janeen made us an amazing breakfast and included homemade bread for us to take with us! We also got a tour of the ranch and were able to visit with the mules, horses, and miniature donkey. Overall, we had a wonderful stay, and I would reccomend Janeen's cabin for anyone looking for a relaxing retreat in the fresh outdoors.
Lauren
August 2016
Janeen was such a great host by giving me a clear heads up about details ahead of arrival, a delicious meal, great tips on local hiking including showing me herself some of the great scenery! Their home is located in a breath taking area and the rustic "shipping container" was the most affordable glamping I have ever enjoyed! I would highly recommend staying with these lovely people if you get the chance!
ember
August 2016
Тип размещения
Отдельная комната
---
Тип жилья
---
Вмещает гостей
1
---
Спален
1
Dewey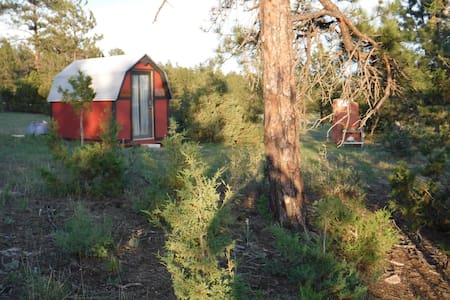 We are on the edge of the middle of nowhere. In fact, online maps do not recognize our address and place us about 30 miles away from our actual location! Our rustic cabin features a king size bed, chemical toilet with hand washing station. Guests have bathroom/shower/kitchen access in our (separate) house. Just an hour from Mt. Rushmore and many other Black Hills attractions! If you book, pay careful attention to our directions for getting here; don't rely on GPS or online map programs.
We live on the edge of the middle-of-nowhere. If our guests want to get away from it all---this is the place to be! Although the cabin is rustic, and only has a chemical camping toilet, our guests have access to our kitchen, grill, campfire pit, and a full bathroom in our home. As much or as little as they wish. We serve a hot farm-style breakfast each morning but also provide granola bars, yogurt, fruit, juices and coffee as staples.
We are off the beaten path, very rural, very quiet. You can hear coyotes at night and view a starry sky so brilliant it almost seems like it isn't real! BIKERS: Please note that access to our place is 5 miles of gravel road. If you have a "toy box" there is a large parking area where our road meets US 16, ie---you could haul your bike to the pavement in the trailer, leave the trailer there for the day. You won't be able to "hear me now!" There is no cell service at our home, but we do have WiFi.
Janeen and Lloyd were such thoughtful hosts. I was immediately made welcome and the accommodations were just fantastic. Sitting together around a fire on the first evening was a very special treat as well.
Shari
August 2015
Janeen and Lloyd were incredible and friendly hosts. We arrived late in the evening to a bonfire with both of them waiting around it for our arrival. In the morning, we were treated to a delicious homemade breakfast and a tour of their amazing ranch; including a meet-and-greet with all of the mules, horses, donkey, ducks, chickens and dogs... and wild turkeys. It was truly hard to leave the hospitality, gorgeous scenery and friendly animals behind. We hope to return in the future.
Jake
June 2016
Janeen: The Garden Shed was so much fun! Janeen and her husband greeted us with delicious dinner that we ate around the campfire – dinner was delicious and sitting under the stars was relaxing. The Garden Shed is truly off the beaten path in the most peaceful way. There is a fan and small woodstove inside that could accommodate whatever temperature we were feeling. The directions were specific and worked for us perfectly when the GPS decided to stop working. :) All of the animals were so much fun to see and pet! Janeen sent us off with a hearty, wonderful breakfast, and we won't forget their kindness. Thank you so much!
Olivia
June 2015
Janeen and Lloyd were wonderful hosts from the get-go! Before we even arrived, they recommended a great place for dinner. Since we arrived after dark, Lloyd even met us at the turn-off to help us navigate our way to their ranch. We were like long-lost friends as we shared conversation together in the gazebo, listening to the night sounds. The garden shed is very private and the bed was cozy and warm. We even saw the Milky Way before turning in. Janeen stocked the mini fridge with water and juice and yogurt and there was a basket of snacks if we needed it, which is so thoughtful! Great breakfast the next day and a meet and greet with the miles and horses made our stay especially memorable. Good value, off the beaten path, close to Mt. Rushmore and friendly hosts make this a great place to stay!
Becky
September 2016
Spent a night while staging for my hunt in Wyoming. This was a perfect spot to get away from the rat race, clear the mind and recharge the batteries. The hospitality is second to none and the accommodations are very comfortable.
cory
October 2015
Hôtes chaleureux et accueillent qui nous ont offert le soupé et le petit déjeuné ! C'est un endroit idyllique et majestueux, parfait pour se ressourcer. Vous êtes comme coupé du temps, du monde, entouré par la nature et le silence, en un mot ce lieu est magique et les hôtes sont adorables !
Eric
August 2016
It doesn't get better than this if you're looking for the true ranch experience. My friend & I loved every minute of it. A beautiful location, very comfortable "shed," incredibly gracious & generous hosts, and friendly animals to top it off. Janeen & Lloyd are wonderful in every way, and you'll leave with so many great stories, photos and maybe even some tasty snacks!
Anne
September 2016
What a wonderful couple! Janeen and Lloyd went out of their way to make sure we arrived safely and felt welcome. The space was warm and comfortable and larger than we expected. They had a fantastic breakfast ready when we woke up - biscuits and gravy and muffins and coffee. This couple is great and so full of stories, and we'll definitely be back!
Lindsey
June 2015
Тип размещения
Отдельная комната
---
Тип жилья
---
Вмещает гостей
2
---
Спален
1
Custer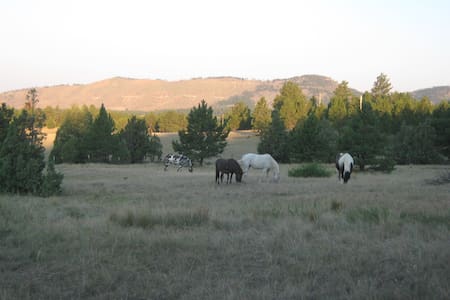 2600 square foot, handcrafted log home on 8 acres surrounded by Black Hills National Forest and prairie. Using local wood and stone, this home has 3 bedrooms, 3 bathrooms and a family room. Gourmet kitchen. Great room w/fp. Amazing mountain views.
Unique and beautiful as this handcrafted log home is, the setting makes it truly spectacular. While this home exudes peace and quiet, nothing the Hills has to offer is very far away. The property sits six miles from Rochford the quaint village featuring the famous Moonshine Gulch Saloon, a place the community gathers and where on most Sundays local musicians gather and perform for hours. Hill City, 25 minutes away, is the 1880's town that features the historic steam train rides on the 1880's train. Hill City is something of an artist colony with numerous galleries, shops, restaurants, and even three wineries. Sites such as Mount Rushmore, Crazy Horse, Custer State Park, and Needles Highway lie minutes beyond. If you drive north 30 minutes through Rochford you will arrive in Lead,Deadwood and Terry Peak areas. Here you can enjoy skiing, Wild West reenactments, or test your luck at one of Deadwood's many casinos. Beyond the manmade sites, this area is an outdoor person's paradise. Fly fishing in the Rapid or Castle Creek watersheds is close at hand. The trail head for the entire Black Hills system of ATV and snowmobile trails is just a couple miles away. Deerfield Lake and its renowned fishing is four miles up the road. The Michelson trail for great biking, Nordic skiing, or snow shoeing is just down the road in Rochford. Marked and unmarked hiking trails through the National Forest abound. However you choose to spend your time in the "Hills" this home is a great place to wake up and enjoy coffee by the fireplace, finish your day rocking on the porch, enjoying a fire in the fire pit or a barbeque on the gazebo, or sharing time before the big screen TV in the family room while the popcorn pops and the fire blazes. Circling Skies Lodge is a one of a kind hand crafted log home. What makes this location unique? This home sits at the transition of the forest and the prairie. Surrounding Circling Skies Lodge is US Forest Service land. Adjoining this property is Pe' Sla,a high alpine meadow that is the spiritual home of the Lakota Sioux. It is believed by them, that this is the location of the battle between good and evil. Located at 6000 feet of elevation, the vistas overlooking the mountains draw one in to sit, relax, and watch wildlife graze and eagles soar. As you approach the front entry of this beautiful home, and stand before the 8' door know you are in for a treat. Beyond lays the Great Room. Its soaring ceiling is held in place by massive log purlins, lit with a 21 light bronze chandelier, and cooled with a 6 foot ceiling fan. Beneath you is wide pine planking of local Ponderosa Pine, chosen to give this new home a warm aged look. Be drawn toward the large gas fireplace finished with Black Hills slate. Surrounding the fireplace are glass doors and windows bringing the outside into the home. As you sit by the fire gazing out the windows, think of the history; stagecoaches crossed this land, carving a ravine at the bottom of the hill, as they approached the stage stop at the old Reynolds ranch just down the road. Custer and his men rode along that stage route. Sitting here you feel you are enjoying a piece of Americana, connecting with the Old West. Adjoining the Great Room is the Dining Room. Sunshine filtered through stained glass windows over the buffet creates an inviting space to share meals and play games. The kitchen features granite counters, stainless appliances, abundant maple cabinetry with pine cone knobs and hand painted pine branch detailing, and a mosaic backsplash that incorporates art tiles chosen to highlight elements of nature found in the area. The log walls of the main floor master bedroom suite give this room a real coziness. Close the Roman Shades and feel like you are in your own world. Pass the walk in closet and enter the master bath. A compact laundry room off this bedroom makes doing laundry convenient. Ascend the open log staircase to the loft, where two bedrooms share space with a cozy sitting area and TV. The bathroom features a hand crafted copper sink installed in an antique pine wash stand. The walkout lower level features a family room designed to bring back the feel of the Old West. The large corner gas fireplace is the focal point of this room along with a large high definition TV. The wet bar with hickory cabinets and a snack bar for eating, refrigerator, microwave, foldout couch and bathroom make this floor a separate living space. The large wrap around porch off the great room is covered in the front and furnished with rockers, gliders, and hammock giving you every opportunity to sit, relax and enjoy the view. The north side shares an open deck and gazebo. The perfect place to barbeque and enjoy dinner overlooking the fire pit. There is a two car garage and ample parking. Once you have a confirmed reservation and payment I will send you detailed directions to Circling Skies along with information about how to get in.
Beautiful setting with lovely cabin. A bit off the beaten path which we loved. Quiet. Within reasonable driving distance to all the local sites. I would definitely stay here again.
David
July 2016
Honestly, the welcome package and information prior to arrival was all we needed! We never needed to contact the owner and the available brochures placed inside the home were a great assistance to our SD adventures! Circling Skies Lodge is a beautiful home, and it was nicely furnished.
Richard
September 2016
Circling Skies is a beautiful log home that truly completed our Black Hills vacation and experience. The home is beautifully furnished and well equipped. The views are outstanding and the large wrap around deck was the perfect place for morning coffee and cocktail hour relaxation after a day of touring the Hills. We saw deer, some with fawns at their side and other wildlife every morning and every evening. Everyone in our party without hesitation would return to Circling Skies.
Kevin
August 2016
Тип размещения
Дом/квартира целиком
---
Тип жилья
---
Вмещает гостей
9
---
Спален
3
Hill City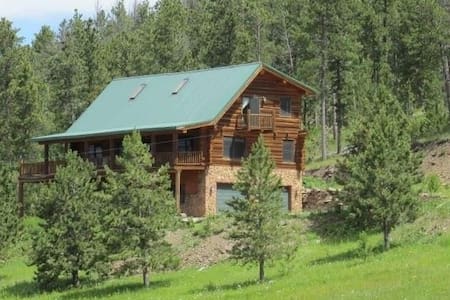 The lower level of our home will offer you peaceful solitude as well as quick access to local attractions. We are located only 5 miles from downtown Custer.
Humble Acres is an Appalachian style log home situated on 12 acres which adjoins the Black Hills National Forest. Your stay with us will offer you a tranquil retreat with a calming environment, allowing you to rebuild your body/mind/spirit in a serene setting just a few miles from downtown Custer, SD. I have read that many First Nations peoples consider the Black Hills to be the spiritual center of our universe. Our property will give you the quietness needed in order to find that peace, renewal, direction or connection that you are searching for. We can see that our guests are anxious to start their adventures in the morning so we will be serving a continental style breakfast. You might see fresh fruit, yogurt, granola, cheese as well as protein bars, just to name a few items, which will keep you full while you are sightseeing around the area. We can modify the breakfast to meet any special dietary needs. We invite you to stay in our comfortable lower level walk-out which has your own private entrance. Our accommodations include a bedroom suite with a queen size bed, bathroom and your own personal living space which includes a refrigerator, coffee maker and microwave. We will be there when you arrive to show you around the home and answer any questions/concerns you may have. If at any time during your stay you have further questions we will always make ourselves available to help in any way we can. We are very familiar with the Black Hills and can provide recommendations of local attractions, hiking/biking trails, etc.
Our home has an open staircase to the main floor so when guests are relaxing in the living room area only, the sound may carry up to the main area of the house. There is complete privacy in the remainder of the space. Fortunately, we aren't in the house much and if we are we are typically in the loft area of the house. We have no cooking facilities except for a microwave.
Debra greeted me with a smile and was welcoming from the moment I arrived. She was understanding of my last min booking and flexible with my arrival time. She has a beautiful home with a wonderful space for hosting. I loved how quiet it was where she lives. Please know to drive slow on the road as there are lots of wild life, yet another wonderful part about her home. Debra made a wonderful breakfast in the morning and helped direct me to things to do! Such a wonderful host!
Nicole
June 2015
This home was exquisite! It was like heaven on Earth. The spectacular views, the sweetest host ever...I felt spoiled in every way possible. Deb is such a treasure! I wanted to put her in my pocket and keep her, she's such a sweetheart. No detail went unnoticed. I can't say enough good about this amazing place! Bring a good flashlight, and don't count on cell service. Kick back, unplug, and watch the frolicking wildlife. It doesn't get any better than this!
Shani
June 2015
Bill and Deb have an amazing place and they are great hosts. The cabin looks like it came out of a story book. We can't wait to visit again when we can stay longer.
roger
June 2015
All instructions were very clear and we immediately felt most welcome.
Michel
July 2015
We were welcomed us very warmly. Great first impression–everything was clean and tidy when we walked in, and very spacious. Humble Acres is in a magnificent, idyllic setting in the middle of the forest with a well tended garden, two friendly horses and Creek the cat. There was an abundance of breakfast food. Deb and Bill gave us valuable tips for touring the area. Overall, a very pleasant and comfortable stay and perfect for somebody who enjoys staying in a country atmosphere not far from town.
Linda
August 2015
Humble Acres is a beautiful house in an idyllic setting. The horses, chickens and a friendly cat made for wonderful company. Deb and Bill are great hosts who looked after us in every way. The breakfasts were delicious, the bedroom was very comfortable and the wood-burning stove was most enjoyable. Can't imagine a nicer place to stay in the Black Hills area.
Mary Alice
June 2016
This was our greatest experience so far with Airbnb. Humble Acres was beautiful and very convenient to all the sites we wanted to see. Great tasting breakfast and even snacks to take with us on our trips. The living space was beautifully decorated and made you feel right at home. Deb worked with us when we arrived later than expected and was very helpful in helping us plan our outings each day. I certainly hope we can return sometime to stay at Humble Acres again. Just an absolutely awesome place to stay if you are in South Dakota!
Deborah
October 2015
This place is more beautiful than the photos. Hosts are friendly, accommodating, genuine. Great attention to details- even flashlights for when we came back at night and a walking stick for hiking. Black Hills are gorgeous. This property is on a gravel road and backs to Custer SP. private entrance and patio was wonderful. So much to do within 10-30 mins. Great restaurants, breathtaking views, blissful peace and quiet. We were sad to leave. So glad we stayed long enough to see the sights, hike their property, and fully enjoy where we were. The horses and chickens at the barn, the deer that strolled thru the yard, and the elk bugling on the hill were unexpected bonus.
Pat
October 2016
Тип размещения
Отдельная комната
---
Тип жилья
---
Вмещает гостей
2
---
Спален
1
Custer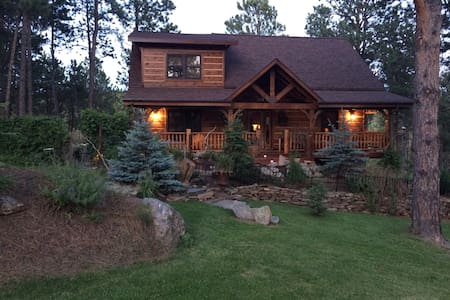 This 5 th wheel has a queen size bed w/ private bedroom, double hide a bed. CLEAN & NICE. Has a side by side ref., stove, & Micr. Ov, 2 recliners, TV, washer, dryer and shower. Will be equipped with everything you need to enjoy your stay.
to have a great stay. Kitchen has pots and pans, dishes and silverware. Will have towels and washcloths and bedding. You will have full access to the 5th wheel, be able to come and go as you please and will not be bothered by the owners. If you need our help with your stay we will be available for any questions or concerns. We will greet you when you arrive, give you the keys and welcome you and hope you enjoy your stay.
We are surrounded by pine trees, on 2 acres, Upton is less then 5 minutes away, no close neighbors and it is peaceful and quite. There is plenty of parking, there is no public transportation. We are located at the foot of the black hills, within in a hours drive to Sturgis, MT. Rushmoore, Crazy Horse, Deadwood and Custer. Also, you can have access to the back deck,BBQ grill, picnic table and fire ring.
Тип размещения
Отдельная комната
---
Тип жилья
---
Вмещает гостей
4
---
Спален
1
Upton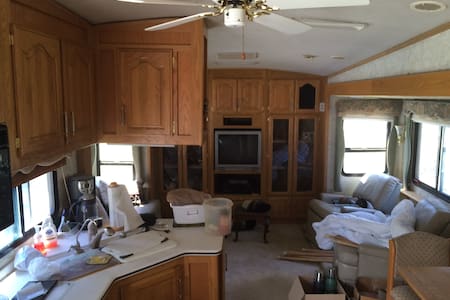 A Fisherman`s Paradise
The Lakeside Cabin, an outdoor enthusiasts retreat and a fisherman`s paradise! Guests of the twin-home will enjoy the private, Deerfield Park Lake, which is fed by Slate Creek. Located 11 miles outside of Hill City surrounded by Forest Service and ATV trails. Snowmobiler`s will also delight in the winter trail system close by. Guests of this home rave about the wildlife seen here! Very close to local hunting as well. Bedrooms: 3 Bedrooms (1 loft, 2 bedrooms) Bedroom 1: 1 Queen (Main Level) Bedroom 2: 1 Queen (Upper Level Loft) Bedroom 3: 1 Queen (Upper Level) Additional Sleeping: 1 Full Sleeper Sofa (Main Level Living Area) Bathrooms: 1 full sized bathroom PLEASE NO PETS WIFI Internet TV Lake Large deck with lake views and tree growing through it Full kitchen (minus the food) Electric BBQ grill
In the woods with a private lake! It doesn`t get any better! Also, close to ATV trails, snowmobiling trails, and hunting.
The townhouse is perfect for families, super cozy and warm. The views are gorgeous, we enjoyed daily walks around the property. We arrived just before a short snowstorm and were very glad to have 4 wheel drive as the roads were a bit rough. Nearby Hill City has a well stocked grocery store with very helpful customer service, we were able to find everything we needed there. This location is very convenient to all the major sights, only short drives away. We came in November and it does get dark by 5/5:30 pm.
Alyria
November 2016
Тип размещения
Дом/квартира целиком
---
Тип жилья
---
Вмещает гостей
8
---
Спален
3
Hill City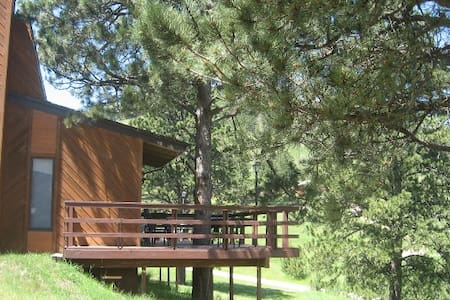 3BR, 3 bath house on two acres bordering the Black Hills National Forest. Newer 1.5 story home with wood floors, stone fire place, and comfortable furniture. Beautiful location to stay during the 75th Sturgis Rally/Custer Cruisin' !
Тип размещения
Дом/квартира целиком
---
Тип жилья
---
Вмещает гостей
8
---
Спален
3
Custer