Large room with sitting area,fire place, private bathroom, private entrance. The location is ideal! 2 min from Route 9, short distance to IBM headquarter , Vassar & Marist Colleges , CIA ,Vassar/MHRW Hospitals, Locust Grove, bike trail& the Walkway
The bedroom is downstairs in a contemporary raised ranch house. It has a very comfortable queen size bed with fireplace for a warm cozy or romantic evening. The room is 600 sq ft that comes with its own bathroom, sitting area with two couches, air condition, center table, washer and dryer,closet and hutch to storage clothes. The accommodations are smart television with premium channels, WiFi, small refrigerator, microwave, computer desk and kurieg. Bottle water, coffee, creamer, sugar, tea are available for all guests. Guests have control of their own thermostat. Guests entrance is private and via the garage. Guests have the option of driving in the garage to park or guests can park anywhere in the driveway. There is also an iron available. We are located 9 minutes from the new Hamburg train station and 13 minutes from Poughkeepsie train station which has Metro North and Amtrak services.
The neighbor is quiet and secluded. Friendly neighbors
Veronie's Home Away from Away was most (URL HIDDEN) was a comfortable,clean and inviting space.She made sure my baby and I had all we needed for the time we spent there.She is easily accessible as a host as well.I surely will visit again.
Corina
2016-09-14T00:00:00Z
What a wonderful experience! The space is fantastic: a very comfortable private suite with large-screen TV, free Internet access, working fireplace, private bath, private entrance, and garage! Veronie has great taste, and the suite is immaculately clean and beautifully appointed, complete with comfy Calvin Klein pillows, Nautical comforter, and towels so fluffy I went online to buy some for home! But above all, Veronie missed no opportunity to make us feel welcome: scented candles burning before we arrived; mini soaps, shampoos, etc. In the bathroom in case we forgot anything; a mini fridge stocked with water and a coffee maker with coffee and teas for us. Though we spent only a short while talking, we found Veronie fascinating and friendly, and happy to make recommendations about the area--and she was just a phone call or a text away for anything we needed. We couldn't be more pleased with our stay and hope our travels bring us back to the Hudson Valley, where we would certainly stay with Veronie again!
Albert
2015-11-14T00:00:00Z
Great place in a great area with an amazing, helpful. Kind host. Not a dull moment in the area
Aaron
2016-11-18T00:00:00Z
The space in Veronie's home is very private, more like a guest apartment than a room, and is located in a quiet, pleasant suburban area south of Poughkeepsie. Everything was clean and orderly. The check-in process was very flexible. We had a pleasant stay.
Rebecca
2016-06-20T00:00:00Z
Thank goodness for Veronie! She was gracious in hosting me and my friend on very short notice. The place was comfortable, spacious, and just what we needed after a long day. It was definitely a home away from home!
Dia
2016-04-17T00:00:00Z
Great communication with Veronie before we arrived. Apartment access is through the garage and Veronie left a garage opener for us to come and go as we pleased. Garage parking available if needed. Not required in summer but winter could be a great bonus. Apartment is beautifully set up, bed, desk bathroom sofa, great TV package and access if needed to washer and dryer. Great speed wifi. Access to local food and Mall a few minutes away. You will not be disappointed with this B&B
Tim
2016-07-19T00:00:00Z
Great pleasure staying at Veronies. The space was perfect for our over extended week long stay. Veronie was accommodating as soon as we arrived, making sure we had everything we needed. The furniture was comfy, the service was great. There's premium channels, showtime, HBO, etc on the tv--that was nice. In all, the stay was excellent and our host was the best.
Chris
2016-04-12T00:00:00Z
Veronie's place was perfect. We stayed for just one night on a long cross country journey but it was exactly as described, a home away from home, and I would recommend it to everyone.
Calum
2016-09-12T00:00:00Z
Тип размещения
Отдельная комната
---
Тип жилья
---
Вмещает гостей
2
---
Спален
Поукипзи, Нью-Йорк 12603, США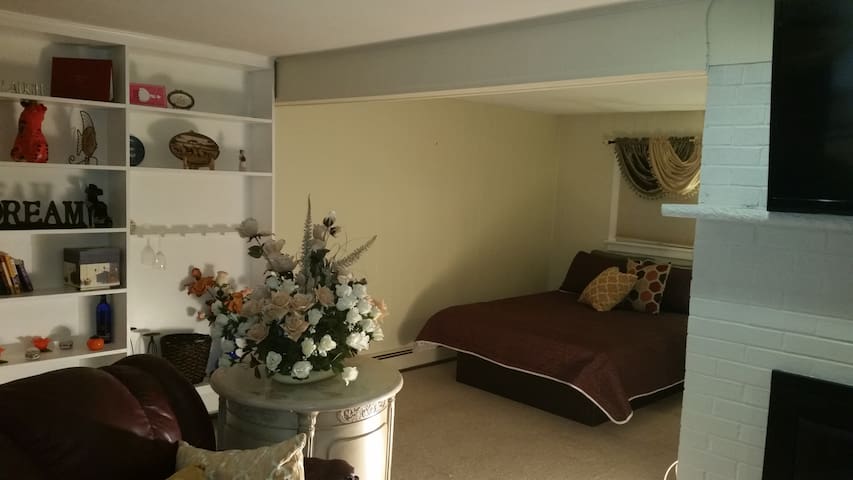 Large Bedroom in private home with comfy Queen bed, Cable TV, intranet, lots of closet and drawer space. Share laundry room and bathrooms. Coffee and beverages avail in kitchen (no cooking). No smoking, alcohol or other drugs permitted. Immaculate clean, newly remodeled home, great for 1 or 2 guests. Less than 2 miles to New Hamburg Train Station, walk to village for restaurants, shops and theatre. Flexible check in/out times.
Quiet neighborhood, house is directly across from historic Catholic Church. Quiet, family oriented home. Enjoy your stay in the quaint village, close to major Route 9 Shopping (Malls, Restaurants, Entertainment Galore) and Historical Sites. Welcome meeting new people and sharing tips on the area.
Short walk to village of Wappingers Falls which has large park, community theater, numerous bars and restaurants, Walgreens, Deli, Gas Station, etc.
Great host, comfortable house, safe location. Will stay here again.
Steve
2017-02-24T00:00:00Z
Тип размещения
Отдельная комната
---
Тип жилья
---
Вмещает гостей
2
---
Спален
Wappingers Falls, Нью-Йорк 12590, США
Just two minutes away from the New Hamburg Metro North Train stop you can arrive + unwind at your own private creek side retreat. Right outside your door hiking trails, fishing, and kayaking. Short walk or ride to village amenities and restaurants.
The Pump House is a building located in the quiet and historic complex of The Market Street Industrial Park at the base of the falls. The building was built in 1865 and supplied the first public water system for the Village of Wappingers Falls. It has since been beautifully renovated into a one of kind space with all modern conveniences.Close to Beacon ,Pough,Hyde Park + microwave + refrigerator + queen size bed + all linens, pillows, and blankets + toiletries + blow dryer / iron / ironing board +full bath with walk-in shower and rainfall showerhead + coffee pot + dishes / wine glasses / mugs / cutlery + fireplace + outdoor fire pit + off street parking
Small quaint village with historical industrial setting. The main village (Wappingers) can be accessed by short walk or drive. Here you will find some of the local favorites like West Main Kitchen, The Groundhog Coffeehouse, County Fare , Di Vine Wine Bar, AJ Café, Wagon Wheel Pizza, Village Creamery (Summer), Maya Cafe, North River Brewing, Mexicali Blue Rest., The Blackboard Café, Tung Ying and local delis. Local Playhouse, County Players, with quarterly plays. Local resources / menus will be provided.
We adored this cottage. It is a special place with a unique history! Very clean, quiet, and the hosts are very generous with regards to the comfort of their guests! Thanks again for a wonderful experience.
Henze
2016-12-03T00:00:00Z
A fantastic air bnb experience - perhaps one of the best we've had. The location was beautiful just next to the river and kayaks were supplied to explore it. The house is also fantastic and even better than in the photos! Would definately recommend to friends!
Fraser
2016-09-28T00:00:00Z
George was a fantastic host who added so many touches to make us feel welcome in Wappinger. Upon our arrival the house was laid out with everything we might need to settle in - guest book with information about the area, information for taxis, restaurant recommendations and best yet...a bowl of fruit and snacks for the morning. (Thanks again George!). The pump house is a very unique space. It was very clean and inviting and the location is great - just about a two minute drive from Main Street. Wish we could have stayed longer and enjoyed more of the area. We would definitely come back.
Kittredge
2016-06-27T00:00:00Z
What a beautiful space! George was quick to respond, accommodating, and even left the lights on for our late night arrival. All the essentials were waiting for us. The space is bright, open, and the details are incredible. If this place had a kitchen, we probably wound't have left! We highly recommend this place, and George as a host.
Leah
2016-08-25T00:00:00Z
Our stay at the Pump House was fabulous. The accommodations were charming and perfect in every detail. Nearby hiking on the Greenway Trail was wonderful. The town and restaurants a real delight.
Tom
2016-11-29T00:00:00Z
nice stay
Stefan
2016-12-19T00:00:00Z
Loved the place, great down to the little details. Highly recommended. Little goodies you may need to make your stay extra convenient.
David
2016-11-11T00:00:00Z
Wonderful stay at the Pump House! We will definitely be back.
Elizabeth
2016-11-20T00:00:00Z
Тип размещения
Дом/квартира целиком
---
Тип жилья
---
Вмещает гостей
2
---
Спален
Wappingers Falls, Нью-Йорк 12590, США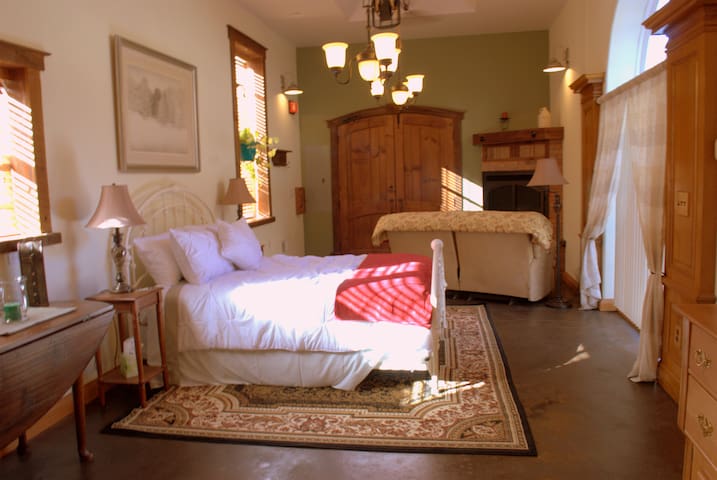 Lots of cool details in this great little cottage. Use of backyard and organic gardens in the Spring and Summer. Private home on very quiet block. Double bed/futon in art studio. Immaculate home with one tiny loving cat, black. If you are coming up without a car we are 6 minutes from the train station and the local taxi service is called Classy Coach (PHONE NUMBER HIDDEN).
Bright white space in upstairs art studio with one double bed and one Klick Couch.
Great stay! Totally comfortable place and Helen and Marj are the best. They knew the area really well which was helpful. Awesome garden and kitty. Thanks!
Max
2016-05-24T00:00:00Z
Helen and Marjorie host so graciously. It is a magical nest, with a bath to fly to NY for! The cat gives real people hugs, the conversation is rich, its proximity to CoSM a blessing, and the books on the shelves had me wishing I'd booked another week! It fit me perfectly, and I will be back. This time, with my own cookies to share with them!
Stephanie
2016-12-15T00:00:00Z
We stayed at Helen and Marjorie's place after visiting nearby CoSM. They were both so welcoming and their home was the perfect retreat for the night. We had plenty of space & privacy upstairs and loved their whimsical decor.
Mamie
2017-01-24T00:00:00Z
Although the room was not really separated, we had a lovely stay! Thank you for this good time in your company and see you soon!
Lucile & PJ
2017-02-28T00:00:00Z
Helen and Marjorie are wonderful hosts and made us feel comfortable during our stay. The room was private and adequate for our needs. We'd recommend this location for your stay in the Hudson Valley!
Christine
2016-07-08T00:00:00Z
I stayed with Helen and Marj for one night for one of CoSM's parties since they're so closeby. My stay at this beautiful little house was more than anything I could have imagined. These women have a gorgeous eccentric home with thousands of stories to tell, located among a lush garden full of organic veggies and herbs. They also have a lovely friendly cat that LOVES being picked up. Their friends came over with guitars and drums and before I knew it I was being given a free concert and was having such a good time that I didn't even want to leave for the event I had come to the area for! I came just for a couch and left with new friends and great memories. (PHONE NUMBER HIDDEN) would stay over again.
Anna
2016-09-25T00:00:00Z
Helen and Marj were phenomenal hosts and such lovely people! We thoroughly enjoyed our stay and they even gifted us with fresh herbs from their garden! Couldn't have asked for a better Airbnb experience!
Rashima
2016-06-15T00:00:00Z
Great and comfortable spot. Felt super homey and welcoming. Their beautiful black cat is the icing on the cake.
anya
2017-02-20T00:00:00Z
Тип размещения
Отдельная комната
---
Тип жилья
---
Вмещает гостей
2
---
Спален
Wappingers Falls, Нью-Йорк 12590, США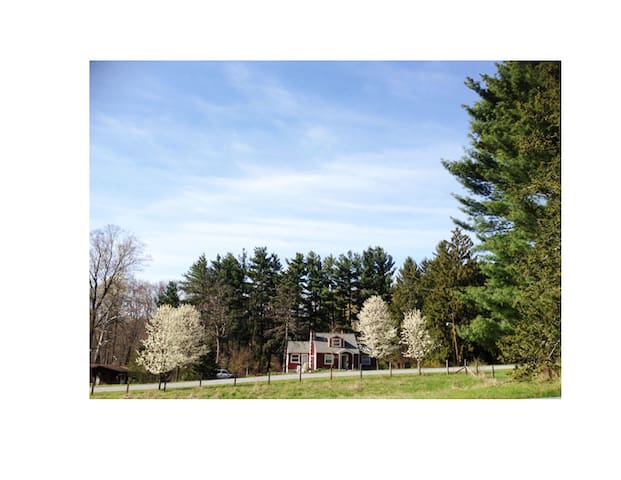 Our home is close to nightlife, public transport, the city center, and parks. You'll love our historic home because of the grand front porch over looking the Wappingers Creek, high ceilings, the views, the location, the coziness, and the people.
Cozy, private setting in a historic home.
Walking distance to village center with shops and restaurants. Access to lake for fishing and kayaking.
Тип размещения
Дом/квартира целиком
---
Тип жилья
---
Вмещает гостей
2
---
Спален
Wappingers Falls, Нью-Йорк 12590, США
Want to get away from it all, visit colleges or attend a wedding? This small village in the Mid-Hudson Valley with great local restaurants, is the home to a lovely, room found in a historic farmhouse with a pond, woods and hiking trails.
This house was built in 1820 and is a piece of Mid-Hudson Valley history. It sits on 2+ acres of land and buttresses a 38 acres green trail perfect for long walks, hiking and meditation. The house is filled with art, its quiet and there is thoughtful, intelligence company in the household. The room is a light, airy and relaxing space. It's really like a mini retreat.
Located in a cul-de-sac, its a nice suburban feeling with a diverse group of families and other people who usually say good morning. The back of the property is private and woodsy. Its a fabulous contrast.
Enjoyed my stay. The room, house and host were elegant and I felt welcomed.
janet
2016-07-12T00:00:00Z
Dowoti made me feel very welcome, sadly I wasn't able to spend longer there due to my travel arrangements. She has a lovely home in a lovely area and I would defiantly stay again. You will enjoy your stay here
Colin
2016-05-30T00:00:00Z
Dowoti's place felt like being home. Felt warm and cozy, with a sense of healing energy in the air....
Sabine
2016-11-14T00:00:00Z
Dowati provided the space and quiet I needed to relax and recharge. The room is beautiful with amazing artwork and tapestries. I felt so nurtured and cared for by Dowoti. The house and lands are like taking a step back in time. I slept well every night I stayed.
Louisya
2016-08-22T00:00:00Z
Dowoti's home is absolutely beautiful! Amazing original architecture. The room was very spacious. Loved having my own private bath. Dowoti is very welcoming and attentive. Felt like I was at a quaint bed and breakfast. She was kind enough to prepare breakfast for me the morning of my departure. I really appreciate kind gestures like this. Will definitely keep this on my places to stay when visiting this area!
Che
2016-10-18T00:00:00Z
Тип размещения
Отдельная комната
---
Тип жилья
---
Вмещает гостей
1
---
Спален
Wappingers Falls, Нью-Йорк 12590, США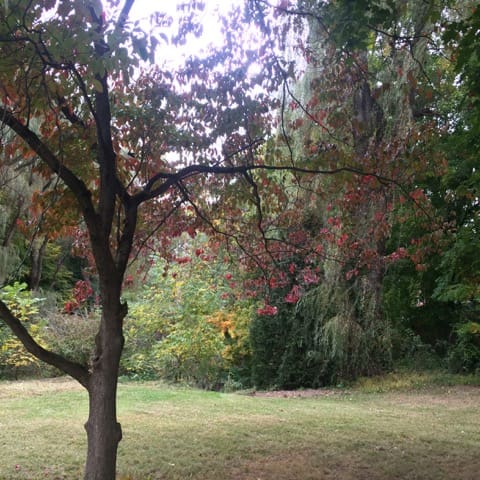 My house is right next to the New Hamburg Metro North train station. The train to Grand Central NYC is 90 minutes. The house has a porch with train/seasonal river views and outdoor patio with grill. New Hamburg is close to Beacon, Poughkeepsie, Cold Spring, and Wappingers Falls. Location is perfect for day trips to NYC. You'll love my place because of the easy access to NYC, the neighborhood, the accommodations, the light, and the kitchen. My place is good for couples, business travelers, families (with kids), and big groups.
Тип размещения
Дом/квартира целиком
---
Тип жилья
---
Вмещает гостей
8
---
Спален
Wappingers Falls, Нью-Йорк 12590, США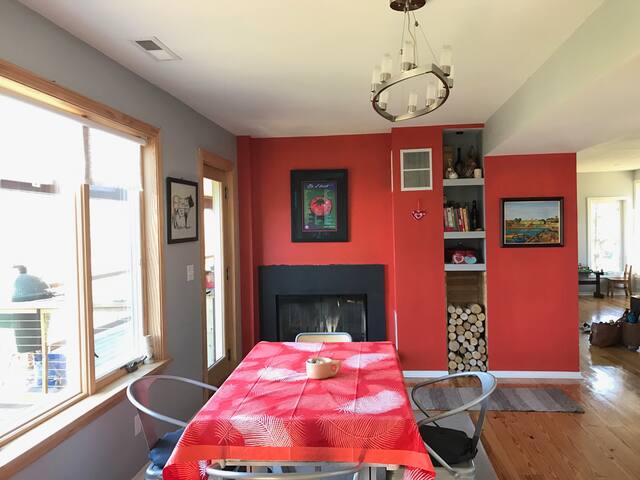 Offering a double room with warm, inviting colors and plenty of light. My recently renovated home is tucked into 1.5 acres of woods. Your room has 2 twin beds, closet & dresser space and a private shared bathroom. Come relax and enjoy!
Welcome everyone..... My recently renovated home is tucked into 1.5 acres of woods. This secluded property is great if you are looking for peace and serenity. My home is a haven for me, surrounded by nature and very quiet, decorated with earth tones and inspired by my travels around the world. Outside I have an outdoor patio and koi pond. I'm offering two rooms which may be booked together or separately, depending on availability or size of the party. The first (#1) is my tranquil, bohemian room complete with a queen bed, dresser, and closet. The second room (#2) is a serene but engaging room with twin beds, dresser and closet (please see other listing). Both of these rooms share a private bathroom. The space is decorated nicely with comfort and cleanliness being of utmost priority. I want my home to feel warm and relaxed. You will find soft towels, fresh linens, and cozy bedding. What I offer: Upon arrival there is always hot tea or coffee and iced beverages in the refrigerator. I have provided a list of local restaurant recommendations and am happy to answer your questions about what to do in the area. - Free wireless internet and cable tv - Parking in private driveway - Private full bath next to bedroom - Shared use of kitchen and living room - Hairdryer, soap, shampoo, fresh towels and all linens provided - As my guest, I am happy to provide other amenities as I am able. Just let me know! There's a lot to explore in this area, including many great hiking trails (the fall colors are beautiful!), wonderful dining options, and quaint towns to walk including Beacon, Fishkill and Cold Spring. I'd be happy to share anything you'd like to know about the area!
It is quiet and peaceful in my neighborhood, the perfect getaway!
Alyson was absolutely wonderful. She made us (my friend and I) feel at home right away and made sure we had everything we needed. Her house is gorgeous (!!!), clean and quiet. Just what you need for a peaceful get away. She provided towels and made us breakfast in the morning. She is a warm, interesting and lovely woman. THANK YOU!
Sasha
2016-05-14T00:00:00Z
We came in on our bikes and it ended up being way past dark and Alyson was very accomdating to us! We are sad that we didn't have time to enjoy a bottle of wine on the back deck but will definitely be back to try and relax. PS the chocolate smoothie for breakfast was the best!
Stephanie
2016-09-07T00:00:00Z
Alyson's house is incredibly beautiful. It would be nearly impossible not to feel rested by even a short stay here.
Jesse
2016-11-07T00:00:00Z
Alyson was the perfect hostess for our stay. She was thoughtful, helpful and generous with her time and her home. The room and her home were both clean and beautiful, and just as advertised. Highly recommended.
Paul
2015-07-26T00:00:00Z
She stayed in close contact with us to be sure to be ready for our arrival. She was available to deal with any need while also leaving us some space in which we could be there without feeling we needed to be social all the time
Christopher
2016-09-30T00:00:00Z
Alyson greeted us warmly and made us feel at home, welcome, and relaxed. We wanted to go swimming, and she gave us directions to a couple of nearby beaches and even provided us with a healthy electrolyte drink! The house is comfortable and spacious, in a quiet, green neighborhood. We had a good night's rest and enjoyed a delicious smoothie that Allyson made for us in the morning.
Tatiana
2016-07-30T00:00:00Z
Our experience was very good. Alyson made a point of being home when we arrived, and offered us wine and cheese on her beautiful deck behind the house, with the koi pond and trees providing ambiance. The description of the home was accurate, and we were very favorably impressed with the home and neighborhood. For breakfast Alyson made us delicious protein smoothies which we loved. There was also coffee, fruit, and granola bars.
Lon
2015-05-22T00:00:00Z
Alyson is a perfect host in every respect. She is very attentive and caring and her home is beautiful with a warm and welcoming feel to it. It is very refreshing to find someone so friendly and helpful. Her house is in a wonderful location - so quiet and peaceful - with a unique atmosphere. I wish I could bottle it and take it home with me! Thanks so much Alyson.
John
2016-10-09T00:00:00Z
Тип размещения
Отдельная комната
---
Тип жилья
---
Вмещает гостей
2
---
Спален
Wappingers Falls, Нью-Йорк 12590, США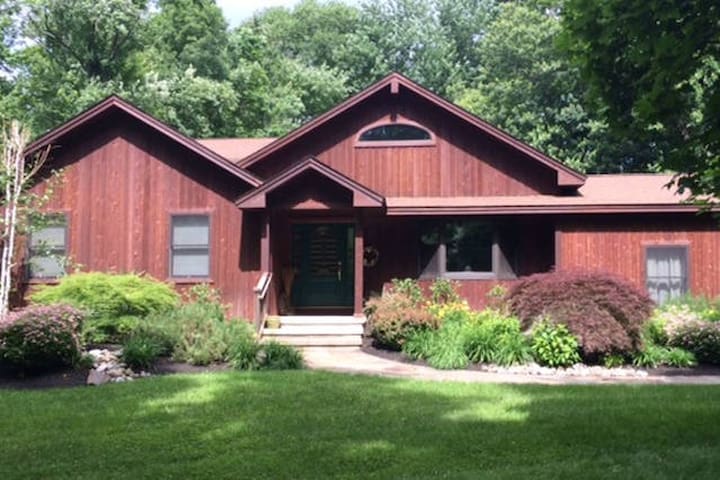 My place is close to parks, art and culture. couples, solo adventurers, business travelers, families (with kids), and furry friends (pets).
2 bedroom 1 full bathroom private single family home that sleeps 6 guest. Beautiful Master bedrrom with a very comfortable king size bed. 2nd bedroom includes a queen bed and a bunkbed. incredible chefs kitchen with stainless steel appliances, gas stovetop with a convection oven. Custom maple cabinetry with butcher block countertops. Includes everything you need to stay comfortably with all the ammenities of home. Dishware, linens and towels cofee maker, dishwasher, washer/dryer. television. WiFi
The host canceled this reservation 2 days before arrival. This is an automated posting.
Andrew
Matthew and Jennifer were great hosts. They responded quickly to questions/requests. The location is nice with shopping and grocery very close. We were a family of 5 and stayed for a month while we were waiting for our new house to close. It was a tight fit for the 5 of us with just one bathroom but it was by far the best option on Airbnb for this area.
Michael And Rachel
2016-12-07T00:00:00Z
great host great location
国芬
2017-02-06T00:00:00Z
Kitchen was great. Also, the house was close to Vasser, Marist and CIA.
Maegan
2017-01-27T00:00:00Z
Cozy place which was perfect for our stay while in midst of a move. We are a family of 4 and were all quite comfortable there. Home is conveniently located to many restaurants on route 9, and provided a clean living space, far better than any nearby hotel. Thank you, again!
Jean
2017-01-15T00:00:00Z
Great host. Everything was smooth, and exactly as described. Close to shops. We had a great, peaceful time. Thank you!
Giovanni
2017-02-21T00:00:00Z
The host canceled this reservation 49 days before arrival. This is an automated posting.
Ilaria
Matthew was very responsive and accommodating. He has a great check-in system set up that makes everything super easy. The house is lovely - quaint, simple, and clean. The bedrooms are nice - comfortable and with great beds/bedding. The bathroom is lovely: love the whirlpool tub - and has a washer/dryer for longer stays. The kitchen is fantastic - you will want for nothing if you plan to do any cooking during your stay. While you can't exactly walk anywhere from the house - it's in the middle of a residential neighborhood, it is in a great location that makes most parts of the Poughkeepsie/Wappingers Falls area a short drive. As for criticisms, I suppose you can say the house is small - but again, that's clear in the listing. And, it seemed that a few of the window locks were broken (or not working?) on the ground floor. But, since you're staying in a residential neighborhood, and in a very private setting, it's not like there is anything to be concerned about (we felt safe, comfortable, and carefree throughout the entire stay). Overall, this was a great place to stay: the wifi worked great, fantastic tv for lazy evenings, the kitchen is gorgeous, and everything was clean and ready for our stay. It's a quaint and charming place that feels quite private and cozy nestled within a small grove of pine trees. We absolutely recommend booking with Matthew - not only is this a lovely place to stay, but it is great value, especially when considering the costs of traveling/staying in the Hudson Valley during the Fall/peak leaf season. The next time we travel to the Hudson Valley and need a place to stay, this will be the first place we check.
Eric
2016-10-20T00:00:00Z
Тип размещения
Дом/квартира целиком
---
Тип жилья
---
Вмещает гостей
6
---
Спален
Поукипзи, Нью-Йорк 12603, США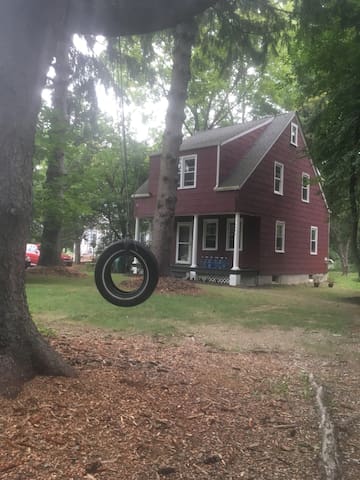 Warm Friendly Home! 10 minutes from NYC train transportation. 20 minute drive to Marist/Culinary/Vassar Colleges. Walkway over the Hudson. Many historical sites Vanderbilt Mansion & FDR Museum. Quiet neighborhood. Use of kitchen , laundry room.
Very very kind and absolutely reliable people, and a comfortable and tidy place to stay. The atmosphere was very relaxed and welcoming and we were helped with all the questions we had. Definitely would recommend this Airbnb. Thanks Deborah and family! :)
Robin
2017-01-16T00:00:00Z
Such a comfortable room on the last leg of our very long journey. Could not be happier, and Deborah even went above and beyond by helping us jump our car in the morning!
Joanna
2017-01-08T00:00:00Z
This was my first Airbnb experience. Deb and her husband were great hosts. I arrived late and left early but they made it work smoothly for me. The room was just as it appears in the pics. They were great about communicating with me for my arrival which was helpful. The doormat gave me a chuckle as I was leaving. It has both Mets and Yankees logos with "A House Divided" written on the bottom. Being from New England, I get preoccupied with the Red Sox - Yankees rivalry so the doormat caught me off guard. Overall I give very high marks for convenience, kindness, and cleanliness.
Mark
2016-11-23T00:00:00Z
The room at Deborah's place was small but comfortable and conveniently located close to the wedding we were attending, also many tourist attractions in the area such as the FDR house and museum are close by. The bathroom is shared with Deborah's family who were all very friendly and helped us get settled in upon arrival. This was a good place to stay before and after the wedding but if we had more time we would probably look for a bigger room/more private place.
John
2016-10-13T00:00:00Z
Debbie was so quick to respond to me. She was very tolerant with me as I arrived later than I've said due to traffic. She is a very easy going person to talk to and very friendly. Thank you for a lovely stay.
Erika
2016-10-25T00:00:00Z
Great place, great family and great neighborhood!
Jacob
2017-01-04T00:00:00Z
Debbie was very attentive to making our stay very comfortable. Communications were timely via text messaging, email and voice mail. Her home was warm and inviting with added amenities like chocolates by the bedside, a goody basket and Keurig assortments for breakfast. Debbie and her family, including the well behaved dogs, made us feel right at home.
Patrick
2016-01-20T00:00:00Z
Nice and quiet neighborhood Great value and very accommodating
gilbert
2016-10-09T00:00:00Z
Тип размещения
Отдельная комната
---
Тип жилья
---
Вмещает гостей
2
---
Спален
Wappingers Falls, Нью-Йорк 12590, США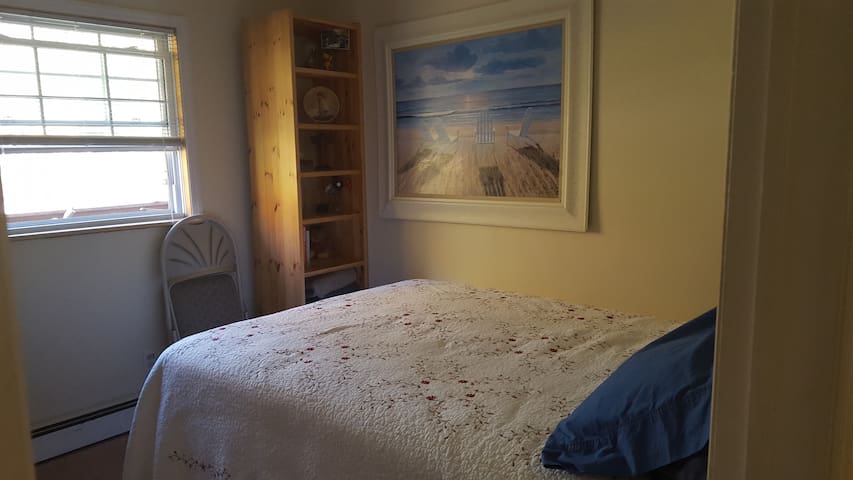 iHART is a combination of Artist Residency & Holistic Retreat inviting women who are on a path of service. Use this time to work on personal projects or spend time applying new ways to relax & renew! Asana , Pranayama, Creativity included !!!
This is a humble home of Sara & Pat Hart. a mother / daughter team focusing on health and happiness in the real world. We invite you to join us on a collaborative quest for participating in Alternative Hospitality
The iHART headquarters is located in Wappingers Falls NY. Its a family friendly neighborhood located near a private lake for you to walk, jog, or mosey your way around to a nice dock and seating area to watch the ducks and turtles :) In our own back yard a stream from the lake runs through the property and is a lovely quiet area away from the street.... We are not far from downtown Wappingers where there are shops, library, parks, and rt 9 will take you to anywhere you need to go for more shopping , dining, entertainment etc... We are located between beacon and Poughkeepsie - both are historic areas within 15 min travel time - where you can check out art museums, outdoor activities, farmers markets, and riverfront parks.... Wappingers is a friendly place :)
Sara and her mother were really sweet and made sure I had everything I needed. I had plenty of space to do my thing and she also invited me to her events when she hosted yoga nights. We had a great fire pit night and shared some life stories. Their home is really comfortable and there was never an issue with using bathrooms or the kitchen. The only thing that was a tough for me was she had another guest who was a bit disruptive but that had nothing to do with Sara otherwise it was really peaceful and homey. The bedroom was really nice, clean and warm with lovely decor. It is close to the kitchen so you can hear everything so if you are sensitive to noise Id say bring earplugs but really I'm just a late sleeper so probably wouldn't bother anyone else :). The yoga room is really big with a great view and there are a few nice walks you can take to a lake and market. Really interesting, intelligent people to meet :)
Vanessa
2016-11-04T00:00:00Z
Sara was an awesome host. She went above and beyond for making our stay a pleasant one, helping me to finish up some last minute tasks when I arrived, and making sure we had everything we needed to have a restful trip. The creek in the backyard is a super nice place to hang out also there's not much traffic on the road out front so most of the time it was very quiet and peaceful to relax outside and listen to the birds. There is a farmer's market about a 20 min. pleasant walk from the house with nice food, if you're not renting a car it's easy to get there on foot. They also have a beautiful yoga room to enjoy with fresh air and a nice view.
Lara
2016-09-07T00:00:00Z
Staying here is like staying with family. Great for a weekend stay. Thanks for being so welcoming and warm.
Lauren
2016-11-09T00:00:00Z
This was a great stop for a great value. Just be advised that it is a trundle bed for two.
Lama Karma Justin
2016-09-28T00:00:00Z
The host canceled this reservation 4 days before arrival. This is an automated posting.
Timothy
Тип размещения
Отдельная комната
---
Тип жилья
---
Вмещает гостей
2
---
Спален
Wappingers Falls, Нью-Йорк 12590, США
This charming home is well stocked for your enjoyment, set on acre of level property, walk to river, close to parks, art and culture, golf, hiking, kayaking, restaurants and dining. You'll love our place because of the comfy beds, 3 TVs, well equipped kitchen, and quietness. Our place is good for couples, solo adventurers, business travelers, and families (with kids-however not kid proof, no locks on cabinets & draws, etc.) Games, movies, books....Fun! Min to I84, TSPkwy, Thruway.
Charming and light filled cottage with spacious bedrooms, open floor plan, level property, walk to river, min. to Beacon, Cold Spring, Fahnestock State Park, hiking, kayaking, art center, restaurants and much more. Great place to relax and enjoy the quiet!
Quiet neighborhood, walk to river.
The house was amazing! Everything was neat and well kept. Loved the board games that were left for us, so if weather becomes an issue there are plenty of things to do meanwhile. Lisa was extremely helpful in her instructions to the place and very thorough with directions left inside the home. She is also very open with communication and being available if there are any questions. Quiet and peaceful neighborhood. A very home feel to it. Very thankful I had the opportunity to spend my weekend here!
Jose
2016-09-28T00:00:00Z
Lovely, quiet and idyllic! Stayed with four friends and had a great time. Lisa was helpful and available to answer any questions. Would stay again!
Felicia
2016-11-28T00:00:00Z
Great location. Just as listed. Lisa left great instructions for use of the house. This cottage was exactly what I was looking for a longer-term stay for business in the area.
Randall
2016-10-31T00:00:00Z
Тип размещения
Дом/квартира целиком
---
Тип жилья
---
Вмещает гостей
5
---
Спален
Beacon area, Нью-Йорк 12590, США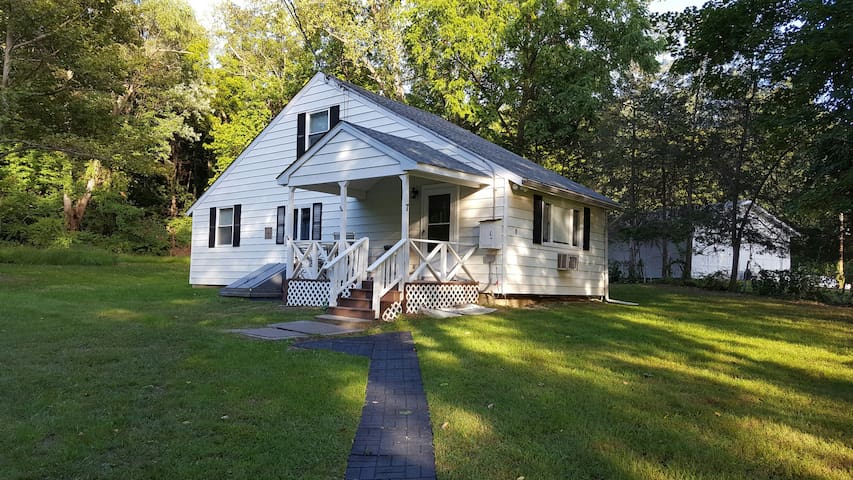 Offering a tranquil room inspired by my travels to Europe & Asia. My recently renovated home is tucked into 1.5 acres of woods. Your room has a queen bed, plenty of closet/dresser space and a private shared bathroom. Relax and enjoy!
Welcome everyone..... My recently renovated home is tucked into 1.5 acres of woods. This secluded property is great if you are looking for peace and serenity. My home is a haven for me, surrounded by nature and very quiet, decorated with earth tones and inspired by my travels around the world. Outside I have an outdoor patio and koi pond. I'm offering two rooms which may be booked together or separately, depending on availability or size of the party. The first is my tranquil, bohemian room, inspired by my travels in Europe and Asia, complete with a full bed, dresser and closet. The second room has two twin beds, dresser, and closet (please see other listing). Both of these rooms share a private bathroom. The space is decorated nicely with comfort and cleanliness being of utmost priority. I want my home to feel warm and relaxed. You will find soft towels, fresh linens, and cozy bedding. What I offer: - Welcome basket with granola, fruit, water and a list of local recommendations - Hot coffee or tea - Free wireless internet and cable tv - Parking in private driveway - Private full bath next to bedroom - Shared use of kitchen and living room - Hairdryer, soap, shampoo, fresh towels and all linens provided - As my guest, I am happy to provide other amenities as I am able. Just let me know! There's a lot to explore in this area, including many great hiking trails (the fall colors are beautiful!), wonderful dining options, and quaint towns to walk including Beacon, Fishkill and Cold Spring. I'd be happy to share anything you'd like to know about the area!
We had a restful and pleasant evening and morning at Alyson's beautiful home in Oct. As late arrivals we only wish we'd had more time to stay. Alyson was a very gracious and attentive host and we really enjoyed visiting with her and sharing stories. The house and grounds are beautifully landscaped and we even saw a few deer by the driveway on our way out in the morning. We hope to come again next time we visit the area to see our daughter in college.
Dave
2015-10-12T00:00:00Z
My partner and I traveled 5 hours from Maine to NY for our 4 day stay in Wappinger's Falls. Alyson's home was exactly as she had pictured and described. Quiet, private, immaculately clean and thoughtfully decorated. The pond out back was our favorite place to rest and relax, and to drink cup after cup of delicious coffee and tea! The room was clean and cozy and we both slept wonderfully in the full-sized bed. The bathroom was stocked with fresh fluffy towels, and there was no problem sharing it with the other guests. Alyson generously offered fruits, muffins, bars, and hot drinks every morning! She was darling, fun, and had MANY fantastic and spot-on recommendations for area activities and must-sees. We wanted to chat with her for hours! The surrounding towns had many great things to offer: Mt Beacon was a beautiful and easy hike, downtown Beacon had many a shop and gallery, a few interesting abandoned railroad related building to explore, everyone was friendly, and we really enjoyed dining at Homespun, Raddish, and Poppy's (locally sourced salads, sandwiches, burgers, soup, etc). Alex and Allyson Grey's Chapel of Sacred Mirrors was our main attraction, and that lived up to and beyond our grandest hopes. My partner and I are grateful to Alyson for opening her special and exquisite home, and we spent a good portion of our drive back to Maine dreaming up reasons to come back as soon as possible. Thank you for making a birthday weekend so delightful, Alyson!
Samantha
2015-07-04T00:00:00Z
Absolutely lovely home and host! Alyson's home is close by to lots of little towns/hiking trails to explore along the Hudson Valley - and is a great place to return to at the end of a long day. Starting off our morning by sitting in Alyson's beautiful backyard and drinking a smoothie (homemade by Alyson), was such a peaceful way to begin the day - and an amazing escape from the city.
Carrie
2016-07-04T00:00:00Z
Alyson and Rick were incredibly thoughtful and generous in sharing their home with us! The house is absolutely beautiful and I could only hope to wake up in such a place every day. The energy coming out of this house is next level and truly must be experienced. The back deck, patio and koi pond area is so tranquil that we actually hung our hammocks up and slept out back. Alyson also made us delicious smoothies for breakfast in the morning which can't be beat! I hope to come back very soon!
Boyd
2016-08-22T00:00:00Z
Staying in Alyson's home was like being in a fancy lodge at a quiet retreat. We traveled in October while the leaves were changing and the countryside was just breathtaking. Why stay at a hotel in Poughkeepsie when you can stay in quaint Wappinger Falls minutes away? Alyson made us feel right at home when we arrived, made sure we had everything we needed during our stay, and had hot coffee ready for us early in the morning before we took our train back to the big city. Perfect place if you are looking for a quiet, relaxing, and comfortable experience.
James
2015-11-11T00:00:00Z
Beautiful home with a gracious, friendly and very welcoming hostess. I highly recommend it!
ani sangye
2016-07-12T00:00:00Z
Wonderful!
donald
2016-07-26T00:00:00Z
Alyson and Rick were great hosts! As soon as we pulled up the driveway, her home looked even more beautiful and serene than the photos could show. Both our room and bathroom were clean and comfortable. We were in town for a half marathon I was ran Sunday morning, and Alyson was very thoughtful leaving out breakfast and coffee for when I woke at 5am. I appreciated Alyson's flexibility in letting me come back to shower after the race. Overall it was a great stay, and I look forward to coming back to the area!
Rebecca
2016-06-15T00:00:00Z
Тип размещения
Отдельная комната
---
Тип жилья
---
Вмещает гостей
2
---
Спален
Wappingers Falls, Нью-Йорк 12590, США
These are two very comfortable rooms in 4-bedroom and 2.5 bathroom house in Wappingers Falls, NY. The house is very quiet and cozy. We have 1.5 acres of property that consists of yard and woods. It is 1 hour from New York City.
Accommodates: 2 Bathrooms: 2.5 Bedrooms: 1 Beds: 1 Queen bed Check In: 1:00 PM Check Out: 11:00 AM Room type: Private room within our home
The house is located in a quite cul de sac. The backyard is a quiet wooded lot with deers, squirrels, birds, etc. The house is a short drive from grocery stores, restaurants, cofee shops and 15 minutes drive from Poughkeepsie Galleria Mall. Very quiet neighborhood, great for walking and jogging activities. Quiet private road with only several homes. You're more likely to see animals than our neighbors!
We drove in from Pittsburgh PA and were unsure of our arrival time but Mariam and Mom were so great with working with us on arrival and yes the accommodations were as shown and what they did not know is we are all organic at home and it was awesome to see that everything they provided was organic! That was definitely a huge bonus! We truly enjoyed spending time with your family and hope we can see you again next year again when we return for our family reunion. We brought our two dogs with us and they felt at home in your home. This alone reduced the stress of traveling with animals, they were so well received and had room outside to roam. Thank you all so very much! Judy-Ann, Mitchell, Meko and Lexi.
Judy-Ann
2016-09-18T00:00:00Z
We have a great time staying in Mariam's house. Her mom is really friendly and helpful. The room is quite big, clean and lovely. Also, garden is nice and the backyard is close to forest. Overall, it is a comfortable and quiet place.
Ruiye
2016-07-11T00:00:00Z
This was our first AirB&B experience, so the review should be taken with a grain of salt. The home we stayed in was large and nicely furnished. The room, the shared bathroom and the rest of the house, were all spotless. No TV in the room, but we entertained ourselves with PDAs and wifi. We didn't meet our hostess, but her mom made us welcome. We helped ourselves to bagels and coffee in the morning in the kitchen. The neighborhood is extremely quiet. All in all, a positive experience
David
2016-10-17T00:00:00Z
Mariam and her mother were amazing hosts for a quick daytrip away from the city! Their communication with me - esp since I had never been to the area - was quick and informative. From the moment I booked, I knew they would be gracious and welcoming hosts. They opened their beautiful home to me and made me feel like I was visiting a family member. We had plenty of conversation but made it clear that I could have as much privacy as I needed. It was a pleasure to get to know them both! The room was amazing with a deck that I enjoyed. They had snacks, light breakfast and coffee available which was more than just fine for a one night stay. Can't say enough good things about them two and I look forward to visiting again. Highly recommend!
Gerard
2016-06-01T00:00:00Z
We had an amazing stay, and very much enjoyed our conversations with Mariam's mom. They prepared a very delicious and generous continental breakfast in the morning, and gave us advice about the area. My girlfriend and I bicycled from the train in Beacon for our apple-picking trip, which thanks to Mariam and her mom was absolutely perfect.
Alexander
2016-10-27T00:00:00Z
Both Mariam and her Mother were great hosts! Very friendly, always asking if there was anything we needed. They went above and beyond by supplying breakfast and coffee each morning. That was unexpected, and very appreciated! They were available if we needed anything but also respected our privacy. Their home was beautiful, and the neighborhood was upscale. We would definitely go back if we are in the area again, and would recommend them to our family and friends. A++++
Sandra
2016-05-30T00:00:00Z
Mariam and her mother write very gracious hosts, and their home was spacious, clean, and beautiful. I found myself making arrangements at the last minute; that presented no problem for Mariam who responded to my request very early on New Year's day morning where our arrival was that evening. The rooms were large, and the large bathroom was conveniently located between our rooms. We had a nice breakfast and learned much about the Beacon area from an enjoyable chat with Miriam and her mother. Really, a perfect AirBnB experience.
George
2016-01-03T00:00:00Z
Mariam and her mother were super stellar hosts. They welcomed us in and we're friendly, and the bagel, fruit, and coffee breakfast in the morning was so appreciated. Would love to stay there again and would recommend to anyone who prefers quiet peaceful (and beautiful) places to stay.
Caitlin
2016-09-26T00:00:00Z
Тип размещения
Отдельная комната
---
Тип жилья
---
Вмещает гостей
2
---
Спален
Wappingers Falls, Нью-Йорк 12590, США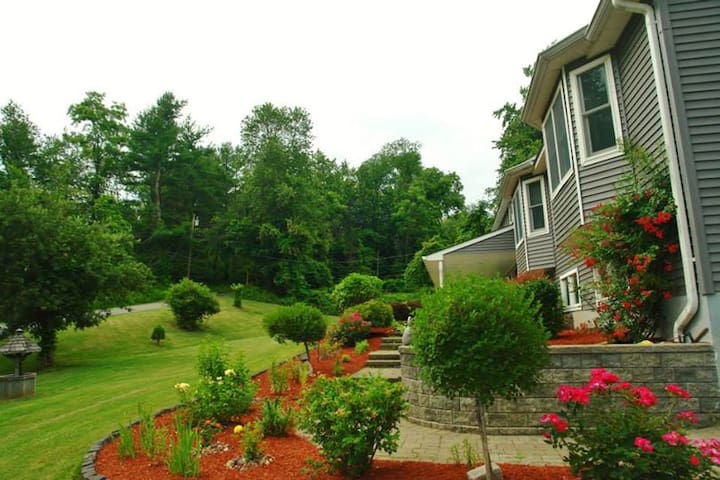 This is a Single Family Home , Driveway, a BedRoom with Full Size Bed , Get also to use Smart TV Downstairs , Enjoy the Near by Shopping Centres in a Mile and Hudson River -- Call to know more for any more questions / Email .
Тип размещения
Отдельная комната
---
Тип жилья
---
Вмещает гостей
2
---
Спален
Поукипзи, Нью-Йорк 12601, США

Введите даты, чтобы увидеть полную цену без учета дополнительных сборов и налогов.