Those two single beds are perfect for family or friends travelling together. It is on second floor, is very quiet and you can even watch squirrels sunbathing in the park! Separate yet dedicated bathroom.
Mon appartement se situe dans un écrin de verdure dans une ville moyenne à la croisée de Glasgow, Stirling et Edimbourg. Une petite retraite idéale si vous faites un tour de l'Ecosse. Vous pourrez profiter de tout le confort de la propriété ainsi que de petits plats fait-maison si le coeur vous en dit!
La ville en elle-même est de taille moyenne, le centre ville est typique de la région. Quelques restos sympas sont à proximité ainsi que des supermarchés si vous préférez faire vos courses et cusiner dans ma grande cuisine.
Super good BNB. Xavier is the greatest host ever! We have been taken care so well since we arrived. Xavier prepared very beautiful meal for us. The room and the bed are very cozy.
Kate
2016-12-29T00:00:00Z
We had a great time at Xavier's house. We just felt like home. He cooked for us a great breakfast and dinner and even gave us an upgrade in a bigger room! Thank you so much for the lovely evening with a great host and guests!
Myriam
2016-10-13T00:00:00Z
Xavier is possibly the best host you could wish to meet, after arriving soaked in our bike gear, he sorted space to get everything dry even drying our bike helmets while we unpacked, nothing was too much trouble. We were greeted with snacks after getting changed out of our wet bike leathers and a glass of chilled prosecco, not something you get in many upmarket hotels. We got clear and concise directions before arrival, recommendations for good local eateries and pubs. The room was lovely and clean, xavier upgraded us to his en-suite double room for no extra charge, a lovely touch we thought. In the morning we were given a cooked breakfast of our choice , which was superb. As I said earlier nothing was too much trouble, all in all a fantastic stay and the best host possible, very few I feel could match his generosity. Most 5 star hotels could learn a lot from this man
Moira
2016-08-21T00:00:00Z
Great guy, comfortable place , good value and made to feel at home thanks xavier
Jamie
2016-10-03T00:00:00Z
Host very communicative and helpful, in every aspect of my stay. He is nice, very good person who has travelled a lot in his life. He speaks many languages! Breakfast is at guest choice, so you can have greek, continental, french, that's great! House and rooms are very very clean, the bathroom too. I like very much this Airbnb experience, Xavier is the best host by now. Super reccomended!!!
Max
2016-08-28T00:00:00Z
Xavier was the perfect host! He is so friendly and accommodating. The room was lovely and equipped with an en-suite. With some of our plans falling through, he helped us with recommending various other activities. He made us breakfast each morning which was simply amazing. He was always on hand with drinks. The next time I am in Scotland, I will be staying here for sure! Thank you so much Xavier!
Lilymae
2016-09-08T00:00:00Z
Perfect place to stay while working away,
Kev
2017-03-01T00:00:00Z
I stayed at Xavier's with my friend. We really enjoyed our stay. Xavier welcomed as warmly and since then we felt like home. The flat was very cosy. The bathroom was very clean and nice. The location was also great, it is only around 10 mins till the train station to Glasgow. Every dish he made was extraordinary, he even baked a pie for us before we left!!! The best host we've ever met!!!
Anastasiia
2017-01-07T00:00:00Z
Тип размещения
Отдельная комната
---
Тип жилья
---
Вмещает гостей
2
---
Спален
Airdrie, Шотландия ML6 6NJ, Великобритания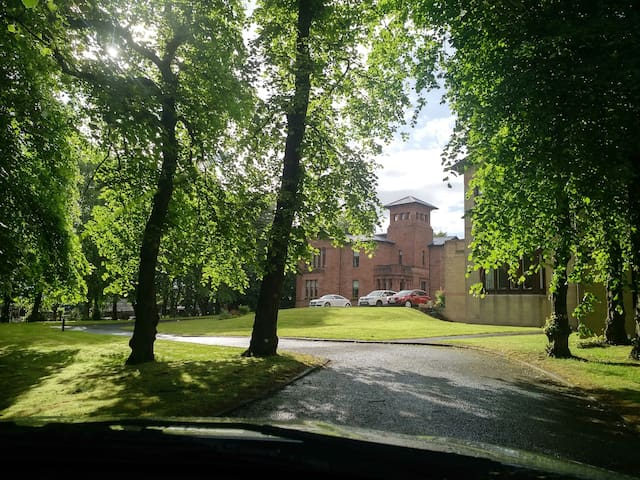 Our victorian villa looks traditional from the exterior but has a cool contemporary extension. Feel at home in an ensuite bedroom and enjoy easy access to Glasgow and Edinburgh from the train station 5 minutes away.
We have a traditional victorian villa with a cool contemporary extension.
Lisa and the room were great. Her house is beautiful, very modern but it still feels welcoming. The room and bathroom were spotless and private. My wife and I enjoyed having a pup in the house during our stay. Bob is a well mannered greyhound. The train station is a quick walk with trains to Glasgow and Edinburgh every 10 minutes or so. The trip into Glasgow was 20-25 minutes and easy. Airdrie is a small town but has tons of restauraunt and bar options, we had fun exploring them. We enjoyed our stay and recommend the listing.
Michael
2016-06-05T00:00:00Z
Lisa and Cameron were fantastic hosts who can offer a very nice space to crash down and stay. The room is bright, big and very clean, same goes for the ensuite bathroom. The house itself is also very nice and comfy. Our hostet were very friendly and interested in us, so we spend quite a while talking and (not to forget) stroking Bob, their very relaxed and lovely Dog. We can recommend them without any second thoughts.
Alexandra
2016-06-12T00:00:00Z
Lisa was an absolutely wonderfull host. The house was newly remodeled inside and far exceeded our expectations. Wewould love to have reason to stay there again.
Gordon
2016-09-07T00:00:00Z
Our stay with Lisa and Cameron was nothing short of fantastic! On our arrival we were welcomed by Lisa and her four legged fur babies, Bob and Copi. We all became fast friends. Lisa couldn't do enough to ensure that we were comfortable and had everything we needed. The home and our room was quite large though very warm and welcoming. We also had access to a lovely main floor lounge when we wanted to just relax and perhaps watch TV. The home is ideally located a short walk to the train station and town. It is also very convenient for access to the Motorway. We thoroughly enjoyed our nine night stay and wouldn't hesitate to go back on our next visit to Scotland. We feel so fortunate to have found this gem where felt so at home.
Bob
2016-07-05T00:00:00Z
When AirBnB asked the question "How accurately did the photos & description represent the actual space?" I wanted to give one star out of five because Lisa's home is so much better than the pictures could ever do justice! Lisa is a lovely host, and her home is absolutely beautiful. The dogs are gentle giants and I felt completely comfortable around them. The room was lovely, clean and warm. The ensuite is modern with a lovely big shower. I would absolutely not hesitate to recommend staying at this home.
Toni
2016-11-07T00:00:00Z
This was the best Airbnb I've stayed in so far over 3 continents! Lisa and Cam were warm, welcoming and very helpful; I immediately felt at home. The whole house was beautifully renovated and the guest room was spacious & sunny - with a sparkling en suite and one of the most comfortable beds I've slept in. The location was perfect with easy access to both Glasgow and Edinburgh. I had access to the kitchen, laundry and living room, and had a lovely evening sharing food, wine and interesting stories with my wonderful hosts. Bob the greyhound & newest member of the household was extremely friendly too. I'll look forward to staying here again!
Jillian
2016-05-23T00:00:00Z
We hebben uitermate genoten van ons 6 daags verblijf bij Lisa en Cam. We werden hartelijk verwelkomd en ze hebben ons zeer goed verzorgd. De kamer was zeer ruim en vooral de douche was zeer luxe. We konden vanuit hun zeer prachtige villa heel gemakkelijk Glasgow bezoeken en zelfs voor mijn man, die slecht ter been is, was het station goed bereikbaar. We kunnen het iedereen die Glasgow en Edinburgh wil bezoeken van harte aanbevelen. Hartelijke groeten van Ben en Inge.
Inge
2015-10-04T00:00:00Z
Lisa was a great host. She was always very helpful and the room was just perfect: clean, comfortable and we really felt at home. Thank you for having us!
Valerie
2016-08-22T00:00:00Z
Тип размещения
Отдельная комната
---
Тип жилья
---
Вмещает гостей
2
---
Спален
Airdrie, Шотландия ML6 0DL, Великобритания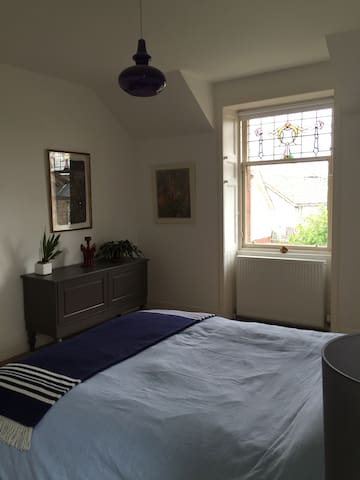 You'll love my place because of the cosiness, the views, and the location. My place is good for couples, solo adventurers, business travellers, and furry friends (pets). The option to upgrade to include a full cooked Scottish Breakfast is available upon request.
Excellent service, lovely wee cabin! Loved the hot tub. Highly recommend.
Claire
2017-02-19T00:00:00Z
Тип размещения
Дом/квартира целиком
---
Тип жилья
---
Вмещает гостей
2
---
Спален
Airdrie, Шотландия ML6, Великобритания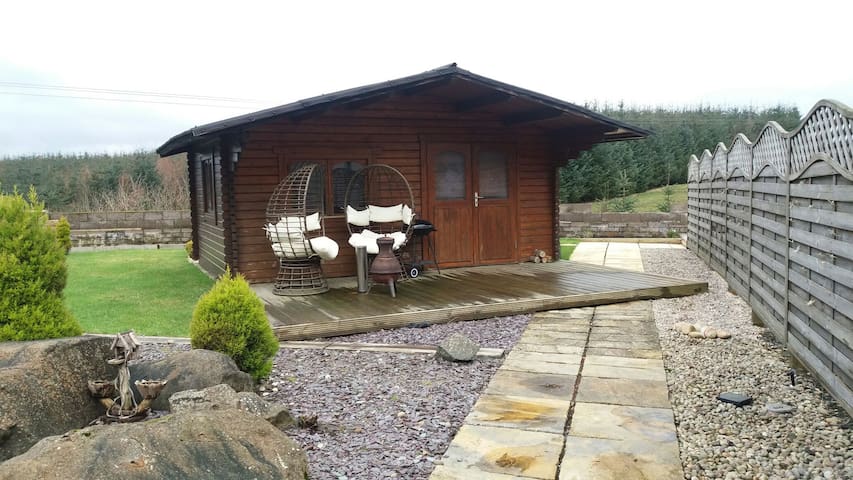 This massive bedroom is ideal for travelers who want to relax during their tour of Scotland, whether you land in the west or in the east, motorway access is around the corner. Yet, property is hidden behind a wall of centenary trees. No wonder there is so much wildlife around. It is a great spot to crash before you hit the wilderness or the cities...come on in!
The property was built 30 years ago over a historic landmark in the area. The local provost had commissioned the famous architect Alexander Thomson aka "Greek Thomson" to build his family home - it is a sumptuous mansion from 1870. My living room is just across, a unique view to take you back in the days of 19th century Scotland.
Average town with nice pubs, restaurants, supermarkets and fine take-away food! You can always book a fine diner from the French head chef, £20 for two with Prosecco! Starter, Main course and Desert, of course!
This was my first experience of airbnb and it was excellent. Xavier was most welcoming and went out of his way to make sure I had a good stay. He wasn't overbearing and gave me all the space I needed to recover from my long drive. Future hosts have a lot to live up to now. Thanks Xavier
Rich
2016-08-17T00:00:00Z
Our experience with Xavier was incredible! He is a very conscientious host who was genuinely happy to have us join him in his beautiful home. Upon arrival he met us with warmth and enthusiasm which continued for the duration of our stay and extended to wonderful breakfasts and conversations. Thank you for making our holiday!!
Derrick and Jenny
2016-08-02T00:00:00Z
Really enjoyed the stay. Xavier is an excellent host and would definitely recommend staying here if you find yourself in this area. Thanks very much for your hospitality!
Joseph
2016-09-25T00:00:00Z
Xavier has been very responsive during the organization of my arrival, and welcoming during my stay. The apartment is very nice and clean, and English breakfast was very good!
Giovanni
2016-08-29T00:00:00Z
Тип размещения
Отдельная комната
---
Тип жилья
---
Вмещает гостей
2
---
Спален
Airdrie, ML6 6NJ, Великобритания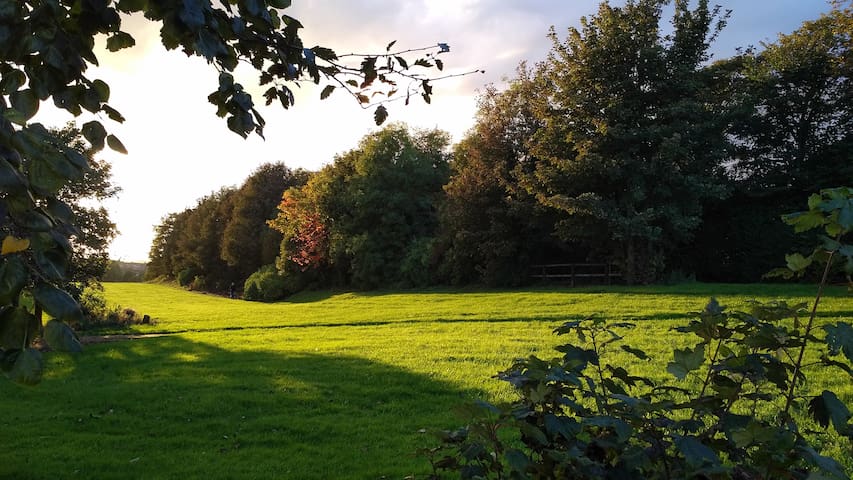 Great for Commonwealth Games or Ryder Cup. 3 Bedroom house and self contained 1 bedroom flat. 12 Miles from Glasgow City Centre and 6 miles from many of the commonwealth stadium in the East End. 3 Mins to rail links for Edinburgh and Glasgow.
Large spacious house, flat and gardens. 3 bed house and separate 1 bed apartment.
Semi rural, with great transport links. Central for Glasgow/ Edinburgh, Stirlingshire, Perthshire, Argyll.
Тип размещения
Дом/квартира целиком
---
Тип жилья
---
Вмещает гостей
8
---
Спален
Глазго, ML6 7JH, Великобритания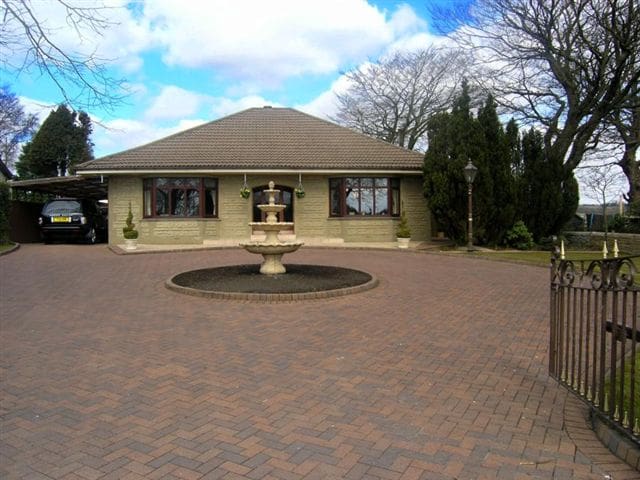 2 bedroom apartment available, sleeps up to 4. You have the entire apartment Each bedroom has 2 single beds which can be made into King upon request. (2 days advanced notice required) Close to all motorway links, great access to Euro Central and Strathclyde Business park. A short Distance form the Clyde Valley and great train and bus links to both Glasgow and Edinburgh. Local parks and attractions are minutes away. Excellent transport links by bus and train.
The Space This is a bright and airy flat located in a very convenient area. There are two spacious bedrooms both with twin beds. These can be made into king on request. Guest Access Guests will have full and unrestricted access to the entire flat during their stay. There is also a communal rear garden that guests can use. The Neighbourhood The flat is situated in a great location. Just a couple of minutes from the local supermarket along with other shops bars and restaurants. The apartment is minutes from all major motorway links. Euro central and Strathclyde business park are just a short drive. There are many local parks and attractions close by for guest to enjoy. Getting Around There are great transport links right on your doorstep with regular buses and trains to Glasgow and Edinburgh. We are a quick 20 minute drive to Glasgow city center. The apartment also has easy access to Livingston, Edinburgh, Glasgow and the Clyde Valley.
Good value apartment. Clean, tidy and with everything you'd need. Basic furnishings. Perfectly adequate.
Katie
2017-01-17T00:00:00Z
Cracking little place. Comfortable, clean, reliable wifi, and easy parking. Ideal.
Michael
2017-02-03T00:00:00Z
I had a lovely stay at the apartment as it was comfortable and conveniently located. Sandra was super friendly and accommodated my early check in request as I was arriving from overseas.
Alvin
2016-09-19T00:00:00Z
All ok.thanks a lot!!
Małgorzata
2016-08-10T00:00:00Z
Thanks a lot to have a good time at your apartment!!
Małgorzata
2016-08-09T00:00:00Z
Тип размещения
Дом/квартира целиком
---
Тип жилья
---
Вмещает гостей
4
---
Спален
Motherwell, ML1 4TH, Великобритания
Traditional 1 bedroom apartment with free parking space. We have everything you need for you to relax: comfortable beds, TV, equipped kitchen and toiletries. Close to Eurocentral Industrial Estate
Nice clean comfortable flat
Nick
2016-12-02T00:00:00Z
Very spacious accommodation and ideal for a family or group of friends who wish to have a place to call 'home'. Bus stop opposite but having a car would be preferable (there is limited parking to the front). Lovely outlook and quiet garden to the rear. Thank you Karolina, it suited us fine.
lynne
2017-01-09T00:00:00Z
Everything was ok, In the morning two bunnies cam in the garden it was magical
Mihail
2016-11-30T00:00:00Z
We booked at last minute, communication was good from the start. The Flat is in a good location for Glasgow & Edinburgh with excellent rail links, it was a great base. The flat was clean and tidy, and once we got heating turned up very cosy. A bit on the basic side but still an amazing bargain.
John
2016-12-08T00:00:00Z
Easy to find using our GPS, central to where we were going, Off street parking a big bonus. The apartment is exactly as described, spacious and cosy at the same time, very clean and bright. Karolina is a very considerate and kind host.
Mary
2016-12-20T00:00:00Z
Apartment situated near the main road and although old, it's clean and well-maintained and fully equipped. Very good contact with the property's owner.
Lukas
2017-02-19T00:00:00Z
Тип размещения
Дом/квартира целиком
---
Тип жилья
---
Вмещает гостей
6
---
Спален
Bellshill, Шотландия ML4 1EE, Великобритания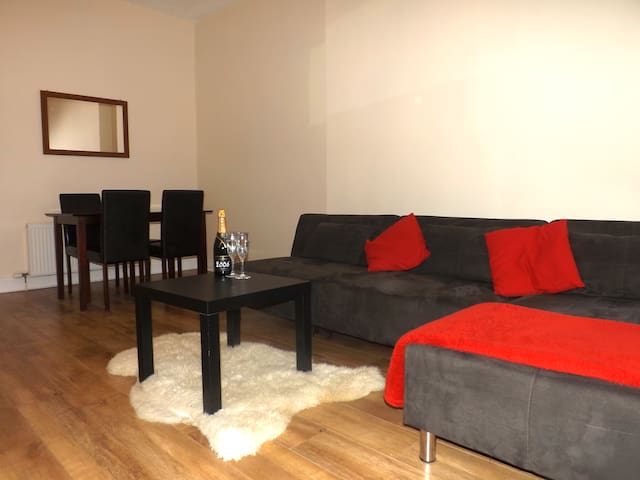 My place is close to public transport and art and culture. You'll love my place because of the cosiness, the views, and the location. My place is good for couples, solo adventurers, business travellers, and furry friends (pets).
Тип размещения
Отдельная комната
---
Тип жилья
---
Вмещает гостей
2
---
Спален
North Lanarkshire, Шотландия ML6, Великобритания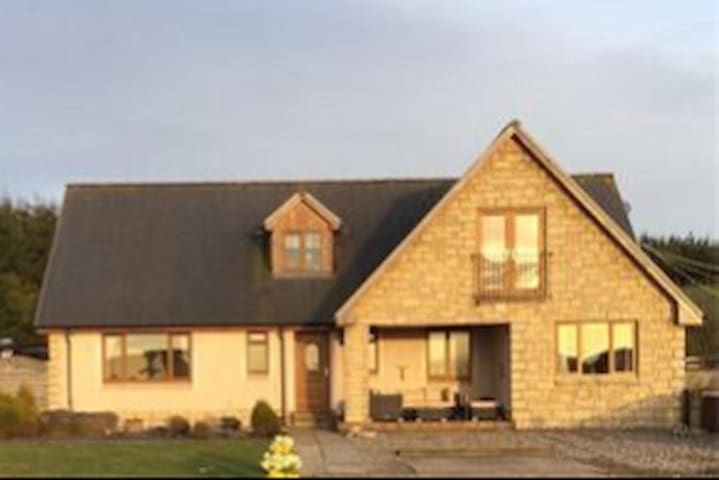 Введите даты, чтобы увидеть полную цену без учета дополнительных сборов и налогов.