My place is close to Nightlife, bars, restaurants, casinos, 7/11, supermarkets, shopping, transportation, major highways, parks, great views and more.. My place is good for couples, solo adventurers, and business travelers. My place is located in a beautiful, gated, park like setting with plenty of parking, 4 pools and hot tubs, a semi-private entrance, private room and bath with small kitchenette, big closet and W/D. Available for Short or Long Term. Walk next door for shopping and transit.
Semi Private entrance (Front door into hallway with 3 doors, your private entrance will be strait ahead.) located on the second floor in a very nice and safe area called The Lakes next to the Summerlin community on the west side of Las Vegas. 2 miles from Red Rock Casino and Count Customs, "Vamp'd" Rock n Roll Nightclub. 7 miles from the strip. This room and bath is very private, set up like a hotel room. Only outside smoking is allowed.
Great location in a newer built, safe, clean and friendly neighborhood. You can walk next door to a NEW DINER, 7/11, movie rental, 24hr gaming/bar/restaurant, Outback, Burger King or 24hr Smiths grocery store.
Great location. Clean and well-equipped. Thank you, Keith.
Scott
2016-10-20T00:00:00Z
We had a great stay! Keith is an excellent host and was very responsive. The guest hallway, bathroom, and bedroom is separate from the rest of the condo unit allowing for an added measure of privacy. It's located about 15 minutes west of the strip. Would definitely consider staying here again.
Adrian
2016-10-09T00:00:00Z
Keith is just amazing. Almost every AirBNB host would do well to take a few lessons from him. This is by far the very best AirBnB experience I've ever had. If available I will always try to stay here. It's obvious Keith, has stayed at various AirBNB residences previously and in speaking with him he has incorporated the best of what he has experienced into his own hosting. Well done Keith.
Dominic
2016-10-12T00:00:00Z
Great space for events at Red Rock. Close to Whole Foods. Warm and cozy. Very clean.
Alicia
2016-12-18T00:00:00Z
Wonderful place, in a quiet neighborhood. The room is clean and smells nice, with a very comfy bed.
Kevin
2016-11-01T00:00:00Z
Tres bonne !
Sébastien
2016-11-03T00:00:00Z
It was clean, quiet, and far from the craziness of the strip, which was exactly what I wanted. About equidistant between Mandalay Bay and Red Rock Canyon, a 20 minute drive for either one. You have your own bathroom and bedroom with coffee maker, fridge and microwave. Keith was very quick to respond to any of my questions via text. I don't think there is wifi, but am not sure about that because I didn't need it and never asked. Multi unit building in a gated community (I needed some education to figure out how gate worked, having never had experience with that before), lock on individual unit is not substantial but door to that part of building is very secure. Plenty of parking and it's easy to find using (SENSITIVE CONTENTS HIDDEN) maps!
Nancy
2017-03-09T00:00:00Z
Keith's set up is awesome! separate entrance, total privacy, parking rt there, we can't say enough. We enjoyed the freedom to come and go whenever we wanted and the fridge and microwave allowed us to save on costs by buying groceries for lunches etc. He is super flexible and answered any questions we had promptly and provided whatever we needed. Location was nice and quiet, direct routes to the strip and close to Red Rock Canyon where we hiked as well as many golf courses nearby. We highly recommend keith, and will be booking again and telling our friends
Barb
2017-02-22T00:00:00Z
Тип размещения
Дом/квартира целиком
---
Тип жилья
Квартира
---
Вмещает гостей
2
---
Спален
Лас-Вегас, Невада, США
PRIVATE ROOM & PRIVATE BATH IN SUMMERLIN/RED ROCK AREA OF LAS VEGAS.
SECOND FLOOR CONDO WITH PRIVATE BEDROOM AND BATHROOM, full size over full size adult bunk bed. Premium mattresses, linens, and furnishings. 1 GB SUPER FAST FREE WI-Fi and 32 INCH LED TV WITH ROKU PLAYER, LASER PRINTER, FULL LG LAUNDRY, STAINLESS APPLIANCE KITCHEN, and lots of surfaces to spread out and work make this an ideal professional space to conduct business or relax and play on your holiday. Two full size over full size adult bunk bed. Provides flexibility to accommodate sleeping preferences of your choice. Comfortably sleeps 3 with pull out twin trundle bed. Free parking for your vehicle.
Located in the SUMMERLIN community in Las Vegas. Close to new Downtown SUMMERLIN shopping and dining. Short drive or walk to J.W. Marriot, Shopping, Red Rock Hotel, Allegiant HQ, and Culinary Academy. Guests love close proximity to the RED ROCK NATIONAL CONSERVATION AREA for HIKING AND CLIMBING. DOWNTOWN LAS VEGAS IS A SHORT 8 minute drive with adjacent access to SUMMERLIN PARKWAY. Walk to 7-11 and CAPRIOTTI'S sandwich shop and BURGER KING.
We had an amazing time here. The host was very friendly and welcoming. It certainly felt homey here
Prue
2016-10-17T00:00:00Z
Everrything was just right.
Jean
2016-10-23T00:00:00Z
Thomas made my trip very easy. I really liked his flexibility and he was very nice and accessible when I had inquiries. The room he provided was great too and was very clean.
Hannan
2016-04-25T00:00:00Z
Words can't express our stay during our very first Airbanb trip. Thomas was simply amazing. He went out of his way to ensure we were comfortable. His home was truly a home away from home. His description of the property could never serve the true justice. He offered to pick us up and drop us off at the airport. He provided snacks and even had my favorite breakfast (cereal). The room and bathroom were clean and always properly stocked. He even had lemonade made after a long day of training. If I'm ever in Vegas, this will be my home for the week. Thanks Thomas!
Marshea
2016-08-21T00:00:00Z
Thomas was a great host. The place is as described - cozy and clean. It is a little ways from the strip (~20 min drive), but it's located in a nice, quiet neighbourhood with free parking. The little spread of food for snacks and breakfast, was a nice touch. I'd recommend this spot to anyone interested in a hotel-like feel a little outside of the strip.
Geoff
2016-03-20T00:00:00Z
Had a wonderful stay. Would definitely recommend Thomas house, he was very kind to help us to places to see in and around. This was my first stay with Airbnb and I am sure there will be many more bookings in future!
Pranav
2016-12-04T00:00:00Z
This place was awesome for my first Airbnb, was very helpful with things to do in the city and with directions. I Would recommend this to anyone and thank you again for the stay
Pedro
2016-08-15T00:00:00Z
Thomas was an amazing host. He made us feel welcome and comforted the moment we stepped into the apartment. Everything ws setup and he was amazing in providing everything we needed for the stay.
Onkar
2016-03-07T00:00:00Z
Тип размещения
Отдельная комната
---
Тип жилья
Квартира
---
Вмещает гостей
3
---
Спален
Лас-Вегас, Невада, США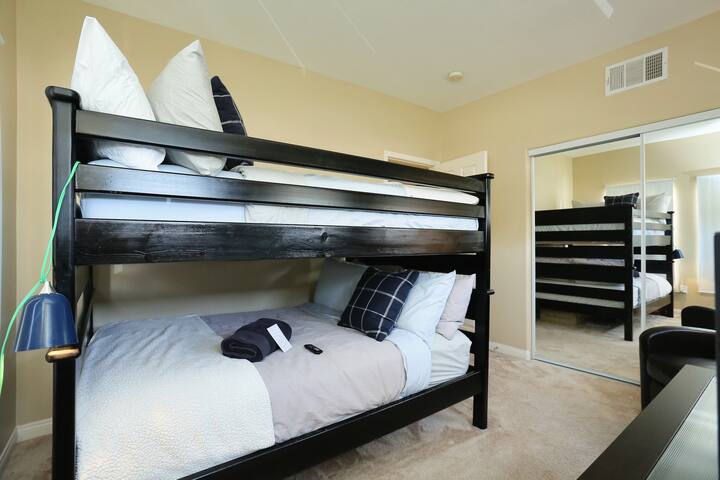 Our cozy and clean guest room is the perfect place for a weekend stay! Only 15 min from the strip and right in the middle of groceries stores, restaurants, banks etc... Also have access to 24 hr gym and pool/hot tub as well as covered parking. You will have your own bath room. Please feel free to ask any questions about the city such as cool hole in the wall spots, quick routes around the city and many more!
Evelyn's place was very clean & neat. We stayed 2 nights at her place; before & after our trip to LA. Driving back from LA with its traffic, it was really a joy to know that we can get a good & comfortable rest at her place. In terms of location, the apartment complex is quiet & feels safe. It is also about 15mins to the Strip We also appreciate that she has a washer & dryer in the apartment which was very convenient for us. Evelyn was also quick to respond to our text messages. Overall, we are really pleased with our stay here. Thank you!
Diyana
2017-03-15T00:00:00Z
Evelyn & her partner were very nice and fed is with all the information we needed regarding Vegas :-) The apartment is very clean and spacious, everything as described. We can definitely recommend staying at their place. Thank you :-)
Maggi
2016-12-09T00:00:00Z
Great place to stay
Syerina
2017-03-17T00:00:00Z
My husband and I spent one nigth at the Evelyn's house and was enough time to know how good person she is. She made us feel like their house was ours! The room is big and the matress is very comfortable, all the apartament was clean. She has champoo, towels, hand cream and still water to share. The wifi works good! The main problem for me was the light come in through the blind. The neigbourhood is good, but quite far from the center, you need a car to stay there. For me that wasn't a problem because you can Park in the strip street for free
Mónica
2016-11-18T00:00:00Z
They are good host. The amenities are basic but so is the price. It is 15-20 min drive in the interstate to reach this place.
Asif Hasan
2017-01-14T00:00:00Z
Clean,moder, nice flat, very good bed. I am grateful as they received us after middnight,she gave me all the information about how to get there. Really appreciated. I would definitely recomend it.
Gina
2017-03-13T00:00:00Z
Evelyn and his husband are very welcoming. The appartment is just perfectly clean and well equipped! The room is quiet and bed is perfect...own bathroom...what else?? just you need a car, but it's better probably to visit around ;)
Ben
2016-11-25T00:00:00Z
Evelyn's place is perfect for a short stay, relatively close to the Strip (about 20 minutes in traffic). The room is basic but clean, and the private bathroom is very nice and comfortable. The room contains just the bed, nothing else. A small table or chair for clothes/glasses would have been handy. I'm sure Evelyn would have provided it if we'd asked for it though.
Maarten
2017-03-04T00:00:00Z
Тип размещения
Отдельная комната
---
Тип жилья
Квартира
---
Вмещает гостей
2
---
Спален
Лас-Вегас, Невада, США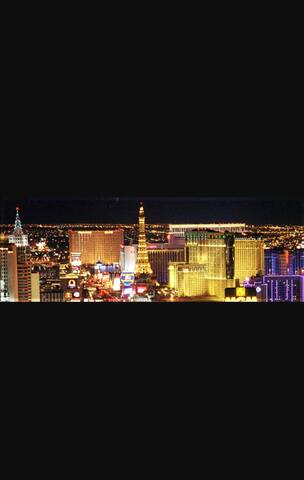 Located near the beautiful Summerlin area, just a 15 minute drive from Las Vegas Strip. Clean room with private bathroom with full size bed. Family-friendly neighborhood, next to shopping/restaurants. Free parking. Kitchen/ Washer/Dryer/Wifi/Balcony
Artistic and comfortable clean space. Public park nearby, groceries and restaurants all within walking distance.
family friendly neighborhood, very safe.
Amazing place and amazing people. So nice! And the room was great, master room with own bathroom, it was very comfortable. Top choice for next time I'm in this area for me.
Zoey
2017-01-08T00:00:00Z
10/10. Would definitely use again. Friendly, inviting host, super informative with plenty of local suggestions. For our first Air BnB stay, this has set the bar pretty high.
Zachary
2017-03-10T00:00:00Z
Pandora and Darrick were fantastic hosts. Really down to earth, fun and easy to get on with. Everything that I look for in good Air BnB hosts. The property is in a great location, just 15mins to the Strip but also close to all local amenities should you prefer a few more relaxed days locally etc. The room is as described, spacious and the private bathroom and dressing area is a bonus. There is also plenty of hanging space if like me and you were staying for more than just a couple of days. The ability to unpack and not live out a case makes a big difference. I would not think twice about recommending this place to friends and family.
David
2016-06-24T00:00:00Z
Great hosts, great place. They were super friendly and approachable, making our stay there comfortable and pleasant. Highly recommended place to anyone looking for accommodation in Las Vegas.
Masaki
2016-08-24T00:00:00Z
I felt really comfortable. Thanks Pandora and Darrick for your help.!!
Rodrigo
2017-03-24T00:00:00Z
Pandora and her fiancé were fabulous hosts. The location was very good in that we were away from the main drag. The room was private with an ensuite bathroom both immaculately clean. We even were able to do a laundry load. The best part about our stay was our hosts enthusiasm particularly Darrick's for things to do and see. On his recommendation we had two wonderful days in this fascinating playground for adults. We used Uber to get in and out of town which was very successful. many thanks Jean and Jake
Jake
2016-10-16T00:00:00Z
Me and my husband find the appartment very conftable near shop,near restaurant but espacially near las vegas. Pandora and Darrick were great host who give us some adress to help us discover this Nice area but they are also pasionnate artist who want to share they experience with us. it was very kind. So I clearly recommanded it :-) If we had Know we would of stay there more longer
sheena
2016-09-05T00:00:00Z
Pandora and her fiancé have made such a comfortable and chill private room in their apartment for guests. They were both communicative (either by phone or in person) and very kind- I was even helped to the apartment by her fiancé. The room and bathroom were clean, and my stay was relaxing. Genuinely pleasant!
Dominique
2016-07-15T00:00:00Z
Тип размещения
Отдельная комната
---
Тип жилья
Квартира
---
Вмещает гостей
2
---
Спален
Лас-Вегас, Невада, США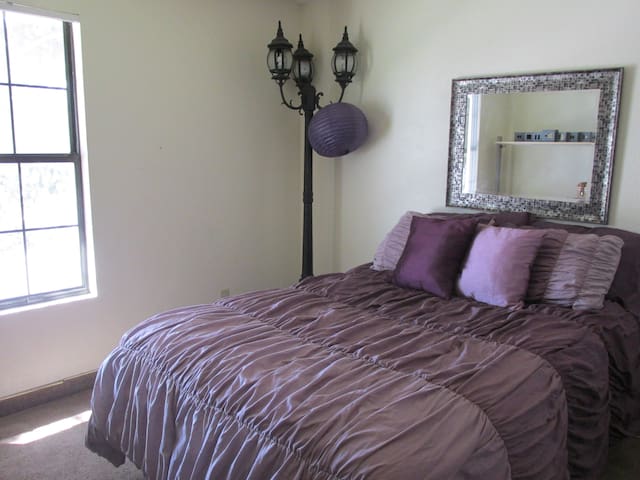 Great place to bring the whole family. Across from a large Sports Complex. Run, bike or just walk your dog to the dog park. In either direction 10 minutes to Las Vegas Blvd. or Red Rock Canyon
Spectacular Condo In Summerlin! View of Spring Mountains and Charleston Peak!!! 1 Bedrooms, Private Bathroom and a Queen Size Vertical Wall Bed. Fireplace, Kitchen, Dishwasher and Microwave , Open And Spacious Floorplan! Great Summerlin Location! DIRECTLY ACROSS THE STREET The Darling Tennis Center Are you new to Las Vegas or just looking for a new way to get involved with tennis. The Darling Tennis Center is a great and informal way for local tennis enthusiasts of all abilities to meet and play matches with other similarly skilled players at mutually convenient times and locations. ! Darling Tennis Center kids shine at RTC! Regional Training Center CHARLIE KELLOGG and JOE ZAHER SPORTS COMPLEX The sports complex includes 3 dog runs. The new state-of-the-art Charlie Kellogg and Joe Zaher Sports complex is set on approximately 110 acres in the northwest part of the Las Vegas valley. The expansive regional park has 11 lighted soccer fields - seven are artificial grass and four are natural turf. It features a three-cell "dogs only" area, children's play areas, shaded picnic shelters and a large walking/jogging path that surrounds the entire park. The complex is also home to the Amanda and Stacy Darling Memorial Tennis Center, the largest of its kind in the state of Nevada. It includes 23 tennis courts, including one main court with stadium seating for approximately 2800 spectators, a small pro shop, locker rooms and office space. The sports complex will be a huge draw for large tennis and soccer tournaments and is a wonderful addition to the surrounding area. Vegas Hot YOGA TRADER JOES MINUTES FROM SUMMERLIN PRKWY CLOSE PROXIMITY TO BUS STOP METICULOUSLY MAINTAINED COMMUNITY ......SERENE......PEACEFUL....
Convenient to everything, public transportation adn the interstate are minutes away. There is a dog park across the street and sports complex.
Deborah was an absolute amazing host. I appreciate the fact that I was able to check in convenient and with all the accommodations to my schedule. The Place was very clean and gave me the personal feel I like most when seeking out places on this venue. I will definitely use her often! The scenery and location was perfect! Just as Described.
Tracy
2015-05-23T00:00:00Z
Deborah was really nice and responded immediately. It was helpful considering our last minute booking and plan changes. The house was nice and had everything we needed.
Kiran
2015-05-19T00:00:00Z
Deborah was awesome and was very accommodating! The condo was amazing!
Brandon
2015-07-05T00:00:00Z
Centrally located close to Red Rocks Canyon - perfect for climbers. Ammenities close by. Deborah was quiet and respectful of giving us the space in the apartment. She took care of all the linens as well. May want to inquire about kitchen amenities if you plan on cooking there a lot, there was not much to work with. Not an issue if you're someone who likes to eat out.
Katie
2014-04-24T00:00:00Z
Very enjoyable stay. Deborah was very accomodating and provide us with the privacy needed for us to spend some quality time and she even provided treats for our dogs. Right across the street from the dogs park and very spacious area. Recommended!! Thanks Deborah!!
Sarah-Ann
2014-12-13T00:00:00Z
I thought It was great there were a few miner repairs needed but overall it was great.
Greg
2016-11-08T00:00:00Z
Location: Near local park and Red Rock National Park. Mixed neighborhood in the condo complex. Pet friendly community. Condo Interior: Bathroom, Kitchen & Living Rooms (toilet bowls & flushing, shower, dish washer knob, appliances & furniture included) are not clean. Floor cleaned with clorox - watch item for sensitive people. Towels - Lack of clean towels. No wash cloths & hand towels. No soaps. Dryer - no heat to dry clothes Internet - Good speed Check-in: unnecessary complicated - too many keys, host did not verify if all keys work.
Lan&George
2017-02-01T00:00:00Z
Deborah was very generous. The condo was very clean and the air conditioner helped out a lot. The area was nice and the neighborhood was quiet and safe.
mardan
2014-06-23T00:00:00Z
Тип размещения
Дом/квартира целиком
---
Тип жилья
Квартира
---
Вмещает гостей
4
---
Спален
Лас-Вегас, Невада, США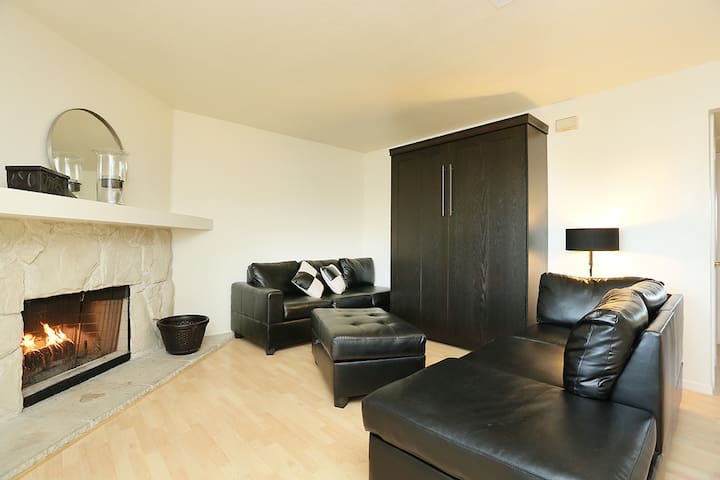 My place is close to Red Rock Mountains, Freeways, Las Vegas Strip, Convention Center, Restaurants and Dining, Art and Culture. You'll love my place because of How close it is to everything. My place is good for couples, solo adventurers, big groups, and furry friends (pets).
The space is not in the nicest of areas; this is an economically friendly listing that caters to those who are okay with a lower-middle class neighborhood but a big and spacious apartment. If you are looking for a higher end or quieter neighborhood, feel free to browse my other listings as we have different options for different budgets.
The neighborhood is not high end at any means, it will be loud on the weekends and it is not new. There is a church within walking distance, a large shopping center with multiple restaurants within walking distance, and it is relatively close to all the major sights.
Modest accommodations in a quiet low income neighborhood. As the owner mentioned, the place is being remodeled but is not shabby! Perfect for a few mellow nights in Vegas.
Ray
2017-02-06T00:00:00Z
We enjoyed our stay in Vegas. First time visit. The apartment met our fundamental needs. Nothing fancy, but had a comfortable bed and the washer and dryer were a big bonus. Would have liked to have had a coffee maker, so we bought one for $10 bucks at Walmart. The location was great for us to meet our destination needs. Our host Mark was great at communicating with us via text. It was very convenient to have a lockbox with the key inside because we arrived very late or early AM due to rental car 2 hour wait. Mark gave us the code to the lockbox and we did not have to bother anyone that late in the AM to get inside. Would definitely recommend a short stay in the future.
A.
2017-03-31T00:00:00Z
Nice place! Not the best neighborhood but still very nice and affordable.
Meghan
2017-02-09T00:00:00Z
Communication was easy. Affordable and the apartment was nice.
Jennifer
2017-03-26T00:00:00Z
A clean place that met our basic needs for the weekend! We had hoped there would be pots and pans, but we made do with the microwave. Two of my friends also found a stray bug or two inside the microwave and one of the sinks, but no more than that. All in all, the bathrooms and living room were otherwise clean, and it was a simple apartment with extremely comfortable beds!
Lilian
2017-04-02T00:00:00Z
Very great with answering questions as well.
Chelle
2017-03-11T00:00:00Z
It is cheap and perfect for 5 people! The host was friendly and very hospitable! The neighbors are strangers but it is safe!
Daniela
2017-04-04T00:00:00Z
Great for a quick trip with a large group!
Marisa
2017-03-22T00:00:00Z
Тип размещения
Дом/квартира целиком
---
Тип жилья
Квартира
---
Вмещает гостей
10
---
Спален
Лас-Вегас, Невада, США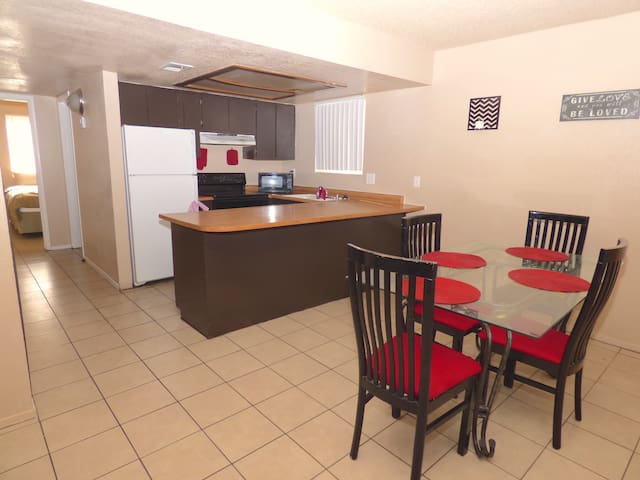 It is a quiet working class ghetto...the residents are open, friendly and helpful The space is a simple and clean 2 Bedroom 2 Bath ground-floor apartment of which one bedroom with private bathroom is available. Everyone is treated —regardless of race, religion, national origin, ethnicity, disability, sex, gender identity, sexual orientation or age—with respect, and without judgment or bias. This has been my policy long before Airbnb decided to make a statement.
I am now offering a 10% discount to "cat friendly" long term guests (30 days or more) who book August through December 2017. Please scan or read the entire listing. It will answer many of your questions, especially if you are first time Airbnb user. ------------------------------------------ The apartment is located in a small and quiet 40 year old neighborhood of patched stucco 4 plex buildings. It's 2 blocks to a 6 lane main street with close by freeway access. My 4 plex is on the south side of the street and I keep the outside entryway light on. As you approach, expect to see a run-down poor neighborhood. When people move out of the neighborhood they leave bed parts and old furniture out by the dumpsters on the street. There is nothing that would be considered middle income around here. Once inside, the room at the end of the hall (10 x 10.5 ft.) has a Queen size bed (sheets, comforters, pillows) plus a cheap light and small work-space desk at this time. You may use the wall to wall closet. This is your private no frills space. Just in the hall outside your bedroom door is your private bathroom. No extra charge for a second person. The apartment is not tastefully decorated. I live a climber's basic lifestyle and the apartment is very utilitarian. I do, with the exception of the climbing gear storage, keep the place picked up and clean. While there is no "motorcycle in parts" in the living room, it would not be unusual to find me opening the guts of my desktop computer on the table. Beginning in February I will be rebuilding my Yamaha ZX 225 outboard motor in the front room. I have prepared a space but the engine block will from time to time be on the main table till the rebuild is finished. The kitchen is basic but you'll have enough utensils to make a nice meal for several people. In addition to the usual microwave and toaster there is a wok, blender and "bullet" juicer, french press, coffee cones and filters and coffee grinder. You are of course more than welcome to take coffee or tea in the morning and meals at the kitchen counter or the main table. Please bring your own toiletries. Towels are provided. Guests leave shampoo and soaps. I store those under the sink. When the supply runs low I stock shampoo, conditioner, liquid soap and cleaning supplies. Dual Band Hi Speed Wireless connection is available and you can set up in the common space on the dining table or in your bedroom. There is no Television. Find the wireless password inside a drawer of the bedroom's small desk. There is "off street parking" in the apartment parking lot. I am a rock climber who can't remember the last time he partied. I work from the apartment. That means I get up at 5:30AM during the week; grind fresh coffee, day-trade for a few hours and sometimes nap mid mornings unless I am going climbing or bass fishing. I prefer someone quiet and somewhat neat who is comfortable with animals. I do have a long haired cat (Amy) and a calico kitten (Nastasha). If you leave the bedroom door open Amy or Nastasha love to come in and visit. So far neither cat has ever damaged anything in there. I keep them brushed and the place vacuumed but if you have cat allergies this is not the place for you. Food shopping (Walmart) is within walking distance or a short drive to shopping centers. Whole Foods, Sprouts Farmer's Market and Trader Joe's are about 1 to 2 miles distant. The same area hosts many restaurants. There three chain food markets within 2 miles of the apartment. Lately I have been shopping for fresh produce at Market-On located on the corner of Washington Street and Decatur Blvd. You really need your own transport to use this location. This location has good freeway access, 25 minutes to the center of the Strip, is close to Red Rocks (30 minutes or less) and 45 minutes to parking for the Hood at Mt.Charleston for high altitude summer climbing. Going downtown (average less than 30 minutes) is more traffic dependent especially during holidays when traffic is heavy. There is bus transport very close. It's safe to travel around after dark, but the public transport system in Las Vegas leaves a lot to be desired. You can find information about public transport at the Regional Transportation Commission of Southern Nevada site online...Read below for more details about getting around...
It's nicknamed the "Baby Ghetto" Be sure to view the neighborhood photos. This is a run down poor working class neighborhood (mostly Black and Latino); you may see some trash in the street, but the neighborhood is well lit, safe and friendly. Early 2015 Las Vegas Metro permanently installed a closed circuit live feed camera at the intersection of Yerba and Lirio and a new gate at the end of Arpa, so the only entrance and exit is Lirio Street. There is a heavier than average police presence here, due in part, I think to the city commissioner's personal interest. Subsequently, CC TV's have been installed at other nearby intersections In the 90's the "Baby Ghetto" was drug and prostitute ridden with ostensibly the highest per capita firearms density in Las Vegas. Frequent and ongoing Las Vegas Metro patrols have run out the drug dealers. Afternoons and weekends, children and animals play in the street during low light - please drive very slowly in the neighborhood, There is a basketball or football game going on about every day. Many of the senior retirees walk their little dogs twice a day. Mornings and evenings it is not unusual to see people going through the dumpsters looking for recyclables. You can hear the ice cream trucks come around in the afternoon. You can walk about after dark and shop at the local fast food shops or close by Walmart. The local police precinct holds seasonal block parties. I don't leave my Toyota Tacoma unlocked at night or anything valuable in view in the front seats, but I have a $55,000 bass boat parked out side under a blue cover and it hasn't been bothered in the five years have been here. It is an ideal location for climbing at either Red Rock Canyon or Mt. Charleston in the summer because of the ease of freeway access and the selection of stores and services. ------------------------------------------------ There are a couple "local" bar & grill establishments close by and about 1 mile distant at Lake Mead and the US 95 on the west side of Lake Mead is a selection of restaurants and the usual fast food, but I don't frequent them so know little about the food or service.
Thomas and Julie were wonderful hosts. Their cats were so adorable too! My boyfriend and I felt comfortable and welcomed during our stay - in the heat of the summer, we appreciated the cool indoor temperature, strong shower pressure, and large comfortable bed. We would definitely stay here again. Thank you!
Mai
2014-06-24T00:00:00Z
Tom is an excellent host. His place is utilitarian and pragmatic and in a location with easy access to the strip to the east and red rock canyon outdoors stuff to the west. You might hear some noise from neighbors above but nothing too problematic to overcome. Tom's wake/sleep schedule aligned with mine well so worked out great.
Tony
2014-11-16T00:00:00Z
Great stay. Amy is a good cat. She likes to sleep with me ;) Will definitely go back!
Yan
2016-06-11T00:00:00Z
Thomas is very nice person. It is a great communication with him and we enjoyed the New year. Bathroom is nice and private. We felt here very well. :)
Šárka
2017-01-05T00:00:00Z
Thomas & Julie provided me with wonderful hospitality. I would stay with them again.
Jessica
2014-06-01T00:00:00Z
Well represented. Thomas has a decent place to stay, and a great bargain. His cat is friendly yet unobtrusive. Having a kitchen and private bath so close to Vegas is a winner. We were able to easily drive back and forth to Red Rocks from his place. The apartment is fairly quiet, and not fancy, suitable for those who are not uptight or expecting the Ritz. All amenities that we needed were available, including Tom's knowledge of the locality and the rocks.
David
2013-03-02T00:00:00Z
It was great staying with Tom. He was really nice and welcoming. His two cats were lovely also. We felt safe in the neighbourhood and the strip was only a short drive away. The house was clean and comfortable.
Louisa
2015-02-14T00:00:00Z
very nice host and easy communication. great value with a private bath. i would stay again.
Brad
2014-09-25T00:00:00Z
Тип размещения
Отдельная комната
---
Тип жилья
Квартира
---
Вмещает гостей
2
---
Спален
Лас-Вегас, Невада, США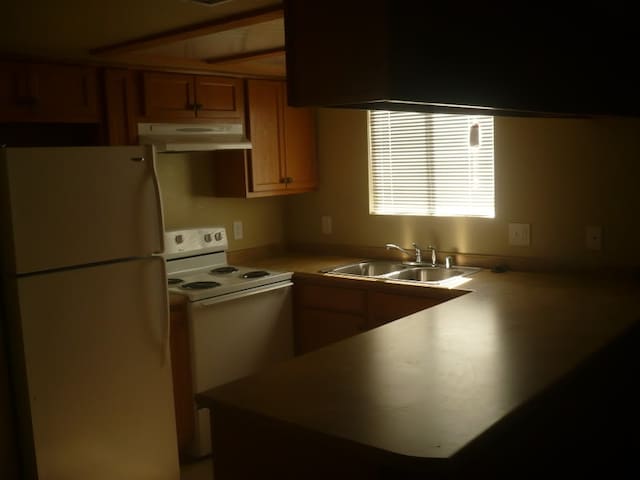 We are a young friendly couple who speak English and Spanish, very friendly and sociable. Our place is super clean, close to nightlife and family-friendly activities. You'll love our cozy room because of the huge memory foam king bed, your own private bathroom and shower, the pool, hot tub, and gym. Our place is good for couples, solo adventurers, and business travelers.
Our bedroom has a king size bed, with private bathroom. Our place has two hot tubs, two pools, gym, tennis and basketball court, etc. It is 15 mins from Downtown.
We absolutely loved our experience with them! It was our first time using air bnb and I couldn't have imagined a better place. They are a super sweet couple! My Fiance and I can't wait to use them again :)
Theresa
2017-03-19T00:00:00Z
Lee and Delia's place was great and they're both very friendly and welcoming! The room was a nice size, the bed was comfortable, and there was a lot of privacy. We visited Las Vegas mostly to do some day trips - Red Rock Canyon and Death Valley - so it was nice to be somewhere quiet a bit away from the Strip!
Cara
2017-03-28T00:00:00Z
It was clean also the host is friendly and kind
Rika
2017-04-08T00:00:00Z
This is a nice place to get away from the crowd yet close enough to all Las Vegas has to offer. Lee and Delia are gracious hosts and are flexible with schedules. The check-in was easy even though we came in at 12:30 am. They left a key for us to get in and found our room easily. we were gone most of the time but while there we were quite comfortable. It was a plus having our own bathroom and a king size bed. I would stay there again.
Antoinette
2017-04-03T00:00:00Z
Delia and Lee are fantastic host they are welcoming and very friendly, had great laughs with them. The apartment was spotless and tidy, spacious, wifi connection excellent, very comfortable bed and en suite with all toiletries, towels the full works! Great on site facilities gym, pool area and sun loungers. 7* all day and night! Location is great for the South Outlet and the strip isn't too far, would need a ride to get there. Went for a meal with Delia on my last day before heading to the strip she a a wonderful happy go lucky lady, really nice local Thai restaurant close by as well as other local restaurants that are very good price and food is delicious. Got a ride back to the strip from Lee and Delia it was a pleasure they are very accommodating and helpful. Would highly recommend staying here and would return. Thank you both for a lovely stay. Suzi
Suzi
2017-03-12T00:00:00Z
Lee & Delia were very friendly and I enjoyed my stay!
Kevin
2017-03-17T00:00:00Z
Fantastique, formidable, inoubliable. Merci beaucoup Delia et Lee. Ils sont adorable. L'appartement est très propre très grand et très confortable. Le lit est magique. La résidence est calme. Delia nous a reçu comme ces amis. Je vous recommande à 2000% d'aller chez eux.
Fred
2017-03-22T00:00:00Z
Тип размещения
Отдельная комната
---
Тип жилья
Квартира
---
Вмещает гостей
2
---
Спален
Лас-Вегас, Невада, США
Wonderful condo with one room available with bathroom attached for full privacy, lock and key. Parking available under awning. Access to private laundry. Full access to Kitchen in this cozy yet spacious locale. Pets welcome :) pool access in May. No Wi-Fi. Lab/golden retriever mix sweet when you get to know. No room lock unless requested. Smokers. Two female occupants. (Mother and daughter) House available in June.
Тип размещения
Отдельная комната
---
Тип жилья
Квартира
---
Вмещает гостей
3
---
Спален
Лас-Вегас, Невада, США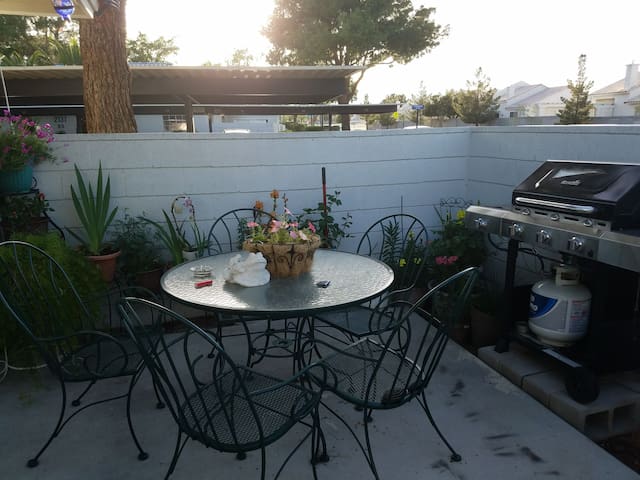 This newly renovated condominium in Summerlin has all the amenities of home. With 2 bedrooms and queen size beds Located near Red Rock you have a full size kitchen, washer and dryer. Included is your very own parking spot and WiFi.
Covered parking spot. Fast WiFi. Pool and hot tub. Two bedrooms. Full size kitchen. Washer and dryer. Queen size beds in both rooms. Cable TV with premium channels. Balcony outside. Near Whole Foods and Trader Joes. Near a tennis court and soccer courts.
Near RedRock .The neighborhood is quiet and in a nice area. It is near a very large park. The park has tennis courts, soccer courts, and a large dog area. Nearby are Trader Joes and Whole Foods.
Joseph was very nice and accommodating...Would stay again!!!
Mark
2016-12-06T00:00:00Z
Great location, great price, clean, spacious, perfect parking space, keyless entry, all made this place great! Host was very accommodating even for my unexpected late night booking, he was literally a life saver as there was no lodging available in Vegas for my unexpected stop as I was driving through from LA to get home to Colorado.
Christina
2016-08-02T00:00:00Z
It was a real nice place, very clean and Joseph was very helpful.
Stephen
2016-07-10T00:00:00Z
Great place to stay. I recommend this place if you're planning a trip to Vegas.
Reejay
2016-10-23T00:00:00Z
The place was as described. Check-in was super easy as we had been there before. Comfortable place to stay. Good location for our purposes which included not wanting to be too near the Strip.
Bev
2016-12-15T00:00:00Z
Perfect for what we needed. Close to the strip and Fremont.
Jessica
2016-09-26T00:00:00Z
Great place friendly and quite area. Would recommend this place.
Nicholas
2016-08-27T00:00:00Z
I had a very good stay at Joseph's place, my coworker and I were in town for an exhibition show, and I came across with Joseph's place, I used to stay in various hotels in Vegas, but decided to give Airbnb a try this time. Joseph was very fast at replying messages, his place is awesome, super clean, in a safe apartment complex, less than 15 minutes drive to the strip, for all the times I've come to Vegas for business or for just for fun, I have to admit that this is by far my most satisfied/favorite place to stay. I will highly recommend this place to my friends/coworkers for sure. On top of the great living experience at this place, Joseph and his dad are both very helpful in terms of answering any of my questions. I will stay here again without a second thought.
Ray
2016-11-03T00:00:00Z
Тип размещения
Дом/квартира целиком
---
Тип жилья
Квартира
---
Вмещает гостей
4
---
Спален
Лас-Вегас, Невада, США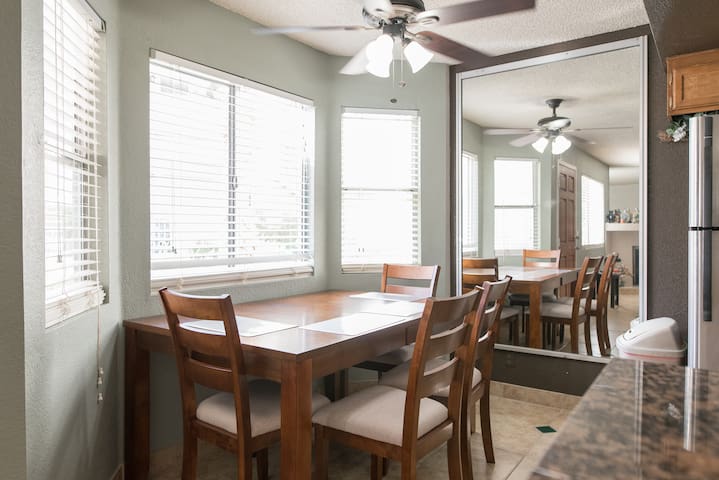 Book now and receive one FREE UBER ride from anywhere to anywhere in Las Vegas. "A GREAT find!", Alley "Everything you need, a great value, and great host. ", Bear "Comfortable, clean.", Shaojie "Excellent: comfy beds, bang for your buck. So spacious and livable.", Shannon Our place is great for business people, adventurers and families. 2 Queen Beds 2 Large couches Full kitchen Blazing fast (50+ mpbs) Wifi TV w/ PS3, Netflix, 30+ TV channels Coffee/Coffee Maker Washer/Dryer
Need pick up from the airport? Or would your party like a free drop off at the hottest club? Take advantage of one FREE UBER RIDE with every free booking. A warm, spacious (1000 sq ft) entire apartment with easy access to stores, restaurants and the highway. Located 15-20 minutes from the heart of the strip. Blazing fast 50 mbps Internet. Meets all your needs for cooking+laundry. Floor Mattresses + extra bedding available If you need something, just ask! My wife, Leslie and I live in the unit below and one of us is always available within 20 min to help with anything you need. Please let us know if you need some butter or dish soap -- we are happy to help! Laminate flooring and freshly painted walls. The Internet is blazing fast and there is a 32" HD TV. The perfect place to Netflix and chill.
Ours is a quiet, working class, family neighborhood on the west side of the City of Las Vegas, just east of the wonderful Summerlin master-planned community. The area has gone through a revitalization since the recession and was detailed by the Las Vegas Review Journal as a testament to policy makers and community leaders stepping up to secure and revitalize a local neighborhood. Our block is friendly now and beautiful in our opinion, although we are aware it is still not the richest in Las Vegas. All of the houses in the area are 4-plexes made up of 2bed/2bath apartments. Children play all around the block, especially on Saturday and Sunday. Almost everyday there is an ice cream truck that comes by in the morning and the afternoon. Walmart Fresh Market is one block east down Lake Mead and CVS Pharmacy is one block west. Across from CVS is a great restaurant and pub, the Torrey Pines Pub that has $.50 wings from 3-7pm every weekday. Family owned pub for 25 years - I would highly recommend it! Three blocks past the TPP is the Best of the West Shopping Area which has a Lola's Chicken and Waffles and a soup and salad buffet place as well as Best Buy, Office Depot and other department stores.
Spot is exactly what it says. Entire apartment, functioning appliance, privacy, and most important an understaninding that this is vegas!!!!! :). No wrys here.
Priest
2017-01-13T00:00:00Z
Great place for the money. Convenient location. Felt less like a hotel more like home.
Shannon
2017-03-10T00:00:00Z
Great little place for a night stay! There is just enough of everything you need. If you plan on staying a while it's good too, the fridge is small and you may need extra coffee cups but I enjoyed my stay and the value was great thank you. Easy check in and out. Be sure to check out Mr. eats pizza! .2 mile away and delicious
Emma
2017-02-21T00:00:00Z
Cool host. Nice chill spot. Easy access to everywhere you need to be in Vegas
Joseph
2017-03-07T00:00:00Z
Wow, this BnB was the best bang for your buck and most convenient place if you're in Vegas for business or pleasure. I as here for a couple of day for work with a friend, and thank goodness we found this place. Saved us a ton of money and we still got a comfy stay.
Chan
2017-02-20T00:00:00Z
This place was awesome! It was very spacious and neat. The kitchen was filled with utensils and the hosts were very accommodating. The fridge is small so if you're planning on cooking then I'd suggest a cooler, but still tons of space to use the kitchen. We had just two people staying and we had more than enough space, this place could easily fit 5 people. The location of the place is perfect (If you have a car), and it was just a few minutes from the highway and 15~ minutes to Downtown and the strip. There was also a parking space in front of the place, a few feet from the door and there seemed to be more parking right on the street. Overall this was a great place and a great price! Would stay again.
Jonathan
2017-02-11T00:00:00Z
We were out climbing until pretty late but Mackenzie was super flexible with our check in. Great experience. Place was as described and makes a great budget base camp for exploring vegas.
Paul
2017-01-18T00:00:00Z
This is a good affordable option if you need somewhere to stay in the Las Vegas area. Mackenzie was a very good host and was easy to reach.
Kyria
2016-12-30T00:00:00Z
Тип размещения
Дом/квартира целиком
---
Тип жилья
Квартира
---
Вмещает гостей
6
---
Спален
Лас-Вегас, Невада, США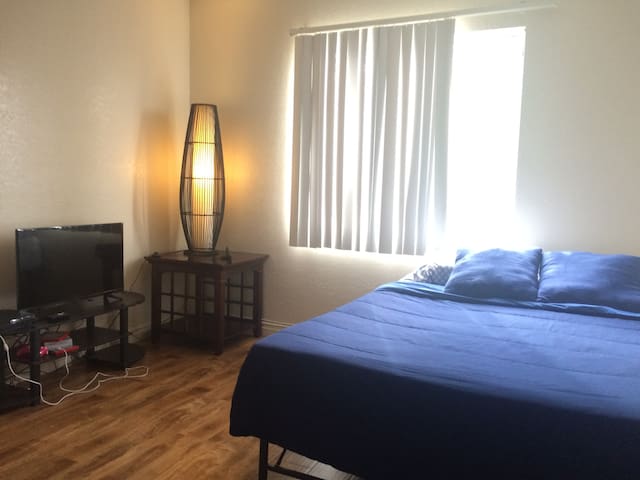 Enjoy our furnished condo located @ BocaPark ummerlin Las Vegas.Far enough from the night life of the strip and close to all the great amenities of Summerlin. It's also very close to Redrock Park for all the climbers out there.
Spacious floor plan, tiled floors, washer and dryer inside the unit, internet/wifi access, cable tv, stocked kitchen, covered parking. Please disregard the reviews about the sofa being broken because it has now been replaced with a more comfortable piece. We will update the photos of the living room soon. Thank you!
You won't have to worry about noise in this community. Quite neighborhood. Everyone seems to go to work In the morning and come home at night to unwind. There's security on site and they also patrol the area.
Overall Noemi was a great host. She responded quickly when we needed more information and obviously put some thought into creating a nice space for her guests to stay in. There are enough linens and they are ok quality. The kitchen is minimally but well enough stocked. The furniture looks nice but is a bit cheap. The kitchen table was very wobbly. And there is not a pull out couch, but a couch that is large enough for a small person to sleep on comfortably. The floors are all tile but when we arrived they were very dirty. After walking around on the floor with bare feet for a couple of minutes my feet were black. Also, there were dust bunnies in the corners in some areas. Overall, the floors need a good scrub. The location is great, across from Whole Foods and close to several main roads to get you across town easily. It should be noted that this is a downstairs unit and the upstairs tenants make lots of noise early in the morning.
Lisa
2016-12-12T00:00:00Z
Beautiful condo exactly as advertised. Noemi was able to accommodate with an early check in time which was very helpful as well. Great location in a gated community and the keypad locks make access very convenient. As a first time Airbnb user, this experience was everything I hoped it would be. Great value on a great condo and everything was so simple it allowed us to really relax and enjoy ourselves. Thanks!
Alex
2016-05-02T00:00:00Z
Wonderful place with such easy communication
Larry
2016-11-27T00:00:00Z
Very good stay. Easy to get into the complex and easy to get into the room.
Aaron
2016-07-31T00:00:00Z
Noemi's bnb was easy to find and did not lack in providing a great home away from home experience; it was beautiful! The place was well kept, new couch, everything just as pictured and more. Shops and restaurants were all in the same area and did not take more than a 15 minute drive to get there. The strip was also a reasonable distance away. If there was ever a need to find a place away from the bustling strip, this is the place to do just that. Definitely recommended and I definitely plan on staying here again in the future.
Tiffany Faith
2016-09-20T00:00:00Z
Overall a great apartment. Spacious, good kitchen, clean, great pool and hottub. Location is perfect for red rock canyon, not far from the strip either. The couch and the mattress on the queen bed could be more comfortable, that's the only thing one could say.
Salas
2016-05-23T00:00:00Z
The host was very helpful and always responded very fast. The pictures do not do this place justice. It is by far the cleanest and cozy Airbnb I have stayed at. It looks just like a hotel. I like that it was a gated community which made us feel safe and it was about a 15 minute drive from the strip. I would definitely come back to stay here.
Marybel
2016-05-16T00:00:00Z
Flexible and laid-back way to check in. The house is clean and accurate to describe the place. I would recommend!
Chun-Ta
2016-11-26T00:00:00Z
Тип размещения
Дом/квартира целиком
---
Тип жилья
Квартира
---
Вмещает гостей
4
---
Спален
Лас-Вегас, Невада, США
Great room in a condo with private bathroom. Access to entire condo except the other bedroom. Three pools in and the complex with Jacuzzi. 100mbps wifi and cable tv as well. No small children please.
Super quiet and serene. Feels like a resort with all the pools and Jacuzzis and so on. No small children please.
David was a great host! The place is so nice! He was also very quick to bring me an iron before a night out on the town. Definitely going to stay there again!
Lupe
2015-11-30T00:00:00Z
Though there was some initial befuddlement, David came through and personally appeared to let me into the condo. The condo was two master bedrooms on either side of an open kitchen and great room arrangement. The room was clean, the bed was comfortable and the price was perfect. The kitchen was fully functional and the great room boasted a dining table/chairs and a big screen TV, also Wifi. Did I mention the condo is very quiet and also has parking? Highly recommend.
Diane
2016-02-22T00:00:00Z
My husband and I had to book a room last minute for SEMA and we found this place. We didn't expect much, just wanted something we could sleep in. Not only was this apartment clean, the hosts were excellent, and the price was by far the best we had found for the location and place. The apartment is about 7 miles from the Las Vegas convention center. We were given a clicker for the apartment gate, a code for the apartment and even a set of keys for the room which has its own private bathroom. Would definitely stay here again!
Jessica
2016-11-04T00:00:00Z
It was clean, had everything we needed
Yoon Jee
2016-04-25T00:00:00Z
Great service,comfortable stay!
Chris
2016-06-24T00:00:00Z
We had a great stay at Davids place. The apartment was very big and we even had it all to ourselves as the other room wasn't rented out to someone else. We did enjoy the privacy we got there, even though David was just a text away.
Ronja
2016-02-02T00:00:00Z
It was a good stay! The home is nice and cozy! Thank you David!
Jane
2016-03-07T00:00:00Z
This is a great place to stay especially for the price. Straight shot to the strip close to grocery stores and my personal favorite Target. David is a great host. Was able to accommodate my late arrival and helpful with my stay while in Vegas. The place looks better than the pictures make it seem. Quiet area.
Golden
2016-03-05T00:00:00Z
Тип размещения
Отдельная комната
---
Тип жилья
Квартира
---
Вмещает гостей
2
---
Спален
Лас-Вегас, Невада, США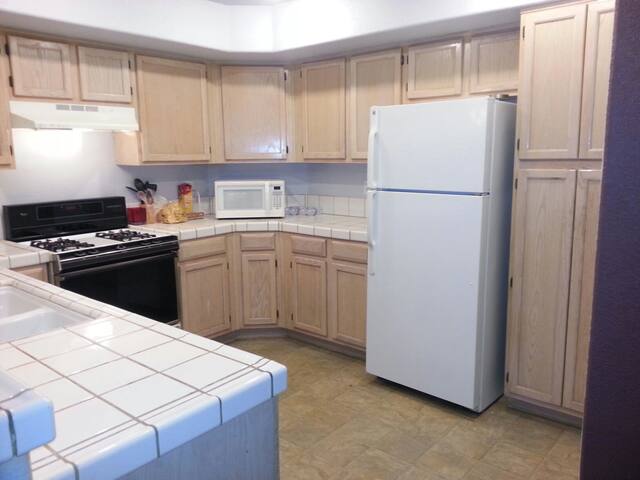 Two QueenBed rooms and Two Baths Condo--10 Minutes away the Las Vegas Strip. High speed internet and cable TV. Fully equipped kitchen. Good community with security gate. Nice and Clean. Grocery,Gas,Food and City park are all within walking distance.
Two Bedrooms and Two Baths Condo--10 Minutes away the Las Vegas Strip. High speed internet and cable TV. It is furnished with two Queen-size beds, a two-sectional couch, dining room table, and a fully equipped kitchen. Good community with security gate. Grocery, Gas Station, Walgreen, Mcdonald's and city park are nearby.
Not too far from the strip - it was nice to have access to a washer and dryer.
Kassi
2017-02-20T00:00:00Z
房东是华人我就直接中文吧,如果用星级来评级的话,Rui的房子给我们的感觉最少是4 start,我个人给4.5星,-0.5给中央空调吵了点
Steven
2016-07-11T00:00:00Z
Very clean and easily accessible. Nice location away from the craziness of the Strip, but within a few minutes drive for quick access. Host provided easy to understand directions to access property, pool, and wifi. Couches are super comfy!
Scott
2016-07-17T00:00:00Z
Enjoyed my stay, very nice condo! Beds were very comfortable & I really enjoyed having 2 bathrooms.
Gabriela
2016-03-08T00:00:00Z
Description was accurate and was a nice place to stay. Had a little trouble getting in but I gave Rui a call and he was more than happy to help.
Ian
2016-04-05T00:00:00Z
Place is about 15 min off the strip. Complex is nice. Neighbors were loud. Place was clean. Good value for the price. Host was very responsive.
Al
2016-10-28T00:00:00Z
Rui's apartment was great. Check in was smooth and everything was accurate. The only problem was the noise from the upstairs at middle of the night.
Rohit
2016-10-19T00:00:00Z
Wow! It was so comfortable, and clean on the inside. I loved the 24 hr policy and jacuzzi! Getting in to the house was so easy. The place is located right in the middle of everything you could think of. The host was amazing too!
Ra'Chelle
2016-04-18T00:00:00Z
Тип размещения
Дом/квартира целиком
---
Тип жилья
Квартира
---
Вмещает гостей
4
---
Спален
Лас-Вегас, Невада, США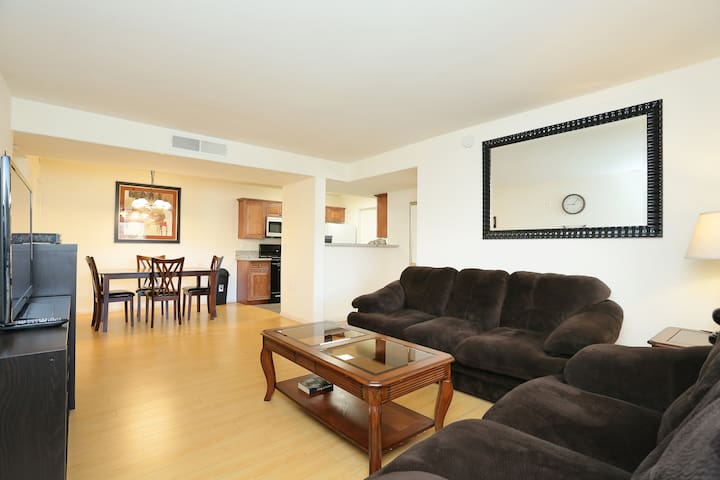 Located 25 minutes outside the strip. This guest house features one bedroom, mini-kitchen, walk in closet, Cable TV, Apple TV, High Speed Wi-Fi, Gourmet Coffee Maker, Iron w/board, Hairdryer, & beautiful parks and popular shopping centers close by
Located 25 minutes outside the strip. This guest house features one bedroom, mini-kitchen, walk in closet, Cable TV, Apple TV, High Speed Wi-Fi, Gourmet Coffee Maker, Iron w/board, Hairdryer, & beautiful parks and popular shopping centers close by 400 SFT Private Gate Entry You can enjoy your privacy here. No interaction with the guest, only the day you stay and leave. Home is private from the rest of the home. Private parking at premise Recreation & parks nearby Close to popular stores & supermarkets Beautiful view of the mountains. Although there is a bus stop close by, I would recommend a vehicle.
Private parking at premise Steakhouse is walking distance Golf Course & Horseback Riding Stables nearby Close to Recreation parks Beautiful view of the mountains.
Valerie is a great host. Very friendly. This place was very clean, well stocked with a wide variety of things. Very cozy and quiet area. 10/10 would stay here again.
Gabriel
2016-03-06T00:00:00Z
Valerie was a great host that gave me the run down on the place and I had no problems during my time and stay. The place was wonderful and not too far from the strip but very close to a lot of food and restaurants. I would stay here again in the future if possible.
James
2015-10-04T00:00:00Z
Valerie's guest home is simply beautiful. Everything was immaculately presented upon our arrival, and Val went out of her way to make us feel welcome by providing us with a healthy supply of water and coffee (both of which we desperately needed). Everything was exactly as described, all the information we needed was provided well in advance, and we had absolutely no problems to speak of. I would definitely book her listing again!
Dante and Jenice
2015-05-17T00:00:00Z
Valarie was a great host. The place looks exactly as advertised. The commute to the strip was roughly 15-20 mins so i suggest having a car. Uber & cabs can get expensive very quickly. There was a lot of free parking along the strip. Valerie's guest house had everything we needed. We couldnt figure out thd cable but we werent in the room long enough to care lol All in all we will definitely stay here again.
Tye
2016-10-24T00:00:00Z
Valerie was a great host. Room very clean much better than staying in a hotel. I usually travel with my own linens after a bad experience but I was comfortable enough to use the linens at Valeries place. Great experience in a quiet gated community. Thanks Valerie!
Marcus
2016-12-06T00:00:00Z
This home was just as described. Very quiet and peaceful, and private which is very important to me. Valerie was kind enough to let us arrive late without issue and the security of being in a gated community was wonderful.
Elizabeth
2016-09-19T00:00:00Z
我们到达的时候已经是晚上一点钟了,打电话给房东,她很热情的出来迎接我们,非常感谢她。房子非常非常干净,我们住了一周,房东从未打扰我们,感觉我们是在自己的家里,房东准备了很多东西,很细致,很自由很温馨,房东人很好。
琳
2016-08-10T00:00:00Z
Where do I begin with the greatness of our stay??? Valerie was absolutely amazing! A true hostess at the finest quality! With Great communication and a very welcoming attitude, AND this being our very first time using airbnb, she made a GREAT first lasting impression... She has significantly impacted our decision to considered other properties on this website in the future!!! The property and the community is of a well kept nature tucked away in a quiet corner 20 mins. outside the strip. The property was well equipped with a separate entrance, keypad lock entry, climate control system and other mini home-like amenities. The added bonus for me being a parent on a budget who Loves to travel is the price! In comparison to other properties who required a deposit, this one did not, which price also heavily weighed on our decision of selection. If you're like me and enjoy the touches of home whenever and wherever you travel at an affordable price and will be in the Vegas area... This is the place for you!!!!!!!!!! Thank You Valerie!
Tahtianah
2016-06-07T00:00:00Z
Тип размещения
Дом/квартира целиком
---
Тип жилья
Квартира
---
Вмещает гостей
2
---
Спален
Лас-Вегас, Невада, США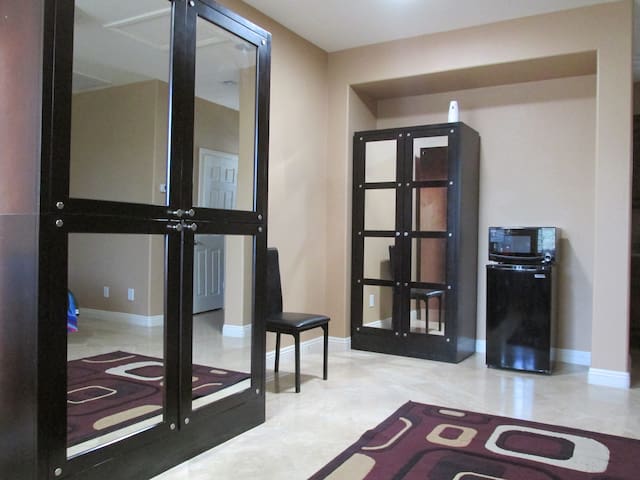 5 miles to the strip boulvard las vegas, indépendant condo inside the villa résidentiel pool/spa ! easy walk to supermarket near to the house 1 queen and 1 king bed, kitchen and bathroom toilet dressing fast wifi, parking on the front house Quiet and safe place Minimum 2 night booking
Very clean and confortable
Quiet safe
Nice space inside and outside. Great location, safe neighborhood. Fred is a chill guy, I recommend this listing.
Simon
2016-06-18T00:00:00Z
Fred was a great host and was very helpful. The property was beautiful and honestly couldn't be any better for the price, only negative I would have is that the walls were fairly thin and you could hear your neighboring host and vice versa.
Marcelo
2017-02-26T00:00:00Z
Quiet, clean, close to groceries. We used rideshare services to get around instead of renting a car which worked well, but there was no key to open the pedestrian gate to leave the gated community so we had to wait for a car to come and open the gate or send someone over to open the gate for the rest of us.
james
2017-01-09T00:00:00Z
Great appartement on a very calm gated community. Lots of light and very comfortable ! PS: the previous reviewer was right, you will need a car to exit and enter the gated community to be able to trigger the gates.
Colin
2017-03-13T00:00:00Z
Mooi huis. In rustige veilige omgeving. Keuken is minimaal ingericht. Er waren geen pannen om te koken. Huis ideaal gelegen om naar de La vegas boulevard te gaan ca. 8 km. Supermarkt op 2 minuten met de auto. Er was geen informatie beschikbaar in een map over Las Vegas.
Jack
2016-07-25T00:00:00Z
Spacious home and nice neighbourhood
Chien Hing
2016-10-24T00:00:00Z
The pool looks much nicer than the picture, but the temperature was kind of cold so we didn't get to enjoy it.
Ronnie
2016-03-27T00:00:00Z
Fred's place is nice and its a really quiet community. Its 1 full bathroom. Loved the extra large tub. Relaxing!! He provides towels,utensils, plate ware and free WiFi. Also a mini fridge. Only thing I didn't like was that we have no control over ac; even though he kept it pretty cool. Thermostat control is on his side of house. He said no visitors but he didn't say anything while my family came by during day. Pool looks nice but was to windy to try out.
Ruth
2016-10-17T00:00:00Z
Тип размещения
Дом/квартира целиком
---
Тип жилья
Квартира
---
Вмещает гостей
4
---
Спален
Лас-Вегас, Невада, США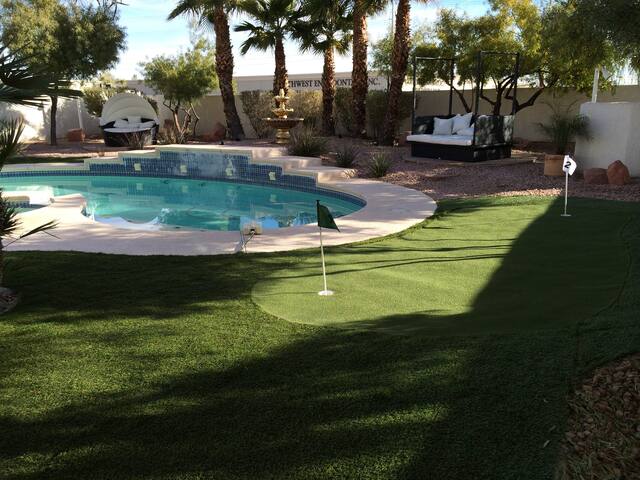 A Beautiful Modern Condo w/ a private bedroom & bathroom. Located in Summerlin and only 10min from the strip! Minutes away from Boca Park, Tivoli Village, Summerlin Mall, Red Rock Casino and Hiking Paths. Across the street is a grocery store and public transportation.
This condo is located in Summerlin which is the best neighborhood in Vegas with a suburban feel and only 10min from the strip. Includes private bathroom and mini fridge!
Very helpfully the contact to Sharon. Nice condo with all you need.
Cristian
2016-09-25T00:00:00Z
Sharon has excellent communication and was always available to help. The room was clean and the bed extremely comfortable. One nice surprise were the USB built in wall charging ports.
Luke
2017-01-21T00:00:00Z
Wonderful host. Help you with any needs and you're comfort is her number 1 priority!
Anthony
2017-03-14T00:00:00Z
Very sharp, comfortable, and a real bargain! Sharon is an amazing host, and this place is a find. The complex has awesome amenities, and the best racquetball courts I've encountered in my travels. You will really enjoy the terrace, and the entire condo. There were 3 of us staying, and we visited with family there, for a total of 4 adults and 2 kids, and were comfortable. It is roomy and flexible. We will stay again.
Steve
2017-02-12T00:00:00Z
Sharon was an amazing host. Place was nice and clean. She was very hospitable and easy to talk with.
Gillyano
2017-01-02T00:00:00Z
The place is very nice and clean and comfortable. Sharon is very organize and has everything planned. We loved our stay.
Safa
2017-01-08T00:00:00Z
Sharon is really a great host,she leaves a private place for our family,she's such a nice person and always is willing to help. The room has everything we need, we really appreciate what she has done for us.
peipei
2016-08-06T00:00:00Z
Sharon was awesome. Place was nice and clean. She was very hospitable and easy to talk with. Room was spacious with walk in closet and clean bathroom. Would definitely stay again.
Antonio
2016-07-24T00:00:00Z
Тип размещения
Отдельная комната
---
Тип жилья
Квартира
---
Вмещает гостей
8
---
Спален
Лас-Вегас, Невада, США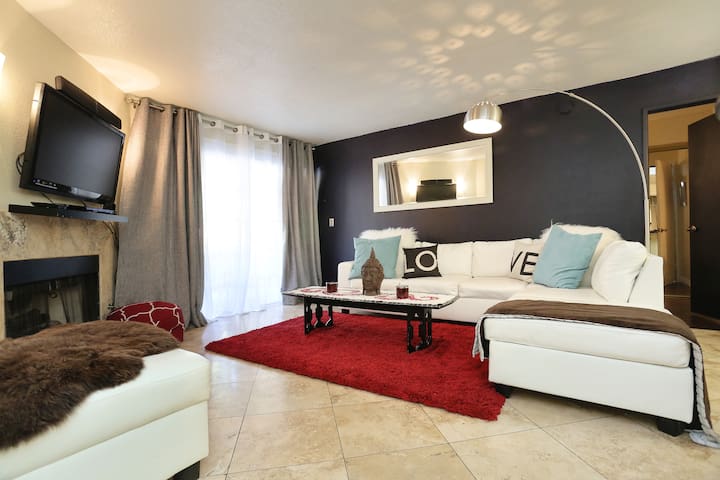 Simply furnished bedroom and private bath. Located about 15 minutes from the strip.
Clarice was kind and helpful. I would recommend her place to anyone looking for a nice, quiet place.
Mark
2017-03-05T00:00:00Z
Clarice is not only are you a great host, but an excellent person. She was incredibly helpful and and accompanied. The room and her place are comfortable and clean. The place is in a great location, making for easy access to all that Vegas has to offer. Her dog, Buster, is nice too.
Ira
2017-03-23T00:00:00Z
Clarice is a great host and better person. She was very helpful and accommodating. The room and place were comfortable and clean. The location was perfect, making it easy to access all Vegas has to offer. Her dog, Buster, was nice too.
Ira
2017-03-19T00:00:00Z
Тип размещения
Отдельная комната
---
Тип жилья
Квартира
---
Вмещает гостей
2
---
Спален
Лас-Вегас, Невада, США
Mount Charleston - Airbnb
:
В среднем,

4.68

из

5

звезд на основании

1083

отзывов гостей
1

–

18

из

132 квартиры в аренду
Введите даты, чтобы увидеть полную цену без учета дополнительных сборов и налогов.