Введите дату прибытия в формате дд.мм.гггг
Введите дату отъезда в формате дд.мм.гггг
Объявления, которые вы можете забронировать, не дожидаясь одобрения от хозяина.
Введите даты, чтобы увидеть полную цену без учета дополнительных сборов и налогов.
В июле и августе этого года вы сможете открыть для себя один из сотни самых лучших домов, с самыми разными ценами, и увидеть долину Сонома, какой ее видят местные жители. Круглосуточное прибытие, мгновенное бронирование, местное вино и закуски помогут вам расслабиться и насладиться поездкой.
Looking for a place near the Flaming Gorge or the Green River come relax, play, and stay at the deer house and take in the beautiful view Flaming Gorge and surrounding area Nied Lodging offers. Entire Cabin Pricing
This is a 40 acre family owned property on the outskirts of Manila with a spacious lawn for picnics and a view that can't be beat. The base price of weekday use is $325 and $350 on weekends excluding holiday rates. Guest will have access to workout and spa room, entertainment room and guest bedrooms. This is a family owned cabin someone from the family will for the most part always be on site to accommodate.
This place is the perfect location to have quick access to the Flaming Gorge or nearby Green River. The location locally in known as the "Deer Place" with deer living on and crossing property boundaries daily. Grill and smoker is on the north side of the cabin. Freezer and Fridges and all other amenities made available.
Shane and his family were awesome hosts. Their property is amazing and honestly the pictures don't do it justice. We booked last minute because our Lake Powell trip fell through, but Shane's property was the perfect alternative. Our group was a little large to all fit inside, but the property has plenty of grass space to throw out tents and hammocks. It's secluded and offers a beautiful view of the lake and constant wildlife grazing in the fields. We would definitely recommend staying here if you're looking for an amazing property close to the lake and nature.
Jeff
June 2016
Тип размещения
Дом/квартира целиком
---
Тип жилья
---
Вмещает гостей
10
---
Спален
4
Manila
Enjoy a peaceful stay in Dry Fork Canyon tucked away on 8 acres, surrounded by breathtaking views. If your looking for a relaxing place to escape the busy life look no further. Not only are you surrounded by breathtaking views, hike, bike climb is right out the front door.
Everything.
Jana was so helpful in making us feel comfortable for our stay. She made sure to give us all the information needed in order to get the most out of our trip and even gave us advice about local trails and activities we could do while we were there. The home was perfect for our weekend get away. We'd definitely go back!
Laura
October 2016
Тип размещения
Дом/квартира целиком
---
Тип жилья
---
Вмещает гостей
8
---
Спален
4
Vernal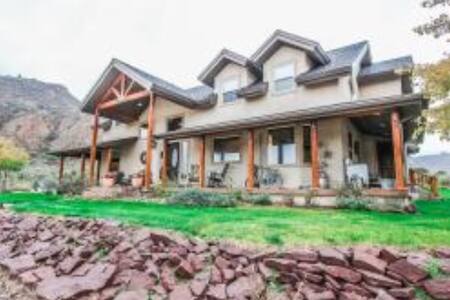 ]'
Cannot beat the rustic ranch experience! You can un-plug and enjoy!
Lisa
September 2016
Thank you Joe and Linda for your hospitality. We enjoyed staying at your place and are looking forward for a second trip and a trip to cowboy camp. We enjoyed the privacy, scenic surroundings and coziness of this cabin. Very relaxing environment. Both Joe and Linda's smile and willingness to share information and ideas of what to do in the area was very helpful. We had a fantastic time and wished we could have stayed longer. It was amazing to see Joe's art and we purchased the book he wrote. Meeting your dogs, horses and mules was such a fun experience. This cabin is right outside the beautiful Whiterock Canyon, which offers scenic views and outdoor recreation (hike, fish, backpack, cross-country ski, etc.). Joe and Linda are very responsive and easy to talk to. We highly recommend staying at their cabin! Clean and quaint, with wonderful hosts. We will definitely return!
Stephanie
December 2016
My husband and I came here for a night with my parents and thoroughly enjoyed our time on J/L Ranch. Joe and Linda are awesome hosts and were kind enough to show us around and let us pet their horses. The accommodations at the cabin were great and had everything we needed to cook and enjoy ourselves. The views at night from the ranch are spectacular too!
Toni
August 2016
What a slice of heaven Joe & Linda have! This is one of the most peaceful places I have vacationed at in a LONG time. This is a working ranch with wildlife is abundant! My kids loved fishing in the stocked trout pond, learning about all the equipment, and seeing the horses each day. With no wifi or internet we truly unplugged. The cabins are both well kept and very comfortable. The beds and pillows are VERY comfortable! Joe and Linda are the most gracious hosts. They make you feel right at home. We are hoping they adopt us one day! :-) All the way home we all talked about the next time we will be going back. Next time we will stay longer! Thanks Joe and Linda for giving this family a magical break from the hubbub of city life.
Nicole
June 2016
Truly wonderful experience from the moment I arrived. We were greeted with warmth and kindness. The Cozy Cabin was exactly as described with wonderful views all around. Linda & Joe were so kind and had such wonderful advice on where to go to explore the spectacular environment. I have only 1 regret, that I didn't stay longer. I highly recommend this Air B&B location, well worth the drive. A peaceful, gorgeous, piece of heaven on earth. Thank you Linda & Joe for your hospitality! Much Mahalo
Melanie
August 2016
This was a great get away from the city. Quite and cozy. Really clean and everything we needed was there. Magnificent views, plenty of wild life to view in the area. Lovely, unique decorations inside. We truly enjoyed it and hope to come back.
Barbara
October 2016
My wife and I had a great stay at the J&L Ranch. The cabin is nice and clean with all sorts of handmade furniture and cowboy memorabilia. It's got everything you'd need to make yourself at home, you just have to get food in Roosevelt before you arrive. The area around the ranch is absolutely beautiful with all sorts of opportunities for recreation. I've never seen more mule deer in my life! We took a trip up to the High Uintahs about 45 minutes away and saw elk and moose. The trout fishing around the area is fun too. Joe is a licensed guide for the National Forest and Wilderness area north of the ranch, and knows the area well. He really went out of his way to give us tips and advice on things to see and do. Both Linda and Joe were very accommodating and welcoming to us. This would be a good place for people looking to get some respite from the hustle and bustle, or those who want to experience a little bit of the wild west. The cabin also has a loft with to twin beds, and I can imagine kids who like horses and/or cowboys and indians (and what kid doesn't?) would really enjoy this place.
Brandon
August 2016
Тип размещения
Дом/квартира целиком
---
Тип жилья
---
Вмещает гостей
4
---
Спален
2
Whiterocks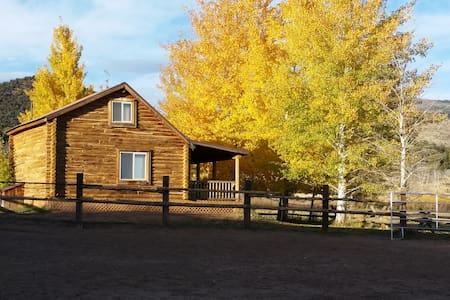 You'll love my place because of the spectacular views, wildlife, fishing, hiking and cozy cabin for your relaxation or for a romantic getaway. My place is good for couples, solo adventurers, and families (with kids). Space to park your snowmobile trailer and lots of trails nearby. Just up the road is a winter trailhead for the Wasatch-Cache National Forest. There is access to BLM land that is perfect for snowshoeing and cross-country skiing. The High Uinta Wilderness Area is also nearby.
You are getting a delightful, well-equipped cabin that is beautifully furnished in a spectacular mountain setting. This cabin features: - 1 private bedroom with queen bed, nightstand and closet. - 1 bedroom with twin bed, nightstand, and closet. - 1 bathroom with a shower. Plenty of towels are provided. - Lots of room for sleeping bags. And we have some available if you need them. - Kitchen with all appliances and fully equipped with dishes, utensils, cookware, and coffee maker. All you need is your own groceries. We even have some basics next door that you can purchase if you forget something. - Large dining table and counter with 3 stools. - Living area with comfortable chairs, sofa, wood burning stove, end tables, and lamps. - Large front porch with chairs. - Loft with library and lots of books. - Large balcony. - Lots and lots of parking. You can enjoy the surrounding property with beautiful scenery and wildlife. There are also roads and trails for walking, hiking and biking with enjoyable mountain scenery. Fishing with a permit is available nearby on the Black's Fork or Meeks Cabin Reservoir. Plenty of room for horseback riding and miles of trails. Snowmobiling, cross-country skiing, and snowshoeing are all possible in the wintertime. We live next door and are also available by phone or messaging on this site.
Neighbors are few and far between except for the wildlife. You will probably see many more animals than people. IN THE WINTER, DO NOT USE THE ROAD FROM BIGELOW (Exit 30) AS DESCRIBED BY GOOGLE MAPS AND MANY GPS SYSTEMS -- IT IS NOT MAINTAINED. Go South on WY 414-S from Interstate 80 (Exit 39) to Mountain View ( 5.9 miles), turn right on WY-410 (second street). go 13.2 miles, turn left on County Road 271, go 9.9 miles, turn right to cabin. The roads are plowed but may have icy spots so be careful and you may want to consider chains if it is storming. The main road by the cabin is a priority road for Uinta County and is one of the first roads to be plowed after snowstorms. Walking, hiking, snowshoeing, fishing, mountain biking, 4 wheeling, horseback riding, and snowmobiling are potential activities for you. There are moose, deer, elk, coyote, red fox, beaver, porcupine, grouse, turkey, eagles and more to see or photograph. Bird watchers will find many varieties of birds. Meeks Cabin Reservoir is great for boating and fishing, Blacks Fork River also is perfect for fishing. Lots of trails for mountain bikes, horses or hiking. And for the more adventurous, the High Uinta Wilderness is nearby. Visit the pioneer museum at Fort Bridger or the charcoal kilns at Piedmont for a great look at the past.
Bettie and her daughter were great hostesses! The cabin is very secluded, as you can see from the map. It's definitely out of the way, which we wanted, so that was great! The area is gorgeous! It was winter so the charming hills were deep in snow and looked so idyllic and were fun to play in. Definitely recommend 4-wheel drive and really warm clothes/blankets if you come in the winter. We went to celebrate New Year with fireworks bought in Evanston and had a very memorable time. The cabin perhaps looks larger in the pictures than it is in real life. There are 2 bedrooms, one with queen bed and one twin. The cabin is very rustic - heated by wood burning stove, rustic decor, gas stove lit by matches, etc. We found out upon arrival that the pipes had frozen so we had no running water. But this was their first time hosting and they felt awful about it and brought us big jugs of water and baked goods for the inconvenience. I'm sure they will get that fixed soon. We had fun! If you are a little rough on the edges, you will have a great time.
Marci
January 2017
This little cabin was great! It's super beautiful and and a great place to unwind. Bettie was the cutest and baked us cookies and banana bread. We booked super last minute and they weren't totally prepared for us. There were some issues that were out of their control but overall we had a good experience.
Madeleine
December 2016
Тип размещения
Дом/квартира целиком
---
Тип жилья
---
Вмещает гостей
8
---
Спален
2
Robertson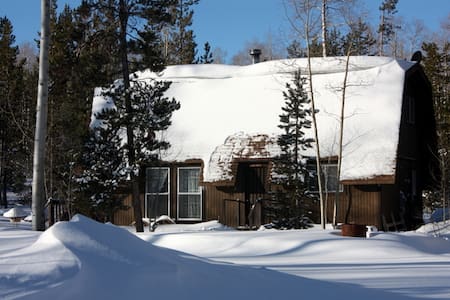 The Bunkhouse is the upstairs of a log horse barn. It has 3 bedrooms, full bath with shower, living room and kitchen. Western furnishings There is plenty of room to get out and explore or relax under the shade trees and grill out for dinner.
J/L Ranch is surrounded by Ashley National Forest and Ute Indian Reservation. You can explore our ranch and watch the horses grazing or being ridden. We are in a very secluded location. No traffic, no sirens etc. We are located 40 min West of Vernal, Ut. and 25 min. NE of Roosevelt, Ut. We have great shade trees you are welcome to hang out and picnic. There are two ponds on the property to enjoy. Fee fishing is an option. The ranch is on 80 acres so there is a lot of space to explore. We are minutes away from Ashley National Forest with access to fishing and hiking. We are always available to help with your visit. If you need ideas of things to see and do. Or you can just do your own thing and pretend you are the only person in miles!
Since we are in a remote location there are no groceries or restaurants within 20 miles. Plan to do your grocery shopping in Roosevelt or Vernal before heading to the Ranch We have horses on the ranch and cats and dogs. The horses love people but guests will not be able to go into their fields or stalls as a safety precaution.
The ranch is nestled in at the foot of the mountains and the view is beautiful. The bunkhouse suite is over the barn and is spacious, cozy and has everything you need for a comfortable stay. We loved it. Joe and Linda are great and know everything about the area so they can help with suggestions for hiking and things to see. The night sky is breathtaking - you forget just how many stars there are when you live in a city. We had a great time and hope to come back again soon.
Julie
August 2016
On the border of Ashley National Forest, the ranch sits on 80 acres of land with wonderful views on surrounding mountains. Northern Utah, close to Wyoming border, is real wilderness, not really touristic area compare to south of state well known and visited national parks. So if you're looking for a place to really relax, plenty of hiking trails and fishing spots, this is the place to be!!! Linda and Joe are wonderful hosts with plenty of nice stories to tell about their 40 years on the ranch. The apartment on top of the barn was perfect for our family with plenty of room and all necessary appliances. Very comfy and clean. Linda and Joe love their horses (19 I think) and plenty of deers are sharing pasture with them. We stayed 6 days and we really enjoyed everything. Thank you Linda and Joe!!!
Patrick
July 2016
Joe and Linda provided a beyond amazing one of a kind experience for myself and travel buddies. They were kind and welcoming from the moment we arrived, and welcomed us with ease into their ranch lifestyle. I appreciated and loved how Joe took my friend with special needs under his wing and showed him the ropes. The space we stayed in was great- immaculately clean and had everything we needed. The land is truly magnificent, and the animals stunning. I highly recommend JL Ranch for anyone who is looking to truly be on the land and in good hands!
Sarah
October 2016
Тип размещения
Дом/квартира целиком
---
Тип жилья
---
Вмещает гостей
6
---
Спален
3
Whiterocks