Coastal Maine farm and cottage very close to the ocean. Scenic views, less than 1 hour from Bar Harbor and Acadia National Park. Great area for hiking, biking, boating, arts, etc.. Small kitchenette, private building, nice shower and bathroom.
Beautiful coastal area - very good biking, hiking and kayaking. Sailing crusies on the bay are also available. Interesting and stimulating cultural events and some great places to eat and shop. The cottage is private and includes a sleeping loft, futon couch on the ground floor, small kitchenette, bathroom with hot shower, and a baby grand piano. This is a musician's perfect getaway to practice, compose, record, and delve into the music within.
Please click on this link - 30 Stunning Photos and Great Reasons to Experience the Maine Coast: (URL HIDDEN)
Perfect! This cute studio was everything we needed to come home to after a day exploring at Acadia. Sweet loft setup and breathtaking sunrises are some of the highlights. Had an excellent stay here.
Shantal
2017-04-01T00:00:00Z
We had an amazing time - the night we arrived we were able to experience a concert of 16th century lute music in the barn, as well as a wonderful meal. The surroundings are spectacular. It is a quick trip to Acadia National Park or to other sites such as Haystack. The whole area is of course full of galleries and fun places for breakfast. Finally, Alan is a gracious host and a kind human being. We loved everything about our stay.
Regina
2014-10-01T00:00:00Z
Arts at the barn is a really unique place, joining nature and culture, we enjoyed every day of our 9 day stay (including a concert at the Surry Opera)! The cabin is lovely arranged, it's peacefull, has a great view from it's terrace and you find everything you need. Alan was a lovely, caring host and made our stay comfortable. Surry is an ideal starting point for exploring the Acadian region, Deer Island, Stoningten, Castine - you could spend weeks there! But also in walking distance you'll find great places: A Buddhist Meditation Centre, The Little Gallery, the beautiful Morgan Bay (and yes, you can swim there, it was not as cold as expected), and some nice trails in the woods. We hope we'll have the opportunity to come back soon! Peggy and Susanne, Berlin/Germany
Peggy
2016-09-09T00:00:00Z
Alan's cottage was the perfect place to stay for a long weekend trip to the Maine coast! The cottage was comfortable, welcoming and came as advertised. The cottage came stocked with everything we needed for our trip and Alan was incredibly helpful in suggesting things for us to do and places to see.
Colin
2016-04-18T00:00:00Z
I loved the neighborhood. Nature trails close by, and a very quiet location. Close to Blue Hill and Ellsworth. We enjoyed chatting to Alan, an interesting and well travelled man. Climbing down the ladder for a night time call of nature was easier than expected!
Doug
2016-09-12T00:00:00Z
My girlfriend and I had an amazing time at the cottage. We arrived just in time for a blizzard. Alan helped us get settled, and fortunately for us, the place was very well insulated and heated... we couldn't have found a more cozy spot to weather the storm! The following day, we met Alan for wine and snacks, and found him to excellent company.... friendly, generous, and really just a pleasure to get to know. I don't think this will be our last time visiting! Highly recommended.
Jared
2015-02-16T00:00:00Z
Alan's place is very picturesque and in a great location for exploring Acadia. Thank you for a lovely stay!
Eleanor
2016-10-26T00:00:00Z
Alan was a truly lovely host and made us feel very welcome. The cabin was cosy and homely, with everything that we needed to make our stay comfortable. Alan was able to give us some fantastic insight into the local area, which meant we got the best out of the area in the short time that we were there. In the end, we didn't want to leave! A really lovely place to come on holiday.
Lauren
2015-06-13T00:00:00Z
Тип размещения
Дом/квартира целиком
---
Тип жилья
Дом
---
Вмещает гостей
4
---
Спален
Surry, Мэн, США

Gehen Sie bis zum Dorf für Unterhaltung, ein Segel, Wandern oder exquisite Speisen; oder "zu Hause" bleiben, wo es viel Platz zum Entspannen und frische regionale Speisen aus dem Bauernmarkt oder Co-op kochen. Möchten Sie von ihm zu entfliehen? Versteckt in einem ruhigen Viertel, das Haus bietet Ihnen einen Platz zu "hängen Sie Ihren Hut", während die Erkundung der Gegend zu bieten hat. Also Ihr Spielzeug mitbringen, gibt es viel Platz, um sie zu speichern. Tagesausflüge von hier ist perfekt, da wir zentral zu vielen der beliebtesten Sehenswürdigkeiten und Aktivitäten befinden. Zwei Menschen wird der Raum sehr komfortabel. Es gibt genügend sichere Parkplätze, wenn Sie in das Dorf spazieren wollen am Hafen, Geschäft zu sitzen, eine Veranstaltung im Opernhaus besuchen oder eine schöne Tasse Kaffee. Besuchen Sie und genießen Sie unsere schöne Mitte Küste Bereich!
Fun little place perfect for a couple.
George
2017-01-11T00:00:00Z
I was looking for a cozy retreat space to get some writing done for a few days. I felt I had everything I needed here and felt very much at home. I appreciated the character in the cottage with driftwood and beach stone detailing, and the red tailed hawk feather had special significance for me. I wish I had done a bit more research on the town itself, as not a lot of places seemed to be open yet for the season, but a highlight was visiting Avena Botanical Farms 10 minutes away :) I would love to return again sometime!
Joanna
2017-03-30T00:00:00Z
Margaret was a great host - we really enjoyed our stay at her cozy Camden cottage!
Jen
2017-01-03T00:00:00Z
We had a great stay. Accurate description and cozy feel.
Breana
2017-01-16T00:00:00Z
Margaret made us feel welcome, the place was every bit as cozy as it looked! Nicely convenient to the village.
Jesse
2016-12-25T00:00:00Z
I highly recommend staying at Margaret's cozy cottage. It was clean, looked just like the pictures, and had just what you'd need for a couple relaxing nights away. It was in a very quiet neighborhood, but there was plenty to do in town just minutes away. We loved the town of Camden - we had some of the most delicious meals and met some of the nicest people there! Many thanks to Margaret for being a great host and sharing her cottage with us.
Leslie
2016-12-29T00:00:00Z
Lovely wee cabin in a pretty and quiet neighbourhood. Gorgeous town. Loved it all.
Niamh
2017-04-05T00:00:00Z
Super cute and cozy cottage with exactly what we needed. It's very close to town and was a perfect location to take all our day trips from!
Sarah
2017-03-07T00:00:00Z
Тип размещения
Дом/квартира целиком
---
Тип жилья
Дом
---
Вмещает гостей
2
---
Спален
Кэмден, Мэн, США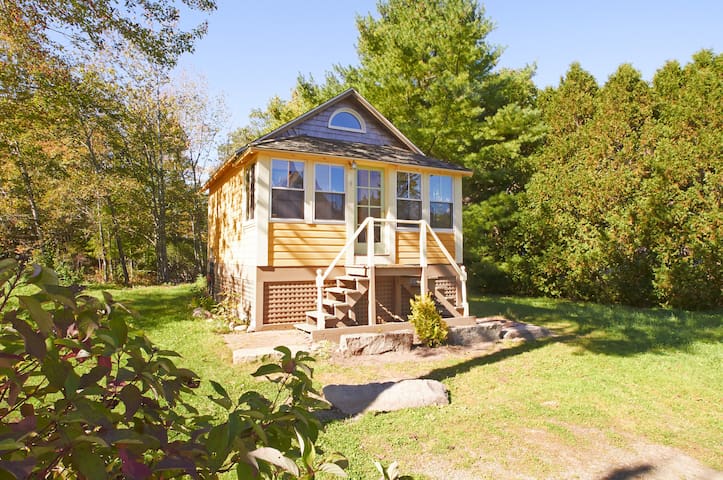 Das rustikale und einfache Ein-Zimmer-Kabine wurde (PHONE NUMBER HIDDEN)ut und wurde als Fischerlager verwendet. Wir haben es aus den tiefen Wäldern genommen und es verlegt, wo es jetzt die Südseite unseres 12 Morgen großen Teich überblickt. Es wird nun mit Strom, Holzofen ausgestattet und es gibt reichlich Küche und Gegenraum mit Propanofen und zwei Waschbecken. Ab diesem Sommer läuft jetzt Wasser in der Kabine zu trinken und eine Warmwasserheizung! Eine süße kleine Dusche im Freien aus ist wieder für Ihr Vergnügen als auch. Die Zufahrt ist 2,6 Meilen lang und ist eine gepflegte, aber manchmal ziemlich schroff Feldweg. Allradantrieb ist nicht notwendig, in der Sommerzeit. Es ist ein Plumpsklo etwa 125 ft oder so aus der Kabine. Dusche und Toiletten sind in meinem Haus, das nur auf der Spur ist (etwa 200 Fuß entfernt). Es gibt auch eine Dusche im Freien hinter der Kabine auch jetzt! Der Teich ist ideal zum Schwimmen und Bootfahren. Wir haben einen flachen Boden Ruderboot und Kanu für Sie zu nutzen, während du hier bist. Eine Aqua-Zip Line ist für diejenigen mit einem Sinn für Abenteuer zur Verfügung. Bitte beachten Sie, dass wir nur mit Haken ohne Widerhaken Fliegenfischen ermöglichen. Ein kleiner Markt Garten und Gewächshaus in Betrieb sind in der Nähe und es gibt drei weitere Häuser auf unserer Seite des Berges, die alle auf unserem Grundstück. Es ist nie sehr beschäftigt oder laut, aber es kann, einmal in eine Weile, andere Menschen auf den Teich, Strand und Boa genießt sein Ich will nur zu erwähnen, dass die Hütte im Wald auf einem Berg tief ist, und beherbergt alle Wildnis zu bieten haben. Sie können Einblicke in Elche und Maus, Frösche und Fliegen haben; durch die Natur des Lebens hier spielen wir Gastgeber für sie alle. Im Interesse einer vollständigen Offenlegung, ich will dich so zu wissen, dass Sie sich bewusst sind, dass Lebewesen hier in unserer Gegend sind und manchmal in unserer Wohnräume. Fast jeder hat sie bisher angenommen, aber einige, die nicht in den Wald gewagt haben, bevor sich überrascht, eine Maus, um zu sehen, die sie unbequem sein um gemacht. Bitte den Richter auf diese für die eigene Kreatur Komfort! WINTER IN DER KABINE Sie müssen Ihr eigenes Feuer im Holzofen zu halten, um die Kabine gemütlich zu halten. Ich kann Unterricht bieten, wenn Sie nicht vertraut sind. Wasser wird nach oben in zwei 4 gal Kannen zum Waschen zur Verfügung gestellt und müssen auf dem Herd oder in dem elektrischen Wasserkocher erhitzt werden. Wenn Sie mehr benötigen, können Sie die Krüge in meinem Haus Ihre Adresse geschickt. Bitte denken Sie an hier als rustikal zu bleiben, off-the-ausgetretenen Pfade Rückzug. Winterfahrerlebnis auf vereisten und verschneiten Straßen ist ein Plus, da die Bedingungen und Wetter ist sehr unterschiedlich! 4-Rad-Antrieb ist ein Muss im Winter. Dieses Stück Erde ist ein schöner Ort für Menschen, sich zu entspannen und zu spielen, und das ist, warum ich möchte mit Ihnen diesen Raum zu teilen. Kommen Sie für ein Wochenende, oder kommen für eine Weile.
Anna was the most incredible host and her log cabin exceeded all expectations! Already planning our next trip back for the summer to utilize the zip line over the pond!
Kara
2014-11-03T00:00:00Z
Everything was great! We enjoyed every bit of our week-long stay at Anna 's Cabin. Not only is the natural setting beautiful, but the swimming is great and Anna and everyone else at the farm were welcoming and friendly. Thanks for a great week!
Brian
2014-08-17T00:00:00Z
The experience was everything we expected and more! We were pleasantly surprised by all the fun activities Jim and Anna make available for their guests on the pond and around the area! Unfortunately Anna had an incredibly busy weekend at work, but she was always in constant contact with us to make sure we were enjoying ourselves! Jim came by to say hello as well and to give us suggestions on what to do around the area. It was definitely one of the most relaxing weekend we've had in a while and hope to visit again next summer! :)
Jess
2015-07-05T00:00:00Z
Everything was as advertised in the best possible sense. Anna's instructions and tips are impeccable. Her thoughtful and friendly manner is icing on the cake. I can heartily recommend and thoroughly enjoyed the fall colors and crisp temps. A great find in any season, however!
Allison
2015-10-04T00:00:00Z
As soon as Anna walked up to us, singing and holding a glass of water and lemon, I knew we were going to get along just fine. The cabin cozy and warm, and has all the modern conveniences except a TV (which is a good thing), and a bathroom (which is expected when you are staying in a cabin in the woods). The location is absolutely incredible. The fog on the lake in the morning was beautiful, the sun on the mountains in the afternoon was stunning, and the sound of Moose drinking from the lake while the milky way shined brightly at night was amazing. I would never hesitate to come back.
John
2014-10-15T00:00:00Z
We had a wonderful stay at the cabin and our only wish was for more time! The space is magical. My biggest piece of advice is to make sure to spend at least a day only at the cabin enjoying the pond and outdoors.
Bree
2016-07-19T00:00:00Z
My guest and I had such a great time at the cabin. It was late November and my our axle broke on the road coming in, but Anna met us, helped us get our stuff the rest of the way to the cabin and was more than happy to show us around the neat back to the land setting. As late as it was into the fall, the cabin warmed up nicely and we were snug as could be. I would strongly suggest a stay here as Anna is a very kind, friendly host and the setting is really enjoyable. I brought my dog and she had a blast too! Wonderful!
Ian
2014-11-23T00:00:00Z
The description of the property was completely accurate and everything about the cabin and Jim's pond was absolutely exquisite!!
Saee
2014-10-26T00:00:00Z
Тип размещения
Дом/квартира целиком
---
Тип жилья
Бунгало
---
Вмещает гостей
2
---
Спален
Newry, Мэн, США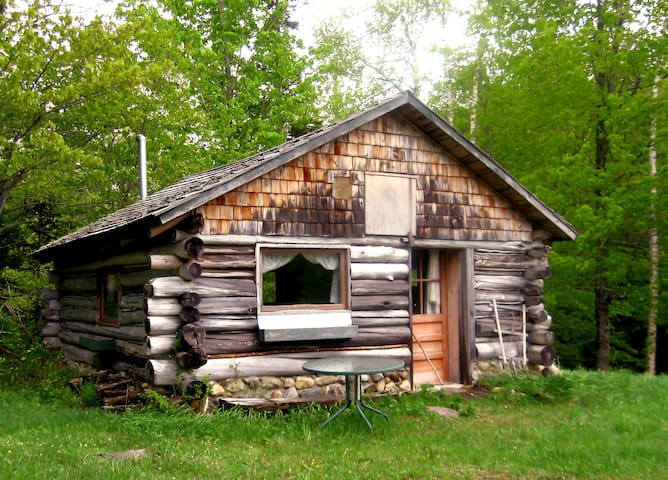 Das Haus in Little Island Cove ist ein herrlicher Ausgangspunkt für alle Ihre Abenteuer Downeast, oder einfach nur stecken in und verbringen einige Zeit weg von allem auf Franzosen Bay zu bekommen. Das Haus ist ein charmantes und schön dekorierten Raum für Ihren Aufenthalt. Es ist ein freistehendes Gebäude mit peekaboo Blick auf das Wasser. Die erste Ebene enthält eine offene Küchenzeile, Essecke, Wohnzimmer und ein Bad mit Dusche. Schmiedeeisen-Wendeltreppe bringt Sie in die obere Ebene mit einem luftigen, offenen Raum ein Queen-Size-Bett und zwei Einzelbetten enthält. Ein kurzer Spaziergang den Hügel hinunter von der Hütte bringt Sie zum Little Island Cove Strand, mit einer Insel bei Ebbe und herrliche Aussicht auf Mount Desert Island zu Fuß aus. Wechseln von den Felsen, schwimmen, Jagd nach seaglass, Sandburgen bauen, Picknick auf der Insel, entspannen Sie in den Adirondack Stühle, beobachten Sie die Hummer Boote gehen, gehen für ein Paddel in einem der beiden zur Verfügung stehenden Kajaks ... Das Haus liegt in der Nähe Ellsworth und viele Downeast Attraktionen wie Mount Desert Island mit Bar Harbor, Cadillac Mountain, Sand Beach, Jordan Pond, Restaurants und alle Freuden des Acadia National Park. Es ist auch in der Nähe von einem isolierten Teil des Acadia, Schoodic Point, mit seiner unglaublichen tosenden Wellen, schöne Ausblicke, Picknickplätze und Wanderwege. Mieten Sie Fahrräder und hausieren um schöne Sorrento. Speisen Sie in der erstaunlichen Ironbound, oder erleben Sie eine Quintessenz Maine Frühstück in Chester Pike Galeere, die beide eine sehr kurze Autofahrt entfernt. Der berühmte "Sunrise Rail Trail" bietet Meilen von Motorschlitten, Langlaufen oder Schneeschuhwandern. Das Haus kommt auch mit der zusätzlichen Möglichkeit, das Frühstück in der Gourmet-Küche im Haupthaus auf Little Island Cove. Boxed Pakete sind ebenfalls auf Anfrage erhältlich. Was auch immer Sie sich entscheiden können, während hier zu tun, wird das Haus in Little Island Cove sein der ideale Ort für Ihre Küste von Maine Urlaub!
Awesome place!
Malia
2016-08-13T00:00:00Z
We loved this place! It was so charming. We arrived to homemade blueberry cake and fresh flowers and we made ourselves a pot of coffee. Our kids played on the shore and island. We wish we had more time!
Amanda
2016-06-30T00:00:00Z
Roddy is an excellent host. We are very sad that we never got to meet her, but she made sure that we can find the cottage easily and that we go to all the spots in the area. I would definitely recommend roddys place to anyone looking to visit Arcadia.
Shengjie
2015-05-17T00:00:00Z
We had an amazing weekend here! Roddy was super easy to communicate with and incredibly helpful. The location is great and the cabin is wonderful! The cabin is amazingly decorated and has everything you could need, and the view over the bay is gorgeous. It is nice and secluded, which was a plus. We visited all of the spots that Roddy recommended, and they were all amazing. The cabin is probably about forty minutes from Bar Harbor and Acadia National Park, so the drive is very manageable. We are already looking forward to coming back!
Julia
2014-10-19T00:00:00Z
The cottage is a beautifully designed and maintained newish building on Roddy's waterfront property. Her directions were spot on, so we had no trouble finding it. She happened to be away for the weekend so left a note and a phone number which we did not need. All was good.
bill
2014-07-06T00:00:00Z
Very smooth stay. What a beautiful cabin!
Melody
2015-09-07T00:00:00Z
Roddy was an excellent host, starting with the communication leading up to the trip. When we arrived, she had two fabulous slices of cake waiting--what more can you ask for ?! The house was perfect for me, my boyfriend and our two dogs. They loved exploring around the bay. Her place is just a quick drive to Acadia...our one regret is we didn't spend enough time there! Thanks so much Roddy, would love to return in the future!
Erin
2016-06-13T00:00:00Z
The place was as described, really clean and comfortable. There is access to a little beach through the owner's yard (on the left of the fence facing the little cottage), it is really cute . We did not have time to use the kayaks Roddy kindly put to our disposal, but it was really sweet of her. We did not see Roddy during our stay but we had everything we needed. The signal is not good there so it made it hard to inform Roddy of our time of arrival. My wife checked in before I arrived and a woman (the cleaning lady I believe) was there and left her the key. The place is about 45min drive from Bar Harbor and really quite. I would recommend this place.
Vincent & Beth
2014-09-21T00:00:00Z
Тип размещения
Дом/квартира целиком
---
Тип жилья
Дом
---
Вмещает гостей
4
---
Спален
Салливан, Мэн, США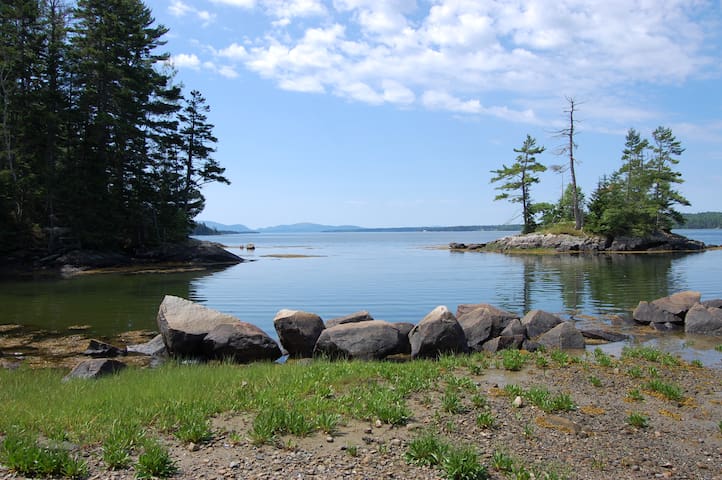 Mukava huone talossa sijaitsee lähellä taidealueella useita ravintoloita, kahviloita, baareja ja mielenkiintoisia liikkeitä. Se on lyhyt ja hauska kävellä vanhaan satamaan. Osuudet suuri koko kylpyamme ja puoli kylpy toiseen huoneeseen vuokrata Airbnb samoin. Upouusi patja vuodesta heinäkuu 2016!
Tämä tila on makuuhuone, jossa on yksi parivuoteella ja osakkeet kylpyhuone yksiö vieressä. Ovi huoneeseen on lukko sitä. Kylpyhuone: kylpyhuone on jaettu viereisen yksiö (myös vuokrattavissa Airbnb). Kylpyhuone on "Jack ja Jill" tyyli, mikä tarkoittaa, että on olemassa kaksi ovea. Tämä mahdollistaa asiakkaiden molemmissa huoneissa päästä vessaan ilman, että annat "julkista" tilaa. Molemmat ovet ovat lukot niitä. Muista avata molemmat ovet, kun jätät kylpyhuoneen jottei lukita muita vieraita pois! On myös jauhe huoneen alapuolella portaat kaikkien asiakkaiden "(verkkosivusto piilossa): TV on kytketty over-the-air antennien ja saa monet paikalliset asemat. Myös Roku yhdistää se, josta löytyy monia ilmaisia kanavia tai Amazon vuokrata elokuvan. Voit myös kirjautua omaan Netflix. Kirjautua pois, sinun täytyy valita "Option" ja "Poista kanava". Mini Kitchen - Huoneessa on myös nojatuoli, pieni taitettava pöytä kahvia tai kannettavat tietokoneet, mini-jääkaappi, mikroaaltouuni, kahvinkeitin, teepannu ja leivänpaahdin. Kahvi, kahvi suodattimet ja teetä, sokeria ja kermaa tarjotaan. On myös muutamia viinilaseja, kahvi mukeja, lusikat, haarukat, paperi-levyt ja korkki ruuvi / pullonavaaja käytettävissänne. Hiustenkuivaaja: Löydät hiustenkuivaaja yksi laatikot alla TV. Varastotilaa: Voit käyttää vetolaatikot alle TV sekä kaapissa takana nojatuoli. Pitäisi olla useita ripustimet siellä omaan käyttöön. Jos tarvitset enemmän, ota meihin yhteyttä. Lakanat ja pyyhkeet: Lakanat sänkyyn ovat puhtaita ja siellä pitäisi olla puhtaita pyyhkeitä huoneeseesi.Touring käytät. On olemassa muutamia huopia kaapissa jos tarvitset niitä. Matkailuinfo: Tonnia esitteitä ja karttoja ovat yksi laatikot alla kahvinkeitin samoin. Voit vapaasti ottaa ja / tai jätä mitä haluat. Lämpötilan säätö: Kesäkuukausina, ilmastointi asennetaan ikkunan omaan käyttöön. Alkusyksystä jätämme pienen lämmittimen että sinun pitäisi tuntea vapaasti käyttää. Kun sää on kääntynyt kylmä tarpeeksi saada lämpösäteilyä järjestelmä kampi ylös, huoneen pitäisi olla varsin viihtyisä. Jos se on liian tukkoinen, voit crack ikkunan oman mukavuuden. Sulje se ennen lähtöä, kun termostaatti on aivan oman huoneen ja se saattaa aiheuttaa kiukaan toimimaan ajan. Pysäköinti - riippuen vuodenajasta, olemme eri pysäköintijärjestelyt vieraille. Suurimman osan vuotta, olemme iloisia jakaa ajotieltä vieraille. Aikana erittäin luminen / jäinen kuukautta (tammikuu ja helmikuu), emme voi sallia ihmisiä käyttämään meidän ajotieltä, koska se on liian vaarallista heille ja heidän ajoneuvonsa. Jos näin on, teemme parhaiten auttaa löytämään pysäköinti. Kesällä (heinä- ja elokuussa) vuokralaiset vierashuoneeseen annetaan avainkortti pysäköidä parkkihalliin lopussa meidän kadulla. Se sijaitsee vieressä Westin Hotel. Kortti antaa sinulle sisäänkäynti ja poistu tahansa. Voit pysäköidä missä ei ole olemassa "varattu" merkki. Kaikki vieraat sitoutuu korvaamaan ja pidä kiinteistönomistajien vaaraton kaikesta vastuusta henkilö- tai vahinko Vieraiden tai osapuolet kutsutaan päälle omaisuuden Guest.
Meidän katu on kauniisti puiden reunustama, ystävällinen ja historiallinen alueella. Olemme kävelymatkan päässä monia suuria ruokapaikkoja ja drinkeries (miten on, että uusi sana?) Olemme myös hyvin lähellä useita musiikkiareenoita ja kävelymatkan päässä vanhasta satamasta.
Barbara and Robert have a beautiful home in a charming neighborhood of Portland. The space was exactly as it was described in the listing and directions for checking in/out, etc were very clear. The house is a short walk from a nice bike shop and some great restaurants. Barbara and Robert provided great recommendations through their blog and provided us with a parking pass for a nearby garage which was a nice touch. Would have loved to stay longer!
Bob
2016-07-21T00:00:00Z
We had a great time staying at Barbara and Robert's place in Portland. The room was clean and comfortable and in good location for an easy walk into the centre of town and the port. Unfortunately we could only stay one night but would definitely recommend to others.
Dominic
2015-09-22T00:00:00Z
We had a fantastic time in Portland! It is a great city with phenomenal food, and this place is in a great location to quickly get to and see it all! We didn't see Barbara or Robert, or the other guests, but the house was great! Everything was ready for our arrival just as the email we received said it would be. The jack and jill bathroom was very large and nice, and had a good amount of privacy despite being "shared". We would definitely stay here again!
Josh & Katie
2015-09-04T00:00:00Z
Thank you Robert and Barbara for opening up your home to us. The house is wonderful and the room perfect. The complimentary wifi an added bonus as it of course allowed us to book our stay while in the room. Very nice touch to include a map of local restos. The location could not have been better as you are within walking distance to all of the fantastic restaurants in the city. Next time we visit we'll no doubt stay with you again. The parking spot was another bonus!
Niels
2012-09-14T00:00:00Z
Robert and Barbara live in a beautifully restored old home within walking distance to the arts district of Portland. Parking downtown is very difficult, so being able to park at the house and walk into town is great. The room is very tastefully decorated with a very comfy bed and adjoining bathroom. Barbara and Robert were very welcoming and helpful in giving advice on local restaurants.
Valerie
2012-10-17T00:00:00Z
The location was fantastic, the hosts were lovely and the brownstone handsome and beautifully situated. The key code front door was a great touch, too! The unit was in need of soundproofing and some basic updates but otherwise a simple, nice stay.
Whitney and Chip
2014-03-31T00:00:00Z
My boyfriend and I stayed with Barbara and Robert on our first trip to Portland. We stayed in the guestroom and the space was just PERFECT! Big comfortable bed, AC, coffee and tea, wine glasses and mugs all provided. Clean, quiet, and close to everything we wanted to see and do in Portland. We had trouble with the front door lock because I didn't read the introductory email properly, and Robert and Barbara were both gracious and patient in explaining things to me. We found parking on the street with no problem, and there were great restaurants, cafés, and bars in walking distance. I would absolutely recommend staying with Robert and Barbara if you're heading to Portland!
Diana
2014-06-27T00:00:00Z
We loved our first ever Airbnb experience thanks to Barbara and Robert! Robert provided great directions to a wonderful pizza restaurant and other local sites. The room was warm and cozy .
Tara
2016-06-04T00:00:00Z
Тип размещения
Отдельная комната
---
Тип жилья
Дом
---
Вмещает гостей
2
---
Спален
Портленд, Мэн, США
New England Historic House Circa 1890. This house has been renovated for guest comfort but still maintains the New England feel. Clean, Comfortable and Conveniently located just 5 minutes walk into Boothbay Harbor Town. There you can enjoy a great meal and wander home leaving the bustle of town to enjoy your quiet location of Mill Cove House.
Тип размещения
Дом/квартира целиком
---
Тип жилья
Кондоминиум
---
Вмещает гостей
2
---
Спален
Boothbay Harbor, Мэн, США
Hiljainen, kaunis studio perääntyä kahdelle, vain muutaman minuutin päässä Ferry Beach State Park ja Bay View Beach.
Tilava, valoisa, kauniisti viimeistelty, 350 neliön jalka täysin kalustettu mänty irrallaan yksiö vain 0,75 kilometrin päässä Atlantin valtameren. Helppo pääsy kävely, pyöräily tai ajo Bay View Beach, Ferry Beach State Park, ja Ocean Park. Uusi parivuoteella muisti vaahto. Yksityinen käsityönä mänty kylpyhuone. Keittiönurkkaus jääkaapilla, leivänpaahdin, kahvinkeitin ja mikroaaltouuni. Yläkerrassa yksikkö, studio on kiinnitetty kotiin, mutta on erillinen sisäänkäynti. Suuri lukeminen Nook, kaksi erkkeri kodikkaat oleskelutilat, herätyskello, Wifi, kaapelitelevisio, sähkölämmityksen, ilmastointi. Pesukone ja kuivausrumpu käytettävissä pientä maksua vastaan, ajotieltä pysäköinti, käyttö ranta tarvikkeet (rantapyyhkeet, sateenvarjo, ranta tuolit jne). TV perus kaapeli ja DVD-soitin. Awesome naapuruston täynnä ihmisiä juoksu, kävely ja pyöräily. Jalkakäytävät mennä koko matkan rannalle ja keskustaan Saco. Suuri jäätelö ostoksia vain puoli mailia kävellä tietä pitkin.
Olemme vain lyhyen, rauhallisen kävelymatkan päässä merestä. Bay View Beach ja Ferry Beach State Park ovat alle 1 kilometrin päässä talosta, jossa jalkakäytävät menee koko matkan.
We had a great 4 night stay at this studio. The place was impeccably clean and totally prepared for our arrival. Nicole has clearly been studying up on how to be an awesome host. It's a really cute room above her quilt studio and it feels like you have your own suite. Essentially you do. The location is walkable to a nice beach in a residential area and easily drivable to old orchard beach where everybody else goes if you feel like joining the crowds for the "Boardwalk" kind of experience. A little further from kennebunkport than we had originally expected but still an easy 30 minute drive. One of the best airbnbs we've stayed at so far.
Christopher
2016-07-29T00:00:00Z
The studio is really beautiful and we really enjoyed our stay. The place is even better than described. We couldn't have been happier. It's a perfect getaway spot and we hope to come back in the summer when it's warmer. Nicole is a great host and extremely friendly and accommodating.
Joe
2015-04-21T00:00:00Z
Dave & Nicole couldn't have been more welcoming. They gave us info on the area--where to dine, etc. & offered bikes, beach chairs & towels. The studio was perfect for my husband and me, well appointed, very clean and in a quiet neighborhood. We would highly recommend Saco Studio.
Wanda
2015-09-01T00:00:00Z
Quaint, adorable, scenic, and very quintessentially New England!
Allyson
2017-03-26T00:00:00Z
Being a frequent business traveler to this area - I was looking for something different than the typical hotel stay. I left my home in CT at 4:30 with - 5 degrees showing on the temperature gauge. I checked in around 6 and found complete bliss with the heated bathroom floors.. This is an exceptional property with very nice hosts!
Brian
2017-01-11T00:00:00Z
Nicole made us feel so welcomed. We were able to text her questions about local places to try. The pictures do not do the studio justice. The studio was warm, inviting, and well decorated. The little details around the studio made it feel like they put some thought into decorating; and it wasn't just another source of income for them. Nicole was very accommodating with our arrival time. Checking in and out was extremely easy. Overall we really enjoyed our stay. This studio solidified why using Airbnb is by far better than staying at a chain hotel.
brett
2015-09-23T00:00:00Z
This place is incredible! My wife and I honeymooned here this last week, and it far exceeded our expectations. The suite is lovely, warm, and homey. The hosts were incredibly gracious and hospitable. If you are looking for quiet getaway with access to outdoor adventures, a gorgeous beach, and plenty of unique dining experiences... this is the place for you. We loved it.
Patrick
2017-03-17T00:00:00Z
Easy to access and in a peaceful location. A short drive to the beach to experience a sunrise. The furnishings were up to date and modern with a nice home style touch of various quilted items. The heated bathroom floor was a major bonus!! Great place to stay in the Southern Maine area!
David
2016-10-11T00:00:00Z
Тип размещения
Дом/квартира целиком
---
Тип жилья
Дом
---
Вмещает гостей
2
---
Спален
Сако, Мэн, США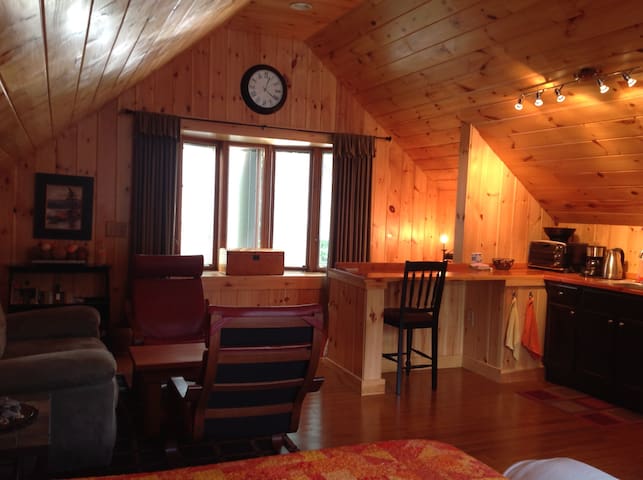 Central Maine USA! Lakeside, Nature Lover's Paradise-NICE FUNky Camp: Quiet, BBQ, fish, boats, hike, bike, firepit play/sporty/leaf peep, ski, snow tube, & ice fish. Boston 3 hrs, near Portland. Romantic Get A Way, Rustic Retreat: can sleep 4-up to 8 See MANY Pics, great kitchen, hot shower and a claw foot tub upstairs in the bedroom- ahhhh! so sorry but No Pets anymore, please.
FUNky, COMfY, cozy, Big Wood stove.. NICE Old Camp!!..."Nature Lovers Paradise- Lakeside" is a popular, comfortable and very cozy FOUR SEASON Camp...sleep, BBQ, right on the water's or ice edge! Has a lakeside setting, Outdoor kitchen, 4 burner Gas BBQ, Big Wood Stove, a computerized furnace, DISH TV and a dishwasher. A Really Cool very Rustic Camp centrally located for 4 Season fun and other Maine attractions. Not only hiking and biking nearby, close enough to drive to both ocean, hiking trails, and ski lodges. Plus other sports like: snow tubing, X country ski, ATV.. or walk/ snowmobile from yard, lake or road onto nearby trails plus more. Very convenient.. too much fun to imagine! Or just plain veg. out and just plain do relaxing, cook, play games, watch old videos during cooler/wetter weather times, or go eat out! "WE REST YOUR TOES WHILE YOU REST YOUR (URL HIDDEN) this comfortable, perfectly imperfect sort of cluttered ole camp!" Only 3/4 hr. No. of Portland, ME. USA (Portland is a granola-like, ocean side city with a Jet Port) What to do? Lots: This popular.."perfectly not perfect, little ole camp" is on a nice LITTLE lake, that fast freezes, in the winter; unlike Thompson and Sabago lakes. IT IS NOT CROWDED WITH BOATS or jet skies, IN THE SUMMER EITHER. Since it is centrally located in Maine ...the drive times to attractions are 05 minutes to about an hour and a half +/-. At the camp: water play, row, canoe, beach, fish, wood fires, (scubba diving/wind sailing lessons booked ahead.) Inland you can hike, bike, go climbing or snowtubing, x country ski/snowshoe on Carters X country ski trails (15 kilometers of trails-with a warm up lodge, store and equipment rentals.) In addition...Ski nearby at 7 locations: Lost Valley, Shawnee Peak, Conway (Tourist Shopping, Mtn. Climbing and Ski Cranmore Mtn.,) Mt. Abrams, Sunday River Ski Resort, a day trip to Sugarloaf Mtn. is hearty; but I go, and it is my favorite resort and ski area. Snow Tubing is down the road a piece. It can be fun at night too; if coming in Fri night from the South, you can snow tube enroute in Windham, ME. At the camp, right out the door of my camp... I walk, x country ski or snow shoe on the lake, the dirt roads, or into the forest. You can snowmobile from here too, to the Casino, they say. There are some snowmobile woods trails- a short quick drive or walk up Rt 11 from my driveway. The snow mobile trails are usually packed and good for walking/snowshoeing/or X country skiing a few miles too.. I can also go skating if someone clears the ice off. Outside on the lower deck is a deck side fireplace chiminea, for sitting around on cushioned lawn chairs and basking in the summer or winter sun. Being on the lakeside in any season is so..beautiful when the sun pours in, to relax. There are many local restaurants (5 min. pizza, half hour/hr. almost anything you want) within many driving times for decent food so you do not have to cook in all the time. Yet, I have a fully equipped kitchen and there are three grocery, convenience stores, etc. 10-20 minute drives. Inside the Nature Lover's Paradise camp, enjoy: Dish TV, and a great big video library. Play video, DVD and music CD's, lots of games and cards, a grecco crib, kids toys. Feed a cozy wood stove. WIFI and modern appliances? YES! Hope this begins to help with your planning. A lot more description details follow. The place easily sleeps four, has 7 beds (3 beds sleep 2 people.) The cost is up to 175 per night and sometimes lowers (May 2016 through April 2017) plus a 65 cleaning fee. A 100 deposit is held on your cc about a week before arrival. When you book, you pay in full by cc plus some small AIRbnb fees. Since I do not know those air fees I can not quote them to you. Look for Air fees on the screen. After staying here, If you thought this camp is or is not a good value, I hope you will let me know?! At initial inquiry, please include your estimated number of guests. Note, after you book it, I can alter your number of people and pricing up, if your initial planning numbers are too low. ( ie: before arrival that day- if more people are going with you..it is ok, just communicate about it with your Host upon arrival.) Note: If the Air calendar says the dates are available feel free to book it without asking me first. If I have a rare issue I will simply Decline the booking and or do a discussion with you. If you can not pay now, ask your Host to reserve the dates. OK? Thank you! More planning details: You have just discovered a 1907 East Shore piece of PARADISE in the famous Poland Spring Area of Maine, USA. It is a cozy 1907's renovated camp; surrounded by "old growth pines and water." It is easy to get too. It's situated on popular Tripp Lake. On maps Tripp Lake is referred to as "Tripp Pond" But locally everyone calls it Tripp Lake. It is only a 3/4 hour North from Portland, it's 10 minutes from a Casino, and 15 minutes plus, to many attractions. (more details further on) For 67 years, our family's camp has slowly been maturing into a nicer little cottage, resting its old timbers only 22 feet from the water/ice. A "Great Place" for booking your vacation week, short stays, week end getaways or retreats. More about what to do there? This camp is centrally located between several great places: The drive time is 05 minutes to about an hour +: You can snow shoe on the Carters X country ski trails nearby (15 kilometers of trails , and 2 hrs. to Sugarloaf for Regee week end in late March/April spring skiing times! Many concierge services can also be available with pre-discussion and agreed upon additional fees. ie: Cooking, pick up at station or Casino .....just inquire, discuss and pay. How could I help you relax and safely arrive in a strange place to you? RELAX is the word here. Easy Does It! Enjoy the OUTDOORS and the hu ge old wood stove's heat for fun. For some people the brain shift to doing some camping and breaking the everyday routine is relaxing. This fun and funky place can do that for you, but you will have to leave the critic at home and bring a sense of humor: there are bugs, electric switches in strange places and clutter so do not tell the world in a review, please. If you are reaading this, the world already knows. Please do not hurt my ratings with criticisms...please go someplace else if you do not want a nice, campy, feeling! I do not advertize Luxury, I advertise Funky! This Lakeside camp feeling includes: THE site for EASY CAMPING METHODS: running lake water, hot running water, shower and tub, modern appliances, soft carpeting, wood beams, wood stove, computerized furnace, many beds and a lot more. "Lets camp and, deal with camp kind of stuff-just do something different! " LET"S HAVE SOME DYNAMICS! It is so PERFECTLY "not perfect," camping with the "fun in funky" that's still alive. Think of this central location this way: This "Nature Lovers Paradise-Lakeside" location is a four-season rest and recreation camp. You can easily STAY and PLAY or Go and PLAY. You can STAY and swim, water ski, canoe, kayak, hike, bike, ATV/UTV, X Country ski, skate, BBQ, cook, read ... do a lobster feed etc. Or GO AND PLAY to nature walks/golf at the Poland Spring Resort's course, walk the Preservation Park Nature Trails, do Agriculture Family Fun stuff, eat out, summer playhouse theaters, gamble at Oxford Casino, tourist shop Freeport, Portland or Conway, Portland Lighthouse, drive to the OOB pier & ocean/arcade, do snow sport day or night ski trips to Sunday River, Sugarloaf Ski Resort (s), Shawnee Peak, Lost Valley, Conway, tourist the White Mtns (N.H.), go to Fryeburg Maine's huge Country Fair (end of Sept), Plus, close to the cottage is the Poland Spring's STATE PARK big sandy beach(URL HIDDEN) Today Non Potable Water: Though certainly "A Chef's Paradise for cooking supplies" and cooking gear....we are used to the camp's cooking and showering with, but do not tend to drink, the LAKE WATER though; right now. The Owner Does Supply lots of fresh spring water... or feel free to bring your own label. This cottage and its running tap lake water is located on top of the famous and pristine Poland Springs aquifer's healing waters area. This camp is named "Nature Lovers Paradise- Lakeside!" You would be staying at a site between lake water, with a camp and other buildings with wood piles and stuff. It is up on slightly higher ground from the lake. A vernal pool: with bullfrogs, fairy shrimp and a bird sanctuary are behind the camp. Eventually, way out back are woods and higher ground. It is a somewhat of a perfect Feng Shui landscape site for resting. For summer, keep in mind that due to many breezes people say "this is NOT a "mosquitoes galore " buggy kind of place at all. All camps have bugs. But we are not one of the real buggy kind at all. Yippee!! Enjoy all kinds of Nature's critters and plants. Fish from the dock, and if you see a flea inside, feed it to a frog outside. (Just kidding of course.) Be real about camping expectations though. Please arrive and depart with an attitude of gratitude about Nature's little creatures. Try to leave your professional critic at home or in the office. The owner humbly wants you to know that simply due to the NATURE OF CAMPING please come prepared for a "true nature of camping." It is not perfect here. There is no tar, or grass to mow here. If you are a "tuned in reality camper," then great! The cottage yards are not only bright in the morning, as it faces East for Morning sun, it faces West where Sunsets are Born. Enjoy, Nature Lovers Paradise Lakeside... With its' East Shore setting...159' waterfront beach area, a dock, canoe, kayak, typical sandy bottom, lake grasses, sandy beach in season, fishing and lakeside views. Relax with 3 DECKS/ 5 grills: one large deck on the West side with charcoal and gas BBQs, a gas hotplate and running water double sink, an East side deck with a breakfast cafe table and charcoal BBQ. The 3rd lower level deck over the waterfront area (or skating rink,) has a deck fireplace and chairs. The lake and wharf style dock accommodates your water ski boat. Plus a big lakeside fire-pit gives the wood burning smells of camping.Yet, indoors the modern gas range ups your camp into a fully equipped cottage kitchen. Atmosphere Description: A single lane, wooded, private gravel drive curves toward the camp in a family, vacation minded neighborhood. Professional, family style NEIGHBORS, other renters, and the workshop, sauna, ice fishing house, and owner's bunkhouse/office- studio are close by. People, including the owner, quietly come and go. Synopsis: It is a private driveway, yet there are other buildings and people nearby doing stuff: campfires, fishing, swimming, boating, relaxed campfire talking, laughing, fireworks, children noises and mostly pretty quiet fun playing around types of activities. It is a "close/caring" and friendly neighborhood type of atmosphere, with weekly changing groups of company. In addition are the joyous sounds of the ELITE "Tripp Lake Camp" from across the lake during July and August only. Your yard/beach area feels pretty private in relationship to the many buildings around it. You are not in the wilderness. But if you want total privacy/wilderness...See my 2nd camp in Buckfield, Maine USA listing on Air...Nature Lovers Paradise - Mountainside! Right now approaching Summer it is very quiet. Summer and the forth of July week is the noisiest. Though a private setting, due to large yard and 156" total property beachside, it is usually a lot more quiet Sunday night on, during the week and after Labor Day weekend through leaf peeping season. In the winter it is pretty much a silent retreat. This is a 4 Season "Maine Paradise Rental" Now, come on.. take a tour INSIDE this comfortable, antique style cottage. It has an open floor plan. The main room is the 180 degree Lake View living room, which is framed with large rough beams, earth tones, wall to wall carpeting, splashes of color. The seating includes double bed convertible couch, rocker/recliner, huge overstuffed chair with matching ottoman, glider chair and a 3/4 bed along the windows; overlooking the lake. Stepping out of the living room toward the fully equipped kitchen you will find pine slab counter tops, oak floors, a cozy dining area with a bay window facing the lake's sunsets in a cafe-like setting. A huge and wonderful wood stove, along with all the wood supplies, heats the whole place in the winter (along with a monitor- computerized furnace.) Welcome good heart campers and tired travelers! There are TWO BEDROOMS, one up and one downstairs. 1.The first downstairs bedroom comes with two small windows, good ventilation, a bunkbed and Queen memory foam bed. It is located off the living room. Door opens into a 3/4bathroom. An open concept space that goes into the living room is closed off by the old beautiful piano. Due to its open concept, with the movable piano, this downstairs bedroom can be converted to HANDICAP ACCESSIBLE upon request. Yes, there is no wall on that side of the room. the heavy piano is quite a wall in itself. Video TV is also in this bedroom along with a large video library. 2. A short, steep stairway leads upstairs to another bedroom, complete with a double futon, single bed, Victorian chair, ceiling fan, AC, windows overlooking the lake plus an ancient claw foot tub; with its gold painted toe nails- enticing you to REST YOUR TRAVELING TOES AND SOULS! There is a DVD and Video TV upstairs too. You can "watch" it while; in the tub. Or just lay back and relax, then dry off and flop into bed. 3.The Living Room has a double bed couch and right next to an open window by the lake is a favorite 3/4 memory foam (two mattresses) bed, on the floor, facing DISH TV. Expect rural, not city communication dynamics. Camp games: Darts, horse shoes, bad mitten, puzzles, bingo, books, and cards and several board games. Just a little more detail: Nature Lovers Paradise-Lakeside is located in the Poland Springs Area , near Portland and other surrounding towns such as Norway/So. Paris, Paris, Oxford, Naples, Lewiston/Auburn. located between the ocean and the mountains. Located between the Ocean and Mountains, the Poland Spring Area is famous for its "Healing Waters and Historical Golf Course;" Maybe you have heard of the famous bottled Poland Spring. This camp sits in on the aquafer's area. Port city is a nickname for Portland, the largest city in Southern Maine, plus remember "Freeport," the hometown of LL Bean's- famous outlet shoppers paradise....both are only 45 minutes away. And so is the Desert of Maine. OOB refers to Old Orchard Beach. It is only about an hour away. Ya!.... Skiers, hikers, bikers and climbers this place is your Nature Lovers Paradise to go to and from. Sunday River Ski Resort, Golf and a Casino are only 4 to 40 miles away. Check out Harvest Hill Farm's Pumpkin Land web site, Skin Divers Paradise and Wind surfing lessons are available too. Trip Lake is 3 miles long and 1/2 mile wide. It is ideal for bringing your motorboat, canoe, or kayak and is a good fishing lake year round. Driving your car is your best means of transportation. Public transit is cab services. No local buses. But, I can pick you up at the Portland, or Lewiston Maine Bus Stations or airport for fee. Yes, there are local restaurants. Maine, known as "Vacation Land" awaits.. come and enjoy NOW!
Atmosphere Description: A single lane, wooded, gravel drive privately curves toward the cottage. It is located in a family vacation minded neighborhood. Professional, retired, family style NEIGHBORS, and the owner's bunkhouse/office- art studio are close by. People, including the owner, quietly come and go at their camps. Though the camp you are renting has its private driveway, there are buildings and people nearby doing stuff like: fishing, swimming, boating, relaxed campfire, hot tubbing, talking, laughing, fireworks, soft radio, children noises and mostly pretty quiet, relaxing fun style, playing around. It is a "close/caring" and friendly neighborhood type of atmosphere, with sometimes weekly changing other rental groups of company. In addition are the joyous sounds of the ELITE "Tripp Lake Girls Camp" from across the lake during July and August only plus many Nature Sounds! Yes we have loons!
Trudy was an excellent host! She's very passionate about sharing and gave us detailed instruction on every aspects of the house. The cottage was very cozy and well-equipped, right on the edge of the lake. Growing up in apartments, I found the wood stove particularly a delight. There was plenty of stock and it did a great job keeping the whole house warm overnight. Warm weather will open up new activities on the terrace -- we look forward to visit in the summer!
Dean
2017-03-21T00:00:00Z
Trudy was fabulous. She is one of the most responsive and accommodating hosts I have ever had the pleasure of working with. She gave our group a ton of privacy and went out of her way to make us feel welcome. The cabin in Poland was very quirky indeed but had everything you could possibly want and in pretty good condition. Follow the guidelines and sticky notes around the house and you'll get used to it pretty quickly! Great location only a few minutes away from groceries and hiking. The lake was actually surprisingly warm and clear. Can't recommend Trudy and her FUNky place enough :)
Spondon
2016-06-13T00:00:00Z
Second time visiting here. Awesome as always.
Bilayiding
2016-04-26T00:00:00Z
This place was fantastic! My wife and I were really hoping to find a cozy, comfortable place to spend the weekend and we feel like we could not have done better. We spent the whole weekend just so happy to be here. i highly recommend this location. Trudy was amazing and went above and beyond for us to make our stay great!
Craig
2015-12-01T00:00:00Z
I booked Trudy's lakefront home for 2 weeks knowing that I would spend part of the time with invited friends and part if the time quietly alone. Trudy is a friendly, caring host who has had the good fortune of living her entire life on a family property that embraces Mother Nature as Maine intended it to be. The lake waters are clear, refreshing, and surprisingly motor boat quiet. The shower and kitchen sink water are from the lake so she provides plenty of bottled drinking water. We adapted to it quickly. She let us use her canoe and kayak with the understanding that we would take good care of them. This New Bedford girl thoroughly enjoyed the bright starry night time skies from her docks. We also enjoyed some campfires right along the lake. She provides 2 distinct areas for that to happen. Take your pick or enjoy both. We came to relax and get away from it all. In a quirky way, mission accomplished. We also shared a lot of stories and laughter. Never turned the TVs on once. The house is campy while Trudy stays in a smaller cottage on the same property so she's usually nearby if questions arise. There is one caution I feel is important for guests to know about prior to their arrival. The current photos of Trudy's Nature Lover's Paradise are (unintentionally) deceptive. They are outdated and do not represent the current state of clutter in the house as well as the yard. I get the impression that more and more "stuff" is being brought in on a regular basis. It took my guests and me by surprise when we arrived in a somewhat overwhelming way. Trudy has several sizable storage sheds that are completely filled. And there are piles of wood and other unknown items hidden under lots of tarps around the yard. It is my own opinion that if these sheds could be cleaned out and the yard and house cleaned out and organized, her guests would have some unique GLAMPING experiences staying within her paradise. On the other hand, if none of what I mentioned above matters a bit to you, than get cracking and book your stay along the shores of Tripp Lake with the loons, bald eagle (yes, he or she flew over our heads several times to make sure we were behaving) and plenty of natural beauty around you.
Judy
2014-09-08T00:00:00Z
We really enjoyed this cozy cabin. We had been here before in the winter so we decided to come back again for a winter getaway. The cabin is very homey and welcoming. There is a wonderful wood stove that keeps things toasty warm; it was in the single digits outside and we were comfortable inside. Trudy is a very caring and attentive host. She helped re-explain how the wood stove worked and also kept us well-stocked with fresh spring water. She helped us get out of the driveway and onto the main road safely when we were leaving in a snowstorm. I would definitely recommend this place to others.
Wyatt
2015-02-10T00:00:00Z
Trudy was a great house! She met us at the house and showed us around before we got settled in. The house has a great quirky charm and was exactly what we wanted. Its access to the lake was great, and we had a lot of fun canoeing and swimming. We ended up feeling like we should have planned for a longer time away.
Amanda
2015-09-14T00:00:00Z
Trudy made us feel very welcome in her cabin by showing us through the home and explaining everything we needed to know to make our trip comfortable and enjoyable. She provided us with plenty of wood for the stove which kept the house very comfortable even in super cold conditions. The place is charming and full of character and set in a very quiet, and private location with panoramic views of Tripp Lake. We had a great time and would strongly recommend this cabin to others looking for a rustic, quiet getaway.
Peter
2015-02-17T00:00:00Z
Тип размещения
Дом/квартира целиком
---
Тип жилья
Бунгало
---
Вмещает гостей
8
---
Спален
Польша, Мэн, США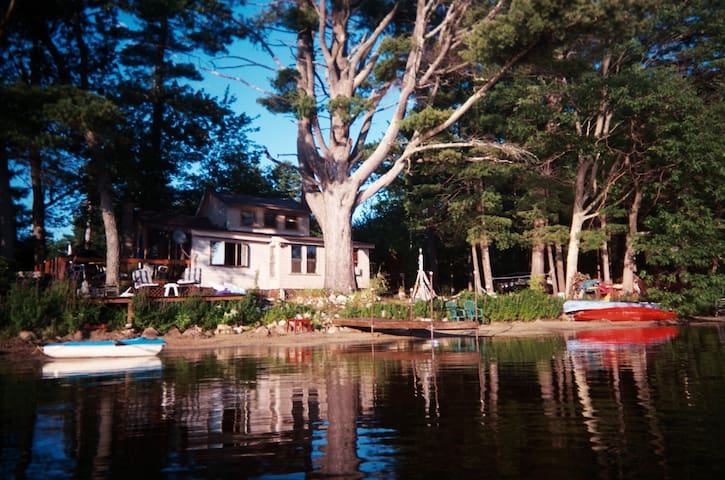 Steep maintain mountain road to 2.5 ridge # 63 mailbox located ACROSS from the cabin drive Cabin drive is narrow, drive slowly CALL HOST on your mobile phone with ANY questions (and locating property) Respect property's NOISE ordnances Bring your belongings and food,all basic household items on location Ask host questions if necessary
Rustic all wood cabin, private setting on 7 acres. Nightly price is provided on the calendar. Spectacular mountain views as the cabin is on Sparrowhawk Mountain, views the White Mountains toward NH/Gorham. Hiking trails 3 miles from one entrance to White Mountain National Forrest--off Flat road. Winter,Spring, Summer and Fall vacation place WINTER RENTALS: DO NOT BOOK THIS CABIN IF YOU DO NOT HAVE 4 WHEEL DRIVE VEHICLE Locating the entrance drive to the cabin you'll need to look for #63 on the mailbox across from the drive way. We are at the 2nd ridge up the mountain, DO NOT go to the top of the mountain road. DO NOT involve the neighbors to locate our cabin. DO NOT DISTURB THE NEIGHBORS. Winter rentals: cabin driveway is plowed/sanded,Chestnut Knoll road is maintained by the association. 4 WHEEL drive vehicles are a MUST in WINTER conditions accessing the cabin. Great mountain top views, privacy,wood interior, unique porch with windows we hook to the ceiling, small brook and path on 7 private acres, hike up the dirt road for exercise or park at the end of the mountain road and walk Flat road for some spacious views of the valley, 3 miles to an entrance of the White Mountain National Forrest (on Flat Road) 2 full showers/tub, full kitchen, laundry, picnic tables, eat out on the deck or porch, dish TV and DVD movies, loft bedroom, private bedroom,lower level sleeeping, grill on deck, fenced in backyard with 2 gates, outdoor chair swings. Chairs on lawn. Peaceful and private location, 3 miles from White Mountain National Forrest entrance off end of Flat road Great walk to open fields, meadows and the mountains, short ride to Androscoggin River boat/canoe launch 30min to Wildcat Mountain in NH, 20 minutes from Sunday River Ski resort. 2 full baths, full kitchen, stove top perk coffee, laundry, picnic tables, eat out on the deck or porch, dish TV and DVD movies, NO WIFI, loft bedroom (queen bed), private bedroom(double bed),lower level (2 twins and 1 full bed) grill on deck, fenced in backyard. Peaceful/ private/ quiet Great walk to open fields / meadows and the mountains We can NO longer accept reservations without full profiles which include a profile face photo. If you need a special check in or out time just ask, and it will try to be arranged.
Remote, Quiet, Natural setting. Steep access mountain road BE MINDFUL OF OUR NEIGHBORS (please do not disturb the neighbors) DO NOT go to the top of Chestnut Knoll Look for mailbox 63 and the entrance to cabin is across the road from the mailbox
great spot...close to sunday river but not in the path of all the traffic...house was very comfortable, well stocked, great having the wood stove, beautiful views......could have used more snow but i guess Pam cannot be held responsible for an uncooperative 2015/2016 season.... still had fun boarding and snowmobiling ..thanks for hosting us
will
2016-01-24T00:00:00Z
Pam's cabin is gorgeous, the pictures don't do it justice. My family and I were thoroughly impressed with our first Airbnb experience! Pam has set a high bar indeed. The cabin is beautifully furnished, exactly as described, and the view is spectacular. Thanks to a massive winter storm we spent much more time in the cabin rather than skiing, nevertheless we enjoyed our stay and were quite comfortable. After the first night we were already talking about planning to come back; I can't thank Pam enough for sharing this beautiful cabin with us!
Alexander
2015-01-28T00:00:00Z
The home is great, relaxing, quiet, and hidden. It was a great place to escape city life and unwind. It's on a good steep hill which proved a great and challenging walk with the dog. We were surely sad to leave this place. House had all the amenities we needed and Pam was kind and quick to respond. Great experience!
Jaki
2016-07-28T00:00:00Z
We just finished a 2 night stay at this adorable cabin in Bethel and loved it :) Would definitely recommend it to anyone looking for an off the grid getaway.
Sarah
2016-09-02T00:00:00Z
We had a FANTASTIC time up here at Sparrow Hawk! The views of the mountains are great, the common room perfect for our group (of five), and the location by he White Mountains cannot be beat. We highly recommend this property to other AirBNB folks - what a great spring getaway.
Jeremy
2015-04-19T00:00:00Z
The place is perfect if you are looking for a place for a getaway and to stay near Sunday River ski resort. It is very cozy and comfortable. I strongly encourage others to check this place out!
Young Soo
2017-01-22T00:00:00Z
We had a wonderful, relaxing time. It was awesome to listen to the rain falling outside and feel the warmth of the wood stove. What a cozy yet wonderfully spacious house! Gorgeous design and views of the mountains. I loved the fenced in back yard for the dogs to run around. The location is ideal for as active or as lazy as you want to be. Can't beat that the house is just a few miles from the WMNF.
Julia
2016-10-23T00:00:00Z
Pam always answered my questions right away. She was friendly and helpful via email and phone.
Susan
2016-08-22T00:00:00Z
Тип размещения
Дом/квартира целиком
---
Тип жилья
Бунгало
---
Вмещает гостей
8
---
Спален
Бетел, Мэн, США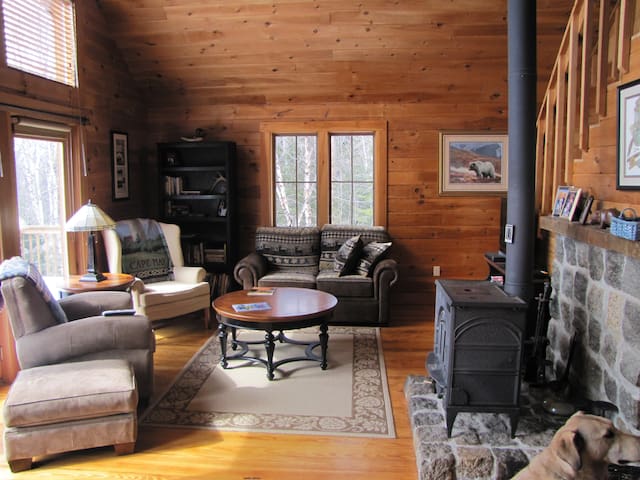 Přidejte se k nám v kouzelném Maine! Viz stoupající orli, papuchalky, velryby a těsnění. Trampovat, plavat, zahřát se na žulových skal. Dívat se vlnobití a velryby. Poslechněte si, jak los chodit tiše v měsíčním světle. Awake odpočíval. Budeš myslet, "jsem tady mohl žít."
Pokud zjistíte, kalendář je plný na dobu, kterou chcete přijít, podívejte se na náš druhý záznam pro soukromou ložnici a ensuite uvnitř hlavního domu.
My se nachází přes ulici od Francouze Bay, kde pracuje severský čluny vřesoviště. Blok po silnici je nádherný výhled na záliv.
Lee's place is in a beautiful area, and the space in the apartment was very comfortable. Lee was helpful in recommending places to eat and things to see and do and was responsive to any needs we had. We enjoyed our stay!
Diana
2016-09-26T00:00:00Z
We had a fantastic apartment totally for ourselves, nice furniture and very clean! With our host we had interesting chats, she is very kind! The surrounding Acadia National Park is wonderful, so we surely recommend this b&b to others.
Caroline
2012-07-20T00:00:00Z
The apartment is very sweet and pretty and we were comfortable. It was very nice to have a private entrance. The kitchen is set up just right for breakfast and coffee and storing picnic supplies and cold drinks in the fridge. We liked being near Schuydic Point and there was chamber music and lovely light food in the visitors' center as you head to the Point.
Bryna
2012-08-08T00:00:00Z
We really enjoyed our stay at Lee's place. The accommodations were just right! The location was excellent. Across the street and up the road you have the most spectacular view across Frenchman's Bay of Bar Harbor and Mt. Desert Island. Also the Tidal Falls are a must see at low tide! So fascinating! We stayed in the apartment attached to the back of the house. It was a cozy space with excellent internet and television reception. I know you are on vacation but it is always nice to be able to stay in touch with friends and family and the outside world while away. The bed was very comfortable. We had everything we needed. The night sky was so beautiful there, too! Lee is a wonderful hostess and very nice to talk to. Our stay was during the governmental shutdown of National Parks. Of course we were there to visit Acadia National Park. We were able to walk into the Schoodic Point side of the park for a couple of miles and we were so glad we did! We will have to visit again when the park is totally accessible. Thanks, Lee!
Connie
2013-10-13T00:00:00Z
We found Lee's place a delight.....cozy, quiet, clean, attractive...wonderful location. And how we enjoyed meeting Lee and interacting with her......a wonderful host!!! Everything was in working (URL HIDDEN) comfortable. A great experience for us for five days...hope we can come back someday and hope we can keep in touch with Lee....a new friend for us.
Thomas
2012-10-13T00:00:00Z
This past weekend spent a wonderful and relaxing time at Lee's cabin in Maine! We were the first guests of the season. My traveling companion Alex was able to help with getting few things up and running for the season and Lee gave us a refund for our stay! I would have to say we were both amazed by our gracious host!! The cabin is very lovely!! We saw the magnificent waves at Schoodic (do not miss this!!) and a took a long hike at a Nature Preserve close by. Had the most delicious lobster bites at Ruth & Wimpy's! I would go back again and again to get a rest from my busy life and take time to relax in Maine!!
Genevieve
2014-04-14T00:00:00Z
The apartment was very clean & the location was perfect.
James
2016-10-18T00:00:00Z
Lee was a wonderful hostess. She made us feel right at home. The apartment was very comfortable and quiet in a country setting. We enjoyed our stay and wish it could have been longer.
dean
2013-09-13T00:00:00Z
Тип размещения
Дом/квартира целиком
---
Тип жилья
Квартира
---
Вмещает гостей
3
---
Спален
Салливан, Мэн, США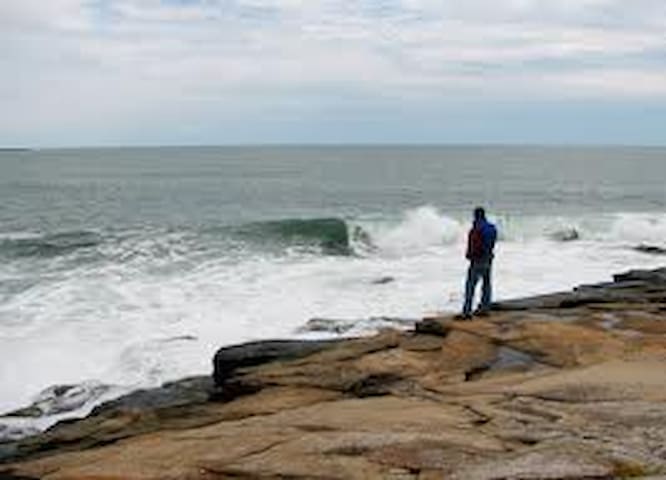 Cet appartement de luxe est idéal pour 1-4 personnes, mais peut accueillir jusqu'à six. Couples ont aimé le confort et l'intimité offerte par cet espace unique et magnifique, et vous aussi!
Avec un refroidisseur intégré dans le vin, terrasse privée, barbecue, salle de bains chauffée, des câbles d'acier exposés, 19ème siècle vitraux et accessoires Kohler, cette propriété étourdit tous ceux qui l'ont vu. La cuisine flambant neuf dispose brillant, armoires grises, charnières soft-fermeture, un four à convection Kenmore Elite, une hotte ventilée, comptoirs en marbre, et un spacieux réfrigérateur à profondeur de comptoir. Réveillez-vous avec le soleil se lever sur l'eau et attraper un coucher de soleil tout en ayant un verre de vin sur la terrasse privée. Et tout faire sur une propriété avec plus d'intimité que les autres ce à proximité de la zone du centre-ville! Les clients auront la télévision par câble et d'Internet haut débit. Si vous n'êtes pas familier avec Portland, nous serons heureux de vous aider à décider comment maximiser votre expérience ici. Et bien sûr, nous sommes là pour répondre à toutes les questions et répondre à toute préoccupation que vous pourriez avoir tout au long de votre visite. Le quartier est proche de toutes les vieilles boutiques portuaires, galeries d'art et de nombreux restaurants de la ville, mais il est situé dans le quartier historique de Portland, l'un des quartiers les plus sûrs et les plus belles de la ville. À distance de marche de l'hôpital Mercy et dans le Maine Medical Center et à quelques minutes du Maine College of Art et University of Southern Maine. Nous sommes situés à quelques minutes de l'aéroport international de Portland, Amtrak et les stations de bus autocars Greyhound et Concord! Besoin d'une pick up de l'un de ces endroits? Nous sommes heureux de venir vous chercher! Les clients auront la télévision par câble et d'Internet haut débit. Si vous n'êtes pas familier avec Portland, nous serons heureux de vous aider à décider comment maximiser votre expérience ici. Et bien sûr, nous sommes là pour répondre à toutes les questions et répondre à toute préoccupation que vous pourriez avoir tout au long de votre visite. Le quartier est proche de toutes les vieilles boutiques portuaires, galeries d'art et de nombreux restaurants de la ville, mais il est situé dans le quartier historique de Portland, l'un des quartiers les plus sûrs et les plus belles de la ville. À distance de marche de l'hôpital Mercy et dans le Maine Medical Center et à quelques minutes du Maine College of Art et University of Southern Maine. Nous sommes situés à quelques minutes de l'aéroport international de Portland, Amtrak et les stations de bus autocars Greyhound et Concord! Besoin d'une pick up de l'un de ces endroits? Nous sommes heureux de venir vous chercher!
Le quartier est privé et haut de gamme. Il est sûr et comprend acres de terres de parc de la ville .. Situé dans le quartier historique, la maison est à proximité de nombreux magnifiquement entretenus, demeures victoriennes.
This is a newly renovated, treetop apartment in the Western Promenade neighborhood of Portland, Maine. We thoroughly enjoyed our star and meeting Ken, our friendly host. We strongly recommend.
Robert
2016-07-03T00:00:00Z
This is one of the best designed spaces I have encountered using AirBnb. Great space, great location and great hosts. I wish that we could have stayed for the whole weekend.
Garth T
2015-08-15T00:00:00Z
Had an ideal stay with Ken and Alex. They were beyond communicative and thoughtful. They gave great restaurant recs and were there upon my arrival. The place is so cute with comfortable beds, a heated bathroom floor and a private terrace/porch. 100% would recommend staying here.
Nikki
2015-07-03T00:00:00Z
Apartment was beautiful and perfect for a romantic weekend getaway. The only downside is that, if you don't have a car, it's about a 25 minute walk to the downtown hub of restaurants/bars (or at least everywhere we were going). Fortunately, uber rides are not expensive ($10 one way). Thanks for letting us stay at your home, Ken!
Dana
2015-12-21T00:00:00Z
Wow! Ken and his apartment were amazing! You picked me up at the train station and whisked me over to the apartment--that's the best check in service ever! And the apartment is gorgeous! It was such a pleasure staying there. Thank you, Ken!
Richard
2016-01-22T00:00:00Z
Alex and Ken were extremely kind and welcoming. Our family was visiting Portland for a graduation; they had balloons and a cake waiting for the grad, which was sweet. They stayed in very close contact with us via text, and let us know they were ready to do whatever they could to make us comfortable. The apartment was lovely, airy, and clean. We opted to have dinner in with some friends, and were very comfortable doing so. We took a long walk in the neighborhood and saw some beautiful mansions. Downtown Portland was a very short drive away. Everyone in our family enjoyed the location and the visit. I would recommend Ken and Alex highly.
Jane
2015-05-19T00:00:00Z
Ken's place is as accurate as described! The home was beautiful, and the kitchen was well equipped. We were glad to see that the television provided Netflix as well. The bedroom was very comfortable, and the washroom was nice. All stores and city center was a short drive away. Overall, we enjoyed our stay!
Sandra
2016-11-18T00:00:00Z
Our host, Ken was available to meet us on site to show us his beautiful apartment and all of the amenities. The apartment was new renovated with contemporary furnishing. You could tell the Ken takes pride in his space and wants you to not only enjoy your stay, but also experience the quaintness of the city of Portland. He put together an excellent binder regarding eateries and attractions in the area. We would definitely stay here again.
Chris
2015-09-30T00:00:00Z
Тип размещения
Дом/квартира целиком
---
Тип жилья
Квартира
---
Вмещает гостей
6
---
Спален
Портленд, Мэн, США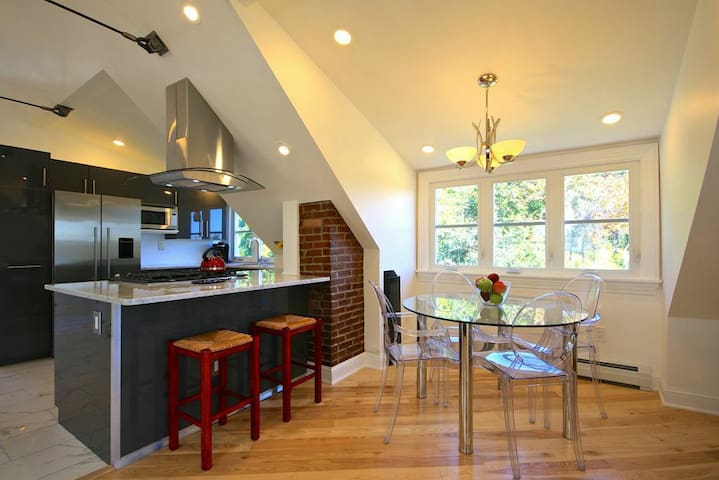 (Si us plau, llegiu la descripció sencera per respondre preguntes sobre els nens, mascotes, animals de més de dues persones i el transport) A punt per a una aventura a l'illa dels pics, Maine? Aquesta dos pisos, 11'x 11 'cabana és ideal per a una o dues persones que busquen una escapada no tradicional. Un mini-casa privada tranquil al costat d'una casa d'hostes actiu més gran. El seu amfitrió, Ted és un vell hippy que és jove de cor, que compartirà casa eclèctica, càlida hospitalitat, i les idees per a una aventura en una illa plena de diversió. Gaudir de muntar en bicicleta o una caminada al voltant de l'illa, l'exploració de la línia de terra rocosa, es relaxa a la platja i sopar en restaurants locals. Equipat amb una petita cuina i mig bany (compartit bany complet a la casa principal), una escala fins al segon pis, a una quadra de la platja, i 20 minuts en ferri a Portland, que està garantit per tenir una estada memorable i rica aquí . Situat al costat d'un artista creatiu, peculiar, en constant evolució llar / obra d'art que no s'hagin completat totalment. Cuina inclou forn de convecció, forn torradora, placa elèctrica, nevera i aigüera. Recordeu que l'habitació està en el segon pis a través d'una escala resistent. Nota: futon en fotos ha estat reemplaçada amb un còmode llit, real. 2 hostes preferits. Si cal afegir un convidat, 35,00 $ addicionals per nit. 3 persones màxim absolut. Malauradament No, no hi ha excepcions. Estimo els animals domèstics, però la casa no està configurat per acomodar-se a ells, ho sento! Vostè pot aparcar el seu cotxe de forma gratuïta en el seu propi risc al carrer a Portland, a la terminal del ferri a Portland per $ 25,00 / dia, o portar el seu cotxe al ferri (veure més avall per les tarifes). Si vas a venir a peu, es pot agafar el taxi a l'illa "de Ted Place", o caminar una milla a l'avinguda Illa de la casa de l'arbre. Deixi Ted saber per endavant si desitja un viatge cap o des del ferri de $ 3,00 per persona si hi ha més d'un, i $ 5.00 per persona. De qualsevol manera, es recomana fer les maletes a la lleugera, amb el que només el que es necessita per al moment en què s'allotjarà. Ferri a l'illa: Discriminació horària: October 12-16 abril Vehicle que inclou una butlleta: $ 37 de anada i tornada Caminar a la butlleta: US $ 4,00 d'anada i tornada Tarifes màximes de: abril 17-11 octubre Vehicle que inclou una butlleta: $ 63 de anada i tornada Caminar a la butlleta: $ 8.00 del anada i tornada 2 convidat màxima, no es permeten mascotes.
The location was good. A little far to walk with bags from where the ferry docks.
Terry
2015-07-30T00:00:00Z
Our host was incredibly sweet and accommodating! We arrived to Portland in the middle of some pretty cold, wet and blustery weather and Ted generously offered to pick us up from the ferry so we didn't have to make the trek to his place by foot. His space was very charming and cozy. He left a bottle of wine chilling in our fridge and a card wishing us congrats on our recent wedding! Ted made our stay sunny even without the sun. We hope to return someday soon!
Rachel
2014-10-24T00:00:00Z
Teddy gave us a tour and got us set up quickly so we could settle in to the pace of the island. It was fun climbing up the ladder to our room. We had everything we needed. The tree house is really close to the beach and about a 15 minute walk to the ferry. It's a little further from town but we liked being away from the bulk of day tourists coming to the island. The deck off the tree house was perfect for lounging and drinking coffee. We also loved the outdoor shower!
Sandy
2016-08-02T00:00:00Z
It needs to be said that there is no comfortable place to sit and relax unless you leave the property.
Dana
2016-08-29T00:00:00Z
We had a great time during our stay on Peaks Island at Teddy's treehouse. Setting was picturesque and relaxing. Ted could not be a more generous or accommodating host.
Dan
2016-09-09T00:00:00Z
Ted was a wonderful host and a very kind soul. He made us feel welcome right away with a tour of the property, a tasty chocolate bar and a bottle of wine. He gave us great information and advice on things to do around the island. The tree house was lovely. We're already trying to figure out when we can go back!
David
2015-07-17T00:00:00Z
Ted was a great host! He called the day before we arrived and gave really helpful information about where to park and what restaurants to eat. The treehouse was amazing and clean - one of the most unique experiences! We miss princess butterball! Definitely recommend this place to anyone wanting to stay on Peaks.
Katie
2016-06-05T00:00:00Z
4 friends and I decided to go down to Maine for a small getaway and ended up on Peaks Island after we found Ted's house on airbnb. We had never heard of the island before. This truly was an amazing experience as Ted went out of his way to make us feel at home, his place is really cozy and unique. Ted is also quite the entertainer and has a lot of great stories to share. The island itself is relaxing and beautiful, I'd suggest rent a bike and get around, it's really worth it. Everyone we met was so friendly, we had a great time and will definitely come back. Thanks Ted!!
Julie
2011-07-17T00:00:00Z
Тип размещения
Дом/квартира целиком
---
Тип жилья
Дом
---
Вмещает гостей
2
---
Спален
Портленд, Мэн, США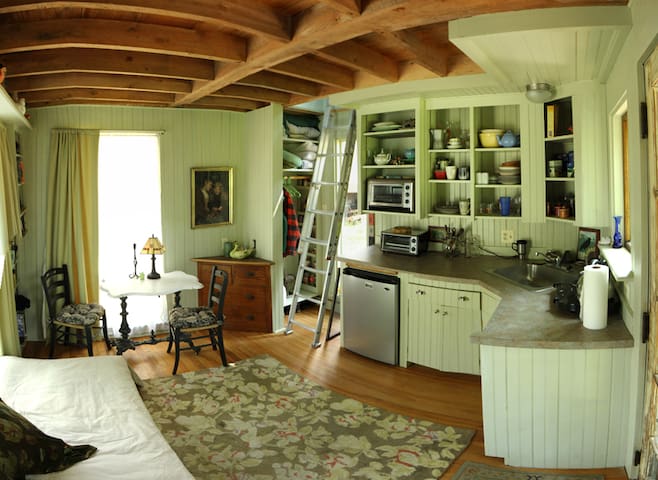 If peace and tranquility is what your hearts desire, consider staying on Eagle Island. Click on any picture here to see more posted. This is a spot that will fill your spirit, soothe your soul, clear your mind, allow your body to let go!
Rustic, cozy, cottage on remote private island on Brandy Pond in Hancock County Maine. Fly in or drive and boat in, summer or fall. The area is really wilderness for about a 15 mile drive in. If someone has an SUV in your party, that is the best vehicle to take for the scenic journey in. After you arrive, we have a sciff with a motor that is very seaworthy that we will take you over to the island with. After an orientation on how the gas appliances work, we will then have you drive us back to the mainland so you can use the boat during your stay for fishing or exploring Brandy Pond's beauty. This private getaway offers quiet and solitude. 2 Old Town otter Kayaks, and two lake canoes are ready to take you on a blissful cruise to see moose, beaver, and majestic bald Eagles. Wake to the call of the resident loons. The cabin offers three bedrooms , one with a queen size bed, one with a double, and a bunk room with extra wide singles. We also have a loft that sleeps two, usually kids choice! The living room couch can be made into a double bed as well. Linens provided. It is equipped with gas lights, stove, fridge, coffee maker or French press, gas powered sink and water. A full kitchen with all utensils will fulfill any cooks desires. A large Lobstah pot is awaiting for you, if Lobstah is on the menu! We also have an outdoor grill for grilling. Cell phones work well and can be charged using a generator we have set up. Remember to pack your home phone charger. Please note: US Cellular works on the Island but we have realized AT & T does not, and Verizon only works on the deck. Our outhouse is clean and unique. We also have a shower house. Brandy Pond is a 90 minute drive to Bar Harbor, Maine for fine dining and shopping. Hiking is abundant at Acadia National Park as well as natural sites of wonder. Please see our guidebook for shopping needs and other fun places to explore in our neighborhood. We will get you all set up on your Island getaway and are only a phone call away if you need us for anything!
The resident Eagles, Moose grazing on pond weeds across the lake, nesting Loons, a variety of ducks and birds are your neighbors while visiting Eagle Island. The rare sighting of a person floating by in a Kayak has been noted on an occasion or two!
Eagle Island is an awesome place to visit! You have way more privacy than you do when staying at a camp site and the amenities in the cabin are much nicer than staying in a tent. There is a lot to explore on the island and around the pond itself. It is an especially cool place to visit if you have a dog since you can let it roam free for your entire stay. Mary and Greg were excellent hosts. This was our first experience using airbnb and they made it a great one. Mary was very responsive to all of our questions as we planned the trip and Greg showed us how to use everything on the island. The gas appliances in the cabin are really clever - especially the shower! We had some issues with the boat motor during our stay but Greg was always available to help us out (plus there are canoes and kayaks). It is a great place to getaway for a bit. My girlfriend and I (along with our dog) will likely be again to visit again in the future.
John-Henry
2013-07-08T00:00:00Z
Our third trip back, still awesome, really beautiful. Mary and Greg as always most welcoming and took the time to explain everything at the camp.
Chris
2016-08-14T00:00:00Z
I was looking for a place to bring my brother and a number of his closest friends to celebrate his coming marriage; as soon as I saw the posting I knew it was exactly what I was looking for. The camp completely lived up to my expectations, and even exceeded them. The location is beautiful,and the camp is very well outfitted and cozy. We had a great time exploring the island and Brandy pond. Also with its close proximity to Acadia and the coast it offers a wonderful variety of activities one can engage in. The peace and quite was absolute, and the natural world was alive and abundant. Mary and Greg made perfect host and were very warm and helpful throughout the whole process.
Michael
2012-06-04T00:00:00Z
Mary and Greg were most welcoming, everything that needed explaining was explained. The cabin and it facilities were great - the island really is a perfect escape with plenty to do whatever the weather. We could have stayed there much much longer... Many thanks for letting us stay and all the best! Chris, Jennie, Benjamin and Cassidy
Chris
2012-08-06T00:00:00Z
My boyfriend and I were looking for a secluded place to retreat from the world for a few days... Mary and Greg's cottage and island was the perfect place. The cottage and deck face out toward the west so you can watch the sunset every night with not a single other person or home in sight or mind. We had the perfect balance of relaxing with a book out on the swing or deck and adventuring around the lake. There are many adventures to be had - the lake was warm to swim in every morning, we kayaked down the lake's outlet and saw some beaver dams, canoed out to the smaller loon island and took a look around, and took a barefoot walk around Eagle Island itself. Seeing a baby eaglet was another treat! If you visit Mary's, one thing you must do is take the canoe or motorboat out in the dead of night and lay back and take in the stars. On a clear night you can see a full 180 degree view of the stars, the Milky Way, and some shooting stars if you are lucky. The cabin itself is clean and well maintained. It is clear that the owners have put a lot of time, effort, and love into making their cottage the perfect retreat. We had some issues with the faucet while we were there but all of the other clever gas appliances (the lights are especially cool!) worked well, including the shower. The cabin is well stocked with cooking necessities, supplies for outdoor fires, and two grills. Just bring food and clothes! Thanks again to Mary and Greg for letting us stay at your lovely place! It was just what we needed.
Rich
2013-08-03T00:00:00Z
A absolutely perfect place to relax! We felt so good staying there. After a very helpful introduction we very able to manage everything. Although we had one rainy day we - a family with two teens - had a great time in the cosy cottage. We really hope to come back one day!
Ansgar, Jana, Mia, Lucy
2013-08-12T00:00:00Z
Eagle island was an incredible place to visit and relax at. Mornings were spent watching the birds and walking around exploring. Days were spent canoing, kayaking, swimming and exploring the surround areas and the evenings were for watching the sun set and fires. it was so peaceful and quiet. Mary and Greg were wonderful and helped us with everything that we needed and we already are planning on going back!
kimberly
2016-09-19T00:00:00Z
A wonderful place to get away from it all. Mary and Greg were great hosts, ensuring I had everything I needed and were only a phone call away. I'd recommend this place to anyone looking to drop off the map for a few days.
Christian
2014-10-20T00:00:00Z
Тип размещения
Дом/квартира целиком
---
Тип жилья
Остров
---
Вмещает гостей
8
---
Спален
East Hancock, Мэн, США
Шор Коттедж очаровательный, деревенский дом 1904 летом на воде. Захватывающие повышенные вид на вход в гавань Castine в. Смотрите пломб и шхун с комфортом застекленной веранде, которая охватывает весь Гидротехническое дома. Спуститесь по лестнице и исследовать рок-пулов на собственном пляже. Приятная прогулка или короткая поездка на велосипеде можно доехать до delighful деревни Castine, с ресторанами, художественные галереи, магазины. На байдарках, парусный спорт, гольф, теннис и все имеющиеся в городе.
Тип размещения
Дом/квартира целиком
---
Тип жилья
Дом
---
Вмещает гостей
10
---
Спален
Castine, Мэн, США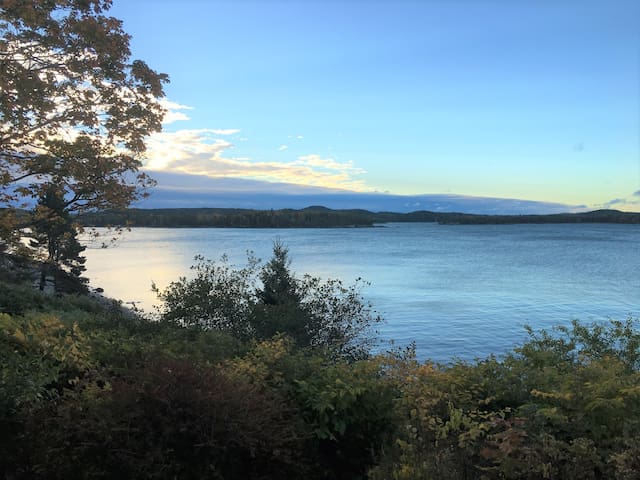 Disfrutar de calma ininterrumpida en la costa de Maine en nuestra cabaña frente al mar llena de luz. A sólo 5 minutos de la preciosa Boothbay Harbor para practicar kayak, vela, senderismo, degustación de mariscos, lo que sea! O simplemente relajarse en la cabina en un entorno natural impresionante.
Disfrutar de paz ininterrumpida y tranquila en la costa de Maine en esta cabina perfecta dulce, rústica para los artistas, escritores, o cualquier otra persona que quiera desconectar y descansar durante unos días o semanas. Este encantador cabaña, construida en 1982, está situado a sólo 50 pies de distancia de la orilla del agua, y, con sólo una casa visible a través de los bosques, es difícil encontrar un lugar más privado que esto. La cabina es de diseño rústico, con un dormitorio privado y una zona común única que incluye una zona de cocina, mesa y comedor, sofá y TV (sin cable sin embargo). Por encima de la zona común es un altillo con un colchón de cama doble, accesible por una escalera de madera. Fuera de la zona común es un inodoro de compostaje cerrado. No hay una ducha para toda la vajilla debe realizarse en la bañera. No hay Internet o conexión telefónica. La pequeña estufa de leña ya no es funcional, pero tres calefactores eléctricos portátiles se mantienen permanentemente en la cabina para cualquier noches frías de Maine. Tal vida simple ciertamente no es para todos, pero puede ser un gran placer para aquellos interesados en disfrutar de este enclave natural. La cabina se ve sobre un río sal (Back River) que es parte del océano, pero se parece más a un río / lago debido a la protección de la isla de trueque a través del agua. La cala que la cabina se encuentra en las mareas es, lo que significa que la mitad del tiempo que busca en el océano y la mitad del tiempo, es un piso de barro natural. Por lo que la vista cambia cada 6 horas! Para disfrutar del agua en toda su plenitud cuando la marea está alta, un kayak doble puede ser alquilado a los dueños de propiedades a un precio muy razonable. La cabina se encuentra a 5 minutos en coche del precioso Boothbay Harbor, un destino impresionante para los viajeros de todo tipo. Disfrutar de marisco local fina, kayak, observación de ballenas, excursiones de vela puesta de sol, y el encantador centro de la ciudad con sus pintorescas tiendas. También hay muchas rutas de senderismo por la hermosa confianza de tierra Boothbay Región, además de uno de los jardines botánicos más finos del mundo en los jardines botánicos costa de Maine, que se encuentra a sólo 2 millas de la cabina. Los propietarios de la cabina en el terreno adyacente, de manera alguna pregunta o duda pueden dirigirse inmediatamente.
This charming Maine waterfront cabin was an absolutely wonderful place for becky and I to vacation. It was the perfect blend of the woods and the coast, and the ammenities were exactly as described. We could not have been happier with the accomidations and cannot wait to return. Ian had great communication with us, and we would highly recommend this cabin for anyone else who is looking for a peaceful and private getaway.
Rachel
2012-05-09T00:00:00Z
The cabin was everything Ian indicated it would be -- quiet, cozy, peaceful, surrounded by stunningly beautiful woods and water. Ian and his family are gracious hosts: excellent communication, a super-helpful guide to the Boothbay Harbor area, and use of the kayak. The cabin was an inspiring and relaxing place for our family to unwind, have fun and recharge. We'd love to come back next year!
Elizabeth
2015-09-08T00:00:00Z
We had an amazing time at the cabin! It was incredibly comfortable and everything we could have asked for. Our hosts were great - friendly and very respectful of our privacy. Would recommend this cabin to anyone and hope to some day return to the wonderfully charming town of Boothbay!
Lauren
2012-06-27T00:00:00Z
Couldn't have asked for a better experience. The cabin was exactly as described and more peaceful than I could have imagined. The views from the cabin and surrounding areas were spectacular. The only one that enjoyed it more than me was our dog. He really liked the space to run and explore. Just awesome. The compost toilet was probably the only negative for my girlfriend, but that was more my fault for not explaining clearly what it was. I had zero issue with it. The host was easy to deal with in the time leading up to trip and we were left undisturbed for the time spent at the cabin. Overall, we had a great experience and, if available, would love to make a return trip or ten. Only next time, I think my salt water rod will be in tow to capitalize on all the whales jumping out of the water right outside the door.
Dan
2015-09-28T00:00:00Z
We had the BEST trip! The cabin was cozy and unique- the perfect place to spend time reading, listening to the radio, playing games, and to sleep in late. I loved that the bedroom/bathroom was nearly all window and screen, so I could take a bath in the porcelain tub with the spring breeze and sun on my skin. We heard tons of bird calls, and there is a great spot to hike just a few minute drive away.
Greta
2012-05-14T00:00:00Z
We had a wonderful time at the cabin ! What we saw online is what we got ! The accommodations are rustic but quaint. Boothbay is a wonderful area and we will want to come back and explore it some more !
Christine
2012-07-12T00:00:00Z
The cabin was everything we had hoped it would be. It was very private and sheltered from the main house by trees and a fair distance. The view from the main level bed was awesome to wake up to every morning! We LOVED the tub and were very relieved to find the hot water plentiful. There were a few days during our stay that were a bit chilly and the heaters provided more then enough heat to keep us warm and snug. Ian was very polite and understanding when our older dog was being a bit of an annoyance towards his own dog (it was very embarrassing). He understood completely though and made us feel at ease the whole time. The area is dead quite and you can hear no traffic or people sounds at all. The drive to the main town of Boothbay is literally 5 min. We would highly recommend staying here and hope we can return someday.
Catherine
2014-10-02T00:00:00Z
We found this cabin to be in a peaceful private setting yet close enough to Boothbay Harbor to enjoy the amenities there if desired. It was a comfortable cabin , clean and with all the necessities to make our stay enjoyable. Our hosts were available yet respectful of our desire for solitude.
Andrew
2016-09-11T00:00:00Z
Тип размещения
Дом/квартира целиком
---
Тип жилья
Бунгало
---
Вмещает гостей
4
---
Спален
Бутбэй, Мэн, США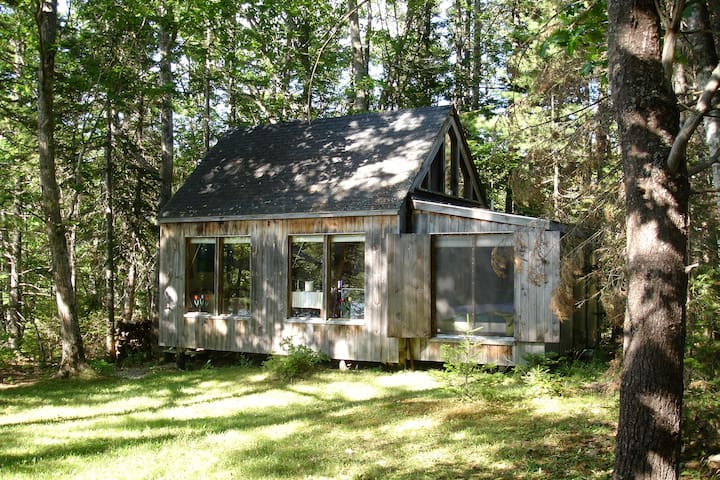 Zimmer mit eigenem Bad und Klaue Fuß Badewanne (keine Dusche). Man kommt zu Fuß in die Stadt mit dem alten Hafengebiet nur 1,5 Meilen entfernt. Zu Fuß sowohl sowohl Bahn und Bus bei 1,2 Meilen. 32-Zoll-HDTV mit Netflix nur Zugang im Zimmer. California King-Size-Bett.
Große, gut beleuchtet 2. Stock Schlafzimmer (13x14 Meter) mit Kingsize-Bett Kalifornien. Sie verfügen über ein eigenes Bad mit einem Klauenfüßen Wanne (ohne Dusche). Mini-Kühlschrank und eine Mikrowelle im Zimmer. Begehbarer Kleiderschrank. Einfacher Zugang zu US295, Portland Jetport, Amtrak Downeaster und Bus. Zu Fuß in die Innenstadt (.75 mi.) Back Cove (0,5 mi.), Deering Oaks Park (0,25 mi.), Portland Arts District (.75 mi.) Und Portland Old Port Area (1,5 mi.). Wörtlich Füße an die University of Southern Maine Campus. Parken abseits der Straße. Der Check-in müssen keine Ausnahmen von 09.00 Uhr vor sein. Martha hat eine Arbeitsfaser Kunststudio in unserem Haus. Bitten Sie sie, Sie um zu zeigen. Ihr Frühstück mit hausgemachten Scones, Beeren, Joghurt und Kaffee / Tee wird bei ca. außerhalb Ihrer Zimmertür auf einem Tablett gelassen werden. 8 Uhr können Sie dann schlafen in und das Frühstück in Ihrem Zimmer, wenn Sie es wünschen. Sie sind doch im Urlaub. Bitte beachten Sie unsere Kalender für die Verfügbarkeit. Jedes Datum, das nicht bereits kann reserviert hat gebucht. Es besteht keine Notwendigkeit, uns zu kontaktieren, bevor freie Plätze zu Fragen der Buchung. Leider sind keine Haustiere erlaubt. Wir sind ein Koch Familie und unsere Küche ist in der Nähe von ständigem Gebrauch. Die Küche ist der erste Raum, den Sie sehen, wenn unser Haus betreten, und Sie sollten nicht erwarten, dass es makellos erscheinen. Als Familie haben wir eine entspannte Haltung über unsere Wohnbereiche. Es gibt 20 Stufen von der ersten Etage bis zum Zimmer zu bekommen beteiligt, die auf der zweiten Etage ist. Wenn Sie Probleme mit Stufen haben, ist dieser Raum wahrscheinlich nicht für Sie. Wenn Sie gehen, um der Lage sein, nicht beim Check-in früher als 21.00 Uhr buchen Sie bitte mit einem anderen Host, sorry keine Ausnahmen. Der Fernseher ist mit einem Roku Spieler angebracht nur. Netflix ist vorgesehen. Kein Kabel oder Satelliten-TV ist vorhanden. Wir haben einige Beschwerden hatten, dass wir eine Klaue Fuß Badewanne, aber keine Dusche so dass, wenn Sie auf Aufenthalt bei uns planen, denken Sie daran, dass es nicht eine Dusche ist. Alle Kinder (einschließlich Babys) zählen als Menschen, so dass ein Elternteil und ein Kind würde 2 Gäste. Sie erhalten einen Schlüssel zur Verfügung gestellt werden, so dass Sie nach Belieben während Ihres Aufenthalts kommen und gehen. Sie müssen immer die Hintertür zu benutzen, die an der Einfahrt benachbart ist, wo Ihre Verpackung Fleck auf der rechten Seite der Einfahrt befindet. Eines der Bilder in der Auflistung zeigt beide wo Sie sollten Park und dem Hauseingang. Bitte füllen Sie das Airbnb Profil, auch ein Bild und sagen Sie uns über sich selbst. Wir betrachten nur diejenigen mit einem Profil für die Reservierung Akzeptanz. Vielen Dank.
Experience was great! Joseph and Martha provided a lot of great specifics and helpful information about Portland. Breakfast was delicious!
Therese
2015-08-16T00:00:00Z
We really enjoyed our space and privacy at Joseph and Martha's house. The room was very cute and cozy, it was nice being separated from the main area in the house. Martha provides a delicious breakfast in the morning. I recommend staying here if you want a relaxing location close to downtown Portland!
Amy
2016-07-19T00:00:00Z
We stayed at the Marques house 3 out of 4 nights in Portland. They were very flexible with our check-in time and made our stay great!
Ivette
2012-09-22T00:00:00Z
Martha was very warm and welcoming and let us check-in early to pick up our keys and drop off our stuff. The room itself is very big and the bed is really comfortable. It's in a convenient location near old port and the airport, so if you're looking for a cheap and comfortable "no frills" stay, this is the perfect spot.
Stephen
2012-10-16T00:00:00Z
Joseph and Martha were wonderful hosts, offering a warm welcome during a cold visit in February. Delightful treat of breakfast scones and claw foot tub made the stay extra special.
Sally
2014-03-01T00:00:00Z
My stay with Martha and Joseph was everything I had expected. Their communication prior to my arrival was efficient and friendly. The room was exactly as described and the bathtub was wonderful. Best of all, the breakfast basket provided by Martha in the morning, including her sweet handwritten greeting, put a nice finishing touch on my three day visit to Portland. Would definitely stay with them again.
kirsten
2014-04-01T00:00:00Z
Joseph and Martha we're absolutely delightful. Not only was the home charming but they were kind and generous with their home. The room is private, and secluded to the home, spacious but quaint. All of the house rules and information was readily available either by print out on a desk, or by Martha herself. She had a lot of information to give, as well as an email filled with different shops, restaurants and places to check out on our visit. Martha's morning breakfast was delicious! All in all - they went out of their way to make my partner and I feel at home. Next trip to Portland wouldn't be a good one without stopping by Martha and Joseph's home. Thanks guys!
Jen
2016-01-18T00:00:00Z
We did not have the opportunity to meet Joseph, but Martha greeted us when we arrived. The room was exactly as described- it was great for the three of us because they set up an extra mattress near the foot of the bed. The beds were very comfortable and we appreciated the complimentary Netflix access! Although we had minimal interaction with our hosts, the breakfast in the morning was delicious and we were just a short drive to Old Port, which we took advantage of. Thanks for having us!
Sarah
2015-11-20T00:00:00Z
Тип размещения
Отдельная комната
---
Тип жилья
Дом
---
Вмещает гостей
2
---
Спален
Портленд, Мэн, США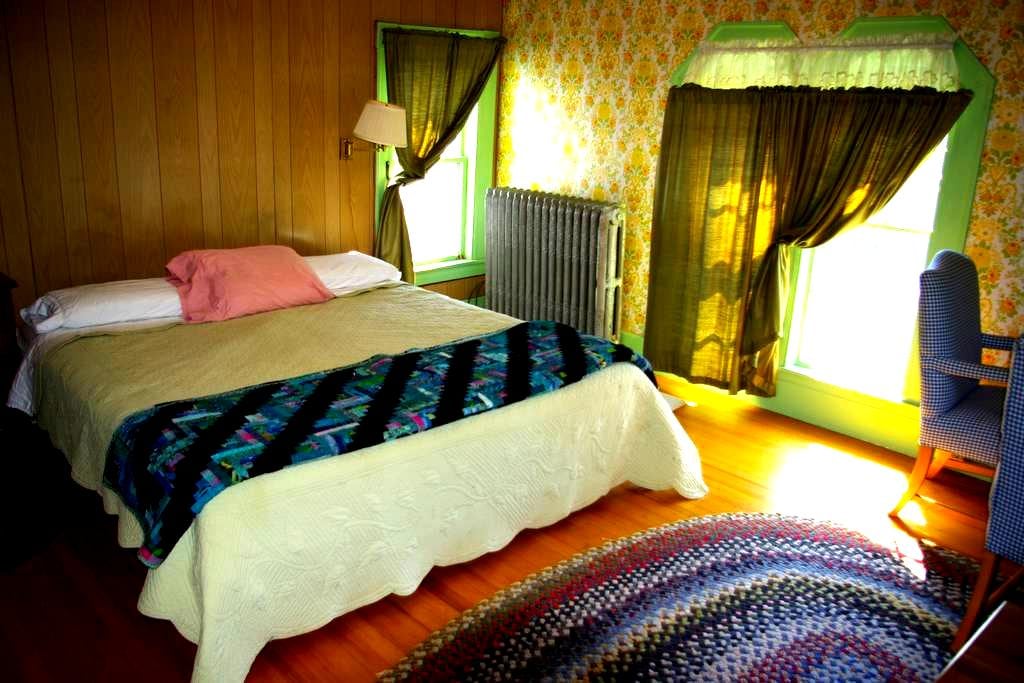 Nyd Acadia National Park fra en privat hytte, store dæk, dock, offshore svømme flyde, brug af kano, kajak, kuglegrill, træ pejs, indendørs og udendørs varmt brusebad. Studio med hems og nyt køkken på Echo Lake grænser Acadia. 5 sovepladser (King i loftet, dronning futon fold-ud sofa, og en enkelt fold-ud futon sæde, der ligger på gulvet, godt for et barn, men store nok til en voksen). Pack-in / Pack-out camping tilgang og BYO (medbring selv) sengetøj og håndklæder. Solnedgange, Views, og Lommer vrimler!
På en uberørt dyb ferskvandssø (gør parken ikke tillade speedbåde eller jetski, så der er ingen både summende eller vand ski bølger), mellem træerne, der grænser Acadia National Park på Mount Desert Island, som er omgivet af Atlanterhavet . Naboer omfatter Lommer, ænder, skildpadder, fisk, egern og en meget flot menneskelig par mod nord. Beliggende på vejen sydpå til Southwest Harbor. Også tæt på Bar Harbor, Northeast Harbor, Seal Harbor, og Bass Harbor. Alle maleriske små fiskeri og lobstering landsbyer. Ingen høj hastighed både og jetski er tilladt på søen, så det er meget rart og dæk meget privat. Du er inden for hørevidde af vejen.
The lake cabin was just as described! This was a awesome place to stay. Very quiet and the lake was nice. We used the canoe every day after dinner even though it was chilly. The out door shower, really awesome! It was in the 40's and we still used it!Bill was a great host and he was very quickly to respond. We recommend this cabin and we WILL stay here again. Thanks Bill!
Corey
2016-05-19T00:00:00Z
We loved our stay in this cabin. Big pluses -- the view, the kitchen, comfortable bed, futon was also comfy for naps, hot showers inside and outside, kitchen and the crazy loons all added to our enjoyment. Communication with Bill was great. We especially liked the authenticity of the cabin. Bill's family photos and decor make you feel as if you have been invited over by the family and not that you are staying in a rental. It's just enough that you feel like you get a sense of the love and memories the family shared in this special place, without being distracted from your own memory making. The place is very easy access to the Park and everything on Mt Desert Island. That does mean there is a little road noise during the day, but we felt that was a fair tradeoff. Regarding the water situation, I was nervous about it, but found it to be just fine. We picked up a 5 gallon jug on our way to the house, and it was more than enough for 2 people for 5 days. Again, it was a fair tradeoff considering that you can swim in the lake -- something public water supplies do not allow. On the last day, it rained, and we thought we'd try out the fireplace. Our tests didn't draft into the chimney, so we abandoned that idea. It was only about 58 degrees outside so not a big deal. If you're traveling during a colder time or have your heart set on a fire, you might email Bill and make sure that the flute isn't blocked. Our top 11 things to do in the area: 1. Buy your groceries at the Beech Hill farm -- especially wild blueberries. 2. Walk the Carriage Roads at Bubbles Pond and Eagle Lake. 3. Canoe down to Echo Lake's beach--it's about a mile. 4. Take a photography workshop with Acadia Images Photography. 5. Take a birding walk with DownEast Nature Tours. 6. Sit out on the porch for every meal. 7. Swim out to the float (take swim shoes.) 8. Pack a lunch for Sandy Beach in Acadia. 9. Visit the Bass Harbor Lighthouse at sunset (use the path at the end of the parking lot that leads to stairs and rocks, not the main entrance). 10. Visit Otter Point at sunset. 11. Eat at Mainely Meat and the Atlantic Brewing Company. Three things to possibly take with you: a hair dryer -- my hair takes hours to dry a sponge -- it was hard to clean the eggs out of the pan with the washcloths provided your own bio soap -- we use this at home, so had brought some anyway I we couldn't be happier about our stay, and would come back again.
Emily
2014-09-07T00:00:00Z
After staying at the Aikman's cabin, it was so difficult to come back to NY! From listening to the loons at night to sitting on the deck and dock in the evening looking at the lake to having great hiking right down the road, the cabin has it all! Even though the cabin is off of the main road, it actually makes it convenient to get everywhere, and yet you still feel as if it's private. My wife even took a stand up paddleboard yoga class right on Echo Lake! The outdoor shower was glorious, and it was so nice having the little chipmunks and red squirrels running around. If you don't want to go to Bar Harbor (which is a nice and lovely drive not too far away), the town of Southwest Harbor is only a few miles down the road with some really nice restaurants. Acadia Mtn. was a great hike, also the ladder climb at Beech Mtn. (entrance at Echo Lake) was hard, but worth it - they are both right down the road! And Bill was a great host - he checked in with us the night we arrived to make sure we got there - and was so responsive with any questions. There is SO much more to say about this cabin and MDI. The pictures really do represent how beautiful it is there. We can't wait to go back. Thank you, Aikman Family!
Don
2013-07-21T00:00:00Z
Lovely experience, cozy house, bit chilly at night but lots of warmth from fire
Laetitia
2015-10-21T00:00:00Z
Beautiful. Simple and Easy. Solid list of guidelines and house rules let us in & out of the space without any issues and let us enjoy the cabin & lake! Thanks again!
James
2014-07-25T00:00:00Z
Wonderful cabin and great place to stay. Rustic but very clean, comfortable, well supplied and convenient to everything. Having a place to swim in a beautiful lake right outside your door is a treat.
Sandra
2012-09-10T00:00:00Z
Bill was extremely responsive and welcoming. The details he provided regarding the property were precise and helpful. The location on the lake is outstanding. All questions were answered promptly. My wife and two young children loved staying here.
andrew
2015-07-31T00:00:00Z
Heavenly. We had a perfect stay in Acadia. The place is great, cozy and in a beautiful spot. Loved the easy access to nearby hikes and having access to a canoe. Would definitely love to go back!
Elisabeth
2013-09-22T00:00:00Z
Тип размещения
Дом/квартира целиком
---
Тип жилья
Бунгало
---
Вмещает гостей
5
---
Спален
Mount Desert, Мэн, США
Bailiwick Cottage is a cozy, private cottage that looks south down Freeport (Harraseeket) Harbor in Freeport, ME. It is a 4 season accommodation that is close to Freeport shopping, Portland eating, and the Adventure Schools of LL Bean. The cottage sits approximately 50 yards from our main house, has its own parking space and patio, and offers the ability to come and go as you wish.
This is a new cottage, built in 2013/14. It has Heating and Air Conditioning and all new appliances. The interior is cozy/artsy/funky, yet functional with cable TV, Wi-Fi, and an iHome player for music from your iPhone or Android. The kitchenette is functional for light eating or warming up food. In season, we also have an outside patio table with chairs for outside eating or reading. The cottage stands alone and has its own parking. Come and go as you please. You can walk through the woods to the shoreline to view the clam diggers or shorebirds. We pretty much leave you alone in your space. You come to Maine to get away, and we respect that. The cottage sits on a dirt road, about a 1/4 mile off the "tar". Wolfe Neck Woods State Park is about a mile away and offers hiking, biking, and shore walks in summer and cross country skiing and snowshoeing in the winter. It is great jogging and biking around us and, if you are lucky, you will see Joan Benoit-Samuelson (Olympic Marathon Gold Medalist) out on her daily run. We are 4 miles to downtown Freeport and its shopping and 10 miles to downtown Brunswick and Bowdoin College. The Portland Jetport is 25 miles away and is about a 35 minute drive. Bow Street Market offers just about everything with a Maine twist (best wine and liquor selection in the state) and will even cook lobsters for you to pick up. The "Wedding Field" of Wolfe Neck Farm is less than a mile away and this cottage would be a nice location if you are attending a wedding at the Field. There is no public transit near the cottage. Walk to the park or to Wolfe Neck Farm. Otherwise you need a car. In winter, the road can be a little icy, so all wheel drive/4 wheel drive is recommended. In all other seasons, any kind of car works. Many people bring their bikes and enjoy great road biking. LLBean runs great half day and full day "Adventure Tours" including kayaking, paddle board, biking, fly fishing and trap shooting in spring, summer and fall. In winter they shift to cross country skiing and snowshoeing. They also host summer concert and own the 9 hole Freeport Country Club, if you like to golf. We are open all winter and the cottage is well heated. Bring your snowshoes or cross country skis for winter fun.
This cottage is really surprising! It's in a very quiet area surrounded by countless trees and it's right next to Wolfe's Neck State Park. The windows in the room are large and clean and also perfect for night sky watching. George is very thoughtful and provided us with all kinds of useful information about the surroundings and Freeport itself. We had a great time there!
Vincent
2017-03-20T00:00:00Z
Great cottage with the right amount of nature. If you wish, you can listen to the natural fall of water by stepping outside or opening the windows. Brisk air, beautiful stars, and tourist attractions not too far away. The road to the cottage is a private road so if you come during a snow season just make sure you have AWD or a car that handles well off road conditions.
minhtam
2017-04-01T00:00:00Z
the cabin and scenery was great, George came out to greet us and give us the details of the cabin. A great place to stay far enough away yet close enough to town.
lee
2017-04-11T00:00:00Z
My wife and I really enjoyed our stay at the cozy cottage. The view from the cottage is incredible and the space is very comfortable and accommodating. It's a short trip from the cottage to area attractions and it was really easy to get around. We are looking forward to coming back in the summer or fall!
Daniel S.
2017-04-09T00:00:00Z
Our trip away to the cottage was absolutely lovely! George immediately made us feel welcome and the amenities were better than being home. We can't wait to visit again!
kate
2016-02-15T00:00:00Z
The cabin was fantastic! Exactly as photographed and described. The view was lovely and George was very welcoming. He truly went out of his way to accommodate our needs and answer any questions. We loved Maine and attempted to eat our way through as much seafood as possible. George's restaurant recommendations were spot on! The cabin is close to shopping and restaurants, yet far enough away to enjoy the seclusion and nature that Maine offers. The only thing I would have changed would have been the multiple cars parked in front of the little cabin who were visiting the main house. This detracted from the feeling of privacy and solitude that we enjoy. This was minor however and would still highly recommend both the host and the cabin.
Leah
2016-07-17T00:00:00Z
Amazing place....very peaceful and quiet. Cabin is clean and modern - we really enjoyed our time, great base camp for Maine adventures ... view of the water is breathtaking. George was a great host and guided us right. Thank you for sharing with us....
David
2016-08-11T00:00:00Z
Great little place for a quiet get~away. It's clean, cute and close to wolf neck park and town, yet set on a quiet waterfront. Really nice. Thanks!
Connie
2016-07-21T00:00:00Z
Тип размещения
Дом/квартира целиком
---
Тип жилья
Бунгало
---
Вмещает гостей
2
---
Спален
Фрипорт, Мэн, США