Введите даты, чтобы увидеть полную цену без учета дополнительных сборов и налогов.
Mountain house for rent located in National Park Njegusi above Kotor looking down at the entire bay with beautiful view. Kotor, Cetinje and national park Lovcen are all within 30 minutes. You can enjoy beautiful sunset with a sea view.
Mountain house for rent located in National Park Njegusi above Kotor looking down at the entire bay with beautiful view. Kotor, Cetinje and national park Lovcen are all within 30 minutes. You can enjoy beautiful sunset with a sea view. Beautiful restaurant is 50 meters away from house and convenience store is 5 min drive. National park Lovcen and mausoleum are within 30 min. If you go downhill 30 min you will drive to Kotor, and if you continue uphill 30 min you will visit Cetinje.
Мы неожиданно нашли этот дом. Это было самое яркое впечатление за время путешествия. Обязательно вернемся. Павел очень крутой!
Latif
September 2013
Кому хочется отдохнуть от суеты и насладится покоем - добро пожаловать в дом Павла :) Очень красивое место, бесподобный вид на залив. Сам дом прохладный, ночью будет даже холодно, но есть огромный очаг и электрические обогреватели. Белье и полотенца есть, посуды немного, но на пару-тройку человек наберется. Диван в комнате раскладывается, но очень неудобно. Нам было проще спать на двухэтажных кроватях в маленькой комнате. Плита электрическая, нагревается долго, не планируйте готовить чтото сложное, проще съездить(минут 10) в ближайшую деревню в сторону Негушей и там поесть в рестоне, там же есть небольшое сельпо. В целом нам понравилось пожить в этом доме :)
Maxim
September 2016
Host Pavle was a superb host. Easy communication beforehand with (SENSITIVE CONTENTS HIDDEN), and greeted us warmly when we arrived. Stuck around for a while to make sure we had everything we needed, and gave us loads of advice on what to do - before leaving us to it. He also gave us a spare mobile with a local SIM to contact him if we had any problems. Very reassuring when you're secluded in the mountains! He also threw in 2 free bottles of Montenegrin wine to enjoy. House Ideal for 3-4 people. Inside fairly compact, but with everything you would need. However the view from his lovely terrace is breathtaking, and you genuinely feel like you're cut off from the world. Exactly what we were looking for. Location Recommend the walking trail down to Kotor for adventurous types. Again, absolutely stunning. Took us around 2-3 hours, but we were quite slow. Otherwise Kotor is less than 30 min drive, and around 15 euros in a taxi. Really convenient for Lovcen - which i highly recommend for walking trails. Never seen anything like it.
Sam
July 2015
Pavle was great. He gave me direction to a Pavgord gas station just on the Kotor side of tunnel to meet. I called and he was unable to meet but gave me easy directions to the house. It's a LONG way up the mountain, so, don't think you missed it. There is a restaurant right by the road to the house, you can't miss it. The house looks like the pictures, so you know when you get there. Amazing view. This is a mountain place, so expect a few bugs here and there or leaves on the patio. Nice space with living room, small kitchen, bathroom and bedroom. Bedroom had 4 bunk beds and the sofa pulls out. There is a fridge and plates, cups, glasses, etc. The restraunt is just down the road, easy walk, great food. There is also a restaraunt a short 1k walk up the road at the entrance to Lovcen. We ate dinner at both, they were good. Go to Lovcen, it's amazing. Mind you this is mountain driving, narrow roads and there are busses, so be prepared to get over if possible or back up until you can. Oh, Pavle had a local cell phone at the house too, in case of emergencies or you needed to call him, that was nice. If you are looking for a place to get off the grid a bit, this is it! No wi-fi, but my phone worked fine. The little neighborhood was nice. There are a few houses around this one and there is a small cemetery and church a short walk from house (it was locked, but it's cool) Also, local neighbor or contractor working on one of the houses, offered us Raki (if you haven't had, it's like Everclear). Whew! He didn't speak English, but was telling us the towns around the bay. It was a little rainy while we're were there, but Pavle had a chess board and we brought books and cards. Great two days.
Jodi
September 2016
Very nice house with wonderful view. It is as described.
Ariane
August 2014
Three friends of mine and I traveled to Croatia/Montenegro/Bosnien this August. Our second stop was Kotor. We chose Pavle's "MOUNTAIN HOUSE KOTOR NJEGUSI" because we wanted the experience of living in the mountains. The apartment is placed nearly 1000 meters above NN and we had a great view from up there. At the evening we enjoyed the sunset and at night we saw so many stars! No lights around us. Just us lying on the ground watching the sky. Pavle called us via mobile phone after arrival and gave us some tips for our stay. You should definitely visit "Lovcen National Park" a few kilometres further. We would love to come back some day!
Patrik
September 2016
Great location between seaside and mountain. Perfect for four people and may be a bit narrow for five. But we spent most of the time on the terrace with the great view on the bay of Kotor. Communication with Pavle and his sister was perfect.
Stephan
August 2014
Sehr unkomplizierte Abwicklung durch Pavle und ein sensationeller Ausblick vom Haus über die Bucht! Der ideale Ort um diesen Teil Montenegros genießen zu können!
Ines
September 2016
Тип размещения
Дом/квартира целиком
---
Тип жилья
Дом
---
Вмещает гостей
5
---
Спален
1
Kotor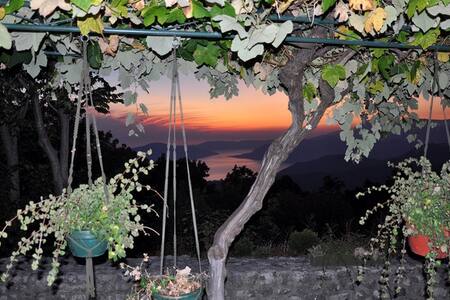 My place is very close to Kotor old town, restaurants and dining, great views, the beach. My place is good for couples, solo adventurers, and business travelers. We are located near the northern entrance to Kotor's old town and practically few steps away from center.
Perfect location, right beside the old town and a shopping centre. The apartment is only 10-12 min walk from the bus station. Our host was so good as our bus was over 3 hours late and she didn't take any notice. Ideal for what we needed.
Elaine
August 2016
We spent at this apartment only one night but everything was good. Room was clean and cozy. The location is awesome, it's really close to the Old town! And you can find a bakery in a few steps :)
Sergey
September 2016
Sehr freundlich und hilfsbereit!
Nadja
August 2016
Très bien situé et calme, proche du centre. Sans être un logement de charme, cet appartement est très propre et commode pour un couple. Arrangeant sur les horaires
Chloé
August 2016
The place was spotless and seemed brand new. The shower was powerful and again spotless. The room is small but you can see that so it was exactly as I expected. The wifi was great and easily the best I found in Kotor. It was just outside of the old town so within easy reach of everything. The only downside was no balcony or any view at all but 3 mins from the beach so not an issue. Thanks for a great stay.
Natasha
August 2016
Excellent value for money and great location, just outside the old town. The room is just like the photos, very clean and modern.
Michael
September 2016
The place is nice like the pictures, its near to the old town, supermarket and the night life. We dont met the owner but the friend that host us that so nice and kind. I recomend this place.
Cynthia
August 2016
Good location, very close from old town.
Valentina
August 2016
Тип размещения
Отдельная комната
---
Тип жилья
Квартира
---
Вмещает гостей
2
---
Спален
1
Kotor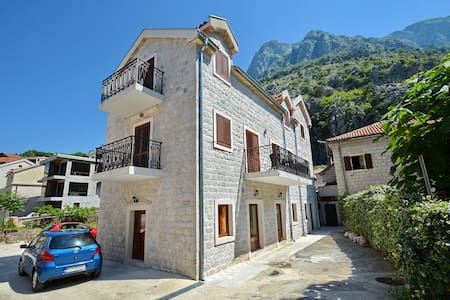 My place is close to National Park Lovcen, parks. You'll love my place because of the ambiance, the outdoors space, nature, piece and comfort. My place is good for couples, solo adventurers, families (with kids), and big groups.
Тип размещения
Отдельная комната
---
Тип жилья
Дом
---
Вмещает гостей
2
---
Спален
1
Cetinje
Wonderful place for a vacation in the mountains, near the famous natural spring and a lookout from which you can see the whole Bay of Kotor
two bedrooms with double beds, large living room with pull-out bed, bathroom and large terrace
absolute privacy near a few houses which are inhabited only occasionally near there is no public transport, it is necessary to own a car Free parking is provided
Тип размещения
Дом/квартира целиком
---
Тип жилья
Дом
---
Вмещает гостей
5
---
Спален
2
cetinje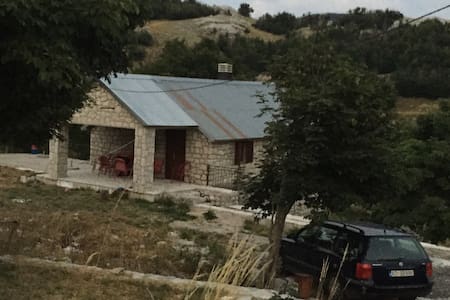 We offer agreat accomodation, great national and international food, great view and picefull enviroment. Visit us and enjoy ... You enjoy in our domestic food. Have free parking,WI-FI,swiming pool, gym,ski track for skiing.
Nice modern hotel with big rooms in a very rural elevated situation which would suit outdoor types and skiers. Not very easy to find though so be sure to print out a map and maybe use a sat-nav. Pool and fitness centre was a bit expensive, I thought, so we did not use it. However the restaurant offered great value. I usually avoid eating in posh hotel restaurants but you have few, if any, other options here. Fortunately though it is a lovely sunlit room with nice views and ultra reasonable prices. Our substantial evening meal cost €16 for two and a litre bottle of local red wine was €8. Breakfast was included in our room rate but would have cost only €3, from the menu, waiter served and cooked to order. So, if you can get a good night rate, it can be a bit of a bargain and well worth a detour.
Ian
May 2016
Тип размещения
Отдельная комната
---
Тип жилья
Гестхаус
---
Вмещает гостей
3
---
Спален
1
Cetinje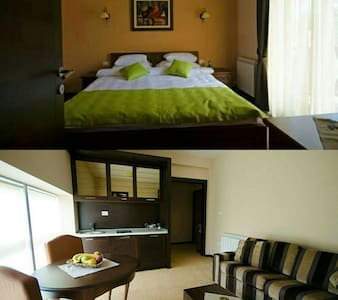 nice family home in the mountain.quiet place for relax in the nature.Holiday Home Nikolic is located 20 meters from entrance in the national park Lovcen .
We, five girls from Belgium were totally in love With this cute little house. So private in a nice alley. A big room upstairs and a nice kitchen and living room ground floor!! Perfect spot for a family or a group of friends!!
Geraldine
July 2016
Тип размещения
Дом/квартира целиком
---
Тип жилья
Дом
---
Вмещает гостей
5
---
Спален
1
Njegusi
- size of c. 100sqm. - on the first floor: living and dining area with small fully equipped kitchen, wood stove, dishing machine and bathroom with shower and toilet - on the second floor: 2 spacious bedrooms - central heating - barbecue in front of the house - water tank - garden - parking place
Тип размещения
Дом/квартира целиком
---
Тип жилья
Дом
---
Вмещает гостей
5
---
Спален
2
Njeguši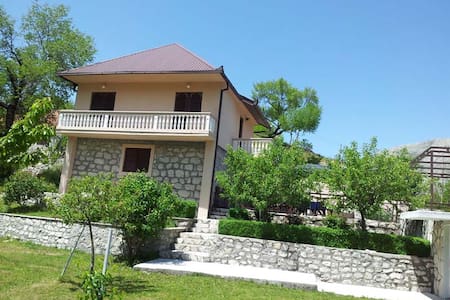 Our place is close to great views, restaurants and dining. You will love our place because of the nature. Our place is good for couples, solo adventurers, and families (with kids).
Тип размещения
Отдельная комната
---
Тип жилья
Дом
---
Вмещает гостей
6
---
Спален
1
Njeguši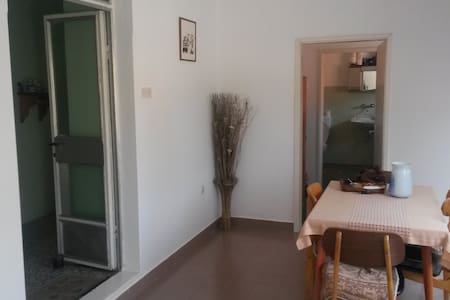 My place is close to restaurants and dining, nightlife, public transport, the beach,old town,shopping center,, family-friendly activities. You'll love my place because of proximity to all the sights and events in Kotor and in the same time relaxing and peacefull place. My place is good for couples, solo adventurers, business travelers, and families (with kids).
Тип размещения
Дом/квартира целиком
---
Тип жилья
Квартира
---
Вмещает гостей
3
---
Спален
1
Kotor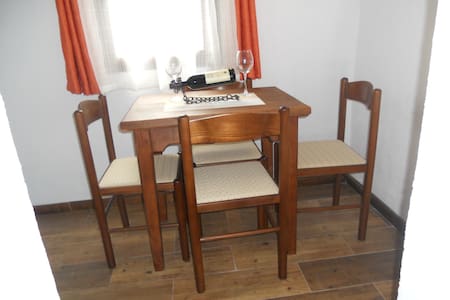 Рядом с моим жильем рестораны и кафе, пляж, ночная жизнь, семейные развлечения и общественный транспорт. Вам понравится, ведь в моем жилье есть расположение, атмосферность и район. Мое жилье подходит для этого: пары, соло-путешественники, деловые путешественники, семьи (с детьми), большие группы и мохнатые друзья (животные).
Одина из лучших квартир исторического Котора ! Кофе из машинки а также доставка фруктов и ягод овощей на ваш стол (доставка бесплатна ) По их желанию
Вид из окон разнообразный Это исторический дом постройка 1385г с единственной террасой смотрящей на залив новый ремонт придётся Вам по душе .
Тип размещения
Дом/квартира целиком
---
Тип жилья
Квартира
---
Вмещает гостей
5
---
Спален
2
Kotor
  The D&Sons Apartments are located in a quiet attractive part of the old town of Kotor beneath the famous San Giovanni fortress. The attractive position of the property affords guest a beautiful view of the Old Town from one of the most luxurious apartments in Kotor which is graded as 4 star.     D&Sons own 6 apartments in total of which 2 are five-bed, 2 are four-bed and 2 are two-bed. The size of the five-bad and four-bed apartments ranges from 60m2 to 80m2. The largest apartment is 80m2 in size and has 2 balconies, 2 air conditioning units, 2 TVs, 2 bedrooms and all other essential facilities. The size of the two-bed apartments is 40m2.      The D&Sons apartments are fully furnished with all the latest equipment. Each apartment has air-conditioning, cable TV, wireless Internet, kitchen and bathroom, and in order to meet all the needs of our guests, a shared washing machine is available. The D&Sons Apartments is located beneath the San Giovanni fortress in the historic quarter of Kotor. Each apartment has views of the fortress and free Wi-Fi. The cozy apartments at the D & Sons Apartments include a fully-equipped kitchen and a sitting area with cable TV. Some rooms include 2 spacious balconies with panoramic views of the surrounding area. The D & Sons provides an airport shuttle and its own rent-a-car service. Excursions to attractive locations in Kotor and Montenegro can be organized as well. The D & Sons is near Kotor restaurants, bars and supermarkets.    
L'appartamento è nel pieno centro della zona vecchia di Kotor in una posizione veramente fantastica. Bisogna lasciare la macchina fuori dalle mura vicino al gate nord e proseguire a piedi per una cinquantina di metri. Le stanze e i bagni sono molto belli, la cucina è minimale ma funzionale. L'host è stato gentile e sollecito nel rispondere alle nostre esigenze.
Arnaldo
September 2016
Great place in the middle of the city. The best in order to enjoy Kotor. The apartment was clean and well equiped. I recommand !
Antoine Tom
August 2015
This is a squeaky clean apartment with superb fixtures and fittings. If there is one drawback it is that, being in the eves of the building, it has limited views. However, that is perhaps a little too much to ask of somewhere so well located, in the very heart of the old town. And it is cheap....very cheap. All in all, this is excellent accommodation.
Andrew
June 2013
Awesome place in an amazing location in Old Town Kotor. Hosts are super professional and helpful. A great stay!
Molly
July 2013
The D&Sons Apartments are in a fantastic location in the heart of the old walled town of Kotor. We were given all the help and assistance we needed, including a good deal on renting one of their cars, as well as another good value ride to Dubrovnik airport when we left. Any issues we had were addressed fully. The apartments are of a high standard and comfortable.
Phillip
July 2013
Drazen is a great host and the apartment we stayed at was excellent, especially for the price. Great AC, very clean bathroom and beds, plenty of space. Location is excellent as old town is small, meaning you can walk to anywhere in old town from the apt in a minute or two. However it is just far enough from the main club and late night bars to be quiet when you want it to be. Drazen also can arrange rental car, transportation, and is very helpful all around. When we wanted to extend our stay last minute, he was very easy to work with. I highly recommend you check out his apartments if you are looking for a place to stay in the heart of Kotor.
Chris
July 2013
Very good location inside downtown!!! Room was very comfortable, clean and as its presented in the website. Drasan was an amazing host, even he was busy he waited me at the airport and suggest the best places to go around the city and restaurants, bars, coffee shops and so on. Definitely I would stay there again.
Jaime
May 2013
Joli appartement. Bien que difficile à localiser (Adresse non indiquée dans la rue de l'appartement) celui ci est tres bien situé car au cœur de la vieille ville. Un peu de bruit des bars à proximité mais sans doute le prix à payer pour etre au centre de la ville. (les musiques s'arrêtent à 1h)
Jennifer
August 2016
Тип размещения
Дом/квартира целиком
---
Тип жилья
Квартира
---
Вмещает гостей
16
---
Спален
10
Kotor