В этом уютном бунгало с прекрасным джакузи на открытом воздухе, вы можете пользоваться всем западным комфортом. Доброжелательный персонал предлагается завтрак, обед и делает все свои покупки по запросу. Кроме того, ежедневно приготовление пищи, уборка, стирка и мытье посуды входит. Этот 2-спальный дом идеально подходит для 4 людей и имеет современную ванную комнату с душевой кабиной. На террасе гости могут отдохнуть и насладиться джакузи. Убуд 38,6 км, а паром до Гили Траванган находится в 15 км от отеля. Бесплатный вай-фай.
Все номера оснащены кондиционером. На крытой террасе гости могут расслабиться и насладиться джакузи в прекрасной атмосфере. Различные мероприятия в области включают подводное плавание, езда на велосипеде, рыбалка и ночная жизнь Кандидасе доступны. Существует бесплатный Wi-Fi в бунгало, Террас и сад.
В 10 минутах ходьбы от бунгало Jasri вы найдете местный супермаркет для ваших ежедневных потребностей. В Amplura, столица провинции Карангастет, есть торговый центр называется Харди и каждый день местный утренний рынок. Наш водитель Anom может принять вас там IDR 90000, независимо от числа лиц. Кроме того, в Кандидасе есть много ресторанов, сувенирных магазинов и несколько местных супермаркетов. Круглая цена поездки с нашим водителем (PHONE NUMBER HIDDEN) IRP
After staying in the 'busy' parts of Bali we arrived in Jasri, in this cute cottage to enjoy the peace and tranquility of this authentic part of Bali. Well, that was a great success. A few months before arriving we had contact with the owner to talk about a few things and he was very helpful. We are traveling with our one year old son, which makes it a bit more demanding to the accommodation, but the house was excellent for this purpose. Everything was well maintained and fully equipped. The bungalow has two bedrooms with aircon, a clever equipped bathroom, a kitchen with any utensil you can think of, a washing machine and a spacious central living room with dinner tabel and seating area. Exactly what we needed. The jacuzzi is relaxing and the covered outdoor seating area is perfect for a stay outside in the shade or a nap in the hammock (of course fans everywhere). On a daily basis Wayan took care of the household and prepared the food as we requested. Made maintained the jacuzzi and the lovely garden. During our stay he provided us with fresh mangos from the tree. Mr. Anom was ready for us every time we needed him, such as supplies or transport. It is recommended for people looking for quiet and authentic surroundings, do not expect a busy day or nightlife. We have discovered most of the area on foot, especially the Balinese chocolate factory nearby was our favorite with excellent pure chocolate and refreshing chocolate ice-creams. Although some shops are within walking distance, we rented a motorcycle to extend our scope a bit in exploring. But Mr. Anom is also more than helpful in taking you anywhere. The stunning Virgin Beach nearby is a must-visit. In the nearby resort is a great restaurant, where we had our Christmas dinner. Furthermore the people of Jasri are very friendly and talkative. For New Years Eve there was a big event on the seaside close to the bungalow. We enjoyed the music and fireworks. We are very happy that we have celebrated the start of 2017 in Jasri!
Eva
2017-01-03T00:00:00Z
Wat waren we blij dat we dit huisje hadden gevonden! Jasri was een verademing, nadat we eerst een paar dagen in Amed waren geweest. Het dorpje heeft een ontspannen, oprecht vriendelijke sfeer, zonder opdringerige verkopers. We waren zeer tevreden met de locatie, op loopafstand van (kleine) winkels, de zee en een restaurant. De rust en privacy in het huis zijn heerlijk. De jacuzzi en het comfortabele terras met hangmat nodigen uit om heerlijk te ontspannen en te genieten, wat we zeker hebben gedaan. Chauffeur Anom en huishoudster Kadek hebben uitstekend voor ons gezorgd en stonden altijd voor ons klaar. Het huis werd elke dag keurig schoongemaakt, evenals de jacuzzi. Alles zag er altijd tiptop uit. We hebben gebruik gemaakt van de bezorgservice van de bakkerij en de masseuse aan huis. Beide zijn aanraders. We hebben ons bijzonder prettig gevoeld op deze plek en kunnen het van harte aanbevelen. De communicatie met Dennis verliep soepel en gemakkelijk en hij voorzag ons van alle benodigde informatie.
Yvonne
2016-07-20T00:00:00Z
If you are looking for a way to waste your money, THIS is definitely an ideal place, one of the best, in fact. First things first, if you are trying to find the villa and calling the manager to specify the location by the phone - get ready for silence. Upon arrival, the manager didn't even think of apologizing. The first place ever where we had to pay for the photocopies of our passports!!!! We were charged for cooking and cleaning though the maid didn't do any cooking. After her cleaning we saw a trash bin full of trash when we returned home one of the days. The description says it's very close to the sea. True, except for you can't swim in the sea - nobody can - no sand there, just huge stones. When we asked the manager to share the owner's email, he never replied. When we were checking out, however, he enquired if we HAD managed to contact the owner. Cool, eh? )) As if it's not enough, we contacted the owner who lives in Holland and doesn't care about her remore business in Bali whatsoever. Briefly, her response to our complaints was, "Fuck off!" Overall, all the parties both in Bali and Holland behaved as if: 1. No Internet exists where we can and will share the review 2. Nobody wants this business to exist and bring profit 3. Nobody wants to promote the villa through airbnb. Why? If they did, they would have done their best to host the decent paying guests like us. Please, think twice before booking the villa and supporting THIS kind of doing business!
Svetlana
2016-08-29T00:00:00Z
Тип размещения
Дом/квартира целиком
---
Тип жилья
Дом
---
Вмещает гостей
4
---
Спален
Karangasem Sub-District, Бали, Индонезия
lokasi sangat nyaman view sawah Gunung dan laut lokasi sebelah obyek wisata Taman Air Tirtagangga
balkoni atas bisa duduk santai menikmati pemandangan alam view Laut dan Bukit Lempuyang yang mempesona dan pemandangan sawah yg hijau
lingkungan ada di tengah sawah jadi nyaman tenang dan terasa aura pedesaan yang jauh dari kepenatan perkotaan
The house is absolutely lovely and perfect to relax!
Sophie
2017-01-08T00:00:00Z
We were feeling a bit ill when we showed up (must have been something we ate the day before) and this place provided a nice relaxing stay for us. Very nice and comfortable
Jonathan
2016-08-26T00:00:00Z
Amazing home up in the quiet hills with great views! Me and my boyfriend loved staying here, we especially enjoyed the easy/cheap motorbike rental, breakfast and the professionalism and cleanliness of the home. Staff were welcoming and helpful, would definitely stay again! Thank you :)
Chloe
2016-07-18T00:00:00Z
The host canceled this reservation 28 days before arrival. This is an automated posting.
Ronnie
2016-08-17T00:00:00Z
It was nice to stay here but it was a bit boring because there is nothing to do. Meals were inexpensive and breaskfast was good too..
Fabian
2017-03-24T00:00:00Z
The host canceled this reservation 14 days before arrival. This is an automated posting.
Andreas
2017-04-09T00:00:00Z
Breathtaking area, one of my favorite in Bali. Very remote, so you're either adept at driving scooters in SE Asia chaos or you're taking advantage of the inexpensive meals cooked for you at the villa. Breakfast is included, which is nice. The staff is so friendly and kind, helping me get sorted for my trip to Gili Air and sending a driver to Sanur to pick me up initially. Pura Lempuyang is no to be missed! I'll be back.
gail
2016-10-16T00:00:00Z
very nice place, the terms of wildlife and amazing views, friendly hosts! interpretation of the downsides of lack of internet
Ренат
2017-01-12T00:00:00Z
Тип размещения
Отдельная комната
---
Тип жилья
Дом
---
Вмещает гостей
2
---
Спален
Karangasem, Бали, Индонезия
We had the most amazing stay with Shirin. Her place is stunningly beautiful and she is lovely. She helped us arrange fun activities during the day like a trip to the market and then a Balinese woman to prepare it and trips to the beach and nearby temples. This was one of the highlights of our stay in Bali!
Wesley
2017-01-11T00:00:00Z
Residence is very well furnished, all the way down to the finer details e.g. sockets in the balebengong. Shirin is a great host, very accommodating. And I cannot recommend the good of Dani (the house manager) highly enough! Nice, secluded location close to the sea.
Matthew
2017-02-03T00:00:00Z
Тип размещения
Отдельная комната
---
Тип жилья
Дом
---
Вмещает гостей
2
---
Спален
Karangasem Sub-District, Бали, Индонезия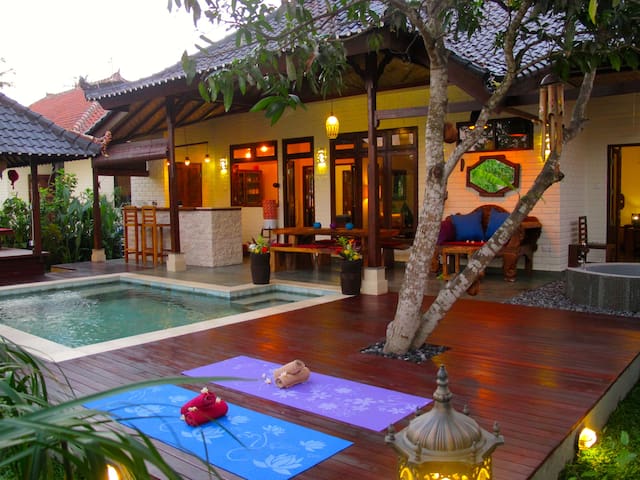 Náš jednolůžkový pokoj penzion hnízdí na zadní a boční části hlavního domu. Má prostornou koupelnu, kombinovaný obývací pokoj a ložnice s jedním queen size postelí. Tato oblast má klimatizaci, zařízení na přípravu čaje nebo kávy a trezor.
Náš jednolůžkový pokoj plážový hostinec hnízdí na straně hlavního domu situovaného v bezpečném neveřejné oblasti. Jsme v těsné blízkosti Pantai Jasri což je černý sopečný oblázková a písečná pláž v klidné uvolněné poloze. Má prostorný sprchový kout, kombinovaný obývací pokoj a ložnice s jedním queen size postelí. Tato oblast má klimatizaci, zařízení na přípravu čaje nebo kávy a trezor. K dispozici je terasa s výhledem na klidném rybník, s Gunung Agung na severu a zvuky a výhledem na moře Bali asi 25 metrů na jih. Pokoj je vhodný pro jednu nebo dvojice. Je zde prostor pro další matraci pro třetí osobu. K dispozici je přístup k mírové zahrad a osvěžujícím bazénu se sluneční terasou.
Vila Frangipani se nachází v regionu Východní Bali s množstvím kulturních pokladů, včetně pozoruhodných vodních paláců Ujang a Tirta Ganga, a to jak v rámci 15 minut jízdy. K dispozici je přístup k řadě restaurací v Candidasa (20 minut jízdy). Pasir Putih, mezi Jasri a Candidasa (15 minut autem) je skrytý klenot pláži. Bílá písečná pláž je krásně nedotčená s azurově modré čisté vody je ideální pro koupání a relaxaci. Jen pár metrů na západ je pláž, kde místní rybáři, aby jejich čluny, můžete si koupit čerstvé ryby, jak to přijde, nebo dokonce pronajmout loď a chytit svou vlastní večeři. Pokud čokoláda je váš velký pokušení, tam jsou dva nádherné čokoládovny oba 10 až 15 minut chůze. Na východě najdete Uforia, udržují organické (SENSITIVE CONTENTS HIDDEN)vé plantáže. Trvat i několik dárků pokud můžete držet tak dlouho. Na západě Charlie má čokoláda a organické mydlárnu, občerstvení jsou k dispozici i pro statečné houpačce nad mořem. Nutnost pro milovníky dobrého jídla je autentické tradiční balijské restaurace Bali Asli v obci Gelumpang, nedaleko města Amlapura, asi 15 minut jízdy. Skvělé jídlo a výhledem na rýžových polích a Penny vřelé přivítání hostitel. Jen 20 až 30 minut jízdy je rostoucí úsek pobřeží místně označován jako Amed. To je sbírka malých obcích a je oblíbený u šnorchlování a potápění nadšence. Pro zkušené potápěče, tam je potopené lodi USAT Liberty se nachází v Tulamben, asi 30 minut jízdy autem. Poté, co byl torpédování a neúspěšný záchranné operace Liberty skončil jen otázka metrů od břehu linky. Přístav Padangbai je 45 minut jízdy autem. Je to skočí bodem pro trajekty na Lombok a Nusa Penida.
Тип размещения
Отдельная комната
---
Тип жилья
Дом
---
Вмещает гостей
2
---
Спален
Karangasem Sub-District, Бали, Индонезия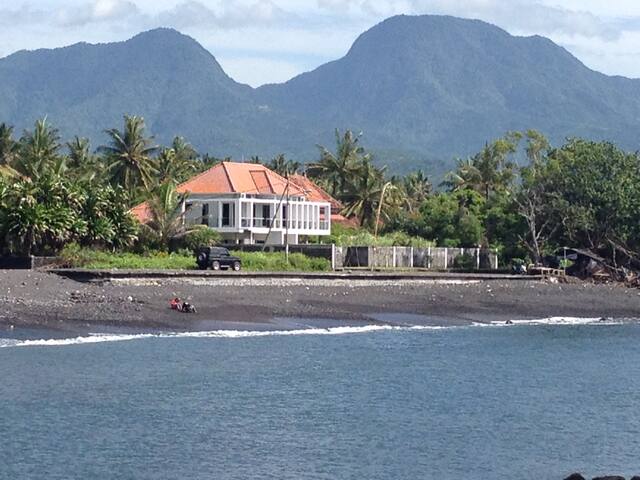 Our Villa Matahari has a 14 meter pool, is surrounded by green rice fields with a beautiful view over the mountains and the sea. Though being in a quiet and idyllic area it's still centrally located, close to the small town of Amlapura where you can buy fresh fruit and vegetables at the local farmers market and groceries at a well-stocked supermarket. Or treat yourself at the restaurants. Jasri is a good starting point for day trips to the many sights of East Bali
In der Villa ist es möglich, bequem mit 4 Personen Urlaub zu machen. Die 2 Schlafzimmer sind mit Klimaanlage ausgestattet. Jedes Schlafzimmer hat ein eigenes Badezimmer mit Toilette. Selbstversorgung ist möglich, es gibt eine gut ausgestattete Küche, einen Wohn-Essraum und eine Galerie. Waschaschine, W-Lan Kochkurs, Massage, Tagestouren Ursprünglichkeit, traditionelles Bali, saftig grüne Reisfelder, Meerblick es können Auto und Motoroller gemietet werden durch die traditionelle Dachbauweise mit Alang Alang gibt es ein gutes Raumklima
White Sand Beach/Virgin Beach Sehenswerter Wasserpalast Ujung Tirtagangga Wassergarten mit heiliger Quelle, auch zum Baden Sehr schöne Reisterrassen Charly´s chocolate factory am Strand von Palmen umgeben Sehr gutes einheimisches Fischrestaurant in Amlapura
My wife, my 11-month old daughter an me stayed for five nights at Villa Matahari and we had a great time. The Villa itself is new, spacious and very nicely furnished. It is located in a beautiful garden and rice field setting, has a huge pool and offers mountain-views as well as sea-views. The pool is perfect to relax or cool down during the day and the patio is great to have your private dinner and enjoy star-gazing at night. Werner and the staff at Villa Matahari, especially Bauke 'The Neighbor' and Ketut 'The Chef' were extraordinary and they helped us along with everything we needed - starting from preparing incredible breakfasts and diners, to giving helpful ideas for sightseeing spots or simply telling us where to find the best bakery and supermarket. The staff was always extremely caring and they made us feel like home. Summing up, we would always come back to Villa Matahari and can thoroughly recommend the place.
Mathias
2014-10-30T00:00:00Z
Traumhaftes ursprüngliches Ostbali: das trifft es genau und ist noch schöner, als auf den Photos. Wir waren gerade mit unseren beiden Kindern 6 Tage da: Was man sieht: eine sehr große Villa, viel Platz, gute Betten (!), vollausgestattete Küche, sehr großer, sauberer Pool. Was man aber nicht sieht: die Lage ist unglaublich. Ganz ruhig, abgeschieden und (mit Auto oder Mofa) schnell am Strand, schnell zum Einkaufen im nächsten Dorf und: Wirklich äußerst geschmackvolle Einrichtung. Die Villa ist fast neu, alles passt zusammen. Wir haben auf Bali einiges gesehen, aber hier stimmte alles einfach am besten zusammen. Wer Erholung auf Bali sucht, ist hier genau richtig. Wir haben die Zeit sehr genossen (und blieben länger als eigentlich geplant). Danke.
Philipp
2015-06-07T00:00:00Z
This place is fabulous for families who want to get off the beaten track a bit. It is a spacious villa with a glorious pool. The neighbor, Bauke, can help you work out transport to temples or beaches. Scooters, bemos, and private cars were easily arranged. Ketut is a lovely woman who comes to the small, outside restaurant to cook breakfasts and dinners at reasonable prices. Our three year old never wanted to leave-and neither did we. Highly recommend!
Rich
2015-02-21T00:00:00Z
Wow. If you want your private villa in a secluded place between palms and rice paddies this is it. We had an amazing time with our 6 month old daughter. Ketut cooked for us almost every night. The interior is amazing! This is great place to either begin or end your holiday on Bali as it really relaxes you down and let you enjoy the now.
Walter
2014-12-21T00:00:00Z
We had a great time at Matahari villa. The information upfront from Werner and Elke was very accurate. The estate, villa and swimmingpool is as promised: paradise. The support from Bauke, the Dutch neighbor (caretaker in absence of Werner/Elke), is fantastic. We also had cozy conversations, while drinking local Arak. Ketut makes tasty meals and is very nice. We loved using the rented scooters to visit the neighborhood, especially the White Beach is really an unspoiled beautiful beach. After 2,5 weeks travelling in Java & Bali, this was the perfect place to relax at the end of our holiday...
John
2015-06-16T00:00:00Z
Paradijselijke plek!! Middle of nowhere en toch dichtbij stadjes en strand en waterpaleis ujung. Superaardige mensen rond de hut, zeer goede verzorging. Goede communicatie alles is vlot te tegelen, er wordt snel op berichten gereageerd. Supergroot zwembad heerlijke bedden, mooie tropische tuin. Huis staat midden in t Balinese leven tussen rijstvelden kokosbos en pindavelden. Bauke is een kleurrijke goede gastheer en weet van de hoed en de rand! Een absolute aanrader!!!
Arnold
2015-12-15T00:00:00Z
Really loved the place, had the best time here. Werner and Elke arranged a driver from the Kuta region to the accommodation, went perfectly, along with a full day of sightseeing all along the way. Communication went great. Didn't get a chance to meet Werner and Elke there, but between Ketut and neighbour Bauke (and his wife Ilu), all was very well attended to. As mentioned by many reviewers before me, Ketut is a true gem to the place, she is the friendliest and on top of that also a truly great cook! Neighbour Bauke and his wife Ilu were great as well, rented a scooter from them, he invited me to come with him and his guests to White Sand Beach and I spend some time one night at Ilu's Warung for some drinks with a few locals, truly nice time! The place is exactly as described and shown in the pictures, a peaceful environment in the midst of local life, out of the way of busy touristic scenes. During my stay I spend a couple of nights in the Lotus cottage and a couple of nights in the Matahari villa. Would stay there anytime and hopefully will again someday… Thanks everybody for this experience!!
Maurice
2016-03-17T00:00:00Z
Leider hatten wir 2 Probleme, da ist man uns aber sehr entgegen gekommen. Ein schöner Platz zum entspannen und um Ausflüge zu starten. Es ist so, wie beschrieben.
Ulf
2016-10-27T00:00:00Z
Тип размещения
Дом/квартира целиком
---
Тип жилья
Дом
---
Вмещает гостей
4
---
Спален
Karangasem, Бали, Индонезия
Das Kelapa Cottage ist Tribal Holzhaus mit privatem Pool in Jasri Beach, Eastern Bali. Das Cottage verfügt über einen Außen Badezimmer mit einer großen Badewanne aus Marmor von natürlichen privaten Garten umgeben. Die Mahlzeiten werden vom Zimmerservice serviert.
Dieser Raum ist ideal für Familien und Freunde, und diejenigen, die von zu Hause aus ein Haus weg haben wollen. Aufwachen auf Meerblick und einzuschlafen, um das Meer in einer wunderschönen natürlichen Umgebung klingt, die von den geschäftigen Menschenmassen weg ist. Dies ist ein Haus, aber wenn Sie eine große Gruppe sind und es vorziehen, mehrere Villen in der Nähe von einander zu haben, haben wir 3 weitere Villen direkt nebeneinander - alles zu Fuß erreichbar: 2 Minuten. Diese Villen sind perfekt für Hochzeiten, Familienfeiern und für Gruppen von 10-14 Personen, die auf gemeinsamen Schlafzimmer (bitte Kontakt mit uns auf, wenn Sie für eine große Gruppe Buchung vereinbaren möchten). Dies ist ein Stammes-Holzhaus am Strand und einem sehr einzigartigen Raum - während es toll, für diejenigen, die eine lokale Erfahrung suchen, ist es nicht für jeden Geschmack sein kann, wenn Sie nicht gewohnt sind, in der realen Natur zu sein.
Though we couldn't stay in the villa be booked initially but in another one next to it, we didn't regret it. The place was simply stunning. Hearing the ocean waves and looking at the panoramic view were our favourite features. The staff was very, very kind and sweet and we made friends with them. The food was delicious and healthy and everything was clean and comfortable. The house itself is worth a visit. We'll definitely come back soon!
Alisa
2016-09-20T00:00:00Z
Wir haben 10 Nächte in der Ocean Front Villa Kelapa verbracht und es sehr genossen. Die direkte Lage am Meer, welches jedoch auf Grund der starken Brandung und der Felsen nicht zum Baden geeiget ist, ist ein guter Ort zum Entspannen und das Rauschen der Wellen ist das einzige Geräusch in dieser Oase der Ruhe. Der großzügige Garten bietet eine tolle Privatsphäre. Das Personal ist sehr freundlich und bemüht einem jeden Wunsch zu erfüllen. Man kann sich hier trotz der abgelegen Lage sehr sicher fühlen, da nachts aufmerksame Nightguards ihre Runden drehen. Die angebotenen Speisen sind sehr lecker, allerdings ist die Auswahl begrenzt ( Gerichte vom Schwein bzw. Rind gibt es nicht, dafür etliche vegetarische Gerichte, super Fisch und Hühnchen, Gemüse aus eigenem biologischem Anbau). Der Ort Jasri mit Einkaufsmöglichkeiten und Geldautomat ist nach ca. 20 Minuten zu Fuß erreichbar. Für Restaurantbesuche in Candidasa ist man auf Autotransport angewiesen, welcher vom Manager organisiert wird (ca. 24 € HIn- und Rückfahrt). Wir haben uns dort sehr wohl gefühlt und die Tage genossen und können es jedem emphelen der Ruhe und Erholung an einem wunderschönen Ort sucht.
Rainer
2016-10-18T00:00:00Z
We loved the Turtle Bay Hideaway. Villa Kepala is the honeymoon suite - so secluded, quiet and romantic. Room service was excellent, food so delicious. The staff were so kind and considerate. We found it so peaceful and relaxing. Thanks for this wonderful stay. The beach is not made for swimming - but that's why it is free of tourists. We loved our private saltwater swimming pool and could have stayed another week just to lounge and enjoy the surroundings.
Barbra
2016-12-19T00:00:00Z
My recent travels through the Indonesian island of Bali was completely solo, so I was looking for something authentic, far from the madding crowd and all the tourist traps. East Bali had some beautiful beaches I was told, and while searching for the unique I found Turtle Bay Hideaway. The natural settings, the close proximity to the beach and the wonderful antique cottage ticked all the boxes for me! I looked at the photos for months, showed them to anyone who had the patience to listen to me and made them all pea green with envy! I stayed in the Honeymoon suite, a completely private joglo that was set right on the ocean, with lush, tropical gardens and it's own private pool. The furnishings were all timber, huge four poster bed with a massive canopy and mosquito netting. Everything was very authentic, very peaceful and a wonderful place to just sit and feel all the stress drain away. Room service was the cherry on the cake! delicious food served by friendly staff who also set the room up for the night. I didn't want to go out at all, but forced myself to check out the area since I was there....and it was really very beautiful! but I was also very happy just to float around in the pool, listen to the waves crash onto the volcanic beach and watch the storms pass over Mt Rinjani in the distance. Sitting outside on the extended deck under the swaying coconut palms, watching the stars come out was a treat...especially since it was the same time the bats came out for dinner. I'll end my rambling with saying that this was the most beautiful place I have ever stayed anywhere in Asia, it's well worth the bit extra you pay because it's a memory that lasts for a life time.
Michelle
2017-02-25T00:00:00Z
Тип размещения
Дом/квартира целиком
---
Тип жилья
Дом
---
Вмещает гостей
2
---
Спален
Jasri, Karangasem, Бали, Индонезия
Lack of tourists, no rush, never too busy and this place all to yourself. This is what we call holiday. Enjoy!
In Jasri, a small village, on the east side of Bali close to the city Amlapura, we rent out our Balinese type cottage, furnished to western standards. You will have a splendid view on a fancy moored garden and also on the impressive Gunung Agung, with it's 3150m it earns the title of the highest mountain of Bali. The cottage is situated in a resort which exists of several other holiday bungalows, all mostly owned by Dutch families. The resort is only a 100 meters away from the beach. The cottage has: - WIFI (mobile WIFI) - complete furniture - 2 bedrooms for max. 4 persons - comfortable box spring beds European size - 1 bathroom - electric boiler for warm water - kitchen + kitchen appliances (fully equipped) - air conditioning in all bedrooms - ceiling fan in all rooms - TV and DVD - terrace with terrace furniture - nicely moored garden with Jacuzzi (hot water) and shower Enough to experience 'Eat, Pray, Love'. We call our Jacuzzi the Jacuzzi, but it is actually a plunge pool in which hot water is added for a nice temperature of the water. The pool is provided with a whirlpool function. Bubbles for everyone! When we have guests the pool is cleaned and maintained by our gardener daily. Next to the pool there is a shower to rinse off the sweat, (sea) sand or any dirt before you go into the water. The bedrooms have air conditioning and a ceiling fan. There is a bathroom present with an European style toilet, wash-hand basin and shower (hot and cold water). Each day our maid keeps the house clean and organized for you! For an extra fee our maid will cook amazing local food for lunch and/or dinner. The beach is nearby, however, mainly used by locals for their ceremonies. This is amazing event for photographic opportunities! The nearest beach for snorkeling and swimming is Pasir Putih, 15 minutes drive. The locals can give you directions. Or you can ask for our driver to take you there. If you prefer diving, ask our driver and he will take you for a day trip to Amed. This is a scenery trip where you can see Bali's famous and most beautiful rice fields.
The people of the village have their ceremonies on the beach. There is a chocolate plantation nearby (walking distance) with a shop. Do visit them and ask the locals for direction.
Das Haus entspricht zu 100% der Beschreibung, Garten- und Jacuzzi-Pflege vorbildlich, Housekeeping perfekt - zudem ist das Dienstmädchen eine sehr gute Köchin. Vielen Dank!
Robert
2014-07-26T00:00:00Z
This is a nice small house in what you may call a dutch holiday villages. Shirley was very helpful in helping us get sorted out before we came and dealt with any issues very well. The house is nicely furnished but quite small. The cook and cleaner is very helpful and cooked a nice lunch for us on the first day. Garden is very nice and plunge pool cool and refreshing. The bedrooms kept cool but there was no a/c in the main lounge and it seemed very difficult to get this area cool enough to enjoy it - so we stayed in the bedrooms when there. The house manager was a bit slow to respond to requests - power went out one night but he came over and fixed that quickly, however he didn't respond at all when we were out of wifi (that may have been just a one-off issue though). In terms of the area, there is a nice walk in the area to the Euphoria chocolate shop, which is worth taking. There's not much to eat within walking distance in the local area - the local resort near the beach is average for food. The local beach is not all that great but nice to look out of. A short 5 minute drive will take you to pasir putih beach, which is a must-see and very enjoyable. I'd say that if you want to stay here, it would be good to have your own transport so that you can get around, or use the bemos or transport and Shirley will help you to organise that.
Gavin and Rachel
2015-12-14T00:00:00Z
It was pleasure to stay in this accomodation . We have little problem with arriving because nobody was inhouse but after phone call arrived maid. If you need wifi you have to buy voucher. Rest was very nice, good location and friendly neighborhood. Thank you Shirley for providing your accomodation to us.
Michal
2017-02-22T00:00:00Z
This is an amazingly relaxing house. It is located close to the sea, a large town for groceries and a tourist village for restaurants but is about 2 hours from Denpasar so you feel like you are living in the real Bali. It is just a 30 minute trip through the mountains to the crystal clear waters of the north coast. The verandah, where we ate all our meals and relaxed reading, is in the shade of a large tree and catches the cooling sea breezes. We spent a lot of time in the spa pool which can be warmed at night to take the chill off it. The house maid came every day and is a lovely friendly lady. We had a great 2 weeks there.
Jeff
2015-07-09T00:00:00Z
Nous avons passé un séjour très agréable a Jasri chez Shirley, la maison est superbe et très bien équipée, le jacuzzi est très agréable pour se rafraîchir après une chaude journée. Le personnel était très gentil bien que pas très bavard. La cuisinière était très sympa malgré qu'elle ne parle pas très bien anglais, on a su se comprendre très vite! Par contre quand on a essayé de demander des informations concernant les restaurants alentours, les endroits ou faire quelques courses, je ne sais pas si c'est par timidité, mais le manager a eu énormément de mal a nous répondre et on a souvent eu un silence en réponse a notre question. Sinon en dehors de ça, très efficace, on a eu un problème avec le wifi et il a résolu le problème en une matinée! Si vous cherchez un endroit paisible et silencieux, cette maison est l'endroit idéal! On a pu admirer une superbe pleine lune sur le bord de mer, magnifique!
Céline
2014-08-14T00:00:00Z
Lovely property and garden, very clean and as described in the listing. Very close to the beach and the staff were fantastic. So helpful and friendly. The only close restaurant is at the aashaya jasri resort 2 minutes walk away and the food is great. Shirley was really helpful answering all our questions. Thanks for a great couple of days!
Nicola
2016-10-25T00:00:00Z
We (two couples) spent 7 days in Jasri - the village turned out to be perfect for exploring the eastern part of the island. Shirley's house is a beautiful Balinese-style cottage. It is clean, practical and comfortable, ideal for two couples traveling together. Located in the neighborhood of similar houses, it guarantees relax and silence. Photos posted by Shirley fully reflect the true appearance of the house and beautiful garden. We treated the house as a starting point for daily trips - Anom, one of the staff, has proved to be not only a great driver, but also a wonderful guide. Thanks to him we could enjoy the magnificent views of Bali and at the same time get to know the local places and markets with real Balinese food. Considering great rental price, you will be delighted to stay in Jasri!
Anita
2014-05-01T00:00:00Z
We decided on this villa for our final stay after the excitement of Sanur and Ubud. The villa was very nice, just a short walk from a black-sand beach, and a short drive to a white-sand beach with excellent swimming. Shirley was very helpful via email, and we enjoyed our stay. I would especially recommend this villa to someone who wants to get away from the busy city districts and would like a calm stay more in the country. As other people have mentioned it is a good base to use while exploring eastern Bali. The maid cooked several delicious dinners for us, although we had to ask her to use the bottled water since we are from the USA and not used to the local water. The only thing lacking was the wifi was very slow, but for rural Bali this is not too surprising. We were able to check our email, but don't expect to be watching youtube.
Jim
2014-08-07T00:00:00Z
Тип размещения
Дом/квартира целиком
---
Тип жилья
Дом
---
Вмещает гостей
4
---
Спален
Karangasem, Бали, Индонезия
Вилла с частным бассейном (3 кровать- 2 bath- и 1 гостиная, кухня) - пляж в 100 метрах, - прекрасный тропический сад, потрясающий вид на гору Агунг оттуда, с видом на море красивый главный вход! Неограниченный высокоскоростной доступ в Интернет включен. Собственная парковка перед виллы
Красиво построен, в хорошем состоянии и полностью оборудованный дом за все, туристическая краеведческая harasness расположен в тихом месте в Jasri в небольшом парке 10 домов с великолепным видом на гору Агунг. Собственный бассейн, хорошая кухня, 3 красивые спальни с кондиционерами и вентилятором, 2 ванные комнаты, хороший teak- мебель, прекрасный сад с домом богов. Близко к пляжу (100 м), который является ceremony- пляж, таким образом, всегда что-то увидеть. Хороший surfspot тоже! Прогулки, экскурсии, подводное плавание, вплоть до гор, Beach- отпуск (White Sand Beach 5 км), все это возможно здесь. Амед, как diving- точку доступа, храм Besakih- как божественное выделить, также гору Агунг и гору Батур в достижимом расстоянии. Достоверное деревня Tenganan и Уджунг и Tirtaganga waterpalaces являются одними из основных моментов туристическая краеведческая. Отдохните на собственной веранде, охладиться в вашем собственном бассейне или в тенистом Bale Bengongs (один с садом другой с видом на море), наслаждаться тихий сад, вид вокруг вас, и пусть ваша душа успокоится. Идеально подходит для детей. Собственная стоянка только в передней части виллы! ОБРАТИТЕ ВНИМАНИЕ: Существует кот, названный Timba по всему саду виллы. Придет к вам точно! На вилле Дани (Villa Manager) и Nengah (Gardener & Менеджер фонда) будет заботиться о вас. Дани говорит по-английски и поможет с любыми вопросами вы можете иметь. Она является отличным поваром тоже, и за некоторую дополнительную плату она может быть забронирован как личный главный. Nengah придет ежедневно на сад и бассейн обслуживание. Он рыбак и владеет новым в традиционном балийском рыболовное судно. Если вы заинтересованы вы можете заказать поездку с ним. (Моя рекомендация: восход солнца поездка!). Услуги прачечной и торговый сервис может быть организован тоже! Включено в бронировании является следующее: - Ежедневное обслуживание частным бассейном и садом - Уборка 3 раза в неделю - Регистрационный взнос полиции - Туристический налог - Электричество, газ, вода - Безлимитный высокоскоростной интернет - Использование полностью оборудованная кухня, гриль под открытым небом и печь для пиццы - Полотенца, постельное белье, пляжные полотенца, моющие, Delonghi Эспрессо, стиральная машина, телевизор с плоским экраном Sony, Sony DVD-рекордер) - Заключительная уборка Больше фотографий ?: Если вы хотите увидеть больше некоторые фотографии из нашего дома, бассейн и сад, пожалуйста, следуйте Flickr на (URL HIDDEN)
White Sand Beach / Virgin Пляж: 15 мин => Подводное плавание, солнечные ванны, еда, питье Водный Дворец Таман Уджунг: Время поездки 10мин => История, стоит посмотреть Tirtagangga (водный сад с святой источник): Время 20мин Путешествия => Исторически сложилось так, купание возможно, очень красивые рисовые поля Амед: Время поездки: 1 час => Дайвинг, подводное плавание, плавание. Паданг Бей и Blue Lagoon: 30 мин => Паромы до Lombock, Gilli остров => подводное плавание, дайвинг, рестораны, ночные клубы Amlapura: Время в пути 10 мин => Hardys супермаркет, магазины, рестораны, традиционный рынок, Kings Palace. Убуд: Время поездки 1,5 ч => Искусство, сувениры, танцы Сукавати: 1,5 часа время вождения => Традиционный рынок, сувениры Чандидаса: Время 20мин Путешествия => Сувениры, Международный Рестораны, Livemusik, морские прогулки, Дайвинг Tulamben: Время в пути 1,5 часа => Кораблекрушений Гунунг Агунг: Время поездки прибл. 1,5 часа Besakih храма самый большой и самый святой, туризм возможно. Батур вулкан, озеро Батур, Kintamani: Около 2-х часов Очень стоит посмотреть, спуск на плотах по пути туда, походы на вулкан, geomuseum.
Die villa sehr schön, gepflegt und entspricht der beschreibung. Die option der haushälterin ist das geld auf jeden fall wert, alle waren sehr nett und überaus hilfreich. danke für einen sehr schönen aufenthalt.
Christian
2015-08-05T00:00:00Z
The Villa is absolutely beautiful. It is very spacious and the house is incredibly well designed. There were four of us and we did not want for space. It is incredibly relaxing to sit in the veranda and have dinner. The pool and gazebo are also areas to sit and relax with a cold drink after a fun day of activities. There is a TV with some current movies on DVD and Blu-ray. There is some Wi-Fi access. The kitchen is well outfitted and very conveniently located next to the Veranda so the heat stays outside. You can do well with this kitchen but I highly recommend the concierge service The concierge service is an absolute must. Dani is an incredible cook and very friendly and helpful person. While staying here you are connected to people who can provide you tour service and other helpful arrangements. The location is great. It is relatively close to Amed, Ubud, Batur and Candidasa. There is an interesting carport built over the driveway that provides you a furnished loft on top to view the sea.
Drew
2016-06-30T00:00:00Z
Where to start...? The house is beautiful - spacious and great attention to detail. The garden around the house is breath taking and well maintained. The staff is friendly and attentative - Dani is a great cook and always smiling. We really enjoyed staying at Villa Jasri Tiga for and have no hesitation to recommend it to anyone who is looking for a relaxing and peaceful holiday. The location is slightly remote, so if you want to get out you'd need to rent a scooter or arrange for a private driver. But anything is possible and with the help of the staff a booking is easily made. All in all an amazing home away from home!
Wout
2015-10-08T00:00:00Z
Our holiday at Shirin's was fantastic. The house is stunning. It comfortably accommodated our family of six. The beds were very comfortable. The pool was clean and was enjoyed by our children. Dani the manager kept the house in immaculate condition. She cooked for us on several occasions and her cooking was the best food we had. Shirin organised our pick-up from the airport, dinner on arrival and snacks in the fridge! Ketut the driver was a friendly and knowledgable tour guide. The house is situated in a quite, rural setting which gives you a taste of the real Bali! We highly recommend Shirin's house and her team at Villa Jasri Tiga.
Jennifer
2016-12-29T00:00:00Z
Tolle Villa, perfekt für bis zu sechs Personen, nette Mitarbeiter, ein kleines Paradies. Man ist auf ein Fahrzeug angewiesen zum Einkaufen oder Essen gehen. Es ist aber kein Problem, einen Fahrer zu organisieren. Der Kontakt mit Sirin ist absolut freundlich und kompetent. Volle Punktzahl
Stefan
2016-07-23T00:00:00Z
Jasri villa was stunning. A perfect retreat for our family. Sirin was very attentive. The villa was beautiful. Jasri is old Bali. Lots of ceremonies, great day trips and walks nearby. It is also a good surf spot. We loved it and would come again.
Trish
2016-05-09T00:00:00Z
Shirin was a very friendly and considerate host. I let her know in advance that we wanted to make pizza for my father's birthday, and she arranged to have someone help build the fire in the oven. The villa manager, Dani, even purchased and delivered the pizza crusts from a local bakery. The garden is absolutely gorgeous, the pool is refreshing and the volcano view is amazing. The villa was a great place for our family holiday and we enjoyed having meals and playing games on the patio. We really liked the espresso machine as well! There is a nice restaurant at the resort just 5 minutes' walk down the road, and we also walked to the Bali artisan chocolate shop 10 minutes further. (Recommended!) A short drive away is the gorgeous Ujung Water Palace and the White Sand (Virgin) Beach, which were both wonderful. For us the only downside was the lack of an air-con unit in the living area, because the air can be quite still and hot at midday. However, drawing the curtains and running the fans helped a lot, and of course you can always go swimming!
Lindsay
2016-10-19T00:00:00Z
Тип размещения
Дом/квартира целиком
---
Тип жилья
Дом
---
Вмещает гостей
6
---
Спален
Karangasem Sub-District, Бали, Индонезия
Beautiful Balinese house situated on hillside with incredible views. This house is part of a Balinese family residence so when you stay with us you'll be staying with a real Balinese family in our village.
Тип размещения
Дом/квартира целиком
---
Тип жилья
Дом
---
Вмещает гостей
4
---
Спален
Karangasem, Бали, Индонезия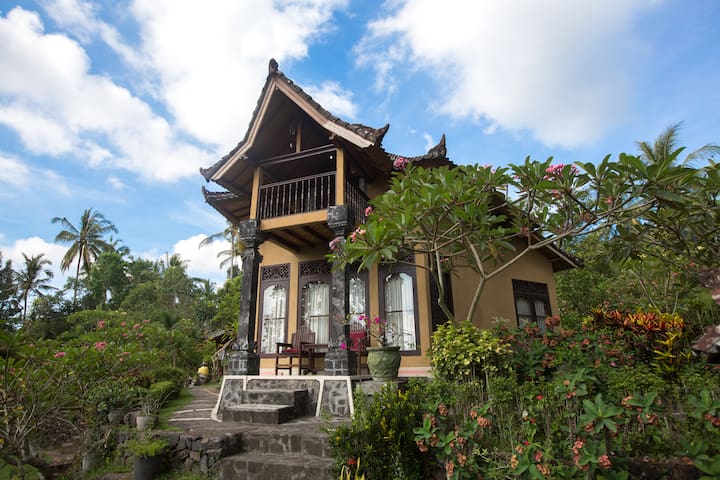 The house is in a beautiful area where it is not touristy. You can walk through the rice fields and along the sea. Morning you can see the arrival of the boats of the fishermen from your bedroom with their fresh caught fish. Near the village Jasri have several restaurants where you can eat. If you want to Ketut can our help ensure that cooked in the house for you. In short, all the ingredients for a wonderful holiday.
Тип размещения
Дом/квартира целиком
---
Тип жилья
Дом
---
Вмещает гостей
4
---
Спален
Karangasem Sub-District, Бали, Индонезия
Tento dům Padoba Mimpi je na malém kopci nad Tirtagangga, cloast do lesa s výhledem na rýžových teras na horu Lempuyang. Ideálním místem k vánek Bali a relaxovat nebo výlety. To mají prostorný pokoj a terasu.
Tento kouzelný dům se skládá z jedné prostorné místnosti s manželskou postelí (s možností přistýlky. pokud se zeptáte protože tam může zůstat 3. osobu 2 děti. Za tímto účelem účtujeme poplatek), terasa (ideální místo pro balinis masáže), koupelna (teplá voda) a kuchyň. Věděli jste, zůstane dlouhá, takže i speciální cenu. Titagangga je malá malebná vesnice na severovýchodě Bali. Příjemné místo exkurze je vodní zámek (10 minut chůze) z Ampapura, další město s balijské bazaru a králové palác má být dosaženo do 25 minut. jízdy. V 20 min. jízdě jste na východním-cost. Stravování: včetně snídaně Na požádání pěkný balinese jídlo může být připraven (kdykoliv). Vlastní jídla lze připravit v kuchyni stejně. Další možnosti Volný čas: rýže terasa turistika, villagetour chodit na stříbrníka místního kováře (Krotok, Budakeling) Turistika (Lempuyang, Agung), vodní palác (Ujung), jízda na kole, plavání na mák písčité pláže Prasi, Tirtagangga vodní zámek, potápění, potápění, fishervillage , saltproduktion (Amed) ,, Animalmarket (Bebandem), bali aga vesnice (Tenganan), sideman (sonket - a Ikat tkaní), Mothertempel Bali (Besakih) a mlýnských jiní. Pokud budete potřebovat, jaký druh pomoci k důvodům, zeptejte se mě. Mohu uspořádat to pro vás. Pokud potřebujete kolo z moterbike žádném proplem, mohu jej reange. Nabízíme loundy servis. Můžeme zajistit dopravu z / na letiště. Z Tittagangga (10 min chůze) se můžete dostat autobusem do Amlapula. K dispozici je zdarma parcing pro Váš vůz.
Vu magnifique et la femme de Made était vraiment très serviable et chaleureuse.. C'est tout. le logement n'était pas du tout conforme à la description puis ce qu'il n'y avait en réalité aucune cuisine du moins pas pour nous. Ce qui nous à forcé à prendre sur notre budget location de véhicule pour se nourrir, la première nuit dans le warung de son voisin qui nous as bien eu en nous demandant de payer à la fin du repas une taxe totalement imaginaire. Résultat pas d'excursion. La douche était froide et sans débit sauf le dernier jour. L'heure du départ noté sur le descriptif n'était pas non plus la bonne. Petite anecdote ma carte de crédit à aussi disparue dans des circonstances étranges sur Tirtagangga. On sent vraiment le coté buissness. Bref, une déception complètement en total inadéquation avec les autres merveilleuses personnes rencontrer durant notre voyage.
Sandra
2015-09-12T00:00:00Z
We arrived a bit late beacause of a motorbike accident and Made and his wife was really nice, helpful and friendly. They helped with all our luggage and recommended a reliable garage owner. You also enjoy a good breakfast. We recommend Made's place.
Lou
2015-08-17T00:00:00Z
I was looking for a place to rest and enjoy nature. I found both: the highlight of the simple but clean and lovely decorated house is the terrace with a spectacular view on mountains and rice fields. You barely ever hear anything else than nature itself (rain, frogs, cicadas). What me and my friend truly loved was the richness of fruit - many people offered us to try Rambutan, Guava or whatever is growing at the given time. Eating generally is a bit of a hassle unless you have a motorbike or rent one to leave the village and find small places around the Water Palace, luckily the host's brother has a guest house next door with a small restaurant. The Indonesian dishes there were really good and cheap, too, and we ended up eating there everyday. Also our host Made was always available and very friendly. You share the garden with his family, but that was never an issue. He was also taking us through the village and on a hike through the rice terraces, for us three hours was enough, but he also offers longer tours and you could even even go to Mount Agung with him (hopefully next time I'll bring my hiking boots). He was even so kind to borrow us some of his shoes as my friend forgot hers. Since he is well-known in the village, you always end up having a small talks with locals, which I liked. Everyone we met from the host himself, to his family and the locals were very friendly (we could talk Indonesian though). Exactly what I was hoping to find... If I made it back to Bali, I would come again! I stayed for two nights. I think 2-3 days is a good amount, otherwise it might become a bit too quiet :) but that of course depends on your personality and agenda. Ps: Bring an extra Outlet to run the ventilator at night and charge your phone at the same time :)
Malin
2016-04-10T00:00:00Z
Wir hatten eine sehr schöne Zeit bei made und seiner Familie. Wir Wurden herzlich willkommen geheißen und haben uns sofort integriert gefühlt. Es ist eine sehr angenehme familiäre Atmosphäre. Das Haus ist wunderschön, genauso wie auf den Fotos und in der Beschreibung. Das Schlafzimmer sehr luxuriös und geräumig, das Bad sauber jedoch rustikal gehalten (kein warmes Wasser). Der Blick von der Terrasse direkt auf die reisterassen ist unbezahlbar. Nachts schläft man bei einem schönen froschkonzert ein, einfach wunderbar! Das Frühstück war inbegriffen, klein aber fein. Zusätzliche Getränke kosten Extra. Der Gastgeber hat sich sehr rührend um uns gekümmert zB uns zum Restaurant begleitet als es dunkel war. Wir würden jederzeit in dieses Naturparadis zurück kommen und wären am liebsten noch länger geblieben.
Karolin
2015-09-07T00:00:00Z
Wir (2Erwachsene, 2 Kinder) haben eine wunderbare Zeit bei Made und seiner lieben Familie verbracht. Die Unterkunft war einfach und schön. Das Wasser zum duschen war zwar kalt,aber in Bali ist das oft der Fall und bei den Temperaturen auch kein Problem:-).Die Umgebung und die Aussicht sind grandios. Zum Wasserpalast sind es nur wenige Minuten zu Fuß und man kann herrlich dort Baden! Ein gutes Warung ist ebenfalls gleich um die Ecke. Wenn wir wieder nach Bali kommen, dann kommen wir gerne wieder und bleiben auf alle Fälle länger! Thank you for all!!
Diana
2015-08-12T00:00:00Z
Тип размещения
Дом/квартира целиком
---
Тип жилья
Дом
---
Вмещает гостей
2
---
Спален
Tirtagangga, Karangassem, Индонезия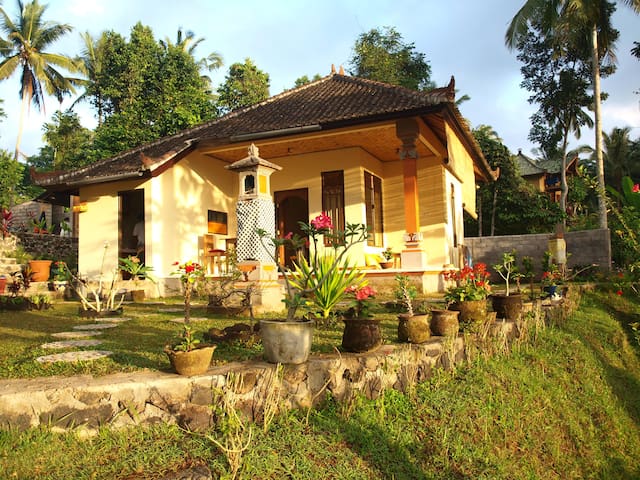 Our private room is in its own bungalow separate from the main house. Enjoy the view of Mount Agung in the background or relax to the sounds of the Indian Ocean from the foreground while experiencing tranquil East Bali.
"... private accommodation in beautiful gardens with swimming pool. Stunning views to Mt Agung and to the sea. The property is set in a quiet, rural location, adjacent to a black sandy beach where the locals still maintain a small fleet of small fishing boats. About 15mins away by car, is the small tourist resort of Candi Dasa, which boasts an excellent selection of bars and restaurants. In the opposite direction, visitors will find the main town of Amlapura. Nearby attractions include Tirta Gangga Water Palace, Ujung Water Palace, the dive/snorkeling mecca of Amed and the best beach in Bali, White Sand Beach"
The beach is right in front of the main gate. You can swim at the designated area but the best beach that we recommend is White Sand Beach which is 5 mins drive away. It is a beautiful spot for swimming and snorkelling. There is also Charlie's Chocolate Factory just 5 mins down the main road or 15 mins walk along the beach Charlie also makes amazing organic soaps. Just ask around for direction. If you would like to sample some local food, at the main road towards Amlapura there is a nice restaurant called Mina Carik on the right hand side serving mainly fish where you can sit surrounded by rice fields and lotus trees
Villa Terracota может похвастать отличным расположением (до океана метров 30), красивым бассейном и ответственным хозяином (Ira you are great). Наша комната полностью соответствовала фотографиям, однако не было интернета, что было указано в информации о месте на сайте. Неподалеку от виллы был приятный ресторан с Wi-Fi и хорошим сервисом. Также рядом располагается магазин натуральной косметики (женщинам и девушкам на заметку). Персонал в Villa Terracota был отзывчивым и вежливым, однако по английски понимали они плохо. Немного удивило, что на завтрак предлагались либо тосты, либо жареный с овощами рис. В целом можем рекомендовать данное место, месторасположение играло для нас первостепенную роль.
Владимир
2015-07-29T00:00:00Z
It was a nice bungalow. Everything is clean and friendli. Kadek was super friendly, funny and helpfull. We got a bit trouble with the internet in the beginning, but it was fixed within no time. The pool is very big, the area in Jesri is beautiful and authentic. We would recomend the bungalow.
Simone
2016-05-24T00:00:00Z
Villa Terracota is a really nice place to stay. It's right at the beach and the pool is perfect:) The staff has been very welcoming, the made me feel at home from the first moment on. Everything is brandnew and clean. If I'm going back to east Bali I'll be staying there again=)
Andy
2015-06-27T00:00:00Z
Тип размещения
Отдельная комната
---
Тип жилья
Дом
---
Вмещает гостей
2
---
Спален
Karangasem , Бали, Индонезия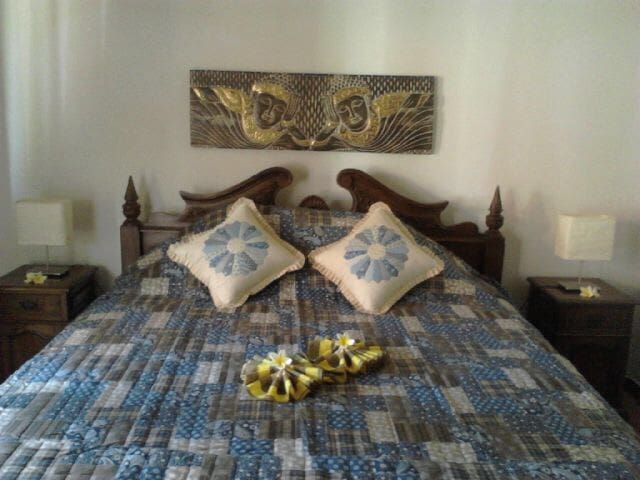 My place within walking distance of public transportation, the beach and the restaurant and eat. You'll love where I am because of its location,, people. My place is suitable for couples, single adventurers, business travelers, families (with children) and a large entourage.
Iketut was actually full on the day we booked so he went way out of his to make us comfortable at a hotel. He brought us anything the hotel didn't provide it was great.
Jade
2016-07-17T00:00:00Z
Тип размещения
Отдельная комната
---
Тип жилья
Дом
---
Вмещает гостей
1
---
Спален
Kecamatan Karangasem, Бали, Индонезия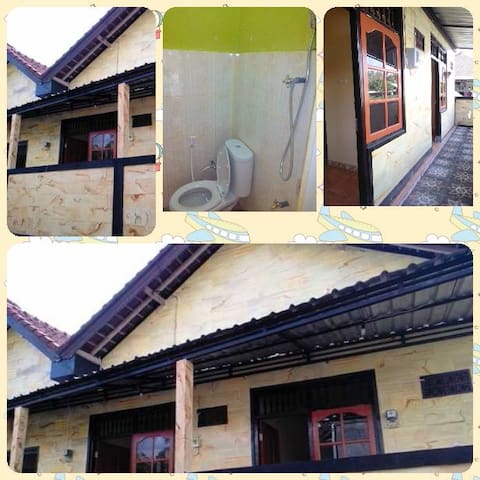 Die Villa Pandan ist ein Holz Stammes-Hütte am Meer auf der schönen Jasri Strand in Ost-Bali. Atemberaubende Meerblick, gemeinsamer Infinity-Pool, schöne Naturgarten. Abgeschiedene Lage weg von der Masse. Mahlzeiten serviert vom Zimmerservice.
The host canceled this reservation 20 days before arrival. This is an automated posting.
Eric
2016-09-16T00:00:00Z
Great place. Beautiful setting and stunning villa. Very authentic. Great staff snd massages. We loved our driver Komang. Loved the pool. Surf was relentless though. 10 days of constant 4 foot surf pounding against the sea wall was great but a bit too noisy at times.
Mike
2016-07-20T00:00:00Z
Lovely villa with infinity pool overlooking the ocean! You know that feeling? : the moment you walk in you actually know you have some perfect days ahead a of you, well that is just how we felt in Turtlebay Hideaway. Lots of wood, cosy corners, great service, candlelight dinner and a breakfast in the sun!
Jessica
2016-07-27T00:00:00Z
Belle villa, accueil agréable, personnel sympathique et présent. Nous n'avions pas compris qu'il n'y avait pas de cuisine, ni de machine a laver. mais finalement c'est tout à fait agréable de se faire servir comme des rois (surtout que le chef cuisine à merveille). Le paradis!!!
Romain
2016-02-25T00:00:00Z
This is probably the most magical place I've ever stayed at. It's a tribal house from a nearby island that was moved and rebuilt in a fantastic location. Walking inside this house feels so unreal it's like a dream. Even after 4 days there we still couldn't get over the charm of the place. A full staff of housekeepers, gardeners, a driver, cooks, etc. is dedicated to serving only this villa and 2 others. Some of the services like meals, driver, massage are at an additional charge of course and even though it's higher than outside prices it's still reasonable and worthwhile for the convenience aspect. They do a fantastic job. Super proactive and professional yet friendly. On top of all that, the villa is located near a charming village with very few tourists and plenty of vibrant local life like you won't see in major tourist areas like Ubud or the south of the island. It's probably like visiting Ubud of 30 years ago. Needless to say we had a magical vacation.
Dotan
2017-01-04T00:00:00Z
Тип размещения
Дом/квартира целиком
---
Тип жилья
Дом
---
Вмещает гостей
6
---
Спален
Karangasem Sub-District, Бали, Индонезия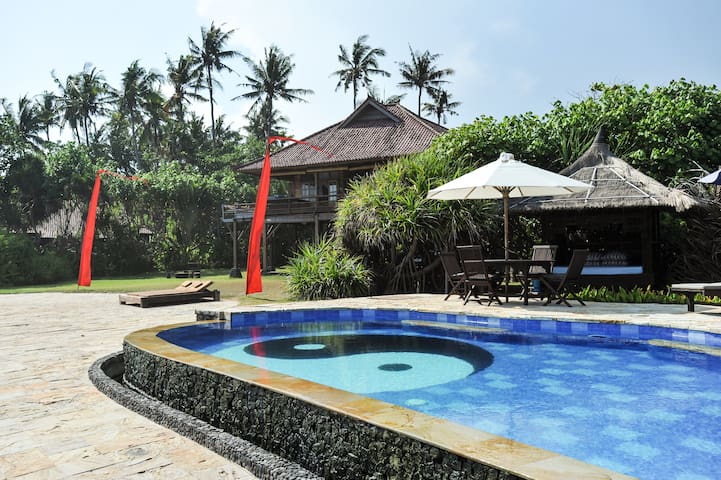 I stay in a 3 bedrooms house in Karangasem, near Jasri beach, so i open one room for rent for anybody who needs a cheap accomodation in Karangasem Bali, around 2 hrs from Denpasar. My house is located 20 minutes from Candidasa Beach, it is a quiet place & cheap
quiet place and very cheap
Тип размещения
Отдельная комната
---
Тип жилья
Дом
---
Вмещает гостей
2
---
Спален
Karangasem, Бали, Индонезия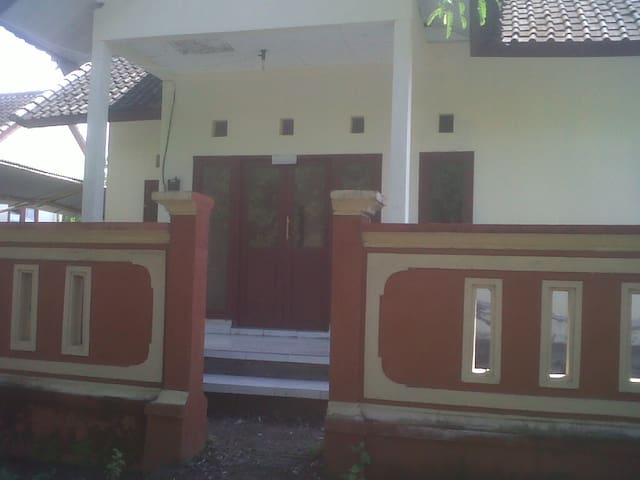 Our fully self contained beach pad is the perfect getaway for those who want a home away from home. Set in a compound, it is a safe and friendly environment. Only steps away to a white sandy beach with restaurants and shops on your doorstep
We're sitting here, talking to our friend who we actually met in Candidasa and she summed things up perfectly, "Candidasa is just MAGIC!" until you come here you can't understand. It's just a great place to be and you feel so at home". It is a really clean, well maintained village with wide tree lined streets and everything that you could want. Our place has a really friendly community feel and is nestled back in among other little homes, coconut palm trees, roosters and chickens and local Balinese families. It is very safe and child friendly. Candidasa is not a very big place, but has a main road running through the middle of town full on either side with many restaurants, lots of live music and many shops. Asri Shop, the main convenience store stocks everything: clothing, import swimwear, wooden carvings, food, drinks, toiletries, shoes, incense, sun block, EVERYTHING! The water out the front of our place is clear and great for snorkeling. Not a huge beach but it is private and we think very beautiful. The tide varies depending on the moon cycle from very high when it comes up to the top of the big sea wall or very low when you walk out so far. Padang Bai, is 15 minutes away where you can snorkel at Blue Lagoon and also where you catch a fast boat to the Gilli Islands which are a must see. Also in the other direction, about 15 minutes is Virgin Beach (another white sand beach) which is also a must visit. There are many warungs so you can eat and drink and the restaurants provide day beds that you can lounge on.There are many scuba dive shops in Candidasa to take your pick from. We even have a pizza delivery service!! We have a fantastic driver and tour guide that can meet all your transport needs. If you want to do some sight seeing, go for day tours, climb Mt Agung, hire a car or motorbike, we can help you with all that. We always recommend that you use our drivers to bring you to our place as they know exactly where it is and can introduce you to Komang who will look after you during your stay. We can organise that for you when you book and help you in any way we can. Downstairs is kitchen, living and bathroom with hot water in both kitchen and bathroom. Kitchen is well stocked and a great space to create in. Komang can help you with booking a massage, information about the area and any other help you may need. She just lives around the corner so is very handy to find when you need her. To clarify, there is only one queen bed upstairs, with a super comfortable, high quality mattress. The other 1 or 2 beds are created by converting the modular lounges.The downstairs lounge converts into either 2 single beds or 1 King size. We don't have air con, but we do have overhead and pedestal fans both up and downstairs. It is a very well ventilated home and we find it most comfortable as there is usually a lovely sea breeze to cool things down. Also we do not have WIFI. If you need internet there are many places to go to access. Or if you would like, Komang can help you to get for your phone. Very cheap and easy to do and it is what we always use. Then you can use when ever you want during your stay in Bali. There is one bathroom downstairs with combined shower, basin and toilet. For an afternoon of Europe style fun go to Potato Head in Semiyak. Also good is Ku De Ta, Merah Putih, Biku (great café that does High Tea). Oh so many places and so little time!!!! I could write for days! So, most importantly, if you chose to visit with us, enjoy your stay and have the most wonderful holiday experience ever in your Bali home away from home.
If you like yoga then the Gedong Gandhi Ashram is just down the road and has daily outdoor classes in a bale right by the ocean. you just pay a 50,000Rp donation. Such a beautiful place. They also have really great acupuncturists available in their clinic. White Sand Beach at Jasri is also a must see and only 15 minutes away. Surfers can head to Jasri and also Candidasa Main beach. Our favourite place to eat in Candidasa is called Warung De Lima, which is opposite the Palms right at the beginning of Candidasa. It is super great. The food is always fresh and FANTASTIC! Tip, always ask for no MSG when ordering food. The Balinese love to put it in their food and as we know it is not good for you! Vincents is a beautiful restaurant. Perfect place to go for a special night out plus they have live Jazz. Just check out dates. The Loaf is the best place to get a GREAT coffee and really yummy food. Highly recommend.
Очень гостеприимно встретили, рядом живёт Кома, по нашей просьбе покупала фрукты молоко, яйца, рядом много кафе кормят вкусно и дёшево, все работает до 22:00. Попросили организовать рыбалку, нам понравилось. До хорошего пляжа нужно ездить. В доме нет кондиционера, вентилятор сильно не спасал, но в таком доме и не поставить кондиционер. Wi-if нет если кто не может без Интернета, например как мы, будет сложно. Жили 5 дней убирались из них 3 разв, полотенце меняли 1 раз в 2 дня, мы просили менять каждый день потому что было жарко и нам не хватало. Меняют только по просьбе. Спасибо большое за отдых!
Lina
2016-01-30T00:00:00Z
Чудесное место для спокойного отдыха. Были с маленьким ребенком очень все понравилось. Удобная кухня, где можно было приготовить все необходимое. Уютный домик для комфортного проживания. Будет возможность с удовольствием остановимся снова. Спасибо Kam and Harper за хорошую организацию нашей встречи.
Валентина
2014-10-25T00:00:00Z
Absolutely darling place! Kam and Harper were patient and present in our phone communications, and their staff were really kind and helpful. The house is comfortable, clean and aesthetically pleasing. We really appreciated the large water dispenser. Candidasa was pleasant to explore. As the beach there is minimal, we enjoyed a short boat ride to the white sand beach, a great place to swim and snorkel. The boat ride was a great way to take in breathtaking coastal scenery. Overall, an outstanding accommodation!
New User
2014-12-22T00:00:00Z
You will feel completely at home at the Beach House. Kam is a fantastic host - he couldn't have made us feel more welcome - he is completely helpful and will give you lots of useful tips of where to go and where to eat - his tip of his favourite Warung was one of the best of our trip. We only wish we could have stayed longer - the highlight of our time in Bali. The Beach House itself is DIVINE - absolutely beautiful with tasteful artistic features throughout and so close to the sea - you can see the ocean from the balcony and hear it lapping the shore throughout the night. The rooms are serviced every day and the bed and bedding so clean, fresh and comfortable - also the best we have experienced in all our trips to Bali. My partner and I absolutely loved our stay and Kam and his family made us feel so welcome - we feel we have found some new friends.
Jo
2016-01-09T00:00:00Z
Wow....that's all we can say! We loved our stay in the bamboo house in Candidasa. Kam and Harper has been so easy and nice to communicate with through Airbnb. The area is more ruff with cliffs and has a really beautiful wiew. We went snorkeling at Blue Lagoon with a local guy we met at the beach. He was very Friendly, cheap and professional in diving. We recommend Ketut at "No problem" agency just around the corner. He can take you to many lovely places around Candidasa; Goa Lavah, hot springs, local Villages with Luwak Coffee, vulcano tour and so on :) Thank's for a lovely time in your house...we will definately come back
Tine Eike
2015-07-16T00:00:00Z
Logement en bambous plaisant à regarder et proche de la mer. Par contre proche par l'autre côté de la route. Endroit bruyant la nuit. Klaxons, chants du coq en overdose. Inconvénient de cette maison qui n'est pas fermée...d'ailleurs phobiques des insectes, rampants etc... s' abstenir tout est ouvert rien n'est étanche. Seul résultat positif a cette architecture c'est que nous entendons la mer. La jeune femme présente sur place est adorable, prête a rendre service, le propriétaire kam nous ne l'avons jamais vu ! , quant au chauffeur de taxi proposé se méfier la fin de notre experience avec lui nous a refroidie, si il pouvait vendre sa chemise il le ferait. Néanmoins il est sociable il répond aux questions et s'arrête où on lui demande. Globalement une bonne expérience du lieu ..
isabelle
2016-08-01T00:00:00Z
The House was Super. Everything was right like it was written. Even the breakfast was really good. The Beach is really so near. It was so quiet and peaceful and the House is Romantik interior and Looks very personal. We gelt like Homepage. Thank you so much, Made was busy, but Koman was a wonderful driver and Shows us a Lot. Eben the Contact with Kam and Harper was easy, thanks a Lot. Chris, Franky and Luis
Christiane
2014-07-11T00:00:00Z
I thoroughly enjoyed my stay at the Bali Bamboo beach house. It was exactly as pictured on Airbnb and as an extra surprise there was a large balcony off the bedroom... great for reading, meditating with the sounds of the waves in the background and napping. I didn't meet Kam and Harper but their staff were very accommodating. Harper noticed I was interested in yoga and told me where I could join the ashram yoga class beside the beach. It was perfect. If you're travelling alone, you can meet other solo travellers at the ashram and plan tours together and make new friends. White Sand beach is just a quick motor bike away. There are lots of restaurants to choose from and there was usually one with live entertainment every night of the week! If you want to hear the Jazz band at Vincent's on Thursday nights, it's best to make a reservation because it is VERY popular! Kathleen
Kathleen
2014-07-28T00:00:00Z
Тип размещения
Дом/квартира целиком
---
Тип жилья
Дом
---
Вмещает гостей
4
---
Спален
Manggis, Бали, Индонезия
Privé-kamer (12,0 m2, Queensize 1,40 x 2,00 dubbel bed, airconditioning en een ventilator aan het plafond, toilet / douche / wastafel in de kamer) in een hoogwaardige, goed onderhouden, goed uitgeruste gemeenschappelijke villa met 3 slaapkamers met zwembad en uitzicht op zee. Gemeenschappelijke ruimtes zoals tuin, zwembad, Balebengong, outdoor bad, grote veranda met zonneterras, een eettafel met banken, een woonkamer, een bank. (Pas na overleg ook keuken en koelkast) Let op: - Een van de 3 kamers bezet is door mij, een andere kamer ook te huur. - kat rond het huis
Villa Balistar ligt weg van de drukke toeristische gebied, in een nog traditionell dorp genaamd Jasri - in het oosten van Bali (ongeveer 1,5 uur rijden van de luchthaven Denpasar). Het huis is gelegen in de buurt van een totaal van 23 huizen, die door de meeste eigenaren worden gebruikt als een privé vakantie huis. Om de zwarte strand (Vulcano kiezels en zand), dat is een ceremoniële strand en waar u kunt genieten en je ziet een groot deel van de lokale leven, het is 100m. Prachtige zonsopgangen, de vissers met hun traditionele Balinese outrigger boten, parel station - slechts een paar dingen te noemen. Langs de zee, een wandeling van 15 minuten u naar een chocoladefabriek en een geweldige plek om te surfen. Slechts 10 minuten. aandrijving zal brengen aan je mooi White Sand Beach. Welkom op deze mooie, natuurlijke, rustige en ontspannen oostelijk deel van Bali evenals in onze gezellige villa, waar u kunt genieten van Bali zoals het is oorspronkelijk; Divine, kalm, sereen, mystieke en mythische, verankerd in een traditie en religie waar we nog kunnen leren en die laat ons steeds weer wat echt belangrijk is in het echte leven. Hier kunt u genieten van de fantastische natuur - de rust van de omringende rijst en water spinazie velden, het uitzicht op zee vanuit de tuin, het geluid van de golven, vogels zingen, kikker concerten, vuurvliegjes, vlinders, gekko's, vele kleurrijke tropische planten in de tuin -Pure ontspanning! In de Balebengong (Balinese paviljoen) kunt u heerlijk ontspannen en genieten van het uitzicht op zee. De kleine, knusse zwembad met geïntegreerde banken biedt grote verfrissing. Geniet van een bad in de openlucht bad en kijk naar de fonkelende heldere sterren op Bali. De grote hoogwaardige Ulin houten zonnedek, die een prachtige oude mangoboom omsluit, is de ideale plek om te zonnebaden of yoga. Luchthaven transfer:? U hebt een transfer van de luchthaven naar ons pension? Neem contact met ons op en wij zullen voor u regelen om te worden opgehaald op de luchthaven en bracht ons in een airconditioned voertuig zonder stress. De kostprijs is 400.000 IDR (ong. 28 €) een manier voor maximaal 5 personen. Dit alles zorgt ervoor dat u zult beleven en te genieten van een heerlijke vakantie! Selamat Datang Dani (villa manager) en Nengah (tuinman en visser) zal zorgen voor het huis en het welzijn van de gasten. Er zijn ook enkele uitstapjes in de omgeving - Besakih, de indrukwekkende water paleizen in Tirtagangga en Ujung, het oorspronkelijke land leven kan worden verkend in het dorp Tenganan, is er een breed scala aan restaurants in Candidasa. Het duiken en snorkelen paradijs ligt in Amed (de rit van Jasri naar Amed langs de kustlijn is prachtig), zal een wandeling naar de vulkaan Gunung Agung om de zonsopgang onvergetelijk blijven. Het witte zandstrand (ongeveer 5 km afstand) nodigt u ook uit om te ontspannen met zijn witte schoon strand en een aantal restaurants. Dani, een lokaal van Jasri dorp (spreekt goed Engels), is verantwoordelijk voor het huishouden en zal helpen op welke organisatorische zaken en zal eventuele vragen te beantwoorden. Ze is ook een perfecte kok en kan worden ingehuurd om Balinese lekkernijen bereiden. Nengah, de tuinman werkt dagelijks voor de tuin en zwembad onderhoud. Hij is een visser ook en u kunt onvergetelijke boottocht met hem te regelen. In Bali, de beste manier om rond te krijgen is door bromfiets, auto of chauffeur. We zijn blij om te helpen bij het regelen. Andere belangrijke info De totale prijs omvat het volgende: - Daily tuinonderhoud en schoonmaken van het zwembad tijdens uw verblijf - Schoonmaak / schoonmaak 2 x per week - Inschrijvingsgeld op het politiebureau (iedere toerist moeten worden geregistreerd volgens Bali voorschriften) - Toeristenbelasting - elektriciteit, gas, water - alledaagse producten (handdoeken, badhanddoeken, beddengoed, wc-papier, handzeep) - Gebruik van het zwembad - eindschoonmaak Voor een bedrag: - Wifi voor een vergoeding (prepaid-kaart en mobiele wifi) (Wifi hotspot kan werken tot 10 apparaten, maar internetverbinding is niet altijd zo snel en snel als voor e-mails, surfen en Internet-telefonie) - Wasmachine voor een vergoeding Na overleg met de eigenaar: Het gebruik van de goed uitgeruste buitenkeuken en koelkast Let op: Het huis is niet uitgerust met TV, DVD of stereo - de beste entertainment-programma is de aard - het uitzicht op de tuin en de zee en als "muziek" van de vogel gekwetter en het geluid van de golven. We hopen dat u geniet van uw verblijf op het eiland van de Goden in ons kleine stukje paradijs. Als de kamer niet beschikbaar is, neem dan eens een kijkje op onze andere kamer. U kunt ook de hele villa met 3 slaapkamers huren voor maximaal 6 personen. Hier zijn de links naar onze gehele aanbod: Villa Balistar hele villa met 3 slaapkamers: https://www.airbnb.de/rooms/13467814 De andere slaapkamer aan Villa Balistar dat is ook te huur: https://www.airbnb.com/rooms/16127395 Villa Jasri Tiga - gehele Villa met 3 slaapkamers en een eigen zwembad, de zee en de vulkaan viewund (ongeveer 500 meter afstand van Villa Balistar): https://www.airbnb.de/rooms/4617876
White Sand Beach / Virgin Beach: 15 min => Snorkelen, zwemmen, zonnen, eten, drinken Water Palace Taman Ujung: Reistijd 10min => Historische, de moeite waard Tirtagangga (water tuin met heilige bron): reistijd 20min => In het verleden, het baden mogelijk, zeer mooie rijstvelden Amed: Reistijd 1 uur => Duiken, snorkelen, zwemmen. Padang Bay en Blue Lagoon: 30 min => Veerboot Lombok, Gilli Island => snorkelen, duiken, restaurants, uitgaansgelegenheden Amlapura: reistijd 10 min => Hardys supermarkt, winkels, restaurants, traditionele markt, Kings Palace. Ubud: Reistijd 1,5u => Kunst, Souvenirs, Dances Sukawati: 1,5 uur rijtijd => Traditionele markt, souvenirs Candidasa: reistijd 20min => Souvenirs, internationale restaurants, Livemusik, Boottochten, duiken Tulamben: Reistijd 1,5 uur => Wrakduiken Gunung Agung: Reistijd ong. 1.5 hrs Besakih tempel de grootste en heiligste, wandelen mogelijk. Batur vulkaan, Lake Batur, Kintamani: Ongeveer 2 uur Zeer de moeite waard, raften op de weg daar, wandelen naar de vulkaan, geomuseum.
Тип размещения
Отдельная комната
---
Тип жилья
Дом
---
Вмещает гостей
2
---
Спален
Karangasem Sub-District, Бали, Индонезия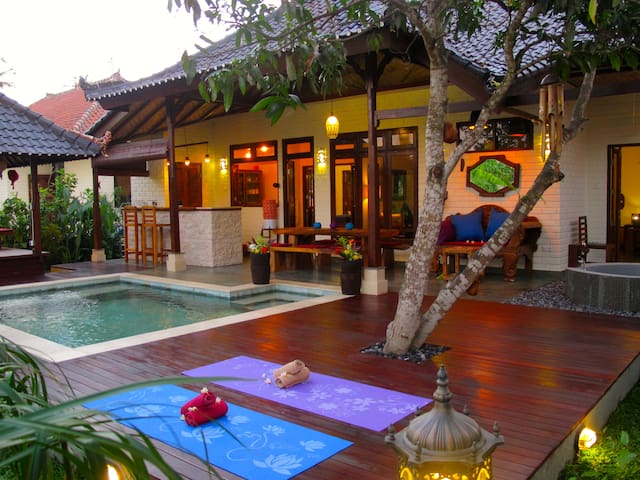 Villa Cocoa Maya ist als 3 oder 4-Zimmer-Villa auf dem Candidasa direkt am Meer, nur 20 m zurück von einem der sehr wenigen Strecken Sandstrand der Stadt. Die Villa ist voll besetzt, darunter ein Koch, und ist in einem schönen großen Garten.
Villa Cocoa Maya befindet sich nur 20 Meter zurück von einem der Stadt sehr wenigen Strecken Sandstrand. Es hat einen herrlichen, weiten Blick auf das Meer über den Ozean und es gibt eine Reihe von international gefeiert Tauchplätze in der Umgebung. Es ist nur wenige Gehminuten zum Zentrum von Candidasa, wo es viele Restaurants und Geschäfte. Die vier Villa große Schlafzimmer-Suiten haben jeweils ein eigenes Bad und eine große Lounge-Bereiche, alle mit Meerblick. Drei der Suiten verfügen zudem über einen Balkon. Die Suiten sind mit Kingsize-Betten, Klimaanlage, Flachbild-TV und DVD-Player ausgestattet. Zwei zusätzliche Matratzen sind für maximal zehn Gäste, die Villa zu genießen. Es ist ein Open-Plan innerhalb Wohn- / Essbereich, sowie einen großen Außen bedeckt Lounge zurück vom Meer entfernt, und eine Terrasse mit Essbereich näher am Meer. Der große, flache Garten ist durch den massiven 18m langen Infinity-Pool ergänzt. Es geht nur um zu entspannen! Wir lieben, wie viele unserer Ferien in Cocoa Maya wie möglich zu verbringen, aber, wenn wir nicht da sind, wir lieben es zu vermieten. Sie können an Cocoa Maya einen sehr entspannten Strandurlaub erwarten. Wir haben Mitarbeiter, die nach Ihnen, von den Zimmermädchen aussehen wird zum Kochen (wir das Frühstück im Zimmerpreis enthalten), und es gibt viele Bereiche, in denen man einfach nur entspannen können - auf den Pool, den Garten, den Außenraum, die balinesische bale - nehmen Sie Ihre Pick! Villa Cocoa Maya nicht zur Selbstversorgung bieten, obwohl die Mitarbeiter sind mehr als glücklich, Ihnen zu zeigen, wie sie die traditionellen balinesischen Gerichte zubereiten, die wir anbieten. Das Meer ist warm und ruhig und verfügt über hervorragende Schnorcheln buchstäblich direkt vor der Villa! Die Villa befindet sich am Ende einer ruhigen Straße direkt am Strand. Es ist eine einfache fünf Minuten zu Fuß zum Hauptort von Candidasa, wo es hervorragende Restaurants und Einkaufsmöglichkeiten. Viele regelmäßige Besucher auf Bali Kommentar, Candidasa wie Süd-Bali ist war vierzig Jahre. Es ist ein ruhiges Fischerdorf, aber mehr als genug in der Stadt, und in unmittelbarer Nähe, auf Sie zu unterhalten. Lage, Lage, Lage! Unsere Villa befindet sich in der Gegend ziemlich einzigartig. Wir sind auf einem großen Doppelständer angeordnet sind, die von für Villen in Candidasa ungehört ist, haben wir einen weißen Sandstrand direkt vor der Haustür (die meisten Villen nur Zugang zum Meer von einem Pier haben und keinen Strand haben), und wir sind eine fünf Gehminuten vom Zentrum von Candidasa. Viele Villen in der Gegend haben entweder einen Strand oder sind nur wenige Gehminuten von Candidasa, aber wir sind einzigartig sowohl in mit!
Candidasa ist ein kleines Fischerdorf im Osten von Bali. Es wird oft als noch zu sein, wie die Bali von vor 40 Jahren beschrieben. Während es ruhig ist, gibt es sehr gute Restaurants in der Umgebung, fantastische Wassersportarten und Sehenswürdigkeiten, und einige Einkaufsmöglichkeiten. Aufgrund der ausgezeichneten Lage des Candidasa als Tor zum Osten Bali gibt es viele faszinierende Gebiete zu besuchen, wenn Sie genug haben am Strand von Faulenzen! Zu sehen sind einige der Sehenswürdigkeiten Candidasa Umgebung, die einen Besuch wert sind: Besakih Tempel - Bali Hindu Mutter-Tempel Besakih Tempel liegt etwa eine Autostunde von der Villa entfernt, durch die wunderschöne Landschaft. Besakih ist der heiligste und wichtigste heilige Stätte in Bali. Der Komplex besteht aus 23 Tempeln tausend Meter Höhe den Hängen des Vulkans Mount Agung, der höchste Berg in Bali. Ceremonies bei Besakih, von denen es viele gibt, sind ein besonders spektakulärer Anblick. Goa Lawah - The Bat-Tempel Weniger als eine 10-minütige Fahrt von der Villa Cocoa Maya liegt das kleine, aber wichtige Tempel von Goa Lawah. Der Tempel befindet sich direkt vor einer Höhle Öffnung in den Küstenfelsen erbaut und ist die Heimat von Tausenden von Fledermäusen. Die Legende besagt, dass es auch die Heimat einer riesigen Drachen-wie Schlange genannt Basuki. Tirtagangga Water Palace (Wasser des Ganges) Tirtagangga ist eine einfache 30-minütige Fahrt von der Villa Cocoa Maya durch schöne Reisfelder, mit einer schönen Aussicht auf Bali den größten Vulkan Mount Agung. Ein echtes Gefühl von alten Bali existiert immer noch in dieser Region und es lohnt sich eine Reise zurück in die Villa über die Schönheit des Sideman Region, bekannt für seine Handweberei nehmen. Tenganan Dorf Die isolierten Bali Aga Menschen, die das ursprüngliche balinesische sind, Datum Tausende von Jahren zurück. Überraschenderweise hat ihre Blutlinie und Kultur blieb weitgehend intakt in dieser Zeit und ist ganz verschieden von dem Rest der Balinesen, mit der Bali Aga noch einen Dialekt spricht, der vollständig ist, ihre eigenen. Aufgrund ihrer einzigartigen Überzeugungen und Praktiken, die sie sind von Interesse für Touristen, Anthropologen und Historikern. Tenganan wird als in Bali ein hervorragendes Beispiel für eine Bali Aga Dorf. Nur wenige Kilometer von der Villa Cocoa Maya entfernt, ist es möglich, hier Beispiele für die berühmten Doppel- und Einzel Ikat Weberei zu sehen; Tempel; die Gemeinschaftsküche für zeremonielle Feste und das Dorf Treffpunkt vor. Ubud Ungefähr eine Stunde Fahrt von Candidasa liegt die kleine Stadt im Landesinneren von Ubud, wunderschön zwischen malerischen Reisfeldern gelegen. Trotz der steigenden Zahl von Touristen, Ubud, als das kulturelle Zentrum von Bali bekannt, behält noch seinen Charme. Es ist bekannt für seine guten Einkaufsmöglichkeiten, ausgezeichnete Restaurants, fantastischen Spas und viele spirituelle Praktiken und abwechslungsreiche Kurse bekannt. Tauchen Die Gegend um Nusa Penida (ca. 30 Minuten mit dem Boot von der Villa) - zusammen mit Komodo und Raj Empat - wird von vielen als die spannendste und vielfältig zu bieten, tauchen überall in der Welt, mit einer Vielfalt von Fischen selten anderswo gesehen . In Kombination mit erstaunlichen Wracks und Korallenriffe nach oben und unten der östlichen Bali Küste, Villa Cocoa Maya bietet unwiderstehliche Tauchmöglichkeiten. Schnorcheln Wenn Sie Ihre Marine Exploration lieber etwas entspannter, und näher an die Spitze des Ozeans zu sein, suchen Sie nicht weiter als direkt am Strand in der Villa Cocoa Maya Schnorcheln! Die Korallenriffe direkt vor der Villa ermöglichen die Anwesenheit von schönen und abwechslungsreichen Fisch in warmen Badewasser. Wenn Sie möchten, können die lokalen Fischer nehmen Sie darüber hinaus auf den kleinen Inseln vor unserer Küste oder an Blue Lagoon in Padang Bai, oder weiter östlich am White Sand Beach Schnorcheln. Es gibt nur begrenzte Schnorchelausrüstung in der Villa, die Sie gerne während Ihres Aufenthaltes nutzen. Es ist auch möglich, Geräte in der Stadt zu mieten. Das Personal wird Ihnen gerne bei Raten und Vorkehrungen für die Fischerboote, oder Sie können sich am Strand zu den Fischern unterhalten. Strände in der Nähe Während Sie einen Strand direkt vor der Villa haben könnten Sie sich wie eine Änderung einmal in eine Weile fühlen. Die beiden besten Strände in der Umgebung zu besuchen, die heraus für einen wirklich schönen Tag machen, sind Blue Lagoon in der Nähe von Padang Bai oder White Sand Beach. Beide sind große Badestrände, sind etwa eine 20-minütige Autofahrt oder Bootsfahrt entfernt, haben Schnorcheln, ausgezeichnete warungs (traditionelle Restaurants), wo Sie gegrillten Fisch oder Meeresfrüchte essen, und preiswerte Sonnenliegen für den Tag zu mieten. Wenn Sie möchten, können Sie kombinieren das Boot mit einem faulen Tag am Strand schnorcheln. Trekking Es ist schön, Reisfeld, Hügel und Bergwanderungen rund um Tirta Gangga. Es ist auch möglich, auf den Mount Agung zu wandern. Der Weg hinauf der Vulkan Mount Agung verlässt im frühen Morgenstunden und dauert etwa 4-5 Stunden zu steigen und zur gleichen Zeit abzusteigen. White Water Rafting Verschiedene Veranstalter bieten Rafting auf dem Telagawaja Fluss in Karangasem. Der Rafting Teil des Flusses ist etwa 12 km lang, dauert zwei Stunden und hat Grade 3 Stromschnellen. Radfahren Radfahren ist ein schöner Weg, um die balinesischen Landschaft und es gibt Reiseveranstalter, um zu sehen, die Radfahren bieten für unterschiedliche Know-how und Fitness-Level, und auch Touren, die Kinder sind.
The host canceled this reservation 67 days before arrival. This is an automated posting.
Evgeniy
2016-05-14T00:00:00Z
Simply an amazing experience. A truly beautiful home with one of the only villas with direct beach access. Can't imagine anything better on Candidasa! Mailie was incredible to work with from start to finish. She responded to each of my inquiries within minutes and went out of her way to make sure we had everything we needed. The staff at the villa was a delight - efficient, fun-loving and responsible - and they took care of our every need while also appreciating our privacy. It really is a stunning villa! We marveled at the furniture and decorating throughout and each immediately selected a room that fit our style. We were traveling with 6 adults so I loved that the rooms were separated enough that we all felt we had a great deal of privacy when we wanted it. I almost forgot to mention the fantastic food! And, the sweet staff took the extra effort to make us a local treat after noticing us admiring it. After staying in Seminyak on our last trip, we chose Candidasa because it provided the Bali experience without all of the people and traffic. We're so glad we made that decision. There's a lot to offer in this area. We were able to snorkel right from the villa and the staff coordinated a boat for us to snorkel a bit further out, which was fantastic. Very close to the monkey temple and a trip to the water palace is a must! Can't say enough about our time at this wonderful paradise. We just regretted not being able to stay longer.
Trina
2016-02-21T00:00:00Z
My friends and I spent an amazing stay in the Villa Cocoa Maya. The house is wonderful, as on pictures. There are very large spaces, bedrooms are so spacious and beds very confortable. The garden is quite big, just in front of the beach with an amazing swimming pool where you can stay all day long! And there is a small beach in front of the house where you can rent a typical boat to go to fish or dive. The area is quiet to spend amazing vacation. But you can also find some good restaurants, bars and beaches around the villa. The staff in the villa was absolutely perfect. Smiling, available, they took care of our every need while also appreciating our privacy. Mailie was absolutely perfect with us and very flexible. We definitely recommend this stunning villa!
Laure
2016-08-24T00:00:00Z
The reservation was canceled 7 days before arrival. This is an automated posting.
Bart
2013-11-11T00:00:00Z
The house of Mailie is very beautiful with a great and amazing location on the beach. The pool in the garden overlooking the sea is beautiful. The rooms are very nice and spacious, each with a bathroom. We went to the beach front of the house but also to white sandy beach is a beautiful beach 15 minutes by motorbikes. We had a very good stay, I recommend the house. However, what is a shame is that we had no access to the kitchen and home services such as laundry service are paid. However, the house is fantastic.
Charlotte
2013-10-31T00:00:00Z
Transportation provided by the villa is overpriced. So is some food. Other than that - best villa in Candidasa...
Anna
2017-01-10T00:00:00Z
My family and I had the most wonderful vacation at Villa Coco Maya. It is not a traditional airbnb since it is full-service, but it was great for a large group because we could just order food/drinks/transportation/boats/laundry/parties in minutes and with no hassle. Komang and her staff are wonderful and made us feel at home. 1. The house is beautifully furnished and has everything you could want. Grounds and pool are impeccable. 2. Services at the villa are reasonably priced and high quality. Water/tea/coffee/breakfast are included. Dining out on the patio is amazing. 3. There is some of the best 'barrier reef'-type snorkeling I have ever seen around right outside the villa. You can hire a boat to take you to Blue Lagoon, too. 4. Town is close-by and quite cute.
Kristina and Doug
2015-09-03T00:00:00Z
Тип размещения
Дом/квартира целиком
---
Тип жилья
Дом
---
Вмещает гостей
10
---
Спален
Candidasa, Бали, Индонезия