Введите дату прибытия в формате дд.мм.гггг
Введите дату отъезда в формате дд.мм.гггг
Объявления, которые вы можете забронировать, не дожидаясь одобрения от хозяина.
Введите даты, чтобы увидеть полную цену без учета дополнительных сборов и налогов.
В июле и августе этого года вы сможете открыть для себя один из сотни самых лучших домов, с самыми разными ценами, и увидеть долину Сонома, какой ее видят местные жители. Круглосуточное прибытие, мгновенное бронирование, местное вино и закуски помогут вам расслабиться и насладиться поездкой.
Rustic Chic! A natural retreat situated on a 35-acre, park-like setting located in Western NY just minutes from famed Chautauqua Lake, ski resorts, and Allegheny National Forest. Soak in panoramic views overlooking valleys of mature forest from an oversized, elevated deck. Our home features floor to cathedral ceiling windows, wood burning fireplace, overstuffed couches, and knotty pine throughout. Complimentary breakfast included. Our property is ideal for couples and solo adventurers.
This home is truly a gem. It has a lodge vibe, but you won't feel you are roughing it. Our first priority is your accommodation. We're isolated on a ridge. Nature abounds. The variety of native and imported trees gives it the feel of an arboretum. While you'll feel away from it all, we are only two miles from NY-86, and close to area attractions. Guests are welcome to shared spaces that include: laundry, kitchen, dining room, great room, living room, deck and grounds. We are happy to help you with anything you need. We will provide cell phone numbers upon arrival. If you like to socialize, so do we. If you prefer privacy, just let us know.
We do have a small dog— a sweet cockapoo named Jake. He loves people. He has hair, not fur so he doesn't shed. Good news for people with allergies.
Karen and Eric were very welcoming the moment we arrived. Stunning large property and the room was veryy beautiful, clean, and well stocked with extra blankets, pillows, fuzzy slippers, and toiletries. Beautiful views to wake up to and walk around the paths on the property. Room offers good privacy in the upper loft room. The hosts were available to answer questions about the area and provide plenty of suggestions for nearby attractions, activities, and restaurants. The hosts also provided an amazing scrumptious breakfast the next morning for us. All in all, an amazing experience in a beautiful lodge home with very welcoming hosts! Would definitely stay again.
Chris
July 2016
Both of our hosts Karen and Eric were the nicest people. At one point during our stay it felt as if they were close friends of ours who had opened up their home to us for a friendly visit. The accommodations were superb and the room and bath were very comfortable and quiet. We felt very welcomed at their lovely home overlooking a beautiful hillside. We would have easily rated this retreat with six stars if that were possible and will definitely make plans to stay with them again. As a note, Seasons Lodge NY, is a delightful place to stay if your plans include visiting Chautauqua for a concert or other cultural event.
Leroy (Bud)
August 2016
We had a great stay with Karen! The location was remote and quiet and the house was beautiful. I felt like we had the opportunity to socialize over a delicious breakfast but also had the privacy that we wanted when we wanted. It was especially nice having the private bathroom with the large bath tub!
Ryan
August 2016
Karen welcomed us as if we were long-lost friends, provided a beautiful and comfortable room in a pristine house in a bucolic setting, and even made blueberry muffins for breakfast with blueberries from her own garden. We didn't want to leave!
Debbie
August 2016
Wonderful stay at Seasons Lodge. Hosts Karen & Eric were receptive and welcoming. The loft room is beautifully appointed, very clean and private with lots of amenities. Their attention to the smallest of details was very nice - welcome package, bath accessories, assortment of magazines, etc. The view through the loft's French doors is spectacular. The grounds and gardens are beautifully maintained and include butterfly gardens, hiking trails and a koi pond. Each morning a wonderful breakfast was prepared and at 5pm, wine was offered on the deck if so inclined. This is a great alternative to the chain hotels in the area. Karen and Eric do have a small dog, Jake, who was friendly and quiet. We would certainly stay at Seasons Lodge again, and would recommend it to friends and family. Karen & Eric truly make this a bed & breakfast experience.
Rosemary
June 2016
Eric met us on arrival and showed us around their beautiful home and made us feel very welcome to enjoy pretty much the entire property. After providing us with lunch suggestions and directions, he invited us to join him and Karen for a glass of wine on their beautiful deck later in the day. Karen prepared us a delicious "big" breakfast before our departure which we enjoyed with our very friendly hosts. The loft room we stayed in was very comfortable with a private bath that included more than the usual amenities of a nice hotel room. These people are meant to be hosts. They made our stay better than we could have imagined.
Marian
September 2016
My boyfriend, labradoodle puppy and I had a great time. We came into town to visit family that have a small house on the lake. Karen was so accommodating and breakfast was amazing each morning. Her house is really close to the lake and not to far from hiking. If you are looking for a cute B&B I would highly suggest a week or weekend with Karen. Everytime we are in the area we will be staying with Karen!
Elizabeth
July 2016
Тип размещения
Отдельная комната
---
Тип жилья
---
Вмещает гостей
2
---
Спален
1
Джеймстаун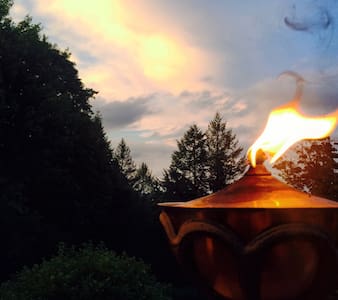 This is a private room in a commercial space (home built in 1900) that has a coffee shop. The coffee shop is open Tuesday-Saturday with mostly morning hours. The house is close to the Lucy Desi Museum, the Northwest Arena, the city center and restaurants. It is also close to local winter attractions such as Peek n' Peak and Holiday Valley. My husband and I live across the street with our daughter Emma. We're here to help you during your stay!
Joe Z Coffee is open Tuesday through Sunday. It's only open in the mornings so the house is empty in the evenings. The bathroom is upstairs and occasionally used by those patronizing the coffee shop but that is very limited and only open to those that are known by the owner. You're free to sit in the coffee shop dining area whether the coffee shop is open or not. Guests are not allowed in the kitchen or by the coffee shop counter. Just let us know if you need anything during your stay! My husband and I (with our 10 month old daughter) live across the street.
This is a residential neighborhood with a parking spot that is usually available to guests. If not, street parking is not an issue. Downtown is a quick 10 minute walk away!
Тип размещения
Отдельная комната
---
Тип жилья
---
Вмещает гостей
2
---
Спален
1
Джеймстаун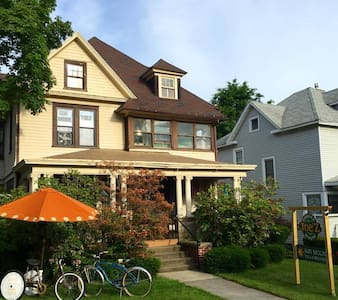 Make my house your home while visiting Jamestown. You'll have private room and shared bathroom. I work night shift so you'll have the whole house to yourselves majority of the time.
Because of hot weather guests now have air conditioning in room. Guests have access to the living room, dining room, kitchen, bathroom, and their room. In kitchen they are free to use appliances and utensils. Please wash dishes after use and pick up kitchen when done. Guests are also welcome to do their laundry however will have to use their own soap and fabric sheets. I really enjoy meeting new people. However I am relatively a quiet person.
The neighborhood is clean and quiet. Across the street are two churches. Wake up to the sound of church bells. Lucy and desi museum Enjoy nature? Alleghany National Forest is about 30 minutes away. Interested in going to Seneca Alleghany casino while you stay? Around 4pm there is a van that takes people every night. costs $4 per person. Grocery store 2 miles away. Gym 2 miles away.
The host welcomed us into his home, showed us around, and provided us with the key. He also had notes written with information about the house, had food out for us to enjoy (in the morning), and had toiletries for us to use. We had freedom to move about the house, watch TV, use the kitchen, etc., which was nice. The bedroom was quite hot, the bathroom was down the stairs, and there is a cat, so those are all things that people would want to consider before booking.
Kelly
July 2015
My husband and I stayed at Joshua's home for 5 days and were very comfortable. We had use of the living room, dining room and kitchen, made breakfast several mornings. In addition, Joshua made us feel at home with muffins, fruit in the refrigerator, along with a variety of cereals. The house is clean, light, and has a walk-in closet, it also included wifi. Easy short drive to the lake and other places of interest. Josh was a good host, we will stay again.
Kathy
August 2015
Because we arrived late and left early, we didn't cross paths with Josh, but he informed us how to get into the house, and left a nice note with WiFi and breakfast info plus his cell phone in case of emergency. The house is on the corner of a quiet road and a relatively "busy" street but we didn't hear any street noise. It's been recently renovated and was very clean. Josh very kindly left us breakfast fixings and snacks/hot cocoa mix that we enjoyed! His house is easy to find, and there's a gas station on his street on the way to the Interstate. It's also pretty close to the Audubon Sanctuary that we visited. And I won't reveal the spoiler but make sure to look around the bedroom after you've turned out the lights! I would recommend staying at Josh's house.
Chris
October 2015
Actually it is my father that stayed with Joshua, not me, but he did say he had a wonderful time. The place was clean and pleasant, and Joshua was very hospitable and helpful.
Sivan
September 2015
The listing was accurate and the pictures were real. Host had breakfast each morning laid out and a clean and comfortable bed. Host listed places to go for entertainment and local grocery stores and provided wifi. Very good and would recommend to anyone.
Sean
September 2015
It was a very comfortable stay. Joshua was (and is) very welcoming and attentive host. The house and the bedroom were very neat and clean. Everything was as described. I felt safe parking my car in the driveway and walking around the neighborhood. When I travel to the region again, I will be staying at your wonderful place again. Thank you so much for your hospitality, Josh!!!
Anton
August 2015
Joshua is a very friendly and considerate host, respectful of privacy and space. The house is very spacious and clean with a walk-in closet in the bedroom. The town is quiet but extremely friendly like Joshua himself. There's also a few good spots to eat at within a 5 min drive. I stayed here for a week and I would totally recommend Joshua's listing! Awesome host!
Gui Long
March 2016
Joshua did a great job organizing everything I needed for my stay at his very beautiful home. Although I did not get to meet Joshua in person, he was very quick, helpful, and friendly in his communication with me. Thank you so much for letting me stay at your place, Joshua! :D
Laura
September 2015
Тип размещения
Отдельная комната
---
Тип жилья
---
Вмещает гостей
2
---
Спален
1
Джеймстаун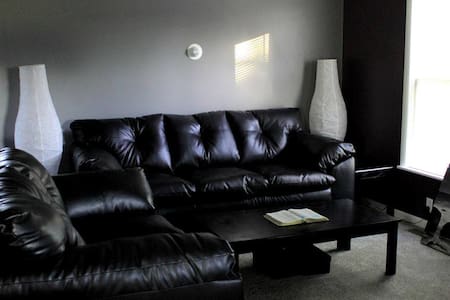 Beautiful historic two-level apartment conveniently located in the heart of downtown Jamestown, thoughtfully designed for an authentic local experience. Directly upstairs from a craft beer and wine lounge and a vegetarian cafe. Enjoy easy access to restaurants, bars, and attractions such as the Lucille Ball Desi Arnaz Museum, Reg Lenna Center For The Arts, Northwest Arena, forthcoming National Comedy Center and more.
The apartment is a second + third floor walkup, designed with an eclectic mix of new and vintage furniture, local art, and modern essentials. The lower level features a small, fully equipped kitchen, dining for 4+, and spacious living room. Plenty of space to sit, eat, work, and relax. The upper level has two bedrooms and newly updated bathroom with washer/dryer. Each bedroom features a queen bed, walk-in closet, dresser, 32" smart TV, and Egyptian cotton sheets. During your stay, you'll have access to the entire apartment, as well as a small shared porch outside of rear entrance. I will be available as needed to give recommendations and otherwise ensure a comfortable stay. If I am not available, a family member or friend will be able to assist when needed.
Downstairs Labyrinth Press Company (coffee, tea, vegetarian food) Brazil Craft Beer & Wine Lounge (beer, wine, vegetarian food) Within 2 blocks Lucy Desi Museum Reg Lenna Center For The Arts restaurants, bars, cafes shopping convenience stores Within 1 mile Northwest Arena more restaurants, bars grocery store Within 10 miles Chautauqua Lake Southern Tier Brewing Company Lucille Ball Memorial Park shopping Within 20 miles Chautauqua Institution Panama Rocks & other day hiking golfing We do not have reliable public transportation. If you are without a car and need access to something outside of walking distance, I will be happy to provide transportation if possible. The apartment is located directly above a bar/lounge. You may hear some music and conversational noise in the lower level until 12 or 1am. The upstairs bedrooms are mostly isolated from this. The majority of people have not had trouble sleeping, but there will be a noise machine and earplugs for sleep aid.
Тип размещения
Дом/квартира целиком
---
Тип жилья
---
Вмещает гостей
4
---
Спален
2
Джеймстаун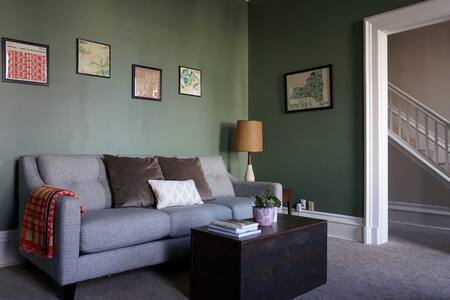 Jamestown NY home of Lucille Ball, Jamestown Jammers near Chautauqua Lake. Located in Chautauqua County and minutes from Chautauqua airport and world famous Chautauqua Institution. This sleepy little town comes alive in the summer with activities.
Rooms for Rent! This home is huge and accommodates 6 or more people so an entire family can spend the summer here. Its a double lot on a corner with room to breathe. Its a home from a time gone by elegant Victoria era. Wood floors,high ceilings. Fully furnished Guests will have access to the entire house and yard. My caretakers live right next door and will answer your every call so you are always covered.
Jamestown is 17 miles from the world famous Chautauqua center for the arts. The lake is just minutes away in Celeron home of Lucille Ball. Great shopping mall in adjacent Lakewood. Sam's club, Walmart,Wegman's and local produce and deli at Brigotta's family run garden center. Private vehicle is recommended. There is no public transport but you can call a cab. Stores and restaurants and mall are all very close. Niagara Falls are approximately 1 1/2 hours away. Jamestown is a very diverse city but its quite notable its the friendliest city you will visit. People are warm and caring and live simple lives. You will enjoy a small city with big hearts and lots of simple joy. Great get away destination.
Тип размещения
Дом/квартира целиком
---
Тип жилья
---
Вмещает гостей
6
---
Спален
4
Джеймстаун