Kristy was accommodating and communicative. Location was off the beaten path enough to be very quiet, yet a short drive anywhere. The apartment was fantastic. Only caveat is that the shower was less than piping hot. Otherwise excellent overall experience.
Dave
2016-12-28T00:00:00Z
The space was very clean and the check-in process was very easy. We rented the room last minute and had no issues being accommodated for.
Nina
2017-01-07T00:00:00Z
Тип размещения
Отдельная комната
---
Тип жилья
Таунхаус
---
Вмещает гостей
2
---
Спален
Бэрлингтон, Колорадо, США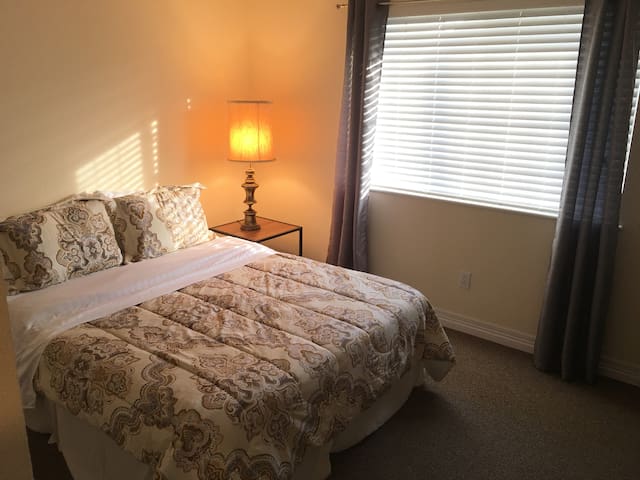 This place is very convenient along 70, it is extremely clean, private, and quiet. It was a fantastic deal for the price! Bear in mind you will have to flag down staff at a nursing home to get keys after hours.
Kirby
2017-02-01T00:00:00Z
Тип размещения
Отдельная комната
---
Тип жилья
Таунхаус
---
Вмещает гостей
2
---
Спален
Бэрлингтон, Колорадо, США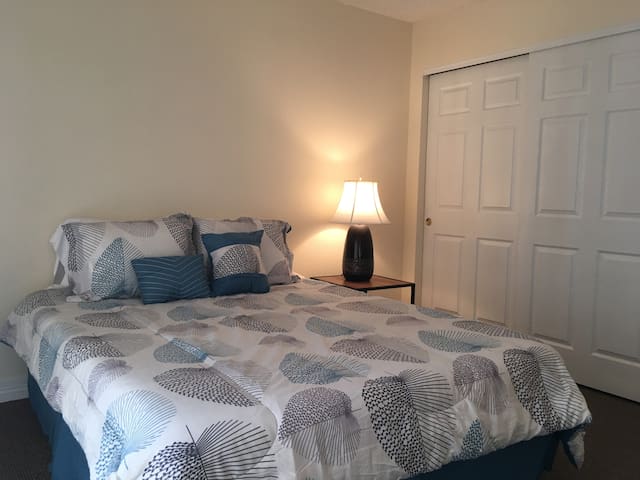 We had a wonderful stay at the Claremont Inn. Our host was amazingly accommodating, breakfast delicious and our overall stay highly recommended. Pleas enjoy!
Andrew
2016-06-21T00:00:00Z
From the first ring of the doorbell, we felt we were treated like their very favorites guests. Beautiful entrance, flowers, exactly like the posted pictures and more. All the rooms were open for a "look/see" and a wonderful room downstairs complete with theater recliners and popcorn for a great relaxing evening. We had dinner reservations with the wine tasting--Absolutely Top Notch. Cookies and refreshments provided in the room, lovely robes, they thought of everything!
PAMELA
2016-09-20T00:00:00Z
The Claremont Inn was our first experience with AirBnB. WOW! If you are traveling anywhere close to Stratton, you need to find a way stay here. Accommodation...phenomenal. Food...phenomenal. Wine...phenomenal. Staff...DOUBLE phenomenal! Harry and Shari were amazing hosts and really made my young family feel at home. The breakfast in the morning was amazing, literally the best scrambled eggs and French toast I've ever eaten. If we are so lucky, we will be staying here again!
Jeramie
2016-03-01T00:00:00Z
Nice staff, liked my room, breakfast and wine were great
Karen
2016-08-12T00:00:00Z
Great experience during out cross country road trip. We wanted to do something special for Valentines and this was the perfect spot. Very elegant and clean. The staff was very friendly and the food was delicious! We recommend this spot if you find yourself in the area.
Dan and Lindsay
2016-02-16T00:00:00Z
The Claremont Inn was the perfect spot for my boyfriend and I to stop off on our cross country drive. After days of hiking and driving, the Inn was welcoming and charming. From the beautiful kitchen (that served as a perfect spot for wine tasting before dinner) to the comfortable bedroom, we really enjoyed our stay. Highly recommend just requesting dinner and breakfast with your stay, as the food is delicious and it really allows you to relax for the evening!
Julianne
2016-05-11T00:00:00Z
Arrived later than expected and the Claremont staff adjusted wonderfully for us. Wine tasting and dinner were excellent.
Jim
2016-11-12T00:00:00Z
One of the most luxurious experiences I've had at an airbnb. Harry kindly accommodated my late arrival. A plate of the best cookies in the world waiting in my room upon arrival (there's no way these came from a box), paired perfectly with a cup of hot Earl Grey. Large room, huge bathroom. In the morning, a Pot of coffee waiting outside my door. The breakfast was devine. Eggs that Chef Gordon Ramsey would be proud of. French toast with some sort of berry yogurt (?) in the middle--really I have no idea what it was but my taste buds were seriously happy. Everyone was very friendly. Highly recommended.
Gil
2015-08-03T00:00:00Z
Тип размещения
Отдельная комната
---
Тип жилья
Гестхаус
---
Вмещает гостей
2
---
Спален
Stratton, Колорадо, США
Located above Sage Hill Winery on several acres of vineyard, we are surrounded by rolling hills and a winding creek just one mile down the valley from Rock Creek State Lake. Our venue is very secluded, including nice decks and surrounding patios to enjoy the views and relax. Our peaceful setting is perfect for birdwatching and enjoying a glass of wine! Beautiful evening sunsets and huge sky views of stars from the deck can be enjoyed year around.
Outstanding location for fishing, hiking, kayaking, or simply living in the moment of being off the grid.
We are located 24 miles from the northeast border of CO and 3 miles from the KS border. Only 3.5 hours away from the great city of Denver, CO. Other area towns from the winery range from 12-25 miles.
Although it was a short stay this was the perfect place to relax, unwind, and unplug from the world. The loft is completely secluded and is surrounded by beautiful scenery and wildlife. Be sure to grab some groceries as there is a full kitchen and places can close early in the surrounding area. Also be sure to take a second and enjoy the night sky it's amazing!
Liliana
2017-02-13T00:00:00Z
Тип размещения
Дом/квартира целиком
---
Тип жилья
Лофт
---
Вмещает гостей
5
---
Спален
Паркс, Небраска, США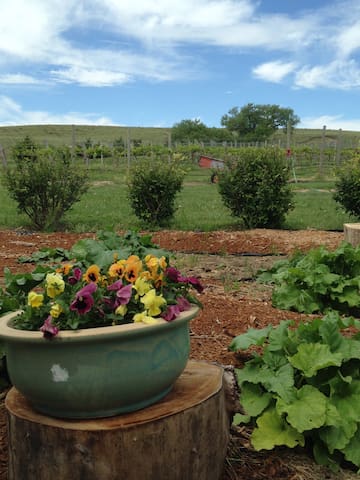 We rented the whole house and it was a great experience! Brand new...perfect spot
Scott
2017-03-23T00:00:00Z
Judy's place was really nice! The interior design was cute and all of the nice touches like the toiletries, Hershey's kisses, and the Keurig made us feel really welcome! Would recommend!
Derek
2017-03-31T00:00:00Z
This place was AMAZING! We will be back a lot! I have known Judy for years and this place just SCREAMS Judy! The decor was gorgeous...and she even had it decorated for the holidays! We were the first Airbnb patrons and its brand (URL HIDDEN) you can imagine! Had the family over and cooked a full dinner in the kitchen and played games at the table! Two thumbs up!
Samantha
2016-12-11T00:00:00Z
Beautiful place. My son and I felt a little spoiled in a two-bedroom two bath duplex. The garage was a wonderful surprise in this freezing weather. Decorations were tasteful. Everything was brand new and worked. Judy was thoughtful and left us kisses which we gobbled up. Hope they weren't meant for the next person as well. Real convenient to the highway. Walmart on the way if you want to grab something.
Bruce
2016-12-17T00:00:00Z
Lovely cozy and comfortable home. Extremely clean and all essentials provided. Owner was always available and check in and check out process was smooth and easy. Nice quiet neighborhood. Had a great stay!
Kedmia
2017-01-08T00:00:00Z
This is a very welcoming & wonderful place to stay. What a treat being able to stay in a 'home', be in a quiet neighborhood, and have 'space' to move about. We were delighted with our accommodations. The home is clean, lovely and upscale. Thank you Judy (and Keith) for an enjoyable visit to Goodland.
Patricia
2017-04-10T00:00:00Z
Тип размещения
Отдельная комната
---
Тип жилья
Таунхаус
---
Вмещает гостей
2
---
Спален
Goodland, Канзас, США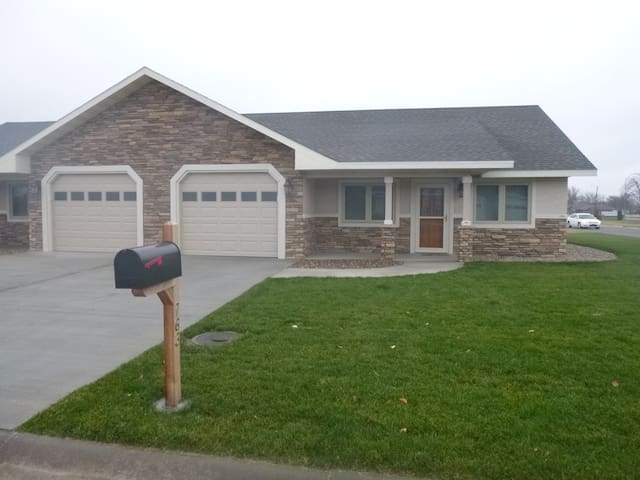 Mein Platz ist gut für Paare, Solo-Abenteurer, Geschäftsreisende und Familien (mit Kindern). Sie können auch das zweite Schlafzimmer für 75 $ mieten, die Ihnen die komplette Haus gibt.
Dieses Haus ist geschmackvoll eingerichtet und verfügt über einen Gas-Kamin, der eine sehr gemütliche Atmosphäre bietet. Genießen Sie die voll ausgestattete Küche, Ess- und Wohnbereich und eine Waschküche mit Waschmaschine und Trockner. Neben Fernsehern mit Kabel sind in jedem Schlafzimmer und einer im Wohnbereich befindet. Wifi ist auch vorhanden. Die Gäste haben Zugang, den beigefügten Garage ein Auto zu benutzen.
Goodland KS ist eine kleine Landwirtschaft Gemeinschaft. Sie werden Fast-Food-Restaurants, Tankstellen finden und ein Walmart, wie Sie die Interstate auf der Autobahn 27. Während der normalen Geschäftszeiten Main St.-Shopping, aber mehrere Restaurants in der Umgebung hat eine begrenzte abgehen, die Hausmannskost servieren. Mexikanische und asiatische Küche sind auch in der Nähe zur Verfügung.
As always, great place to stay!
Samantha
2017-01-29T00:00:00Z
Judy's home is SO nice. We had the whole place to ourselves - it was amazingly clean & her attention to detail in regards to providing a good experience were top notch. Thanks so much!
Christa
2017-03-27T00:00:00Z
This is a brand new house! It was so relaxing to stay here. We even decided to just cook dinner in and not go out because the space was just so awesome! If you are passing through western Kansas and need a place to stay this should be your choice!
Scott
2017-03-23T00:00:00Z
Тип размещения
Отдельная комната
---
Тип жилья
Таунхаус
---
Вмещает гостей
2
---
Спален
Goodland, Канзас, США