Введите дату прибытия в формате дд.мм.гггг
Введите дату отъезда в формате дд.мм.гггг
Объявления, которые вы можете забронировать, не дожидаясь одобрения от хозяина.
Введите даты, чтобы увидеть полную цену без учета дополнительных сборов и налогов.
В июле и августе этого года вы сможете открыть для себя один из сотни самых лучших домов, с самыми разными ценами, и увидеть долину Сонома, какой ее видят местные жители. Круглосуточное прибытие, мгновенное бронирование, местное вино и закуски помогут вам расслабиться и насладиться поездкой.
My place is close to Limon Colorado. You'll love my place because of the comfy bed. My place is good for couples, solo adventurers, business travelers, and families (with kids). Queen size pillowtop mattress, 32" hd tv DVD player, and Ac.October - February only service available will be electric and due to climate changes. This is a 33ft rv that sits at the corner of an rv park in a small town 10 miles from the nearest gas station or grocery store. This is a great place to lay your head to rest
Great Place to rest your head get a good night sleep and an early start to your day.
Now a semi-ghost town, Genoa is best known for its "Wonder Tower," a 1920s tourist trap that got the attention of Ripley's Believe It Or Not. Genoa is located next to Interstate 70, ten miles east of Limon at exit 371. It's 2010 population was 104. From a mile away the Wonder Tower appears to be bustling. "See Six States!" yell the hand-painted signs. "Confirmed by Ripley!" You can see cars in the parking lot, and people at the top of the Tower, trying to identify the advertised six states. Once you arrive, you realize that the parked cars are 50 years old and stuffed with sun-bleached bottles, their tires buried six inches deep in windblown prairie dust. The people in the Tower are crude fakes -- lumps of red sheets wearing sunglasses. The Wonder Tower, built in 1926 at the highest point between New York City and Denver, was a welcome stop on US 24. Charles W. Gregory, Colorado's P.T. Barnum, would stand on the Tower and spot license plates of approaching cars. When tourists were within earshot, he would boom state-appropriate greetings through a megaphone. "How're things in the Buckeye State?" His billboard motto was Eat, drink, gas, and pop at the Tower. Fan of the 2-headed calf. Then the interstate bypassed US 24. Charles W. Gregory died. The Tower, however, survived, thanks in large part to its owners since 1967, Jerry and Ester Chubbuck. They charge only one dollar for admission. Small signs at the entrance caution the squeamish, "Animal Monstrosities," and "Two-headed calf." The Chubbucks have stuffed the tower with a mass of spoons, farm implements, and arrowheads, much of it nailed and screwed to the ceiling. The Branding Room, Petrified Room, Indian Room (with its rock walls "painted by an Indian princess") are jammed with bric-a-brac. Jerry and his Tower. In the Animal Monstrosities Room, the jar containing the eight-footed pig is dusty dry, while the one-eyed pig jar leaks something we'd rather not investigate too closely. We notice that the Talking Indian Mummy -- Jerry had wired it with a loudspeaker on an earlier visit -- is missing. It has been repatriated. "The Indians don't want you displaying their dead," says Jerry. Jerry, who's surprisingly spry for his age, has a quiz he pops on lucky guests called the "Guess What." He singles out ten unusual items, and if you guess their identity or purpose you get your dollar back. No one leaves until he finishes. The items include rooster eyeglasses, camel nose bells, and a walrus penis. Just about the only thing Jerry doesn't have is a postcard of his own attraction. This is a notable flaw in the Wonder Tower's marketing plan, as are its lack of signs near the interstate (Government billboard prohibitions don't help). But Jerry is upbeat, and his collections of mysterious tools, murky things-in-jars, and tens of thousands of arrowheads and bottles usually keep tourists inside the Tower for far longer than they had planned. Freaaky dummies play cards. No visit to the Wonder Tower is complete without a climb to the top. Flies buzz through unscreened windows as you ascend its ladderlike stairs, six stories of them, past the fake people and even more perplexing exhibits, to the observation deck. It's not a climb for the faint-hearted or flabby. But those who survive are rewarded with an impressive view of eastern Colorado.
For the price, it was a good place to lie our heads for the night. Bed was comfy and tv was a nice bonus. Recommend if you are driving through .
Bryce
October 2016
Bob was the best! He greeted us as we pulled up and we immediately noticed a funny smell coming from my car, so Bob checked the fluids and helped me to find a store in a reasonable area through our route to the NW. He was friendly and accommodating, so I can't complain about a thing. A friendly neighborhood cat even kept us company while we unloaded sundries from our car. His trailer is super basic, yet reasonably clean and comfy. My friend slept on the couch and seemed to be comfortable. My bed (the one advertised) was great! Quite soft, clean and comfy. There was no running water but hey, we just really needed a place to lay our heads down for our long trip and he has just that. No frills, no problem. I'd definitely use him again, since it was so convenient for our basic needs. Thanks again, Bob!
Lana & Jamie
October 2016
Bob was flexibel in terms of arrival time, expected me with a clean trailer, including a comfortable room, toilet, kitchen, wifi. Unfortunately there was no water for taking a shower! Bob was kind and prepared a dvd to watch.
Alin-Florin
October 2016
had to cancel but responsive to me fast
Jan
October 2016
Great host. Friendly. Quien place. The ad is exactly what you get. If you look for something to sleep in the middle of your travel, is a good option.
Jorge
October 2016
Тип размещения
Дом/квартира целиком
---
Тип жилья
---
Вмещает гостей
6
---
Спален
1
Генуя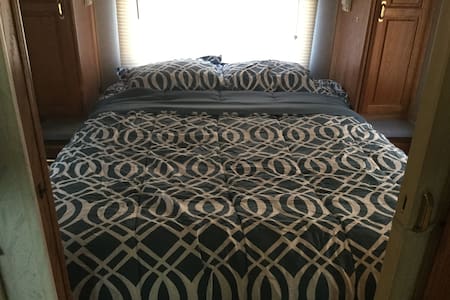 Quiet private rooms, simple clean accommodations. Limon is a small town in the middle of nowhere. We have gas stations, truck stops, fast food-a place to stop on your way to somewhere exciting. If you choose me, plz give me 5 stars for location.
Guest room with queen bed. No unmarried couples, please. I will give you breakfast.... cereal, coffee, tea, milk, fruit and bagels. Limon is a town of 1,800 on the eastern plains of Colorado. No mountains here. We have wind farms, wheat farms and cattle ranches. kitchen, washer and dryer, wireless internet We welcome you to our home. The guest room and family room are on a separate level (basement) from our living area and bedrooms so you will have lots of privacy downstairs.
We have one stop light, no traffic, no lines. I love it! My listing is in a small rural town, not a city. If you choose me, please give me a 5 star rating for location. No public transportation. Plenty of street parking. If you are brand new on Airbnb, please provide a reference. The website will block out phone number, email address and websites. So I need your bosses name, your workplace, a friend's name that I can find online...something like that. Remember, this is a home, not a hotel.
Thanks, Ellie for making me feel welcome at a time of doubt for me. the room is comfortable and the bed especially. This being my first time in an AIRbnb home I wasn't sure what to expect, but Ellie and Warren were great. I recommend this home. Sally
Sally
December 2015
Ellie welcomed me upon arrival and made me feel right at home. She is a super nice lady and I enjoyed chatting with her over dinner and tea later in the evening. The room was clean and comfortable, and it was a bonus having a private bathroom. The neighborhood was safe and I will certainly recommend this to anyone. Great stay!
Colleen
March 2015
The host, actually Ellie's husband Warren since she was out of town, was excellent. He was friendly and helpful. The room was clean, comfortable and very quiet. I slept so well there! The breakfast was all set out for me to make and was hearty and satisfying. I would definitely recommend the Colorado Outback in Eastern Colorado for a stay.
Deborah
July 2014
I didn't stay long, just passed through. But Ellie and her husband were very nice and welcoming to myself and my dogs.
Erica
October 2015
Ellie is absolutely wonderful. I would recommend a stay at her house any time.
Ashley
November 2016
Ellie is a fantastic host. Her rooms were exactly as described, and she was accommodating to a special situation that required flexibility. I would definitely stay with Ellie again.
Bryce
July 2016
Ellie was a fantastic host, even after I arrived late in the evening after a long day of travel. Incredibly friendly, we had a great chat over coffee and local fruit before I headed on my way!
Rob
September 2016
A True Oasis,especially compared to other motels/campgrounds available in Limon. Private entrance and Private Bath in this comfortable downstairs area, real pluses. Hosts were most welcoming. Good Coffee/Conversation and home made muffins were a good way to get going the next morning.
Annie
June 2016
Тип размещения
Отдельная комната
---
Тип жилья
---
Вмещает гостей
2
---
Спален
1
Лимон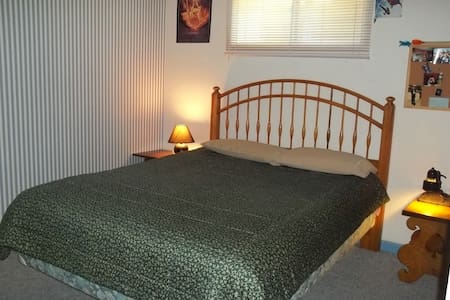 You'll love my place because of the quiet location, the ambiance, comfortable bed!. My place is good for couples, solo adventurers, business travelers, families (with kids), and furry friends (pets).
We enjoyed our stay at Tom's place. A great break after a long car ride. The apartment had everything we needed. Comfy and cozy. Tom was a gracious host and especially enjoyed his recommendation for taco salad at 1-70 diner. Cute place! Fun to see a town that otherwise we would have driven by. Thanks for letting us stay there.
Lorie
September 2016
Great place to stay in Eastern CO (& right off of I-70)! The Suite is beautifully furnished and quite comfortable. Didn't get a chance to chat with Tom much, but he was friendly & welcoming.
Andrew
August 2016
Tom met and greeted us as we entered his rental. It was very spacious and had lots of natural light; with light colors and shiny wood flooring that reflected the light. It was airy. The apartment was clean and neat. Felt at home. It is the size of a large one bedroom apartment. There was a washer/dryer and a full size refrigerator/freezer. The bed was very comfortable. The bathroom is very large. The tv had all of the major channels. The coffee that came with room was great. Great and quiet neighborhood. At the I-70 restaurant had a large menu and serves breakfast all day. Carol had a taco salad and myself had hot cakes and crispy bacon--they actually knew what crispy meant! would stay at Tom's again and would recommend it to others. Thanks Tom!
Robert
October 2016
flagler was such a cute small town. perfect for tired travelers passing through like us. the apartment was spotless and private. Tom was very sweet and welcomed us and our dogs with open arms. the space was vintage and unique which we really appreciated-one of a kind.
Brittany
August 2016
Tom welcomed my husband and with a warm greeting. He made us feel at home immediately. We share his love of travel and enjoyed hearing about some of his adventurous travels. The apartment was furnished so nicely. We were able to settle in and relax after a long day in our car. He provided tasty snacks and good coffee. Thank you, Tom, for providing us a nice stay at your place. Pat
Pat
September 2016
This was our first experience with Airbnb and it was wonderful. Tom was a gracious and considerate host who provided an immaculately clean, comfortable, and welcoming apartment. The private bathroom was huge and it even had a fridge stocked with snacks and water. We loved the quirky and adorable knick knacks that lined the walls and surfaces. We would absolutely recommend him to a friend and would stay there again. It had great off street parking right outside the private entrance. We also ate at the diner and it was very good.
Jackie
September 2016
I regularly travel to eastern Colorado and stay at a couple of hotels so I thought I'd true Airbnb. This was my first experience and Tom did everything right. He called me by name when I drove up, everything else was just as described in the listing right down to the well manicured lawn. Parking was right at the door, no steps. The decor was quaint with lots of memorabilia, comfortable couch, and bed. The bathroom was modern, spacious, with no plumbing issues. Tom was very hospitable, but not overbearing. Don't forget to stop at the I 70 dinner, great food and service.
Dwayne
September 2016
Tom was available when needed and extremely kind. His listing was very accurate to the space provided. It was just what our family needed after spending a few nights in a tiny cramped hotel room. The neighborhood was very quiet with the feel of a small town. The town has everything you need including a nice park and an old style diner. He was also kind enough to notify us of leaving behind some jackets and even offered to mail them to us.
David
October 2016
Тип размещения
Отдельная комната
---
Тип жилья
---
Вмещает гостей
4
---
Спален
1
Flagler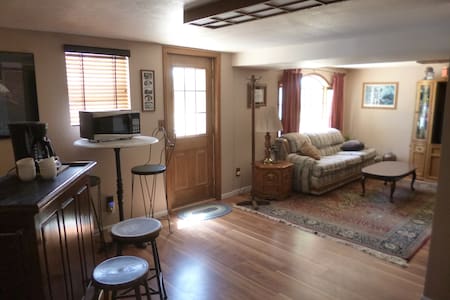 Enjoy a stay in the best little town in the Eastern Plains of Colorado in the modernized 1911 historical Heritage Suites of downtown Flagler.
Offering a guest-super mini suite that is a part of our historical building in downtown Flagler, Colorado located on Interstate 70 in the heart of the Eastern Plains of Colorado. COVETED AREA!!! You can't beat the neighborhood. It's convenient to EVERYTHING! Super desirable small town with historic theater, hometown bank, Ace hardware, Radio Shack, flower and gift shop, small town weekly newspaper, full line super market, museums, and local churches are one to two blocks away. -This is a family friendly place with other family friendly long term apartments in the same building. - 110 miles from Denver International Airport and 80 miles from Colorado Springs. - Mini-sized kitchenette with refrigerator, sink and Microwaves - Child's playground area and and parks nearbyt - Public in-door seasonal pool at the local school - Public 9 hole golf course in the rolling plains of Mossland - Street walking and hiking areas - WIFI -Fully furnished with desk and chair, king bed sheets and covers, towels, window coverings, comfortable chair, fans, night stand, lamps. Community room with comfortable lounge chairs, wide screen tv, and beverage area. Also a fitness room is available. We don't mind interacting but definitely can give you privacy.
Experience country small town America Drive to Flagler, but then walk access to all points. Family gather in the Bowen Magnolia Community room upon reservation.
We were greeted at the door by George and taken to our room. The personal touch was a visit to days gone by. Our room was as described including coffee and muffins in the room for the morning. We had a comfortable night after a long day's drive. The town was fabulous if you love small town America as we do. It was quiet and quaint and the perfect stay over on a multi-day trip. Thank you, George for the hospitality. We will see you again, Lord willing! Jim & JoAnn
JoAnn & Jim
October 2015
I returned to George and Barb's BnB on my way back east with my daughter. It is comfortable and conveniently located right off I-70. Muffins, fruit & coffee in the refrigerator for breakfast was a wonderful touch. Also juice, water and popcorn! Very hospitable and friendly. Thank you!
Barbara
July 2016
Barb and George were soooo gracious about accepting our request to stay with them at short notice AND coping with our near midnight arrival. This was a road trip stop for my son and I so we were up and out early the next morning. Our only regret was that we didn't have more time to get acquainted with the Garners.
Menno
July 2015
George and Barb were great hosts. warm and friendly, it was a real pleasure to stay at the Heritage suites. George was so helpful with directions and the room was comfortable, as was the bed.would certainly stay again if in the area
Graham
May 2015
My very first airbnb stay was at George's place in Flagler, Colorado and I could not have been more pleased. Not only a lovely room, but a quiet block in a very quaint, small-town. Complete with its own 50s Diner. I hope to return to stay again.
David
July 2015
I'm writing this review on behalf of my parents who do not have an Airbnb account. They stayed at George's home and said it was very clean, George was welcoming and they appreciated the hot chocolate and popcorn that were left out. George was excellent at communicating with me to arrange their stay and gave very specific directions. Thanks, George!
KARA
February 2016
George & Barb were at the door waiting for us, after many delays, including rerouting around a mudslide. We were warmly welcomed, and our room was cozy after a long day of climbing up & down mountains & heavy rain. Bed was very comfy & private. We ate at a 1950's type of diner with a pink cadillac on the sign. Food was great and we were refreshed to get back on the road. Wish we could have stayed to get to know them better.
Angela
June 2015
Very comfortable place in a quaint small town with a great diner! George and Barb were gracious hosts and I appreciated the coffee maker, fridge, microwave and other amenities, as I had to make an early start. A really nice place to stay on the way west!
Bobbi
June 2015
Тип размещения
Дом/квартира целиком
---
Тип жилья
---
Вмещает гостей
2
---
Спален
0
Flagler