Введите дату прибытия в формате дд.мм.гггг
Введите дату отъезда в формате дд.мм.гггг
Объявления, которые вы можете забронировать, не дожидаясь одобрения от хозяина.
6 объявления
· Terre Haute
6 объявления
· Terre Haute
Введите даты, чтобы увидеть полную цену без учета дополнительных сборов и налогов.
В июле и августе этого года вы сможете открыть для себя один из сотни самых лучших домов, с самыми разными ценами, и увидеть долину Сонома, какой ее видят местные жители. Круглосуточное прибытие, мгновенное бронирование, местное вино и закуски помогут вам расслабиться и насладиться поездкой.
A quiet ranch style home on a friendly golf course. We can provide a complimentary breakfast and Chef Lacey can prepare an excellent home cooked meal for a modest charge. In the summer you're welcome to fresh fruits and veggies from our garden.
This is a small home in a private neighborhood adjacent to a golf course, you can walk right onto the course from our back yard! If you're hungry, be sure to ask the chef what's for dinner (or make a request and she will try to accommodate). Please give us at least 24 hours notice to prepare for dinner. Guests will have access to a bedroom with queen bed, refrigerator and television as well as a private bath. The kitchen will be available for use as well as a washer and dryer. There will be someone at the home at all times while guests are staying with us for help or to answer any questions. This is our primary residence, but the guest room is on the opposite side of the house from the master bedroom, so if you would like extra privacy, just ask and we'll keep to ourselves.
We have a quiet neighborhood located between a gold course and farmland, we're more than a mile from the highway, so you won't be bothered by loud noises. We have free parking on site. If you don't have a car, Uber is a good way to get around. We'd be happy to assist with directions or recommendations if you want to go out. We have two dogs and a cat, but they are always kept out of the guest room and can be locked up upon request.
Adam and Lacey were perfect hosts. I regret that I didn't get to experience a great meal prepared by trained chef Lacey, ( my fault), I hadn't taken the time to review all of our correspondence. I was traveling through and had done more miles than I should have that day. However they made me very welcome, the room was very nice and the private bath was right beside my room. I throughly enjoyed the nice hot shower. I wish I had had more time to get to know this lovely family better.
John
March 2016
Lacy welcome us with her little girl. She showed us the house and returned to the kitchen to prepare our dinner as we agree to eat at their home. The bedroom was very comfortable and we had the bathroom for ourself. We had dinner with Adam & Lacy. The trout was very good. If need be, we would be happy to return.
Claudette
March 2016
Adam 家非常干净,小区在一个高尔夫球场边上。我们离开的比较早,Adam很早起来给我们准备早餐,煮咖啡。
SI SI
August 2016
Adam and Lacey are lovely hosts, and the guest room and bath were immaculate. They were quiet and unobtrusive, yet perfectly willing to answer any questions I had. Lacey made me a wonderful steel-cut oatmeal breakfast the next morning before I left, with fresh strawberries, brown sugar, and a delightful (Turkish?) coffee. I would stay with them again in a heartbeat!
Kathleen
September 2016
This was my first Airbnb experience and it was perfect. Adam and Lacey were excellent hosts! Not only are they wonderfully good people, their home was clean and welcoming. I especially appreciated their exceptional communication before and during my stay. And to top it off, the lady of the house made a great breakfast with a delicious French pressed cafe!
Myra
October 2016
Adam greeted us warmly and showed us our room, bathroom, and detailed other things we might need (such as wi-fi, water dispenser on the fridge, dining area). He communicated clearly about our schedules and our goals for the stay. It was a comfortable room, and a nice clean and tidy house overall. They cooked a tasty and satisfying hot breakfast in the morning for us, complete with juice and tea (we don't drink coffee), and cereal to make sure we had plenty. Their family was very relaxed and easy to hang around with. The house is in a moderate neighborhood, no safety / security concerns. It would be a great place for a golfer to stay, right on a course. They have two dogs and a cat, well behaved, but there was a little pet hair to watch out for if you're allergic. Their young daughter enjoyed playing with our baby and was pleasant to have around. We felt like we were just staying over at a friend's house, but we just didn't happen to know these friends.
Brian
July 2016
If anyone is planning on visiting the Terra Haute area, they would be foolish not to stay at this phenomenal host site. The pictures on the Internet do not do the immaculately clean bedroom, bathroom and the rest of the home justice! This was only my second experience using Air BnB and I could have not been more pleased. The hosts were available, friendly, and very kind. There was a standing offer of breakfast of which I could not partake in but the gesture was appreciated. The parking was no problem. Beautiful view of the golf course. Thank you for a relaxing stay:-)
Patricia
December 2016
It was my second time staying with Adan and Lacey and it was a great experience once again. The house is lovely, the room is very comfortable and they are helpful hosts.
Laura
September 2016
Тип размещения
Отдельная комната
---
Тип жилья
---
Вмещает гостей
2
---
Спален
1
Terre Haute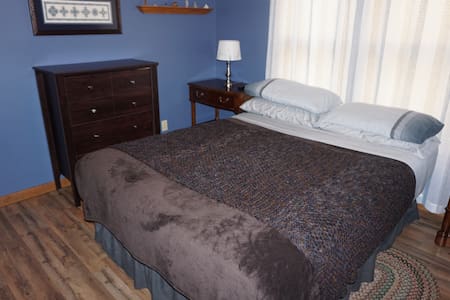 This house best preserves the original character, inside and out, of any home in the city. With almost 8,000 sq ft of living space it is a synthesis of Queen Anne and Romanesque elements. Of particular interest are the rustic chimney; the deep arches of the veranda; the leaded and stained glass windows; the massive proportions; and the harmony of materials, textures, and color tones.
The original owner of this home was the Treasurer of the Terre Haute Brewing Company, which was once the 7th largest brewery in America. The brewery has currently reopened and is just blocks away. Kitchen, Movie room, library, laundry, and living room. I am available for any help that you need.
Indiana State University, downtown and the Wabash River are all just a few blocks away. Street parking is available for free. Bus stops are nearby and can take you all over the city. There are two dogs and a cat on the property.
The place is big and amazing. You might not want to use the shower if you are picky as it needs cleaning.
Lucien
December 2016
Welcoming and positive experience with great communication with my stay.
Aaron
January 2017
Matthew's place was so cool, it's very rustic and absolutely gigantic. My friend and I were only there for the night but we enjoyed our stay. Matthew was very quick to communicate and parking was easy in front of the house on the street. The bathroom was a tiny bit dirty but definitely not disgusting. Neither of us eat breakfast but Matthew had some food for us if we wanted.
Gabriella
December 2016
Тип размещения
Отдельная комната
---
Тип жилья
---
Вмещает гостей
2
---
Спален
1
Terre Haute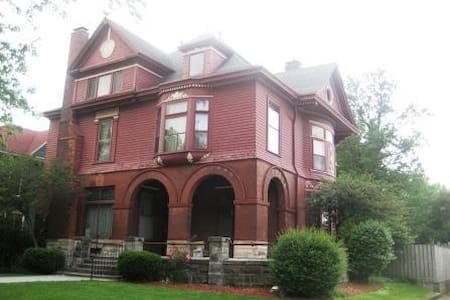 This simple, but cozy spot offers just the right amenities to create a wonderful and comfortable stay. Built by my great grandfather many years ago, it is a happy home that we enjoy sharing with travelers that can appreciate it's charm!
The house is located in a quiet neighborhood, close to everything. It also has a great playground across the street for the little ones to play.
Awesome place and in a great location, perfect for my visits. Jody is very helpful and accommodating plus always available for any questions. I will definitely stay again if it is available.
Doug
September 2016
Jody was responsive to questions I had, and the bungalow was comfortable and accurately described! A great place to stay in Terre Haute.
Cathleen
December 2016
Jody's place is great. Very clean and spacious for a family of five. Jody is a great host and immediately answered any questions we had. Awesome place to stay.
Darren
December 2016
no comment
Valarie
December 2016
This is a great little bungalow at a fantastic price. Jody is good at communicating and always does everything to make the stay comfortable!
Ashley
August 2016
Awesome house, fantastic host. We had a great time and Jody was very accommodating!
Ashley
June 2016
My husband and I stayed at Jody's bungalow for the weekend of Indiana State University Homecoming. Jody was very prompt responding to my messages. We acquired a key from a friendly neighbor. The house was clean and looked just like the pictures. The wifi worked well. The location of the house is central in Terre Haute, close to the football stadium and our favorite restaurants.
Julie
October 2016
Staying at Jody's house was very pleasant. This is the first time I have ever used Airbnb. Jody was extremely helpful, walked me through what I had to do, and was available to communicate by text whenever I contacted her. The bungalow was very clean and roomy and we will definitely contact Jody again if we are in the area and in need of a place to stay.
Gale
August 2016
Тип размещения
Дом/квартира целиком
---
Тип жилья
---
Вмещает гостей
4
---
Спален
2
Terre Haute
You will enjoy this cabin nestled behind our home. It's centrally located in town yet you feel as though you've escaped the hustle & bustle. The Cedar smells, the crackling wood, is sure to make you warm & cozy.
The one room cabin features a full size bed and a very comfortable futon. There is a wood burner inside as well as a large heater. We will gladly start a fire before arrival, if requested. The bathroom is located about 20 steps from the cabin. It has a private entrance and includes a claw foot tub and shower. There is a mini fridge & keurig for your use. You can expect bottle water, teas, coffee, and hot chocolate. There will also be a few surprises! Guests have full access to cabin and bathroom. Outside is a picnic table and fire pit. Guest do not have access to the main home or outside deck area. I will always be available to meet guests and give information. I will give guests their privacy but am happy to recommend any dining options or things to do.
The neighborhood is centrally located. Has a walking path out front. Within minutes to shopping, restaurants and entertainment. We are 1.5 miles to interstate 70. There is parking for 2 vehicles. You will need transportation to get around or can use uber. We look forward to meeting you! We have lived in terre haute all our lives and are happy to be sharing the cabin with you.
Great location. Tammy, the host, was very friendly. We'll stay again in the future.
Robert
December 2016
Hands down, Tammy and Bob were the most hospitable people I have ever stayed with. The cabin had everything!! Meticulously decorated for Christmas, complete with hot chocolate, tea, and candy canes, a wood stove, and all the blankets you can imagine, I felt like I stayed in a winter wonderland resort of sorts. If you want to feel like you're staying in a cabin getaway in the woods (in the middle of a city), this is the place for you. It's also great for those wanting to see if they can live in a tiny house/smaller home. We had clear communication throughout my stay, and I was so grateful for their directions and instructions. The bed is great for folks who prefer softer sleeping surfaces, and the futon is great for those who want a more firm surface (I slept on the futon). Also, the water pressure in the claw-foot tub/shower is excellent. If I'm ever back in Terre Haute, I will absolutely stay here again! Tammy and Bob are fantastic!!
Sarah
December 2016
Тип размещения
Дом/квартира целиком
---
Тип жилья
---
Вмещает гостей
4
---
Спален
1
Terre Haute
We are not far from Interstate 70 and in a historic neighborhood in Terre Haute. Three blocks walk to massive Deming city park and not far to downtown. If you play piano there are SIX of them here! Three cats, too. Private upstairs bedroom, bathroom, A/C, books, full kitchen. Five minutes to Rose-Hulman Institute of Technology.
Historic 1920s neighborhood of Edgewood Grove! Nice upstairs bedroom with 1950s bedroom set. Bathroom next to bedroom with shower and toilet and sink. Full size bed and roll away cot available. Full access to bathrooms, shower, kitchen, piano, and player piano. Also, library, TV, DVDs, Music room. Three housecats cats live here, too. Other musical instruments, too. I am here in evenings and mornings. No problem making breakfast or meals. I'm glad to talk about the world, player pianos, books, travel, cats, food, music, Rose-Hulman, history, and Africa.
Residential historic neighborhood from the 1920s. Close to parks, downtown, and universities. Quiet street! You will need a car or must call a taxi. There are three cats that roam the house but do not go outside. If you don't like cats please don't stay here. House is kept clean at all times. You're welcome to play the pianos or the player pianos, too.
Mike was a most accommodating host. My daughter and I were doing college visits, and we arrived quite early the morning of our stay, which he assured us was no problem. He teaches at the college we were interested in, and he actually took us on a tour of the town before our tour at the college. This was very helpful to my daughter and me. He also gave us great input on where to eat. The room was clean and comfortable, and Mike is a very interesting person to converse with. His player pianos are amazing! I recommend this host.
Kathleen
March 2014
My daughter and I had a lovely stay at the Orange Bungalow Home. We were in Terre Haute to visit Rose Hulman. Mike is a professor there and kindly answered our numerous questions about the college. He even checked on us in the Admissions office after his class to see if we needed any further help.. so thoughtful. We loved learning about the player pianos that he has. He is very easy to talk to and very knowledgeable in many areas. I enjoyed my morning run in his nice neighborhood too. We had a wonderful visit.
Susan
May 2014
Mike is a very friendly person. He introduced home facilities to use. We stayed here for 5 nights, every day we do Chinese foods, also asked my son's classmates came to dinner. We all love Mike's cat. Mike was a man of music, there are several piano at home, he also play the piano for us. It was a pleasant trip.
sha
April 2015
My mother and I stayed with Mike while accompanying my brother to start school at Rose Hulman. He was an amazing host who gave us good tips about where to go and even took us on a non-traditional tour of the campus. If given the chance we would love to come back to spend more time with his cats and have good conversation over delicious tea.
Emily
August 2014
We are so glad we stayed at Mike's while visiting Terre Haute. The accommodations were just what we needed, and Mike went out of his way to make sure our stay was comfortable. We greatly enjoyed socializing with Mike and his three cats. A special highlight of our stay was Mike's demonstration of his spectacularly restored player-pianos. We will be back to hear more! Highly recommended!
Nathan
May 2014
Mike was a great host, contacted me to coordinate logistics and made recommendations for restaurants. My flight arrived on time at IND, so I picked up my son at Rose-Hulman and we stopped by the house to drop off my luggage before dinner. Mike gave us a very interesting introduction to player pianos and the cats stopped by before we left for dinner. We had breakfast together in the morning and Mike share some thoughts on Rose-Hulman and the world, so it was very interesting. This was my first experience with Airbnb and it was a great experience.
Dwight
October 2016
The host canceled this reservation 74 days before arrival. This is an automated posting.
Ruairi
Тип размещения
Отдельная комната
---
Тип жилья
---
Вмещает гостей
2
---
Спален
1
Terre Haute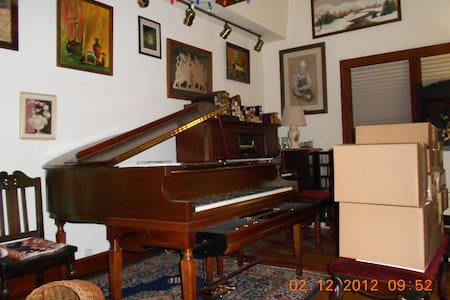 My place is close to restaurants and dining, family-friendly activities, nightlife, I-70 to Indy 500. You'll love my place because of Easy access to I-70 taking you to Indy 500. the ambiance, the neighborhood, the outdoors space, the comfy bed, the light. Country living. All Rms big screen tvs. Fenced yard for pets.My place is good for couples, solo adventurers, families (with kids), big groups, and furry friends (pets).
Тип размещения
Дом/квартира целиком
---
Тип жилья
---
Вмещает гостей
5
---
Спален
3
West Terre Haute