Comfortable apartment completely furnished, including bathroom, kitchen, washing machine, English satellite tv and Wi-Fi internet. The apartment is situated in the old city centre of Goedereede. A supermarket, several restaurants and a bar are just around the corner. The little city is surrounded by beautiful nature and beaches only 3 km from the apartment. Exploring the environment by bike is highly recommended!
The apartment is situated in an old barn at the back of our house. A part of the barn we use for storage, but most of the space is apartment. The garden is in between the house and the barn.
Wir haben sehr angenehme und entspannte Ferientage in Goedereede verbracht. Die Unterkunft ist ein charmantes, großzügiges Holzhaus und entspricht den Bildern. Die Gastgeber waren sehr freundlich, absolut hilfsbereit und immer um unser Wohl bemüht. Vielen Dank auch nochmal für die Tipps für Unternehmungen in der Umgebung! Was wir außerdem sehr praktisch fanden: Supermarkt und Bankautomat befinden sich gleich um die Ecke. Das Brummmen des Kühlhauses gegenüber haben wir auch gehört, wir haben es aber nicht als störend empfunden. Das Dorf selbst ist wirklich sehr schön und die Strände rundum ein Traum! Wir würden jederzeit wieder hinfahren.
Kirsten
2016-09-02T00:00:00Z
Communication with Robert went real smooth even before arriving which made us feel at ease. Traveling to Holland to spend xmas with our children was very important to us. The village is picturesque with very friendly people. A village that exists since 1312! The barn is actually a bungalow and what you see in the pictures is what you get and even more. We found it quite spacious and it has everything you need. Robert and his father left us our privacy but as soon as we had a question or request answered inmediately for example we bought fresh oysters but forgot the opener. Well before arriving at home Robert already left it on the terrace table for me. There are quite some beaches at not even 5-10 min away with great beach lounges and restaurants even open in the winter. The cafe´s and restaurants in the village as well and the ones in the area that Robert recommended were super. What we enjoyed is that you are outside the touristic area but still at 5-10 minutes away of it all. The only thing I can say is that you definitely need a car so as to be sure if the weather is not on your side you can do all the discoveries by car. Rotterdam is just 40 minutes away that is also cool, but you do not need to go if you do not want to as there is enough to see. All in all I would go there again and would definitely recommend to friends and family to go.
Nanelia
2017-01-04T00:00:00Z
Wir haben eine schöne, entspannte Ferienwoche bei Robert verbracht. Das Häuschen entsprach der Beschreibung. Es war sehr geräumig und gemütlich. Alles Nötige war vorhanden. Die zentrale Lage inmitten des malerischen alten Dorfes, die Nähe zum Meer ( 3-4 km ) mit dem unendlich breiten Strand und die herrlichen Radwege boten genügend Möglichkeiten zur Freizeitgestaltung. Ganz besonders möchten wir uns bei unsern sehr freundlichen und hilfsbereiten Gastgebern bedanken.
Beate.
2016-06-26T00:00:00Z
Wir haben uns sofort sehr wohl gefühlt. Schon bei der Buchung hatten wir sehr schnell eine nette Reaktion von Robert bekommen. Bei der Ankunft wurden wir sehr nett und persönlich in Empfang genommen. Die Ausstattung der Wohnung ließ keine Wünsche offen. Und sie ist wirklich sehr gemütlich. Robert hat uns gerne bei allen Anliegen geholfen. Das Örtchen Groedereede ist das schönste auf dieser Halbinsel und es macht Spaß, mittendrin zu wohnen. Auch die Natur rundherum und die vielen Zugvögel haben uns begeistert. Vielen Dank für alles, Robert und Jost!
Elke
2016-10-23T00:00:00Z
Zuerst einmal möchte ich über die postiven Dinge schreiben: Der Gastgeber hat uns herzlich begrüsst, war sehr nett und wirklich bemüht uns jeden Wunsch zu erfüllen. Bei unserer Ankunft fanden wir Wifi vor das nicht immer so funktionierte wie gewünscht, und eine Flasche Wein stand auch parat. Jetzt zum weniger postiven, denn schließlich soll jeder wissen was er für sein Geld bekommt... Zuerst einmal sieht die kleine Terrasse auf den Bildern total einladend aus, aber tatsächlich gleich es eher einem wild zugewachsenem Hinterhof. Ich habe auch in keiner Bewertung gelesen, das der Geräuschpegel hier doch zu manchen Uhrzeiten sehr hoch ist. Nebenan ist eine Kneipe. Morgens hört man die Flaschen klirren und abends dann die Gäste und die Mitarbeiter. Genau gegenüber ist ein Lebensmittelladen dessen Kühlhaus 24 Stunden lautstark brummt, sodass man fast nicht schlafen kann. Früh Morgens wird man von Vögeln geweckt, die auf dem Dach krächzen und kratzen. Also ruhig ist es hier vielleicht tagsüber, aber nachts leider kaum. In der Küche haben einfache Utensilien gefehlt, wie z.B. Kochlöffel oder eine etwas größere Salatschüssel. Unser Fazit: Für den ersten Urlaub in Holland ganz okay, würde ich aber nicht nochmal buchen.
Pia
2016-08-17T00:00:00Z
We had a super nice week die n Goedereede. The destination is perfect for touring around Zeeland. We meet Joost Byte arival, that was super, Robertas well. They both are perfect host. We would like to come back.
Fabian
2016-10-11T00:00:00Z
Der Standort der Unterkunft ist hinsichtlich dem was der Ort anbietet super. Auch die Einrichtung ist mit allen nur Erdenklichem ausgestattet - und wenn was fehlt, Robert und sein Vater sind nur eine Minute weg! Ein Handicap ist leider die Nähe zum ortseigenem Supermarkt und dessen Kühlmanagement. Denn keine 10 Meter (Luftlinie) vom Schlafbereich steht dessen Kühleinrichtung mit einem Rundumbetrieb. Das Ding läuft 24 Stunden pro Tag. Dies ist tagsüber überhaupt kein Problem - doch Nachts half nur noch Ohropax! Wir haben dies aber auf uns genommen, weil sonst halt alles stimmte: Ausstattung des Hauses, der Garten mit seinem Freisitz, die Gastronomie des Ortes, weitlaufige Strände nach 15 Minuten Radfahren, ein umfangreiches Radwegenetz etc..
Ullrich
2016-09-12T00:00:00Z
The absolute best hosts we have ever had. They went out of their way to make sure that everything was perfect. Even gave us a basket full of snacks as we arrived late. The house was very comfortable. Great location just to relax and take it easy.
Louis
2016-06-06T00:00:00Z
Тип размещения
Дом/квартира целиком
---
Тип жилья
Бунгало
---
Вмещает гостей
5
---
Спален
Goedereede, Zuid-Holland, Нидерланды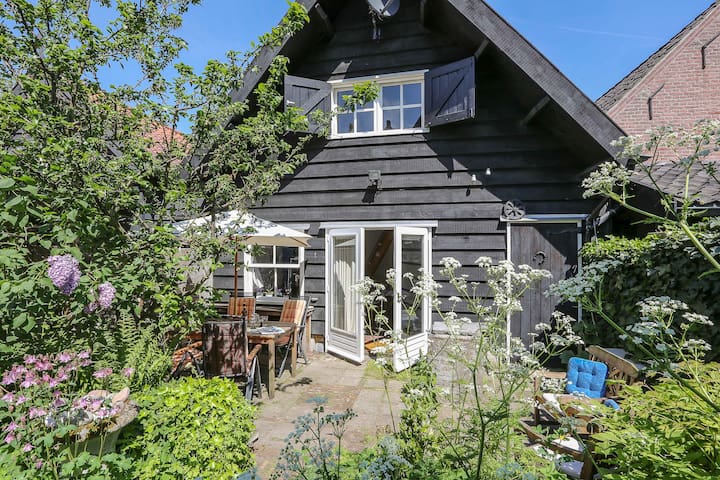 De locatie grenst aan het natuurgebied "de kwade Hoek" (URL HIDDEN) Het huisje ligt volledig vrij en er kunnen geen auto's komen. De dichtstbijzijnde bebouwing ligt op ruime afstand.
Het huisje heeft uitzicht op een vijver en een grasveldje.
De natuur, de rust, de locatie.
De gastgever heeft ons vriendelijk ontvangen. De woning en de directe omgeving zijn zeer op vakantie en ontspanning ingericht. De tuin en woning hebben veel privacy. De vijver in de tuin is mooi en groot, maar heeft als nadeel dat er veel insecten met name muggen zijn. Desondanks kan met anti muggenmiddelen men goed buiten zitten.
René
2016-08-24T00:00:00Z
Het was ontzettend fijn om hier te zijn! Ik hoop nog eens terug te komen! Het enige nadeel was voor mij de hygiëne. Maar alle andere dingen waren super dus neem ik dat voor lief.
Marieke
2017-03-08T00:00:00Z
Zalig huisje aan de rand van natuurgebied. Perfect om te wandelen, fietsen en tot rust te komen. Superstille omgeving. Perfecte get-away.
Barbara
2016-04-05T00:00:00Z
Fijne ervaring. Het was een prima verzorgd en compleet huisje op een schitterende plek. Rustig, afgelegen en pal naast de duinen, met de zee op loopafstand. Daarbij een vriendelijke en gastvrije opvang. Een aanrader!
Dennis
2016-06-06T00:00:00Z
Wir haben uns in dem kleinen Bungalow sehr wohl gefühlt. Die Lage ist toll so direkt am Naturschutzgebiet und Meer. Jede Menge Natur! Das kleine Örtchen Goedereede ist sehr schön und einen Ausflug wert auch wenn man mal lecker essen gehen möchte. Victor und sein Vater sind sehr hilfsbereite und freundliche Menschen. Die ganze Abwicklung vorher und Kommunikation auch vor Ort war unkompliziert und hat prima geklappt. Wir können dieses kleine Häuschen auf jeden Fall weiterempfehlen und kommen vielleicht selber auch noch mal wieder. Vielen Dank!
katja
2015-10-16T00:00:00Z
Un havre de paix: no more, no less :) Hôte disponible et discret. Cottage parfaitement équipé (description conforme à la réalité) pour le séjour dans une région à voir et revoir , en vélo tout particulièrement.
Catherine
2016-06-20T00:00:00Z
Heel mooie en zeer rustige plek om te vertoeven. We werden vriendelijk ontvangen en rondgeleid. Het keukentje is goed uitgerust om je eigen maaltijden klaar te maken. Super. De bungalow staat aan de rand van een natuurgebied. Je kan heel er wandelen of fietsen ( die hadden we mee). Heel mooie plek met voldoende privacy. Absolute aanrader voor wie van rust houdt.
Koen
2015-11-04T00:00:00Z
Mooi gelegen huisje, strand op loopafstand en alleen de vogels zijn te horen. Alles was schoon bij aankomst.
Anne
2016-08-17T00:00:00Z
Тип размещения
Дом/квартира целиком
---
Тип жилья
Бунгало
---
Вмещает гостей
4
---
Спален
Goedereede, Zuid-Holland, Нидерланды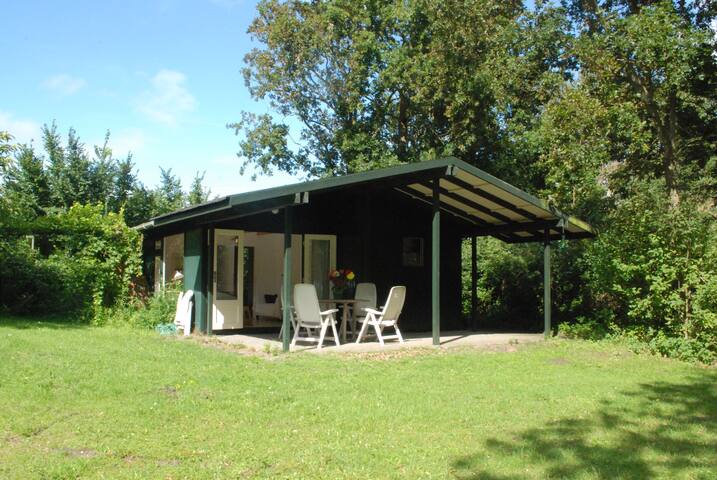 My chalet is located near great views, restaurants and eateries, beaches and family-friendly activities. You'll love my place because of the view, the location, the atmosphere and outer space. My room is suitable for couples, families (with children) and furry friends (pets).
Secluded garden. Fully fenced. Sandy beach a short distance. Spacious chalet with all the luxury and comfort.
The village has an old Dutch bakery within walking distance of the park.
Тип размещения
Дом/квартира целиком
---
Тип жилья
Шале
---
Вмещает гостей
4
---
Спален
Goedereede, Zuid-Holland, Нидерланды
My room was close to wide beaches and natural Evil Angle, two restaurants, bakery and supermarket in the nostalgic village Goedereede, with many more in the area. You'll love our place because of the quiet campsite, but with the hustle and bustle of Ouddorp close. Subtropical pool in Stellendam or Port Zélande. Older bikes available. Walking and cycling here is excellent as possible.
Тип размещения
Дом/квартира целиком
---
Тип жилья
Шале
---
Вмещает гостей
4
---
Спален
Goedereede, Zuid-Holland, Нидерланды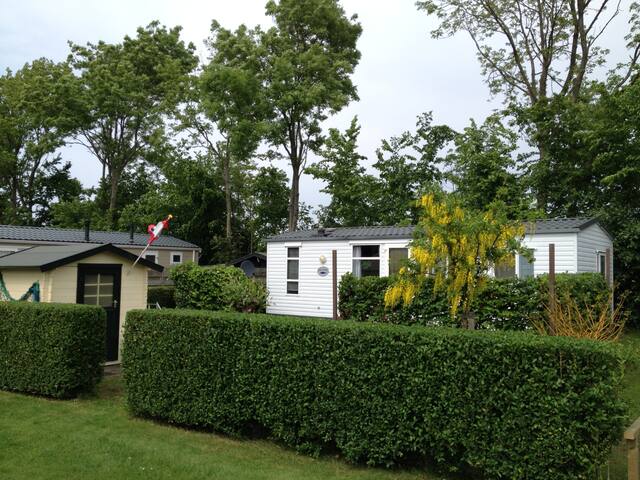 My room is nearby great views, restaurants and eateries, beaches and family-friendly activities. You'll love my place because of the view, the location, the atmosphere and outer space. My room is suitable for couples, families (with children) and furry friends (pets).
Тип размещения
Дом/квартира целиком
---
Тип жилья
Шале
---
Вмещает гостей
5
---
Спален
Goedereede, Zuid-Holland, Нидерланды
The chalet is in a quiet holiday park. The garden and terrace offers privacy through the fence. The chalet is luxuriously furnished and equipped with every comfort. Supermarket within walking distance. The village Goedereede is a traditional Dutch village. Restaurants etc.
The chalet is also a cot and highchair available. Parking next to the chalet on site. There are two bicycles. Ample garden furniture and barbecue. Good beds. Central heating and double glazing. The rent all year. Maximum of 2 pets allowed.
The village Goedereede is a lovely traditional Dutch village. With a market, traditional bakery, restaurants and an old inner harbor. Originally an old fishing village.
We had a relaxing time in Goedereede. The house was wonderful and fully equipped. We missed nothing. We brought our own bikes and explored the nordzeestrand area by bike. It is a wonderful location. Also the comnunication was excellent and easy handling picking up the keys. Thanks Alice for sharing your house.
Kathrin
2016-07-10T00:00:00Z
A very nice Chalet at a very nice place. Beach and Town are perfect. AND Alice was perfect. We were very chaotical in planning this weekend. Alice made everything possible, although last minute requests. THANKS!! We will come back.
kerstin
2015-06-28T00:00:00Z
excellent experience in Alice's chalet. Theres a BBQ set which is very useful. It would be even better if theres more toilette paper and pads for the dish washing machine there, maybe also some more advices for the wifi, door locking etc.:p
Yini
2016-09-18T00:00:00Z
A very,very nice place! Especially with kids... the enclosed garden is perfect and they loved to play at the playground near by. Everthing was there - nothing we missed.
Kathleen
2016-07-24T00:00:00Z
Тип размещения
Дом/квартира целиком
---
Тип жилья
Шале
---
Вмещает гостей
4
---
Спален
Goedereede, Zuid-Holland, Нидерланды
This family suite is tastefully decorated for 4 people with a separate bedroom with bunk beds for children. There is a kitchen with microwave, refrigerator and stove. The bathroom has a shower and sink. Breakfast is included.
Suitable for 2 adults and 2 children who can sleep in a separate bedroom.
250 meters from the beach!
We stayed in the "Kinderhotel" and I can really recommend it for families with children. Great facilities (indoor pool and playground, outside playground with a pirate theme, good restaurant, bountiful breakfast), very nice modern design of the rooms (the kids' bunk bed looked like a little house) and the beach is a walking distance away. We had a great time!
Lucie
2015-05-18T00:00:00Z
Sehr schön eingerichtet, tolle Anlage und nette Mitarbeiter/innen. Leider war die Information von Airbnb über die Anzahl der Gäste nicht angekommen.
Bernd
2015-10-19T00:00:00Z
We stayed here for a night en route to the north and it was a really fun place to stop. There is lots for the children to do, the breakfast is amazing, the rooms are clean and the staff are very friendly and helpful. Dinner in the restaurant seemed a bit overpriced and not brilliant, but otherwise all good.
Sam
2015-08-04T00:00:00Z
Тип размещения
Отдельная комната
---
Тип жилья
Гестхаус
---
Вмещает гостей
4
---
Спален
Renesse, Зеландия, Нидерланды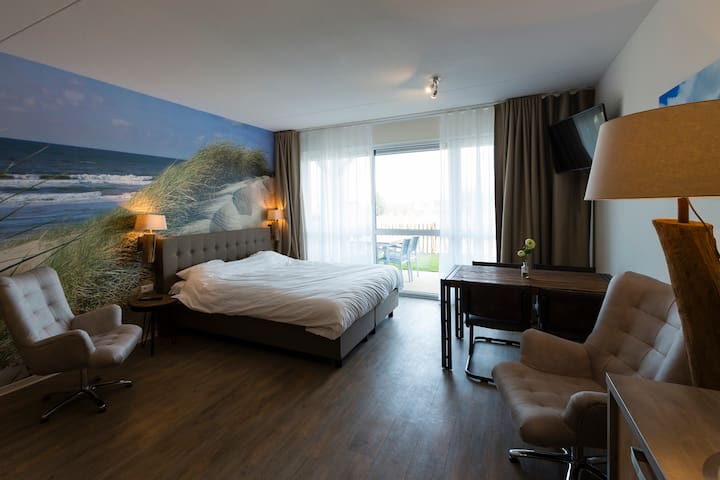 hal Woonkamer l vorm. een voor en een achtertuin.. badkamer 4 slaapkamers.. spel/sport-toestellen aanwezig. (bring your own sheets thank you )
It is perfect house, clean, quiet, near shop. From this position we visited Rotterdam, Amsterdam and other cities. Thanks Hans!
Oleg
2017-03-20T00:00:00Z
Hôte très sympathique, maison adorable (on s'y sent bien) et très fonctionnelle, proche de la plage. Il faut bien se mettre au clair au niveau du ménage et des draps de lit (qui le fait, qui les met). Sinon, un excellent rapport qualité-prix. Nous reviendrons...
Masha
2017-03-03T00:00:00Z
Merci Hans pour l'accueil dans votre jolie maison, belle demeure et bien placée proche de la plage. Nous sommes honorés d'être les premiers invités de Hans, hôte très sympathique et nouveau sur Airbnb. Très bonne expérience. Merci encore.
Olivier
2017-02-06T00:00:00Z
Tank you Hans
Lubomír
2017-02-14T00:00:00Z
Fijn plekje, fijn verbleven!
Bea
2017-02-23T00:00:00Z
Prima net en modern huis. Van alle gemakken voorzien. Zelfs netflix kunnen kijken op de tv (via eigen account). Rustige buurt en dicht bij zee. Vriendelijke en attente verhuurder. 1 nachtje geweest en vooral naar zee geweest.
Monique
2017-03-27T00:00:00Z
Very cute, modern and large house, but not very close to the see.
Gérald
2017-02-16T00:00:00Z
Ligt lekker dicht bij het strand. Rustig buurt met vriendelijke buren aan bijde kanten Ik was er zelf voor een week curses in de buurt ook daarvoor is het lekker.
Casper
2017-03-17T00:00:00Z
Тип размещения
Дом/квартира целиком
---
Тип жилья
Дом
---
Вмещает гостей
5
---
Спален
Rockanje, Zuid-Holland, Нидерланды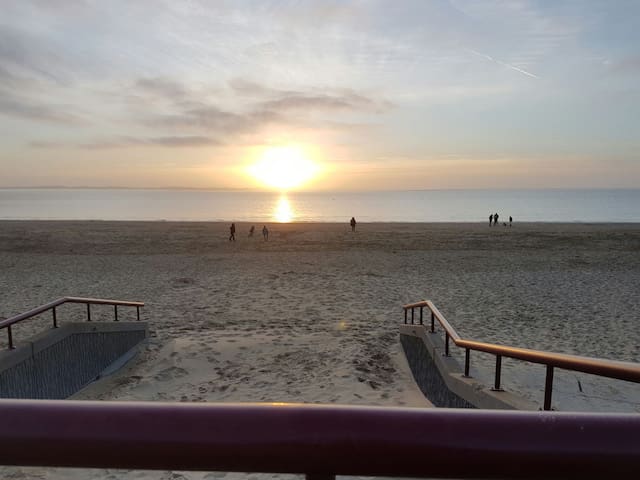 'Huisje Schouwen' is a comfortable home, stylish decorated and suitable for families with (small) children.
Huisje Schouwen is geschikt voor maximaal 7 volwassenen en 1 kind (tot 4 jaar). INDELING HUISJE SCHOUWEN Open keuken: Voorzien van afwasmachine, koelkast met vriesvak, 4-pits gasfornuis, combi oven/magnetron, Senseo koffiezetapparaat, waterkoker en broodrooster. Volledig ingericht om uitgebreid (en minder uitgebreid:) te koken. Woonkamer en serre: Zithoek, eethoek, TV, DVD, draadloze netwerk speaker (voor radio en muziek via uw telefoon, tablet, computer), houtkachel en trap naar 1e verdieping. De vele raampartijen maken de ruimte heerlijk licht en zonnig. Ruime badkamer: Voorzien van ligbad en aparte douche. Toilet, wastafel en bidet. Slaapkamer 1: Gesitueerd op begane grond. Voorzien van stapelbed. Deze kamer heeft een extra toilet en wastafel. Slaapkamer 2: Gelegen op de 1e verdieping, met 2-persoonsbed, kledingkast en uitzicht op de tuin. Slaapkamer 3: Gelegen op de 1e verdieping, met een 1-persoonsbed en een bed wat uitgetrokken kan worden tot 2-persoonsbed. Balkon en uitzicht over de speelweide aan de voorzijde. Tuin: Mooi aangelegd en gunstig gelegen op het zuid-westen. Tuintafel en stoelen zijn aanwezig. De tuin is volledig omheind, dus ideaal voor kinderen en privacy. Aan de achterzijde van de tuin is een deur naar het achterliggende speelveld.
VAKANTIEPARK HET BAKEN Ons huisje ligt op vakantiepark "Het Baken". Het Baken is een kleinschalig, groen en ruim opgezet park. Alle 66 huisjes zijn privé eigendom. Het is direct gelegen aan de Grevelingendijk. Op de dijk heeft u een waanzinnig uitzicht over het Grevelingenmeer en wandelt u langs het water in 10 minuten naar het Noordzeestrand. RECREATIEGEBIED DE BROUWERSDAM Tevens ligt het Baken aan de voet van recreatiegebied de Brouwersdam. hier vind u brede zandstranden, watersportfaciliteiten, mooie fiets- en wandelpaden en hippe strandtenten: Vakantiegevoel gegarandeerd! SCHARENDIJKE De dorpskern van Scharendijke ligt op 300 meter lopen van 'Huisje Schouwen'. Hier vind u gezellige restaurantjes en cafe's en een jachthaven. Een grote supermarkt bevind zich op 1 km van het huis. SPELEN Huisje Schouwen heeft een speeltuintje voor de deur (voor de allerkleinsten) en een sportveld achter het perceel (toegang via de tuin). Daarnaast zijn kinderen van harte welkom om te komen spelen op camping de Strandloper (zie boven). Iets verderop (loopafstand) is met name voor kinderen het Grevelingestrand een heerlijke plek om te spelen; met klimrekken boven het water heel avontuurlijk en waar volop met ballen, vliegers, zand en water gespeeld kan worden. Zit het weer een keer tegen, dan is indoor speeltuin Ût Knienol altijd leuk (10km) en zwemmen bij Center Parcs Port Zelande (2km) is veelal een gewaardeerd alternatief. WATERSPORTEN Een rondvaart over het Grevelingenmeer, een zeilboot of surfset huren of gewoon een duik nemen kan natuurlijk ook. FIETSEN Langs Huisje Schouwen loopt een knooppunten route die door prachtig duingebied slingert. Of Eiland-hoppen per fiets. Deze leuke route heet 'Rondje met het Pontje', waarbij u met de pont naar het andere eiland vaart. BOSWACHTERIJ WESTERSCHOUWEN Prachtige wandel-, fiets-, mountainbike- en rijpaden door heuvelachtig bosgebied (10 km van Huisje Schouwen). HISTORISCHE STEDEN ZIERIKZEE & VEERE Deze prachtige steden hebben een rijk verleden en dat is nog steeds te zien. Ook vindt u er leuke winkeltjes, gezellige terrassen en sfeervolle restaurants. Zierikzee: 15km & Veere: 25km van Huisje Schouwen. ZEEHONDEN SPOTTEN In het Grevelingenmeer leeft een grote populatie zeehonden en hun aantal neemt alsmaar toe. Bekijk ze tijdens een boottochtje, op het strand of in themapark "Neeltje Jans". BEACHCLUB PERRY'S Het ultieme strandgevoel krijg je bij Perry's. Deze strandtent is in 2013 uitgeroepen tot beste strandtent van Nederland en in 2016 tot beste strandtent van Zeeland. Slechts 1km van Huisje Schouwen.
Heerlijk schoon en mooi ingericht huis op een toplocatie.
Nathalie
2017-03-05T00:00:00Z
The house is very nice, clean, in good taste and child-friendly. It has some kids stuff (chairs, cutleries, dvd) and also has a baby gate before the stairs. Our children enjoyed running in a beautiful garden. You can get to the sea in a few minutes by car. It doesn't have a washing machine, but you can use it at a camping center near by.
Chie
2017-03-12T00:00:00Z
We had a nice stay over Carnival. Saskia and Bob's house is nicely equipped with everything you need and offers a cozy atmosphere die to the nicely selected furniture. Ideal place for a quiet holiday with family and friends. We didn't meet our hosts in person but communication went all well.
Jan-Martin
2017-02-27T00:00:00Z
Тип размещения
Дом/квартира целиком
---
Тип жилья
Дом
---
Вмещает гостей
8
---
Спален
Scharendijke, Зеландия, Нидерланды
Our luxury Duinvillas have a surface area of 150 m2. These solid holiday villas accommodate a maximum of 8 people. Each villa has four luxurious bedrooms, a large living room, a charming patio, garden and parking area.
Our luxury Duinvillas have a surface area of 150 m2. These solid holiday villas accommodate a maximum of 8 people. Each villa has four luxurious bedrooms, a large living room, a charming patio, garden and parking area.
The kilometres-long sandy beach makes Ouddorp the perfect destination for a holiday by the coast. - Try a spot of watersports on the Grevelingenmeer lake - Take a long walk along the beach - Discover how sluice gates work at Expo Haringvliet - Visit Ouddorp's delightful little marina - Check out the Rien Poortvliet Museum in Korendijk - Go to Deltapark Neeltje Jans for an enjoyable and informative day out
Wonderful house, very new and modern. Close to the centre of Ouddorp, preferable by bike. The beach is also very close and just 5 mins with bike. If you'd like to barbecue, you'd need to bring your own. We stood there with 5 kids and 6 adults - very spacy though.
Jens
2015-06-01T00:00:00Z
We had a good time in the house. It was clean and big enough to accomodate 8 adults and 3 kids (3 yrs). The house we got was not the one shown on Airbnb. In fact, the house is part of a bigger complex consisting of the hotel ((SENSITIVE CONTENTS HIDDEN) for Flechter Hotel Duinzicht), other houses of similar shape & scale and bungalows. The beach is a 10-15min walk away.
Sebastian
2016-07-30T00:00:00Z
Wir hatten eine sehr schöne Zeit in diesem wunderbaren Haus. Es ist sehr geräumig, geschmackvoll eingerichtet und so konnten wir uns dort sehr wohlfühlen. Das Haus gehört zu einem Hotel, sodass wir auch dessen Annehmlichkeiten nutzen konnten. Außerdem liegt es in Strandnähe, man kann ihn zu Fuß in wenigen Minuten erreichen. Wir werden sicherlich wieder kommen.
Alexandra
2015-03-16T00:00:00Z
Wir waren vier Erwachsene und zwei Kinder und haben ein schönes und gut eingerichtetes Haus vorgefunden, in dem wir uns sehr wohl gefühlt haben. Die Betreuung durch die Rezeption war gut, das Haus schön groß und das Sofa sehr gemütlich :-) Im Sommer ist es sicherlich toll, dass der Strand zu Fuß schnell zu erreichen ist. Wir haben es im Winter schon sehr genossen und kommen gerne wieder.
Silvia
2015-01-02T00:00:00Z
Mooie en ruime villa, dichtbij het strand. Schoon, licht en netjes. Het is van een hotelketen. Dat past in mijn belevenis niet bij het airbnb concept. Je verwacht dan in een volledig geoutilleerd huis te komen. Maar dat is hier echt niet zo. Er is niets: geen vaatdoek, afwasmiddel etc. Ook is het niet mogelijk om het huisje flexibel te huren, maar zit je aan bepaalde dagen: weekend/midweek vast. Daarmee is er dus niets mis met de villa, maar komen mijn verwachtingen die ik van het reserveren via airbnb en de werkelijkheid, niet overeen.
Anna
2016-05-10T00:00:00Z
The House is very nice and clean, We had a faboulos time, Mann thanks!
Holger
2015-06-19T00:00:00Z
De woning zag er precies zo uit als op de foto. Wij hebben met 6 personen in een 8 persoons huis gezeten. We hebben een goed verblijf gehad. Het zag er allemaal keurig uit.
Alice
2015-02-24T00:00:00Z
Vriendelijke ontvangst. Prachtig huis, vrijwel nieuw, mooi ingericht. Prima bedden. Paar verbeterpuntjes: afvoer van 1 vd douches werkte (al langer) niet, er wordt op ca 10 m van t huisje gebouwd met graafmachinegeluiden vanaf half 8 (wij waren een midweek), en het lichtplan, hoe verantwoord ook qua design, heeft geen rekening gehouden met ouderwetse boek-lezers.
Johan
2014-10-17T00:00:00Z
Тип размещения
Дом/квартира целиком
---
Тип жилья
Вилла
---
Вмещает гостей
8
---
Спален
Ауддорп, Южная Голландия, Нидерланды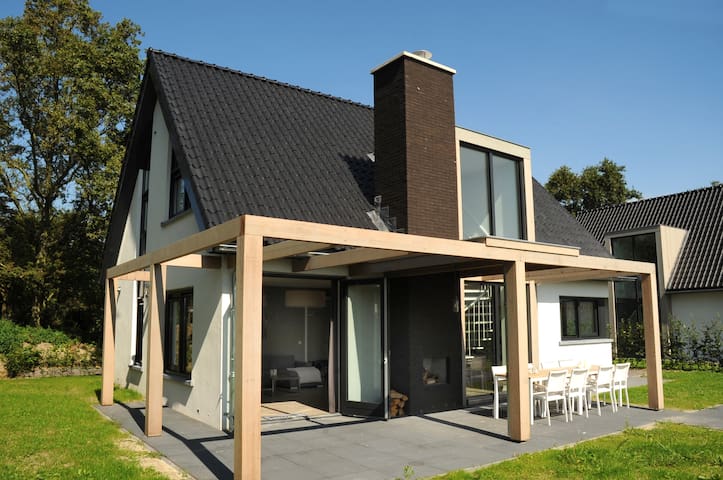 Vakantiewoning in Ouddorp aan zee. Gelegen op 600 m van het strand. Gesitueerd op prive terrein achter onze woning. 800 m parkachtige tuin tot uw beschikking. Veel rust en privacy. 1 km vanaf de gezellige dorpskern met restaurants en supermarkten.
Gezellig houten chaletje met 1 tweepersoonsslaapkamer met boxspringbedden en slaapzolder met eveneens boxspringbedden. Kleine badkamer/doucheruimte. Keuken en living. Satelliet TV en Wifi.
Strand en zee nabij (600m), met uniek strandpaviljoen Paal 10 (2013: beste strandpaviljoen van het jaar).
Ronald was a friendly and helpful host. We had a nice stay.
Eduard
2017-03-12T00:00:00Z
Heerlijk plekje, dichtbij t strand. Alles wat je nodig hebt is aanwezig in de blokhut. Ook fijn dat de hond welkom is. De tuin is ook heel fijn om bij goed weer buiten te eten/zitten. Plaats om nog eens terug te komen!
Chris
2017-03-31T00:00:00Z
Ronald and Alice offer a sweet, small and cozy chalet in their beautiful garden, vet close to the sea and beach. While the weather was rough and wet, after our hikes we could retreat in the cozy warmth of the hut and enjoy a weekend away from the city. Ronald and Alice, Thank you again!
Chiel
2017-01-15T00:00:00Z
Very Nice Stay in the small Blockhaus close to the wonderfull Beach
Vanessa
2017-02-27T00:00:00Z
small, calm and cosy chalet in about 10 min walking distance from the beach with a big garden around. Ron was a great host, everything went seamless
Florian
2017-04-04T00:00:00Z
Le petit chalet d'Alice et Ronald est très mignon et confortable, une petite maison en bois au fond du jardin très agréable! A deux pas de la mer et de la jolie petite ville de Ouddorp, et à 1 heure 30 de Utrecht et Amsterdam. Nous avons passé un séjour très agréable et nos hôtes étaient vraiment sympathiques!
Audrey
2016-11-01T00:00:00Z
Es waren super schöne Herbsttage in einem kuscheligen kleinen Häuschen in sehr schöner Umgebung ! Perfekt für 2 Kinder, Hund und mir! Die Gastgeber sind sehr nett und hilfsbereit! Wir kommen gerne wieder!!
Daniela
2016-10-19T00:00:00Z
Wir trafen ein sehr gemütliches und wohnliches Blockhaus an. Dies war sehr gut ausgestattet und wir fühlten uns sehr wohl. Der Gastgeber Ronald und seine Frau empfingen uns sehr freundlich und waren sehr hilftbereit. Insgesamt ein sehr angenehmer Kontakt. Wir kommen gern mal wieder, gern auch etwas länger.
Steffen
2015-07-13T00:00:00Z
Тип размещения
Дом/квартира целиком
---
Тип жилья
Бунгало
---
Вмещает гостей
4
---
Спален
Ауддорп, Zuid-Holland, Нидерланды
In diesem gemütlichen Strandhaus kommt man sofort in den Urlaubsmodus. Neu eingerichtete Räume, liebevoll dekoriert im typischen Beach-Style. Hier kann man abhängen, mit Freunden / Familie kochen oder auf dem Holzdeck entspannen. Schöner Wohnraum mit offener Küche, Schlafzimmer, im Wohnzimmer gibt es eine bequeme Schlaf-Couch, zusätzlich unsere Extrahütte. Das Haus befindet sich in einem sehr ruhigen Park in einem eingewachsenen Grundstück, in das man nicht einsehen kann.
Das Beach House, nur wenige Gehminuten zum schönen Nordseestrand, ist mit seiner, nach Süden ausgerichteten Fensterfront, sehr lichtdurchflutet. Ein hübsches separates Schlafzimmer hat ein 1,60 m Bett, die Betten können auch auseinander gestellt werden. Mit dem Fahrrad ist man ganz schnell im schönen historischen Ortskern von Ouddorp. Am Strand sind sehr leckere Strandpavillons... Alles in Fußnähe. Der Wohnbereich, mit offener Küche, ist mit allem ausgestattet: Kühlschrank mit Gefrierfach, Gasherd, Backofen, Spülmaschine, Nespressomaschine, Milchschäumer, elektrischer Mixer, Elektrogrill / Sandwichmaker und vieles mehr. TV, SAT, Bluerayplayer, Stereokompaktanlage, Lautsprecher für Smartphones. Im Haus ist eine moderne Zentralheizung, im Bad mit Handtuchheizkörper. Im kleinen Häuschen gibt es eine Elektroheizung. Große Sonnenterrasse mit Gartentisch, Stühlen, Liegestühlen und Sonnenschirm. Zusätzlich zum gemütlichen Haupthaus steht ein weiteres kleines Gästehäuschen zur Verfügung mit einem Bett, ausziehbar auf 1,60 m.
300 m bis zum preisgekrönten, schönsten Strand Hollands. Nette Nachbarn. Snackbar. Das Strandhaus-Ensemble liegt in einem schön Park in einem eingewachsenen Grundstück mit Garten.
Hatten ein paar sehr schöne Tage in dem gemütlichen Häuschen und haben uns sehr wohl gefühlt!
Anna
2017-01-06T00:00:00Z
The host canceled this reservation 197 days before arrival. This is an automated posting.
Gereon
2016-01-02T00:00:00Z
Hallo Sabine, wir waren ja zu dritt in dem wunderschönen und sehr geschmackvoll eingerichtetem Haus. Es hat einfach nichts gefehlt. Mein Sohn mochte doch die eine kuscheldecke so sehr, dass er mir erzählte , er wäre doch unsere und er hätte die ja mitgebracht
Simone
2016-10-22T00:00:00Z
Super fijn.
Jentien
2016-09-21T00:00:00Z
Alles wunderbar und besten Dank !
Ali
2016-09-12T00:00:00Z
Das Haus ist toll eingerichtet und es ist alles vorhanden, was man benötigt. Die Terrasse ist großartig, die Stühle und der Gasgrill toll. Das Haus an sich liegt in einem Ferienpark. Nach anfänglicher Skepsis müssen wir sagen: vom Park haben wir nichts mitbekommen. Sehr ruhig und durch die Hecken um das Haus herum war auch alles privat, da uneinsehbar.
Antje & Elias
2016-08-07T00:00:00Z
Das Haus ist sehr schön und mit viel Liebe zum Detail eingerichtet. Wir haben uns sehr wohl gefühlt. Die Lage in einem Ferienpark hat uns nicht gestört, da die Nachbarschaft sehr ruhig und das Grundstück von einer hohen Hecke umgeben ist. Wir werden das Haus an Freunde weiterempfehlen, halten es aber für 5 Erwachsene weniger geeignet, da nur ein Bad vorhanden ist und der Wohn-/Schlafbereich als Durchgang zu diesem dient. Die Kommunikation mit Sabine war sehr gut.
Viktor
2016-08-28T00:00:00Z
Das Haus ist wirklich zauberhaft! :)Es ist genau wie beschrieben. Es ist sehr sauber und super gemütlich eingerichtet! Auch in der Küche fehlt einfach nichts. Auf der Terrasse kann man einfach toll sitzen und Sabine ist auch super nett und sehr hilfsbereit! Einfach alles super! Ich kann es nur weiterempfehlen :) LG Caro
Caroline
2016-09-26T00:00:00Z
Тип размещения
Дом/квартира целиком
---
Тип жилья
Дом
---
Вмещает гостей
4
---
Спален
Ауддорп, ZH, Нидерланды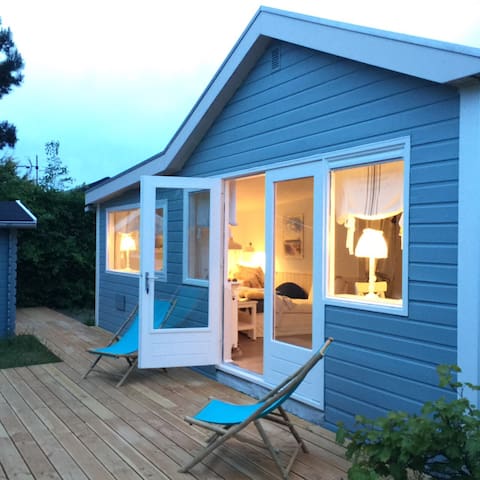 Mijn ruimte is vlakbij het strand, restaurants en eetgelegenheden en gezinsvriendelijke activiteiten. Je zult genieten van mijn plek vanwege de buitenruimte, de buurt en het licht. Mijn ruimte is geschikt voor stellen en gezinnen (met kinderen).
Chalet met keuken, 3 slaapkamers (2 slaapkamers met stapelbedden), woonkamer met tv, wifi, terras en tuin.
Strand, duinen, fietsen, wandelen, speeltuin vlakbij
Тип размещения
Дом/квартира целиком
---
Тип жилья
Шале
---
Вмещает гостей
6
---
Спален
Ауддорп, Zuid-Holland, Нидерланды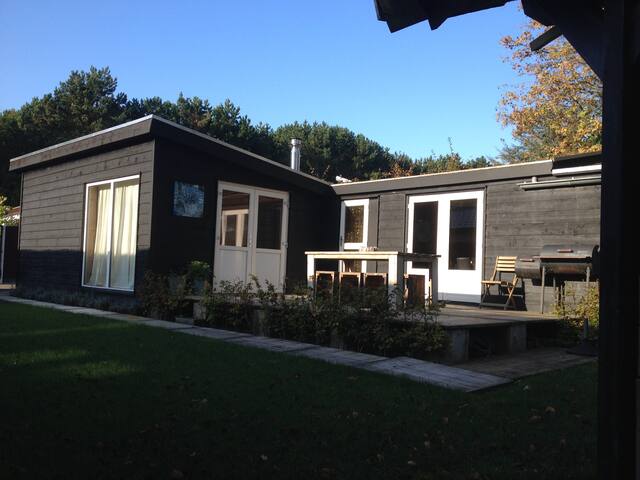 STRAND/GREVELINGENMEER/SURFEN/DUIKEN/FIETSEN. OOK LEKKER VIS/MOSSELEN ETEN.
Тип размещения
Дом/квартира целиком
---
Тип жилья
Отпускное жилье
---
Вмещает гостей
6
---
Спален
Scharendijke, Зеландия, Нидерланды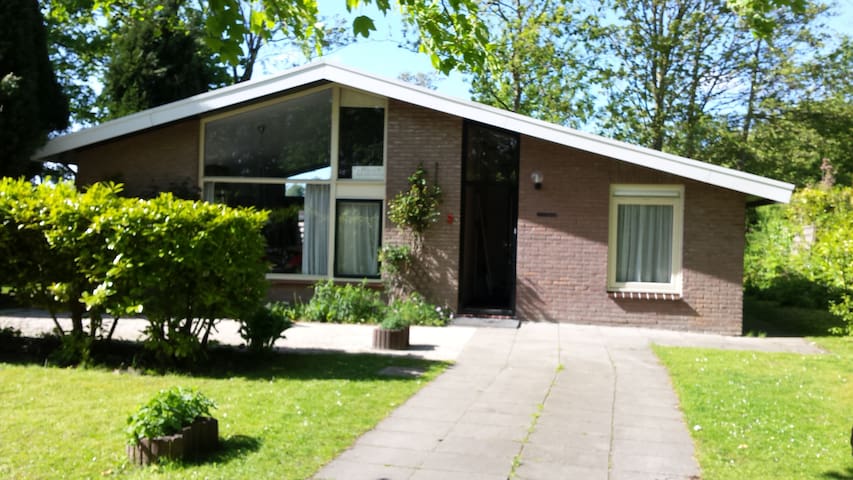 Compact kampeerchalet voor 2 personen. Met keukenblokje, koelkast elektrisch kacheltje en een tweepersoonsbed of stapelbed. (voorkeur aan te vragen) Douche en toilet in het toiletgebouw vlakbij het chalet. Keukeninventaris is aanwezig! Dekbedden en kussens zijn aanwezig in de hut, een slaapzak kun je zelf meebrengen of beddengoed bij ons huren. Hetzelfde geldt voor handdoeken. Er gratis Wi-Fi voor 1 device. Meer devices via ticket, te koop via receptie. Exclusief € 0,95 toer.belasting p.p.n.
Compacte hut, maar volledig ingericht. Er zijn glazen, potten en pannen + een koelkast. Daarnaast beschikt de kampeerchalet over dekbedden en kussens. Tevens ontvang je bij aankomst een gratis servicesetje met vaatdoek, afwasmiddel, vuilniszak en een schuursponsje. Handig voor de afwas in het naastgelegen sanitairgebouw.
Op nog geen 10 minuten loopafstand van het Noordzeestrand met trendy strandpaviljoens.
Very clean and cosy camping chalet. We made a morning walk to the beach, which was very near by. Had a great stay in the chalet at the camping place! Thank you!
Lucy
2016-05-16T00:00:00Z
A nice change of pace from regular Airbnb accommodations. The adorable two person chalet was very comfortable for our one night stay. A full functioning kitchen, table and a bed. Just a quick 10 minute walk from the beach. The bathroom building was clean with nice warm showers. All the other campers we came across around us were very friendly. All in all we definitely would recommend this to others for a short stay. The only drawback was how loud the bed was when moving around. Every time one of us would roll over or change position, both of us would be wide awake because of the noise. When we arrived to check in, the reception was already closed- just walk next door to the restaurant and they can help you get checked in.
Eva
2016-07-07T00:00:00Z
This little hut is on a campsite and really cute. We had a big table to sit outside, were not far away from the toilets and showers (that are really great for a campsite!) and there was enough place in the hut to put our lugagge. The beach is not far away, just a few minutes walk from the hut and there was a nice restaraurant on the campsite. We were happy with this place!
Selma
2016-07-22T00:00:00Z
alles gut alles prima. Das Häuschen ist von außen gesehen winzig klein. Nicht zu glauben wie groß es drinnen ist. Es ist alles da was gebraucht wird. Und super gemütlich :-) Bad und Toilette sind, wie auf einen Campingplatz üblich in einen separaten Gebäude.
Meike & Horst
2016-05-15T00:00:00Z
Sehr schönes, kleines & niedliches Häusschen, vor allem für Pärchen sehr zu empfehlen! Sanitäranlagen auch in guter Reichweite und Sauberkeit. Vorsicht beim WLAN: Ist NICHT kostenlos, sondern kostet 1,50€/Stunde!
Jonas
2016-06-20T00:00:00Z
Alles prima, die Hütte ist wirklich total hübsch und heimelig. Unsere stand direkt gegenüber von den Waschhäusern. Der Campingplatz ist gepflegt und gut organisiert, der Strand ist sehr breit! Bei der Buchung gab es Abstimmungsschwierigkeiten, weil die Hütte ohne Bettwäsche und Handtücher angeboten war, es aber im Inserat noch nicht vermerkt war. Aber die Absprache mit Roland war unkompliziert, freundlich und entgegenkommend. Gerne noch einmal!
Evelyn
2016-05-04T00:00:00Z
Cosy, practical and good value for money. Friendly staff at the camping site and clean washing area. Ideal for one or a couple of nights. Went kitesurfing in the area was the ideal location.
Sammy
2016-05-23T00:00:00Z
Een leuk hutje op een camping vlakbij strand.
Helmi
2016-07-08T00:00:00Z
Тип размещения
Отдельная комната
---
Тип жилья
Хижина
---
Вмещает гостей
2
---
Спален
Ауддорп, Zuid-Holland, Нидерланды
Very quiet in a residential park with a sheltered terrace in a beautiful garden, 300m to the Grevelingenmeer, Restaurant-Cafe in 150m, supermarket 500m, about 4km to the beautiful Binnenhaven brouwershaven approximately 5 km to the North Sea beach
Schöner heller Bungalow mit großer überdachter Terrasse mit Holzboden. Großer Garten mit viel Rasen und Hecke als Sichtschutz.
Mal da - mal nicht. Aber alle sehr angenehm.
Тип размещения
Дом/квартира целиком
---
Тип жилья
Квартира
---
Вмещает гостей
4
---
Спален
Brouwershaven, Зеландия, Нидерланды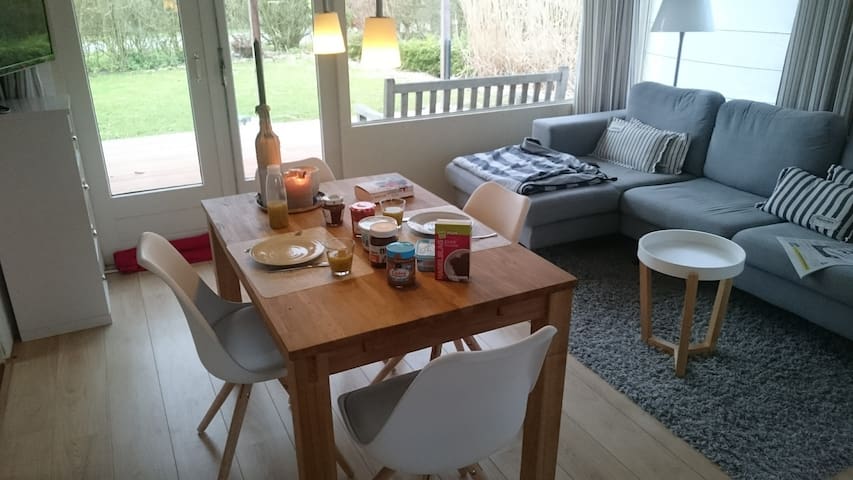 10 minuten lopen van de zee ligt dit heerlijke huisje met een speeltuintje voor de deur. Op een bungalowpark met 161 verschillende huisjes Geschikt voor ouders met kinderen, surf fanaten en stilte liefhebbers. Ontspanning gegarandeerd! 1o min walk from the ocean and best beach in Holland. Very cosy and relaxed place suitable for parents with children and surfers.
Besloten tuin, dichtbij strand, het huis is zelfgebouwd, de schoorsteen bestaat uit verzamelde stenen Nice garden, cosy home, build by our family.
Strand, natuur, beste kite surf strand van Nederland Leuk dorpje Nice little village, beach, nature, surfing, deltaworks
Meine Freundin und ich hatten Jup's Häuschen über ein langes Wochenende besucht und waren sehr zufrieden. Das Haus ist Lichtdurchflutet (es gibt elektronische Jalousien), ruhig gelegen und sauber und es ist alles vorhanden was man zur Selbstversorgung braucht und es ist liebevoll und gemütlich eingerichtet. Da das Haus in einem der typischen Ferienhaus- Siedlungen liegt, ist es sehr ruhig. Das Bad ist wirklich nicht groß, aber neu gefliest und sauber. Wir waren zu zweit und hatten überhaupt kein Problem mit der Größe des Badezimmers. Der Strand ist nur 5 Geh-Minuten entfernt. Der Ortskern ist mit den kostenlos zur Verfügung stehenden Fahrrädern in 10-15 Minuten zu erreichen und dort kann man hervorragend einkaufen (Albert Heijn & Jumbo) oder einfach nur herumlaufen und bummeln. Parken auf dem Gelände der Ferienhaus-Siedlung ist kein Problem, kostet aber extra (6 Euro für vier Tage) Wlan ist verfügbar, kostet aber auch ein paar euro extra. Alles in allem hatten wir 4 tolle Tage in Holland und können Jup's Haus ganz klar empfehlen. Schöne Unterkunft und der Kontakt mit Jup ist auch super. Sie antwortet sofort.
Peter
2016-10-04T00:00:00Z
Great place! We had a lovely time in this cosy bungalow. It was clean and bright. Nice little garden. We didn't meet Jup but she was available to answer to our messages. Close to the beach and a lot of bike journeys to start from Jup's place. We recommend this place.
Sophie
2016-08-15T00:00:00Z
Nice and quiet place. I recommend it
Fernando
2017-04-02T00:00:00Z
Alles war bestens. Ein schönes Haus in toller Lage!
Heidi
2017-03-20T00:00:00Z
Very cozy place, communication with Jup was very good. Bathroom is small but not as tiny as some reviews suggest. It takes 1Eur coin to get onto the site (which was pointed out in the description we recoived by mail), but also another 1Eur to get off (which we did not know and can be an issue when you dont have a coin and are there off-season like us with nobody to ask for change).
Wolfgang
2016-10-12T00:00:00Z
Wir hatten einen tollen Aufenthalt in deinem sehr schönen und gemütlichen Häuschen. Wir haben uns auf Anhieb Zuhause gefühlt.
Dominique
2016-09-03T00:00:00Z
Fijn huisje op fijne plek. Lekker rustig in de herfstvakantie. Goede plek voor kinderen. Prima huisje voor twee volwassenen en twee kinderen. Dichtbij het strand en de duinen.
Bart
2016-10-21T00:00:00Z
We hebben een heel leuk weekend gehad in het gezellige huisje. De keuken is goed uitgerust en de ligging is heerlijk rustig. Het huisje is klein maar erg efficiënt ingericht. Voor herhaling vatbaar!
Pascal
2016-10-23T00:00:00Z
Тип размещения
Дом/квартира целиком
---
Тип жилья
Бунгало
---
Вмещает гостей
4
---
Спален
Ауддорп, Zuid-Holland, Нидерланды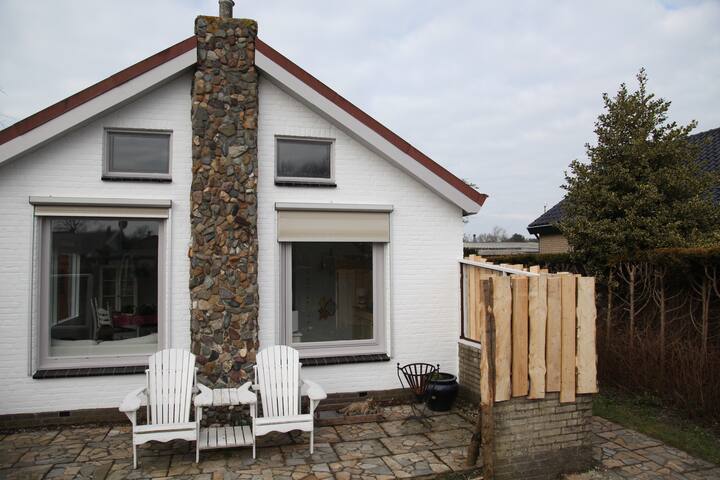 A small paradise: removed from the world, it's a place to simply be happy. Lovely detached house with a large yard with privacy in a quiet neighbordhood. A cozy living room with lots of light from all sides and an open kitchen with dining area. Veranda with a comfortable lounge set and a separate table for dining outside. Private parking place in the property. Very close to the beaches and to the center of the village.
The house is just a few minutes drive from the center of Ouddorp where where restaurants, grocery stores and other shops can be found. Also a few minute drive from the wonderful kilometers long and very wide beaches of Ouddorp. On the nearby beaches there are areas with beach bars and restaurants as well as areas where one can feel completely alone in the nature. Rotterdam is just a 40 minute drive. Ouddorp and the surrounding area provide endless possibilities for all types of watersports like kitesurfing, windsurfing, wavesurfing as well as powerkiting, horse riding.
Тип размещения
Дом/квартира целиком
---
Тип жилья
Дом
---
Вмещает гостей
6
---
Спален
Ауддорп, Zuid-Holland, Нидерланды
Введите даты, чтобы увидеть полную цену без учета дополнительных сборов и налогов.