[13 April 2013 - Daffodils are peeping through - and just below your deck is our new woodland garden. Lots of wood for the grill. Snow is gone. Great hiking weather!] Enjoy a peaceful stay in the woods, far from the maddening crowds. Our spacious, yet intimate, upstairs is ideal for a couple. Completely private - and includes your own deck, WIFI, direcTV and chromeCast. Numerous hammocks, gardens and pastures.
Enjoy an authentic Catskills getaway. Lodge at our restored farmhouse with your own private entrance and deck in this upstairs apartment with easy access to hiking and refreshing mountain scenery. The upstairs is all yours: comfy lounge area (w/dbl bed), separate bedroom with queen-size bed, eat-in kitchen, and bath with claw-foot tub and sit-down shower. Ideal for a couple - romantic and peaceful. You can see the Big Dipper perfectly framed through bedroom skylight while lying in bed. Reading alcove and hallway with books connects the large rooms and bath. Architect-designed with exposed beams, plank wood floors, skylights, art and antiques. Retreat to peace and quiet, surrounded by eight private acres of a former horse farm with views of gardens, fields, woods, mountains. Numerous hammocks spots provided during summer, including one just off your private deck. The woods come down to the deck, making deer and turkey the occasional visitors. There are no immediate neighbors so the area is extremely quiet. Fewer cars pass the house over a typical weekend than go through a SINGLE traffic light change on 57th Street in Manhattan. 2.5 hours from NYC; 5 minutes to Belleayre Ski Center, 20 minutes to Plattekill slopes. Close to villages of Fleischmanns, Margaretville, Andes and Phoenecia with restaurants, galleries and shops. Owner lives on premises and can share insider's tips on this pristine area of high peaks. Loads of cultural activities in summer including concerts at Belleayre. Check out (URL HIDDEN) for listings. * High-speed internet access * television (DirecTV HD) * chromeCast-ready * All linens supplied including comforter, blankets, sheets & towels * Eat in kitchen with solid plank table. Appliances include double induction burner, toaster, convection oven, microwave, fridge, contact grill and utensils. * 1 queen-size bed, 1 double bed (in separate rooms) Smoking outdoors only, please.
Located in a rural setting off main road; very relaxing and quiet. Fleischmanns, the nearest village, is about two miles away and there are several other villages that are fun to visit. It is best to have your own car although you could get by with a bicycle if you take public transportation to Fleischmanns. There is no convenient mass transportation; Trailways offers daily service to Fleischmanns. Call me for more travel tips/info.
3 jours dans la montagne des Catskills. Hameau tranquille, typique des villages de la région. Hébergement très confortable à Wildtower farm, des conseils pertinents des hôtes, toujours prêts à rendre service.
Pascal
2014-03-04T00:00:00Z
Believe all the previous reviews. We had a great time at Annie and Seths place . Seth was a great host offering breakfast and setting a fire for us to cook dinner outside . The place is exactly as pictured , absolutely beautiful . Will definitely be back. Loved our stay!
Angela
2016-07-18T00:00:00Z
Seth met us upon arrival and made sure that we were settled in. The apartment was comfortable, clean and charmingly furnished. Seth provided helpful information about the area and we had a very nice weekend.
Mariko
2014-11-18T00:00:00Z
Three of us came to Wildflower Farm for a short escape from the city. We found exactly what we wanted. Seth and Anne are the loveliest and kindest hosts, they welcomed us to their home with French toast, key lime pie and genuine hospitality. We highly recommend their cottage if you want a relaxing holiday.Thanks for having us Anne and Seth! We will be back soon!!
Jia Ming
2012-09-18T00:00:00Z
Seth and Annie and their home were fantastic. The apartment was beautiful, cozy, comfortable, clean, private, and full of interesting decorations. Loved the skylight in the bathroom, the collection of books, the hammocks, everything. The kitchen was well stocked with basics, plus a couple goodies and some things from the garden. It was all exactly what we were looking for. There's plenty to do in the area and Seth was knowledgeable and helpful about this. That being said, the gardens and pasture around the house are so lovely and serene that we couldn't bring ourselves to leave! I wish I was there right now.
Toby
2015-07-13T00:00:00Z
We had a wonderful stay at Seth's house. The place is even better than what it looks like in the pictures; Seth was very nice, always available and welcoming. We are definitely going back if again in that area!
Chiara
2017-02-12T00:00:00Z
Seth was so great right from the start of our reservation process. He sent us a very thorough email preparing us for our trip, which included driving tips and weather updates. Once we arrived, we got a tour of the place and showed us around. My cousin and I wandered around their beautiful backyard. The view of the colorful mountains left us speechless! We also were able to pick some veggies from their garden and made stew with all the utensils provided in the kitchen. Breakfast was served the next morning and was very hearty and fresh. We had a wonderful, relaxing time and can't wait to go back!
Jasmine
2016-10-03T00:00:00Z
Great little apartment on a beautiful quiet road. The property is gorgeous and has a bunch of great places to sit/lounge and relax. Everything you could want for a Catskills getaway!
Drummond
2016-10-23T00:00:00Z
Тип размещения
Дом/квартира целиком
---
Тип жилья
Квартира
---
Вмещает гостей
4
---
Спален
Fleischmanns, Нью-Йорк, США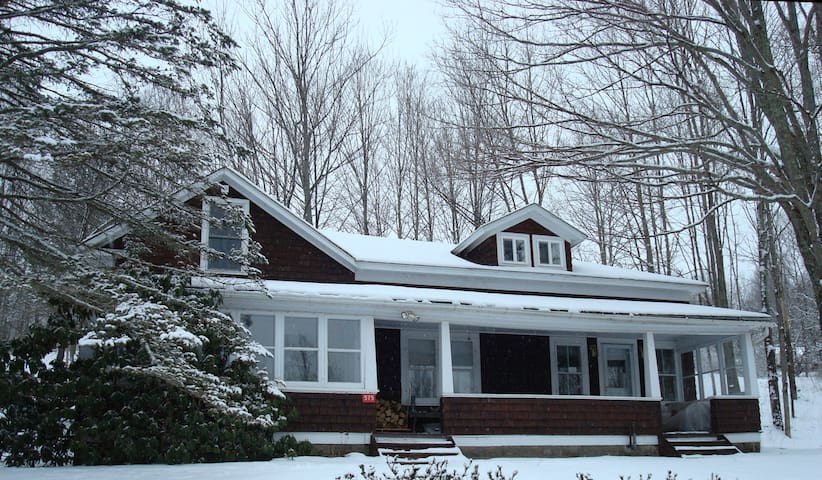 Enjoy 4 great seasons; make this your 2nd home/country home. Elegant, tastefully furnished large 1 BR Apt. impeccably renovated w/designer kitchen and bamboo floors throughout. Worry free; everything is ready except dinner. The beautiful mountains and valleys of the Central and Western Catskill Mt. Region offer a wide range of recreational and cultural activities; and, minutes from your apartment, are great restaurants with cuisines to suit every palate. Your satisfaction is our goal.
We have a 40" HD TV with a built in DVD player in the living room and a 32" HD TV with a built in DVD player in the Bedroom. The entire space in the apartment is exclusive for our guests/friends. The neighborhood is quiet and our guests can expect a good night's sleep.
The neighborhood has a bank (Community Bank NA) across the street with a 24/7 ATM. There is a food market, men's and women's hairstylists, compute repair and retail shop, galleries, and a U.S. Post Office all within a minute's walk from the Apartment. There are also three restaurants within minute's walking distance. And, there is a clean Laundromat a five minute walk from the apartment or less than a minute drive with ample parking.
It is a beautiful and recently gut renovated apartment with good quality brand new furniture. Good materials were used for the entire renovation and the kitchen, bathroom and the entire apartment were very well done. We stayed as a family of four (kids 8 and 5) on a ski trip to Belleayre. We found the apartment to be spacious and very comfortable. We slept very well on the queen size bed and the sleeper sofas (the sofas lay down flat and we found them better than the traditional pull out sofas). The kitchen is large with plenty of countertop and space for cooking. There was good water pressure in the shower (much better than in some other places we have stayed). There was plenty of heat and it was possible to adjust the heat. The hosts were very friendly and helpful. We really enjoyed staying here and would stay here again.
Claus
2016-12-31T00:00:00Z
My husband and I stayed there for the weekend and it was a wonderful experience, we would love to go back and stay again. The space was fabulous, it was just as pictured online. Everything was clean and neat and there was a good amount of space. Our host John went above and beyond to make sure we were comfortable and our needs were met. This included allowing us to check in 3hrs early after we drove 12hrs through the night to get there. He then gave us a complete and thorough tour of the place and even walked us down the street to this lovely Moroccan cafe in town to show us where we could eat lunch. He also had given us a small supply of food including bagels, cream cheese, butter, orange juice, cream, tea and coffee. He was very welcoming and went up above and beyond to make sure we enjoyed our stay. We were very happy with our experience.
Julia
2016-09-05T00:00:00Z
John was great! He met us so we could check in early in order to get ready for a nearby wedding. John left breakfast and orange juice for us in the morning. He was a very gracious host and went way above and beyond to make us feel comfortable. The house was beautiful. 5 stars. I would absolutely stay with him again in the future.
Brandon
2016-10-16T00:00:00Z
Extremely nice place and very nice hosts. Enjoyed a weekend of skiing at Belleayre which is only about a mile from the house. I would definitely recommend this house for a very cozy getaway. Everything is completely renovated and well kept. The owners were very helpful and were available to call at anytime during the weekend. Great place to stay for a great price.
Jack
2016-02-01T00:00:00Z
Coming up to this area for a wedding in a nearby by town from NYC, this place was exactly what we were looking for. Very nice owners, clean place, great 1 bedroom apartment for us. This was perfect for a 1 night stay in May. It is a sleepy town but great to know there is a great place to stay in Fleischmanns.
Eric
2016-05-23T00:00:00Z
The host canceled this reservation 7 days before arrival. This is an automated posting.
Adrian
2016-12-15T00:00:00Z
Our stay at John and Rita's was great. The place is newly renovated with many windows and lots of light. The apt is on the third floor so there are some steps. Its a quiet and sleepy town, which was perfect for a relaxing weekend. I would definitely stay at John and Rita's again.
Matteo
2016-08-01T00:00:00Z
Amazing hosting job by Rita and John. The place was clean and well-kept, but what really made the difference was the amazing job hosting. After booking the wrong weekend, Rita called me and went out of her way to get the apt ready in time for that night. After which, John was waiting at the apartment to make sure we were settled and included a nice bottle of wine. Plus, they stocked the fridge for breakfast that morning :). Bottom line: Will stay again, amazing hosts.
Ian
2016-02-22T00:00:00Z
Тип размещения
Дом/квартира целиком
---
Тип жилья
Квартира
---
Вмещает гостей
6
---
Спален
Fleischmanns, Нью-Йорк, США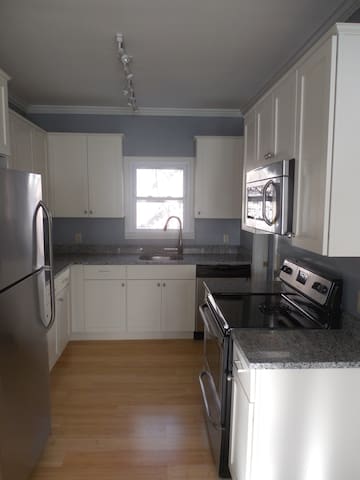 Located next to a constant flowing babbling brook is this beautiful 2nd floor 1 bedroom apartment. 2 minute walk and you are on Main Street Fleischmanns. Belle Ayre Ski center is a 3 minute drive. (2.5 miles) Bus stop is about a 15 minute walk.
A great close to Skiing area. Walking distance to bus stop and main street.
Close to all types of activities and in the mountains.
Тип размещения
Дом/квартира целиком
---
Тип жилья
Квартира
---
Вмещает гостей
2
---
Спален
Fleischmanns, Нью-Йорк, США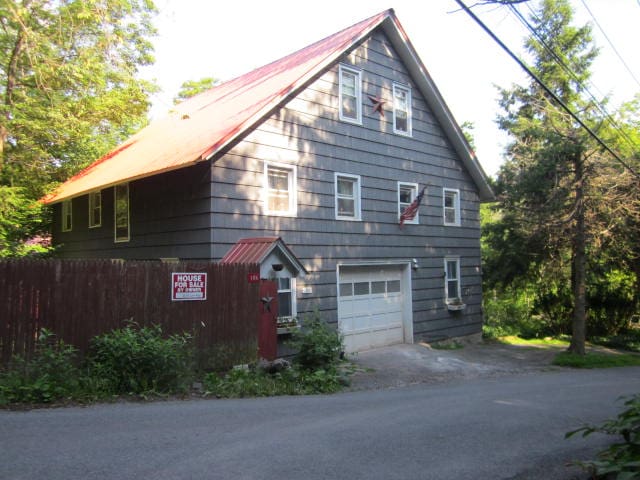 Envision stepping out onto the stone patio to gaze over the most incredible views from any house in the Catskills. Watch the dawn arrive with a coffee in hand or the light wane in the evening with a glass of wine. Open concept 3 bed ensuite apartment
Private apartment in lower half of a large home overlooking Belleayre Resort and the Little Red Kill Valley. Large three bedrooms - all with sitting area and en suite bathroom. Open concept kitchen, dining room and living room fully equipped including full size stove, refrigerator, dish washer, wine refrigerator, cooking equipment, utensils and dishware, flat screen TV, gas fire place, board games, books and mp3 player, laundry room with washer and dryer. Walk out to the stone patio and garden over looking the valley and equipped with dining table, gas grill and leisure chairs.
The Little Red Kill Valley is close to many of the wonderful amenities of the Catskills. Belleayre Mountain is 10 minutes away (URL HIDDEN) ; Fleischmanns is the closest village and was recently featured on "Onlyinyourstate" (URL HIDDEN) some of New York States best hiking trails - (URL HIDDEN) Plattekill Mountain - (URL HIDDEN) ; outstanding farm to table restaurants such as Peekamoose and Zephyr. The Catskills are famous for small villages, antique shops, skiing, bike trails, outdoor events, cave, craft fairs, farmers markets, and many other activities. This house is ideally situated close to many of those yet located in a secluded setting. Other websites to visit: (URL HIDDEN) ; (URL HIDDEN) ; (URL HIDDEN) ; (URL HIDDEN) ; (URL HIDDEN)
Тип размещения
Дом/квартира целиком
---
Тип жилья
Квартира
---
Вмещает гостей
6
---
Спален
Fleischmanns, Нью-Йорк, США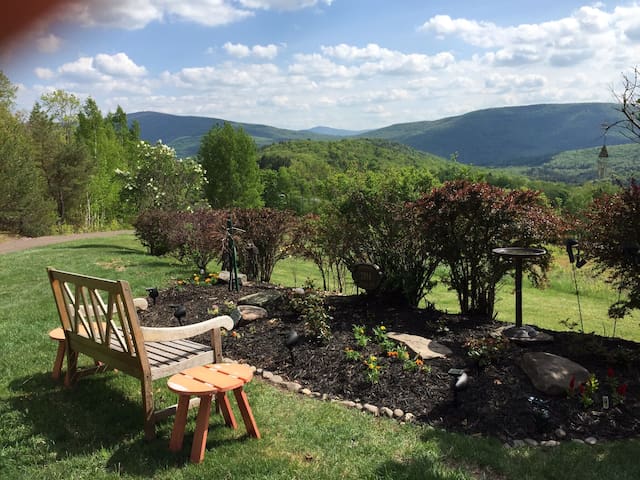 Fleischmanns - Airbnb
:
В среднем,

5

из

5

звезд на основании

104

отзывов гостей
1

–

4

из

4 квартиры в аренду
Введите даты, чтобы увидеть полную цену без учета дополнительных сборов и налогов.