A beautiful place to unwind and relax...... (please note that during the summer months, we prefer to rent by the week)
Наш прекрасный классический 1930-х годов пляж коттедж красиво свет и чистый, и прекрасное место для отдыха. Взгляды на Лонг-Айленд фантастические; песок и прибой находятся прямо на входной двери! Коттедж оборудован удобными винтажных и минималистском стиле и имеет деревянные полы во всем. На кухне есть топ-оф-линии приборов, включая Саб-Зиро холодильник, Gaggenau конфорками и Miele печи и посудомоечной машиной. В коттедже есть две спальни и просторную гостиную, состоящую из открытой кухней и большой столовой и гостиной. Две спальни имеют кровати полноразмерные. Сверхдлинные близнец в тихом уголке гостиной является как кушетка и дополнительное размещение в ночное время. В ванной комнате есть плиточный стойло душ, ножках ванна и известняка полы. Колода прямо у входной двери обеспечивает дополнительное пространство для отдыха и наслаждаться солнцем и прекрасным видом. Ходьба и езда на велосипеде любимые прошлые времена. Парусный спорт, виндсерфинг, гольф, рыбалка, наблюдение за птицами и другие популярные мероприятия. Убедитесь в том, чтобы не пропустить поездку в Marnick-х годов, почтенный приморский закусочной только вниз пути, для мороженого и семейных обедов. В номерах есть беспроводной доступ в Интернет, кабельное телевидение, стиральная машина / сушилка, посудомоечная машина, и газовый гриль. Сто процентов хлопка постельное белье и полотенца включены в стоимость. Коттедж расположен всего в нескольких минутах от Межгосударственного I-95, и быстро добраться из Stamford в Нью-Хейвен. Местные поезда из Стратфорда и Бриджпорт в Нью-Йорк, Stamford, и Нью-Хейвене легко доступна. Примечание 1: В течение летних месяцев, мы предпочитаем арендовать на неделю. Примечание 2: Пожалуйста, прочитайте внимательно раздел удобства, чтобы увидеть, что на предложение на даче. В частности, если вы заинтересованы в бронировании в течение летних месяцев, обратите внимание, что у нас нет кондиционера.
Nancy was really very helpful and extremely prompt in answering questions. The check-in/out instructions were very detailed and helpful. The house and the beach are amazing. We did arrive in the middle of a heat-wave and the lack of AC was a challenge with two young kids, but that was out of the ordinary, any other week and it would have not been an issue at all. We would definitely come back since the beach is perfect for our family with young children right now.
Vishal
2016-07-31T00:00:00Z
Nancys beach cottage is beautiful; the interior is light and tastefully decorated. The neighborhood is nice, quiet and safe with only a few tourists. The location of the house is nothing less than fantastic directly on the beach with a panoramic view to the sea. You need a car to get around and from here there is easy acces to New Haven (Yale) and the beautiful "back yard" of Connecticut. The beach is private and only few people used it which was nice, but it is not too well kept and there are lots of pebbles and the water is not clear. Our two youngest children enjoyed swimming every day (with shoes on), but our oldest daugher didn't want to use the sea because of the conditions of the beach and water. Nancy was very nice and responsive and we all enjoyed our week in her beautiful house :-)
Karin
2014-08-03T00:00:00Z
Spent an amazing weekend here with girlfriends. The house is beautifully decorated and felt very comfortable. Right on a quiet beach. Really felt like a weekend getaway. Highly recommend!
anna
2016-06-13T00:00:00Z
We had a great weekend at Nancy's place. The location was fantastic and the cottage had everything we needed for a relaxing weekend, whilst offering stylish and comfortable accommodation.
Tim
2016-06-21T00:00:00Z
The house is very nice and exactly like shown on the pictures. The neighborhood is friendly and you can enjoy long walks on the beach. It's the perfect and peaceful escape from the city!
aurelie
2015-09-28T00:00:00Z
The cottage is so dreamy, it really is just like the pictures. It is such a nice, relaxing and tranquil place that is beautifully decorated. My chef husband was pleasantly surprised by the amount and quality of the kitchen tools and cooking supplies. Nancy was very responsive and informative. The space was comfortable and roomy and had lots of space for our little one to scoot around. I would highly recommend this place and I would love to visit again in the future.
Emmalee
2016-05-02T00:00:00Z
Nancy's cottage is the perfect hideaway for a restful holiday! We had the beach to ourselves most of the time and enjoyed the views, the birds and the shell seeking! The house itself is beautifully decorated and well appointed with everything you need for the perfect holiday.
Sarah
2015-08-16T00:00:00Z
Nancy was very welcoming and left thorough instructions on how to arrive and get to the cottage. The cottage was amazing. Sun-filled and spacious, with direct views of the water and inches away from the shore. Everything in the house was very organized and easy to find. Will definitely be telling my friends and coming back during the summer.
Roy
2014-11-10T00:00:00Z
Тип размещения
Дом/квартира целиком
---
Тип жилья
Дом
---
Вмещает гостей
5
---
Спален
Стрэтфорд, Коннектикут, США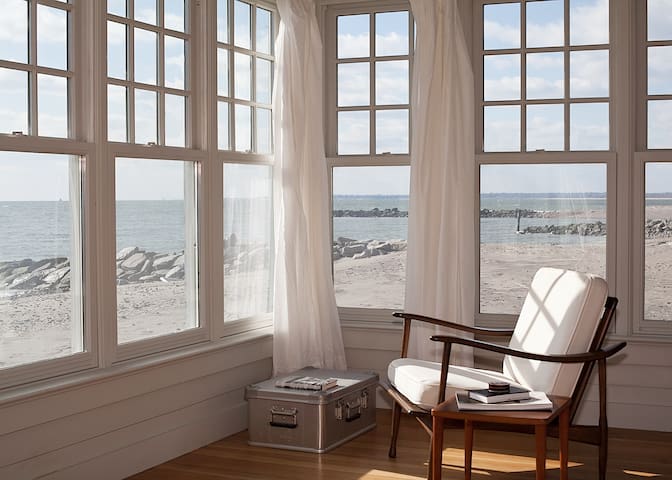 Шаг из обычного, и остаться на прекрасной яхте в Стэмфорд-Харбор! Наш 1966 Пирсон очаровательный старый яхта, с дровяной камин, тепло и переменным током, а также в непосредственной близости от двух ресторанов на набережной Stamford в! 1/2 мили от метро North железнодорожного вокзала, такси доступны.
**As featured in CT News: Unique Places to Stay in CT** Featured on Boston's Biggest News Page (Airbnb unfortunately won't allow me to post links) Step out of the ordinary, and stay on a lovely sailboat in Stamford Harbor! Our 1966 Pearson is a charming old yacht, with a wood burning fireplace, cherry interior, and a slip right next to two of Stamford's waterfront restaurants and walking distance to Stamford's own Half Full Brewery! Walk down the gangway and step aboard the Extra Dry: a 1966 Pearson Alberg 35 (a 35 foot sailboat!). Accommodations for two in the forward vee-berth, or two in the main cabin, make for a cozy and charming stay! She is well-appointed, with a wood-burning stove, galley and grill, and A/C unit for use in the summer, and heating unit for the fall/winter. Enjoy board games around the cabin table, relax in our hammock, and enjoy the harbor night life! As summer ends and fall is in the air, stay cozy and warm on board using our electric heating system, or relax around the wood-burning stove with a good book and a glass of wine. The marina has showers and bathrooms, which you will also have access to. There are two great restaurants at the marina: The Crab Shell, and Prime Steakhouse. Taxi service to downtown Stamford is readily available. Across the harbor (accessible via the free water taxi on summer weekends) are three great restaurant/bars: Paloma, World Of Beer, and Sign of the Whale. Guests have full, private access to the boat (on the slip nonly...guests are not allowed to take the boat out on the water, as per AirBNB terms of service. Note: "captained charters" are available to guests upon request. We will take you sailing around Long Island Sound, show you the ropes, anchor near the lighthouse for some swimming, and grill up delicious food! Please mention any interest in a charter when making your booking and we will discuss options. Drew is a USCG Certified Master Captain. Charters are an additional fee and are subject to the owners' availability and discretion) The small galley inside has a toaster,a coffee maker, and hot water kettle. The outdoor gas grill is available year-round. Our "neighborhood" is the harbor! Lovely waterfront walks, a fishing pier, restaurants and nightlife. Walking distance to the Half Full Brewery, which offers tours and tastings. Live music on the weekends at the Crab Shell...only steps from the dock! There is taxi service to downtown Stamford readily available. Within Stamford there is a free trolley that will take you to various parts of town. There is free parking at the marina if you are driving. We are five minutes from the Stamford train station on the Metro-North line, which is a 45-minute express train from Grand Central. On weekends in the summer there is a free water taxi that will bring you across the harbor to the new Harbor Point development. There is a takeout breakfast/lunch spot called "Henri's" in the park by the fountain, as well as "World Of Beer", which has 500 craft beers and pub fare. "Paloma" offers upscale Mexican waterfront dining, and "Sign of the Whale" is Stamford's only roof-top bar! All are easily accessible by kayak or water taxi from the boat. We've had two photo shoots and two music videos shot on board! AirBNB will not let me post the link to the video: (URL HIDDEN) (SENSITIVE CONTENTS HIDDEN) but if you search for "Rose Gold Dirty Sushi" on You tube you will see their video and a bit of the boat!
Прекрасный набережной прогулок, рыболовный пирс, рестораны и ночные клубы. Живая музыка по выходным в Крабовидной Shell ... шаги только из дока! (Примечание: в выходные в летнее время музыка не может пойти до полуночи).
Great experience and awesome food across the way!
Adrian
2015-05-26T00:00:00Z
Drew was very quick to respond when contacting him about the listing/questions, etc. and very accommodating. He made us feel welcomed and the stay on the boat was a great experience! We also paid to charter the sailboat the next day which was a great adventure to our trip :-)
Natasha
2015-03-30T00:00:00Z
Everything was organized and very nice! Drew was super welcoming.
Leslie
2015-06-25T00:00:00Z
Drew is an incredibly accommodating guy and his boat is charming and romantic. The harbor is lovely, the people friendly and the experience is unique. I look forward to returning. Thank you for a wonderful weekend.
Cara
2014-10-14T00:00:00Z
Great host and amazing boat and marina! Highly recommended.
Jim
2016-04-02T00:00:00Z
Fantastic stay on the boat, Christina and Drew were great hosts and replied to any questions immediately. The Marinas facilities were good especially the Crap Shell where we enjoyed some fantastic food and drinks. Would defiantly recommend this as an alternative to a hotel, much more fun.
Sam
2016-06-01T00:00:00Z
Absolutely beautiful. The boathouse is nicely furnished that adds such a lovely vibe to it. Drew was very nice and accommodating throughout our stay; answering every single question we had, even warned us for the cold weather and snow. We really appreciate the hospitality and couldn't thank Drew and Christina enough for the opportunity to stay at the lovely boat!
Cynthia Kartika
2017-03-21T00:00:00Z
Drew was so helpful and made sure he was available for any questions. The boat was awesome and such a fun experience. I would definitely recommend staying here! We had an awesome time!
Katie
2015-05-20T00:00:00Z
Тип размещения
Дом/квартира целиком
---
Тип жилья
Лодка
---
Вмещает гостей
2
---
Спален
Стэмфорд, Коннектикут, США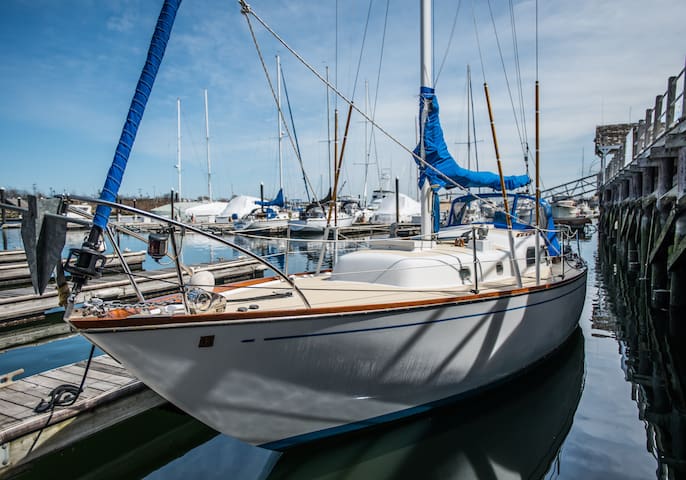 Quaint three bedroom New England castle with expansive grounds and charming views. Please note: as of January 2016, no children under 5 years of age allowed. Thank you!
Our castle was built in 1917 on seven acres by a prosperous Ellington family whose trip to England had inspired the fulfillment of a childhood dream to own a castle. In early 2000, a brilliant artist purchased the castle and dedicated five years to refurbishing and beautifying it. The kitchen is modern with new appliances, the dishwasher having been replaced last year. Downstairs there is a large dining room, a living room with a fireplace, and an inside porch guarded by a medieval knight. Upstairs, each spacious bedroom announces a theme: the jungle room, the Romeo-Juliet room, and an elegant burgundy room with a balcony and bistro set for morning coffee. The grounds offer gardens, a fountain, a gazebo by a pond, and a pergola overlooking another garden with a gargoyle hunched on its pedestal. There is also a trail for leisurely walks up and behind the woods. Points of interest: Bradley Airport, Mark Twain Museum in Hartford, The Bushnell, and The Atheneum Museum are all 20 minutes away by car. Crystal Lake and Shenipsit Lake are less than ten minutes away. Also, 1.5 hours from Boston and 2.5 hours from New York. City.
Simply one-of-a-kind! The castle is an extraordinary oddity in the middle of Connecticut and the interior is full of eccentricities, knight in shining armour and all! It snowed during our visit, which made it all the more picturesque. Thankfully everything is very warm and cozy inside, with a new heater, and the mildly steep driveway was ploughed. Maria was very helpful in accommodating us, right down to setting the table. We had such a memorable visit!
Edward
2014-11-28T00:00:00Z
Maria was a delightful host! She was warm and welcoming. She provided a nice history of the castle and it's renovations. Our family thoroughly enjoyed meeting and speaking with her! Our children are still talking about what a "very nice lady" she is. The castle was very unique and provided a comfortable home base for our vacation. It features all the modern conveniences with a definite old world charm. The furnishings were very comfortable and we found everything very clean and inviting. The children enjoyed the grounds which provided space to play some softball and kick the soccer ball around. Our daughter loved catching the frogs in the small pond and blowing bubbles by the fountain out front. All in all, we thoroughly enjoyed our stay here and would not hesitate to return! Thank you Maria!
Hope
2014-06-28T00:00:00Z
If you are looking for something special, your search ends here. The castle is simply amazing. We were totally stunned by the interior and the details. It was very clean, the beds comfy, totally quiet at night. Outside there is a beautiful garden and forest and the pond with the bullfrog is also an highlight. We very much enjoyed our stay and totally recommend to stay there! Besides, Maria is a great host, very friendly and helpful!
Ingrid
2015-05-25T00:00:00Z
Maria was so helpful and the house was amazing! There is a beautiful forrest and big garden that we enjoyed a lot.
Natasha
2014-10-02T00:00:00Z
Never met Maria, but her call-backs (returned phone calls) were friendly and informative. Trust me, a castle is a cozy place to ride out a snowstorm.
Michael
2015-02-03T00:00:00Z
This listing provided the perfect backdrop for a weekend getaway to celebrate our 4th wedding anniversary! The pictures are spot on, and the description is quite accurate. Maria was very kind and welcoming in our Airbnb communications through the site, and responsive to texts as well, which made our check in process very easy. Although we didn't get to meet her in person, she and her son assisted us over the phone and were both very helpful. The castle itself is stunning! I felt like we were staying at Downton Abbey, which was a dream come true. Although Ellington is somewhat remote, there is plenty to do very nearby or within a 30 minute drive. We explored local breweries, Shenipsit Lake, had dinner at Trattoria da Lepri our first night, and took a 35 minute drive the next night to Simsbury, CT for dinner at Millwright's to have possibly one of the best meals I've ever had. Overall, our stay was fabulous, the castle every bit as romantic and charming as it is in the photos, and our hostess a wonderful person who saw to it that we enjoyed ourselves.
Kathryn
2016-08-14T00:00:00Z
My mum, my 9month old and I had a lovely stay at this quirky and original home. We had good communication with Maria throughout the stay. I would recommend this home for couples or families with very young (not walking) and older children unless they are very well behaved as there is a lot of glass, metal and wood knick knacks within easy grasping reach but this makes for a very atmospheric stay, she even has a robin family nesting on the window ledge of the African room! The beds in all 3 rooms are very comfortable and the house was very clean. There is AC in the master bedroom but nowhere else so a summer stay will be quite warm, we only found one fan. The only improvement would be to have a better selection of non-stick cookware available- there wasn't enough for the 2 of us to cook (despite there being loads of utensils!) and what was there had baked on grime that we spent quite some time scrubbing off. There is ample room for family entertaining. We would come back.
Kate
2015-05-14T00:00:00Z
Cute place, easy to access - hostess left the key in a lockbox on the back door which made things easy when we arrived. The bedrooms were comfortable. No access to the main tower (both doors were locked), which was disappointing. The old-fashioned claw-foot bath tub was great though! The interior is a mix of styles and is more like an old-fashioned house than a castle, but overall it's a fun place to stay. There's a nice stone-walled parlor in the very front by the stairs which was fun for pictures.
Ross
2014-11-30T00:00:00Z
Тип размещения
Дом/квартира целиком
---
Тип жилья
Замок
---
Вмещает гостей
6
---
Спален
Ellington, Коннектикут, США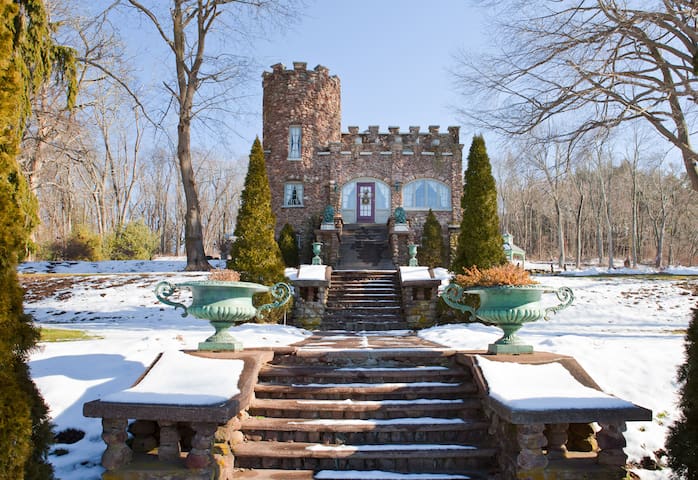 HAPPY SPRING The birds are back; the peepers are peeping; and Spring is in the air. It is a beautiful time of year to visit and we look forward to having you as our guests. This guest house is one of a kind. Beautifully designed and sited at the back of a 3 acre property, the view is spacious and well kept. Stone walls, plantings, and other features make this a truly great place to spend some days and relax.
The guest house is in a private setting surrounded by stunning stone walls and next to a vernal pond. Birds sing; and the owls hoot. Walking distance to a beautiful shell beach, and the beautiful CT coastline. Very close to picturesque Stony Creek and Guilford--historic towns in Connecticut. Great restaurants; Gorgeous oceanside Hammonasset State Park in neighboring Madison, CT--and nature preserve. This guest house is just a few years old and beautifully sited and designed by STUDIOATE; an architectural firm formed by two Yale Architecture graduates. Perfect for a couple or up to 4 people. The guest house has a private bedroom with a King size tempeurpedic bed; high ceilings; Modern Bath with beautiful fixtures and shower; large glass windows and doors. We also provide a pull out sofa with full bedding in the front room that overlooks the pond that will accommodate 2 adults or children for an additional $25 per person. A gorgeous Front Deck overlooks a pond. NOTE: There is no additional fee if you have young children that do not require an extra bed setup. The guest house is equipped with AC/Heat; full bedding; towels; a kitchenette that includes a refrigerator; sink, french press with delicious coffee; hot water pot; microwave; cups, glasses, plates and bowls, and flatware. (There are no cooking facilities in the guest house.) Also Wifi is provided. Short distance to Westwood hiking trails (Land Conservation Trust), shell beach; historic coastline of ct; great restaurants, great shops, antique stores, and museums. Neighborhood is friendly and quiet at night. Easy access from I95. Parking is included.
The neighborhood is beautifully layed out with houses typically on 1-4 acre lots. Very quiet at night and directly off a scenic road that winds through the shores of Connecticut. 1/2 mile from the coastline and beautiful bird watching. Egrets; osprey; blue herons; kingfishers, etc.
My husband and I had an amazing experience at Christine's guest house!!My husband and I had an amazing experience at Christine's guest house!! What an extraordinarily amazing home, and they have such a great knack at designing this unique home. She is a wonderful host, was there to greet us when we arrived, hand us the key, and briefly explained the area, places to eat and places to possibly see while we were there. The home was absolutely adorable and super clean, well appointed accommodations, amazing king size Tempur-pedic bed, and linen/towel selection was very lovely indeed, my husband loved the shampoo and conditioner Christine has for her guests, and she even left us with a delicious selection of tea, and the most amazing coffee I've ever had, she had snack's ready for us when we got into our home, also left some drinks in the fridge, even love the French coffee press.... great addition!! My husband and I are looking forward to visiting her home at least one more time this season and next year a few times. Highly, highly recommend staying with Christine at her one-of-a-kind guest home. What an extraordinarily amazing home, and they have such a great knack at designing this unique home. She is a wonderful host, was there to greet us when we arrived, hand us the key, and briefly explained the area, places to eat and places to possibly see while we were there. The home was absolutely adorable and super clean, well appointed accommodations, amazing king size Tempur-pedic bed, and linen/towel selection was very lovely indeed, my husband loved the shampoo and conditioner Christine has for her guests, and she even left us with a delicious selection of tea, and the most amazing coffee I've ever had, she had snack's ready for us when we got into our home, also left some drinks in the fridge, even love the French coffee press.... great addition!! My husband and I are looking forward to visiting her home at least one more time this season and next year a few times. Highly, highly recommend staying with Christine at her one-of-a-kind guest home.
Lauren
2015-08-11T00:00:00Z
Wow wow wow. This place made for the PERFECT birthday getaway for my boyfriend and myself. We visited the naval museum in Groton, CT and I am SO GLAD we used this place as our "home base." The place has a private parking spot and entrance, so it feels super secluded and private. We arrived around dusk and Christine was waiting for us out front. The decor and lighting in the house had a very luxurious, romantic vibe. The place was built and designed to perfection. The kitchen/living room had everything one needs to sit back, snack, and truly relax - with a stunning view of the woods/pond. The bathroom had HEATED floors, which were a pleasant surprise every time we entered the restroom. :-) The incredibly comfortable memory foam mattress had to have been a California king (or bigger!), stocked with possibly the nicest pillows we've ever used. This place is Exactly why we use Air BnB. If you are looking for a truly relaxing, luxurious retreat, look no further! We are hoping to come back in the Summer to explore the nearby beach!!
Charlotte
2016-12-04T00:00:00Z
The guesthouse was everything we expected and more! Christine was welcoming and friendly without being intrusive at all. We will absolutely return here!
Tim
2015-10-12T00:00:00Z
This guesthouse was one of the most impressive structures that I have ever had the luxury of staying in. Completely modern with every amenity you could possibly ask for. The hosts couldn't have been nicer, showing us around the beautifully designed landscapes and suggesting impressive restaurants in the binder that they provided. They also left us alone during the day, while being immediately available to address any concerns that we may have had. Early mornings on the deck, drinking the espresso that they provided, in the quiet solitude and the soft sunlight, allowed me to relax in complete isolation. I can't recommend this guesthouse highly enough. Worth every penny.
Lars
2014-09-03T00:00:00Z
Beautiful home. Very close to town and Christine was wonderful. We loved our stay and would definitely return!
Brooke & Jeff
2014-09-11T00:00:00Z
Great space! Host just as great!! Love this Airbnb. If a hotel, it would be 5 stars!
Juan
2016-12-16T00:00:00Z
Best Airbnb experience ever. Clean, spacious, nice neighborhood. Great communication and everything was perfectly ready.
Sean
2016-12-28T00:00:00Z
Тип размещения
Дом/квартира целиком
---
Тип жилья
Бунгало
---
Вмещает гостей
4
---
Спален
Guilford, Коннектикут, США
"Vinola" is charming cabin built in the early 1930's. It underwent a total interior renovation in 2016 and we can't wait to share it with you.
Vinola has one bedroom with a queen bed. The main room has one single bed, a single cot and a queen pull out sofa. The loft has 2 single cots. Full kitchen with stove, oven, refrigerator, and microwave. The bathroom has a toilet and shower. There is no TV. (you won't miss it, we promise!) Vinola has a lovely porch on the front and a fire pit and swing set in the back. There are trails in Pachaug and Arcadia management areas that start at the end of the driveway. The Top 3 questions we get: 1. Do we need to bring firewood? You are welcome to collect deadwood from the forest surrounding the cabin for free. We also provide firewood bundles for $3/bundle. 2. Does the cabin have pots and pans? Yes, the cabin is equipped with everything you need for basic cooking. 3. Does the sauna work? Yes! The sauna is available year round.
This is a small, rural, lakeside community. There is far more activity on the lake in the summer months and it is very quiet in the winter. We have one neighbor on either side of our 7 acre property and both are rarely occupied summer homes.
This cabin was beautiful, cozy and elegant all at once. Angela made it welcoming with a vase of flowers on the porch, snacks and a guest book. She also was quick to help us when we'd forgotten the code to get in! This place, hostess, and location were all spectacular. We particularly enjoyed the hiking and sauna. Thanks so much!
Laura
2016-10-03T00:00:00Z
Best little escape from reality!! Love it here have been coming for 5yrs. Very sweet family! Be back very soon!
cris
2016-08-30T00:00:00Z
Our stay at Angela's Vinola cabin was short but very sweet. I had to try to book very last-minute but Angela got right back to me and said that it was fine. We arrived in the afternoon and met the cleaning lady, Bee, who was very sweet and nice enough to show my fiancée and me around the property. The cabin itself was clean and quiet. There is no heat built in but the space heater provided made it quite cozy after a few minutes. Before dark we met Angela and she set us up with her canoe for a quick trip around the (beautiful) lake. Back in the cabin we made some dinner in the kitchen that had all the cooking necessities. Our favorite part was the sauna though. Just a few steps down the driveway toward the water, it is perched on the edge of the lake. Such a relaxing time. I even took a quick half-dip in the lake after we were done to invigorate the soul. Even after only one night, I would definitely recommend this cabin as a great spot for both couples and families. Thanks again, Angela!
Jon
2015-10-17T00:00:00Z
This cabin was perfect! It's small, but perfect for my friend, dog, and me with room to spare. I loved the location as well. We enjoyed the kayaks and the sauna. Angela and her husband provided everything we needed.
Sarah
2016-05-26T00:00:00Z
We absolutely enjoyed staying at the Vinola Cabin! It was so relaxing to just get away from the hustle and bustle of everyday life. The cabin itself was very cozy and comfortable! You can tell that Angela and her family took good care of the renovations in the cabin. We loved the lake as well. The location was pristine, clean, and beautiful. We loved the sauna later on in the night. The highlight of our stay was probably spending time with chipchip, the family dog. She was so adorable and very friendly. I would definitely recommend this listing to anyone!
Yvonne
2016-05-07T00:00:00Z
What a wonderful getaway! The pond was warm and the kids had a blast swimming and jumping off the platform. We all had an amazing time and can't wait to come back next year. Thanks Angela & Chris!
Michelle
2016-09-07T00:00:00Z
Everything exceeded our expectations. Cabin was beautiful and immaculate and had more than the necessary amenities. Angela was extremely easy to communicate with and very friendly. We will return as soon as we're able.
Kimberly
2016-11-20T00:00:00Z
Most beautiful country setting offering many amenities. We enjoyed the quiet, even tho people were in the area. We also enjoyed the lake, and sauna. The cabin was perfect, being cozy, clean, and stocked with everyday needs. We also enjoyed the hospitality of the in laws staying there. This will definetly be a place to come back to.
Marlene
2015-09-08T00:00:00Z
Тип размещения
Дом/квартира целиком
---
Тип жилья
Бунгало
---
Вмещает гостей
8
---
Спален
Voluntown, Коннектикут, США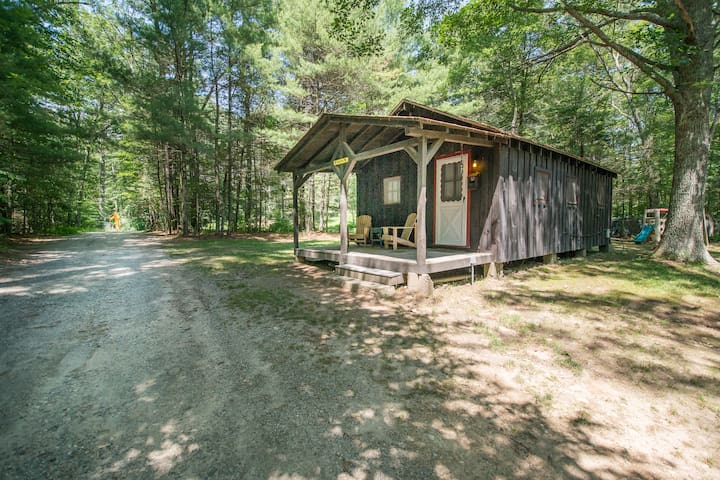 You will be in a two room suite, with private entrance, on a magnificent property with 40 acres of open space and a trout stream. Hike or just relax around the seasonal pool. Close to I84, about 75 minutes from NYC.
Room with private entrance and full bath. The mill, surrounded by 30 acres of open space is only 1.25 hours from NYC. It's a great place for a relaxing getaway. Enjoy the seasonal swimming pool, patio, cable, WiFi internet and close proximity to Fairfield/Litchfield County attractions. As we are in the country, you will need a car. Some guests from NYC take Metro North to Danbury on the New Haven Line or Southeast on the Harlem Line and have Enterprise Car Rental meet them. The mill is well situated for day trips to state parks, museums in Hartford and New Haven and several wineries on the CT Wine Trail. Sorry, no smoking or pets.
Don was a great host. We were there during the storm and he helped us in many ways. The rooms were very comfortable, the coffee good and the scenery fabulous.
stephanie
2011-11-01T00:00:00Z
This was my 2nd stay with Don. He remains a gracious and caring host, as well as an attentive caretaker of these really beautiful grounds. Yes . . . these accommodations are as lovely as they appear in the picture! And they are in a unique setting of fully updated and remodeled living space surrounded by acres and acres of nature, 4 minutes from the interstate highway. I will be back, again, too. So obviously, I highly recommend this lovely offering.
Beth
2014-06-28T00:00:00Z
Everything everyone else said is true! Don is very welcoming. His place is charming, relaxing and unique. I would add that there are beautiful butterflies on his property. There's great food in the area. We enjoyed the foundry and la zingara.
Diana
2015-08-03T00:00:00Z
We stayed for 2 nights in the 200 year old mill. Don was a great host and we enjoyed a relaxing time with very restful nights. Don had thought of everything. From a corkscrew to muffins and fruit were all there. The beautiful surroundings are relaxing completely.
Laura
2013-09-11T00:00:00Z
Don was a wonderful host and his property is absolutely GORGEOUS!! My boyfriend and I had an amazing and wonderful weekend away from the city. I think we may make Don's our new NYC weekend getaway and home away from home!
Tess
2014-09-02T00:00:00Z
We loved our time in Newtown and felt very fortunate to have stayed with Don at the old mill. The setting is spectacular and the home is so unique. Our rooms were very comfortable and we had everything we needed. Don made us feel at home and welcome.
Ronda
2016-06-10T00:00:00Z
Beautiful property, even better then the photos! A nice bedroom and foyer with a pleasant host, Don. Great location if you are driving up to explore Litchfield county, I'd definitely come back..
Ania
2012-10-22T00:00:00Z
Don was a gracious host and easily accessible in the time before we actually arrived. We were on an extended road-trip holiday and not always available, but he made it easy for us to get entry into our space despite his not being there physically. The space itself (a two-room apartment) was totally as advertised and its setting in the woods as the autumn leaves were turning was picture perfect. Don was an affable host and we enjoyed our conversations with him. This was our first Airbnb stay and we didn't fully know what to expect from a host, but he was totally respectful of our privacy which we appreciated. Thanks, Don, for making us feel at home. One of our best experiences was having rescued Don's cat, Chyna, from a closet when we arrived and having her spend the night with us until Don arrived home in the morning. She's a beauty and a terrific asset as auxiliary host.
Robert
2016-10-03T00:00:00Z
Тип размещения
Отдельная комната
---
Тип жилья
Дом
---
Вмещает гостей
2
---
Спален
Ньютаун, Коннектикут, США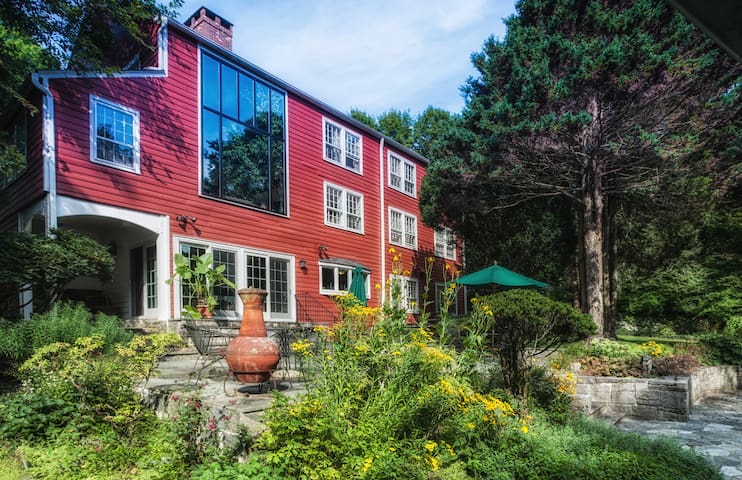 Our antique colonial has original beams, the modern kitchen leads to the large secret garden. One hour from NYC, drive/direct train to Grand Central Terminal. Walking distance into town, nature center, 15 min to beaches, near by skiing and golfing, 1hr from Hartford, 40 min from Yale and 2.5 hours from Boston. Two blocks from Waveney Park hiking biking. This home is very special. Wi-Fi and Cable. Pets case by case. No Parties which would disturb my neighbors. Enjoy!
Location location location! Near NYC and the best CT has to offer. If you plan on renting this property out for commercials, movies, short films etc... We must talk first. Thank you for looking.
I love how friendly everyone is and how it's one of the safest towns in CT
This is a beautiful and spacious home, and Eliza is an extremely gracious host.
Winston
2016-11-22T00:00:00Z
Lovely home in a gorgeous setting. Eliza was very accommodating, communicative and thoughtful. Would definitely recommend!
Toyin
2016-10-16T00:00:00Z
We had a wonderful weekend in this peaceful oasis! Eliza was always available for any questions we had and was a pleasure to communicate with, which made our stay that much more enjoyable. This charming house is big and full of sunlight. It is located off a quiet/private road, and has a big grassy area and patio. We were able to enjoy our dinners outside, stroll around the quaint grounds, and stretch out on the grass and Adirondack chairs with out books and simply relax!! It is also a close drive to the beach and some hiking trails! All in all, we would highly recommend this place for those who are looking for a quiet, peaceful and relaxing getaway!
Ruth
2016-08-29T00:00:00Z
Would be a fun house for summertime stay.
Loocie
2017-03-05T00:00:00Z
This beautiful, spacious and comfortable home welcomed us three old old friends with open arms. It was the perfect place for New Canaanites to return home for a memorial service of another friends norther. The generosity, openness and professionalsim of our host made for a delightful, easy and heartfelt experience. This home is the perfect place to stay for any one returning to New Canaan or visiting for the first time. Thank you, Eliza.
jenifer
2017-03-26T00:00:00Z
Eliza is great, location is wonderful.
Shawn
2017-02-20T00:00:00Z
Eliza was extremely communicative and accessible from the very beginning of the booking process to our check-out. She left some food staples and a bottle of wine for us when we arrived. The house was clean and has tons of space (there are actually 5 bedrooms even though only 4 have beds). The master suite has great privacy and the kitchen and sitting room are cozy and offer great views of the property. The house is in a tranquil neighborhood, but only a 5 minute drive from the New Canaan downtown (which is a great place to walk around and enjoy shops and restaurants). It was the perfect house to enjoy with family over the holidays.
Rosy
2016-12-26T00:00:00Z
The house is beautiful and big! I spent my birthday with friends and we really had a wonderful time. Eliza was very responsive with the messages and was able to accommodate our needs, as a big group. The house is a very quick car ride from the metro north train station, which was perfect to people the autonomy to come and go according to their schedules. I would definitely recommend this place!
Fernanda
2017-03-19T00:00:00Z
Тип размещения
Дом/квартира целиком
---
Тип жилья
Дом
---
Вмещает гостей
10
---
Спален
New Canaan, Коннектикут, США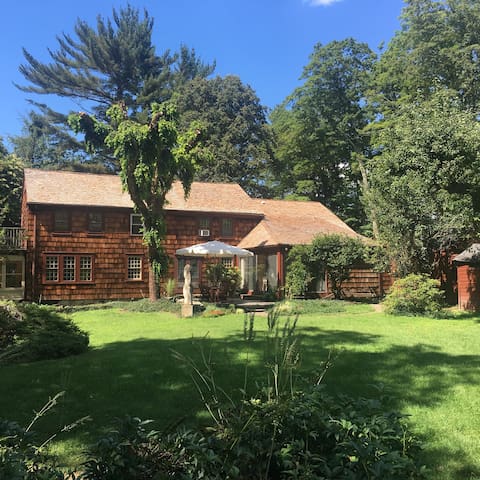 Amazing victorian house in the trees. Drive under a covered bridge and see the house on a hill above the quaint town. A painstakingly preserved and decorated 3 story house with French mirrors, Moroccan lamps, Shaker furniture, and Persian carpets.
As featured in New York Magazine! Amazing historic victorian (ca. 1870) in front of a stream, in Historic West Cornwall, right past the covered bridge, nestled over 3 floors on a small hill in the middle of the trees. Retaining every historical feature. Oozes of charm & style. With a farmers market right across the street in summer and skiing right in town at Mohawk Mountain in winter. The house has amazing furniture retaining a great historic feel while adding a lot of charm and style. It's perfect for artists and couples wishing a romantic get away from the city. The house is on 3 floors overlooking the stream and town, right over the covered bridge and close to restaurants, a coffee shop, antiques, and the Housatonic River. With a great garden and huge stone steps. Enjoy views of the creek from the front porch and from patio on the second floor. Located in a historic West Cornwall, right past the covered bridge on the Housantic River about 2 hours from NYC. Accommodates 2-4 people comfortably in 2 bedrooms in 1,400 square feet of space over 3 floors. - 2 bedrooms - note guest bedroom has a heavy linen curtain separating it for the living space but not a door. - 1 old claw foot bathtub and separate toilette. No shower. Please note the bathtub is separated from the bedroom with a linen curtain. Again no door. Also it is accessed via the bedroom. - 1 main living room with huge cathedral ceiling - 1 historic kitchen -- 1930s stove not working. Kitchen is rustic with found wood shelves and original 1890s open shelves. We have a toaster oven and induction hot plate for cooking. Full size refrigerator. - 1 - dining room, and fantastic day bed - 1 large front porch and patio on the second floor Pets are considered with security deposit. No smoking. Linens/towels included. Washer/dryer. From the May 20th 2013 New York Magazine article "Even the drive to this three-story 1870s Litchfield County Victorian is picture perfect: Pass through a covered bridge and you'll spot it peeking through the leaves, perched on an oak-dotted hillside. The two-bedroom, one-bath house has undergone a top-to-bottom interior restoration and a systems overhaul, which means you can bask in period charm (bay windows, a claw-foot tub, exposed-beam ceilings) without forgoing the ease of modern conveniences (reliable plumbing and electricity). The décor is a shabby-chic mix of plush velvet chairs, Shaker furniture, perfectly weathered Oriental rugs, and knickknacks from local haunts like Michael Trapp's antique shop (7 River Rd.; (phone number hidden)), just up the road. Fill your days with walks to the nearby stream, afternoon dips in Cream Hill Lake, and kayaking excursions on the Housatonic River." The house is set on 1 acre, on small hill in front of a creek. About 3/5 the property is wooded on a hill. The sloped nature of the land combined with the woodland and water edges give the property a private feeling in summer, but with the walkable amenities of a country hamlet (post office, restaurant, café, antique shop – all in view of the covered bridge). Nearby are the historic towns of Kent, Lakeville, Litchfield, Great Barrington, and Millerton.
West Cornwall is right over the covered bridge. There is a farmers market across the street, Wandering Moose Cafe for breakfast, lunch, or dinner, and you are a short drive from at least 5 great towns. Lot's of great skiing right in town and also at Catamount and Butternut!
West Cornwall is a beautiful small town and after driving through the covered bridge it is easy to find the house on a hill. I have never been in a house like this. It is from 1870 but very well maintained. It feels large but is still cozy. We loved cooking in the kitchen, sitting on the porch and listening to the nearby brook. There is no shower, but there is a claw-foot bath which we loved. Everything was clean and well maintained. Overall, we really enjoyed our stay and are planning on going back soon.
Brian
2012-10-08T00:00:00Z
Few places have felt as alive as this one. Sitting above this cute little hamlet it truly transports you to another mindset - and perhaps another time. Welcoming and wonderfully curated it feels like a home that wants you to be there. A very unique and special stay.
Eric
2016-05-22T00:00:00Z
I had an amazing time here, such a magical place. Everything is well appointed. I needed a getaway that was in the tri-state area and this was just that. I highly recommend this place to anyone who is looking for something off the beaten path. I can't wait to return one day.
Khaleeqa
2016-04-01T00:00:00Z
While proposing to my girlfriend, I planned this trip to the Victorian house and absolutely loved it. The place was clean, warm, and located in a beautiful small town in Connecticut.
Adam
2015-04-20T00:00:00Z
Larry's house was wonderful for a weekend get away. If you're a creative-type you'll flip over how incredibly cosy and secluded it is.
Willem
2016-01-12T00:00:00Z
My husband, friends and I had a nice time staying at Larry's house in West Cornwall. However, I wouldn't recommend it wholeheartedly to other Airbnb guests, due to a few issues that we didn't expect. Hopefully, the host can resolve them easily! Pros: - Beautiful location -- very scenic and close to great hikes and cute towns! (especially Kent). - Mary, the caretaker, is easy to communicate with and kind. - The third floor common room is gorgeous and very well decorated. - Reasonable check in and check out times - Good central heating - Clean, fresh sheets and towels -- for the most part. We were 4 guests and were only given 3 clean towels! Cons: - The kitchen was very dirty, which became apparent as soon as we tried to use it. Although the sink and counters were superficially clean, the dishes were full of dirt, some had mold on them, and we had to wash everything before we could use it. The hot water boiler was moldy so we had to wash out a pot (caked with grease) to boil water for coffee. - The bathtub isn't very accomodating -- although we were warned about it in other reviews, it is worth noting here that there is only enough hot water to fill it a quarter of the way, and you need to use a plastic cup to rinse yourself. Some of us just skipped taking a shower all weekend! - The house is a bit musty smelling, and if you have dust or other allergies, you probably want to skip it. - The second bedroom doesn't have a door, just a curtain -- not a big deal but worth noting. With that said, if you view it like "glamping" and don't plan to cook, I think you would be fine!
Kimberly
2013-10-14T00:00:00Z
Very cute house with lots of charm and character. Authentic with a very chic and detailed style in a cute little CT town with delightful old streets to walk and a Sat morning farmers market. The house could have been cleaner, particularly the kitchen, and the beds where make your own. Larry was very responsive and helpful with our same day booking. Note: The house was labeled as "Pet's allowed" which we filtered, but we were told to leave our dog at home. We were already on our way so owner agreed, but hit us with an unexpected, unstated $50 fee. I recommend this house to anyone not meticulous about cleanliness, and don't bring your dog.
Richard
2016-08-09T00:00:00Z
Really beautiful place. Highly recommend it.
Kirk
2015-10-09T00:00:00Z
Тип размещения
Дом/квартира целиком
---
Тип жилья
Дом
---
Вмещает гостей
4
---
Спален
West Cornwall, Коннектикут, США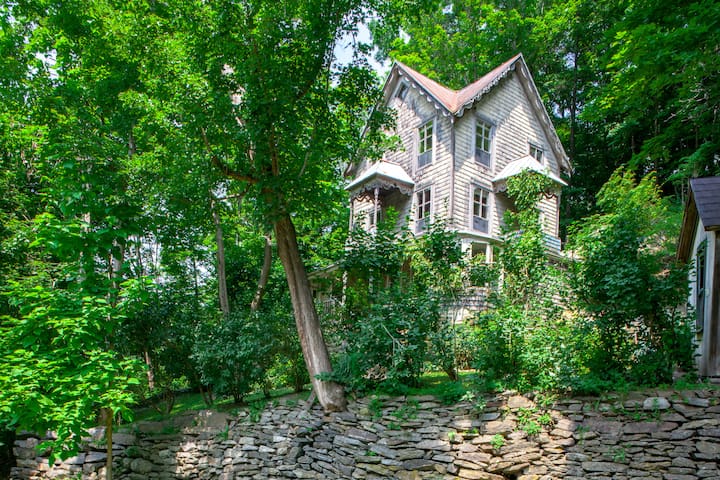 Frank Lloyd Wright inspired cottage sits perched on top of a hill overlooking a seasonal pond, creek, and a field of ferns. A wall of windows brings the sense of being one with nature .Keep cozy with the giant size fireplace!
Seven acres of pristine forest and fern groves, overlooking a seasonal pond and creek. Old logging road provides for nice walking trails. Frank Lloyd Wright inspired architecture brings the outdoors in with a wall of windows, an oversized stone fireplace and stone accents throughout. Rustic and cozy, the prefect getaway or retreat.
The house is surrounded by seemingly endless open space and nature preserve, all yours to enjoy! You enter through a residential neighborhood, but while you are there, you have the feeling of an abundance of privacy!
We had a great experience. The house is amazing. You really feel the outside inside the house. Jennifer was welcoming and accommodating. Thank you!
Joseph
2016-01-18T00:00:00Z
This is a unique, pretty, immaculate property located in a quiet, wooded neighborhood. Jennifer made us feel so welcome. The kitchen was especially great since we cooked Thanksgiving dinner there and we had everything we needed. Woodbury and the surrounding towns are quintessentially Connecticut and the hiking is superb. We had a great time and would definitely visit again!
Jessica
2016-11-27T00:00:00Z
What a super host! Super attentive to my needs, responsive, thoughtful and kind. This house is tucked away in the woods with over 160 acres of beautiful land to explore and only a few miles from the town! Gorgeous architecture with floor to ceiling windows, a giant open hearth fireplace, comfortable beds and a well equipped kitchen. Don't miss this one!
Britten
2016-02-01T00:00:00Z
This place is beyond incredible. If you are a fan of mid century modern architecture or just the aesthetic in general, this place will blow you away. The setting is about as ideal and anything could ever be. Jen is a top notch hostess. If you're looking to get away and check out for a while, I can't think of a more ideal place in which to do just that. The market is great and although there seemed to be an ample amount of restaurants we chose to shop at the market and cook. The kitchen is well stocked with cookware (even a crockpot which we did indeed use). I can't say enough about this place and we will be returning, possibly once a season. Yes, it's that amazing.
Shane
2016-03-19T00:00:00Z
Jennifer was great at communication from the very beginning. She sent us a lot of information and made us feel very welcome. The home is lovely– just as pictured and the surrounding woods, and the beautiful little town of Woodbury were delightful.
Amanda
2016-06-15T00:00:00Z
Another fantastic and peaceful stay at this charming home in the woods. We just love it here, quiet, cozy, amazing forest right out the back door. Great architecture, wonderful kind hosts. Thank you for making this awesome home available to other people to enjoy :)
Mahesh
2016-09-03T00:00:00Z
What a beautiful home! We enjoyed our stay very much. The place is isolated and peaceful. Our family would love to return soon. Thank you Jennifer for allowing us to have the opportunity to rent your home.
Jeannette
2016-08-01T00:00:00Z
We love this house in the woods! Jennifer is a great host, a wonderful experience all around!
Mahesh
2016-09-17T00:00:00Z
Тип размещения
Дом/квартира целиком
---
Тип жилья
Дом
---
Вмещает гостей
4
---
Спален
Вудбери, Коннектикут, США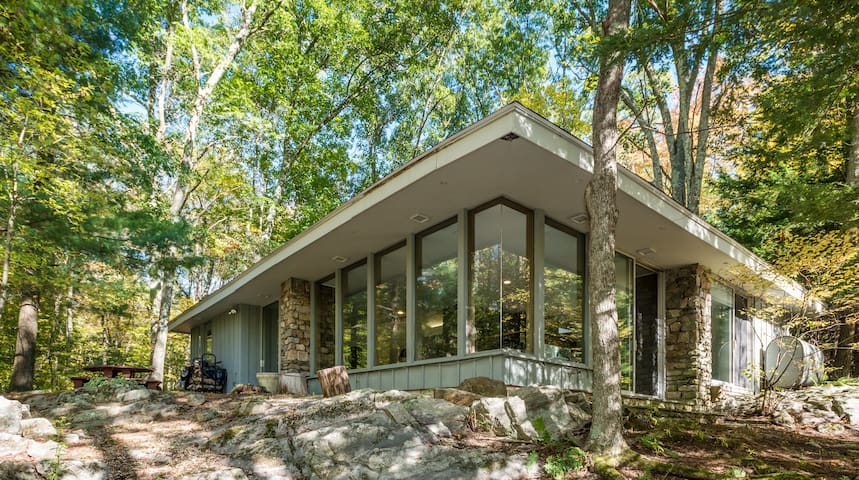 Our guesthouse is a serene space above our yoga studio "Open Sky Yoga Barn." Bordered by 100 acres of open land beyond the deck, a sacred, tranquil energy abounds ... peace, calm, magic. Best for a couple yet 2 kids can use the single day bed with a pull out single mattress.
The guesthouse is secluded and private, a true retreat from our fast paced society - a great getaway from NYC only 1.5 hours away. It is located over our yoga studio -- so when classes are in session we ask for you to be respectful and very quiet. You are welcome to join regular classes for free if you choose. The regular weekly schedule includes morning classes on Mondays, Thursdays & Saturdays. Please inquire about additional class times & events prior to your booking as we host monthly Guided Meditations, JourneyDance and seasonal concerts, films and workshops. For these extra (non weekly) events regular fees or donations apply.
Rustic, quiet, beautiful natural wooded environment.
Cathy's space was lovely - the perfect restful retreat for my wife and I. My wife particularly enjoyed the Saturday morning yoga class in the studio under the apartment.
Samuel
2016-03-22T00:00:00Z
This place is magical. I felt the serenity as soon as I stepped in the door. There were flowers and candles and snacks waiting. It's in a beautiful forest with hiking trails and a large deck. I slept better here than in my own bed, even on the first night, which is unusual. Cathy is a great hostess, checking in to make sure things were OK, without hovering. I'm really glad there is such a lovely place to retreat to here in CT. It's a great place to meditate and read and relax.
Christina
2015-06-11T00:00:00Z
Cathy was very welcoming, and her dog Gracie was also. Gracie even took us on a hike of the property, which is gorgeous. The room was beautiful and clean and she left us flowers, and chocolates on our pillows. Maybe because it was Valentines day but I assume she always leaves something nice. There was also some delicious treats in the kitchen for breakfast. we were interested in where we could go to cross country ski. She explained everything to us we needed and was very helpful and friendly. There is a beautiful park really close by for outdoorsy things. We will definitely go back and visit again.
Mallory
2016-02-16T00:00:00Z
Nice and quiet rental with a great host. The description was accurate and the apartment had everything you would need for a comfortable stay. I would recommend this place for anyone looking to get away for the weekend and relax with no distractions.
Alex
2016-06-06T00:00:00Z
Cathy's rental above her yoga studio is truly a relaxing retreat from the world! Driving through the back roads of Connecticut to get there, during the peak of autumn foliage, was so picturesque that I could barely think of a nicer place to spend a fall weekend. Cathy was incredibly helpful, with lots of recommendations for places nearby to visit, and she made our check-in/out very smooth. When we arrived, the whole house smelled amazing; incense and essential oils filled the space and all our stresses from the week just melted away :) We would absolutely stay there again in a heartbeat!
Liz
2015-10-05T00:00:00Z
Cathy was a great host. Beautiful place. Peaceful.
Wendy
2016-06-15T00:00:00Z
We enjoyed a perfect weekend away from the city at Cathy's. The property was beautiful, relaxing, and private. The apartment was the perfect amount of space for two of us but could easily have accommodated four. Although Cathy was out of town during our visit no detail was overlooked in order to make us feel welcome. The apartment was lovingly prepared for guests (big fluffy robes and towels, luxurious bedding, home made zucchini bread, a helpful information packet). We found the yoga studio downstairs particularly wonderful. There was one class at 8am on Saturday, but besides that it was empty and available to use. I can't recommend this space highly enough. It is a real treasure!
Christina
2016-05-02T00:00:00Z
Hostess was very warm and welcoming. Property was as described. Very comfortable in an absolutely wonderful environment. Very private. I felt very secure. I took part in Open Sky Yoga Barn's yoga camp and it was an amazing experience.
Phyllis
2015-08-13T00:00:00Z
Тип размещения
Дом/квартира целиком
---
Тип жилья
Квартира
---
Вмещает гостей
4
---
Спален
Реддинг, Коннектикут, США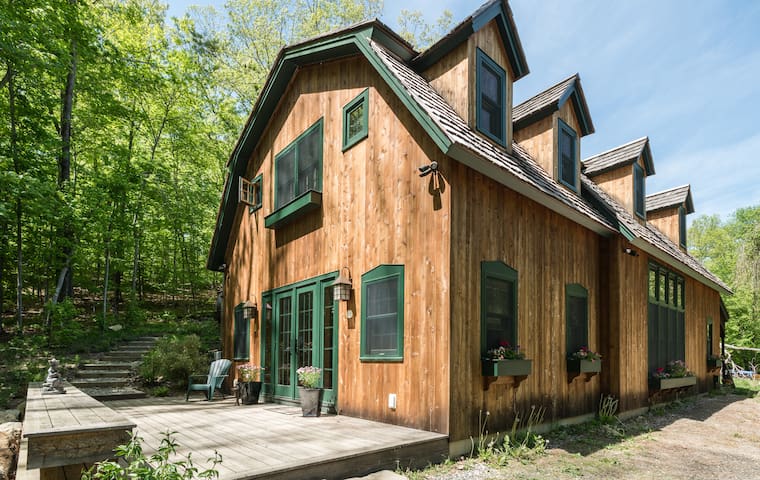 Our rustic River Houseboat is on the edge of the Pootatuck River on our lower pond.
Our rustic River Houseboat is on the edge of the Pootatuck River on our lower pond. The Houseboat has a comfy queen bed and a screened porch complete with two antique rocking chairs. The River Houseboat is often preferred because it is located close to the main Stone Barn and parking lot. The Stone Barn is open 24 hours and has a hot shower, toilet, and common room with internet and books. Keep in mind that because this cabin is located at the base of the mountain it is not as secluded as the other cabins. At this time there is only a fully equipped communal Rustic kitchen located at the top of the mountain. PLEASE keep in mind that this kitchen is located a 10-20 minute walk from your cabin, pace depending. If we are available we are happy to give a lift with groceries but we don't allow private cars to drive up and down the mountain. The Stone Barn has a grill outside that guests are welcome to use and we are happy to provide a cooler with ice but cooking requiring prep space and such needs to be carried out in the Rustic Kitchen. There is no kitchen available in the Stone Barn. PLEASE NOTE -The bathroom is not located in the cabin. Both the bathroom and showers are located a one minute walk away in the Stone Barn -There is a small bonfire pit located near the cabin. Five log bundles are available for $5. -DOGS are not allowed in this cabin -Candles are not allowed in the cabins -We do have wi-fi in the stone barn that reaches this cabin but it can be a little undependable
Though there is lots to do in the towns of Newtown, Monroe, Easton and Fairfield, surrounding Sticks and Stones Farm, most guests prefer to kick back, stay put and enjoy the quiet energy of the farm setting.
We picked a bad weekend weather-wise to go to Sticks & Stones, but had a wonderful time nonetheless. My partner and I came from New York for a long weekend and stayed in the River Houseboat near the main barn. Turns out this was a good choice of location on a cold, rainy weekend because most of the other cabins are farther up the mountain and further into the woods (they looked like amazing places to stay during warmer months, but not in the cold!). Desre and Ethan provided us with so many blankets that we were perfectly comfortable in the cabin even in 37 degree weather. We were told they personally tested out all of the cabins by spending a night in each to fully understand each experience, and I think our stay was a testament to this commitment to the comfort of their guests. We took a short hike on our first day to see the rest of the cabins, the permanent housing, the farm, and some of the other facilities like the amazing rustic outdoor kitchens that are available within a short hike from the entrance, and were impressed. Ethan told us of a number of outdoor activities available within a few miles of the place, and it seems like Sticks & Stones would be a great place to go in the summer for camping, kayaking, and hiking. We had dinner with Ethan the first night, and he seems very excited about drawing more permanent resident artists to the place and building a real community, which I think will really contribute positively to the atmosphere of the farm and liven up the main barn, which has a lot of potential as a common space. We brought and cooked our farmshare, which was a good idea since we didn't have a car to go get groceries, but we also took Ethan up on a couple of meals, which were delicious--fresh, hearty, well-prepared, and cooked in a beautiful commercial-grade kitchen that is available to guests. Overall, this is a great place for quiet contemplation and creative work, or camping/outdoor adventures, and depending on where you choose to stay on the farm, it seems like you can find a place to do whatever you'd like. I'm excited to see what the future of this spot is. Desre and Ethan are wonderful hosts, and I'm sure we'll be back.
Gillian
2014-10-13T00:00:00Z
The hosts are a very nice, laid back family. Welcoming and friendly. The accommodations are nice and rustic. The houseboat and a nice bed and plenty of blankets. It got pretty chilly at night, but the blankets were comfy and kept us warm. The indoor part had a table lamp and fan and an extension cord where you could plug in whatever you needed. The bathroom is in the main house 1 minute walk away. We spent two nights total with my husband and 2 year old daughter. she had a great time chasing the kittens and the chickens around. We used the kitchen to cook breakfast and went out to dinner in one of the nearby restaurants. We enjoyed hiking on the property and picking veggies in the garden. Overall a great getaway from the bustle of city living
Yelena
2015-09-22T00:00:00Z
What an incredible and charming place - a complete oasis. We came here looking for an escape from the City and Sticks and Stones delivered. Des'r was a great host and made us feel right at home. Hope to be back here soon!
Laura
2014-08-31T00:00:00Z
We really liked the location, surrounding nature, and riverboat with screened in room, from which we could sit at night and enjoy the pond and nature sounds. Everyone we talked to on the property was very nice and helpful people. Our entire stay was an enjoyable change from the city hustle; overall a great place to relax, soak good energy, and enjoy the nature.
Andriy
2014-08-02T00:00:00Z
I had a short but wonderful stay in the houseboat. It was cozy, cute, and had just what I needed for a comfortable night. I would love to come back and check out the other cabins in the future. Our hosts were super friendly and very accomodating; they helped us build a small firepit and gave us the most delicious ice cream I have ever had! Thank you so much for being such wonderful hosts!
Sarah
2015-06-19T00:00:00Z
This place is amazing! I loved it! If you want to get away, this is the best place to do it! It is beautiful here! Our host was so nice and sweet!
Ashley
2015-10-24T00:00:00Z
Very cozy little cabin. Even on a chilly fall night, it was plenty warm with the big blankets and sheets provided. Desré made booking and figuring out details of arrival very easy. Would definitely stay again, when we had more time to explore the beautiful grounds of the farm and all of the walking paths.
David
2014-09-27T00:00:00Z
Desre' was lovely and the setting was really wonderful. Only stayed one night but would have loved to stay longer. The houseboat was cute and cozy altho I'd recommend bringing warm pajamas as it can get chilly at night.
Grace
2014-09-28T00:00:00Z
Тип размещения
Дом/квартира целиком
---
Тип жилья
Бунгало
---
Вмещает гостей
2
---
Спален
Ньютаун, Коннектикут, США
Sun Filled Glass House Overlooking River: fast Internet, glamping in style. Perfect for 1-2 people visiting NYC. Easy 40 ft walk to waterfront kayaks/paddle board. Easy off street parking. 2 miles to train, ocean view, & Greenwich restaurants. Airbnb earnings support Burleson Inst. research & you may be able to deduct taxes for contrib. to our 501(c)3 nonprofit.
This great river front glass house lives on our nearly one acre organic maple grove forest and fledgling chutney orchard. We enjoy kayaking and swimming in the river. We cross country ski and skate the river (chatting with ice fishermen) and surrounding woods in the winter and into the spring. Daily hiking and swimming at base camp inspire us to do extensive outreach in our areas of humanitarian and climate coordination globally. We find Cos Cob a wonderful place from which to mix all of these experiences together. We have been known to muck out to the far reaches of the beach for shell fish then dash home to put on suits to attend heads of state negotiations at the United Nations. Feel free to meditate along the riverbank or day trip up and down the coast. A companion Riverview listing is occasionally available when the Cozy Glass House is closed for the cooler season. The plants migrate into our greenhouse/glass house attached to our 250 year old house. Both listings offer sunset paddling as well as hilltop views over the top of an evolving organic veg/fruit/herb garden to the 52 acre river beyond. Airbnb earnings provide support for the ongoing water-energy research underway at the Burleson Institute. As a result, guests may engage with the river at the same time as be able to deduct taxes for contributing to our 501(c)3 educational nonprofit. Checkin is at 3 pm. Please coordinate arrival well ahead of time. We do not have the capacity to wait onsite for hours given our many responsibilities. This is a smoke/alcohol free property -- both inside and outside. Come to this gracious home on a peaceful, spacious property that is convenient to a wide range of ways to spend your time. In addition to easy access to NCY by train, we are a 25 minute drive from tours of the famous Philip Johnson Glass House. Ours differs in style and prestige being a Junior Victorian, actively used, greenhouse. We love sharing our waterfront access to a very special river. The nearby Mianus River Gorge is the first piece of land ever set aside by the Nature Conservancy. The next stretch of water is owned by the water company and well preserved from regional development. We benefit from being able to wander out the backdoor and walk down a 2-minute path to our dock where we spend many afternoons kayaking down to where the river opens into Cos Cob's harbor on the Long Island Sound. The wildlife benefits from an aquatic habitat that qualifies as backup drinking water and that features a fish ladder at the edge of the small hydro dam that helped power train transport to and from NYC. Herons and other shore birds often sit on the dam to fish for dinner. The glass house is perched atop a glacial erratic rock garden that marks the end of the last ice age. We love these stone outcroppings of standing stones and all the literarily lore that comes with ancient rock. While the house is a 250-year-old barn used to bring potatoes by boat to New Amsterdam, the glass house is a cosmopolitan newly renovated retreat that is wonderful for one or two people. We offer a contemporary solar powered 8 x 10 glass green house with sliding glass door and rainfed/heirloom gardens. We tap our maple trees and can offer solar maple scones on some weekends. Guests have access to a full bed, camp chairs, extra light weight screens tucked under shelf if privacy is preferable to a clear view, solar powered space heater, Internet, fridge access, and French press coffee maker that can also be used for tea. Water is from the river (via the water companies state of the art purification process). We bring this water up to the glass house from the main house. The hilltop pebble patio area features patio chairs and an outdoor historic stone fireplace suited to making pizza. Feel free to use a few of our heirloom garden herbs. Please bring your own picnic supplies. The neighboring houses are well within view and there are one or two renovations underway in the neighborhood. If coming from city life it is very rustic. If coming from wilderness it may seem urban. We find that kayaking within 35 miles from all that NYC has to offer a real treat that mixes cultural and environmental interests. We have a wide array of books if you would like to relax on the hilltop. We can offer a days worth of coffee, tea, honey, and very occasionally a few staples if you arrive late and have not had an opportunity to buy food. We are easy going, kind people who would like to make sure you feel welcome and cared for in what has been for us a wonderful place to feel peaceful. We write and curate rotating water, energy, climate Institute expos on behalf of our nonprofit Burleson Institute. We also gather information on watershed wildlife and contribute to Cornell's northeast bird count. Feel free to get involved. By volunteering with the wildlife citizens science service learning and staying in the glass house as guests, you can help advance our institute's energy-climate-water network of evolving best practices. Our neighborhood is not free from lawn services using mowers but it often is a tranquil get-away while also offering a trampoline from which to explore foodie and cultural options galore with substantial boating, hiking, fishing, etc. Our front step is a historic mill stone and our rooms within offer an eclectic array of artwork, instruments, and much loved multi-media research library encompassing: naturalist, international law, and innovative ways to respond effectively and equitably to the pressing issues of our era. We consider one or two members of our wildlife community semi-wild pets given their peaceful presence in our backyard. Peter and Ben Bunny can often be spotted chomping on grass out back. Wild turkeys, Blue Herons and Egrets take refuge at our dock as do migrating families of ducks. Baby ducklings and swan signets are common in the late spring and summer. Turtles can be seen sunning themselves on rocks and logs until the river freezes and makes way for cross country skiers, skaters, and ice fishermen. Enjoy our solar loft library including great artwork, books, instruments from around the world, and music recordings. David is fluent in Spanish and Betsy creatively conversant. Shopping for groceries ranges from a Shop and Stop 2 miles away to Trader Joe's, Fairway, and Whole Foods within 10 miles. The town excels at offering foodies an exquisite range of culinary opportunities. We would be happy to share our favorites (a seafood restaurant around the corner from the Norwalk Maritime Center where we like to see the latest Imax film). We also like picking up famous CT pizza from Pizza Post (better than Mystic Pizza) and having picnics at the beach. Folks have been enjoying the Little Pub, Mumbai Times, Louie's, Thai Basil Restaurant, Meli-Melo, and Versailles. Crossing over to the NY Historic Hudson Valley or hop a train into NYC changes the flavor of the culinary and cultural offerings. We often prefer to experiment with our CSA organic veg box by making stews, chilies, chowders, gazpacho and the like. Our maple syrup cookbook is expanding into a solar cookbook and international cookbook... all still evolving. The glass house features a solar cooker for you to have fun with if the weather permits. Given our latitude, solar power is unlikely to be a main course option. Alternatively, you can bring back goodies and store them in the solar powered fridge. Backup house power is also available for the boat batteries that run the hilltop amenities. For anyone who lived through Superstorm Sandy, Katrina or their siblings, we seek to offer hands on innovation opportunities with resilience resources. Solar power has cut our electric bill in halve and a separate off grid array allows solar glass house guests a unique glamping experience. Enjoy the Greenwich downtown pedestrian marketplace with outside eateries, interesting shops, and a small farmer's market on Saturdays until 1 pm (other towns in the area have farmer's market days throughout the week). There are many fine restaurants to choose from, and enjoy NYC's vibrant arts scene, with museums, galleries, and dozens of music and performances daily. There are very few places to stay in the area that have the rare combination of kayaking / paddle boarding off a waterfront dock in the backyard as well as easy train access into NYC and a cozy comfy bed at a reasonable cost. Plush bedding and fluffy spa towels allow guests to have a soft energy footprint in style.
Relax and unwind in this back bank river hideaway. Quiet, family-friendly neighborhood, where folks walk dogs, jog, etc. I love the neighborhood as it is walking distance to wooded parks with extensive trails for hiking, cycling, and cross country skiing. The river is stocked with trout and many wading fly fishermen brave the chilly Feb. waters in late winter/early spring. This extensive forested trail system encompasses over 300 acres of woods. You would not know that you are 30 miles from the heart of NYC. Coastal views can be enjoyed at the Cos Cob Park year round and with open access to Greenwich beach in the winter and access with purchased day passes in the summer. We often have some of these passes available at the house for the town for $7. Greenwich does require a car sticker ($35) for Todd's Point (we have not purchased any of these but sometimes can offer a one way ride and a taxi can shuttle the other direction). Alternatively, the ferry to Island Beach is roughly $15 in addition to the $7 guest day pass. Other than the peak summer months the Todd's Point Beach is open to the general public for free. Stunning sunsets over Long Island Sound can be enjoyed while picnicking out at the beach or from the free Cos Cob Harbor Park (behind the Cos Cob Train Station). Many folks dock boats in Cos Cob Harbor, both seasonally and as they rock hop up and down the Atlantic Coast. Cos Cob's artisan: fish shop, cheese shop, smoothie shop, tea house, farmers market and quiet historic neighborhood streets allow for a peaceful yet cosmopolitan get away without a substantial trek from regional hubs. The town celebrated its 375th year in 2015 and has several revolutionary era museums including the Bush-Holly House and Putnam Cottage. Science and art exhibits can be viewed at our Bruce Museum and National Audubon Center as well as in NYC (my favorite is the Frick collection of Dutch art for its use of light and contrast). Visitors often alternate days in the big apple with relaxing seafood forays up the Connecticut coast, stopping at the Norwalk Maritime Center (URL HIDDEN) to see marine life of Long Island Sound, including loggerhead turtles, sea horses, tiger sharks, and harbor seals (smaller but better than Mystic!) A ferry ride can take visitors to tour a historic lighthouse. In addition to Native American, naturalist, maritime, and revolutionary / colonial cultural opportunities, this area has become a diverse cosmopolitan community (despite still calling itself a town). The students at Greenwich High School speak over 35 languages. Lonely Planet notes that the "southwestern corner of Connecticut, otherwise known as the Gold Coast, was once home to potato farmers and fishermen until 19th-century railroads brought New Yorkers north. With their blue-chip companies they transformed Fairfield County into one of the wealthiest regions in America with the affluent town of Greenwich at its heart." One of our favorite summer activities is to take a ferry out to Great Captains Island and/or Island Beach to enjoy Long Island Sound then return and kayak/swim on the Mianus River. We cross country ski and skate the river (chatting with ice fishermen) and surrounding woods in the winter and into the spring. Daily hiking and swimming at base camp inspire us to do extensive outreach in our areas of humanitarian and climate coordination globally. We find Cos Cob a wonderful place from which to mix all of these experiences together. We have been known to muck out to the far reaches of the beach for shell fish then dash home to put on suits to attend heads of state negotiations at the United Nations. Feel free to fold into our sustainability initiatives at our institute headquarters, meditate along the riverbank, or day trip up and down the coast.
Elizabeth did many things to make us feel welcome. She made sure we had everything we needed and provided lots of little extras, like nuts, a water kettle, and granola.
Deborah
2015-10-21T00:00:00Z
Such a beautiful spot! Elizabeth was a wonderful laid back host! Her description of the glass house and amenities are spot on so expectations were met (and exceeded)(URL HIDDEN)hope to be able to go back again!
Rekoor
2015-08-11T00:00:00Z
Elizabeth was a flexible and accommodating host who generously opened her home for me and made sure I had everything I needed during my stay. The property is exactly as described – located in a suburban neighborhood in Connecticut with a spacious backyard and private pond. And each morning you wake up seeing the sky through your roof. It's convenient and close to a park for hiking, and the town isn't far for when you need to get a bite. I would definitely recommend staying here if you're looking for a unique camping experience without lugging all the gear!
Natalee
2016-10-23T00:00:00Z
Place was just as pictured. Very clean, convenient and beautiful locations. Elizabeth was wonderful. I would stay here again.
Ani
2016-07-03T00:00:00Z
We had a wonderful experience staying in the glass house!! The property is absolutely gorgeous and Elizabeth was so kind and helpful. The main house (bathroom & kitchen) were just a few steps away and very easily accessible. The glass house was beautiful to stay in - there was a thunderstorm the second night we were there and we got to watch the rain fall on the glass roof which was absolutely magical. Elizabeth offered to have us sleep in the main house if the storm got too bad which was so kind. We spent lots of time in the kayaks and swimming in the surprisingly warm river... and the property is full of the cutest chipmunks, squirrels, and birds! I'll definitely be back there as soon as I can!
Jordana
2016-06-07T00:00:00Z
This is one of the most amazing places to stay. The glass house is lovely--simple and clean and the bed is extremely comfortable. The setting is incredible! The river view and access is awesome. Elizabeth is very friendly, thoughtful and accommodating. I highly recommend staying in the glass house!!
Tiffany
2015-08-21T00:00:00Z
Great stay! Elizabeth was lovely and we will definitely come back!
Ale
2015-09-28T00:00:00Z
This was hands down one of the most incredible experiences I've had using AirBnB. Elizabeth and her family were more than generous in making my 30th birthday getaway very special! From the kayaking to picnicking, her father's poems and in-depth history of the property; such an incredible experience! We will definitely be returning, and so close to home too :)
Charlie
2016-05-02T00:00:00Z
Тип размещения
Дом/квартира целиком
---
Тип жилья
Палатка
---
Вмещает гостей
2
---
Спален
Гринвич, Коннектикут, США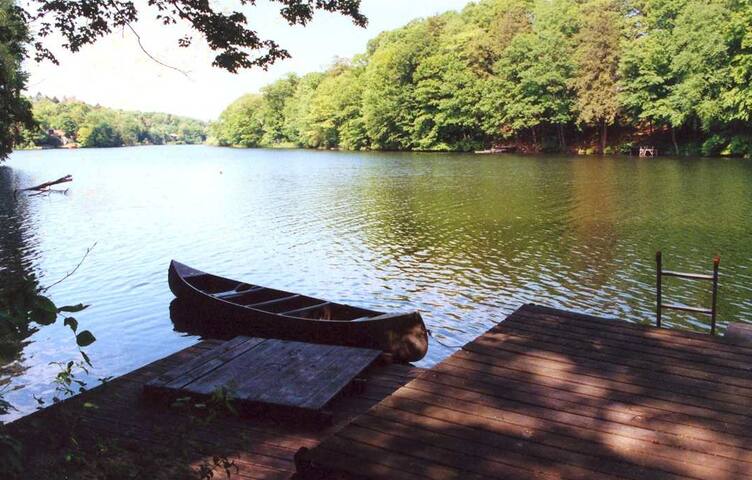 Perfect getaway from the city for couples wanting peace and tranquility and stunning views. A beautiful waterfront one bedroom guesthouse, one and one-half miles from downtown Mystic CT. Beautifully decorated with art and antiques. Kitchenette, full bath and loft bedroom. Queen bed. Air conditioning and heated. New floors. Belgian linen bedding! Private patio. Dock. Kayak. Internet.
Water view and short distance (one and one-half miles) to downtown Mystic. Safe environment. Great security. Free parking, wifi, kitchen, beautiful views. I live in the main house so I am on the property across the walkway from the guest house. My street is runs along the Mystic River. One can view marinas and boat traffic from the street and certainly my home. I live at the end of my street so the water view is 180 degrees. Amtrak is a couple miles away but a car is necessary.
My street is runs along the Mystic River. One can view marinas and boat traffic from the street and certainly my home. I live at the end of my street so the water view is 180 degrees.
The apt was clean and had everything we needed. Located about a mile and a half from center on a very quiet street the waterviews were fantastic. The kayak was great. It was lovely .
Laura
2015-07-19T00:00:00Z
My daughter and I spent three nights in this beautiful cottage overlooking the water in Mystic. We had everything we needed and was well described by our host, Jill. It was quiet, perfect for early morning coffee on the patio, and returning from a full day of sightseeing. Plenty of parking, no problem with that and the location was easy to find, thanks to our gracious host. I would definitely recommend this location for anyone wishing to visit this beautiful area .
Patricia Reischl
2016-06-24T00:00:00Z
Our stay here at Jill's has been very relaxing, quiet and comfortable! Our stay was perfect as we visited family fir a week. Jill was very accommodating and worked with us on our early arrival; we really appreciate that! The view is absolutely gorgeous here!! This has been a very positive experience here with Jill! Thanks again!
Catherine
2015-06-06T00:00:00Z
Great coastal hideaway and a fantastic host! We arrived by train and Jill was kind enough to ensure we had a ride to her place and was super accommodating throughout our stay. I only wish we had longer to stay and enjoy the area. Although it worked out well for us without a car, Mystic is a good walk away - I'd recommend bicycles or a car to poke around and explore.
Peter
2015-09-21T00:00:00Z
We had a wonderful time staying in Jill's guesthouse. The home was beautiful and the view unbeatable. Jill gave us a ton of great recommendations and we can't wait to go back and visit again soon!
Chris
2014-11-17T00:00:00Z
Quiet residential neighborhood on outskirts of town. Car is necessary so description was accurate. Location..the view...gorgeous! Space very comfortable...some might benefit from knowing spiral staircase to loft bedroom. Minor for me.
Sheila
2016-06-28T00:00:00Z
Our stay at Jill's lovely home was perfect. The location is amazing, very secluded and quiet with great views of the Mystic Harbor. Mystic is a quick 5 minutes away. The guest house is lovely, light and airy, and larger even than the pictures make it appear. It was well appointed with everything we needed for our stay. If we are ever back in town, I would absolutely stay here again. I highly recommend it!
Laura
2015-06-28T00:00:00Z
My girlfriend and I wanted to get out of the city for a couple of days, and booked Jill's 3-season cottage for a Saturday night. We just got lucky I guess, because this house is amazing, and the view is out of this world!!! Jill is the perfect host. She made us feel right at home, gave us great recommendations for places to visit and eat, and even let us use the family Kayak for the afternoon. I highly recommend this rental, and would gladly stay here again.
Jon
2014-10-19T00:00:00Z
Тип размещения
Дом/квартира целиком
---
Тип жилья
Бунгало
---
Вмещает гостей
2
---
Спален
Mystic, Коннектикут, США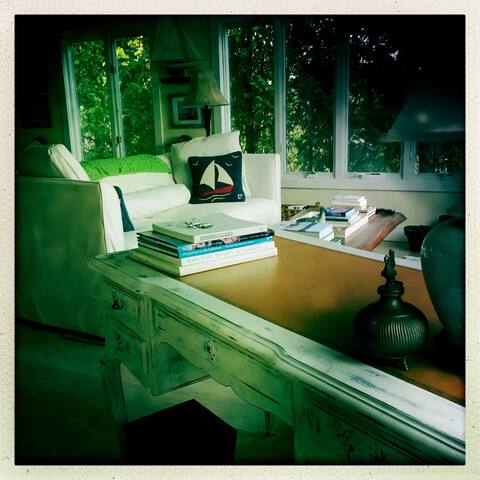 Sunny & spacious 1-bedroom condo! Close to I-84 & RT-9, CCSU & UCONN Health Center. Brand new kitchen, large living room, flat screen TV, cable & wifi. Convenient to universities, parks, highways & shopping - plus free parking!
Welcome to our home away from home! Our condo is located on the 3rd floor of a 40-unit building, accessible by stairs or elevator. The building was built in 1968, and is a no-frills, basic, clean building. The condo is very sunny and has a spacious living room with large windows to let in maximum light. We also just updated the kitchen and its stocked with a keurig coffee machine, dishwasher, microwave, toaster, and pots & pans for guest use. There is a queen bed in the bedroom, a queen pull out sofa in the living room, and a queen air mattress. The condo comes complete with wifi internet, a 40-inch flat screen cable TV, free parking and a common laundry area in the building.
Our condo is centrally located in New Britain, CT on a quiet street across from AW Stanley Park and Stanley Golf Course. You'll have entertainment, fine dining, and shopping centers at your doorstep, as well as easy access to major highways - I-84, I-91, Rt 9. We are located only minutes from Target, Costco, Trader Joe's, Bed Bath & Beyond, Westfarms Mall and West Hartford Center, and only 10-15 minutes to downtown Hartford. The park across the street features a large outdoor pool, picnic tables, basketball courts, and a children's playground. Try a zip line canopy tour with Go Ape Treetop Adventures at the park or enjoy a day golfing at Stanley Golf Course, a beautiful 27 hole public course and driving range. Nearby Attractions: - AW Stanley Park (across the street) - Stanley Golf Course (across the street) - Westfarms Mall - West Hartford (1.5 miles) - West Hartford Center & Blue Back Square (5.5 miles) - Downtown Hartford (8 miles) - Central Connecticut State University (0.8 miles) - University of Connecticut Health Center (2 miles) - University of Hartford (8.5 miles) - New Britain Rock Cats (AA) Baseball Stadium - New Britain Museum of American Art - Wadsworth Atheneum Museum of Art - Mark Twain House - Hartford - Connecticut Science Center - West Hartford
Lisa is very well organized and has thought of everything guests would need to have a comfortable stay. The kitchen is well stocked, and there is a tray of snacks to welcome guests. There are plenty of places to walk and enjoy nature, including a very interesting park with a lovely lake and ducks right nearby. Also, New Britain is an interesting location. It has a thriving Polish community, a wonderful Puerto Rican bakery, and a history as a place where diverse groups of people have migrated to take advantage of its metalwork industry.
Dorothy
2016-01-03T00:00:00Z
Very easy, thorough, and timely instructions for arrival and information about the apartment. Responsive and helpful to questions and requests. Apartment is lovely and very comfortable. Will very happily stay again. Only small issue is that walls/floors of apartments are somewhat thin, but people are very quiet and I'm quiet, so was not really a significant concern for me.
Sheila
2016-10-29T00:00:00Z
Lisa's condo was the perfect home-away-from-home while we visited Connecticut. It was clean, super well-stocked, and roomy. She included snacks for my kiddos that made them incredibly happy; so happy in fact that they left her notes thanking her. The beds were comfy and all the linens and towels were high-end and super soft. There was a Roku in the living room with Netflix and a movie app that the kids enjoyed. Lisa is a great communicator and gave us all kinds of info before we arrived so that we felt well-prepped for our trip. She is also very flexible and allowed us to have one extra guest on our last night which was very helpful since we were all flying out of Hartford the next morning. I highly recommend Lisa's comfy condo. There is a park across the street that my kids loved, Target is just down the road and so is a great mall. We loved the area.
Jennifer
2015-09-27T00:00:00Z
This is exactly as it is described - the condo is located in a basic, no frills building but the condo itself has been updated and is fabulous! They provide all the amenities (and more!) and were quick to respond to any questions we had during our stay. We were travelling for a conference being held downtown Hartford and this was the perfect location - about 15 minutes away from our venue but in a charming and quiet neighbourhood close to Costco, Target and Westfarms Mall. We couldn't have found a better place to stay - this place felt just like home! We can't thank you enough Lisa!
Terri
2015-10-16T00:00:00Z
The condo was clean and comfortable! Lisa left clear instructions for check-in, check-out, electronics, etc. She also provided snacks and extra toiletries in case we forgot something! Would definitely recommend.
Catherine
2016-02-16T00:00:00Z
The condo was very clean and comfortable. The location was good also for my purpose. I attended a conference held at CCSU, and the condo was 15 minutes walk away from CCSU. There was a bus stop right in front of the condo, which was also nice. It had hi-speed WiFi connection that worked very well. Lisa's answered my questions promptly, and her detailed instructions helped me a lot.
Takashi
2016-05-16T00:00:00Z
This apartment is beautifully decorated and clean. The apartment building is definitely older as well as the neighborhood, but the location is near the interstate highway. Lisa provided everything I needed, even treats and bowls for my dog. She communicated wonderfully through messages. Check-in and check-out was flawless.The post says that there was a washer and dryer available, but the door to them were locked. I didn't specifically request use of them, but I thought that was already included. This did not really affect my stay though. The unit has a window A/C unit that cools perfectly for the kitchen and living space; however, the bedroom remained quite warm.
Sarah
2016-05-30T00:00:00Z
I had the apartment to myself for only 2 days and it was wonderful. It's a nice and lovely apartment in a quiet neighborhood, also clean, comfy and with easy access to highway and Costco/Target! Snacks, coffee and water were provided and directions for check-in and utilities were extremely helpful. I had a little issue when I set up payment arrangements and Lisa was very patient when we communicated.
Carrie
2015-12-07T00:00:00Z
Тип размещения
Дом/квартира целиком
---
Тип жилья
Квартира
---
Вмещает гостей
2
---
Спален
New Britain, Коннектикут, США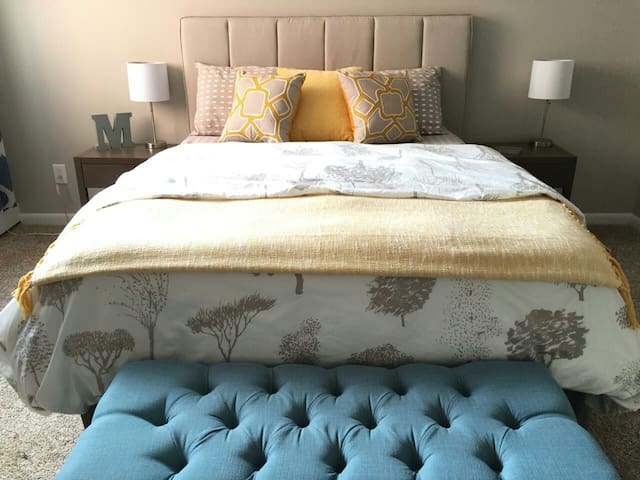 Enjoy this pleasant room with all the wonderful amenities of the full house! This room has a full bath and a queen bed, cable and Internet access. 5 minutes from Washington Depot and the Gunnery.
We had a great stay! The hosts were incredibly accommodating and friendly. Would definitely recommend!
Katie
2016-10-23T00:00:00Z
Тип размещения
Отдельная комната
---
Тип жилья
Дом
---
Вмещает гостей
2
---
Спален
Вашингтон, Коннектикут, США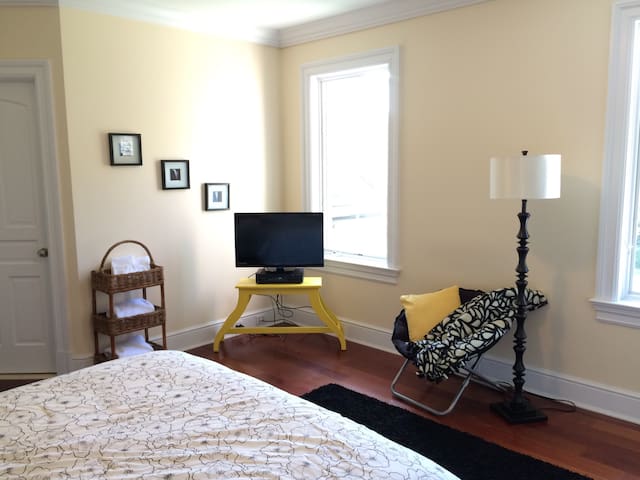 Private BR in renovated, cool, cozy and tastefully decorated home. Located on quiet street in historic West End. Steps from bus stop. About 1.5 miles from Downtown Hartford and West Hartford Center. Hardwood floors and granite countertops.
The pictures say it all! Newly renovated! Hardwood floors. Granite countertops. High ceilings! Spacious! Bright! Private bedroom in third floor apartment of owner occupied three family house. Please note: There is an apartment with bedrooms right below the guest room and back stairs. Please be kind and courteous to my awesome long-term tenants. : ) -Free WiFi -Central Air Conditioning In bedroom: -40" flatscreen tv, AppleTV, Netflix , HBO Go -desk -closet to hang clothes -iron/ironing board available upon request -stereo -alarm clock radio Full kitchen access. (food/beverage policy: take some, leave some!) Kitchen: Granite countertops. Stainless steel appliances. Keurig, Dishwasher, French Door refrigerator, gas stove, garbage disposal. Peninsula bar-height setting for four. Full living room and additional office space access. Living room: 55" flatscreen TV, premium cable, AppleTV, Netflix, HBO Go. Large sectional that seats 6 comfortably. *There is a full size futon in office that can sleep two additional guests for $20 additional per guest per night. I am a 26 year old single male. Full time employed and part time student. Born and raised in the West End Of Hartford. Graduated from Boston University with Biomedical Engineering Bachelors Degree. I work for Apple, help manage the best Chinese restaurant in Greater Hartford, work in community outreach/development and I am a real estate agent. I love Hartford and my neighborhood. I have lived here since birth (other than college). I bought a three family home, three years ago and have renovated this awesome apartment for your enjoyment. AirBnB allows my dreams of being a host at a bed and breakfast and a tour guide in the city of Hartford to merge and come true. I know of great places to eat and play! If you are balling on a budget or have deep pockets, I have just the suggestion for you. If you love fine dining or the great outdoors, we can find something for you. If you prefer a stay in solitude I will sleep at another location down the block to give you your space. If you do not mind a housemate, I promise, I am decent company. The historic West End of Hartford. Great dining, great bars, shopping, just steps away. Young professionals, young families, retired couples, students...the neighborhood has it all! Just over a mile from Downtown Hartford and West Hartford Center. Two minutes from the highway (I-84). Steps from public bus stop with direct access to Downtown Hartford or West Hartford Center. Also direct access to Union Station with Train and Bus access. If I'm not working, I'd love to drive/show you around! Free parking on street in front of house. Can arrange for one parking spot in driveway if necessary. There is an additional full size futon in office area to sleep up to two more guests for $20 additional per night per person. Perfect for guests visiting Hartford or West Hartford for all/any of the following: Work, Conference, Conventions, UConn Law School, UConn Health Center, University of Hartford, Trinity, Marathons, Concerts, Theatre, Sporting Events, Rentschler Stadium, XL Center, Xfinity Theater, the list goes on and on...
The historic West End of Hartford. Great dining, great bars, shopping, just steps away. Young professionals, young families, retired couples, students...the neighborhood has it all! Just over a mile from Downtown Hartford and West Hartford Center. Two minutes from the highway (I-84).
Max was a great host. He provided excellent instructions regarding our arrival and we settled into his spotless and beautifully appointed noted apartment with ease. The property is in a very convenient part of Hartford and served as a great base for our visit. We met Max briefly and quickly warmed to him - he's a brilliant host and anyone staying there can be sure that they'll be made. Dry welcome.
John
2015-10-24T00:00:00Z
Max was a great host and his apartment was just as nice as the pictures. I would definitely stay there again.
Timothy
2016-02-09T00:00:00Z
Great space! Loved the apartment. Love the kitchen.
Erin
2015-05-25T00:00:00Z
Fabulous place. Quality through and through. From the meet'n'greet to last texts, it couldn't've been smoother.
Maxim
2015-08-24T00:00:00Z
Very good
ivan
2016-05-23T00:00:00Z
Max is very helpful and considerate. He communicates with you at just the proper frequency so that you feel your privacy is well respected. We had a very nice stay in his place.
Ayer
2014-12-28T00:00:00Z
Max provided helpful directions to the apartment and it was easy to find our keys and get in. The apartment was just as described. Very neat and well-decorated with plenty of space and amenities. We liked the comfortable AC, the great kitchen, and cozy bedroom. This is a nice location with easy access to Hartford and West Hartford. Overall, a great value and fun experience. We would definitely stay here again!
Andrew
2016-09-11T00:00:00Z
It was my first experience with Airbnb. Fortunately, I chose Max" house. The neighborhood is convinent and quite. It close to anywhere you wang to go. And most important the rooms are comfortable and clean. I love the paintings on the wall. Max's house will be my first option when I come back to Hartford again
维骃
2015-09-09T00:00:00Z
Тип размещения
Отдельная комната
---
Тип жилья
Квартира
---
Вмещает гостей
4
---
Спален
Хартфорд, Коннектикут, США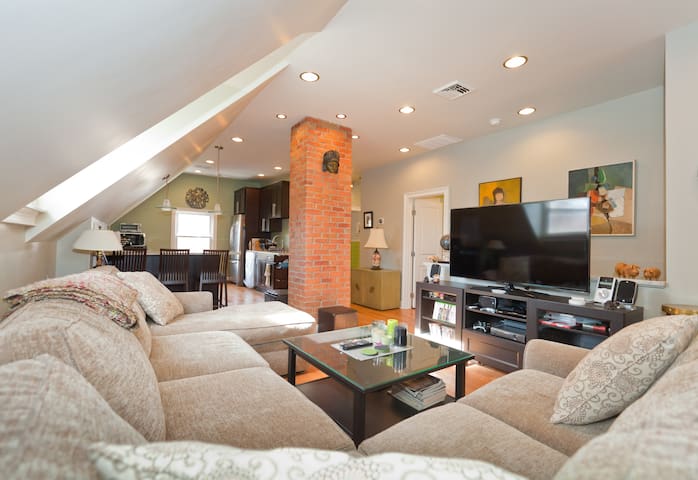 Studio apartment in historic brownstone. Private entrance. Walk from the train, walk to park and beach. Urban neighborhood. Perfect for a getaway, ideal location for exploring Fairfield County, CT. Hop on the bikes!
Room to relax and recharge. We've got books, records, bikes, a TV with lots of movies, a mini-fridge, private bathroom, closet, and a dresser. Mid-century modern furnishings, original brick, gorgeous afternoon sun.
So, there's this 376-acre park at the south end of the South End. A stone's throw from our place. It's called Seaside Park—think Long Island Sound beaches, shoreline walking and biking paths, fishing spots, soccer and baseball fields, skate parks, volleyball courts, a concert band shell, a lighthouse, a snack bar, roaming Italian ice vendors, and plenty of spots to play Frisbee (invented right here in Bridgeport), drop a blanket, cast a fishing pole, or make out. You can catch a baseball game around the corner at the Bluefish stadium, where Two Roads Brewery is tapping and vending their latest magical beers. Drink more beers and enjoy pizzas at the newly opened Brewport. Check the Webster Bank Arena's schedule too—the Sound Tigers hockey games are tons of fun. They also have big music acts. All within walking distance. There is also a multicultural mecca of food and booze happening in Bridgeport, including lots of great delivery. Peep our guidebook upon check-in for seasonal suggestions and hidden gems. Overall, our neighborhood has lots of history, oddities and charm, but it is urban and industrial. If that isn't your thing, we'd suggest you check out Greenwich, Westport, or the like for white picket fences and yacht clubs.
My boyfriend and I enjoyed our stay at Maid & Butler! We loved that the beach/park was so close to the bungalow and access to the bikes made our trip that much more fun. Thank you for having us!
Martyna
2016-07-18T00:00:00Z
Had such a lovely stay! Luke and Marcella have a charming home and were so accommodating - even had a bottle of wine for us upon our arrival! My boyfriend and I had a wonderful time riding the bikes around the beach and listening to records. Thanks for a fantastic weekend!
Leigh
2015-08-30T00:00:00Z
Maid + Butler was the perfect place to stay during my visit to BPT. The funky decor, comfortable bed, record player (with fantastic music on vinyl!) and just the overall 'good vibe' was a perfect place to come home to and relax at the end of my days. I would definitely book Maid + Butlet during my next trip. The hostesses were quick to respond and available when I had a question. I felt that they really care about the satisfaction of their guests. Quick walk to Seaside Park too ! Thank you !
Sonya
2016-03-06T00:00:00Z
We had such a wonderful weekend at this incredibly cozy and well-designed spot. The attention to detail is really incredible and made the experience so special. While there are bicycles to explore around the area, I definitely recommend bringing a car to get the most of it. There is so much exploring to be done in Bridgeport and this place was the perfect location to allow for that. I can't thank Luke and Marcella enough for sharing their beautiful home with us for a weekend!
Courtney
2016-05-31T00:00:00Z
Luke was a fantastic host! The studio is lovely, a short bike ride to the beach. There are some nice spots to visit near the train station, or you can bike or uber to the fancier side of town for lots of great food and drink. A lovely spot to spend a long weekend, and so easy to access from the City!
Miriam
2015-07-05T00:00:00Z
Beautiful apt, good location and very gracious hosts! Luke and Marcella made sure wE felt at home , had bikes for us to use and were very helpful with any questions we had. We highly recommend staying here!
Heather
2015-08-02T00:00:00Z
Luke and Marcella are excellent hosts! They were extremely generous with their time and information about Bridgeport. The apartment is warm and welcoming. It was fun having records to listen to and a candle to burn, books to read, they have gone above and beyond to make the place for special and homey. I can't recommend staying here highly enough. Marcella's enthusiasm for Bridgeport is infectious. If I ever find myself coming this way again, I know where I want to stay.
Samantha
2015-06-28T00:00:00Z
Lovely apartment, really nicely decorated. Easy check in process, very helpful hosts.
Natalie
2015-10-03T00:00:00Z
Тип размещения
Дом/квартира целиком
---
Тип жилья
Квартира
---
Вмещает гостей
2
---
Спален
Бриджпорт, Коннектикут, США
For rent by the day: Sunny room with private entrance and deck. Pretty, walkable neighborhood near Yale, gourmet grocery stores and restaurants. Share bath and kitchen. Breakfast offered. Bring own toiletries. Come and go as you please.
Jeanne was very welcoming & was helpful with eating options. Her accommodation was comfortable & most welcome. Maybe a great idea to include the (SENSITIVE CONTENTS HIDDEN) directions on leaving the freeway.
Kathy
2016-08-24T00:00:00Z
My stay with Jeanne was short, but wonderful. She's communicative and beyond accommodating. The home is lovely, and she even provided breakfast during my stay! She has an eye for the details and small accommodations that can elevate any traveler's stay--from extra toiletries in the bathroom, to fresh fruit and cookies in the room, to water glasses by the bed. Highly recommended!
Briana
2017-02-17T00:00:00Z
Jeanne very good,take me to the station,thank you so much.
Jianying
2015-10-09T00:00:00Z
I felt very at home in Jeanne's place! The ambience of my room was lovely, lots and lots of natural light! I was grateful for the apples and dark chocolate hershey kisses provided in my room :). Jeanne is incredibly easy to talk to, we got along really well. Great neighbourhood with take-out markets and a neat coffee shop around the corner. I would highly highly recommend staying with Jeanne.
Alexandra
2016-05-17T00:00:00Z
Jeanne's place is clean,comfortable, and so pretty in a great location. She is an excellent host, very accommodating. Excellent!
Hilda
2017-03-01T00:00:00Z
We are warmly welcomed. Every thing is clean and tide. The decoration is tasty with a lovely atmosphere. Like here and highly recommend it!
Leona
2016-12-22T00:00:00Z
What an awesome stay! Jeanne is so kind and genuinely the hostest with the mostest. She even made coffee so we only had to push the button in the morning! Thanks for a lovely visit!
Kathleen
2016-12-13T00:00:00Z
Jeanne is an absolutely lovely host! It was our first time with Airbnb and she dismissed any nerves we had with such a warm welcome. The room was just like the pictures, the sofa bed was super comfy and the bathroom was clean and tidy. Jeanne truly made it a great bed and breakfast experience by putting out a light breakfast for us each morning of our stay. She also had loads of information printed out of places to eat and to go out and lots of local knowledge. We would highly recommend staying with Jeanne and in New Haven. We are looking forward to returning in the future.
Natalie
2016-04-15T00:00:00Z
Тип размещения
Отдельная комната
---
Тип жилья
Дом
---
Вмещает гостей
2
---
Спален
Нью-Хейвен, Коннектикут, США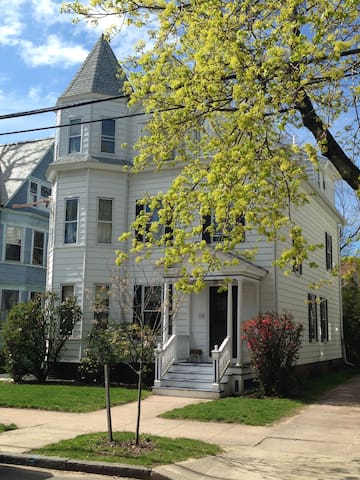 1

–

18

из

300+ вариантов аренды
Введите даты, чтобы увидеть полную цену без учета дополнительных сборов и налогов.