Введите дату прибытия в формате дд.мм.гггг
Введите дату отъезда в формате дд.мм.гггг
Объявления, которые вы можете забронировать, не дожидаясь одобрения от хозяина.
11 объявления
· Conception Junction
11 объявления
· Conception Junction
Введите даты, чтобы увидеть полную цену без учета дополнительных сборов и налогов.
В июле и августе этого года вы сможете открыть для себя один из сотни самых лучших домов, с самыми разными ценами, и увидеть долину Сонома, какой ее видят местные жители. Круглосуточное прибытие, мгновенное бронирование, местное вино и закуски помогут вам расслабиться и насладиться поездкой.
Excellent lodging for fresh air and country sunshine. A short drive to Maryville, MO to support NWMSU Bearcats! Great for your next vacation or hunting trip in Northwest Missouri. Clean, Wifi, wireless printer, central heating/AC, laundry, Tempurpedic mattresses, garage, kennel, kitchen, freezer. Located on pavement road with easy access.
Part of Gladcrest Farms, a Missouri Century Farm continuously operating in the family since 1848. Raising Angus cattle, corn and soybeans, it is an active agricultural operation. Guests are welcome to request a farm tour, depending upon the time of year, calving season, cow/calf operation, corn and soybean row crop operation. Although the farming operation is going on in the surrounding pastures and farm ground, interaction is very minimal. Guests have a great deal of privacy.
Very rural setting, cattle and horses in pastures adjoining property. No public transportation. Although if you go stand down at the road, someone will most likely stop and ask you if you need a ride somewhere. There are a number of Amish settlers in the area that offer baked goods and produce at their farmsteads. If guests are interested, we can give you locations and days.
My wife and I were passing through and initially planned to stay for a day or two on Susan's farm. However, the views, amenities, and peacefulness of the property made us fall in love with this place. We booked an additional 2 days because we didn't want to leave. My wife has a bad back, but slept without any problems on the Tempurpedic mattress. We worked for a good length of time during our stay and found that the WiFi was reliable. We enjoyed walking around the property and saw the lake, cows, and crops, which was fun for us. Susan was a fantastic host and was great with communication. We truly felt like this was our home away from our own. We would definitely stay again when in the area. Thanks for an awesome experience Susan!
Wendel
July 2016
We stayed at Susan's home while my husband hunted. It was a perfect setting with beautiful views and greetings from the horses and cows that surrounded the farms. She welcomed our dogs and the house couldn't have fit our needs better. We had to leave late on the day of our departure and she was totally accommodating. We look forward to returning for future hunting trips. This is an adorable house, very comfortable and Susan is a great person to deal with.
Daniel
November 2016
We were looking for a place to stay for Homecoming weekend at NWMSU. We stumbled onto this AMAZING home! We were so lucky to have amazing weather for our stay. Susan was very helpful and readily available to answer any questions. Our kids (11, 14) were outside the entire time. They were able to take a tour of the farm, bottle feed a baby calf, ride on a tractor.....for my "city kids" it was so nice to see them interact with nature. The property is well kept, easy to find, and a great location. The house itself was adorable! So beautifully decorated. A nice mix of contemporary and country chic. I just LOVE the rocking chair in the sitting room! My kids loved the twin beds upstairs. They were able to adjust the beds so that they were sleeping sitting up. The queen bed on main level was comfortable and had cozy sheets. The bathroom had a tub and shower. The motion-sensored lightening was a great touch. Never had a problem with WIFI. We turned the TV on at nights only. There is a DVD player available, if needed. We used the gas grill several times during our stay. We are looking forward to returning to the farm!
Jamie
November 2016
This lovely house is in a beautiful spot, with a wonderful view. The host couldn't have been more accommodating. We had a great time!
elizabeth
September 2016
Susan is a great host. She made us feel welcome and made checking in and out a breeze. The home is lovely with views of the farm and rolling hills. Easy parking on the driveway, great ac, fast and reliable wifi. We loved sitting on the front porch swing as we enjoyed the cool summer evening and watched the moonrise. Our son had a great time exploring the yard and seeing neighboring cows go by. Grocery shopping was close by at the town of Grant City. Thanks so much for having us, Susan!
Myr
June 2016
Description was perfect and the home is even more cozy than the pictures show. Host made access super easy and instructions to the house were convenient and clear. Comfortable bed, state of the art appliances, clean in every way, exceptional office with excellent internet connection.
william
June 2016
Тип размещения
Дом/квартира целиком
---
Тип жилья
---
Вмещает гостей
5
---
Спален
3
Worth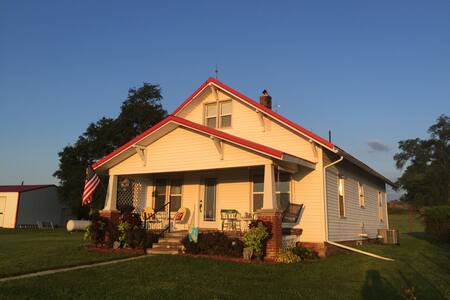 Our place is close to restaurants and dining, family-friendly activities, shopping, art and culture, great views, and St. Joseph's historic downtown. You'll love our place because of the great view, location, and safe neighborhood. Our home is ideal for couples, solo adventurers, and business travelers. We are just north of St. Joseph; close to the city but offer space to relax in the quiet neighborhood of Country Club Village. This room is utilized when our other space is occupied.
Sandra and Bruce were great hosts. They are very friendly, made us feel at home. They were really accommodating and welcomed us to their home a little late in the evening as we were running late due to bad weather. We would surely stay at their place again if we had to visit the surrounding places.
Praveen Kumar
December 2016
Тип размещения
Отдельная комната
---
Тип жилья
---
Вмещает гостей
2
---
Спален
1
Country Club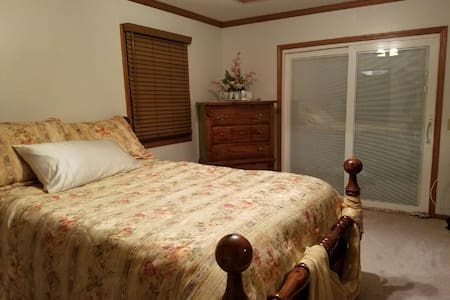 The Vineyard Mansion Carriage house is a historic mansion built in 1890. Recently restored, the Carriage House, a 1 bedroom 1 bathroom self sufficient apartment detached from the main house with private access and full home amenities. The mansion is close to the historic city center, art, museums, culture, and parks. You'll love my place because of the historic neighborhood, the comfy bed, the coziness of the carriage house, and fully functional kitchen.
The Carriage House apartment offers 1 bedroom and 1 bathroom with the option of a second bed off the living area if needed.
Jason was so accommodating to us. We did not get here till after 1 o'clock in the morning and he gave us a quick tour. We were here a few days before Christmas with my daughter. And we were going to make Christmas candies. He got us the bowls, Pans, and mixers that we needed to do everything. The place looked amazing and very homey. We will be back.
Jeremiah
December 2016
Тип размещения
Дом/квартира целиком
---
Тип жилья
---
Вмещает гостей
4
---
Спален
1
Saint Joseph
Our place is close to restaurants and dining, family-friendly activities, shopping, art and culture, great views, and the historic downtown. You'll love our place because of the great view, location and safe neighborhood. Our home is ideal for couples, solo adventurers, and business travelers. We are just north of St. Joseph, so you are close to the city but may relax in the quiet neighborhood of Country Club Village. Our home is less than ten minutes from St. Joseph and Savannah.
Sandra and Bruce are very nice and we felt it as our own home . And they made everything available, it's a very good place. We enjoyed our stay . We wish we could have stayed more , for sure its a good place to stay , and you will have a very good time with both Sandra and Bruce.
Venkata
October 2016
We loved staying at Bruce and Sandra's home. It was an incredibly beautiful house on a gorgeous property. Sandra provided a snack basket, lots of toiletries, and even breakfast the next morning. It was such a joy to talk to Sandra and Bruce!
Betsy
October 2016
Sandra and her husband Bruce made us feel very welcome! They welcomed us, and helped us get settled, then we had a quiet evening to ourselves. In the morning they made us a delicious breakfast. It was a wonderful place to stay.
Amanda
October 2016
It was really good! Thanks Sandra and Bruce!!
Swetha
December 2016
We truly enjoyed staying with Sandra and Bruce. The home was beautiful and very clean, the beds were extra comfy and Sandra and Bruce were wonderful hosts. Everything to make you feel at home in a beautiful setting. We would definitely recommend Cozy Country Club Home. Sandra and Bruce - thanks for your hospitality and great conversation!!
Earlene
September 2016
Sandra and Bruce made my experience at their place great and they made me feel extremely welcome. They provided numerous amenities to make my stay as pleasant as possible. It was nice spending time with them and getting to know them. They happily welcomed my daughter into their home. Thanks guys.
Anthony
December 2016
Тип размещения
Отдельная комната
---
Тип жилья
---
Вмещает гостей
4
---
Спален
2
Country Club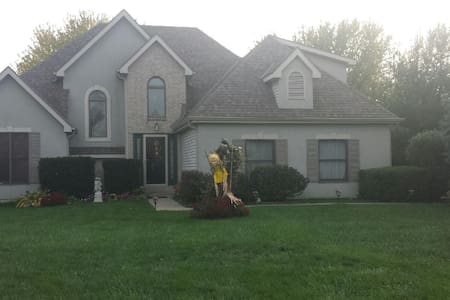 Beautiful house on Ashland Ave. in the heart of St. Joseph. I have a bedroom and huge private bathroom available. The living room, kitchen, washer and dryer are open. There is a fire pit and a nice back deck with speakers available for use as well.
Modern historic home on Ashland Ave. great access to the parkway trails and right in the center of town. 5 minutes from everything literally! WIFI available, washer and dryer use, beautiful backyard (0.5 acre lot) with a fire pit, big deck, and speakers connected to a computer. Recently updated kitchen available for use along with a comfy living room. Basically the entire bottom floor is available for use. It is a great house in the best location in town. Parking is available in front of the house. Netflix and Amazon prime are available on the TV or the Samsung tablet. Computer and or WIFI are yours if you need it! That depends entirely on you! We work in the evenings so we will only be around for a few hours in the morning/afternoon. If you want privacy you got it. If you want to hang out and have a glass of wine on the back deck and listen to music with us, even better! We will accommodate you however you wish!
One of the best in town! Amazing historic properties on a tree lined street. Everyone comes to Ashland to walk/run and enjoy the scenery. Taxi if needed, 8 bucks anywhere in town.
Mike's place was exactly as described. It was so comfortable, relaxing and super-clean. We just loved the historic aspect of the home and neighborhood. Mike was great in his communication with us and made sure we were comfortable the entire time. We definitely recommend Amazing house on Ashland!
Nellie
July 2016
Great place, super convenient, lovely people!
Barry
March 2016
Kim and Mike are great people. I was just staying the night, arrived at midnight, and had to leave at 6:30am, and they kept me up by making me want to hang out with them!!! Totally worth staying here just to hang out by the fire pit, having drinks, and talking to some top notch hosts. I wasn't able to do as much as I wanted- so if you stop by- you should take you're time. I wish I had.
Asia
October 2016
Mike and his girlfriend were great hosts. I felt welcome and comfortable. The bedroom where I stayed was clean, comfortable, and quiet. The bathroom was large and clean. It's a great place to stay in St. Joe!
Nicole
November 2016
This is a great place! Extremely clean, amazing communication from Mike and just so accommodating. I would recommend this place, and Mike as a host, 1000x over!
James
October 2016
Mike and Kim were VERY accommodating! Gracious hosts who made our stay comfortable and convenient. They were quick to answer questions anytime and even came back to the house within minutes when needed. Everything accurately described except the home is even nicer than the photo shows. I would certainly stay there again and recommend this home.
Maretta
May 2016
Mike's house was so much nicer than another typical motel! Very clean throughout and a comfortable real bed. Great communication, but it felt like I had the whole place to myself because of their schedules. Highly recommended.
Paul
October 2015
Mike and Kim are a charming couple. They are also very accommodating, considerate and gracious!
Kevin
November 2016
Тип размещения
Отдельная комната
---
Тип жилья
---
Вмещает гостей
2
---
Спален
1
Saint Joseph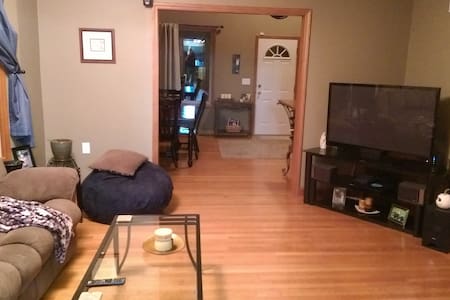 Clean, convenient house located near I29 Exit 47/Frederick Avenue. Ideal family space for out-of-town guests or corporate rentals. In a mixed business/residential area close to all attractions in the city.
We will be available to offer help during your stay as needed.
The house was great. Super convenient location and very clean. Barbara and Michael were very welcoming. I would highly recommend staying here!
BRYNA
September 2016
We really enjoyed our stay in St Joseph! Not only was the house plenty large with ample parking but the kitchen was extremely well stocked! The house was also very clean. Barbara had taken the time to leave us breakfast food and was flexible when our plans kept changing. There was food and groceries nearby and even though the house was on a busier road it was up away from the road with plenty of room in the driveway to turn around in order to pull out. I would like to thank Barbara and her husband for providing such an unbelievably good deal that was large enough to host my entire family comfortably. I will absolutely stay here again when I am in the area and would enthusiastically recommend it to others!! Best of luck to both of you!
Kori
September 2016
Barbara and Michael were absolutely pleasant and accommodating. The house was very neat and clean. They went above and beyond to make sure our stay was comfortable, including providing us with bagels and coffee for the next morning. We got delayed in our journey and it would have been very difficult for us to get up early and head out but the welcoming beds and the clean home made it so much easier! Thank you!
Terisha
August 2016
Full disclaimer - although I made the reservation I was not able to participate in the planned weekend. Feedback provided is from family that stayed. "Comfy, homey and clean. Plenty of towels, having washer and dryer was a bonus! Convenient location with everything we needed. Not TV watchers and it was not missed. :)" Barbara and Michael are wonderful and thoughtful communicators. I hope to be able to join family when we return on our next trip! Thanks so very much for your hospitality and for opening your home to us!
Dawn
November 2016
The Woodbine house was great for our stay in St Joe. The house had everything we needed and the location is super convenient. I highly recommend it!
Lewis
August 2016
This was our first Airbnb experience and we couldn't have asked for more! It was the perfect set up to unwind at the end of each day. So much more comfortable than a hotel. The house was clean, spacious and they even had breakfast items and coffee available for us. Would definitely stay again!
Sarah
November 2016
Beautiful and immaculate property, peaceful, safe and quiet, located about a mile from shopping and restaurants. Breakfast items included in the refrigerator. We were very pleased with everything except the lack of a DVD remote, which made impossible our watching a movie we brought from home. No other TV channels available, so be aware of that too. Overall, however, very pleased with our stay, and would recommend...thank you!
Jack
September 2016
The house and whole experience exceeded our expectations. We had more than enough space, living room is huge and two bathrooms was a major plus. House was so clean and we found everything we needed. Barbara stopped by on the last day and was so warm and friendly. We will definitely be back if they'll have us!
Cody
December 2016
Тип размещения
Дом/квартира целиком
---
Тип жилья
---
Вмещает гостей
5
---
Спален
3
Saint Joseph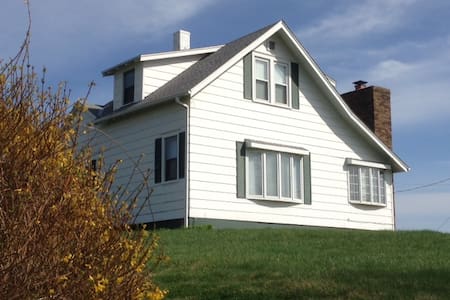 This room has a queen size bed in a ranch style brick home in a quiet, safe and beautiful neighborhood. It has a large closet and a desk in room. Only a 4 minute drive from Missouri Western. WiFi, washer and dryer, included. If you're a fan of games, there is a PlayStation available too.
My guests will have access to their own semi-private bathroom. Full kitchen and laundry access. WiFi is also included at no additional charge. Upon your arrival in Saint Joseph, I will meet you to give you a tour of the house and give you your personal code to the front door. In addition, I am almost always available by cell.
Since 2006--when I was delivering pizza to pay for college I knew where I wanted to live. This is absolutely my favorite neighborhood in Saint Joseph. The mature trees, spacious houses, and large lots give it an out of town feel while still being 6 minutes from a shopping mall, 5 minutes from a grocery store and 4 minutes from the college.
Тип размещения
Отдельная комната
---
Тип жилья
---
Вмещает гостей
2
---
Спален
1
Saint Joseph
My place is close to the historic Promenade and 2 blocks from our beautiful downtown and restaurants. Clarinda has 3 fine museums- Nodaway Historic Museum, Glenn Miller Birthplace Mueum, and The Clarinda Carnegie Art Museum. You'll love my place because it is a beautiful historic house filled with period antiques. Enjoy our home while you are away from yours!. My place is good for couples, solo adventurers, and business travelers.
Beautiful home. Great room upstairs with a close bathroom. Breakfast was delicious. Hosts friendly and warm. A treasure in Clarinda for sure.
Aline
July 2016
Тип размещения
Отдельная комната
---
Тип жилья
---
Вмещает гостей
2
---
Спален
1
Clarinda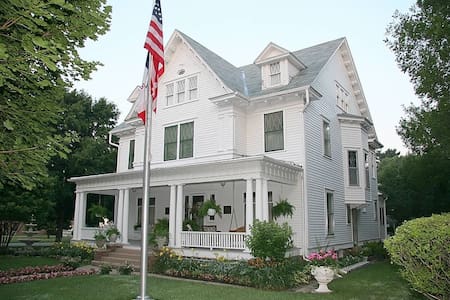 Our place is a relaxed, comfortable home in Saint Joseph, MO. You'll love it because its 10 minutes to Missouri Western State University and within minutes of food, beverages, and entertainment . Our place is good for couples, solo adventurers, business travelers, MWSU friends, and Chiefs fans. We are also small animal friendly and can accommodate one furry friend. If you have any questions please let us know. Thanks!
Definitely recommended - the place is nice, you have the upstairs to yourself, and they have a few board games up there! Jason and Shira were super nice, and their cats are wonderful. I'd stay there again!
Linton
September 2016
Shira and Jason were amazing hosts! You have a room to yourself upstairs with a small TV and some board games. I enjoyed meeting them and spending time playing with their 3 cats! :)
Hannah
November 2016
Jason and Shira were wonderful hosts! All was as listed and what wasn't listed is their kind hospitality. They even provided me with my favorite breakfast the morning I left. It was homemade biscuits and gravy, Yumm Yumm! I recommend it to others. I should say that the hosts were willing to make adjustments if desired by me and I didn't request any but they went out of their way to make sure that I was satisfied and happy with my stay!
Steve
July 2016
The space was comfortable & as advertised. Our host was friendly & very accommodating. We just needed a beer & a bite and a place to sleep before continuing on a long road trip. The property was conveniently located for dining. We chose Pappy's Grill & Bar for dinner (good food & good service) and Norty's Pub (very friendly bartender & good prices) for post dinner drinks. our stay was an all around good experience.
Ellen & Stan
November 2016
Тип размещения
Отдельная комната
---
Тип жилья
---
Вмещает гостей
2
---
Спален
1
Saint Joseph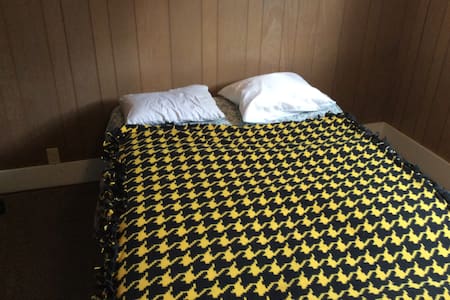 Your amenities will include high-speed internet, TV, clean restrooms and a full kitchen. The kitchen is clean and offers all the essentials for any cooking you choose to do when you're not exploring the city's vibrant restaurant scene.
Тип размещения
Дом/квартира целиком
---
Тип жилья
---
Вмещает гостей
4
---
Спален
2
Fairfax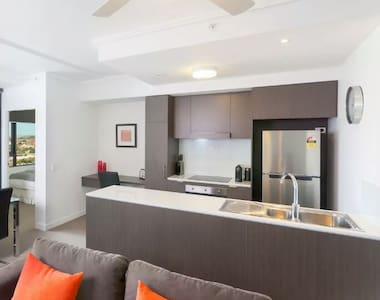 This is a one bedroom private space, please bring a blowup mattress to use, one will not be provided.
Guests will come in through the main door, please be considerate of my son sleeping, late night walk ins will not be accepted
Тип размещения
Отдельная комната
---
Тип жилья
---
Вмещает гостей
1
---
Спален
1
Saint Joseph