Nice room
Тип размещения
Отдельная комната
---
Тип жилья
Квартира
---
Вмещает гостей
2
---
Спален
Chełmno, Kuyavian-Pomeranian Voivodeship, Польша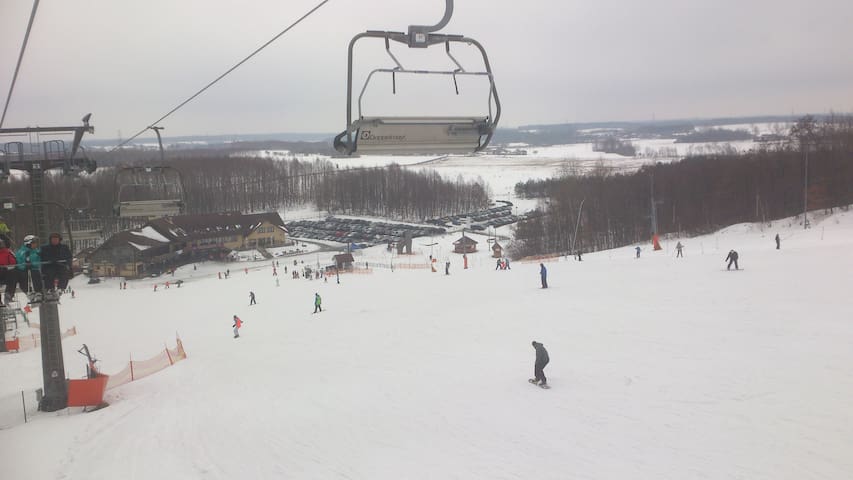 These are modern apartments suited to the historic architecture of the eighteenth century building. For our guests we have 8 fully equipped apartments, each with fully equipped kitchenette and a comfortable and modern bathroom. We take care to preser
For our guests we have 8 fully equipped apartments. Each with fully equipped kitchenette and comfortable, modern bathroom. We take care to preserve the highest standards, so all equipment meets the highest standard of the hotel.
Chełmno is a beautiful town situated on nine hills with rich historical legacy: medieval walls, Gothic churches, Renaissance town hall is only a makeshift monument of our city. Beautiful parks, promenades, lake… it makes everything that people want to come back here.
Тип размещения
Дом/квартира целиком
---
Тип жилья
Квартира
---
Вмещает гостей
2
---
Спален
Chełmno, kujawsko-pomorskie, Польша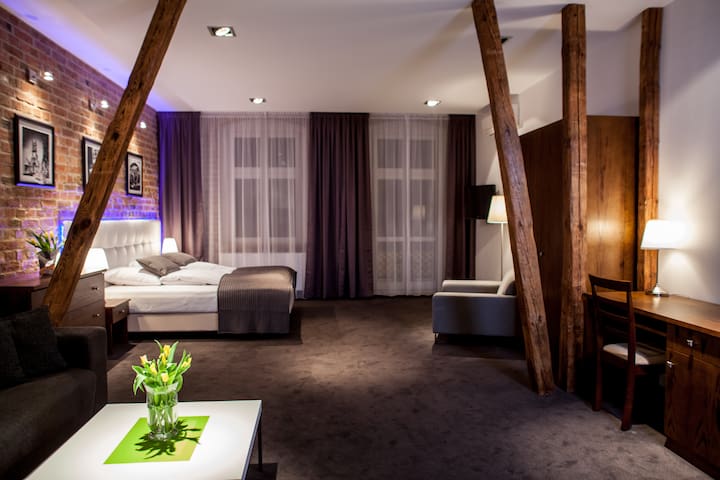 Let me invite You to a two-bedroom apartment with its own unique atmosphere. I adopt check in and check out in to the individual needs.If possible I can pick you up from railway station.Free parking lot. City center 3 min by bus or 15 on foot.Przestronne mieszkanie z wyjątkowym klimatem.Check out i check in ustalam indywidualnie,dostosowując się do gości.W miarę możliwości odbiorę Cię z dworca.Samochód zaparkujesz na zamkniętym parkingu. Do centrum autobusem tylko 3 min lub 15 minut spacerem.
Two spacious rooms: A living room with a comfy sofa bed and a 4-person table A bedroom with a king-sized bed and a wardrobe. Fully-equipped kitchen and coffee, tea, milk, sugar and water for your disposal. Mieszkanie 2 pokoje: Salon z rozkładaną sofą (140*200) i wygodnym stołem dla 4 osób Sypialnia z podwójnym łóżkiem (140*200) i szafą ubraniową Kuchnia z niezbędnym wyposażeniem, dodatkowo: kawa, herbata, mleko, cukier, woda. Mieszkanie zostało odświeżone w marcu 2016 roku.
The apartment is situated on the 1st floor. Next to the building you can find parking spaces and a grocery store. There is an ice rink, a fitness centre, a climbing wall and a sport-and-scene hall close by.Mieszkanie znajduje się na parterze czteropiętrowego budynku z domofonem. Pod blokiem znajdują się ogólnodostępne miejsca parkingowe oraz sklep spożywczy. W pobliżu (3 min.): sztuczne lodowisko, centrum fitness, ścianka do wspinaczki, hala widowiskowo-sportowa, targowisko, lasek.
Kasia made us feel most welcome even before we left home. When we told her what we wanted to see while three days in her area, she offered meaningful suggestions that helped us create a successful itinerary. The apartment was spacious, well furnished and very clean. The location is in a quiet neighborhood with a nice grocery store just a few steps away. It is an easy walk, less than a mile, to the Old Town Market Square. Our experience at Kasia's apartment would have rated the highest even without what happened on the last evening. That night, my wife had a medical emergency resulting in midnight hospital treatment. Without going into details, let me just say that Kasia's assistance in all issues over the next few days was nothing less than what we would have received from our best friends back home. We hope to return to Poland someday, and when we do we will go our of our way to stay at Kasia's apartment again.
Joe
2016-06-01T00:00:00Z
Świetna lokalizacja, przemiły gospodarz! Godne polecenia :)
aleksandra
2017-03-26T00:00:00Z
We were greeted very friendly by Kasia ' s mother, even though we arrived very late due to traffic. And even checkout was warm and friendly. The apartment is spacious, light, very very clean, located near a supermarket and at just 15 minutes from the city centre (by foot ). You can park your car for free on the secluded courtyard between the buildings. We fully recommend Kasia ' s place to anyone who wants to go to Torun!
Sophia
2016-07-26T00:00:00Z
Very beautiful and clean apartment. 15 minutes walk to old town. Very close 24h shop. The owner - very nice and helpful! Free parking and Internet. Very clean towels and bedding. Tea, coffee, oat flakes and all kitchen stuff you need is there. Highly recommend :)
Anna
2016-08-07T00:00:00Z
Très très bel appartement, bien situé, équipé au delà de la moyenne. Hôtesse très gentille, Nous le recommandons fortement
Suzanne
2016-06-13T00:00:00Z
Pani Katarzyna, od której wynajmowalismy mieszkanie ze znajomymi, bardzo miło nas przyjęła. Mieszkanie czyste i przytulne, idealne dla czterech osób. Zlokalizowane ok. 15min piechotą od starówki. Chętnie tam wrócimy.
Grzegorz
2016-07-03T00:00:00Z
Le logement était décrit avec exactitude en revanche il n'était pas précisé que l'appartement était dans une zone d'immeubles. ces immeubles sont situés près d'une grosse artère avec de la circulation même la nuit l'hôte a été très conviviale à notre arrivée et a su se rendre utile pour rendre notre séjour agréable.
isabelle
2016-08-21T00:00:00Z
Kasia es muy atenta y tuvo muchos detalles. El apartamento es grande para 2: salón y habitación sobre todo. A la cocina no le falta de nada (cosas que sí echamos en falta en otros de Polonia, como microondas, por ejemplo... Será que no lo utilizan). El centro histórico está a 15 minutos andando en línea recta, sin ninguna pérdida. Tiene parking privado para coche.
JUDITH
2016-09-20T00:00:00Z
Тип размещения
Дом/квартира целиком
---
Тип жилья
Квартира
---
Вмещает гостей
4
---
Спален
Toruń, kujawsko-pomorskie, Польша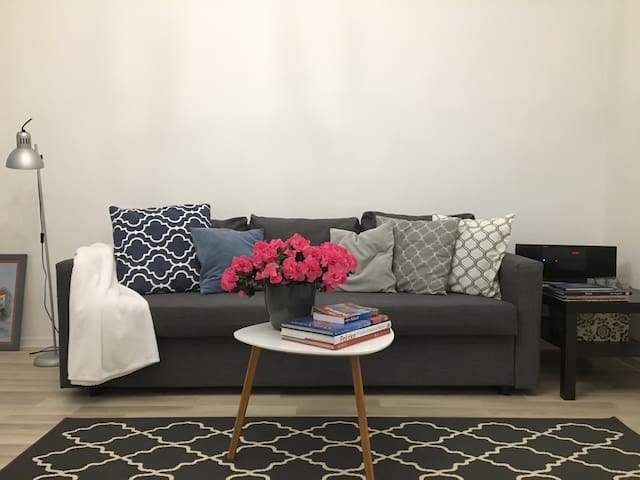 Климат и полностью оборудованная студия с мезонином, расположенный на чердаке отреставрированном историческом, в самом центре Старого города. Квартира полностью отремонтирована, полностью меблирована с кондиционером и имеет все удобства для комфортного проживания. многие климатические пабы района, хорошие рестораны и уютные кафе. И самое главное все Torunskie памятники ваших пальцев.
Bardzo ładne miejsce w świetnej lokalizacj. Polecam serdecznie - czysto, schludnie, cicho, bezproblemowo.
Katarzyna
2017-03-26T00:00:00Z
Mieszkanie bardzo przytulne, czyste, w pełni wyposażone. Kontak z gospodarzem bez problemu.
Anna
2017-03-18T00:00:00Z
We had a lovely stay in your perfectly located apartment. Everything was very clean and we really enjoyed our weekend in your charming city! Thank you.
Anna
2017-04-02T00:00:00Z
Bardzo klimatyczne mieszkanko na poddaszu kamienicy znajdującej się w samym centrum (i z tym nie przesadzam) Starego Miasta. W mojej opinii idealne dla jednej bądź dwóch par. Okolica, jak to toruńska starówka - całe mnóstwo lokali, restauracji, sklepów, tzw. coś dobrego dla każdego. Co do samego mieszkania, nie spodziewałem się, że lokalizacja okaże się na miejscu aż tak doskonała, a warunki tak rewelacyjne. Dodatkowo dochodzi doskonały kontakt z p.Ewą. Zdecydowanie przy kolejnych odwiedzinach Torunia wrócimy właśnie tu i zdecydowanie polecam każdemu!
Łukasz
2017-02-26T00:00:00Z
Idealna lokalizacja w samym centrum Torunia. Bardzo przytulne mieszkanie i super kontakt z gospodarzami!
Aleksandra
2017-02-18T00:00:00Z
Nice and cozy apartment in very good location, it was really easy to get to the most important monuments of Torun as it is located in central point of the old town. The apartment is really beatiful and well organized. The host was nice and helpful. Totally recommend.
Sabina
2017-03-05T00:00:00Z
Genial! Muy bien ubicado, el apartamento está genial, recién reformado
Paula
2017-03-03T00:00:00Z
Тип размещения
Дом/квартира целиком
---
Тип жилья
Квартира
---
Вмещает гостей
4
---
Спален
Toruń, kujawsko-pomorskie, Польша
Apartament,mieszkanie w nowym boku (31 m). NOWE,dwupokojowe, przestronne,w pełni wyposażone,salon wraz z aneksem kuchennym. Telewizor,radio.Łazienka z prysznicem.Przestronny balkon. Mieszkanie w ścisłym centrum miasta.(5min.-Dworzec PKP, Opera, kino).
Na przeciwko bloku znajduje się sklep BIEDRONKA, Apteka i Pepco.
Great apartment, almost brand new! A short 5 minutes walk to the train station and airport bus. About a 15 minute walk to the main square. Directly opposite a large supermarket with a 24hr alcohol shop on the corner of the street. The apartment comes with a mobile WiFi device that can be taken from the apartment. Highly recommended let!
Lee
2017-01-26T00:00:00Z
Miejsce warte polecenia! Bardzo dobry kontakt, apartament położony idealnie, wszędzie blisko, pod samym apartamentem sklep. Bardzo czysto i przyjemnie. Pozdrawiamy serdecznie właściciela :)
Dagmara
2016-04-10T00:00:00Z
The apartment was lovely. The pictures do not do it justice. It was very clean and new, and in a secure building. It is about a 15-20 minute easy walk from the square and main tourist area. We enjoyed being a little further out of town. Public transport is very easy and cheap. Damian was very prompt at answering emails through the Airbnb process and even walked to meet us as we were walking from the train station (which is a 5 minute walk from the apartment) Thank you Damian we really enjoyed our stay and would definitely stay here again. Kind regards, Carol and Gael
Carol
2016-07-26T00:00:00Z
Damian's place os fantastic, clean and bright and really close to the Station. It was a bit further from the centre than I expected but still an easy walk and plenty of trams nearby. There is a supermarket just outside the gate which was a bonus for late night munchies.
Justin
2016-08-27T00:00:00Z
The apartment was easy to find from the train station. It was immaculate inside and very comfortable. I felt secure in there too. It was very close to amenities and things to see and do in Bydgoszcz. I would go back there again and highly recommend it. I had a great time :)
Heather
2017-03-09T00:00:00Z
Spedzilismy dwa tygodnie w apartamencie Pana Damiana. Mieszkanko jest jak nowe, idealnie urzadzone, a na dodatek bardzo przytulne! Idealnie usytuowane tuz przy dworcu glownym, otoczone wszystkim co potrzebne do pobytu (sklepy, rynek, dostep do kounikacji miejskiej). Kamienica jest nowoczesna, wejscie chronione podwojnym domofonem. Jedyny minus przy dluzszym pobycie z samochodem to miejsca parkingowe, ktorych jest za malo proporcjonalnie do ilosci mieszkan.. Jednak z tego co mowil Pan Damian, ten problem powinien byc wkrotce rozwiazany po powiekszeniu parkingu! Wtedy minusow nie bedzie juz zadnych! Co do kontaktu z gospodarzem, wszystko przebieglo bardzo pomyslnie, szybkie odpowiedzi, dogodnosci co do odbioru kluczy, przyjazdne podejscie do gosci! Serdecznie polecamy to miejsce dla wszystkich tych, ktorzy chca zawitac do Bydgoszczy, zwlaszcza biorac pod uwage atrakcyjna cene w porownaniu z innymi apartamentami do wynajecia w centrum, ktore wynajmowalismy w przeszlosci! Polecamy smialo z zamknietymi oczami! Karolina i Julien
Julien
2017-01-02T00:00:00Z
The apartment is very cozy and warm, modern building, new furnitures, closer to main central station and all facilities such as groceries, pharmacy, ATM, bus and tram stop- really easy access. Also the owner is friendly and helpful with everything needed. The only concern is that there's no washing machine in the apartment and it's difficult to manage during long stay as doesn't exist laundry with "coin system" in Bydgoszcz only dry clean system (to wash only few clothes) and these are located at the mall.
Caroline
2017-02-10T00:00:00Z
Apartament usytuowany jest w dogodnym miejscu, blisko sklep, dworzec i stare miasto. Bardzo ładna, nowoczesna kamienica. Mieszkanie jest nowocześnie urządzone, ładne, zadbane i dobrze wyposażone. Pan Damian to wyjątkowa osoba, jest bardzo sympatyczny, przyjazny i pomocny. Serdecznie polecam wszystkim wybierającym się do Bydgoszczy pobyt w tym apartamencie :)
Ela
2017-01-05T00:00:00Z
Тип размещения
Дом/квартира целиком
---
Тип жилья
Квартира
---
Вмещает гостей
3
---
Спален
Быдгощ, kujawsko - pomorskie, Польша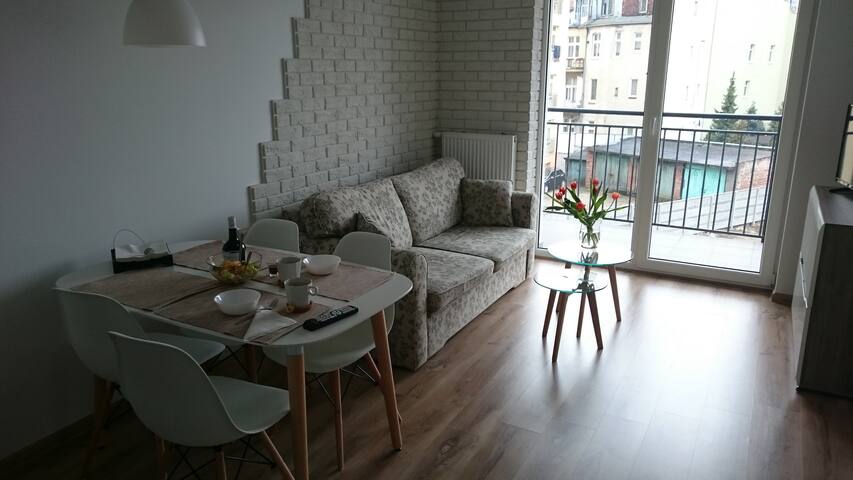 Przestronny, widny pokój z aneksem kuchennym i osobną łazienką oraz z dużym balkonem. Apartament urządzony nowocześnie i stylowo. Spokojna, bezpieczna okolica, 5 min. jazdy samochodem do centrum. Na tyłach budynku - bezpłatny parking.
Świeżo wyremontowane wnętrze, w starej kamienicy tworzy niepowtarzalne połączenie tradycji i nowoczesności. Apartament znajduje się na pierwszym piętrze. Wieczory, jeśli pogoda pozwoli, można spędzać na tarasie "pod gołym niebem".
Studio mieści się w dzielnicy Bielany; - do Centrum: autobus - 9 minut lub pieszo - 25 minut - do nowego Uniwersyteckiego Centrum Sportowego z basenem, siłownią i wypożyczalnią rowerów - 4 minuty pieszo - nowo-powstała Hala Widowiskowo - Sportowa ( różne ciekawe wydarzenia) 14 minut pieszo - Klub Odnowa 10 minut pieszo - market LIEDL 7 minut pieszo - sklep spożywczy 4 minuty pieszo. W okolicy jest dużo zieleni, do najbliższego lasku ok. 5 minut pieszo, do drugiego - 10.
Квартира хорошо оснащена, все что необходимое имеется, очень красиво оформлена, чистая. Хозяйка очень радушна, все было превосходно!
Ilzia
2017-03-13T00:00:00Z
Прелестная квартира! Чистая, светлая, уютная и в тихом месте. Хозяйка очень внимательная и приветливая, встретила нас как родных! Beautiful apartment ! hostess very kind and friendly .
Andrey
2015-03-09T00:00:00Z
The apartment is just like in the pictures very beautiful, functional and so well decorated..some said in a comment that Mariola the host is a decorator and I can assure she is because every element looks and feels harmonic and comfortable..besides Mariola is a very helpful person and from the first moment she attends you very nice and gives you info about the town,places to go and useful locations..she even helped me with a personal issue I had during my (URL HIDDEN) the way the apartment has a nice wifi connection and satelite TV with Canal+ which I didn't know from the Ad..I definitely felt like home and as I am going to stay for some time in Poland I will sure repeat with Mariola because apart of the accomodation you get to meet a great person
Juan Carlos
2016-07-24T00:00:00Z
A Mariola é uma anfitriã impecável, sempre simpática e muito prestável. A casa é lindíssima, com uma decoração cheia de gosto. Os pequenos pormenores como as toalhas arranjadas em forma de borboleta, velas acesas e flores frescas fizeram-nos sentir muito bem recebidos. Sem dúvida que voltaria a repetir a experiência. A casa fica numa zona calma, mas bem servida de transportes. O centro da cidade fica a apenas 10 minutos de autocarro.
Anna
2016-08-17T00:00:00Z
Mieszkanie w 100% zgadzało się z ofertą, Mariola przyjęła nas bardzo ciepło, a także przekazała cenne wskazówki na temat zwiedzania Torunia. Z chęcią odwiedzimy ją po raz kolejny, jeśli wybierzemy się do Torunia drugi raz!
Dominika
2016-02-15T00:00:00Z
Très bel appartement Très propre tout neuf Très bien situé accès facile au centre ville Parking pour voiture Bons conseils de la part de Mariola pour visiter Torun
francis
2016-05-15T00:00:00Z
To była nasza pierwsza wizyta w Toruniu i pierwsze wrażenie jest najważniejsze. Mieszkanko otoczone zielenią, z naprzeciwka dźwięki sączącej się fontanny... Spokój... Pani Mariola uśmiechnięta, natychmiast wzbudzająca sympatię, Mieszkanko jasne, czyściutkie, przytulne, urządzone ze smakiem i pomysłem. Od razu widać dbałość o każdy najmniejszy detal począwszy od konsekwentnej kolorystyki wnętrza i wszystkich dodatków łącznie ze sztućcami i garnkami... Nie wspomnę o fantastycznych , wygodnych łóżkach i wielu możliwości oświetlenia każdego z pomieszczeń. Do tego przestronny taras z wielkim parasolem i zasłonką. W kuchni wszystko co potrzebne łącznie z otwieraczem i nożyczkami. Zabrakło nam jednego dnia, aby podelektować się wyłącznie spędzeniem czasu w tak przyjemnej przestrzeni... Podsumowując: lokum z duszą i pozytywną energią. Planując pobyt w tym miejscu trzeba rezerwować koniecznie o jeden dzień więcej... Komunikacja bezproblemowa, Toruń przepiękny... Wrócimy na pewno i na pewno do Pani Marioli :)))
Dominika
2016-07-04T00:00:00Z
Śliczny apartament. Naprawdę wysoki standard z łatwym dojazdem do starego miasta. Super oferta na tle innych opcji noclegowych w Toruniu. Gospodyni bardzo miła i pomocna. Zdecydowanie polecam :)
Marta
2016-07-10T00:00:00Z
Тип размещения
Дом/квартира целиком
---
Тип жилья
Квартира
---
Вмещает гостей
2
---
Спален
Toruń, kujawsko-pomorskie, Польша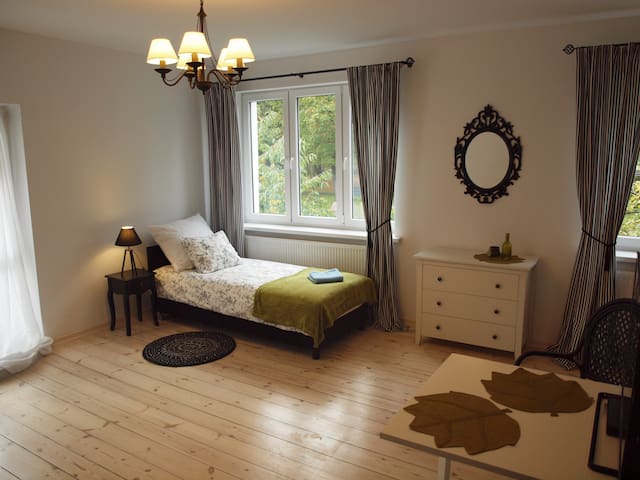 The apartment comprising of two spacious rooms, each with double bed, bathroom which includes a washing machine and well equipped kitchen is located in the heart of Torun's Old Town. The area has a lot of bars, restaurants and cafes, and most importantly, all of Torun's beautiful monuments and historical sites are at your fingertips. There is no need for public transport as the apartment is located in the centre of town so everywhere is walkable. It takes only 4 minutes to reach Vistula River an
Mieszkanie mieści się w samym sercu Toruńskiej Starówki. Do dyspozycji są dwa obszerne pokoje (w pełni umeblowane), w każdym lóżko dwuosobowe, w łazience pralka. W okolicy znajduje się sporo klubów, restauracji, i co najważniejsze wszystkie toruńskie zabytki są na wyciągniecie ręki (nigdzie nie trzeba dojeżdżać, zbędny jest również rower). 4 minuty pieszo do bulwaru nadwiślańskiego. Z przyjemnością ugoszczę wszystkich zainteresowanych, doradzę co zobaczyć, czego spróbować, kogo unikać:) Nie ma jak zacząć dzień od pysznego śniadania!!! W kuchni znajdziesz wszystko co Ci to umożliwi: garnki , patelnie, sztućce i talerze, a także kawę, herbatę i przyprawy, olej, mąkę. Jeśli nie masz ochoty gotować, na tej samej ulicy znajduje się tania restauracja (bufet), serwują śniadania i wszystkie dania. Jeśli przyjeżdżasz z małym dzieckiem, daj znać wcześniej, a łóżeczko turystyczne, wózek spacerowy, play mate, krzesełko do karmienia i zabawki będą na Was czekać:) W okolicy, dosłownie w odległości kilka minut znajdują się trzy place zabaw dla dzieci: Piernikowe miasteczko, ze zjeżdżalniami, bujaczkami, piaskownicą, parkiem wodnym, Płac zabaw na Bulwarze Filadelfijskim (podobne wyposażenie oraz płac zabaw w Fosie zamkowej. Masz nietypowe życzenia, pytania? Daj znać!
Все понравилось, квартира в самом центре старого города. Нет фена и больших полотенец. Интернет прекрасный! Постельное белье синтетика,но это на любителя. Магдалена разрешила поздний заезд и поздний выезд. Спасибо огромное!!
Алиса
2015-07-18T00:00:00Z
We stayed at Magdalena's very cute apartment in the heart of Torun and had the best time thanks to her. From the start she replied straight away with easy directions to the apartment and was attentive and explained everything once we arrived. It was spotless and had everything you needed for a short stay. She gave us a great recommendation to the coolest art gallery and exhibition which we loved. Nothing was a problem and to top it off we needed to leave our bags somewhere after check out and she offered her upstairs attic until it was time for us to leave. If you get the chance to stay here its super central and great value for money.
Tim
2016-08-18T00:00:00Z
Świetna lokalizacja, przytulne mieszkanie. Nie mam zastrzeżeń.
Ewelina
2014-07-11T00:00:00Z
Superbe appartement en plein centre de Torun ! Spacieux et confortable, parfait pour visiter cette charmante ville ! Très bon contact avec Magdalena. Je recommande vivement
Aurèle
2015-08-24T00:00:00Z
Appartment is large and perfect for 3 people. Very well located, clean, nice. We couldnt ask for better. Communications with Magdalena and her friend was easy friendly, helpful and effective. We recommend it.
Sylvia
2015-08-21T00:00:00Z
Mieszkanie jest wygodne, czyste i przestronne. Jego największa zaleta to IDEALNA lokalizacja: położone jest w samym centrum, w cichej uliczce prawie przy samej Wiśle. Magda jest przesympatyczną osobą, na którą można w 100% liczyć. Bardzo polecam!!
Berenika
2015-09-06T00:00:00Z
Bardzo fajne miejsce w bardzo fajnym miejscu. Blisko rynku a zarazem spokój i cisza od zgiełku miasta
Sławomir
2015-08-01T00:00:00Z
Magnific
peppe
2016-08-18T00:00:00Z
Тип размещения
Дом/квартира целиком
---
Тип жилья
Квартира
---
Вмещает гостей
6
---
Спален
Торун, kujawsko-pomorskie, Польша
Деловые путешественники, пары и семьи с детьми обнаружат климатические место. Если такая необходимость возникнет я буду предоставлять автомобиль для перевозки и от моего места и гида-человека вокруг тайн города. Парковочное место для Вашего автомобиля находится рядом с домом.
Хорошо расположен с одной спальней площадью 58 квадратных метров в центре города Торунь, всего в 800 метрах от Старого города, в 400 метрах от ДКА Jordanian и Этнографического музея, всего в 8 минутах ходьбы от Арены Торунь. Полностью оборудованная, чистый, безопасный и удобный. Прекрасно подключен ко всему городу - в непосредственной близости от центра общественного транспорта и автобусной станции Arriva (всего 200 метров).
Близость Торунь, ДКА иорданской театра В. Horzycy, Этнографический музей, Синема Сити, Farmer City, Арена Торунь, трамвайной линии 2 к Moto Arena Торунь (только 7 остановок).
Очень хорошая квартира, замечательный, очень отзывчивый и готовый помочь, пан Збышек. В квартире есть все, что нужно, до Старого города совсем близко, в соседнем доме магазин, машина паркуется без проблем, чисто, красиво, удобно и приятно. Хотим еще.
Olga
2016-07-29T00:00:00Z
Jesteśmy bardzo zadowoleni. Mieszkanie przytulne i czyste, dobra lokalizacja. Miejsce wygląda lepiej niż na zdjęciach. Bardzo sympatyczny i pomocny gospodarz. Polecamy.
Bartosz
2016-07-17T00:00:00Z
Serdecznie polecam. Bardzo sympatyczny właściciel. Mieszkanie gustowne i czyste. Usytuowane blisko centrum. Znajdziecie w nim wszystko co potrzebne.
Eve
2016-12-18T00:00:00Z
Amazing stay with every detail perfect. Only 5minutes walk to bus station. The house is really big clean and beautiful. The host is also very nice that will answer your any question at once
yi
2016-07-20T00:00:00Z
Cozy place just perfect for a short family stay.
Renat
2016-08-21T00:00:00Z
Zbyszek has been really great host, very kindly! Apartment has been great, I would say it is actually better in real than in images. Few minutes from city center. Absolutely recommend
Tomáš
2016-08-11T00:00:00Z
Our stay at Zbyszek's flat was fantastic! We arrived at the Torun bus stop at a rainy day, and without requesting or expecting it- zbyszek came to pick us up with his car! He took us to the place, which was very spacious, clean and pleasant. It is within walking distance from the old town and the bus station. Zbyszek was extremely nice and hospitable, he told us a bit about the city and the main events going on and gave us some tips. In addition, after we'd already left the flat, he contacted us, saying we'd left a small package, and asking for an adress to mail it to! to sum it up- beautiful flat, great city, very generous kind host! We definitely recommend it!
Kirill
2016-08-24T00:00:00Z
Wszystko zgodne z opisem, idealna lokalizacja, mieszkanko bardzo ładne i wygodne. Na wyjazd weekendowy idealne! Pan Zbyszek był świetnym gospodarzem, w 100% polecamy! :)
Ewelina
2017-01-08T00:00:00Z
Тип размещения
Дом/квартира целиком
---
Тип жилья
Квартира
---
Вмещает гостей
5
---
Спален
Toruń, kujawsko-pomorskie, Польша
Apartament 55m2 w Centrum Bydgoszczy, w pobliżu Hala Łuczniczka i Artego Arena, Centrum Handlowe Focus oraz Zielone Arkady, dworzec PKS. Apartament z balkonem, 2 sypialniami, łazienką i salonem z aneksem kuchennym. Miejsce parkingowe w garażu podziemnym. Osiedle monitorowane, ogrodzone. Plac zabaw dla dzieci. 10 minut pieszo do Centrum.
Mieszkanie dobrze wyposażone.
Krzysztof
2017-03-19T00:00:00Z
The stay at Karolina`s apartment was excellent. Karolina was very responsive to our needs, good communications prior and during our stay. Recommend!
Dainius
2016-10-22T00:00:00Z
Nachdem wir gebucht haben, wurden wir kurz über die Formalitäten informiert. Im Verlauf hatten wir noch Kontakt bezüglich der möglichen Uhrzeit unserer Anreise. Nachdem wir angekommen sind, wurde uns das Gelände, die Garage und zum Schluss die Wohnung gezeigt. Wir wurden unterrichtet auf welche Sachen wir Acht geben müssen. Das wichtigste ist wohl der Zugangscode zu dem Gelände und Wohnung. Die Wohnung war sauber, die Küche gut ausgestattet. In der Nähe ist ein großer Tesco. Wir waren auf jeden Fall mit dem Aufenthalt zufrieden. Sehr empfehlenswert, wir werden bestimmt wieder darauf zurückgreifen.
Martin
2016-08-03T00:00:00Z
The apartment was nice and in a good location. It is an easy walk along the river to get into the heart of the city. When I had a hard time finding the apartment, Karolina sent her husband to guide me in. That was very considerate.
Andrew
2016-06-30T00:00:00Z
La casa es nueva, cómoda y limpia. Zona tranquila, un poco alejada del centro, pero no fue inconveniente para nosotros. Supermercado a 1 km aprox en el que se puede comer.... Recomendable.
Pili
2016-07-25T00:00:00Z
Bardzo wygodne mieszkanie, blisko centrum a jednak z możliwościami spacerowymi nad rzeką Brdą. Dobry kontakt z gospodarzami. Jesteśmy zadowoleni. Polecam.
Arnold
2017-03-01T00:00:00Z
Pełen profesjonalizm na każdym etapie począwszy od rezerwacji, poprzez komunikację przed przyjazdem, przekazanie oraz odbiór mieszkania. Mieszkanie duże, czyste, spokojne oraz nowoczesne, w pełni wyposażone. Lokalizacja idealna! Następnym razem w Bydgoszczy na pewno ponownie skorzystamy! Polecam!!
Michał
2016-07-11T00:00:00Z
Very quick response from host. Great support from start to finish. Lovely apartment, very modern and clean. The location was excellent and just a lovely short walk along the river to town. We would definitely return. Thank you Karolina.
Harriet
2016-09-27T00:00:00Z
Тип размещения
Дом/квартира целиком
---
Тип жилья
Квартира
---
Вмещает гостей
5
---
Спален
Быдгощ, kujawsko-pomorskie, Польша
Looking for an unforgettable, charming place to stay in during your visit to Bydgoszcz? Our apartment isn't only a comfortable, well-equipped accommodation it also provides you with a piece of history of Bydgoszcz. It is situated in a newly renovated 110 years old historical building in a very close neighborhood of Pola Negri's house - a Hollywood silent film actress.
Owing to its picturesque location in the musical district with the proximity of the Theatre, Concert Hall (filharmonia), Kochanowski's Park, The Academy of Music, dancing fountains and historical villas the apartment offers you enjoyable time. The apartment is an open space flat with a separate bedroom, well equipped kitchen, a comfortable bathroom and a cozy balcony.
The host canceled this reservation 2 days before arrival. This is an automated posting.
Ewa
2017-04-05T00:00:00Z
The apartment is very light and clean. In a nice neighborhood.
Josje
2016-11-20T00:00:00Z
Arnika & Szymon's place was one of the cutest & cleanest places I have ever stayed in Airbnb. Both of them have been amazing hosts and checked if we needed anything or not:) Their house is very well located and has beautiful sunlight through out the day. If by any chance we visit this city again and the house is available I would definitely want to stay there.
Mojan
2017-02-01T00:00:00Z
Very convenient, charming and friendly
Karolina
2016-11-01T00:00:00Z
Nice and clean apartment with great hosts.
Maarten
2017-03-08T00:00:00Z
We had a lovely stay, the apartment has everything you need and is of a high standard, definitaly recommended.
Łukasz
2017-02-19T00:00:00Z
Szymon & his wife made us extremely welcome, and he went out of his way to ensure we got to the flat and the festival with ease and comfort. The flat is lovely and I would recommend it to anyone visiting Bydgoszcz.
Tom
2016-11-15T00:00:00Z
Тип размещения
Дом/квартира целиком
---
Тип жилья
Квартира
---
Вмещает гостей
4
---
Спален
Быдгощ, kujawsko-pomorskie, Польша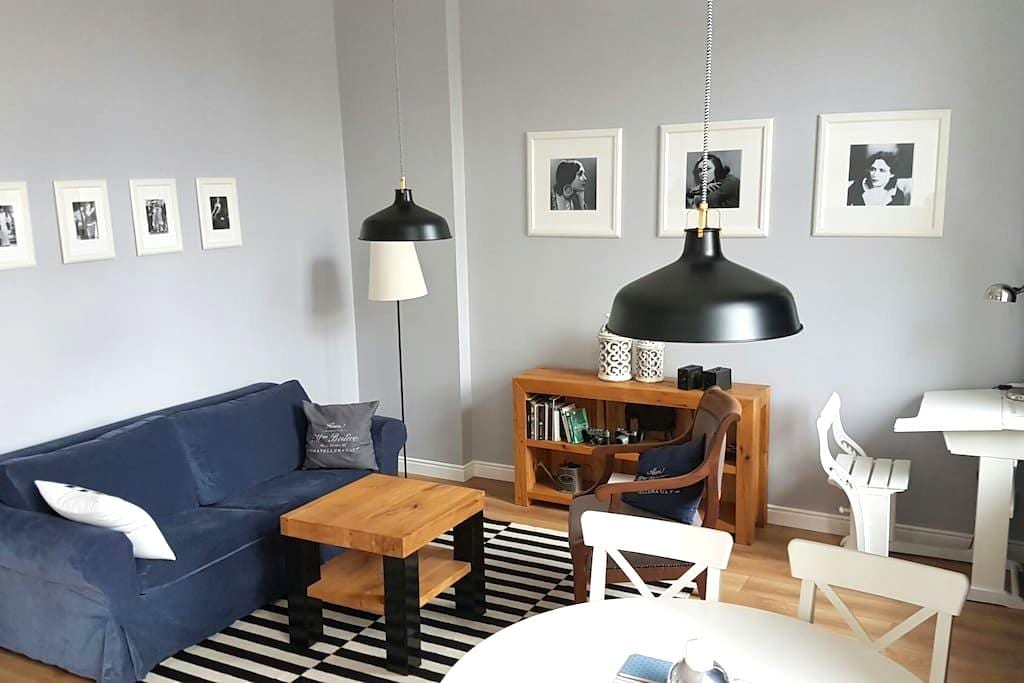 My house is near the city center, CKK Jordanki, Central Station, bus station, nightlife, public transport, city center and parks. You'll love my guest for its panorama, kitchen, comfort, views, comfort, amenities, bed, bed, bed again. My accommodation is good for couples, solo travelers adventurers, business travelers, families with children. It can accommodate up to 4 people comfortably in the room.
Cozy little apartment, five minutes away from the historic centre of Torun. Great view of the city. Very nice stay. Michal was very helpful. Whenever I sent a message it was answered within a minute. If you travel by train (as we did) there is a fast connection with tram n.1 to the station Torun Miasto.
Andrea
2016-10-03T00:00:00Z
The apartment was clean and well located and looks exactly as in the photos. Michal was incredibly easy to communicate with and very accommodating. We would 100% recommend a stay, great experience!
Marnie
2016-09-11T00:00:00Z
Miejsce w bardzo dobrej lokalizacji, 8 minut od samej starówki, sklep spożywczy 1 min od mieszkania, parking przed blokiem, widoczny z balkonu. W mieszkaniu czysto, ciepło. Polecam !!!! Dobry kontakt z właścicielem!
Maciek
2017-03-26T00:00:00Z
Ładne i wygodne miejsce w dobrej lokalizacji.
Andrzej
2016-09-18T00:00:00Z
On arrival there was water and cookies in the fridge. We left a magnet on the fridge from our country.....hope this is a trend that is started.
Marcia
2016-07-26T00:00:00Z
Przytulna kawalerka. Blisko starego rynku z pięknym widokiem z 9 piętra. Bardzo dobry kontakt z gospodarzem. Polecam
Piotr
2016-12-04T00:00:00Z
It was very nice!
Eron
2017-01-14T00:00:00Z
Everything went sooo well that I'll definitely come back asap! This place is really close to the Old Town of Torun, just 6 minutes by walking, no reason to take a bus or a taxi. Looking forward to visit you soon.
Kamil
2017-02-12T00:00:00Z
Тип размещения
Дом/квартира целиком
---
Тип жилья
Квартира
---
Вмещает гостей
4
---
Спален
Toruń, kujawsko-pomorskie, Польша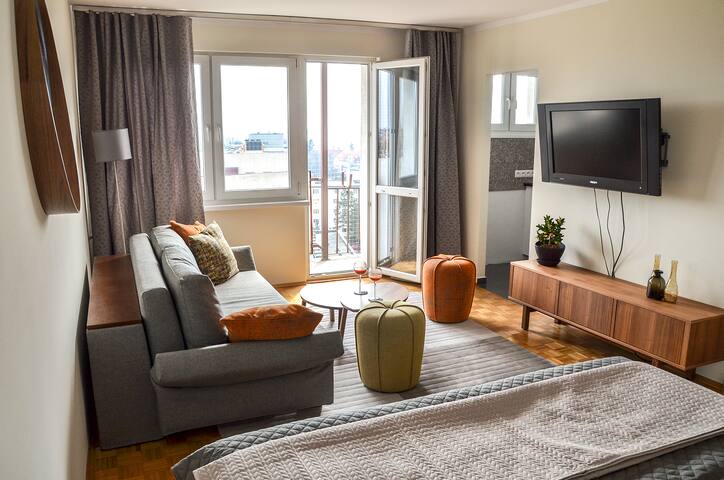 Климат и полностью оборудованная студия с мезонином, расположенный на чердаке отреставрированном историческом здании с видом на широкие улицы в самом центре Старого города. Квартира полностью отремонтирована, полностью меблирована с кондиционером и имеет все удобства для комфортного проживания. многие климатические пабы района, хорошие рестораны и уютные кафе. И самое главное все Torunskie памятники ваших пальцев.
super lokalizacja, niesamowity klimat ale odradzam ludziom starszym i schorowanym bo schody zarowno w budynku jak i mieskaniu sa strome!
Michał
2017-02-19T00:00:00Z
Bardzo dobra lokalizacja, ładne, zadbane mieszkanie. Nie poznalysmy bezpośrednio właścicielki, ale Pan Rafał był bardzo pomocny. Serdecznie polecam.
Marta
2017-03-19T00:00:00Z
Cudne mieszkanko, w którym znajdzie się wszystko czego sie trzeba. Ciepło i przyjemnie, co nie zawsze zdarza sie w takich kamienicach. Szczelne okna, skutecznie wyciszające miejski zgiełk za oknem. Bardzo dziękujemy ;)
Marta
2017-03-05T00:00:00Z
Piękny apartament , idealny dla 4 osób , świetne miejsce w samym sercu Torunia
Agnieszka
2017-02-25T00:00:00Z
Very clean and elegant apartment for reasonable price. Location is perfect for sightseeing and nightlife. Tall people should be extra careful in bedroom :) All in all, great apartment
Filip
2017-03-25T00:00:00Z
Mieszkanie w ścisłym centrum, przestronne, ciepłe, ze wszystkimi potrzebnymi sprzętami. Świetny widok na Rynek Nowomiejski. Bardzo przytulna antresola. Dwie rzeczy o których trzeba pamiętać: strome schody, a do pokonania dwa piętra. Poza tym należy się liczyć że na antresoli dość wyraźnie słychać odgłosy otoczenia. Gospodarze bardzo życzliwi i komunikatywni. Polecam
Michał
2017-03-18T00:00:00Z
Тип размещения
Дом/квартира целиком
---
Тип жилья
Квартира
---
Вмещает гостей
4
---
Спален
Toruń, kujawsko-pomorskie, Польша
Идеальное место для семей с детьми, группы друзей и деловых путешественников.
Тип размещения
Дом/квартира целиком
---
Тип жилья
Квартира
---
Вмещает гостей
4
---
Спален
Grudziądz, kujawsko-pomorskie, Польша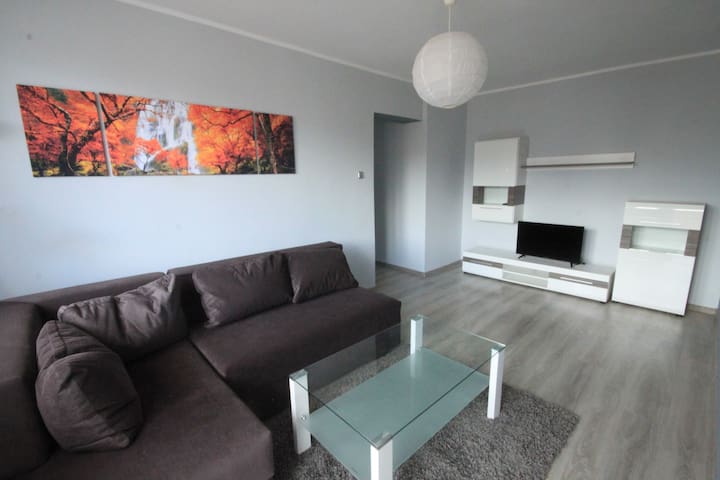 Квартира расположена в красивом районе Bydgoskie Прзедмиец района: - В нескольких минутах ходьбы от старого города (850 м) и парк (1 км). Железнодорожный вокзал Торуни - - 2,5 км - 30 минут пешком, 15 автобус + пешком или 10 минут на такси - Автовокзал - 1,2 км - 16 минут пешком, но вы также можете сесть на трамвай :) - Ближайший пекарня - 50 м, бакалейные 300 м. Это идеальное место для тех, кто хочет чувствовать себя комфортно во время путешествий. Просторный, светлый и экологически чистое место, близко ко всем магическим местам в Торуни.
Это хорошая и просторная квартира с хорошей атмосферой, где вы можете чувствовать себя как дома. Есть две комнаты, ванная комната и большая, оборудованная кухня подходит для приготовления пищи. Я уверен, что это было бы здорово, чтобы съесть хороший, уверенный в prepaired завтрак перед прогулок по городу :) Вам не придется беспокоиться о специй или чая и кофе. Все уже prepaired :) Апартаменты находится на втором этаже.
Апартаменты находится в тихом и приятном месте, в историческом районе района Bydgoskie Предместье. Отсюда вы можете достичь много красивых и волшебных мест в Торуне пешком, но если вам нужно пойти в более отдаленных мест, где вы можете легко поймать автобус отсюда. Отсюда вы можете легко добраться до продовольственного рынка, магазинов и парка. Это хороший район, чтобы пойти на утреннюю прогулку и увидеть повседневную жизнь города.
Апартаменты на третьем этаже многоквартирного дома. Лифта нет, описанию соответствуют 2 спальни, кухня, холл. Есть все необходимое, видно, что в доме часто кто-то проживает. Об этом говорит много базовых продуктов соль, сахар, масло, уксус и т.д. Приятно, что есть нормальная посуда, часто бывает, что на отличные апартаменты нет ни одной сковородки. Здесь все ок. Нет Тв, если кому-то важно. Были проблемы с интернетом, но они быстро решились. В соседнем здании пиццерия, магазин, банкомат, пекарня. До стен исторического центра минут 10 пешком. В целом все понравилось
Anton
2017-02-26T00:00:00Z
Все очень четко и честно. Гибкое время заезда и выезда. Удобное расположение, рядом пекарня магазин, до старого города совсем чуть идти. Оливия все показала, рассказала. ,
Iurii
2016-11-06T00:00:00Z
Квартира соответствует описанию. Очень хорошее расположение, рядом старый город. Хозяева очень приятные. На все возникающие вопросы сразу отвечали. Квартира чистая. Всем рекомендуем.
Вадим
2016-01-11T00:00:00Z
Karolina is a very helpful and carful host. Everything went perfect. The flat is clean and just as cosy as written in the description. We enjoyed the location a footwalk away from the center very much and had a great time! Thank you!
Nils
2015-07-19T00:00:00Z
Okolica spokojna - ruch poniżej umiarkowanego (więc generalnie cicho - okres wakacyjny), mieszkanie bardzo czyste. Wszystko zgodne z opisem.
Tomasz
2016-08-02T00:00:00Z
My wife and I have just spent 2 nights in Torun staying in Karolina's lovely apartment . It is very spacious and has everything you would need including a well set up kitchen . The apartment is very clean with plenty of light and in a quiet area . The railway station is about 1.5 kilometres away and you can get a bus to the apartment but we caught a taxi which was only 12 Zloty , just make sure you show the driver the address and he is aware it shouldn't cost more than 12 Zloty . The old town is beautiful and only a short walk away as is a local Supermarket . This is a great place to stay and nearly makes you feel like a local.
Keith
2016-06-07T00:00:00Z
Mieszkanie Pani Karoliny bardzo dobrze sprawdziło się w czasie naszego kilkudniowego pobytu w Toruniu. Mieszkanie było bardzo czyste, jest przestronne i dobrze wyposażone. Stare budownictwo, ale urządzone ze smakiem. Ponadto jest w doskonałej lokalizacji, dzięki której wiele ciekawych miejsc (Starówka i Stare Miasto, Ogród Zoobotaniczny, Park Bydgoski dla biegających, Centrum) jest w zasięgu kilkuminutowego spaceru. Jeśli jeszcze zawitamy w Toruniu, prawdopodobnie w pierwszej kolejności odezwiemy się do Pani Karoliny :-)
Łukasz
2016-09-30T00:00:00Z
Bardzo dobry i sprawny kontakt z gospodarzami, okolica spokojna i naprawdę blisko Starówki w Toruniu. Fontanna z pokazami dźwiękowo-świetlnymi 5 minut drogi z dzieckiem :) Bardzo przestronne i przyjemne mieszkanie wystarczające dla małżeństwa z dwójką dzieci. Istnieje możliwość upolowania miejsca parkingowego pod blokiem :)
Michał
2015-09-11T00:00:00Z
Тип размещения
Дом/квартира целиком
---
Тип жилья
Квартира
---
Вмещает гостей
4
---
Спален
Toruń, kujawsko-pomorskie, Польша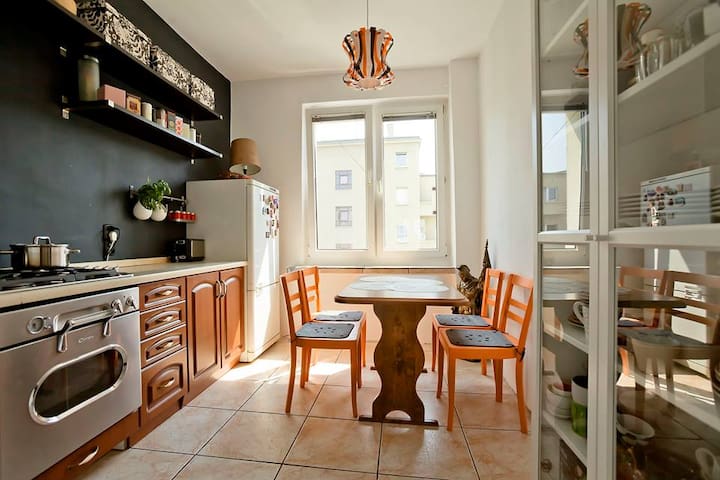 The apartment is located in Torun Old Town provides access to the complete infrastructure. Surrounded by beautiful buildings, monuments of the Old Town, restaurants, shops. High ground, sunny (South), located on the inside of the building ensures peace and quiet. 2-bedroom, cozy apartment in a renovated house. Living room: seating-dining area with a table and chairs + 2 seating area with sofa bed (sleeping 120 x 200) The bedroom has a comfortable bed 140 x 200.
Rewelacyjna lokalizacja, w samym centrum Torunia. Przytulne mieszkanie, idealny na krótki pobyt w Toruniu. Pani Dorota to bardzo miła osoba. Udzieliła nam potrzebnych informacji oraz odpowiedziała na wszystkie nasze pytania.
Joanna
2017-03-17T00:00:00Z
Fajne i przytulne mieszkanie w świetnej lokalizacji
Bartosz
2017-03-23T00:00:00Z
Тип размещения
Дом/квартира целиком
---
Тип жилья
Квартира
---
Вмещает гостей
4
---
Спален
Toruń, kujawsko-pomorskie, Польша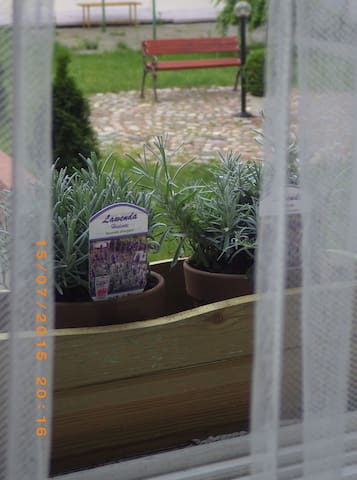 Мое предложение рядом достопримечательностей семьи. Вы будете любить мое предложение из-за: климат. Мое место хорошо для пары, соло приключений и деловых путешественников.
It was a very pleasant stay in this cozy apartment. the communication with host was very good, he took care of us and let us leave our baggage later after check-out. It was comfortable, quiet, warm and neat flat. Perfect localisation. Thank you very much!
Natalia
2017-03-12T00:00:00Z
The home was clean and near the center. The Wifi worked perfectly and the TV had DiscoPolo (and many other channels). The bed, a futon, could have been more comfortable, but was not a problem. Overall, I would not hesitate to recommend this place to a friend.
Drew
2016-12-25T00:00:00Z
Loved this comfy, close-to-the-center apartment. Very clean and quiet part of town, and great quality for the money. There were three of us and there was easily enough room for everyone. The only thing we couldn't quite get to work was the hot water for the bath--luckily we were only staying for a weekend so it wasn't a huge deal. I think we just didn't quite know how to work the water heater. Other than that though, it was a terrific stay, and I would highly recommend this apartment if you are looking to visit Torun!
Shelby
2017-02-14T00:00:00Z
Kiedy już dojechaliśmy do Torunia okazało się, że nastąpiła duplikacja rezerwacji na ul. Warszawskiej, ale pan Krzysztof szybko, sprawnie i bez problemów zaproponował nam nocleg w kamienicy zaraz przy Nowym Rynku. Mieszkanie było w świetnej lokalizacji, ładnie urządzone, czyste i zadbane. Jak najbardziej polecam i chętnie bym wróciła w to samo miejsce.
Angelika
2017-02-06T00:00:00Z
Miejsce na pewno godne polecenia znajdujące się blisko starego miasta, czysto, przytulnie i dziękujemy za pierniczki na powitanie ;)
Malwina
2017-03-19T00:00:00Z
Listing description accurate, communication with the host very good, location was all right (not far from the center, just next to the train/bus station). The floor was dirty at the arrival but quickly cleaned when requested. It was a bit cold in the room.
Martyna
2016-08-27T00:00:00Z
Świetna lokalizacja, wystarczy wysiąść z Dworca Miasto i przejść na druga stronę ulicy, kamienica znajduje się blisko centrum, a jednocześnie jest to cicha okolica. Wspaniały, szybki kontakt z właścicielem, możliwość dogadania się :). Mieszkanko dokładnie takie jak na zdjęciach, z czystym sercem polecam!
Monika
2017-02-26T00:00:00Z
Тип размещения
Дом/квартира целиком
---
Тип жилья
Квартира
---
Вмещает гостей
3
---
Спален
Toruń, kujawsko-pomorskie, Польша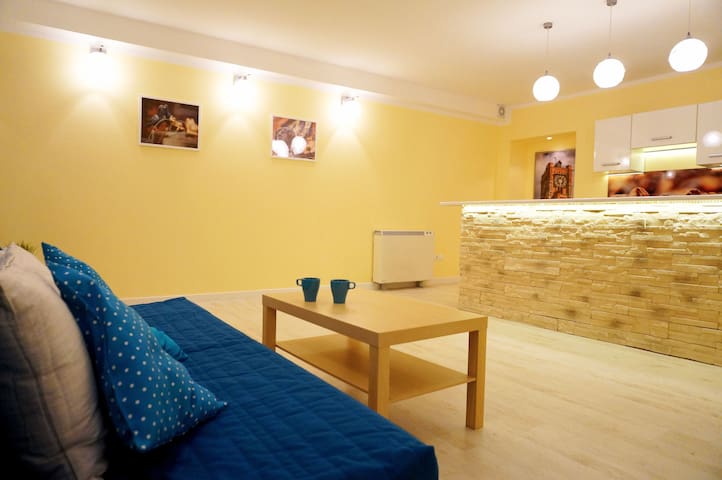 Do dyspozycji mieszkanie dwupokojowe na parterze odrestaurowanej kamienicy, w pełni wyposażone, umeblowane i urządzone w wysokim standardzie. Lokalizacja jest wielkim atutem, zaledwie 5 min spaceru do Centrum handlowego (m.in. Auchan, pralnia, kawiarnia), WSG, Multikino, Opera Nova, Kanał Bydgoski, Biznes Park, Atos. W okolicy park, Stary Rynek, restauracje, puby, sklepy. 10 min do dworca PKP. Idealne dla: pary, podróżujący w interesach, rodziny (z dziećmi)
The host canceled this reservation the day before arrival. This is an automated posting.
David
2016-09-26T00:00:00Z
.
Ellie
2016-07-25T00:00:00Z
This was a lovely little apartment in a very pretty city. Only 4 mins walk from the tram line and only about 15-20 mins walk from the centre of town. We were visiting to attend the IAAF under 20 World Championships. The number 1 tram took us directly from the apartment to the Stadium. It was a great location for running-close to the stadium by tram, about 2 miles to a cinder track and close to a nice trail along the canal. There are lots of grocery shops in the immediate vicinity of the apartment and the apartment is fully kitted out for cooking. The host was there when we arrived with the keys even though we arrived quite late at night and they made dropping the keys back very easy. This apartment was good value for money and we very much enjoyed our stay.
Ilona
2016-07-23T00:00:00Z
This was a great place to stay and Monika is very easy to work with. I would stay here again!
Jim
2016-12-28T00:00:00Z
Everything was excellent
Ivan
2017-02-27T00:00:00Z
Mieszkanie ładne i przytulne. Właścicielka bardzo miła i pomocna. Polecam.
Karol
2017-01-14T00:00:00Z
Тип размещения
Дом/квартира целиком
---
Тип жилья
Квартира
---
Вмещает гостей
4
---
Спален
Быдгощ, kujawsko-pomorskie, Польша
Zatrzymaj się w dobrze oświetlonym i niedawno odnowionym apartamencie w samym sercu Torunia. Mój apartament znajduje się na granicy Starego Miasta i Chełminskiego Przedmieścia, które stawia Cię w samym środku Torunia i wszystkiego, co miasto ma do zaoferowania.
Jest to jedno z najlepszych miejsc pobytu w Toruniu. Apartament znajduje się na 3. piętrze. W garażu i głównym wejściu znajduje się winda. Możesz korzystać z grilla na 7. piętrze (na dachu) ze spektakularnym widokiem na Stare Miasto.
Apartament znajduje się 3 minuty od sklepu spożywczego i 4-gwiazdkowego hotelu Filmar, gdzie można skosztować polskiej kuchni - jednej z najlepszych w Toruniu. Jest to bardzo bezpieczne miejsce, ponieważ główna siedziba policji znajduje się obok budynku mieszkalnego
A very charming apartment and the location was fantastic. Agata was very helpful with my arrival and was available for questions throughout the trip. I would certainly recommend this place for anyone staying in Torun and wanting to explore the city!
Erik
2016-08-23T00:00:00Z
Nettes Appartement in direkter Nähe zur Innenstadt. Gut ausgestattet, mit Balkon.
Tobias
2016-07-27T00:00:00Z
Ideal place for rest and bussines trip in Toruń. Modern flat with bedroom, living room, kitchen, bathroom and big balcony. Mobile Wifi - great for foreigners. Private place in underground garage located in the fenced building. You can see the old city from rhe roof tarace, but unfortunately that place is rather raw with great potential (without plants and garden ferniture). The host is cool, and in a good contact with guests. Many thanks. Summary: I can frankly recommend the place! Idealne miejsce do wypoczynku i podróży służbowej. Nowoczesne mieszkanie z sypialnią, salonem, kuchnią, łazienką i sporym balkonem. Prywatne miejce w podziemnym parkingu w ogrodzonym budynku. Z dachowego tarasu widać stare miasto, ale jest to niestety raczej surowe miejsce o dużym potencjale (bez zieleni i mebli ogrodowych). Gospodarz jest spoko i w dobrym kontakcie z gośćmi. Wielkie dzięki. Podsumowując: Mogę szczerze zarekomendować to miejsce!
Arkadiusz
2016-08-16T00:00:00Z
Mieszkanie jest ładnie urządzone, czyste, przestronne i świetnie położone. Oprócz tarasu na dachu jest też zwykły balkon, więc to dodatkowy plus. Agata praktycznie od razu odpisuje na wszystkie wiadomości, a ponadto poszła nam na rękę i mogliśmy się zameldować nie tylko wcześniej niż się początkowo umawialiśmy, ale nawet wcześniej niż oferta przewiduje. Dlatego bardzo polecam wszystkim pobyt w mieszkaniu Agaty! :)
Paulina
2016-08-09T00:00:00Z
Mieszkanie jest przestronne, czyste, dobrze wyposażone a ponadto w dobrej lokalizacji. Dodatkowym plusem jest parking podziemny i taras na dachu z widokiem na Toruń. Kontakt z właścicielami był bardzo dobry, bezproblemowo dogadaliśmy się co do kluczy i godzin przyjazdu / odjazdu. Serdecznie polecam mieszkanie i gospodarzy! :-)
Małgorzata
2016-11-13T00:00:00Z
Goraco polecam miaszkanie Agaty. Bardzo ladne I czyste. Dobra lokalizacja. Z dziecmi dojscie na statowke zajmowalo nam 10 min. Bardzo fajnie ze jest garaz, poniewaz zaparkowanie samochodu na starowce graniczy z cudem. Dodatkowym udogodnieniem DLA rodzin z dziecmi jest winda. A To run przepiekny, war to zarezerwowac sobie kilka dni na zwiedzanie. No I swietny kontakt z wlascicielami.
Anna
2016-09-05T00:00:00Z
Agata and her husband Robert were extremely accommodating and super nice. The apartment is exactly as you see it on the pictures and makes a perfect gateway for a trip to Torun. very safe neighborhood and very close to the old town (5min walk or so). I highly recommend it and the host could not be nicer... Spot on!
Aleksandra
2016-01-02T00:00:00Z
Super mieszkanko w super okolicy :-) Blisko do rynku i do wszystkiego co potrzeba do życia. Ze względu na sąsiedztwo mega bezpieczne :-) Nowy fajny blok z windą. Gorąco Polecamy!
Janusz
2016-05-05T00:00:00Z
Тип размещения
Дом/квартира целиком
---
Тип жилья
Квартира
---
Вмещает гостей
4
---
Спален
Toruń, kujawsko-pomorskie, Польша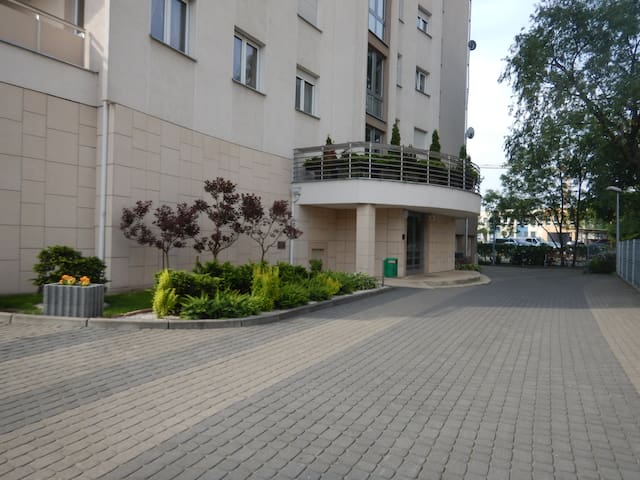 1

–

18

из

181 квартиры в аренду
Введите даты, чтобы увидеть полную цену без учета дополнительных сборов и налогов.