Введите даты, чтобы увидеть полную цену без учета дополнительных сборов и налогов.
8 объявления
· Central Islip
8 объявления
· Central Islip
My place is good for business travelers.
Тип размещения
Отдельная комната
---
Тип жилья
Квартира
---
Вмещает гостей
1
---
Спален
1
Central Islip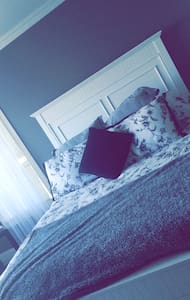 My place is close to Mc Arthur airport , connetquot state park, beaches off the robert moses parkway.. You'll love my place because of Privacy , the neighborhood, the ambiance. My place is good for couples, solo adventurers, and business travelers.
Where I live is surrounded by horse ranches. I'm in between sunrise highway, southern state parkway, lie, vets highway and northern state parkway. And the long island raiload is a few blocks away which is a straight route to the city.
We really enjoyed staying with Cheantel and her family. The place felt private and separated from the main house so that I was able to be up early and get to work without bothering anyone. We never had any problems at all, but understand you are sharing a wall with the family and some noise does transfer. They are wonderful, happy people, and noise was never an issue. The place may only be one bedroom, but the living space is very large! We had plenty of room to stretch out for our 5 days and the open floor plan was very comfortable. Cheantel is very helpful and if you need anything, just ask. She may be new to this, but she wants you to have a nice stay. Thanks for having us!
Kev
January 2017
Тип размещения
Дом/квартира целиком
---
Тип жилья
Дом
---
Вмещает гостей
2
---
Спален
1
Central Islip
Come stay at our lovely home. Enjoy a piece of serenity!
Easy access, convenient location. Great for getaways and business travelers. Wake up to the beautiful view of our two horses Suzy and Rosey. We also have two cats but they don't have access to the space so allergies shouldn't be a problem. Come enjoy! Private room and bathroom with shower - perfect for two people. Separate well lit enterance. I will be happy to help with area attractions and restaurants.
Easy walk to Hidden Pond Park and the Long Island Greenbelt Trail System Minutes from Islip MacArthur airport, Smithaven Mall, Stony Brook University. Perfect for business travelers. Close to Computer Associates. Midway between Robert Moses State Park Beaches and Port Jefferson Village. Easy access from the Long Island Expressway (495) and the Northern State Parkway. Seasonal use of in ground pool and outdoor seating by the garden.
Lisa and family has a beautiful home on a Cul-de-sac conveniently located and very comfortable. It's exceeded my expectation and will be home whenever I am in the area. Very nice to wake up and see the horses out back!
Richard
March 2017
Lisa is the best host I have had yet with my air bnb experiences. She was super sweet, accommodating, even offered us to join in on some wine tasting when available but we were always passing by so we missed out. The room was cute and cozy, private, on a nice secluded dead end in a quiet area. The horses on the property were a really nice touch to the experience! Would definitely stay at Lisa's place again, felt like home to me :)
Seneca
February 2017
Lisa's place was great! The entire family greeted me upon arrival and made sure I had everything I needed for my stay. They even offered some wine tastings! She was very friendly and offered to take me back into the barn to meet Rosie and Suzy. Beautiful horses and it was nice to get the chance to meet them. There was also a neighborhood cat (Mittens) that comes around and hangs out on the back porch. I woke up early one morning and saw him around so got the chance to pet him before heading out for the day. Comfortable bed and shower as well. Lisa provided everything I needed and more. I will definitely be back!
Erik & Crystal
March 2017
Тип размещения
Отдельная комната
---
Тип жилья
Дом
---
Вмещает гостей
2
---
Спален
1
Hauppauge
My place is close to restaurants and dining, the beach, and family-friendly activities. You'll love my place because of light, comfy bed, the kitchen, the coziness, and the high ceilings and privacy. Good for couples, solo, business travelers, and furry friends (pets). Located near the airport and train station.
I have private parking. The place also has an out door patio with a couch, table and chairs to enjoy the out doors. Wifi, located 15 min from the airport and 5 min from the train station . I am available every day if you need something
The neighborhood is very quiet and centrally located on Long Island Train station is 5 min away. Airport is 15 min away. Uber is also available The apartment is private and quiet. There are 2 sky hats which make the apartment bright. I have a coffee pot with k-cups available as well as waters in the frig. Plates cups, pots , utensils and pans also in the kitchen. Everything you need to cook a meal
This was in a perfect location for our time on LI, perfect for 2 people, cozy, comfy bed, spacious kitchen & bathroom. It is in a quiet neighborhood and even though attached to the main home, very quiet and private. Phil was an excellent host, very responsive to our needs, while providing privacy that we like.
Lisa
December 2016
Phil was very accessible. He had the apt ready a few hours early and texted us to let us know, also checked on how we were doing during our stay. He did a great job leaving plenty of towels, toilet paper and anticipating needs. The apt was perfect for the two of us. Would def rerurn.
Andrea
December 2016
Excellent private space attached to the main home. Clean, very well maintained with a beautiful stone bathroom. Many thoughtful items in the full kitchen. Skylights make the room very bright and welcoming. Phil is a excellent communicator and host! A great find in Islip!
John
February 2017
Тип размещения
Дом/квартира целиком
---
Тип жилья
Квартира
---
Вмещает гостей
2
---
Спален
1
Islip Terrace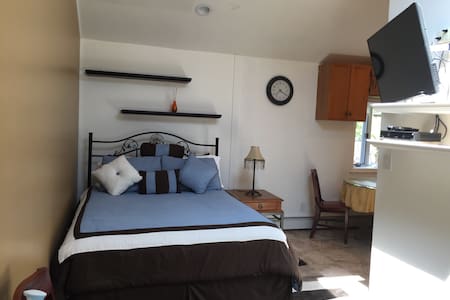 My place is close to public transport, the airport, the city center, parks, and art and culture. You'll love my place because of the outdoors space, the neighborhood, the light, the comfy bed, and the kitchen. My place is good for couples, solo adventurers, and business travelers. House is beautiful and newly renovated. You have access to your room, a bathroom with a shower, a kitchen, and a beautiful backyard with a full deck and patio.
Please park on the right side of the driveway, on an angle, making sure everyone can get in and out freely.
The photos are exactly what you will get when you arrive! Its quite and cozy here; yet you need a car to get around! If you have Uber, there are a few ubers available around, that can pick you up within 5 to 7 minutes!
Michael
January 2017
You definitely will not regret it. The best Air BnB choice I ever made. Home away from home.
Sabrina
December 2016
Great place to stay
Mitchell
January 2017
Beautiful house, beautiful property, nice quiet neighborhood. Perfect for our needs. Thanks Nicholas!
Liz
September 2016
Great stay! Went in and was showed my room which was exactly like I expected. Bed was super comfortable. Talked to nick over the phone and he seemed like a really cool dude. Would stay again.
Omid
March 2017
It was a little awkward getting a few phone calls early in the morning the day of our reservation, but everything went smoothly. We didn't see Nick this time around but were happy we could come and go as we pleased with the keys provided. There only thing that wasn't so great was the noise made by the other Airbnb guests upstairs that went past 1am and again in the kitchen sometime between 8 and 9am. Otherwise, this is one of the nicest residential areas on long island, I recommend Blydenburgh park and main Street in Smithtown about ten minutes away. :)
Beverlee
October 2016
Great place to stay
Reynard
February 2017
The listing description and bedroom, etc. matched what we encountered upon arrival. The house was quiet so I was able to get some work done in a common area (kitchen island). The host was well organized in welcoming guests, namely providing clean towels and clean kitchen area.
Christine
September 2016
Тип размещения
Отдельная комната
---
Тип жилья
Дом
---
Вмещает гостей
2
---
Спален
1
Smithtown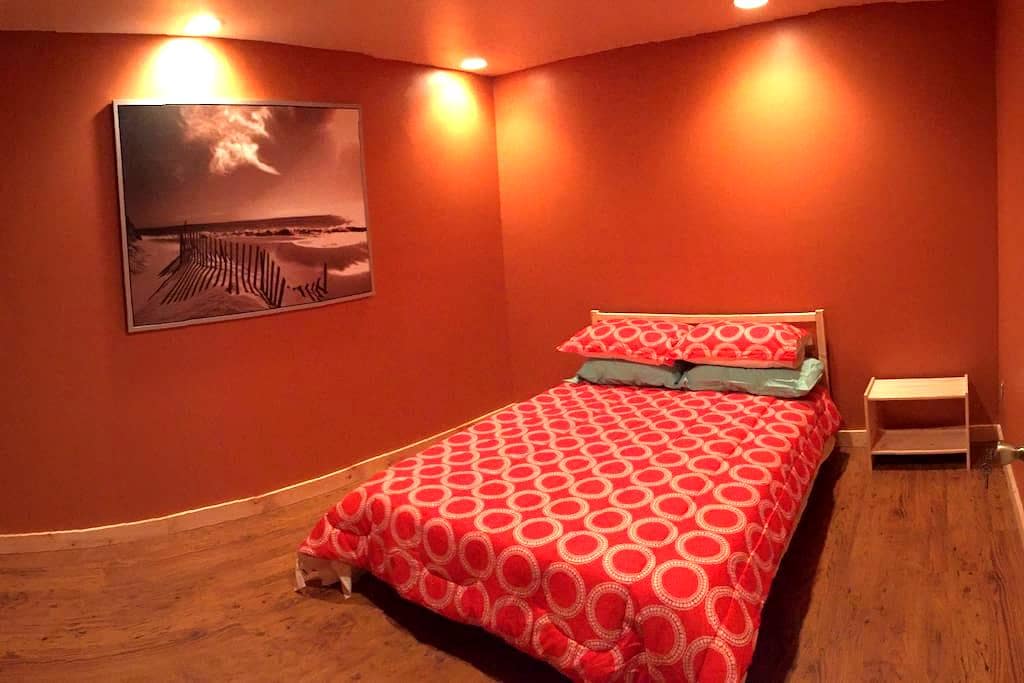 My place is located on a quiet, safe residential street near Islip Terrace. Close To: 5 Minutes to US District Federal Courthouse, 5 Minutes to Duck Stadium, 26 Minutes to Long Island MacArthur Airport, Bay Shore Marina, Connetquot, Robert Moses & Sunken Meadow State Park, Bethpage Ball Field.
You'll love my place because is very Clean and comfortable, Separate entrance, Quiet Area, My place is good for couples, business travelers. Guess will have access to complete small apartment. that include full bath, Kitchen, bedroom with Queen size bed and memory foam mattress.
Nice Clean Quiet Neighborhood with private entrance.
Totally lovely and cozy space to unwind and recharge!
Joe
October 2016
I was back again at Senny's place. I like the private entrance to the cozy apartment. The place is always immaculate and quiet. Senny adds some nice touches to the place and definitely makes it feel cozy.
Penn
September 2016
Senny was an amazing host and her home is beautiful. She's an excellent communicator, gracious and understanding. My partner and I will definitely be staying here if we plan to travel to LI again.
maryam
August 2016
Exactly as described if not better and worth every single penny, deff staying there again
Joseluis
February 2017
Senny was very flexible with check in times and was a fantastic host. She even offered use of her pool. The space has a gorgeous backyard and was vey private. Thank you Senny!
Charlotte
August 2016
Senny is new to Airbnb and I was her first guest and she is off to a great start. She is comitted to the idea of being a great hostess. First of all I contacted her and requested to stay the morning of the day I wanted to arrive and she was happy to accommodate me. When I arrived she was still placing new pots, pans and appliances in the unit and we brain stormed on other items needed going forward to make her a supreme host. I have faith that Sennys unit will be come more and more wonderful as time goes on and look forward to returning back to the unit in the future to see her progression.
Rose
August 2016
Senny was unable to meet us but that was no big deal since we were just dropping our bags before running out. We were able to get in earlier than most places allow. Everything was as shown and pretty clean. She had a nice bottle of wine waiting. We had a little trouble later that night signing on to the wifi, but it was totally user error and she had a relative come down in a timely manner who was able to help. I do feel it is important to note there is no t.v. in the the living room area. Not a big deal for us but just wanted to make sure people were aware that the t.v. is in the bedroom. Overall, this was a nice little place perfect for what we needed.
Lydia
September 2016
Senny was great. The apartment was very nice and cozy. Highly recommended.
Kelly
October 2016
Тип размещения
Дом/квартира целиком
---
Тип жилья
Другое
---
Вмещает гостей
2
---
Спален
1
Брентвуд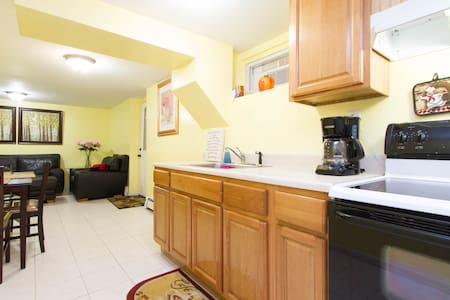 My place is close to public transport, the airport, the city center, parks, and art and culture. You'll love my place because of the outdoors space, the neighborhood, the light, the comfy bed, and the kitchen. My place is good for couples, solo adventurers, and business travelers. House is beautiful and newly renovated. You have access to your room, a bathroom with a shower, a kitchen, and a beautiful backyard with a full deck and patio.
Please park on the right side of the driveway, on an angle, making sure everyone can get in and out freely.
Nicholas house is very beautiful and specially decorated. It is all clean and quiet, the house feels peaceful and the people that live there are friendly and welcoming. I decided to stay a second night because I liked it very much and it was convenient for the journey I was making. Everything worked out well.
Brigitte
September 2016
Outstanding, cozy, quiet, and clean. My fiancé and I were very pleased with Nicholas' place. We felt like we were at home. I would definitely recommend this room.
Angelica
October 2016
Nicholas was there to meet us when we arrived. Gave us a tour of the house. The room was nice and clean. We did not spend much time there, so cannot give lots of feedback in regard to the kitchen and other facilities.
Maryanne
August 2016
Very nice, comfortable room. Newly renovated, clean and spacious. Cottage is in a very quiet residential area, but easily found via (SENSITIVE CONTENTS HIDDEN) Maps. Large, spacious kitchen and downstairs area though I never used it (my stay was very short). Nice bathroom with all necessities, felt quite luxurious. Ample parking.
Joseph
August 2016
Even though this was Nick's first time hosting though Airbnb, I think he did an amazing job making sure that I was satisfied with my stay at all times. His bed was comfortable, the bathroom was clean, and the decor was really nice and organized. I would highly recommend him to anyone and would definitely stay there again!
Joe
August 2016
We loved Nicholas's place so much we booked it a couple more times this fall. Room was clean and spacious.
Rob
October 2016
This house was so nice we had to come back for another visit! Such a cozy place to stay in a beautiful neighborhood. A perfect getaway!
Victoria
August 2016
Nicholas was responsive to our questions and concerns before our stay. This was our first Airbnb experience. Overall it was effortless and a really nice stay. His home is safe, quiet, clean and friendly. Great value for the area. We would go back again next time we go to Long Island. Gracie Nicholas!
Christy
September 2016
Тип размещения
Отдельная комната
---
Тип жилья
Дом
---
Вмещает гостей
2
---
Спален
1
Smithtown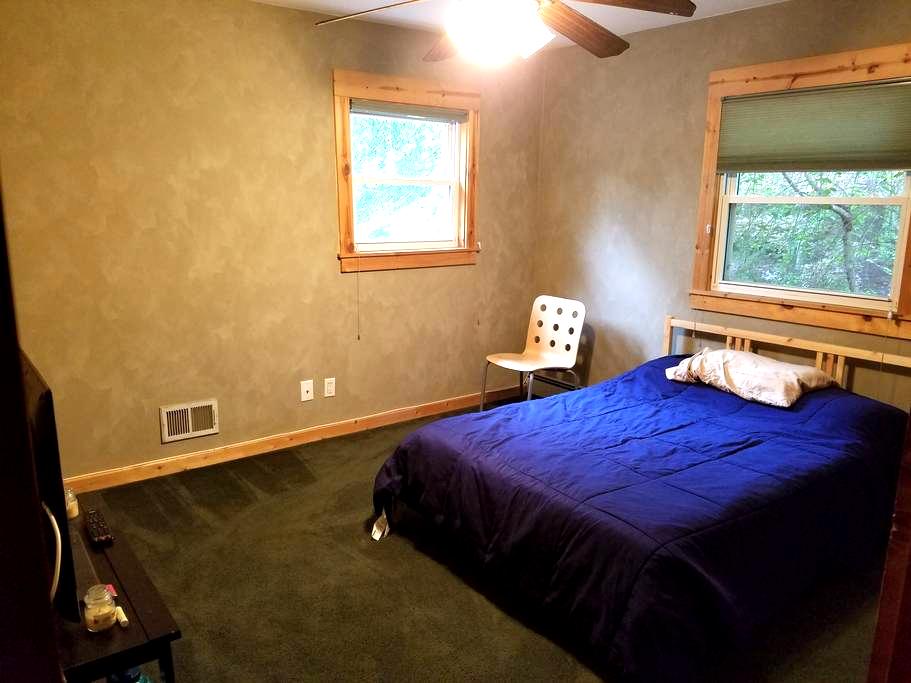 A private room available in my home. The house is on a very quiet street. My place is about 10 mins from Smithhaven mall and the Smithtown LIRR station. JFK is about 43 miles from here. Stony Brook University is about 7 miles away.
A private room available in my house for short term stays. Car park spaces available on the street. There is a large living and dining space which are shared spaces. The bedroom features a comfortable Queen sized bed with a shared bathroom. The kitchen area is shared and equipped with a microwave, fridge, electric kettle, (with tea and coffee provided). The house features a deck and swimming pool, which guests can enjoy during the warmer months! NOTE - The Pool has been closed for winter. The house is close to highways and Stony Brook university. The house is on a very quiet street- a little oasis for you to enjoy. Guests are allowed to enjoy the shared spaces of the backyard (with swimming pool, deck), street parking spaces and can have access to washing and drying facilities on the main property. Shared bathroom, kitchen, living room are also available for use. I will be available to assist with any questions during your stay
No smoking. No parties or events. Check-in is after 3PM We expect our guests to be respectful of our home and neighbors. Smoking is not allowed indoors.
Everything was so clean and Good I Like All things in the apartmant . So Arif is one of the best Host and He answer All My question he is so helpful person Thank you very Much I highly recomended this beatiful house ☺️:)
Semih
September 2016
Honest to the Ad. That's the best way I can describe this stay. Arif was more than a generous host and his home was very inviting. I would recommend this place to stay to anyone who is planning on being on the island for a wedding or a trip to the city. Sure it's 45 minutes from the NYC, but you know what? For the level of comfort I experienced, it was worth it.
Andres
October 2016
It was really a wonderful experience. A true gentlemen and very good at heart.
Furqan
December 2016
Very nice place, and kind host. Would highly recommend it.
Márton
August 2016
Stayed here after a wedding..nice place and host. Good stay for the night.
Maxine
September 2016
Тип размещения
Отдельная комната
---
Тип жилья
Дом
---
Вмещает гостей
2
---
Спален
1
Hauppauge