This house is a new build within 10 years. It is fairly open design with a large kitchen - living room combination. Two nice rooms with queen beds. Easily sleeps 4 with room for air mattresses for more. A crib is also available if needed.
Ken was a great host. This was the first time we used AirBnB and it was perfect. We were a bit later than we expected but he saw us coming down the road and greeted us at the door. We felt very much at home. I would highly recommend Ken's listing to anyone needing a place to stay in Norfolk.
Aimee
2016-08-02T00:00:00Z
Ken was there and ready with all smiles when the dogs and I arrived for our stay - was super friendly and available if I needed anything. Felt like an old friend from the start :)
Sarah
2016-10-01T00:00:00Z
Big and great house
Liu
2016-08-02T00:00:00Z
We enjoyed our visit to Ken's home and appreciated the several personal amenities that he provided. The neighborhood was as he described and we felt very safe and "at home."
Don
2016-10-06T00:00:00Z
The host was good. The house was not in the best shape but it was ok. Fewer personal things would make the house more comfortable for the guests. The neighborhood was safe, nothing ver happened to me but it wasn't a very nice neighborhood. It was ok and got the job done.
Mahsa
2016-09-03T00:00:00Z
The house was great. Ken was great had the house ready for our arrive, he worked around our schedule.
Esther
2016-09-25T00:00:00Z
Тип размещения
Дом/квартира целиком
---
Тип жилья
Дом
---
Вмещает гостей
4
---
Спален
Норфолк, Небраска 68701, США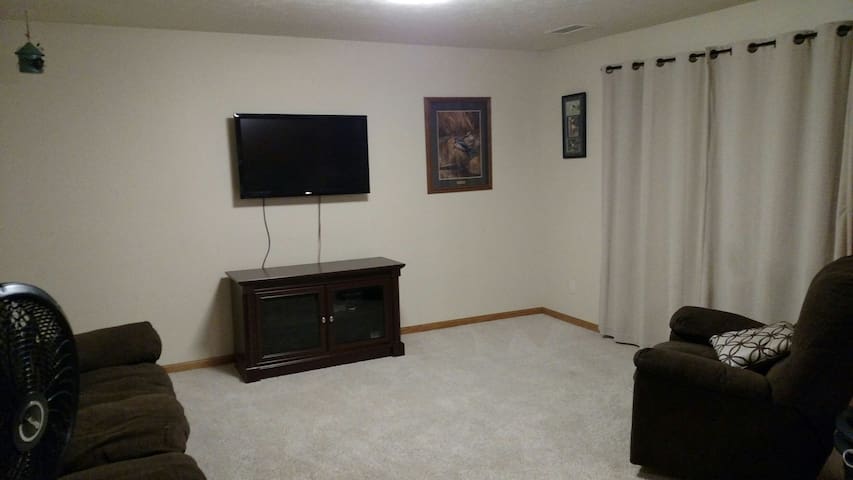 Large room with new queen bed frame and mattress.
The house was build within the last 10 years. Located on the corner of two quiet streets.
I have excellent neighbors in a quiet neighborhood.
Very easy to work with. Highly recommend
Jm
2017-02-21T00:00:00Z
Тип размещения
Отдельная комната
---
Тип жилья
Дом
---
Вмещает гостей
2
---
Спален
Норфолк, Небраска 68701, США
Our cozy and comfortable private basement living area(separate entrance) comes complete with bedroom, living area, and bathroom. There is a flat screen TV, treadmill, and coffee bar! We are located on a peaceful farm with scenic views just 3 miles from Wausa, NE.
We had a great time staying with Kathleen and Curt. They were lovely hostz and made us feel very welcome. Five stars all the way! Thank you for your hospitality.
Hilary
2015-08-15T00:00:00Z
Our stay was better than advertised. Kathleen and her family were so accommodating made our stay a delight. We would definitely stay again when come this way and would recommend to everyone else.
Kirk
2016-07-17T00:00:00Z
Lovely place! Welcoming and cozy! Enjoyed the beautiful gardens and slept like a rock! Thank You also for accommodating my Dad's needs as well, he enjoyed playing the piano!
Lisa
2015-06-15T00:00:00Z
Staying with Kathleen and Curt was awesome! They are very gracious and caring people. I had a wonderful breakfast in the morning, and they shared their dinner with me the night before. She even left snacks out for me. Their place was clean and comfortable! I highly recommend them.
Andria
2016-06-20T00:00:00Z
I requested this late in the day (same day) and Kathleen and Curt graciously accepted this. We were greeted with cookies and ice cream. Them rooms were clean and roomy. There was a fabulous coffee grotto in our living space and we had access to their kitchen too. Although Kathleen was had something else scheduled that morning, by the time we got up she'd made us bacon and put out the pancake batter for us not to mention she'd set the table and made juice. All of this was way beyond what I'd expected. We shared dinner with them that night and they told us about the local attractions but since it is a working farm, my kids really didn't want to leave and do anything but investigate all the farm. Curt took time to explain some farm life to my city kids, that was pretty cool. I highly recommend them and the accommodations.
Maura
2014-08-10T00:00:00Z
Kathy and Curt are the sweetest people! They are so very accommodating. The basement is large and comfortable. We had access to the washer and dryer and since we travel on business most of the time that was a huge plus. Although Kathy has to be at work early she still got up EARLY and made us an amazing breakfast every morning! SO SWEET AND THOUGHTFUL! Their home and gardens are so beautiful and RELAXING. There were snacks in a basket and a keurig coffee maker in the basement...PERFECT....wish we could have stayed longer! We hope we have the opportunity to stay with them again!
Mary
2014-06-21T00:00:00Z
This place is a true gem. Curt and Kathy are fabulous hosts - very warm and accommodating. They made sure we had everything we needed, and were very easy to visit with. My mother and I were heading from Kansas to Minnesota, and this was a perfect stopping place. We had plenty of room, the bed was comfy, and I loved the tiled shower. Kathy's breakfast was superb, and we enjoyed seeing her beautiful gardens and hearing familiar farm sounds. They are truly living the country lifestyle that so many people only dream of. Because of this Airbnb experience, I never want to stay in a hotel again! We will be back!
Nita Kay
2015-08-16T00:00:00Z
Fantastic experience! We are recommending our friends make a small detour when they head west or southwest and stop in with the Hennings. Get off the freeways and experience true Plains hospitality. The driving was great...good roads, less traffic, and 60 mph speed limits....much more relaxing than semi traffic on I-35! Rural Nebraska is truly worth the experience. Their home is on a paved road ...just a few miles off US 81 and easily assessed. What wonderful hosts! We have had lots of great airbnb hosts but Kathleen and her husband are tops! We were treated like old family friends.....homemade apple pie and ice cream when we arrived and home cooked breakfasts each morning. We spent the whole evening visiting! It was so great we decided to come back by for a repeat visit on our way home! The photos are completely accurate & the quarters were very comfortable. They are very private if you wish and were nice and cool when we were there on a warm, humid evening. I am sure they would be toasty in the colder months with the living room fireplace. Kathleen's garden is wonderful and we spent time sitting out in the back in the shade enjoying the warm spring weather. We brought supper home and enjoyed it in the backyard the second day we were there. I also enjoyed walking up and down the road and taking photos of the neighbor's cattle, the birds (swallows, red winged blackbirds, sparrows, etc), cottonwood trees, and the farmyards. Nebraska's rolling hills and farmlands are beautiful. Our stay made a long road trip very enjoyable and relaxing! I would definitely recommend anyone stop for a visit & will return any time we are in the area. Life in the Plains states is more like life used to be....more laid back & down to earth.
Deborah
2014-05-29T00:00:00Z
Тип размещения
Отдельная комната
---
Тип жилья
Дом
---
Вмещает гостей
3
---
Спален
Wausa, Небраска 68786, США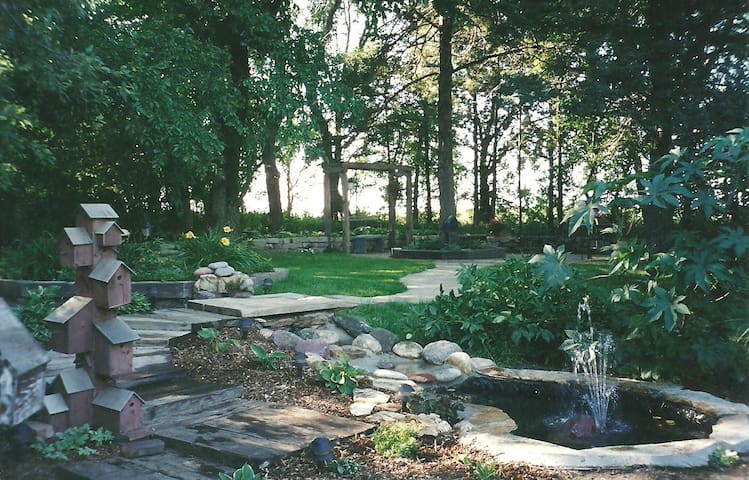 Primarily a workshop it also a guesthouse/studio with a queen bed in the loft. Workbench folds out into an elevated futon and overflow sleeping space is available in the camper behind the guesthouse. $10 per bed.
Originally a corn crib milled from cottonwoods along the Missouri River a couple miles to the north. In the center of rural Nebraska village of 50 people. Private space with no amenities.
It is the village my great-great grandparents emigrated to from Norway and helped to establish. A hilly Shire-like landscape in the bluffs of the Missouri River. Just 8 miles over the river from the University of South Dakota in Vermillion.
A wonderful night. Incredibly welcoming and kind hosts and a deeper sleep than we'd had in days. The accommodations are just as described, but the area and welcoming committee far exceeded expectations. Thank you!
Nix
2015-08-09T00:00:00Z
Awesome time in Maskell. Comfortable accommodations.
Ryan
2015-10-07T00:00:00Z
Great little spot to rest! Great hosts! Love the bed, fan, and my favorite; the ice cold water spicket outside.
Jonathan
2016-05-28T00:00:00Z
Great place!! Wonderful price & stay. The hospitality is great & so was my experience!
Ezekiel
2016-07-03T00:00:00Z
Great as usual
Jonathan
2016-06-13T00:00:00Z
Nice comfy bed just off the highway. No frills & cheap, perfect if you're traveling through!
Miranda
2016-08-08T00:00:00Z
Andrew and Allison and friendly and kind hosts who offer a great value to traveler on a budget. Great for a backpack traveler or someone just needing a safe space for a night. For the price, worth it.
Kathryn
2016-11-18T00:00:00Z
The corn crib was a nice simple place to spend the night after a long drive. Despite the warm summer night I was able to sleep pretty well in the lower bed with the fan running. I didn't meet Andrew until the morning, but they were responsive with my previous communications.
Matt
2015-09-07T00:00:00Z
Тип размещения
Отдельная комната
---
Тип жилья
Дом
---
Вмещает гостей
10
---
Спален
Maskell, Небраска 68751, США
You will find this recently remodeled property perfect for your stay in West Point. It has an overlooking view of main street with bay windows. It is conveniently located in the center of downtown. The Nielsen Center (convention/wedding venue) is 4 blocks away. My place is good for couples, solo adventurers, business travelers, and families (with kids). There is a breakfast and lunch place three doors down (Bud's). There is a bar one block away (Mayberry's).
Great apartment to stay in! Very clean and Ryan was kind enough to stock it with all the basic necesities; from band-aids, laundry detergent, playing cards, and my personal favorite coffee. Ryan gave great suggestions for place to eat or drink at. I loved the ma and pa shop, Bud's, right next door for some very early morning breakfasts. Loved being able to sit in the bay window and watch everyone on the main street below. I stayed over the Christmas season and the town sets up a big tree in the middle of an intersection, has a tree lighting ceremony, and plays Christmas music on the loud speakers throughout the day. West Point definitely has Christmas spirit.
Holly
2017-01-17T00:00:00Z
Тип размещения
Дом/квартира целиком
---
Тип жилья
Квартира
---
Вмещает гостей
4
---
Спален
Вест-Пойнт, Небраска 68788, США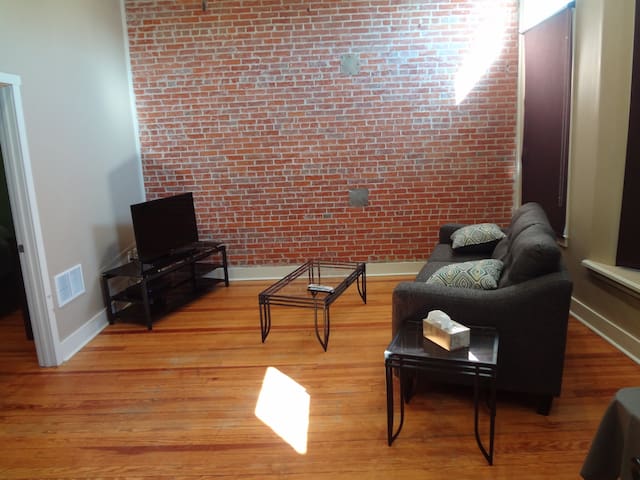 Private room in a modern home. Shared bathroom. Access to whole house including living room, kitchen, and laundry. I want you to feel at home here. Norfolk is great community with everything you need.
The room is great for two people. Queen bed. Television with DirecTV in your room.
My neighborhood is on two quiet streets with great people. Very low traffic. Great area if you like to walk or run.
It was my 1st time to us Airbnb for renting a room. I had a great experience. Ken is really welcoming host. Everything was prepared and room was nice and clean. Would stay there again :)
Liisi
2016-07-29T00:00:00Z
Very nice stay. Host is Very accommodating. Great access in the area. Quiet.
Rondi
2017-02-11T00:00:00Z
Тип размещения
Отдельная комната
---
Тип жилья
Дом
---
Вмещает гостей
2
---
Спален
Норфолк, Небраска 68701, США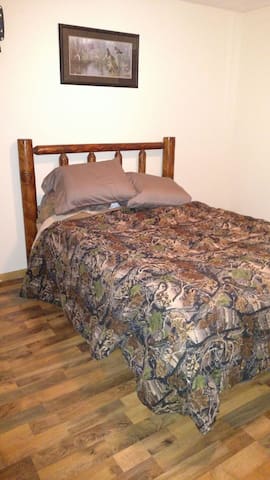 This lovely older farmhouse has been refinished to enhance its naturally beauty! Charming 2-story farmhouse with original hardwood floors, front porch, full kitchen, and beautiful scenery!
This farm house is perfect for families. Plenty of yard for kids to enjoy and yet quiet enough for a family to relax and enjoy one another away from day to day distractions.
Kathleen could not have been a better hostess! We ended up arriving later than planned and she let us know that it was not a problem. Before arriving I would text her and she would text me right back with answers. The house was everything she said and more!! This was more than a home away from home! She made muffins that were sitting on the counter waiting for us when we arrived. My kids loved playing outside. Kathleen also had a few games in the house for the kids to play. And I loved having a fresh cup of coffee while sitting on the front porch in the morning fresh air. This home is truly a Charming Countryside Farm. The next time I'm in Wausa I will make sure this is the place that we will be staying at.
Robin
2016-11-14T00:00:00Z
Тип размещения
Дом/квартира целиком
---
Тип жилья
Дом
---
Вмещает гостей
5
---
Спален
Wausa, Небраска 68786, США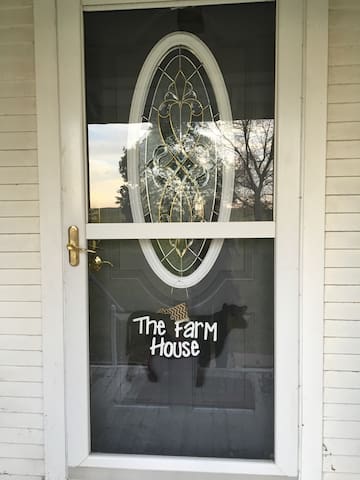 This listing is for our upstairs bedroom, bathroom, sun room and living room. The bed and bath areas are able to be closed off from the rest of the house. The kitchen would be shared with myself and our family. Guests would have full access to the garden, deck, front porch with grill, and farm atmosphere (we can even let you gather the eggs for breakfast!) We will provide breakfast, linens &toiletries. My place is good for couples, solo adventurers, business travelers, and families (with kids).
Kathleen and her husband were exceptionally welcoming, gracious and accommodating. I would gladly stay with them again.
Ross
2016-09-23T00:00:00Z
Very friendly, clean, easy and quick to communicate with. Even accommodated my dog as we traveled through for the night! Would stay again!
Quinn
2017-02-18T00:00:00Z
Тип размещения
Отдельная комната
---
Тип жилья
Квартира
---
Вмещает гостей
3
---
Спален
Wausa, Небраска 68786, США
Just 1 mile South of the Outlaw Trail Scenic Byway, and just North of the Bow Creek, you'll find Bow Valley. Home to the famous quinquennial Bow Valley Schuetzenfest, we take great pride in our traditions, our heritage, and our old fashioned mid-western hospitality. North Crick Lodge has been a part of Bow Valley for over 100 years. We are a newly renovated 2 bedroom, 1 bath Vacation Rental. We offer WI-FI, Internet Cable (Sling TV), and Local Phone Service.
Kitchen is full service with microwave, refrigerator/freezer, stove/oven, basic pantry items, dinnerware, bakeware, utensils,etc. provided. Full Bathroom with heated floors and seperate water closet. Comfortable bedding, with a television and private patio in the Master Bedroom. All linens are provided. Livingroom has TV, stereo, and dvd player with select movies for your viewing enjoyment. We also provide family board games for those rainy Nebraska days, as well as a Welcome Packet with area information on dining, services, and local attractions. This home is very well maintained, offers a very Unique Vintage decor and amenities focused on providing Our Guests an experience they will cherish.
We are 8 miles north of Hartington, 20 miles SE of Yankton, SD, 50 min. from Ponca State Park, and 15 min. from Missouri River access. We are privileged to be Home to One of the Most Beautiful Churches in Nebraska ; Sts. Peter & Paul Catholic Church(see article in Nebraska Life Magazine). We also have a Dance Hall, Blacksmith Shop, Community Playground, and a Service Station/Restaurant. Nearby attractions include the Nissen Winery, St. James Marketplace, Wiseman Monument, Cedar County Museum & Corps of Discovery Welcome Center.
Тип размещения
Дом/квартира целиком
---
Тип жилья
Дом
---
Вмещает гостей
5
---
Спален
Hartington, Небраска 68739, США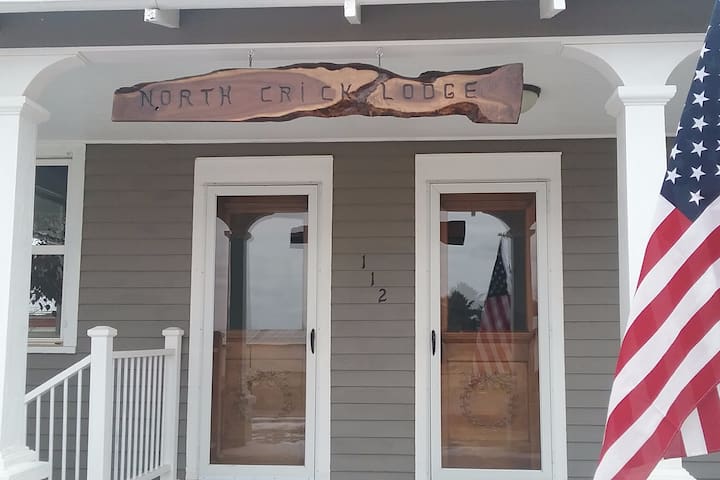 Located close (but not too close) to the University of South Dakota campus, in the Forest Avenue Historic District, you'll rent a room from a local, quiet professional. The bedroom has cute imported French antique furniture and new quality mattress.
Original oak wood floors, bay window, comfortable furniture all in an historic district only 2-3 minutes from the University of South Dakota by foot. The bedroom has a full size double bed, with a brand new, super comfortable mattress. All of the furniture in the bedroom is antique french painted furniture. The bedroom is situated in a quiet corner of the house. There are TV's both in the bedroom and the living room, both with cable TV and lots of stations. Candles, tea or a glass of wine will welcome you to this historical home within walking distance of Main Street, USD or the river.
The house is from 1900 in an historic residential area of town. There are many houses from the late 1800s and early 1900s in the neighborhood, with several on the national historic register. The university is only a 5 minute walk from the university (USD), yet the neighborhood is very quiet. There are few students living in the immediate vicinity. You can walk to shops on Main Street or the river.
Fantastic! David and Myanna offer a spectacular room that feels like home.
Matthew
2016-10-31T00:00:00Z
I traveled to Vermillion on business and was looking for a place with close proximity to USD's campus and to Main Street. David and Myanna's place was a perfect fit and I had a successful and relaxing stay. The place was precisely as advertised - comfortable, clean, and reliable so that I had everything I needed. And the hosts were incredibly welcoming! We had a very easy and enjoyable coexistence and I left feeling refreshed and glad to have new friends in Vermillion. I would definitely stay here again and heartily recommend it to anyone else who is going to be in town.
Sarah
2016-04-07T00:00:00Z
Myanna was there to greet us and explained the protocols of the household.
Jackie
2016-10-09T00:00:00Z
Host communicated careful instructions to make my arrival convenient and comfortable.
Terry
2016-09-03T00:00:00Z
Тип размещения
Отдельная комната
---
Тип жилья
Дом
---
Вмещает гостей
2
---
Спален
Vermillion, Южная Дакота 57069, США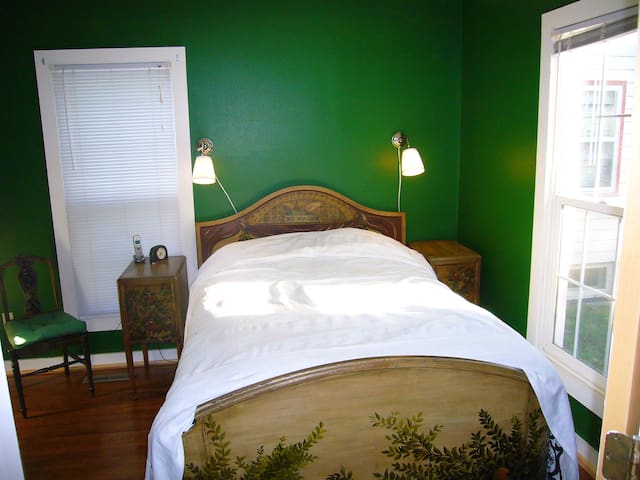 My place is close to the interstate.
This cabin give the primitive cabin camping experience.
Тип размещения
Дом/квартира целиком
---
Тип жилья
Бунгало
---
Вмещает гостей
4
---
Спален
North Sioux City, Южная Дакота 57049, США
2-story house with ample space, semi open concept main floor. Front and back yard (partially fenced), quiet neighborhood. Multi-car driveway. Town has everything from restaurants to shops and grocery stores.
The main floor includes a large semi-open concept living area with a gas fireplace (not currently in use), piano, and picture window. The kitchen flows into the dining area and has an island. There is a bedroom on the main floor that could be turned into an office. Upstairs there are three bedrooms, each with a walk-in closet. Two full baths, one on each floor. Laundry (washer and dryer) is in the back porch/entry way. Multiple closets that are somewhat stocked for your use.
The neighborhood is quiet, a mix of families and retired couples. An alley, not often used, is at the back of the property.
I didn't actually meet Randy, but we communicated through text. His home is very nice and welcoming.
Lori
2016-09-03T00:00:00Z
It's always a great stay definitely will keep using it when we go back for visits!
Laura
2016-08-15T00:00:00Z
Randy was incredibly prompt and responsive. Our housing fell through last minute and Randy saved the day by getting back to us so quickly. I am grateful for his willingness to be creative on such short notice. The place is super cute, comfortable and peaceful. We would highly recommend it.
Jennifer, Jon & Tove
2016-06-07T00:00:00Z
Great! Really nice house. Quiet neighborhood in a sweet small town. Home is fully furnished with plenty of space.
Austin
2016-03-09T00:00:00Z
Great stay! My daughter loved the swing set! It was just what we were looking for.
Laura
2016-04-19T00:00:00Z
Great stay! Randy was more than accommodating and we really enjoyed our time in West Pointe!
Erin
2016-03-13T00:00:00Z
Great experience. Good communication. Very nice hosts. Easy to work with. What more can I say? If you need a place to stay in West Point, this is the place. More economical than a hotel, comfortable, and great neighbors. I really enjoyed my stay. Thank you Randy (to your family too). Next time I'm in the area, I'll definitely stay here..
Dave
2016-05-27T00:00:00Z
Randy was very helpful and accessible during my stay. I had a couple concerns which he addressed promptly and cheerfully. Great host!
Jackie
2016-07-13T00:00:00Z
Тип размещения
Дом/квартира целиком
---
Тип жилья
Дом
---
Вмещает гостей
8
---
Спален
Вест-Пойнт, Небраска 68788, США
Введите даты, чтобы увидеть полную цену без учета дополнительных сборов и налогов.