Sea front apartment in the peaceful village of Sant Pol de Mar. Less than an hour by train to the very center of Barcelona. The perfect place to relax and enjoy the view with a book and a drink while your kids play at the beach... Check my other twin apartment next door if you want to book for two families or groups! Ref. HUTB-(PHONE NUMBER HIDDEN)
Comfortable front line beach apartment in Sant Pol de Mar, a charming Catalan village. On the second floor of a 4 storey building with elevator. The road where it's located is only open for destination traffic so very quiet. Sandy stretch of beach just in front of the apartment. In the village you'll find everything at walking distance: several groceries, restaurants, bars, newsstand and railway station ( a direct train takes you to the very center of Barcelona in less than an hour or to the Barcelona airport ). When in the living room or kitchen all you can see is the Mediterranean Sea and the blue sky. To see the sun rise is worth waking up early in the morning! The apartment has 3 bedrooms ( 2 doubles, 1 single ), 2 bathrooms both with bathtub and toilet, living / dining room, WIFI, flat TV with DVD, equipped kitchen, washing machine, children's toys, a large balcony with deck chairs on the seaside and a private parking in the same building. Towels and bed linen provided . We are fluent in English, Castilian and Catalan. Ref. HUTB-007058
Sant Pol de Mar is an example of a Mediterranean village, with its narrow streets and whitewashed with staggered and cut costs for clean beaches and granulated sailors who remember their origins.
Чудесное тихое место, отличная квартира, дружелюбные и приветливые хозяева, всегда готовые прийти на помощь в случае необходимости. Фантастический вид с балкона, все фотографии полностью соответствуют действительности. Огромное спасибо Конни и Марку. Если снова соберемся в Каталунию - постараемся попасть в то же самое место.
Svetlana
2014-06-13T00:00:00Z
Genial! El apartamento es super agradable y Marc siempre dispuesto en ayudar. Super estancia, ¡repitiremos!
Frédéric
2016-07-17T00:00:00Z
We had a wonderful time in Sant Paul. The Host (Marc) was very friendly and made sure we had everything we needed (which was the case). The apartment is clean and well equipped. As for the view, can one expect any more? Sant Paul is perfect for a relaxed family vacation. The beaches are clean and not overcrowded. There is a big choice in affordable good restaurants. Bakery's, fish-stores and smaller supermarkets are right around the corner. In case the weather isn't so good, Barcelona, Girona or the Montserrat are only about an hour's drive away. All in all I can say that we had a wonderful time and hope to return very soon!
Rodney
2015-09-12T00:00:00Z
Nous avons passé un superbe séjour l'appartement est magnifique avec une vue sublime !!!! Marc est très gentil et à l'écoute. Dès notre arrivée il nous a conseillé divers endroit et restaurant. La ville est calme et les plages sont superbes. nous reviendrons avec plaisir. Je recommande!
Sab
2016-07-14T00:00:00Z
Correspond exactement à la description. Marc nous a gentiment attendu malgré notre retard, appartement très propre avec tout inclus : des vacances parfaites ! A noter l'appartement est bien situé, proche du centre du village (plein de charme par ailleurs). La plage qui est juste en bas est parfaite : ni trop grande ni trop petite et bien fréquentée par des jeunes et des familles. Nous recommandons donc l'appartement :)
Pierre Antoine
2015-08-10T00:00:00Z
We just returned home after our ten day trip to Spain. The last four nights were spent at Marc's sea front flat. It was STUNNING. Exactly as described. Marc kindly met us nearby on our arrival and helped us navigate the parking and access to the flat. He even contacted us during our stay to ask how we were doing and if we needed anything. We had planned to do a day trip, but the apartment was so wonderful, and the village of Sant Pol so enchanting, we never moved the car for 4 days!!! There are three little café/bars right below the flat and a short walk takes you into the main part of the village. Great restaurants everywhere. We especially loved the beach in front of the room, its like a private area and was very quiet. We have never enjoyed the water as much as this trip - warm, clean and so inviting! We had an absolutely brilliant time and would highly recommend this location, and would dearly love to return one day!!
Chris
2016-07-09T00:00:00Z
El departamento está en una ubicacion perfecta, cerca de la estación de tren, con la playa abajo y a pocos metros del centro y restaurants. La casa es super cómoda y amplia; muy bien equipada para poder cocinar y en buen estado todo. Además Marc y Connie estaban disponibles y pendientes por si necesitabamos algo. Agradezco que hayan puesto una cuna para mi bebe! Estar en el balcón es como estar en un barco, con el mar muy muy cerca. Me encantaría poder ir de vuelta! Si tienen la posibilidad de vistar Sant Pol recomiendo hospedarse aqui.
lucila
2015-06-06T00:00:00Z
Connie and Marc were such generous and welcoming hosts. Very easy and friendly to communicate with, and the apartment is absolutely beautiful, clean and really well equipped. We enjoyed our stay immensely and recommend it to anyone!
Zoe
2012-06-26T00:00:00Z
Тип размещения
Дом/квартира целиком
---
Тип жилья
Квартира
---
Вмещает гостей
5
---
Спален
Sant Pol de Mar, Catalunya, Испания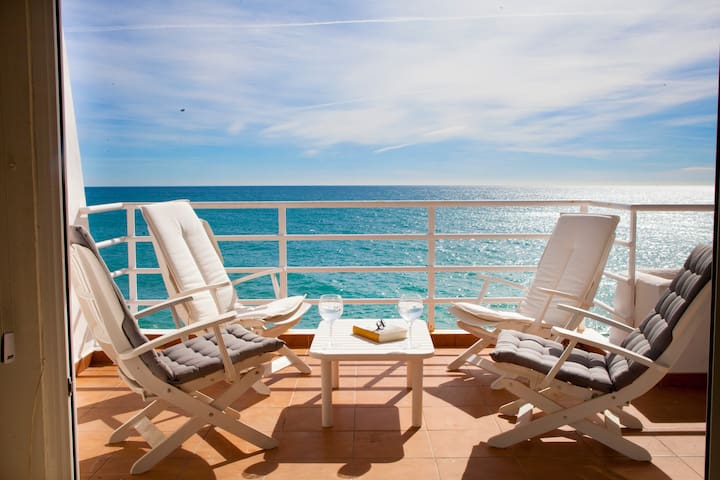 Размещение зарегистрирована со ссылкой HUTB-011 893 в реестре Женералитата Каталонии
Лофт бренда с очарованием Средиземноморья, вдохновленный 60-х годов все белое под синее море. Расположенный на холме, в 35 метрах над уровнем моря. Мягкий средиземноморский климат и 10 месяцев в год. 2 двухместных номера и один люкс. 2 ванные комнаты. полностью оборудованная с посудомоечной машиной, духовкой, microorndas, Nespresso кофеварка, соковыжималка, tostadors кухни и т.д. Большая гостиная с видом на море. Спутниковое телевидение и AppleTV. Огнетушитель имеет. Через 30 минут от центра Барселоны, в 70 минутах от Кадакес и 1,15 Пиренеев. Один минутах ходьбы от пляжа, чьи 5 км следуют в сопровождении прогулки практиковать бег или езда на велосипеде без автомобильного движения. Железнодорожный вокзал в 250 метрах. Частота Шаг 10 минут Сьерра-дель-Монтенегре и его расположение в самом центре каталонском побережье делает Tramontana ветра или на север, ни Южная Mistral охвата этого региона. Вилла, которая является частью цепи каталонского модерниста, где Доменек я Монтанер имел свое исследование и здания до сих пор в отличном состоянии. Санта-Флорентина Замок расположен в вилле принимает в летних концертах замки Catalunya классической музыки. Кане-де-Мар, рыбацкая деревня, летние месяцы чтит традиционные партии провели на улицах. Кане-де-Мар является мирной деревни с туризма верующих. Разнообразие ресторанов звезды Мишлен. Между 3 и 30 км мы можем найти 30 полей для гольфа, в том числе два ПГК. по крайней мере за 3 дня для остальной части резервов в год в течение не менее 5 дней в июле и августе принято, и.
Parquing обычно доступны на той же улице, на чердаке или близлежащем районе. Частная парковка находится в 300 метрах от чердака.
Superbe appartement avec une vue sublime.Pas besoin de prendre la voiture, les commerces et plages sont proches.Nous avons passé un excellent séjour.Merci Ana
Sophie
2016-07-18T00:00:00Z
I am not kind of person who leave comment after staying Airbnb frequently. However, I have to mention sth for this lovely flat. In terms of location, it was very convenient for us to arrive by train (1hr from BCN) and was located a little bit hilly area in Canet de Mar. There was no problem to get hillside, since Kim picked us up in front of station by car. Regarding housing condition, once you visit this flat, you will say the pictures are exactly same and even exceed your expectation. It was much more spacious and cleaner than expected. Needless to say, it has nice balcony to see beautiful scenery around the seaside. On top of this, I was really impressed by his hospitality. He provided us fruit basket, baby crib and high chair for my baby. Even, he sent me mobile chargers which I left at this flat by package. All in all, it was fantastic staying. I strongly recommend this lovely flat for everybody want to experience peaceful atmosphere and warm hospitality. You won't regret it.
InHwa
2015-11-22T00:00:00Z
I rarely write reviews but felt I must after this stay. The accommodation - amazing, almost everything is brand new, and in excellent condition. The architectural design is great, and the building maximizes natural light and is just really cool. Very thoughtful features - apple TV etc - all help make it more comfortable. The location - the view is incredible, the town is small but has everything you need and a few great places to eat/drink The host - warm, friendly and attentive - happy to help assist with taxis, bookings etc when my Spanish let me down All in all, this is seriously 5 stars. We will definitely be back!
Joe
2013-10-14T00:00:00Z
We had a wonderful stay in Canet de Mar. the apartment was amazing (Bigger than it looks) and very tidy. The owners were very kind and forthcoming. We enjoyed our time in this home and would definitely consider visiting again.
Dominik
2016-06-30T00:00:00Z
The apartment is excellent. the place is cozy and nothing different from the photos. The only missing thing could be a wide window in the master bedroom. Everything else was perfect. The neighborhood is not very chic, but you can manage to have a space quiet in the beach just in front of the apartment.
Javier
2016-07-30T00:00:00Z
Beautiful apartment with a fantastic view. Everything you need provided including a fruit basket, milk etc and beach towels. Beach a 10 minute walk away but bear in mind you have to climb a steep hill on the way back.
Julie
2016-07-28T00:00:00Z
My recent visit to Canet de Mar for eight days to stay in Kim's beautiful home was superb. The arrangements before and during the trip were seamless. The house is stunning and every detail has been taken care of to ensure a great stay. Some days it was hard to leave because the house was so relaxing and it was always a welcome sight to return to. The view is beautiful from inside the very large lounge and the terrace which it opens out is the perfect place to relax. There is a great entertainers kitchen with everything required for a short and longer stay, two amazing bathrooms, and excellent wi-fi and technology, including a "smart" TV. Kim has thought of everything. The stunning beach provides for great swimming as does the promenade for running and is no more than a 5 minutes walk from the House--as is the main town center with a welcoming atmosphere and a great array of shops and dining for all budgets. I can recommend "La Font". Accessibility by train means easy access from Barcelona and the location of Kim's place was great as it meant not having to hire a car to explore further along the coast. The botanical Gardens in Blanes is a great day trip, as is Barcelona. Kim is a brilliant host and a really great person and it's easy to see why he has so many excellent reviews. I can definitely recommend Canet de Mar and Kim's place. I am already planning a return visit. Thanks for the hospitality Kim--we will be back!
Kevin
2016-09-25T00:00:00Z
Kim was a wonderful host. His son-in-law German picked us up in Canet as we were stuck for directions. The photos do not do justice to the apartment, everything is woderful-the presentation, the materials etc everything you would expect in a 5 star hotel. There were several nice touches including a very large bowl of fresh fruit. Kim garnished us with a very nice bottle of Cava and Vino Blanco and then brought down some fresh Gambas(prawns) specially bought from the market and cooked them for us. We were in Canet to do the Ironman in Calella and would recommend the apartment to any competitors if you like staying out of town and having a breather from the event. My kindest regards to Kim and his family. We hope to return next year with the rest of the family in tow. Matthew/Beth
Matthew
2014-10-06T00:00:00Z
Тип размещения
Дом/квартира целиком
---
Тип жилья
Квартира
---
Вмещает гостей
6
---
Спален
Canet de Mar, Каталония, Испания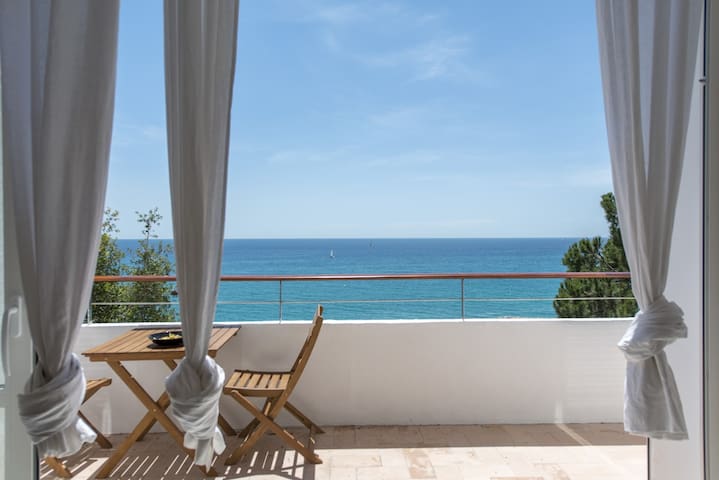 Близко к Барселоне, недалеко от транспорта общего пользования и на море! Удивительный вид.
Идеальное уютное пространство для тех, кто ищет спокойного каникул и наслаждаться пляжем, не был в туристической зоне. Легкий доступ к и из города Барселона. Кроме того, для тех, кто любит архитектуру и историю искусств, из-за города имеет несколько модернистских зданий, он также имеет модернистскую маршрут. Вы можете наслаждаться надлежащее помещение, расположенное в центре города, в пяти минутах от остановок общественного транспорта. Верхний этаж дома с отдельным входом. Близко к услугам, рынок, магазины, аптеки и врачей. Кане-де-Мар его модернист город в каталонском побережье. В 45 км от центра Барселоны и 59 км от аэропорта города Жирона и Коста Брава. Чем заняться: прогулками в окрестностях горы, играть в гольф в близлежащем поле для гольфа, прогулками в пляжной набережной, посещение рыбацкой гавани, музеев. В 30 минутах езды от цепи Каталонии. Максимальная вместимость апартаментов 4-х человек. Она имеет много света и великолепным видом на город, ознакомьтесь с картинки! Имеет все удобства и бесплатный Wi-Fi. Имеет одну спальню с двуспальной кроватью. Доступ из спальни к задней террасе "стиле чилл-аут" с гамаком. Гостиная со всеми удобствами и доступ к главной передней террасе. Диван-кровать на 2 спальных места. Полностью оборудованная кухня. Ванная комната с душевой кабиной и полотенца доступны. Если у вас есть какие-либо вопросы, пожалуйста, свяжитесь с нами! Идеальное уютное пространство для тех, кто ищет спокойного каникул и наслаждаться пляжем, не был в туристической зоне. Легкий доступ к и из города Барселона. Кроме того, для тех, кто любит архитектуру и историю искусств, из-за города имеет несколько модернистских зданий, он также имеет модернистскую маршрут. Вы можете наслаждаться надлежащее помещение, расположенное в центре города, в пяти минутах от остановок общественного транспорта. Верхний этаж дома с отдельным входом. Близко к услугам, рынок, магазины, аптеки и врачей. Кане-де-Мар его модернист город в каталонском побережье. В 45 км от центра Барселоны и 59 км от аэропорта города Жирона и Коста Брава. Чем заняться: прогулками в окрестностях горы, играть в гольф в близлежащем поле для гольфа, прогулками в пляжной набережной, посещение рыбацкой гавани, музеев. В 30 минутах езды от цепи Каталонии. Максимальная вместимость апартаментов 4-х человек. Она имеет много света и великолепным видом на город, ознакомьтесь с картинки! Имеет все удобства и бесплатный Wi-Fi. Имеет одну спальню с двуспальной кроватью. Доступ из спальни к задней террасе "стиле чилл-аут" с гамаком. Гостиная со всеми удобствами и доступ к главной передней террасе. Диван-кровать на 2 спальных места. Полностью оборудованная кухня. Ванная комната с душевой кабиной и полотенца доступны. Если у вас есть какие-либо вопросы, пожалуйста, свяжитесь с нами!
Очень хорошие апартаменты, чистые, уютные, после ремонта. Есть все необходимое. Просторная терраса, с видом на город, море и горы. Доброжелательные и гостеприимные хозяева. Тихий милый городок, с ярмарками и карнавалами. Рядом магазины, до моря 5 минут, большой песчаный пляж. До Барселоны недалеко, на электричке 40 минут.
Kseniya
2013-09-18T00:00:00Z
Прекрасный тихий городок, чудесная квартира. Я даже не ожидала, что она будет такой большой (для двоих). Два балкона с кактусами, прекрасный вид, гамак. Можно готовить самим на полностью оборудованной кухне. Можно постирать бельё. Недалеко от моря (довольно свободный пляж), куча уютных магазинов и ресторанов. Это квартира, в которой хотелось бы жить всегда. Gemma очень приятная, всегда готова помочь. Мы с удовольствием воспользовались всеми её советами, оставленными в квартире. Удобно добраться до Барселоны на электричке.
Anastasia
2015-08-27T00:00:00Z
Very sympathetic host, lovely apartment with tastefully furnish in a little town without big hotels. Train is easy an cheap to use and follows the whole coast line from Barcelona to Blanes. Apartment is fully equipped, even with most things need for cooking. Nice view over the old town to the sea. Many thanks for the first tour to show us all good shops in town :-)
Christian
2014-08-25T00:00:00Z
I am a female triathlete that stayed at Gemma's place for the Ironman Barcelona in September/October 2016. My stay at Gemma's place was 100% pleasant. The appartment is extremely clean, with a balcony in front where you can eat your breakfast with beautiful seaviews, overviewing Cent de Mar. There is a terrasse in the back as well where you can sit in the afternoon sun and hang up your washing. The kitchen equipment and the furniture is well maintained, clean and there was nothing missing. It is a 5 Minute walk to the Supermarlet and an 5-10 Minute walk to the beach. Canet de Mar has some beautiful shops, a lovely art market on saturday and a friendly relaxed atmosphere - complete opposite to the hustle&bustle in Calella. Gemma was really welcoming, friendly and offered her help several times. Basically this was home away from home for me!
Celia
2016-10-04T00:00:00Z
We had a wonderfull stay at Gemmas Place. Both hosts were very friendly and helpfull. The flat was awesome, clean and we Fell in Love with the terrace. We Hope to Come back soon
Vanessa
2015-05-13T00:00:00Z
Gemma has a very nice, clean and cozy appartment with two great terraces close to the beach which is quite good. Also there are some nice places to have a meal not far away of her place. We definetly recommend Gemma and her flat to everyone!
Alex
2012-07-14T00:00:00Z
This is a very special place. The apartment is perfectly located, with a view to the sea & over the village, with a large variety of shops close by, & easy parking for free. The beautiful beach is a stroll away, everything you need is close by, but you are tucked up behind the bustle of the main street so it is quiet & peaceful. I loved to sit on the terrace to eat, or to read, or to watch the changing sky, so beautiful. There is also the train station at the beach, where you can travel to Barcelona, or the neighbouring beach villages.. it is perfect location. I spent 5 nights at Gemma's apartment, & did not want to leave ! The apartment itself is very well equipped, very clean & modern, & very comfortable, with 2 beautiful terraces. I felt at home immediately. Gemma & Valerio are wonderful & gracious hosts, making sure that I was comfortable. Canet de Mar offers many different experiences, & I certainly want to return soon. I felt very lucky to discover this apartment & this place.
helen
2013-06-24T00:00:00Z
Notre séjour avait très bien commencé jusqu'à cet incident. En effet, cet appartement étant prévu pour 4 personnes à la base, j'ai voulu héberger ma famille (2 pers) non prévu pour 1 seule et unique nuit. Étant prévu à la dernière minute et tard dans la soirée (22h) je n'ai pas prévenu Gemma, sans penser que ça tournerait aussi mal ! Qu'est ce que j'ai donc fait ?! Gemma nous attendait à la porte de bon matin afin de m'agresser verbalement pour me faire comprendre que je n'aurais jamais du inviter 2 personnes de plus. Il faut savoir que ma famille est arrivée à 22h et reparti à 8h d'un appartement prévu pour 4 quand même. Mon mari et moi nous avons été montré du doigt comme des voleurs, les racailles, des trompeurs, ils ont regardé l'appartement comme si on avait tout cassé et on a été mis à la porte à 9h tapante!!.... Je suis repartie les larmes aux yeux et un portefeuille allégé de 80 euros pour 2 personnes ayant passé 8h dans l'appartement. Gemma m'a gentiment compté 2 jour + la taxe de séjour. Et pour couronner le tout elle me parle d'une caution de 150€ qui n'a pas été donné en début de séjour : on ne me l'a pas demandé !!! Alors conseil : n'invitez pas vos amis dans cet appartement pour un apero ou autre et ne cédez pas à la pression du paiement. J'ai été choqué d'être traité ainsi, c'est la première fois. Je ne recommande pas cette location.
marie
2016-08-07T00:00:00Z
Тип размещения
Дом/квартира целиком
---
Тип жилья
Квартира
---
Вмещает гостей
4
---
Спален
Canet de Mar, Catalunya, Испания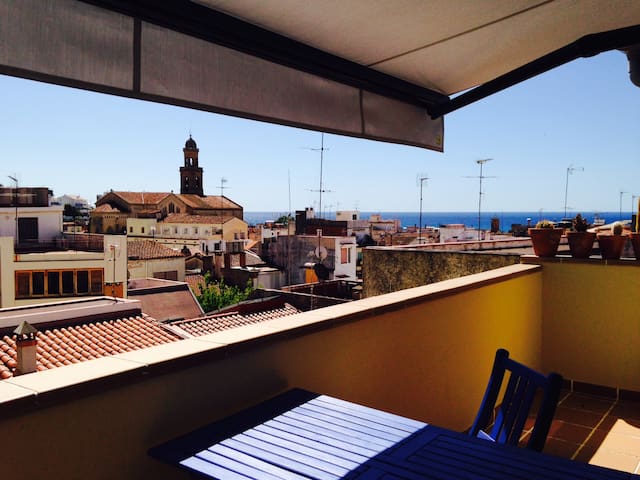 Квартира на первой линии моря в Калелья развлекательном районе. Это идеальное место для пляжного отдыха. Очень удобно два типа костюма комнаты и кухня. КОД: (PHONE NUMBER HIDDEN)B
Квартира идеально подходит для четырех человек, так как каждый номер имеет собственную ванную комнату и балкон. HUTB-(PHONE NUMBER HIDDEN)
Соседи очень тихо, это пожилые люди, которые живут круглый год на блоке.
Большое спасибо Miriam за хороший отдых. Апартаменты чистые и комфортабельные. Кухня полностью оборудованы всем необходимым. Хозяйка пунктуальная и ответственная.
Лариса
2014-09-06T00:00:00Z
Die Wohnung ist wie im Inserat beschrieben. Die Küche ist gut ausgestattet. Die Lage ist perfekt für Strandferien mit Ausflug nach BCN. Die Wohnung war sauber und das einchecken und auschecken war unkompliziert. Danke den Gastgebern. Preis Leistung sehr gut.
Kathi
2015-10-11T00:00:00Z
El apartamento y los anfitriones perfectos, todo como lo describen y siempre disponibles para cualquier duda. Todo perfecrto volveria otra vez al apartamento.
Fernando
2016-10-09T00:00:00Z
Vi tilbragte en dejlig uges ferie i Calella. Lejligheden levede fint op til vore forventninger. Vi kunne godt finde på at vende tilbage en anden gang.
Allan Gerner
2015-08-02T00:00:00Z
I spent 10 days in the flat of Miriam together with my family. It's been an amazing time!!! The flat is situated 2 minutes from the beach, on a busy street of Calella where you can definitely feel the vibe of summer, with a beautiful view of the sea from the balcony. Supermarkets and small shops are really close to the apartment, pharmacy, restaurants as well. It takes 10min walk to the train station, around 1h by train to Barcelona. The contact with Miriam was very easy, she provided her assistance whenever we asked for help. She even welcomed us with fruits and a bottle of wine! I strongly recommend this place - I am pretty sure will go there myself again. Thank you Miriam!!!
Maria
2015-09-23T00:00:00Z
Perfect location for an Ironman, right in the middle of the event. To one side the swimming start/T-1 and transition/T-2 and to the other side the finish line and Expo. Excellent hosts and the apartment was perfect. Thanks Miriam and Matteo!
Amex
2016-10-05T00:00:00Z
El departamento tiene una muy buena ubicación y todo concuerda con lo descrito por Miriam en esta página. Ella nos recibió muy amablemente y con un frutero y una botella de vino, realmente nos sentimos sumamente bienvenidos.
Vanessa
2016-07-29T00:00:00Z
Wir sind absolut begeistert von dem Apartment von Miriam und Matteo. Wir, vier Mädchen, die nach dem Abitur in den Urlaub wollten, hatten hier unseren perfekten Platz gefunden. Das Apartment liegt direkt in der Hauptstraße der ganzen Clubs und einigen Bars, also ideal für junge Leute, die nicht mit einer Organisation in einem Hotel wohnen wollen. Der Strand ist 2 Minuten entfernt und zum Bahnhof braucht man knapp 15 Minuten. Miriam war total sympathisch und hat uns alle Fragen beantwortet. Das Apartment hat alles was man braucht und ist wirklich toll mit einem super Ausblick. Alles war wirklich rundum perfekt und wir würden das Apartment an all unsere Freunde weiterempfehlen, denn besonders für den Partyurlaub nach dem Abitur, ist das ein toller Ort!
Daria
2015-07-10T00:00:00Z
Тип размещения
Дом/квартира целиком
---
Тип жилья
Квартира
---
Вмещает гостей
4
---
Спален
Калелья, Каталония, Испания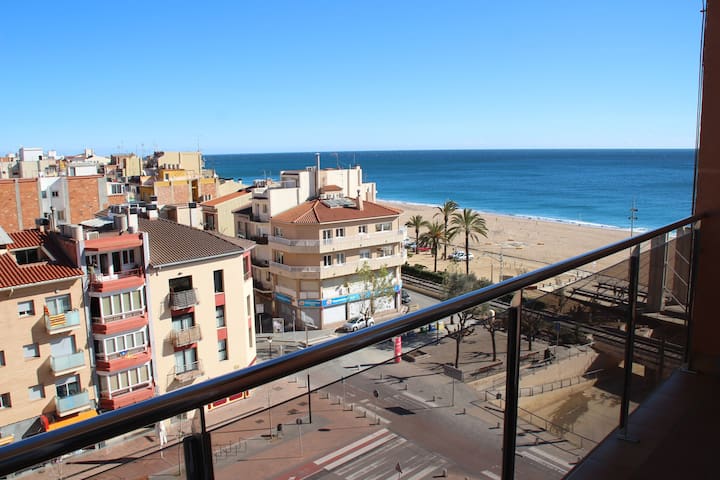 Невероятно, центральной и комфортабельные апартаменты с собственной террасой, спальня чердак, гостиная, ванная комната с ванной и душем и кухней. Занимает привилегированное положение в тихом районе. В комплексе есть открытый бассейн для пользования жильцов во время их пребывания в квартире Квартира с одной спальней могут разместиться 2 человека. Возможность размещения другого человека на диван-кровать, дети в возрасте от 0 до 2-х лет бесплатно, дети от 3 до 12 лет должны платить дополнительный сбор в размере 15 евро, взрослые 20 €.
Он имеет полную террасу со столом и стульями, чтобы насладиться средиземноморским климатом, столовая с телевизором с плоским 42 ', ванная (шампунь и фен) кухня с мини-холодильником, духовкой, чайник, тостер и кухонные принадлежности. В квартире есть кондиционер пингвина и вентилятор. Существует также имеется пляжный зонтик и зонтик. Он также предлагает услугу полотенец и постельного белья. Квартира расположена в 300 м от пляжа и в 150 м от центра города Калелья. В среде вы можете насладиться прекрасной кухней, а также развлекательные бары и магазины всего несколько минут.
Калелья расположен на побережье Маресме, всего 49км от Жироны и в нескольких минутах ходьбы от Барселоны. Калелья известен своими длинными пляжами и его многочисленных мероприятий.
Accueil parfait hôte très gentil irréprochable tout était parfait
Aristus
2017-02-18T00:00:00Z
Silvia es muy atenta y flexible. Nos esperó a nuestra llegada e incluso nos indicó dónde aparcar. El piso es tal como se ve en imagen, incluso un poco más espacioso. Muy limpio, bien localizado, climatizado y perfecto para pasar una estancia agradable en un pueblo sencillo y bonito. Y eso sin contar xln los bombones de regalo! Muy recomendable para parejas.
Francisco Javier
2017-03-12T00:00:00Z
El apartamento es muy bonito, perfecto para dos personas! Tienes cerca supermercados y zona de ocio. Hemos estado muy a gusto y Silvia se ha portado genial con nosotras(:
Jenny
2017-02-27T00:00:00Z
El apartamento es igual que en las fotografías. Agradecemos el trato recibido por Silvia que en todo momento estuvo en contacto con nosotros. Al llegar nos mostró zonas para visitar en Calella como el faro o la calle comercial. El apartamento es ideal para parejas, para desconectar o ir a la playa. Hubo un pequeño problema con el calentador de agua, pero lo solucionamos rápido. Recomendamos la estancia en los meses de verano, para disfrutar del buen tiempo, la piscina, la playa y desconectar. Gracias por todo.
Marc
2016-12-05T00:00:00Z
Vam estar molt agust a l'apartament. Es realment el que estavem buscant! Les fotos descriuen realment com es, estava molt net i ben decorat. La Silvia molt amable i servicial en tot moment, de tracte agradable. Ens van fer un petit centre a la taula amb decoracio de nadal i galetes, un detall molt bonic de benvinguda. L'apartament tranquil i acollidor amb tots els estris necessaris per a tenir una estada comfortable, un petit calefactor que amb res calentava l'apartament, tot perfecte! Te un supermercat molt aprop on fer la compra. Sens dubte l'aconsello i hi tornarem!
Sandra
2016-12-17T00:00:00Z
Silvia´s apartment has everything you need on a holiday. Its modern, clean and has nice facilities including a large balcony. Combined with her valuable suggestions and information about Calella I totally recommend her as a Airbnb host!
Jelmer
2016-08-26T00:00:00Z
Silvia et ses parents sont trop gentils. Ils nous ont accueilli dans de bonnes condition et nous ont aidé à trouver une place gratuite pour garer notre voiture dans le quartier. L'apparetement est très charment et son état est impeccable. Très bien situé pour aller à la plage, non loin des restaurants et commerces. Nous avons passé une semaine très agréable à Calella. À recommander.
Adel
2016-08-23T00:00:00Z
l'hôte est très aimable et trés disponible. l'appartement est extrêmement propre , facile a trouver. quelques soucis d'eau chaude et c'est très compliqué de se garer. a part cela on à était ravie de l'appart qui est très cocooning et l'hôte très agréable merci pour tous :)
Justine
2016-11-01T00:00:00Z
Тип размещения
Дом/квартира целиком
---
Тип жилья
Кондоминиум
---
Вмещает гостей
3
---
Спален
Калелья, CT, Испания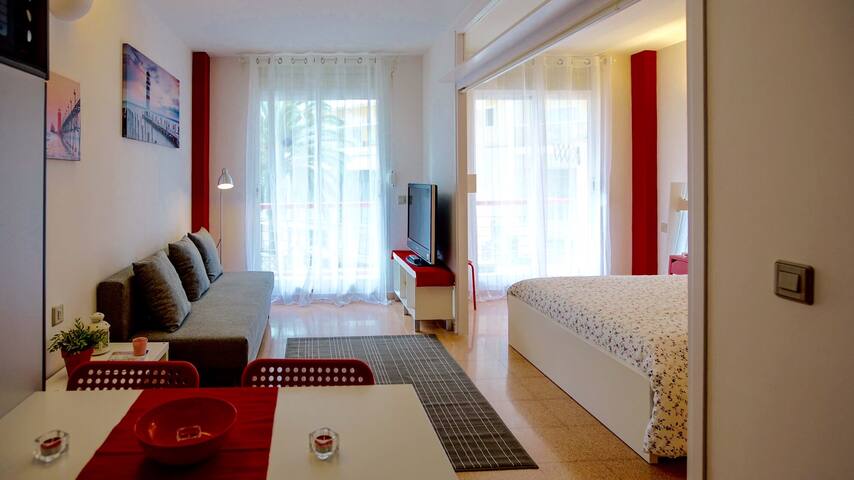 Очень уютная квартира в пляжной зоне, в тихом прибрежном городке в 45 км. Барселона центр, с большим количеством возможностей. Расположенный в самом центре города, в 7 минутах от пляжа.
Очень уютная квартира. 3 спальни: одна двуспальная и два сингла, один с двухъярусными кроватями. Окна с прекрасным видом во всех номерах. Учитывая его расположение в воздухе, вентиляции и морской бриз делает достижение имеет адекватное кондиционирование воздуха на несколько градусов меньше, чем снаружи летом, так и зимой наоборот.
Мало соседей и дружелюбный. Спокойствие.
Все было очень хорошо.Красивое тихое место.Море 7 минут от квартиры .Сама квартира хорошая тихая все есть кроме стиральной машины.это очень плохо.Всем советую посетить это живописное место с шикарным видом на море .Ракель спасибо Вам за гостеприимство.
Tatyana
2016-08-04T00:00:00Z
Raquel was friendly and helpful. The flat was exactly as pictured and was not too far from the city.
Wendy
2015-06-30T00:00:00Z
El apartamento de Raquel es ideal para familias. Es cómodo y limpio. Caminando lento se llega en unos 20 minutos (o menos) a la playa. El barrio es tranquilo y hay de todo lo que se puede necesitar. Nos fuimos de Canet con muchas ganas de volver.
Ursula
2015-06-05T00:00:00Z
la casa è molto bella,spaziosa e pulita...dista 10 minuti dal mare e dal (URL HIDDEN) consiglio vivamente...
assunta
2016-08-15T00:00:00Z
Nous avons passé un très bon séjour chez Rachel. L'appartement est vraiment très bien équipé et Raquel a été très disponible, physiquement et par SMS. Canet de Mar est une ville très sympathique et très calme. On y trouve des restos typiques et les habitants sont extrêmement accueillants. Barcelone est à 45 mns et il est très aisé de s'y rendre par l'autoroute. Nous recommandons ce grand appartement où absolument tout est prévu!!
md
2016-04-21T00:00:00Z
Todo muy bien. Volveré
Javier
2016-11-13T00:00:00Z
The host canceled this reservation 26 days before arrival. This is an automated posting.
Arnau
2015-05-18T00:00:00Z
El apartamento de Raquel es muy cómodo y amplio. Ella estuvo en todo momento, pendiente de nuestra estancia y de cualquier pregunta o sugerencia que se nos hubiera podido presentar, Gracias, Raquel.
Pedro
2016-10-19T00:00:00Z
Тип размещения
Дом/квартира целиком
---
Тип жилья
Квартира
---
Вмещает гостей
5
---
Спален
Canet de Mar, Каталония, Испания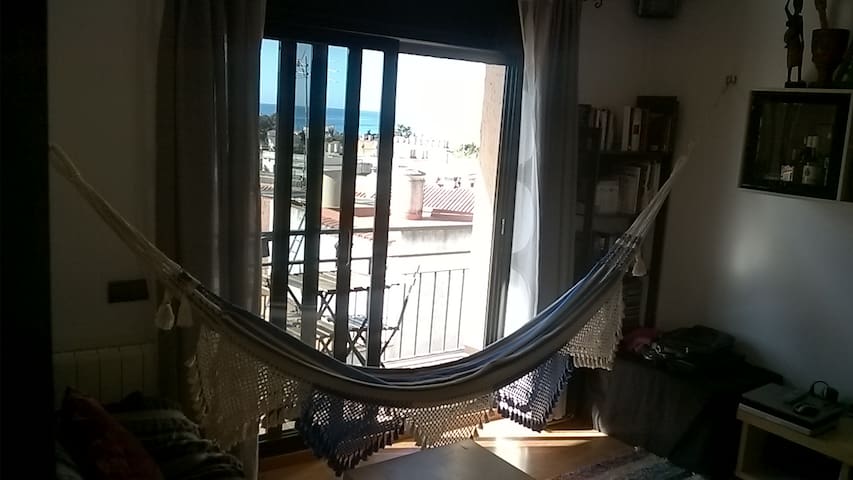 Villa vue mer et montagne à 10 minutes de la mer, piscine a débordement, barbecue, terrain de pétanque privé avec vue mer, très tranquille, grand garage à 5 minutes du golf et à seulement 35 minutes de Barcelone.
Тип размещения
Дом/квартира целиком
---
Тип жилья
Дом
---
Вмещает гостей
7
---
Спален
Sant Cebrià de Vallalta, Catalunya, Испания
Luxury home with private 20 metre pool and spectacular views of the sea. For nature lovers, the house adjoins a national park with thousands of trails for walking and cycling. 45 kms from Barcelona, close to gorgeous villages and beaches.
The house comprises modern kitchen with meals area, large family room and dining room with open fire. On the same level are 2 large bedrooms, one with 2 king size single beds and the other with double bed and office area. Adjoining the two bedrooms is a bathroom with toilet and bath. Off the main living area and kitchen there are two terraces, one with views of the Mediterranean and the other with a covered area with gas and wood barbecues. The main bedroom and study are located on the second floor, with 2 walk in robes, large ensuite bathroom and huge balcony with day bed. The 20 metre swimming pool is set in a beautiful garden, overlooking the national park. There is a second outdoor entertaining next to the pool with a large umbrella for hot afternoons.
This stunning house and location is perfect for families (or up to six adults) who want to be near the beach, nature, and just 45 kms from Barcelona.
Sam's house is beautiful with stunning views of the sea and valley. The house is modern and has all the amenities one can expect from a luxury villa. Really glad the masters' bedroom had air conditioning too. The house is high up on a hill so it was a bit daunting at first driving up the small steep roads but you get used to it very quickly. Sam made us feel welcome and was readily available for any queries. We had a fantastic stay even though the sun shined only towards the end of our week there.
Sophie
2015-08-01T00:00:00Z
Sam is a an absolutely perfect host. She was always reachable , very friendly and welcomed us with open arms. Already in advance she gave us lots of helpful informations about the area. The house could Not be better!!!! Absolutely clean, wonderful furnished, in an adorable location with an amazing pool!!!!! Thank you Sam for the great week in your house!!! I can fully recommend to stay in Sams house without any doubts!
Anke
2014-08-03T00:00:00Z
Nous avons passé une excellente semaine à Can Palau. La villa est très confortable et bien équipée. La vue est admirable et le jardin avec bassin de nage incite au farniente. Prestations de qualité, au calme et à l'abri de la foule estivale.
EMMANUELLE
2014-08-10T00:00:00Z
Nous avons bien été accueilli par Sam. La maison correspondait à nos attentes. Très belle piscine et superbe vue. Le temps n'était pas fabuleux mais nous avons passé une agréable semaine. Seul bémol les locataires précédents n'avaient pas laissé la vaisselle propre et le barbecue était sale. Heureusement Sam a été réactive et a résolu ce problème. Nous conseillons cette maison pour des vacances calmes.
(EMAIL HIDDEN)
2015-08-15T00:00:00Z
We really enjoyed our stay in this wonderful villa in Can Palau! First of all Sam and Raul are excellent hosts, they made us feel very welcome and fully respected our privacy. Obviously communications in English with Sam are very easy and efficient, no worries. A few days before departure we received a detailled briefing with road instructions, suggestions for restaurants and shopping. Upon our arrival Sam and Raul where there to meet us, which was very nice. They introduced us to their assistant, who took really great care of the garden and the swimming pool and who also really respected our privacy. The location of the hous is great, you have to travel some steep and windy roads, but onece you are there the view over the surrounding hills until the sea is magnificent. We really enjoyed our outside evening dinners on the front terrace of the house. The beautiful house itself is very modern and well equiped, kitchen is excellent, everything you would wish for. 3 Spacious bedrooms, one of which has a very nice airco. 2 beautiful bathrooms. What else to say? The pool: never ever have we seen such a long pool in a private house, at least 20 meters long, so if you want to do your laps....The beautiful garden is literally next to the entrance of the National Park Montnegre, where you can do some challenging hikes, very scenic environment. You are a short drive (10 min) from a small town where you can buy bread, groceries etc and 15 min drive from the sea, beaches, large supermarkets etc. To summarise: our family of four (our 2 sons are 17 and 21) really enjoyed our stay in this excellent house and are more than happy to recommend this place! Big thank you to Raul and Sam!
Jan
2015-07-24T00:00:00Z
Nous avons passé un très bon moment dans cette superbe maison. Magnifique piscine d'eau de mer (système de pompe bruyant de 14h à 21h) sinon Rien à redire. La maison n'est pas adaptée pour les enfants en bas âge. Une remarque importante le prix affiché est pour 3 personnes et non pas six comme mentionné sur la page d'accueil, au delà de 3 personnes vous devrez payer un supplément, ce qui n'est notifié nulle part. C'est la seule mauvaise surprise que nous ayons eu avec également beaucoup de moustiques et de fourmis.
nicolas
2015-08-08T00:00:00Z
Sam nous a accueilli chaleureusement. Elle a été très serviable. La maison correspondait parfaitement à sa description avec de très belles prestations. L'endroit est calme et reposant. Nous avons vraiment bien profité de cette grande piscine, qui est belle et parfaite pour nager. Super séjour !
pascale
2015-08-29T00:00:00Z
Séjour très agréable dans un environnement super calme. La maison est génial avec ses deux terrasses et sa piscine. La cuisine est super bien équipée . À conseiller
lionel
2016-08-21T00:00:00Z
Тип размещения
Дом/квартира целиком
---
Тип жилья
Дом
---
Вмещает гостей
6
---
Спален
Sant Cebrià de Vallalta, Barcelona, Испания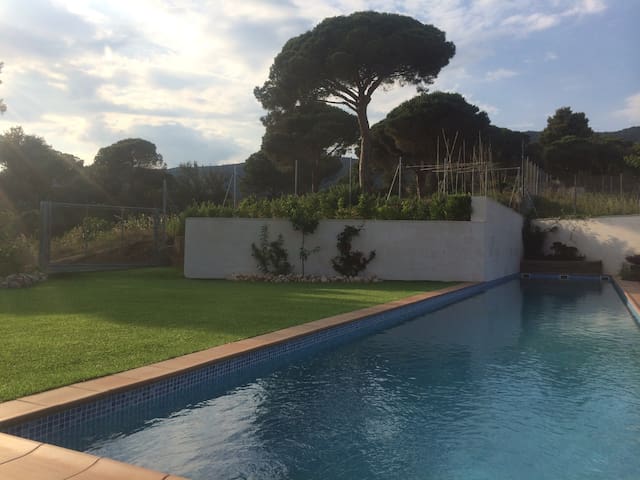 the house its located in a small town , sant cebria de vallalta, in between the mountains and the seaside. very quite , and you will love the garden, the trees... its a good place for familes or couples
The house was and old rectory from beginning 1700 until 1972, when a craftman & designer from barcelona bought the house, and give the style and design to it. from 2016 it became a holiday house. Registration number Catalunya turism HUTB014942
very quiet and not many. always in silence
La casa de L'artesà is een huis met een ziel uit de 18e eeuw waar alles voorhanden is. Wij verbleven er met 3 personen, 2 volwassenen en 1 zoon van 19 jaar. Een zeer verzorgde en goed geëquipeerde woning waar al het nodige aanwezig is. Met als extra voor de koffiegenieters een super Lavazza koffiemachine :-) Door de verschillende terrassen rondom de woning heb je altijd ergens zon of schaduw, dit om een boek te lezen met een frisse aperitief of gewoon de barbecue aan te steken. De vele oude authentieke elementen, prachtige oude deuren en luiken die het huis heeft maakt deze woning heel bijzonder, er werd daar door de eigenaar extra aandacht aan besteed. Iets wat meer dan geslaagd is. Bakker, banken, apotheek, kruidenier en supermarkt doe je te voet. Ontbijten kan in een oase van groen met uitzicht op de heuvels die door zon opgewarmd wordt. De beide badkamers zijn zeer netjes en na een dagje aan zee kan je genieten van een deugddoende douche of bad. Handdoeken voor badkamer en keuken zijn aanwezig, alsook een wasmachine, gaskookfornuis, oven en microgolf. San Pol de la Mar is een prachtige kuststreek waar je s middag en s avonds kunt geniet van lekker tapas. De stranden zijn mooi en rustig. Girona, Barcelona, Monserrat, Vic, ... alles ligt in de nabije omgeving. Voor de zee fanaten die eerder van drukte houden Mataró, Calella, Blanes,... zijn een mogelijkheid. Ook wandelen in de buurt is mogelijk. Er vertrekken vanuit Vallalta 2 wandelingen 6km of 9km die je naar de hoger gelegen heuvels leiden. Wij hebben geen zwembad gemist omdat de zee zo kortbij ligt. De gastheer is een zeer aangename man die op ieder moment bereikbaar is en steeds paraat staat met advies en tips! We waren zeer welgekomen in Casa de L'artesà en komen er zeker nog terug!
Kathleen
2016-08-06T00:00:00Z
Pol's house is a gorgeous Catalan Masia in the centre of the village, right next to the church. It has been very well restored and equipped for modern times, with great central heating (we stayed at Christmas), showers and kitchen - with details like a Lavazza Espresso machine. It has very private gardens on several levels and we had great lunches outside, even in December. Pol was a great host who lives close by and responded promptly before and during our stay - not even raising an eyebrow when we locked ourselves out of the house one day.
Ron
2016-12-30T00:00:00Z
Тип размещения
Дом/квартира целиком
---
Тип жилья
Дом
---
Вмещает гостей
6
---
Спален
Sant Cebrià de Vallalta, Catalunya, Испания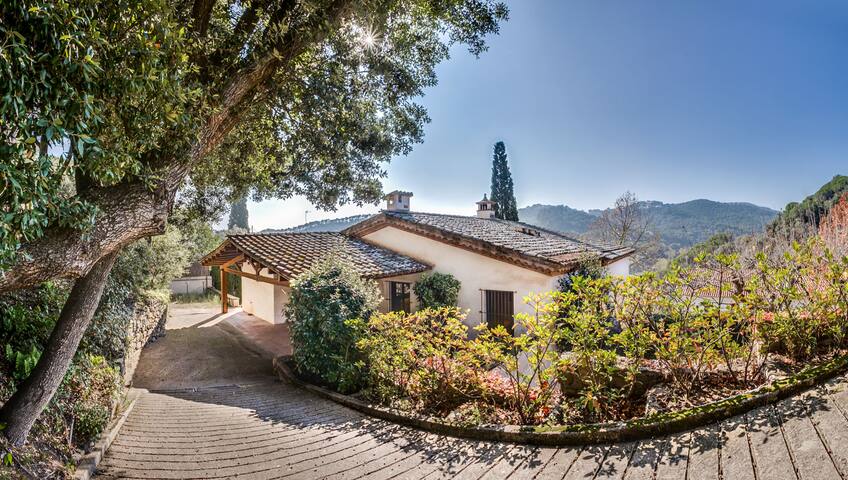 Garden studio offered in welcoming, creative environment with spectacular views. The studio is ideal for writers or visual artists because of its peace and tranquillity. Equipped kitchen, shower, lounge, bedroom and garden. Car essential...
Garden and terrace with spectacular views...there is plenty room to park in the street but the only problem is, about 20 steps to reach the house from the street. You need to be able bodied!
Normally very quiet in the neighbourhood. Unless birds' chirping bothers you.
Le logement correspond totalement à la description. Le quartier est residentiel et très calme. .une voiture est obligatoire. L appartement est situé dans les hauteurs du village vers 300m donc une route pentue et sinueuse. A savoir. Mais le résultat en vaut la peine
Karine
2015-07-27T00:00:00Z
Petit appartement dans un quartier residentiel très calme avec une vue splendide. L'annonce le disait et c'est vraiment le cas. Diane est très sympathique, répond avec plaisir à toutes les questions que l'on se pose et donne de très bons conseils sur les endroits à visiter.
Kévin
2016-08-17T00:00:00Z
The apartment is hidden away up in the hills and has fabulous views. You definitely need a car to get around but there are beaches within a 20 minute drive, a great car museum near Girona and Girona itself is definitely worth a visit. Also you are only 40 minutes from Barcelona.
Tim
2016-08-09T00:00:00Z
Wir haben bei Diane 10 Tagen verbracht. Sie und ihre Familie sind sehr nette und hilfsbereite Gastgeber. Das Haus befindet sich ziemlich hoch in dem Berg. Die Umgebung ist ruhig und sicher. Extrem schwaches WLAN. Diane hat sich viel Mühe gegeben, um uns mit Internet zu helfen. Vorteile: gute Strände in der Näh(URL HIDDEN) keine Nachbarn, sehr ruhige Umgebun(URL HIDDEN) schöne Aussicht Verbesserungsvorschläge: - Anti-Moskito Netz oder Klimaanlage. Nachts kann man wegen dem Insekten nicht lüften. - Rollladen oder Vorhänge an den Fenstern - Dunstabzugshaube - Beseitigen des Kanalisationsgeruchs im Bad Ansonsten hat alles gepasst und wir hatten ein schönes Aufenthalt.
Julia
2016-07-31T00:00:00Z
Nos gustó mucho el studio, precioso, muy tranquilo y con mucha intimidad, cómodo y acogedor. El sitio nos gustó porque está entre playa y montaña con vistas impresionantes. Diane fue muy atenta y simpática con nosotros y nos ayudó en todo lo que necesitamos. La playa de St. Pol está cerca, pero siempre has de ir en coche. Y tienes todos los servicios que necesites en Sant Cebriá de Vallalta. Seguro que repetimos!!!! Mil gracias Diane!!!!!! UN abrazo Dani y Mayte
Mayte
2015-05-04T00:00:00Z
It was so lovely and surprisingly easy to drive out of Barcelona and up into the hills to Diane's apartment. It was simple and delightful, with views of valleys, pine trees and the sea. We had a great evening with Diane on our arrival, we felt very welcome.
Belinda
2015-07-20T00:00:00Z
everything was as shown in the pictures, and the host was extremely helpful. It was my uncle and his wife who were staying in the apartment, and they do not speak any english, yet Diane was very nice to them, and understanding. they especially loved the views from the apartment.
Veronika
2015-06-16T00:00:00Z
Diane is a very warm and friendly person who gave us a nice welcome and a lot of nice tips. It's a very quiet and lovely place up in the hills away from the crowd with a magnificent view over the hills. You can really enjoy the quietness because of your own entrance and little garden. If you love citytrips, Barcelona is only an hour away. If you like the sea, it's only 15 minutes away. We enjoyed our stay very much and went home totally relaxed.
Putzeys
2016-07-20T00:00:00Z
Тип размещения
Дом/квартира целиком
---
Тип жилья
Шале
---
Вмещает гостей
2
---
Спален
Sant Cebrià de Vallalta, Каталония, Испания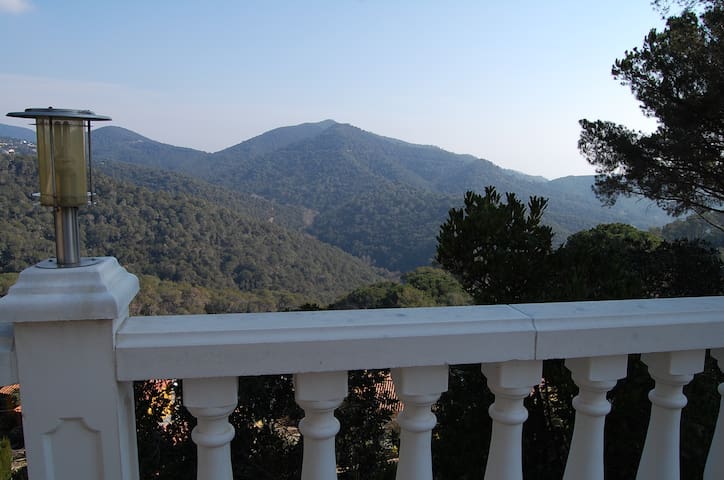 Beautiful house located in a quiet and relaxing complex with private saltwater pool and private garden. Just 10 minutes drive from the beaches of the Maresme and 40 minutes from Barcelona. Imperative to move a vehicle. Our accommodation is ideal for couples and families (with children) who wish to Logoff on holiday combining beach, pool, Mediterranean food and quality time. 4 bedrooms, 2 bathrooms, kitchen and large open garden and pool room.
Mar was very welcoming. she made sure we knew where to meet her. And went through all the necessary information on arrival. We asked for a couple of items we couldn't find and they were with us the next day. Mar phoned during the week to chekc everything was ok. My whole family had a very enjoyable holiday here and nothing was to much trouble for Mar to do for us. It was lovely meeting her and my youngest son sends her a big hug.
Angela
2016-08-07T00:00:00Z
Тип размещения
Дом/квартира целиком
---
Тип жилья
Дом
---
Вмещает гостей
7
---
Спален
Can Palau, Catalunya, Испания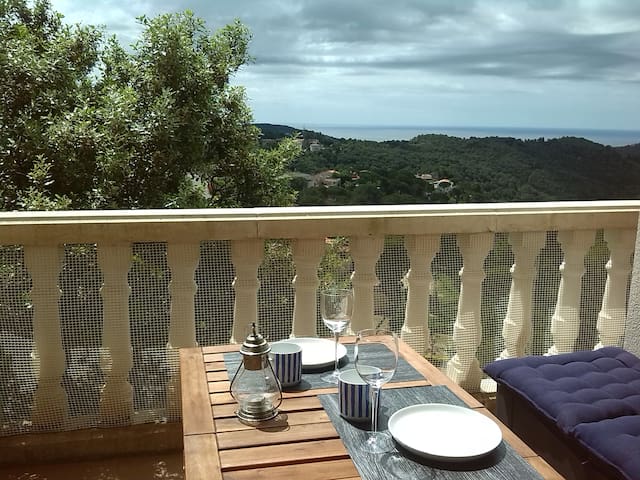 It is rented complete floor with its independent access in a private chalet of two floors. Facilities (private of the house): swimming pool, barbecue area, 2 terraces- 1 with mountain views and another close to the pool, free outdoor and private parking.
Chalet located 35 min from Barcelona by car or 55 by train, from all tourist attractions such as Sagrada Familia, Barcelona Cathedral, Parc Guell and others. Ideal for couples and families, very quiet, sporty area with incredible mountain views. Nearest beach - Sant Pol de Mar, very clean and spacious, with few people.
Тип размещения
Дом/квартира целиком
---
Тип жилья
Шале
---
Вмещает гостей
5
---
Спален
Sant Cebrià de Vallalta, CT, Испания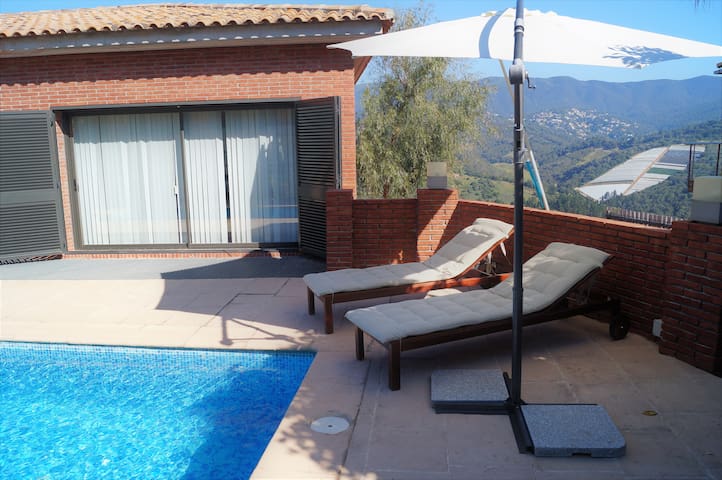 Арендовать дом в загородном стиле в деревне под названием Маресме Сан-Искле-де-Вальяльта, в 7 км от пляжей Сан-Поль-де-Мар и Ареньс-де-Мар В доме есть большая терраса с видом на горы, кухня с камином, а также три спальни.
We hebben een fantastische vakantie gehad in dit authentieke Catalonische huis. Het bevat veel persoonlijke, mooie spaanse decoraties, borden, potten en accessoires. Het is een huis waar een familiesfeer en geschiedenis hangt. Jaume, de verhuurder, komt uit Barcelona en is erg sympathiek en het klikte meteen. We hebben elkaar op het station in Arenys de Mar getroffen. Samen zijn we toen naar het huis gereden waar hij ons alles heeft laten zien . Na afloop hebben we hem weer naar het station gebracht en nog even samen een biertje gedronken. Heel gezellig! Het huis is nog groter dan we dachten, heeft zelfs een wasmachine, televisie en een fantastische keuken met oorspronkelijke schouw. Er zijn veel potten en pannen om mee te koken en er is een electrische oven. Het ligt in een stil dorpje tegen de bosrand van het prachtige natuurgebied Mont Negre. Er wordt daar veel gemounainbiked en gewandeld. Een GPS is als je dat gaat doen wel een aanrader want het is een heel groot gebied zonder veel borden. Het dorp Iscle de Vallalta heeft 2 barretjes, 2 kleine winkels (met ook brood) en een slagerij. Handig om even wat te kunnen kopen. De badkamer en de warmwatervoorziening in de keuken is vrij eenvoudig maar voor ons geen enkel probleem. Neem wel anti-muggen spul mee want die zijn er (in ieder geval in september) genoeg. Ook is het aan te raden om een auto te hebben als je hier logeert. Wij hopen in ieder geval volgend jaar weer hier naartoe te kunnen gaan! Jaume (en je moeder) bedankt!
Wim En Nanja
2015-09-28T00:00:00Z
We spent wonderful time at Jaume's house. It is an old Catalonian house with character and history behind located in a small village, 8 km from the coast. You need a car to be able to reach the beach or other interesting locations (e.g. 50 kg to Barcelona, 8 km to Sant Pol de Mar or Arenys de Mar). Although the weather was hot, it was very pleasant to sleep in the house during the night as it is close to the forest and mountains. People in the village are very friendly and welcoming. The conveniences in the house are very basic but were sufficient for us. We would like to recommend this stay to the people which are looking for something different from standardized hotel accommodation. Could be very good for the group of people up to 6. Many thanks to Jaume for his support and welcome. We would like to come again.
Natalia
2016-07-20T00:00:00Z
It is an authentic old house in a very quiet village. It would be charming if it was cleaned up thoroughly and freshed up . The owner wants to do that but, as he is not living near, he needs time
Michèle
2016-09-24T00:00:00Z
En gros c'est super : Accueil, endroit proximité des visites Par contre un effort à faire sur la propreté et les équipements nécessaires de cuisine. Sinon c'est très positif en tout. Merci Jaume
said
2016-08-28T00:00:00Z
Jaume's family casa was lovely. It was easy to find, in a small village, with opportunities to walk or drive to the beach and barcelona. Really recommended!
Martien
2015-10-18T00:00:00Z
House is very interestingly decorated, it is place with a soul. Host was very helpful.
Piotr
2016-05-29T00:00:00Z
Preciosa casa a preu immillorable. Ens hem sentit com a casa i el Jaume ens ha donat tota les facilitats: Joguines pel nen, bona música, el caliu del foc... molt recomanable. moltes gràcies!!
sandra
2016-05-17T00:00:00Z
Perfect house for us, even too big for a couple as we are. Quiet as we expected, perfect after a long day in Barcelona ! Thank you.
Hugo
2016-09-04T00:00:00Z
Тип размещения
Дом/квартира целиком
---
Тип жилья
Дом
---
Вмещает гостей
5
---
Спален
Sant Iscle de Vallalta, Catalunya, Испания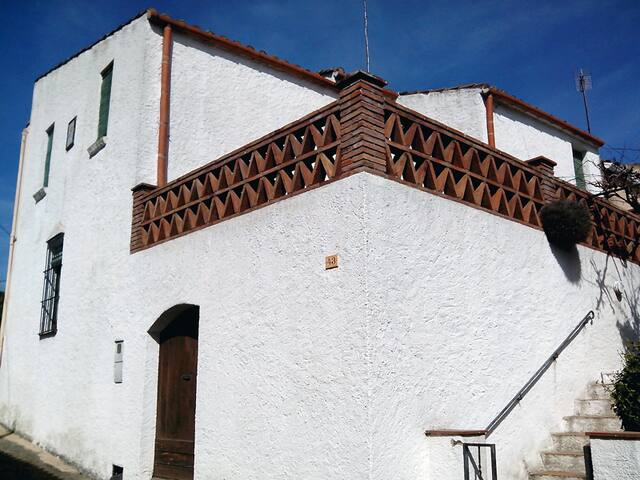 A sólo 5km del típico pueblo de Sant Pol de Mar, reconocido por sus playas, y con las vistas al Mediterráneo en los albores del Parc Natural del Montnegre, nuestra casa os permitirá gozar de un entorno a mitad de camino entre el mar y la montaña. REGISTRO TURISTICO DE LA GENERALITAT DE CATALUNYA (Octubre 2015 nº HUTB 0144 38)
Nuestra cómoda casa dispone de jardines y zonas lúdicas que permitirán proporcionar la máxima tranquilidad y relax a sus huéspedes. Por otra parte la proximidad de la propiedad a ciudades y destinos turísticos como Girona, Barcelona; y poblaciones cercanas como Sant Pol de Mar, Calella o Arenys proporcionarán a nuestros invitados poder gozar de casi todos los hobbys y distracciones necesarias. ESTABLECIMIENTO "GAY-FRIENDLY"
Nuestra casa está situada fuera del casco urbano del pueblo de Sant Cebriá de Vallalta. A unos 3km, en un marco de tranquilidad y relax. No obstante ello implica el uso obligatorio de coche o de otro sistema particular de transporte para llegar a nuestra vivienda.
Hemos estado muy agusto la casa en un lugar muy tranquilo ideal para el relax. Los anfitriones muy amables.
esther
2016-09-13T00:00:00Z
The host canceled this reservation 20 days before arrival. This is an automated posting.
Eddy
2016-07-09T00:00:00Z
War alles super! Sind sehr zufrieden gewesen. WiFi war überall verfügbar, auch beim Pool unten (was nicht selbstverständlich ist). Sehr netter Gastgeber.
Simone
2016-07-14T00:00:00Z
Тип размещения
Дом/квартира целиком
---
Тип жилья
Дом
---
Вмещает гостей
5
---
Спален
Sant Cebrià de Vallalta, Catalunya, Испания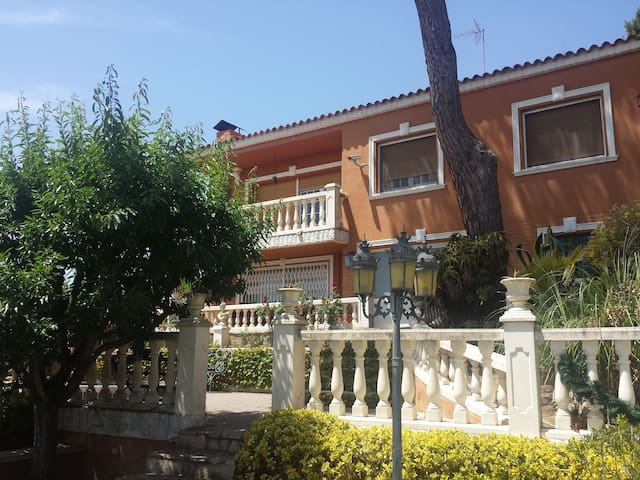 The flat is bright and beautifiul. You have here public transport to Canet de Mar or Sant Pol de Mar. If you wanted to drive with the train to Barcelona, it takes 1 hour and cost 4,90 Euro. We have here a nice beach and beautiful mountains for jogging and making sports. The view is here really relaxing. Take your time and enjoy the real Barcelona experience.
The flat is in Sant Cebria de Vallalta, that is located in the mountain and a secret tip for spanish and worldwide people to make holidays!
Тип размещения
Отдельная комната
---
Тип жилья
Квартира
---
Вмещает гостей
3
---
Спален
Sant Cebrià de Vallalta, Catalunya, Испания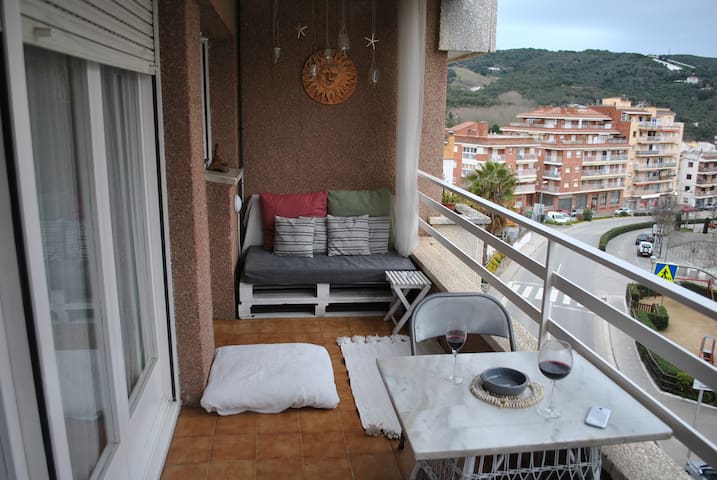 Wonderful house with nice sea and mountain views, all the rooms on one level, private swimming pool. The house can sleep 10 people and has 4 bedrooms (2 with double bed, 1 with double bed and bunk beds, 1 with twin beds), 2 bathrooms (1 with shower, 1 with bathtub), big living and dining room with a grate, fully equipped kitchen, and big terraces with a pergola and sun loungers. House with a lot of privacy, ideal for families. Internet Wi-Fi.
Тип размещения
Дом/квартира целиком
---
Тип жилья
Дом
---
Вмещает гостей
10
---
Спален
Sant Cebrià de Vallalta, Catalunya, Испания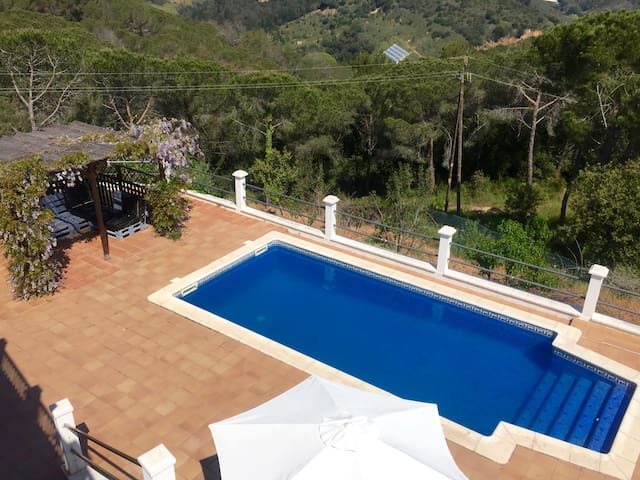 HUTB типа 013634 Прекрасный деревенский дом, вместимостью 16 человек, с идеальным местом для отдыха и принятия солнечных ванн, как это находится в загородной местности. Имеет собственный бассейн, барбекю, баскетбол, бадминтон Выдача ключей производится в офисе Санта-Сусанна. Напомним, что выплата туристического налога составляет 0,45 центов обязательный человек / сутки до 7 ночей.
Мы информируем клиентов на территории дома является стабильной с лошадьми и сельскохозяйственных животных. Это не будет мешать ваше пребывание в доме, но в обратном.
Le propriétaire est venu tous les jours pour voir si nous avions besoins de rien. Il nous a ramené du bois pour le barbecue. Il a nettoyé la piscine car il y avait quelques feuilles au fond. Sinon le séjour c'est très bien passé. Juste une chose il manque un peu de vaisselles (verres à pied, assiettes plate)
kathy
2016-07-24T00:00:00Z
Una casa increíble para disfrutar de la tranquilidad, ya que se encuentra alejado de cualquier núcleo urbano y turístico. La piscina y la sala de juegos es lo mejor de la casa. Por otro lado decir que está gestionada por una agencia donde solo quieren hacer negocio con todo, ya que cobran unos 15€/persona por juegos de sábanas y toallas, nosotros optamos por llevar las nuestras. Al igual que el papel higiénico, que nos encontramos solo con dos rollos para 10 personas en 2 días. También cobran 12€/día por la conexión wifi, pero por suerte al llegar a la casa nos encontramos con el dueño, que muy amablemente nos facilitó la clave gratis, aunque no funcionara muy bien. Además decir que la hora de la salida fueron las 12 del medio día, no teniendo flexibilidad en el horario y sabiendo que ese día no estaba reservada por nadie. A esto se le suma el trastorno de tener que ir a dejar las llaves a las oficinas, que se encuentran a dos pueblos de distancia. En resumen, es una casa estupenda para desconectar pero está muy enfocada al negocio.
Dácil
2016-09-05T00:00:00Z
Logement correspond parfaitement à la description. Très bel endroit et proprio sympa.
Damien
2016-07-11T00:00:00Z
Un sitio genial para pasar un fin de semana con amigos o familia. Hay todo lo que quieras para entretenerte y estás en medio de un pequeño oasis de tranquilidad.
Albert
2017-03-12T00:00:00Z
Entre montagne et la mer avec vu sur la mer cette maison etait juste magnifique ! Endroit tres calme juste a 7 min de la plage . Nous avons passé un excellent sejour et on y retournerait forcement ! Le proprietaire etait tres sympa avec beaucoup d'humour ! Avec moindre soucis , il faut juste l'appeler il sera à vous sous 15 min ! Belle piscine , beaucoup de jeux surtout la salle de jeu qui bous a seduit . Un conseil ? Testez cette maison, vous serez loin d'etre deçu. Juste le wifi ne fonctionnait pas , mais ca nous a pas empeché de passer un bon moment
Iraj
2016-07-17T00:00:00Z
Тип размещения
Дом/квартира целиком
---
Тип жилья
Дом
---
Вмещает гостей
16
---
Спален
Калелья, Испания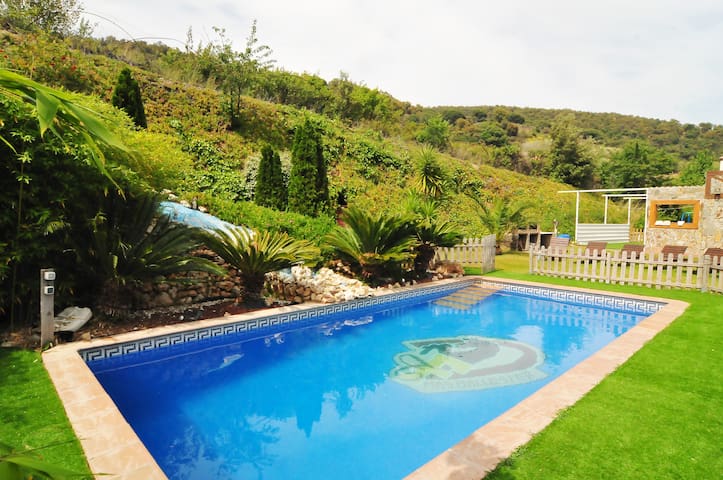 El meu espai està a prop de la platja. T'encantarà el meu espai per la intimitat i la ubicació. El meu allotjament és perfecte per a parelles, aventurers que viatgen sols, i famílies (amb nens).
Тип размещения
Отдельная комната
---
Тип жилья
Вилла
---
Вмещает гостей
4
---
Спален
Sant Cebrià de Vallalta, Catalunya, Испания
Can Palau - Airbnb
:
В среднем,

4.69

из

5

звезд на основании

309

отзывов гостей