Введите дату прибытия в формате дд.мм.гггг
Введите дату отъезда в формате дд.мм.гггг
Объявления, которые вы можете забронировать, не дожидаясь одобрения от хозяина.
Введите даты, чтобы увидеть полную цену без учета дополнительных сборов и налогов.
В июле и августе этого года вы сможете открыть для себя один из сотни самых лучших домов, с самыми разными ценами, и увидеть долину Сонома, какой ее видят местные жители. Круглосуточное прибытие, мгновенное бронирование, местное вино и закуски помогут вам расслабиться и насладиться поездкой.
The Nest is a labor of love by twin sisters who grew up here. It has been a space for family and friends to gather for laughter, good food and memory making. We hope you will feel the joyous vibes that have reverberated throughout this 1,000 sq ft space.
This cozy little cottage was completely renovated in 2012 from the studs up and features original wood floors, custom kitchen and bathroom, and a wonderful loft with two sleeping areas. A queen size air mattress is also available for a group larger than 4. The television room has basic cable television and wifi access. A pantry area houses a brand new washer and dryer for use during longer stays. The 60" shower in the bathroom has amazing water pressure. Sit on the side deck at a bistro table or in the yard with matching outdoor table and chairs. This house sits one block off Brunswick's main street (Hwy 24) and is within easy walking distance (two blocks) to Kaitlynn's Deli, Madison Street Lounge, Sew Sweet Quilt Shop, Upriver Urban Exchange and Plantation Antiques and Interiors. The house has been decorated with art and artifacts acquired during the national and international travels and living experiences of the owners, including photography, ironwork, sea glass, and textiles. We welcome adults and children over the age of 10. Guess access is to the whole main floor and loft. Basement is not accessible to guests. Keys may be picked up by house manager. Any questions or concerns during your stay will be handled by the house manager.
This charming town on the Grand River has undergone a lovely revitalization! Take a class at the Sew Sweet Quilt shop, recognized as one of the top quilt shops in the Midwest. Browse antiques or buy local Missouri wine at the Plantation. Spend the afternoon trying on trendy clothing and jewelry at the Urban Exchange. Hungry for a steak? Dinner at Railyard followed by a slice of heaven from Kaitlynn's Deli, the home of regionally renowned cheesecake. Stop at The Optimistic Gardener on your way out of town for a keepsake piece of art to remind you of this darling town. The whole town is within walking distance.
The host canceled this reservation 8 days before arrival. This is an automated posting.
Susan
Our stay was great! Even though we didn't get to stay very long, it was close to where the reception was and very easy to get to. We had not read the notes that were sent to us via email about stopping in earlier and turning on the air. It was pretty warm when we got there, but cooled down very quickly. The place was very comfortable and we slept great! Great place to stay!
Lynn Anne
June 2016
Тип размещения
Дом/квартира целиком
---
Тип жилья
---
Вмещает гостей
6
---
Спален
1
Брансуик
Small home with lots of comfort packed into every room. All mattresses and bedding brand new and sooooo comfortable! Full kitchen with all new appliances. Quiet neighborhood, off street parking, one hour from Hamilton quilt shops ,Jamesport Amish shops, and Kansas City. One hour 15 minutes from Columbia.
All new flooring, paint, and bedding. 2 bedrooms, living room, dining room, kitchen, and full bathroom. Recently added screened in back porch. Daily if necessary, less often if preferred. Whatever is needed for comfort.
This is a lovely small town with everything very close, grocery store , restaurants , shopping, hospital, schools. You are one hour from Kansas City, Hamilton, or Jamesport, and one hour 15 minutes from Columbia. No public transportation.
i contacted Beth at last minute to inquire about her rental so my son and I could go on his last youth deer hunt at our property near her home and she was extremely quick to answer. Her place was more than accommodating and very nice. My 15 year old and I had a great bonding weekend. i would rent her listing without any hesitation for future trips.
Scott
October 2016
This was one of our favorite Airbnb spots. Very clean, comfortable, and cozy home. Just the perfect size for my spouse and I (although we closed off the extra bedroom, so it could hold a larger party, too). We enjoyed the comfy bed and fresh-grinding coffee maker, too! Beth was kind enough to meet us when we arrived to go over any questions we might have. Very welcoming. Thanks, Beth!
Simone
November 2015
The house was cozy and provided a nice space for our group to relax in during our cross-country journey. I would recommend this to anybody who enjoys a nice drive through the country!
Daniel
August 2016
We had a very positive experience. Our host was kind and hospitable, and the house was comfortable and well equipped.
Daniel
June 2016
This was very clean house in a quiet neighborhood. Beth communicated with us during the stay and was very gracious. It is a very well thought out residence for use as a bed and breakfast.
Richard
November 2016
What a charming residence! My wife and two pups really enjoyed this clean and cozy space. The natural light from the windows were amazing and our pups loved napping by the large window in the living room :) We will definitely make this a repeat visit every time we visit Mid-MO! Thanks again Beth!
Chris
May 2016
Тип размещения
Дом/квартира целиком
---
Тип жилья
---
Вмещает гостей
5
---
Спален
2
Карролтон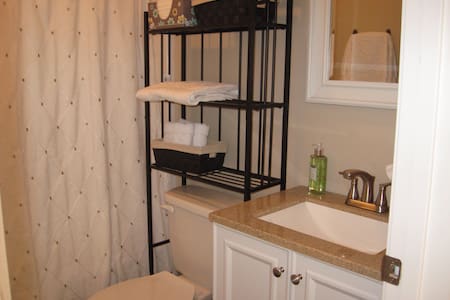 Located in Carrollton Missouri. One hour from the quilt shops of Hamilton Missouri, the Amish shops of Jamesport, shopping and the casinos of Kansas City, and one hour 15 minutes from Columbia. Restaurants,groceries, coffee shop within 2 miles.
We had the best time. The home was beautiful and so welcoming. Beth was there when we arrived to greet us and give us information about the area!! It was a great weekend!! I will definitely be using her home again if im ever in the area!!
chris
May 2016
The host canceled this reservation 18 days before arrival. This is an automated posting.
Juanita
Beth has been wonderful. She made us feel welcome and was very accommodating. Her home is very clean and has it nicely furnished.
Deborah
July 2016
Тип размещения
Дом/квартира целиком
---
Тип жилья
---
Вмещает гостей
5
---
Спален
2
Карролтон
Enjoy this historic cozy home in small town Carrollton. Settle into a comfy bed and relax in this quite atmosphere. Wake up to freshly brewed coffee and a full espresso bar as well as yummy baked goodies.
This historic house is the perfect place to relax and enjoy a quiet night, with the bonus of having a full service coffee bar on the main level of the house.
The Coffeehouse is open to the public Monday-Friday from 6:30am-1pm and Saturday's from 8am-1pm
Charming old home beautifully restored. Great location close to downtown, and 3 churches. Owners were very friendly, enjoyed the back patio fire pit with them and coffee from the coffee shop next AM. Living areas were peaceful and pleasant. Would stay there again. Thank you!
Stephen
October 2016
This is a great bed and breakfast. Abbie and Joe did everything possible to make sure I had everything I needed. The neighborhood is nice and I felt very comfortable walking around. Restaurants are very limited but that is what you get in a small town. Restaurants close after lunch and the only one that wasn't fast food was closed on vacation for the week. I was there on business and had everything I needed to have a great week!
Betsey
July 2016
Тип размещения
Отдельная комната
---
Тип жилья
---
Вмещает гостей
9
---
Спален
1
Карролтон