Квартира 90sqm, 4 кровати, отдельный вход с парковкой только перед входом. A4 вход на автомагистраль находится всего в 500 метрах. Недалеко от озера Варезе, велосипедная дорожка и гору Святого. 20 мин от Швейцарии и в 30 минутах езды от Милана. Недалеко от озера Маджоре и озера Комо. Санта-Маргерита-дель-Сассо.
Расслабьтесь в сауне / турецкой баней с хромотерапией. В условиях полной конфиденциальности. Летом местные жители тенистого. В Invermo отопления хороший пол, Woodland прогулки и прокат велосипедов.
Зеленый и тихий. Всего за 15 минут на машине можно добраться до озера или центр города. 25 мин Швейцария или Милан
Diana e Stefano ci hanno accolto con grande disponibilità e calore. L'appartamento è grande e accogliente, tenuto in modo impeccabile, bene arredato e dotato di ogni comodità. Il bagno è molto ampio con disponibilità di doccia e sauna. Raggiungibile in auto senza difficoltà. L'auto viene parcheggiata all'interno della proprietà, a fianco dell'appartamento. Praticamente perfetto.
Tommaso
2015-10-12T00:00:00Z
Eine sehr nette Gastgeberin hat uns empfangen und das Apartment vorgestellt. Sehr geschmackvoll eingerichtet, blitzsauber, alles vorhanden um sich wohl zu fühlen. Das italienische Frühstück ist natürlich sehr bescheiden, das muss man wissen. Aber zusätzliche Angebote wie Prosecco und Wein machten den Abend sehr angenehm. Schade, dass wir nur eine Nacht zur Verfügung hatten.
Konrad
2015-12-03T00:00:00Z
Diana & Stefano met us upon arrival & explained the apartment and nearby shopping, they had also provided the small little extras that are most welcome after a long trip meaning you have a chance to sit and relax straight away, no need to rush out just so you can have a coffee and snack. We're finding this is a mark of the more thoughtful complete hosts. Apartment was super clean and very roomy, must also say the steam room was excellent, after days spent travelling this was a great find. Thanks Diana & Stefanofrindly hosts
Rick
2016-06-05T00:00:00Z
Diana&Stefano is very responsive and hospitable hosts. Well met, told us where to have a delicious dinner. The house has everything you need to stay, clean and tidy.
Игорь
2016-01-05T00:00:00Z
Très bon accueil. Stefano nous a très bien conseillé pour nos visites. L'appartement était très propre, spacieux, confortable et très bien (URL HIDDEN) y a une superbe salle de bain et une très jolie cuisine. Rien ne manque.Très bonne adresse.
Jean François
2015-10-25T00:00:00Z
Bell'appartamento, comodo e pulito, il bagno è extra large, molto rillassante il bagno turco a disposizione. Location molto tranquilla, a 5 minuti da Varese. Grazie Stefano della bella accoglienza. Consigliato
Paolo&Fotini
2015-11-01T00:00:00Z
Diana & Stefano wspaniali gospodarze, czuliśmy się jak u siebie w domu. Oferta w 100% zgodna z opisem. Okolica piękna i spokojna. Bardzo dziękujemy za gościnność i kontakt o każdej godzinie w wyjątkowych sytuacjach :)
Anna
2016-05-12T00:00:00Z
We got a very nice welcome, with some nice food and drinks. The apartement is spacious. And the kitchen is realy nice, and the bathroom with shower and turkish sauna very beautifull and confortable. We choose this apartment as we could safely park our car behind the gate, and it was easy to reach the EXPO 2015 by car. We we were with two adult and two childeren. For us the apartment was perfect. We stayed for two night, and then continued our holiday trip. We certainly would recomand this location to other. The location is not special, a normal village environment, but very suitable for the purpose we had.
Lourens
2015-08-07T00:00:00Z
Тип размещения
Дом/квартира целиком
---
Тип жилья
Дом
---
Вмещает гостей
4
---
Спален
Cascine Maggio, Lombardia, Италия
Ground floor apartment overlooking beautiful garden finely planted and cared for, spacious terrace and lovely views. The rooms are spacious and comfortable, modern furnishings, kitchen and living area with large windows.
The accommodation is on the ground floor, the rooms are large and bright, the decor is pleasant and comfortable
quiet but served area. Nearby within walking distance there is a pharmacy, grocery, post office
Тип размещения
Дом/квартира целиком
---
Тип жилья
Дом
---
Вмещает гостей
4
---
Спален
Buguggiate, Lombardia, Италия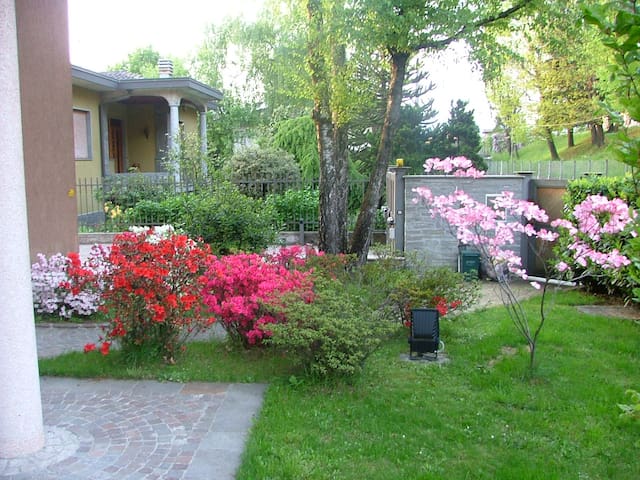 Appartamento in villa stile liberty. Composto da 2 piani da 80 mq ciascuno. Casa con garage e giardino privato. Vista sul monte rosa e lago di Varese. Distante 30 km dall'aeroporto di Malpensa, 5 km da Varese e 50 da Milano.
Appartamento in villa stile liberty sul lago di Varese.Immerso nel verde con vista sul lago di Varese e Monte Rosa.Si trova in un piccolo paese (Buguggiate) distante 5 km da Varese e 30 km dall'aeroporto di Milano Malpensa.Luogo ideale per riposo, sport ed escursioni.Primo piano con grande sala da pranzo con angolo di cottura separato e balcone, ampia camera da letto matrimoniale e bagno dotato di doccia.Secondo piano con 2 camere da letto e bagno con doccia.Riscaldamento autonomo.Ampio giardino con posto auto e garage.Supermercato,banca e ufficio postale in paese.Luoghi da vedere: il lago di Varese, con pista ciclabile che lo circonda, dista 3 km. Il lago Maggiore (Laveno Mombello, da cui partono i battelli per tour intorno al lago) dista 25 km, il Sacro Monte di Varese (patrimonio dell'Unesco) dista 15 km, il monte Campo dei Fiori (altezza 1226 con vista panoramica su lombardia, piemonte e svizzera) dista 25 km. Il costo del riscaldamento non è incluso nel prezzo.
We enjoyed our stay at Fabrizio and Paola's home. It is a very spacious and comfortable traditional liberty style villa. The space was well appointed and could easily accommodate many guests. Our family of four felt right at home, and Fabrizio was always available to answer any questions we had. The house is in a great location; near the beautiful lakes of the Lombardy region and close to Milano. Great hosts, we strongly recommend!
Melissa
2013-09-27T00:00:00Z
What a beautiful area Varese is! What made our stay even more special were the lovely hosts, Fabrizio & Paula. They were extremely welcoming and sensitive to our needs and requirements. The home was extremely comfortable for our large family of 6. We had ample space for living, playing and privacy. Everything we required was provided and most importantly, we were warm. We would definitely stay here again upon our return to Italia. Thank you to a lovely family - it was a pleasure meeting you! Maurizio and Lara (Australia). (Che bella zona di Varese è! Ciò che ha reso il nostro soggiorno ancora più speciale erano i padroni di casa incantevoli, Fabrizio & Paula. Erano estremamente accogliente e sensibile alle nostre esigenze e necessità. La casa era estremamente confortevole per la nostra grande famiglia di 6. Abbiamo avuto ampio spazio per vivere, giocare e privacy. Tutto il necessario è stato fornito e, soprattutto, eravamo caldo. Ci sarebbe sicuramente al nostro ritorno a Italia. Grazie ad una bella famiglia - è stato un piacere conoscerti! Maurizio e Lara (Australia))
Lara
2014-01-01T00:00:00Z
Siamo stati molto bene, abbiamo soggiornato a lungo nella casa che e fornita di tutto ( stoviglie, biancheria). bello il giardino, assoluta libertà di movimento grazie all ingresso indipendente e al garage. i laghi e i luoghi più pittoreschi di Varese sono a due passi.
Valentina
2013-08-05T00:00:00Z
Тип размещения
Дом/квартира целиком
---
Тип жилья
Дом
---
Вмещает гостей
6
---
Спален
Buguggiate, Ломбардия, Италия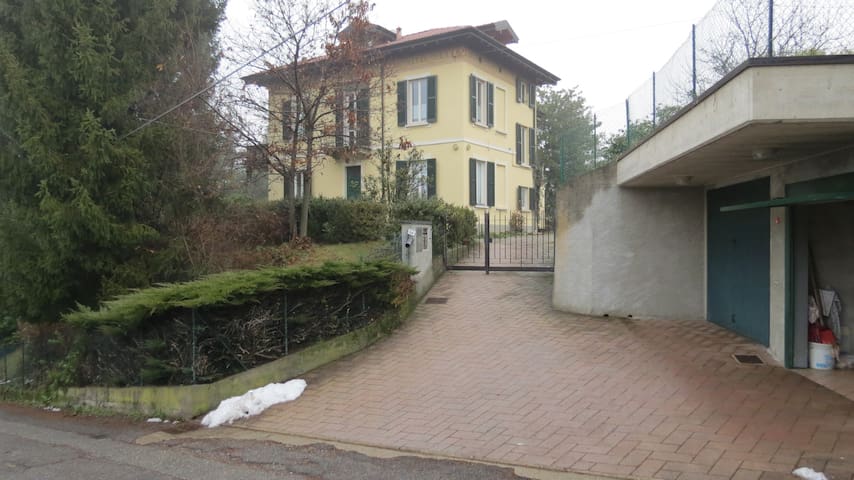 Casa Panza is ideal for a family of 4-6. Its large garden with mature trees and a fireplace inside make it the perfect place for family holidays all year round. Kids will find plenty of toys to play with and parents a large library.
2 bedrooms with double beds, a large living room with fireplace and two convertible sofas, as well as a studio, two bathrooms, one with shower and one with bath tub, a large garden, a parking place and a free parking lot nearby. It is immersed in the countryside but close to all facilities (supermarket, bus stop, several shops and restaurants). It has a wonderful view on the Monte Rosa from the garden and from the first floor.
Casbeno is a unique mixture of countryside, villas and little shops. The neighbors are quiet and friendly.
Great house in a great location. It was nice to stay in a traditional Italian home for a few days instead of a hotel, very cozy
Jaimee-Lee
2016-11-09T00:00:00Z
Contact was easy through a nice neighbour. Casa Panza is a house with a spacious garden and beautiful pine trees + a parking space. The floor is tiles and marble stones which I assume keep it fresh in the summer. Only the ground floor is accessible to guests (the upperfloor is unoccupied) and has a spacious common area + three spacious rooms inc. a crib. Next to the house (30 feet) runs a railtrack with trains running every 30 min or so which can be unsettling to some, but was quite entertaining for our young kids. A state of the art supermarket is reachable within walking distance, which was a plus. The furniture and equipment are old but in working order. All in all, our stay was fine. I recommend Air bnbers to have a rental car.
Eos
2015-11-02T00:00:00Z
L'accoglienza è stata buona, ci ha aspettato anche se siamo arrivati più tardi del previsto.
Agnese
2016-09-26T00:00:00Z
Tutto come previsto. Ottima accoglienza!
Angelo
2016-02-18T00:00:00Z
Soggiorno piacevole, casa molto grande e fornita di tutto. Bello anche il giardino. Migliorerei un pò l'ordine. Ci sono troppe cose appartenute al vecchio proprietario che potrebbero essere sistemate in altro luogo per lasciare spazio a chi soggiorna. Casa abbastanza vicina al centro.
Cristina
2016-03-30T00:00:00Z
Tutto perfetto, sia la location che l'accoglienza. Mario ci ha aiutati in tutto ed è stato più che disponibile. Consiglierei a chiunque un soggiorno presso questa struttura
Fabio
2016-06-06T00:00:00Z
de verhuurder had de lokale bakker geregeld die nederlands sprak om ons alles te laten zien. Erg fijn!
Marloes
2016-04-18T00:00:00Z
La casa si trova a 20 minuti a piedi dal centro di Varese. Il posto è tranquillo e possiede il parcheggio interno. Un ampio giardino con tavolo e sedie permette di godersi il bel tempo durante il periodo estivo. Ci hanno accolti con grande ospitalità e gentilezza. L'appartamento e la gestione interna potrebbero essere migliorati per ottenere un punteggio ancora migliore nella valutazione.
Elisa
2017-01-22T00:00:00Z
Тип размещения
Дом/квартира целиком
---
Тип жилья
Дом
---
Вмещает гостей
4
---
Спален
Varese, Lombardia, Италия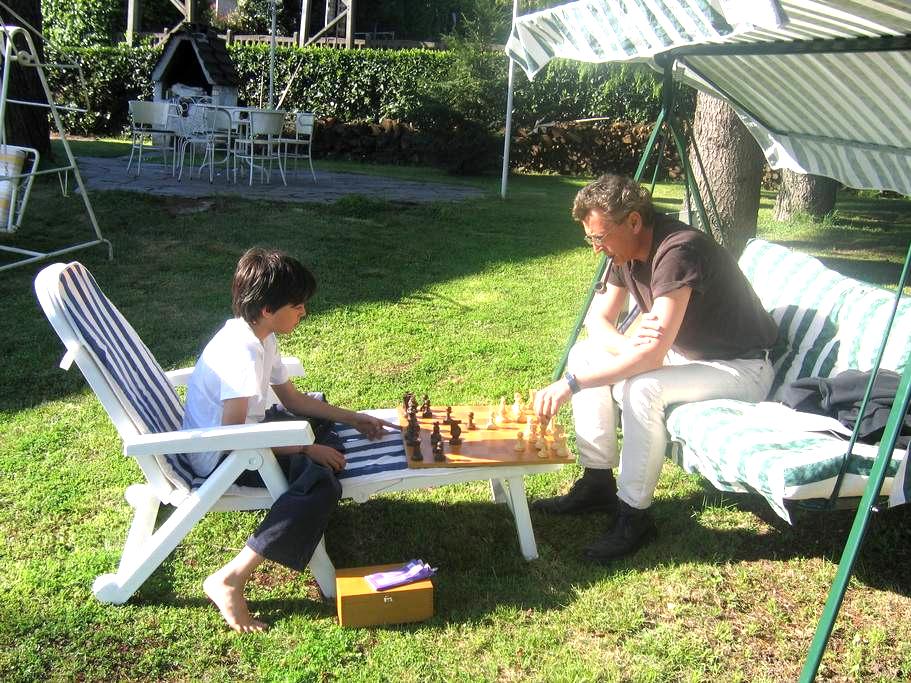 Large en-suite double bedroom available within a large detached house. Located at the end of a quiet residential road, 10 minutes walk from Varese city centre and offering stunning views of the mountains and Lake Varese.
Large en-suite double bedroom available within a large detached house. Located at the end of a quiet residential road, 10 minutes walk from Varese city centre and offering stunning views of the mountains and Lake Varese. The house is also a 10 minute walk away from the train station of Varese-Casbeno, with trains departing regularly to Milan. The house is structured over 2 floors: on the first floor is your en-suite room with large desk, double sofa bed, and single bed; there's a second bathroom with a Jacuzzi hot tub. on the same floor there's a TV room with Sky and a Nintendo Wii U, and another smaller computer room. the main bedroom is on the second floor, which allows guests to have complete privacy. On the Second floor is the master bedroom, a large sitting room, the kitchen, 2 bathrooms and a studio. there's a Large garden which is the home of a lovely, very friendly Hovawart dog called Dakota, 2 chickens and 4 tortoises!
Stanza molto carina, posizione e vista ottimi ed arrivo senza problemi! La signora Marisa è molto gentile.
Alessia
2016-08-11T00:00:00Z
Very nice people, Nice home with a beautiful vieuw on the lake.
Wouter
2016-06-28T00:00:00Z
awesome place love dakota the friendly dog! place is amazing and owners are really nice people as well. its not central, but it is everything promised
Joe
2016-07-05T00:00:00Z
We had a wonderful stay at Massimilianos parents house. The view is amazing! Marisa and Cesare were very friendly and made our short-term trip possible.
Katharina
2016-06-29T00:00:00Z
Massimiliano's parents recieved us, and were very nice to us ! The house is huge, and the view on the lake is great. However, and I know it is specified in the offer, note that you don't have access to a kitchen ! I read the announcment too fast and I know it's my fault, I'm just saying this so people don't make the same mistake :) Thank you again for the stay !
Geoffroy
2016-08-18T00:00:00Z
the flat was well situated and clear, with a good welcome
Cam
2016-07-06T00:00:00Z
I had a great time staying with Massimiliano's family. I was picked up from the station and also dropped there when I was off out for the day. They are lovely people and as I was on my own it was good to connect with them. Mass even put me in touch with his friends. I found the accommodation very comfortable and loved the view from the house. It is a little out of the centre of Varese but I never found this a problem. Mass who deals with the enquirers from London is very efficient and replies immediately as well as giving me a list of tips and places to visit. As long as you are not looking for exciting nightlife then I would highly recommend staying in Varase and with this family.
Kevin
2016-05-09T00:00:00Z
Quartiere un po' fuori mano : il centro si raggiunge con mezz'ora di camminata. Non ci sono né bar ne' ristoranti nelle vicinanze in quanto si tratta per lo più di una zona residenziale . Molto bella la visuale direttamente sul lago di Varese. La pulizia lasciava un po' a desiderare . Gradevole aver trovato al nostro arrivo , due bottigliette di acqua , ma in estate , sarebbe stato utile poter usufruire di un frigo e di uno spazio anche minimo dove poter fare colazione .
SERENA
2016-08-16T00:00:00Z
Тип размещения
Отдельная комната
---
Тип жилья
Дом
---
Вмещает гостей
3
---
Спален
Varese, Lombardia, Италия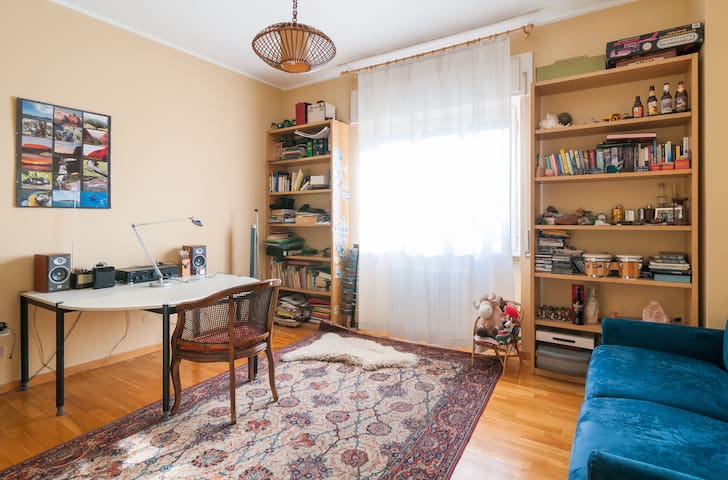 One bedroom apartment with one bedroom hall kitchen bathroom, every room with a window, located in the courtyard surrounded by verde.posti bed for 3people. 5 min. walk from the city center, 3 min walk from the hospital of the circle, 4 min from the
Bedroom apartment located in a small courtyard on the first floor Ideal for all 3 seats beds accommodation with all the comforts of the rooms year all windows, located in a small court with the possibility of private parking and garden The cottage is located 30 minutes by car from Milan, 1 hour by train. 30 minutes from Malpensa CAR. AN HOUR FROM Linate and Orio ALSERIO BERGAMO AIRPORT. 3 MINUTES WALK FROM the city center, 30 kms to reach Lugano Swiss tresa bridge, Lake Maggiore.
Varese and the city because of the garden and surrounded by verde.bellissimo old town with a fantastic pizzeria and famous for its delicious pizzas, 20 minutes away you can visit the mountain of Sacro Monte with its 14 chapels that you can do on foot or by cable car and be able to breathe fresh air.
The host canceled this reservation 8 days before arrival. This is an automated posting.
Nicky
2015-09-08T00:00:00Z
I was a great experience to leave in Carmine apartment. Carmine is a very nice person, accountable and available. We also met his parents and it was a real pleasure. The apartment is very clean, spacious, you can find everything you need, is well located (near Varese Center and train stations) and very quiet. You can enjoy the garden with the swimming pool. A car park place is also available. We highly recommend Carmine apartment.
Lorenzo
2015-08-07T00:00:00Z
The host canceled this reservation 8 days before arrival. This is an automated posting.
Nosakhare
2015-09-23T00:00:00Z
Carmine e la mamma sono molto ospitali e disponibili! L'alloggio è comodissimo per che ha bisogno di essere vicino all'ospedale.
Francesca
2015-10-21T00:00:00Z
Nice apartment in Varese, Carmine and his family have been very kind to us. Clean, close to the city center amd with parking place. Perfect for three people and excellent price/quality ratio
Jaime
2014-07-28T00:00:00Z
Carmine is fabulous went way above and beyond for us. Apt is clean, spacious beautiful and within 10 mins slow walk to center of town, buses and trains. Left out more food than we could possible have eaten. Extremely clean and friendly. Carmine excorted us to our destinations on more than on occasion.
Toni
2014-09-20T00:00:00Z
Accueil agréable, bel appartement. Propre, calme.
Virginie
2014-11-29T00:00:00Z
Hôte très attentionné cadre reposant parfait pour découvrir les lacs italiens
Florian
2016-08-13T00:00:00Z
Тип размещения
Дом/квартира целиком
---
Тип жилья
Дом
---
Вмещает гостей
4
---
Спален
Varese, Ломбардия, Италия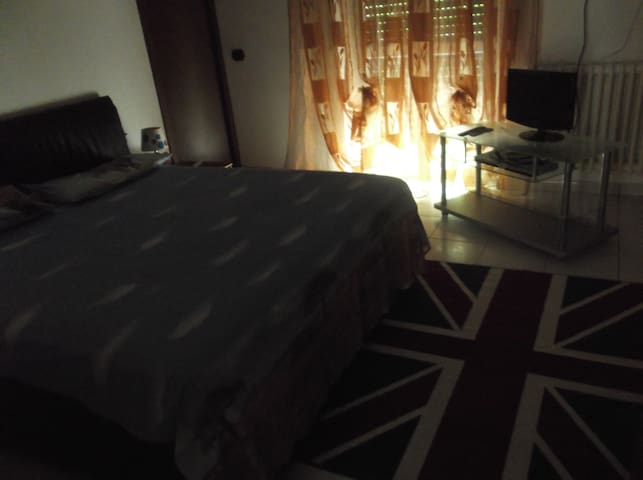 Il mio alloggio è adatto a avventurieri solitari e chi viaggia per lavoro.
Tutto perfetto, Host disponibilissimo!
Daniela
2016-08-20T00:00:00Z
Тип размещения
Отдельная комната
---
Тип жилья
Дом
---
Вмещает гостей
1
---
Спален
Varese, Lombardia, Италия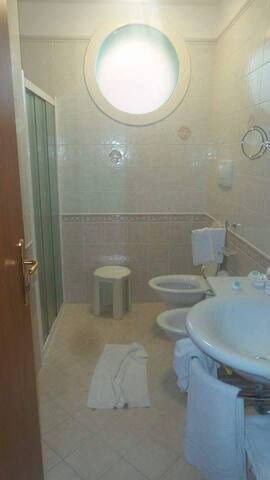 Ваш дом в стране! Квартира 50 кв.м. недавно отремонтированы с видом на красивый сад в холмистой местности очень зеленый и очень тихо. Отлично подходит для деловых поездок и туризма. Аэропорт Мальпенса находится всего в 20 минутах езды на автомобиле.
Квартира рядом с главной дорогой, находится на первом этаже дома с 1800-х годов, он имеет некоторые прекрасные виды на сад доступны для гостей и двух других зданий, населенной некоторыми членами моей семьи. Дом отдыха состоит из столовой, кухни, ванной комнаты и большая спальня с двуспальной кроватью и диваном легко превращается в третью кровать. Кухня полностью оборудована, предоставляются полотенца и простыни. Отлично подходит для деловых поездок и туризма.
Основные туристические достопримечательности в этом районе: - Монастырь Торба (FAI) - 2 минуты на машине - Археологический парк Castelseprio- недавно внесен в список Всемирного наследия ЮНЕСКО - в 5 минутах езды - Кастильоне Olona - Tuscan деревня в Ломбардии - 5 минут на машине - Озеро Маджоре - 15 минут на машине - Варез - 10 минут на машине - Озеро Комо - 20 минут на машине
Тип размещения
Дом/квартира целиком
---
Тип жилья
Дом
---
Вмещает гостей
3
---
Спален
Gornate Olona, Lombardia, Италия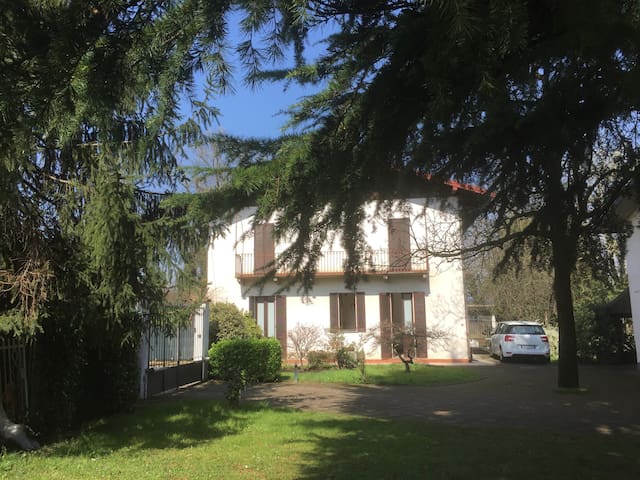 High ceilings, wooden floors, comfy room with double or twin bed, closet, table and chairs. Peaceful house, 3 minutes walking from the train station, in center city. Free parking
Очень удачное расположение виллы - в центре города, в старинном доме, близко от вокзала, но при этом тихо, красиво вокруг, есть место для парковки машины. Дом большой, просторный, в нем все чисто, уютно, гостеприимно. Единственный дом, где на кухне был электрический чайник - что очень здорово! В Италии почему-то не считают нужным иметь в хозяйстве такой нужный предмет - а я просто не понимаю, как без него можно обходиться )) Мы останавливались на одну ночь - хозяина Pietro видели только при заселении - мы друг другу не мешали. С удовольствием рекомендуем этот дом всем путешественникам.
Andrei
2015-09-08T00:00:00Z
Pietro has a nice house and is a great host. The house is clean and very spacious. Highly recommended.
David
2015-11-01T00:00:00Z
Smukt gammelt hus med højt til loftet. Hyggelig have. Værelset var stort med højt til loftet. Rent og pænt over alt. Venlig og meget hjælpsom vært. Lækker tag-selv-morgenmad med i prisen. Kan kun anbefales på det højeste.
julie
2015-05-24T00:00:00Z
Two nights in Pietro's cozy room was just perfect. The place is comfortable, clean and has a unique ambiance. Perfect location to explore the lakes and the neighbouring area. Again two satisfied and grateful guests on his list :) Grazie / Merci Pietro!!!!
Dóra
2016-08-08T00:00:00Z
The homestand Pietro, was excellent even though we arrived late, there was no problem. The room is very comfortable and nice and the place too. Strongly recommended.
Jose
2015-08-28T00:00:00Z
At our arrival Piero gave us a lovely welcome and even offered us to help with the luggage. The room and the rest of the house were very clean and lovely decorated. We had a very pleasant stay. We would like to come back again. Thank you for your hospitality and the faboulus cakes.
Vito
2016-04-20T00:00:00Z
Acceuil sympathique par la soeur de Pietro qui était absent. La chambre est telle que sur les photos. Nous avons passé une nuit chez Pietro. La maison et la salle de bain privative sont très agréables.
Cyrielle
2015-08-27T00:00:00Z
It was a pleasure to stay at Pietro's. He was a great host and even helped us cocking... Felt like home! Perfect!
Dustin
2016-08-21T00:00:00Z
Тип размещения
Отдельная комната
---
Тип жилья
Дом
---
Вмещает гостей
3
---
Спален
Malnate, Ломбардия, Италия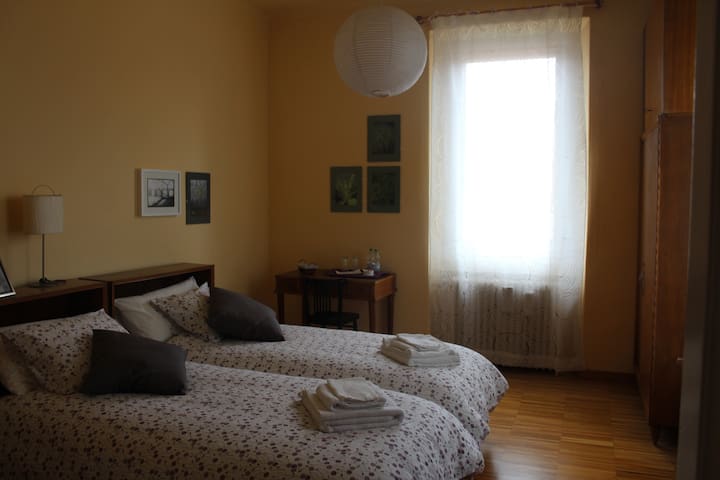 Один прекрасный номер с матрасе, чтобы наслаждаться вашим пребыванием в Озерном крае Ломбардия, в 30 минутах езды от аэропорта Мальпенса. Вы сможете использовать комнату, ванную, и наш просторный сад.
Что мы предлагаем Вам? Плавательный бассейн / ванна джакузи на летний сезон, погруженного в нашем просторном саду, возможность аренды велосипедов у нас. Мы предлагаем возможность парусные экскурсии на лодке на озере Маджоре (за дополнительную плату), а также специальные предложения в пиццерии на озере Маджоре. "Пишта Ciclabile", 38 км езды на велосипеде маршрут вокруг озера а, легко добраться из дома. Oasi ЛИПУ, природный заповедник в Brabbia Swamps, находится в 5 мин. ходьбы от дома.
- "Пишта ciclabile" - 38km езда на велосипеде маршрут вокруг Лаго ди Варезе и Лаго ди Комаббио (URL HIDDEN) -55km Из Milano (мы можем взять вас на вокзале, или принять вас в электрических транспортных средств станции проката - (URL HIDDEN) -Oasi Липу Орнитология (URL HIDDEN)
We loved our stay at Inarzo! When arriving they made us feel welcome and we could immediatelly take the bikes to go around the lake. When the bed in the room would be an actual bed the stay would even have been more perfect! The breakfast in the morning was really nice and they are just lovely! Hope to come back one day!
Lindsay
2016-10-08T00:00:00Z
Très bon séjour chez Ra, très jolie maison et chambre qui correspondait tout à fait à la description. Ra a ete très attentionné et a pris le temps de parler avec nous, c est toujours très agréable. Nous recommandons vivement! Ludovic&Margaux
Ludovic
2016-08-13T00:00:00Z
Raffaela hat uns in ihrem wunderschönen Zuhause sehr herzlich aufgenommen. Das Frühstück war sehr lecker, mit großer Auswahl, frischen Obst und hervorragenden Kaffee. Am letzten Abend hat sie für uns noch ein typisch italienisches Menü gekocht, welches wir sehr genossen. Der Preis war es auf jeden Fall wert und wir können dieses Angebot nur weiterempfehlen. Wir haben uns bei Raffaela von Anfang an wie Zuhause gefühlt. Mit ihrer herzlichen und offenen Art hat sie uns bei allen Fragen weitergeholfen und wir hatten eine tolle Zeit!
Julia
2016-08-02T00:00:00Z
Luogo di pace, rienergizzante. comodissimo alle vie di comunicazione eppure tranquillo e autenticamente riposante. famiglia meravigliosa. ho fatto un passaggio brevissimo ma pur nel poco tempo ho gustato ogni attimo a Inarzo. la camera è semplice ma confortevole e dotata di tutto il necessario. I padroni di casa si sono prodigati nel mettermi a mio agio. nota di merito per l'amorevole preparazione della colazione e la cura posta nell'accoglienza in generale. lo consiglierei agli amici più cari.
Monica
2016-05-30T00:00:00Z
We loved our stay at Raffaela and her husband. They were really interesting and kind people, who are open for a good chat. Raffaela was really welcoming and a great host, she did everything for us to make it a wonderful stay. The place looks even better in real and the house and pool are so pretty. She made us dinner, which was really nice! Many courses and different dishes with local italian products. We enjoyed our time and would recommend this to everyone!
Willemijn
2016-07-26T00:00:00Z
Soggiorno perfetto, sia per noi sia per la nostra bimba. Casa bellissima e giardino incantevole. Nelle vicinanze laghi e posti perfetti per un week end di passeggiate e relax. Consigliato al 100% ci siamo sentiti veramente a casa
Vittoria
2016-07-10T00:00:00Z
Rafaella et Giuseppe nous ont accueillis avec un immense sourire, un anglais parfait et un délicieux café! La chambre était très agréable et nous disposions d'une grande salle de bain rien que pour nous. On a pu profiter de la jolie piscine, nos hôtes étaient toujours très disponibles et le petit déjeuner très bon! Bref, une super expérience :)
François
2016-08-22T00:00:00Z
Rafaella nous a accueillies très chaleureusement, nous avons passé un moment très agréable chez elle. La chambre est bien équipée et dispose d'une grande salle de bain. Sa maison est décorée avec beaucoup de goût. Je recommande fortement !
Clotilde
2016-04-26T00:00:00Z
Тип размещения
Отдельная комната
---
Тип жилья
Дом
---
Вмещает гостей
2
---
Спален
Inarzo, Lombardia, Италия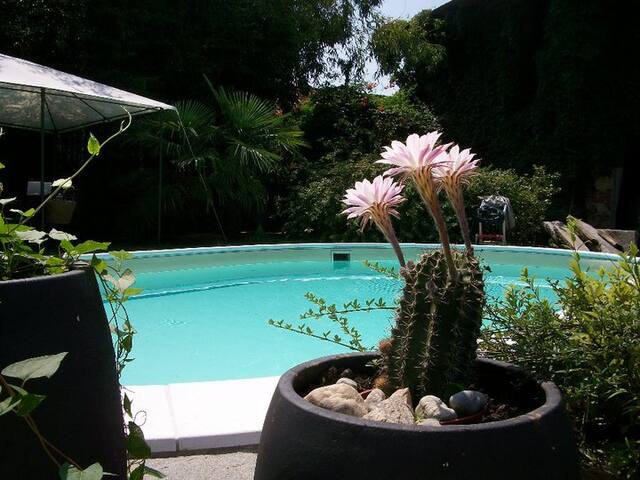 Two regular beds and private bathroom to offer on private floor of the house. Lake view from the terrace and from the big living room. Also less than one hour away from Milano and less than 30 mins from the swiss border (Mendrisio).
Тип размещения
Отдельная комната
---
Тип жилья
Дом
---
Вмещает гостей
2
---
Спален
Casciago, Lombardia, Италия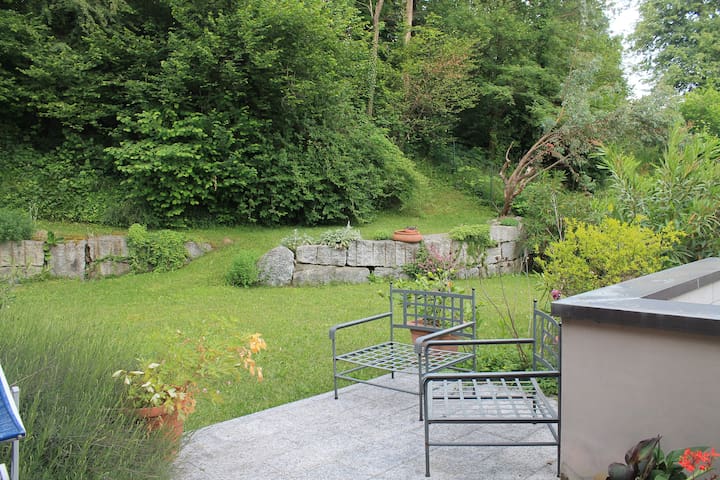 La casa in cui sarete ospitati è accogliente, ha il fascino e gli spazi di un'altra epoca ma i confort moderni. A due passi dal centro di varese è immersa in un grande giardino ed è molto silenziosa.
Тип размещения
Отдельная комната
---
Тип жилья
Дом
---
Вмещает гостей
2
---
Спален
Varese, Ломбардия, Италия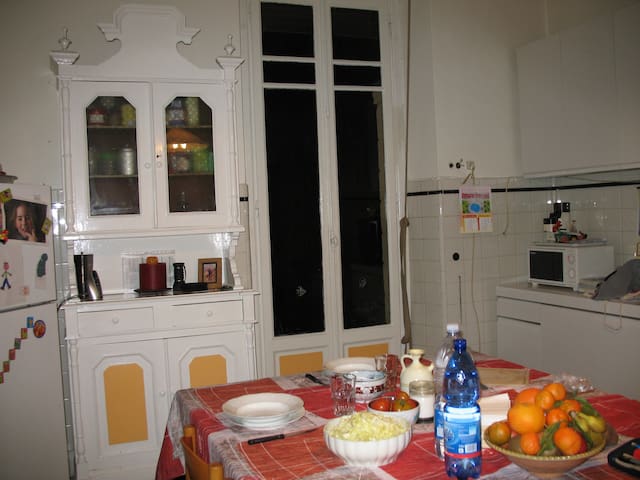 Villa sul lago di Varese,4 posti letto, due bagni e posto auto privato. Si affitta anche come B&B ai seguenti annunci: -B&B D'ARTISTA SUL LAGO DI VARESE -B&B Sul Lago di Varese Milano EXPO 2015 dista 30 min di treno! FOR ENGLISH change language
La Casa Creativa è arredata con opere pittoriche che la rendono particolarmente allegra e gioiosa. L'appartamento si colloca al piano terra della casa padronale ed è indipendente. La Casa è circondata da un giardino immerso nel verde sino alla riva del lago. La casa è composto da 2 stanze doppie, due bagni, salottino, ingresso ampio, cucina, balcone ed ampia terrazza per colazioni e pranzi.
La Casa Creativa si trova a Cazzago Brabbia, un paesino di pescatori di 860 abitanti in riva al Lago di Varese. Di grande interesse culturale in paese si trovano tre Ghiacciaie settecentesche, beni architettonici testimoni dell'attività della pesca. Molto comodo il passaggio, proprio davanti alla Casa, della pista ciclabile che circonda il Lago di Varese per 27 Km. In paese è presente una tipica trattoria dove si degustano, ad un prezzo giusto, il pesce e altri prodotti tipici e locali. Il piccolo paese offre un contatto con gli abitanti diretto e interessante. La presenza di un Teatro per bambini e adulti offre la possibilità, sia d'inverno che d'estate ,di fruire di ricreazione e di divertimento garantiti. Attorno al paese ci sono numerose opportunità di svolgere sport: equitazione, canottaggio, tennis, ciclismo e pesca.
Elisabetta est une excellente maitresse de maison avec charme et professionnalité. Elle a su naturellement se mettre à notre disposition pour répondre à nos besoins(en particulier repassage en vue d'un mariage...). La maison d'un couple qui a organisé sa vie dans le monde artistique, a par conséquence énormément de charme et répond aux souhaits de détente d'un voyageur/d'une famille en voyage. I strongly recommend la casa creativa.
Marc
2016-08-22T00:00:00Z
Very nice people, nice place to relax.
Patrick
2015-04-06T00:00:00Z
Our stay at the Casa Creativa has been great! The place is charming, the location is perfect for a nice long weekend admiring beautiful Italian landscapes, doing some sport or just relaxing on the lake side. Betty & Chicco have looked after us and made our stay even more pleasant than expected! Rooms are large, beds are comfortable, the kitchen is very well equipped and... we now just look forward to going back there!! Thank you so much and best of luck for your creative projects!! Grazie mille, merci beaucoup :)
Alessandra
2015-05-11T00:00:00Z
Nette und unkomplizierte Begrüssung. Die Gastgeber stellten sicher, dass wir uns wohl fühlten. Die Wohnung ist schön, an einer ruhigen Lage.
Rolf
2015-06-08T00:00:00Z
We booked Elisabeth & Enrico's house at short notice and they were very accommodating, even providing us with a few staple goodies in the fridge on our arrival. We stayed for four nights and really enjoyed everything about this lovely old home filled with beautiful artworks by Enrico. The space in the home was exactly as described and accommodated our family of four perfectly, two comfortable bedrooms, two bathrooms, a well equipped kitchen with dishwasher & washing machine and outdoor terrace to enjoy in the cooler evenings. Even though the house is without air-conditioning it remains cool with good old-fashioned shutters. The house is located in a sweet little village right by Lake Varese, easy to locate and within easy distance of Malpensa & Milan. We loved the quietness of the evenings and waking up to the local church bells was more refreshing than any alarm clock! We will definitely return to this lovely corner of the Lakes... Grazie mille Betty & Chicco!
Melissa
2015-08-01T00:00:00Z
The experience was simple wonderful: A warm welcome by Bettina & Cico, clean and beautiful apartment. Helpful tips. Definitely recommended!
Anna
2015-08-27T00:00:00Z
We really enjoyed the 'Casa di Artisti'. 1) The location is excellent for visiting the lake area while also close to Malpensa airport. 2) The apartment is the first floor of a house on an old estate, right on the lake. It has a lot of character with many interesting pieces of furniture, woodwork, and art. It is very spacious, comfortable, and well laid out. It was very clean and well maintained. One of the more interesting and pleasant places I have stayed in through Air BnB. The town is also nice. 3) Elisabetta is very kind, generous, and helpful(URL HIDDEN) I would highly recommend this place, especially if you like a little bit of history.
Andrew
2014-10-20T00:00:00Z
Everything was wonderful at La Casa Creativa from the lovely warm welcome we received from Elisabetta to its perfect location only a short stroll from the lake and lakeside bar/restaurant. The apartment had everything we needed and more and was full of character and eccentricity being adorned with artworks and illustrations from the couples theatrical careers. Our daughters loved the wifi and my husband and I the lovely outside dining area. Elisabetta was the perfect host and gave us lots of ideas of places to visit and things to do and was happy to let us practice our minimal Italian with her. We would love to return to such a beautiful area and would definitely choose to stay here again.
Frances
2016-08-25T00:00:00Z
Тип размещения
Дом/квартира целиком
---
Тип жилья
Дом
---
Вмещает гостей
4
---
Спален
Cazzago Brabbia, Ломбардия, Италия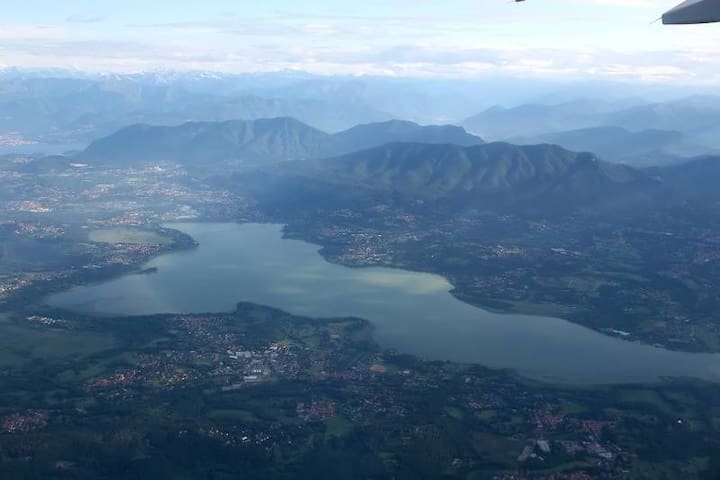 Disponibili due camere matrimoniali, con bagno privato e colazione inclusa. La casa, situata nella zona residenziale di Varese, a 5 min dal centro in macchina o in alternativa servita tutti i giorni ogni 15 min da mezzi pubblici. Incluso nel prezzo si mette a disposizione il parcheggio privato all'interno del cortile. Inoltre, per chi lo desidera, è possibile utilizzare la cucina all'interno dell'alloggio al costo aggiuntivo di 15 euro/giorno. Nel retro della casa potrete trovare un'ampio giardino a disposizione!
La casa è resa unica dal faggio risalente al 1925 circa... uno dei pochi esemplari nella provincia!
Il quartiere è considerato uno dei più residenziali di Varese. Tranquillo è immerso nel verde pur essendo A 5 min di macchina dal centro, esso si trova immediatamente ai piedi del Sacro Monte di Varese.
Тип размещения
Отдельная комната
---
Тип жилья
Дом
---
Вмещает гостей
4
---
Спален
Varese, Lombardia, Италия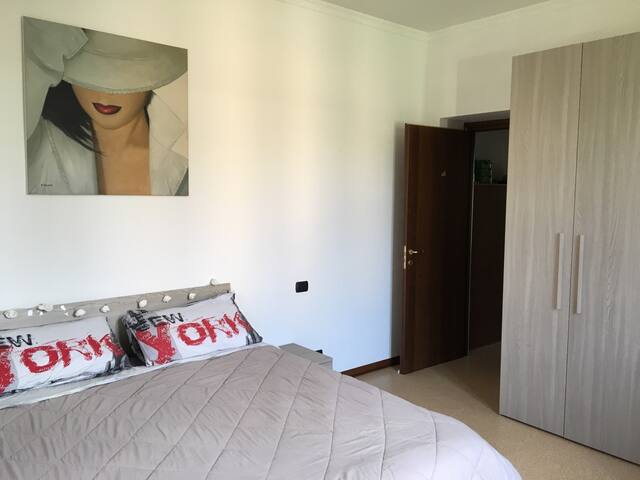 Il mio alloggio è vicino a l'aeroporto Malpensa , il centro città Varese, parchi, Lago di Varese, Lago Maggiore, Svizzera. Il mio alloggio è adatto a coppie, avventurieri solitari , chi viaggia per lavoro, studenti
Тип размещения
Дом/квартира целиком
---
Тип жилья
Дом
---
Вмещает гостей
2
---
Спален
Varese, Lombardia, Италия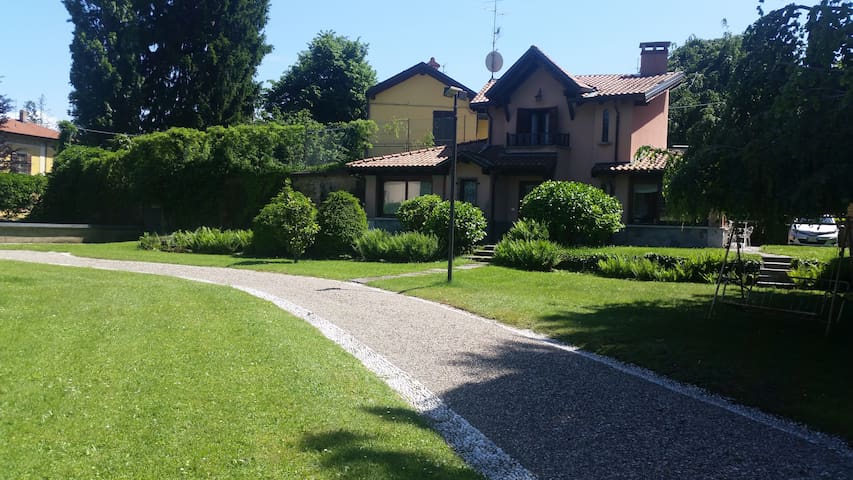 This beautiful villa is located on the upper hills of Varese, magnificient panorama over several lakes. Perfect for families and couples: garden swimming pool, 5 minutes to Varese golf course and tennis club.
We had a wonderful holiday at this place. A most charming, authentic villa with very nice spaces and a garden with various chambers. Both the house and the garden invite exploring. An ideal harbour for our family gathering. The bathroom plumbing is a bit rustic, but the atmosphere of the villa made amends for this. It was a bit difficult to find our contact, but once you get in, you don't feel like ever getting out :-). You often get pictures which exaggerate the quality of a place. This is not the case for this house. Christine July 2015
Christine
2015-07-28T00:00:00Z
This is the most fabulous house I have ever stayed in. It is old, charming, stylish, comfortable and just a fantastic place to stay. We loved the gardens, the views of the lake and the mountains, the pool and everything else about it.
Kirsten
2016-08-31T00:00:00Z
Тип размещения
Дом/квартира целиком
---
Тип жилья
Дом
---
Вмещает гостей
8
---
Спален
Casciago, Lombardia, Италия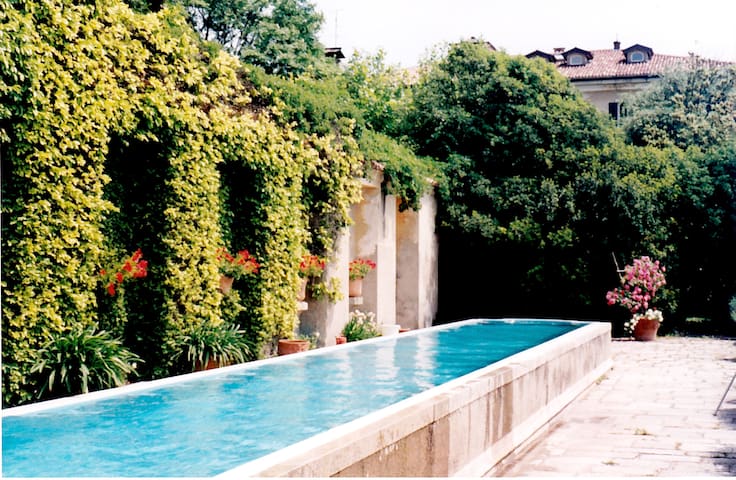 Independent apartment ethnic decor added to the existing single house in the shopping center with all services at hand. 6 Km from Varese to Como 14 25 45 from Lugano from Milan
The one action with each service
Тип размещения
Дом/квартира целиком
---
Тип жилья
Дом
---
Вмещает гостей
4
---
Спален
San Salvatore, Lombardia, Италия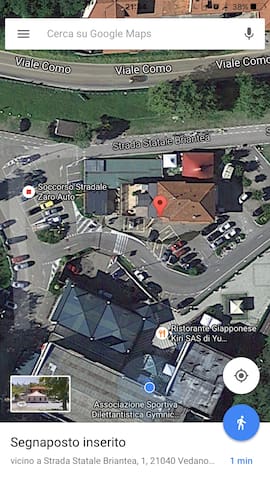 1

–

18

из

20 дома в аренду
Введите даты, чтобы увидеть полную цену без учета дополнительных сборов и налогов.