Wir haben Anjas FeWo wie beschrieben und exakt wie auf den Bildern zu sehen vorggefunden. Schöne Lage, zu Fuß ist die s-bahn gut zu erreichen, nach 8 min Fahrzeit liegt der Dresdener Hbf schon vor einem. Sehr zu empfehlen! Vielen Dank für die schönen ruhigen Tage in deiner Wohnung :)
Marie
2015-05-19T00:00:00Z
Great Accomodation. Private, peaceful garden setting, yet short walk to shops for all needs, and close to Dresden & other villages for touristing. Anya is a delightful person & a helpful friendly host. Spacious & spotlessly clean well appointed rooms. Also its cosy & warm as it was well heated for our winter stay. Off street parking for our hire car. Highly recommend. We felt relaxed & at home. Teresa
Teresa
2013-12-19T00:00:00Z
I very much liked my stay at Anya's place. Anya is very hospitable and always eager to talk and help newcomers to the city with a few tips. The location is superb (especially if you travel by car). There is a lot of greenery and jogging opportunities in the area. The apartment itself is very neat and cosy, spotlessly clean. Nothing to complain about. Heating worked perfectly well when it was a bit too cool outside. A grocery store and a bakery are a stone's throw away. I highly recommend staying at Anya's place.
Sergii
2015-05-10T00:00:00Z
Es war ein wunderbarer Aufenthalt: Sehr geräumig und trotzdem gemütlich, ruhige Lage und schönes Wohnklima.
Ina
2016-03-30T00:00:00Z
We are two women who stayed in Anja's wonderful apartment during New Year 2014-15. The experience was very rewarding. Anja is a warm and friendly host, who went out of her way to accommodate our requests. The apartment is thoughtfully fitted out and indeed very appealing and cosy. It has a quite spacious living area overlooking the garden, a well equipped bar kitchen, a gorgeous bathroom with heated towel racks and a good sized double bedroom. We felt very much at home in this clean and modern apartment. The heating system proved to be excellent during a time of heavy snow and minus 6 degree temperatures. The apartment is located 2 stops SW of Dresden Hbf and although the train stops about 2 km from the apartment there is the possibility of taking a bus to within 200 m. However, we always chose to walk the 2 km, because we felt very safe, even at night. The street is lined with very well cared for houses and is well lit at night. There is a Netto supermarket close by, as well as a wonderful bakery/cafe (where one can enjoy good coffee and the most wonderful breakfasts). There is also an Asian restaurant, which we also found to be quite good. We can highly recommend Anja's holiday house.
Gillian
2015-01-02T00:00:00Z
Тип размещения
Дом/квартира целиком
---
Тип жилья
Квартира
---
Вмещает гостей
3
---
Спален
Freital, Саксония, Германия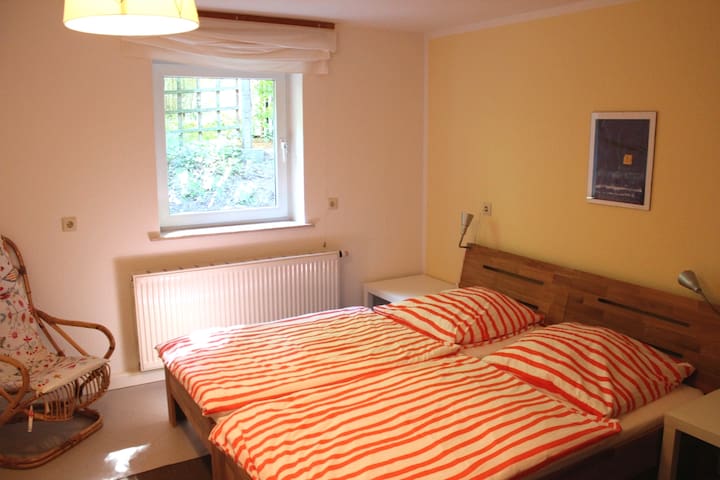 Wynajmujemy Przestronny pokój dla 1 - 2 osób dorosłych i maksymalnie dwoje małych dzieci. Samochodem to dwadzieścia minut w Dreźnie! Pokój znajduje się w naszym mieszkaniu w dawnym gospodarstwie, w kuchni i łazience mogą być udostępniane. Latem duży ogród zaprasza na relaks pod jabłonią i ognisku. W okolicy znajdują się piękne ścieżki do chodzenia. Zwierzęta mile widziane! Czekamy na Was!
Żyjemy na starym Vierseithof, bardzo kolorowe i żywe, dalszej rodziny na miejscu, Wollschweine, Kot, Beagle ... Gospodyni jest niania Mamy accommodate're lat CouchSurfer i pielgrzymów i miłości w ogólnym wizyty i ludzi z innych krajów Najmłodszy z naszych 5 dzieci nie dopracowanej w lecie i musieliśmy korzystać z rozpędu, pensjonacie swojego dawnego pokoju na znaczeniu powietrza :-) Mamy bardzo duży i zielony ogród, drzewa, trawnik, owce i kury sąsiada, rzutów rożnych do reszty Kto chce pomóc w domu i stoczni jest mile widziane i zostaną ugotowane! W ciągu 5 minut samochodem jesteś w Tharandt Lasu, największy połączonego Waldstüeck Saksonii (grzyby!) Na autostradzie, Szwajcarii Saksońskiej i Elbe Sandstone Mountains jest łatwo dostępna Goście mogą dołączyć do nas na śniadanie Po uzgodnieniu i za dodatkową opłatą możemy również udostępnić inne posiłki z wami. Zapraszamy w kuchni przygotowywać własne posiłki, jeśli chcesz Palenie jest możliwe tylko Hof (Nie można było napisać to w reklamie nas) !!
Empfehlenswert. Es gab leckeres Frühstück, das Zimmer war prima und gut geschlafen habe ich auch dort.
David
2016-09-23T00:00:00Z
Das Bett war groß. Das Bad war sauber. Der Hund war süß. Und wir haben Frühstück bekommen. Was gibts besseres! Ich kann den Aufenthalt in Dorothees Unterkunft nur weiter empfehlen! Obacht jedoch für alle die Abends von Dresden noch zur Unterkunft kommen wollen, Die Verbindung nach Willdruff ist nicht sehr gut. Aber wenn man die Rueckfahrt frueh genug plant, geht das schon.
Noah
2016-12-11T00:00:00Z
Wir haben einen schönen Plausch über Irland, Rezepte und Reisen rund um die Welt gehabt. Das Frühstück war lecker und ich habe mich über den täglichen Plausch sehr gefreut. All in all, it was a very good experience and we hope that you will have more guests visiting your farm and garden in the future! All the best! Paul
Paul
2016-12-04T00:00:00Z
Thank you very much for providing us the apartment in the last minute and for letting our stay comfort. Also, I am grateful for your kindness with a breakfast .
Ashok
2016-12-18T00:00:00Z
Hier hat einfach alles gestimmt. Habe selten so eine Gastfreundschaft erlebt wie bei Dorothee. Das Zimmer war gemütlich und groß. Das Bett war frisch bezogen und das Badezimmer war sauber. On top gab es noch leckeres Frühstück. Gerne wieder
Taner
2017-03-08T00:00:00Z
Really nice and welcoming. This was my first experience with AirBNB and it was excellent.
Pavel
2016-10-23T00:00:00Z
Тип размещения
Отдельная комната
---
Тип жилья
Гестхаус
---
Вмещает гостей
3
---
Спален
Wilsdruff, Sachsen, Германия
В квартире недавно отремонтированы и оснащены современным оборудованием. Он находится на 1-ом этаже частного дома. На кухне вы найдете все необходимое для быстрой еды. В спальне есть двуспальная кровать, в гостиной раскладной диван.
Тихая, просторная квартира в особняке с использованием сада.
Очень тихий, лес для романтических прогулок в непосредственной близости от него.
Everything was really good! We had no problems at all. Perfect location, easy to get to downtown. We did not spend a lot of time in the apartment but the room accommodation was perfectly comfortable! I will recomend Sigrid place. Wonderful !!!
laimis
2015-10-12T00:00:00Z
Sehr netter Kontakt und sehr schöne Wohnung !!! Ruhig gelegen mit guter Verkehrsanbindung.
Nils
2015-08-23T00:00:00Z
Nice and quiet place at the edge of Dresden. Tram station close to the apartment and it takes about 25 minutes by tram to the centre. Apartment was very clean, kitchen equipped, everything what you need. Very nice people :)
Adriana
2016-12-11T00:00:00Z
Een enthousiast welkom en rondleiding door Sigrid. De woning ligt zeer landelijk en rustig. De etage beschikt over zeer ruime kamers, alles erg goed en functioneel ingericht. Alles super schoon en een genot om er te verblijven. Kortom: een echte aanrader!
MCCM
2016-06-09T00:00:00Z
Super bien accueillie, Sigrid et son mari ont été adorable avec moi. L'appartement est très agréable , spacieux, lumineux , très propre et silencieux, je garde l'adresse !
Marianne
2015-09-11T00:00:00Z
Die Wohnung war genauso wie beschrieben. Es gemütlich eingerichtet. Es ist alles da, wann man braucht. Sehr sehr nette Gastgeber, die ich nur empfeheln kann. Liebe Sigrid, herzlichen Dank für alles.
Sylvia
2015-10-24T00:00:00Z
Alles gut und ideal für einen kleinen Zwischenstopp zur Erholung auf einer langen Reise. Schon allein wegen der Autobahn in der Nähe. Sigrid hat alles möglich gemacht und es war immer jemand ansprechbar. Vielen Dank
sven
2016-10-27T00:00:00Z
Singrid was very kind and helpful. The apartment is very clean, cozy and confortable.
Clara
2015-05-12T00:00:00Z
Тип размещения
Дом/квартира целиком
---
Тип жилья
Квартира
---
Вмещает гостей
3
---
Спален
Дрезден, Sachsen, Германия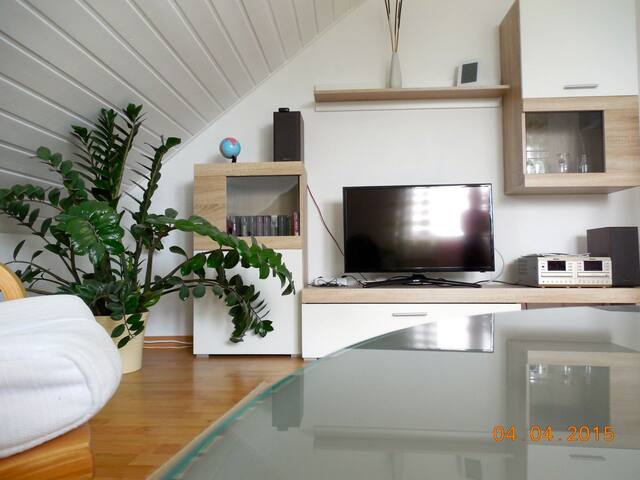 Due to the motorway near the apartment is an ideal base for exploring the city in Dresden, Radebeul and Meissen, as well as for exploring the rural district as the Saxon Switzerland, the Elbe landscape, the Sorbian district of Bautzen, etc.
Тип размещения
Дом/квартира целиком
---
Тип жилья
Кондоминиум
---
Вмещает гостей
2
---
Спален
Дрезден, Sachsen, Германия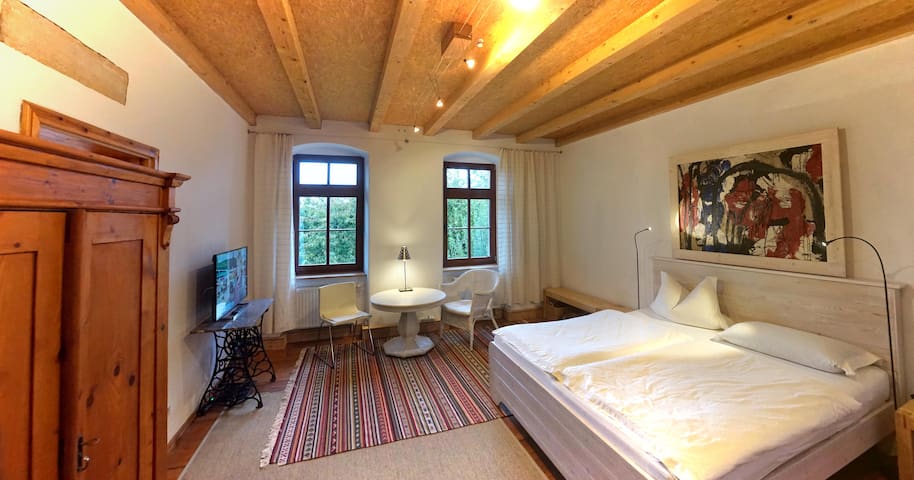 Мы предлагаем дом для отдыха в нашем подвале, в окружении очень зеленый, природный сад и расположенный в сельской местности, холмистой поселения. Дом отдыха имеет индивидуальный вход унд большие окна в сад. Есть спальня, содержащий 3-мя спальнями, гостиной с раскладным диваном, кухня унд ванную комнату. В саду можно использовать для охлаждения в тени старого бука, чтобы иметь барбекю или для детей, чтобы играть. Есть очень рекомендуется пекарню и супермаркет в течение всего 3 минуты ходьбы. Bakery предлагает свежие запреты, хлеб, сладости и завтрак Aswell как бранч всего через неделю. Наш дом находится всего в 8 км от центра города Дрездена, около 20 км от Фрайберг и около 25 км от Мейсен, одного из старейших города Саксонию. Для Саксонской Швейцарии и Рудных горах это около 35 км, чтобы пойти. Есть очень аккуратные и природные ходьба Aswell велосипедные дорожки только позади hosue. Летом есть хорошая открытая ванна в нескольких минутах ходьбы. Есть несколько автобусных маршрутов в город железнодорожной станции, где можно сесть на поезда в Дрезден главного вокзала, Фрайберг или Tharandt каждые полчаса. Автобусная остановка находится в 300 м по улице унд железнодорожный вокзал находится примерно в 2 км от нашего дома. Мы наслаждались бы встретить людей со всего мира в нашем доме и дать рекомендации, чтобы исследовать наше окружение.
We love our stay at Anja's flat. She was very kind to welcome us in person when we arrived. The flat was nice and clean with plenty of room for our children, even had an awesome yard to play in. Anja was fluent in English and able to answer questions about transportation and things to do. We would recommend this flat to anyone traveling to dresden or through the area. Very quiet nice safe flat.
John and Carey
2014-10-14T00:00:00Z
Anja and her family are fabulously accommodating, helping where ever possible. Even offering to pick us up from the train station if the bus took too long. The room was more like a serviced apartment on the ground floor of a sloping property, so although you're technically underneath the family's house, you have your own entrance from the front yard. Anja's lovely house is located a couple of S Bahn stations and a short bus ride from the centre of Dresden but getting into town is pretty straight forward. Please note there isn't any internet but there is a TV with cable. So if you're looking for a quiet escape, a friendly host and a great base to see the countryside, don't hesitate to stay with Anja.
Hai
2013-12-10T00:00:00Z
Anja ist eine tolle Gastgeberin, sehr nett, unkompliziert und aufgeschlossen. Die Wohnung hat Charme und alles was man braucht und auch die Kinder kommen auf ihre Kosten. Spiele, Bücher und ein Garten mit Spielgeräten stehen zur Benutzung bereit. Leckere Backwaren gibt es nach 5 min. Fußmarsch. Freital ist ideal für Ausflüge nach Dresden, Moritzburg oder in die Sächsische Schweiz. Eine sehr kurzfristige Buchung war problemlos möglich! Sehr zu empfehlen!
Anja
2016-03-31T00:00:00Z
It was perfect to stay at Anja's lovely apartment and it was very interesting to meet Anja. She is very worm and friendly person and we became very good friends. Anja's apartment is the ideal choice when you plan visiting Dresden: you live in your private house 10 min by car from Dresden. Kids were busy with a trampoline and swing in the garden, which was a pleasure for parents too :-)
Olga
2014-08-02T00:00:00Z
Verhuurder Anja Batereau was bijzonder behulpzaam en vriendelijk, en had ervoor gezorgd dat alle essentiële dingen aanwezig waren. Het appartement voldeed volledig aan de beschrijving. Het is een mooi appartement in het souterrain van een prachtig jaren '30 huis, waar wij ons meteen thuis voelden. Door de ronde erker in de ruime huiskamer heb je mooi uitzicht op de fraaie grote tuin. Het huis is heel rustig gelegen, terwijl het toch vlakbij Dresden ligt. Het was dan ook een ideaal uitgangspunt om Dresden en omgeving te bezoeken, evenals het prachtige natuurgebied in de Saechsische Schweiz. Kortom, zeer aan te bevelen. Hanneke en Adri uit De Bilt
Adri
2014-12-11T00:00:00Z
We have found a lovely accomodaton with spacious and very clean rooms. Anja is a very friendly person and of course the garden ist great. I would recommend the flat as a base for trips to Dresden and its surroundings. You can reach the Dresden city centre within 15-20 minutes by car. The bakery is great, especially the coconut-cake. Will come back anytime.
Haiko
2014-06-17T00:00:00Z
Fue un poco difícil encontrar la casa puesto que, tal como Anja nos había indicado, algunos navegadores no la encuentran y la calle, que parece finalizar donde te lleva el navegador, continua en forma de L. Una vez en la casa está todo muy bien. La casa es grande, está muy limpia y su decoración es bien acogedora. Tuvimos una agradable estancia en el apartamento de Anja. Muchas gracias
Elisabet
2014-10-06T00:00:00Z
I recommend staying at this place. Nothing to complain about. Everything was as it's described.
Krzysztof
2016-08-21T00:00:00Z
Тип размещения
Дом/квартира целиком
---
Тип жилья
Квартира
---
Вмещает гостей
5
---
Спален
Freital, Саксония, Германия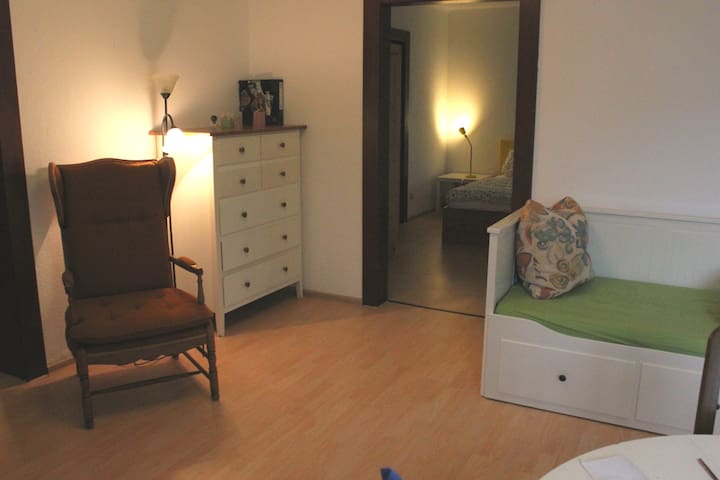 Wir haben zwei Nächte in der hellen und ordentlichen Wohnung von Rudy verbracht. Die schöne Lage und die Terrasse mit dem angrenzenden Wald haben uns ebenfalls gut gefallen. Nach einem anstrengenden Wandertag, haben wir uns über die Flasche leckeren Weins von Rudy sehr gefreut und konnten den Tag entspannt ausklingen lassen. Bei der Ankunft hat Rudy uns die Wohnung gezeigt und zusätzlich über mögliche Aktivitäten in Dresden und des Umlandes bereitwillig informiert. Er selbst ist danach gefahren und hat uns die Wohnung überlassen. Für Fragen stand er uns telefonisch weiterhin zur Verfügung. Vielen Dank für dein entgegengebrachtes Vertrauen und ein super Wochenende! :)
Eugen
2015-05-17T00:00:00Z
wir waren für 3 tage geschäftlich in dresden unterwegs und haben dafür eine ruhige unterkunft in schöner lage gesucht. rudy war nicht zu hause und so hatten wir diese tolle wohnung für uns allein. Es war supersauber, gemütlich und idyllisch am waldrand gelegen. rudy hat uns eine flasche wein hingestellt und so konnten wir abends nach getaner arbeit herlich entspannen. Vielen dank, für dein vertrauen , rudy! :)
Steffi
2014-10-26T00:00:00Z
We kregen alle ruimte en vertrouwen van onze gastheer om het appartement wat van alle gemakken is voorzien, te gebruiken. Fijn was ook dat Rudy ons gouden tips gaf voor uitstapjes en heel veel kon en wilde vertellen over de geschiedenis van de streek en stad. Hierdoor zijn we op prachtige plekken geweest die we anders gemist hadden!
Wil
2016-01-02T00:00:00Z
Alles bestens. In der Wohnung war es ruhig und sauber. Wir haben uns willkommen und wohl gefühlt :-)
Christian
2016-08-16T00:00:00Z
Die Kommunikation mit Rudy war sehr nett und die Lage der Unterkunft ist wunderschön. Sehr empfehlenswert.
Georg
2015-01-02T00:00:00Z
Was ich nicht so erwartet habe, er hat nach dem ich mitteilte nicht mit dem Auto anreisen zu wollen angeboten uns vom nächst gelegenen Bahnhof abzuholen und dazu erforderliche Informationen geliefert. Unabhängig davon gibt es tatsächlich eine richtig gute Anbindung an den ÖPNV. Rudy lieferte auch gleich Ideen für Ausflüge mit Kindern, was natürlich hilfreich war. Seine Grundbeziehung zur Natur ist gerade bei Besuchen mit Kindern lehrreich, denn nicht viele Menschen haben dazu einen guten Bezug und vermitteln Kindern entsprechendes Wissen. Die Unterkunft war sehr ordentlich und hygienisch perfekt. Anfangs dachte ich, ob das wohl mit Kind so passt, da man ja nicht immer gleich alles mitbekommt. Doch er war locker war rund herum ein sehr angenehmer Gastgeber. Immer wieder gern, danke für diese erste Erfahrung mit airbnb. PS. Danke auch für die ungewöhnliche Tag- Nacht- Wanderung - ein tolles Erlebnis auch für die Oma!
Anna
2016-10-03T00:00:00Z
Rudi sehr nett,Hilfsbereit und die Lage der Unterkunft ischön. Sehr empfehlenswert. Eine Flasche Wein als Begrüßung war ach da.. noch einmal dank schön... Gruß Justinne & Sebastian
Sebastian
2016-12-04T00:00:00Z
Тип размещения
Общая комната
---
Тип жилья
Гестхаус
---
Вмещает гостей
2
---
Спален
Tharandt, Саксония, Германия