Welcome to our home away from home!!! We welcome skiers, travelers, fisherman, and hunters!! Perfectly situated 45 minutes to June mountain ski, 30 miles from Yosemite east portal road, ten minute walk to the town center of Bridgeport!! Cozy fireplace open concept kitchen and living room
This is a brand new home with a rustic touch, Weathered wood heated porcelain floors, All new stainless appliances, Washer and dryer. One Bedroom with King Bed and large leather sectional in living room that could sleep two if needed. Fast wifi throughout, 46in flat screen with Netflix, HBO, and Hulu included.
Views of the eastern sierras, back road to the historic ghost town of Bodie just out the back door! If you love fishing the East Walker River, Bridgeport Reservoir, and Twin Lakes are minutes away! If you love hot springs, both Buckeye and Travertine are a few miles away! In the winter months enjoy cross country skiing and snowmobiling locally. Mammoth Ski resort located 45 min South and June Lake Ski resort is a quick 30 min drive as well!
Such an awesome place! The owners put a lot of thought into amenities we might need. Everything was super clear and visitor friendly. Thank you!!
Tamany
2016-07-18T00:00:00Z
是一整套房子,非常安静,房间布置舒适,品味好。厨房设备好用非常齐全。确实是个像自己家的地方!
Mountain
2016-10-09T00:00:00Z
Jen's apartment was beautiful and immaculately clean! The home is quite close to Yosemite and a number of hot springs which made for a fun weekend. We would absolutely recommend Jen's place to any guests who want a comfortable, amenity-filled residence for their trip to the region!
Lisa
2016-06-14T00:00:00Z
We loved the little cabin. Very cozy and tastefully decorated. Best vacation rental that I've had. The place has thoughtful touches to make it feel special. Decorated beautifully with space to store things if your staying for a longer visit. Beautiful kitchen that was actually very easy to cook in. Some rentals don't have much to use in terms of kitchen ware, but this place was thoughtfully considered when stocking. It was also pet friendly which was a huge perk. We love that we could enjoy our vacation with our doggies. We enjoyed the hot springs, Bodie ghost town, and mono lake. Great location for some outdoor fun activities.
Abigail
2016-10-30T00:00:00Z
We had a great time at the cozy mountain retreat! It was clean, comfortable and perfectly styled. We visited nearby hot springs which were fantastic. It's a great place to relax with friends and I would highly recommend it. Thanks for hosting us Jen!
Hannah
2016-07-13T00:00:00Z
The house is awesome; it's newly renovated, and the interior is set up like a page on a CB2/West Elm/Wayfair catalog. It has a TV and audio system, full kitchen, and every little amenity you might have forgotten. Jen is friendly and very responsive to messages. She was kind enough to offer us coffee and breakfast and even brought us doughnuts for the journey before we check out.
InYong
2016-06-19T00:00:00Z
Great place
Marie
2016-09-07T00:00:00Z
This is an amazing little apartment. Clean, great appliances, dog friendly had the fire ready for us on arrival. All around great trip!
Yolanda
2017-03-26T00:00:00Z
Тип размещения
Дом/квартира целиком
---
Тип жилья
Дом
---
Вмещает гостей
4
---
Спален
Бриджпорт, Калифорния, США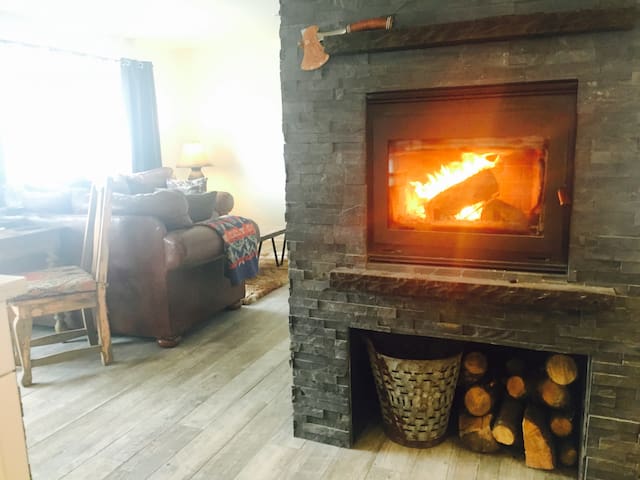 Lundy House is close to Yosemite, June Mountain, Bodie, Mono Lake. It's a custom home in very hikeable Lundy Canyon, which features old goldmines, waterfalls, beaver ponds, etc. Mill Creek runs thru backyard. Absolutely ground central for fishing - Lundy Lake, June Lake, Saddlebag, Ellery Lake, Twin Lakes Bridgeport, Virginia Lakes all within 1/2 hour drive. Total privacy, no neighbors, only stars to light up the night . . .
June Mountain closeby for great family ski trips, Mammoth accessible. Snowplow comes every morning as needed. You can't reach Yosemite once Tioga Pass closes for the Winter.
A wonderful house in a spectacular location! We visited in late March, just as winter was giving way to spring, so it was snowing when we arrived, and downright hot 3 days later! The house is thoughtfully designed so it was cozy and warm on that snowy first night, but also bright and airy during the warmer days. The living room and two bedrooms have stunning views out over Mill Creek, with abundant wildlife and aspen trees. The kitchen is spacious and has everything you need. Best of all is Lundy Canyon itself, a beautiful and remote gem of the Eastern Sierra where you can really feel as if you're away from it all. We skiied up to Lundy Lake and beyond, enjoying breathtaking views of the Sierra high peaks in one direction, and Mono Lake the other way. Lastly, I would be remiss to not point out that the best restaurant in the Eastern Sierra, the Mono Inn, is just a couple of miles down the road. Do not hesitate to book this place!
Autumn
2017-04-02T00:00:00Z
Тип размещения
Дом/квартира целиком
---
Тип жилья
Дом
---
Вмещает гостей
8
---
Спален
Lee Vining, Калифорния, США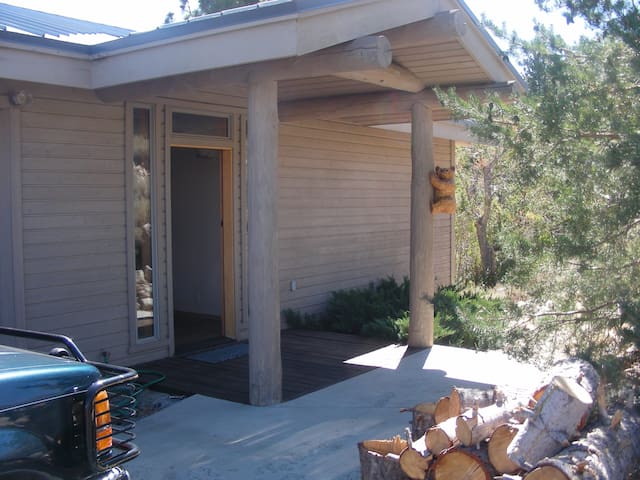 Whether you're looking to take advantage of the beach or the casinos, this 3-bedroom, 2-bathroom home with accomodations for 8 is ideal for your next South Lake Tahoe getaway! You'll sleep comfortably in this recently remodeled a-frame home.
This beautiful 3 bedroom, 2 bathroom home was completely remodeled in 2010 with contemporary furnishings throughout. You'll love arriving home after a day in the snow to warm up next to the cozy stone fireplace with a cup of hot cocoa and a good book. There's plenty of space for your friends and family to relax, play games, cook dinner together and sleep comfortably. The living room features a large sectional sofa for spreading out and enjoying the outdoor views through the large windows. The stone fireplace will keep the room nice and warm as the snow falls outside. Just down the hall, the modern kitchen features granite countertops and top of the line appliances with a dining table that seats 8. When it's time to say "goodnight", you'll sleep like a dream in the well-appointed bedrooms with luxurious bedding and beautiful wooden furniture.
In the summer, lounge around and enjoy the fresh air on the large deck with patio furniture. The property is located about 10 minutes from Heavenly Valley, the beach and the casinos. With skiing, snowshoeing and snowman-building in the winter and swimming, fishing and boating in the summer every season is ideal here!
called the local contact and she was very nice.
Ellen
2016-08-18T00:00:00Z
Тип размещения
Дом/квартира целиком
---
Тип жилья
Дом
---
Вмещает гостей
8
---
Спален
Саут-Лейк Тахо, Калифорния, США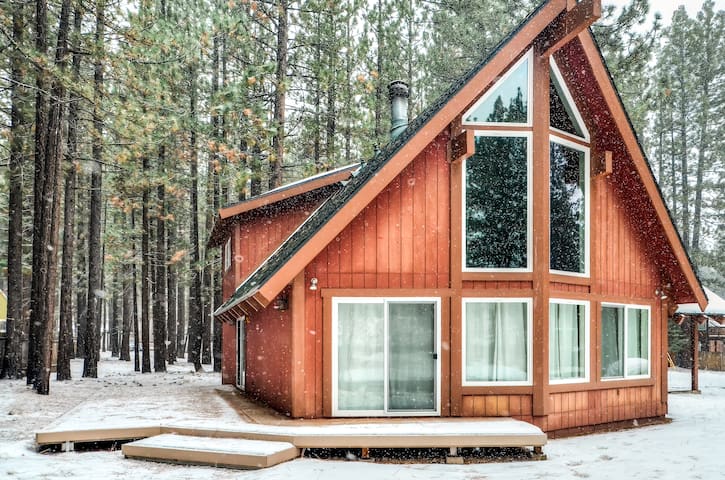 Введите даты, чтобы увидеть полную цену без учета дополнительных сборов и налогов.